All my best bag sewing tips you should know when sewing bags - these will make a bagmaker's life so much easier. And your bags so much better!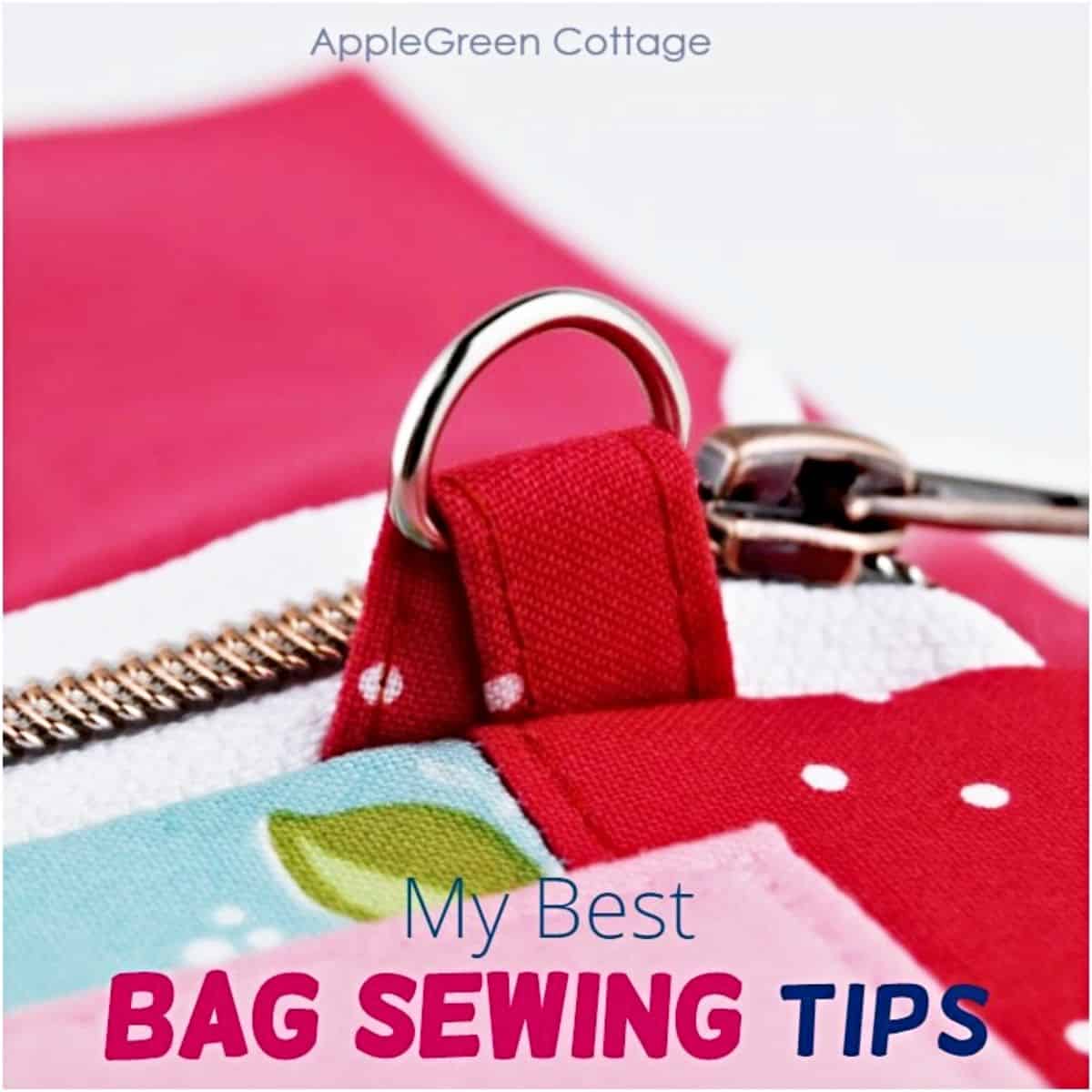 Hey friends, I'm working on a new bag pattern, and it feels soooo good! My favorite part? Clever workarounds. Hacks and tweaks to decrease bulk in seams. And to make the sewing process easier. It takes time, and a lot of trial and error, but it's so rewarding!
The good news is, I've taken a few days off to collect all the bag sewing tips into one post, so you can use what I've learned so far. How cool's that! These tips have been lying in the drafts for too long already, some for years. And some of these have been just isolated tutorials, and now I need to combine them and pull them together so they can serve you better. I hope this feels good for you too!
All for you to use! Those who've known me for years will be familiar with quite a few tips on sewing bags added to my bag sewing tutorials, and also in my pattern instructions (yep, I have a whole bunch of bag patterns in my shop!) but I thought I could at least try to get them all of them into one post - so this is the place. Happy reading!
Sewing Bags
So here are all my sewing tips that can be used when sewing bags, things that will make your bag sewing easier, and my favorite: clever workarounds. Use some or all of these sewing tips and tutorials - even if you just use one, you'll make my day!
And if you read carefully, you'll find out which of these bag sewing tips was so precious for me that I decided to finally publish this blog post! (You really must start using this clever tip, it will make sewing small bags so much easier!) So let's start, shall we?
What Part of Bag Making Do You Need Help With? - Chapters in this Bag Sewing Post
I just went back and am listing the bag-making chapters after I finished the post. It's huge, and this will help you navigate it:
Sewing Bag straps
Let's start with the straps and handles. There are 3-5 important things that will make all the difference with your bag straps. Read on! I wish I had known all this when I started out making bags because my first bags would have had much nicer straps than they actually did. The video here shows my readers' favorite 3 bag strap sewing tips:
While making a strap can be as simple as grabbing some webbing and stitching it to the bag, you can also make your own, pretty strap. For one, adjustable bag straps are SO much better than the regular ones! See how to make adjustable strap, it's easier than it looks like: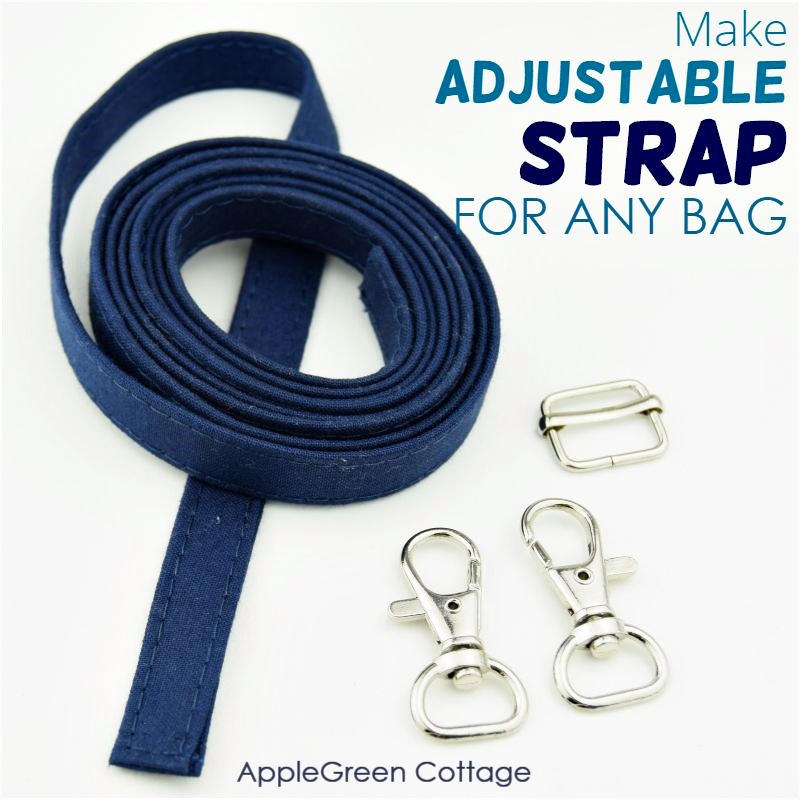 Secondly, your bag straps can be pretty! See here how to make two-colored bag straps that will look amazing!
Sewing BagS And Handles: Thicker Is Better
Always make the stiffest handles your machine and project can afford, as bag handles do a lot of work and get softened, stretched and used a lot. I prefer adding heavy-weight interfacing when sewing bag handles.
And sometimes I even add an extra layer. Adding a second layer to your bag handles will make your bag straps stronger - and prettier! Like in this color-blocked tote bag.
Check out this special bag-handles tutorial here: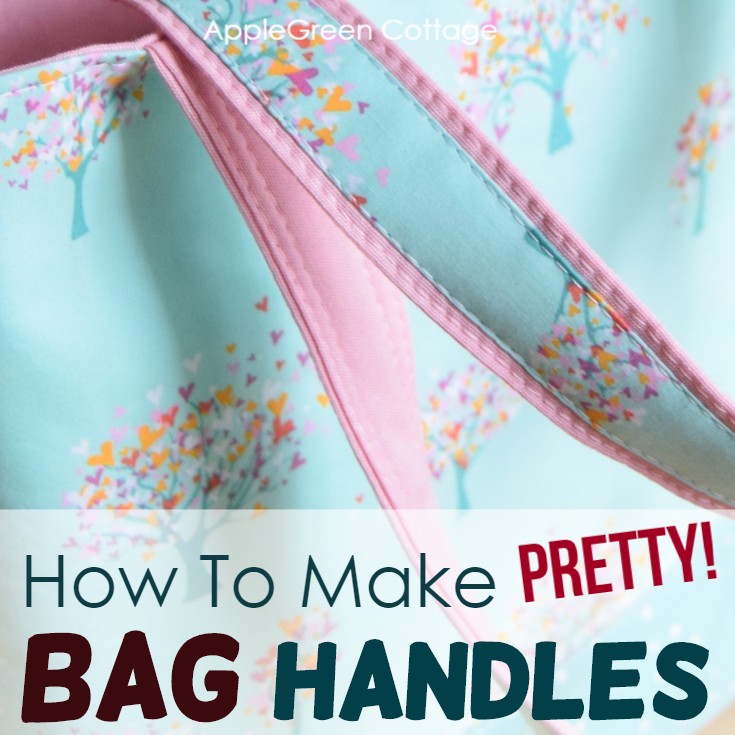 How To Make Neat Closed-End Bag Handles
Sometimes handles are meant to be SEWN INTO the bag, not onto the bag. It means you'll leave the ends unfinished, which is just fine. And sometimes, a bag will call for FINISHED strap ends. Always the case when you're making adjustable bag straps (me: nearly always!) - in this case, read on - it's so easy to adjust them to finished ends: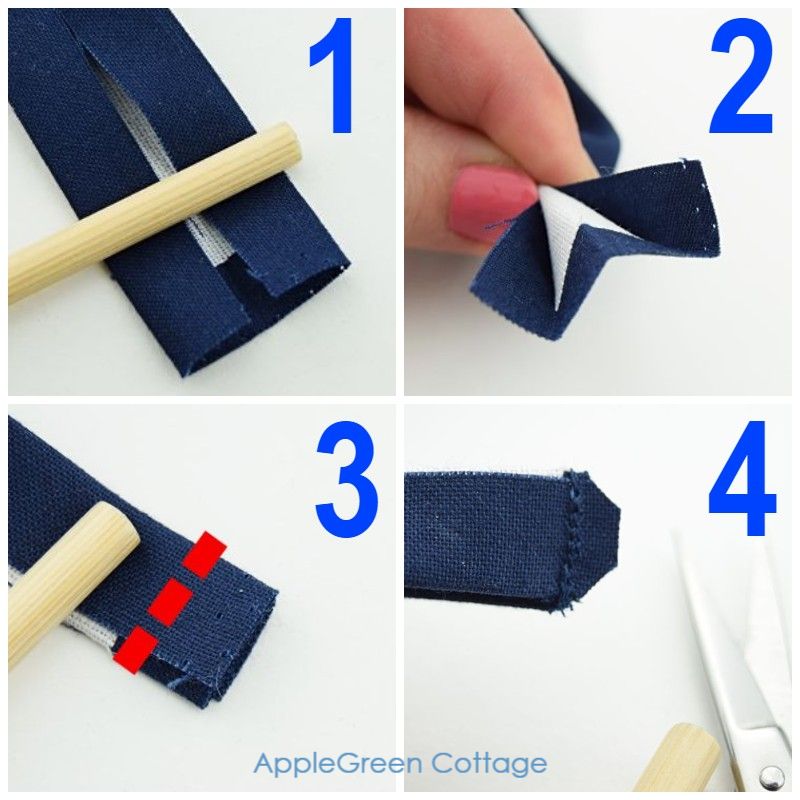 This is how to finish the strap ends:
Press both unlined edges towards the center.
Fold the strap in half along the center – but outwards with the raw edges still exposed. Press again. The end resembles the letter 'W'.
Stitch over the short end using a ⅜" (=1 cm) seam allowance.
Trim the corners on the seam allowance.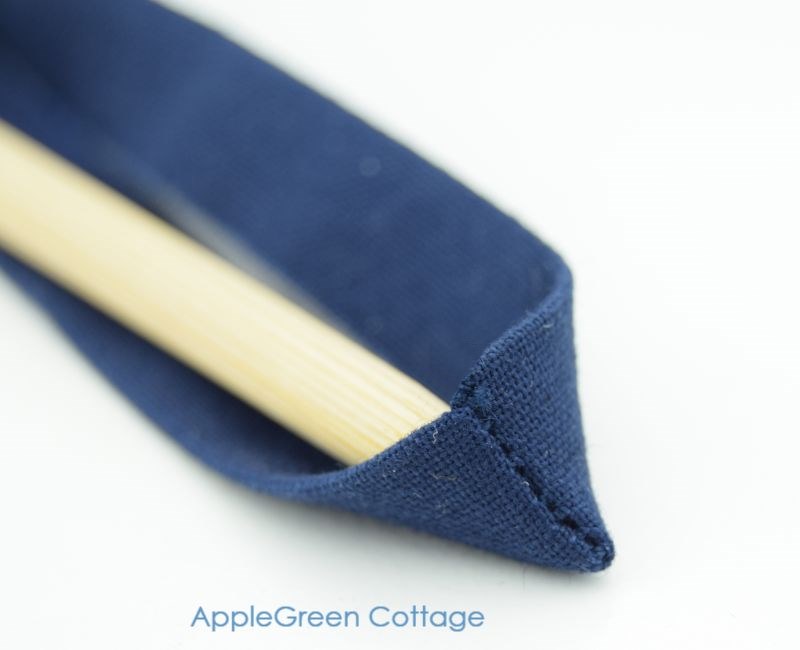 And this is what you see when you flip it right-side-out to hide the raw seam: BEAUTIFUL! Make sure to repeat with the other strap end, and then sew the sides as normal - in this case, it just means topstitching along both folded edges. This strap in the photo was taken from the Aiden pattern (the pattern instructions include all this above and more sewing tips to make your phone pouch absolutely adorable.)
Sewing Bags With Short Straps - Make a Wristlet strap
Nearly all my small bag patterns include an option to sew a wristlet strap instead of making a long strap. The Enya Wallet has both and is perhaps even prettier with a wristlet strap: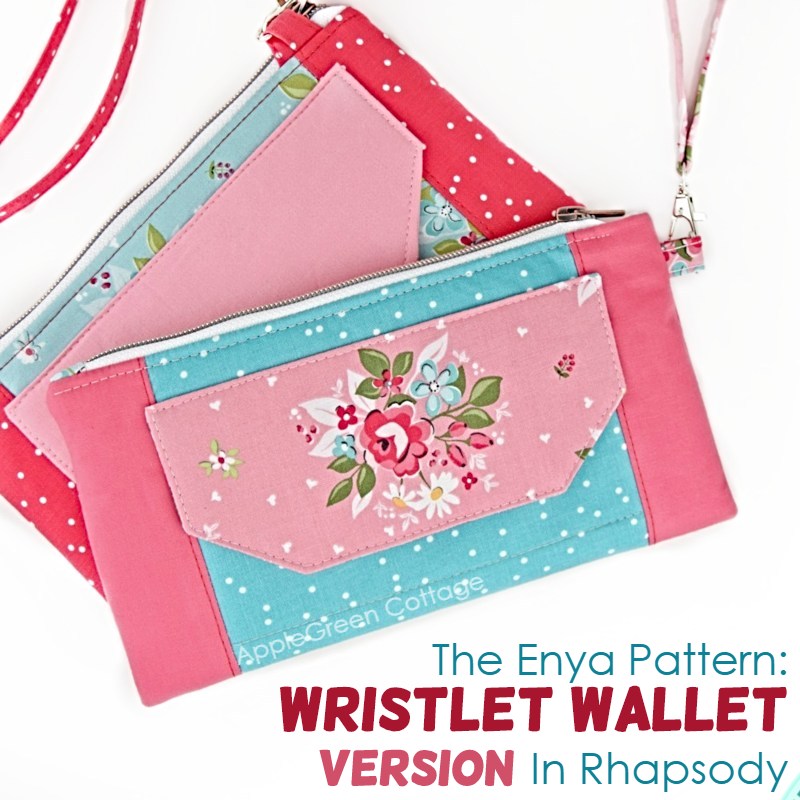 It always depends on a bag construction and whether the design can afford a wristlet strap or not, but mostly all small bags do. Here's how to turn a bag into a wristlet: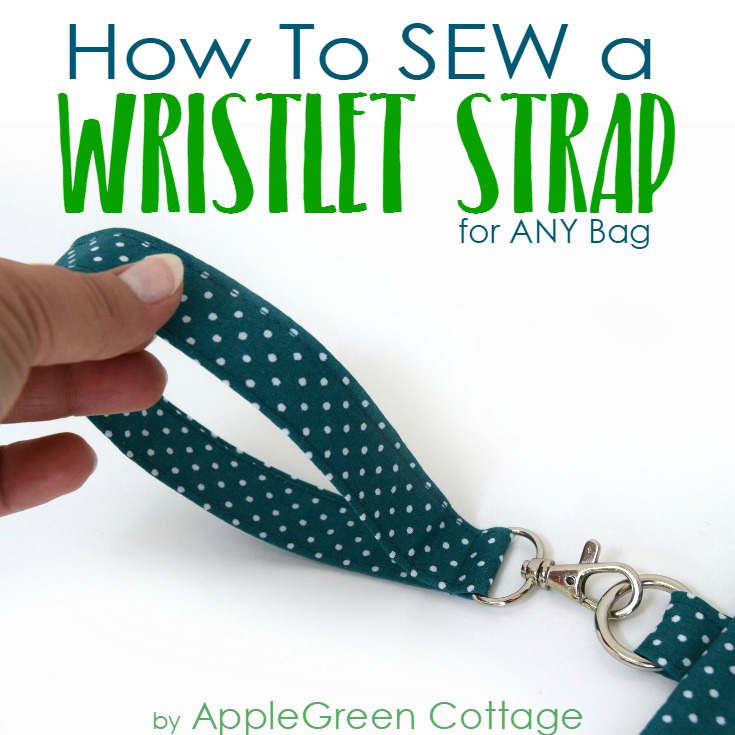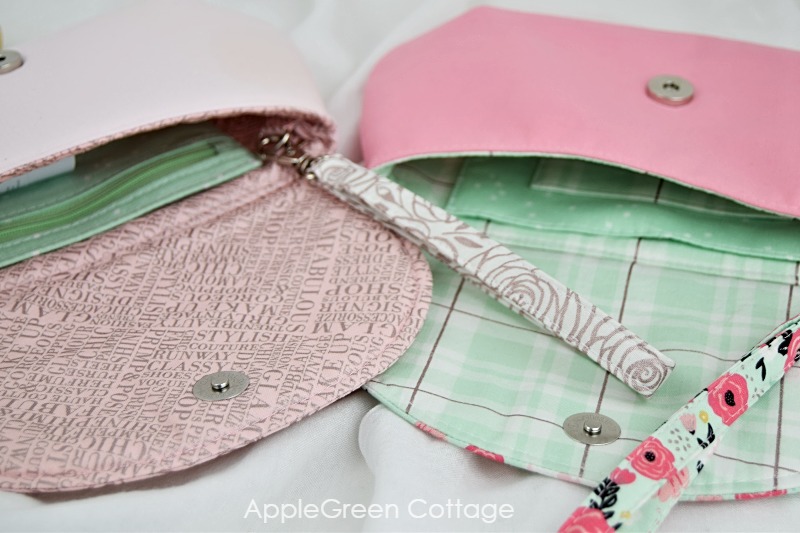 Making Long Bag Straps - How to Extend A Bag Strap
How to join smaller pieces of fabric to form a long bag strap - Join pieces that are just not long enough to form one long bag strap. You'll save yourself a trip to the fabric store 🙂
You want to make a bag strap and you've run out of long fabric pieces to cut one? You don't need to buy more yardage, you can piece your bag straps from smaller pieces. Here's how to join two pieces to form a long bag strap:
Cut the strips in the width of four times the finished strap width. If you want a ¾" wide strap, that would be 3", if you want a strap 1" wide, cut the stip width of 4". Cut as many strips you need to get the desired length, but here I'll just show how to put 2 pieces together.
So, here's how to extend bag straps: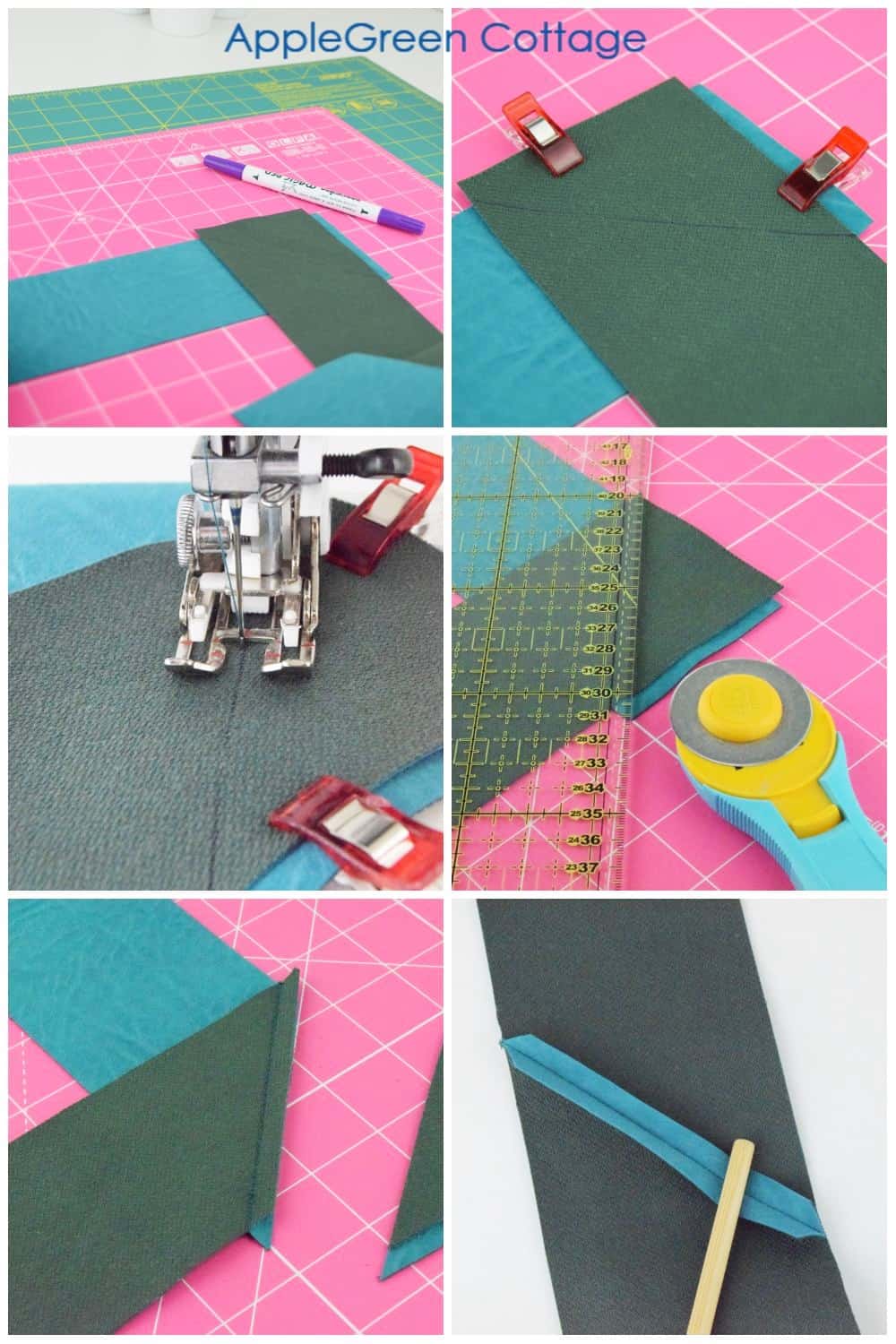 Place the two strips at 90-degree angle, making sure they overlap by a ¼" (7 mm), then draw a line at 45 degrees, and pin to prevent shifting. Stitch.
Open the seam and press the seam open (use a pressing cloth if it's not cotton!)
Clip the tails formed in the seam allowance, then follow your strap-making instructions as per the pattern you're working on. (You'll probably be fusing interfacing as the next step.)
Bonus: since you've joined the strips diagonally, you won't end up with a 'lump' of fabric in the spot where you are joining strips to make a long strap. good!
What Interfacing To Use When Sewing Bags
OK, let's move on. It is starting to feel like a comprehensive bag-making course. If you are reading this, let's do it all, shall we? Here's the BIG Interfacing Lesson!
Use Appropriate Interfacing For Your Bag Project
If you've made a few bags, then you already know: interfacing will make or break your bag project. Yep, it's THAT important.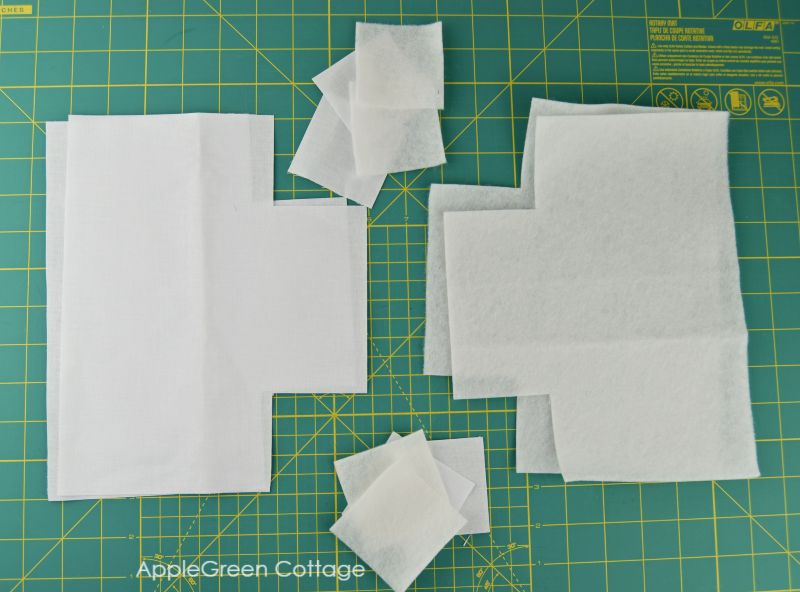 First, a few major takeaways I learned in my sewing life so far:
1 - Sometimes, Two is better than one! Body + Stability
You can use just one type of interfacing on a bag. But what really makes your bag stand out is combining interfacing and a stabilizer. Not to scare you off, the stabilizer can be as simple as the fusible fleece. Which you already know I'm sure, as there's plenty of that one in bag-making (and tons of others too)!
Want a bag that's both stable and has body? To explain, let's take a look at this bag: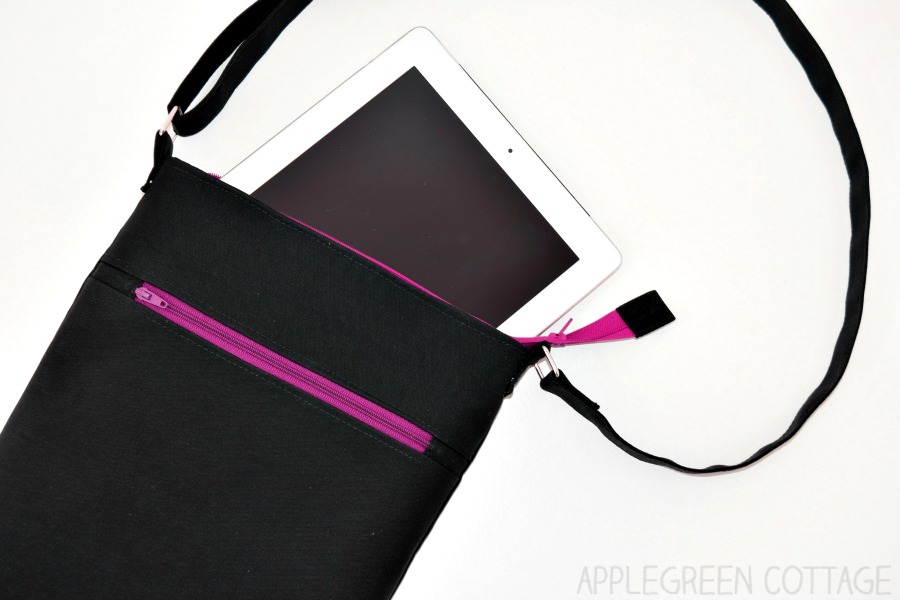 This pattern uses two types of 'interfacing', both non-woven fusible fleece as stabilizer, and stiff woven interfacing. These two combined give the tote just the right level of body and stability. Just what a good crossbody bag needs! Beginner friendly, as the layers are used on separate pieces of fabric - one on lining, one on outer. Countless variations, cute and practical! Next photo, for example, is the SAME interfacing, same pattern, but with a different fabric: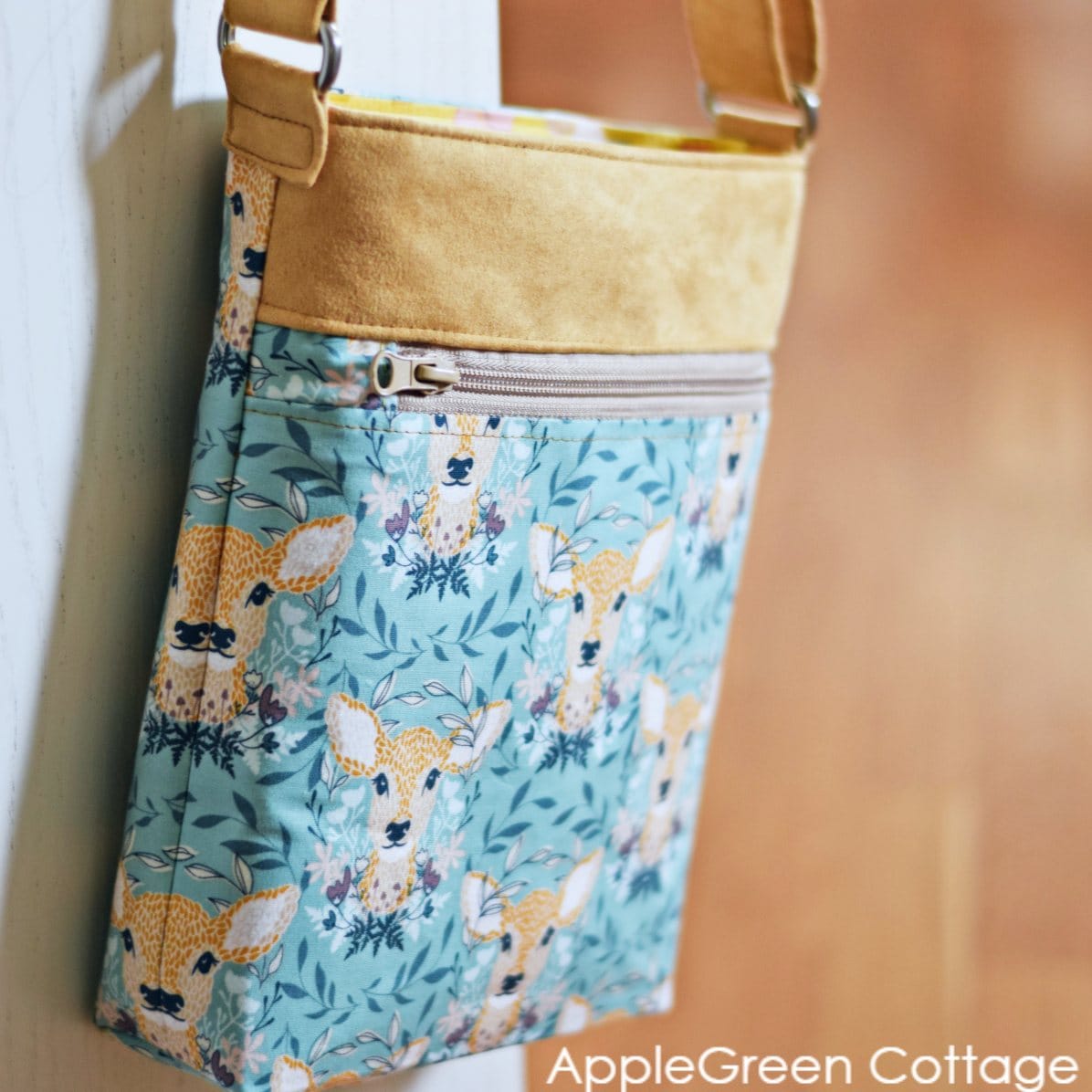 Ona side note, this bag also features a handy inset top zipper closure - check it out!
Interfacing that Bounces Back After being Squished
Two ways. One: flex foam, and No 2: a smart workaround without a flex foam. (I love workarounds, can you tell?)
First thing, I would usually use Flex foam for that. Like in the Glam Girl purse (here). Or a large tote that needs flexible stability, like the Allina tote. Foam is just perfect for that.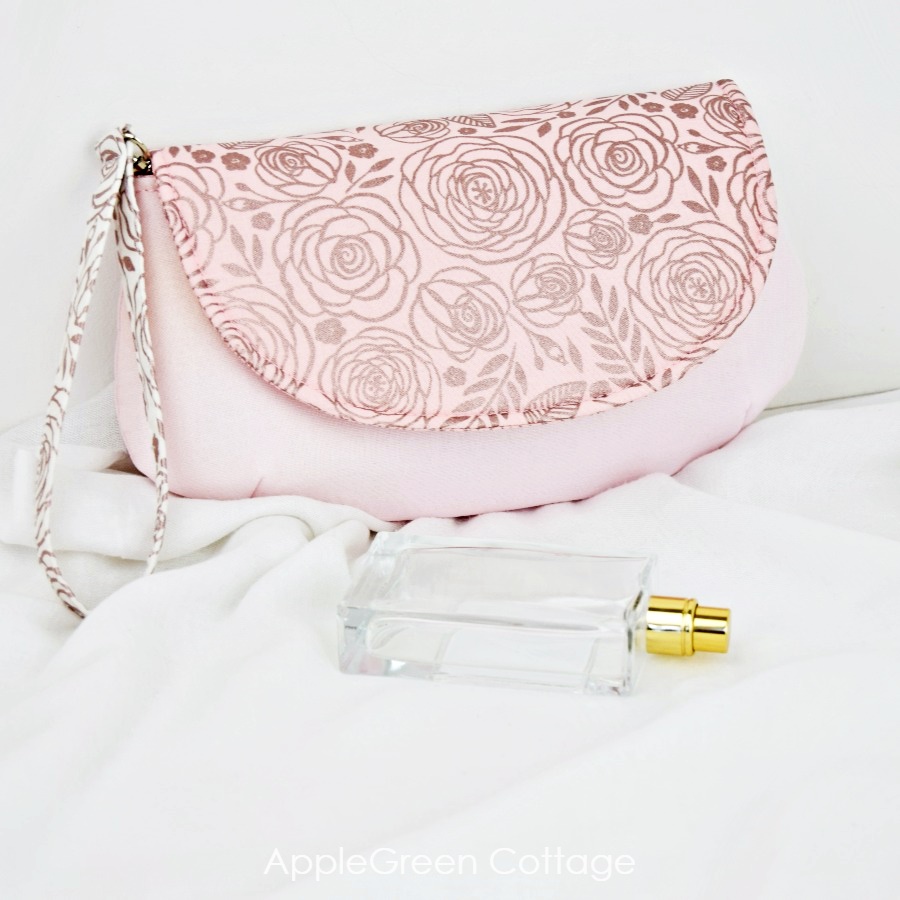 But there's more to it: there is an Interfacing Recommendations chapter in the Glam Purse pattern. And it also includes this other, different way to achieve a pretty much close effect. Also, because some sewers dislike using flex foam. This combo:
Use a layer of Vlieseline S320, Woven Fuse, or Shapeflex101 on the back of your fabric, THEN add a layer of stabilizer: Pellon Fusible fleece or Vlieseline H640. This gives your bag a great stand-up structure but also a great 'crushability' (is that even a word, lol) and bounceability - it will spring back after squishing the interfaced fabric through a turning gap in your lining. This one: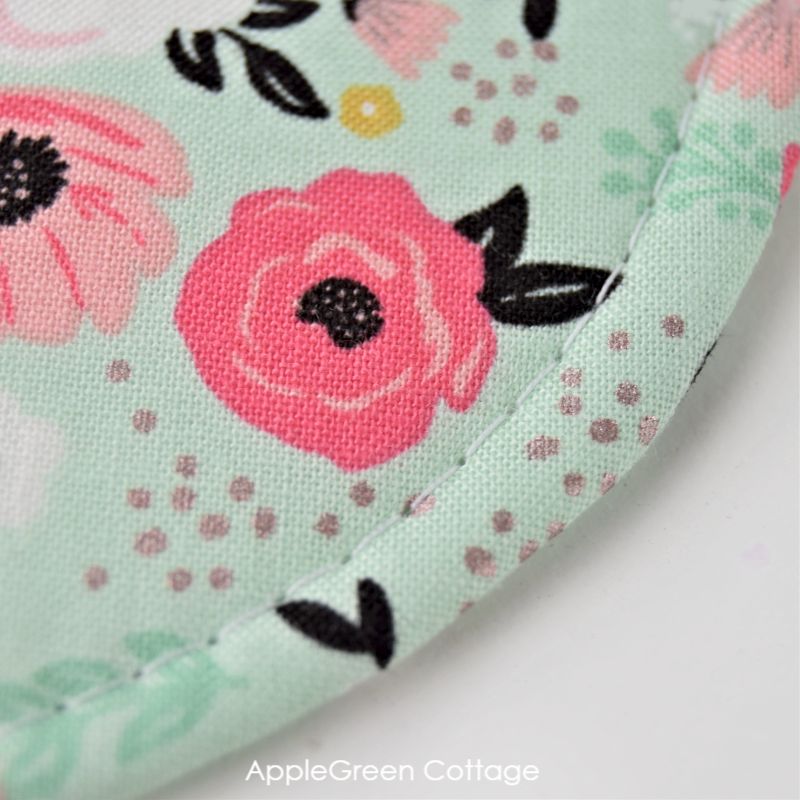 How To Prevent Creases From Stiff Interfacing?
Need to use stiff interfacing but don't like the creases? Often, you'll want a sturdy bag but without the creases that are nearly always caused by stiff interfacing being squished when turning the bag right side out.
This is what you can do: two types of interfacing. Use a layer of thin, softer interfacing (like Woven Fuse, or Shapeflex101, or Vlieseline S320 for my European friends) and only apply your stiffer interfacing on top of that. Decovil Light, for example.
And one little note on turning bags right-side out: there is a type that should NEVER be turned. The stiffest versions of stabilizer: Peltex and Decovil - both are applied when you have your bag already turned. Or on pieces that don't need turning. Never attempt to turn your bag with those two beasts already applied on your fabric. (Ask me how I know.)
Beginner's Guide to Interfacing
Ok, let me just stop here and breathe in. Oh interfacing is such a huge topic, I could keep writing about it. It honestly deserves it's own blog! But also, interfacing can be so confusing if you're a beginner and just starting out.
So, do you need basic interfacing tips for bag making? Check out my beginner guide to Interfacing here - all the basics covered, and make sure to read the tips in the INTERFACING And BAG MAKING section, it has more tips, some not even covered here! It also has a list of the main interfacing types and brands popular in bag making.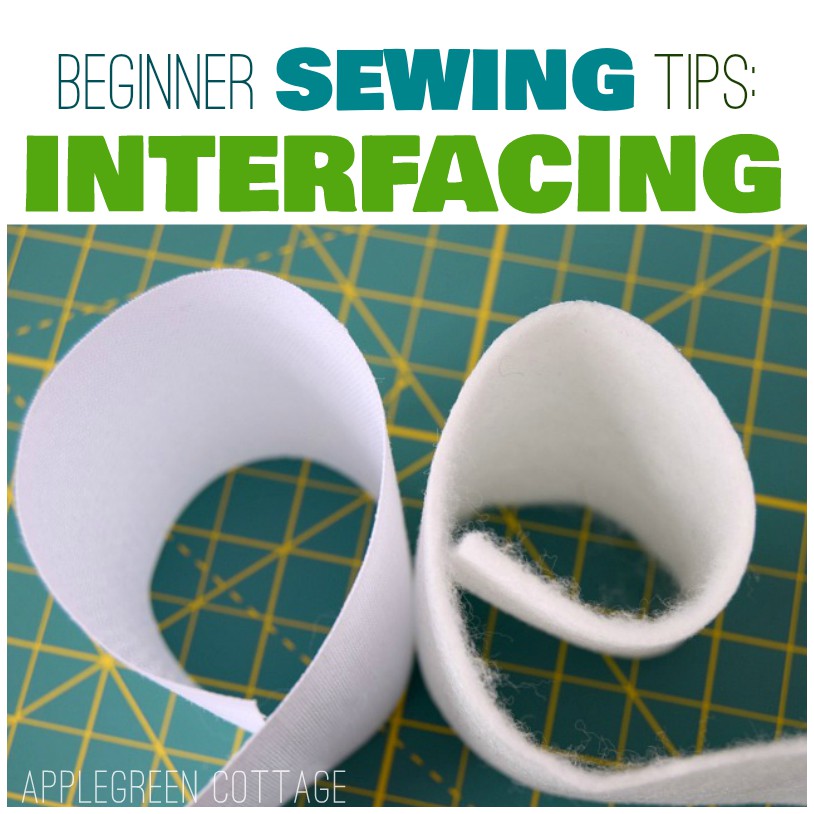 In the interfacing guide, you'll find out a gazillion of things: What interfacing to use, if at all (spoiler alert: nearly always on bags!) How to cut interfacing? Fusible or non-fusible? What about the difference between woven interfacing and fusible fleece?
Also, every good bag designer will add interfacing recommendations in instructions. Use their info, they know best what their bag pattern needs.
No time to read through the whole interfacing thing? Just click through to this quick how-to on fusible interfacing. (No questions asked, just go and sew! Happy sewing!)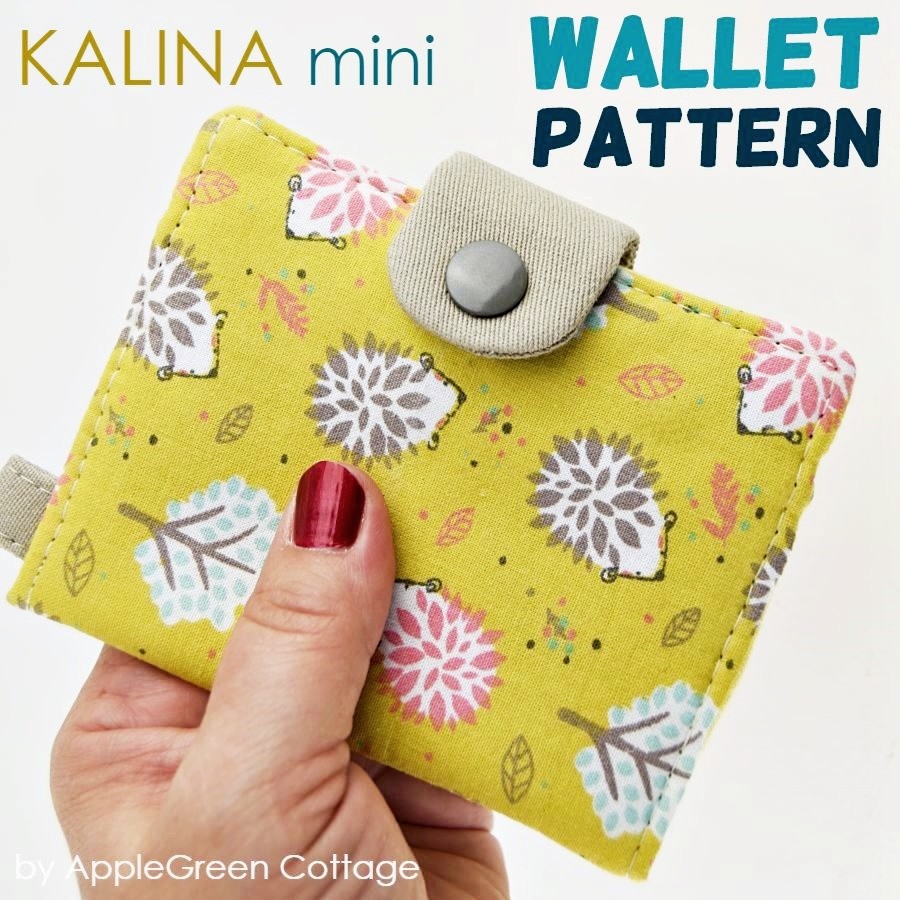 Making a small bag? Try using fusible fleece, it might be just what you need. Like with our Aiden phone pouch, or the Kalina Mini Wallet.
What About Interfacing For Bag lining?
Want a good-looking bag lining? Always use a layer of light-to-medium-weight interfacing like Pellon SF101 Shape Flex or Vilene G700. It always brings your bag to a higher level of quality.
Short of interfacing? What To Use Instead
Have no interfacing at hand but would love to give your tote that extra body and weight? Don't worry, you can get creative. Let me list a few ideas:
No fusible fleece? Use batting and quilt your lining to give it some extra body and stability. So pretty, too! I quilted the bigger of these two market bags. It turned out beautifully!
In the ALLina tote test, we had one version made with vinyl to replace the fusible fleece. Some pattern testers used several layers of different interfacings, and some used heavier weight of the fabric to lessen the need for special bag interfacing.

Use a stiffer material as outer – vinyl, faux leather or even real leather if you're a seasoned sewer and can handle those. In this case, only light interfacing will be required for lining, nothing else.
No real interfacing at all left in your stash? Canvas, stiff cotton or buckram are good to use too. Or, project allowing, use acrylic felt if you have any! Cheap, not washable, but it will save the day! OK, the last one is not at all professional, but it works. I've just sewn a different, large basket trying out quilting acrylic felt (not a pattern, no tutorial, just a private leisurely sew) And it turned out just great! But you will need to bear in mind that, using cheap acryllic felt in place of real interfacing will only work for projects that won't be laundered, washed, or exposed to water.
Oh, and you can just use scraps of interfacing and reattach them to make a larger piece, see this easy batting scraps hack!
Sewing The Bag Together
Next thing on my mind: a few additional tips that will help you when finishing a bag, pouch and probably several other items.
Tip No 21: Prevent a Wonky Handle BASE. Fix Your handles Well!
We talked about straps before. Now's the time to attach them to the bag body. When you sew your handles into the body of your bag, you'll often be advised to baste them first. Good, we all do that. But what you usually don't hear is about this easy - non-professional hack to make sure the handles don't move between the layers: Scotch Tape! It makes sure my handles don't get sewn in skewed, at an angle I would not want them to.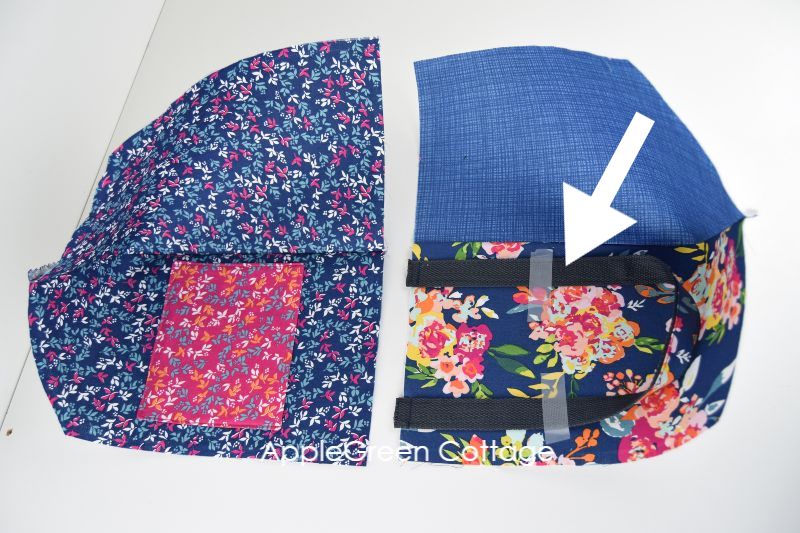 See the Scotch tape I used to fix the handles in place temporarily? I often do that to prevent them from getting in my way when sewing. And to keep them straight when stitching into the bag. Non-pro, but it works for me!
I've used scotch tape more often than I care to admit, that was before I found out about the double-sided wonder tape. I'm slightly embarrassed but also amused about this early sewing hack I wrote about.
Next bag Making Tip: A better way to Clip the Corners
Clip and trim the seam allowance, it will make a huge difference in how your bag will look like. And make sure to use this neat corner clipping tip on your bags. You'll never look back, and your bag corners will look nicer!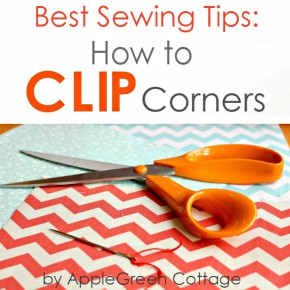 One Of My Best Bag Making Tips: Understitching!
And my top tip comes now: use understitching in making a bag!
Usually you topstitch around the top of your (nearly) finished bag. While topstitching will make your project look professional and the top of the bag smoother, topstitching is a challenge on really small bags, like this phone pouch. Even on a sewing machine that has a free arm: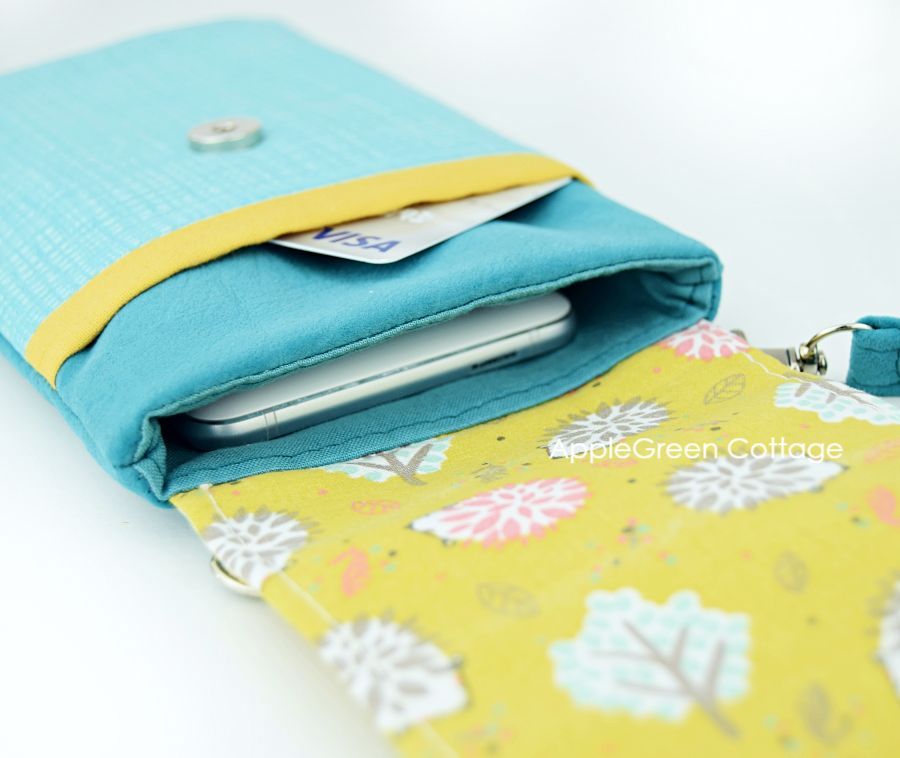 You can imagine how annoying it would be to topstitch this little opening, and how uneven that seam would be - the poor thing could end up in the bin!
In this case, understitching is the best solution. For me, like the bestest and cleverest thing to do! And it took me so long into my bag sewing journey to transfer this knowledge from garment sewing to bags that I decided to write this post mostly because of this clever little tip!
What is understitching?
You understitch when you stitch a seam allowance down to the lining of the bag. It causes the exterior fabric to roll just slightly towards the inside of the bag. Understitching will not be visible on the outside of your finished product but will do the job just as good as the topstitching does. that is, prevent the lining from peeking out.
At what step in the bag-making process do you understitch?
Simple. Right after you've sewn the bag lining and the bag outer together. First you unfold the outer and lining and press the seam allowance towards the lining. Then, with seam allownce on the lining side, stitch seam allowance to the lining fabric, something like ⅛" (3mm) or even less away from the original stitching line. In the photo below, pink chambray is the lining: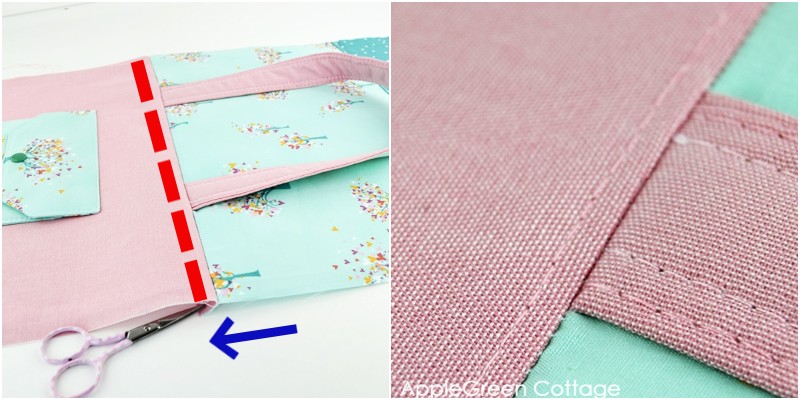 ---
I also like to understitch when it's not really necessary - like with this diy drawstring backpack pattern. Always a neat seam!
Adding Volume To a Bag
How To Box The Bag Corners
One thing: corner boxing is one of the basic techniques you learn with your first few zipper pouches. Super useful in bagmaking! Just in case a beginner bag maker is reading this, here's how to make a corner-boxed bag. Must-know, must-make.
Following the same principle as the 90-degree boxed corners, some patterns come with darts - a dart is shallower than a full boxed corner, adding less volume, and a beautiful way way to add space to a bag. I love corner darts - here's a tutorial to make a darted bag: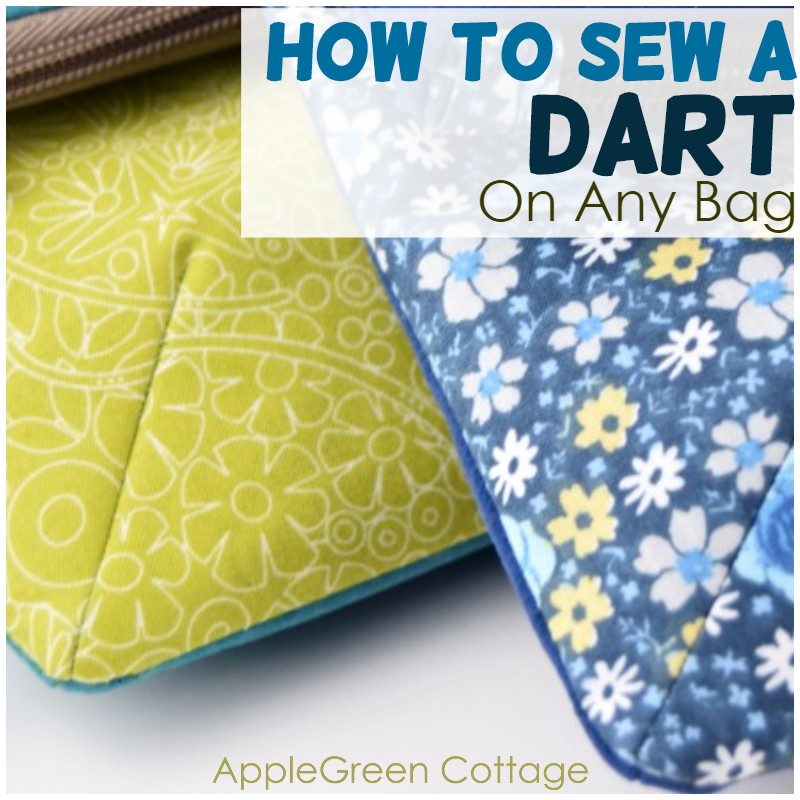 Adding Space to Bags Without Boxing Corners
Not a fan of corner boxing? I've got you covered: there are a few ways to do it, one option is adding a gusset Check out this popular messenger bag tutorial to sew a bag with a gusset.
And here's a rather unique option to construct a three-dimensional bag: this free market tote pattern has a spacious flat bottom without the need to box a single corner. Want to see how? Check out the market tote tutorial - and download the free pattern, it comes in 3 sizes!
... Or achieve the look of boxed corners just by smart folding the layers but without the need to do the tedious corner-boxing measuring and cutting and stitching - like in this Gift bag (pattern in our shop here)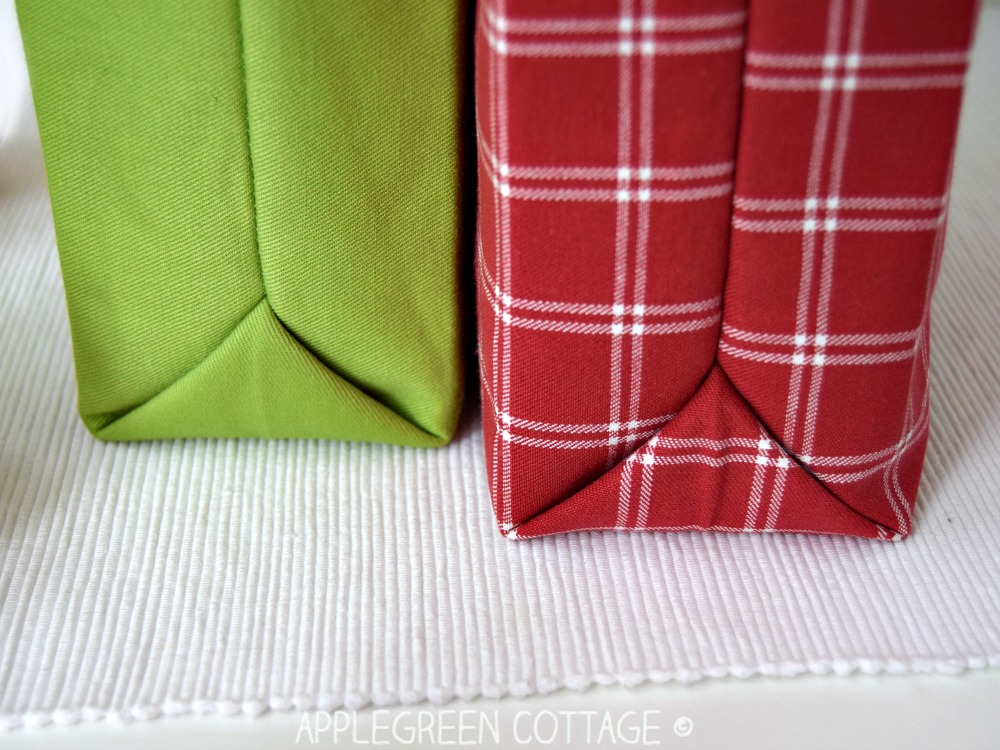 Pockets in Bag Making
A whole bunch of things to talk about here, so I'll really do my best to limit myself (promise!) to just a few tips. OK, let's do it: the simplest way to add a pocket: a slip pocket. Take a look at this list: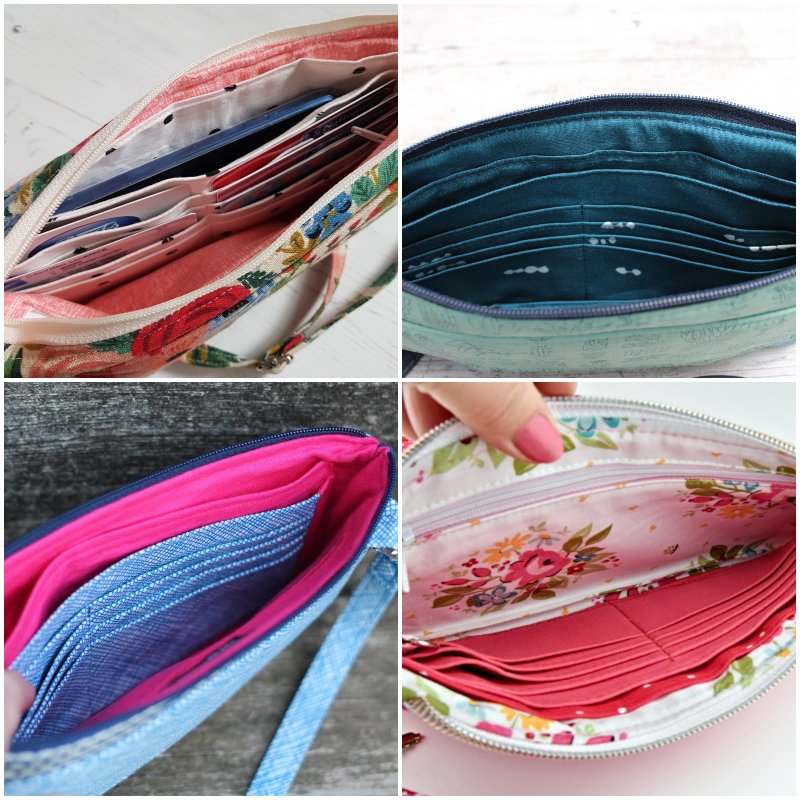 For those who'd like to dip a toe into the pocket-making world, here's a free template to make a simple welt zipper pocket - and instructions if you haven't yet made one. Easy, but looks cool.
Unique Pockets to Sew
The unique pocket on the Nelto bag is definitely something you need to try if you are looking for something special. Pretty and you can add this one anywhere!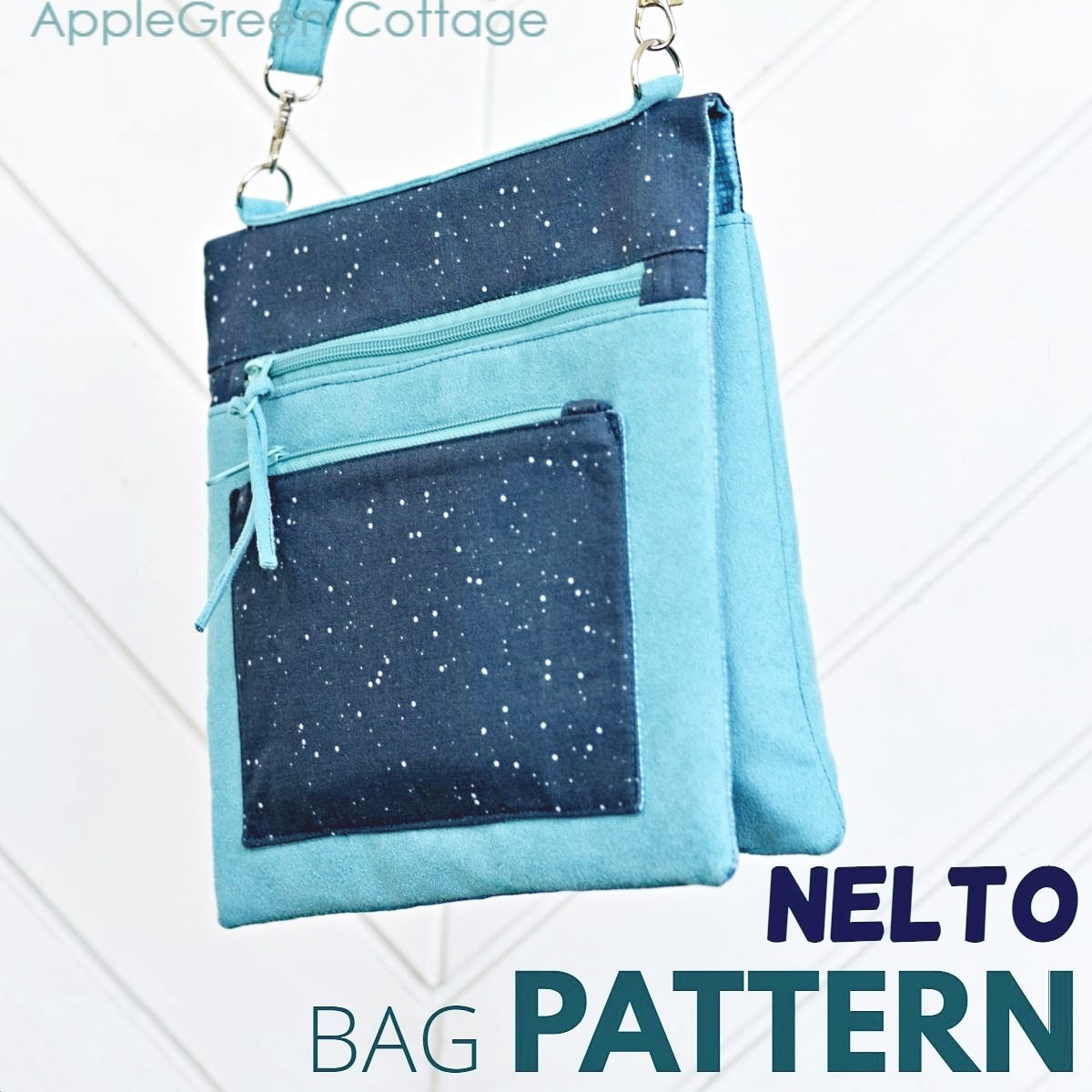 One more pocket that can be used as-is, as a slim front pocket wallet - it's this free card holder pattern. It only takes two seams and 5 minutes to sew one!
And let me show you one last, special pocket, just for fun. This: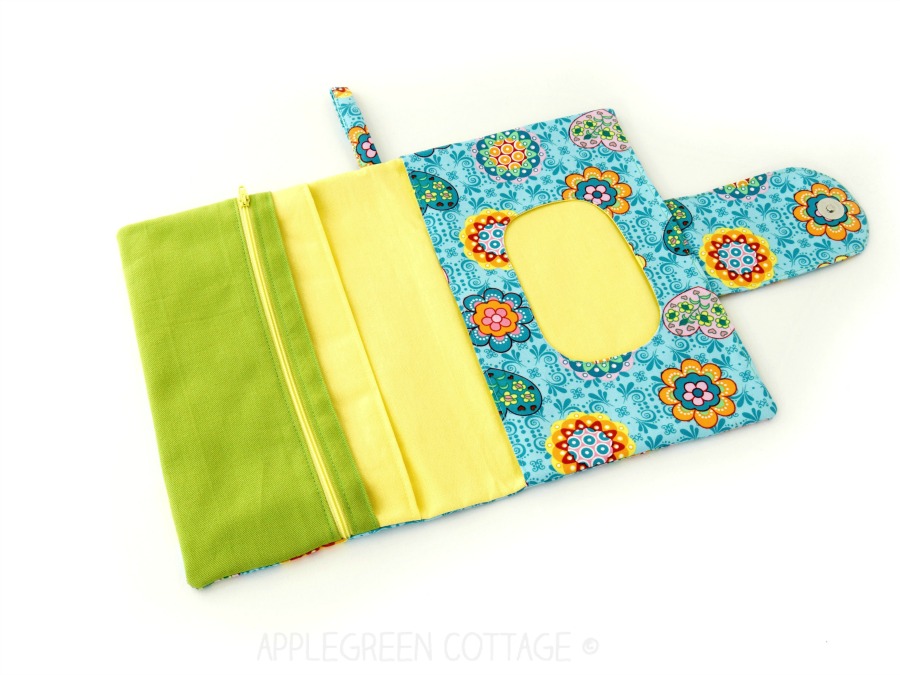 Bag Closures
Pockets are so cool, but they need to be placed strategically, so they actually protect what's in them. Which inevitably brings us to the closures in bag making. Promise, I'll be quick - I have tutorials for these: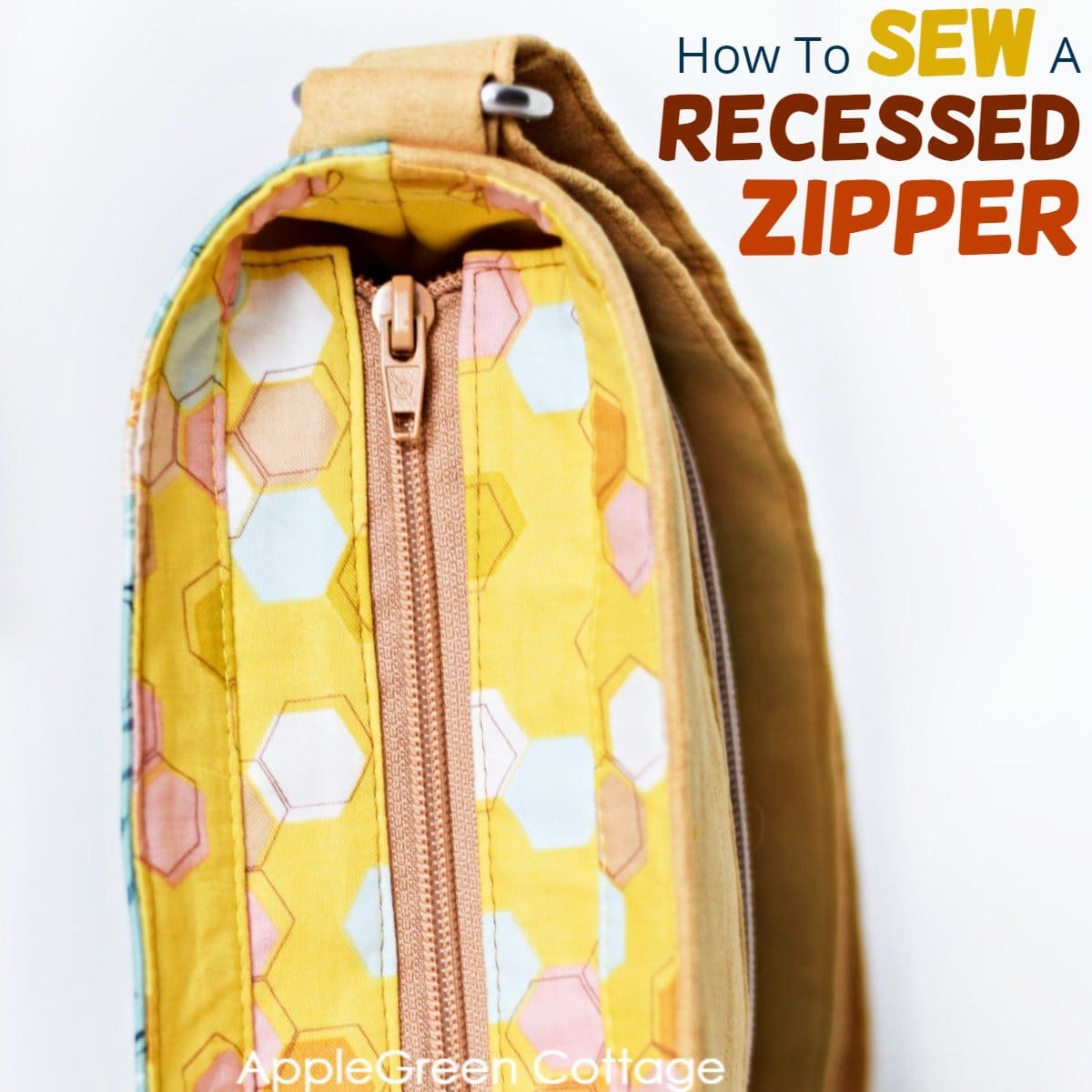 Mentioning drawstrings - installing grommets to your drawstring bag is easier than you think! And more: you can have all my drawstring pouch patterns here - for free!
How To Use Zippers In Bag Making
Firstly, here's my huge everything about sewing zippers guide - use it and never fear zippers again!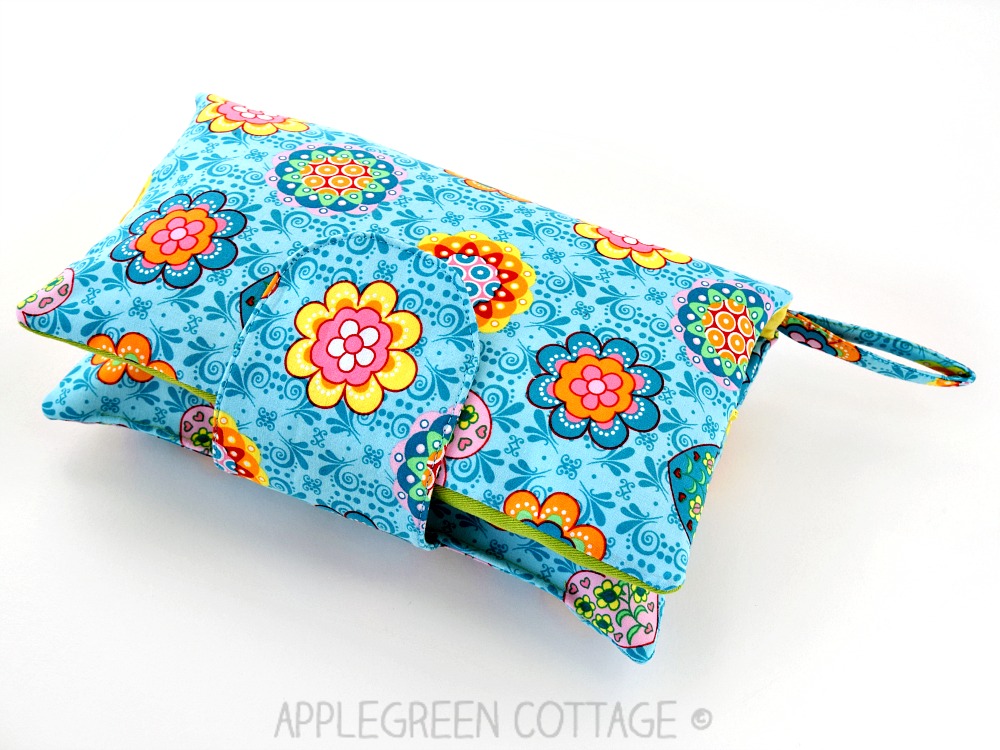 And More little sewing tips to make better bags
Sewing through multiple layers with a domestic sewing machine
Sewing through thicker layers on a basic sewing machine: when you need to do some multi-layer sewing on a beginner machine, use a denim needle and slow your speed down. And use the wheel to manually turn a few first seams. It should do well.
See which two basic sewing machines I've used, for years. Still do!
And One More, Super Important Tip: Pressing Seams when sewing bags
It's simple: pressing well and often will make a better bag. You've heard that one before, I know you did. But sometimes, especially towards the end of your project, it's hard to press all those boxed corners and spots under the bag handles.
Press well to achieve that neat look. I love to use my DIY sleeve roll - it makes pressing bags and pouches a piece of cake, every single time! You can use my FREE TEMPLATE to make one for yourself.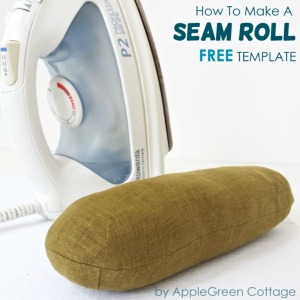 It looks like I simply cannot squeeze everything in here, but let's just mention this pattern tracing tip for when you have bags with several sizes, this tip about how to end topstitching on both sides so it looks neatly (no loose thread ends!) Oh, and
if you're just making your first zipper pouch, or bag, or tote - get yourself a bunch of these sewing clips (I used to hate pinning, and these were lifesavers!) - and at least try out the DST. Double-sided tape. Saved my day so many times when sewing zippers!
And What About Bag Sewing Classes?
And what about sewing classes? I haven't mentioned them yet, but yes I've learned a lot about bag making from sewing classes online! Quite a few of these tried-and-tested, favorite sewing classes deal with - you've guessed it, sewing bags. Check out the online sewing classes here. I'll make sure to add more of my favorite bag classes here as soon as I manage. (working on a list of my favorite bagmaking classes - those are goooood!)
---To be continued---
EDIT. I've come back to add this note now after I've finished making this long list. Guys, there are so many (!!!) bag sewing tutorials here on this blog, even I wasn't aware they would make this post so long. I know, it's a lot. No need to take in everything in one go, feel free to consider this as my most elaborate post on sewing bags so far, I'll just call it 'sewing bags'. Save to Pinterest, come back when you need it. Deal? And here's even a pretty image for you to save to Pinterest using the image below or clicking THIS link: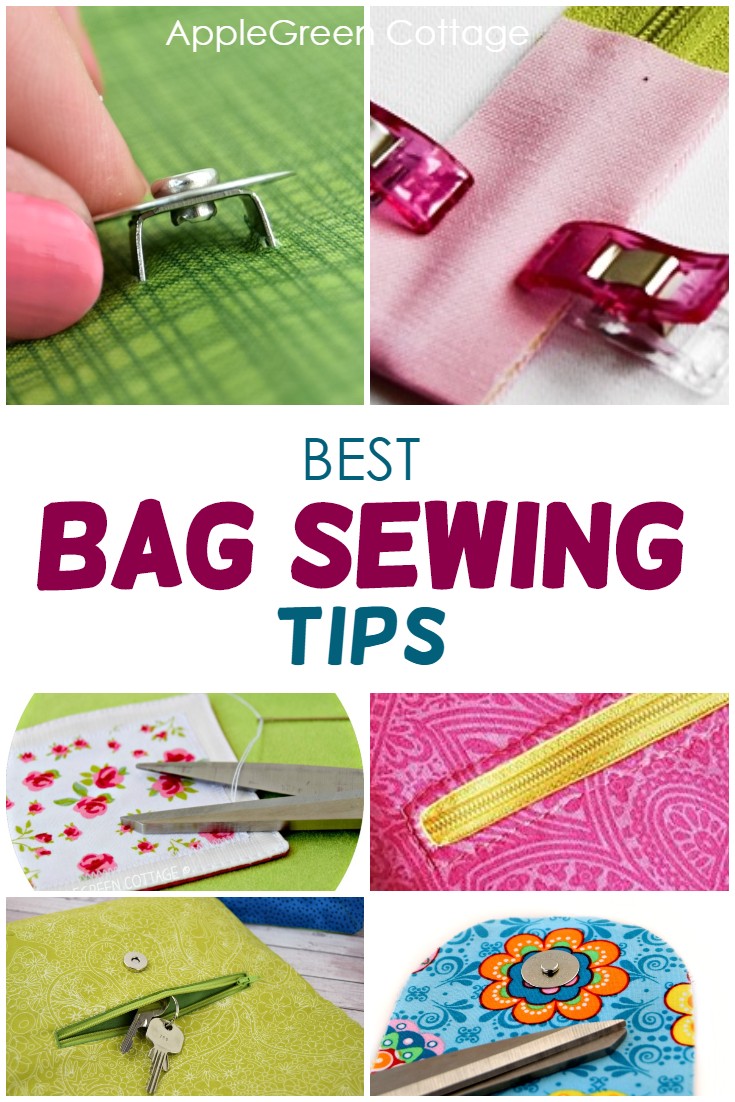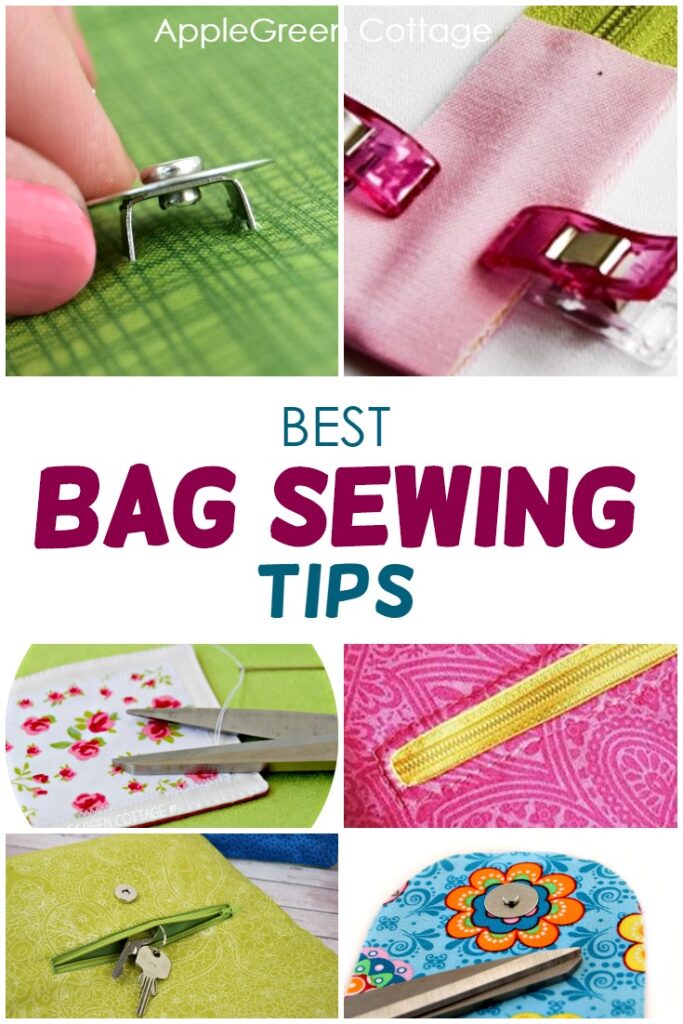 I would love to see your bags, and more importantly, I'd love you to have fun when sewing bags. Happy bag-making!
Damjana (Signing off, now I'm back to working on my new pattern, and it's gonna be a cute small bag! But shhhh.)
Edit: I haven't forgotten how lost I felt when hearing all those fancy sewing terms for the first time. I've compiled a quick and simple sewing terms glossary to help you if you're just starting out - as well as a whole series on how to use a sewing machine - forward this link to someone whose sewing machine has been gathering dust, or is still unpacked, stored somewhere in their garage. They might thank you later.
Happy sewing!