Zipper tabs will make any pouch, bag, clutch or purse look neat and nice.
Adding zipper tabs that nicely cover the zipper ends is my go-to solution for nice and professionally looking zippers on any bags and pouches I make - and it looks like everybody loves them!
See how to shorten a zipper and add zipper tabs, and give all your diy zipper bags (like this one) a professional look - without a lot of work. And you won't believe how easy it is!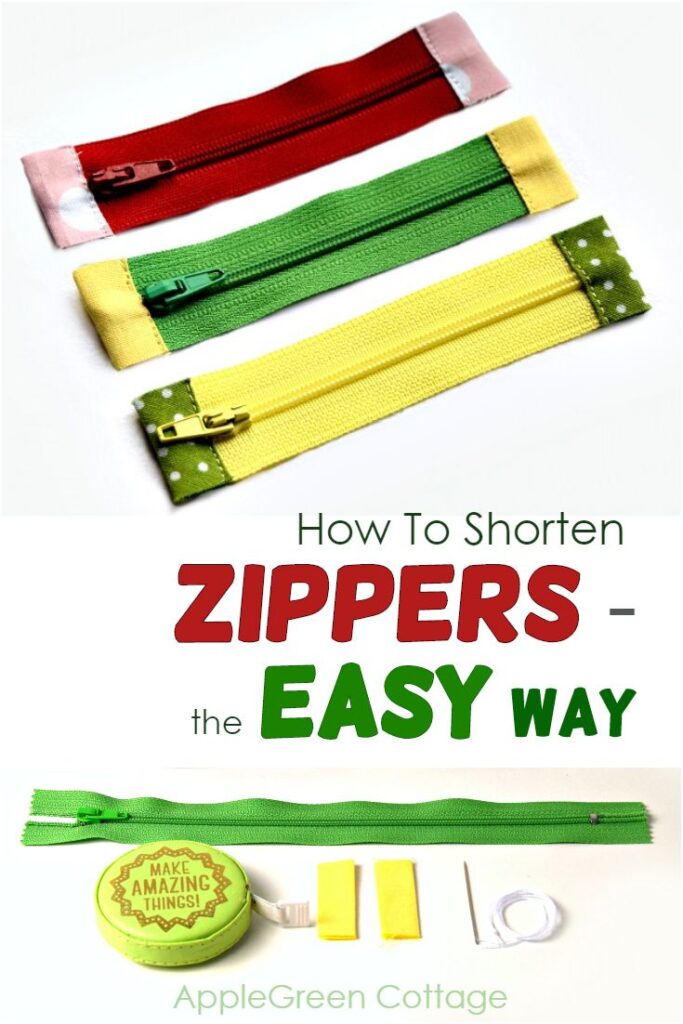 This tutorial includes affiliate links (thanks for your support!) and is part of the ApleGreen Cottage learning-to-sew page. Check out all my sewing tips here, especially these how-tos: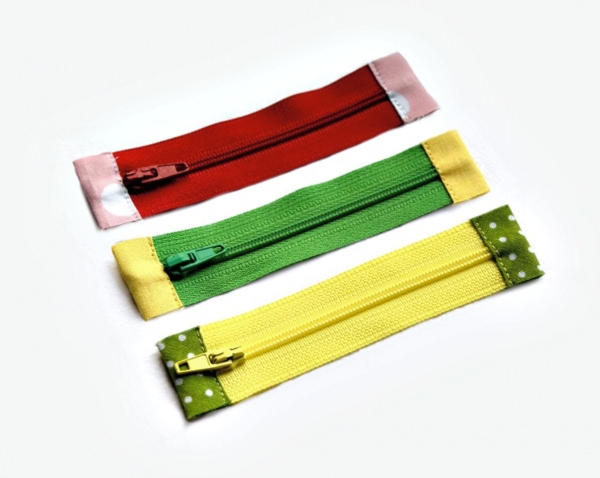 Can you cut a zipper to make it shorter?
If you're not yet familiar with zippers, you'll probably wonder if you can shorten a zipper by simply cutting off any excess zipper tape.
Here's the good news: yes, absolutely! what you need to be careful about is to work with a nylon coil zipper, especially as a first zipper sewing project.
The reason is that the nylon coil zippers are the easiest to work with and to have them shortened at home. When cutting off a portion of your zipper tape, make sure to have the zipper slider on the part that will not be cut off.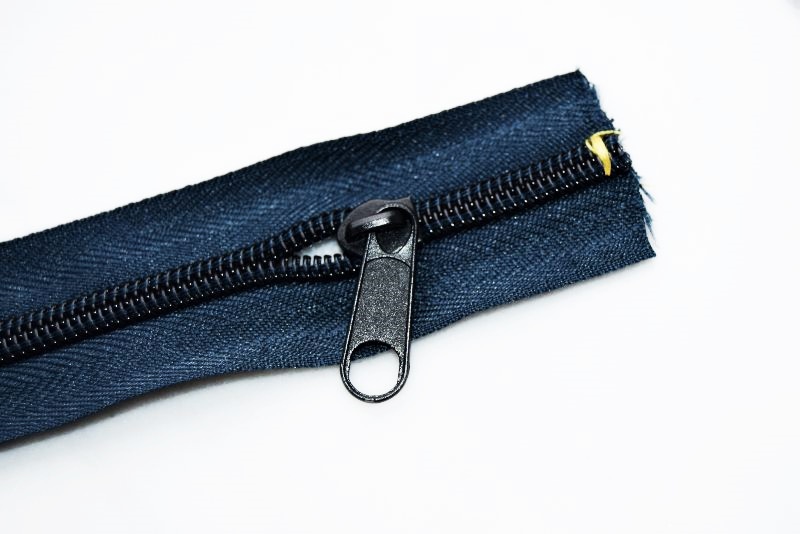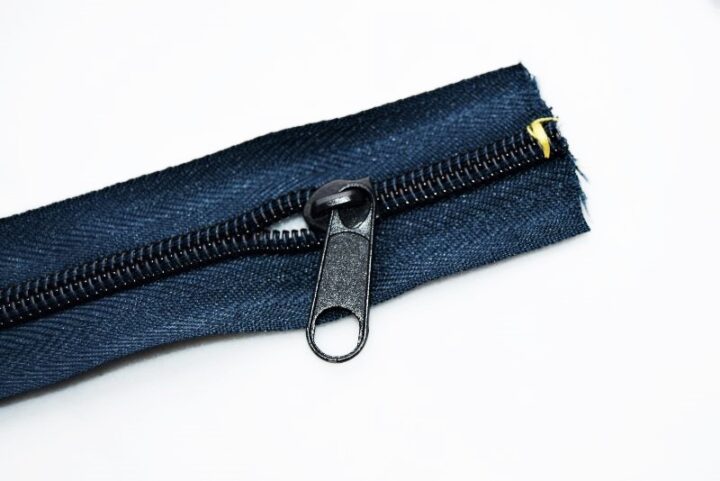 I have a great zipper sewing guide that you'll find useful, make sure to check it out and it will make all your zipper sewing projects much more fun!
Why do you need tabs on zippers?
While you could get away with just cutting off a portion of the zipper tape and sewing it into your project, zipper tabs are always the way to go if you want your project to look professional: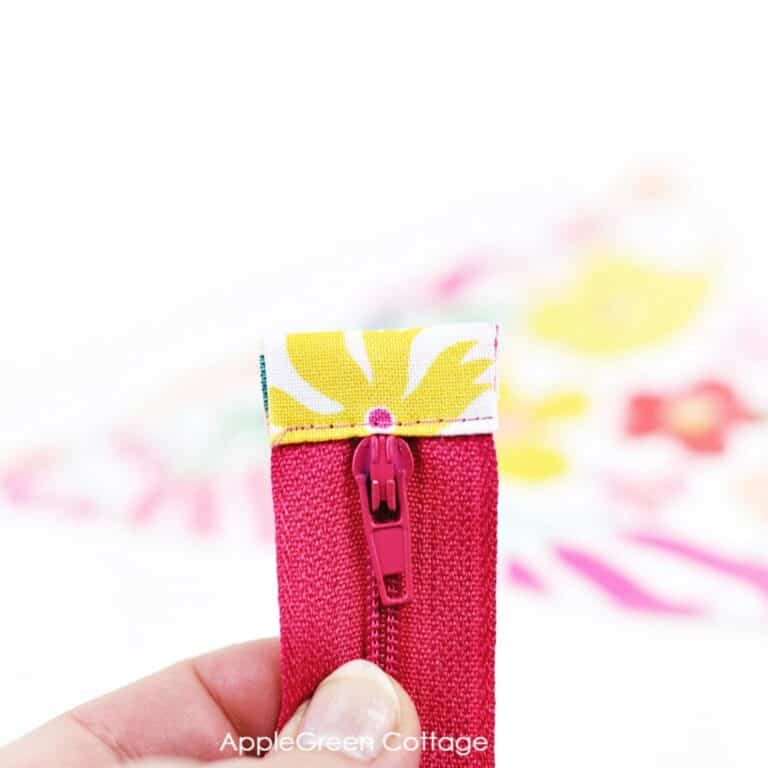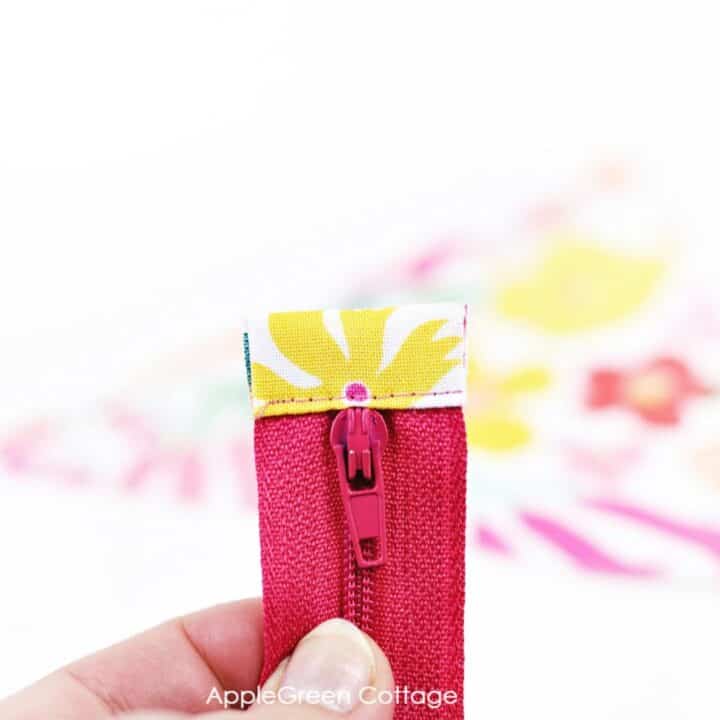 Adding fabric tabs to a zipper when sewing a zipper pouch will hide the raw zipper end once you've cut off the raw edge and shortened the zipper to the correct zipper length.
It will make your zipper look neat, prevent a pinched zipper end, and make your sewing easier.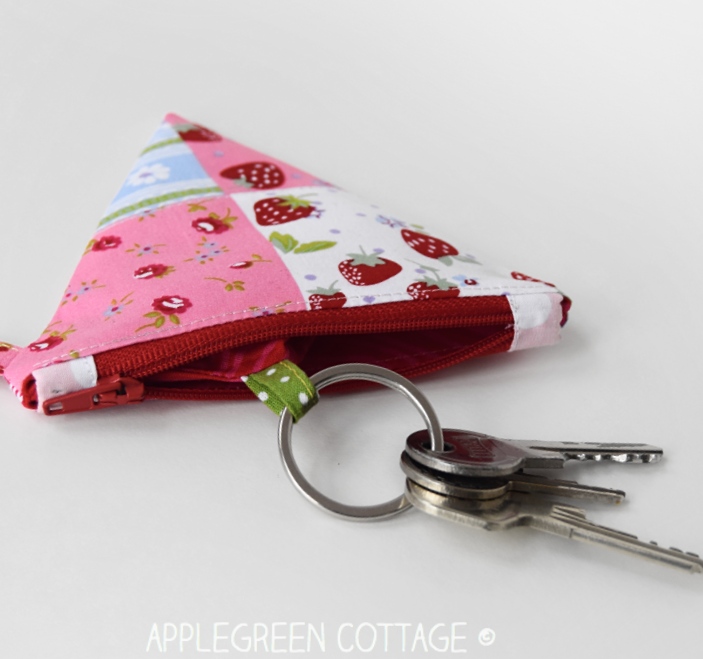 Zipper tabs are a great way to shorten zippers and make your zippers look beautiful. Here's a little how-to for any sewing enthusiast who'd like their zipper bags to have a professional look.
How to shorten A Zipper
Learn how to shorten a zipper and then sew fabric tabs to each end of the zipper to give it some more color and style. I used it in this popular coin purse pattern, and it made a huge difference!
First, for those of you who prefer video how-tos, here's a video slide-show for you:

And for those of you who you prefer written instructions, read on: This tutorial will show you how to shorten zippers and add zipper tabs, and how to sew in zippers the neat way (no more pinched ends of your zippy pouches!)
You'll be able to use this on ALL your future sewing projects involving zippers! Let me show you how:
Supplies For Shortening Zippers With Tabs
This is what you'll need to add zipper tabs and shorten your zipper: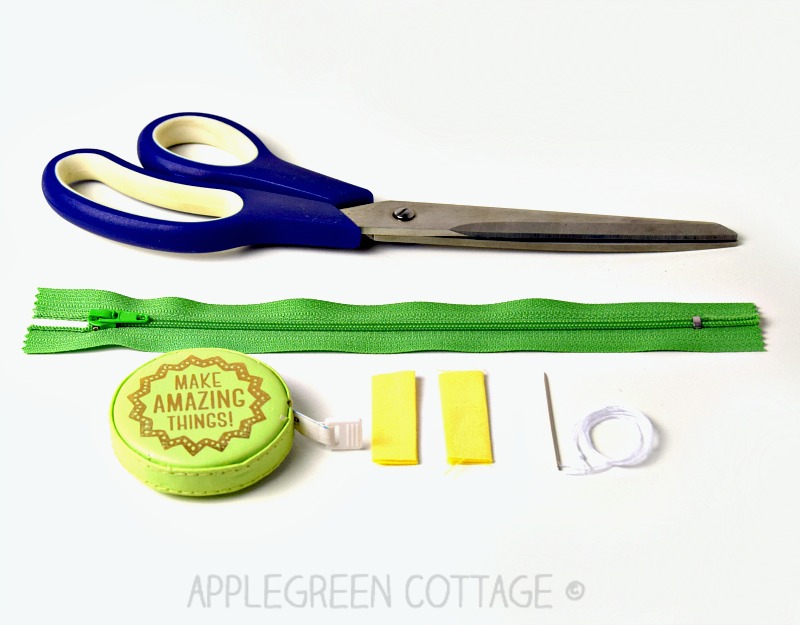 a (longer than needed) standard nylon coil zipper
2 pieces of scrap fabric for tabs (2 inch by 1.5 inch each)
sewing machine /needle
scissors
measuring tape (so cute, find a similar one here on Etsy!)
To make it even easier, I've split the steps into three sections: Make zipper tabs, Shorten the zipper, and Attach zipper tabs. Nice and easy:
1) Make Zipper Tabs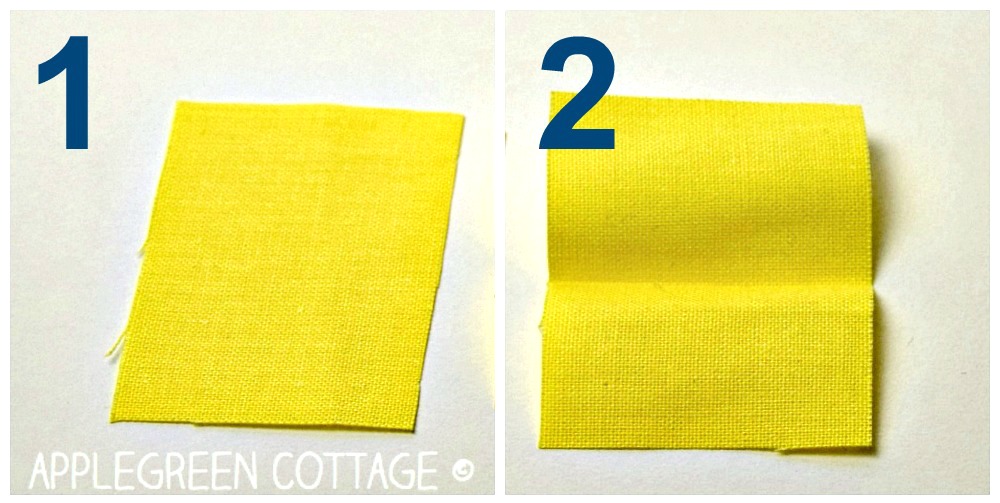 1. Place your 2 by 1.5 inch piece wrong-side-up.
2. Fold in half crosswise. Press, then open again.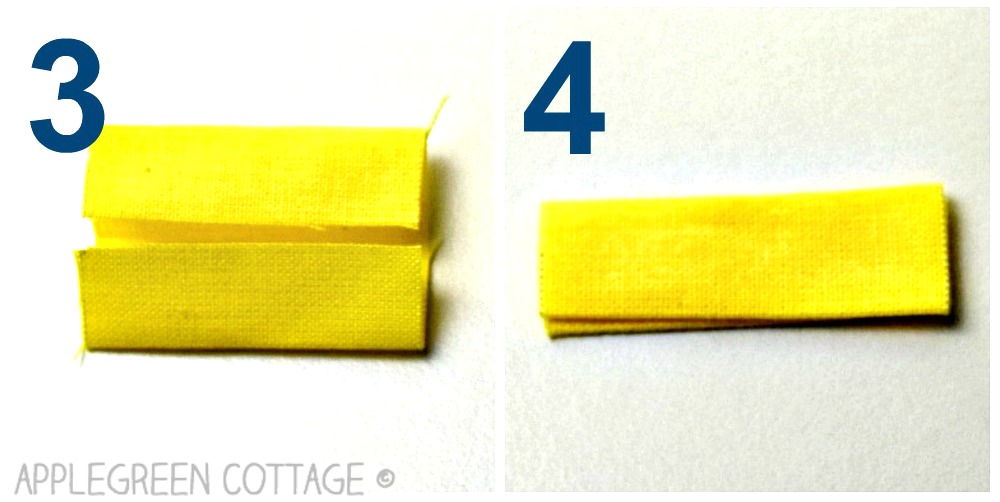 3. Fold the upper side to the center crease - and do the same with the lower side.
4. Fold again along the original center and press.
Repeat with the second piece.
No stitching yet. You'll slide these two pieces on each end of the zipper.
2) How to Shorten a Zipper
Adjust zipper length: decide on the desired gross length of the zipper for your project.
1. Make sure the zipper pull is within the area you'll use and won't be cut off.
2. On one end, trim the ends of the zipper tape back to the metal stopper (right part of the photo), but don't cut off the metal stopper. It's just for convenience sake - this way, you only need to secure one side of the zipper (= less work)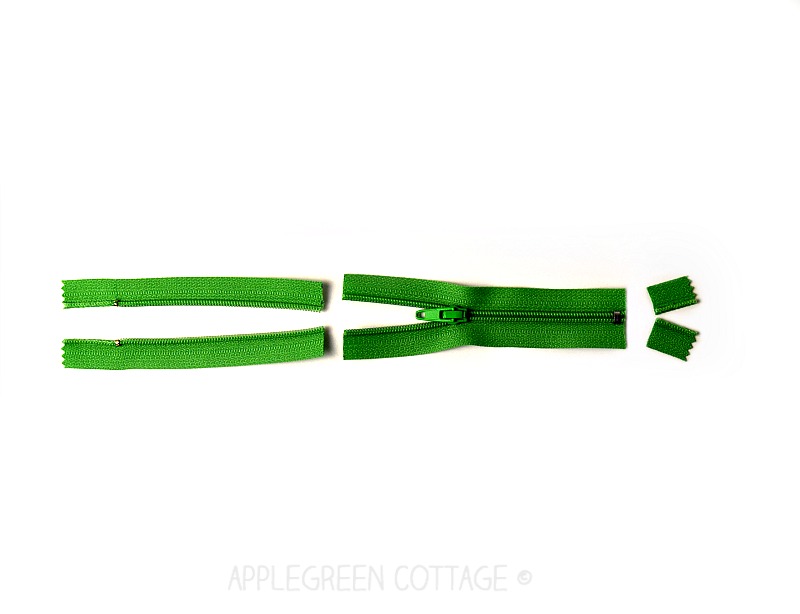 3. On the other end, cut off the excess zipper length.
NOTE: Any chance you might need to sew over area with the metal stopper? In this case cut off the metal stopper part too. (But you'll need to secure/sew both ends of the zipper, as shown in the next step)
4. Secure the end of the zipper
This is how to secure the end of the zipper: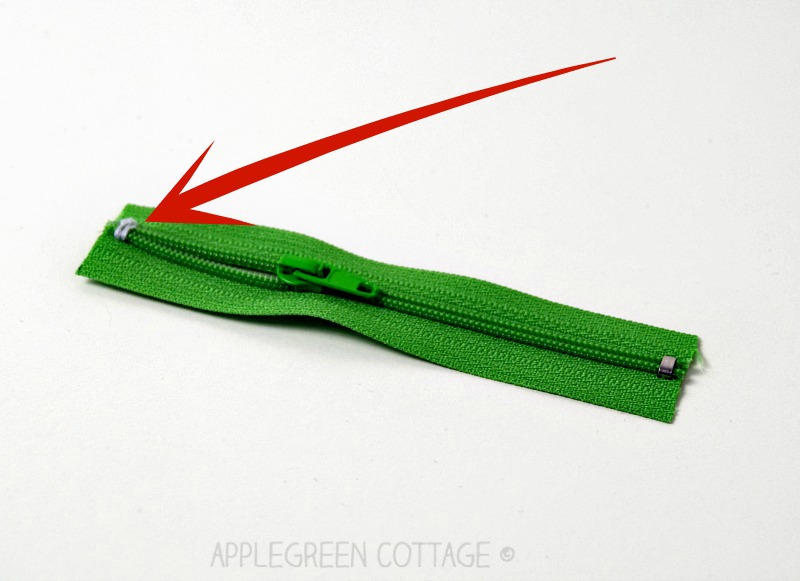 Hand-stitch very close to the end of the zipper where you snipped off the excess zipper. (¼ inch from the end or LESS.)
(I'd say you can machine-stitch it, but hand-stitching is a lot easier in this case!)
3) Attach Zipper Tabs
1) Slide on the two zipper tabs you made earlier (see step 3), encasing (sandwiching) each of the zipper ends.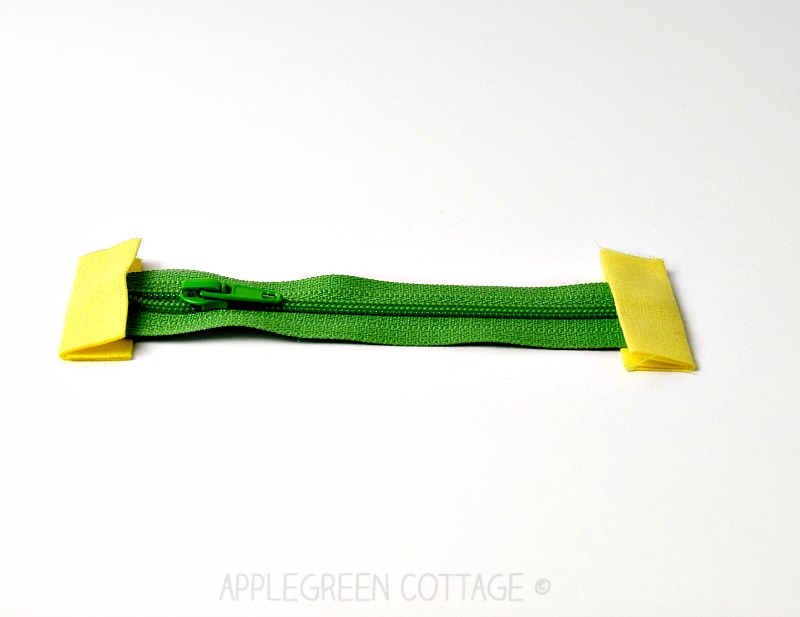 The tabs are half an inch deep, so each one will cover ½ inch of the zipper end. This means gross zipper length minus twice half-an-inch tabs = the finalized exposed zipper length will be 1 inch shorter than the gross zipper length.
2) Use pins to hold the tabs in place.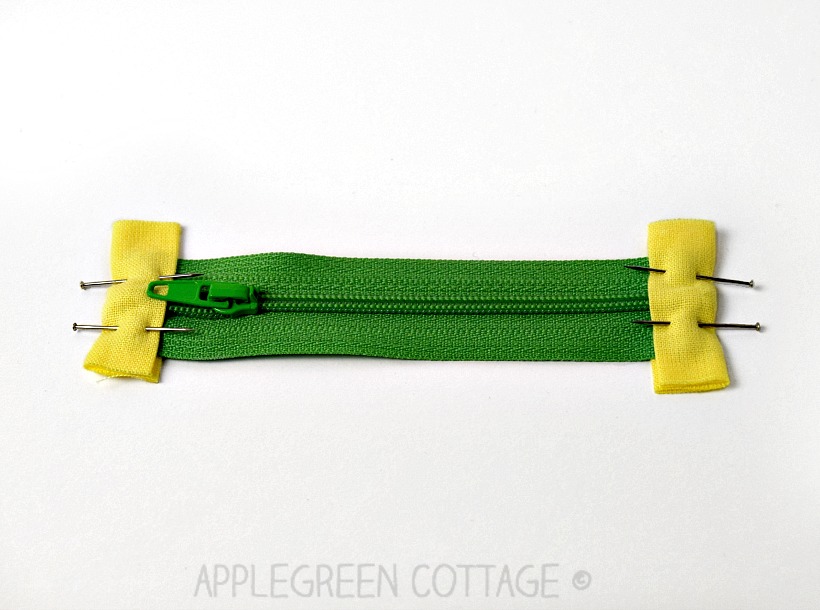 You'll remove them one by one as you sew.
3) Then topstitch over the tabs close to the exposed part of the zipper, catching both the upper layer of the tab as well as the bottom layer (the one below the zipper). See the image: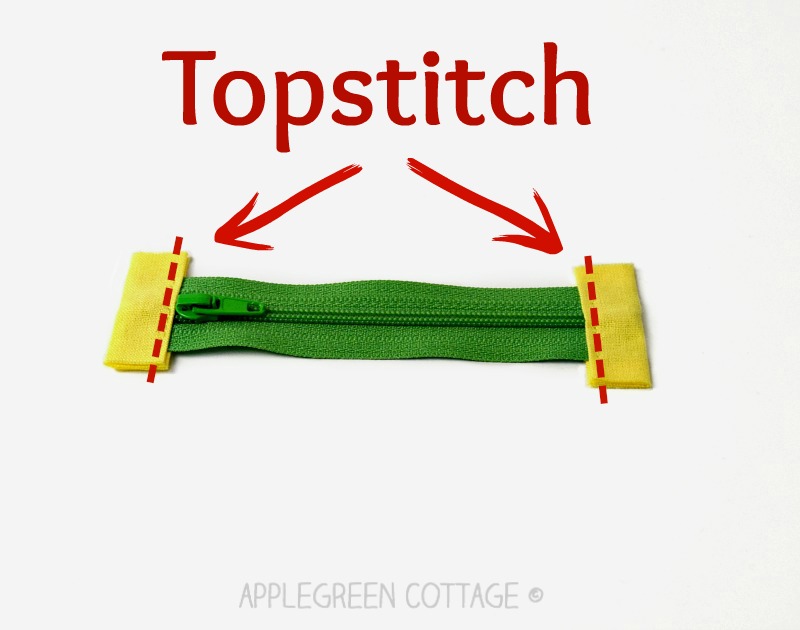 Never stitch over any metal parts (stoppers), as it might damage the needle.
4) Once sewn, snip off the excess tab material, so you get a nice and even looking zipper, like this one: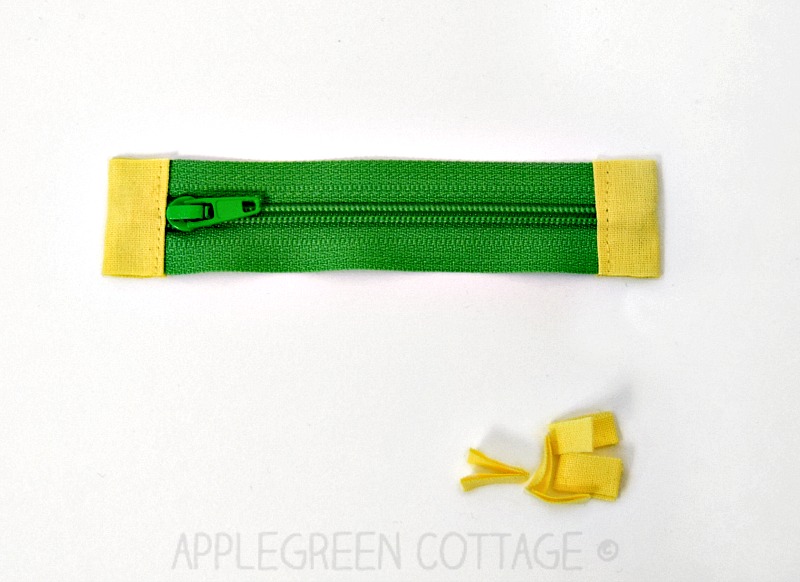 Now you are ready to sew the zipper into a bag. It will make it look nicer and more professional. I love it how it adds a pop of color to any zipper bag!
See how neat and clean a tabbed zipper looks here: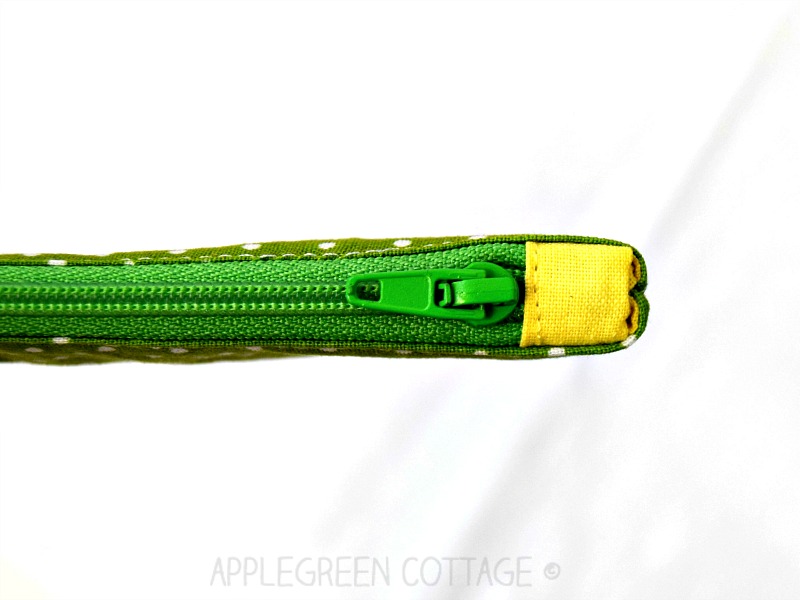 Now, once you've learned how to use this little hack, it becomes so easy to add it to a few scraps of fabric and - voila! Here it is, your own little bag or purse. You can totally do this!
I used zipper tabs on this little cutie, TRIA, it's my own design. I've made tons of them, and they turned out to be the perfect little handmade gifts.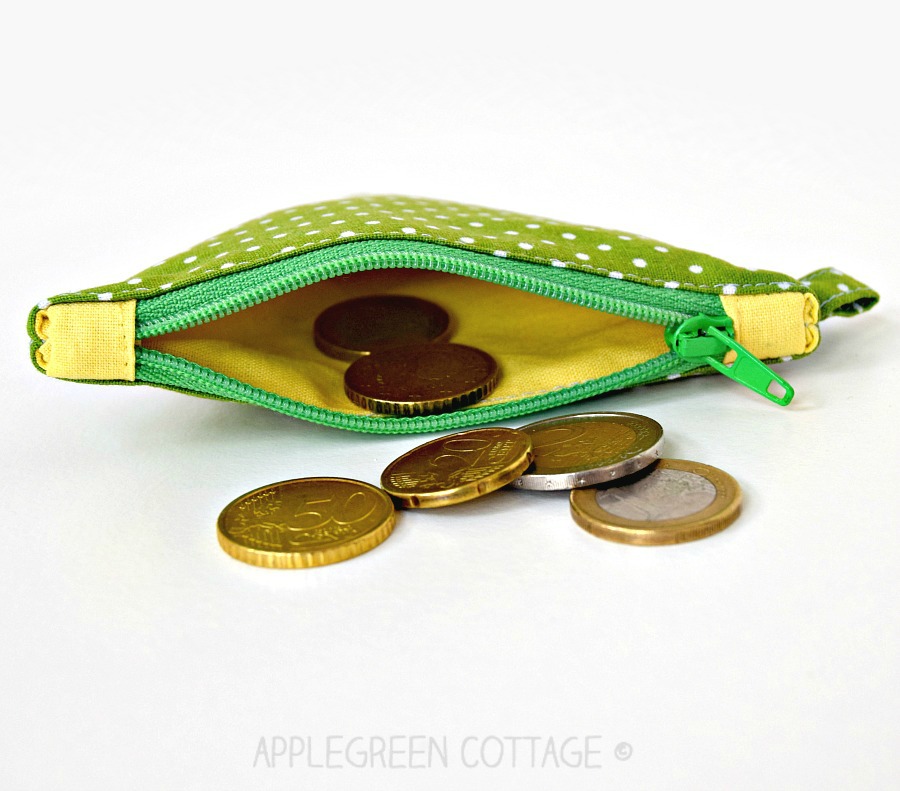 I've also used this sewing technique in many other projects. Check out the same coin pouch in Halloween colors here: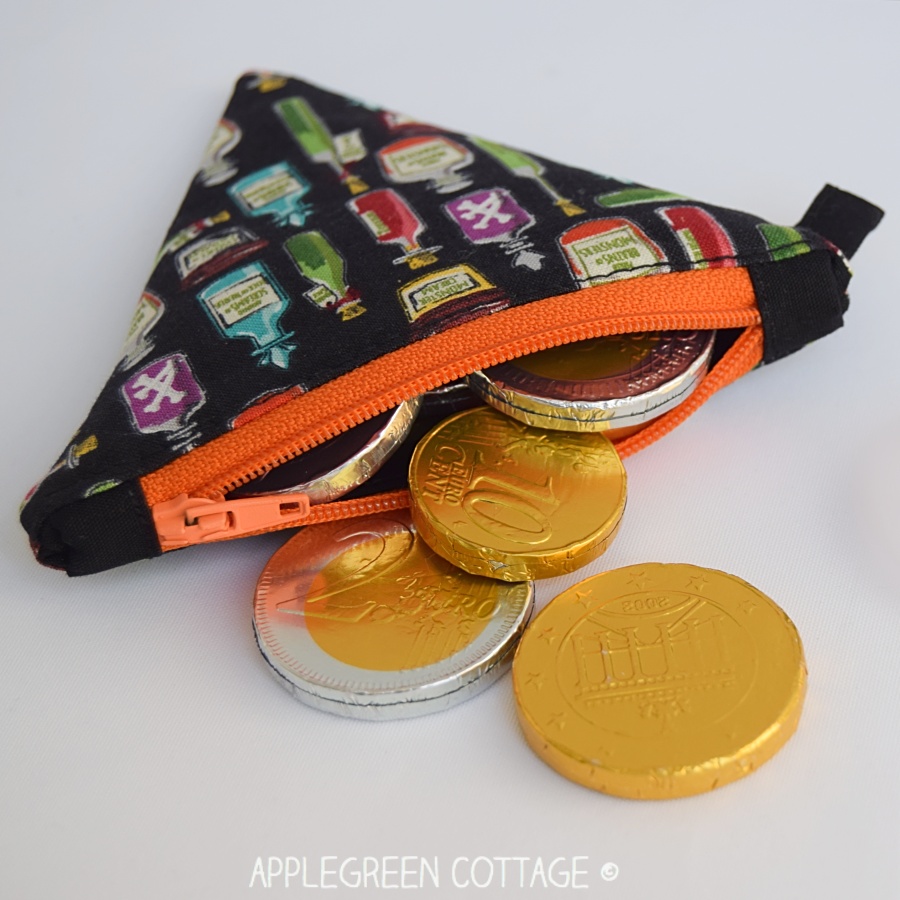 Isn't it cute!
Save to Pinterest:
Save this project so you can use it any time you need to: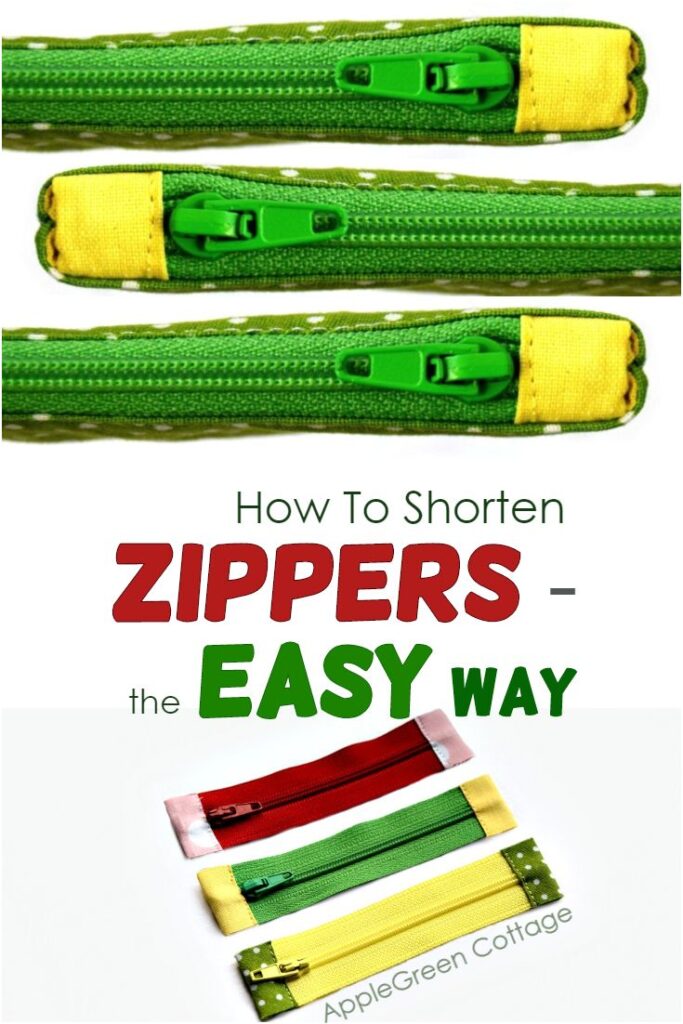 Conclusion: How to shorten a zipper?
The best way to shorten a zipper is to add fabric tabs to each end of the zipper to give it some more color and style. And you won't believe how easy it is! This tutorial will show you how to shorten zippers and add zipper tabs, and how to sew in zippers the neat way (no more pinched ends of your zippy pouches!)
WANT MORE FREE TUTORIALS AND PATTERNS?
Get email updates and never miss out on new patterns, printables, and tutorials:
Or …check out the TEYA crossbody bag pattern in our shop. One of my first bag patterns with pockets both on the inside and outside - and it works great as a gadget bag too!
TEYA PATTERN UPDATED!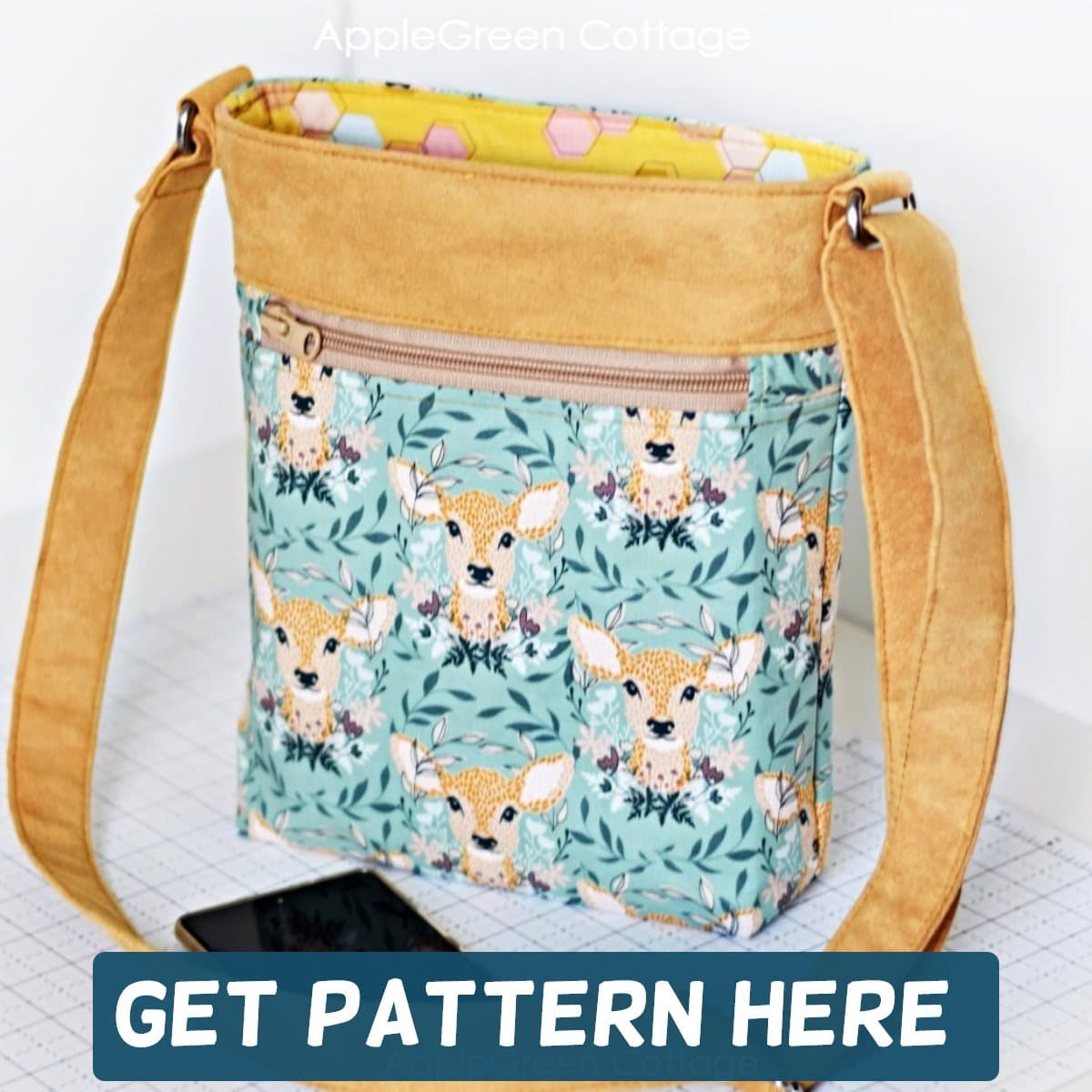 PATTERN UPDATED.