This is the easiest zipper bag you will ever make within 10 minutes.
Who doesn't like a simple toiletry bag? You can make your own diy toiletry bag to store your toiletries when you travel. All you need is one piece of 'fabric' and a zipper.
And it's such a quick make! This unlined, simple straight-line zipper pouch might take you less than 10 minutes. Take a look at the tutorial and sew a cosmetic pouch for yourself or as a gift for a friend.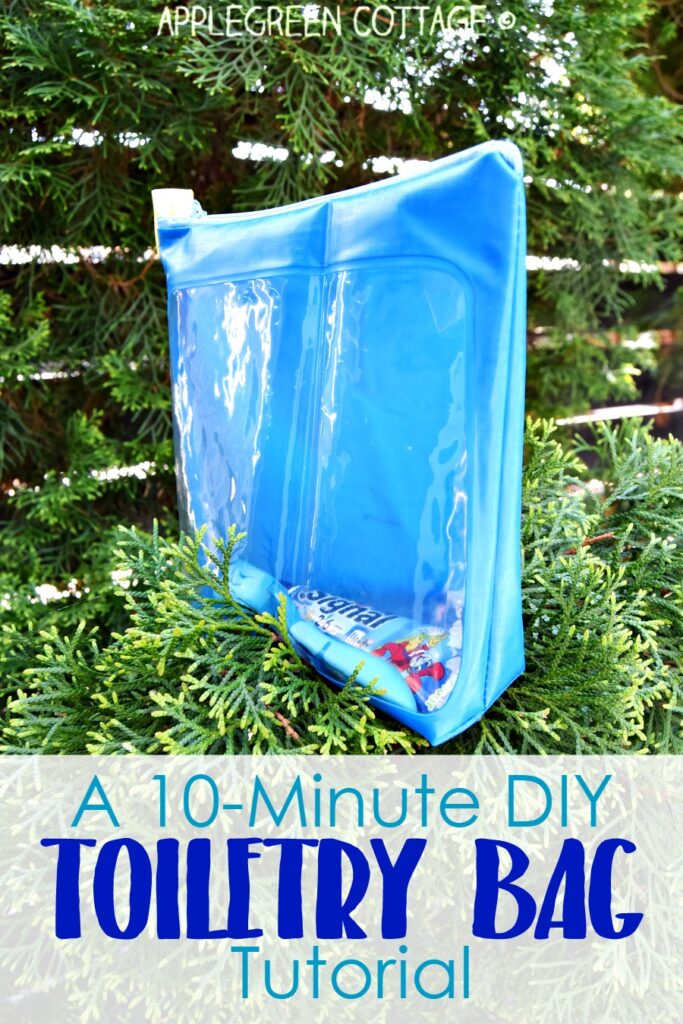 This post might contain affiliate links. Thanks for your support. For even more easy sewing ideas, also check out these:
Diy Toiletry Bag
Back to the super easy toiletry bag: you can make a totally easy, unlined zipper pouch out of any used materials. You need one piece of 'fabric', oilcloth, vinyl (any material, really!), and a zipper. Make 4 straight stitches on your sewing machine. Two more if you want your zippy boxed. That's it. A great beginner sewing project to make, nearly on the go. To me, it's even simpler than making a pizza. Also, it takes less time 😉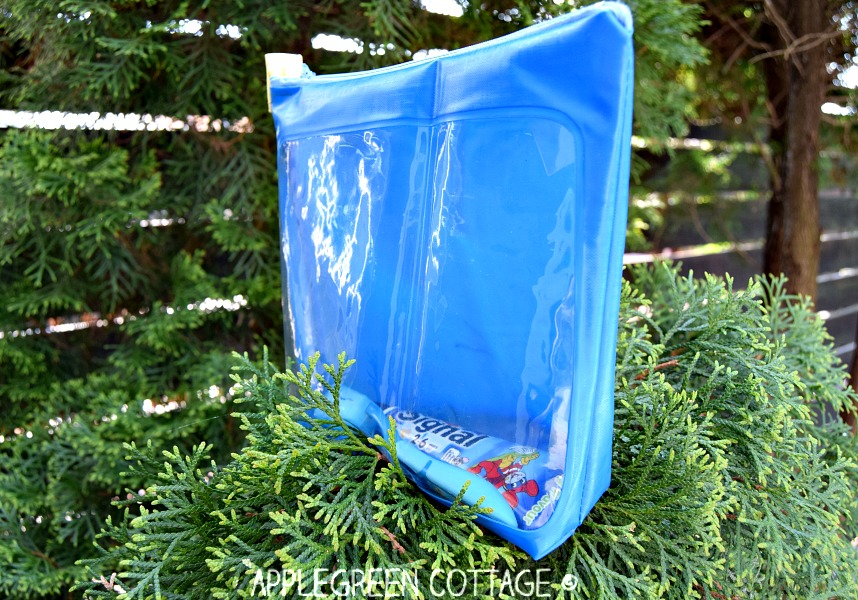 THE STORY BEHIND The Easy Toiletry Bag
I made this cosmetic pouch the day before my older child went for a three-day vacation with the kindergarten group. I was packing his stuff, but realized I had nothing even remotely waterproof to act as a toiletry pouch.
And it was just after I got tired of chasing a simple, boy-themed zipper pouch for toiletries, having visited 5 shops, just to find out there were only grown-up cosmetic pouches with tons of pockets and compartments, and a few small-sized, totally pink ones with lace or glitter. What I wanted was a low-profile, plain zipper pouch for a kid that's currently totally into cars, trucks, and slugterra characters. In a material that will protect the entire travel case contents from a dripping wet toothbrush.
I realized I could have made a nice bunch of cosmetic pouches during the time I was looking for them in my local stores. Next time I will skip the shopping, it'll save me lots of time 🙂 Now, let's get back to how to make this simple zipper pouch.
Supplies:
a rectangle piece of oilcloth (or a piece of other, used waterproof material. See below for ideas!)
one plain, standard nylon coil zipper, any size you'd need.
useful for sewing with oilcloth: a non-stick presser foot (one like these)
thread
In my case, it was a waterproof bag for an inflatable kids boat. I thought I had absolutely no use of that, since we never store the boat in this bag anyway. Or, you can use a torn shade sail that has a greater damage than this one, so it's beyond repair. (I realize we could recycle and upcycle more items I can even imagine!) I used the standard nylon-coil 7" zipper.
A 10-Minute DIY Toiletry Bag Instructions
Using one piece of fabric and a zipper you can make this bag in no time! See instructions here.
1) First, cut a rectangle piece of waterproof fabric. This image will show you how: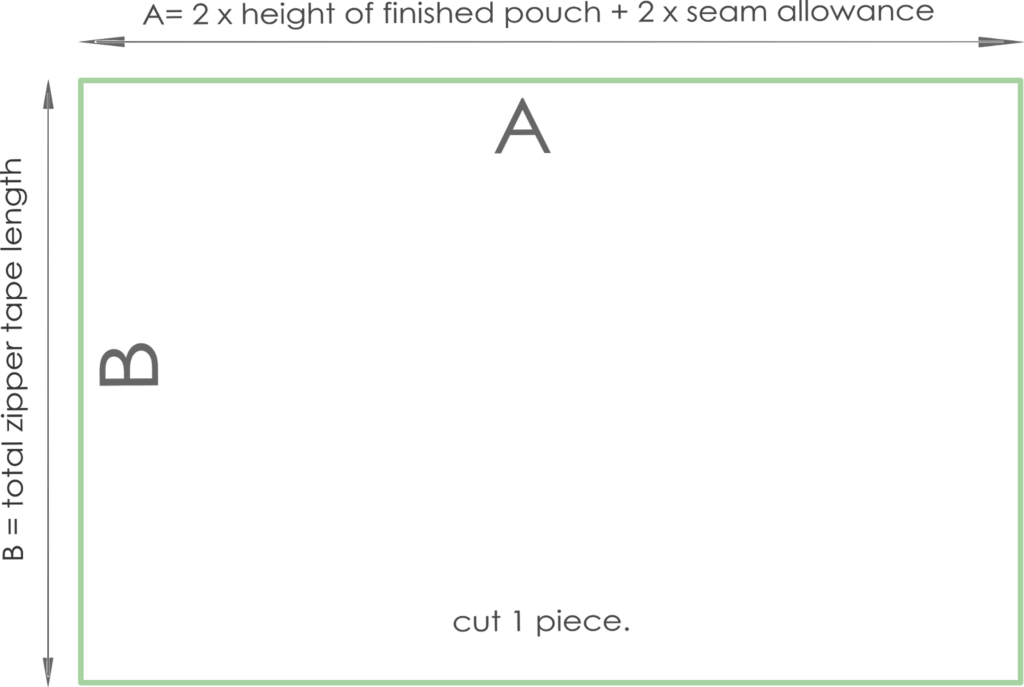 This is an outline of what you need to bear in mind when cutting out your 'fabric' piece.
B = the width of the rectangle should equal the zipper size (i.e. the total length of the zipper tape!). This will be the width of the cosmetic pouch.
A = As for the height of your zipper pouch, you have free choice. Bear in mind: if you'll box the corners (more on that later), you'll need a few inches more.
The dimensions I used were approximately (A) 16 inch, and (B) 8 inch. Perfect for a kids toothbrush size.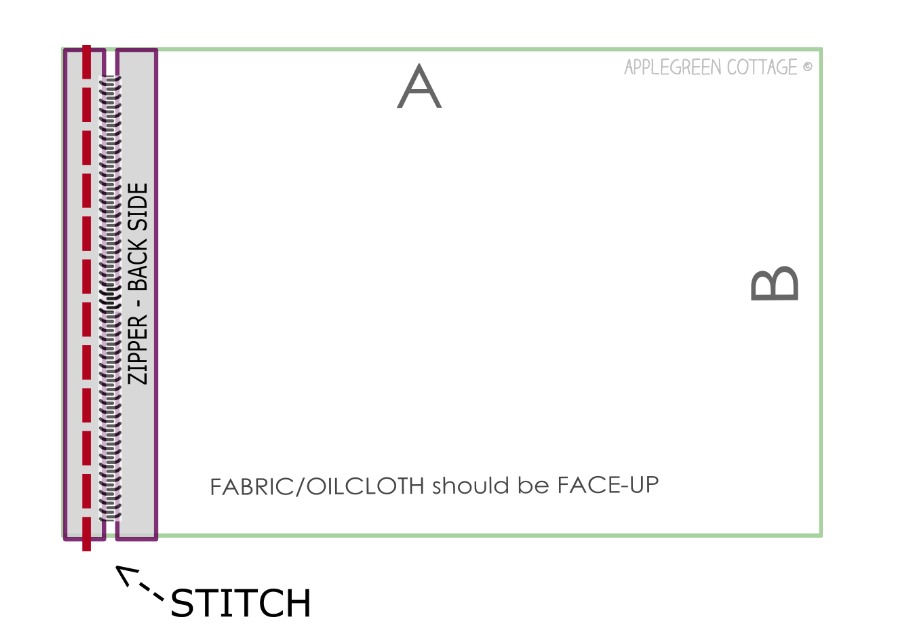 2) Place your fabric right-side-up on a flat surface. Then, place the zipper right-side down on the side marked 'B', aligned with the fabric edge. Stitch the zipper to the edge of the fabric. That is, sew one straight line.
3) Then flip the fabric over and stitch the other end of the zipper to the other 'B' edge of the fabric. You'll get a nice tube like this: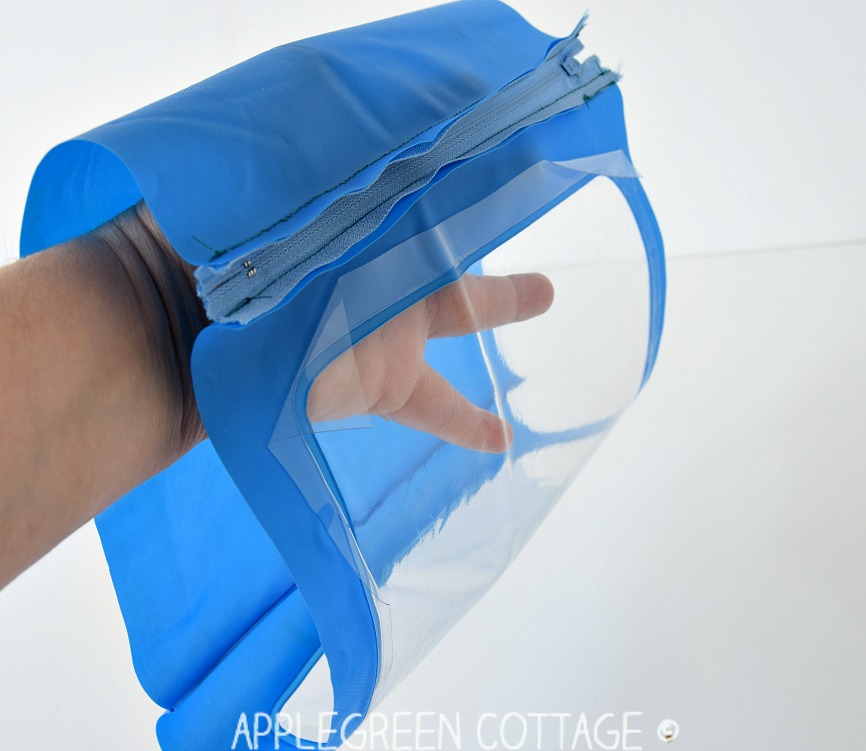 See the vinyl window I used when cutting my rectangle piece? I used the opportunity to make something with a window without actually having to make it. And it also makes it easier to see what's going on in this tutorial. (It felt a smart choice!)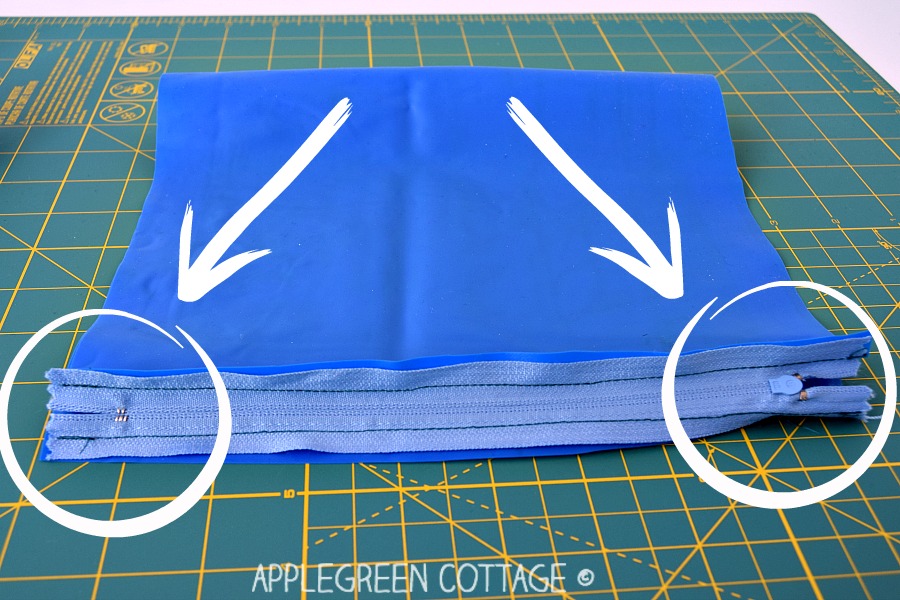 BONUS TIP: Make sure you back-stitch a bit at the start and end of each stitch, to secure the seams.
4) Now make sure to UNZIP THE ZIPPER before sewing the sides! This will make it possible to turn the project right-side out.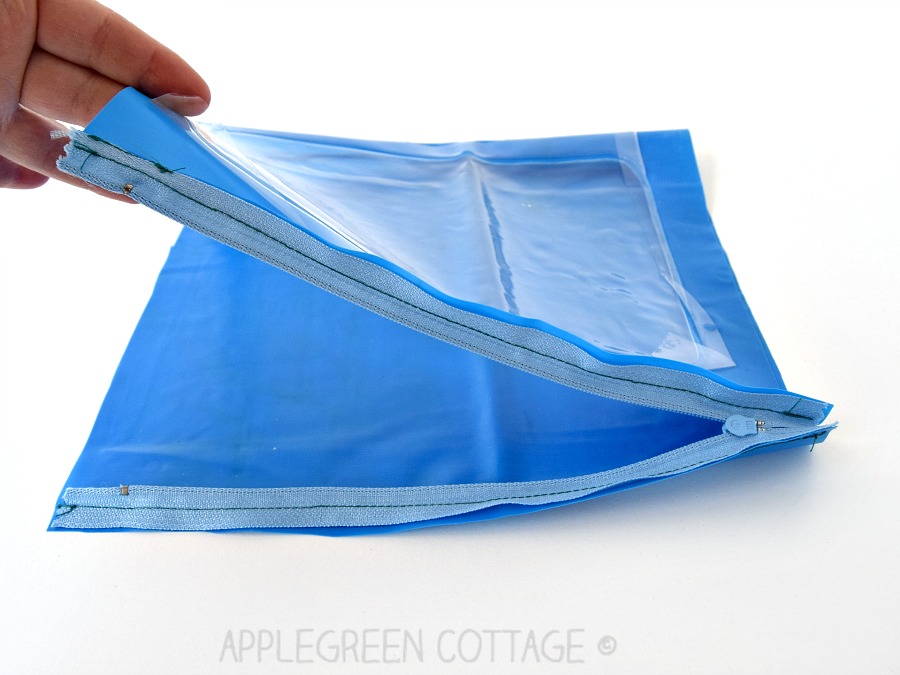 4) Leaving the project 'right-sides-together' and the zipper folded in (and open!), sew another 2 straight stitches to close the sides of the cosmetics pouch.
(When taking this photo, I closed the zipper for a moment as it was easier to match the sides exactly. If you do the same, make sure you UNZIP it again before proceeding.)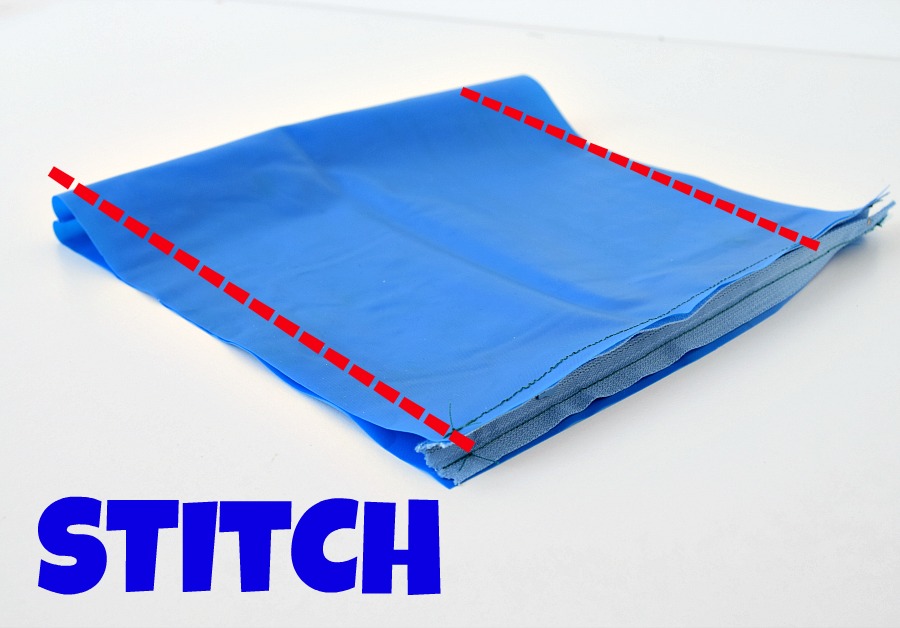 BONUS TIP: If you need to fix the sides before stitching, use wonder clips like these, not pins, as pins would leave marks on the material.
Do you want to make boxed corners?
That would simply mean another 2 straight stitches. It's simple, and I promise to do a tutorial on this one, but for now, a few quick notes that might be just what you need: 1) The pouch is still turned right-sides together.
2) Place one bottom corner so that the side seam is in the center. So, it's folded.
3) Now stitch across the triangle about an inch in. 4) Leave it folded, don't snip the triangle off. 5) Do this on the other bottom corner, too. 6) Turn right side out and you've got this: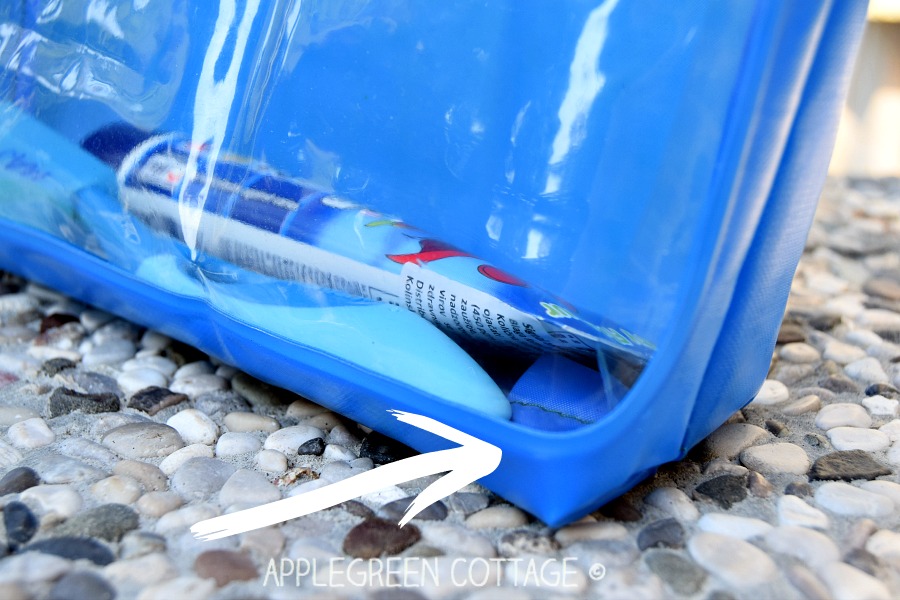 And please give me a nudge sometime soon, to remind me I owe you a proper corner-boxing tutorial.
If you can't wait, it might be helpful to know that you can find detailed how-tos for boxed corners in my PDF patterns such as the KAIA Mini Bin, or the TEYA Crossbody Bag. Now, back to our toiletry bag: I love how it came out. It's roomy enough and practical.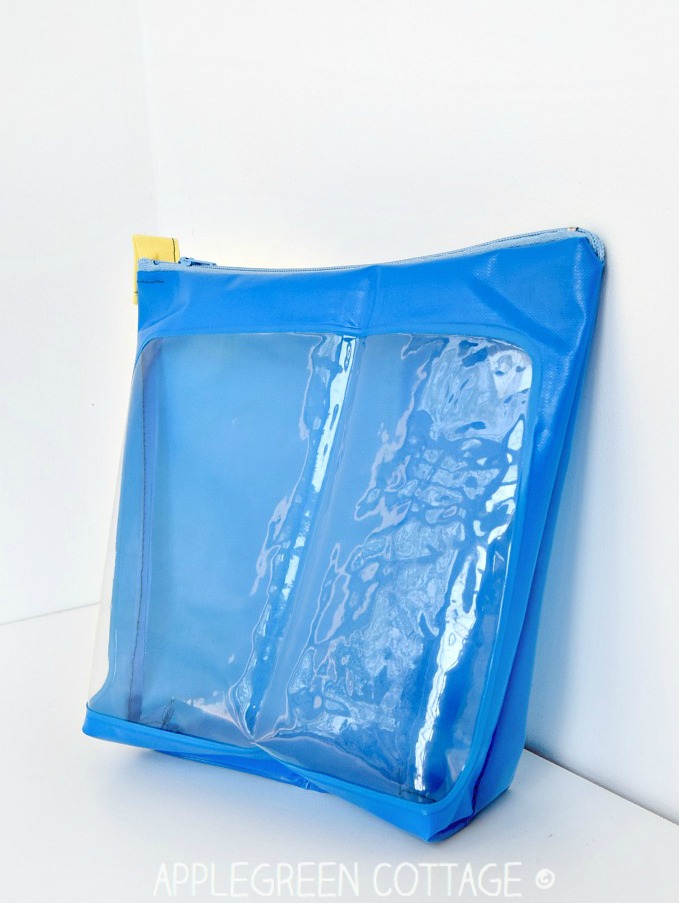 That's altogether 6 straight stitches. The plainest easy way to make a pouch, isn't it?
I would never imagine making an unlined zippy pouch could be that easy. Truth be told, the first zipper pouch I made was lined, with a rounded zipper part, and as it turned out, was not at all as quick as I had hoped. Then, it just went on with lined pouches. Everything I made was lined.
It was months later when I discovered the joy of making tons of easy, unlined, simple straight-line zippies. Yey, how quick!!!! How quick and easy, and totally beginner friendly! So, this cosmetic pouch is one of these no-fuss zippy pouches.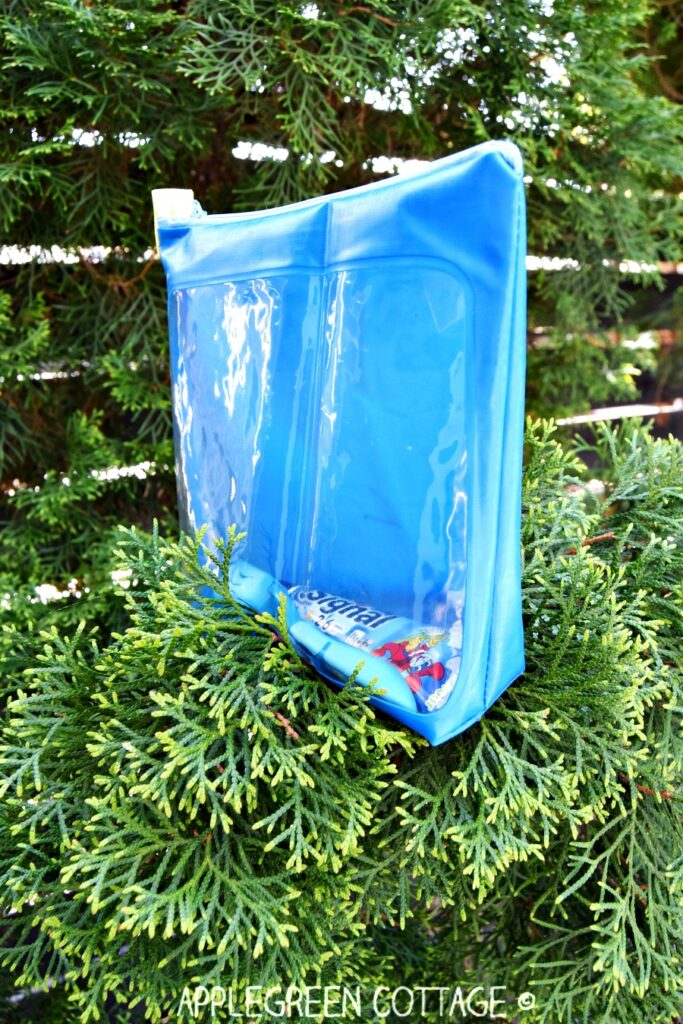 So if you wanted to see how to make a toiletry bag at home, I hope this vinyl toiletry pouch tutorial was just what you needed.
Now, a question. Do you have a piece of waterproof or water-repellent material lying around? Oilcloth, a used-to-be-a-bag kind of thing? Anything, You can use it to make a simple cosmetic pouch like this one, it will take you no more than 10 minutes. Try it out!
WANT MORE FREE TUTORIALS AND Sewing Patterns?
Get email updates and never miss out on new patterns, printables, and tutorials:
Or …check out the SOPHIA Fold-Over Clutch in our shop: