Add a detachable wristlet strap to any bag you already have. Do you have your hands full but want to prevent your clutch from falling? One simple solution: check out this wristlet strap tutorial.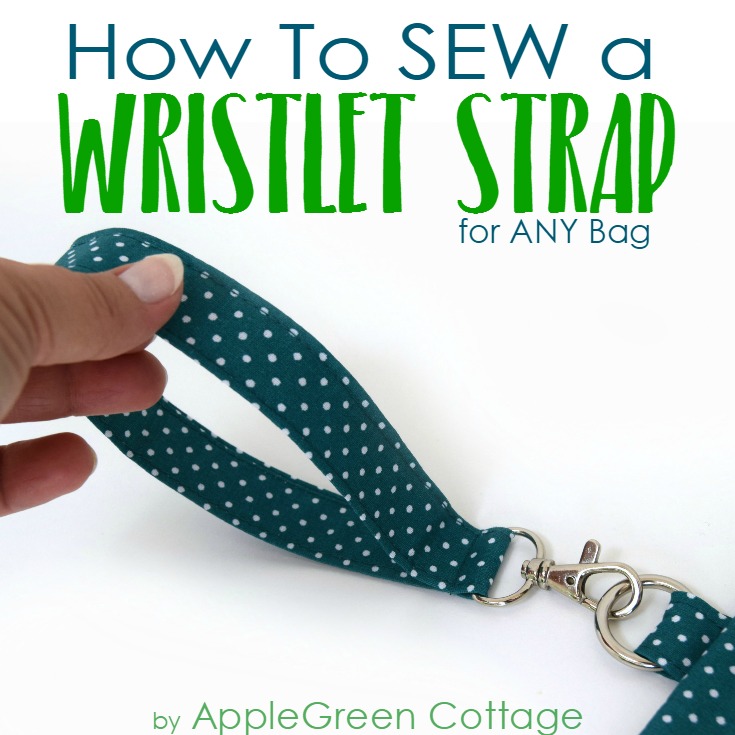 I'm making this wristlet strap tutorial as simple addition to the Enya Wallet Pattern and the Ultimate Diaper Clutch pattern, but you can use it with any bag, clutch, or pouch pattern. Check it out!
This post may contain affiliate links. Thanks for your support. For more about bag sewing, check out these tutorials:
You can sew a comfortable fabric wristlet strap that will make it easy to carry your clutch, bag or pouch even when your hands are full. You can add it or remove as you see fit, so it's a great temporary solution, too. But let's start at the beginning, two quick clarifications:
What is a wristlet strap?
A wristlet strap is a fabric or leather strap that wraps around your wrist like a bracelet and has a cord or swivel clasp that is attached to a clutch, wallet, small pouch. A wristlet strap can turn any bag into a convenient wristlet with just a snap, and you can make one yourself.
How do you hold a wristlet strap?
A wristlet strap has a loop-like form. Either grab the loop on the fold and carry your wristlet like you would a tote, arm down and the hand holding the strap. Or push your hand through into the loop, then grab the two straps.
How To Make A Wristlet Strap
It's a great option to add to any bag, pouch or wallet. You can even switch the shoulder strap for an elegant diy wrist strap to turn a small day bag into an evening clutch.
Like I did here with this crossbody wallet bag: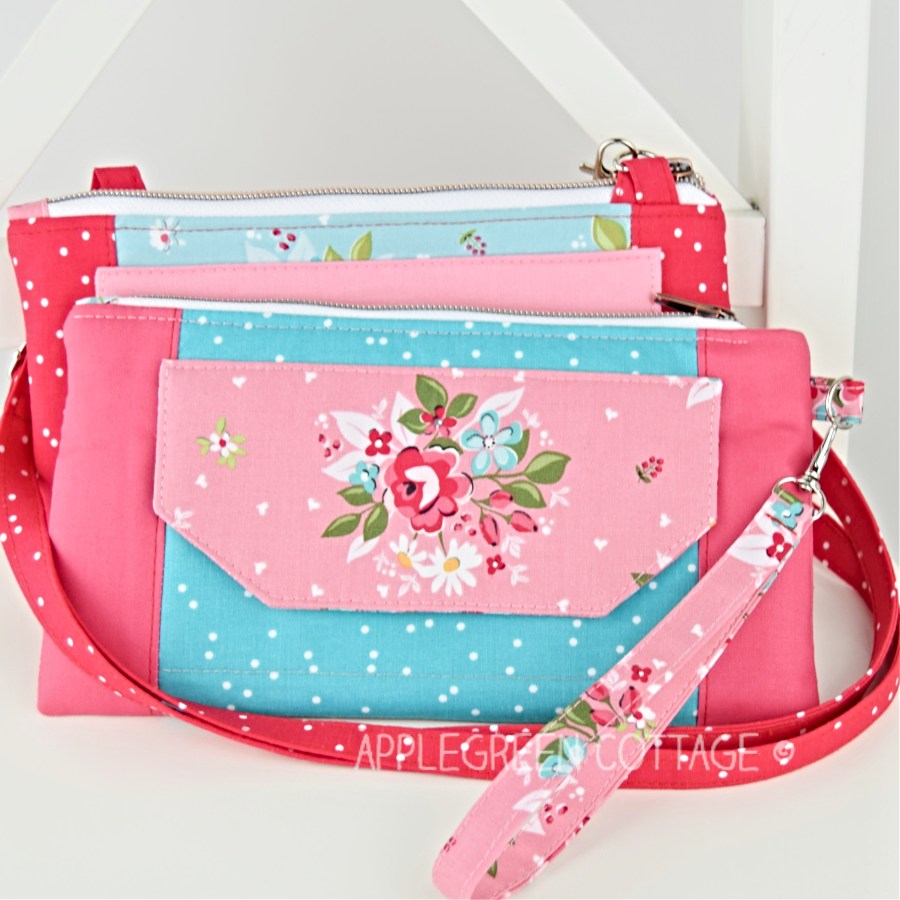 Using this beginner sewing tutorial, you can transform any zipper pouch into a grab-and-go clutch.
It's so versatile! You can use one as a keychain, attach one to your phone pouch, or even make one for this Diaper Clutch - new moms are always (eternally!) grateful for diaper clutches that come with a wrist stap. No more dropped nappies! - use the wristlet strap tutorial with this Ultimate Diaper Clutch pattern: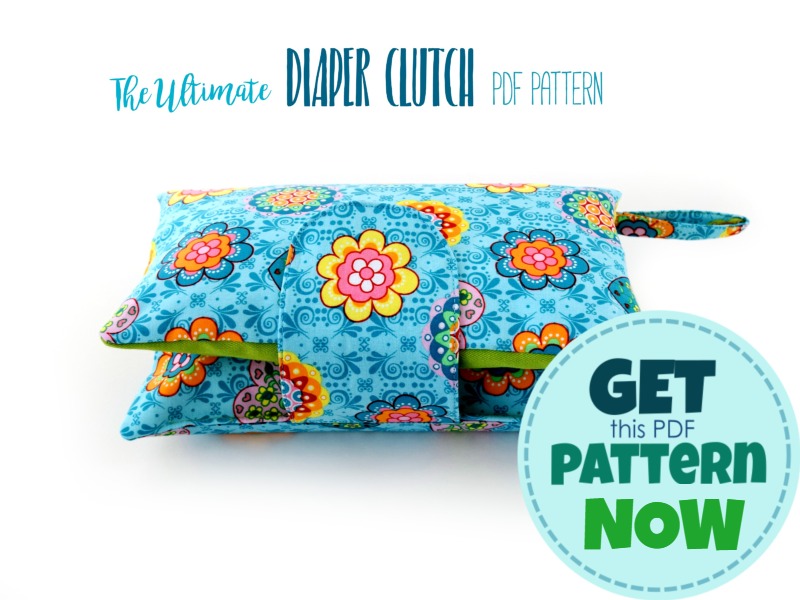 And last but not least, you can make your own diy replacement strap for those bags or clutches you have been using for a long time. I even designed some bag patterns (my favs, of course!) and I've been using these bags for a long time. But with time, wristlet straps get wrinkled with use, or even torn. If you've got a small fabric piece in a matching print, it's often way easier to make a new strap than to try repairing the old one!
Supplies for Diy wristlet strap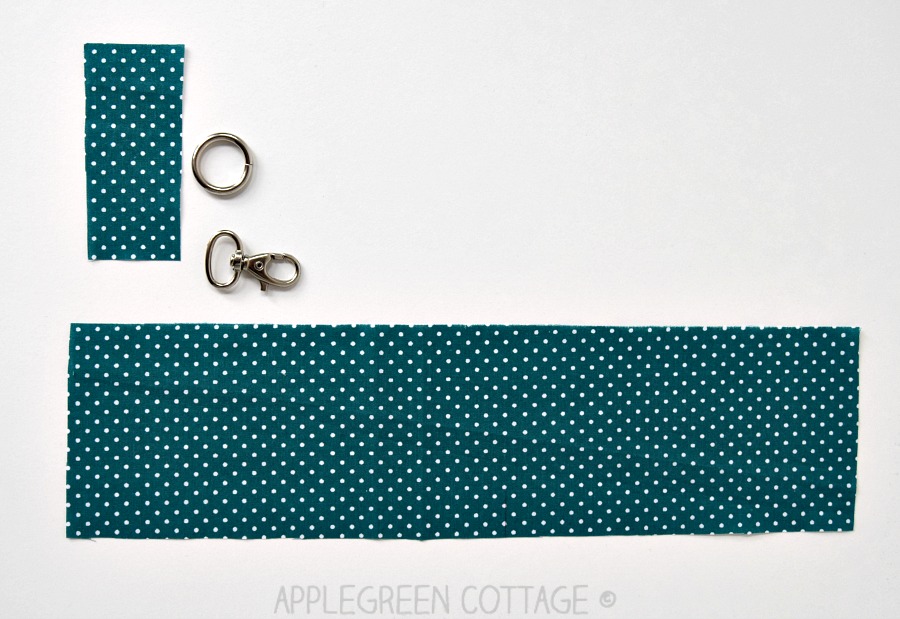 1 strip of fabric 14 inch long by 3 inches wide (36 cm x 7.5 cm)
one piece of fabric 3 inch long by 2 inches wide (7.5 cm x 5 cm)
1 small lobster clasp - swivel hooks (one like these), width of the clasp base ¾ inch (2 cm)
pins or wonder clips (these are the most popular ones)
the usual: sewing machine, matching thread
Wristlet Strap Sizes
The dimensions above are for a ¾" wide wristlet strap. Need a different size? No problem, here I'm listing what width of fabric piece you need for a certain finished wristlet strap width:
for a 1" wide wristlet strap (2.5 cm): use a 4" (10 cm) wide piece of fabric
¾" wide wristlet strap (2 cm): use a 3" (7.5 cm) wide piece of fabric
for a ½" wide wristlet strap (1.3 cm): use a 2" (5 cm) wide piece of fabric
Swivel Hook - What Size Do I Need?
Swivel hooks (also called swivel clips or lobster clasps) come in a number of widths. If your lobster clasp has a different dimension, no problem: just adjust your fabric width. (You'll need 4 times the final width of the lobster clasp base.) I've added an image of a few I had at hand at the moment:
How To Make A Wristlet Strap
Now, off to the tutorial:
Step 1 - Cut and Fold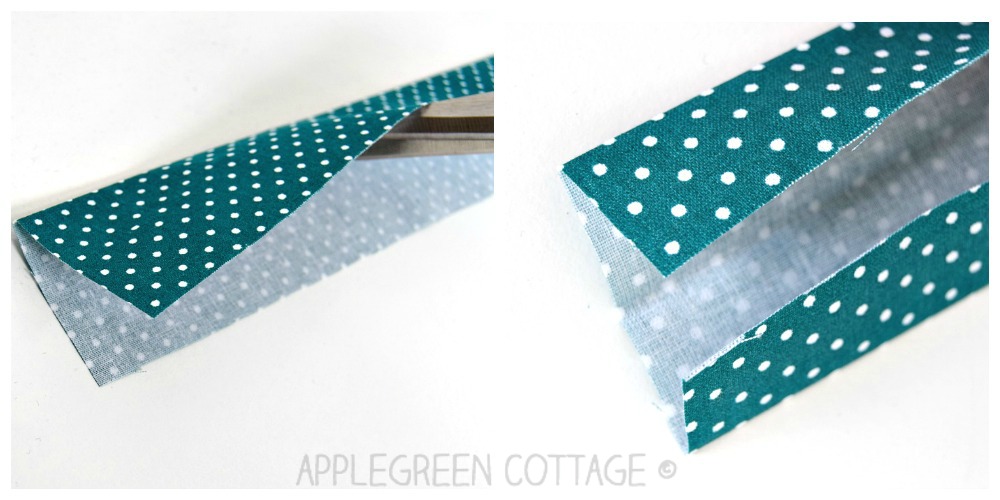 1) Place the long strip of fabric on a flat surface, then fold in half lengthwise, wrong sides together. Press, then open again. Fold the upper side to the center crease and do the same with the lower side.
Step 2 - slide on The Swivel Clasp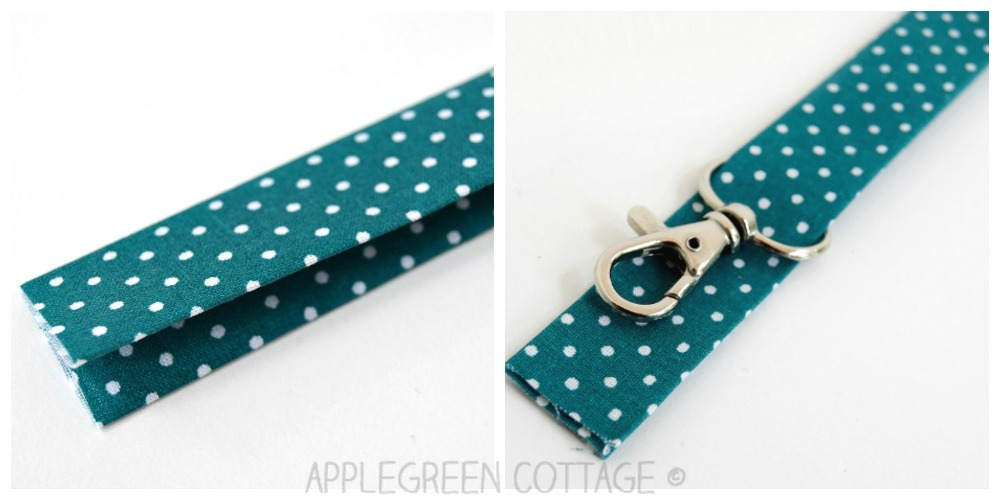 2) Fold again along the original center and press. Then slide a swivel hook on the strap. It will be a detachable wristlet strap, so it has tons of uses!
Step 3 - Pin The Ends together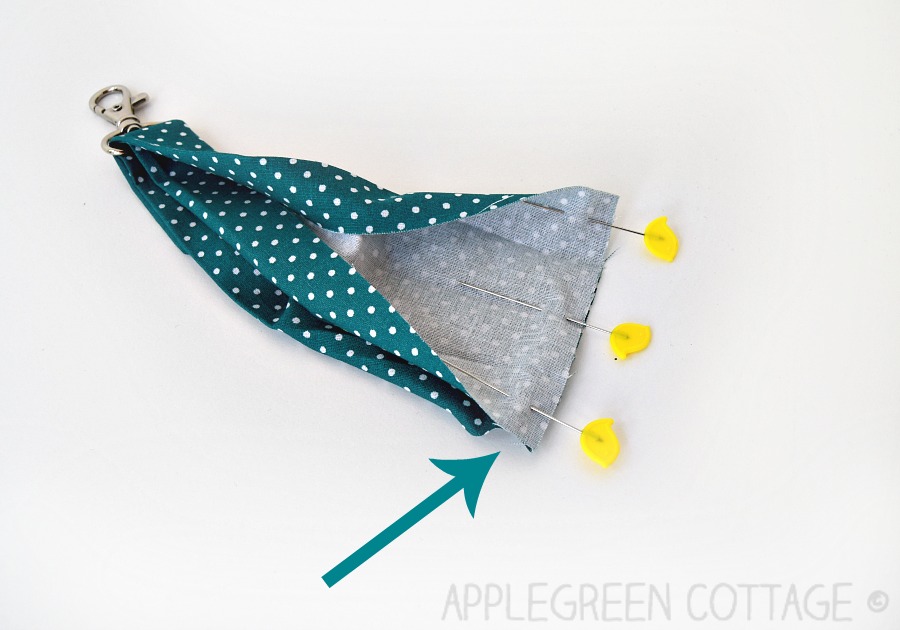 3) Next step: Open out the ends of the wristlet strap and with right sides together, pin them right-sides-together. (Make sure you do not twist the strap piece! )
Step 4 - Sew and press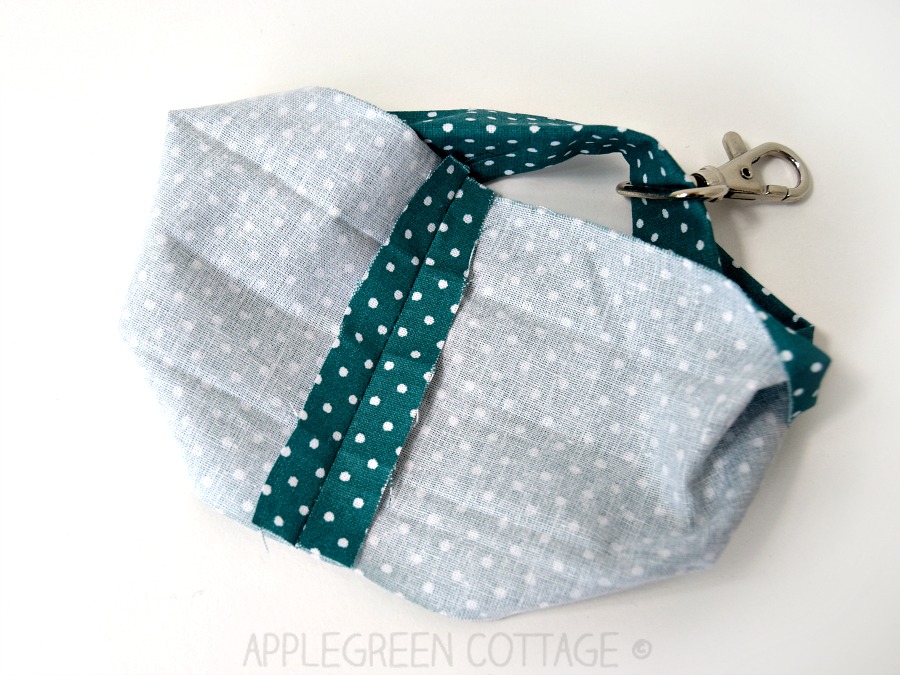 4) Stitch the shorter edges together. I usually use a ⅜ inch (1 cm) seam allowance. Make sure to press the seam open. Your wristlet strap forms one continuous loop now.
Step 5 - Refold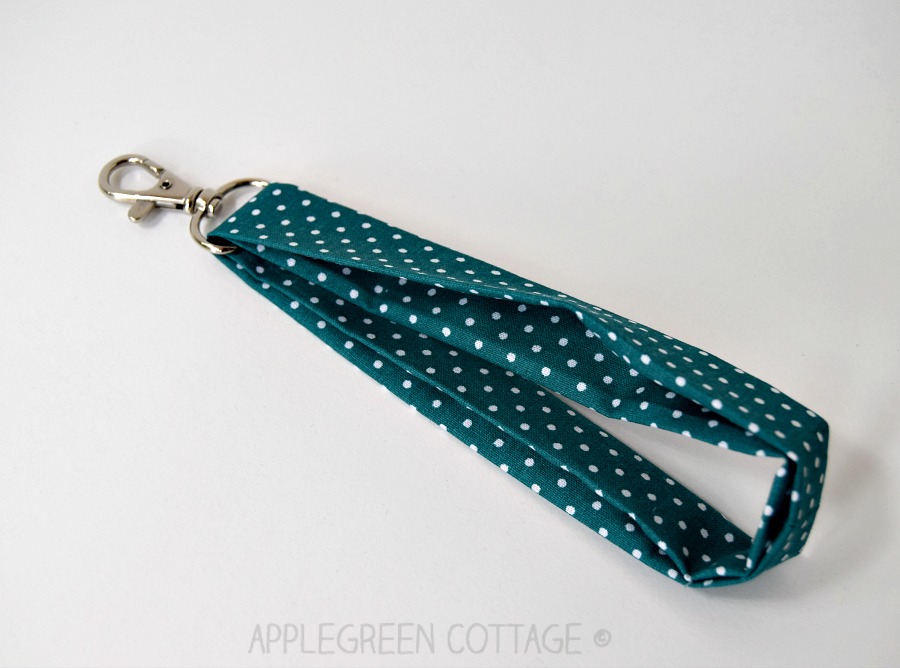 5) Then re-fold your wrist strap. Press.
Step 6 - Topstitch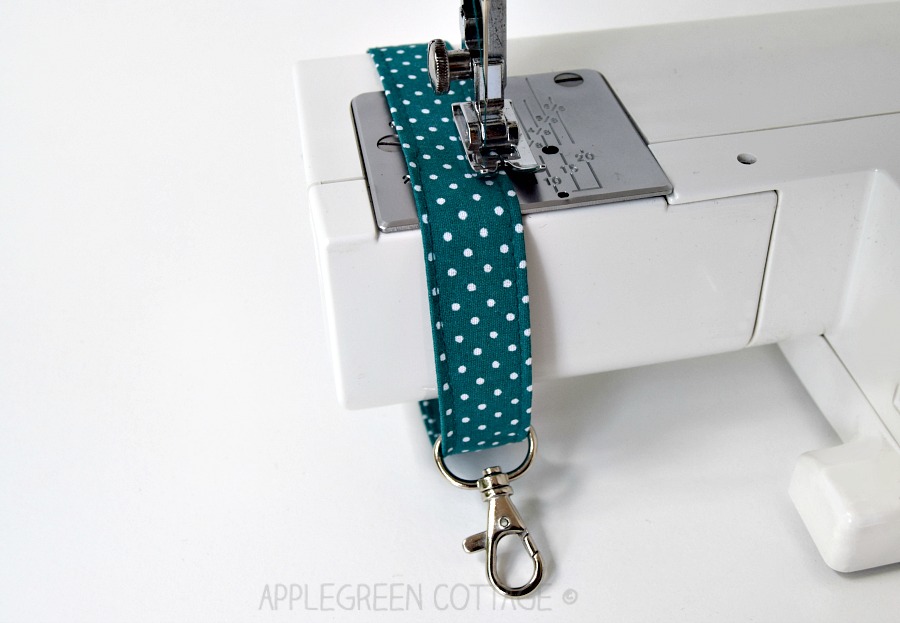 6) Now FINISH: edgestitchalong both long sides. You'll need to move the swivel clasp out of the way as you sew.
Step 7 - Sew the Swivel hook in Place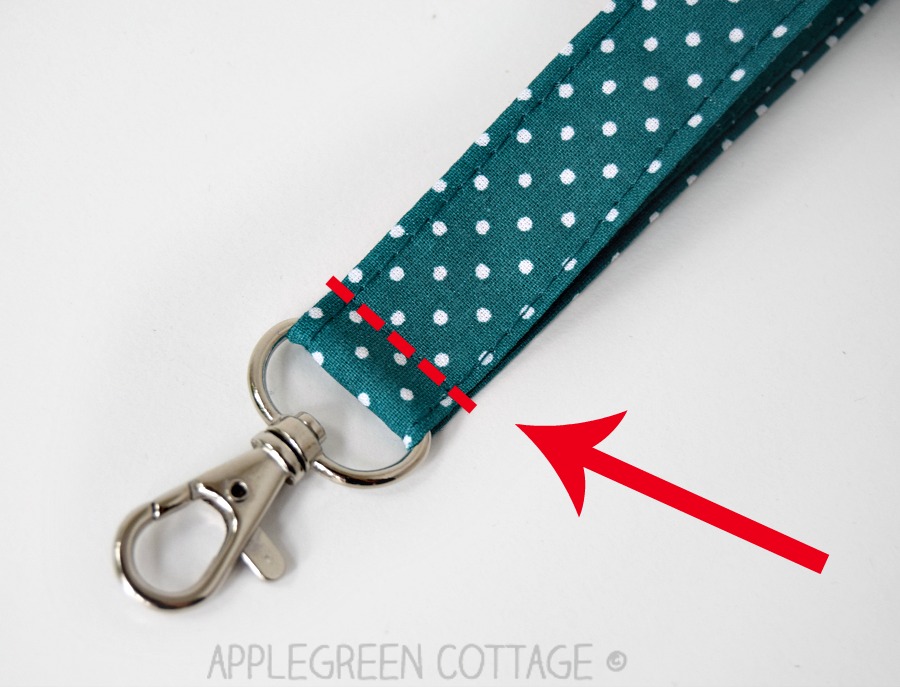 7) To keep the lobster clasp in place, you'll want to make a few stitches very close to the swivel hook base. Make sure to secure the stitches well, these will keep it from sliding around.
How To Attach the Wristlet Strap to the Bag
If you are just adding a wrist strap to an existing bag, just clip it to the D-ring, O-ring, or a different type of a tab that can be used as a strap anchor.
If you are making your clutch or wristlet from scratch, this is how to design a tab that wil function as an anchor for your wristlet strap. We need to make that tab that will hold the D-ring (or, in my case, that O-ring). Let's call it the anchor piece.
How to MAKE the ANCHOR PIECE:
Step 1 - Folding Step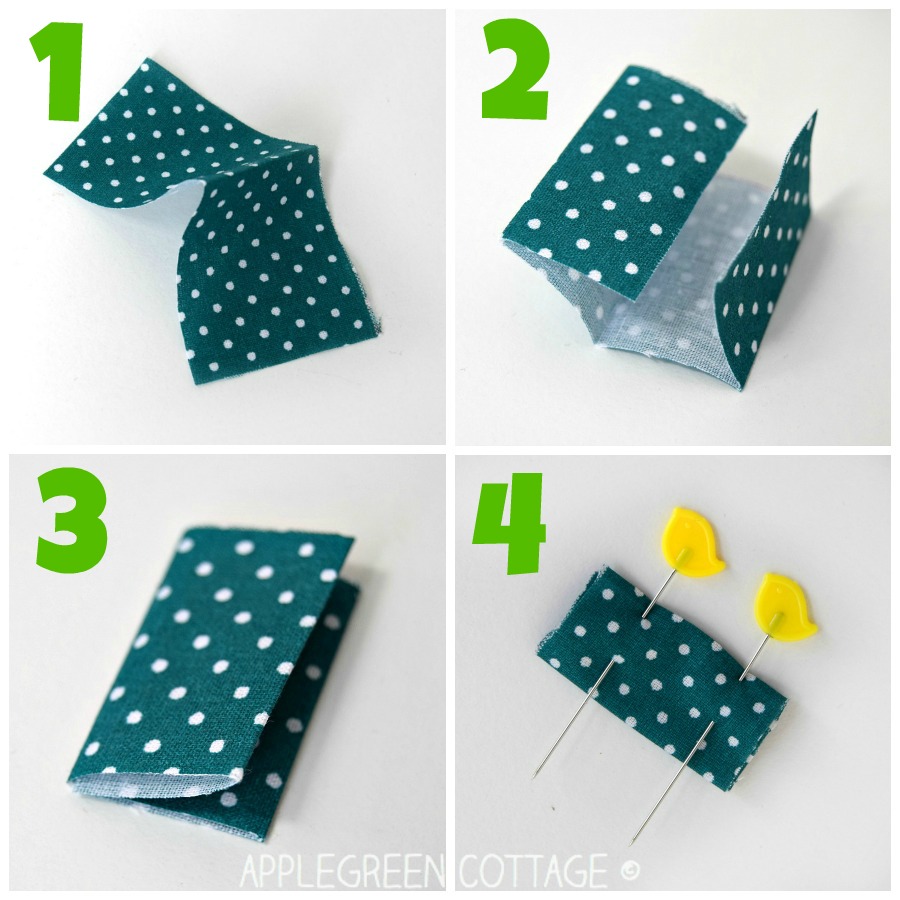 1) Place the small rectangle piece of fabric on a flat surface, then fold in half crosswise, wrong sides together. Press, then open again. Fold the upper side to the center crease and do the same with the lower side. Refold along the center. Pin.
Step 2 - Topstitch and Add bag Hardware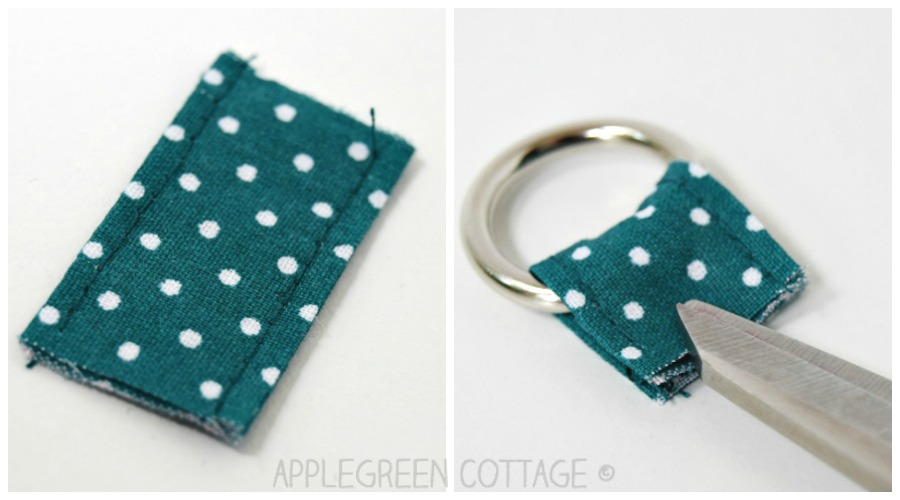 2) Stitch along both edges, using ⅛" seam allowance. Pull O-ring through the strip, fold in half. I recommend basting it when folded, so the O-ring stays in place.
Step 3 - Sew the Anchor Piece into Your Bag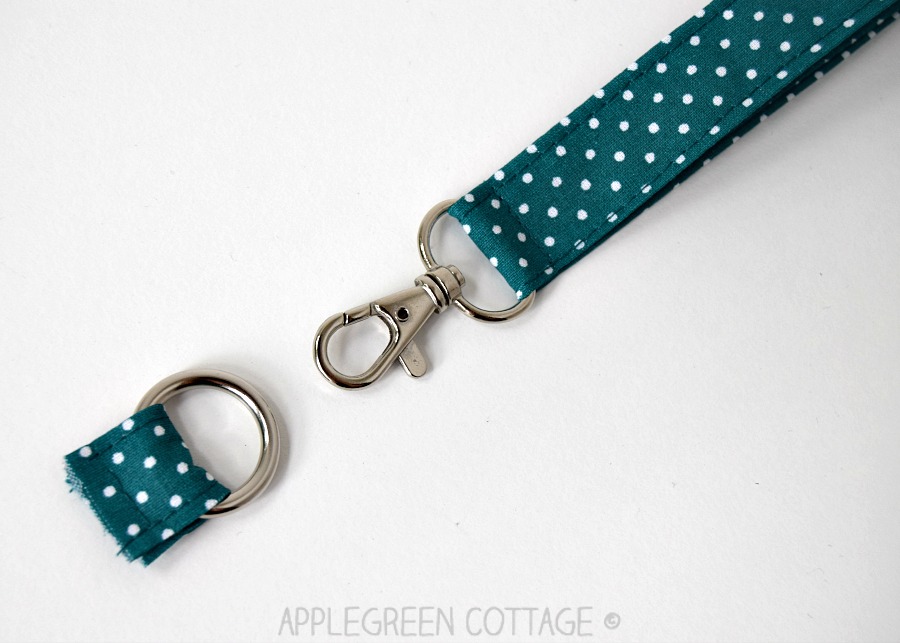 3) You're done! Now you just need to attach your O-ring tab to your bag, clutch, even a pencil case or a diaper bag. With every bag, the time to insert this tab will differ. But basically, it usually comes between the outer layer - front and back - usually in one of the final steps when assembling the outer of the bag.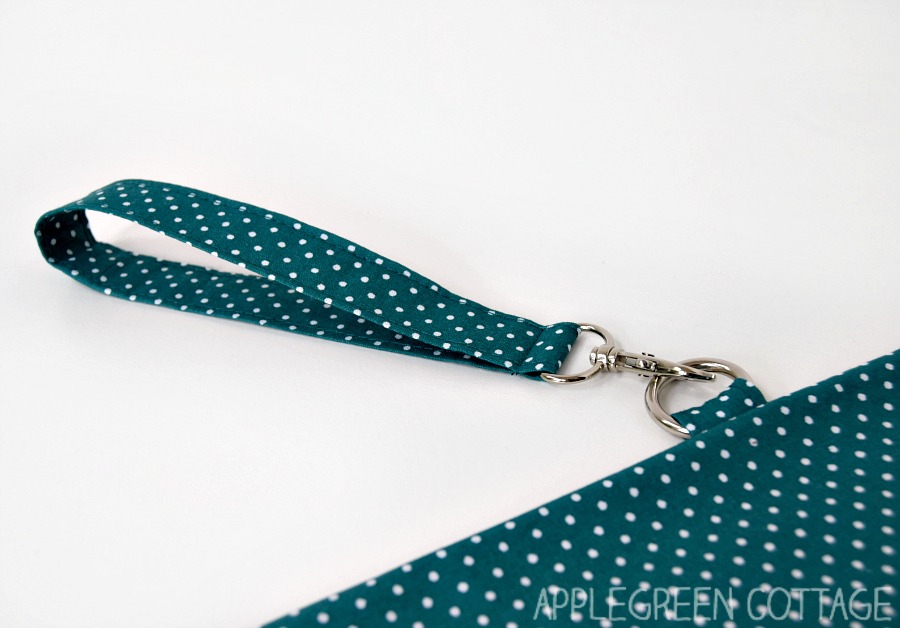 If you want a longer wrist strap, you can use this tutorial to add it to your Ultimate Diaper Clutch. I do like the option of having it removable as it gives you an option to add it subsequently.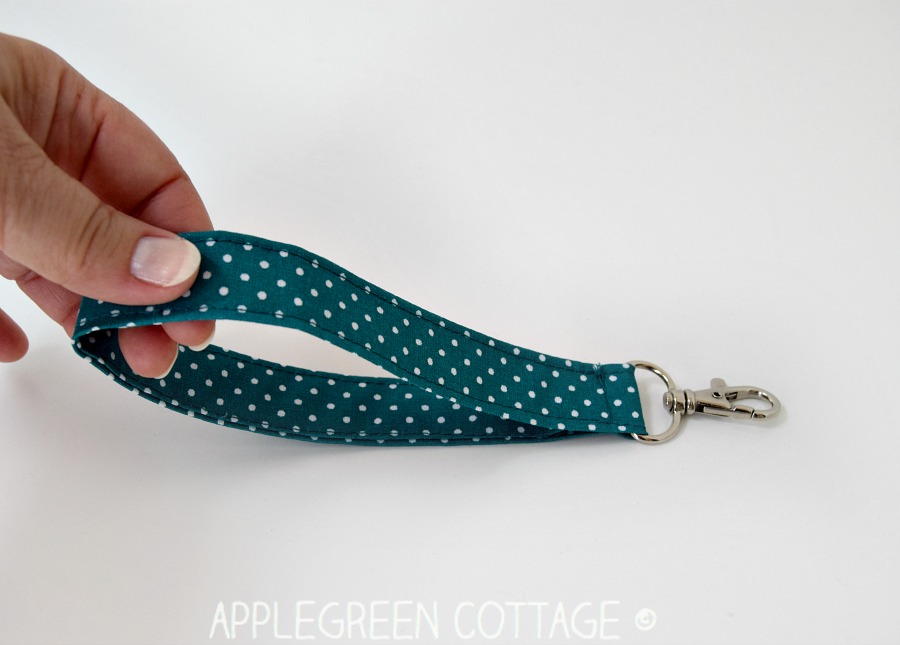 A lovely wrist strap for your clutch. Feel free to also check out these detailed bag sewing tips every new bagmaker can use.
Add a removable wristlet to your clutch too! Want to make one and test its use? Then it's best to choose a project to go with it: I'd recommend either using it with the original Ultimate Diaper Clutch pattern: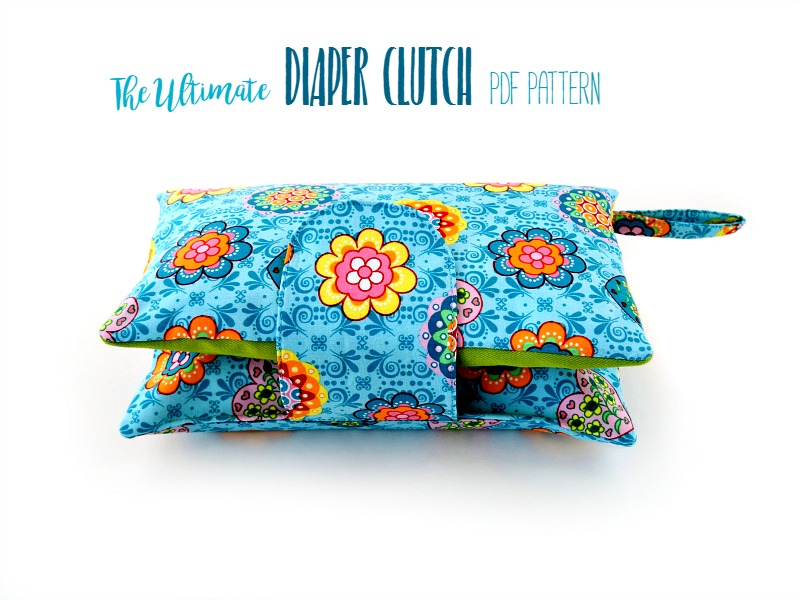 ...Or this easy zipper pouch tutorial (it comes with a free PDF sewing pattern - make sure to grab it while you're browsing!) - it already has a tab for the wristlet strap. If you simply add a keyring on it, you can skip the O-ring tab sewing (steps 8-10) Happy sewing!
Pin For Later: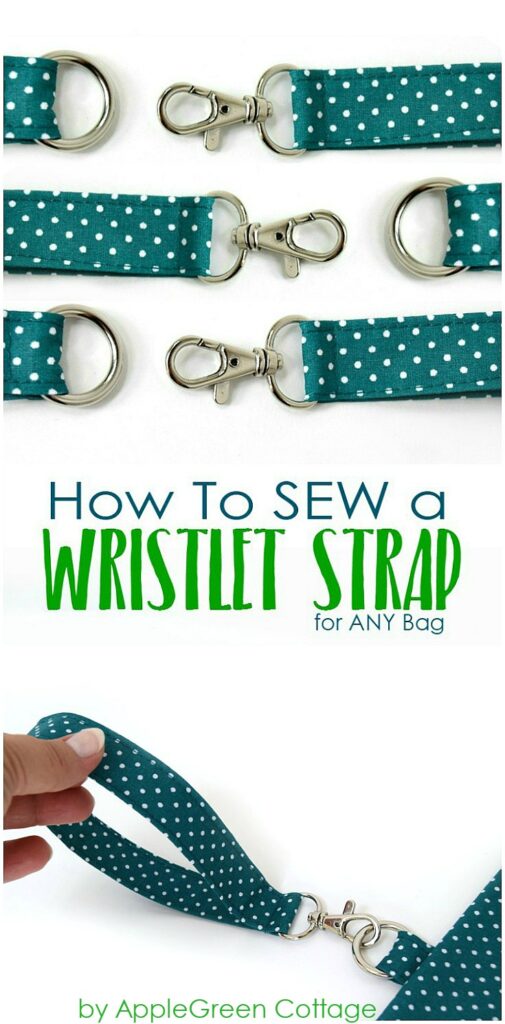 Damjana
WANT MORE FREE TUTORIALS AND Sewing Patterns?
Get email updates and never miss out on new patterns, printables, and tutorials:
Or …check out the SOPHIA Fold-Over Clutch in our shop: