Looking for a good sewing machine? Check out my list of the best sewing machines for beginners and find out how to choose the best sewing machine for your needs. Spoiler alert, you don't need the most expensive model out there!
Check out what are the features I absolutely need on a machine - and most probably you too if you're just starting out. Especially if you're new to sewing. After 30+ years of sewing experience, on a daily basis, I can only say I wish I knew all this when I was just starting to sew.
Also, I'm adding my best tips for buying a sewing machine you'll love to use for years to come - including when do you need a heavy-duty sewing machine.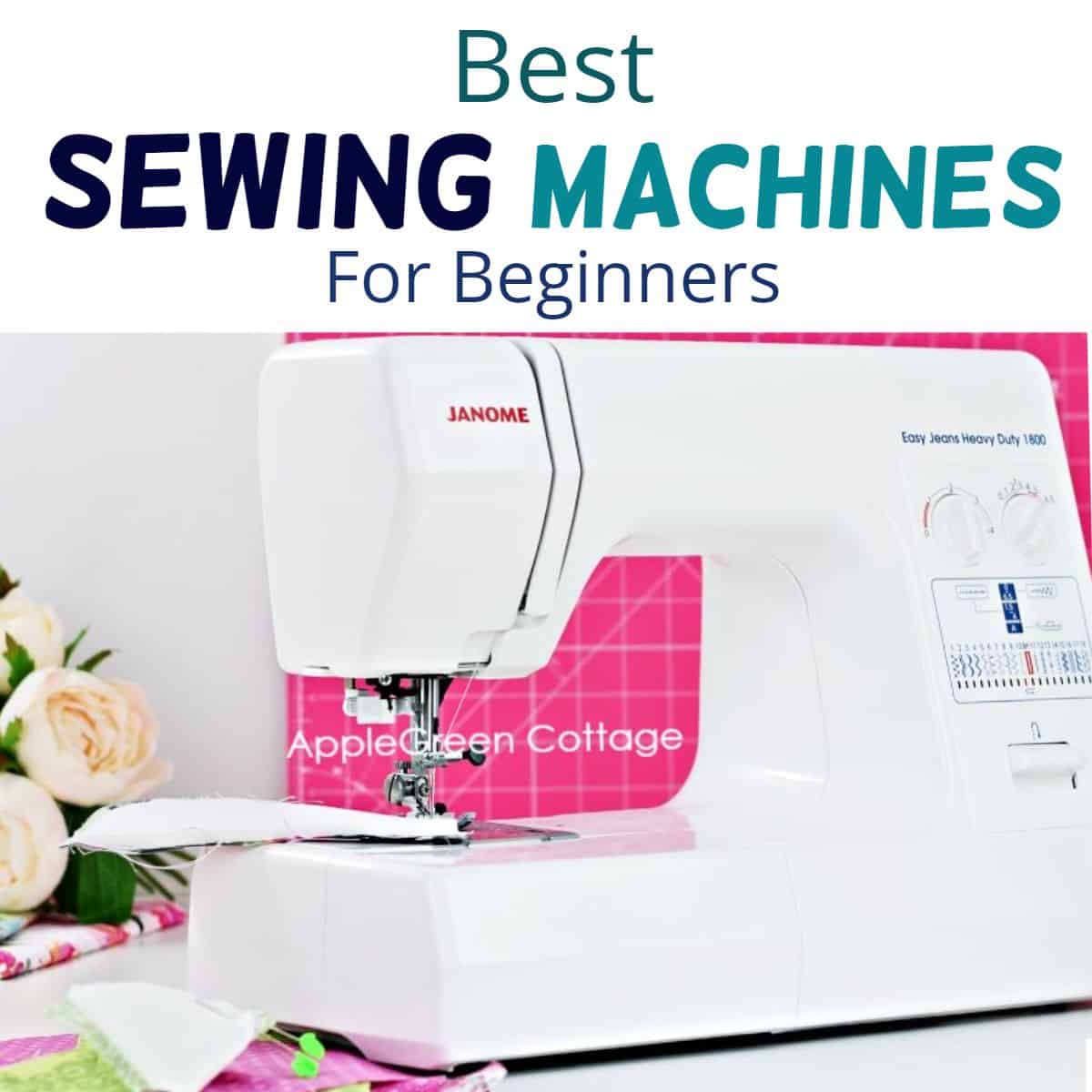 The post includes affiliate links, meaning I may earn a small commission if you purchase through these links, at no cost to you. Thank you for your support.
Table Of Contents
'What sewing machine should I buy?' and 'How do I choose a beginner sewing machine?' - These two are probably the 2 questions I receive most frequently, from people who are starting their sewing journey. While there's no simple answer to that, I can certainly help you getting some clarity on that!
Here is my (personal-best) list of best sewing machines for beginners, but also a lot of tips that should help you with finding your best version of it, at your own budget.
Best sewing machine models to buy - Summary
Summary of the best sewing machines for beginners:
Budget Ranges for a Beginner Sewing Machine
How much money should you spend on a sewing machine? While entry-level sewing machines can cost you USD 150 - 300, good, budget HD machines start at around USD 400, and top-notch, computerized sewing machines can go well over USD 1000, and you can end up in several thousands too. This is just a quick note for orientation, but in reality, pricing will vary.
By all means, the best way to start looking for a sewing machine is to first set YOUR personal budget range.
Pricing of Beginner Sewing Machines
First off, you DON'T need an expensive sewing machine to sew adorable things. Here's why: I don't want you to spend a fortune on your machine (and on heaps of fabric) when you don't even know if you're gonna like the new hobby.
Also, why get 150 stitch options when really you only need two, a straight stitch and the zigzag! And I probably use 3 more when I'm feeling fancy. What about you?
Things To Consider When Buying A Sewing Machine
Features of Sewing Machines For Beginners
What are the must-have features of a sewing machine? There are just a few basic options I cannot live without. These are what I consider the must-have features of a sewing machine:
zig-zag stitch (nearly all of them have it!)
stitch width and length adjustment - separately! is a must for me on a mechanical machine. (Not necessarily for you.)
a built-in free arm - a must-have for me. This is the smaller arm that remains when the accessories compartment is removed. It will help you sew small, tubular items like pants hems or small bags.
and a walking foot (but honestly, you can purchase it separately at $20 or so)
Please note that the number of stitches is not at all that significant as you'll see in ads - a straight stitch and a zig-zag stitch are all I actually need. And while there are differences in the features, the basic mechanics of a sewing machine will stay the same (like how to thread a machine, change the needle etc), so it's easy to upgrade from one model to another later.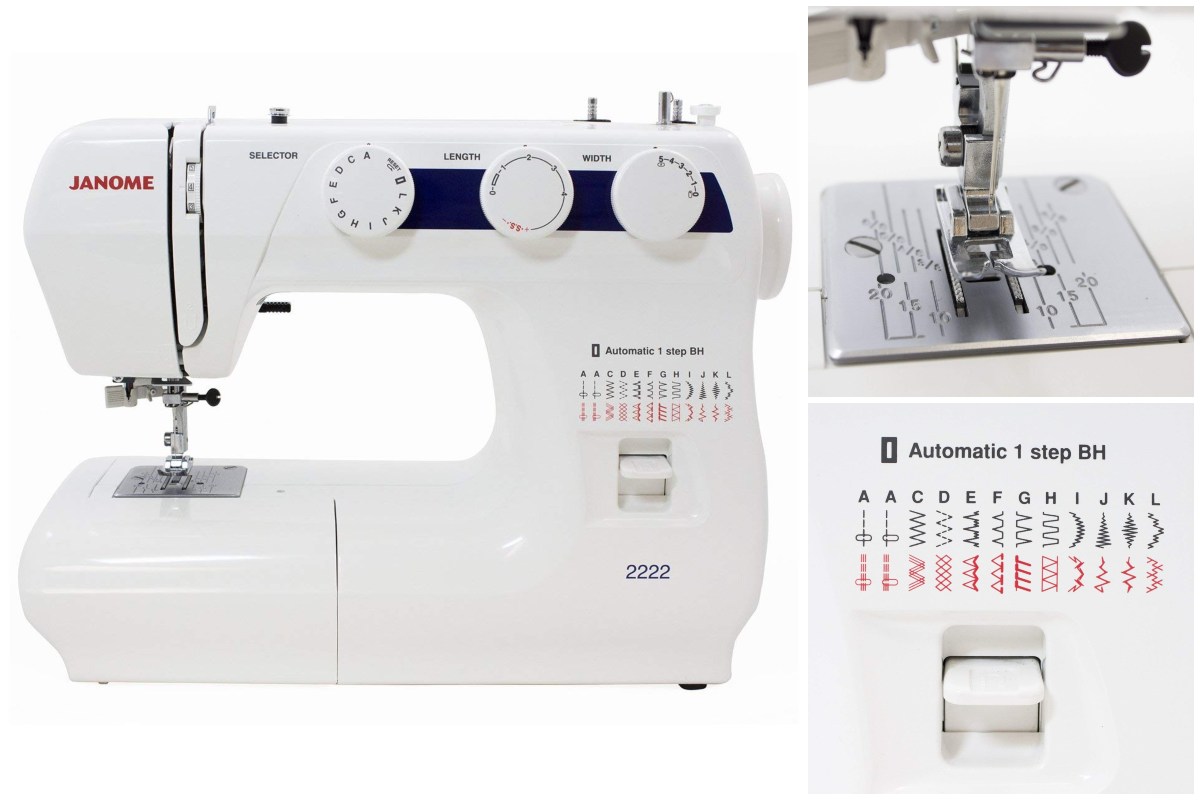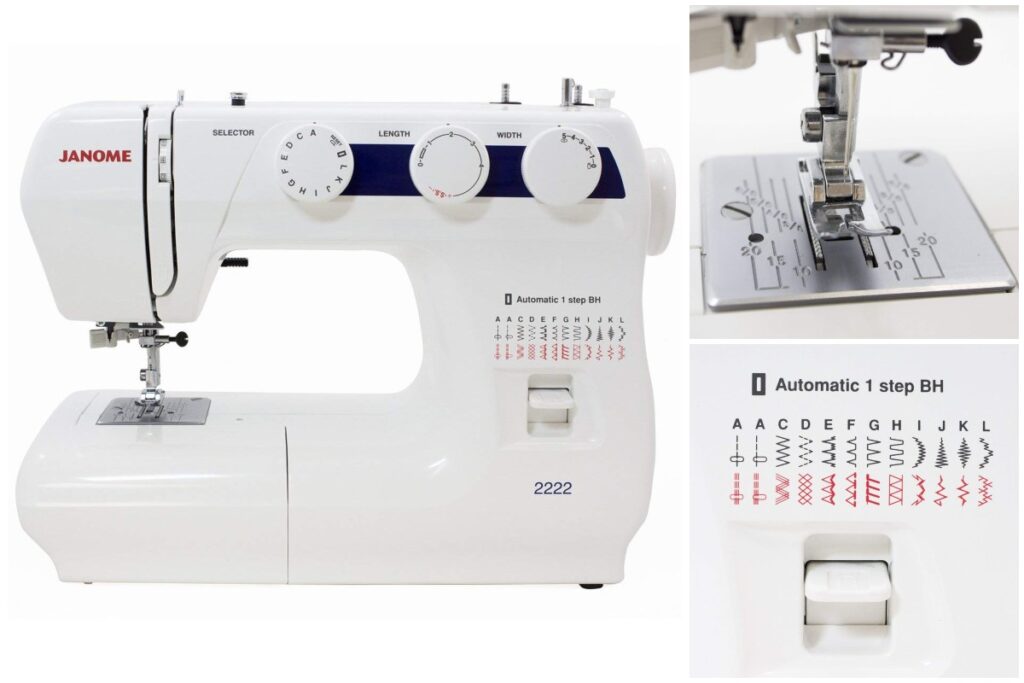 This budget-friendly sewing machine has helped me build my pattern design business from the start, as well as create hundreds of tutorials on this site. All I needed!
LIST of the best sewing machines for beginners based on the features
On to my list of the best sewing machines for beginners:
Janome 2222 - entry-level, overall use
Brother CS6000i - for quilting and sewing
Brother CS7000i - for quilting and sewing
Brother XR3774 - for quilting
best-value domestic heavy duty: Janome HD3000 and Janome HD1800 - bagmaking and sewing
QUICK solutions:
Machine
Do you plan to also quilt?
You'll be looking for a walking foot, a free motion quilting foot, and an extended table - this Brother XR3774 might be your best bet.
Brother XR3774
Do you want to sew apparel?
Often, you might want a one-step buttonhole function (which I don't need that much) - and a free arm to make sewing tubular items like sleeve cuffs easier. Check out either Brother CS7000i (computerized) or Janome 2222 (mechanical)
Brother CS7000i (computerized) or Janome 2222 (mechanical)
Are you an aspiring bagmaker?
Skip the rest and go straight for No 5 on the list: you'll be thankful for the heavy-duty feature on the Janome HD3000.
Janome HD3000
Quick checklist for the best sewing machine for beginners
1 - Janome 2222 mechanical sewing machine
I'm including the entry-level mechanical sewing machine I have and love using, a reliable yet affordable model. Great for beginners too.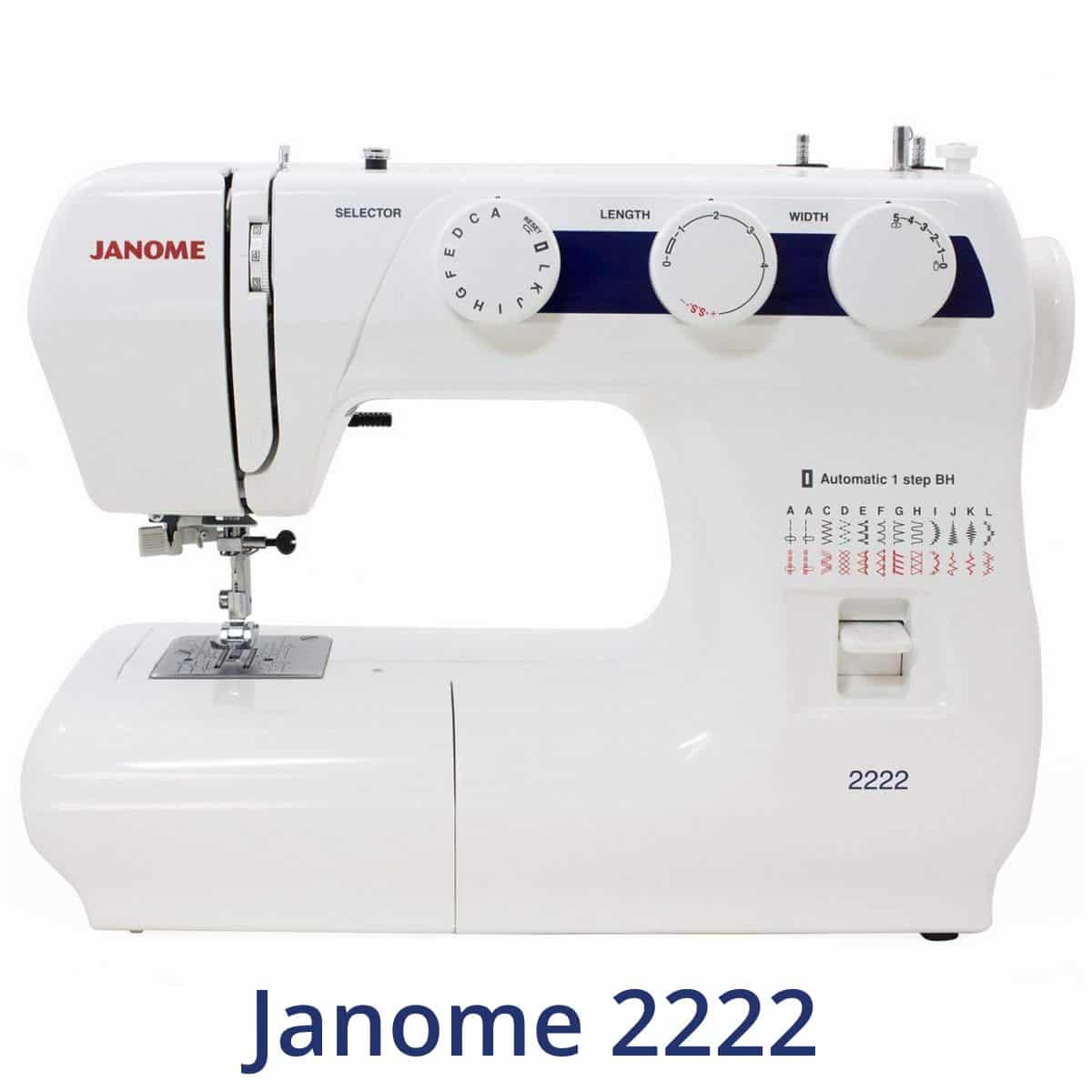 My first sewing machine was a good quality basic sewing machine from the company manufacturing the Janome and Elna machines. It was the European Elna, which directly 'translates' to this Janome model in the US - this model has the same specifications as mine, and the parts and pieces, except for the printed model number. Also, Janome and Elna brands have the same owner, manufacturing all of their machines in the same factories.
Even though I've purchased this new sewing machine recently, I still use it occasionally!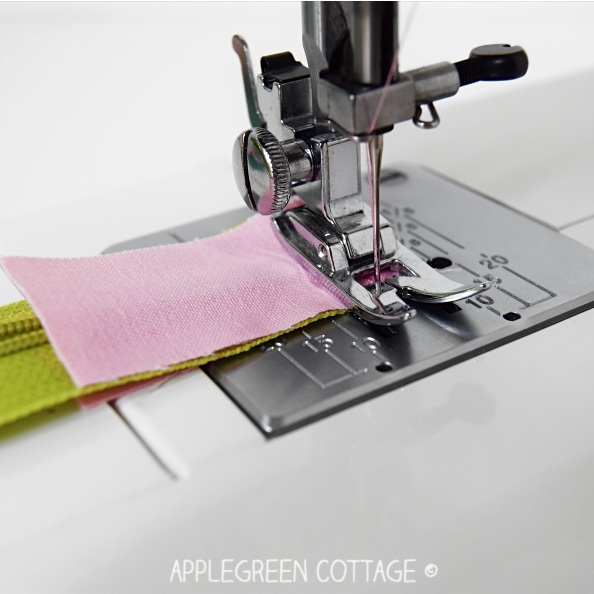 If you ever consider purchasing this one, let me tell you why I love it:
it's precise and sturdy.
It will sew through faux leather and a few layers of cotton with no problem.
I've never had issues with bobbin thread tension, even when I keep changing it on projects as I change materials.
Stitch width and length adjustment - separately! is a must-have feature for me.
It has a free arm - this is what I cannot live without, and is perfect for all kinds of small crafty items you can find here on my blog.
Note: it features a front-load bobbin, I preferred it until recently when I got the hang of the top-load bobbin. It took me a while, so if you're accustomed to the other option, bear that in mind.
And it's a mechanical machine (no computerized parts). In the 20 years since I got it, it never broke. All it needed was needle changing and occasional dusting and oiling. As I said, I love it. I've been sewing all projects on it until just recently, and it's still on my sewing table. Check out the Janome 2222 on Amazon.
2 - Brother CS6000i computerized sewing machine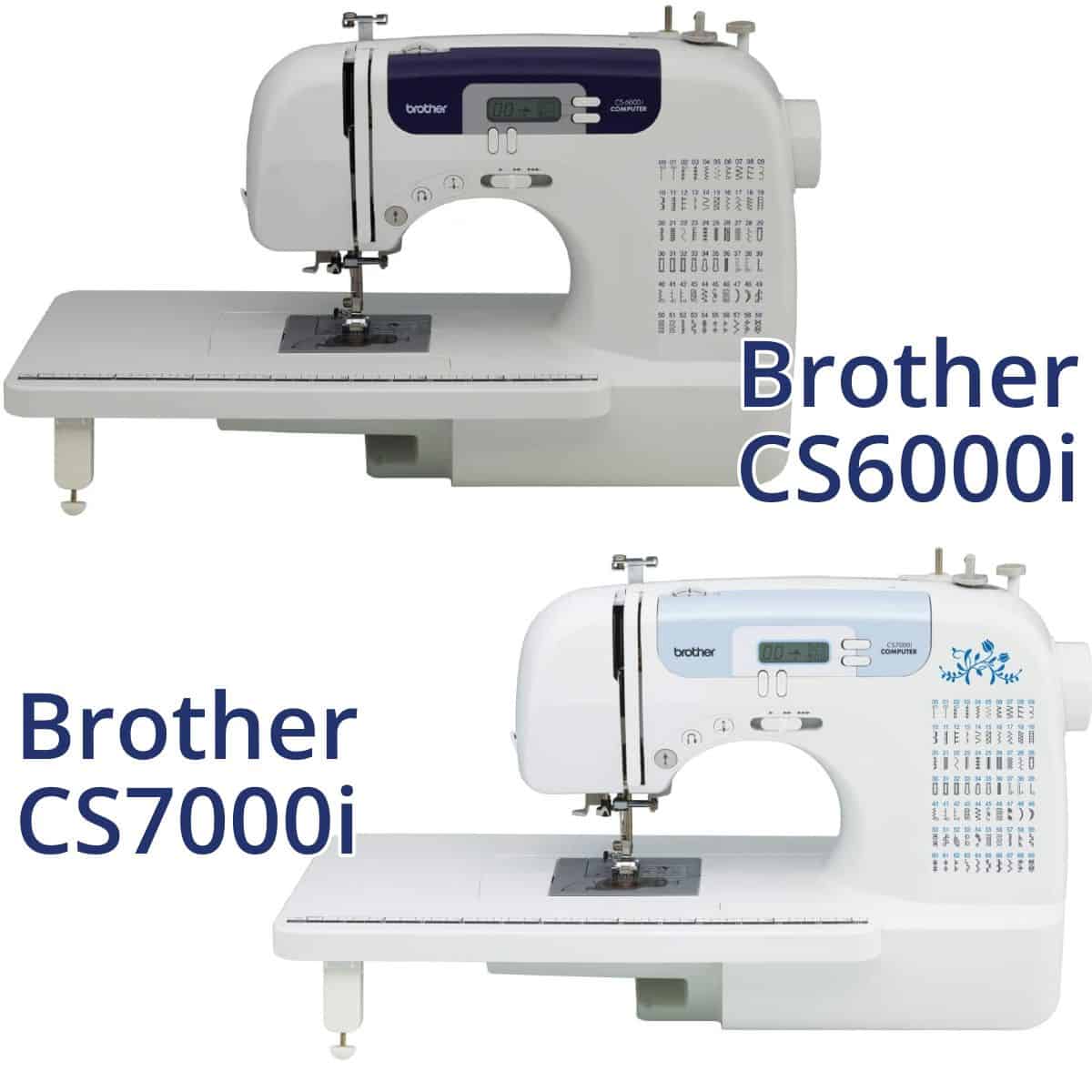 Brother CS-6000i 60 Stitch Computerized Free Arm Sewing Machine (or it's successor CS7000i) would be my first choice if I were looking for an entry-level computerized machine.
It includes many of the desirable features that are found in most Brother sewing machines - like an automatic needle threader and an automatic buttonholer. I consider it an amazing combination of features and a very affordable price. Other main features:
a 7-mm max stitch width (yay!)
a built-in free arm
a drop-in bobbin
LCD screen for stitch selection
sewing speed controller that allows you to select your sewing speed, making it as fast or slow as you like
60 built-in stitches
one-step buttonhole foot
a number of quilting and sewing accessories (including seven presser feet)
a hard cover
a start/stop button for easy operation without the foot pedal.
Two things I consider an extra with this budget-friendly sewing machine model:
the option to sew without the foot pedal, and
the LCD screen. If dial buttons are not a thing you like, this is probably the best beginner sewing machine to get. It's a small screen but quickly gives you the info on your stitch selection - there are no dial buttons on this machine, just simple push buttons located beside the LCD screen.
Also, it has over 20,000 reviews on Amazon, which makes the decision even easier.
3 - Brother CS7000i computerized sewing machine
Simply a new release of the popular Brother CS6000i model. If you happen to see it selling at the same price (currently it costs USD 10 more than the old version), consider getting this one. While almost identical in most specs to its predecessor CS6000i, it features 10 more stitches and one additional presser foot, the ¼" foot - quilters will love it.
Comparison Chart
| Model differences | Housing color | No of presser feet included | No of stitches |
| --- | --- | --- | --- |
| Brother CS6000i | navy | 7 | 60 |
| Brother CS7000i | light blue | 7 + ¼" foot | 70 |
Differences between Brother CS6000i and Brother CS7000i sewing machine
The Brother XR3774 is perfect for a wide range of everyday sewing and quilting projects - you might want to go for this simple mechanical sewing machine if you quilt too. Two things: the wide table makes it easy to sew with larger pieces of fabric (quilt sandwiches!) and both the walking foot and the free motion quilting foot are already included. (Third: good value for what it offers!) More features: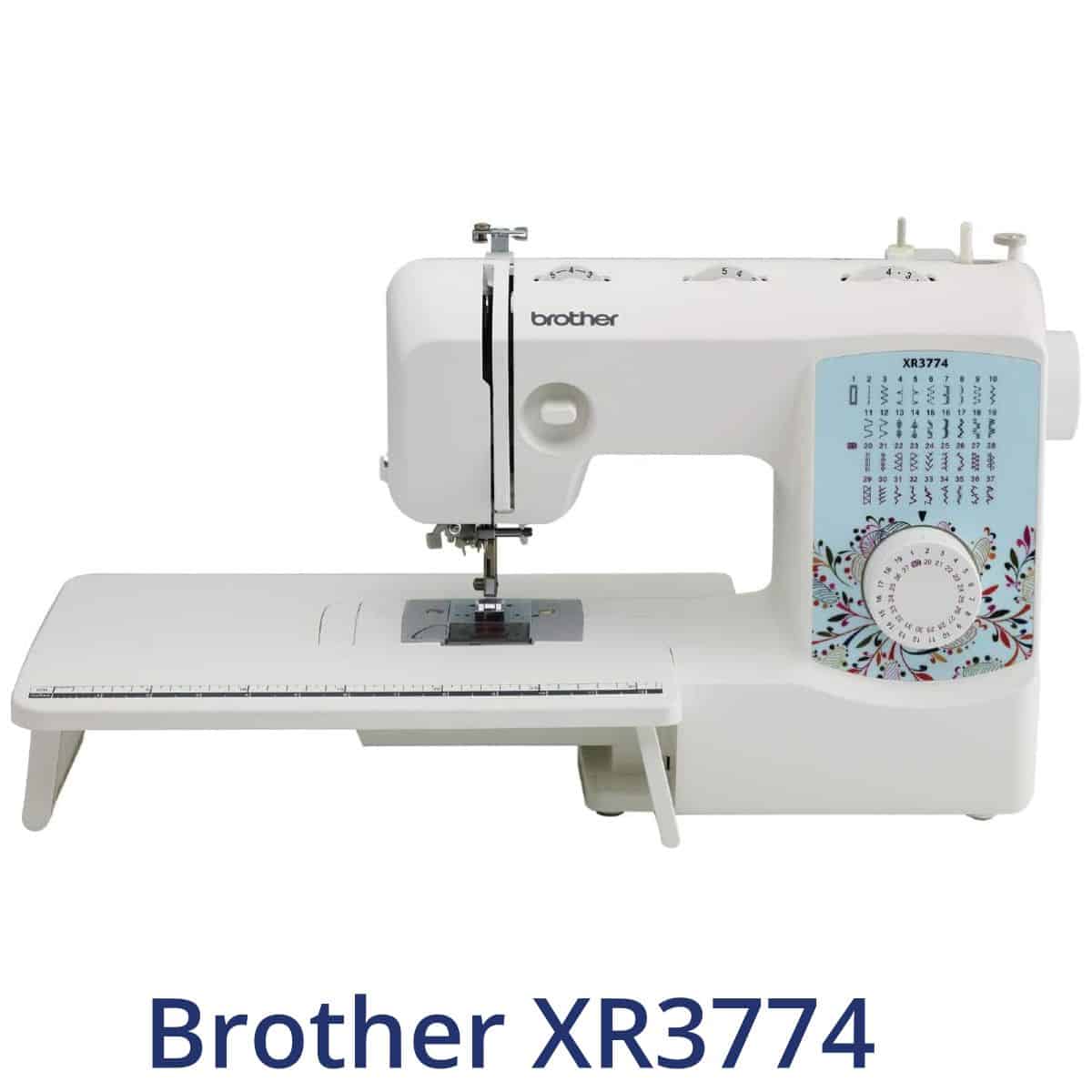 a walking foot and a free-motion quilting foot plus other 6 sewing feet
a 1-step buttonhole
an automatic needle threader that pushes the thread right through the needle with the touch of a lever
top-load bobbin
instructional DVD is included
VERSATILE FREE ARM:
while it does have 37 unique stitches, we already know that the number of stitches is never a decisive factor in choosing the right sewing machine - as long as there's a straight and a zig-zag stitch available.
With the current pricing around USD 160, it's on the very affordable side, great value for money.
However, none of the above are considered to be heavy-duty sewing machines, so they are not going to perform as well as a sewing machine made for thick fabrics. This is where my favorite household heavy-duty sewing machine comes into play:
5 - Janome HD3000 Heavy-Duty Sewing Machine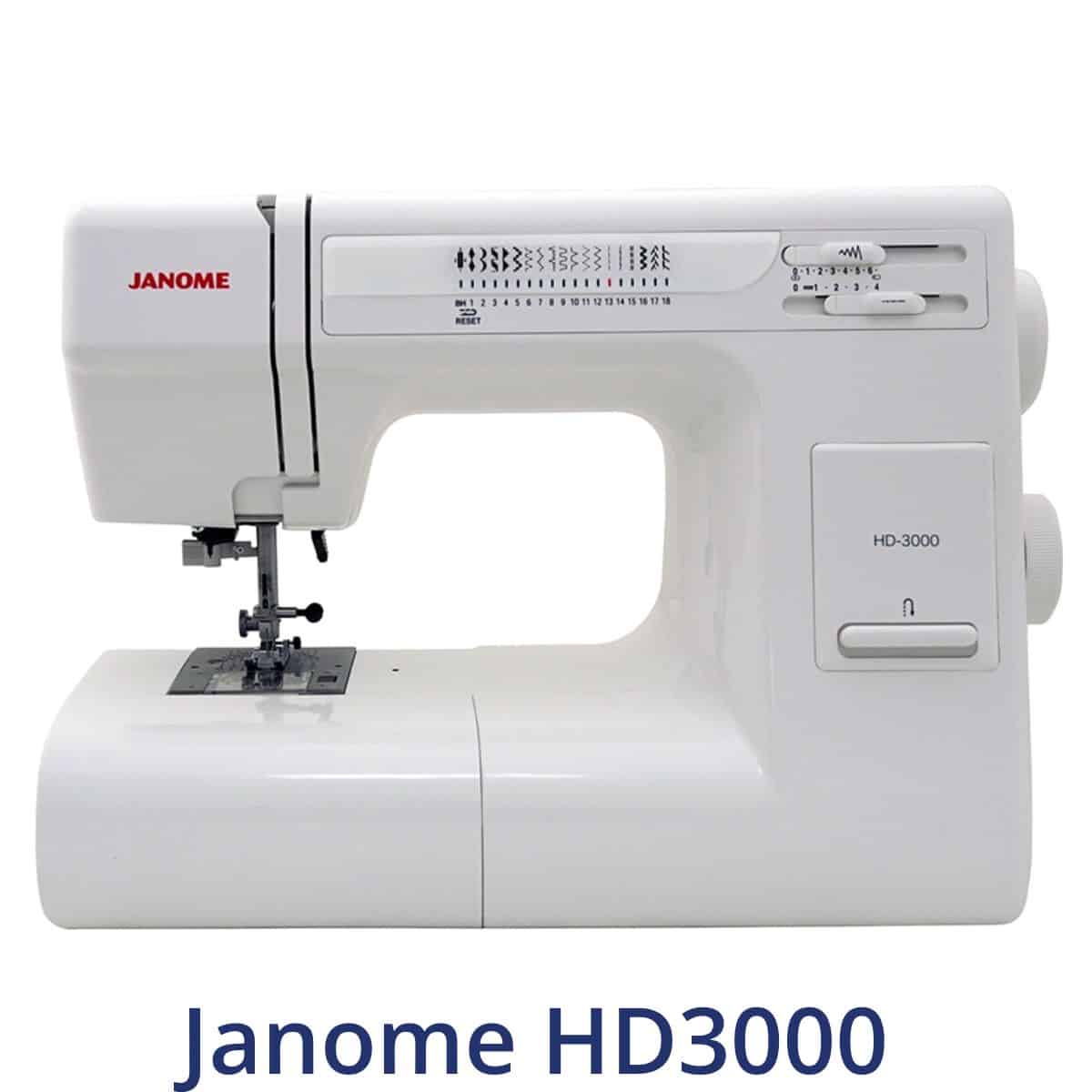 My first machine choice for a mid-range budget, household heavy duty sewing machine is the household heavy duty Janome HD3000. Read a full review of the Janome HD3000 and HD1800 models here. In addition to the features shown below, it also has a hard case. Very handy!
If you live in Europe, you have an option to get the European equivalent of this same model, it's called Janome HD1800 instead of Janome HD3000 - but don't be misguided by the number difference: Janome HD1800 comes with some additional accessories compared to Janome HD3000 but is essentially the same. And the stitch length and width buttons are designed as dial buttons, not sliding buttons.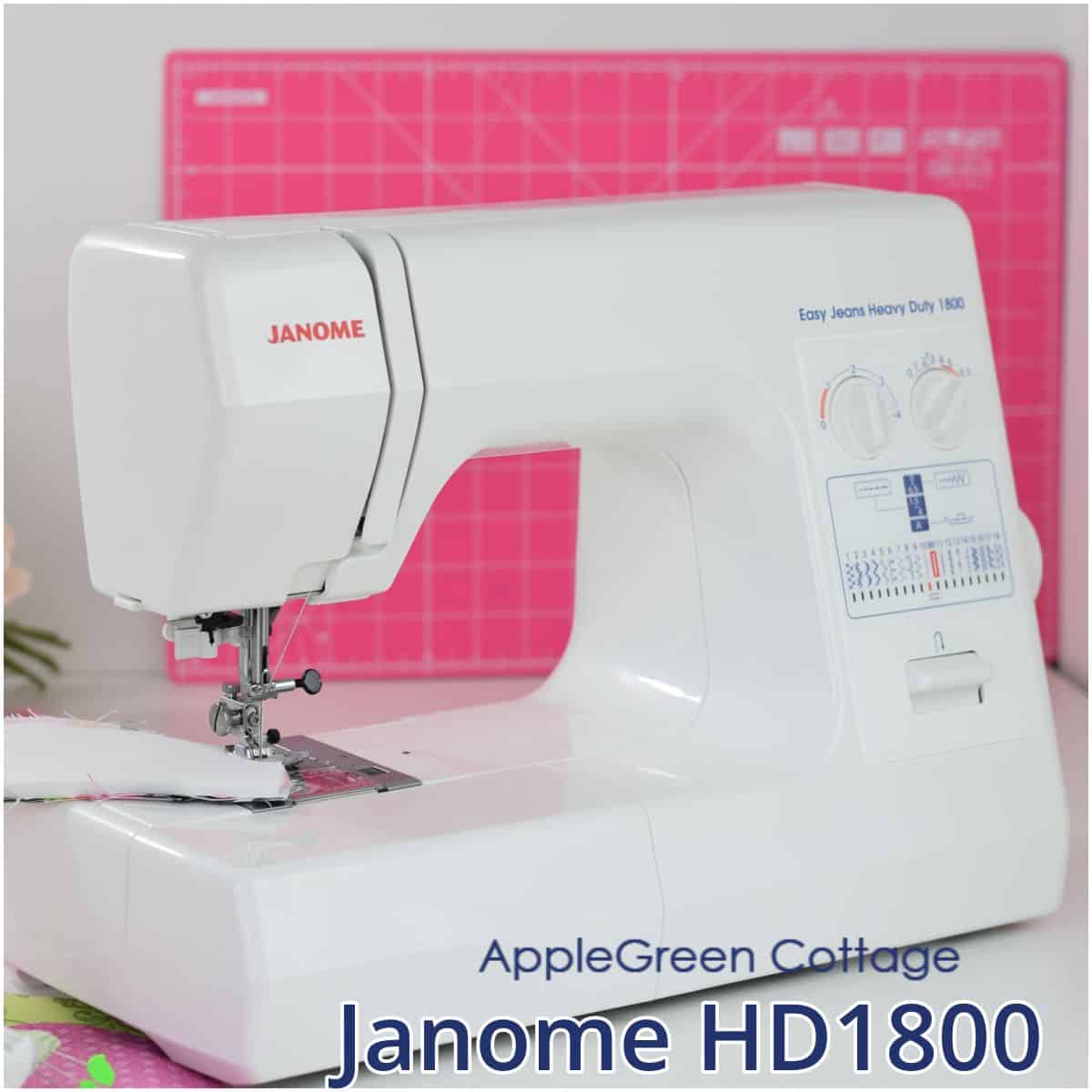 What I particularly love about the Janome HD3000 and Janome HD1800:
foot pressure adjustment - great for bag-making! You can adjust the foot pressure if you notice the seams puckering or uneven stitching when you change materials.
The maximum stitch width is 6.5 mm which is more than usual on a home sewing machine.
there's a built-in simple needle threader.
the presser foot lifts extra high. Not as high as with the industrial machines, of course, but still high enough for all the bags I want to sew.
The 7-piece feed dog helps to ensure smooth sewing and less hang ups.
one-step fully automatic buttonhole function (cool!)
You need to know that it has a 0.5 amp motor while it had a 1.0 amp motor years ago. Janome obviously changed that a few years ago.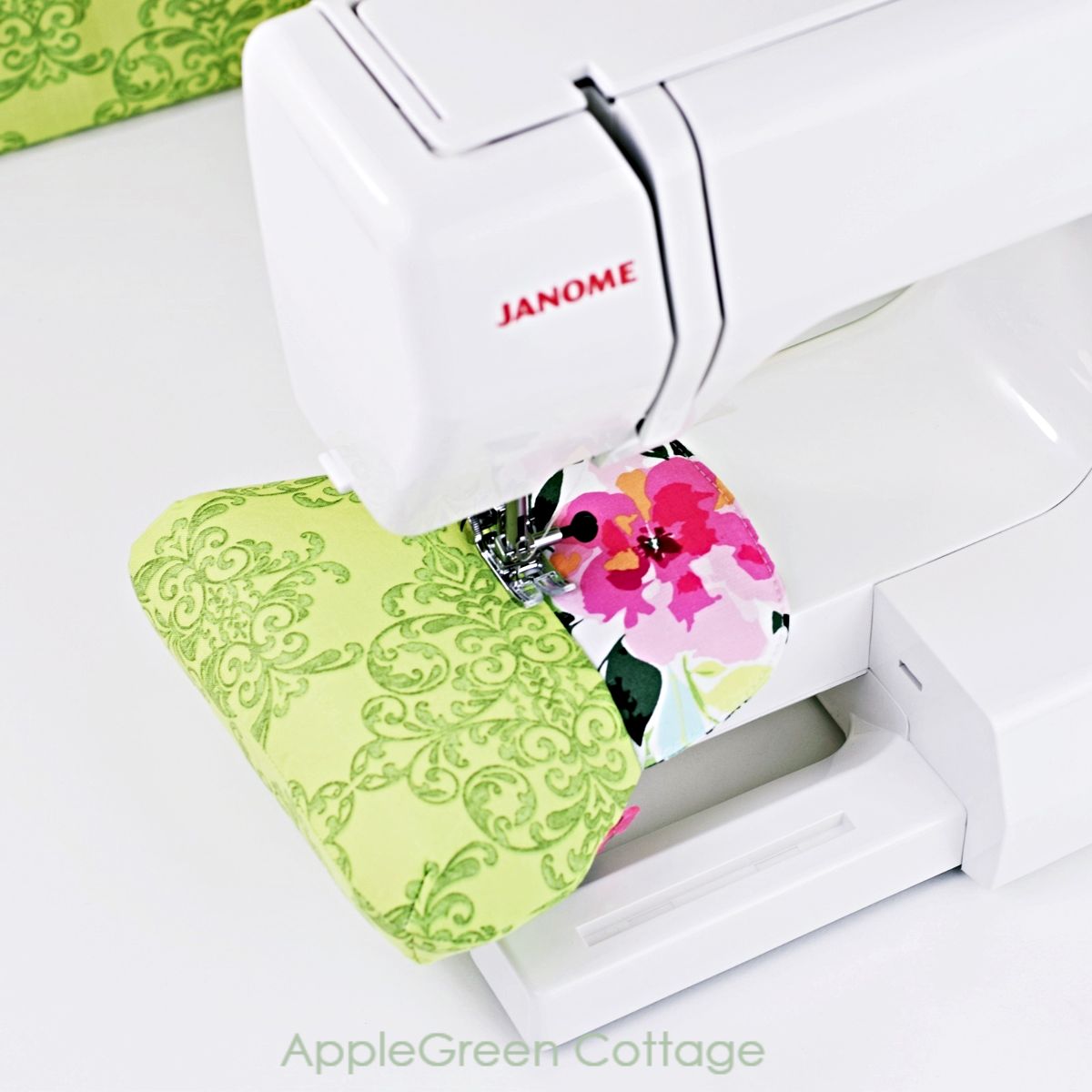 Unboxing Janome Sewing Machine Video
Let me show you a quick unboxing video so you can see what accessories my Janome HD machine package included (if you can't see the video, pause your ad blocker )
There's nothing fancy about it; no electronics, no auto thread cutters, but boy does it have everything I need.
Best Tips for buying a sewing machine
I'm adding my best tips for buying a sewing machine you'll love to use:
First, determine your budget for buying a sewing machine
People sometimes ask me how much they should spend on buying a sewing machine. But that's a wrong question to ask.
So, first, decide on your budget. You'll be surprised how much easier it becomes to look for your best sewing machine once you've decided on how much you can spend on it. Now buying a sewing machine gets easier.
When you know your sewing machine price range, you'll be able to search for the maximum quality or features for the right budget. With just a few exceptions, this does not rule out a certain sewing machine brand, since most sewing machine brands have different price tiers that can fit a range of budgets.
A very limited budget? Get a used sewing machine
If your budget is very limited, consider buying a used sewing machine. It is a great way to save money. One thing, when buying a used machine from someone else, make sure it goes through the maintenance of a trusted repair service first. Sometimes, they also offer a limited guarantee on a used machine. Good to have.
No budget at all?
Borrow a used machine from a sibling, a neighbor, or a friend that has one but never uses it. Do you know someone with a sewing machine gathering dust in their basement? They might feel happy to see it gets a good home, and they themselves get more space. Probably someone was handed down a sewing machine by their mom or grandma. Ask. You might be surprised!
A mechanical sewing machine vs a computerized sewing machine
A computerized sewing machine like Brother CS6000i will have a handy backlit LCD display allowing you to easily make and view your stitch selections, and - this is especially handy! - the error code when there is an error to look into (goes along with User manual) so it's easier for a beginner to figure out what went wrong.
However, a mechanical sewing machine is easier to service. You'll have an easier job finding someone who's able to repair your sewing machine if it's mechanical because you don't need to worry about the computerized part, the software, and stuff. You'll get the parts more easily and often even for older mechanical sewing machines it's easier to get the replacement parts for machines than for the computerized ones.
Take your time to do proper research - but!
Take your time to do proper research but don't let research stop you from ever buying your sewing machine.
And don't let it lose you months of choosing, comparing, and selecting the latest new shiny model in the market. I mean it. Once you start looking for features, it might feel like an eternity from where you are now until you think you'll figure out all the features on all the models. You never will, nor have I. Narrow down the number of models to (a) your budget, then (b) read reliable reviews (from people who actually sew!) and if you can, (c) ask sewists in your community about their own experience. It can take you weeks or a few months to buy a machine. But definitely not years.
Buy locally
If possible, also ask your local sewing machine dealer. If you buy locally, you can get professional service in case you need it, and usually, there are some perks local machine dealers will offer, like a free first machine overhaul/checkup, or a basic sewing course.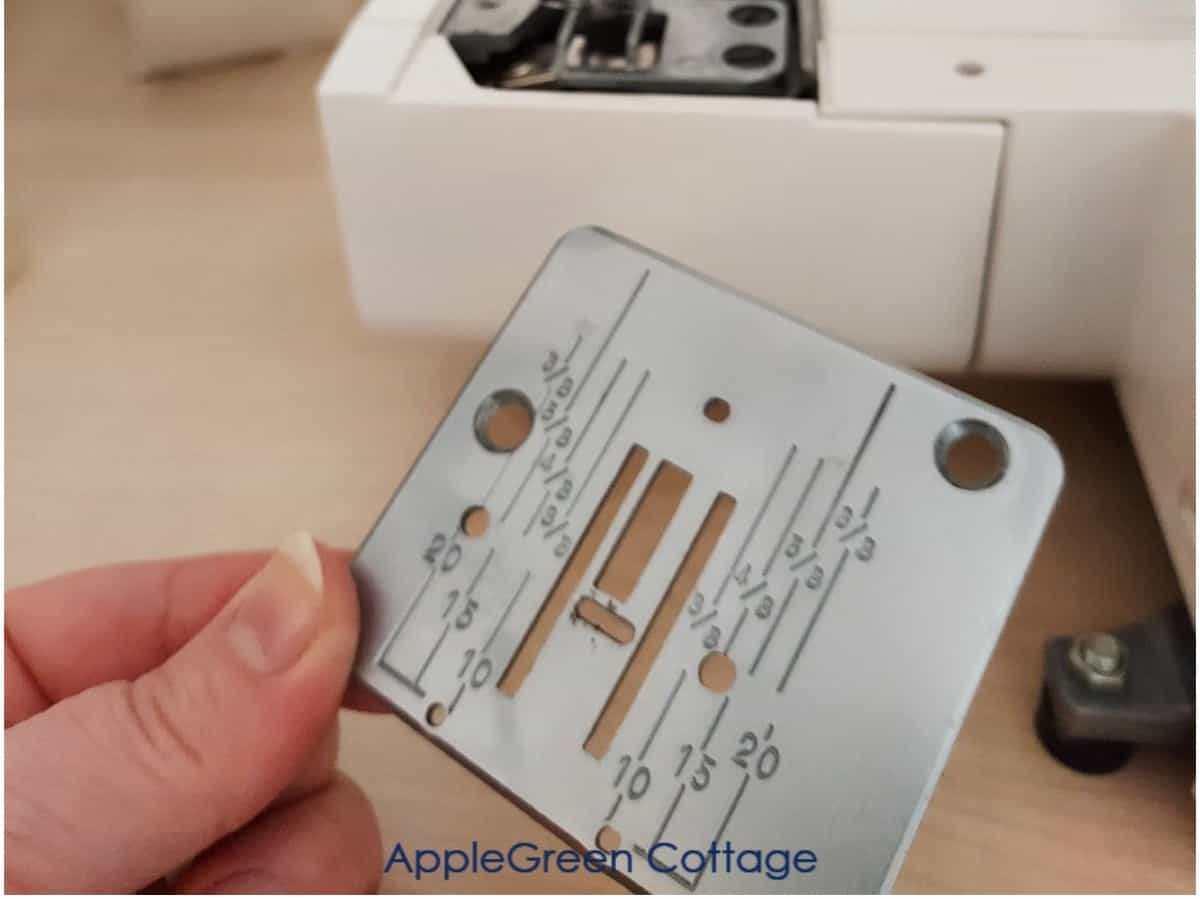 When you need a replacement of a machine part, a local repair shop will be your best bet. Look for official reps of your machine brand.
I feel stupid for not taking advantage of those, I got one with each sewing machine but never took the time! It cost me a few days browsing YT to learn the first steps with my serger when I could just have registered for a free serger sewing course a few miles away from my home. Don't repeat my mistake 🙂
When I was buying my Janome HD, I simply asked the dealer for a few details, and they were open to discussing the drawbacks and pros of the two models I was looking for. At large dealerships, you can ask to talk to the repairman, not the sales personnel.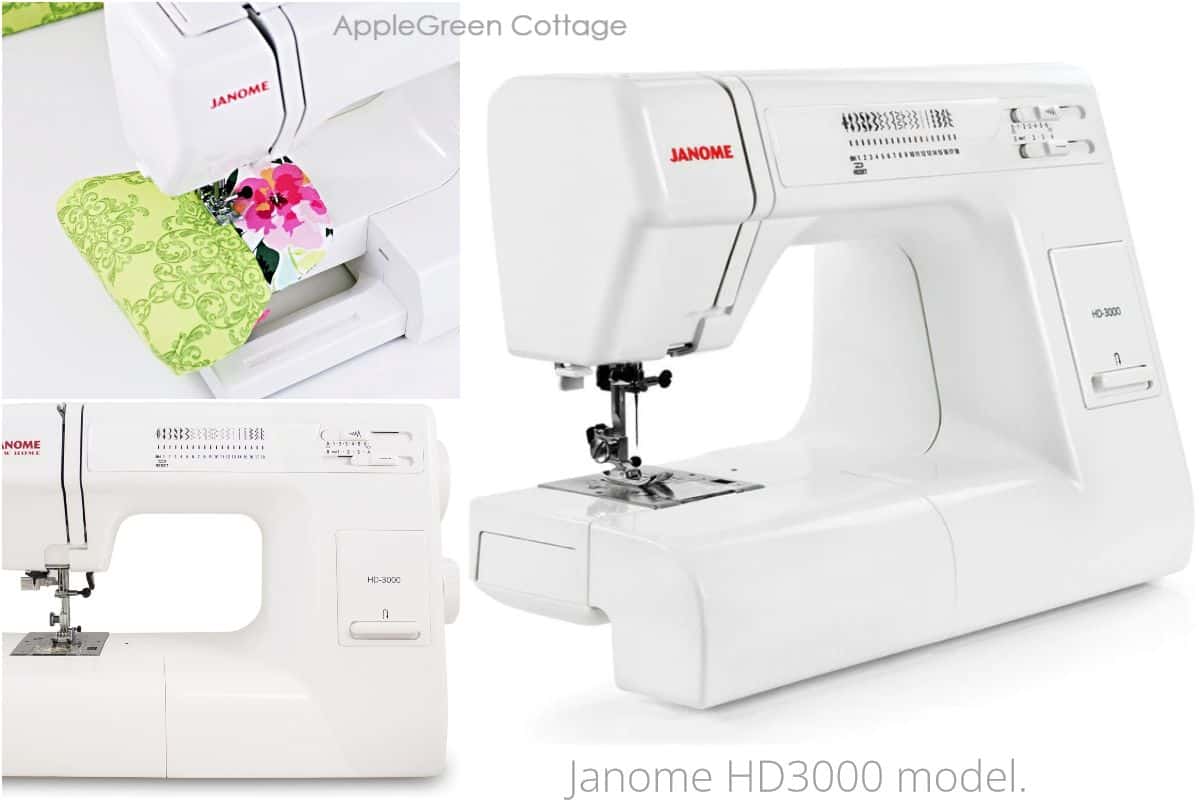 When Do You Need a Heavy Duty Home Sewing machine?
If you are looking for a machine that will handle sewing up a wallet pattern like this one (or any of these patterns actually) - you can do everything on a regular home sewing machine. All AppleGreen Cottage patterns are designed to work on domestic machines, yes. If you are looking for a machine that deals with all of these even easier, more comfortable, and also want to sew up a few patterns you have always wanted to try but are not exactly suited for a basic machine, then an HD machine is the way to go: an easy to use, simple non-computerized HD sewing machine like a Janome HD3000 for under USD500.
When should you buy a higher-end sewing machine?
If you sew a lot, have a sewing business like a clothes repair shop or similar. The rest, not so much. Even many bloggers occasionally or regularly use a bottom-of-the-line sewing machine, including me.
What Sewing Machines Do I Use?
Many of you have asked me what sewing machine I use to design and sew up the sewing patterns.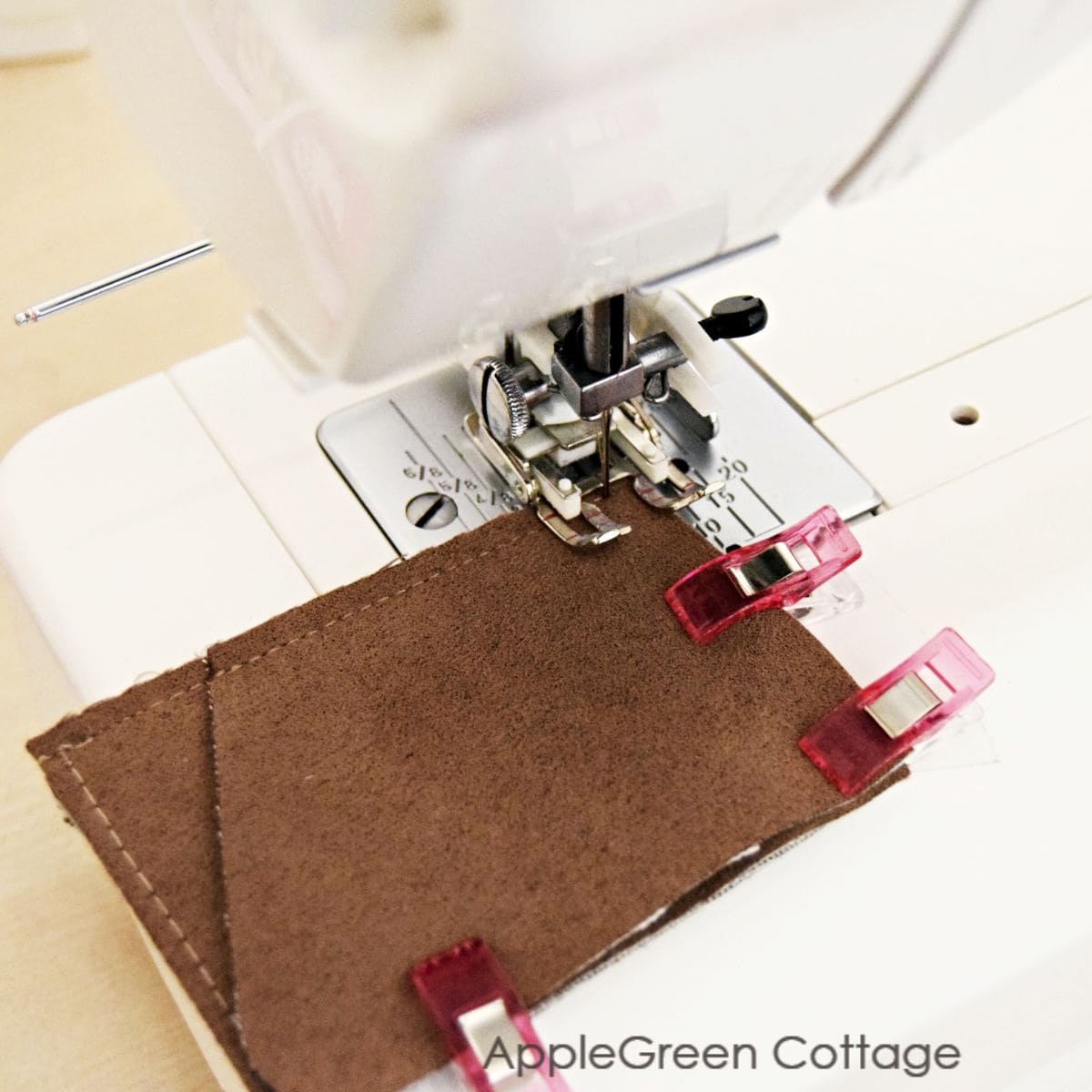 This might surprise you, but I still, after all these years, still sew a lot with my basic home sewing machine. I bought it decades ago when I moved into my first own apartment, and still have it. It's Elna 220eX, which is the exact equivalent to the US market Janome 2222 model. An entry-level beginner sewing machine, but it surely does the job! It has helped me build my pattern design business from scratch, as well as create hundreds of tutorials on this site. I created this tutorial on how to replace a sewing machine needle with photos of this model, if you'd like to see more images.All I needed!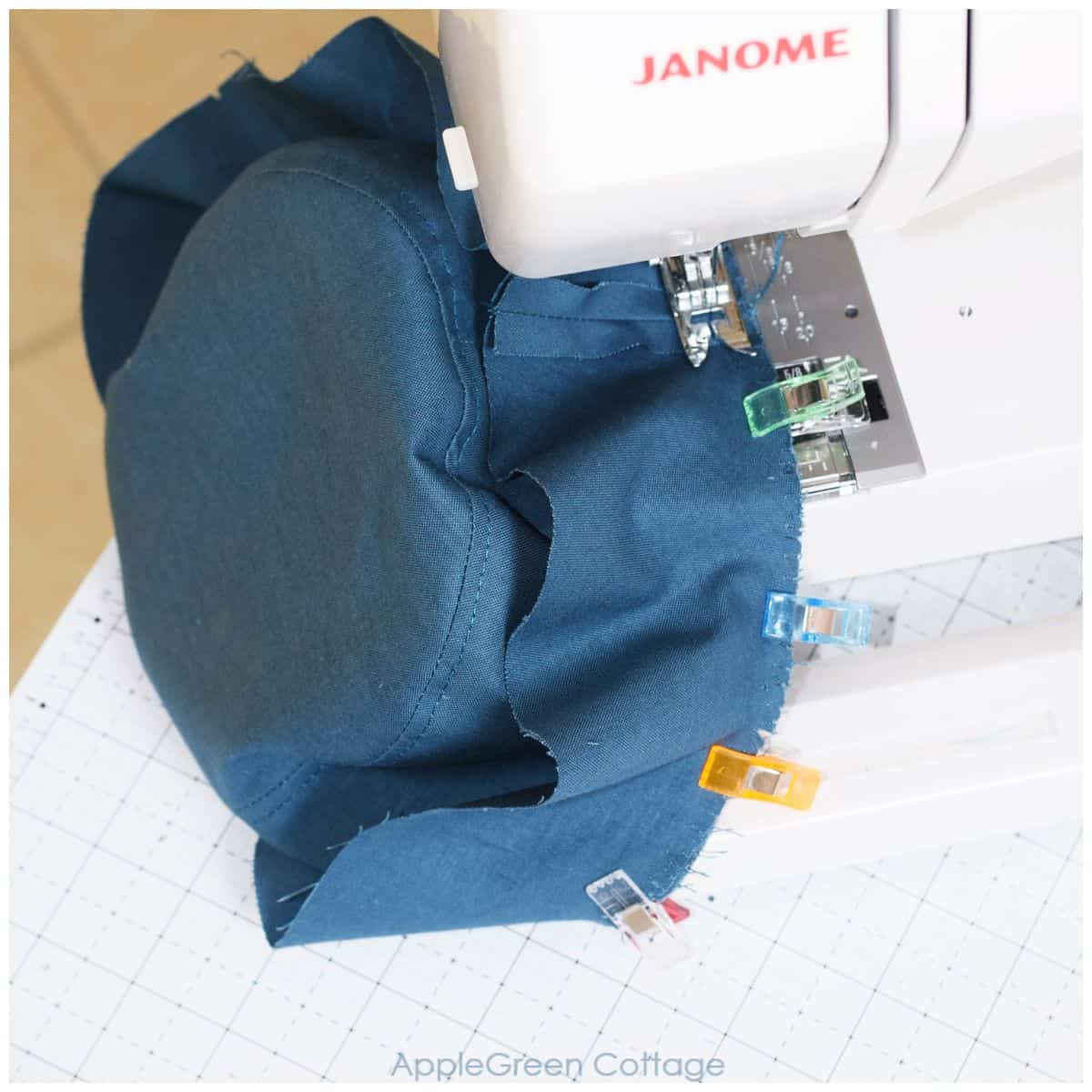 Two years ago, I got myself an additional, budget-friendly HD sewing machine. It's Janome HD 1800. I plan to write a full feature post about it - it is a European equivalent to the US Janome HD 3000 sewing machine, with two differences: the model name, and a different stitch length-and-width button design. The rest is the same.
Maybe you're asking yourself why I still occasionally use my basic, bottom-of-the-line sewing machine when I also have an HD sewing machine. Simple: I want to be in the same position as someone who has just started to sew and make sure that what I do on my basic model can be replicated by anyone, advanced sewists and beginners alike.
I also use this basic sewing machine model when developing my patterns, so I can always make sure the project is easy to do for everybody.
I hope this post on the best sewing machine for beginners was easy to read and even more importantly, has helped you make a picture of what to look for when buying a beginner sewing machine. You'll have so much to sew! Save to Pinterest using this link if you need some time to think about your next sewing machine: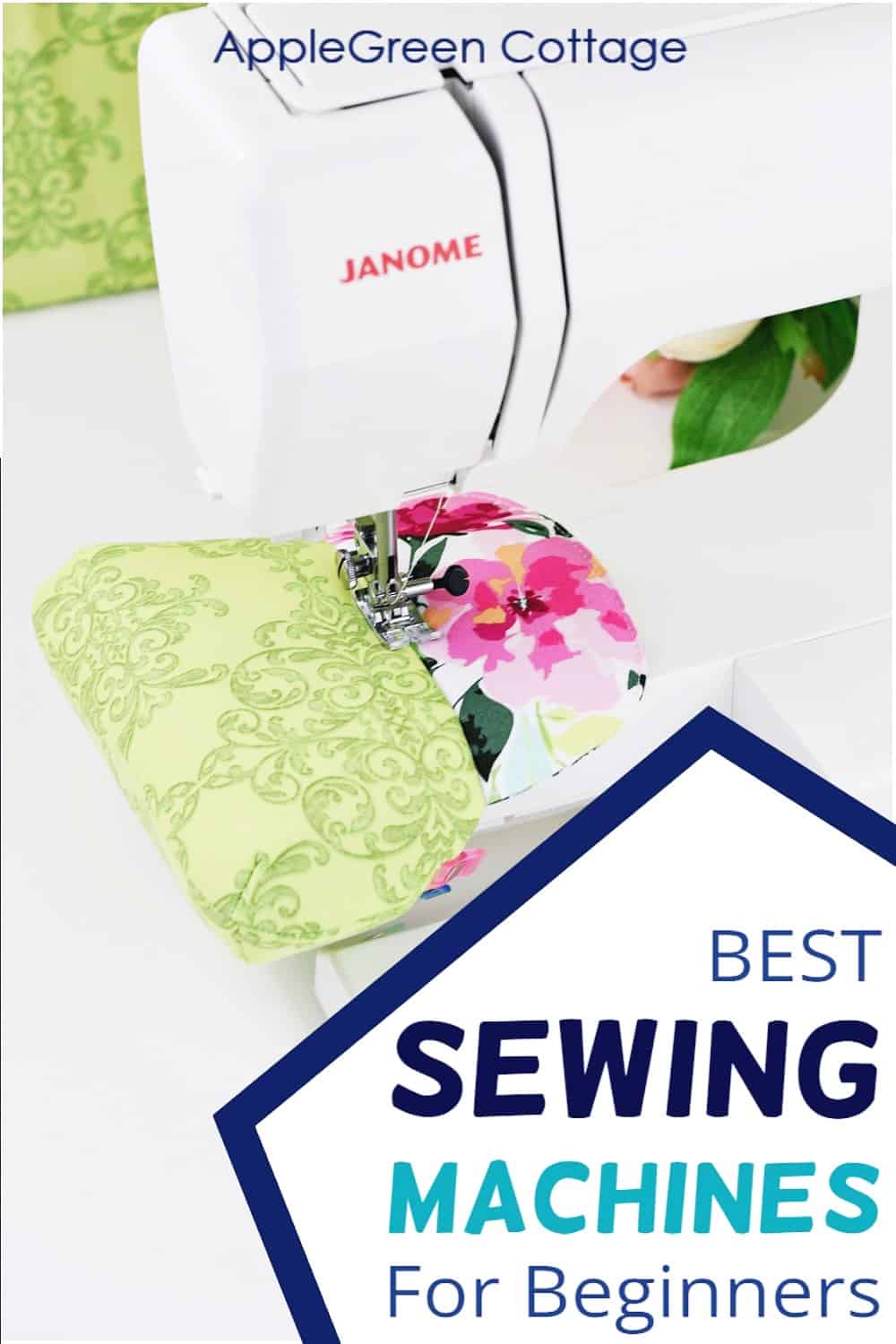 WANT MORE FREE TUTORIALS AND PATTERNS?
Get email updates and never miss out on new patterns, printables, and tutorials:
Or …check out the TEYA crossbody bag pattern in our shop. One of my first bag patterns with pockets both on the inside and outside - and it works great as a gadget bag too!
TEYA PATTERN UPDATED!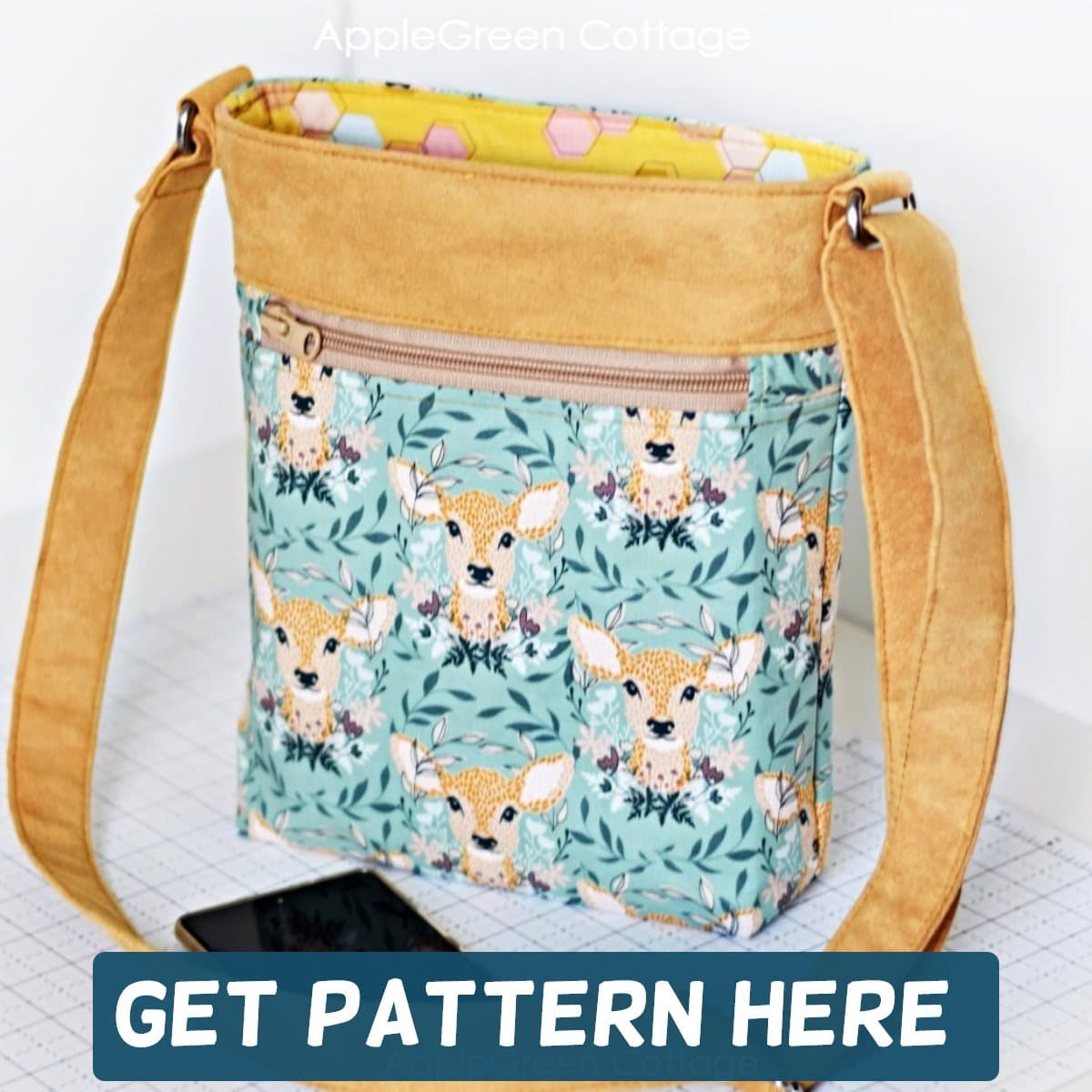 PATTERN UPDATED.