Make a beautiful diy zipper pouch with this free zipper pouch pattern. It comes in two sizes, and it's unique with a special zipper finishing + boxing technique. Scroll down for the link to your free BOXED! zippered pouch pattern!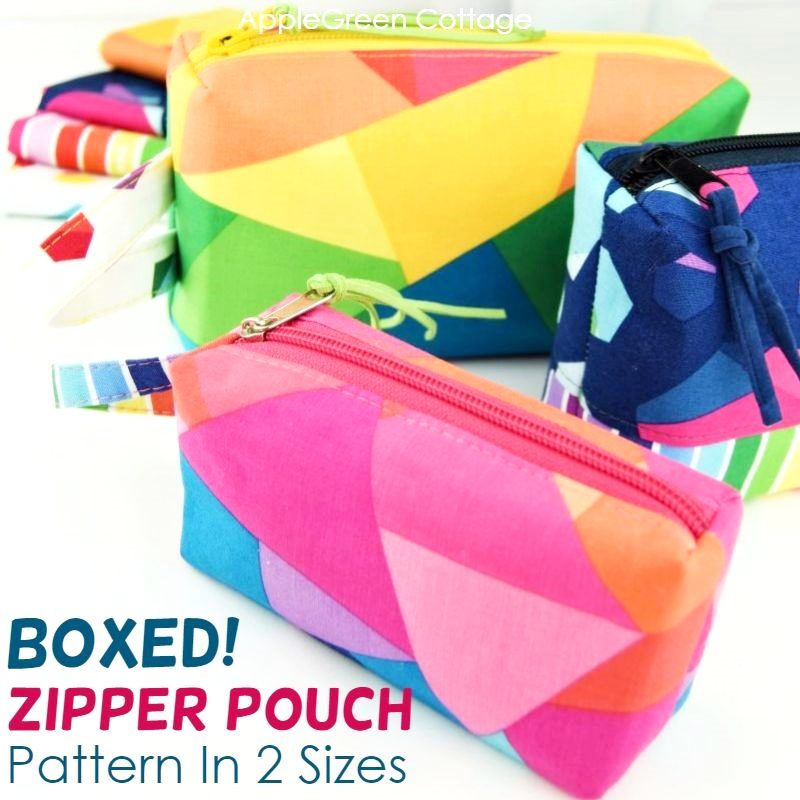 If you like sewing bags, my bag making tips will help you for sure, and also take a look at
ZIPPER POUCH PATTERN
Sew a zipper pouch for every occasion and every recipient! Fully lined. No exposed edges, no binding. I love this design, and so will you when you see how practical it is. Stuff this diy zipper pouch with a gift card, a bunch of chocolate or even make another gift to put it in. The pouch can double as diy gift wrapping! Scroll further down to get the template from my shop for free (No code. Just free.)
First take a look at a few features presented in a short video:
Now imagine it as a pencil case, a small makeup bag, make an essential first-aid kit set, or simply a pouch to store your craft supplies, like embroidery thread, buttons, ribbons and the like. Scroll further down to get the template from my shop for free (no code. Just free.)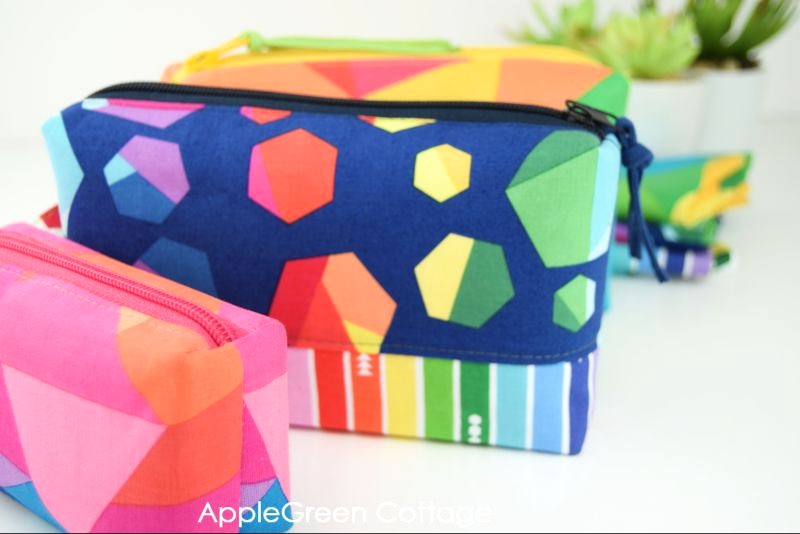 The Story Behind This Zipper Pouch Pattern
This is an intermediate level sewing pattern. Those of you who've been reading my blog for years do know that I love doing beginner-friendly tutorials. My jam! But sometimes, I do want to give a little something to those of my readers who'd describe their sewing skills as advanced or intermediate. This tutorial is for you, seasoned makers, consider this skill-builder tutorial a gift from me. Have fun!
Having said that, I designed the tutorial like I always do, with TONS of photos, and every detail explained, so everybody should be able to do it, even if you're still a little new to sewing. However, since a few steps include some extra corner manipulation (like boxing a corner from both sides at once!), maybe some will want to start with one of these:
But first, make sure to save this one to Pinterest so you have it at hand when you want to go for it! (Way sooner than you might expect!)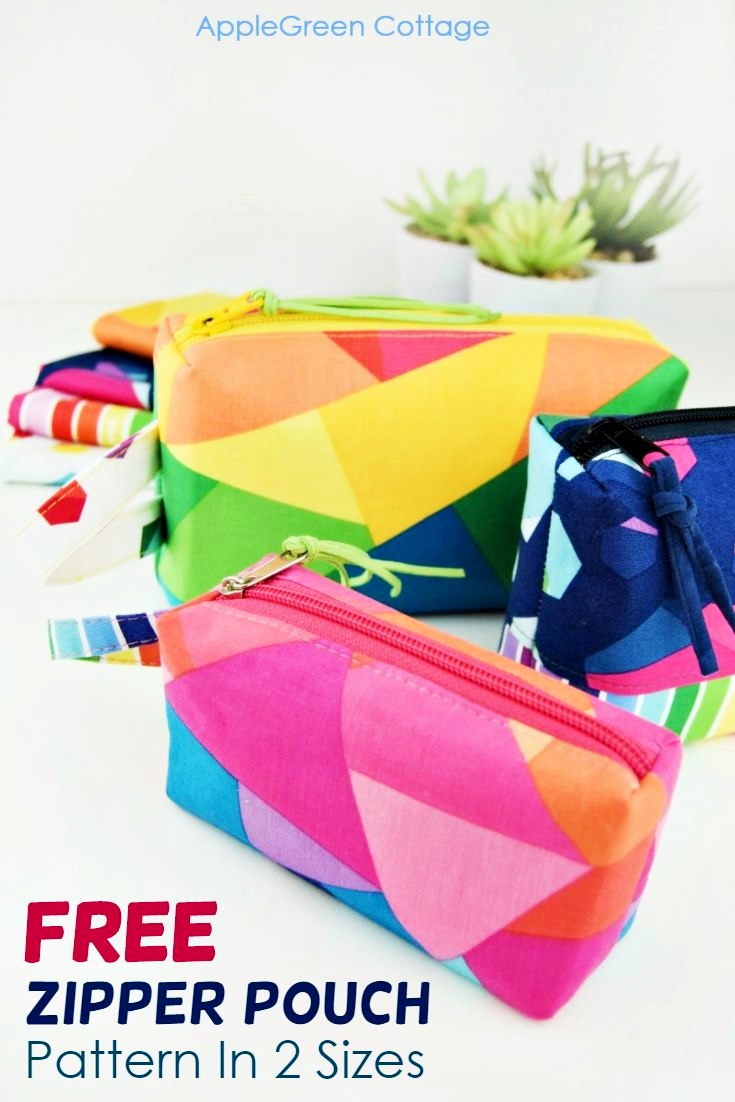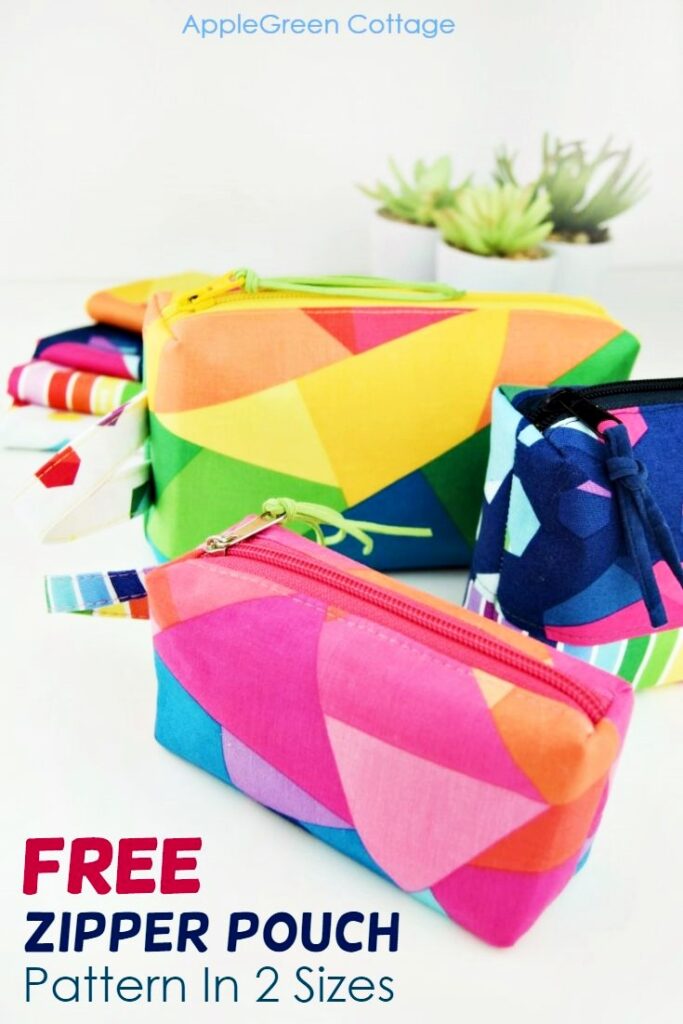 Tip: Use two fabrics for the outside to make your zippie twice as nice! This is a fat quarter friendly project, and a scrap buster. Actually use up any scraps you might have, and make a pieced version! See step 1 below for cutting the pieces.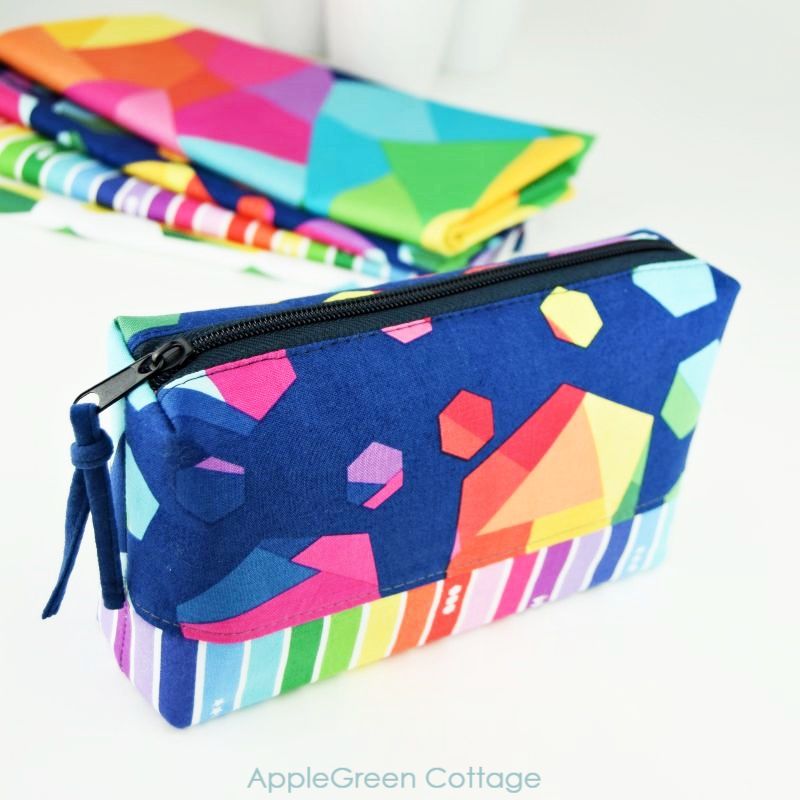 And THIS fabric, right?! I've sewn all zipper pouches in this tutorial with the Create collection designed by Kristy Lea for Riley Blake Designs, and it's all the colors I will ever want to have! Check them all out at the Riley Blake Designs site HERE, and you can buy the fabric HERE. And look what I've sewn with this same fabric, too: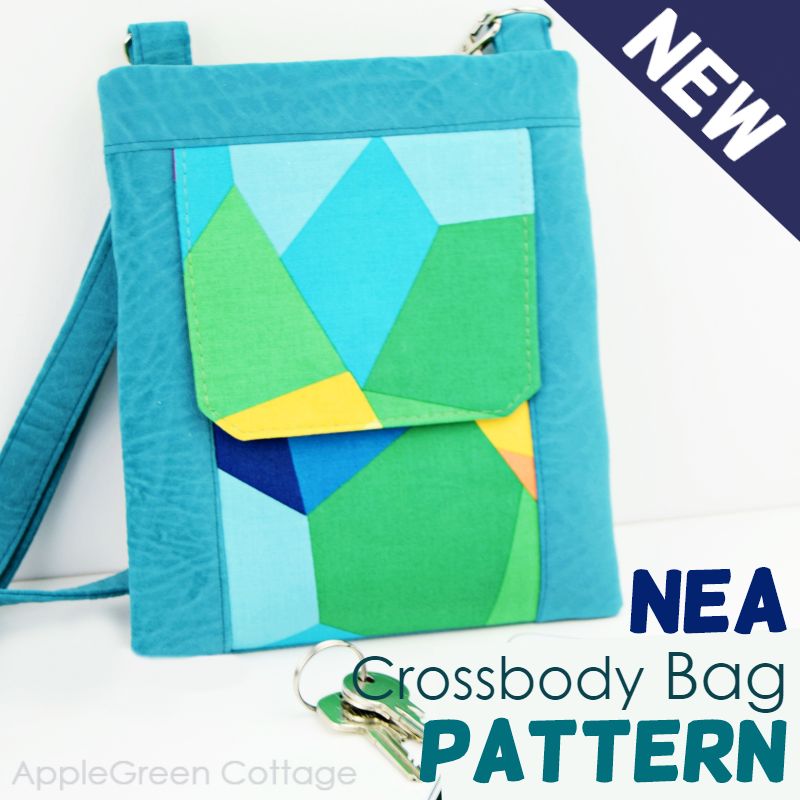 Finished Size Of the Zippered Pouch - 2 Sizes!
The finished sizes are as follows:
small zippered pouch: 5 ½" wide , 3" tall, 2" deep (14 x 7.5 x 5 cm)
large zippered pouch: 7 ½" wide , 4 ½" tall, 2" deep (19 x 11 x 5 cm)
Supplies To Sew The zipper Pouch:
NOTE: this zipper pouch pattern calls for a zipper with a 1 ¼" (3.2 cm) wide zipper tape, meaning a zipper #5 - NOT the standard 1" (2.5cm) wide zipper tape you get when you purchase the #3 zippers
less than a fat quarter (50x55cm) of fabric (I used prints from the Create! collection)
a #5 nylon coil zipper with zipper tape width 1 ¼" (3.2 cm) - min 8"/9" (20/23 cm) long, depending on the pouch size you're making (zipit is a good source of quality zippers)
Each 10" x 12" (25 x 30 cm): fusible fleece, fusible medium-weight interfacing, and lightweight interfacing
sewing machine, needle, pins or sewing clips,
iron, scissors, or rotary cutter plus cutting mat (I use this one by Olfa)
Want to use Zipper #3 instead?
If you seriously don't have any #5 zippers at hand and need to use a #3 zipper (the one with a 1" zipper tape width), there is a workaround that will make it possible - scroll to the bottom for instructions.
WHERE DO I GET THE FREE ZIPPER POUCH PATTERN?
Get mine from the shop here – it's absolutely FREE! Print and start cutting and sewing right now!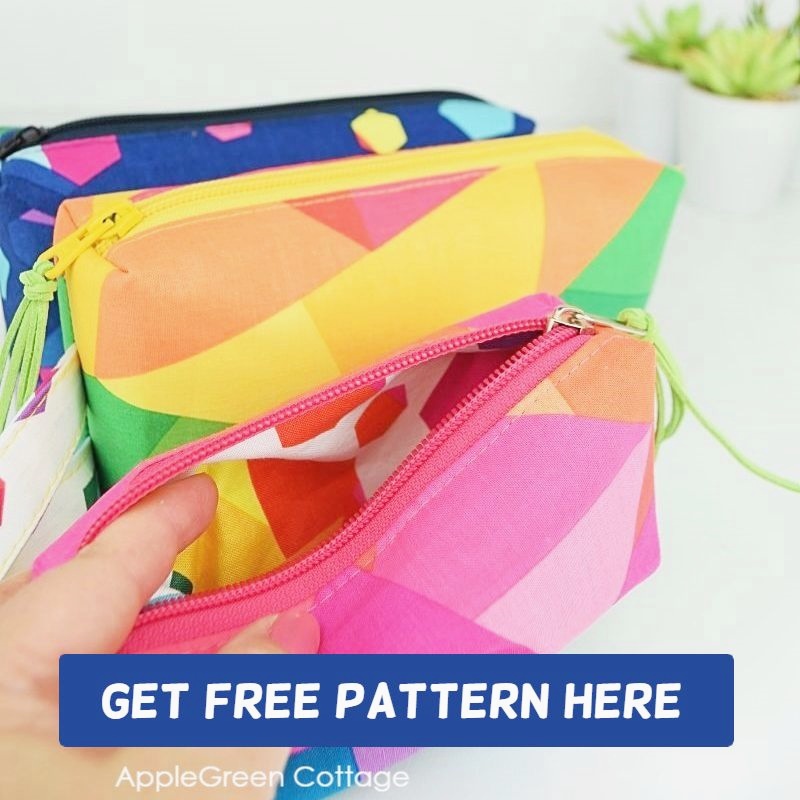 Get all cutting dimensions and the printable main piece for free in the SHOP at THIS LINK (click on BOXED! Zipper Pouch pattern)
How To Sew A Zipper Pouch With Boxed Corners - TUtorial
The seam alowance for this project is ⅜" inch (1cm), except for the piecing where it is ¼" (7 mm)
Here's how to start making your own zippered pouch. There are 2 sizes. I marked them as sizes Small and Large. Select your desired size.
This photo shows a pieced version, squares look like this if you follow the cutting instructions. You can also cut directly from the template, in this case your pieces will have all the corners formed. See step 1 if you want to make a pieced version, or skip step 1 to make your zipper pouch from one-print Outer pieces:
Step 1 - Optional: Piece The Outer of the zipper pouch
Measurement for pieced version: for the large size, cut the upper piece 10" by 4" and the lower piece 10" by 3". First piece the two together and only LATER in this tutorial you'll add interfacing, and THEN topstitch along the seam.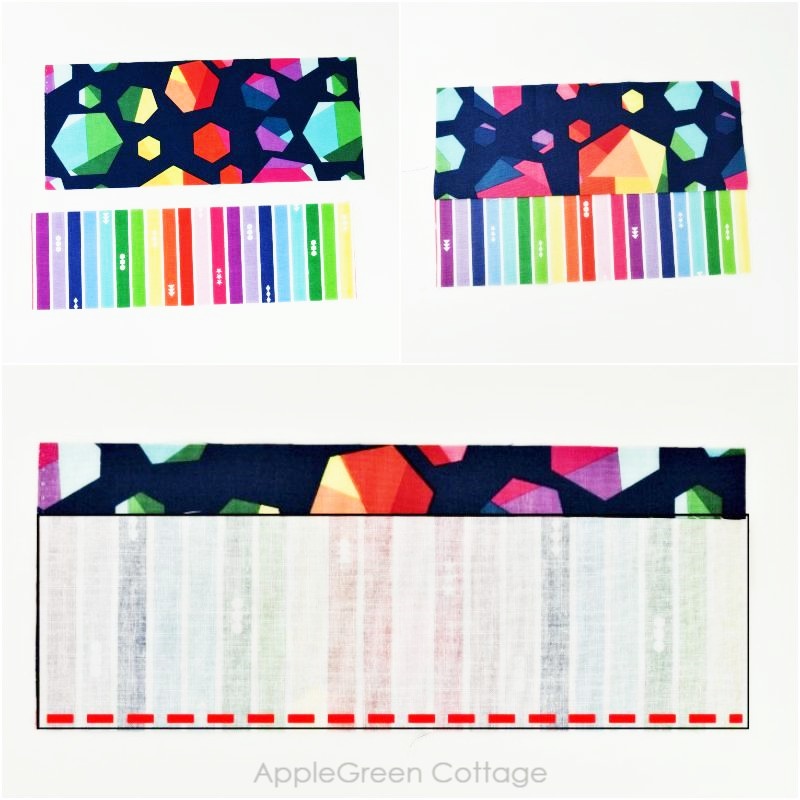 Sew the upper and the lower part of Outer pieces together, meaning print A + print B, matching long edges, with right sides together, using a ¼" (7mm) seam allowance. Press seams to the dark print side. Repeat with the other Outer piece.
STEP 2 - FUSE Interfacing to Lining Before Cutting
Since your Lining has lightweight interfacing, fuse it now to the back of the fabric. (You'll be cutting exact dimensions in the next step)
Step 3 - Cut The Pieces From Fabric And interfacing
Get all cutting dimensions and the printable main piece for free in the SHOP at THIS LINK (click on BOXED! Zipper Pouch pattern)
The free pattern file gives you both the printable template AND all the cutting dimensions to sew a zipper pouch (so you don't necessarily need to print anything - save some ink and paper!)
cut 2 pieces from Outer fabric in the desired size
then cut 2 pieces from Lining fabric in the desired size (the Lining needs to have the lightweight interfacing already applied!)
cut 2 pieces from fusible fleece (cut on seam allowance)
cut 2 pieces from medium weight interfacing (cut on seam allowance)
NOTE: CUTTING CORNERS FOR BOTTOM And Top
If you did not print the template and just used the cutting chart, you need to cut out the corners. Below on the left is the photo for your 4 fabric pieces (lining is already interfaced!), and on the right is the photo of interfacing pieces (two layers for Outer), with corners cut out: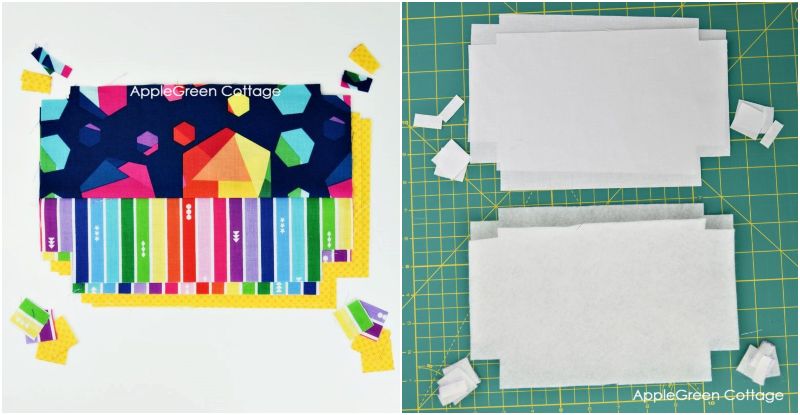 Step 4 - Fuse 2 layers of interfacinG to Outer Pieces
NOTE: In order to make the pouch stable and strong, we'll add two layers of interfacing: midweight first, directly on the back of the fabric, and then fusible fleece onto that, to give your pouch some body. The lining will only get one layer of interfacing, I used thin woven one prior to cutting the lining piece.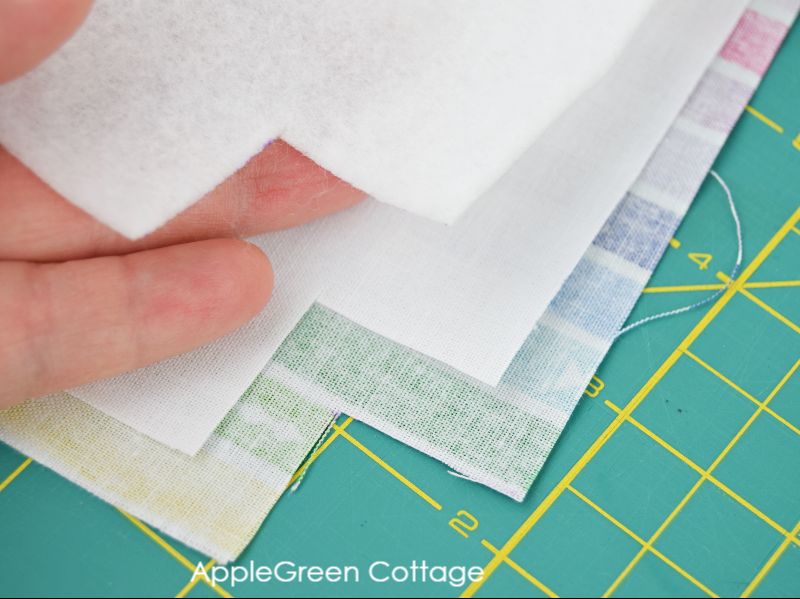 Using the manufacturer's instructions, fuse interfacing to the back of both Outer pieces. I added a medium-weight woven interfacing layer plus fusible fleece stabilizer on top of this.
To save me from getting up to the large iron board, I've made myself a small tabletop ironing board - and it takes up so little room! See how to make, it's easy: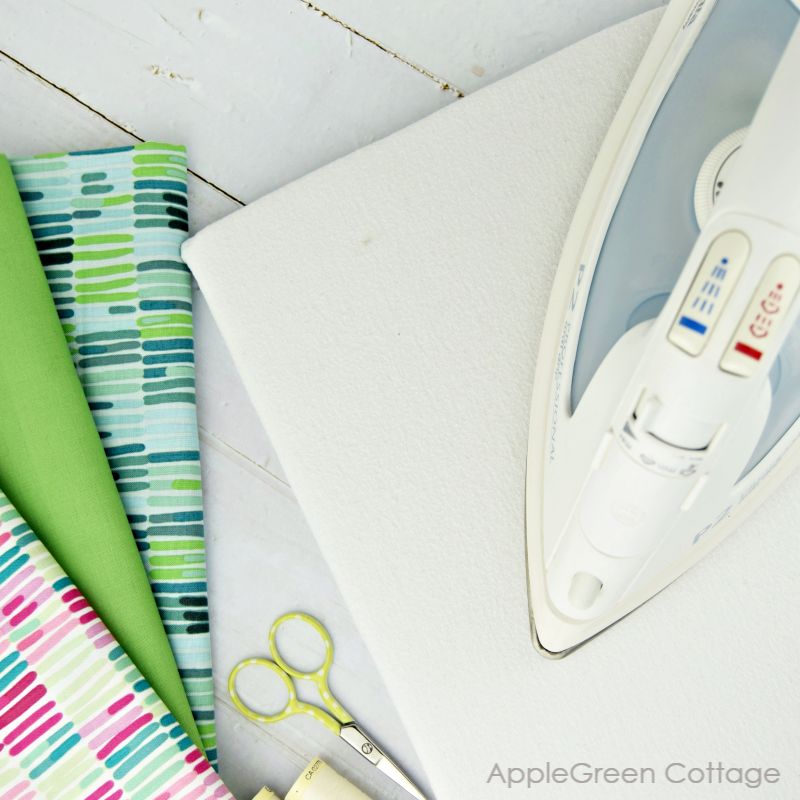 This is what you have now: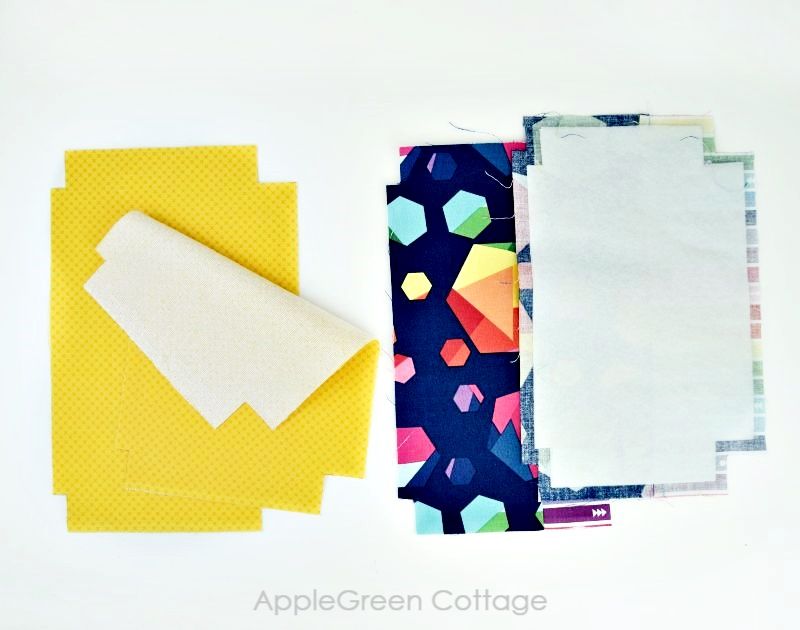 Extra sewing tip:
IF YOU PIECED THE OUTER pieces: Now's the time to topstitch along the seam, ⅛" (3 mm) away from the seam. It will strengthen the bond between the fabric and the fusible fleece: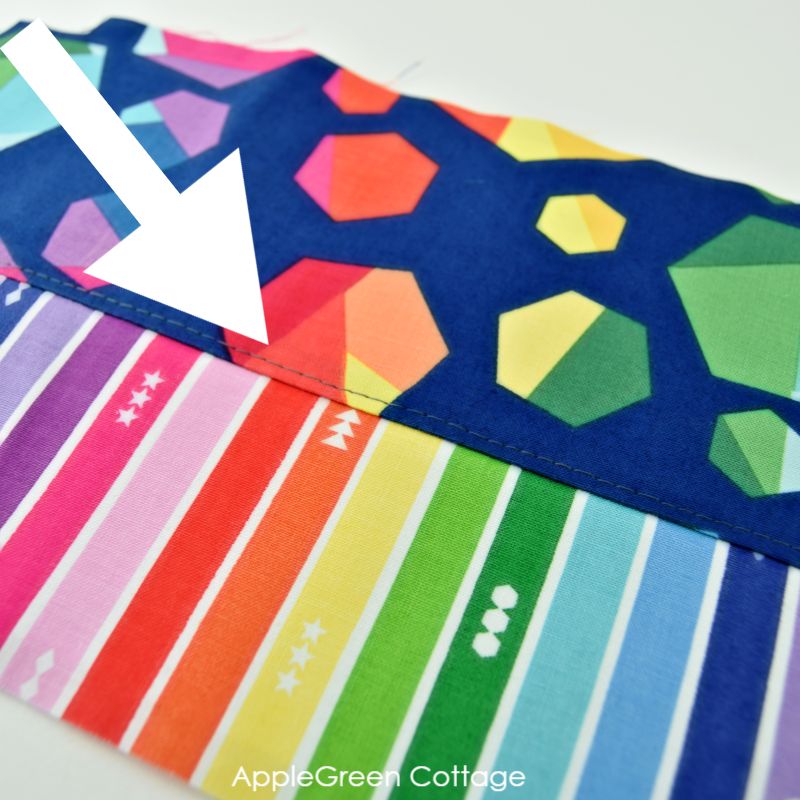 Step 5 - Prepare the Zipper
Cut your zipper to 10" (25 cm) for the large zipper pouch or 8" (20 cm) for the small zipper pouch (minimum 9" or 8" inch, NOT shorter) and tack the zipper teeth on both ends to create a new (temporary) zip stopper.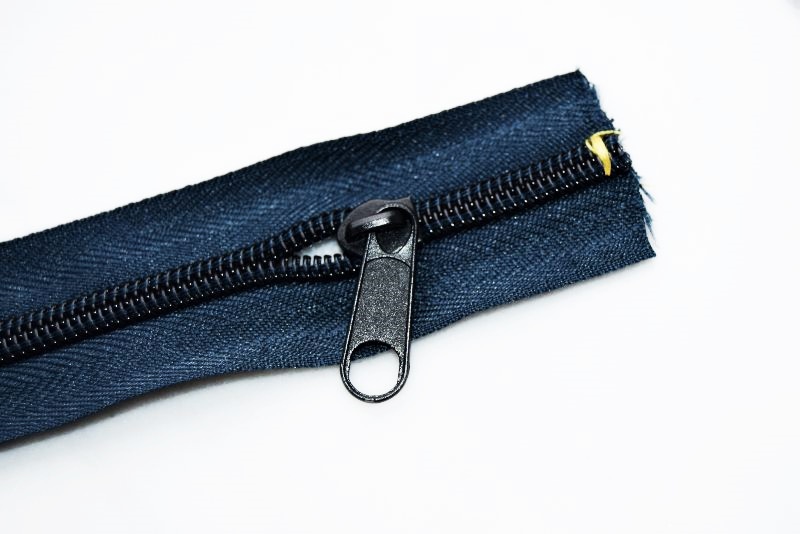 Step 6 - Attach the Zipper To Fabric
Lay down one Outer piece with right side up, then the zipper facing down. Then lay pouch lining on the zipper, matching the top edges. Sew through the three layers using a ⅜" (1 cm) seam allowance. NOTE: see the photo below for the start and stop point.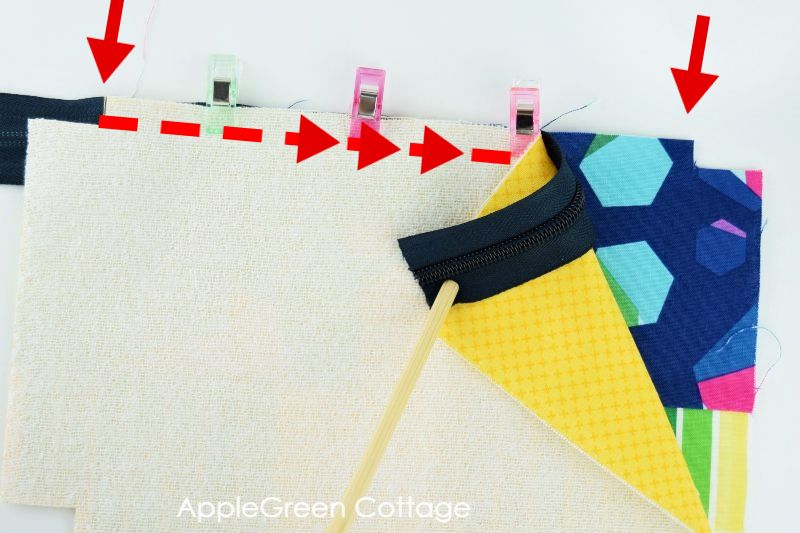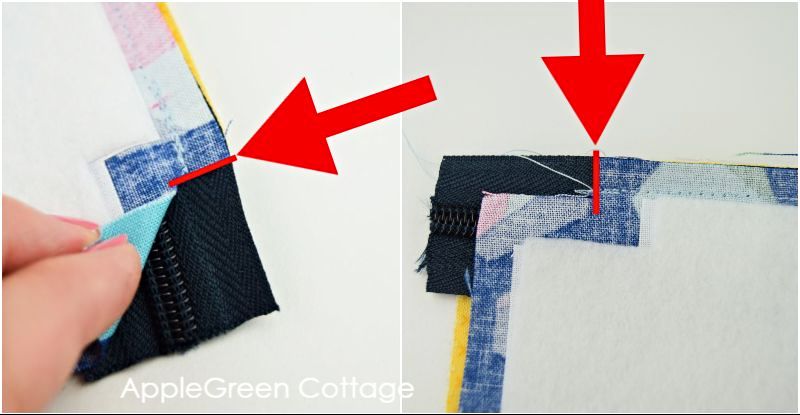 Flip the fabric to the other side of the zipper, press away from the zipper and topstitch along the zipper at ⅛" (3 mm) away: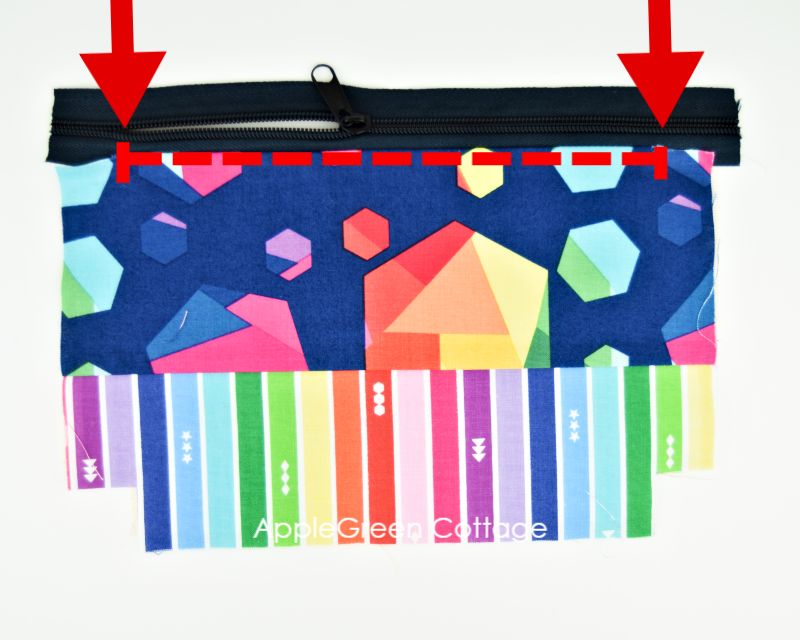 Now let's attach the other side of the zipper: place the other Outer piece on your table with right side up. Cover it with the sewn piece with Outer facing down, align with the zipper tape edge. Then place the Lining piece facing down, aligned as well. Sew through all three layers using a ⅜" seam allowance: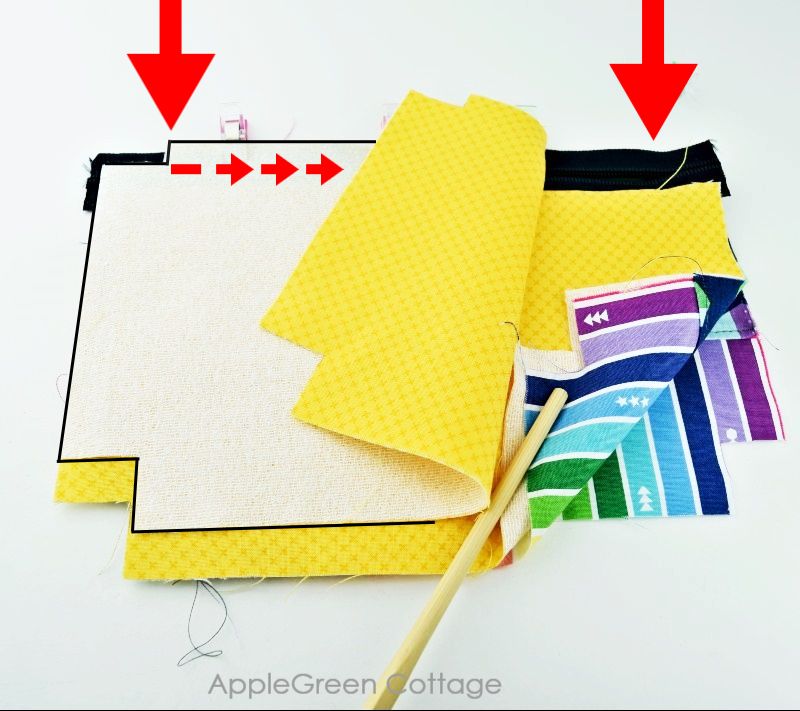 Flip the fabric to the other side of the zipper, press and topstitch along the zipper at ⅛" (3 mm) away from the fabric edge. Make sure to start and stop the same way you did before. This is how the ends will look like once topstitched: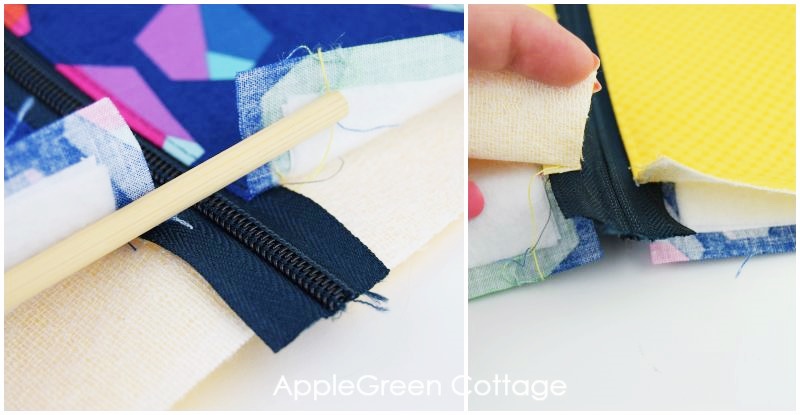 Step 7 - Sew the sides and The Bottom of the Zipper Pouch
A - Stitch The Outer
Make sure to OPEN the zipper.
Place the Outer pieces so they are right sides together. Use sewing clips to keep the zipper tape ends out of the way. Not touching the zipper, sew from one edge of the Outer piece, down each side, and along the bottom. Use the ⅜" (1 cm) seam allowance. Do not stitch the bottom corner openings: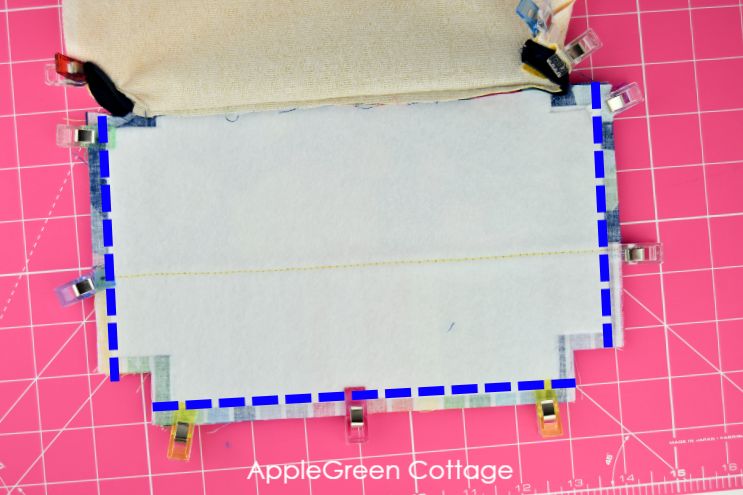 B - Stitch The Lining
Same way, stitch the sides and the bottom of the two Lining pieces, making sure to leave a 4" (10 cm) opening in the bottom seam, for turning. Keep the zipper away.
Also, I tapered the seam allowance on Lining from ⅜" to ½" to ensure a better fit.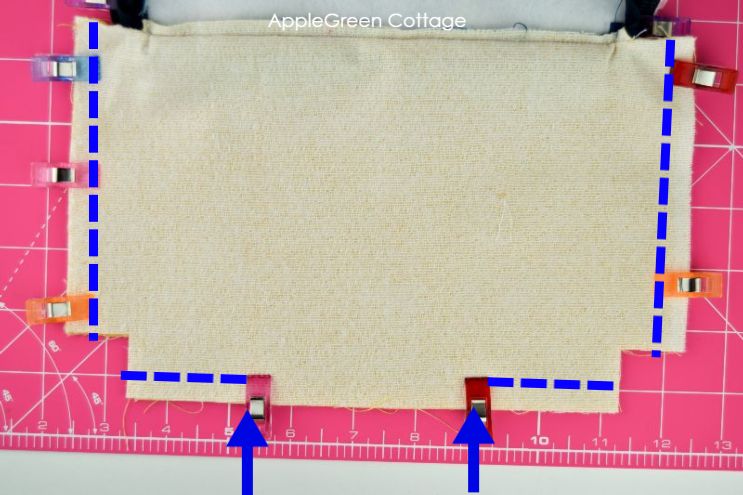 Step 8 - Box The Zipper Ends
And, here's the special part - let's box the zipper ends! Here's how to:
Press all side seams open.
Now you need to open the raw edges close to the zipper: outer first. Pull the Outer fabric around the zipper apart, aligning the side seam with the zipper teeth.
Pull the sides of Lining apart, align the side seam with the back of the zipper teeth.
After you've fixed the layers in place using sewing clips (not pictured), sew with a ⅜" (1 cm) seam allowance, boxing both sides in one go.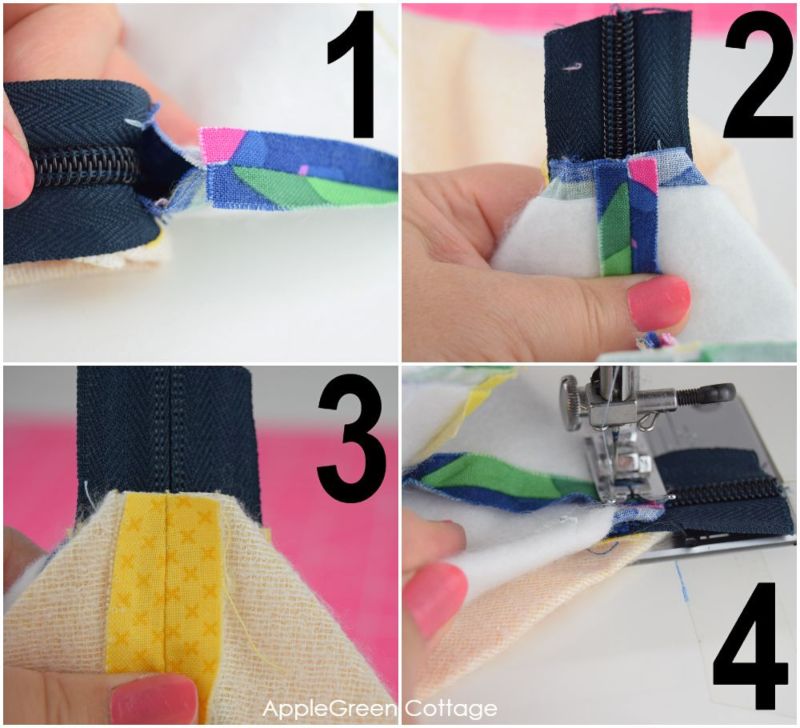 This is what you get: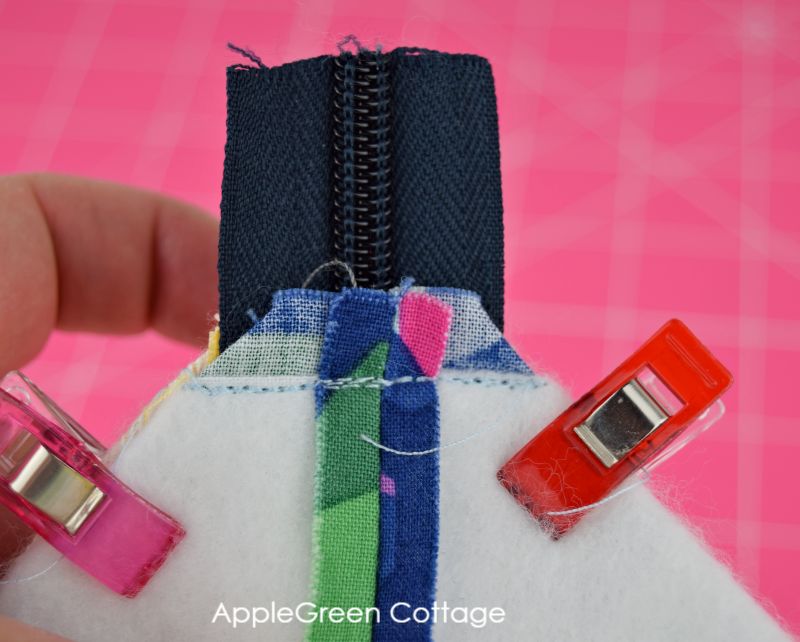 Now clip off excess zipper tape and trim the seam alowance. Repeat on the other side of the zipper.
Step 9 - Box the rest of the Corners
Finally, box the four corners on the zipper pouch: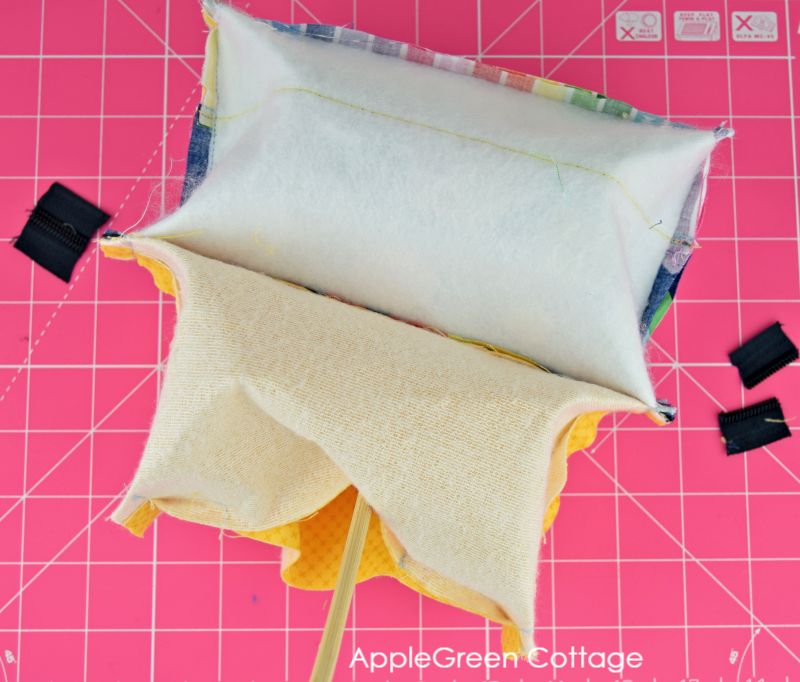 Step 10 - Turn and stitch the Opening Closed
Turn the pouch through the opening you left in lining, making sure to gently poke out the corners. Then close the opening, push the lining in and press.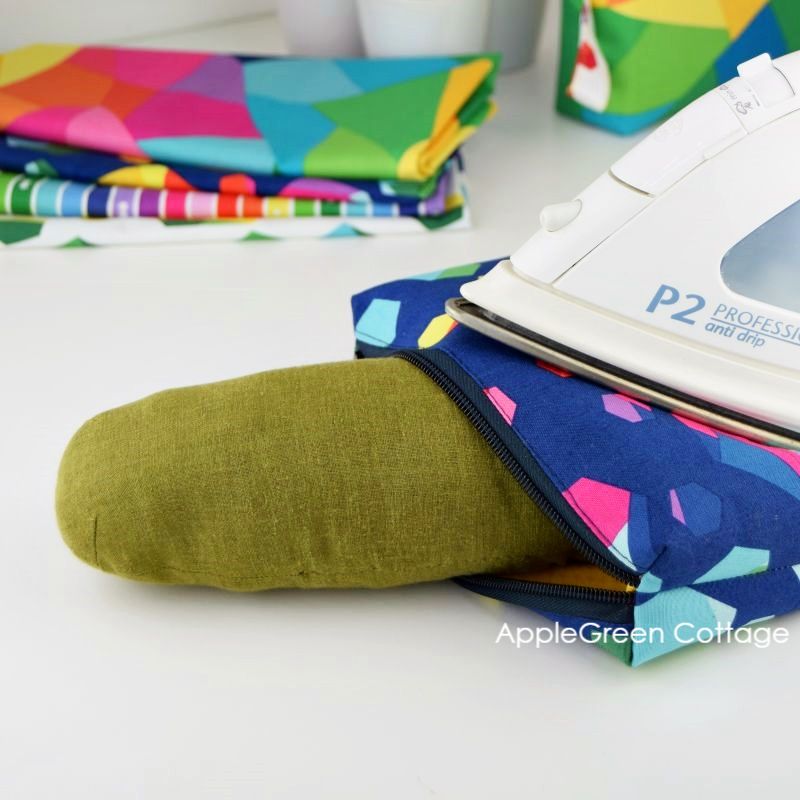 Press well to achieve that neat look. I love to use my diy sleeve roll - it makes pressing bags and pouches piece of cake, every single time! You can use my FREE TEMPLATE to make one for yourself.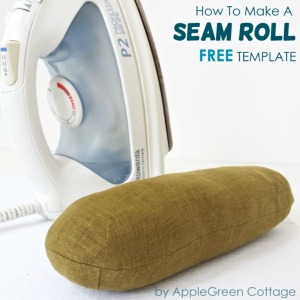 Additional tips - Want To make A pull strap?
Here's how to add a pull strap: I cut a 7" by 2" (18 x 5 cm) long strip and fused lightweight interfacing to the back side, then folded it lengthwise to hide the raw edges. I edgestitched along both long edges and basted it to the side edge of one of the outer pieces just before sewing the sides of the zipper pouch together (that would be just before step #7 above.)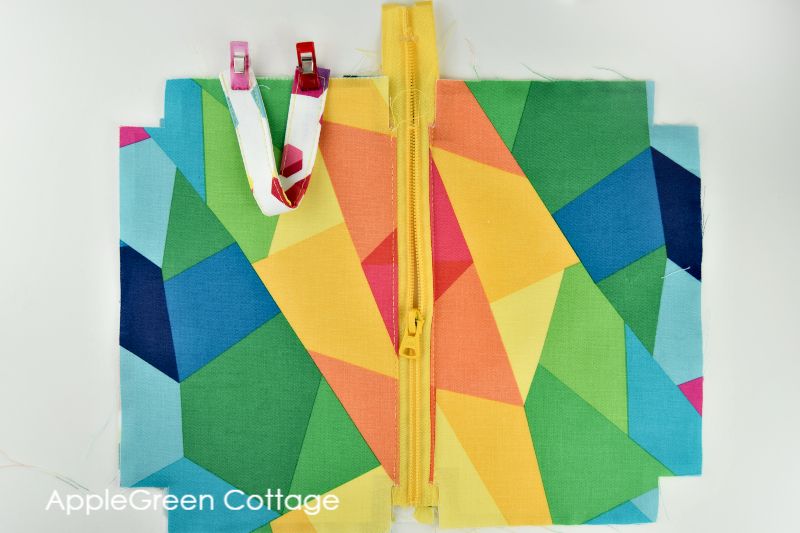 Making BOXED! Pouch with a Standard #3 zipper?
This pattern is extremely popular, and it looks like everybody wants to sew it. Yey to that! And since some of you have been asking if it is possible to sew it with a #3 zipper too, let me try to help. Here's what to do:
download and open your PDF, and use the CUTTING INSTRUCTIONS; not the printable pattern. You'll notice a drawing at the bottom of page 3 - where it says 'Cut a RECTANGLE from both TOP corners'. Here, cut 1" by ¼" ONLY. (not what the instructions in the PDF say) Then stitch the zipper to the fabric using a ¼" seam allowance and it should work out. You're welcome!
But still, #5 zipper looks much better on this pouch, so make sure to order a few online and once the zippers arrive, make a pouch with the #5 too. You'll love it even more!
Share photos of your BOXED! Zipper Pouches!
As always, I'd love to see if you've made a zipper bag using this tutorial. Please post a picture to Instagram and tag me @applegreencottage or #applegreencottage – so I can take a look!
But first, make sure to do 2 things: first, download your FREE copy of the BOXED! zipper pouch pattern from my shop here. Two: save this tutorial to Pinterest so you can use it when you need it: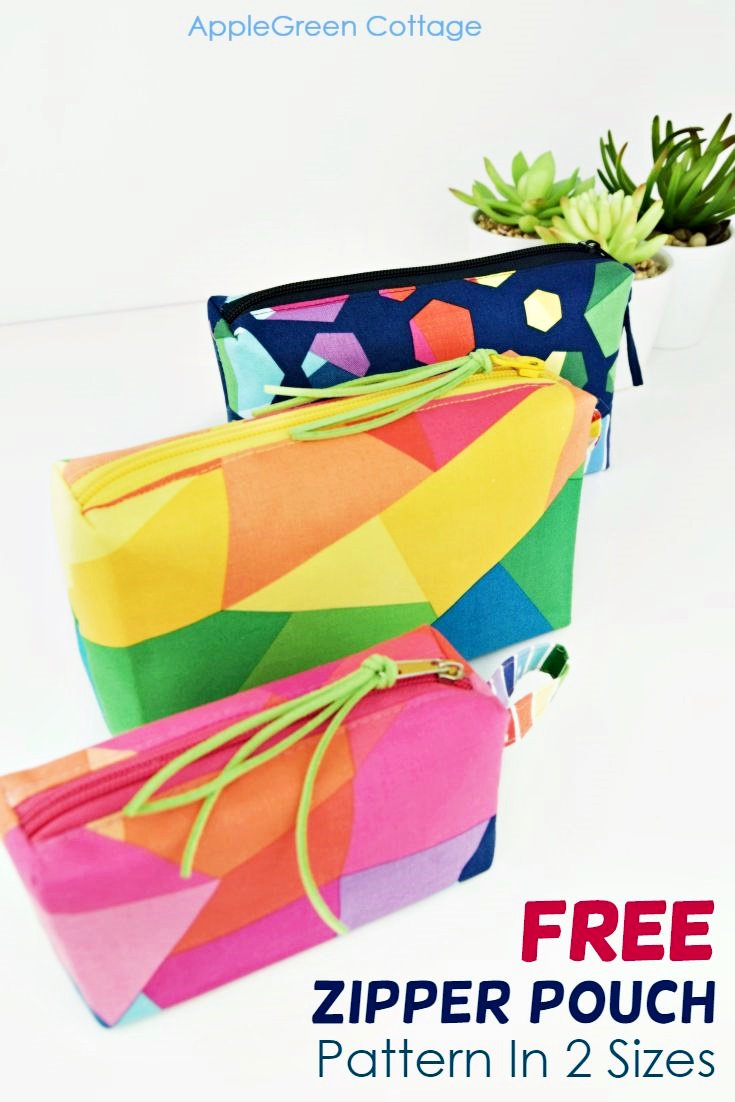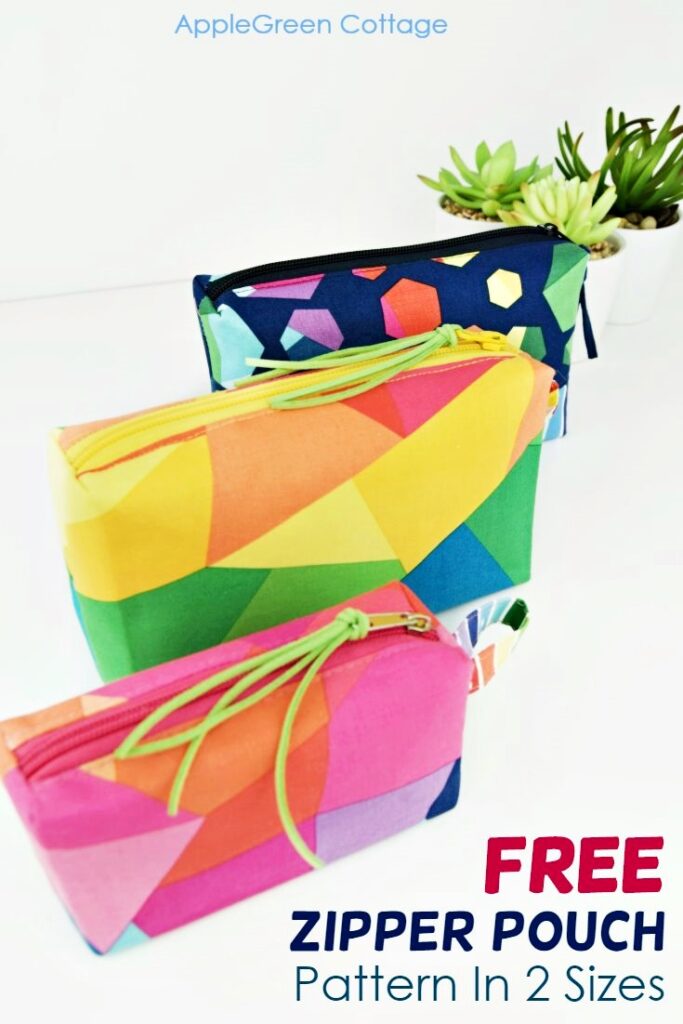 WANT MORE FREE TUTORIALS AND GOODIES?
Get email updates and never miss out on new patterns, printables and tutorials. If you sign up at THIS link, you'll also get the Fabric Hanging Basket Template for FREE, right now. A cute and easy-sew!
Or …check out this popular PDF pattern – the Aiden Cell Phone Purse - Click through to see what's on the back of this cool phone bag!