See how to make a card holder wallet from faux leather, vinyl, or faux suede. It is a super popular trend for men's wallets and it can be used as a minimalist front pocket wallet for men or women - scroll down to Step 1 to get the free diy card holder wallet pattern and sew an easy card wallet in minutes!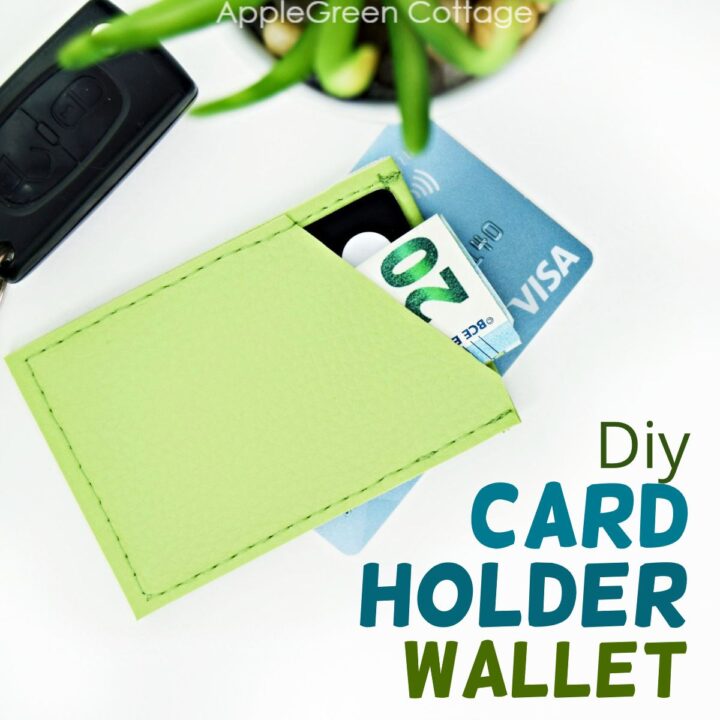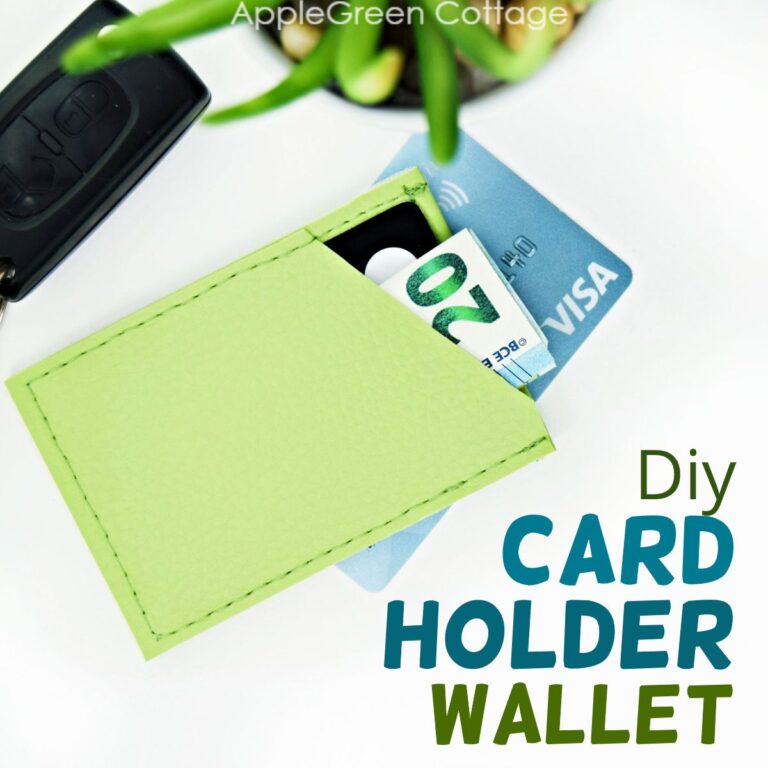 This post contains affiliate links, thanks for your support. If you are here for more wallet and pouch projects, check out these:
It took me years to make this one! My partner had asked for a really minimalist card wallet. But life got in the way. I was busy with other projects, and in time, I'd forget about it. Then yesterday, I saw a scrap piece of faux leather, a leftover piece from a bag project.
Then it hit me - it's been 4 years since I'd promised to make a simple card holder!! That much about keeping my word.
Well, then it took me exactly 5 minutes to sew up one - I simply modeled a leather piece against a credit card, the next thing was cutting a rectangle, then two more, plus making two seams. 5 minutes! Done.
Do you want to sew a minimalist card holder wallet too?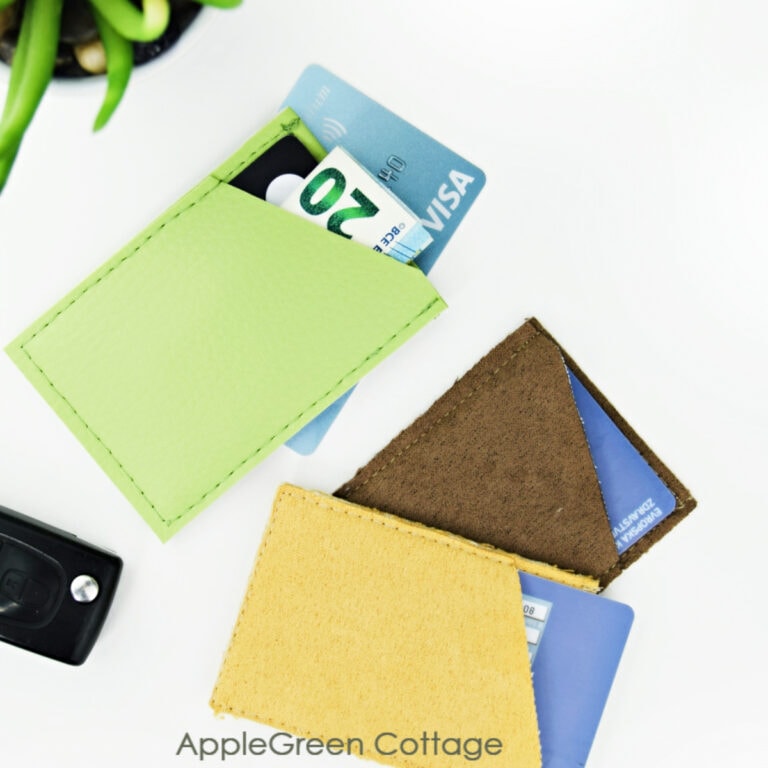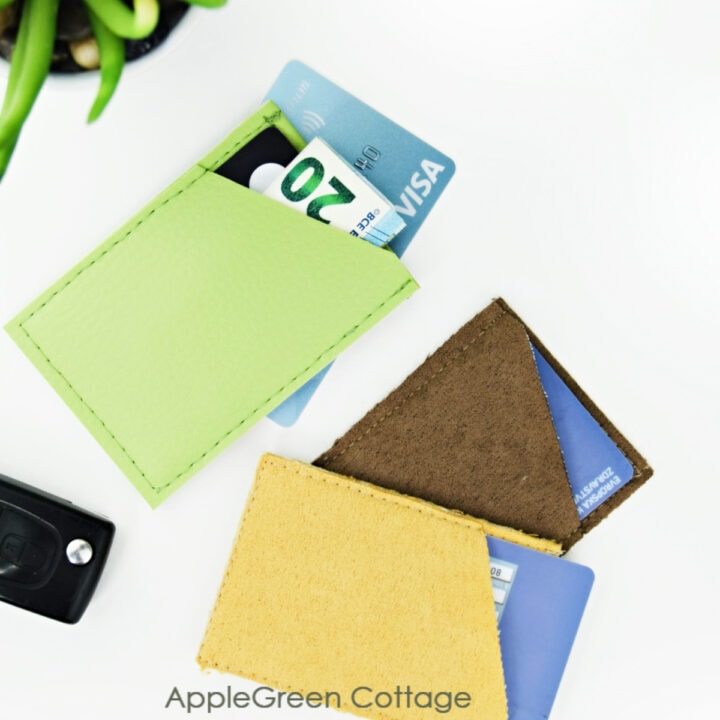 Free Card Holder Wallet Pattern
Good news! Just in case I'd need to make a few more, I drafted a simple card wallet pattern. So nobody else has to wait for 4 years before getting a front pocket wallet as simple as this one!
Sleek, simple - and so easy to sew!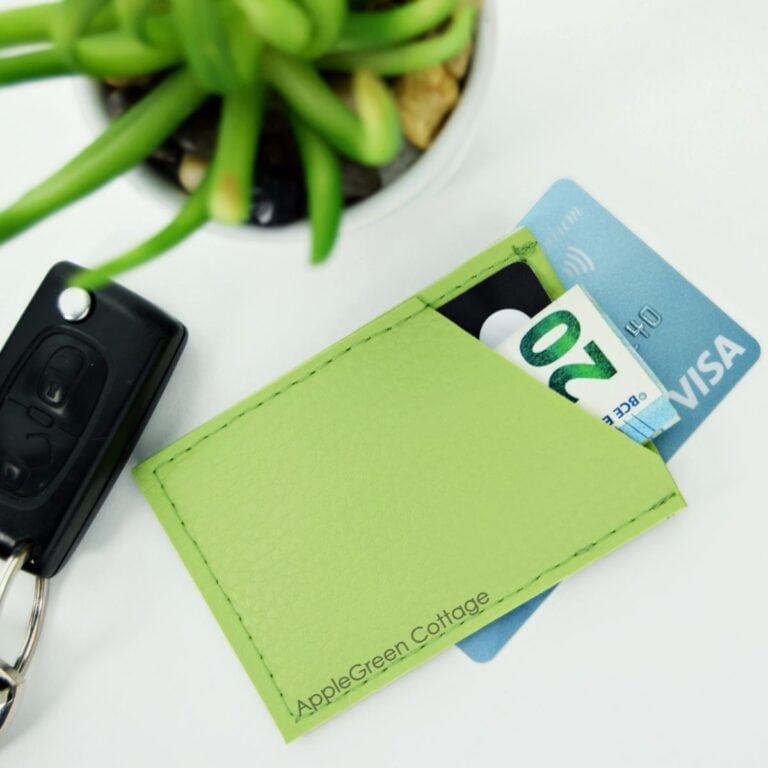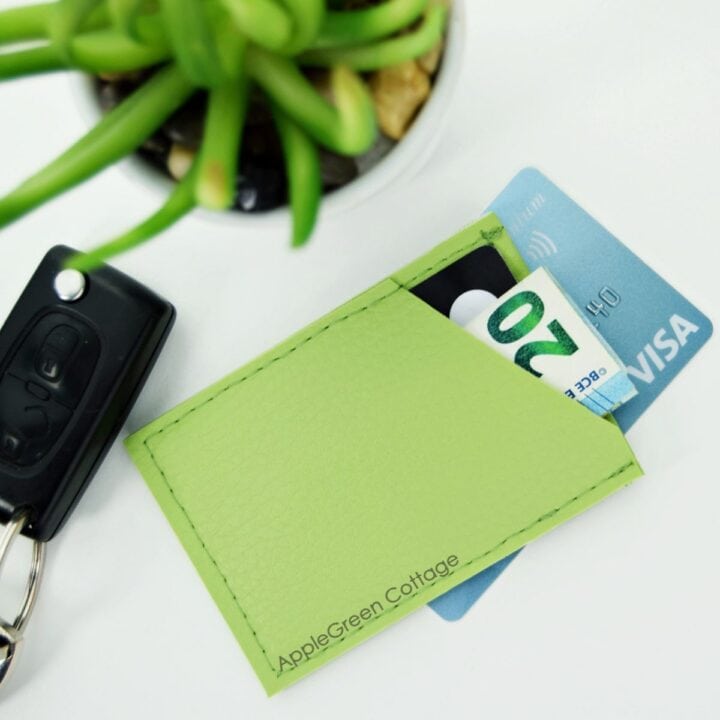 It can be used as a minimalist front pocket wallet, a simple credit card holder, as a diy business card holder, or as a gift card holder. Oh, and before I forget, I've also got a different, fabric gift card holder pattern from a while back, it's constructed differently but feel free to use it too.
Supplies to Sew A Diy Card Holder Wallet
You'll need
a scrap piece of either faux leather, faux suede, also vinyl or craft tex will work great - use something that does not fray. (in total, 6" by 8" in scraps)
matching thread, sewing machine, sewing clips, scissors
Good Tools to Have:
How To Make a Diy Card Holder Wallet
Here are the steps you'll need to sew a card holder wallet:
Step 1 - Print the Free Card Holder Wallet Template
I've created a diy card holder pattern that you can download for free. To download the FREE Diy Card Holder TEMPLATE, click the button below:
OR do you want a printable copy of the WHOLE tutorial? Scroll to the bottom of this tutorial for more details!
Step 2 - Cut your materials
Now that you've printed out the free card holder wallet template, use faux leather to cut:
one Divider piece on the fold
two Outer Pieces (two identical pieces, NOT mirrored - both facing the same direction)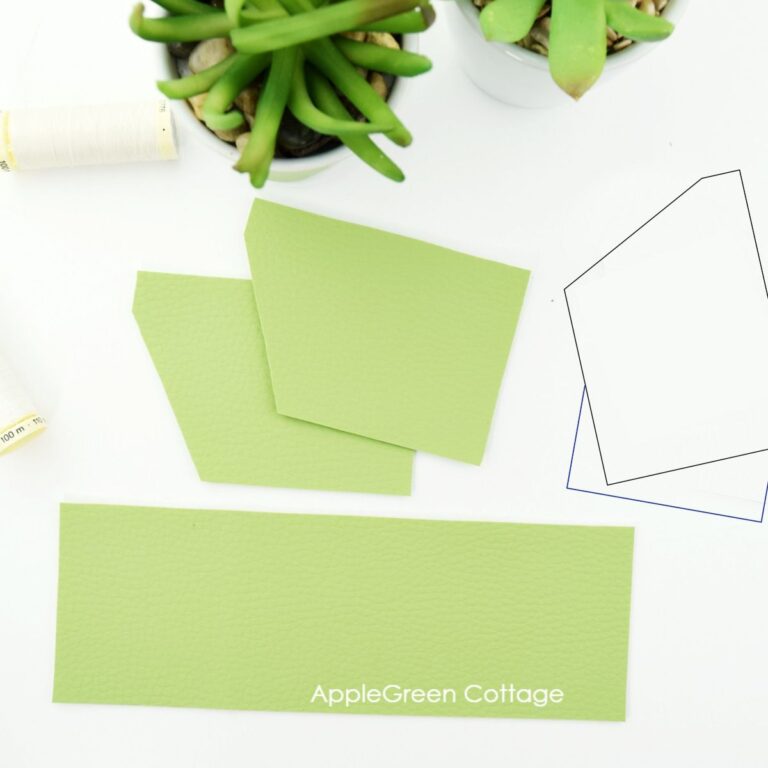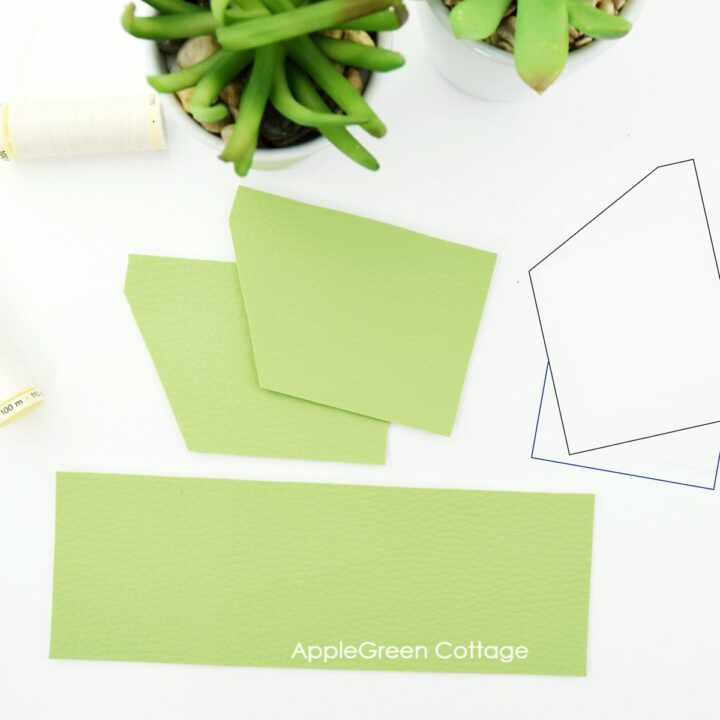 You'll notice you can either cut both Outer pieces with the slanted corner on the left or on the right. Either way you choose, the two Outer pieces need to be identical. I've made a few card holders facing in either direction to see if there's a difference, but there is actually no change in the ease of use. For example, I cut this brown faux suede version the other way: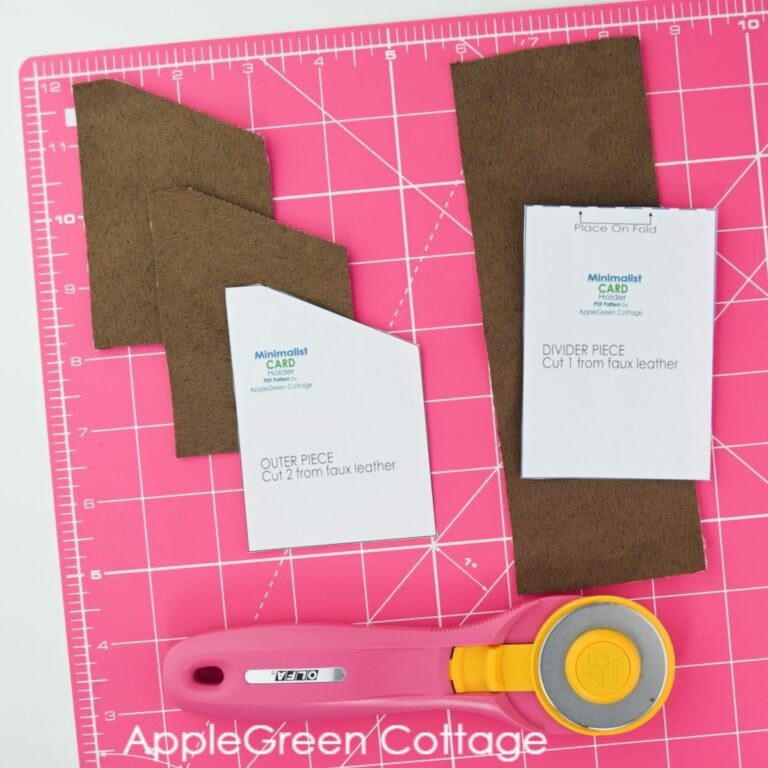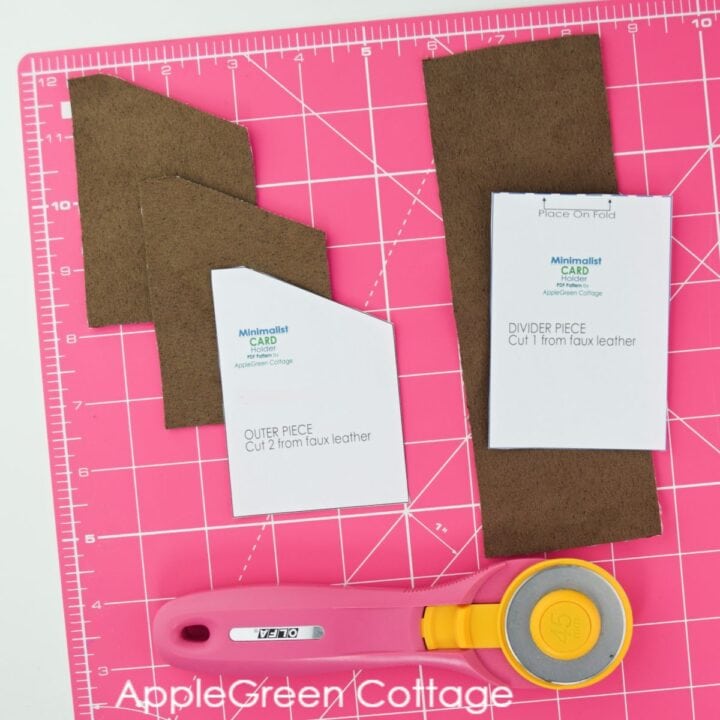 Bottom line, 3 pieces cut, two of which need to be identical.
Step 3 - Prepare the Divider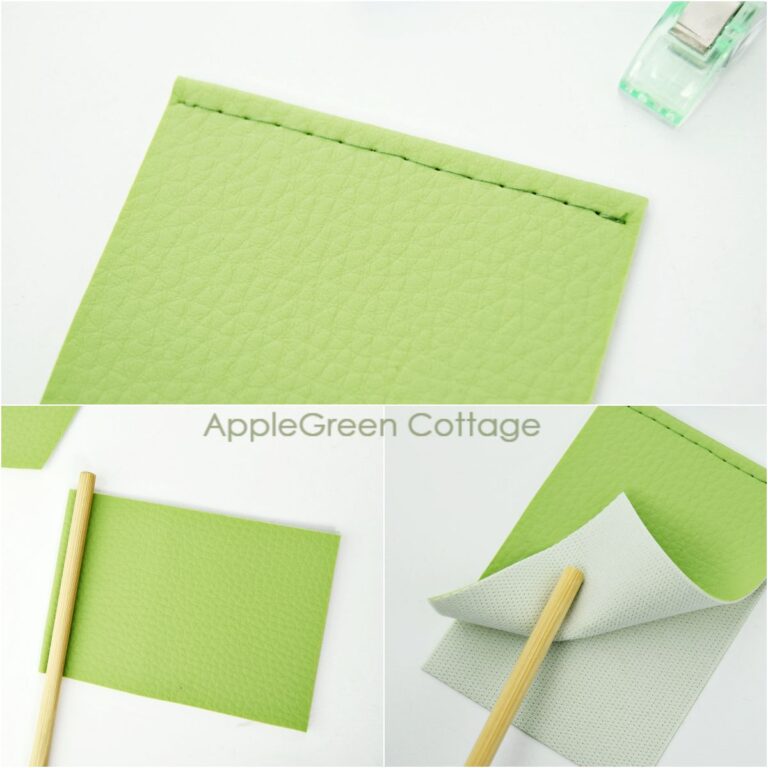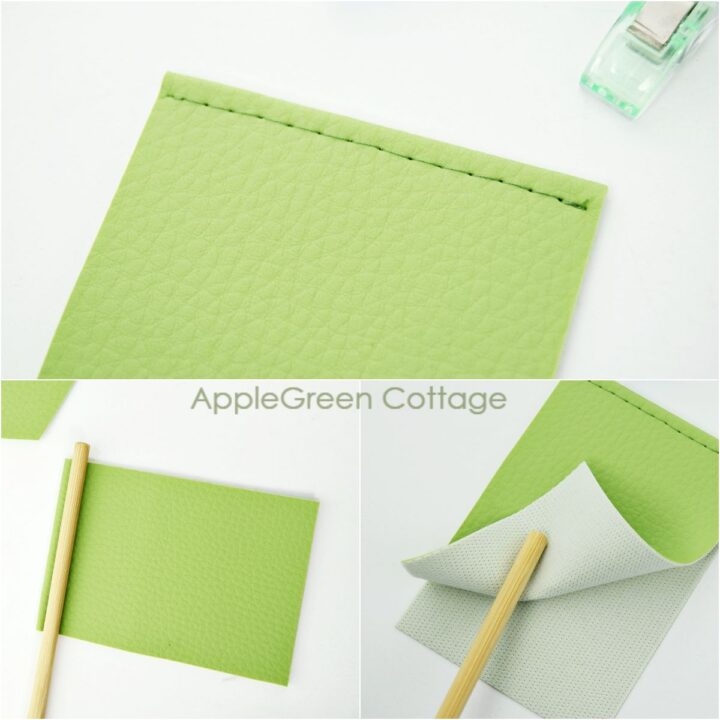 Fold the Divider Piece in half with wrong sides together and edgestitch along the center crease. This will stabilize the top of your front pocket wallet.
Step 4 - Add The Outer Pieces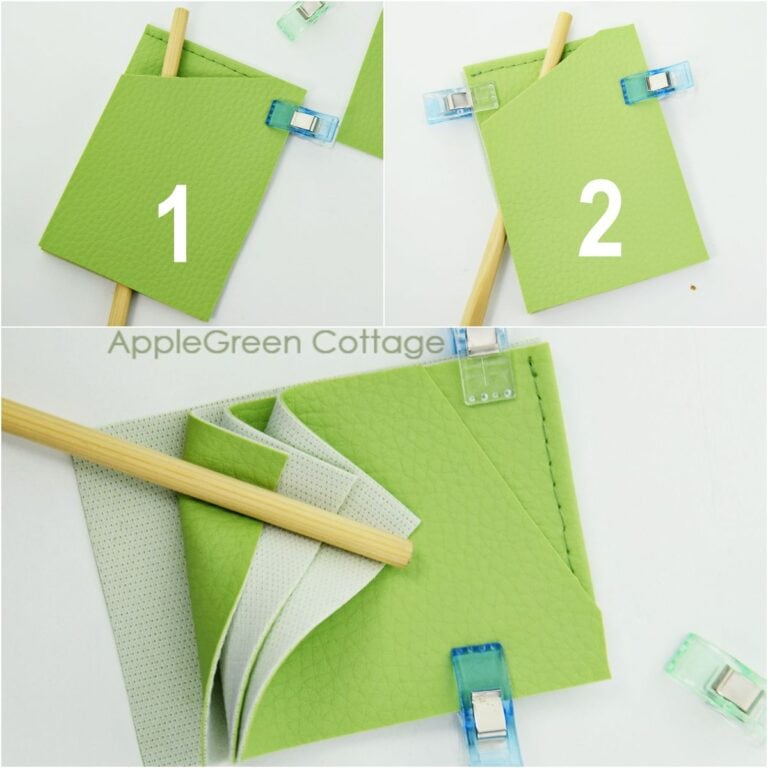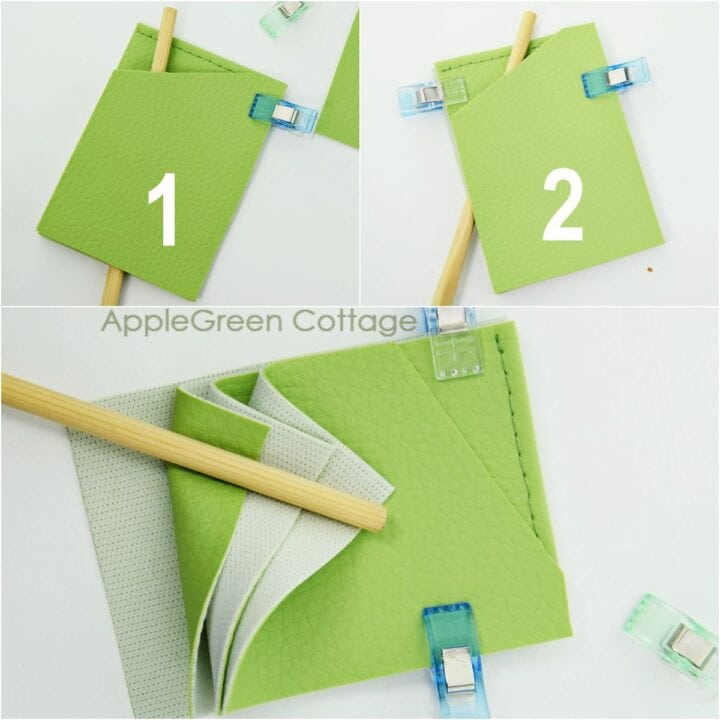 Hold your divider piece and align the two Outer pieces each on one side of the divider, with the slanted part at the top edge. I added the numbers 1 and 2 in the photo above for you to notice these are two sides of the card wallet.
Use sewing clips to keep the four layers in place, do not use pins as they would leave visible marks in the faux leather.
Step 5 - Sew Layers Together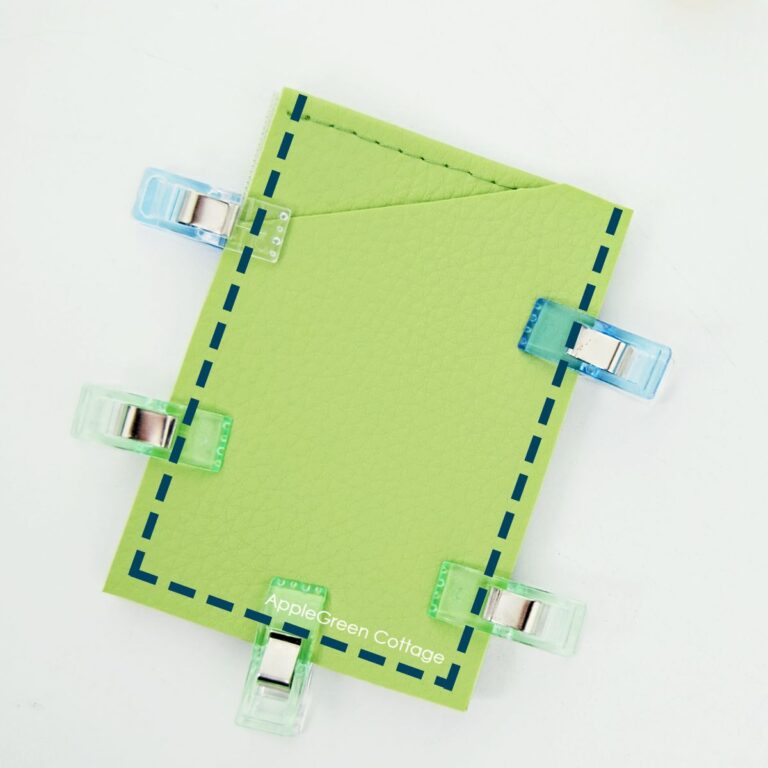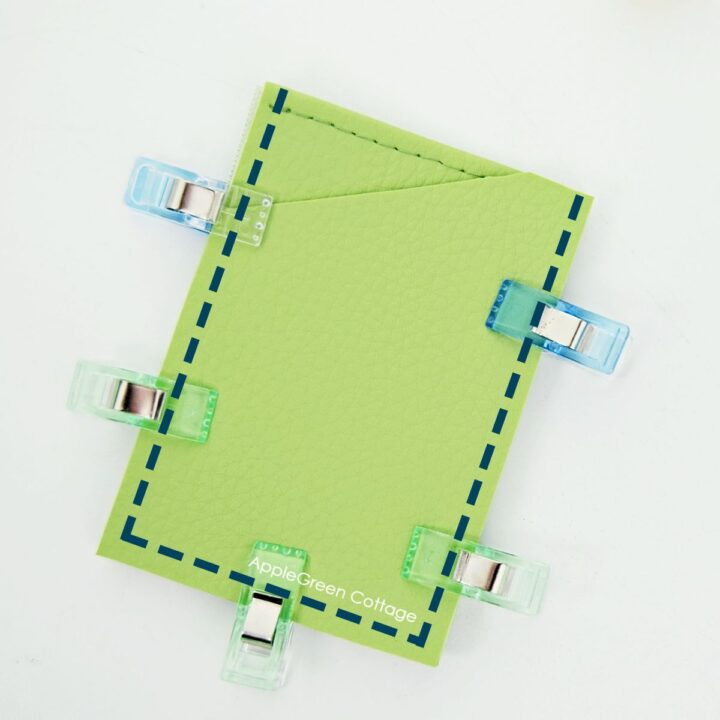 Using a ¼" seam allowance (6 mm) and a longer stitch length on your sewing machine, stitch from one top edge down, continue over the bottom (short) edge and up on the other long edge.
Pro tip: You might need to use a tiny bit smaller seam allowance if you want a more loose fit, or if your vinyl is thicker.
IMPORTANT: Make two or three backstitches at the beginning and end to secure your stitches. Using a stronger thread like Gutermann Topstitching thread will make your seams look better and more stable. In this tutorial, I used my regular, all-purpose thread, which works fine too.
Step 5 - Square Up the Raw Edges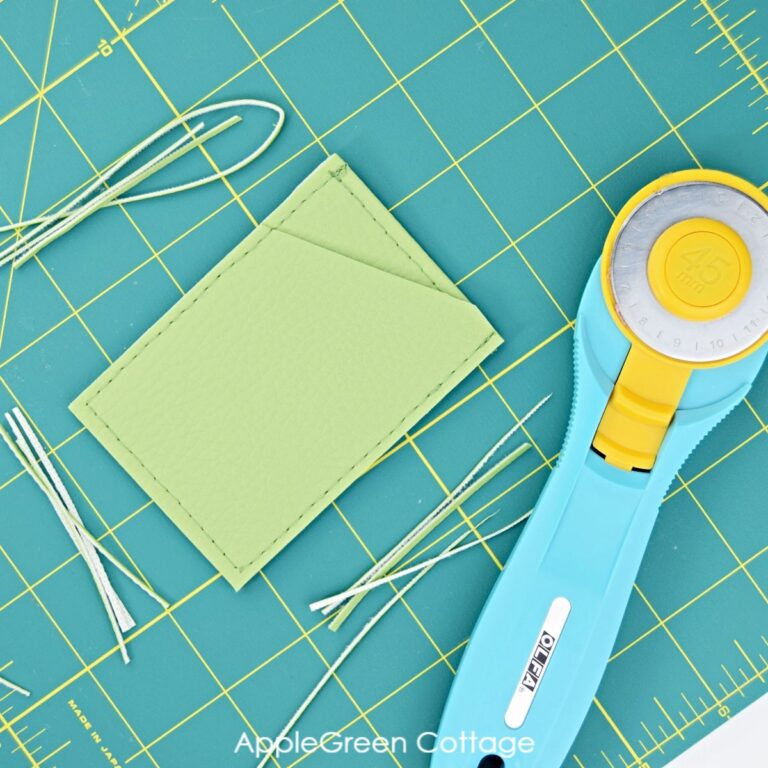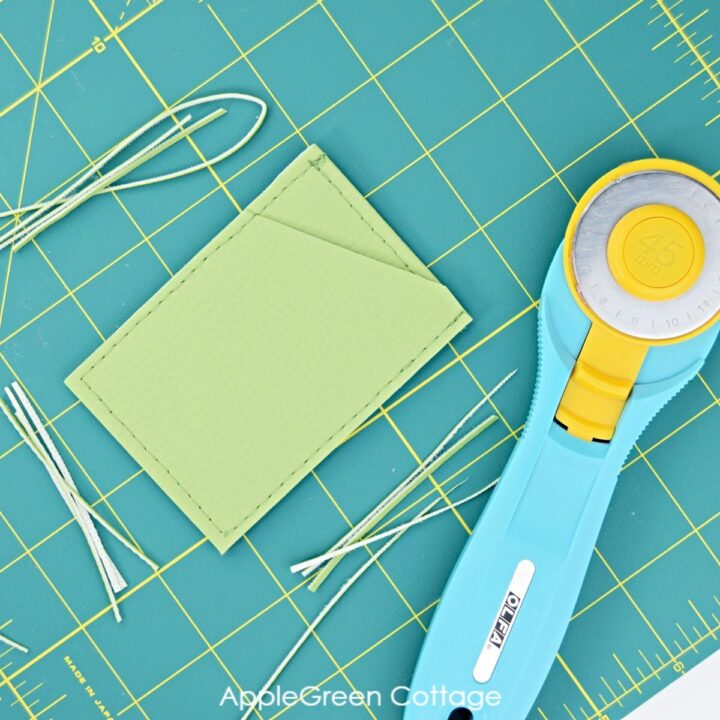 Add a finishing touch - square up all your edges, the easiest way for me to do so is using a quilting ruler and a rotary cutter. Easy and quick, and no wavy edges!
Quick Sewing Tips For Faux Leather
Use a longer sewing machine stitch for neater stitches. This is a good tip for sewing with any thicker material, be it decor-weight, leather, vinyl.
Using a walking foot will make your sewing so much easier, and it will prevent the layers from shifting, again resulting in neater seams.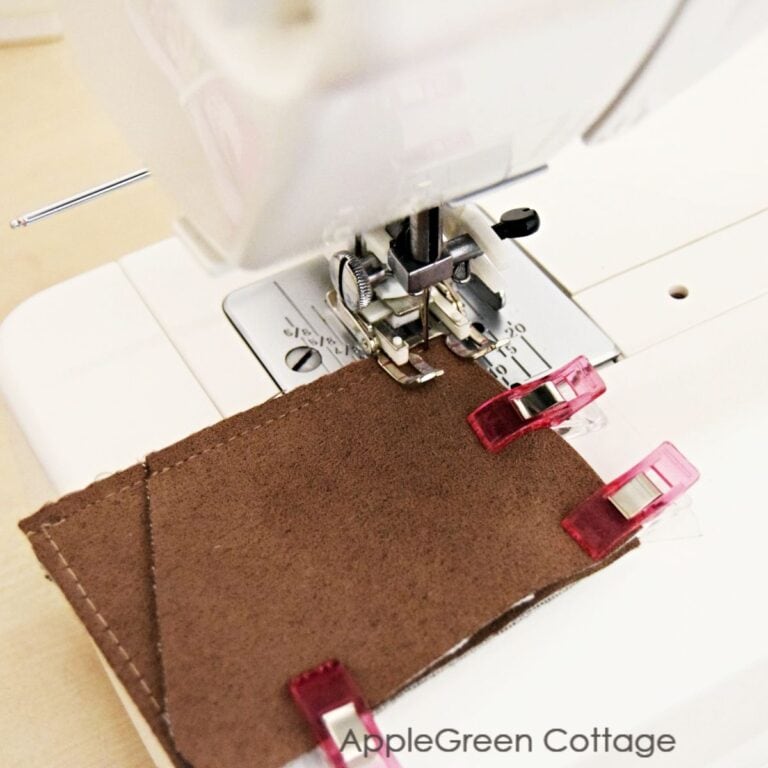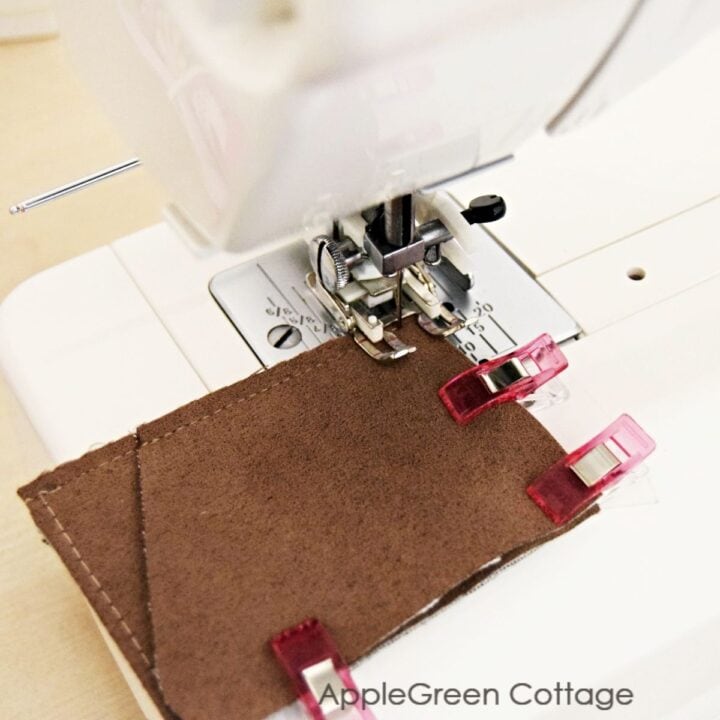 If you want a more professional finish on your diy credit card wallet, you'll probably need to use real leather as well as some edge coating. Since leather requires special tools, a heavy-duty machine and equipment, I prefer to use faux leather with my home sewing machine. Easy to cut into and easy to sew. The only thing I do recommend is using a Schmetz jeans needle. These are amazing, and I rarely use any other type.
In Conclusion
Simple, easy, quick. It's a compact wallet that is convenient to carry in your front pocket. I have just put one of these card holders into my Aiden Cell Phone purse. No bulk, all I needed.
Or you can use it in a set with the Nelto crossbody purse, the casual yet unique bag design you can find in my pattern shop.
Now it's your turn: make a bunch of these useful minimalistic card wallets, use up all your pleather scraps and you'll end up getting a pile of practical diy gifts both for men and women.
If you like sewing with scraps, check out this list, it's a huge resource of small projects you can do in under half an hour. Like this diy chapstick holder.
Don't forget to save this tutorial to Pinterest - best to your diy gift sewing folder so you have it at hand when you need it!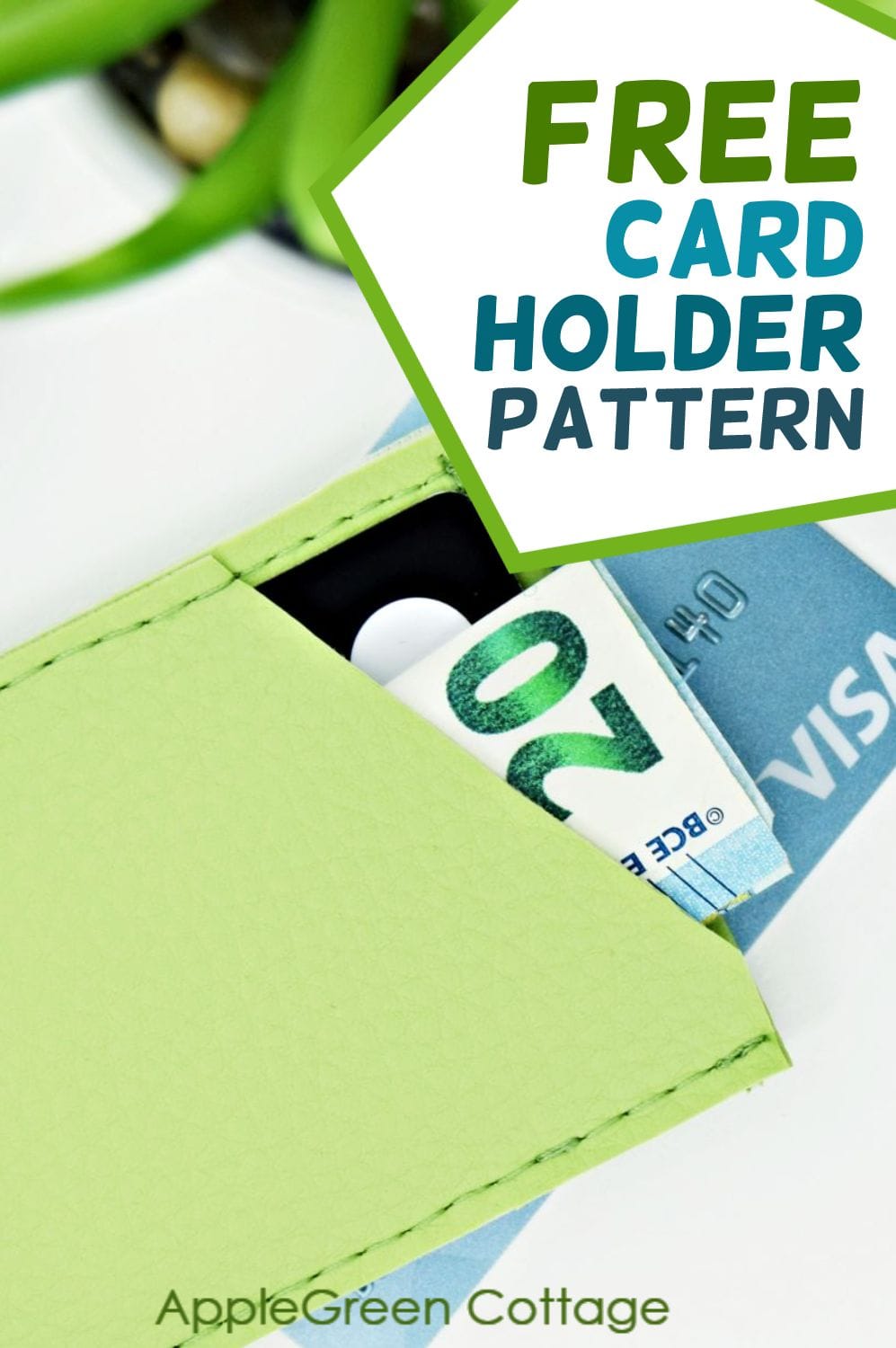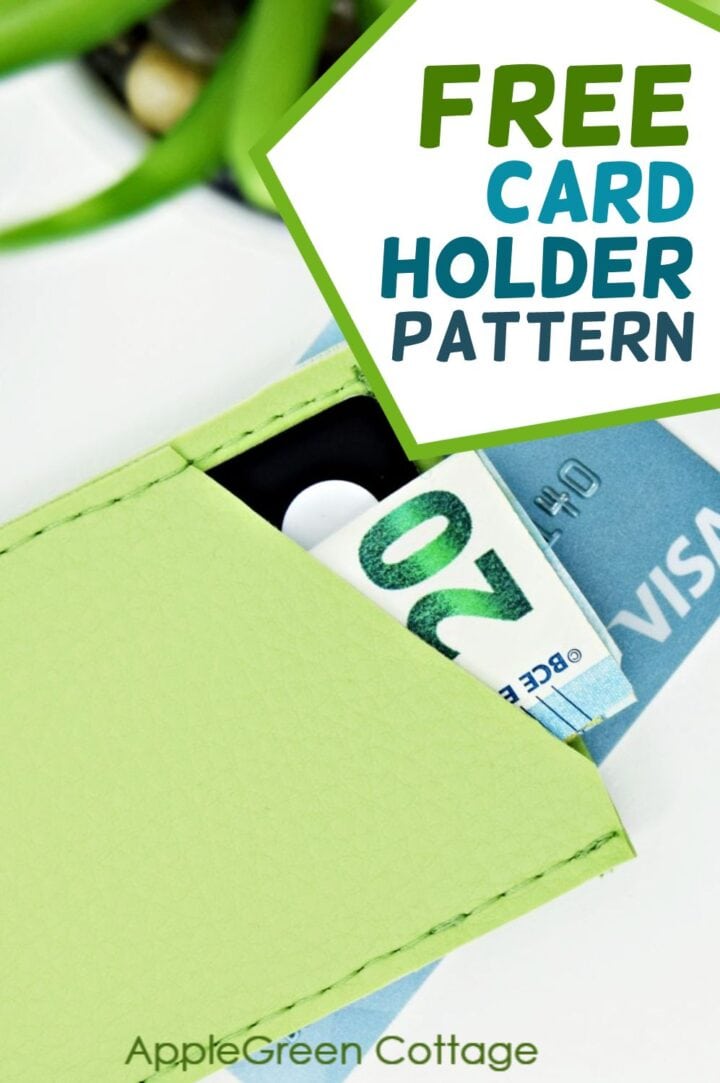 Once I publish an additional slim wallet design I'll put this freebie in my shop. It will stay free, just more designs will be added - make sure to sign up for the free newsletter so you don't miss out on them!
Do you want an ad-free, printable copy of this online tutorial? Find it here for just $3. You won't need to access the internet every time you want to make it. ------ Or get the BUNDLE with ALL the Printable Tutorials - current and future ones!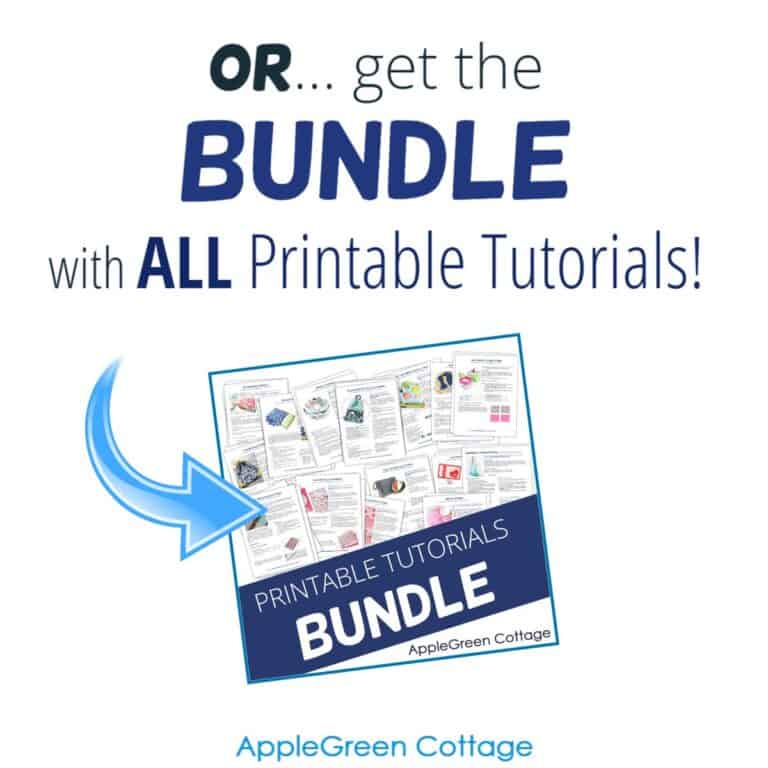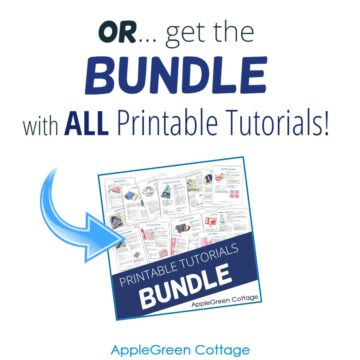 WANT MORE FREE TUTORIALS AND GOODIES?
Get email updates and never miss out on new patterns, printables, and tutorials:
Or …check out the popular Aiden Cell Phone Purse in our shop. Guess what's on the back of this cool phone bag!