See how to make a seam roll - This seam roll pattern will make your projects so much easier to press, and your seams better-looking! And have you ever tried to neatly press gathers? A seam roll just makes that so much easier! Download your pdf template and make your own seam roll.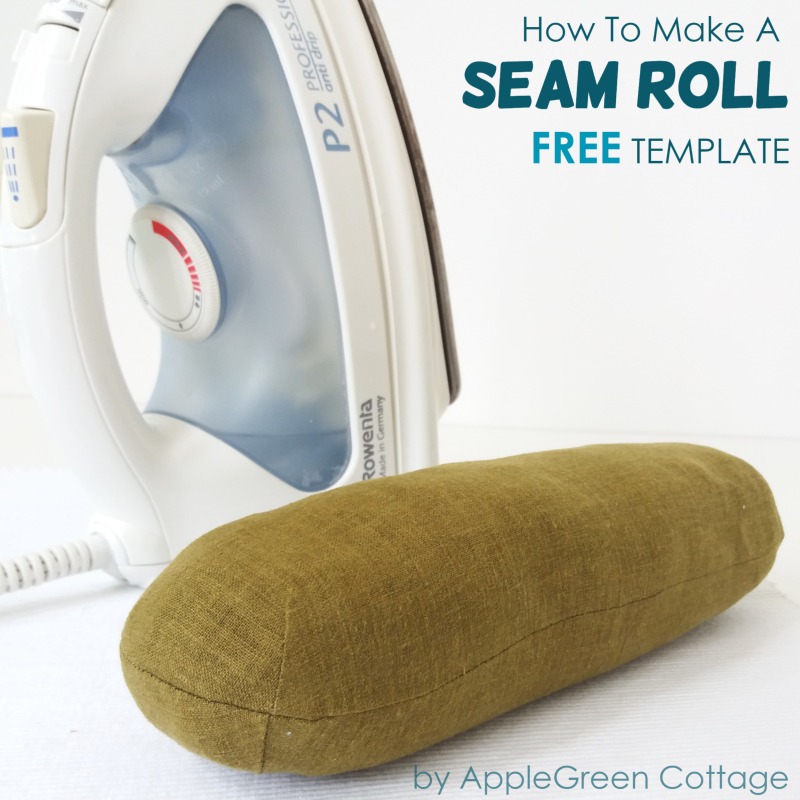 This post contains affiliate links. Thanks for your support. Once you've made your seam roll, use it on these easy projects:
As regards my sewing tools, I have a confession to make. I've been sewing for ages, but I haven't got a proper seam roll that would help me press the small items, tiny curves and tube-like things like this cute zipper pouch.
I usually used a towel instead, rolled into the desired shape and size. Sometimes, it worked pretty well and sometimes it didn't. And then, just recently I've had enough and finally made one.
No time to sew it now? Save it to Pinterest using THIS link or the image below, so you have the tutorial ready when you need it: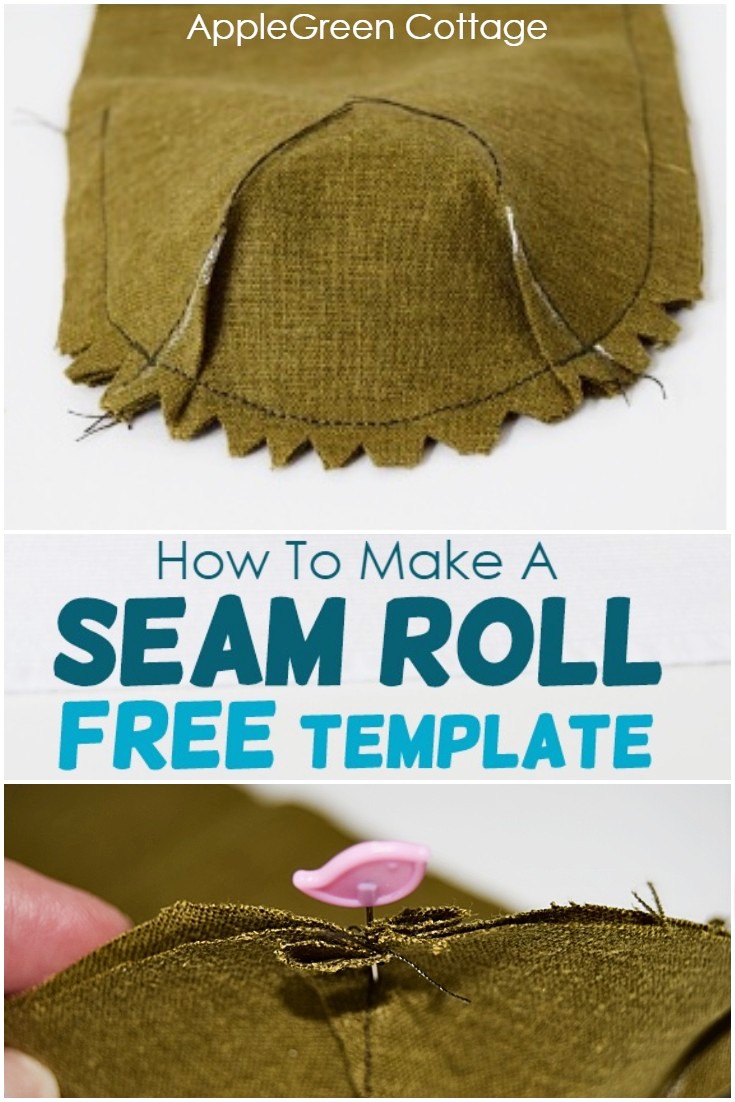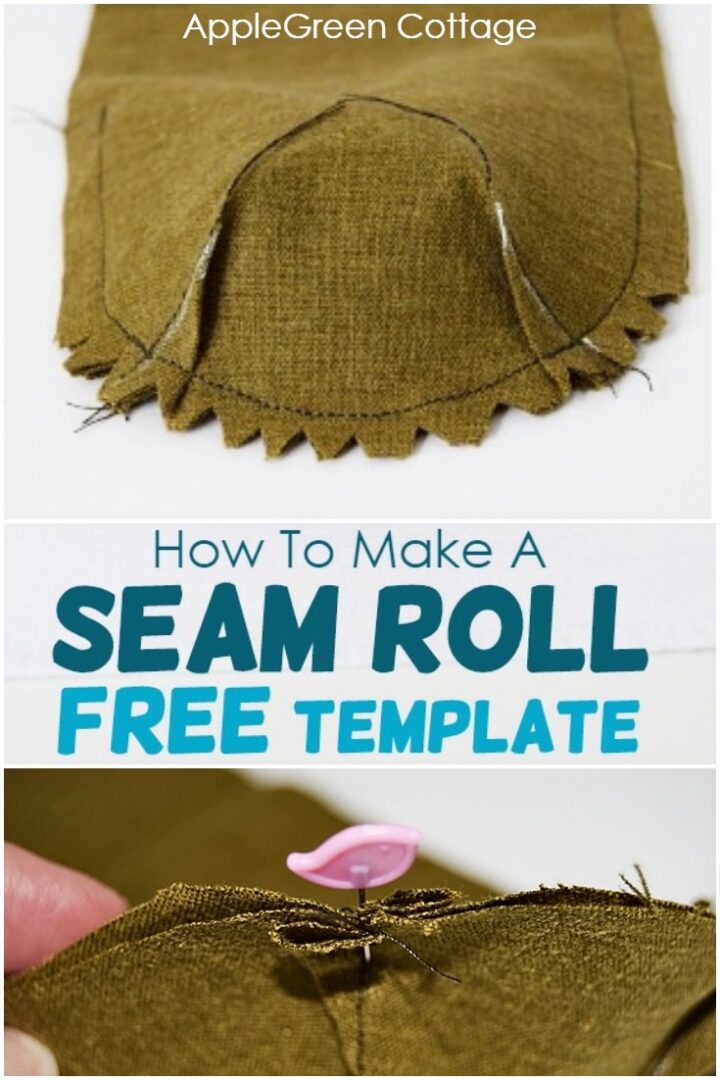 Seam Roll Is such A Great Sewing Tool!
When you're sewing, there is a lot of pressing involved. A lot. And you already know that, otherwise you wouldn't be reading this. So far, I've been fiddling with improvised pressing aids, such as rolled towels or even a great soft-cotton baby blanket, to get my new sewing creations into the right form when pressing.
With each new project, I thought I'd make a proper seam roll myself, you know - ' sometime soon'. So I always walked past the Dritz tailor's hem and seam rolls in the fabric store, thinking one of these days I'll make one anyway, and reuse my scrap fabric along the way. Boy that took me long!
So here's - finally! - a proper seam roll. And a tutorial and a free template, to celebrate my new make 🙂
Supplies To Make A Seam Roll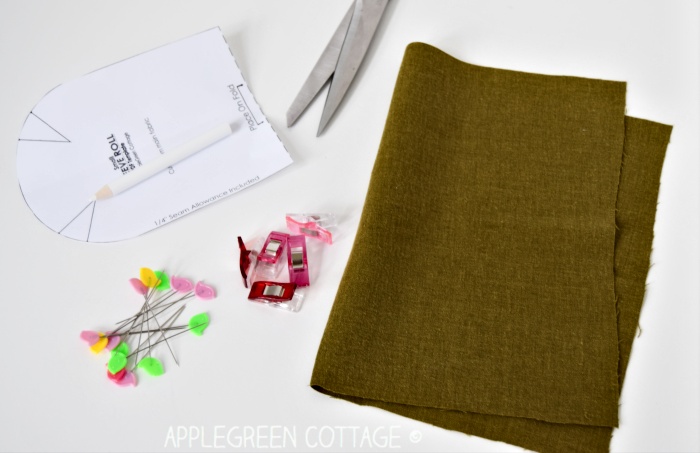 8.5 x 11" of fabric that can take iron heat - mid-weight cotton will do perfectly!
sewing machine and needle, pins
sewing thread, tailor chalk pen
scissors, or rotary cutter
plus self-healing cutting mat (I have 5 of them, all these by Olfa)
the PDF Pattern file - that's available to all my newsletter subscribers with an exclusive 100% OFF code for free. See the bottom of this tutorial.
How To Make a Seam Roll
Using the free PDF template, cut out the two pieces from your fabric.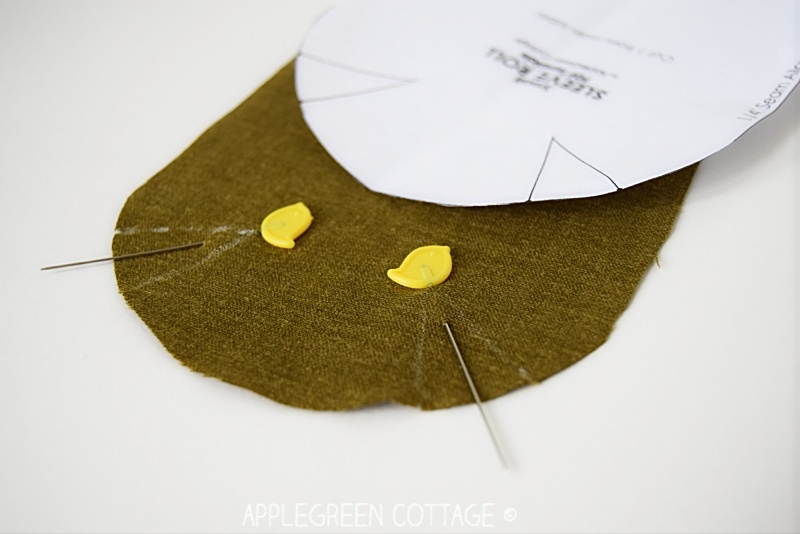 2) Use marking pen or tailor's chalk to transfer the darts. I also stick a pin directly into the spot where the dart ends, and this is the most important marking. The second two spots, end of dart, I snip two little marks on the seam allowance, using my scissors. For these small darts, I also add one pin to pin perpendicularly, like this: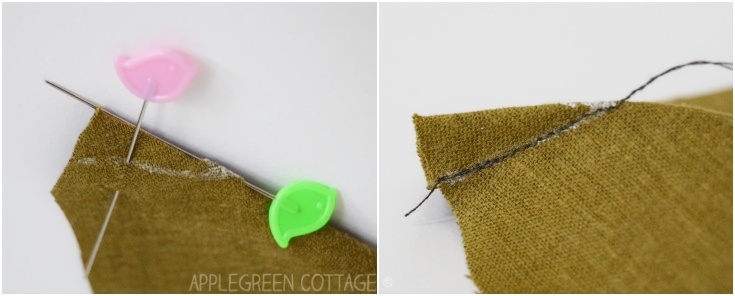 3) Sew the darts, altogether there will be 8 little darts to sew. Starting at the edge, that is at the widest part of the dart, slowly sew a straight line directly into the spot where the dart ends. Use a small stitch length. Remove pins as you sew.
When you approach the dart point, shorten the stitch and sew on several stitches to leave long thread tails.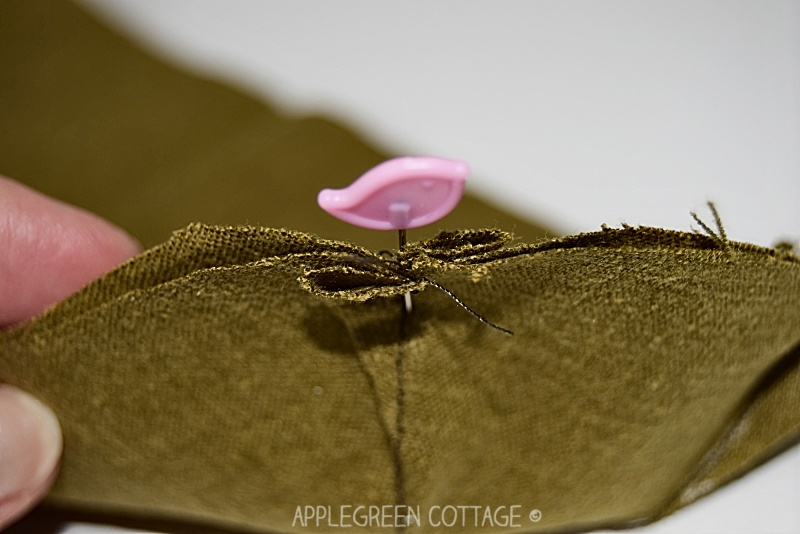 4) Once you've got your darts sewn, place the pieces together, right sides facing. Match dart seams and fold darts in opposite directions to reduce bulk along the edge.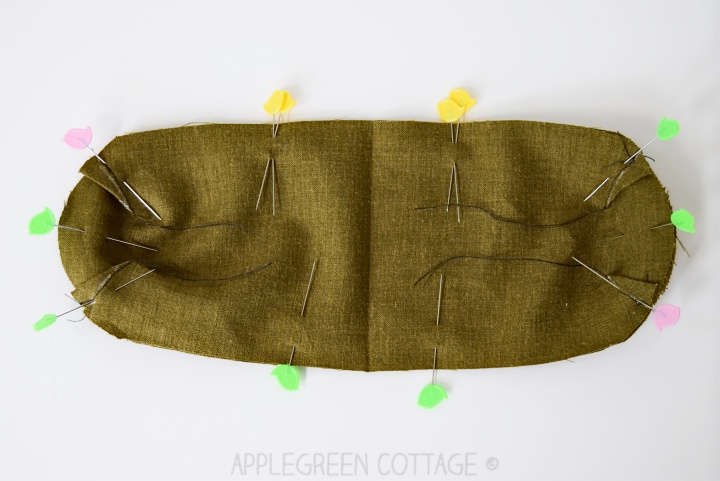 5) Pin and stitch around using a ¼" seam allowance. Leave an opening for turning. (See how I left the double pin markings?)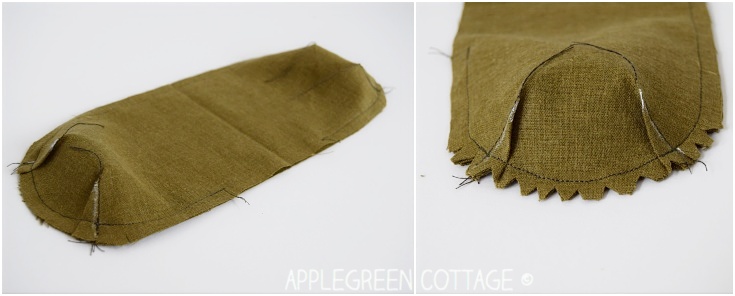 6) Notch the seam allowance on the rounded parts to reduce bulk - take care not to snip into any stitches. You can use pinking shears to clip the curved edge portion. If you need it, here's a good tip about clipping corners and trimming for you: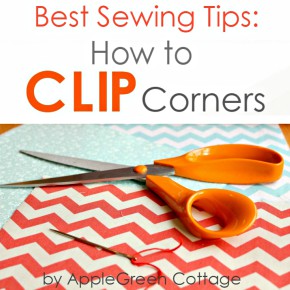 7) Turn right-side-out and press well.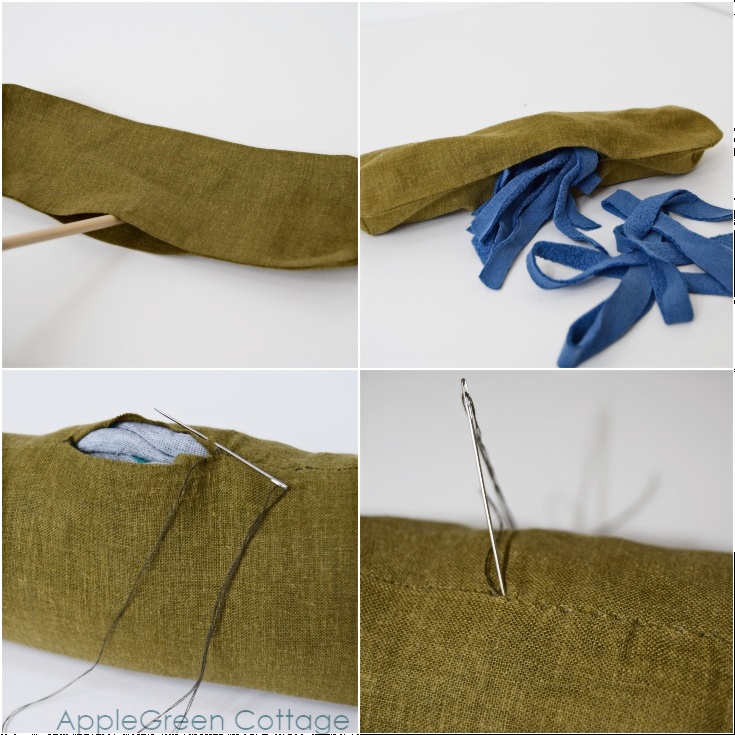 8) Using your fabric scraps, stuff the seam sleeve tightly. Even better, you use sawdust (I had none at hand.) You'll use up a lot of scraps, as the seam roll needs to be quite hard to hold its shape.
9) Close the opening using a ladder or a slip stitch. Done!
How Do I Get the Pattern For Free?
The sewing pattern is available FOR FREE with the 100% OFF exclusive code for all subscribers to AppleGreen Cottage newsletter - you get the 100% discount code when you sign up at this link: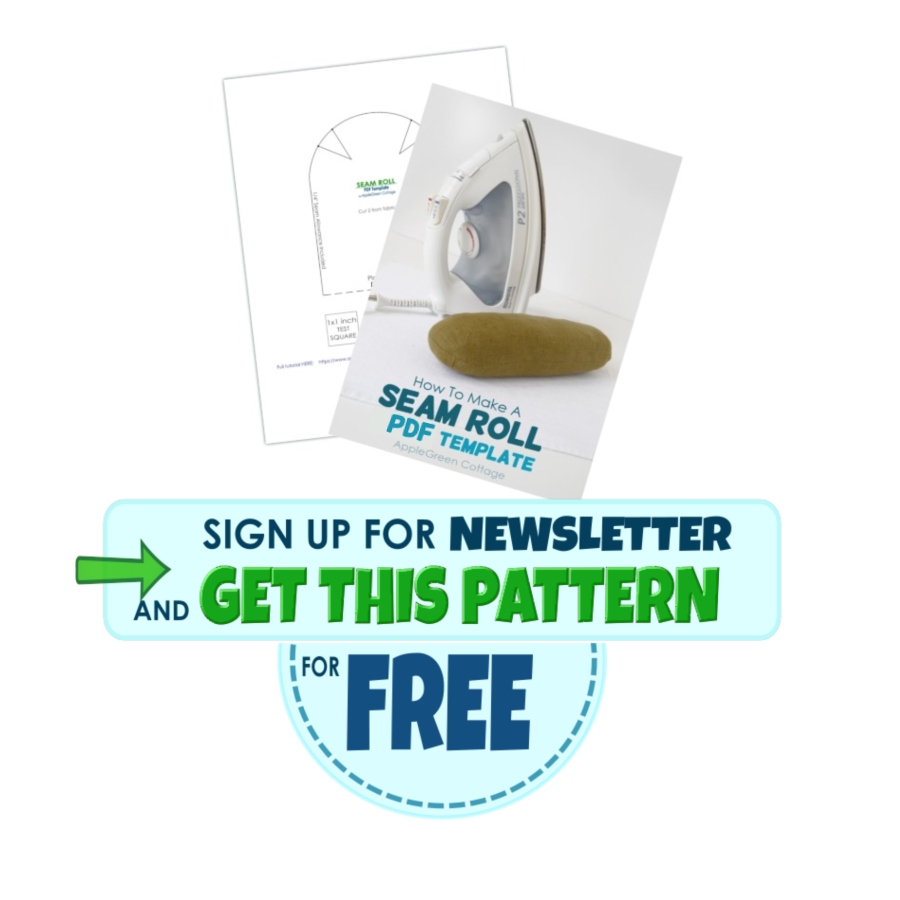 CURRENT SUBSCRIBERS: Your 100% DISCOUNT CODE is in my latest newsletter – visit the SHOP (here - scroll down to Seam Roll pattern) and apply it in 'View Cart' before checkout.
This free template for a seam roll is for everyone who loves sewing. It will make your projects so much easier to press, and your seams better-looking!
Save this tutorial for later: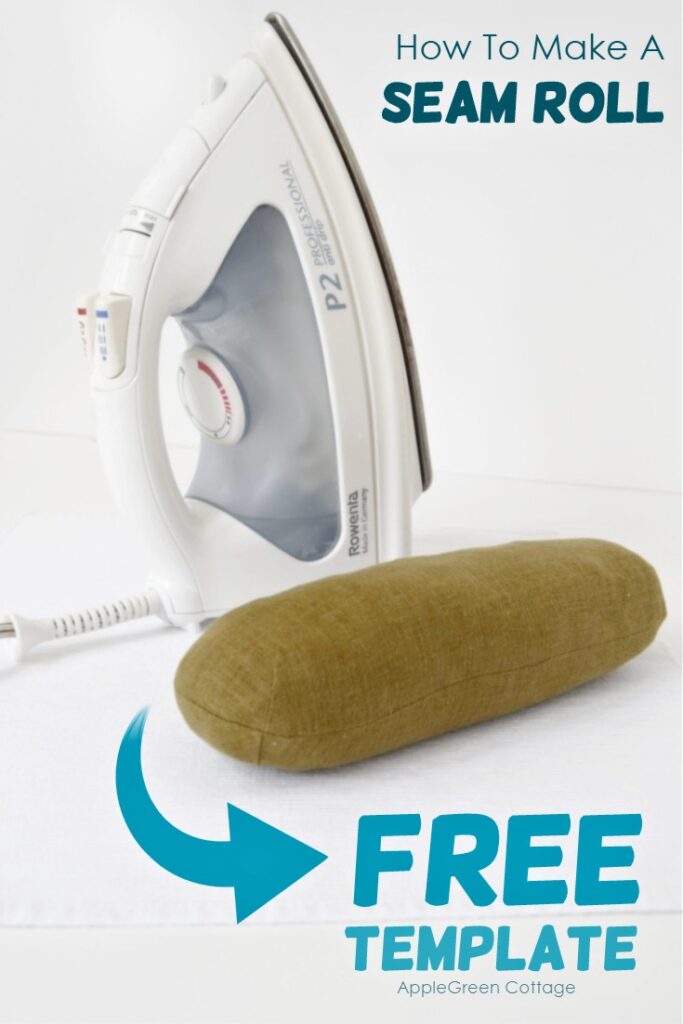 How Do You Use a Seam Roll?
I'm editing this post because I just got this question from a reader:
'Don't laugh, but how do you USE a seam roll?'
(A great question, J.!) Of course, I totally forgot not everyone is familiar with using the seam roll, and it's just right to mention it here. This tool is used on narrow openings when it yould be difficult to press, and smaller bags and pouches are a perfect example here. Place inside the pouch and you are able to press around corners, darted and rounded areas that are hard to press on an inroning board.
Actually, even better, let me just post a photo and you'll get a clear picture: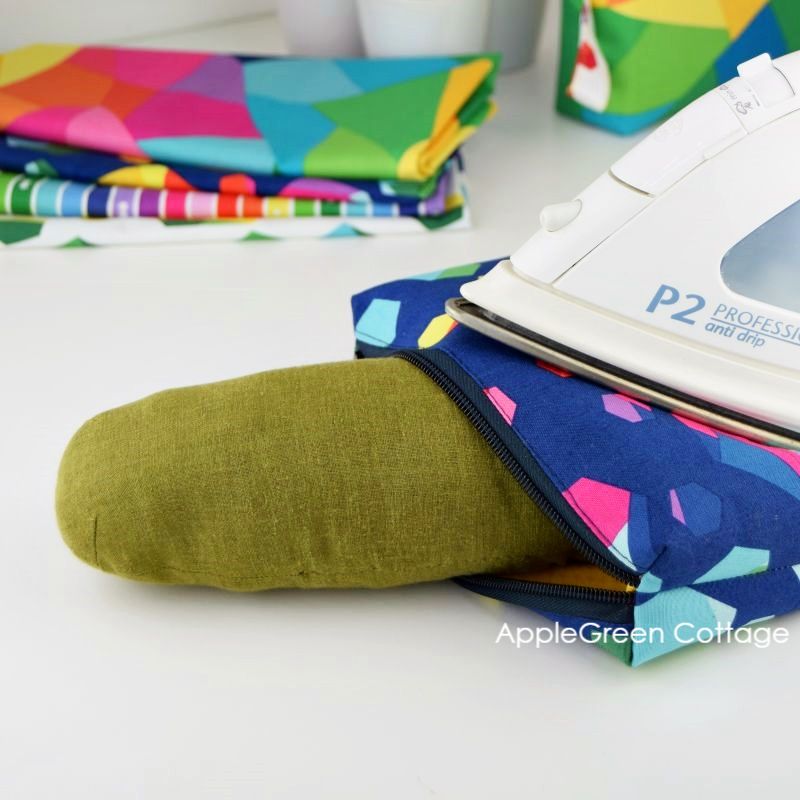 Hope this helps. Thank you for asking, J!
Want MORE FREE TUTORIALS And Patterns?
Get email updates and never miss out on new patterns, printables and tutorials. If you sign up at THIS link, you'll also get the Fabric Hanging Basket Template for FREE, right now. A cute and easy-sew!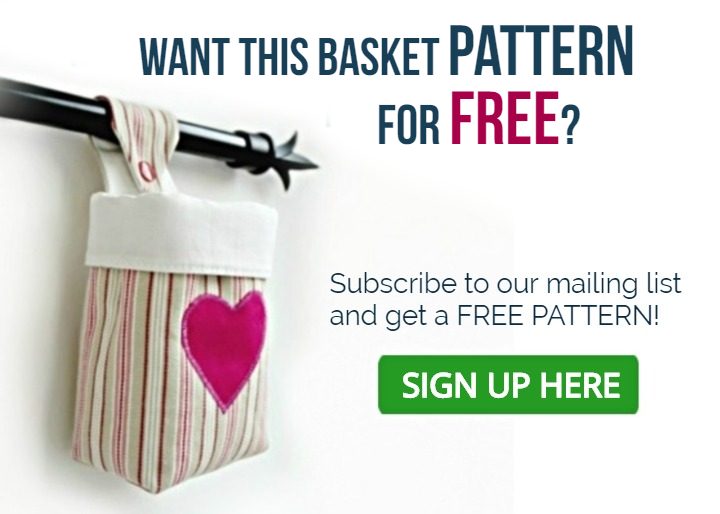 Or …check out this popular PDF pattern – the Kalina Mini Wallet. So practical!