Check out all the pretty versions of our latest project bag pattern - the ALLina tote, and get inspired to make your own!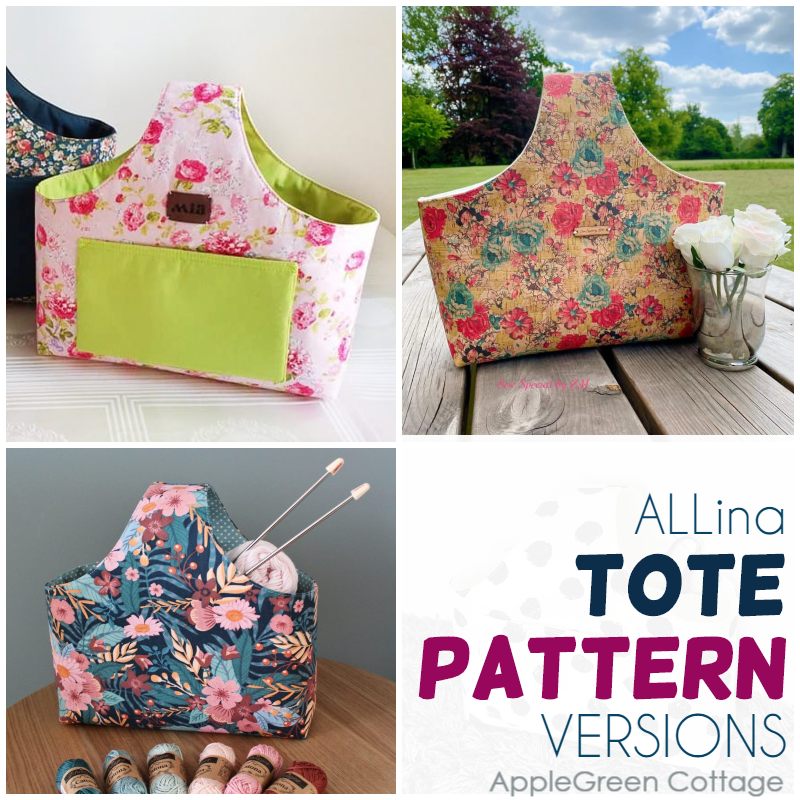 Let me show you my latest tote pattern that's also beginner-friendly. One of the main reasons the ALLina pattern is so popular is because it is perfect for some fabric play, either with solid fabric or for showcasing the prettiest prints, large or small!
the ALLina Project Bag Pattern
This is what I'll show here: all the testers' versions and fabric choices that might help you decide what you'd prefer on your own Allina. And oh my their ALLinas are so much prettier than the ones I sewed up!
ALLina Tote Bag Video
I'm beyond excited to show you all the beautiful ALLina tote makes from testers, first I rounded them up all into this nice short slideshow, so you don't even need do scroll through the entire post if you don't feel like. Just sit back, watch and relax 🙂
All Pattern Tester Photos of the ALLina Tote
But there's more to it than just a slideshow - I've got something to say about each of those, so read on - you'll love these photos too!
First, Zeïba. I'm still swooning over her gorgeous make in printed cork: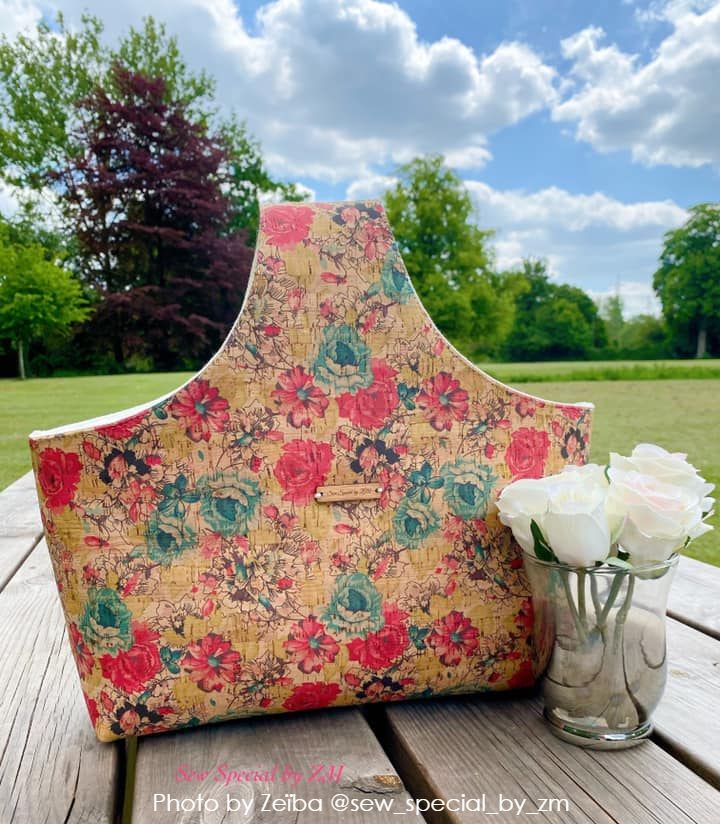 So pretty, and I could hardly believe her when she mentioned this beauty was sewn on a domestic Janome Atelier 7, using no special equipment but the walking foot - for topstitching only. Visit her on IG @sew_special_by_zm for even more beautiful photos, and make sure to follow her.
'Well done on a fab pattern and I can see myself making a lot of these as gifts. More than anything I think it's genius to release a bag pattern requiring very little hardware. It can be difficult and frustrating to source at the moment. Allina not only stands out but is accessible to most. Genius.' Zeïba Monod @sew_special_by_zm
The CuteST Yarn Tote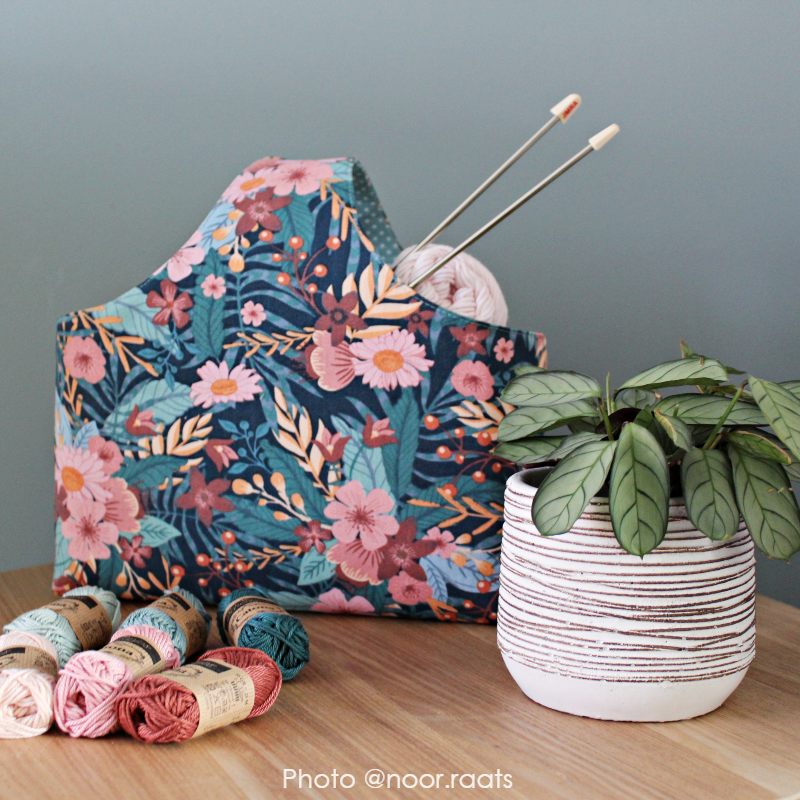 Noor has used the pretty Belgian fabric for her Allina bag and turned it into a yarn project bag. Beautiful! And I can totally imagine this photo as a fancy magazine cover. A pro at work, for sure! Visit her account at @noor.raats for even more stunning photos!
Fat Quarter Storage Tote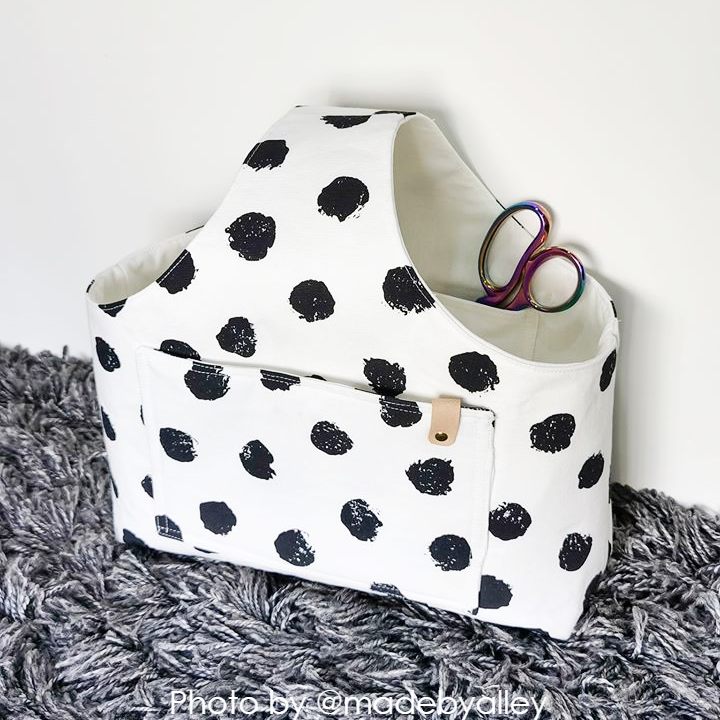 This one is a legit reason to get me more fabric! Elisah made this stylish and fresh ALLina to store her fat quarter fabric. A brilliant way to use pretty fabric to store more pretty fabric - why didn't I think of that! Visit Elisah at @madebyalley
Farmer's Market Tote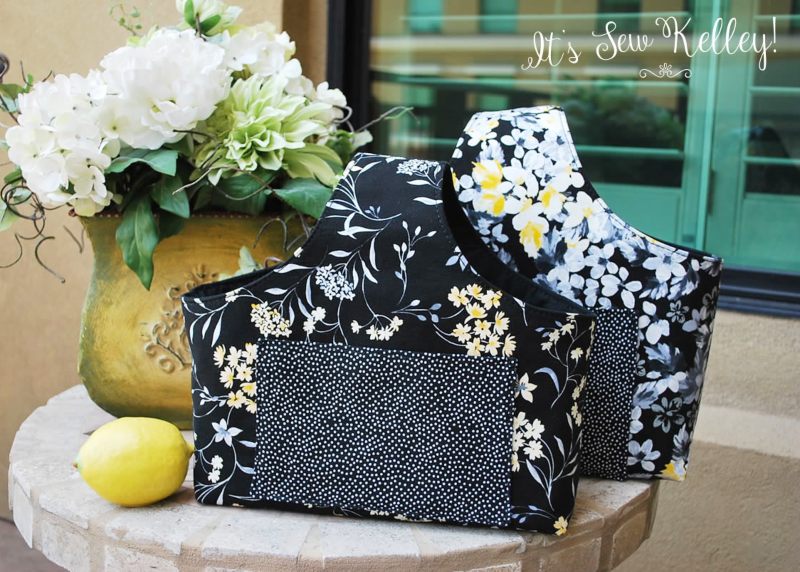 And here are two Allina tote bags by Kelley, who pulled out her prized Limoncello fabric for the project. Turned out just perfect! She envisioned these two as being used at Farmer's Market, with many other uses. If you haven't yet met Kelley on your bag-making journey, visit It's Sew Kelley! and check out her huge collection of the bags she's made. I'm in awe of her bag-making skills and am so flattered she joined the testing team!
'Use a themed fabric for yours, fill it with matching goodies, and you've got the perfect gift for just about anyone!' Kelley Daugherty Rao
Cute Project Tote in Florals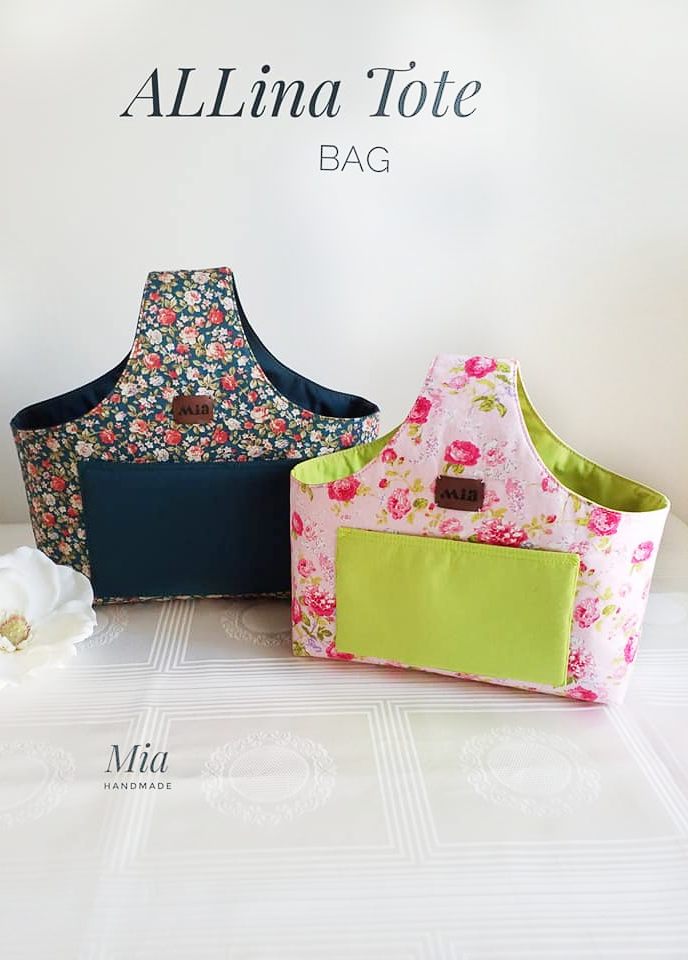 Maria has just recently joined the tester team, and boy my heart sings when I see her ALLina in my favorite color! Check out her IG @miacreates for all the pretty things she makes.
'...ideal as a project bag for knitting/crochet, catchall in the car or at the bottom of the stairs, storing magazines or even a peg bag.' Maria @miacreates
Allina Tote Bag in Canvas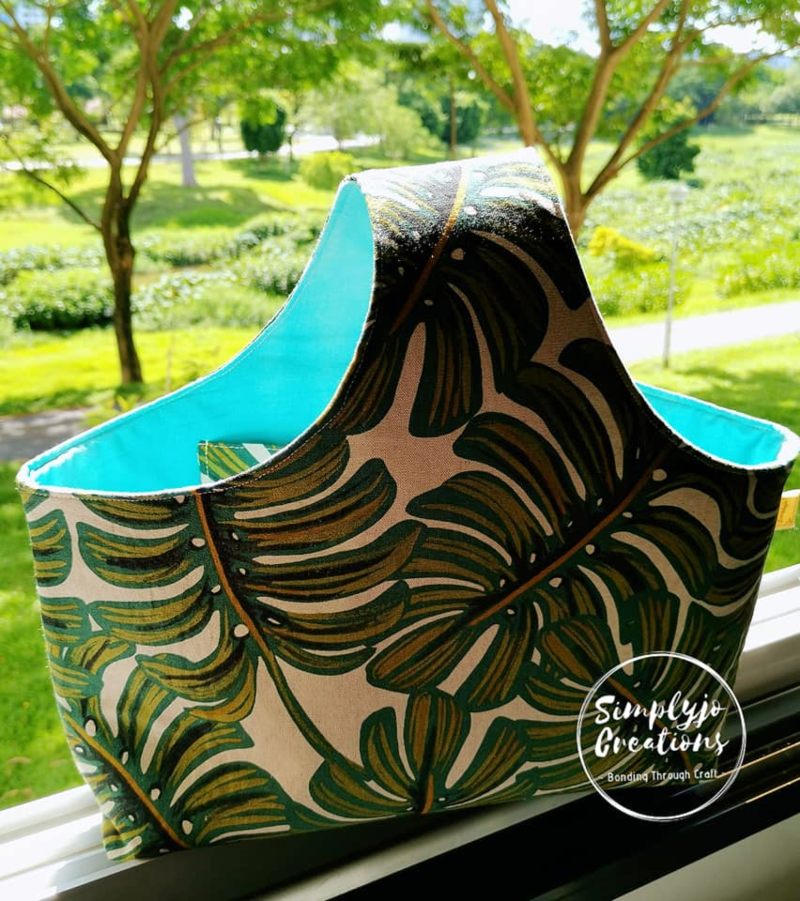 Jasene made the larger size with canvas as the main and quilting cotton as the inner. What a cool color combo! It makes me want to get all the canvas and make a gazillion of these pretty totes! Visit Jasene at @simplyjocreations, she sews a lot of her own clothes too!
Diy Pool tote Bag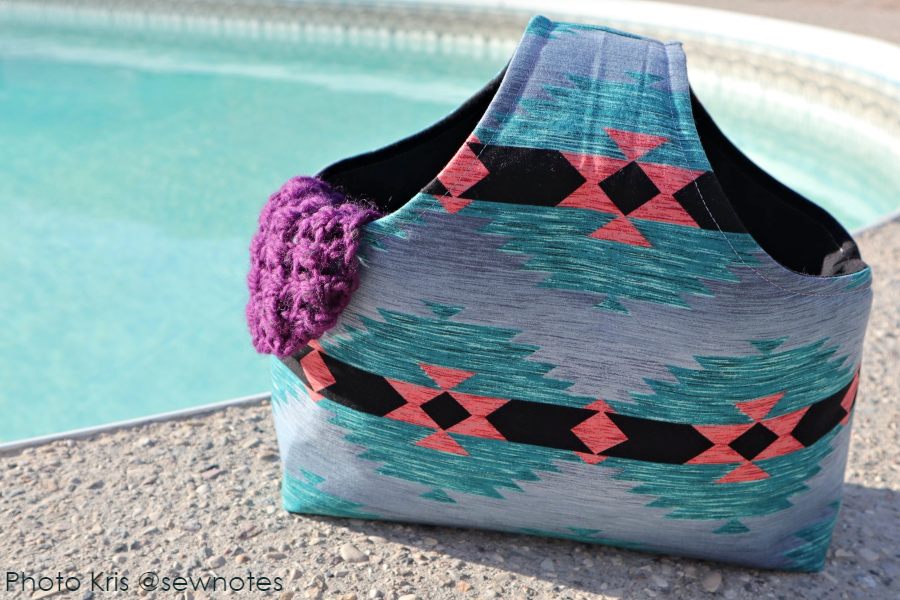 'Really loving the simplicity of this pattern! Prior to, I thought that maybe doing the handle was going to be hard, but it was really easy' Kris @sewnotes
Kris at @sewnotes did an awesome job sewing up a bag she can take with her to the pool - a great poolside towel tote and great to keep your sunscreeen and a few necessities in.
A Gift basket or a Home SPA Caddy - Or Both?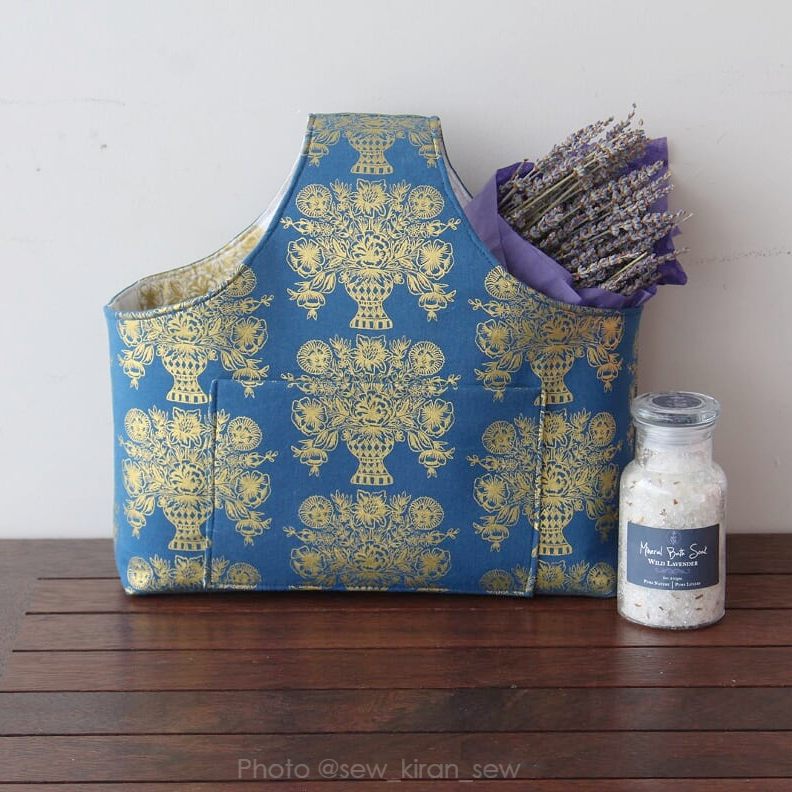 Kiran at @sew_kiran_sew made this elegant ALLina in such a precious fabric print, and a different size. Talk perfect fabric placement! She sees this pattern as a magazine cozy but also as a poolside towel tote, a yarn basket, or just as a gift basket. Home spa caddy, anyone?
Make an ALLina Set as a Housewarming Gift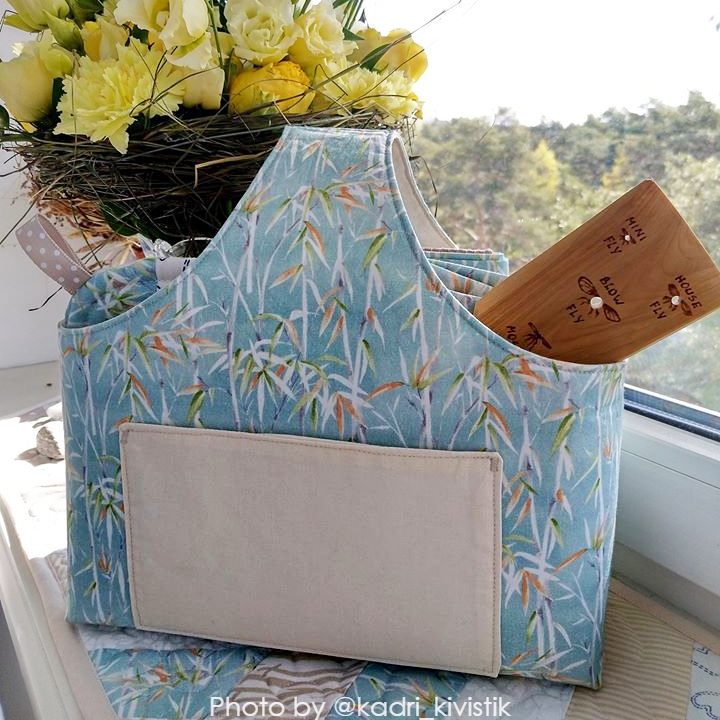 Kadri made an entire set for her kitchen. Together with potholders and kitchen towels, this ALLina Tote Bag would make a terrific housewarming gift. Find Kadri and all her makes at @kadri_kivistik.
DIY Craft Caddy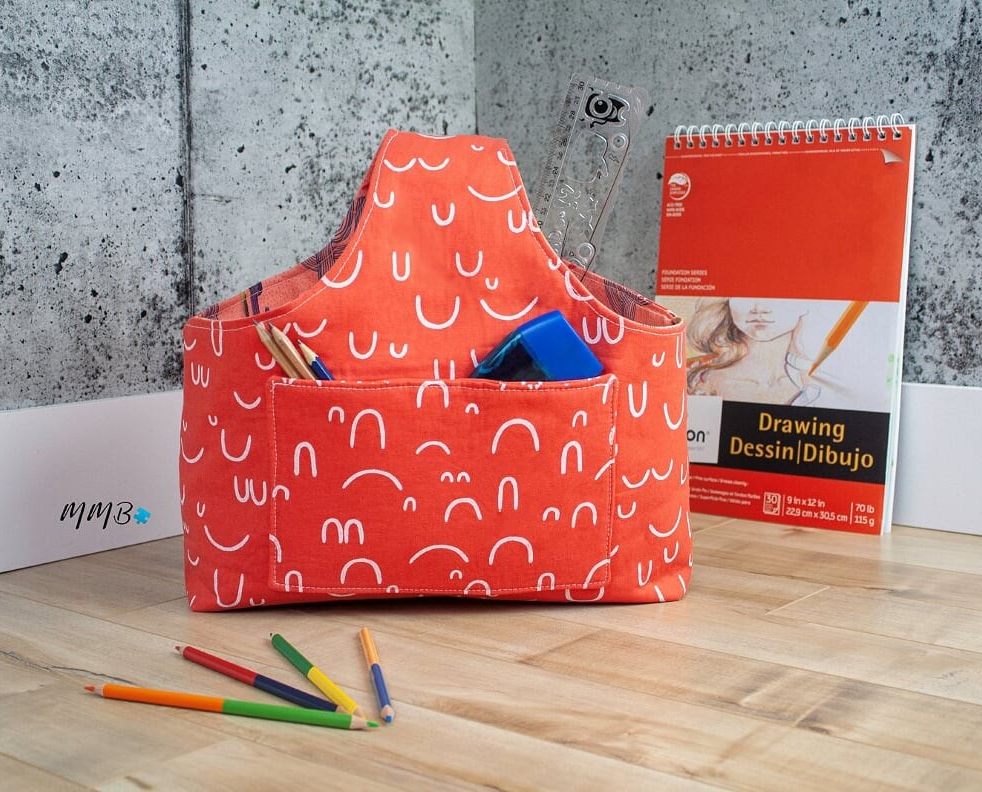 What a creative idea to use the Allina tote as a mobile craft caddy! This tote was sewn by Marie-Michèle and the fabric was selected by her son - he'll use the caddy for his drawing lessons. A lovely make - and practical too! Find out what else she sews at @mariemichelebm
Embroidery Project Bag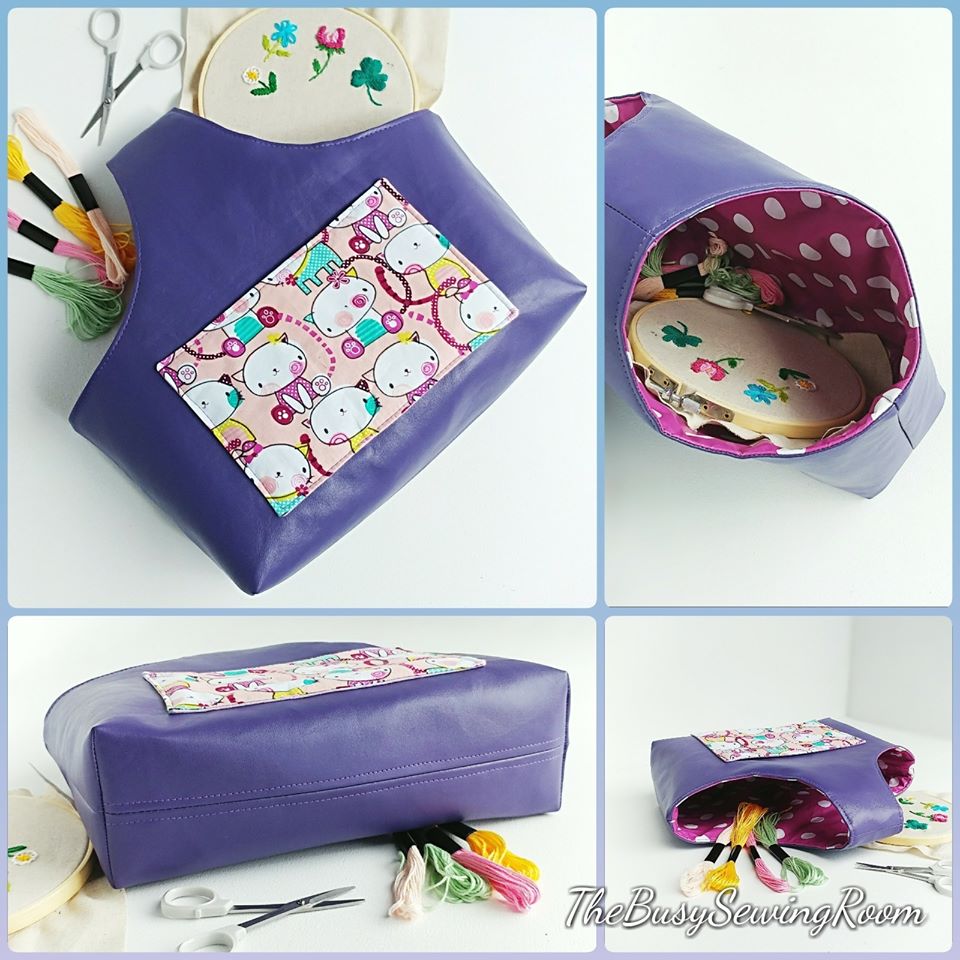 Ulrike @thebusysewingroom made the small one in faux leather which is perfect for her embroidery supplies. Check out her IG post for more pretty photos of the ALLina bag!
Diaper Bag And Toy Storage Bag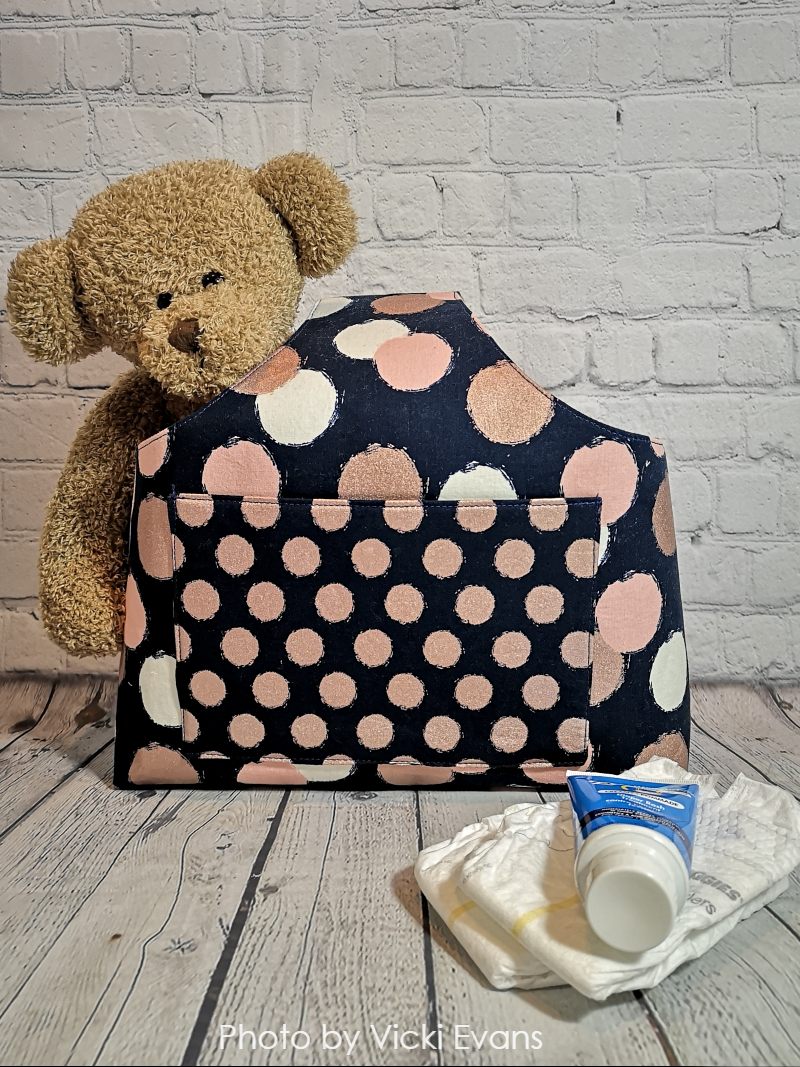 Baby shower gifts, anyone?
Vicky has been sewing a lot of baby items in the last few months. And ALLina is no exception. It makes a fantastic diaper bag! The large size. It holds about 30 newborn diapers, diaper creams, and some baby wash. She's done a terrific job. Visit her FB account here to see what else she made for her grandchild that's due in August. (and that in matching prints!)
Now, there's another lucky baby: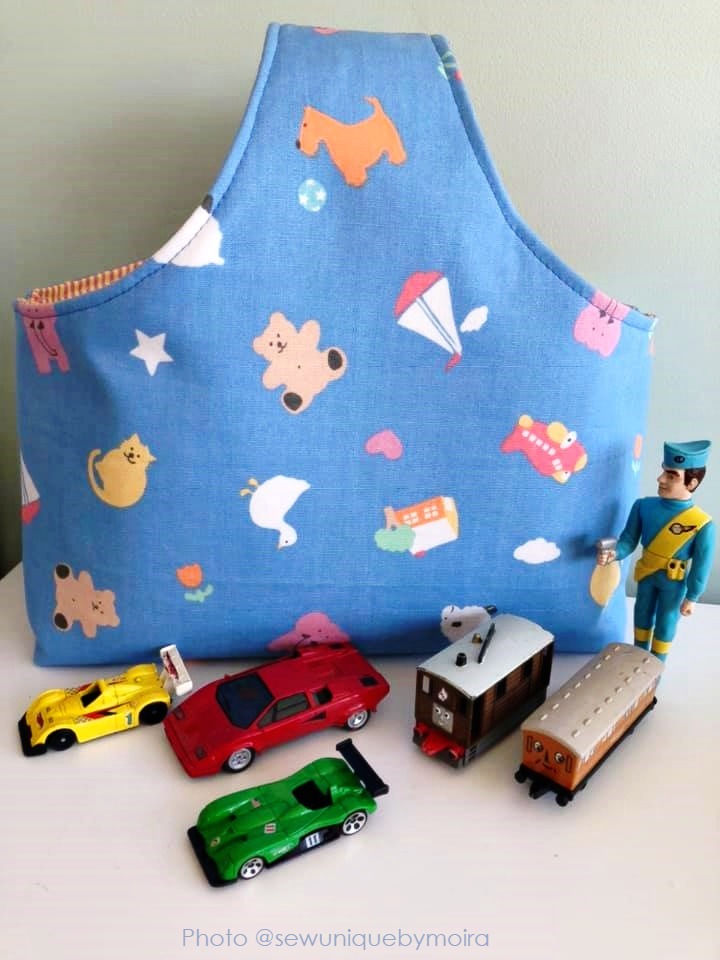 Moira at @sewuniquebymoira made the large size ALLina for a colleague who's having a baby in July. And after the baby outgrows diapers, this tote will make a great toy caddy.
ALLina tote Bag Sewn With Cork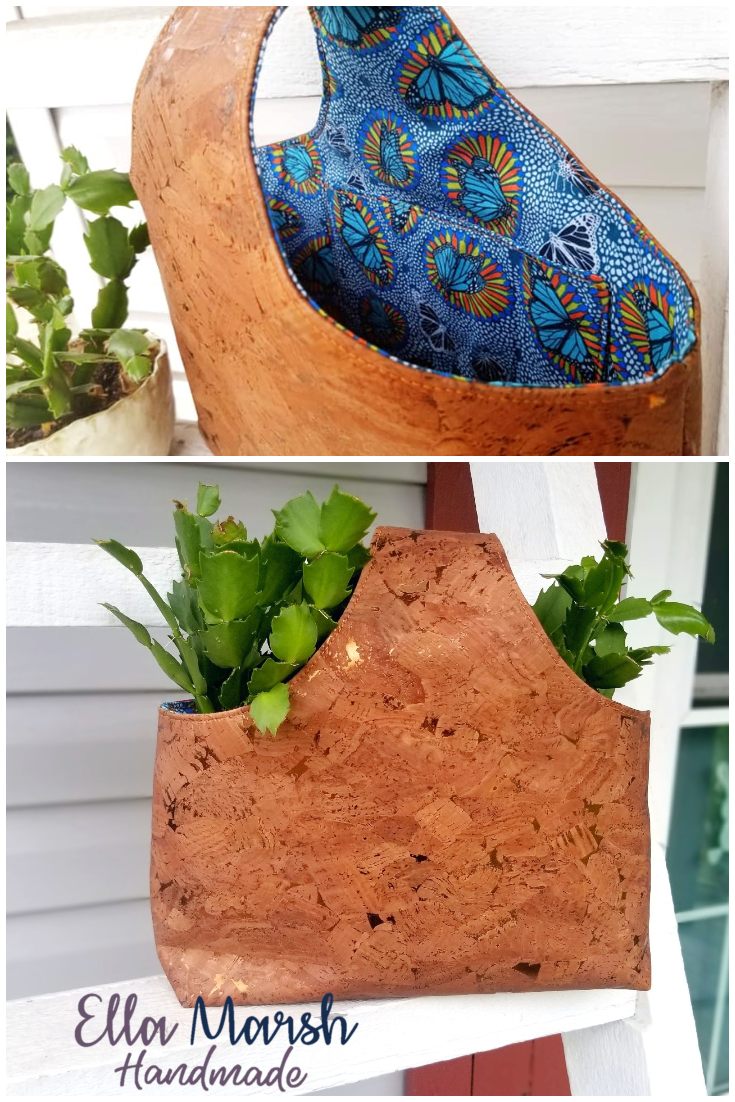 Lorna made this ALLina cork and a cute butterfly print. Doesn't it look cute? I'd use this one as a catchall in my hallway. Pretty, practical. Love it! Visit Lorna at @ella.marsh.handmade for more photos of this beautiful ALLina tote.
ALLINA Project BAg in Modern Prints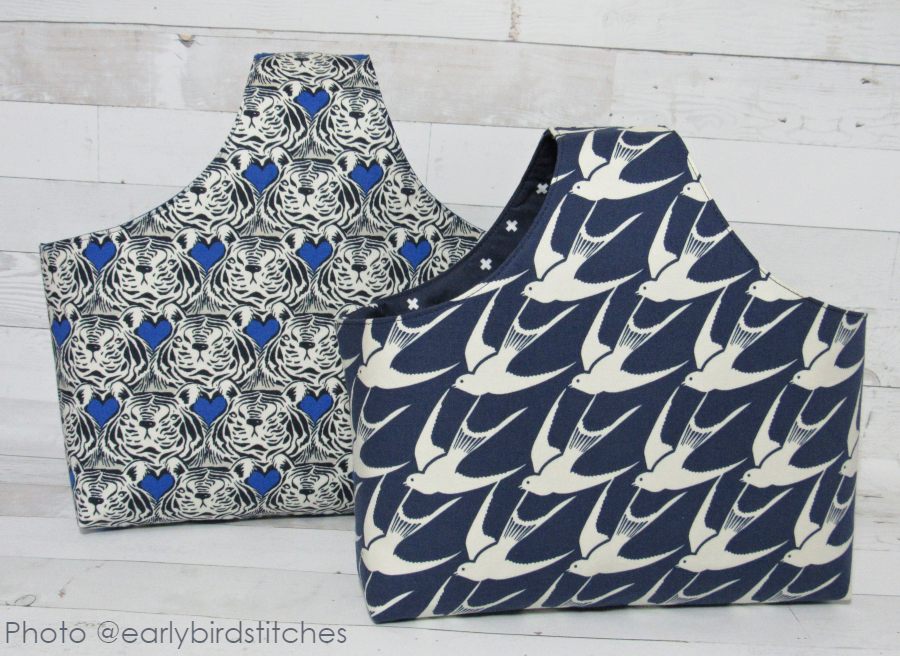 'Comes together quickly and makes a great gift!' Cara @earlybirdstitches
Cara @earlybirdstitches made two tester bags. I love the modern look coming from the Cotton+Steel Bluebird collection she used. Visit Cara in her Etsy shop and check out what else she makes.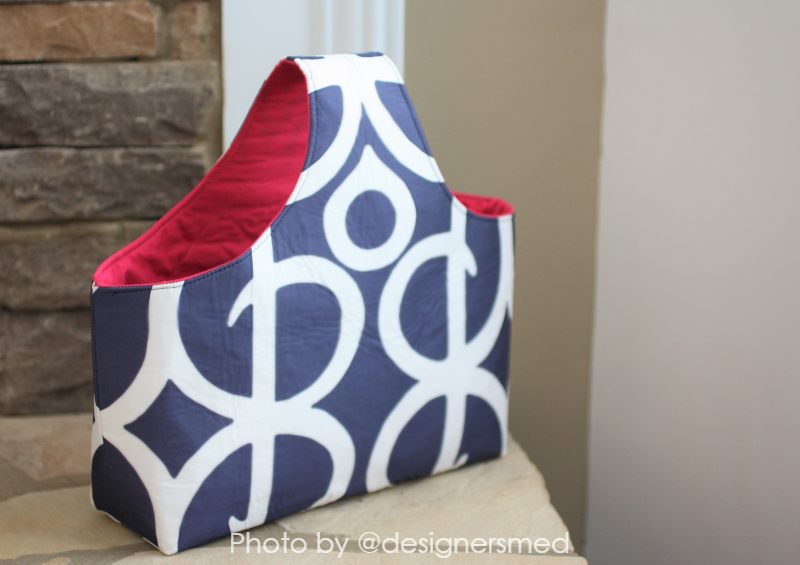 And finally, Tandy's Allina bag. It turned out so stylish and modern, with a beautifully centered large print too - and it's even matching on the side seams! She quilted the lining, using batting instead of fusible fleece. Quilted lining gives your bag some additional body and is also a great workaround for the Allina tote if you run out of fusible fleece - and it looks great too! Visit Tandy at @designersmed on Instagram.
What Interfacing To Use with thIs Project Bag Pattern
There are 3 recommended combinations of interfacing for this pattern, namely fusible fleece plus: you can use either Pellon Décor Bond, or Decovil Light, or fusible flex foam for a super stable tote.
Are you running low on fusible interfacing? Don't worry, you can get creative. In a pinch, there are quite a few alternative solutions to choose from. You can use batting and quilt your lining to give it some extra body and stability like Tandy did. Or you can also use a stiffer material as outer – vinyl, faux leather, or even real leather if you're a seasoned sewer and can handle those. In this case, only light interfacing will be required for the lining.
In the ALLina test, we had one quilted version, and one was made with vinyl to replace the fusible fleece. Some used several layers of different interfacings, and some used heavier weights of the fabric to lessen the need for special bag interfacing. Feel free to get creative!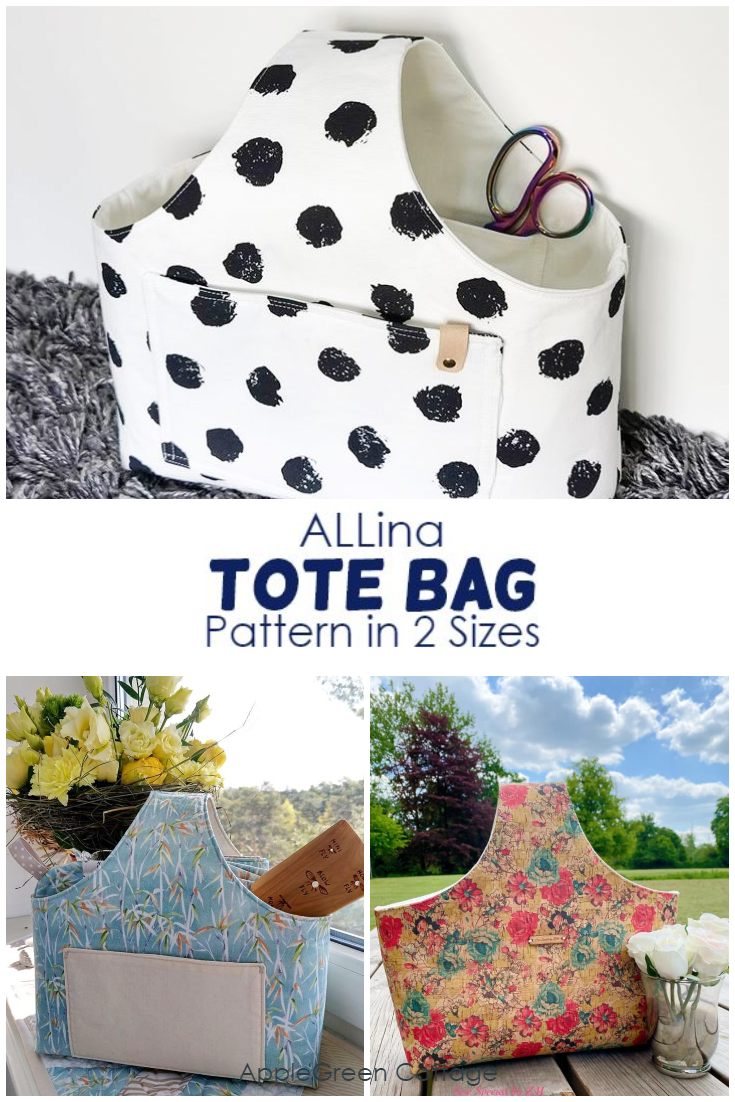 My pattern testers have all done an amazing job, helping me get the pattern file and sewing process in the best possible shape. During the testing of each of my patterns, I always feel flattered and so lucky. Somehow, I always get to work with amazing people. If that's not luck I don't know what it is!
This ALLina tote pattern could just not be the same without my awesome pattern testing team. Thank you!
Save these photos to Pinterest for some sewing inspo: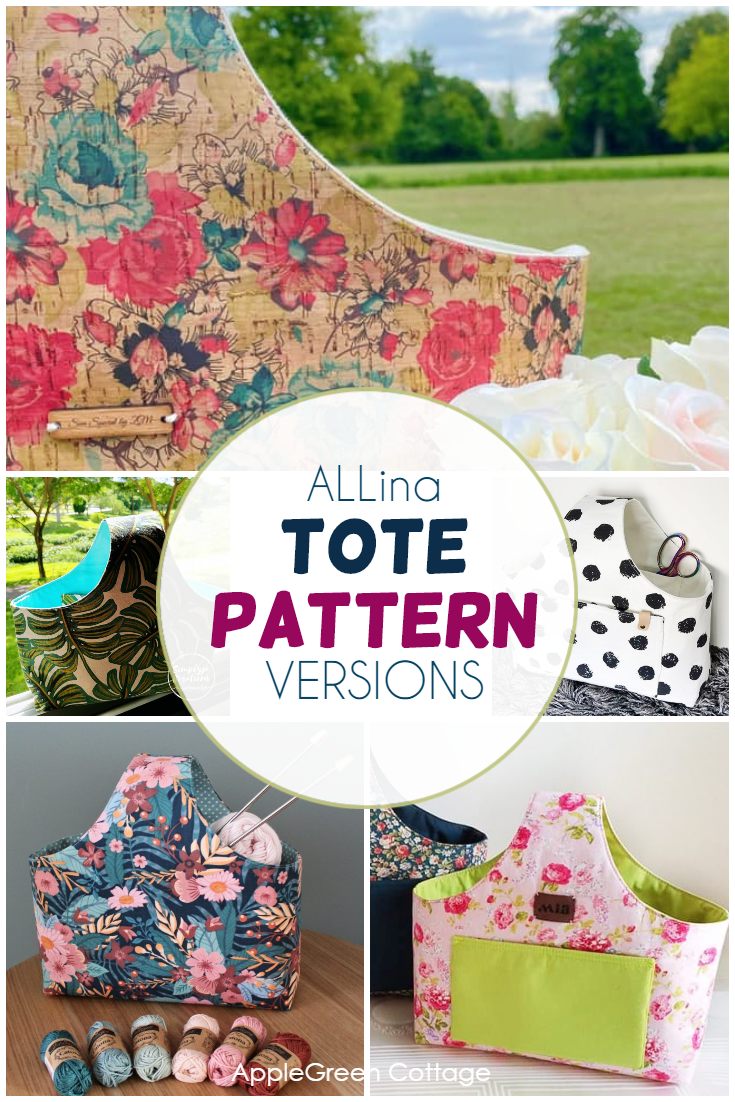 So you've seen so many suggestions for use: a magazine cozy, a housewarming gift, a farmers market tote, nappie storage, a pool tote, a craft caddy and so many more! - what would be 
YOUR favorite way to use the Allina for?
Where Do I Get The PAttern?
Add this practical project bag pattern to your collection – make one or two for yourself, gift or sell them in your handmade shop! Use the hashtags #allinatote and #applegreencottage so I can see what you make!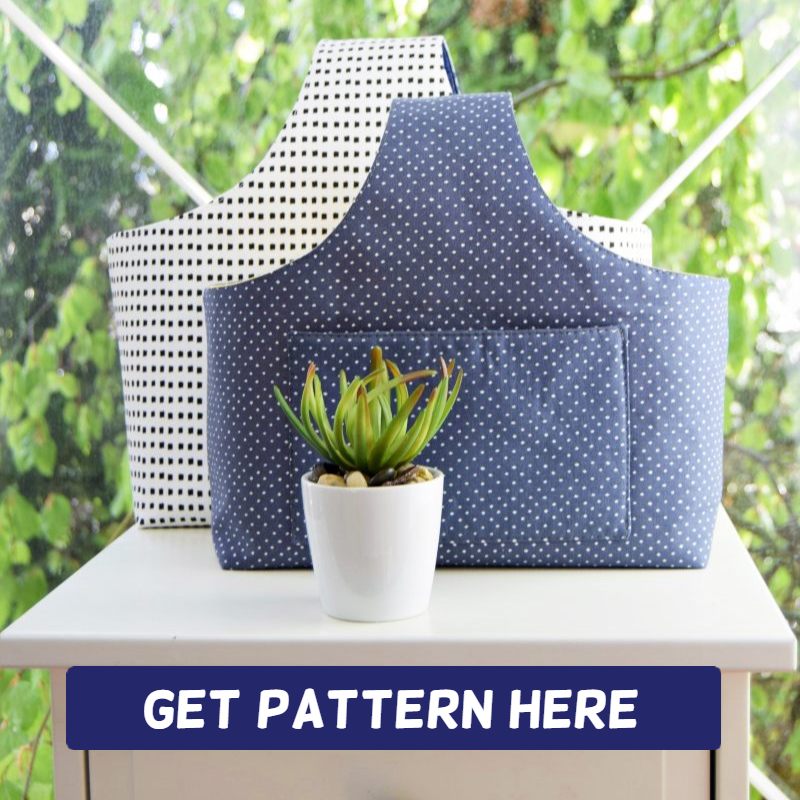 If you like this pattern, check out these, too: