Make the cutest diy drawstring bags from my favorite free patterns for drawstring bags you can sew. They are easier to sew than you'd think!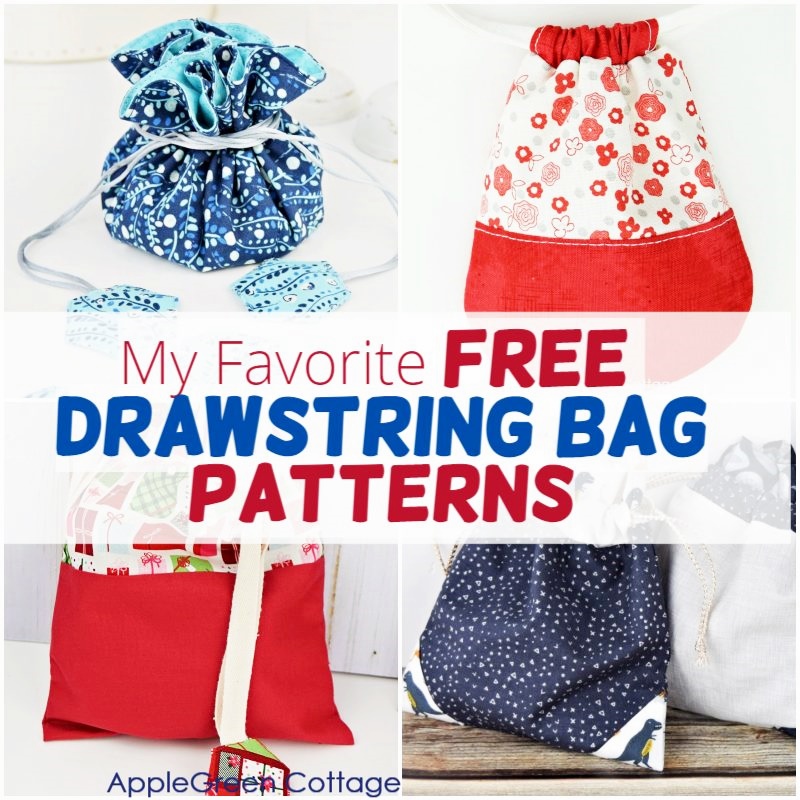 My favorite list of easy drawstring bags to sew - these drawstring cinch bags might just become your favorites too!
You must have come across the term cinch bags or drawstring bags. Basically, drawstring bag sewing consists of two parts: first, sewing a pouch with an open top. Second, inserting a drawstring that will turn your simple pouch into an actual string pouch. (Unless you are sewing it with an already integrated, pre-threaded drawstring bag, like the round basket pattern in my shop - I like how this clever tweak saves me time and effort! But usually, you'll need to add drawstrings afterward, and this post focuses on these.)
So, first, I'll show you a few varying ways how I like to sew them - and of course, add links to free patterns for drawstring bags - and then I'll also add a tutorial that will show you how to add drawstrings - so you're covered!
No time to sew them all now? Save them to Pinterest using this link or the image below: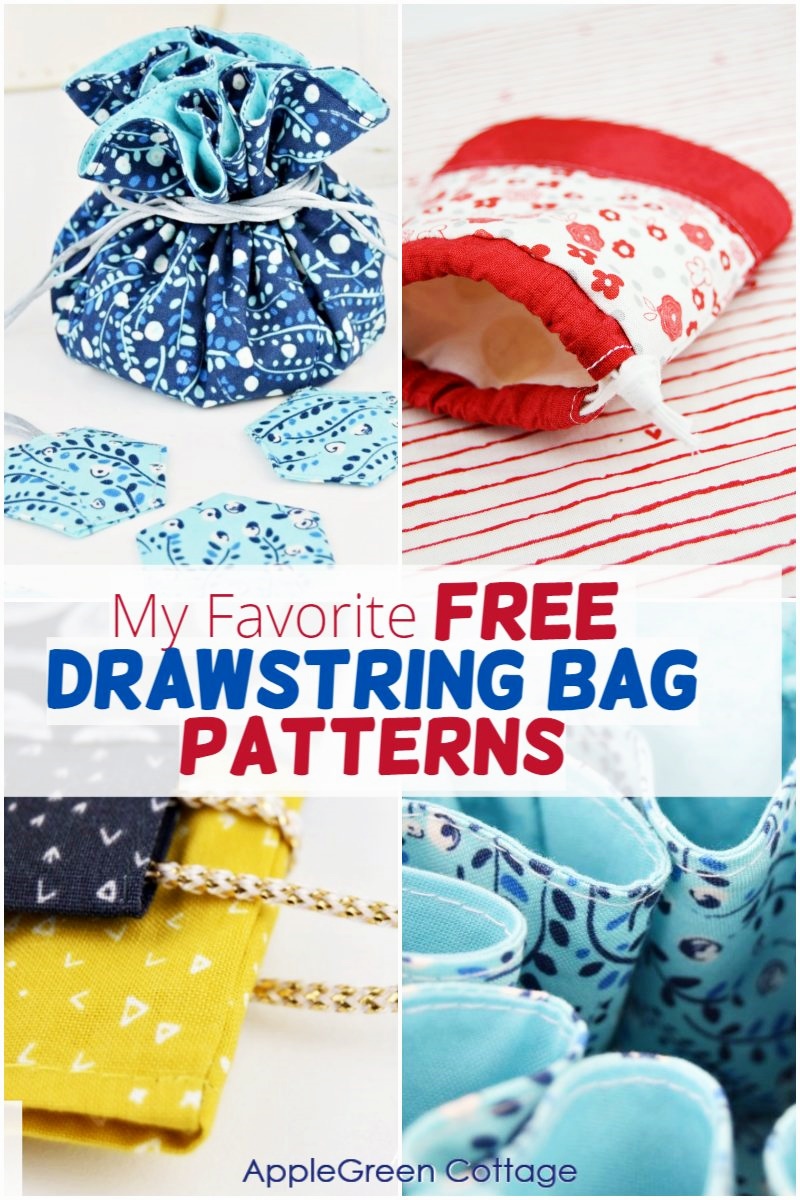 Drawstring Bags Sewing Patterns
Now, off to the actual free drawstring bags patterns. You'll notice that each of these patterns will have a different way to integrate the drawstring cord. I wanted to give you options! And you can use them everywhere from now on! Let me start with my most popular one:
My best drawstring Backpack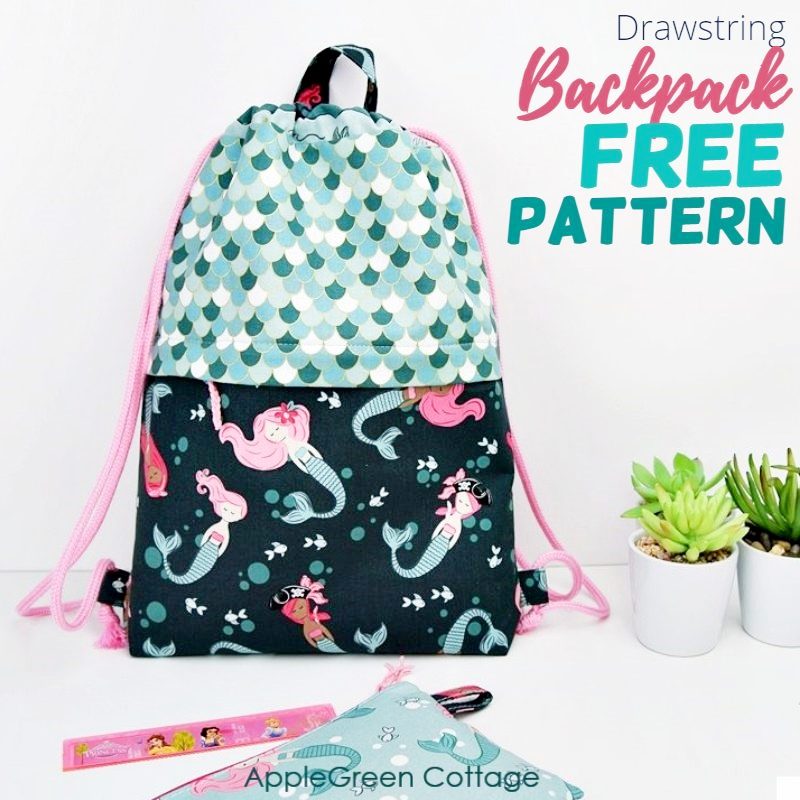 Make a cute diy backpack using this free drawstring backpack pattern. This drawstring backpack with pockets comes in two sizes and the tutorial includes a lot of sewing tips. Check it out and sew your perfect drawstring backpack!
Need to restock before you sew? Shop my personal favorite sewing supplies HERE.
Simple Drawstring Gift Bags for Beginners – In Minutes!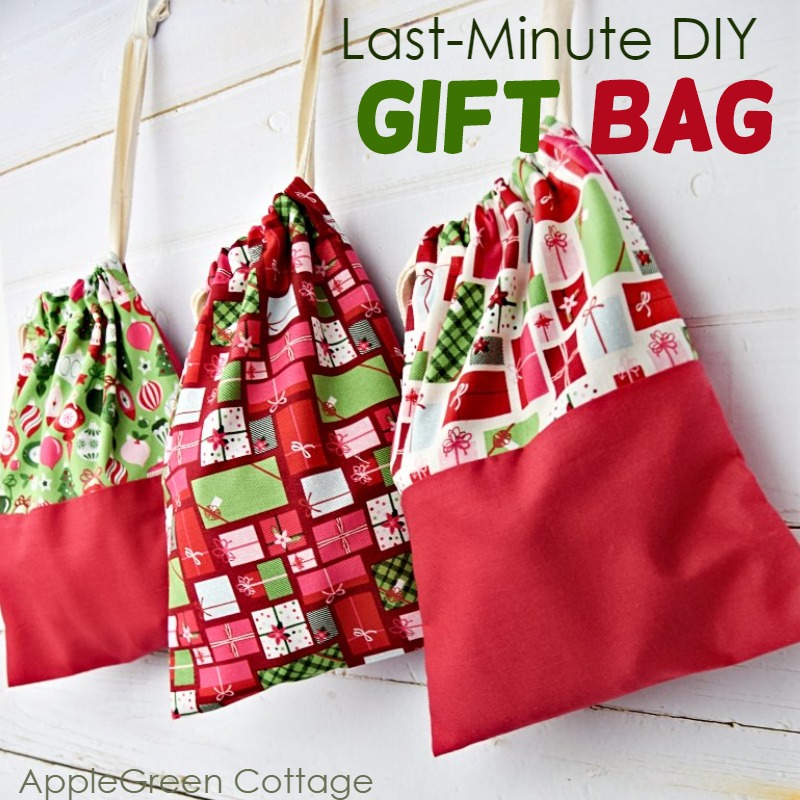 These drawstring bags are simple rectangle fabric pieces put together - they have no lining, which makes them even quicker and simpler to whip up within minutes! A great quick holiday gift bag to sew, you don't need any sewing experience to make these. These simple drawstring pouches have raw edges on the inside, but I show you how to finish them neatly and quickly. Visit the quick drawstring gift bag tutorial.
There's more! If you feel ambitious, you can add pretty drawstring stoppers to your drawstring bag. Check them out:
How To Add Diy Drawstring Stoppers to any drawstring Bag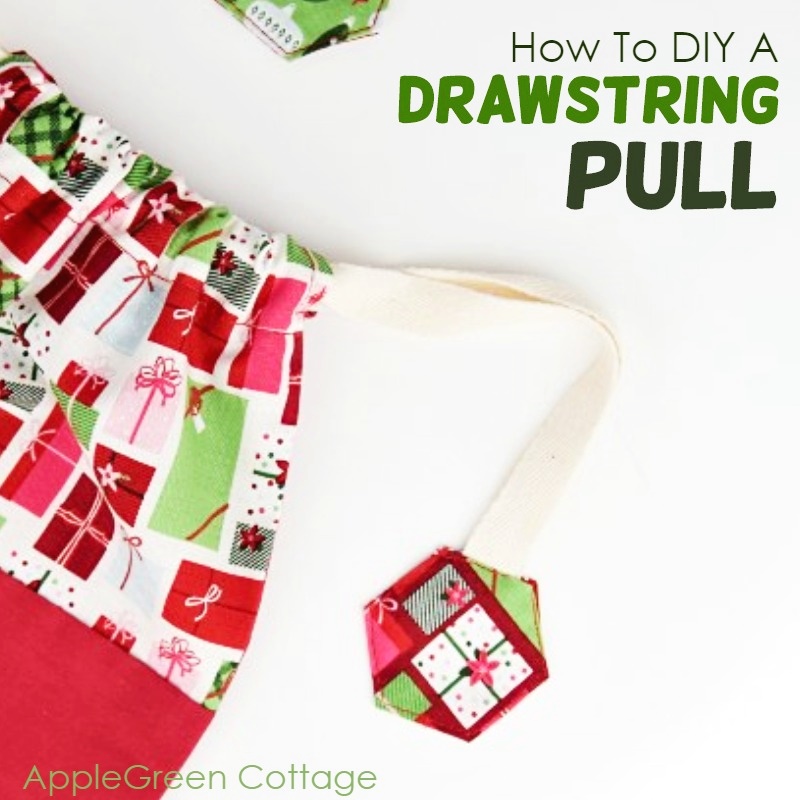 Here you can learn how to add pretty diy drawstring stoppers to your drawstring bags - any of these drawstring bags patterns actually. These are beginner-friendly instructions that show you how to use hexies. So much fun!
Diy Organza Drawstring Pouches
And last but not least, I'd like to show you this photo even if it's far from a perfect one - these organza drawstring pouches were among the first ones that I made and posted here on the blog.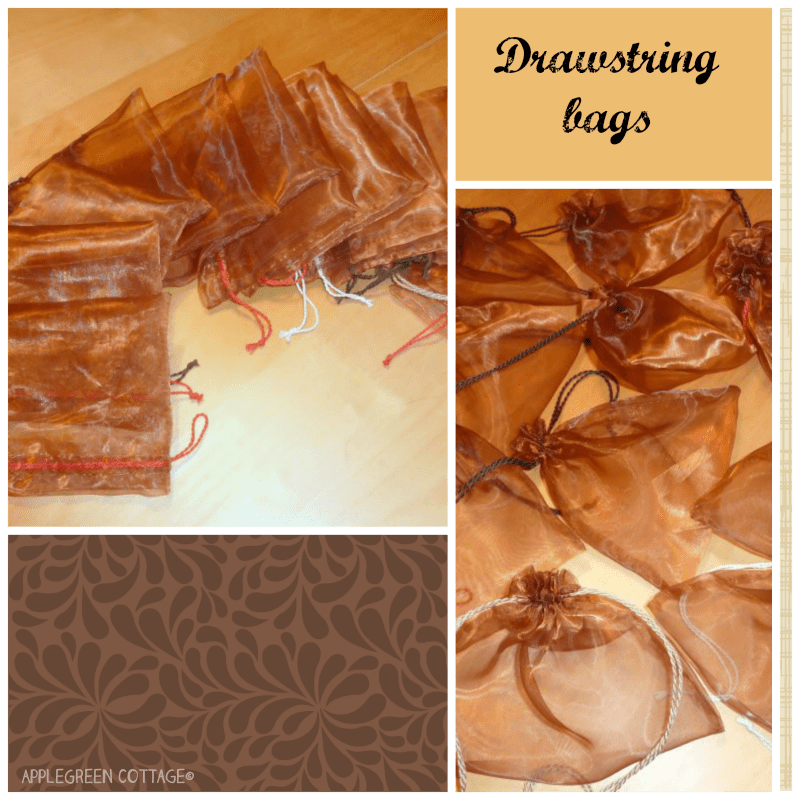 It only took half a yard of some synthetic fiber organza, I cut it into rectangles and batch-sewed them together. In one single evening, I made a stash of gift bags that was enough for nearly a year. You can too!
And one thing more, I also made my own diy yarn rope when sewing these drawstring bags. Yes, you're right, you can make your own drawstring rope too - see here how I hand-twisted twine into perfect diy twisted cord - or if this term sounds weird, it's also called diy yarn rope. Super easy!
Remember that organza pouches like these are perfect to pack your orders, jewelry, and more if you run a small business.
Now I want to show you how to turn any open pouches into real drawstring bags or cinch bags by adding a drawstring.
Make it quick with this clear and easy tutorial that will teach you how to string a drawstring bag.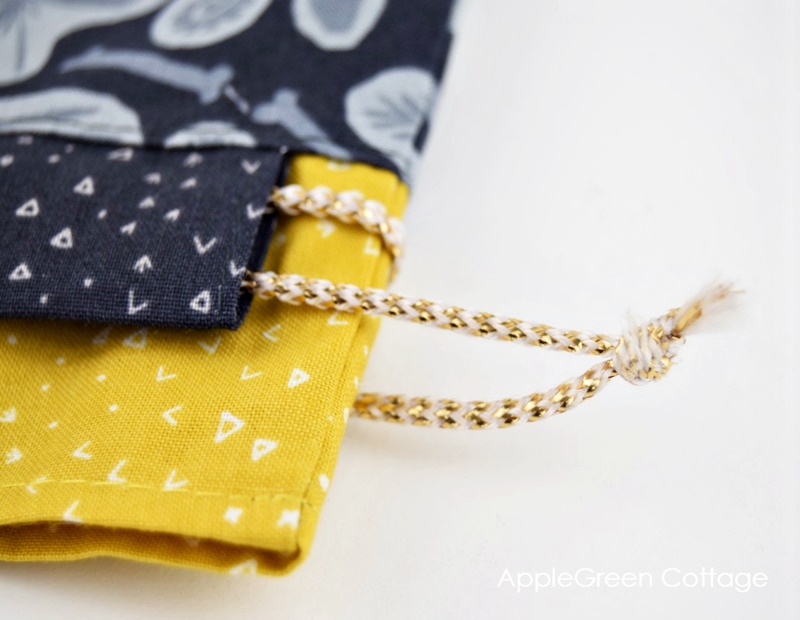 I hope at least one of my favorite patterns for drawstring bags has created enough momentum to start your own drawstring bag collection. If you use any of these free patterns, I'd love for you to tag me @applegreencottage, so I can see and reshare! Also, make sure to save this list for later, so you can find it when you need it: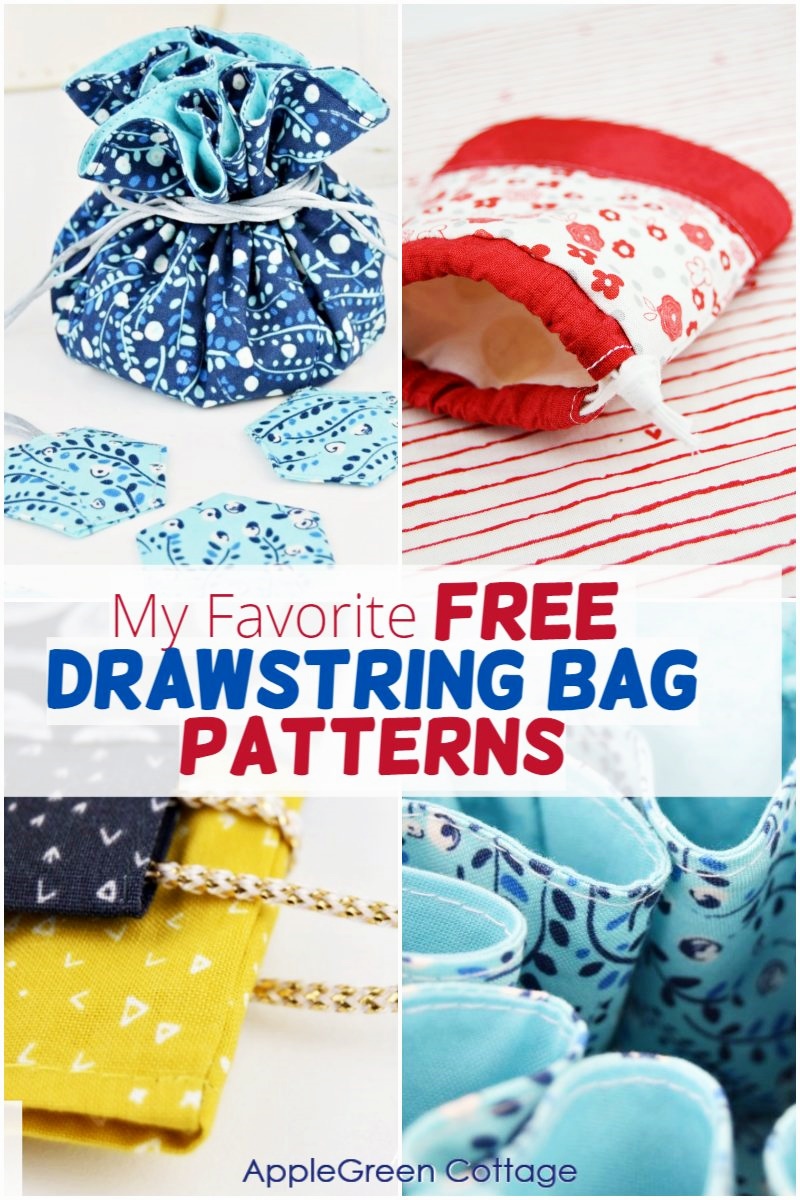 These baskets are not free, but they'll show you how to sew the drawstring casing without the need to thread the drawstring through. Clever!