This might be the prettiest diy toy storage for nursery or kids room you'll ever make. Scroll down to see which pattern I used and how you can style your own!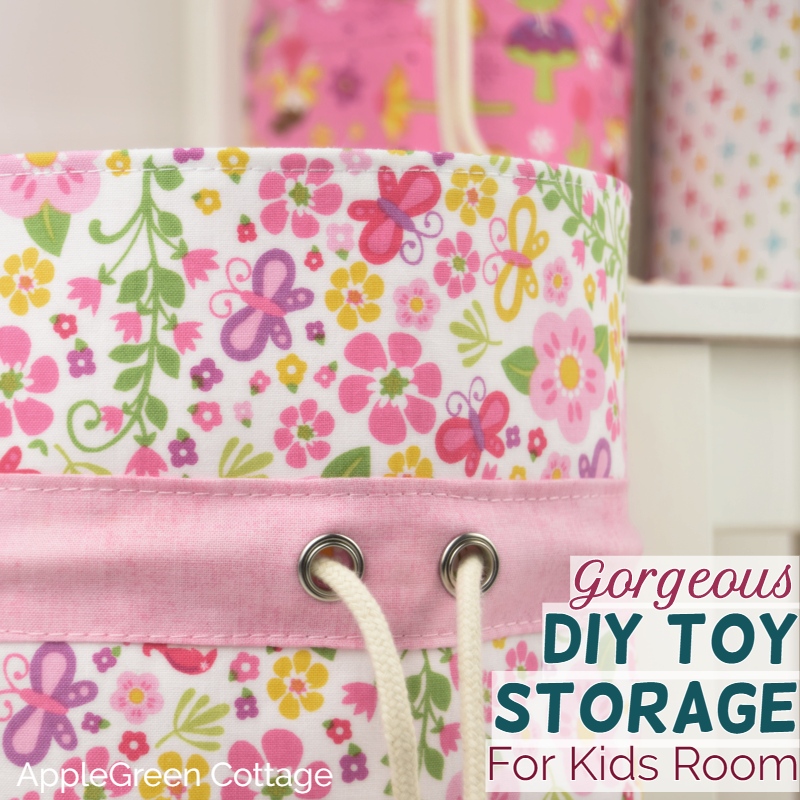 This post may contain affiliate links. Thanks for your support. I've made these adorable round baskets to house my daughter's toys. These fabric bins are great for small toy storage and perfect to use your prettiest fabric combo. Easy-to-use pattern (here) - and they make our kids' rooms look so neatly organized - and cute!
Diy Toy Storage Bins
I know I should be sewing for Christmas but the gray and foggy landscape here made me crave for all things pink and floral. What I needed was a project to use the pretty fabric - and I found one very quickly, in our kids room: something to store their small toys. No more stepping on tiny fairies and Lego creatures scattered everywhere!
My kids' toy collection has been slowly expanding over the years, and slowly we've run out of nice storage ideas. Ever since our daughter moved to her own room, I've been playing with the idea of some girly home decor - a perfect excuse to make a few more of the round storage bins from my latest pattern. My favorite sew in the last month or so!
These round baskets are especially suitable to use up some of your prettiest prints, like these I had from the Fairy Garden collection by Lori Whitlock she designed for Riley Blake Designs. It's adorable, and I'm still swooning every time I help m,y daughter put away her toys - it's so easy to teach kids to put away their toys if they have enough storage (and pretty one, too!) These have made it into the finals here on the blog: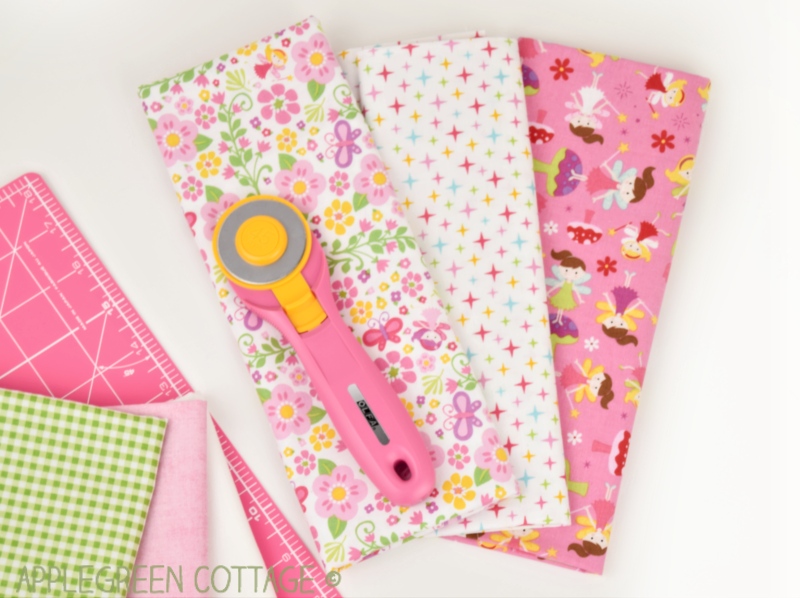 Time for my rotary cutter to step in! (The awesome days when your rotary cutter and mat match perfectly with the fabric! 🙂
Perfect diy small toy storage for your kids' room
The white one with the sparkle print reminds me of an ice-cream box. Perhaps because my daughter chose it to store her ice-cream play food collection!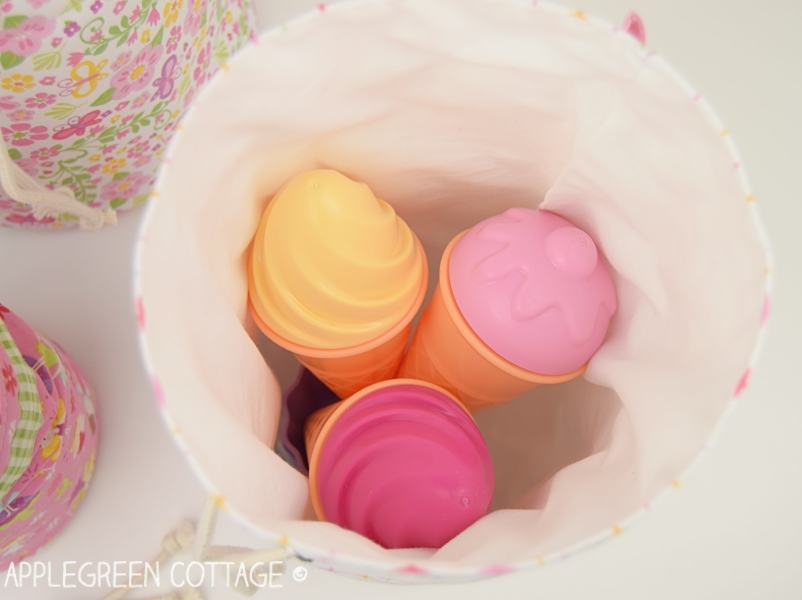 After playtime is over, you just pull on the drawstring and close it. No falling out! The drawstring top is quite practical for toy storage. The smallest fabric bin will most probably house crayons, an addition to the larger one of these polka-dot versions that's become home to a large collection of colored pencils.
How To Arrange the Fabric Bins For Toy Storage?
Make sure you make a few sets in different sizes. sets in three work best! Like with all storage bins, you'll need your diy toy storage baskets in various dimensions, plan in advance what you need. Also, it's best to designate a spot in the nursery or a kids room where they can be stored indefinitely - and you get an instant pretty home decor element.
Aren't these pretty!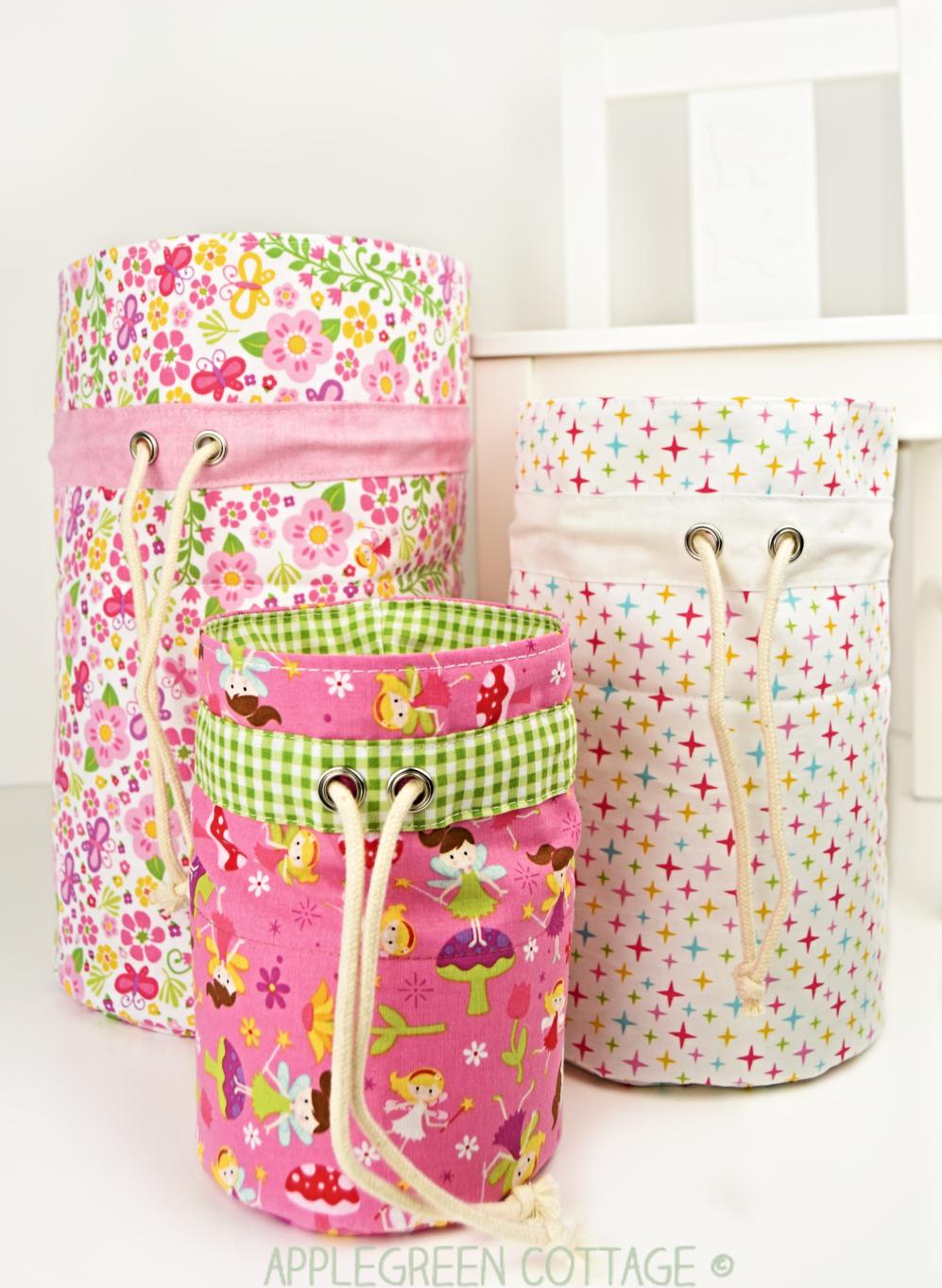 These diy storage baskets will make your home look gorgeous! Which one of the three sizes would you make first?
Save For Later: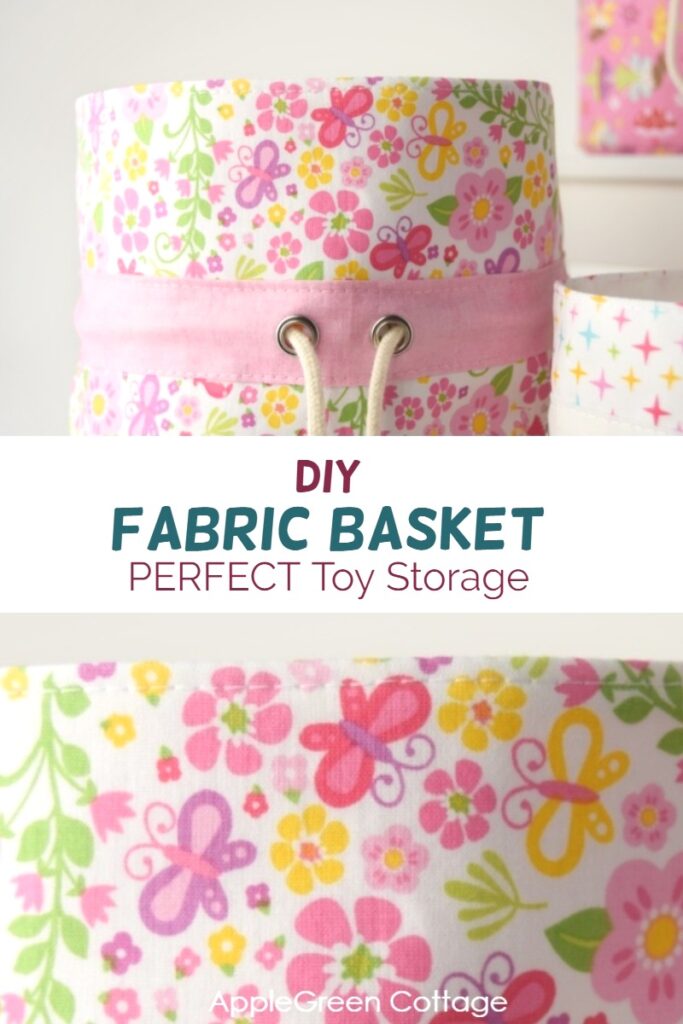 So I'm using this post to show off some fabric happiness! (I need this so much - anyone else, too? Drop me a hello down in the comments!)
WANT MORE FREE TUTORIALS AND GOODIES?
Get email updates and never miss out on new patterns, printables, and tutorials:
Or …check out this popular home storage pattern – the ROUND FABRIC BASKET - 3 sizes for all the rooms in your home!