What Our Customers Said about AppleGreen Cottage Patterns
I am delighted when a customer contacts me and shows what they've created from an AppleGreen Cottage pattern. Also, I love an honest opinion on a pattern, always. Thank you for all your pattern reviews! Here are a few images and a few customer reviews of my patterns.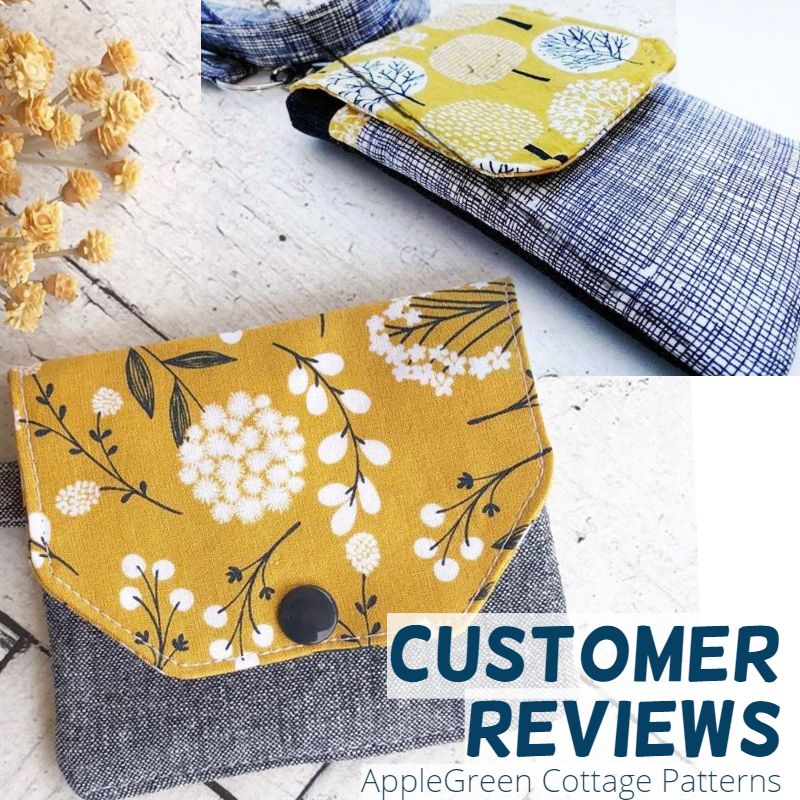 Do you want to inspire others with your projects made with Applegreen Cottage patterns? Take a picture and post it on FB or Instagram, adding the tag #applegreencottage. Or send it to damjana@applegreencottage.com - I'll add it to this gallery, with your name or link!
About SILA Duo Zipper Bag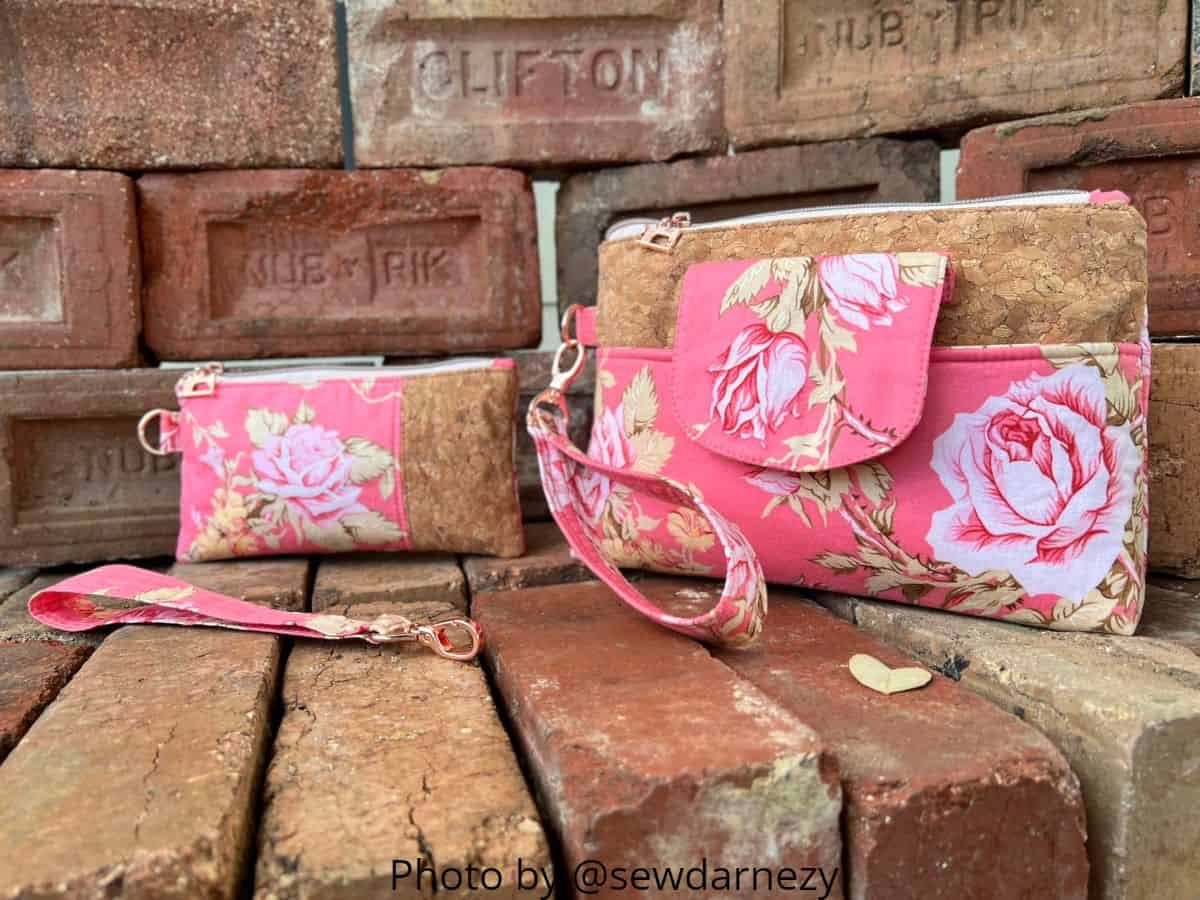 I am so very impressed with this set. I will be making many more. Thank you for a wonderful pattern.

Cathie C. B. @sewdarnezy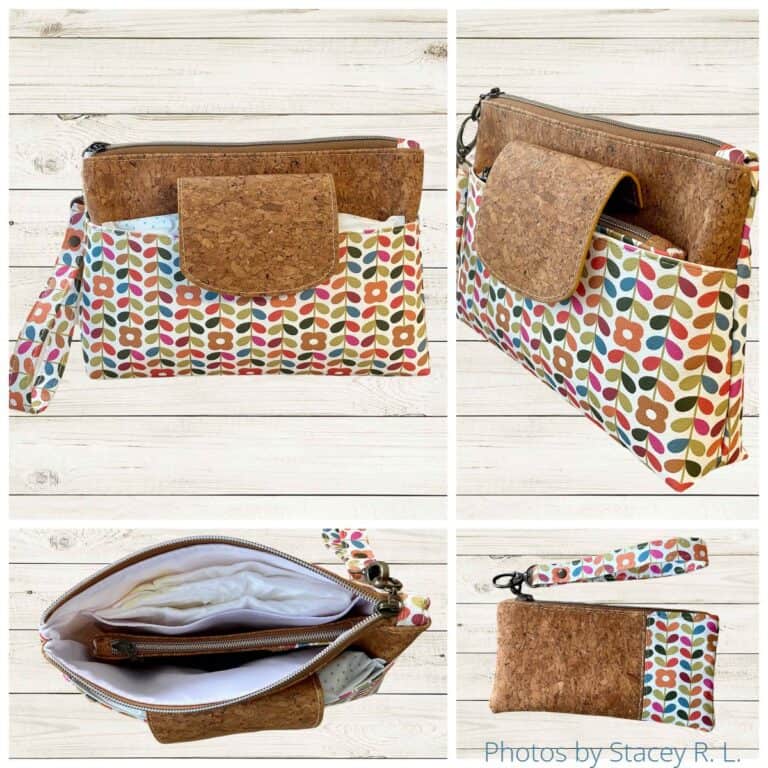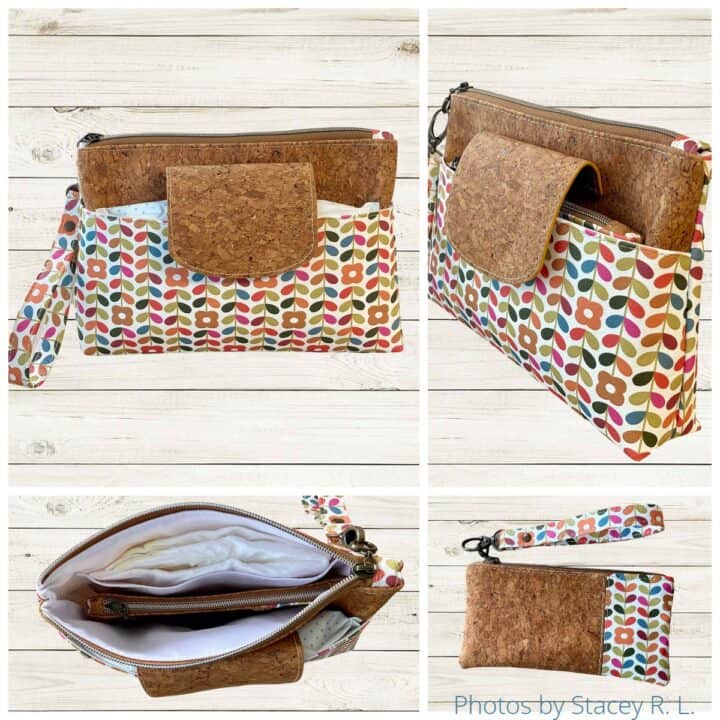 My version of the Sila - I love it!! Outer is cork and vinyl, lining is waterproof cordura. This one is actually a baby shower gift - the front pocket perfectly fits travel wet wipes and the inner pocket holds a couple of diapers. Mom can use the smaller pouch for anything else she wants to just be able to grab and go.

Stacey Roberts Leighty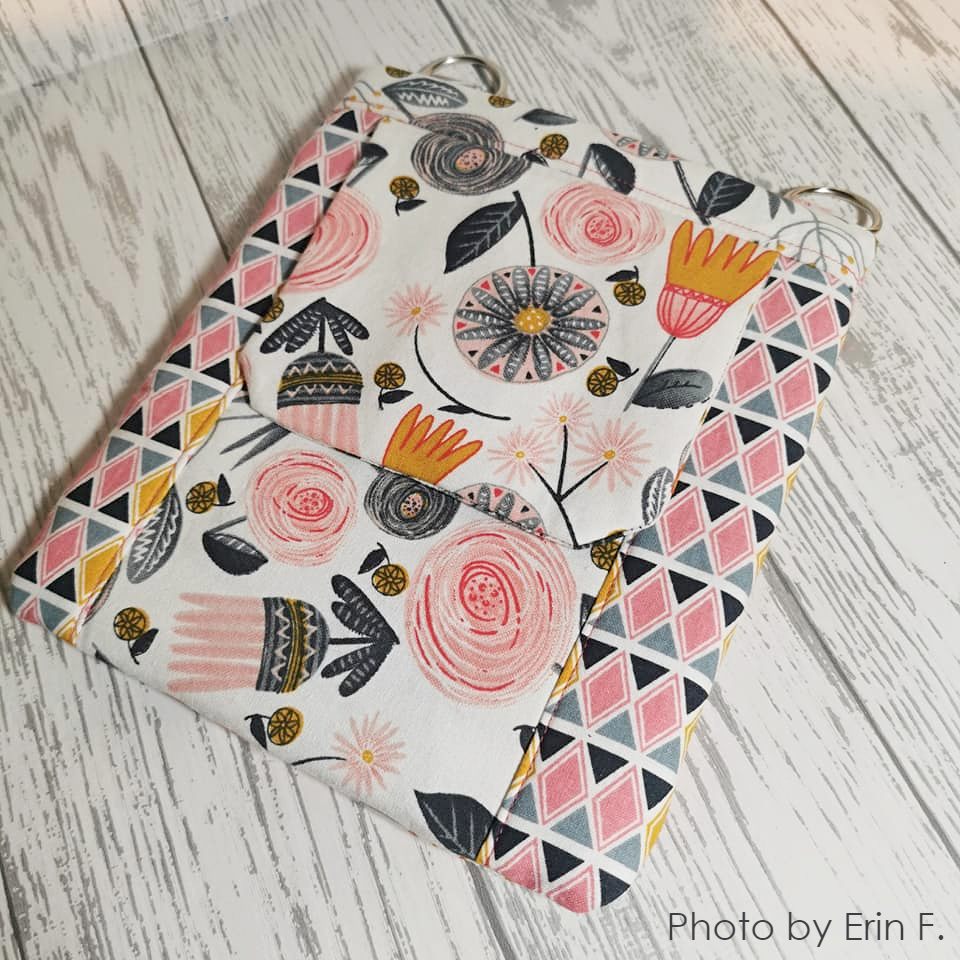 'I'm so in love with all your designs they are so easy to use.'

Erin F. at Paper Stitches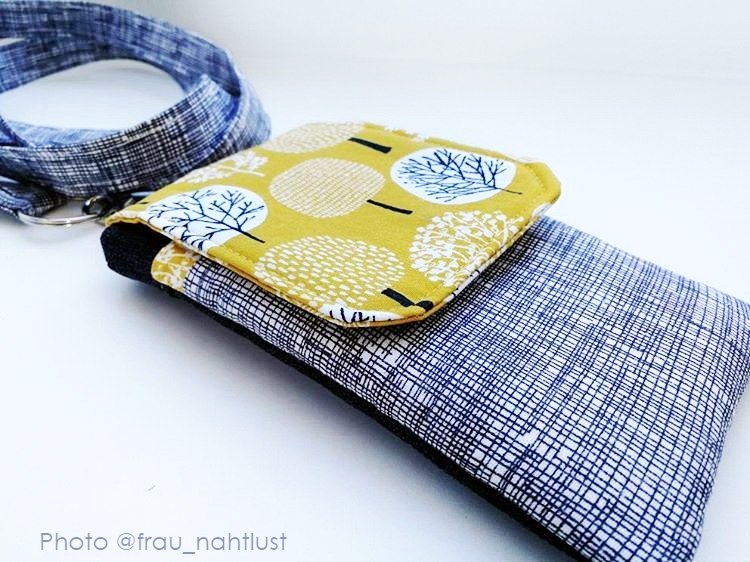 "... Currently we don't really need huge bags when going outside but rather a tiny one holding your mobile, some money and the keys. The pattern "Aiden" (...) came in just handy for my Easter sewing plans."

Susanne at @frau_nahtlust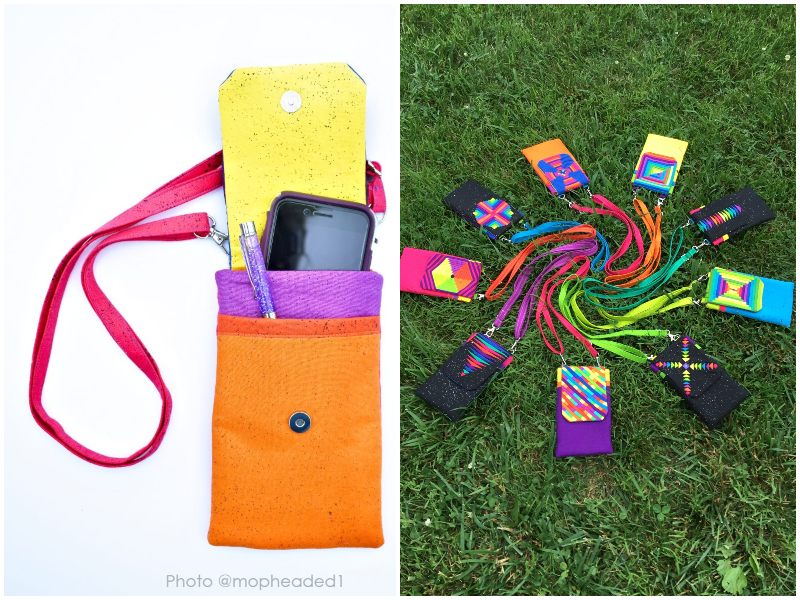 'This pattern was so well written and the photos are so great since I am a visual learner.'

Wanda @mopheaded1
Wanda at @mopheaded1 has made all these fabulous Aiden cell phone pouches, how cool are these! And the tiny piecing blocks on the flaps - she used her pieced blocks made in the Mini Series SewALong with Giuseppe Ribaudo and Alison Glass. That pop of color, I love them all!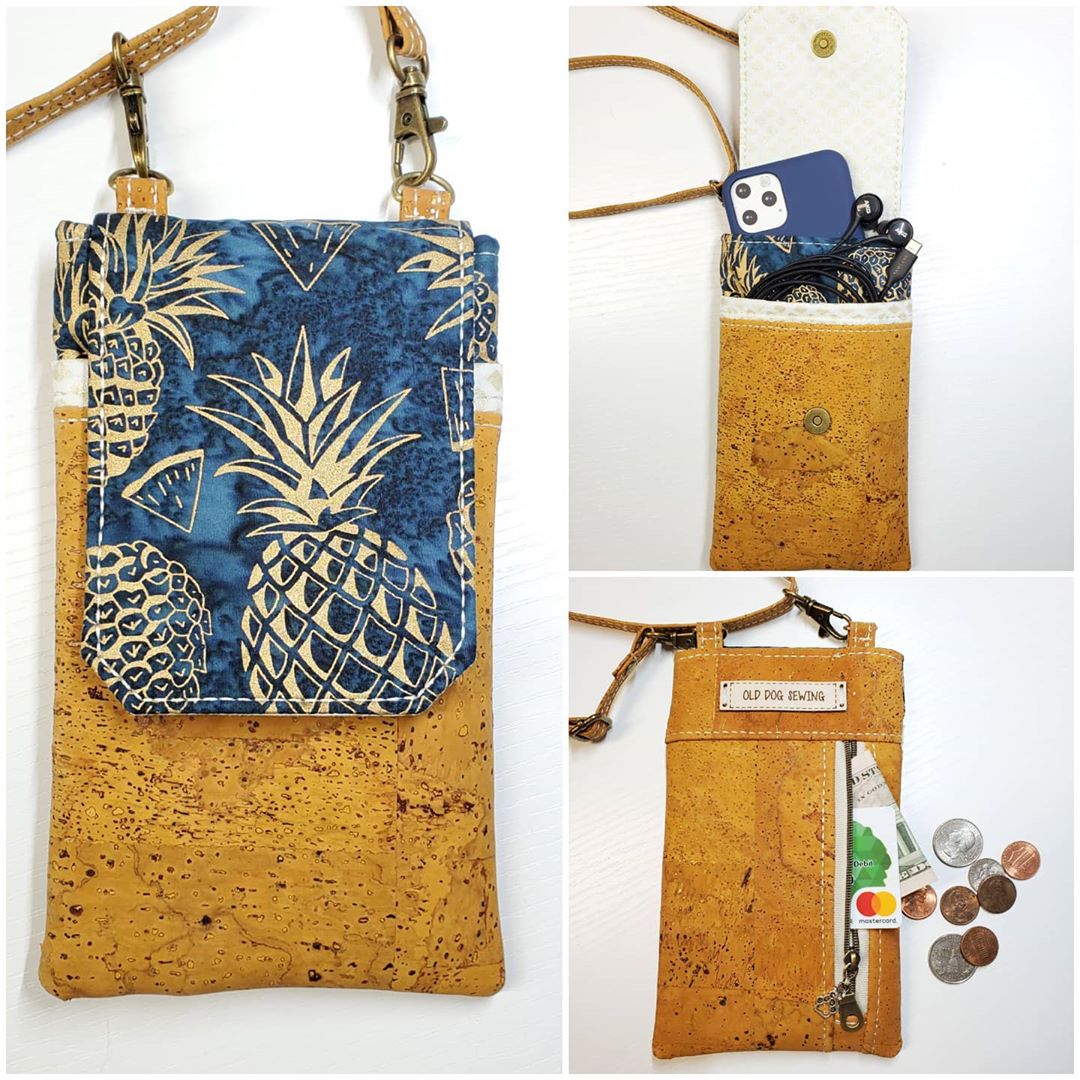 "It was a fantastic scrap buster project and I'm looking forward to making more of these. The adjustable strap can be used crossbody, shoulder length or around my waist. I can see using this minimalist style at summer fairs, camping, hiking, etc once we all get to be out and about again. Until then everybody stay well and craft on!"

Noelle Feldhege Brooks @olddogsewing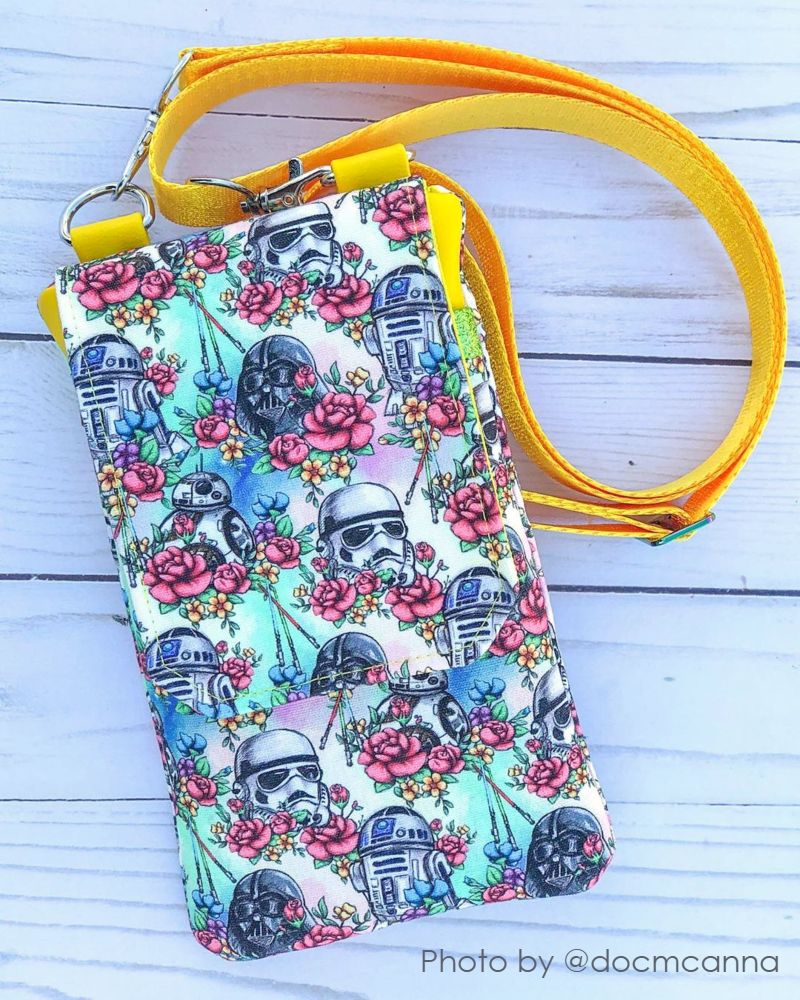 'I absolutely love the Aiden cell phone purse. So cute and customizable. '

Anna M. @docmcanna
Wow this one is 🔥 the starwars print -love! And the yellow strap, the green glittery pocket top, and the zipper - click through to her post here to see it yourself! And here's one more from her - she said she just had to make a Dark Side bag to balance out her Light-Side one 🙂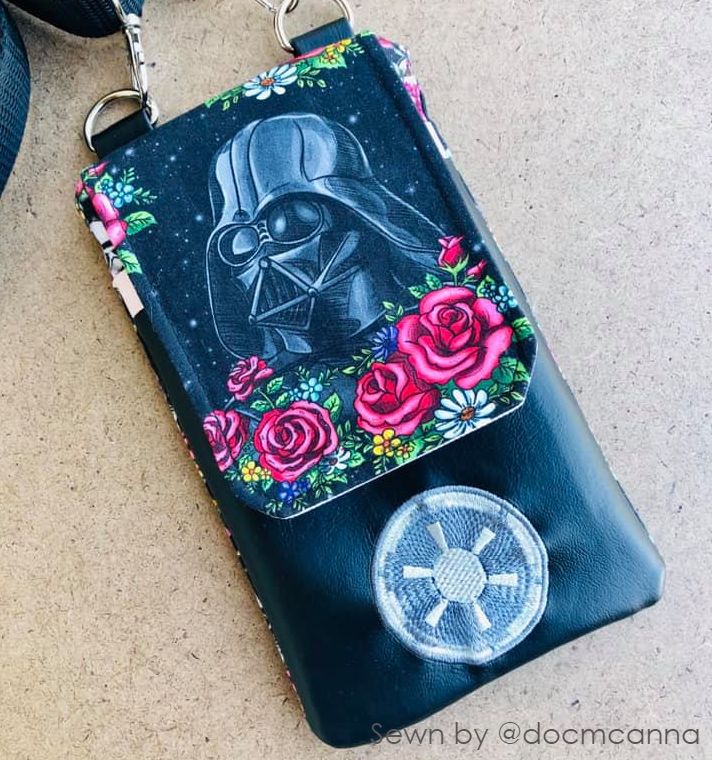 'I've made so many of these [Aidens] that I've got the sewing down to an hour... Well, cutting and interfacing takes a bit longer, but just sewing took an hour this morning. I was amazed!'

Anna M. @docmcanna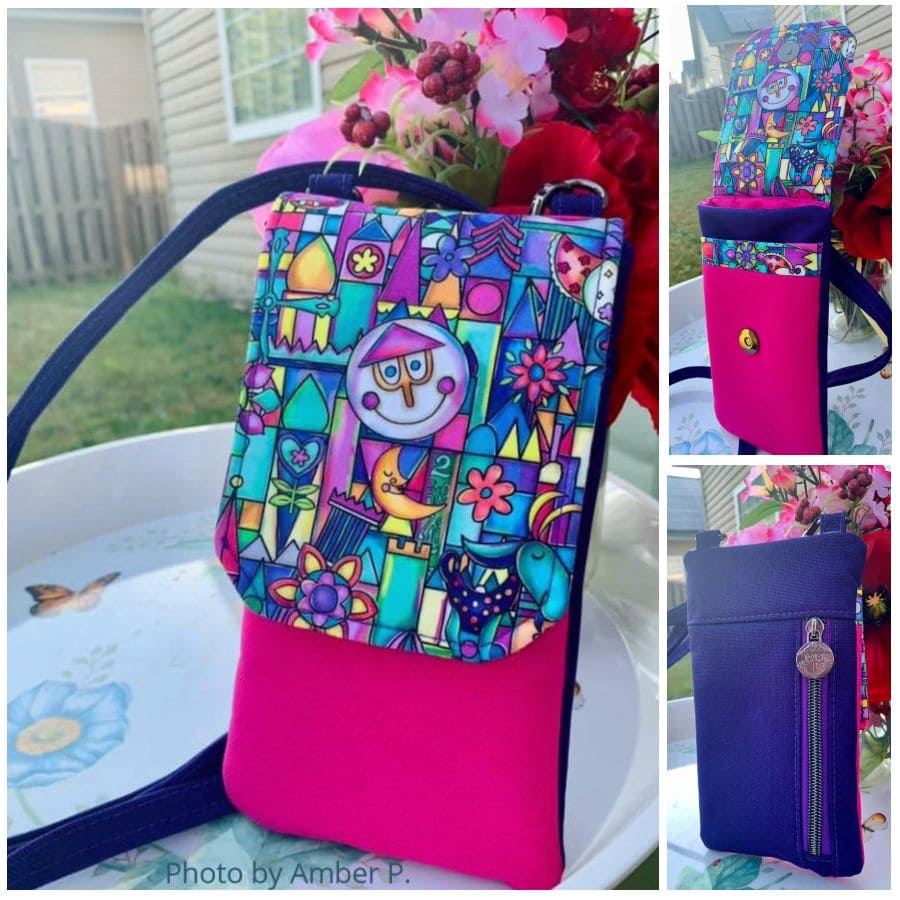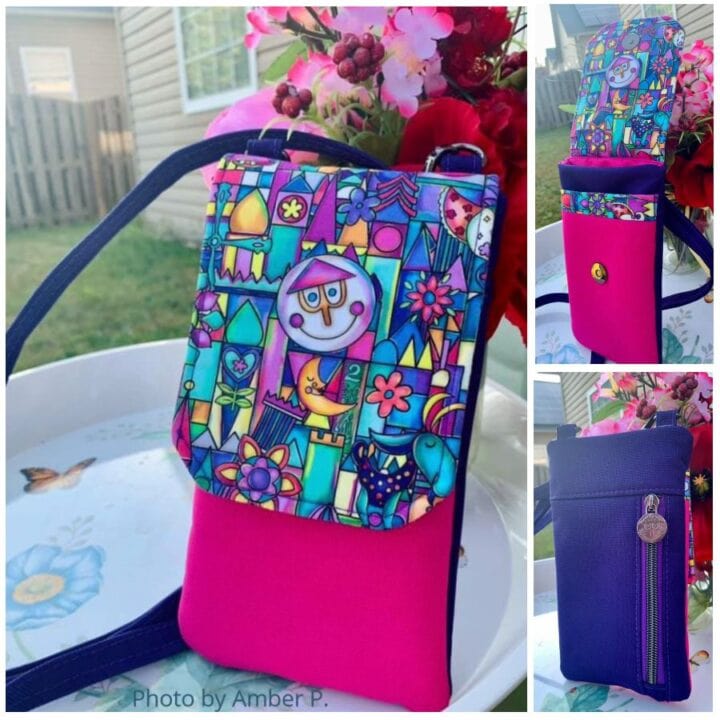 'When I first started learning to sew bags I was overwhelmed with pattern selections. There are just so many choices. This Aiden Cell Phone bag by AppleGreen Cottage - Sewing Patterns & Free Tutorials quickly became a favorite. I loved how useful this bag was, all in a tiny package. This quickly became my going-out bag. It is padded all around and fits my IPhone perfectly in the front pocket. I love the back zip too. I throw cash, cards, lip gloss in it to keep close while walking.'

Amber @ Lion&Lop Creations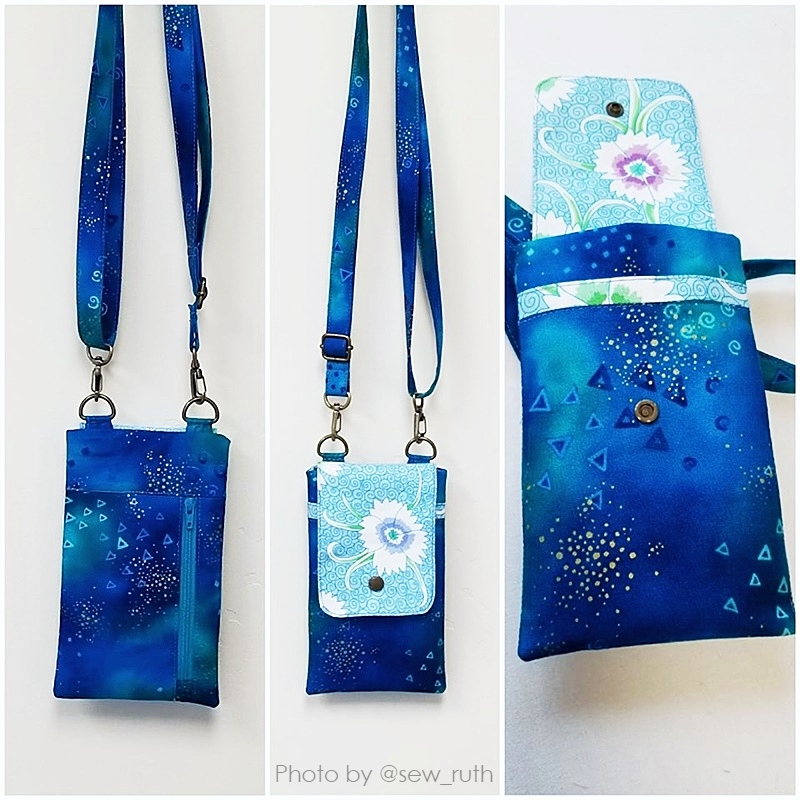 "Aiden Cell Phone Case was a fun pattern. My first by Apple Green Cottage." Ruth @sew_ruth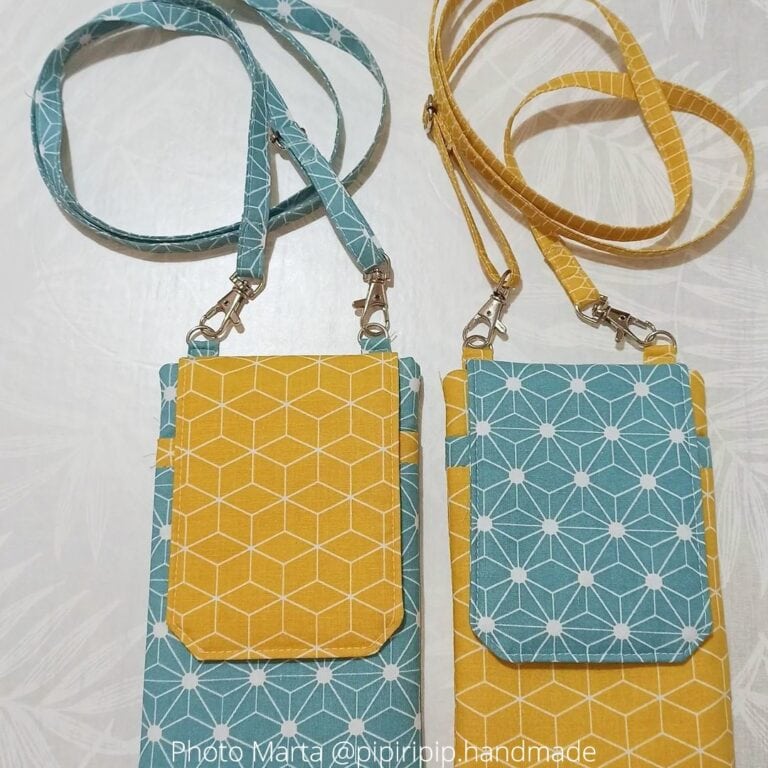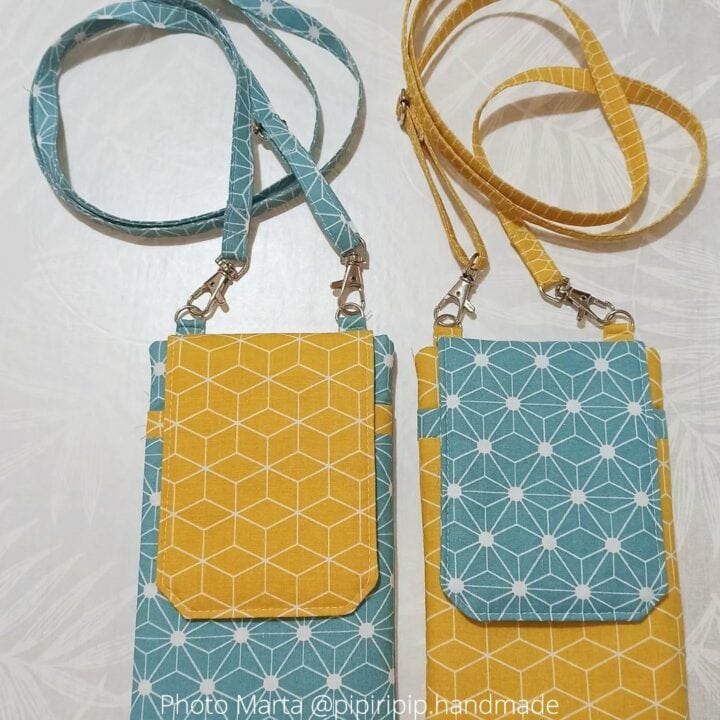 'I loved the pattern. I'm going to be making more for sure!'

Marta @pipiripip.handmade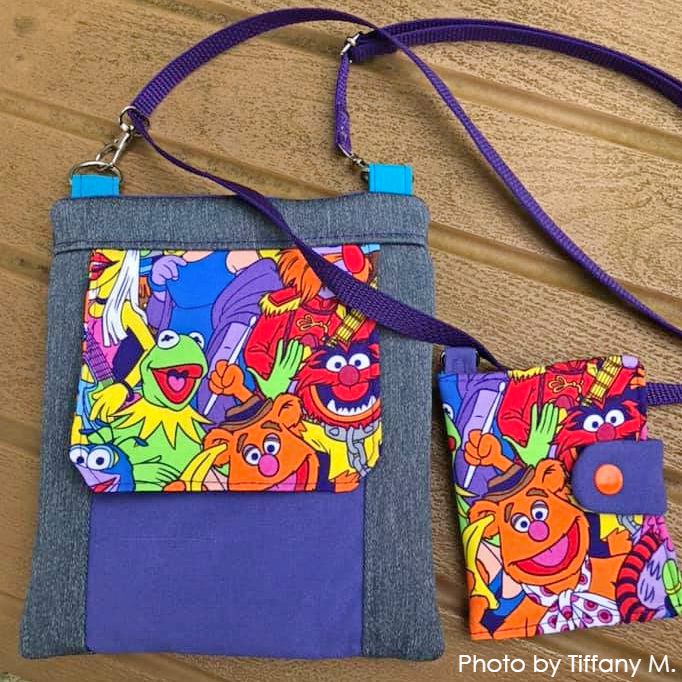 Here's a photo by Tiffany M. she made the cutest set of the Nea bag and the Kalina mini wallet. I can see a perfect present for kids in these two combined! (And while at it, you can use any bits of scrap fabric left from other projects too!)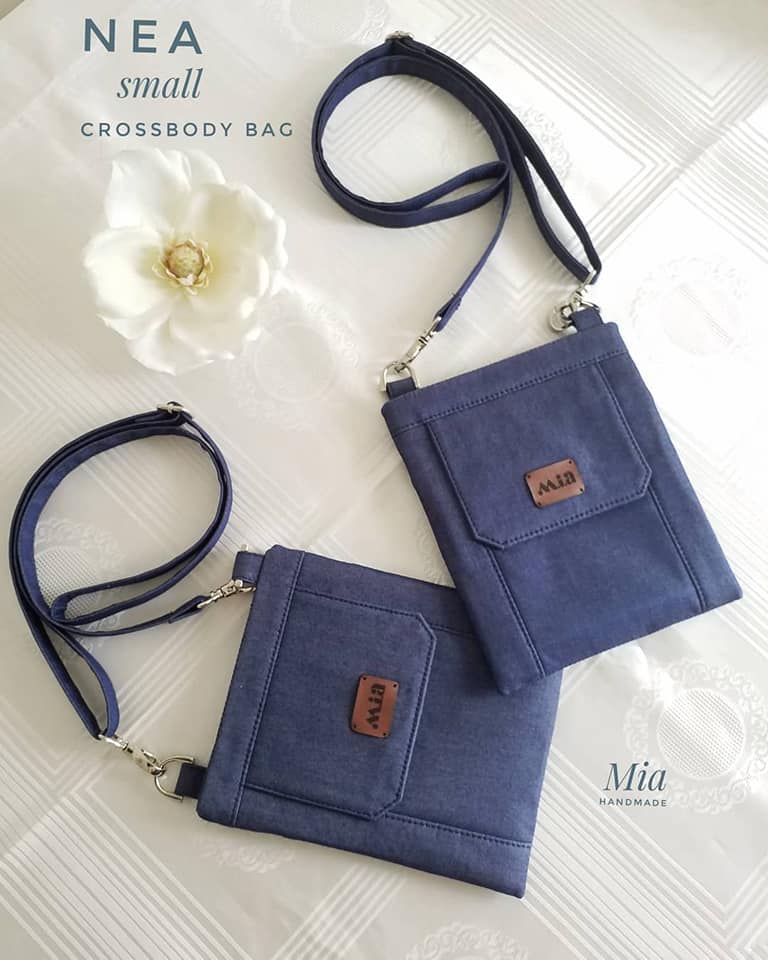 These two came out adorable, and the denim looks just perfect for the job.
'These are custom orders. I was really pleased with my first one so was delighted to be sewing another two Nea Crossbody Bags'

Maria @miacreates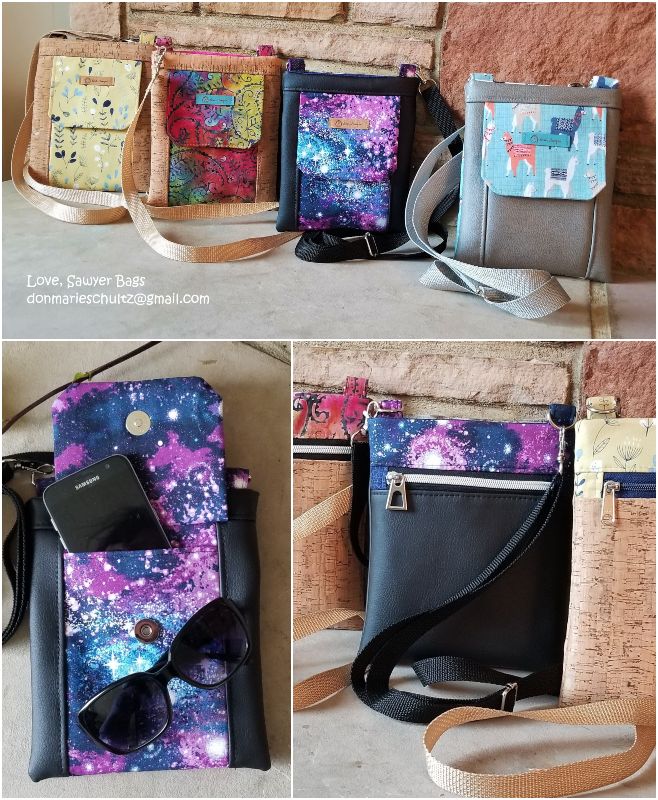 These were sewn by Donmarie Schulz. She makes beautiful bags, and donates all proceeds to a few charitable organizations, in memory of her deceased daughter, Sawyer. An incredible, touching story behind her creations. Visit her here at Love, Sawyer Bags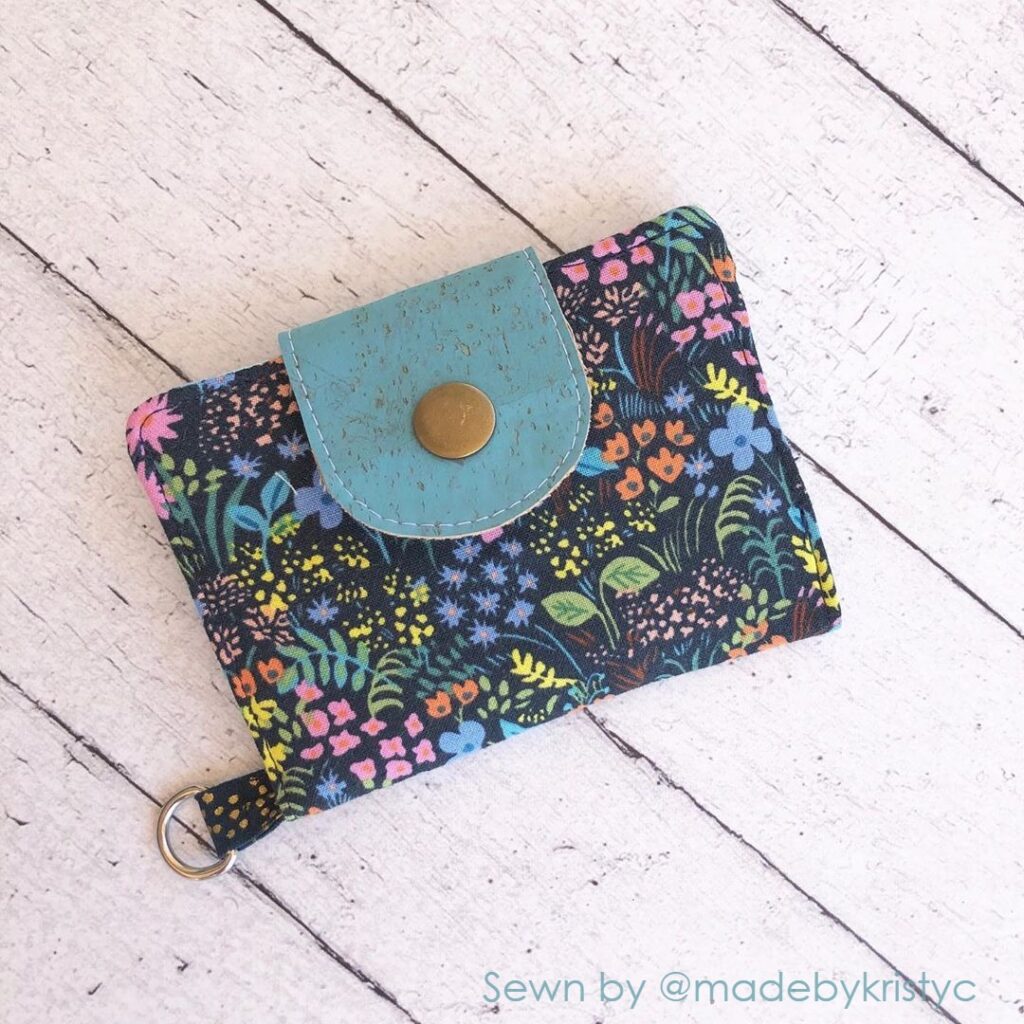 Made a Kalina wallet today. Love it!

- Kristy @madebykristyc
(This beautiful Kalina Mini wallet was sewn already on the day the pattern was released. How cute and fast, and perfect with a cork flap!)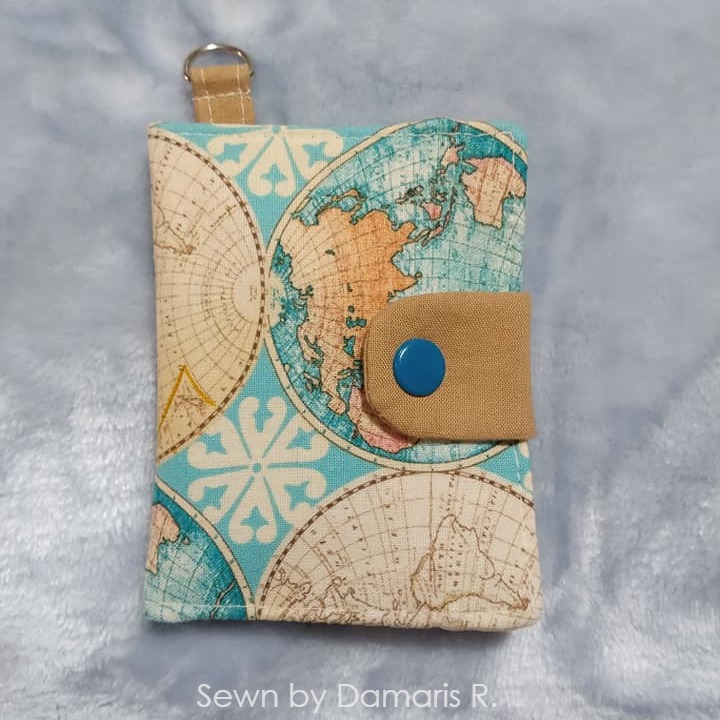 And this one - isn't it sweet! Sewn by Damaris Rodriguez - thank you, Damaris, for letting me share it with my readers!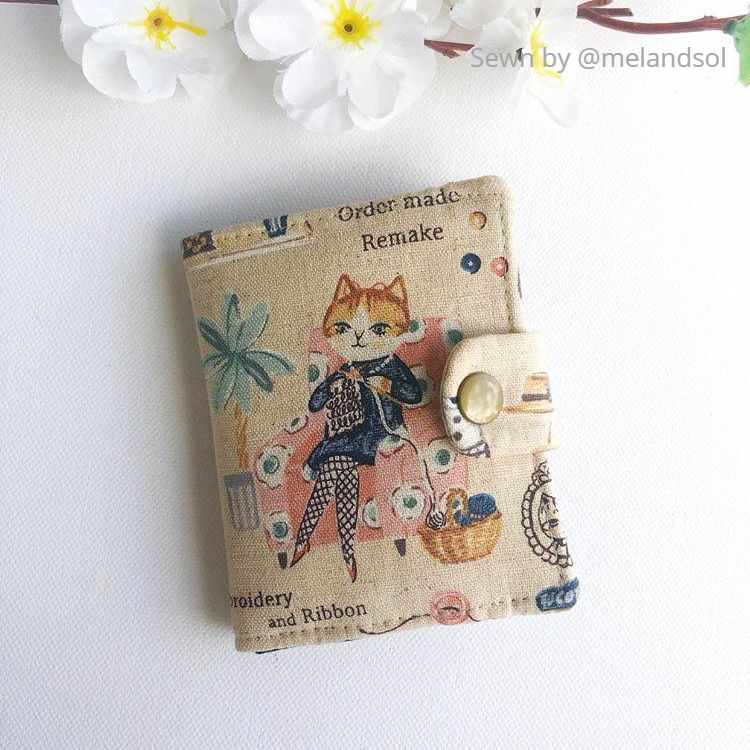 'Thanks so much! ☺ I found the pattern really well written and clear, and I'll definitely make a few more.'

- Mellissa @melandsol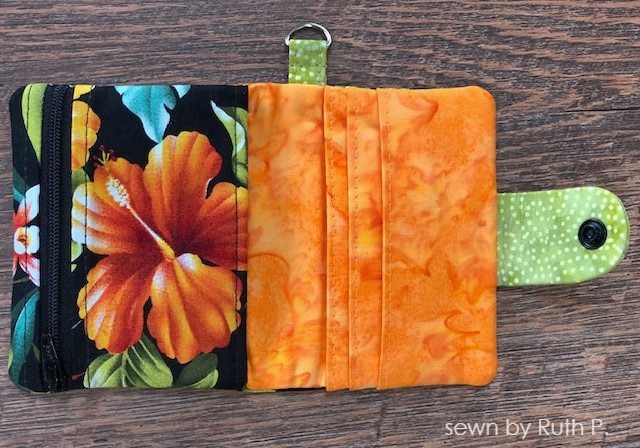 "Just finished my first Kalina. I made it to go with a travel set I made for myself. I'm a bit of a minimalist so this pattern was perfect."
"I want to complement you on the clarity of this pattern. It was a joy to do!!" Ruth P., bagmaker and member of the FB group.

The Kalina Mini Wallet from @applegreencottage is the perfect minimalist wallet for just the essentials! The wallet includes 3 credit card pockets, a deeper pocket for bills/receipts, and a zipper pocket for coins. You can add a d-ring, split right, or swivel clasp so you can carry it with your keys or clip it to your bag or belt loop. A snap closure keeps everything secure. Cara @earlybirdstitches
(Cara has sewn a lot of cute little Kalina wallets so far. I love them all!)
KALINA Pattern Review By Kris @SewNotes
Here's a video KALINA PATTERN REVIEW on Youtube, recently posted by Kris @SewNotes one of my pattern testers. Check it out HERE, see if the pattern is something for you, and follow Kris, she's got more hands-on reviews and sewing tips - visit her on her Youtube channel.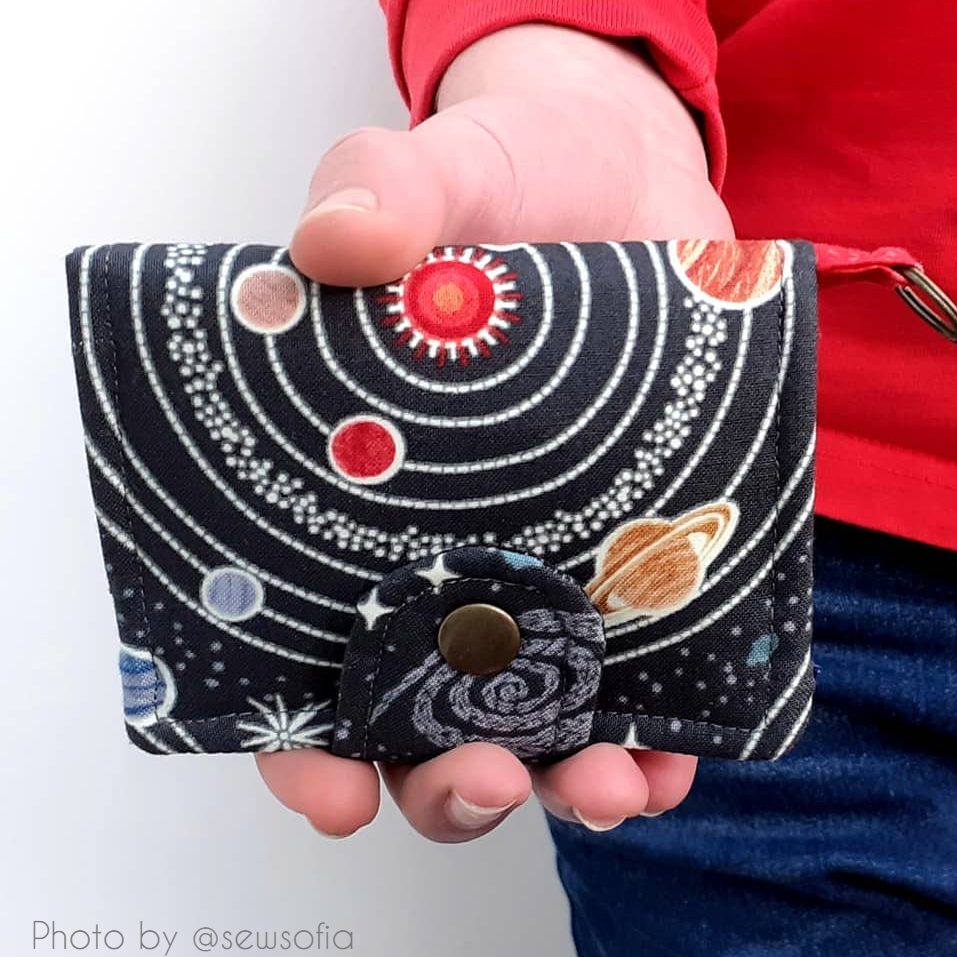 Photo by Louise at @sewsofia and get Kalina pattern here. 💥
'I've been hunting around for a unisex bi-fold pocket-sized wallet suitable for kids and grown-ups too...and I think this may just be it!'

Louise A. @sewsofia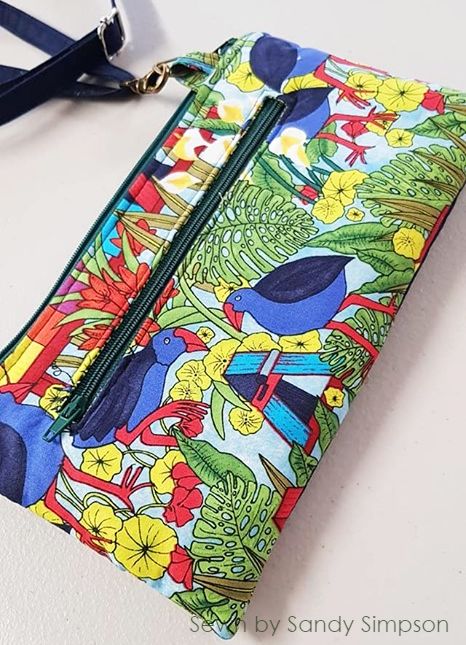 'Thanks for such a wonderful pattern.'

Sandy Simpson
Sandy Simpson made this beautiful Enya Wallet in a beautiful print featuring the pukekos birds, native to New Zealand. I love it!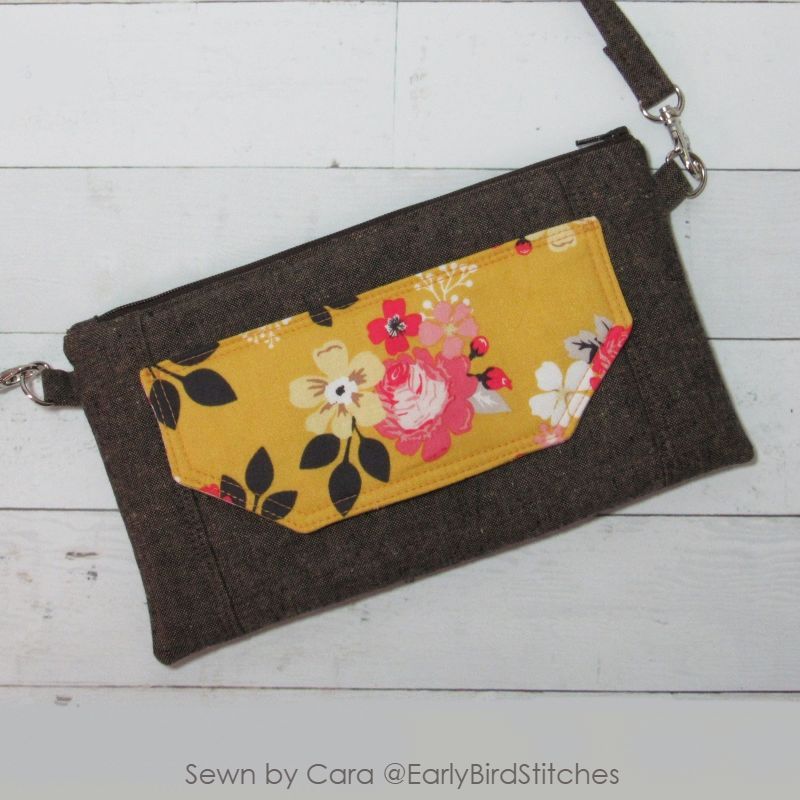 'This is the Enya Wallet from AppleGreen Cottage, and it's so cute! I used Essex Linen for the outside and then paired it with this beautiful floral print and some coordinating fabrics for the insides. It has a small pocket on the front under the flap, a zipper pocket on the back, and then a zipper pocket on the inside along with card pockets and a slip pocket. A removable cross-body strap lets you grab and go! Perfect for just the essentials!' Cara Girven @EarlyBirdStitches.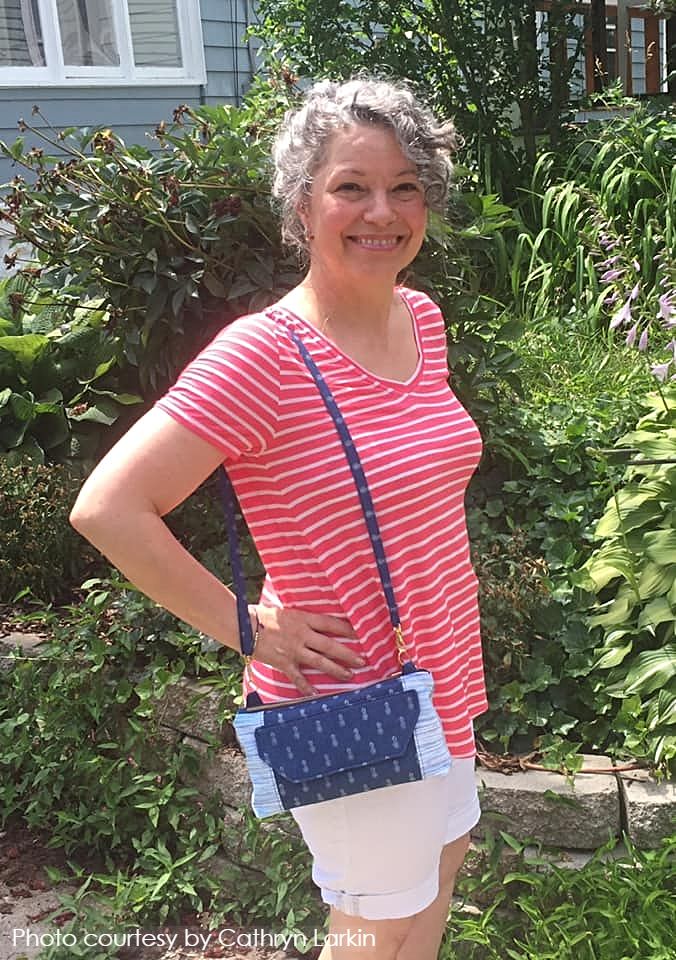 Cathryn Larkin (she made this Enya Wallet at the Enya Sewalong in June 2019)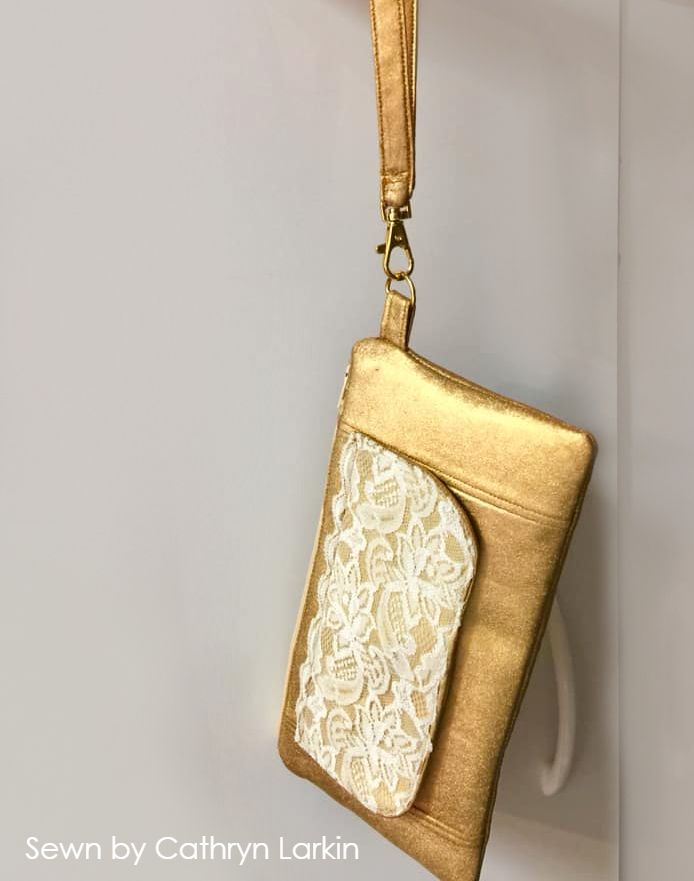 'The first I finished is the dressy clutch. It's going to be perfect for the weddings!' Cathryn Larkin (she made this Enya Wallet at the Enya Sewalong in June 2019)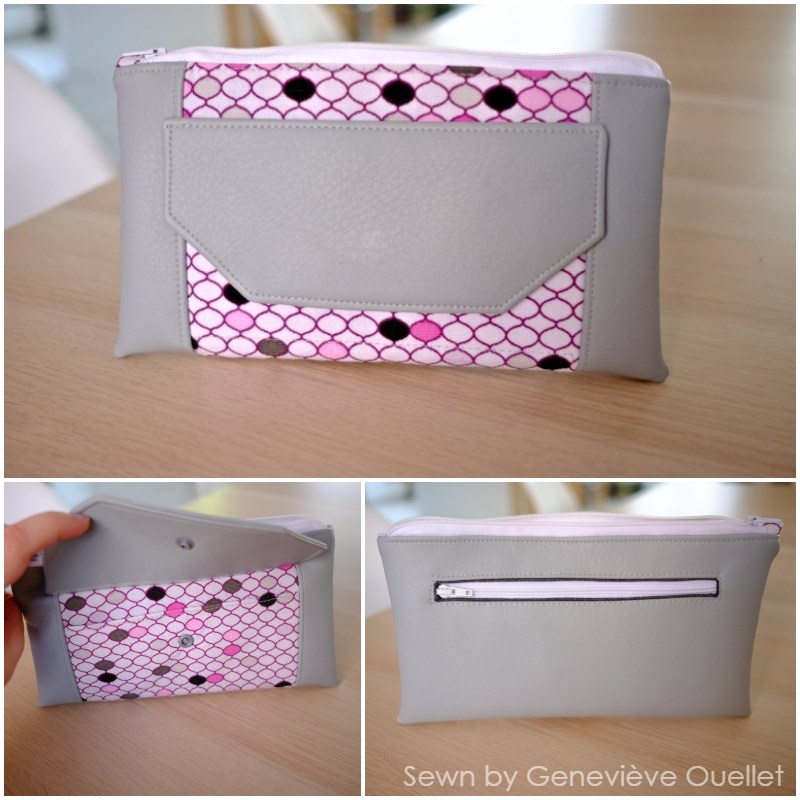 'I love the size of this wallet. It's not too big, but there are many pockets and enough room to put my phone in it.' Genevieve Ouellet, pattern tester.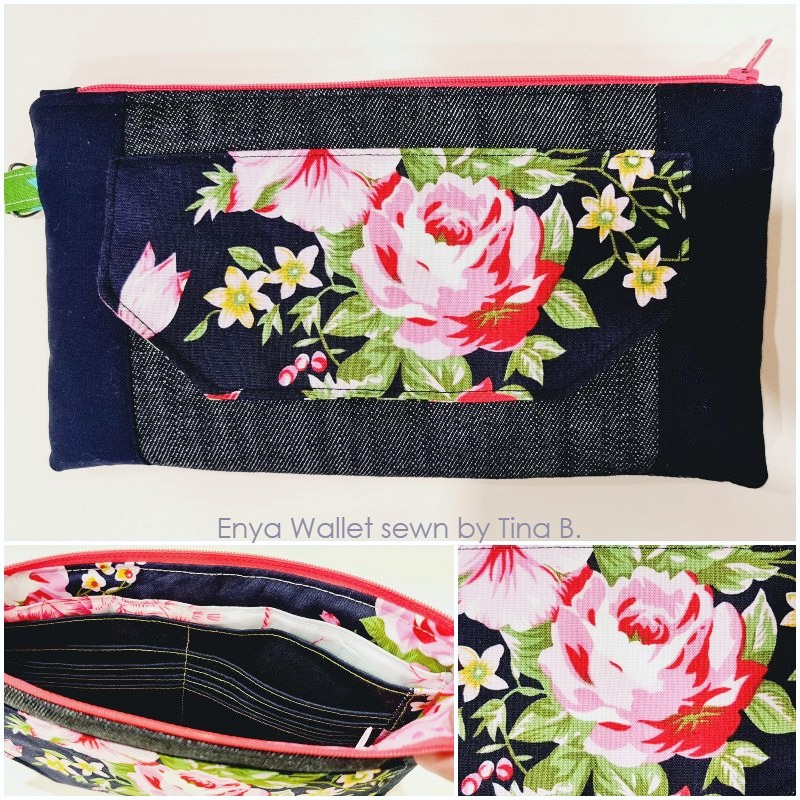 'My first Apple Green Cottage make, the Enya Wallet. I'm very happy with the finish I was able to achieve on this. It was a nice change to not have to struggle at the end of a purse. I've made a lot of different wallet patterns and a lot of simple zippered purses, and this is a nice combination of the best of both. Thanks for a great pattern'

Tina B.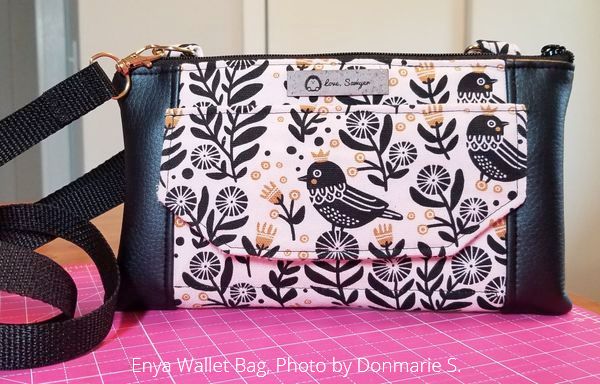 A beautiful Enya by Donmarie Schultz. All the details, love them!
'Your patterns are a pleasure to sew'

Donmarie of Love, Sawyer Bags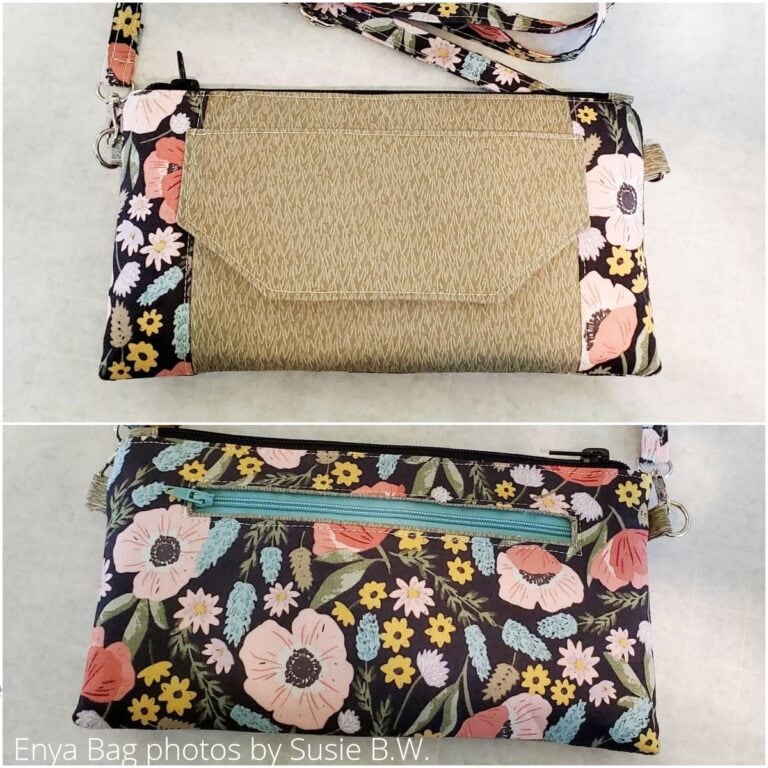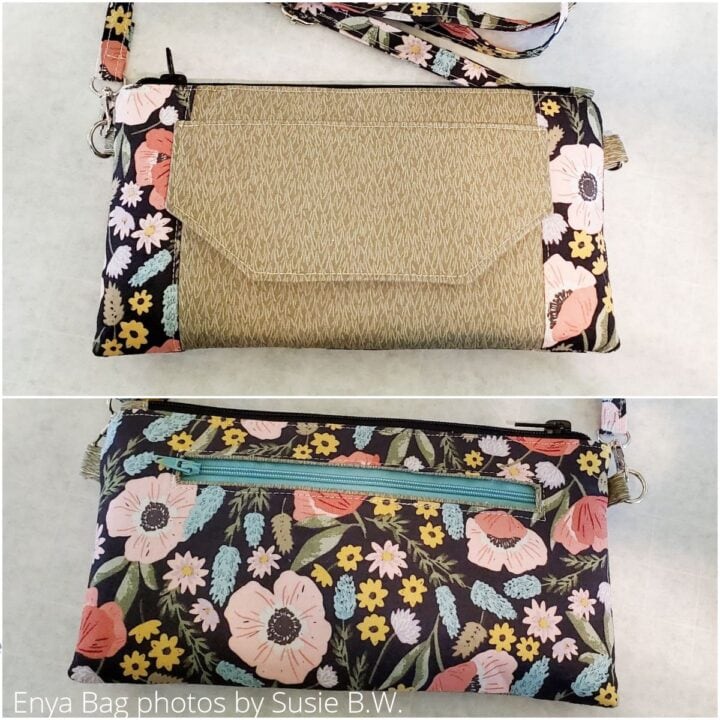 Susie made her fourth Enya wallet bag, this time with the beautiful Tea With Bea florals - isn't it pretty!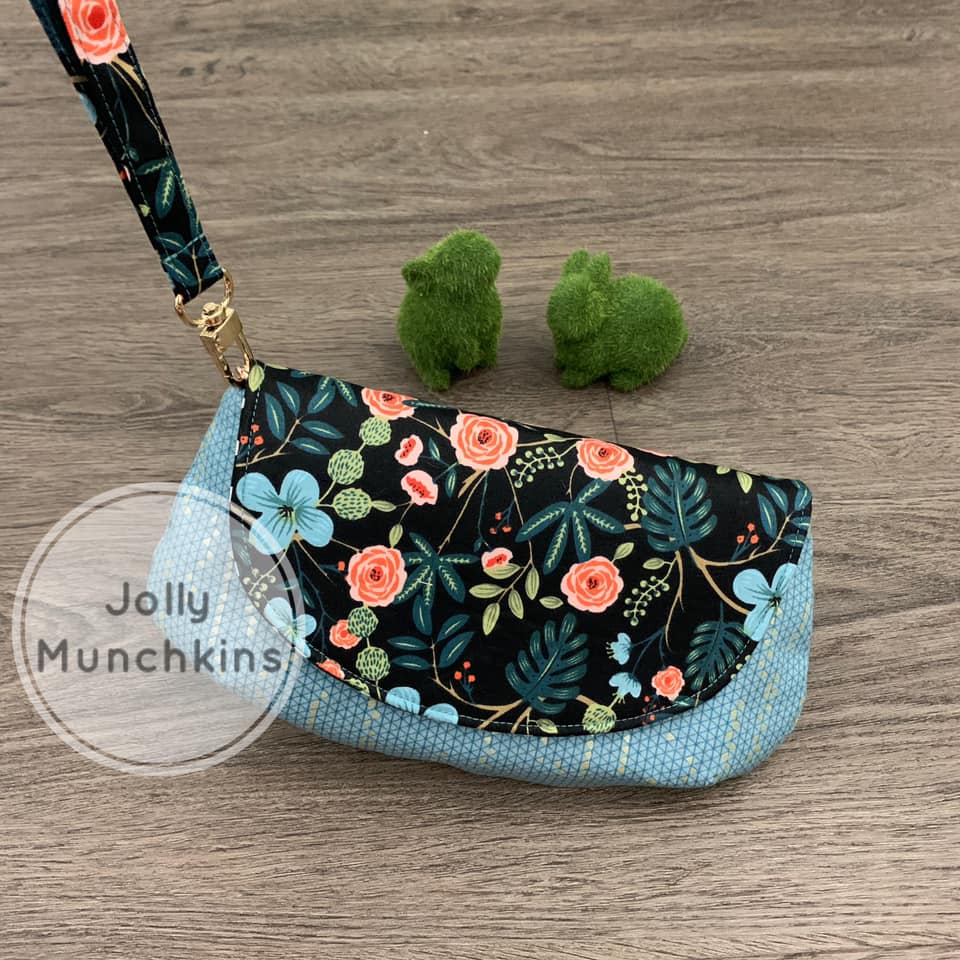 'Used my favorite fabrics on this Glam Girl Purse and immediately fell in love with it. It's so versatile. Can be used as a wristlet or clutch bag for dinner event. Most importantly, it's very spacious! Can put lotsa stuff inside! 😊' by Jolly Munchkins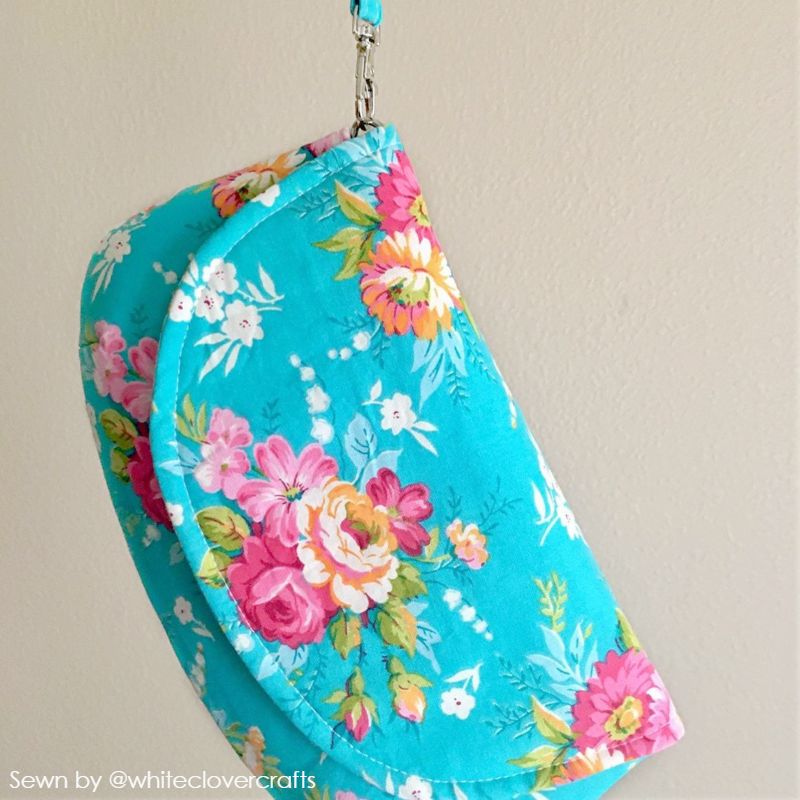 The other day, I showed you a sneak peek of what I was working on. … I made 2 right away and I am in love! My first time using magnetic snaps and it was such a smooth process -I don't know what I was afraid of.

Krista @whiteclovercrafts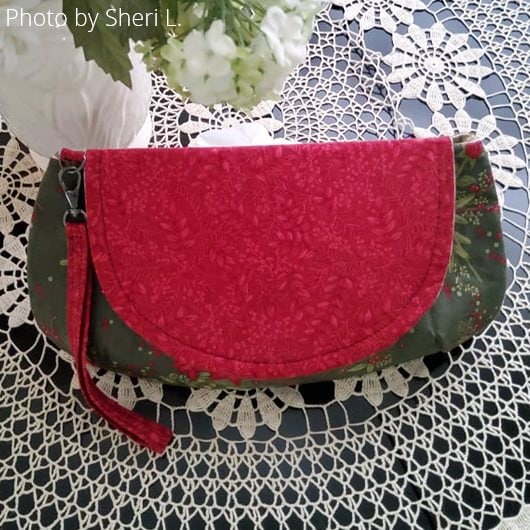 This gorgeous Glam Girl purse in deep red and green was sewn by Sheri Lytle. I admire her style, the choices of fabric and she's made so many sets with my patterns already!
Honestly, I had a hard time choosing just one from all her beautiful projects, so I'm adding another of her Glam Girl Purses here, one with a more 'summery' feel: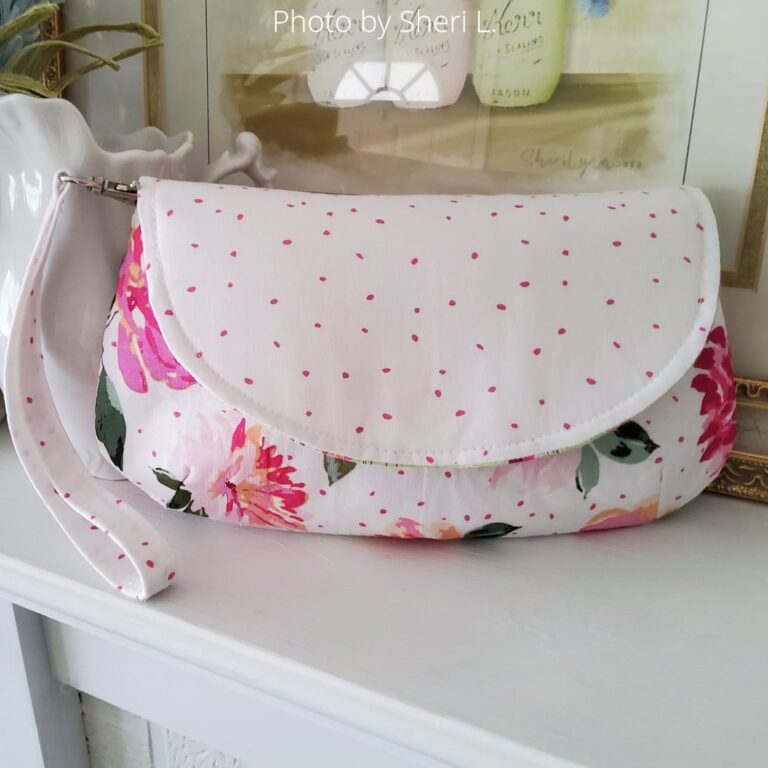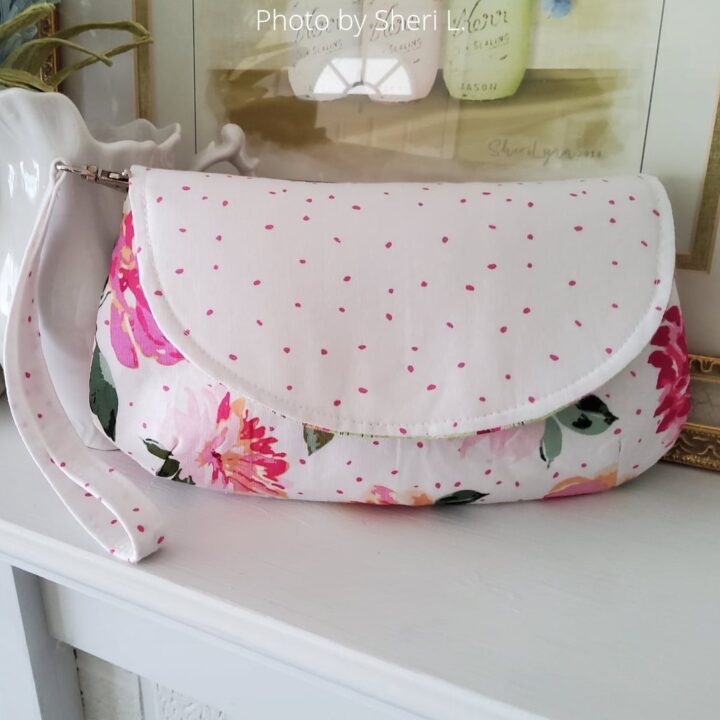 So pretty!
This would be a great day time bag but also great for weddings and special occasions. sewn by Nicki Ulyatt, Bag Maker at @cutelillovelies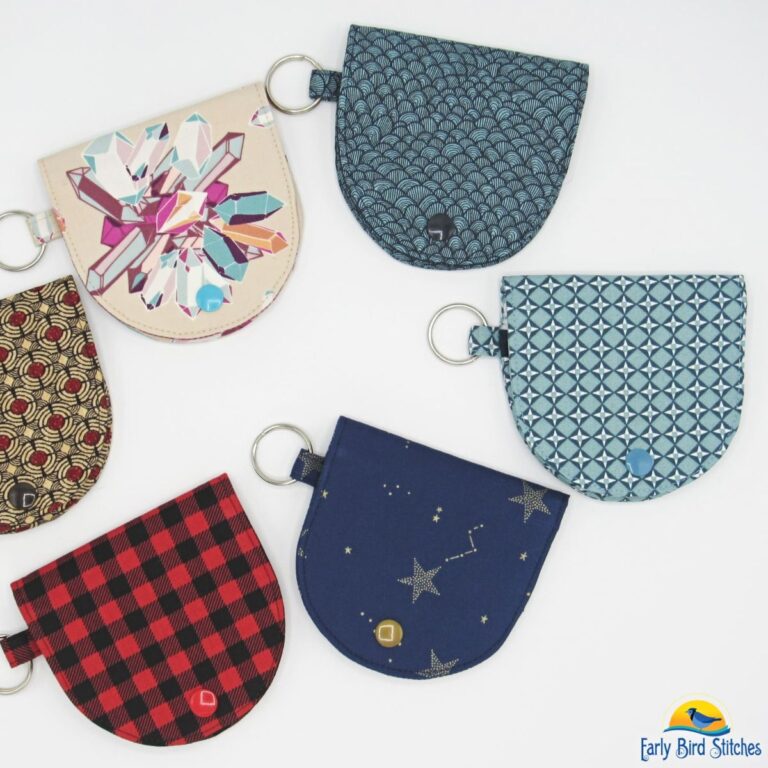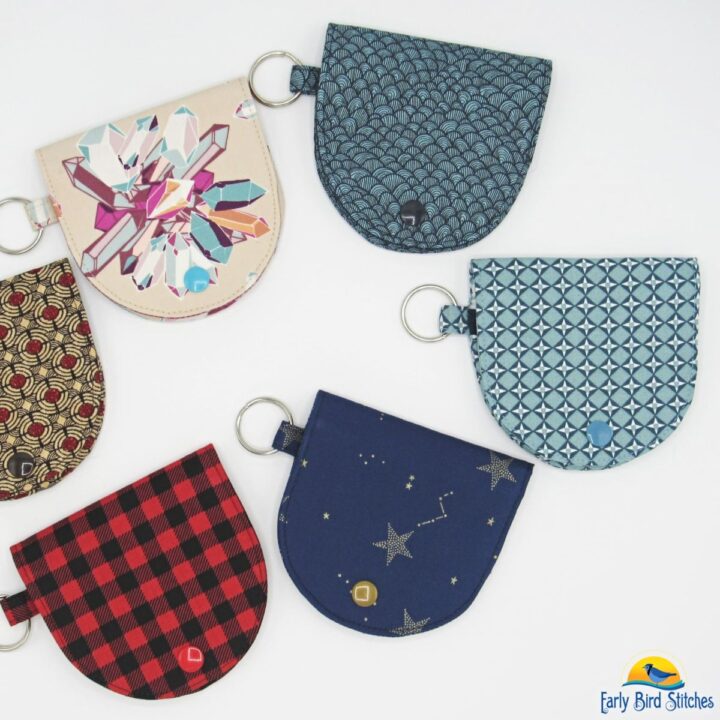 'I had fun with the Half Moon Coin Purse pattern. These are great for just the essentials and such a fun shape!'

Cara @ EarlyBirdStitches
'Cute as a button and holds more than you might think.'

Trudy Lockhart, Pattern Tester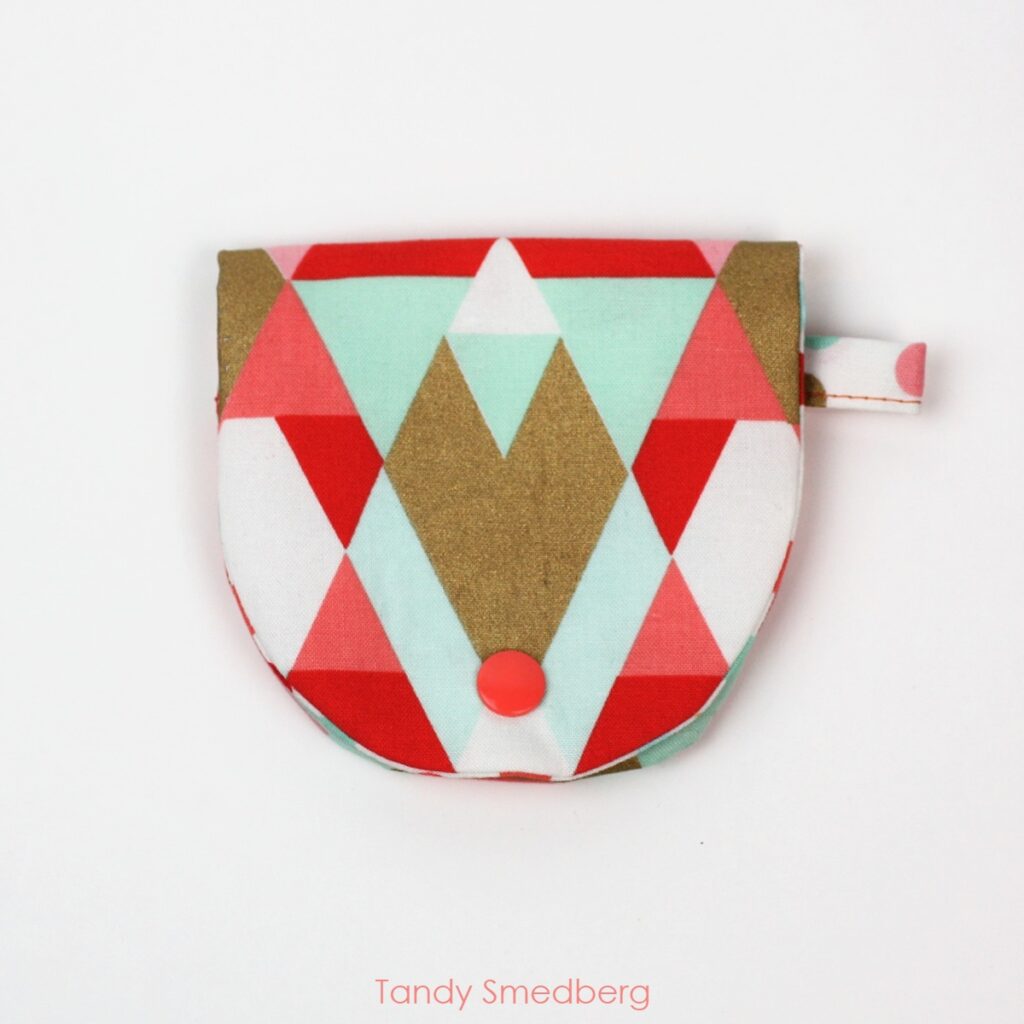 Sewn by Tandy Smedberg, find her on IG at @Designersmed.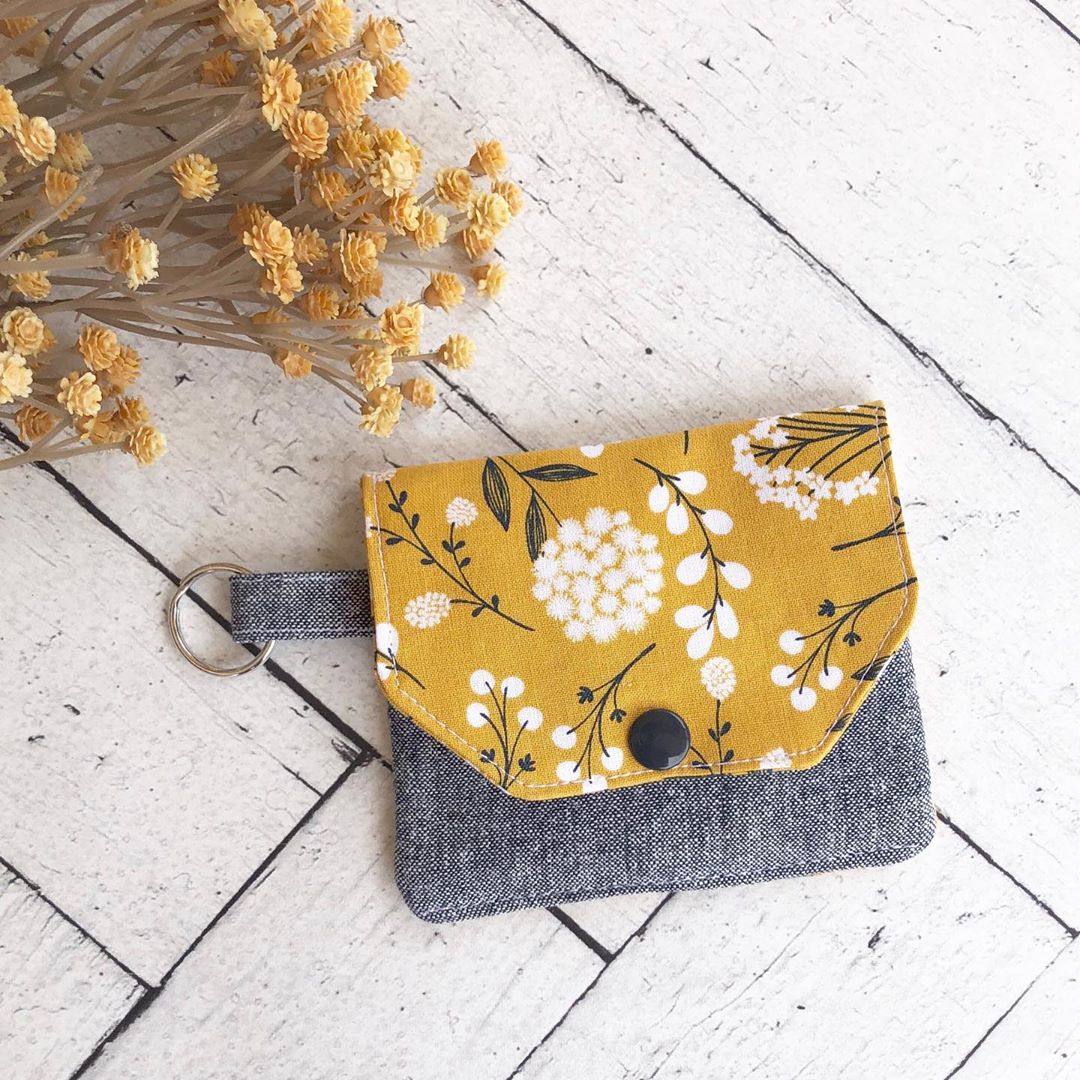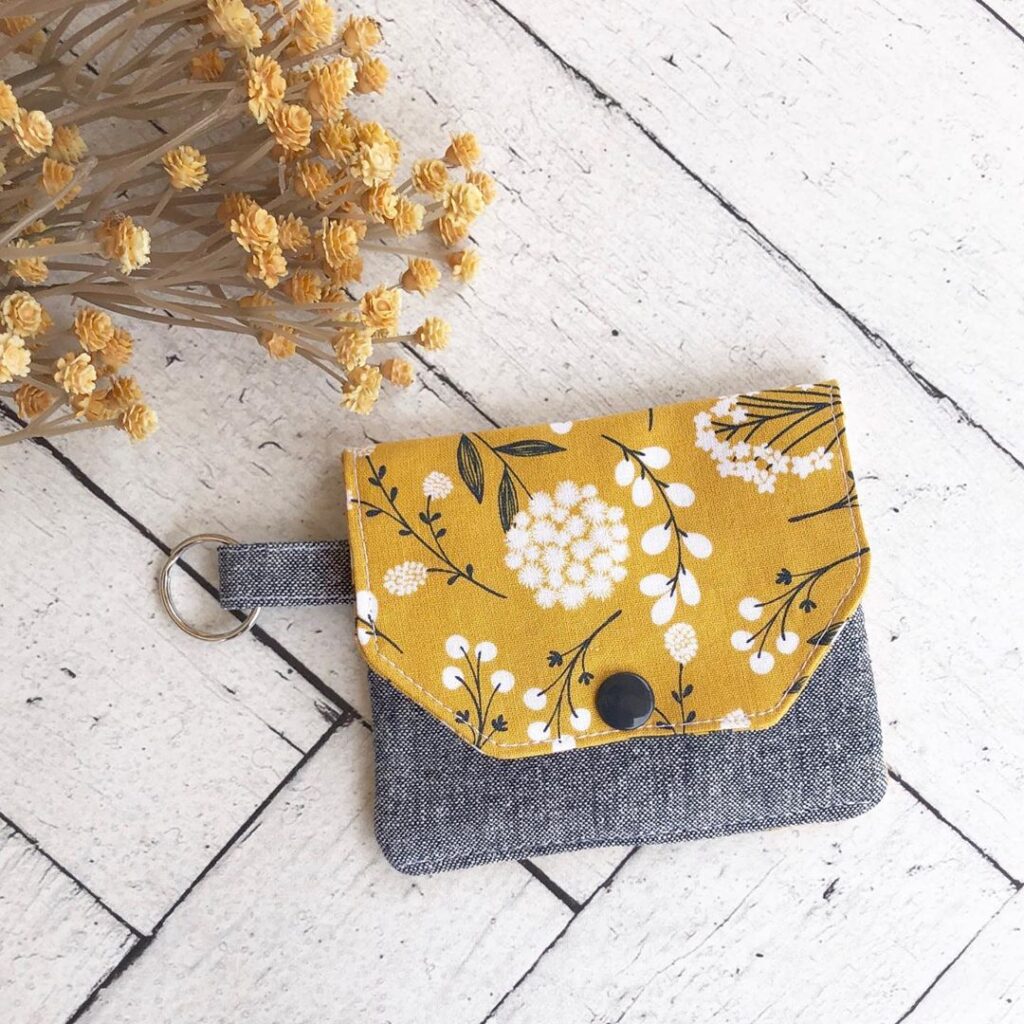 'Tried something new today. This is a Zipper Pocket Coin Purse Keychain, pattern by @applegreencottage. I modified the flap so it isn't rounded. This has a zip pocket and a slip pocket for cards.'

by @madebykristyc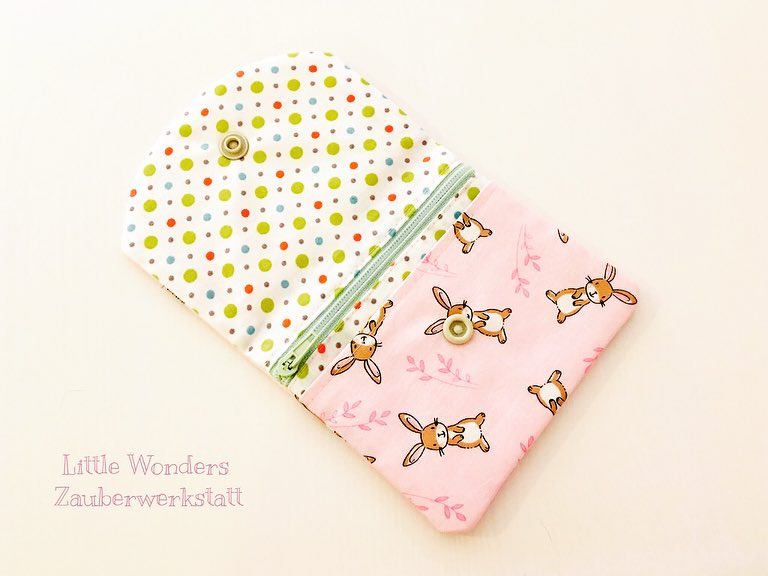 Here's a cute little coin purse sewn by Edith at @Little_Wonders_Zauberwerkstatt I loved the soft pastel tones and the bunnies. (Edith, thank you for letting me show this lovely photo.) Right on time to make a few last-minute diy gifts!❤️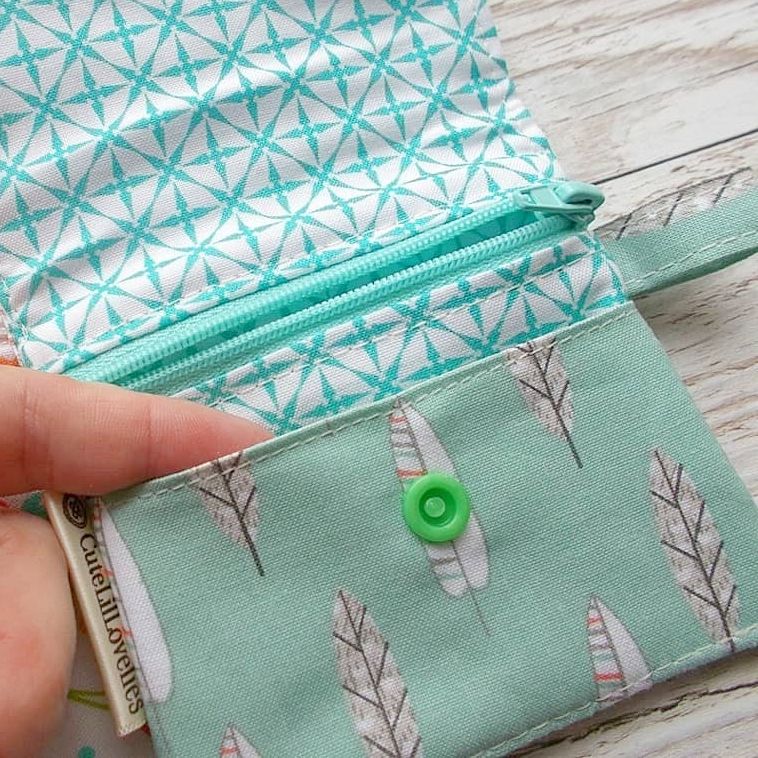 I have been doing some more #scrapbuster sewing today with these lovely ZipperPocketCoinPurses ❤️❤️❤️

- Nicki @cutelillovelies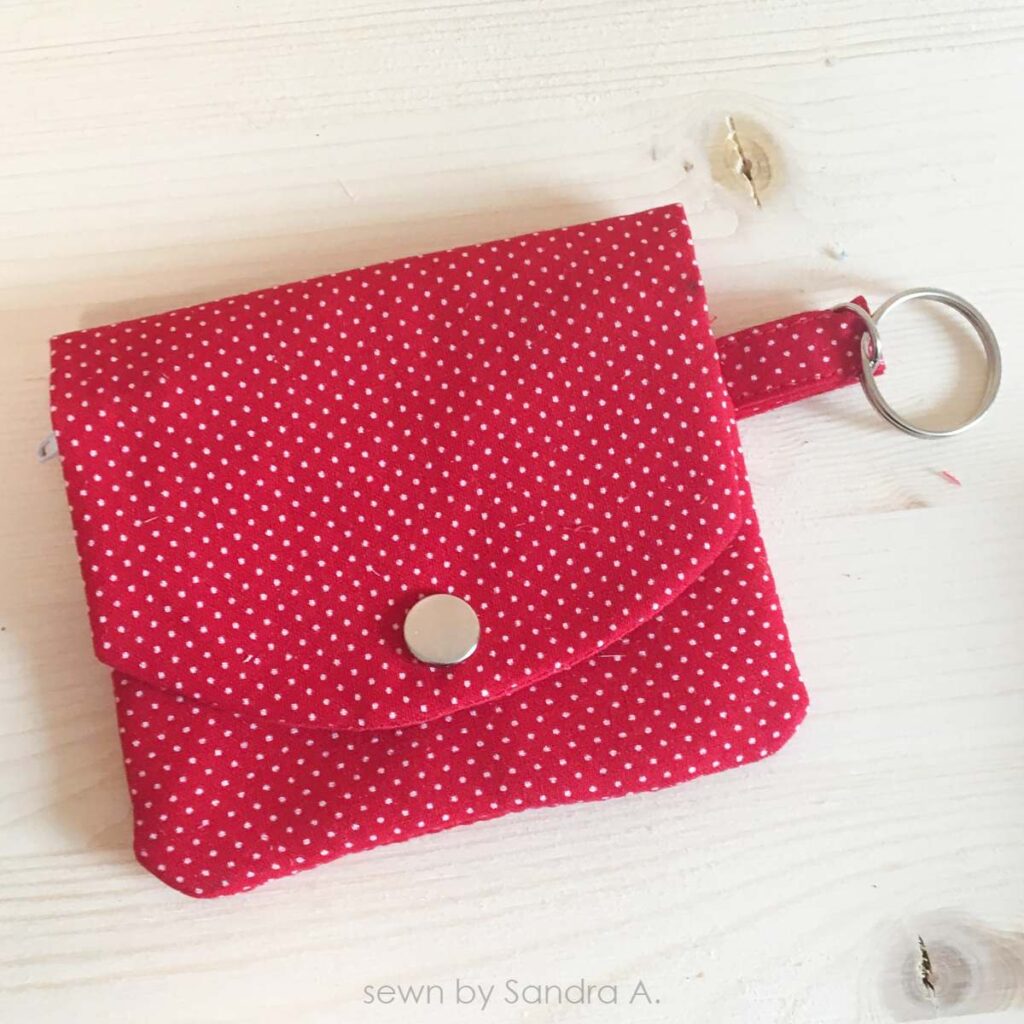 'It 's really cute and was easy to make.'

Sandra A.
"Clear tutorial that's easy to follow. I'm very pleased with this purchase. The purse turned out very nicely and was just the right size for what I needed." says user Plummie
"Great pattern! I bought this to make for my granddaughter and like it so much made more for gifts." says Auntieem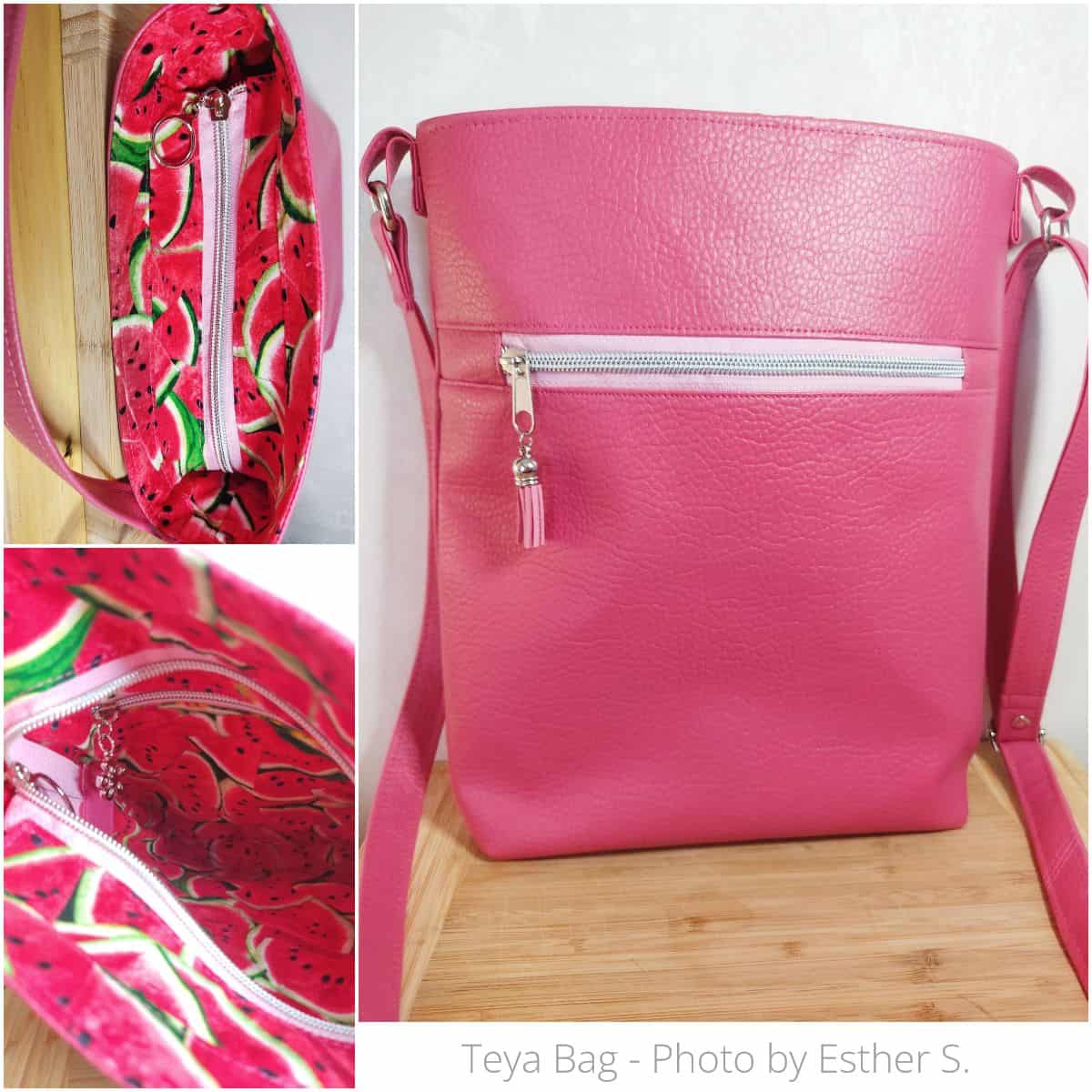 Esther at @keoni_sewing made a pink watermelon Teya crossbody bag for a friend's kid. Lucky girl, this bag will surely be loved and carried around a lot! Pink and watermelons, and the green pocket lining - the zip charm, she's thought of everything.
Also Caroline made her own, beautiful Teya bag and presented it on her blog:
'Damjana's excellent pattern has so many step by step photos I don't know how anyone could make a mistake. I've never used this technique for an inset zipper panel before and it turned out just lovely!'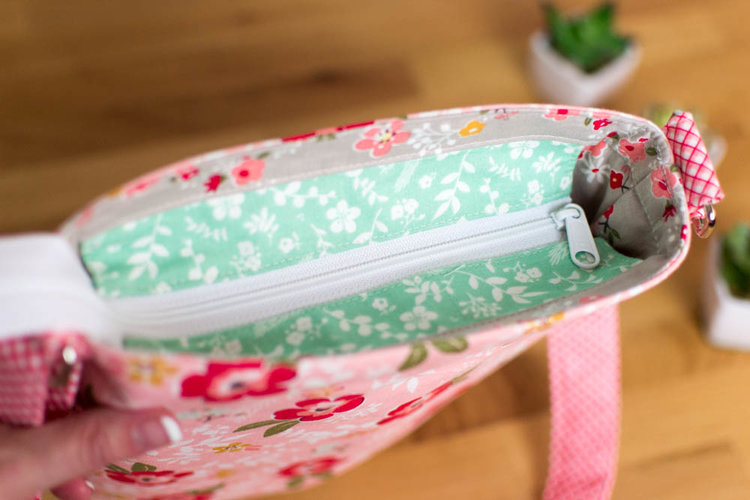 'There are pockets all over the inside and outside of this tote, yay! And cute hardware to make an adjustable strap too.'

Caroline, owner at SewCanShe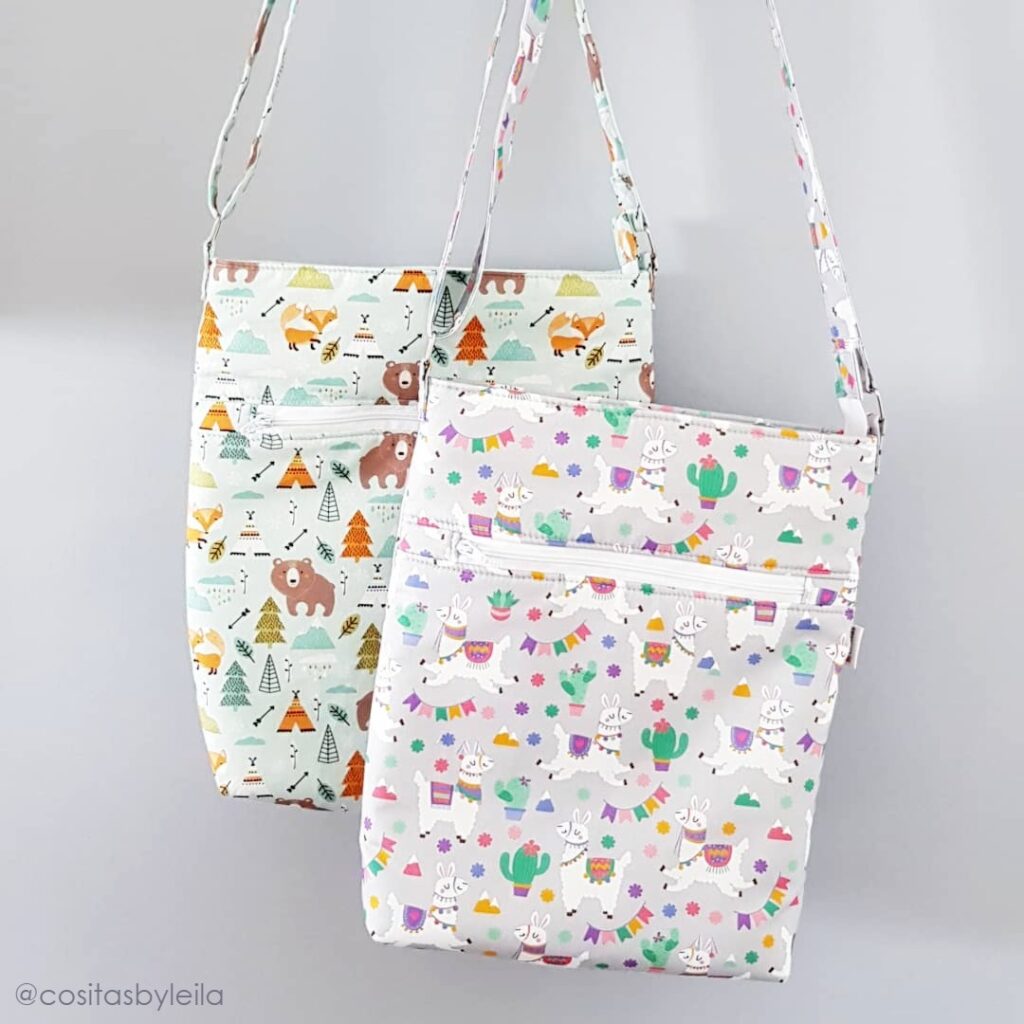 Last month I was so happy to spot not one, but two new adorable TEYA crossbody bags sewn by
@cositasbyleila
from my pattern. What a cute choice of fabric, I still can't decide which one I like more!
'The fabric gift bags were a success! Such a quick and clever pattern from @applegreencottage.'
Deidra, Quilty Obsession
Easy to understand directions
'I am no expert seamstress by any means. But not quite a beginner. I have never made a bag before but wanted to make some for all the kids in my lives for birthdays and Halloween bags, etc. so I printed the pattern pieces which are super easy to understand how to put together. The instructions include pictures and really are step by step. From cutting to pinning to sewing this pattern took me less than a half hour the first time through, and now it's much quicker. Very simple, super cute. A beginner could definitely make these bags and they are easy to modify if you want to make the bags bigger or whatever, it's a super simple process.'

- by Krisinthekitchen
'Neat idea for a gift bag.'
I bought this especially for the technique of the box corners. I have used the pattern as instruction but also have made bags out of some mid-century pillow shams that I had in my stash. They worked out great also.'
by Phyllis on Craftsy
'Easy and versatile
'Easy and versatile. I have used this pattern many times. Easy pattern, sews up fast, and you can easily adjust it to make any size you like.'

- by Nori on Craftsy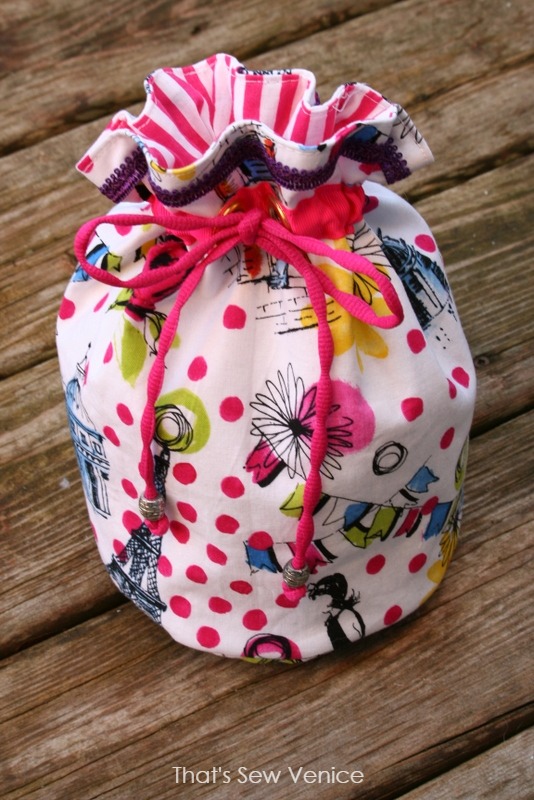 This round basket was sewn by Rachelle at That's Sew Venice. What a cute make! ❤️ Check it out and see for yourself!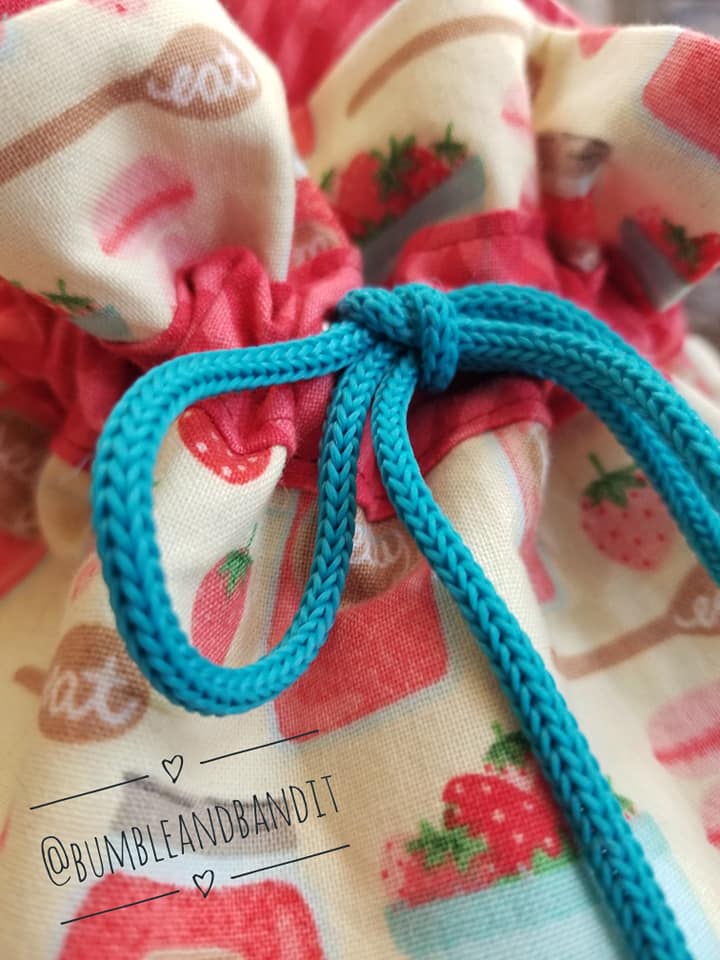 'An adorable gift that you'll be excited to give.'

Sarah Wallace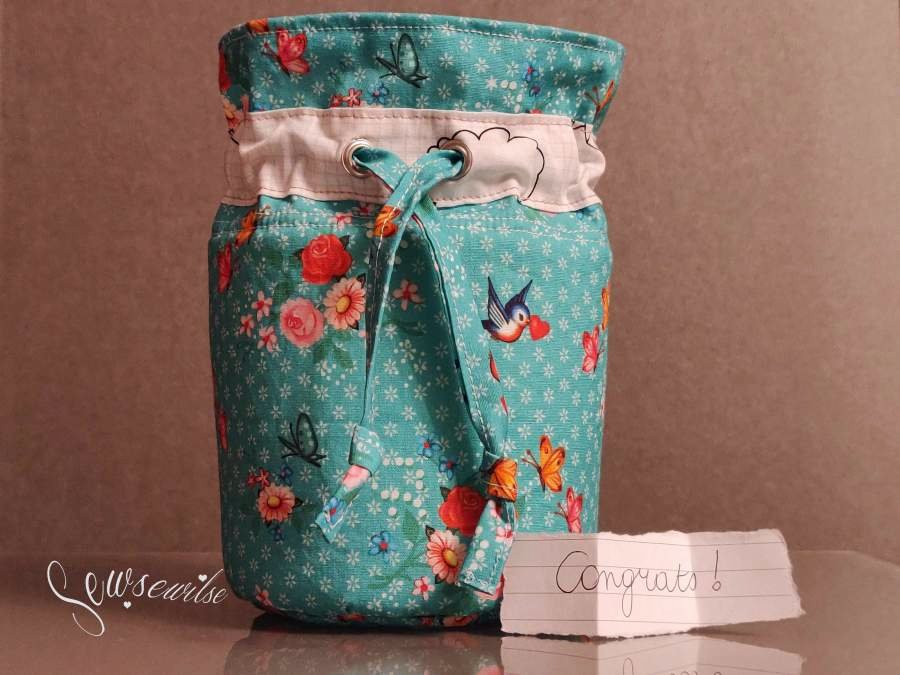 Last week, Ilse from Sew Sew Ilse reviewed my pattern. I love her version of the Round Basket, it's absolutely adorable! And it goes so well with the other gift she's sewn - a perfect combo! Make sure to visit her blog Sew Sew Ilse and find out what it was!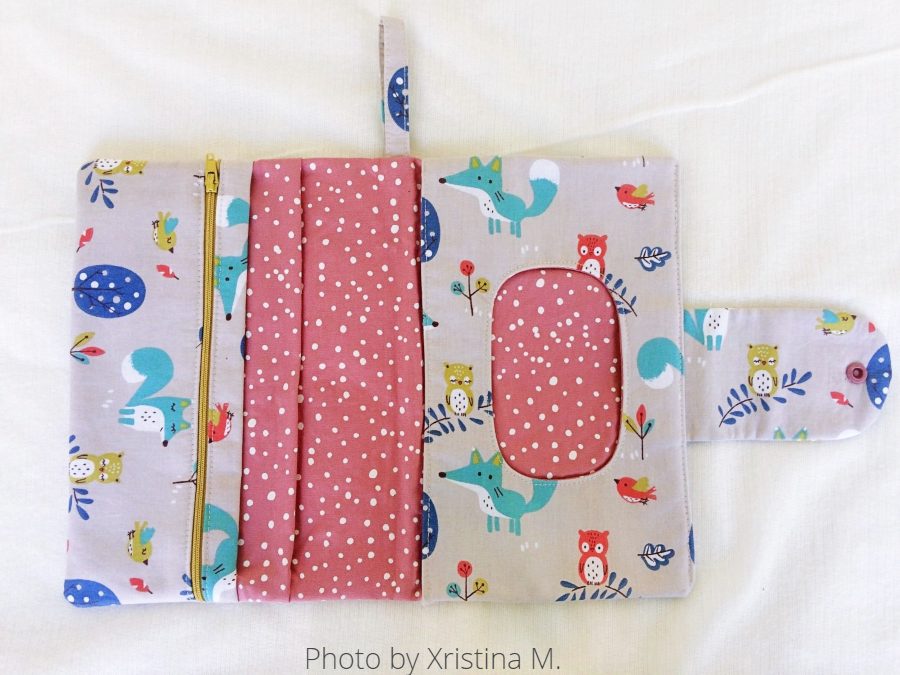 'I have made many of your projects!' says Xristina M.
'Super pattern
I love the patern,easy to sew. made it as gifts for friends and family, they LOVE it. everyone who recieve it say that its the perfect diaper clutch.'
sarit8253156, user on Craftsy
'Easy to follow instructions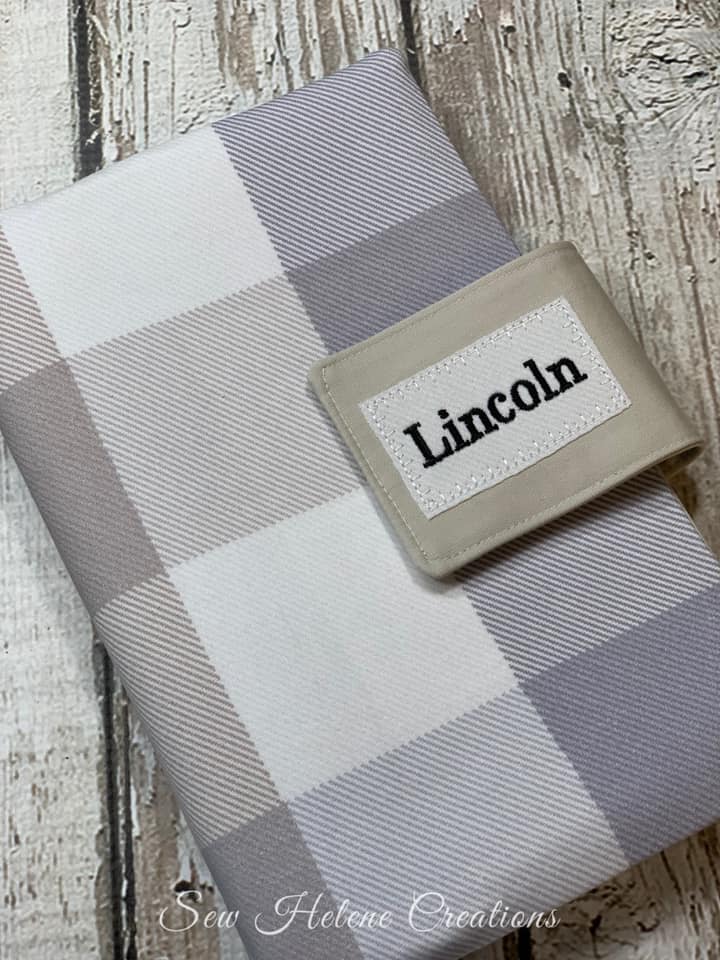 'I'm so glad I found your pattern. Lots of options.' Helene C.
Helene posted this beautiful Ultimate Diaper Clutch in our FB group. So pretty, and I love how she personalized it adding the baby's name. And how the squares match perfectly to the exterior dimensions. That's a brilliant fabric choice!
You can see the Ultimate Diaper Clutch Pattern HERE.
I enjoyed making this nappy clutch, it was made for my daughter's teacher as her end of year Thankyou gift. I added a pouch on the outside as well for a phone or any added things plus a spring clip on the handle so it can attach to a 'D' ring on her nappy bag. Also made a matching change mat to go with it. Pros: Beginner Friendly, Pattern Quality'

Beginner, user on Craftsy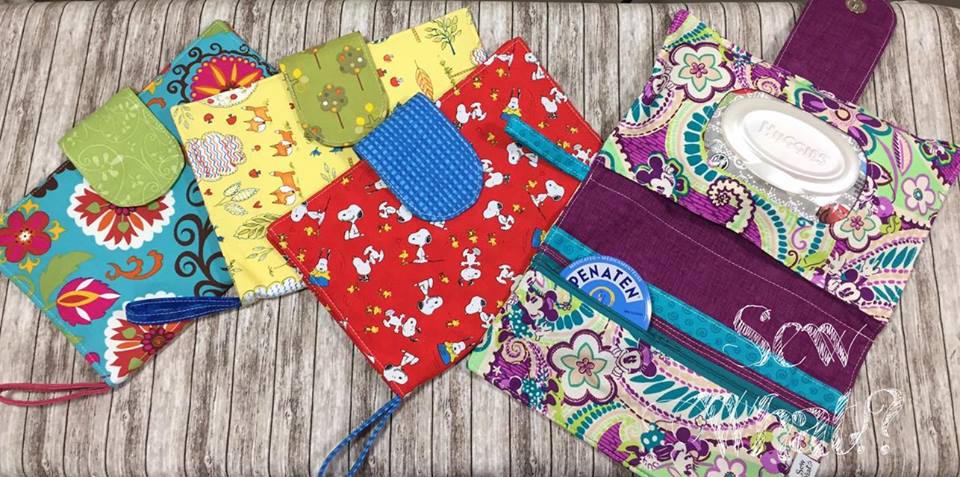 'Great pattern
I bought this to make for my daughter as she has recently had a baby boy. She loves it and I really enjoyed making it!...'
Madwomanlace, user on Craftsy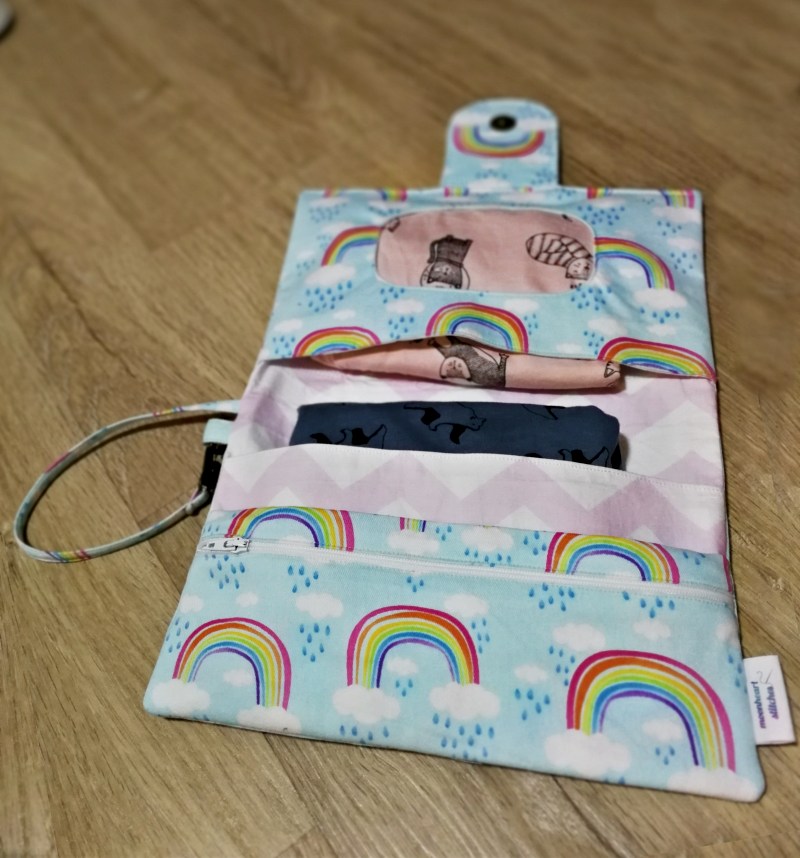 photo Credits: Sue Ann
"I made this clutch as a custom order for a customer I had. The instructions were easy to follow for an amateur like me. I loved it and I will definitely look through and buy more patterns in the future if I need them!" says Sue Ann
"Very happy with this item, would buy this pattern again." Coleen10


'Just What I Needed
This is such a cute little bin for anything. When I saw this pattern I fell in love with it, I just HAD to own it. My daughter has already claimed one for herself so I have to make at least few more for her and myself as well. It'll be a perfect ORT "Jar" (Bin) for my CrossStitching. The pattern was so easy to read and make. Highly recommend.'
Maja, Mae Designs



'Adorable bins, great for gifts

These little bins are adorable, and a great scrap buster. The first one took about 45 mins, from printing to pressing. I had to print it out, tape it together, and read through the directions, choose fabric, and sew it up. The next ones went a lot faster.'

'Beautiful photos in instructions
I just finished making one for my 5 yr old granddaughter to carry coins to school for various things (book fair, bake sale etc.). It was a fast and easy project. The little coin purse is fastened to the inside of her backpack to a small loop using a camp/belt clip. Being made of cotton, the coin purse is totally machine washable and dryable…'

Tove Edens
'Triangle Purse for Kids!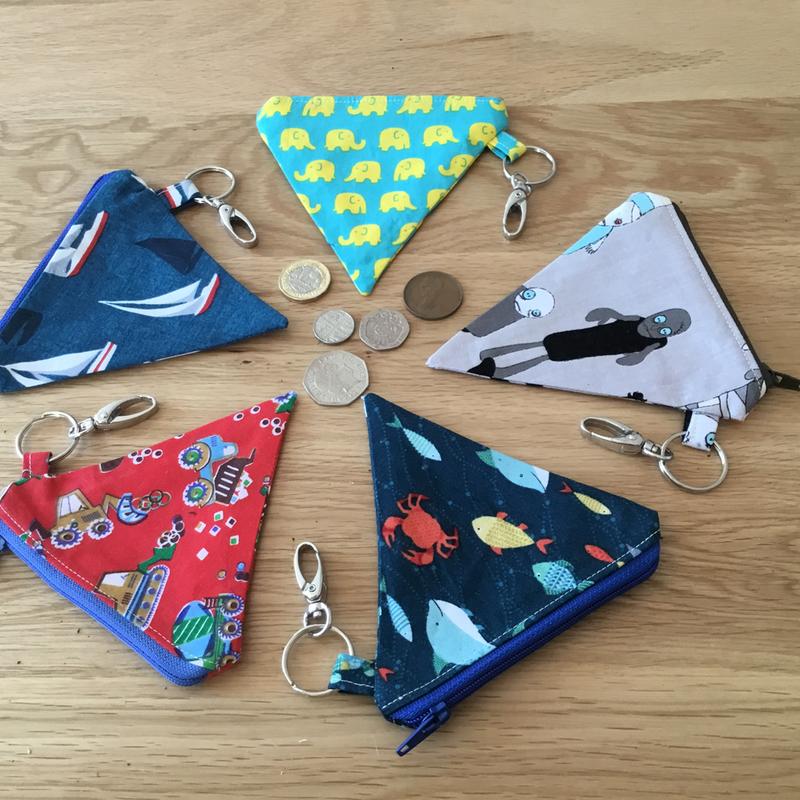 This is a great idea and pattern for making little coin purses for kids! I've made loads so far!! I was looking for a coin purse I could make for boys and they certainly love this one. The lobster clip on the side so enables the pouch to be clipped on to school bags. I also adapted the top as I found the zip tabs a bit fiddly in such a small item. Overall definitely 5 stars for the idea and the pattern!'

Felicity Ann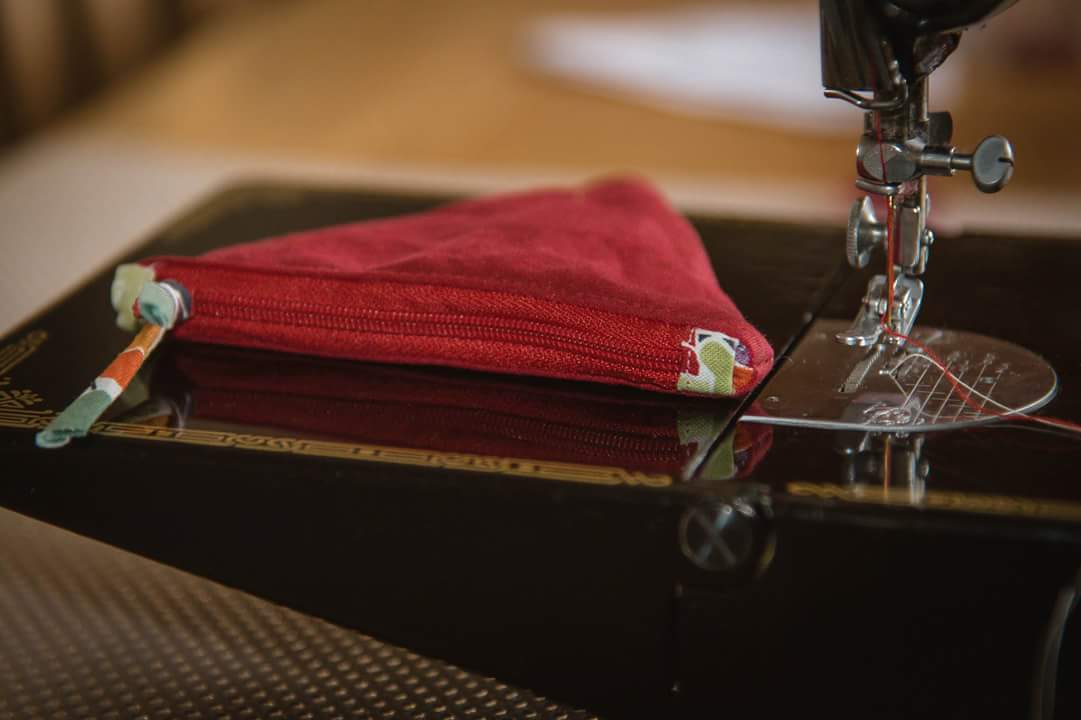 ' It's a darling design and I think I'll be making lots more!' Marianne Cant at PicPerFic Fluff'N'Stuff
Easy to make and looks great. I purchased this awhile ago, and am very happy I have made a few as gifts.

Anonymous on Craftsy
'Great fitting Earwarmer HeadbandAfter studying the free Baby Earwarmer Headband design, I purchased the multi-sized pattern. It is a well-fitting Earwarmer Headband. I've now made 8, one for myself as a tester and then one for each of the grandchildren. The kids love them and often wear the band on cold winter mornings under their winter toque to ensure their ears are covered while waiting for their school busses. I dislike wearing anything on my head but this band is truly an ear-saver on the frosty mornings, it fully covers the ears and forehead.'

ToveEdens
'Great item for the coast 🙂
Expect these will be in many holiday gift packages this year'
Crafter22 on Craftsy