Mens messenger bag pattern you'll love! - Use this free messenger bag pattern to make a fully lined, sturdy messenger bag. Besides being one of the most popular homemade gifts ideas, it's a very practical item and easy to sew. A large messenger bag like this one can be used pretty much everywhere and by everyone. Scroll down for the free tutorial.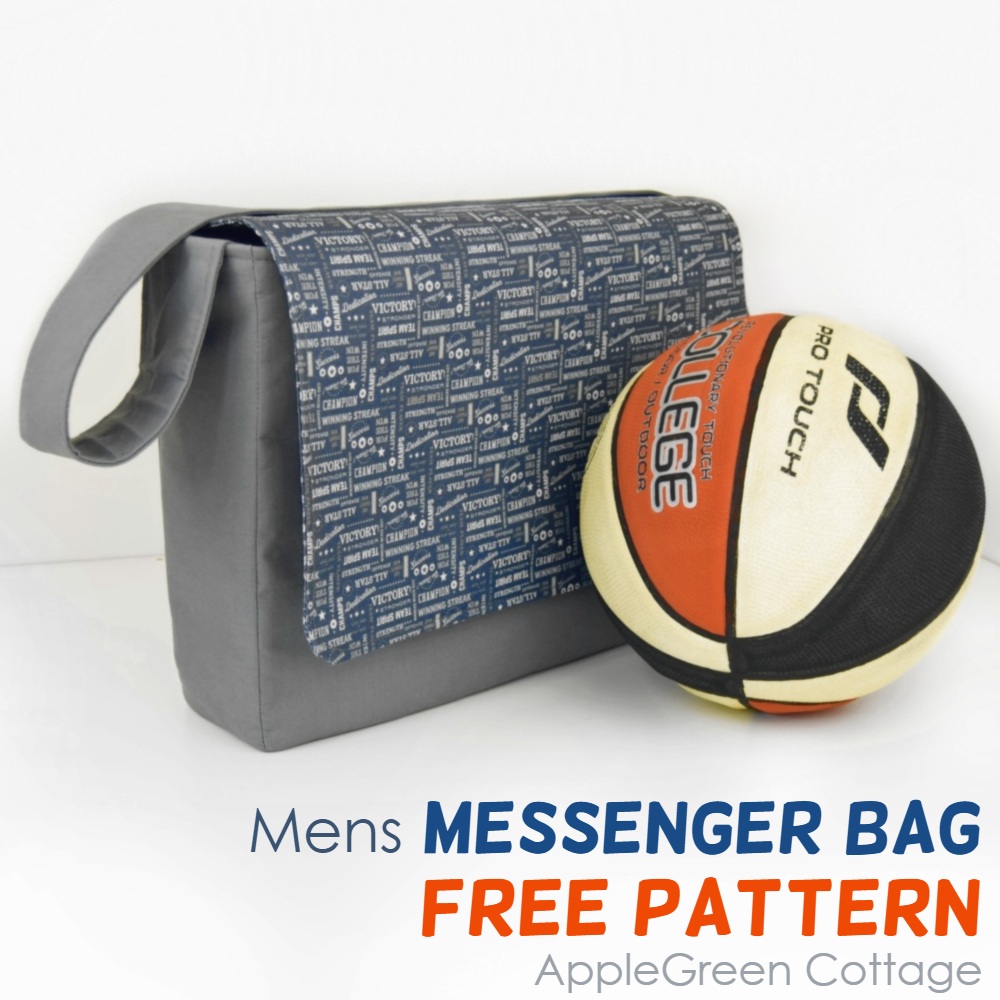 This post may contain affiliate links. Thanks for your support. If you love making bags, check out these posts, too:
Mens Messenger Bag Pattern
You will be able to carry nearly anything and everything in this large messenger bag. Practical, sturdy and probably the best diy gift to sew for a sports fan!
No time to sew it now? No problem: save this image to Pinterest so you have the tutorial ready when you need it: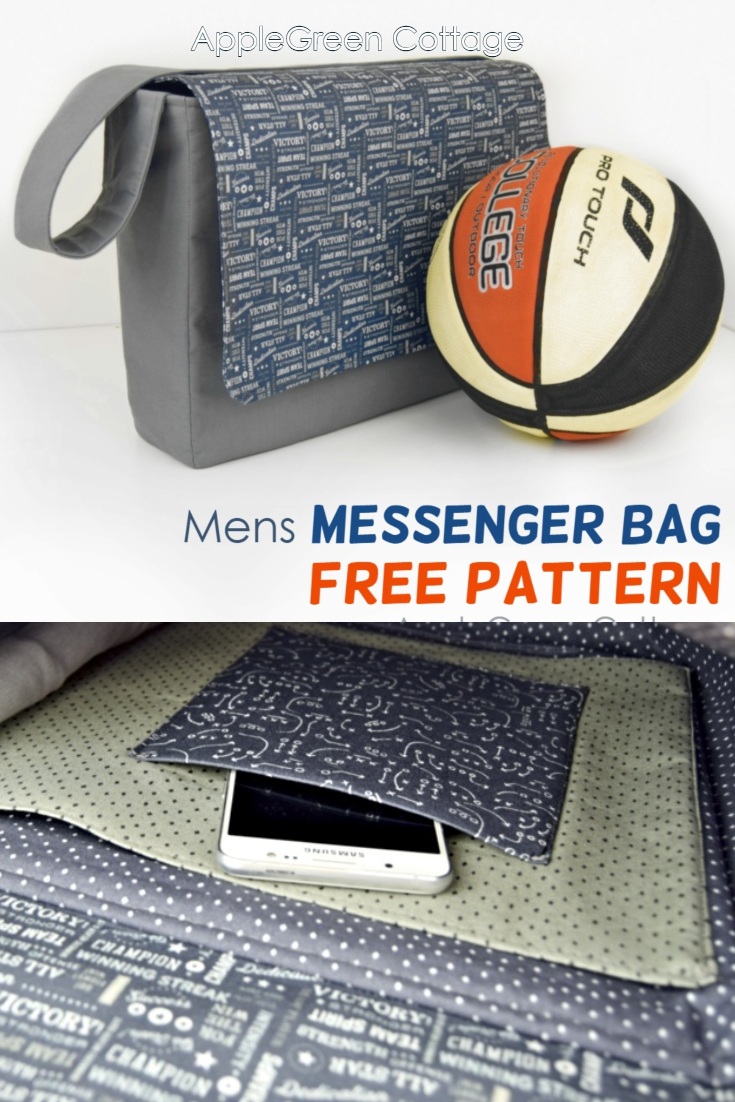 UPDATE: If you need a smaller bag, check out this popular slim-sized alternative that fits an ipad, too - and it's a crossbody version!!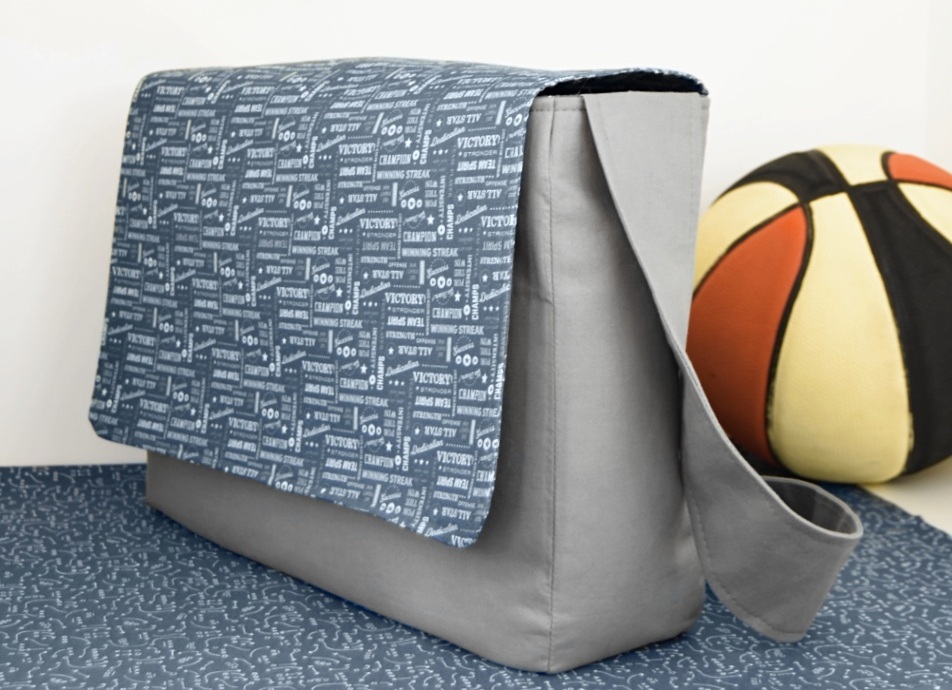 The Story Behind This Free Messenger Bag pattern
Lately, I haven't 'done' much sport, unless you count in running after my toddler. Well actually she's gotten so fast this might be registered as an official form of recreation/sports. My partner, on the other hand, loves playing basketball, and the latest designs by Deena Rutter look a perfect choice for him. I had so much fun with this gorgeous fabric and it was an absolute dream to work with. And I ended up with a brand-new tutorial and a free template for you to use - this mens messenger bag.
I made the bag larger than any bags I've noticed so far, and it will store tons of stuff. Plus, you can throw it into the washer - which makes it a perfect gym bag!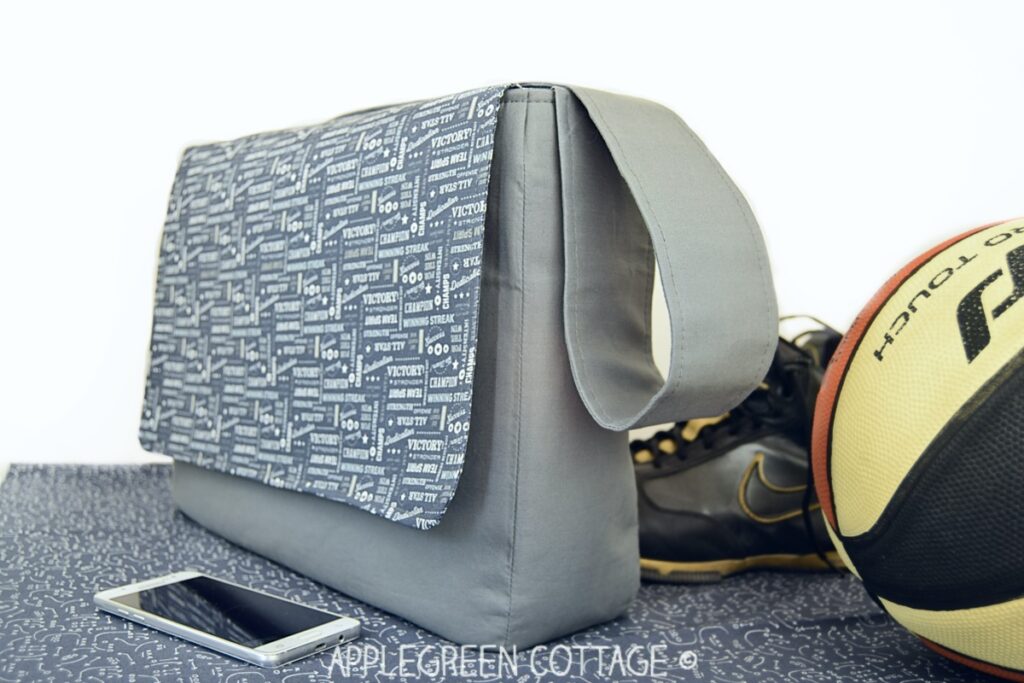 Pattern used: My NEW Messenger Bag - FREE PATTERN.
Fabric used: Varsity Basketball Collection by Deena Rutter for Riley Blake Designs
To make one of these large messenger bags, you'll need approximately 2 ½ yard of fabric per bag.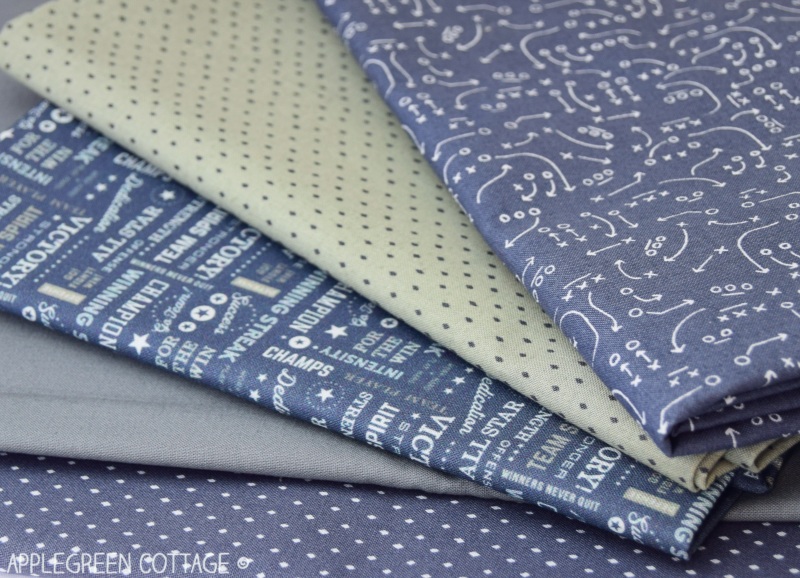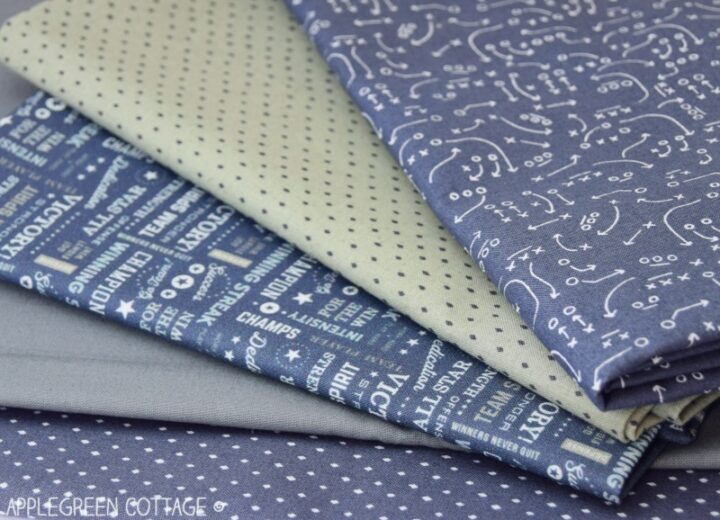 Finished Size
The finished size of the messenger bag is 16" width x 12" height x 4" depth (LARGE. I mean it.)
This Messenger Bag Has POCKETS!
It has two slip pockets. The large full-width pocket is 15" wide x 9 ½" tall. Actually, it imitates a bag divider as I made it as large as possible, without adding bulk to the side seams when constructing the bag. (Beginner sewers, you're always safe with me!)
The full-width pocket is interfaced and great for anything flat (iPad fans, anywhere?) I know I am, and always carry around my ipad crossbody bag. But for when I need to tote around more bulk, a large messenger bag like this one would save the day.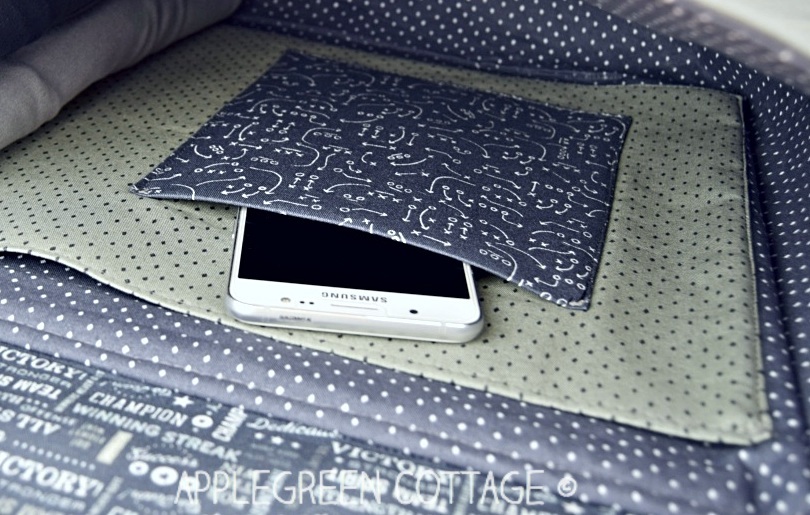 And a bag is not complete without a dedicated phone pocket. Agree? I've sewn this messenger bag for a tech enthusiast who will (I'm sure of that!) soon ditch his current phone for one of the latest phone models, so I made sure the phone pocket was large enough.How do I know that? Because I googled the latest phones in the market. So I made the pocket 6 ½" deep x 6" wide to cover all those models, just to be on the safe side, including Galaxy Note 9.
What about making a quick, minimalistic slim front pocket wallet? It's also THE place for teh wallet. And while sewing, make this easy credit card holder, he'll love it! I made it in 5 minutes - see this free card holder pattern.
Fabric selection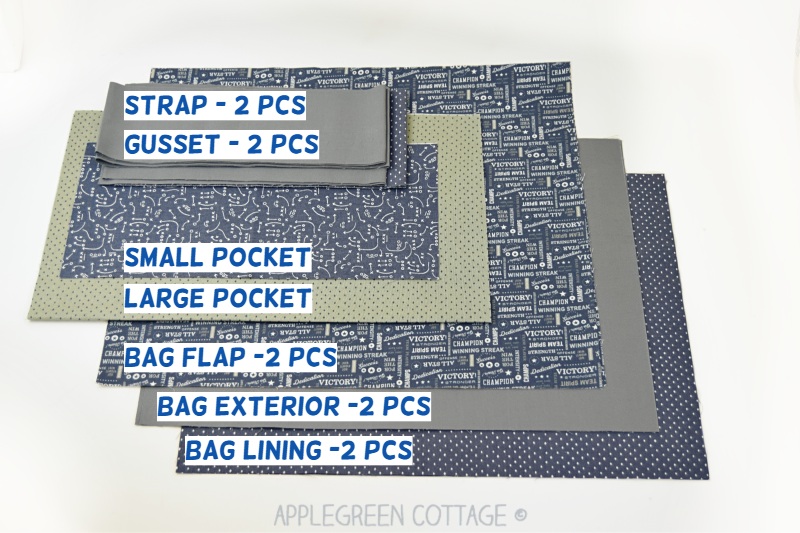 Cutting Instructions
First, get the cutting template in the tutorial over here on the blog, it will go easier if you're a visual learner like me. If you prefer a simple cutting list, here it is, too:
For Bag FLAP:
17" by 15" (2 pieces) + 16" by 14" fusible fleece
For bag BODY EXTERIOR:
for front and back pieces: 17" by 13" (2 pieces) + 16" by 12" fusible fleece (2 pieces)
for gusset: 43" by 5" (1 piece) + 43" by 4" fusible fleece
For bag LINING:
for front and back pieces: 17" by 12 ½" (2 pieces) + 16" by 11 ½" fusible fleece (2 pieces)
for gusset: 42" by 5" (1 piece) + 42" by 4" fusible fleece
For Bag STRAP:
43" by 4" (2 pieces)
+ 42" by 3" fusible fleece (1 piece)
+ 42" by 3" stiff woven interfacing (1 piece)
Internal full-width POCKET:
20" by 16" (1 piece) + fusible fleece (!) 9 ½" by 15"
Internal Small POCKET:
14" by 7" (1 piece) + fusible fleece (!) 6 ½" by 6"
Please note: bag exterior and bag lining pieces NOT exactly the same measurements!! This will make your sewing project super neat, and easier to finalize.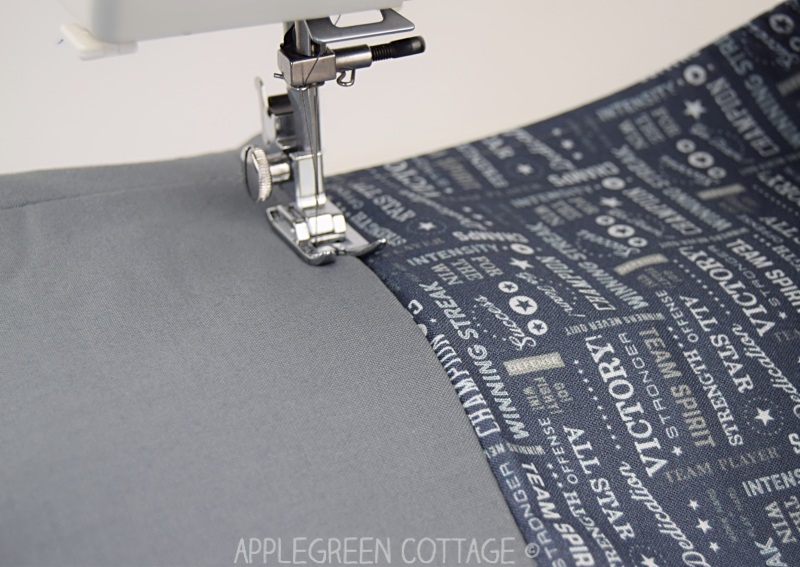 Are you familiar with this RBD Confetti Cotton basic I chose for the job? It's RBD's Confetti Cottons IRON. An amazing color to work with - it will literally go with anything! Just PERFECT for a mens messenger bag. I'll be getting more of this basic for my sewing projects.
HOW TO SEW A MESSENGER BAG - Link to FULL TUTORIAL
To avoid this page loading forever because of too many photos (nobody wants that) I have made a separate tutorial page with tons of step-by-step photos.
Get the tutorial here.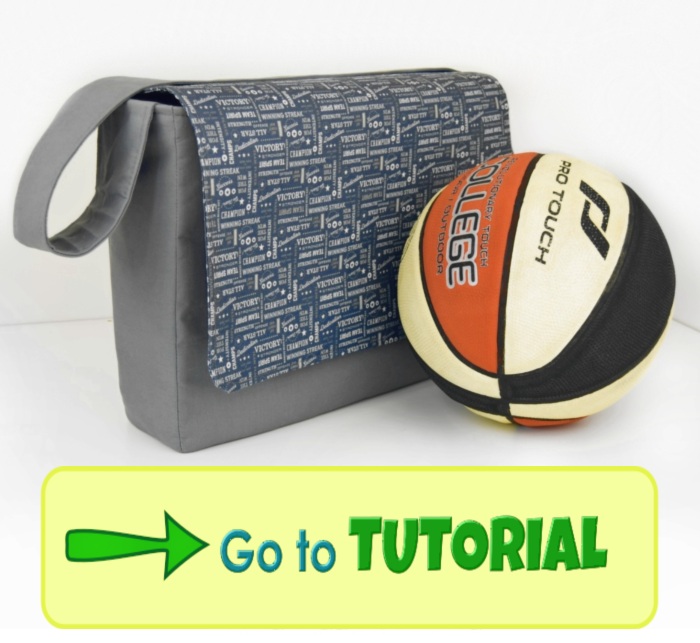 And before I forget - in addition to all the step-by-step photos and sewing tips, there's a cutting template waiting for you! It will make your project even easier. Click through to the tutorial to download it.
To get your sewing supplies ready, check out my Amazon storefront.
I hope you liked the look of this mens messenger bag. It's so practical I might need to make one for myself, with a matching yoga mat holder 🙂 My kids have already asked for a mini version of this messenger bag, as they would be perfect for a nature scavenger hunt. I agreed. Have I mentioned they are such collectors? (All their pockets stuffed with rocks, LOL!) My 6-year old son's favorite print is the VARSITY Playbook Navy. He's lucky - I've got some of this print left, and can start tomorrow.
Pin for Later: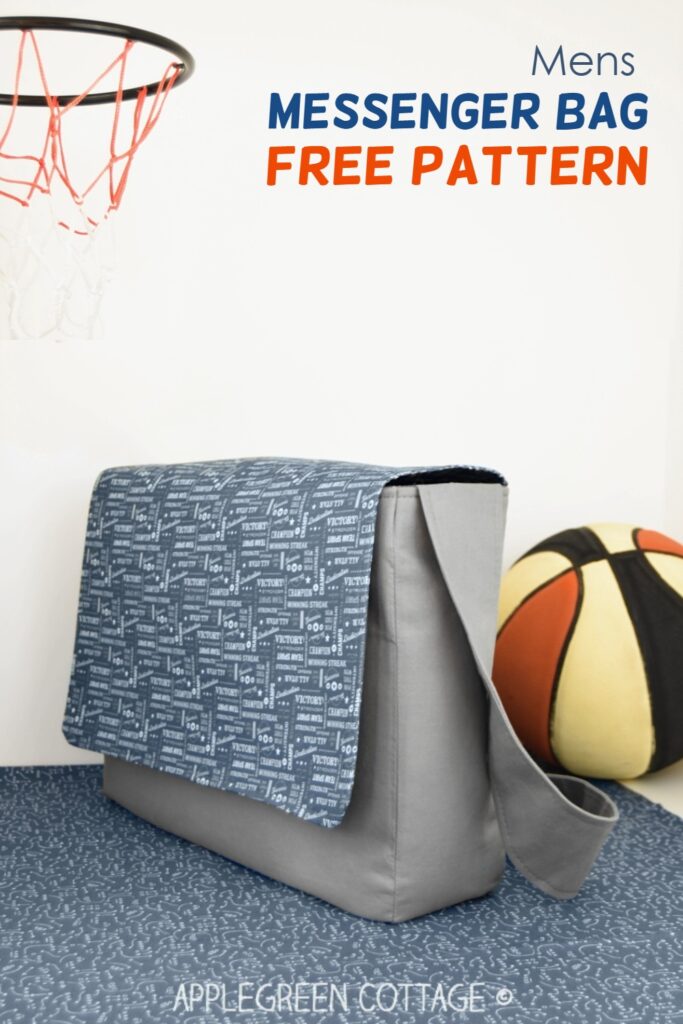 Need a Smaller Bag? Check out THIS ONE.
If you need a smaller bag, here's a popular iPad crossbody bag for you to try out: TEYA Crossbody Bag
WANT MORE FREE TUTORIALS AND PATTERNS?
Get email updates and never miss out on new patterns, printables, and tutorials:
Or …check out the NEA Small Crossbody Bag pattern in our shop. This bag skyrocketed to the top of our best-sellers in less than a week after it was released: