These diy purse handles can be used as classic bag straps, shopper bag handles or as an addition to a classic tote bag like this one. Easier to make than you think, and so much prettier!
I've loved double-sided bag handles like, forever. I find them way better than the usual ones since they are sturdier, more stable - and so much prettier!
Oh, and one thing more: so easy you'll never want to make them any other way!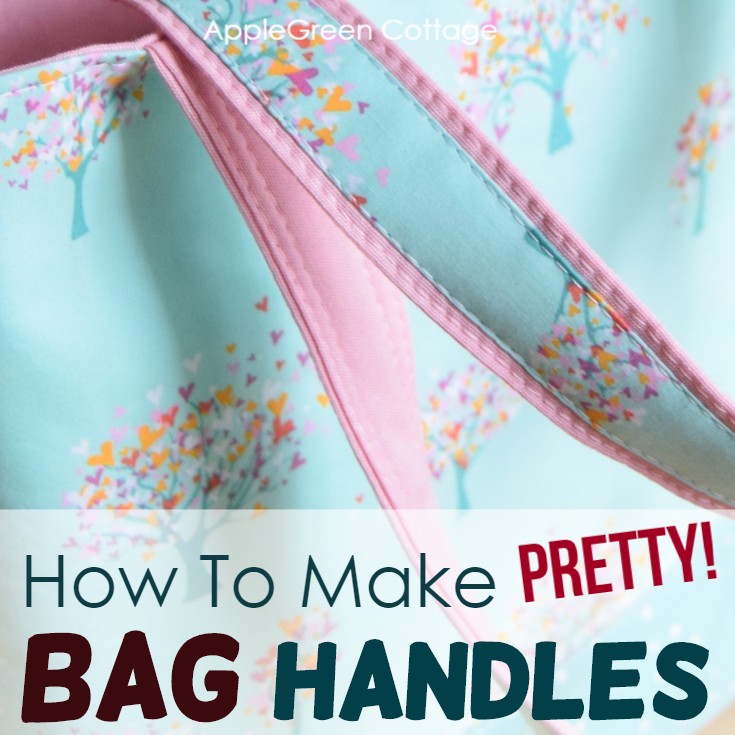 This tutorial includes affiliate links (thanks for your support!) and is part of my learning-to-sew page - check out all my sewing tips here.
These handles have made it to my favorite 3 bag strap sewing tips here at AppleGreen Cottage, make sure to check out the other two strap sewing tips in this short video:
Diy Purse Handles
Let's make them together! You can use this tutorial on any of our other bag patterns in the shop - they would look good on this Teya tote as a longer strap. Drop me an email if you need help with those!
Finished Size of Diy Bag handles
In this tutorial, the finished handles will be 21" long and 1 ¼ " wide. Perfect for this tote bag, but you can use them on many of other types of bags (a huge list of free bag sewing patterns here)
NOTES:
cotton fabric: This tutorial is about making all-fabric handles, not the leather ones. While the principle would remain the same, there would be less layers involved if cork, vinyl or leather were used. I chose cotton because it's the material every beginner bag maker is familiar with. And it offers so many gorgeous combinations!
open-ended handles: these handles are meant to be SEWN INTO the bag, not onto the bag. It means the ends are not finished, though it's easy to adjust them to finished ends.
stronger: these handles will stand up and won't be slouchy. Also, they will stand the test of time better than just one-layer handles.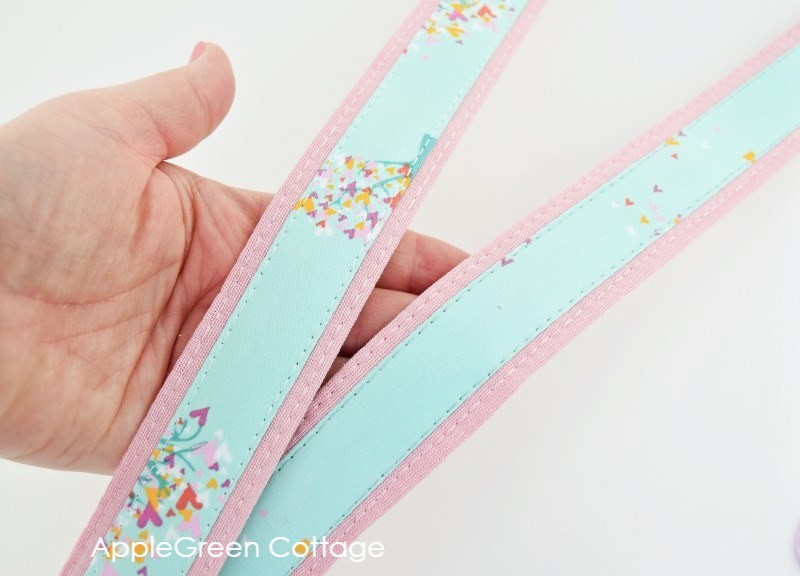 Supplies:
CUTTING Directions for 21" FINISHED Purse handles
From main fabric cut:
2 strips 5" x 22" for main handle fabric
From accent fabric cut:
2 strips 1 ½" x 22" for handle accents
From fusible fleece cut:
2 strips 2 ⅜" x 21" for main handle fabric
From stiff mid-weight interfacing, cut:
2 strips ¾" x 21" for handle accents
HOW TO MAKE Bag HANDLES - Steps
Step 1 - Apply Interfacing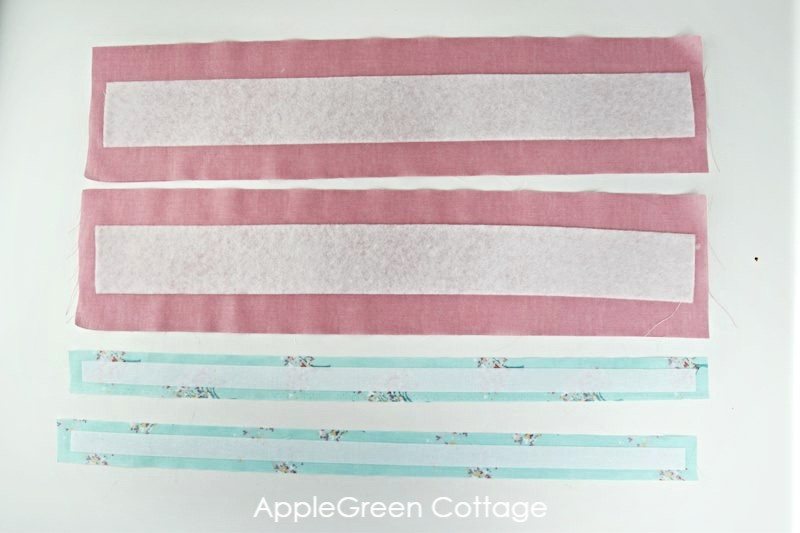 Following the manufacturer's instructions, apply fusible fleece to main handle fabric and stiff mid-weight interfacing to the accent fabric - interfacing should be centered on the fabric strip.
---
Step 2 - Fold the main Piece Of the strap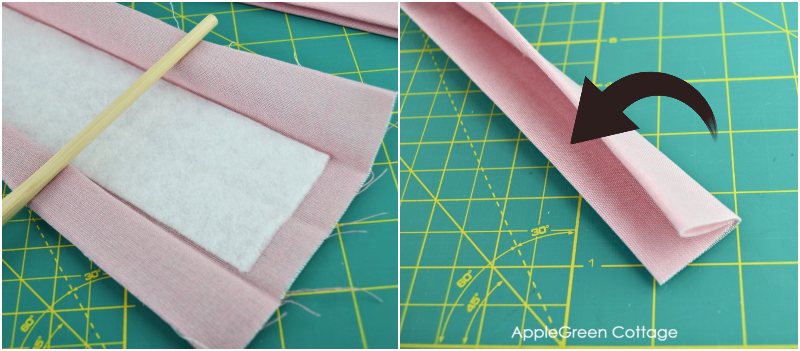 First press both unlined edges towards the center and then fold the strip in half along the center. Press again.
---
Step 3 - Topstitch along the Long edges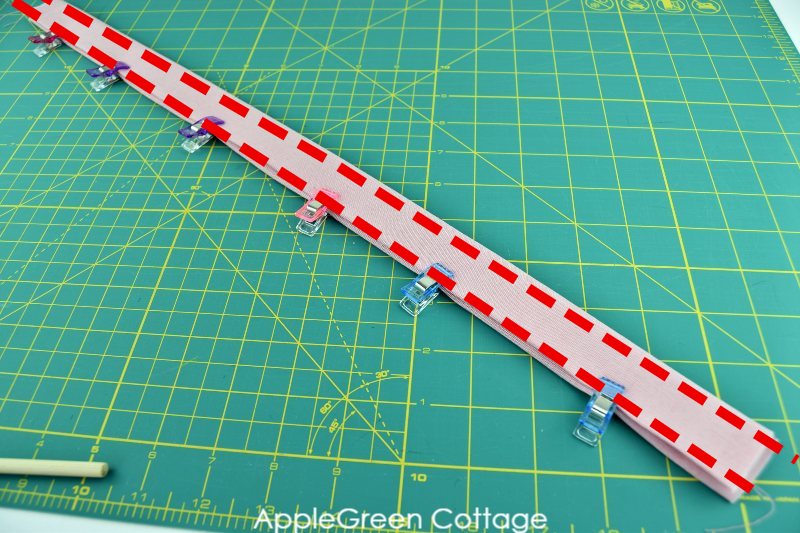 Once you've folded the entire strap, topstitch along the two long edges with a ⅛" seam allowance, using a long stitch length. For topstitching I usually use 3.5 to 4 mm stitch length, that's metric for something between 7 and 6 stitches per inch.
Repeat with the other strip of the main handle fabric.
This is what you have now: two bag handles that could be installed into a tote, purse, or handbag. But we're making them even better!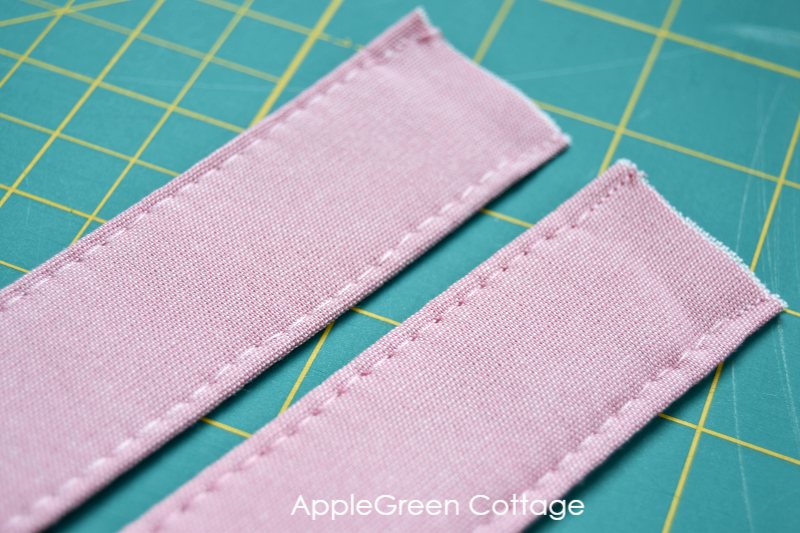 ---
Step 4 - Fold the Accent Piece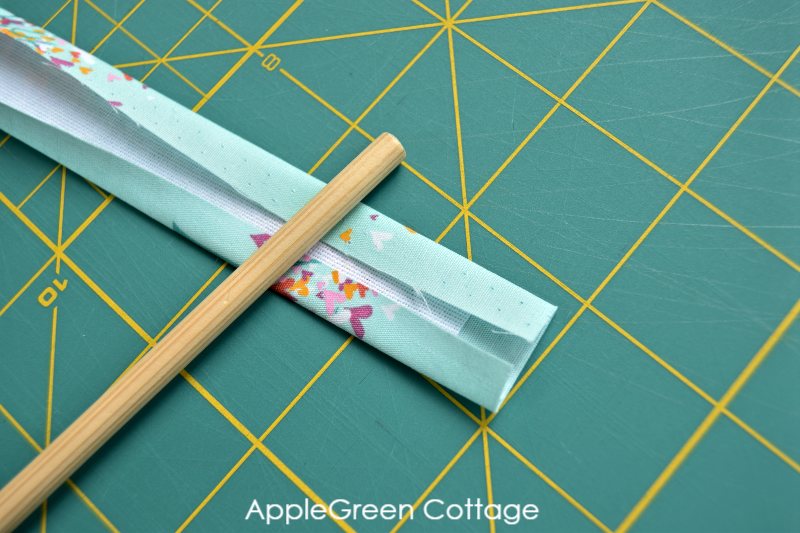 Press both unlined long edges towards the center.
---
Step 5 - Join Main And Accent Layers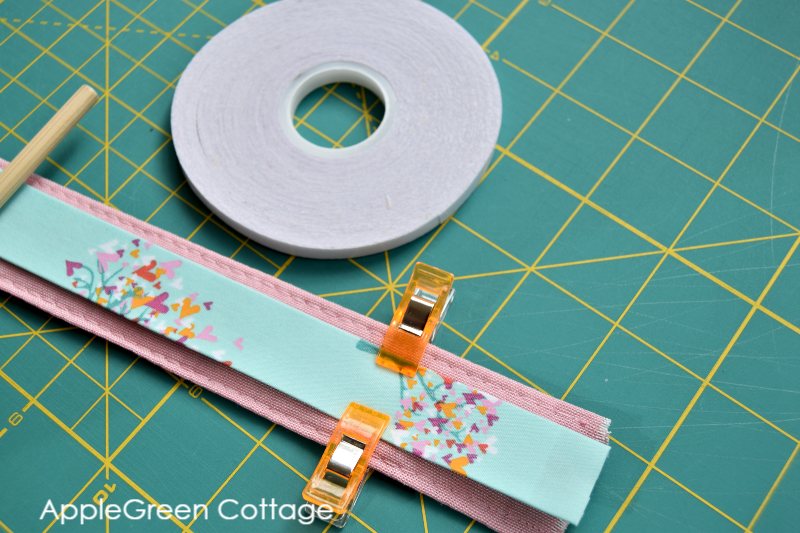 Center the accent piece onto the main strip, with the raw edges hidden. Either use pins, sewing clips or - this is the most comfortable option - double-sided sewing tape to fix the position and prevent layers from sliding.
---
Step 6 - Sewing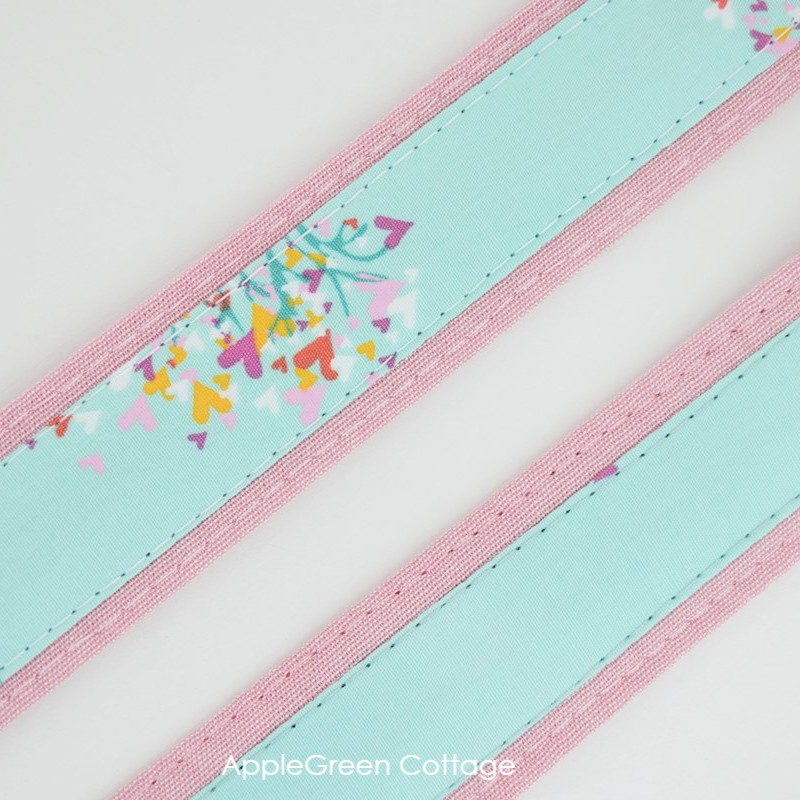 Topstitch along the edges of the (narrower) accent strip of fabric to finish the handles. Like before, use a long stitch length for neater seam.
Your beautiful handles are finished! The only thing left is to install them to your main bag pieces.
If you're looking for a tote idea to attach these handles to, feel free to use my LATEST TOTE TUTORIAL: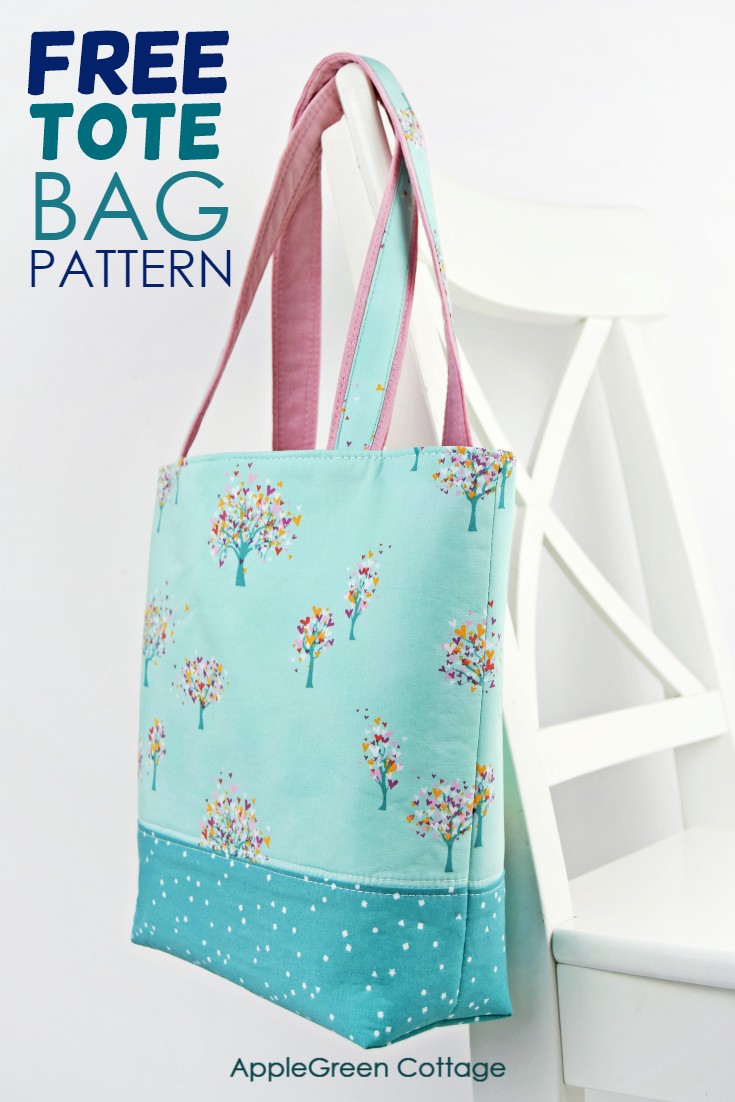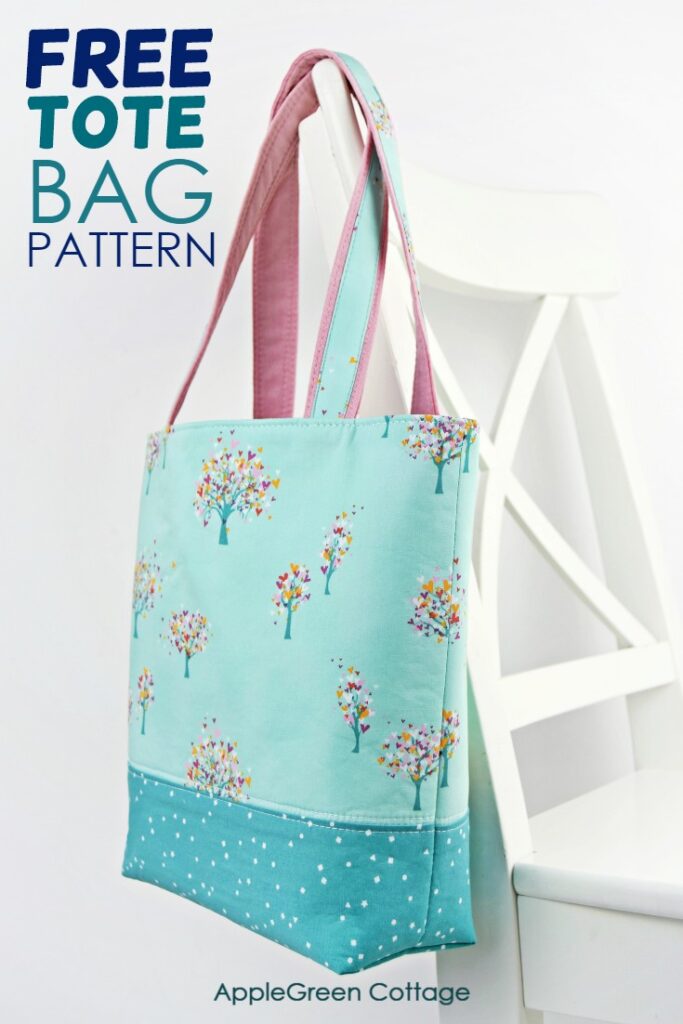 They are not just pretty - super sturdy too. this is how they stayed up after I finished the tote - the next photo is one I took even before pressing the whole bag. Neat, huh?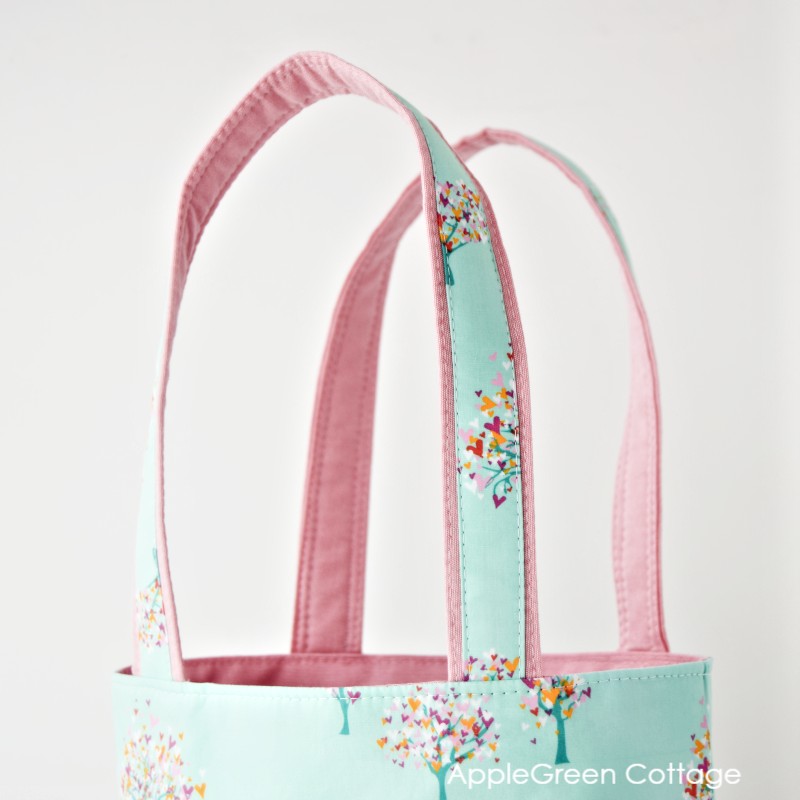 You can use this tutorial for any of my bag patterns, either this large messenger bag (add stiffness by adding an extra layer of cotton webbing on top!) or the Teya iPad crossbody bag pattern would look awesome with double-layer straps!
Save this project on Pinterest for later, and keep for the time you need it: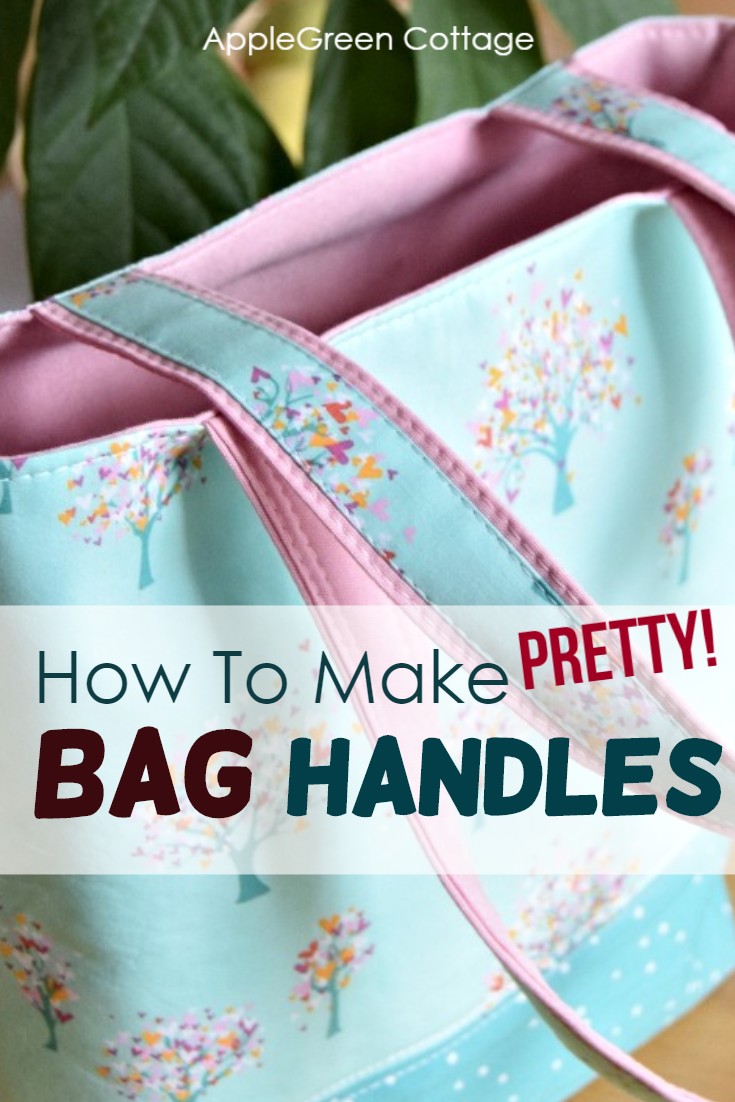 Want MORE FREE TUTORIALS And Patterns?
Get email updates and never miss out on new patterns, printables, and tutorials:
Or …check out this popular PDF pattern – the Kalina Mini Wallet in our shop. So practical!