Easy crafts to make and sell. Do you love to sew and are considering starting to sell the items that you make? Here's a bunch of tried and tested easy sewing projects and ideas you can use to start making money right now - many patterns are free!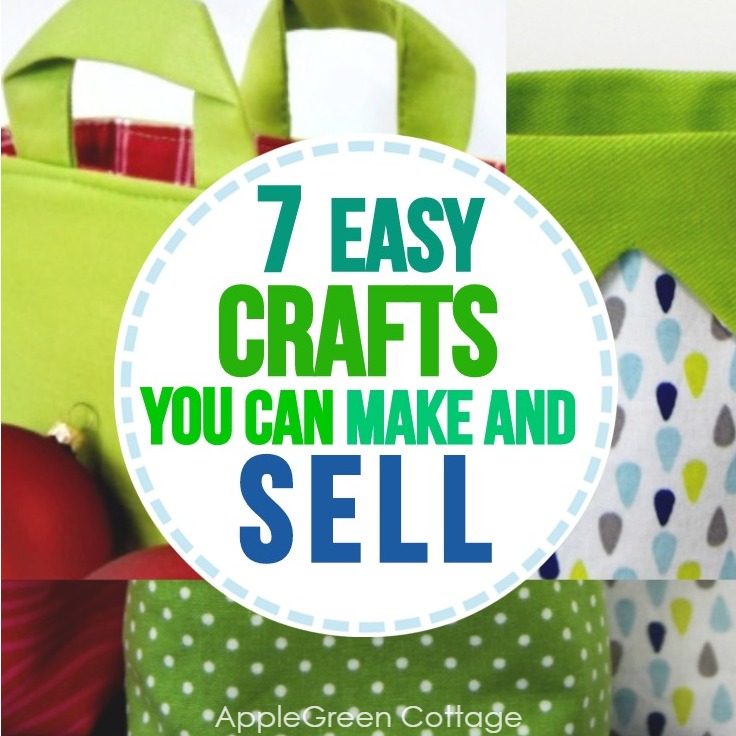 This post contains affiliate links. Thanks for your support. Are you looking for sewing ideas that you can make and sell? Create something unique that will attract customers looking for something handmade and special, either for themselves or to gift to their loved ones. This post is to help you do your brainstorming and help you decide what items to start with.
Easy Crafts To Make And Sell
If you want to make money from sewing to sell you need to pick the right projects. Check out what items to make that will sell well - and start making money from your sewing projects! Also, what two things are super important when sewing with free patterns!
First, I'll list the 'categories' of handmade items that are good sellers. Go through them and see if there's something that sparks your imagination. Some are payable and many are free patterns. Then, make sure to check out what two things are super important when you use free patterns for sewing to sell - see the separate chapter further down.
1 - Small Items With Zippers, scrap busters
Let's start with one of the best-seller categories of easy crafts to make and sell: zipper pouches. Always in season. Whether you choose to make larger ones, like cosmetic cases, or small coin purses, there's always a buyer for these. Use a bit of fabric and add a zipper - tadaa! Pencil cases, coin purses, small storage pouches, cosmetic zipper pouches for travel, to mention just a few.
When sewing small zipper cases you don't need a lot of fabric, and sewing is quicker than with large items. A good starter and easy to test the market - use materials from your scrap bin for the first few, test, and then see which of them sells best. There are several easy sewing projects to sell in this category, and coin purses are usually at the top of this list. Here are mine: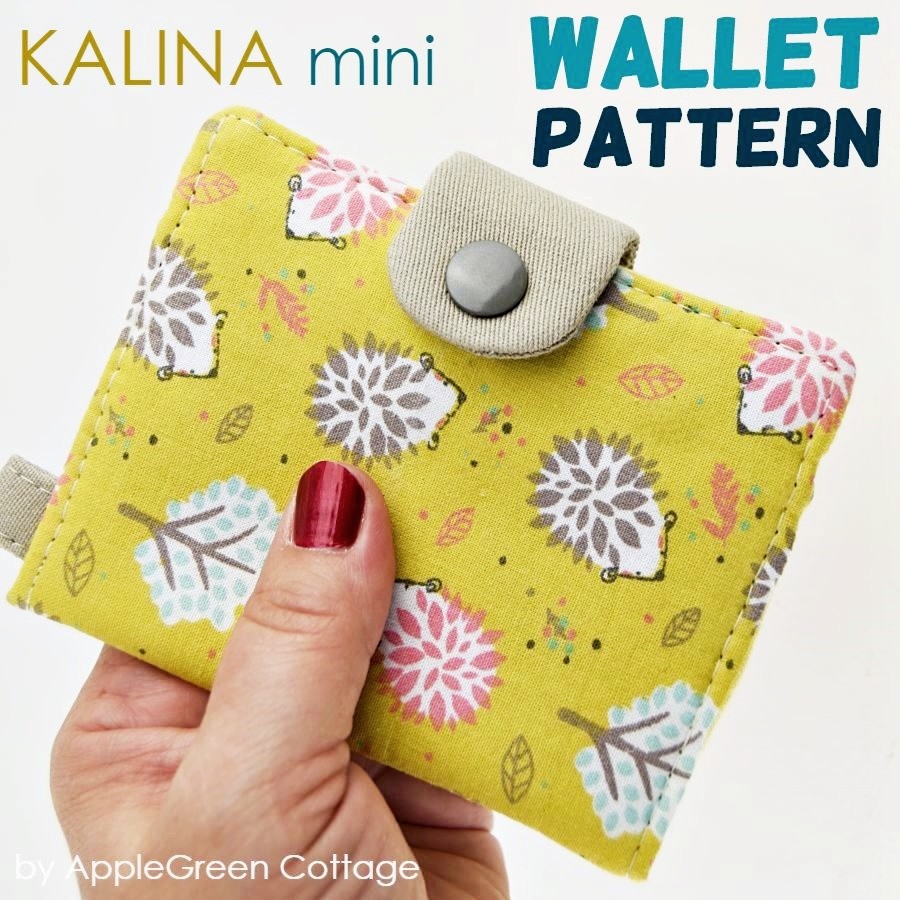 This practical mini wallet sells like hotcakes! (words of one of the Etsy sellers, not mine!) Look for the KALINA Mini Wallet Pattern in my shop and make a few.
(But don't just take my word for it! Debbi said this about the Kalina:)
---
⭐⭐⭐⭐⭐

Love this wallet - just made eight!

I really like this pattern. The instructions are great. I liked the results of mine so much, I made 7 more for Christmas gifts!

About Kalina Pattern - Debbi on Nov. 27, 2020
---
Next are my three very popular coin purse patterns - they won't use up more than a few scrap pieces from your fabric stash: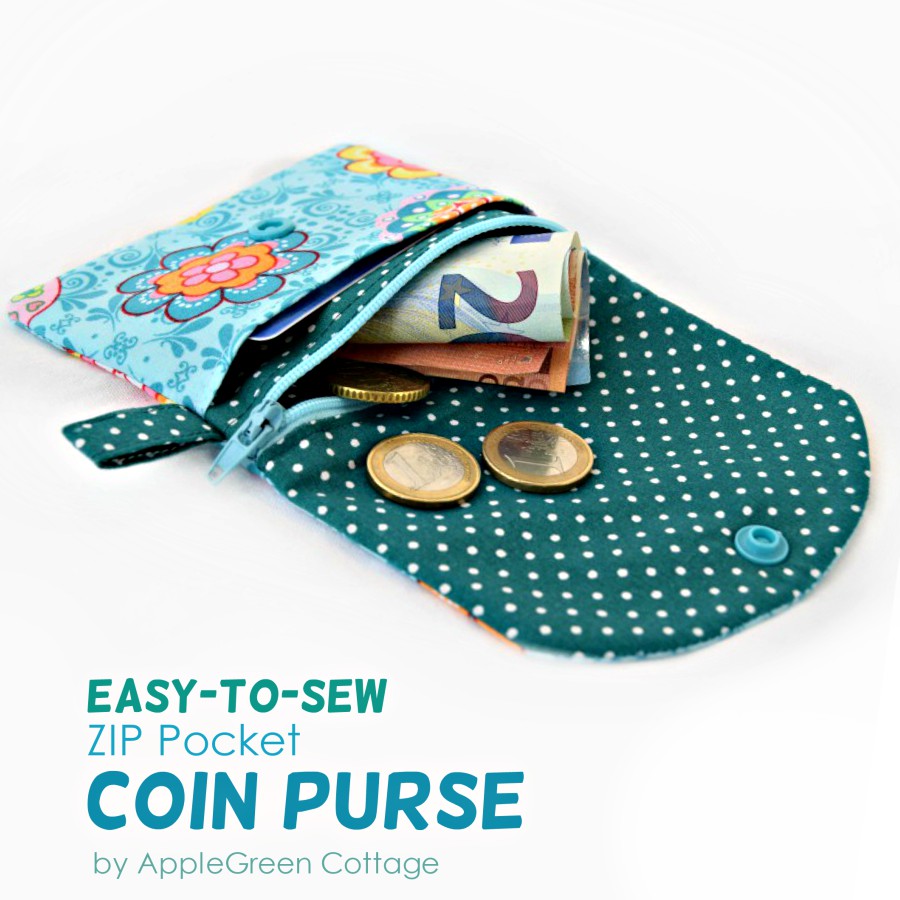 This clever combination of a zipper and a flap will make sure your coins never fall out! (That's what makes it a popular choice for making kids lunch money pouches, too!)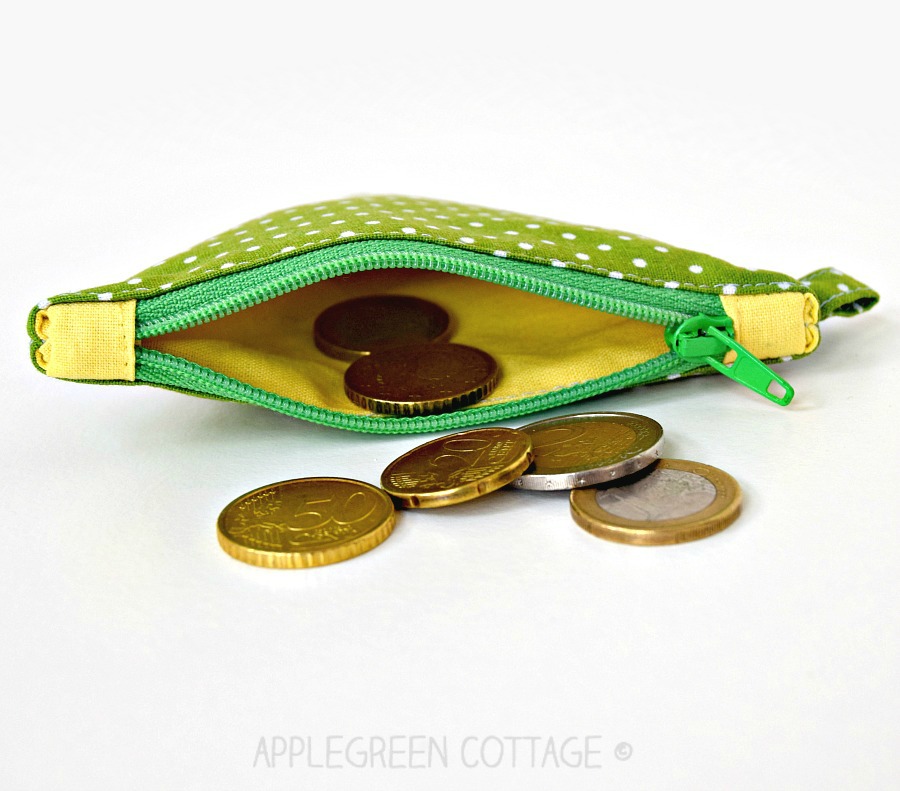 Since the TRIA is my first coin purse pattern, it's the one that's been tested out in the market for the longest time. People keep sending me photos with their coin purses made from this pattern, and I feel so blessed to keep getting such an amazing response from our sewing community! It's a good item to make and sell on etsy.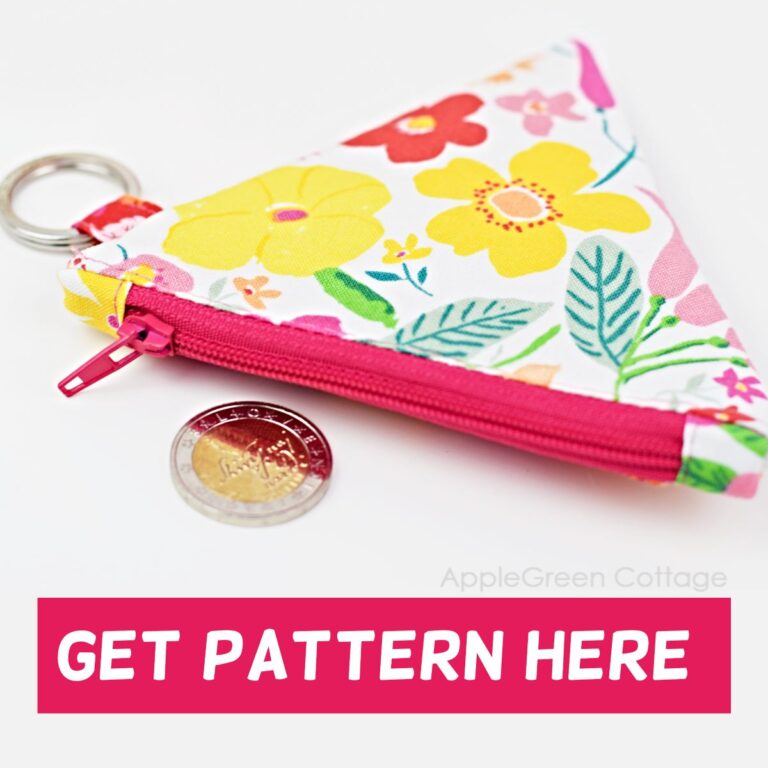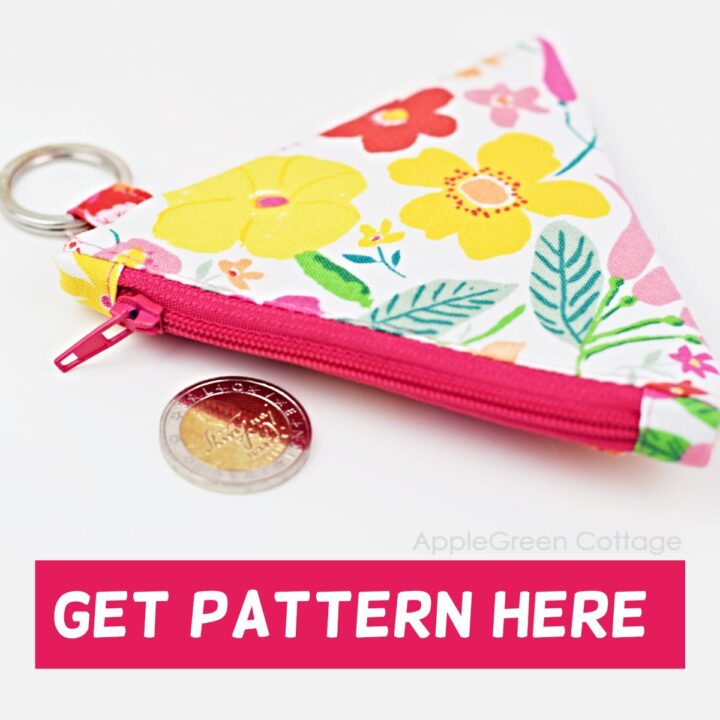 And guess what! This pattern has been updated - Now the TRIA has TWO versions!
Which one do you like more?
And another one, this rounded cutie, the Half-Moon coin purse pattern: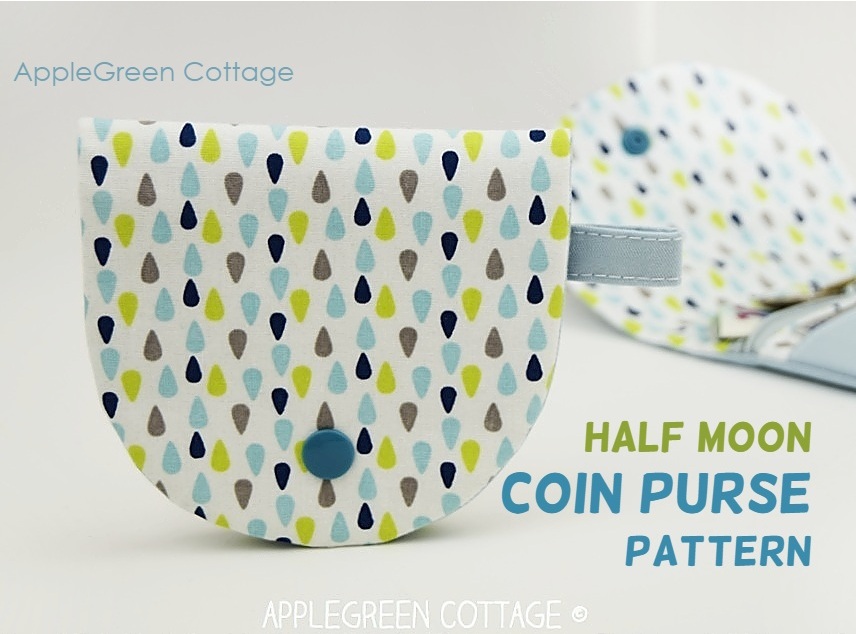 Bonus tip: small cute coin purses are much easier to sell than large bags - plus they only need scrap fabric so you can start with what you already have. No need to purchase piles of fabric! Good to keep in mind if you're starting out with your handmade business!
2 - Home Decor ITEMS (CHOOSE WISELY!)
Home decor items represent the second group of products that sell well if chosen wisely. Simple utilitarian items can turn into useful and pretty home decor. If you dislike sewing with zippers, you've still got a lot of choices. Some sellers specialize in baskets, for example. (Not a single zipper here!) Here are two home decor items that would fit in nicely, are easy to make and don't require a lot of fabric: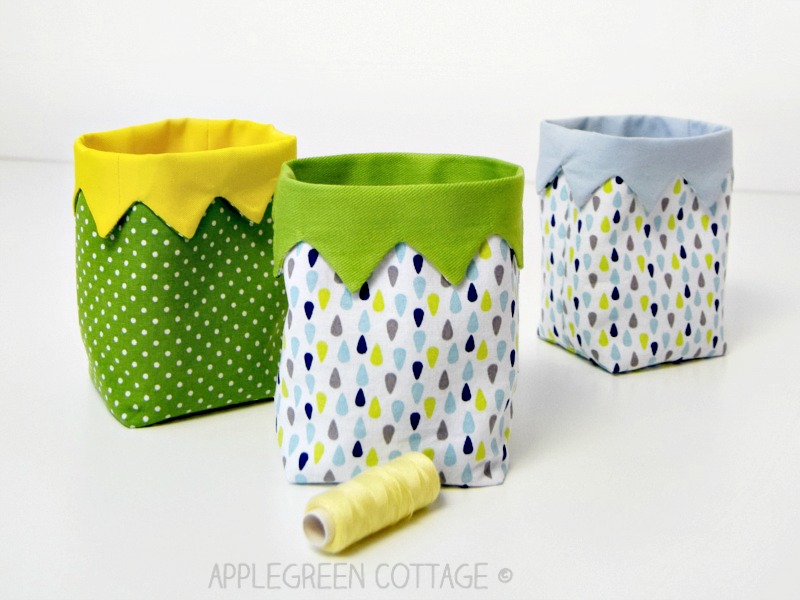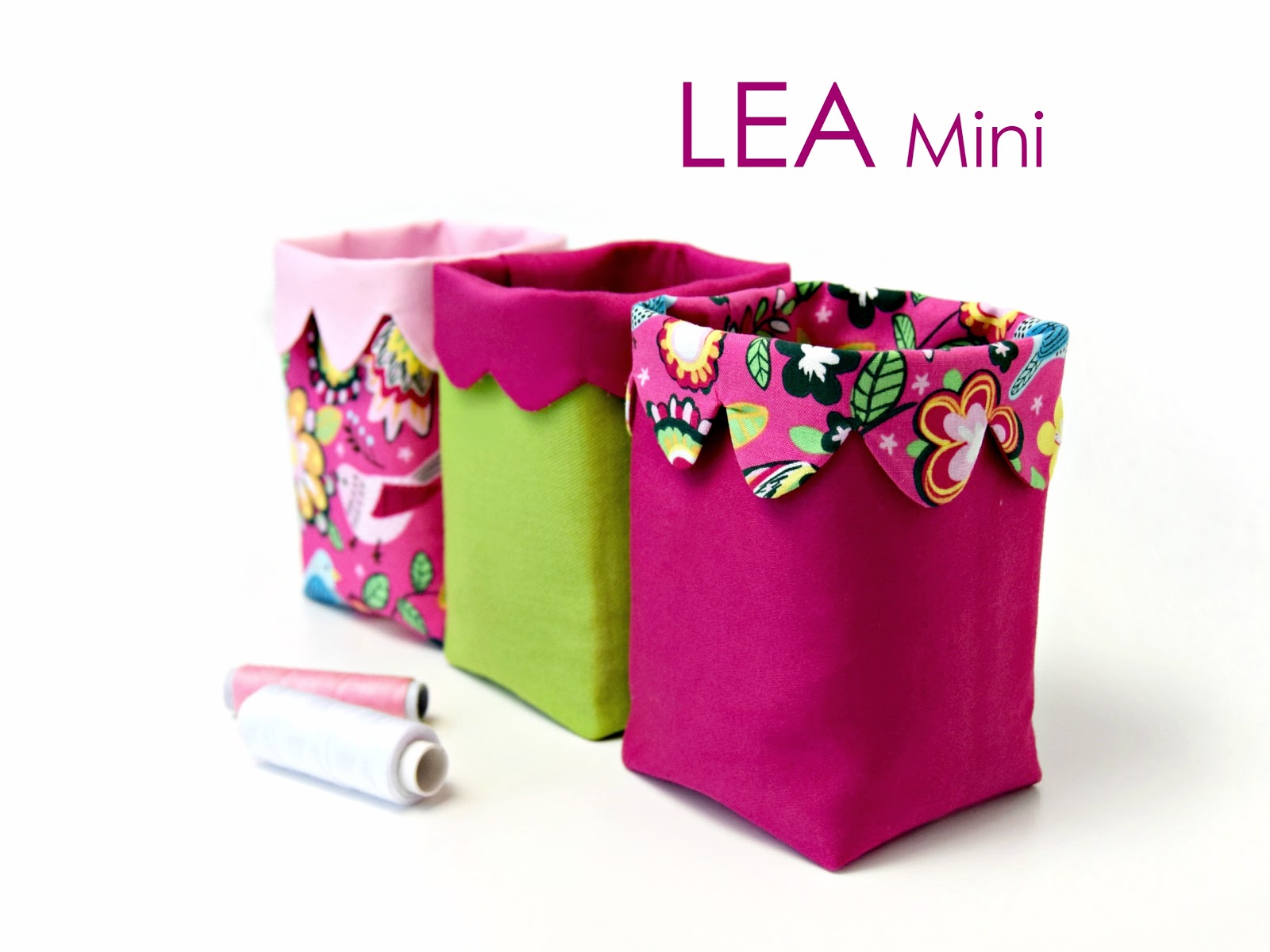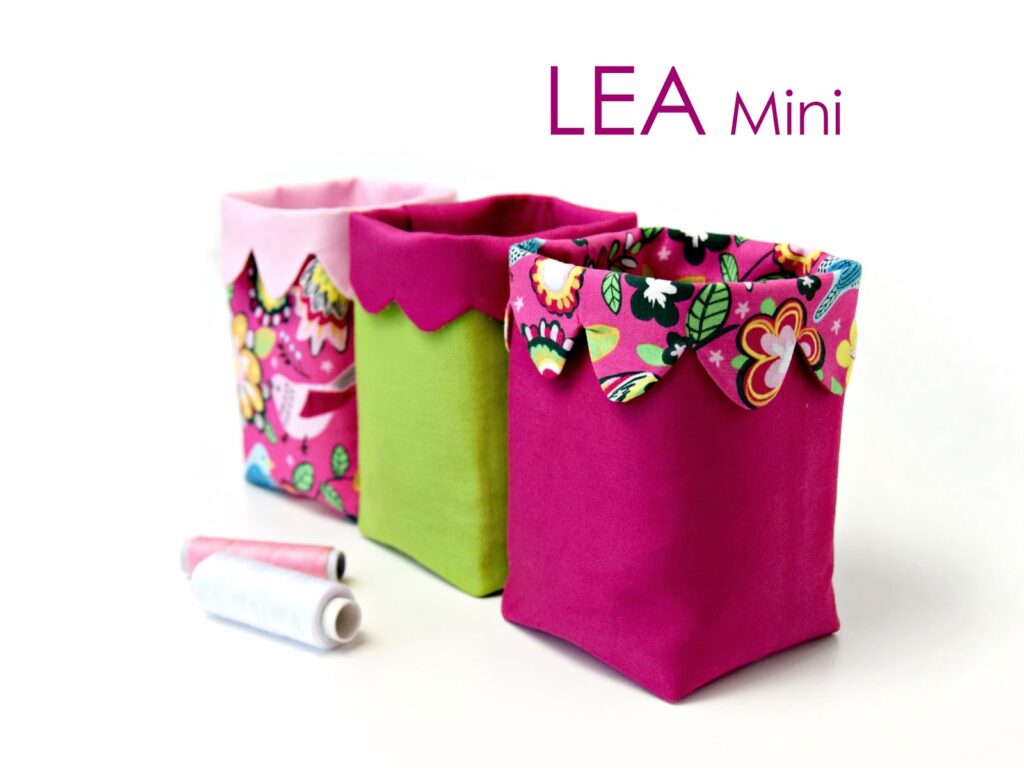 But there are definitely more home decor items that sell well: small mug rugs, placemats, potholders and these coasters are an easy way to get started. Use my list of all the things to sew for the kitchen or things to sew for the home - a lot of inspiration in there!
3 - Things to sew and sell For Babies And New Moms
Babies need new stuff! Not just that, there is no dead season for making baby items, and this is one of the niches with the highest requests for unique handmade gifts. Think bandana bibs (use my free pattern and tutorial - HERE!), this cute classic baby bib pattern in 3 sizes (free, too!), burp cloths, beanie hats, or - a diaper clutch (my pattern here). In fact, this diaper clutch pattern sells all the time, I didn't even notice any summer slump at all.
And diaper clutches might be even more lucrative as the market is not yet saturated and you can charge more - especially if the pattern enables you to adjust the design to the individual buyer, like this one: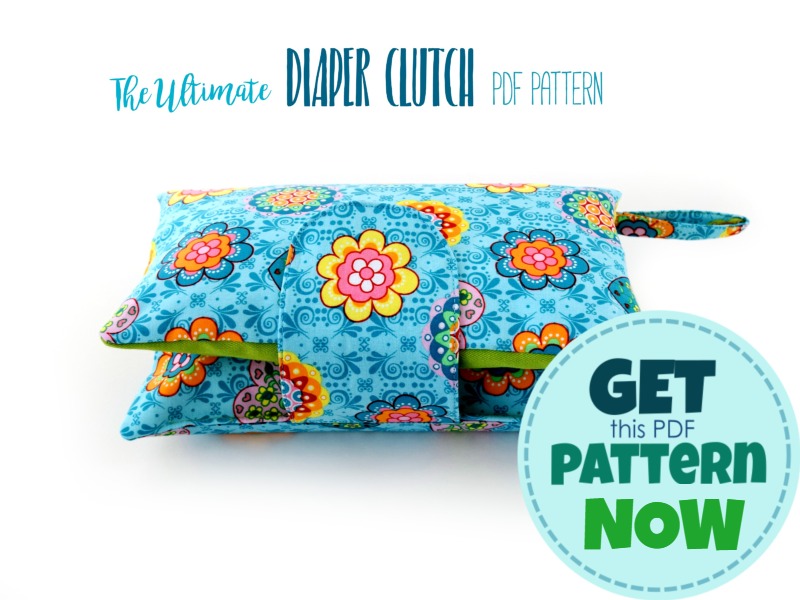 My customers often personalize handmade items, especially when sewing for babies, check out a few reviews of AppleGreen Cottage patterns here and see for yourself.
4 - easy crafts to make and sell for Christmas
The holiday season typically brings in a huge slice of your annual revenue. It's good to think months ahead. There are many decorative items that sell as keepsake ornaments, as Christmas home decor, and diy gifts purchased by people who don't have the skills or the time to create themselves. Some people make it a tradition to purchase a new holiday ornament piece every year. Needless to say, they are looking for something meaningful and unique! Think star decorations, holiday-themed wreaths, and personalized Christmas ornaments. Use holiday-themed fabric and quick-sew patterns! Some of my free patterns you can use:
5 - Easy Accessories
Easy accessories are always a hit! A few sew-to-sell ideas here from my blog are: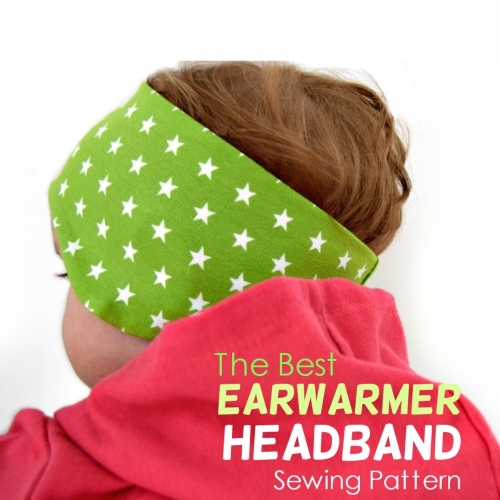 6 - Tote Bags!
Reducing waste and going green is a year-long trend that's here to stay. And tote bags have a huge market share! These can be sold as add-ons or as individual products.
Add-on Items can improve your Sales Value Per transaction: Gift Bags
Think about the most common Add-On Item - easy gift bags!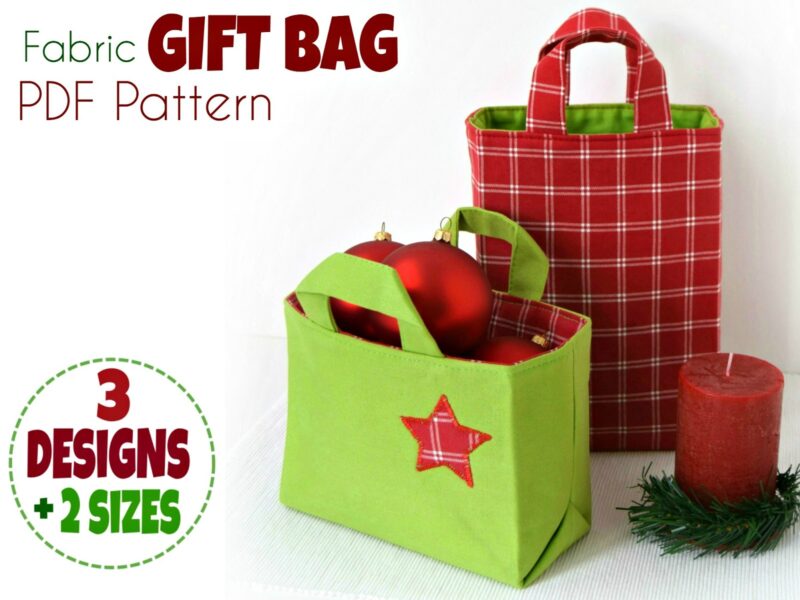 A perfect add-on for your shop! - Get Pattern HERE.
Many of your customers will be purchasing gifts. For convenience reasons, it's a good thing to walk out of a handmade shop with an item already ready to gift. Meaning that a unique, handmade gift bag might be just what they need, so yes, easy crafts to make and sell include bag patterns too. Just make sure they are simple enough to make them fast.
Start with one or two sizes, and expand when you see what's the best selling size in your shop - what size will sell best largely depends on what are the main items you sell in your handmade shop. And before you know it, you've got an add-on item for your shop that will sell well. Convenience always wins!
Market Bags, Grocery Bags!
You can also make them as a stand-alone product, people like these market totes (the pattern is free for newsletter subscribers, get it now!) Also, handmade fabric gift bags fall into top categories for easy crafts to make and sell for Christmas. Make sure to stock up your shop before holiday shopping kicks in!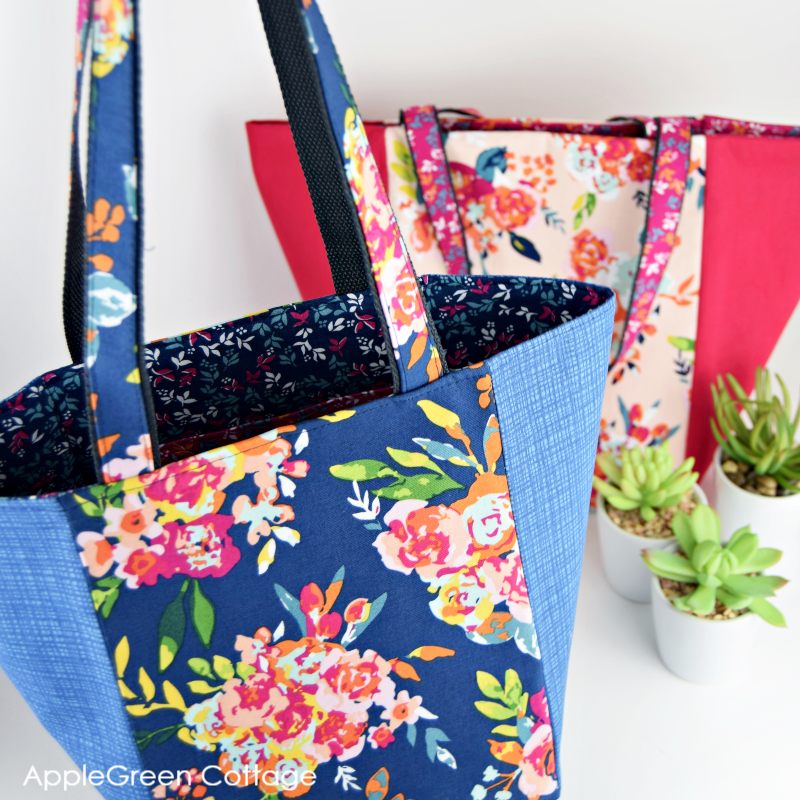 You can sell your customers pretty unique fabric shopping bags and grocery totes (and going green is always in trend!). Like these color-blocked tote bags to use for their Saturday market trips. Visit my tote bag sewing tutorial or this market bag tutorial, download the free pattern, and see how easy these are to sew
And, by the way, these diy project bags are all the rave with knitters and crocheters. So, in case you have anything to do with selling yarn, check out the pattern, and see if this one would be a good fit for you: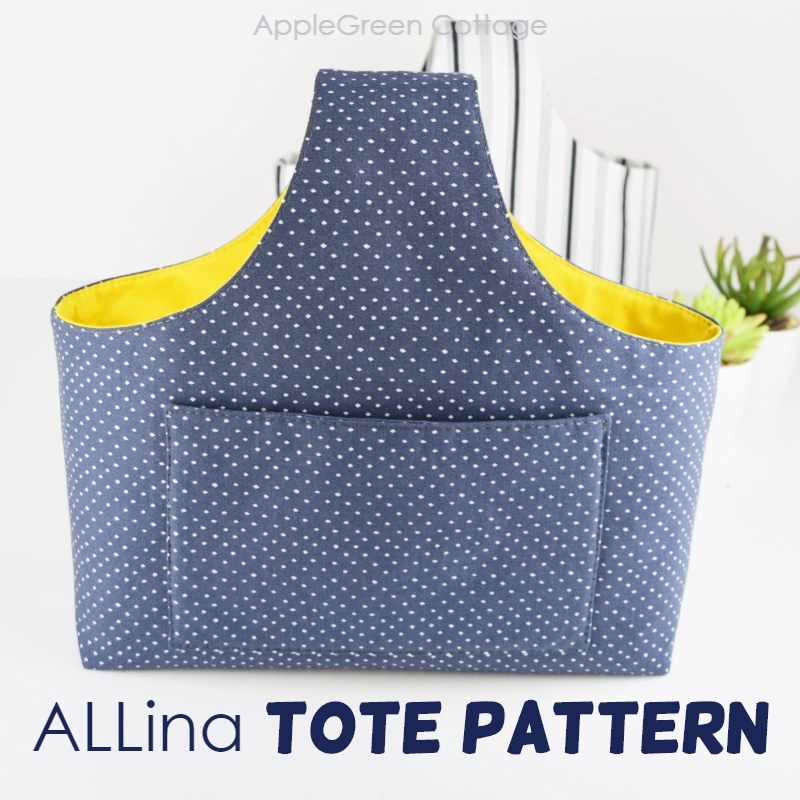 There are, of course, so many easy sewing projects that are perfect to make and sell, but it's best to start with a selection, see what works for you, and then expand.
7 - Other Easy crafts to make and sell on Etsy, at craft fairs, and elsewhere
Many of the items shown below will fit perfectly into the sew-to-sell category too:
Also check out these 20 Easy sewing projects, and these 50 Beginner-friendly sewing projects - a must-see before developing your selling portfolio!
Now, a few more tips I've collected over the years and might be helpful:
Should You Use Free Patterns For Sewing To Sell?
Definitely YES! Free patterns are good projects for when you are looking for easy crafts to make and sell. Provided that you are super careful about two things: firstly, the sewing pattern has to be professionally designed. You'll want and need to provide quality to YOUR customers, so the sewing pattern you use must have your back when you sew!
I'm not talking super fancy. It can be as simple as this quick cowl scarf (it's been reported as an excellent seller, all my subscribers can get the PDF template for free!) or one requiring intermediate or advanced skill level - like these Boxed! Pouches for example, are free in my shop. Every little detail explained, with bonus tips. And free. The important thing is, you need to be able to rely on the pattern designer being cautious to calculate every little detail into the pattern. Also, depending on your sewing skills, you'll need sufficient tips for you to be able to make a high-quality item.
And secondly, yes you can use free patterns to sew things to sell if the pattern designer allows you to. I know that many pattern designers add a disclaimer prohibiting the selling of items made with their free patterns. While it is a never-ending story, I'll just cut to the chase: I'm happy to support small businesses, so I will always allow you to sell your handmade items made with my patterns!
SEW-TO-SELL LICENSE - Included!
ALL my sewing patterns I've mentioned here, both payable and free ones, come with a license to sell the items sewn with my patterns if you make them by yourself (mass production excluded). Check them out.
Even better: mentioning AppleGreen Cottage as a pattern designer is not obligatory. But if you do and you tag me with @applegreencottage or #applegreencottage on Instagram or Facebook, I'll be more than happy to share and support your post, so more potential customers find you.
Now it's your turn: which one of the projects do you want to sew first? Make sure you save these ideas for easy crafts to make and sell for later: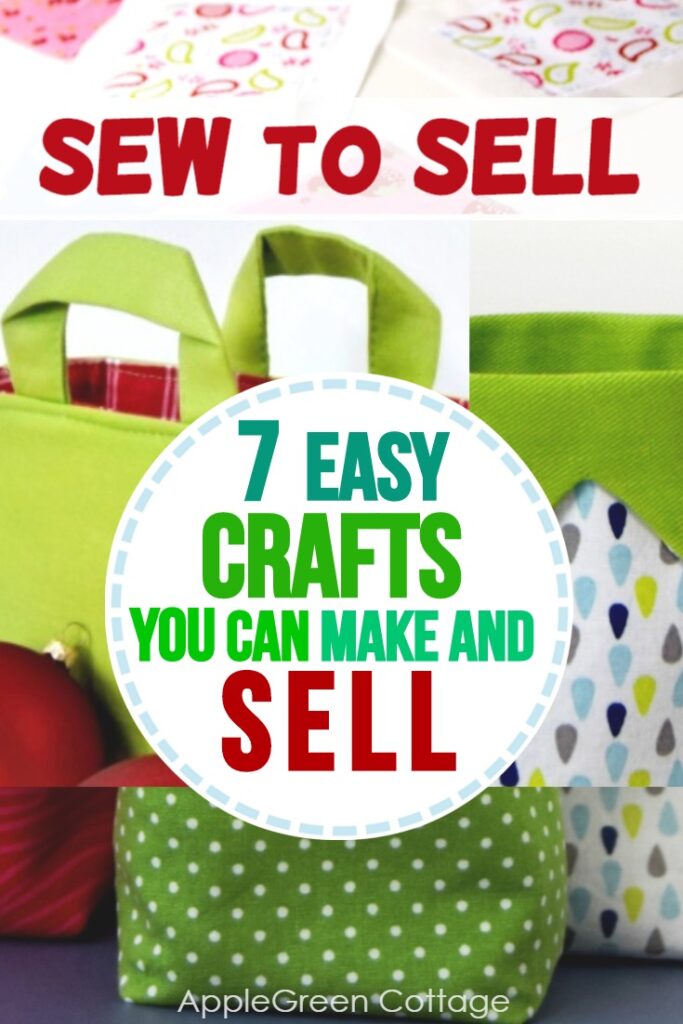 WANT MORE FREE TUTORIALS AND PATTERNS?
Get email updates and never miss out on new patterns, printables, and tutorials:
Or …check out the NEA Small Crossbody Bag pattern in our shop. This bag skyrocketed to the top of our best-sellers in less than a week after it was released: