See how to make a tulle bow using this easy and quick tutorial and video. These diy tulle bows are super simple to make. No templates, no measuring, no sewing. Made in 5 minutes - or less!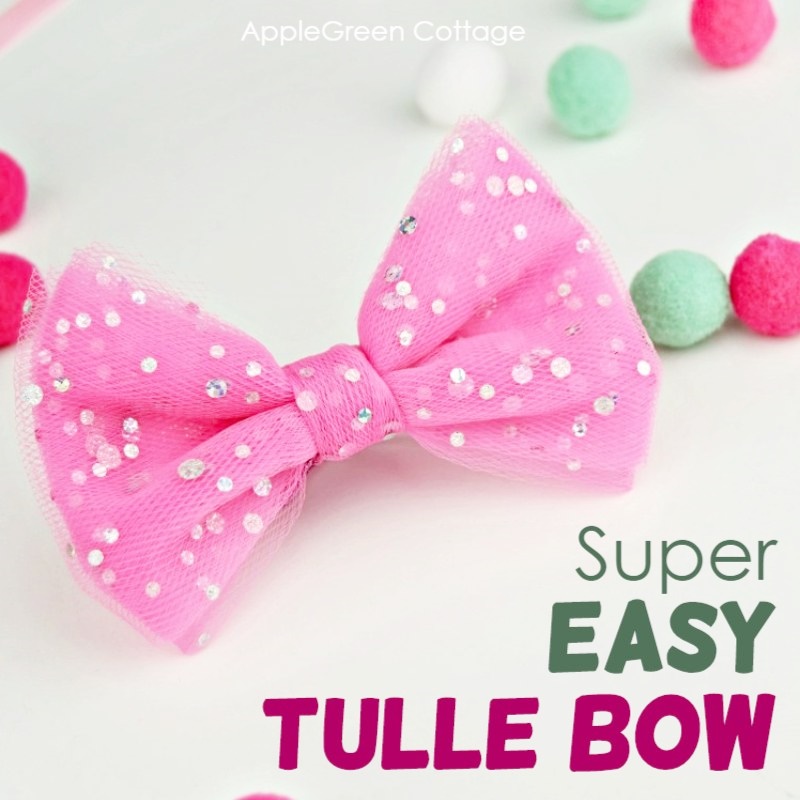 This post may contain affiliate links. Thanks for your support.
These diy tulle bows are so easy to make - and when you start, you'll have a dozen of them made in minutes! If you liked these cute diy fabric hair bows, simple but easy hair ties, or these diy scrunchies, you'll absolutely love these too - scroll down and watch the video and the photo tutorial - or save this project to Pinterest using this link if you want to access it later: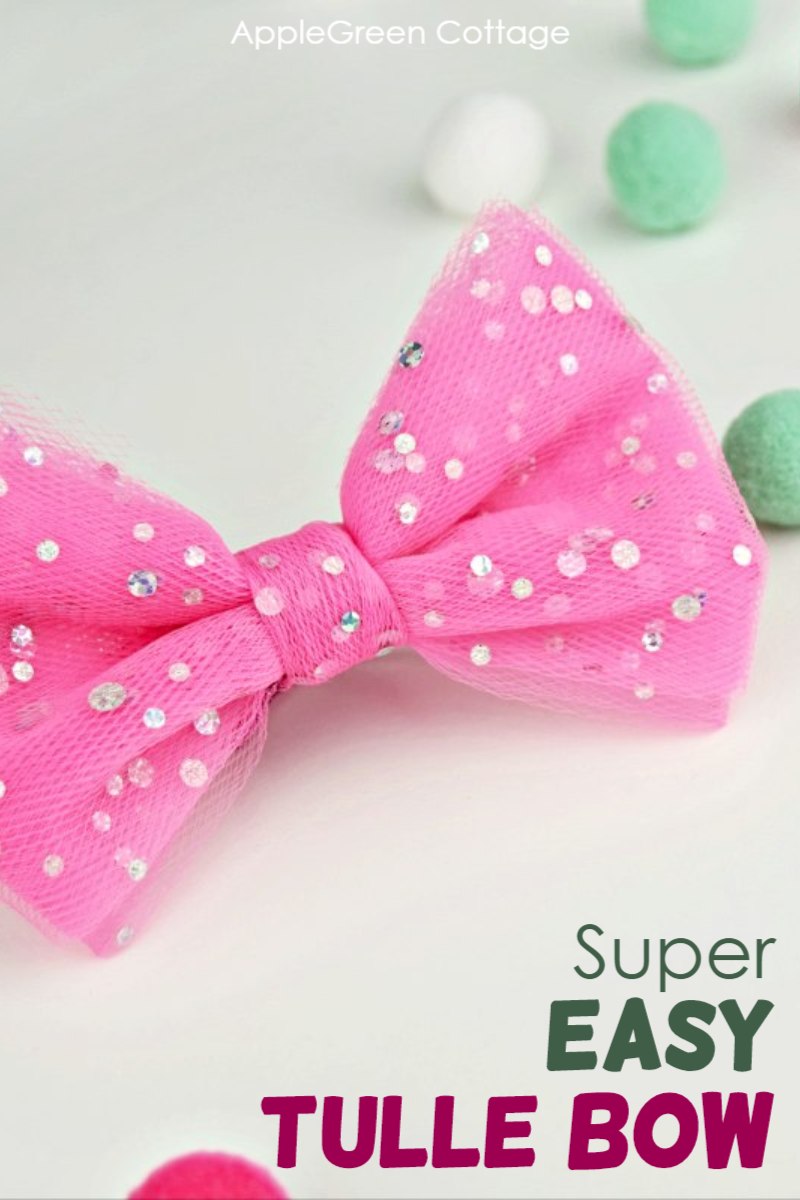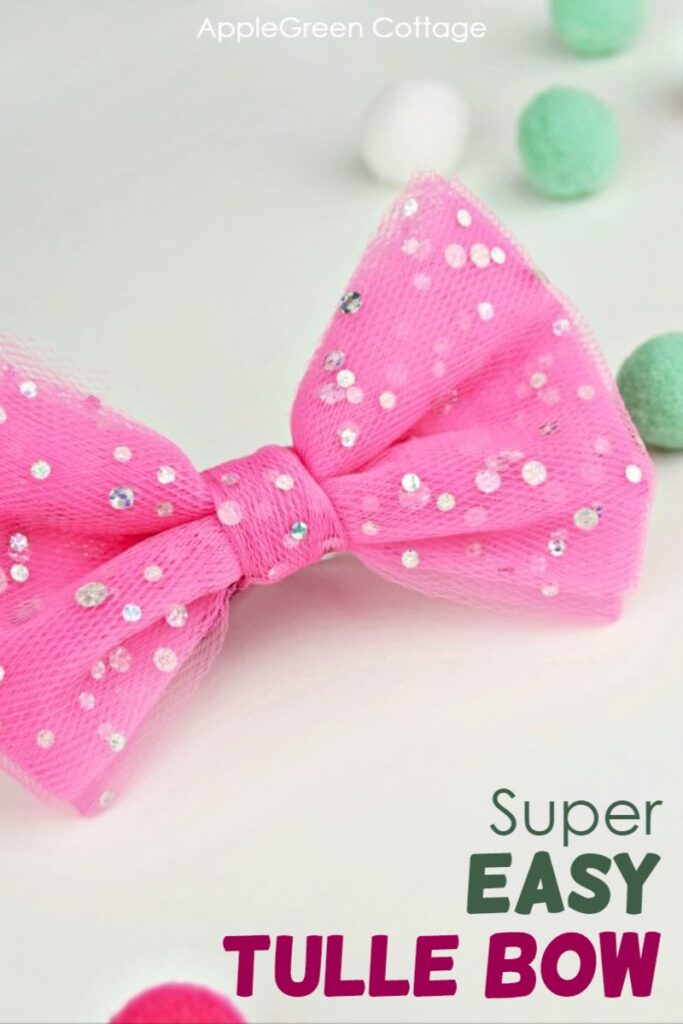 If you like making accessories, check out these easy projects, too:
How To Make A Tulle Bow
They are so easy and cute you might make a lot more of them than you initially planned. Especially when you see this quick bow making video I made for you 🙂
Tulle Bow Video
Now, the tutorial in writing, too. Let's start:
Supplies to Make Tulle Bows
You'll need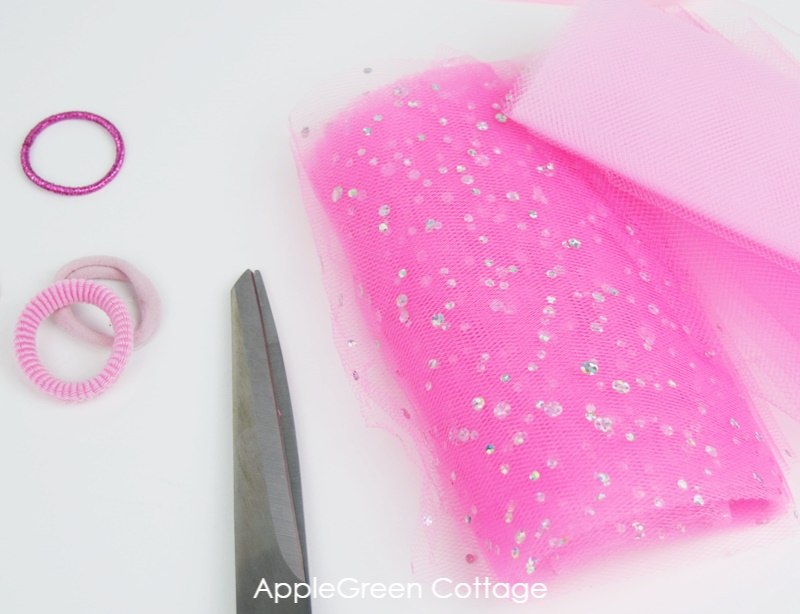 two yards' length of 6″ wide tulle (or glitter sequins tulle) – 6" wide tulle rolls come in 10 or 25 yards, so you'll have enough for a lot of tulle hair bows
elastic ties (ponytail ties)
scissors
You can make a fuller or a more transparent bow, depending on the length of your tulle piece.
Diy Tulle Bow Tutorial
Step 1 - Cut the Tulle pieces
Cut two pieces of tulle from your 6" wide spool
one piece should be 1 ½ yard long, (it can vary, depending on how transparent you want your bows to be.)
and one just half a yard long - this is to tie off your tulle bow
Step 2 - Wrap the Long Piece
Fold the long piece in half lengthwise so the strip width is no longer 6" (now it's 3" only) and place one end between your palm and your thumb, like this: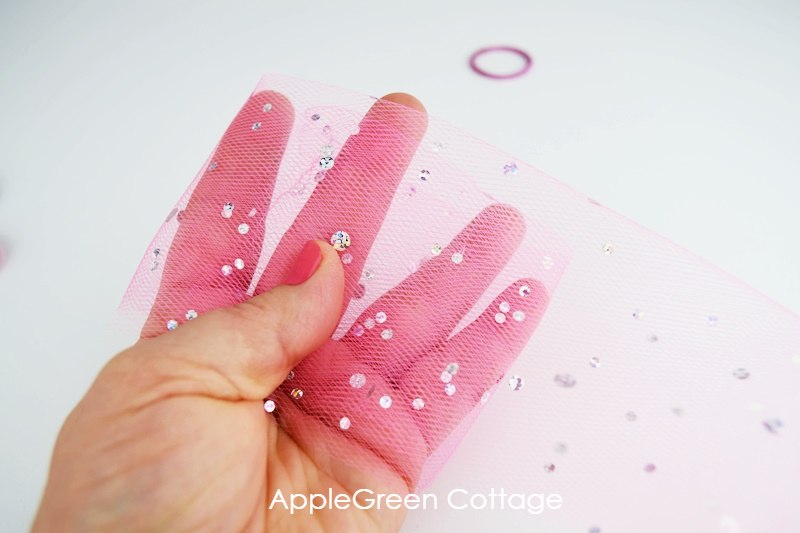 Now start wrapping the tulle around your hand, I like to keep my fingers apart so the tulle bow will be a bit larger: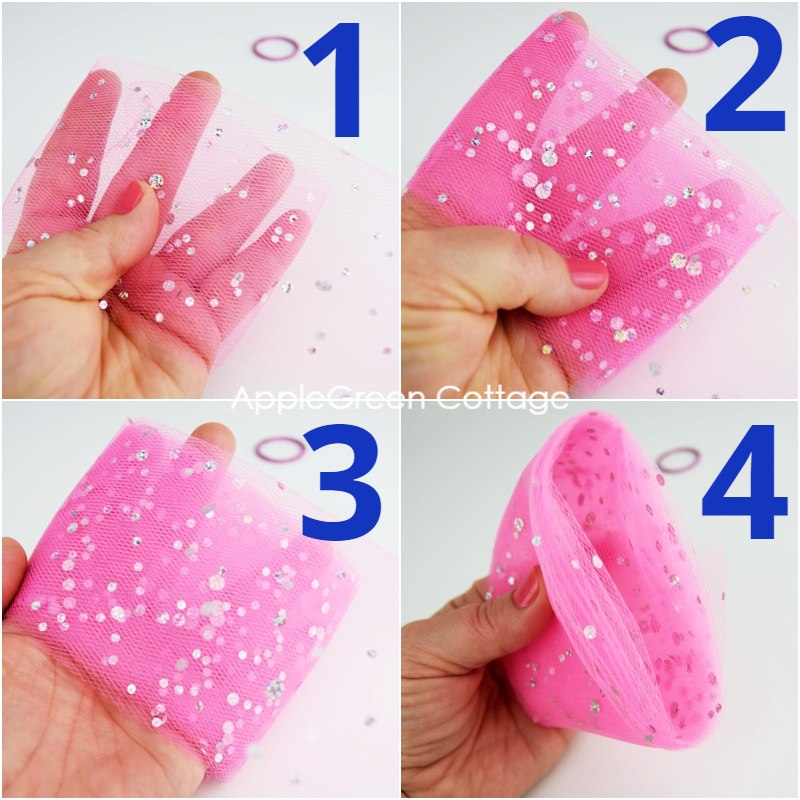 Keep wrapping it over and over and over again, until you've used up your whole tulle piece. That will be around 11-14 times around your hand.
Step 3 - Add the small tulle piece and the Ponytail tie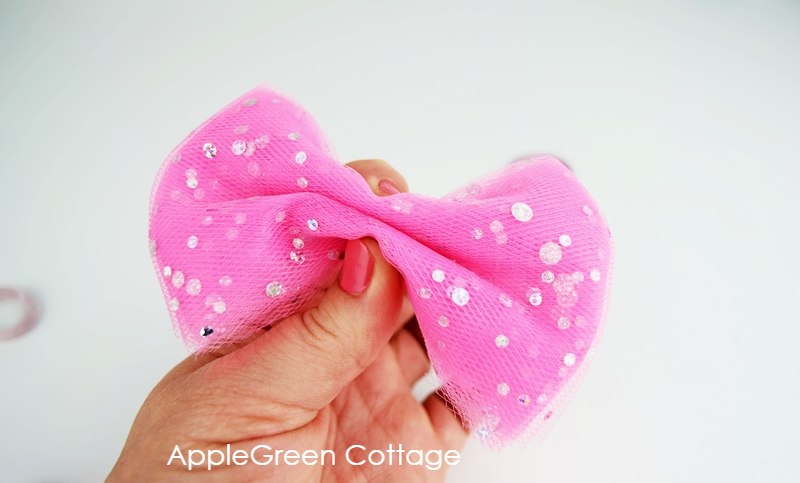 Next, grab the piece in the center, fold it accordion-style, then pinch it closed. (see the photo above) so you get a bow shape.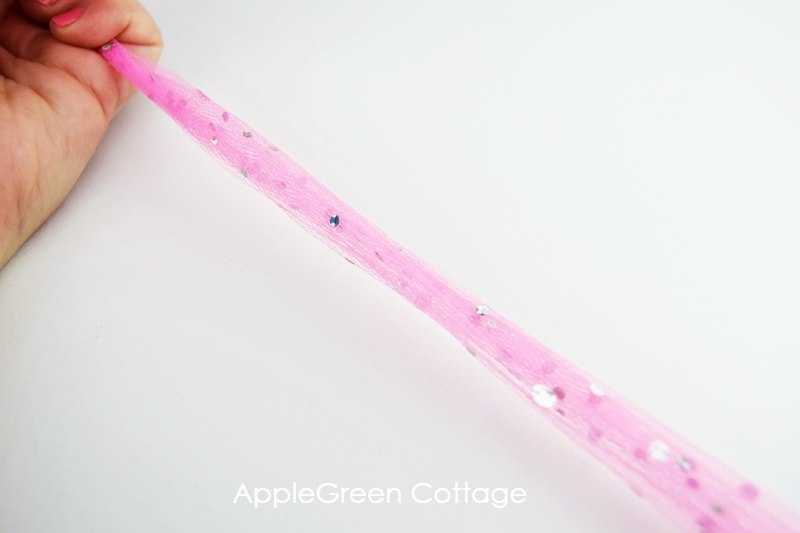 Take your small piece of tule and wrap it around the gathered center (see 1), then add a ponytail tie (see 2). Double-knot the tulle piece on the back of the bow (see 3 and 4)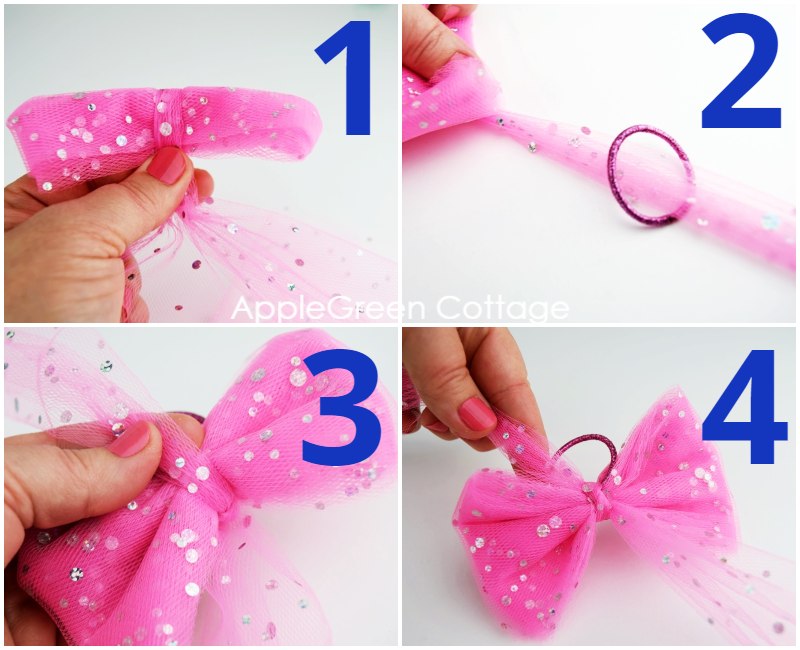 Then wrap it a few times around the pleated center, and tie it off at the back side.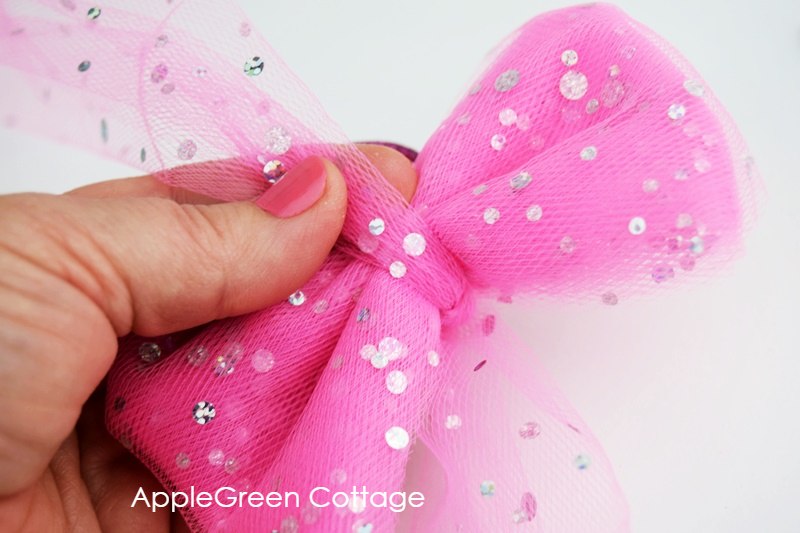 Done, enjoy!
What Are Tulle Bows Used For?
I've made a lot of tulle hair bows, like these in this tutorial, where I add a ponytail tie. But hey, there are so many MORE uses for these cuties! Use them for wreaths - such pretty tulle home decor! Or make a giant tulle bow and tie it on your dining room chairs - festive vibes guaranteed! You can make them as Christmas tree decorations. Put them on all your gifts! Diy tulle bows like these make perfect gift toppers, and if you want to mix and match, make a few diy felt bows like these too. Or flowers like these! What you get are the best diy gift toppers you can imagine!
Save For Later: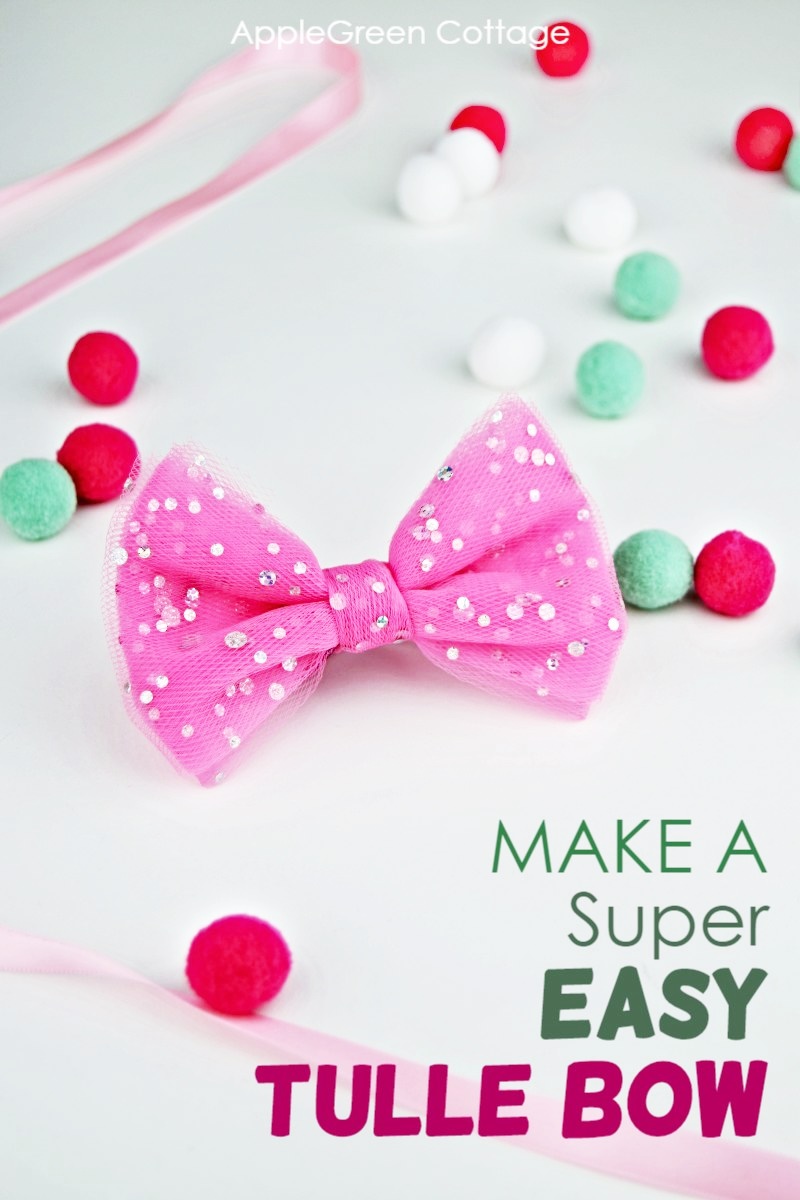 Want MORE FREE TUTORIALS And Patterns?
Get email updates and never miss out on new patterns, printables, and tutorials:
Or …check out this popular PDF pattern – the Kalina Mini Wallet in our shop. So practical!