Sew a carryall snap pouch using the Mia Pouch Pattern in 3 sizes! Totally beginner-friendly: this fun and practical easy pouch pattern with a flap has a unique construction process, making it easy and quick to sew even if you're new to sewing. Check it out!
Did I mention 😊 smart construction? Little HACKS are always my favorites! Scroll down for more info.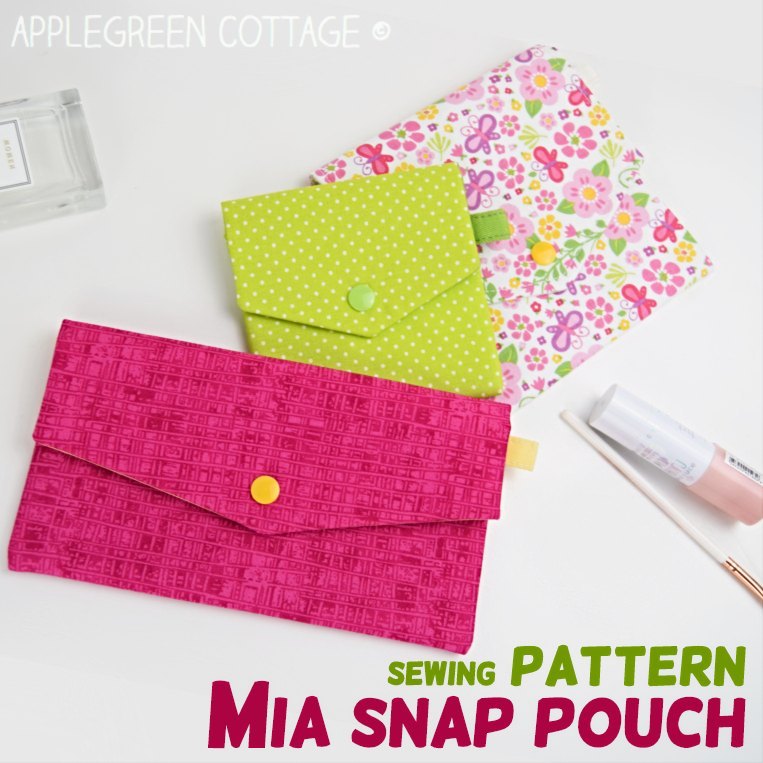 This simple, single-pocket carryall pouch comes in 3 different sizes. Minimal and sleek, it's perfect for carrying around your basics. The small version can easily be slipped into a pocket, and the wide size can be used as a minimalistic clutch.
It only takes a small amount of fabric to make this single-pocket pouch, so it's a great pattern for using up your fabric scraps. And each one only takes about 30 minutes (or less!) to make so you can make one in every color and print!
Sewing To Sell?
You are more than welcome to sell items you personally sew from my patterns. I love it when small businesses make things to sell using my patterns. Let's thrive together!
While I in no way require that you state 'pattern by @applegreencottage' or similar, it is very appreciated. And easier for me to find, so I can share it to our followers. Thank you!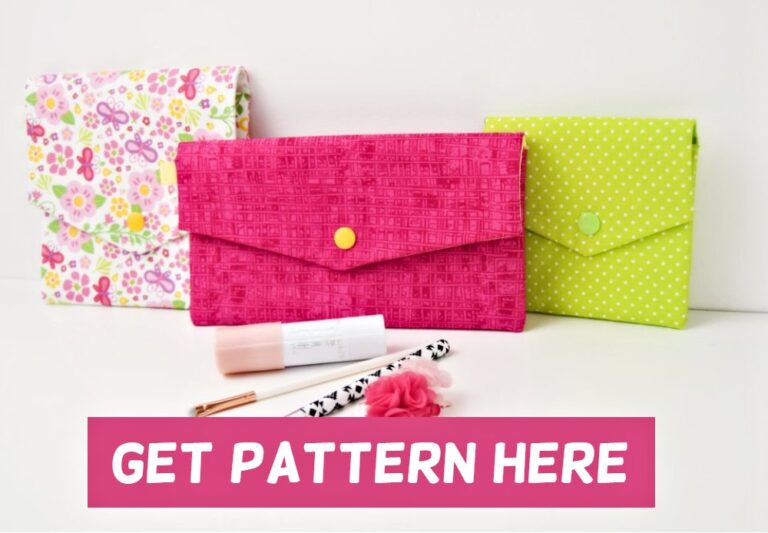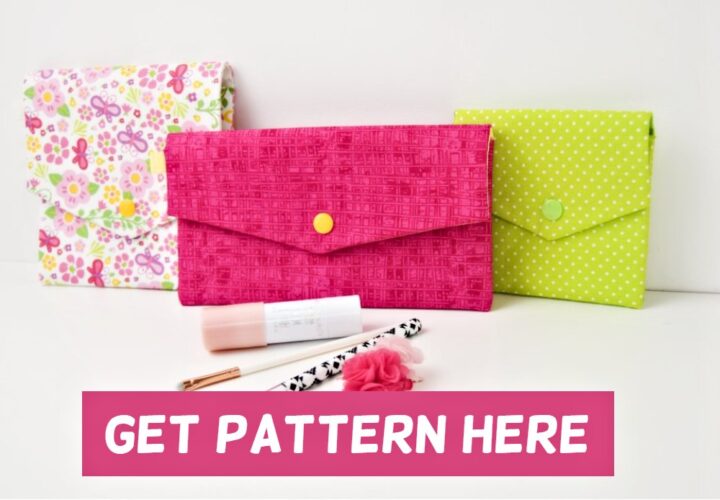 This is an easy pattern for a SINGLE-POCKET pouch with flap over and KAM snap fastening, perfect for small items such as cosmetics, first aid supplies, feminine products, or simply a lip balm, a pack of tissues, and your keys.
FEATURES:
Simple single-pocket pouch with a flap - hundreds of uses!
3 sizes for all your needs (including clutch size)
Space savers! They take little space in your handbag, tote or backpack.
Optional tab, so you can easily attach a wristlet strap to use it as a minimalistic clutch
Beginner friendly pattern + instructions
Fully lined with no exposed seams
KAM snap closure (no zipper sewing!)
Unique construction will make the sewing even easier and quicker.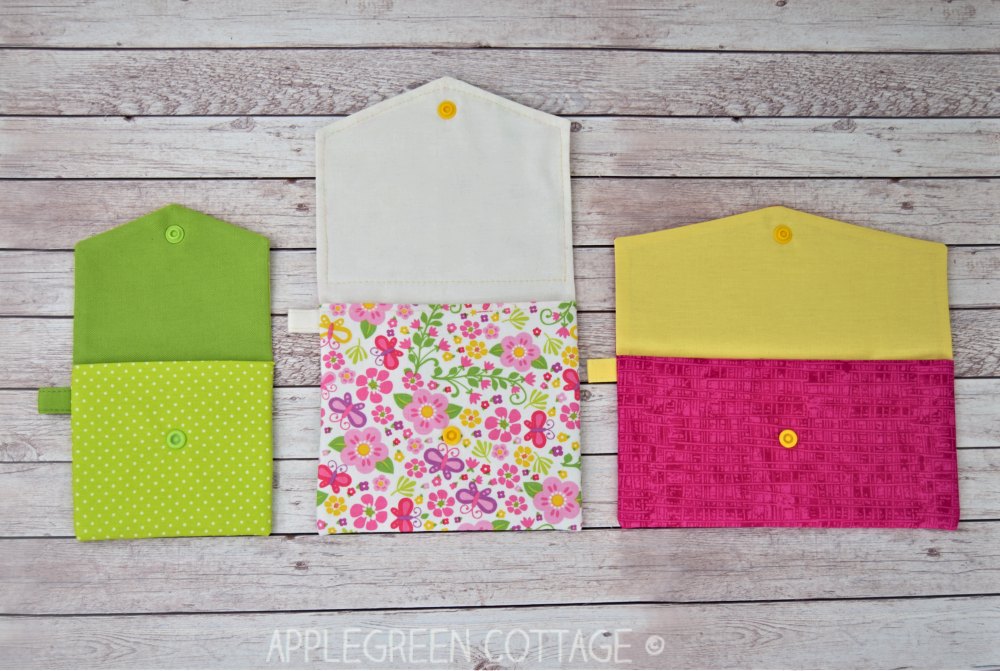 You can make them in sets for a great handmade gift.
The pattern is available in my new pattern shop here.
In addition to the 11-page printable pattern and separate cutting instructions, you will receive 10 pages of clear, easy to follow step by step instructions and clear photos to make these snap pouches.

Both Printable Pattern Pages AND separate Cutting Dimensions are provided. Meaning you don't necessarily need to print that thing, especially if an advanced sewer.
More about the pouch pattern:
Beginner friendly (detailed, easy-to-follow instructions)
11 pattern pages plus
10 pages of instructions with clear photos for each step
plus diagrams and tips to help you along the way
Printing guide and cutting instructions.
All measurements are given in inch and cm.
Printable both on letter-size and A4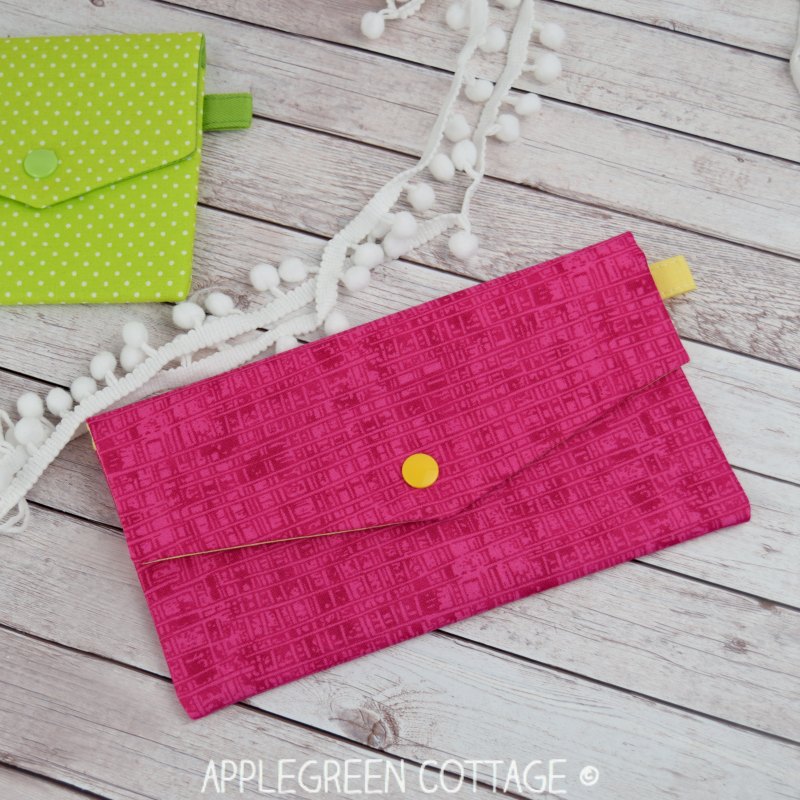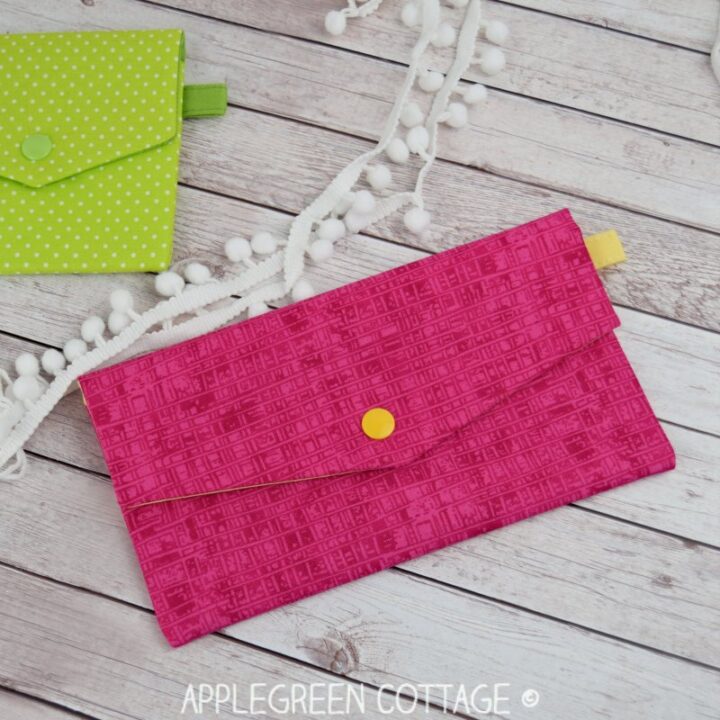 YARDAGE Required:
Mia MIDSIZE requires a piece of fabric that's a little bit over a fat quarter length, so a ¼ yard (20cm) piece of quilting cotton or décor weight fabric, and
Other two sizes: a fat quarter of fabric or less.
Less than a fat quarter of fusible fleece.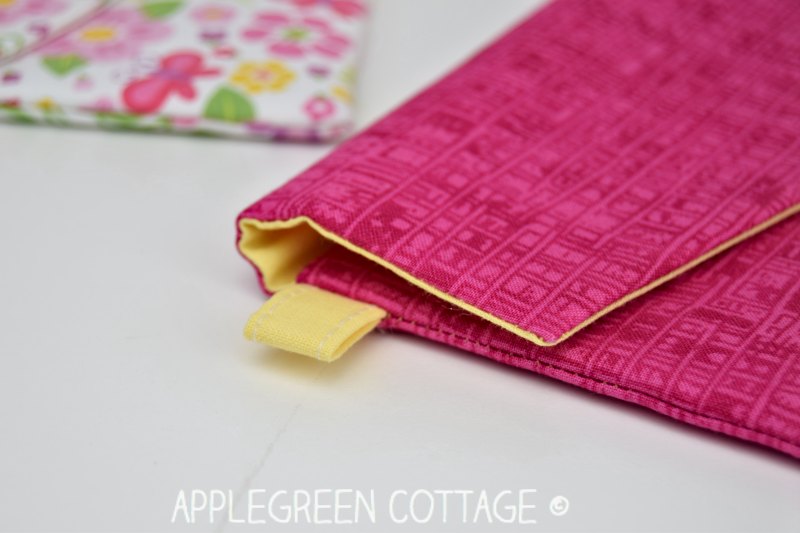 FINISHED SIZE
SMALL: approx. 4 ½″ wide, 4 ½″ tall, ¼" depth (11.5 x 11.5 x 0.5 cm)
MIDSIZE: approx. 6″ wide, 6″ tall, ¼" depth (15 x 15 x 0.5 cm)
WIDE: approx. 8″ wide, 4 ½″ tall, ¼" depth (20 x 11.5 x 0.5 cm)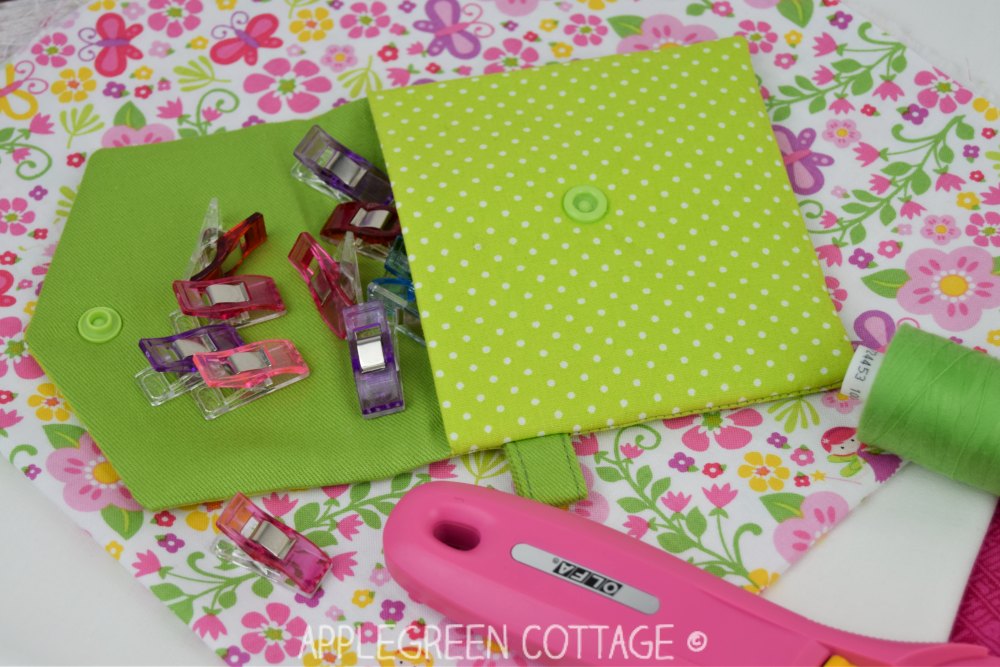 You're on your way to creating your own easy snap pouch with this easy pattern and instructions! Make sure to save it to Pinterest for some sewing inspiration: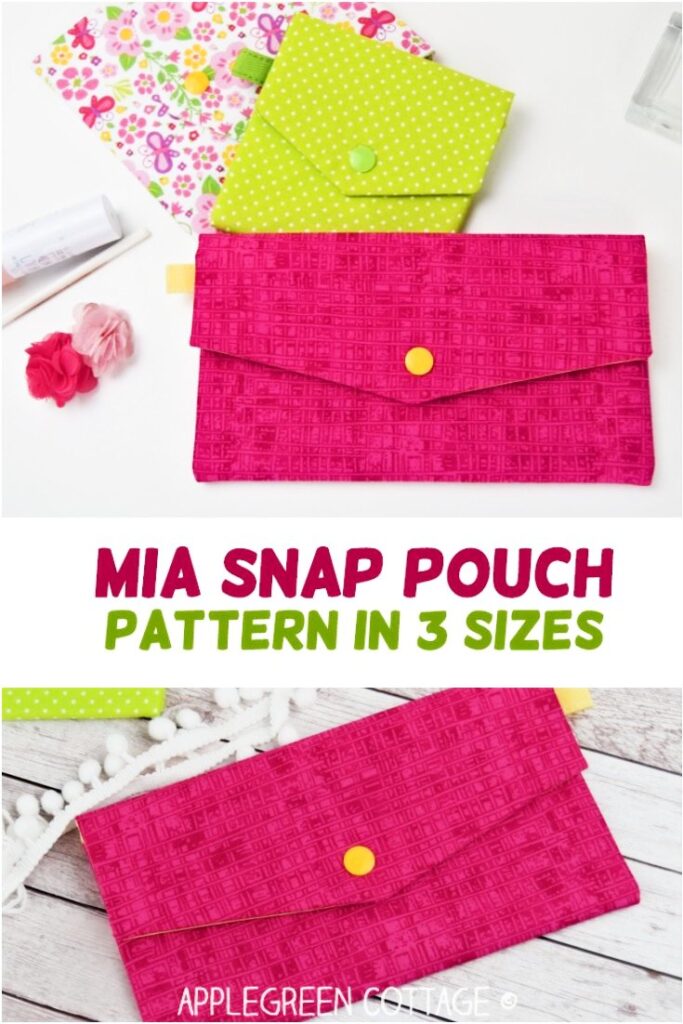 Ideas to Sew
And here are a few more ideas to use for Mia Small and Midsize Pouch:
tea bag case
earbud case
first aid kit
travel storage for jewelry, hair accessories
and treasure rock pouch for kids (as all my pouch and purse patterns!)
And even a few more for Mia Wide Pouch - Mia Clutch
your essential clutch for evening outings
travel cosmetic pouch
rotary cutter storage pad (mine!)
sunglasses case
pencil pouch
A great and handy pouch addition to your collection - make them for yourself, gift or sell them in your handmade shop!
If you like what you see, check out this link to the pattern HERE: