Are you looking for a free Christmas stocking pattern with a cuff? You've found it!
Use this free stocking pattern to make the best diy Christmas stockings for the entire family. Also, they are reversible, so you'll be able to match them to your Christmas decor for years to come! No-fold cuff, making sure you use the least fabric you need for a polished look. No gaping, and a well-designed pattern for an easy sewing process. Check it out!
And I added an additional design, so now you'll have 2 patterns in one!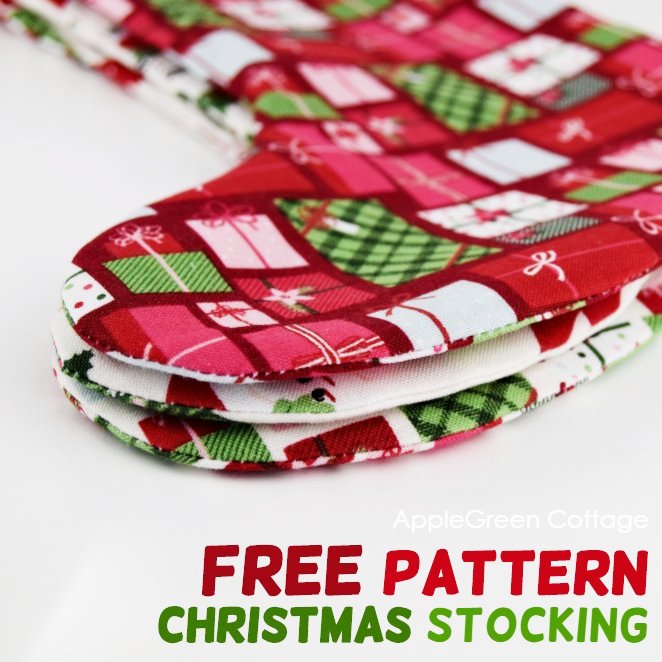 This post may contain affiliate links. Thanks for your support. Christmas sewing, anyone? Yes! There are tons of Christmas sewing projects on this blog. Feel free to check them all out, including these ideas:
Christmas Stocking Pattern To Sew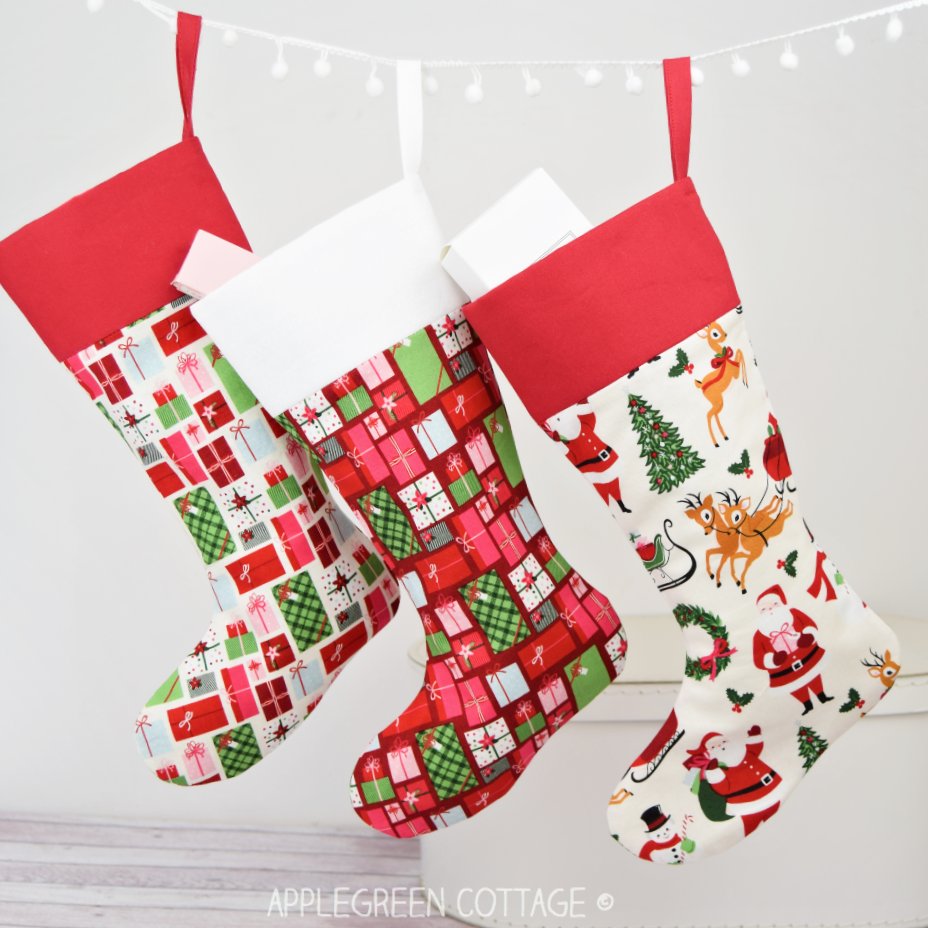 GOOD DESIGN + LESS FABRIC + REVERSIBLE STOCKING
I made this christmas stocking tutorial a bit different from the usual stocking tutorials, to make it even easier, and it's also a bit because I'm always looking for the most efficient way to use less fabric - with the same, or even better visual effect. Check out how the no-fold cuff is constructed - easier and faster to sew, using up less fabric than other same-sized stockings with cuffs folded back.
OR do you want a printable copy of the WHOLE tutorial? Scroll to the bottom of this tutorial for more details!
You only need two fat quarters of fabric, and scrap pieces for the cuff. If you use fat quarters with pretty Christmas prints, your diy Christmas stocking will be reversible!
I used these colorful Christmas prints from the Merry And Bright collection by @echoparkpaper:
I loved the classic colors and those cute vintage Christmas illustrations – oh, and the gift boxes and the green ornaments were my favorites! Also, mixing large and small prints made it easy for me to include them into all kinds of Christmas sewing projects. - Get my entire Handmade Holidays collection of patterns and templates here. (Free, no code required.)
Or check out what else I've made with these prints - origami ornaments and this free gift card holder pattern. If you want to see what other crafty little Christmas sewing projects I'll post with these prints, make sure to sign up for the free weekly newsletter (here), so you don't miss out on them!
Finished Size
Height 13" (33 cm), width of the top opening 6" (15 cm)
How much fabric do I need to make a Christmas stocking?
Usually, half a yard (half a meter) will be more than enough to sew a Christmas stocking in average size, but it's even more fun if you use scraps.
Diy Christmas stocking supplies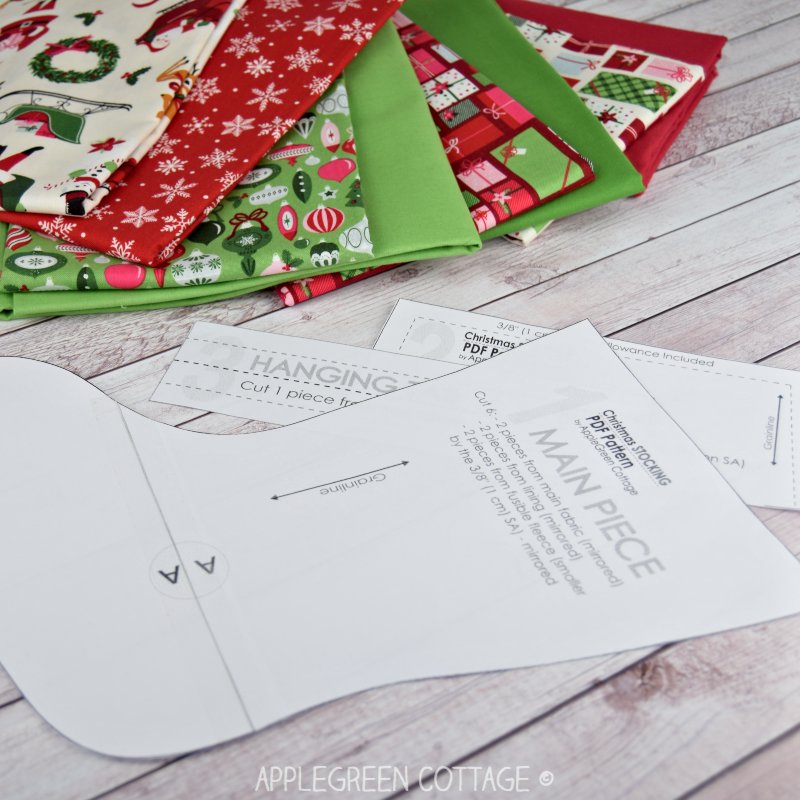 two fat quarters of quilting fabric (I used prints from the Merry And Bright collection)
a fat eighth of accent or solid fabric
two scrap pieces of fusible fleece for the cuff
optional: use fusible fleece for the entire outer stocking if you want a stable stocking that will stand up on its own or propped against the wall.
sewing machine or needle, thread, pins or sewing clips,
iron, scissors, or rotary cutter plus cutting mat (I use this one by Olfa)
the free pattern
Now, first for those who love watching videos, I've made a little slideshow-style video to outline the sewing process - sit back, watch and relax.
Christmas Stocking With Cuff - Tutorial
Now on to the written step-by-step directions:
Step 1 - Get the free christmas stocking pattern pdf
Join our mailing list and get the pattern for christmas stocking (actually 2!) emailed to you:
OR do you want a printable copy of the WHOLE tutorial? Scroll to the bottom of this tutorial for more details!
How To Print this PDF file
Download the pattern file to a desktop, open it in ADOBE READER, and print at 100% size on paper or cardstock. (I recommend not printing directly from a browser window or from mobile, it could cause issues.)
Step 2 - How To Cut the Fabric For Christmas Stocking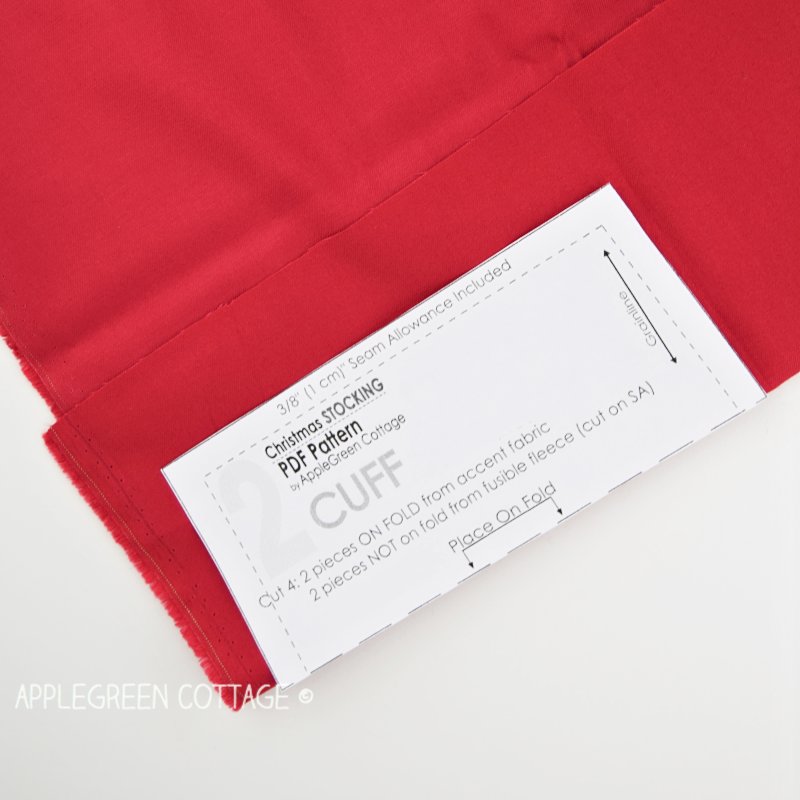 Cut the cuffs from christmas stocking sewing pattern piece No2:
Place the patttern piece on fold, as indicated on the pattern.
Then cut out two smaller pieces from fusible fleece to reinforce the stocking, so it will retain its form when hanging from your mantelpiece.
Step 3 - Add Fusible Fleece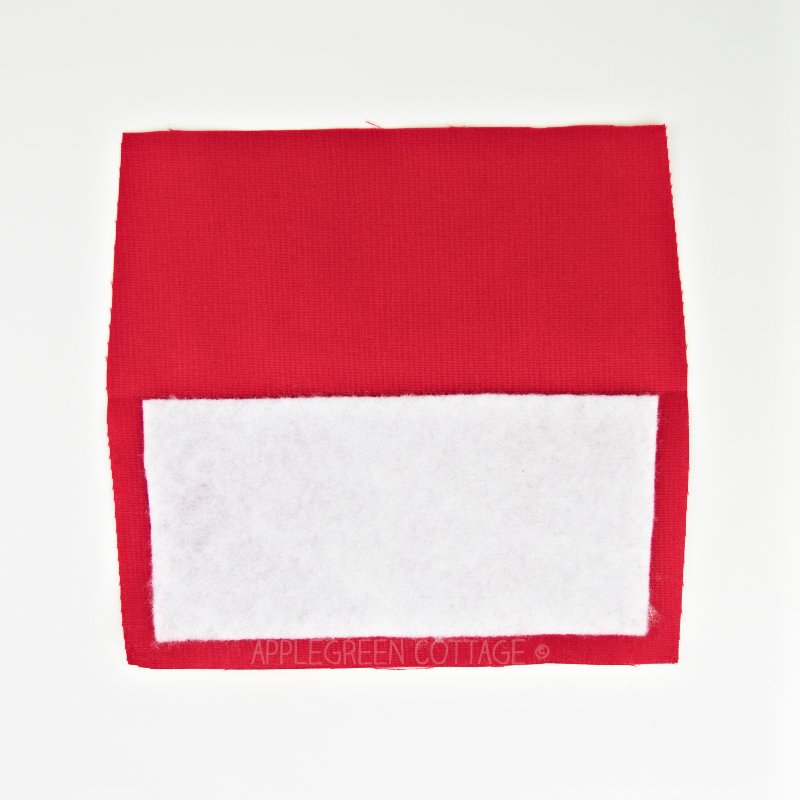 Fuse the fleece to the back of the cuff fabric.
Step 4 - Add the Hanging Loop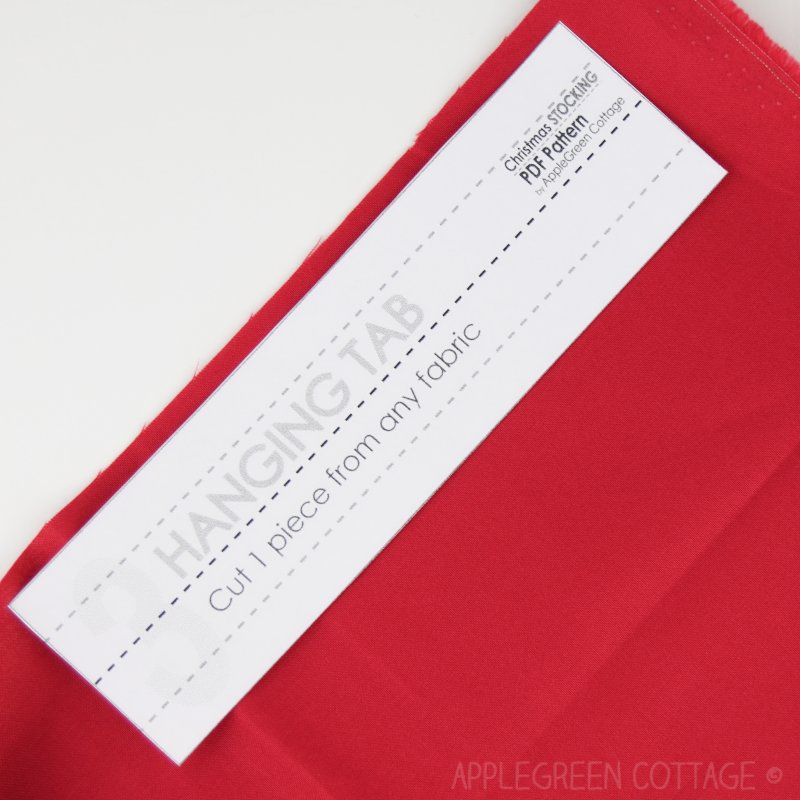 Cut the small hanging strap from Christmas stocking pattern piece No 3.
Step 5 - Cut the Main pieces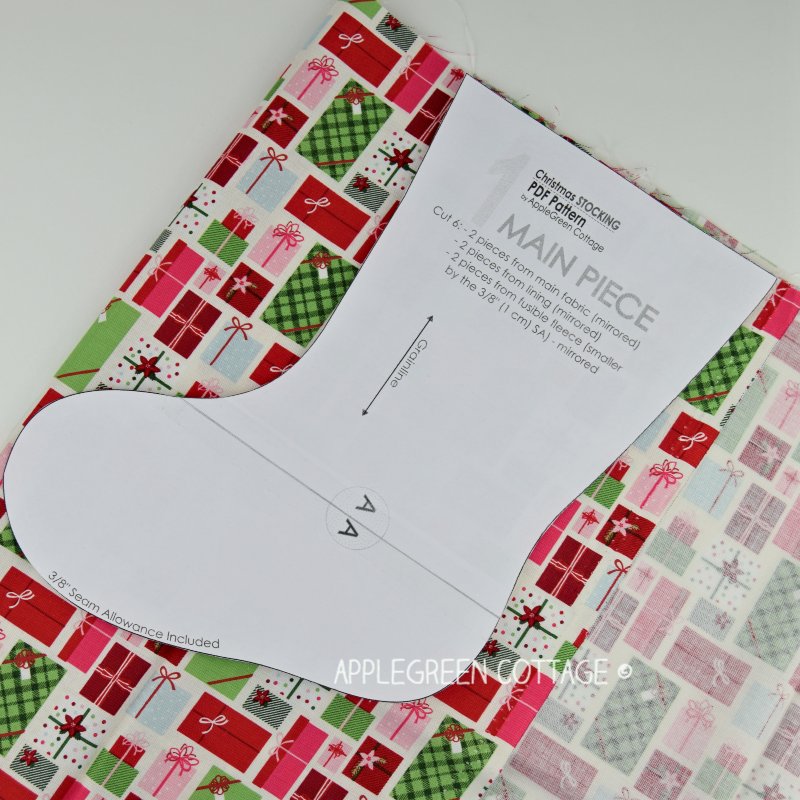 Cut the main stocking pieces (pattern piece No 1).
NOTE: First fold the fabric wrong sides together and place pattern piece No1 on it. Cut 2 pieces, they will be mirrored. This is important. Repeat to cut 2 main stocking pieces from the lining fabric - these two pieces should be mirror images of each other, too.

The fusible fleece layer is optional. These are the pieces you have now: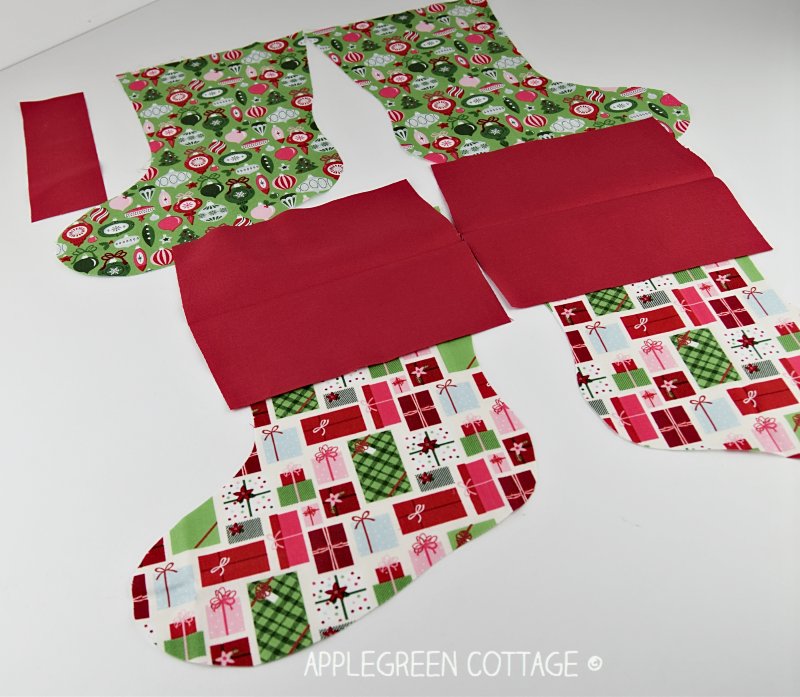 Step 6 - arrange all Pieces
Arrange the pieces like this, to make the assembly super easy: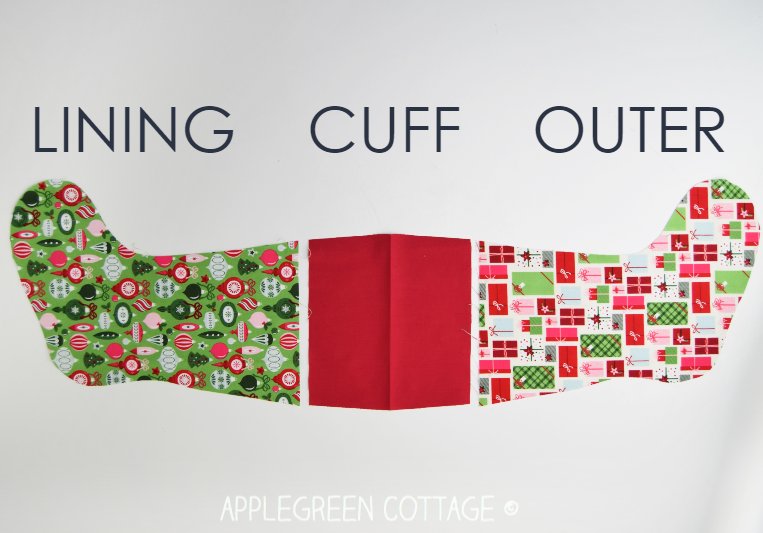 Step 7 - Create 2 Sets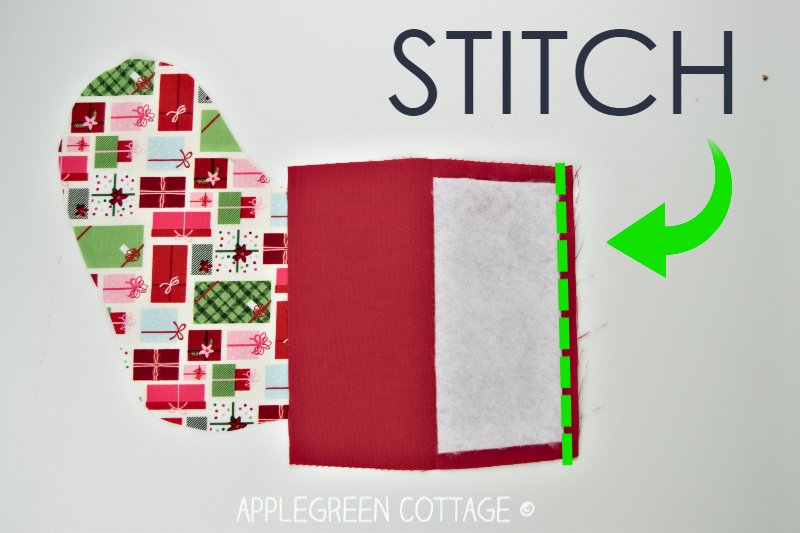 Place one of the main outer pieces on a flat surface and place the cuff on it, so the right sides will be together and the interfaced cuff edge is aligned with the top edge of the main outer piece. Stitch using a ⅜" (1 cm) seam allowance.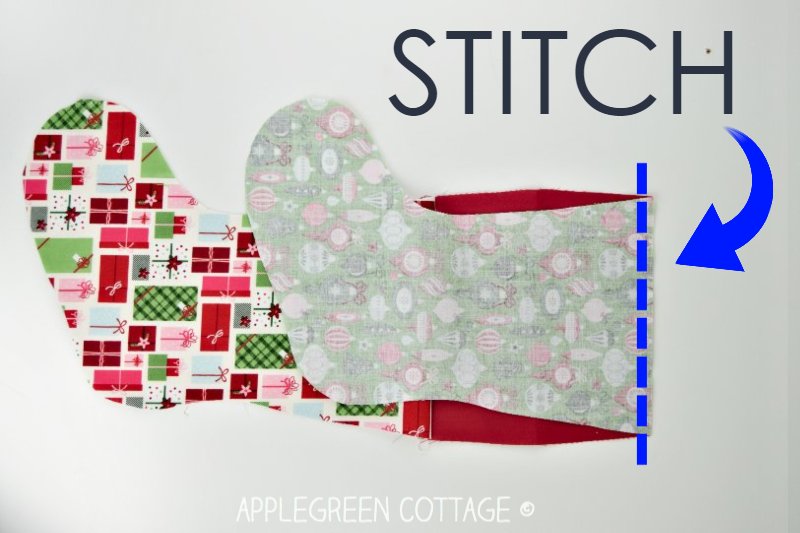 Place the remaining edge of the cuff right side up and place the upper edge of the main lining piece right side-down. Stitch, using the ⅜" (1 cm) seam allowance.
Repeat with the other set of pieces, so this is what you have now: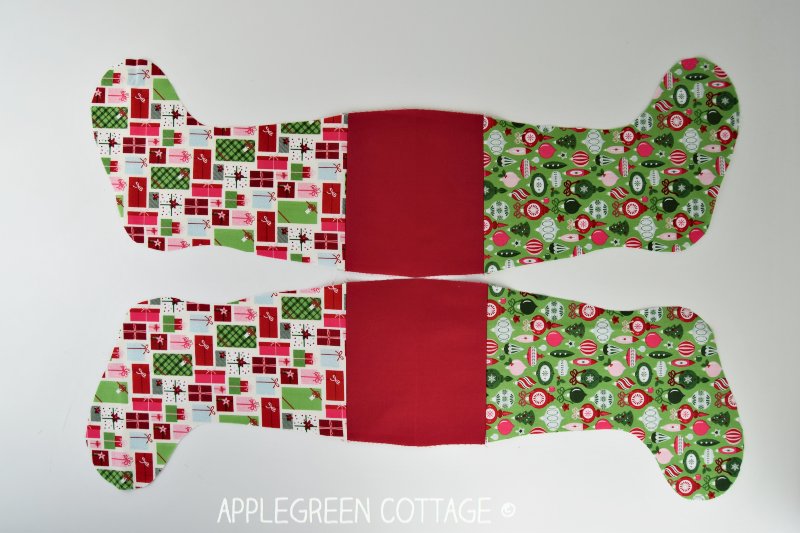 Step 8 - Sew the 2 Sets together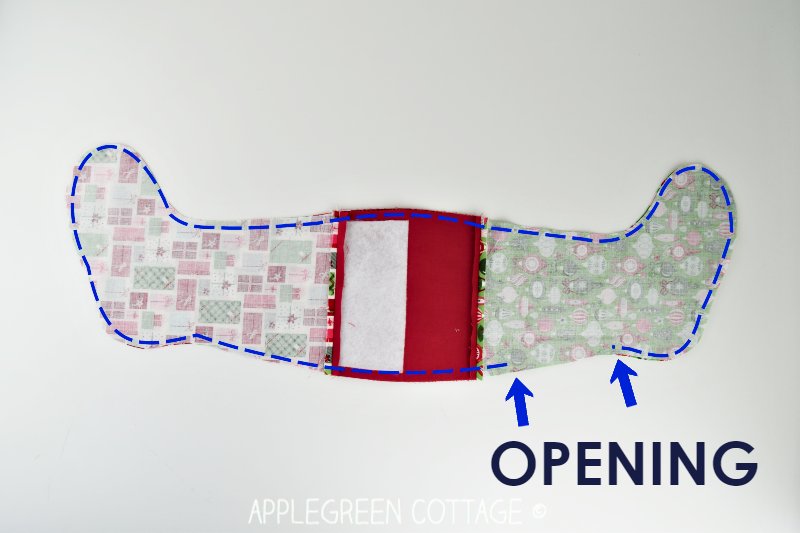 Place the 2 semi-finished sets with the right-sides-together and sew around, using a ⅜" (1 cm) seam allowance. Make sure to leave an opening for turning on the back seam of the lining piece.
Step 9 - Trim the seam allowance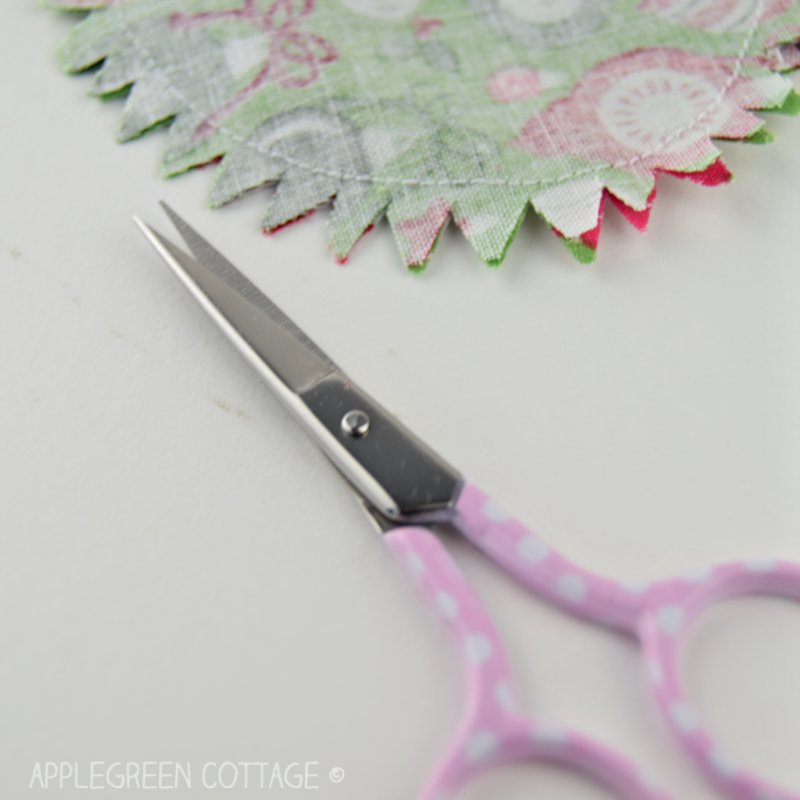 Clip the concave curves and notch the 'hills', taking care not to snip into stitches.
Step 10 - Close the opening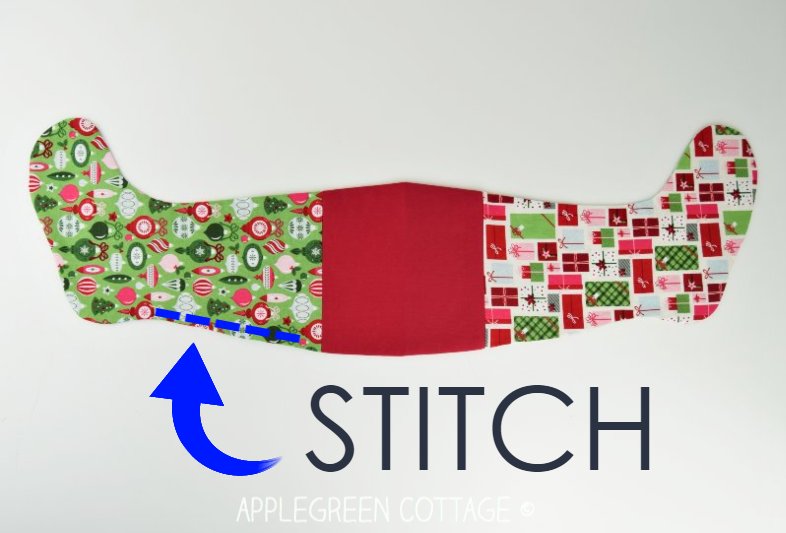 Turn right side out, press and tuck the lining in.
Step 11 - Make and Attach The Hanging Tab
The only piece left is the 7" by 2" tab - once finished, it will turn into a 3" long loop. Feel free to adjust to the size you need.
Fold along the long edges, first along the center, then unfold and press the sides towards the center. Refold along the original center and press. I finished the ends and topstitched on both long edges, and got this: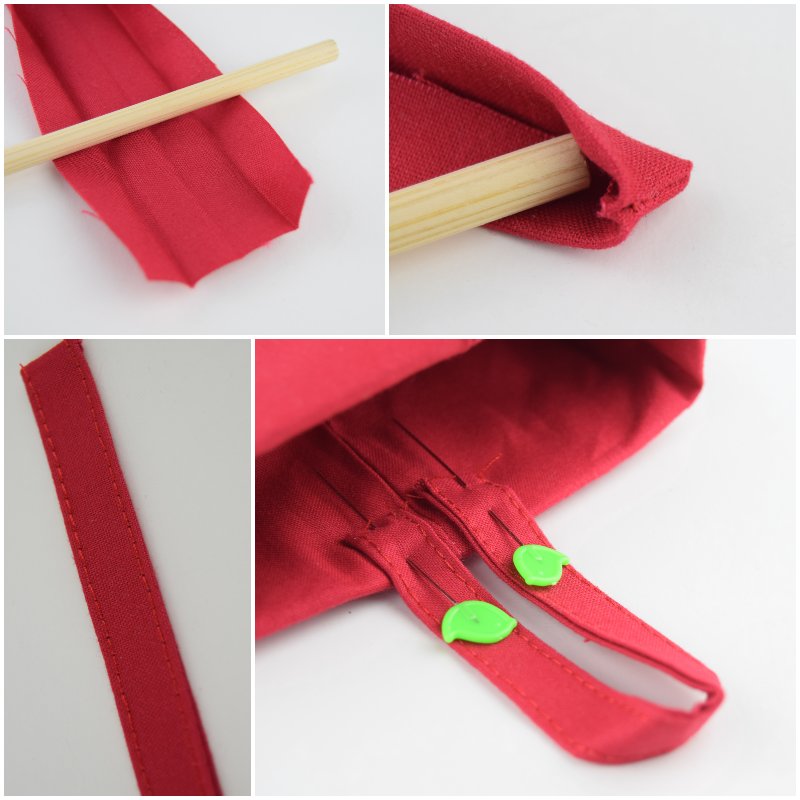 Pin the two ends on the inner side of the cuff, very close to the back center seam, like this: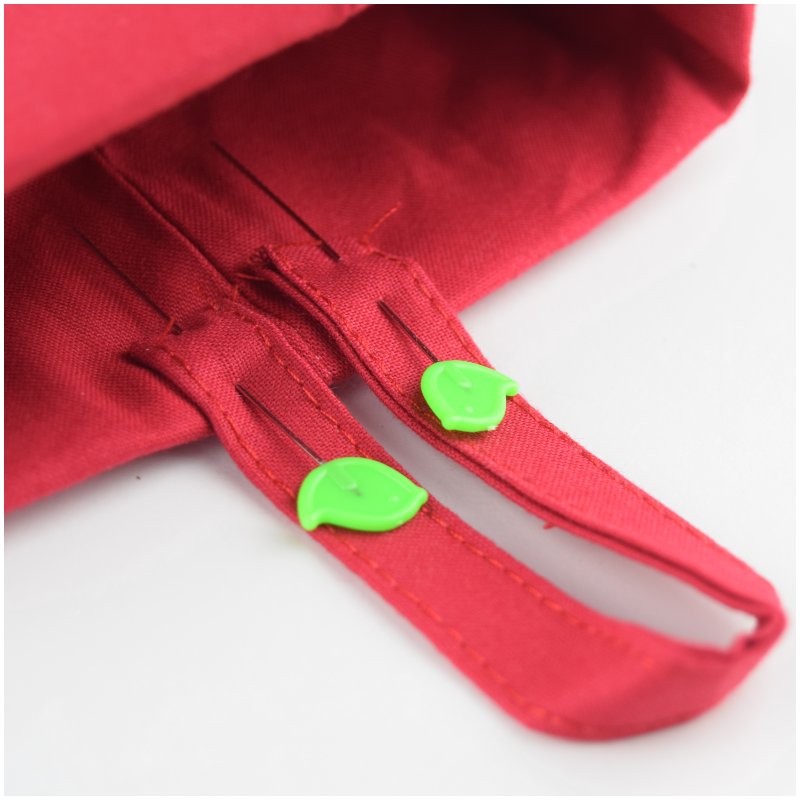 Stitch, back- and forth a few times to secure the seam. Finished. It's easy and quick, and it has no raw edges.
Variations of this stocking project
Once you've made one with quilting fabric as described above, you can also start experimenting with different fabrics, using flannel, canvas, or by adding the cuff in faux fur - that one would look gorgeous! If you opt for a burlap stocking, I'd strongly recommend to add some backing fabric to outer layer (I'd probably even baste or fuse it to the outer burlap layer) make it easier to sew. Your choice entirely.
I hope this makes it super easy for you to sew your own set of beautiful Christmas stockings for the entire family, to last for years to come! Since they are reversible, you'll be able to mix and match and change the look of your Christmas decor just by flipping the lining right side out. Enjoy! Also, check out my 6-sized Christmas gift bag pattern here in my shop. For all your handmade presents!
Now use up your Christmas sewing stash making lots more. If you share yours on Instagram, make sure you tag #applegreencottage so I can find it and see! Oh, and before I forget: if you are looking for more stocking sewing ideas, check out this list of stocking patterns to sew now!
Or get the huge free holiday pattern bundle and make the fondest family memories this holiday season.
Also, make sure to save some fabric for a matching diy Christmas tree skirt (which you can DIY too using one of these 40 free tree skirt patterns!)
How Do I Get the Stocking Pattern for FREE?
Join our list and get the pattern emailed to you:
Or …check out the popular Enya Wallet Bag in our shop - use it as a crossbody, clutch, or regular wallet, it has everything a big bag has!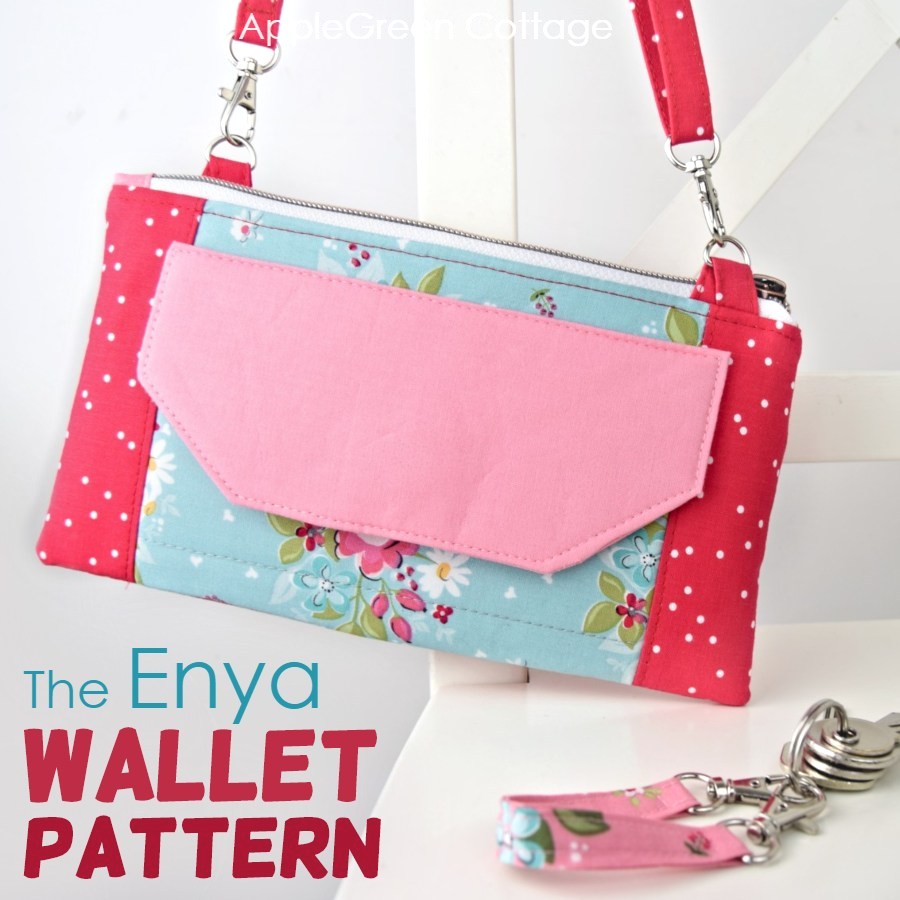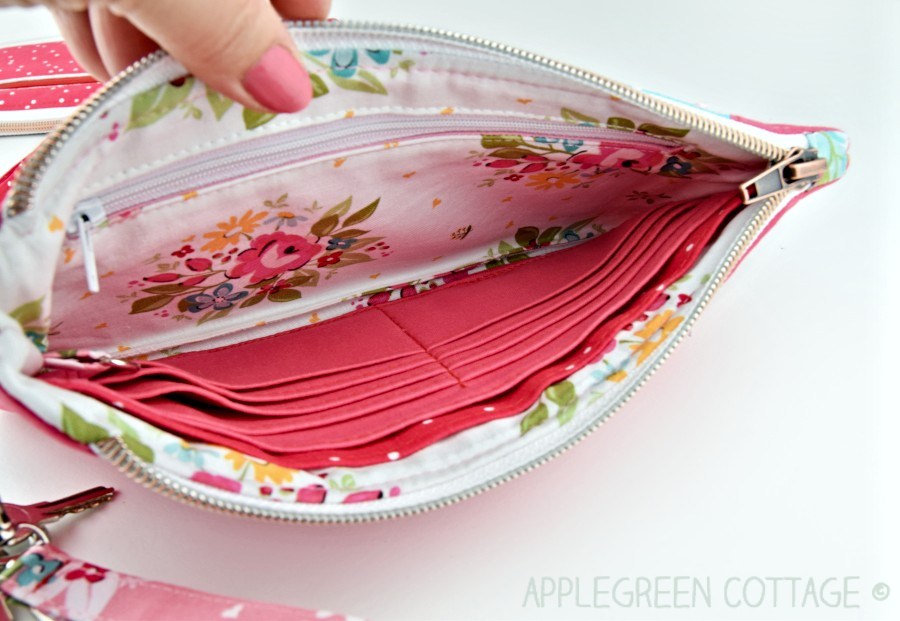 WANT A PRINTABLE COPY OF THE WHOLE TUTORIAL?
Do you want an ad-free, printable copy of this online tutorial? Find it here for just $3. You won't need to access the internet every time you want to make it. ------ Or get the BUNDLE with ALL the Printable Tutorials - current and future ones!