This bandana bib pattern is an easy beginner sewing project. It makes a perfect diy baby shower gift, especially if paired together with my diaper clutch pattern. Actually, this must be the easiest bandana bib tutorial you've ever seen! NOTE: pattern updated - now in 2 SIZES, baby bandana bib and toddler bandana bib!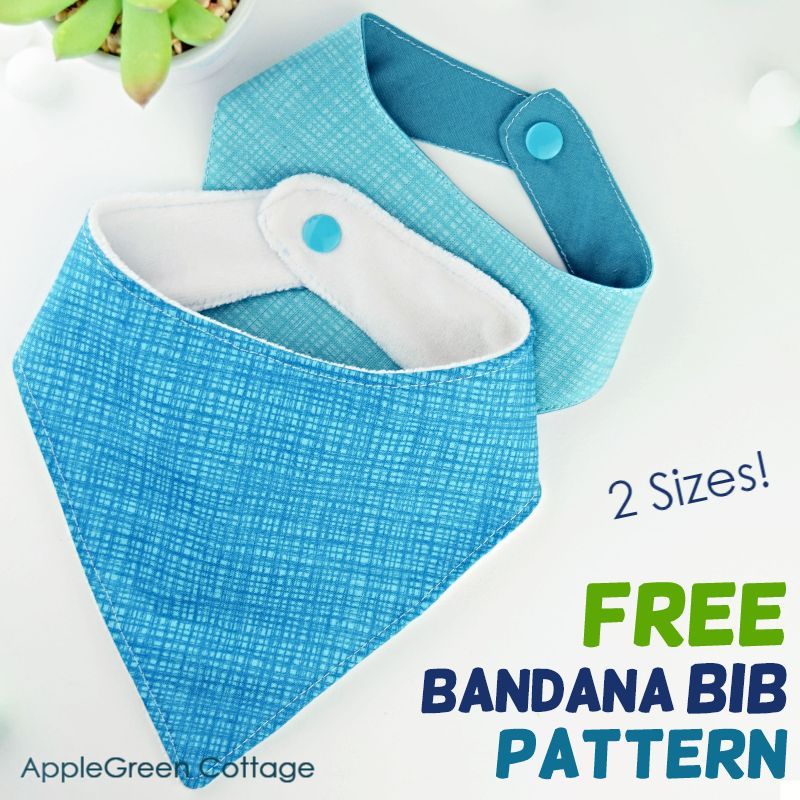 First off, this post includes affiliate links. Thanks for your support. This pattern has been updated in June 2020 and now includes 2 sizes – up to 1 year (baby) and 2 years (toddler).
If you're looking for more baby sewing patterns, you'll love these:
And if you're new to sewing, start at this how to sew guide, or take a look at the main list of easy sewing patterns for beginners. All free!
Now let's talk diy bandana bibs. Want to hear why I love them? Three things: so useful. Fashionable. And super quick to make. This is why the bandana bib tutorial was one of my first ever tutorials I created here at AppleGreen Cottage. My readers LOVED it! And while that was a great thing, you can imagine my early photos were not the best - and this is what I'm improving today. Dear friends, meet the new, improved and updated tutorial - and I added an extra size to the free pattern, while I was at it. 🙂
No time to sew now? Save this reversible bandana bib pattern to Pinterest for later: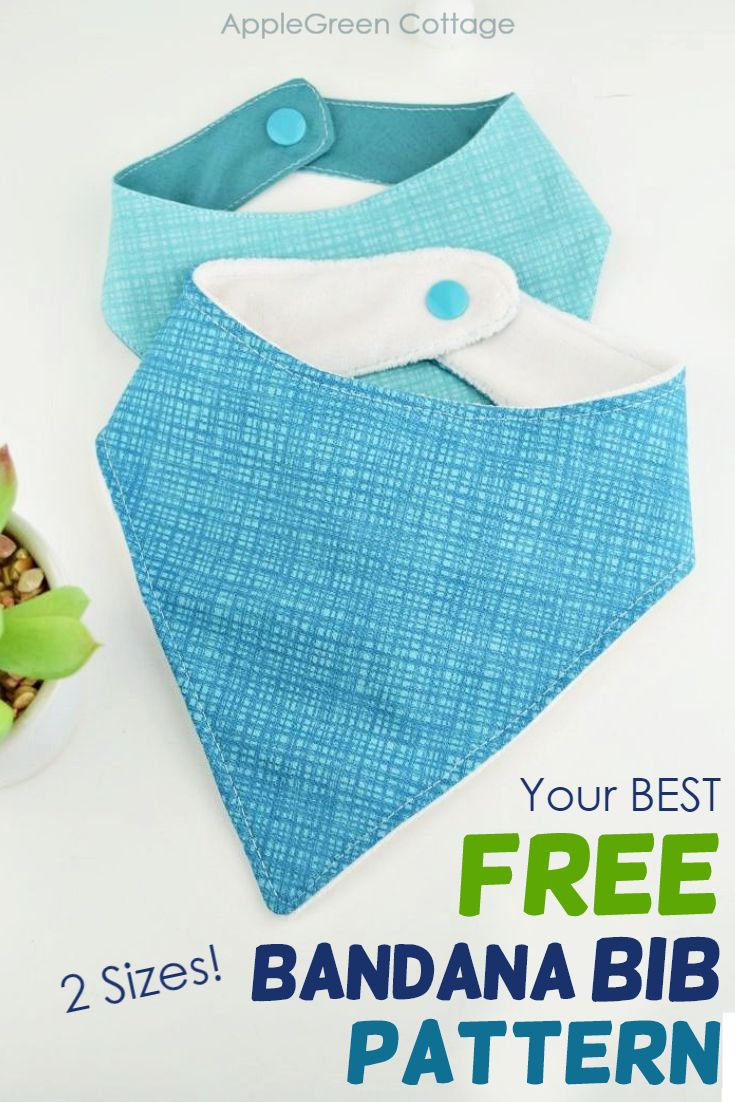 Why You'll Love This Free Bandana Bib Pattern
Really, these diy bandana bibs are amazing for soaking up teething baby drool. I made a lot of these bandana bibs when I had my first baby. And I mean a lot! There was always a stack of my diy bandana bibs somewhere close, ready to use. Once the first one got wet, I'd just switch out to a new one and I was set! They saved me from countless clothing changes throughout the day, real life savers.
Even better, everybody loved this stylish addition to the baby's outfit.
And you won't believe how easily and quickly they can be whipped up!
First, here's a quick slideshow just to get you familiar with how easy this bandana bib is to make. Check it out here, but heads-up, it's still all old photos 🙂
I want you to be able to make your own baby bandana bibs so I designed my own pattern for you to use. I've drafted quite a few bibs before I was happy about the design. Scroll down to download the best bandana bib pattern I've drafted so far - works great with any material!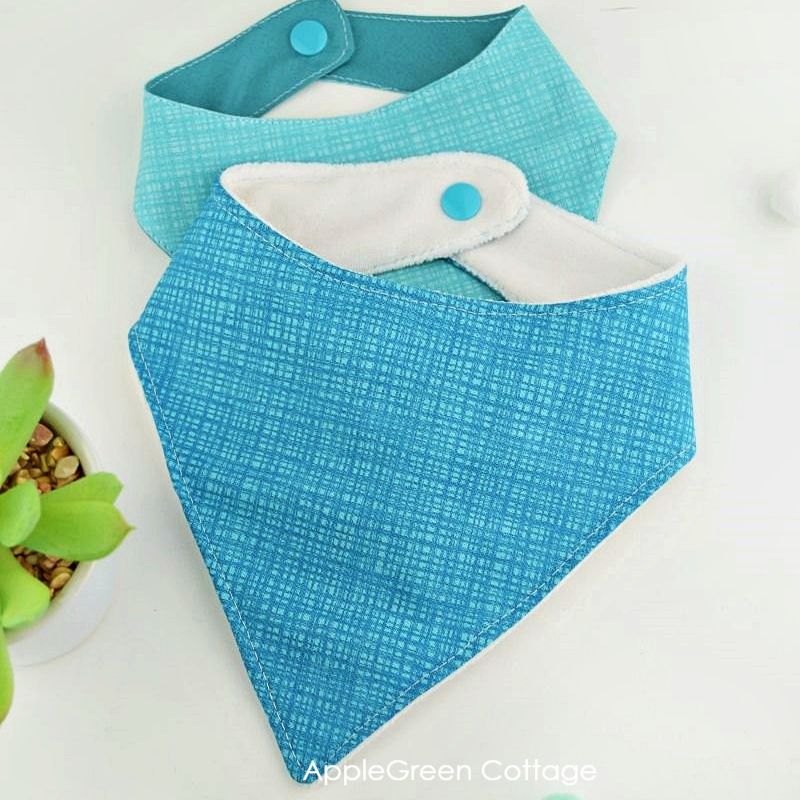 Supplies To Make the Bandana Bib:
Scroll down to get your free printable PDF bandana bib pattern.
sewing machine
two pieces of fabric (Peek-A-Boo fabric shop has some of my favorite prints!)
optional: one of the two pieces can be absorbent material: terry cloth or similar
sewing machine, scissors, pins, thread
the free bandana bib pattern (scroll towards the bottom of this tutorial or get it from my shop - for free!)
How Much Fabric Do I Need to Make a Bandana Bib?
You can use scraps! You only need two pieces that will each cover a lettersize or A4 page format, no more (even a bit less, if you check out the free PDF pattern). I often use scraps of cute kid-themed fabrics.
What fabric to Use for the Bandana bib
There are more fabric tips at the end of this post, but in short, you can either choose two contrasting pieces of cotton, or one in cotton plus one super absorbent layer for backing, like terry cloth. Upcycled fabric, as long as it's absorbent, will work fine too.
Bandana Bib sizes - MEASUREMENTS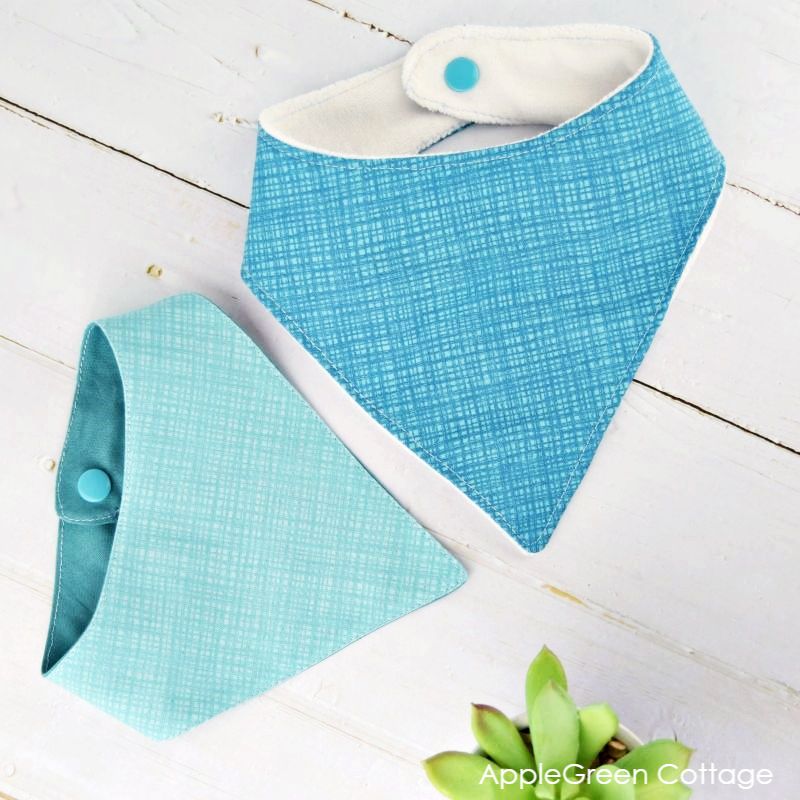 In neck circumference, the bib measures approximately 11 ½" or 29 cm (small size-baby) and 13" or 33 cm (large size-toddler)
Bandana Bib Tutorial - Steps
And now the text instructions to make this reversible bandana bib:
Step 1 - cut The Pieces
Using the free bandana bib pattern (scroll down to download it) to cut two pieces from your fabrics. They don't need to be the same. In fact, it's more fun if they are not: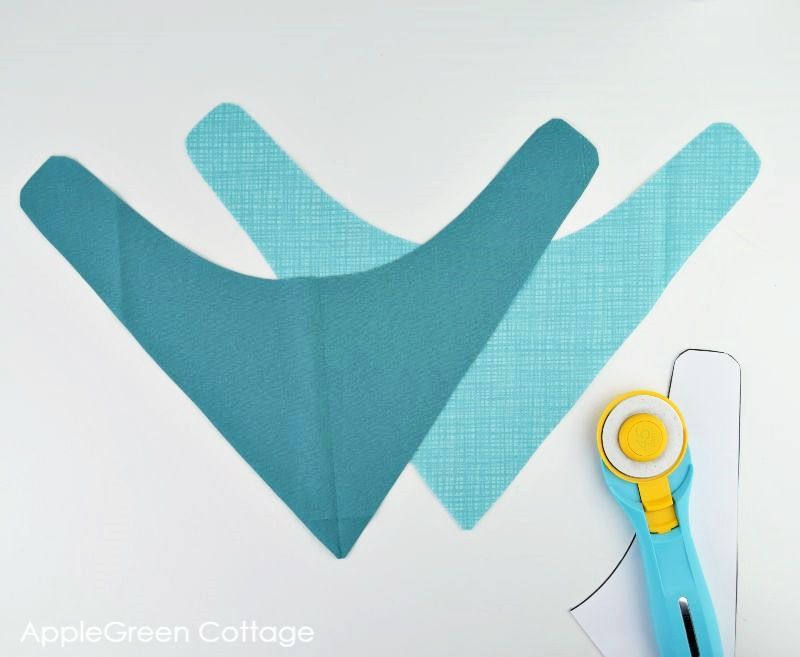 Step 2 - Sewing step
Place the two pieces with right sides of fabric together. Using a ⅜" (1 cm) seam allowance, sew nearly all the way around. Leave a 3" opening at one of the two straight edges of the bib (marked by 'leave opening here' on the pattern), so you'll be able to turn the bandana bib right side out.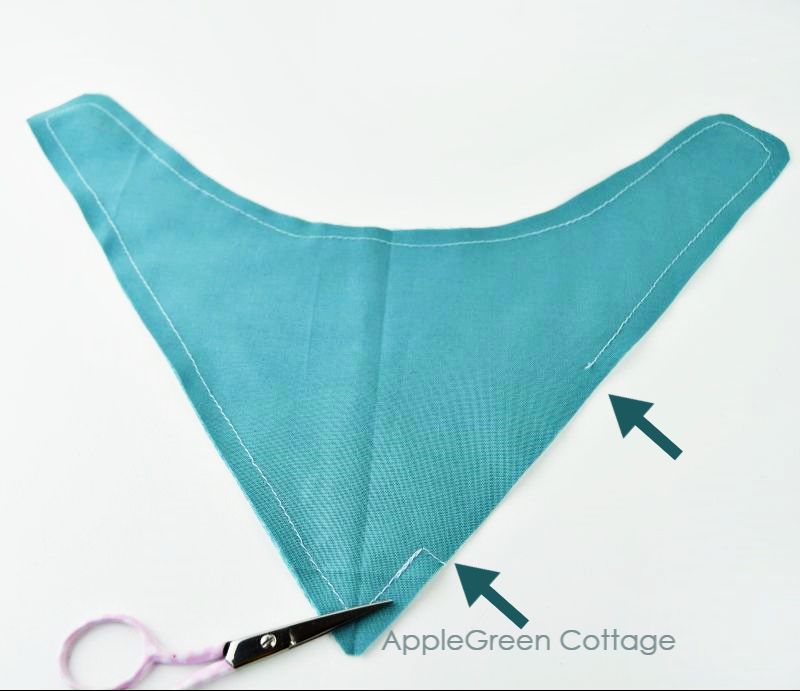 STEP 3 - Trim The Seam Allowance
Trim off some of the fabric in the seam allowance around each of the curves, for easier turning and for a nicer finish. You can use pinking shears if you have them.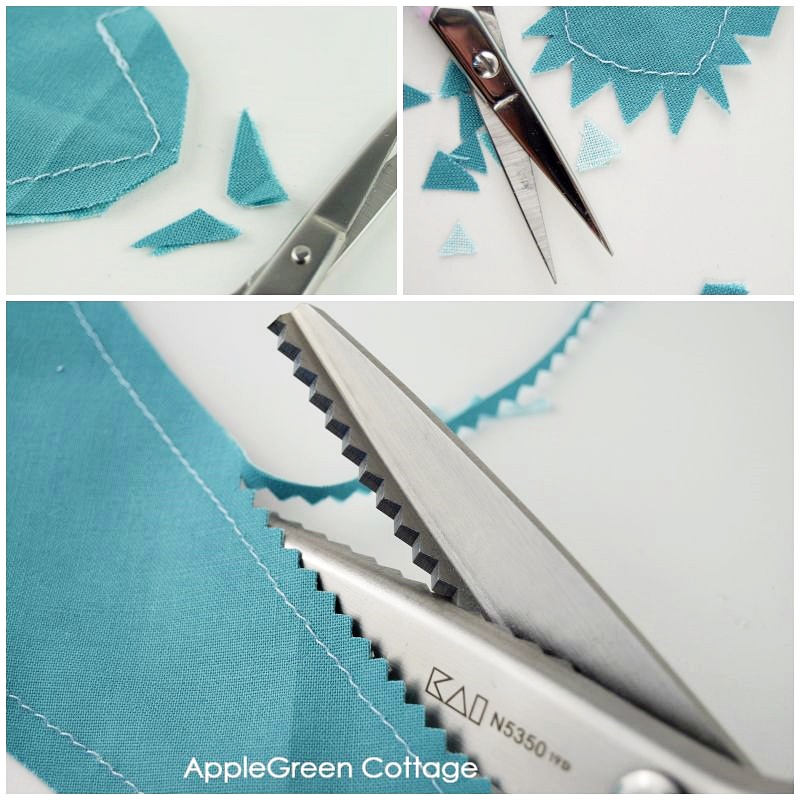 Step 4 - Turn And Topstitch
Turn your bandana bib right side out. Fold the edges at the opening towards the inside and and press it. I love using my new DIY pressing board for that. So much faster!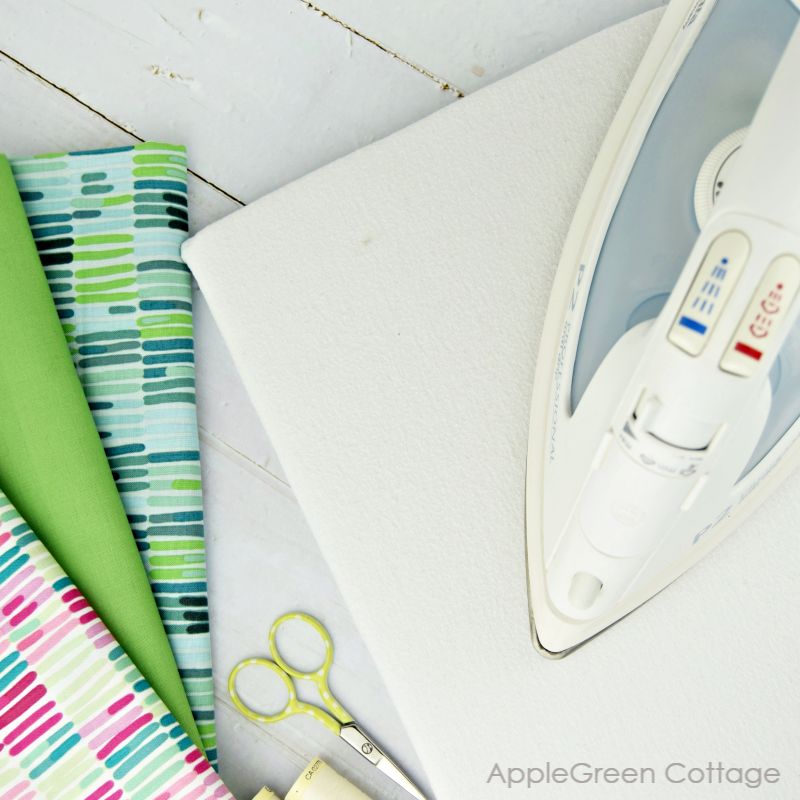 Topstitch along the edges all the way around your bandana bib, ⅛" (3mm) away from the finished edge. If you're in a hurry, you can just topstitch over the opening you left before.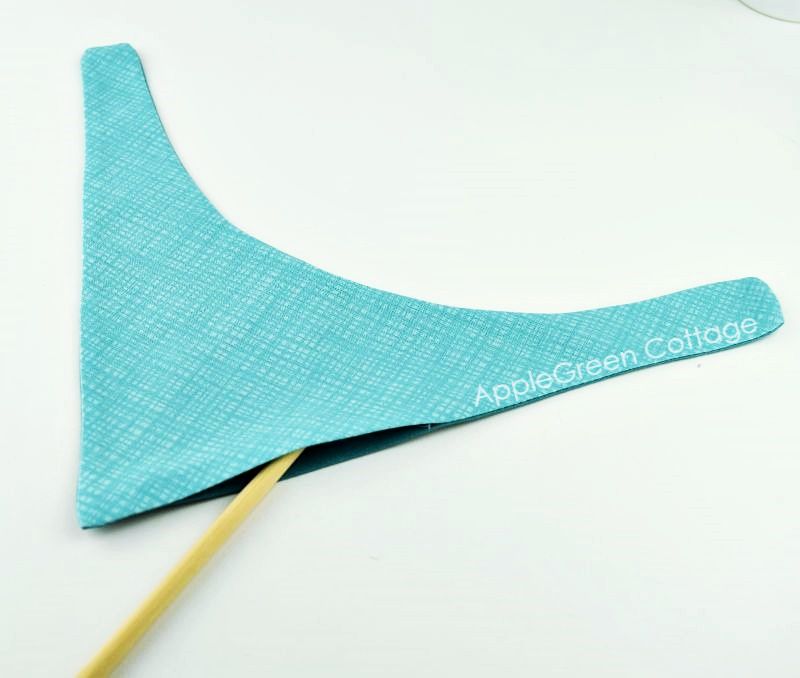 Step 5 - Add Kam snaps
Install KAM snaps as fastening (scroll down for more closure options) Done!!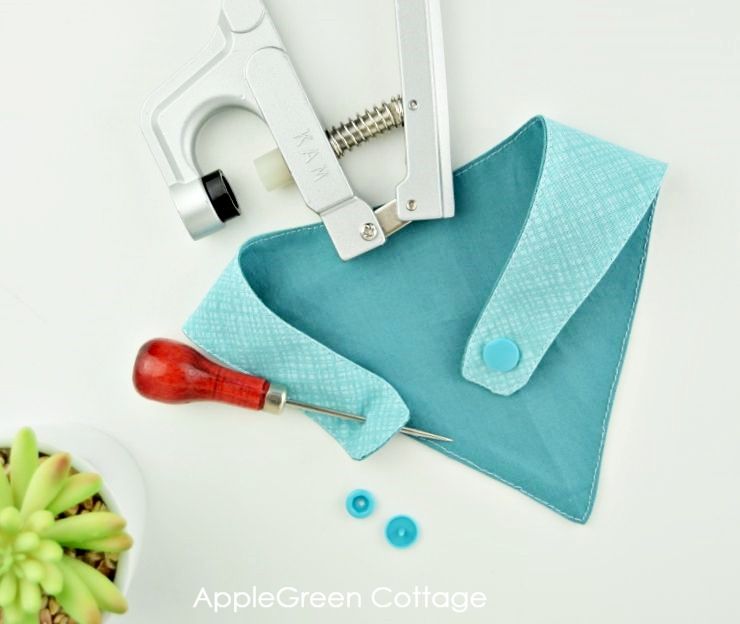 If you haven't installed KAM snaps before, here's an easy tutorial for you - also, see what KAM snap size I use and why:
More Tips for Sewing Bandana Bibs
I've got several bonus tips for you.
What Fabric To Use For Sewing the Bandana Bib Pattern?
Here are a few bonus tips to help you with your sewing: as an alternative to quilting cotton, you can use thicker (but soft!) fabric as the second layer, maybe flannel or terry cloth. Sweatshirt fleece works too. The sewing will not go on so smoothly but the bib will absorb better. You can also opt for a third layer, some kind of interlining. I've made several three-layer bibs so far. Double gauze is another great and super soft material to use for your diy dribble bibs, these would be on the thinner end though.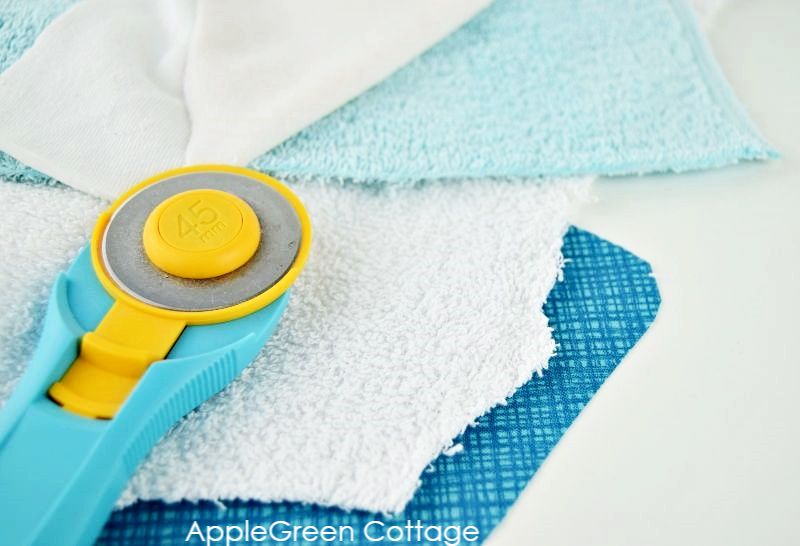 The softest version I've ever made was from two layers of jersey. Just make sure the jersey is not too thin. If you are looking to buy jersey, you can check out adorable cotton knits I found here at peek-a-boo shop.
What closure is best for bandana bibs?
Bandana bibs can be fastened using a hammer-on or hand-sewn metal snap, a plastic snap, pieces of Velcro - and let's not forget the good old buttons. Sometimes, they would also simply be tied off, but that causes a large knot that's not too comfortable for babies, so I'm leaving that one out 🙂
What do I use to make bandana bibs? I used to make them with nearly all the above options. But then I discovered KAM snaps. I absolutely love KAM snaps. For several reasones: one, adding KAM snaps is so easy! They come in a gazillion of colors, so you can mix and match to your heart's content. They are inexpensive. And they are so comfortable for the baby. No Velcro scratching that little neck!
The photo below shows a bandana bib with velcro closure, and one with metal snap fasteners: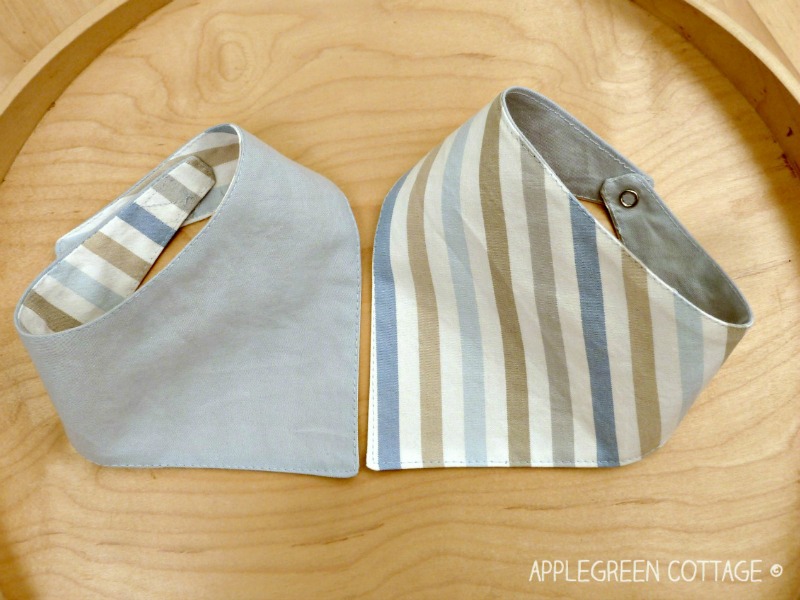 How can I Make An Adjustable Size Of the Bandana Bib?
You can easily adjust the size of the large bib by simply adding additional snaps/velcro to size-down or size-up the neckline. This way, the large bib will fit several sizes - baby, toddler and even older kids. I've done it before and it has worked perfectly!
Get the UPDATED FREE Bandana Bib Pattern!
The bandana bib pattern is available for FREE in my shop. UPDATED - 2 SIZES now. Get it here: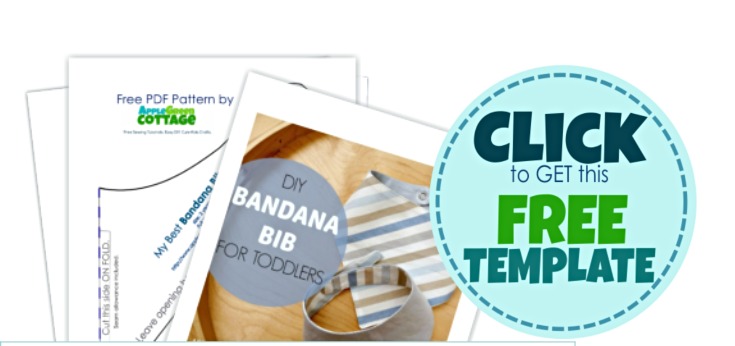 This bandana bib pattern is quite simple and easy to make. It will be made in no time and save you some money along the way. Who knows, you might just create an all-time favorite bib for your baby or toddler!
Make sure to save the tutorial to Pinterest so you have it at hand when you need it: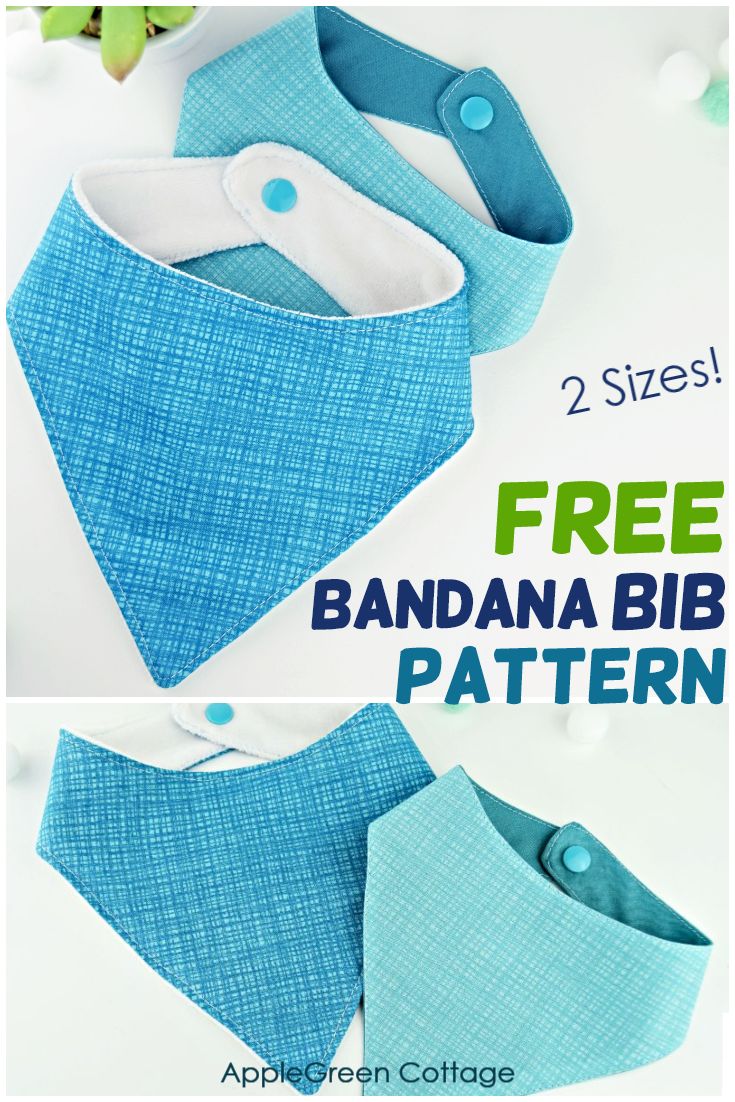 WANT MORE FREE TUTORIALS AND Patterns?
Get email updates and never miss out on new patterns, printables and tutorials. If you sign up at THIS link, you'll also get the Fabric Hanging Basket Template for FREE, right now. A cute and easy-sew!
Or check out this popular pattern: Ultimate Diaper Clutch - a perfect baby welcoming gift every new mom would love to get!
Use both my bandana bib pattern and the Ultimate Diaper Clutch pattern and you've got a perfect homemade baby welcoming gift set!