Sew an easy clutch purse using my free sewing pattern and tutorial! This easy and fast clutch purse sewing project requires very little supplies, and is beginner-friendly! If you have never made a clutch purse before, this is a good pattern to start with. Check it out!
This post contains affiliate links. Thanks for your support! If you like fun and easy projects, check out these free patterns, too:
Clutch Purse Pattern
Last week, I was playing with the idea of making a beginner pattern that would include curves, a purse that would be so easy to sew that it could safely be marked as a totally beginner-friendly project. Also, just this easy kam snap closure and no advanced bag sewing techniques. In short, how to make a curved bag into a simple sewing project. I think I've nailed it - but now it's your turn to let me know what you think about the Lili Clutch pattern.
First, for those of you who like video, I've made a slide-show to get the feeling of how easy it is to sew one:
This easy pattern will help you get creative even if you've never sewn a pouch before (let alone a lined pouch!) It is so simple yet practical, perfect for keeping your basic essentials, like keys, a lip balm and a pack of tissues:
It can also be used as a phone sleeve. Or to store keys - I could use one for my USB keys - no more losing those! It makes a great first aid kit, a panty liner pouch, and more: scroll down for even more ideas on how to use it!
This clutch purse is a scrap buster! Find the perfect fabric, or just use some from your stash. Play around with coordinating or contrasting combinations 🙂
Clutch Purse Pattern Features
the Lili Clutch Purse is an easy, single-pocket beginner pattern
a simple design that's easy and quick to sew
completely lined (Absolutely no raw seams!)
Full-size pattern pieces (even separate pattern pieces for interfacing!)
Optional tab, so you can easily attach a wristlet strap to use it as a minimalistic clutch
free pattern - join the mailing list and get the free pattern emailed to you
What is the Size of the finished Lili Clutch Purse?
The Lili clutch purse is 8" wide, 4'5" tall, and ⅜" deep. (20cm x 11.5cm x 1cm)
Have fun coordinating the fabrics and making the design suitable for you. You can use the same fabric for the entire clutch or use a contrasting fabric for the flap to give it a totally different look.
SUPPLIES:
two fabric pieces in your favorite prints:
main fabric 8"x9" (21 x 23cm), lining 18"x10" (26 x 46cm)
fusible fleece: 8" x 11" (21cm x 28cm)
sewing machine or needle, pins or sewing clips,
iron, scissors, or rotary cutter plus cutting mat (I use this one by Olfa)
optional: pinking shears
one set of KAM snaps
KAM snap pliers (best get them in a set)
an awl
Visit our Amazon Storefront to see my FAVORITE sewing tools and notions.
How Do I Get the PATTERN for FREE?
Join the mailing list and get the free pattern emailed to you:
Clutch Purse Tutorial
To avoid this page loading forever because of too many photos (nobody wants that) I have made a separate tutorial page with tons of step-by-step photos. Go to the free tutorial here.
Option A - Free Online Step-By-Step Tutorial HERE:
Option B - Ad-Free, Printer-Friendly PDF in shop:
Enjoy! Make tons of these sweet clutch purses, and use them for anything you can think of!
Save this project for later so you remember where to get the free pattern: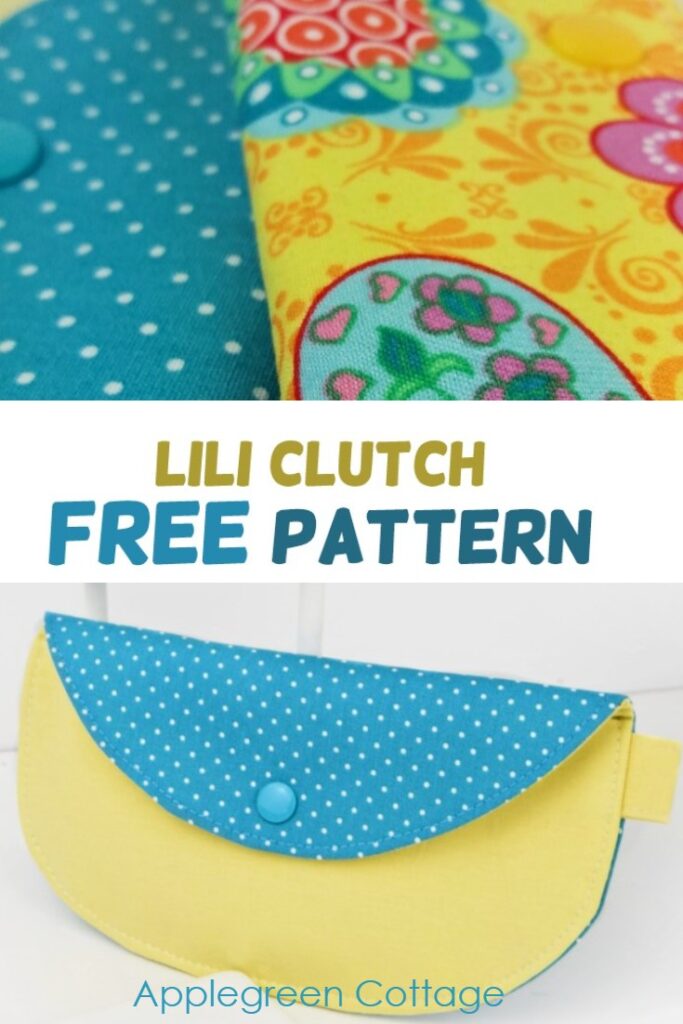 Or …check out the popular Aiden Cell Phone Purse in our shop. Guess what's on the back of this cool phone bag!