This gift bag pattern is an easy and quick sewing project. Make a reusable fabric gift bag in 6 different sizes and forms, for all your Christmas presents!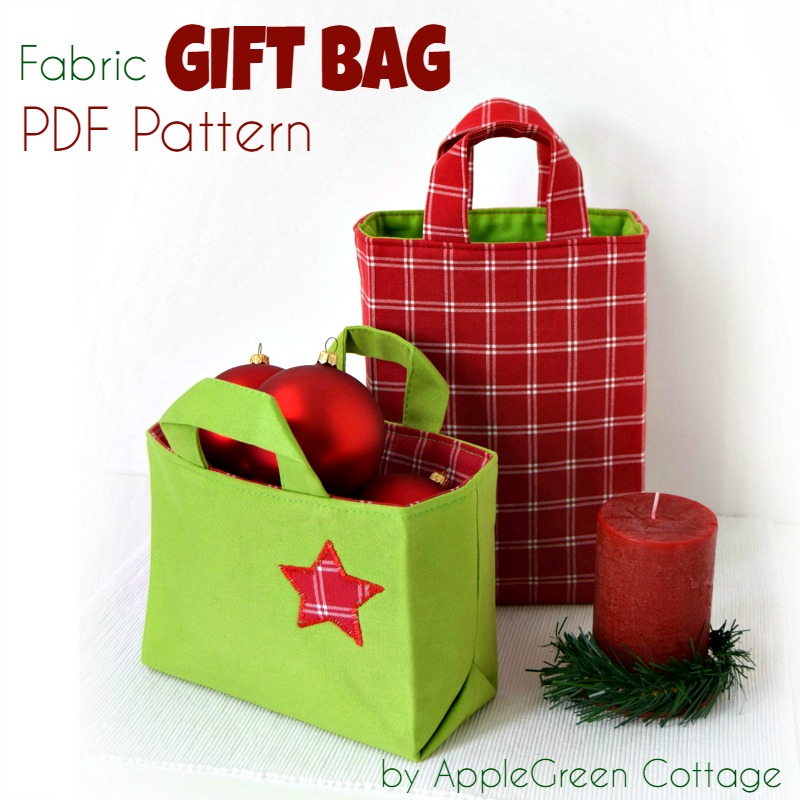 This post includes affiliate links. Thanks for your support.
Time to choose a new holiday sewing favorite - and this time it's not the gift itself, it 's the ultimate gift-wrapping solution for all sewing enthusiasts out there:A unique, tailor-made, easy-sew and over-the-top cute DIY gift bag!
Gift Bag Pattern
This gift bag pattern can double as an alternative to Christmas stockings, too. Use it instead of gift wrapping paper, and that for all kinds of diy gifts for holidays you can make all by yourself this year. Right on time for Christmas sewing!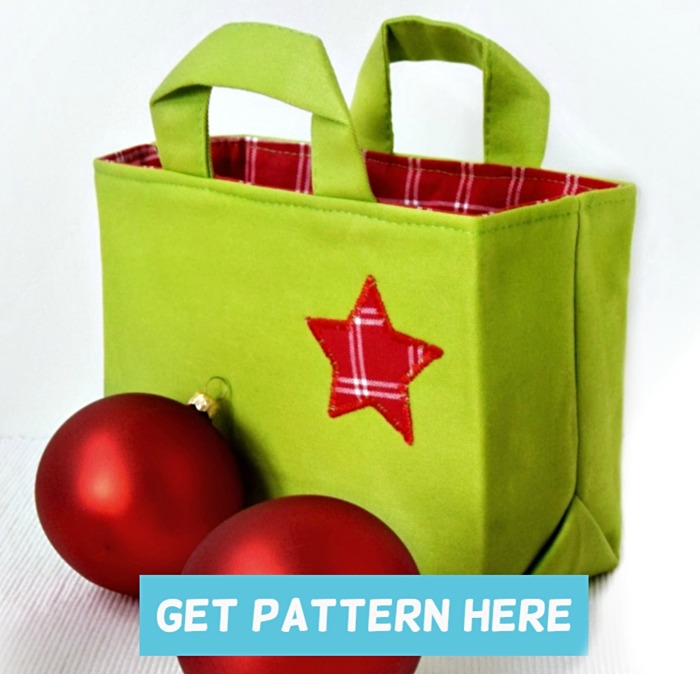 This beginner sewing pattern could become your gift-wrapping go-to project for all occasions:
birthday presents
baby shower
anniversary
teacher appreciation and
the king of all holiday seasons - Christmas!
Now's the time to make them and stock up on gift wrap. It's the only type of gift bags that will last, and be reused, even thrown in the washer - and that will let you showcase your pretty fabric!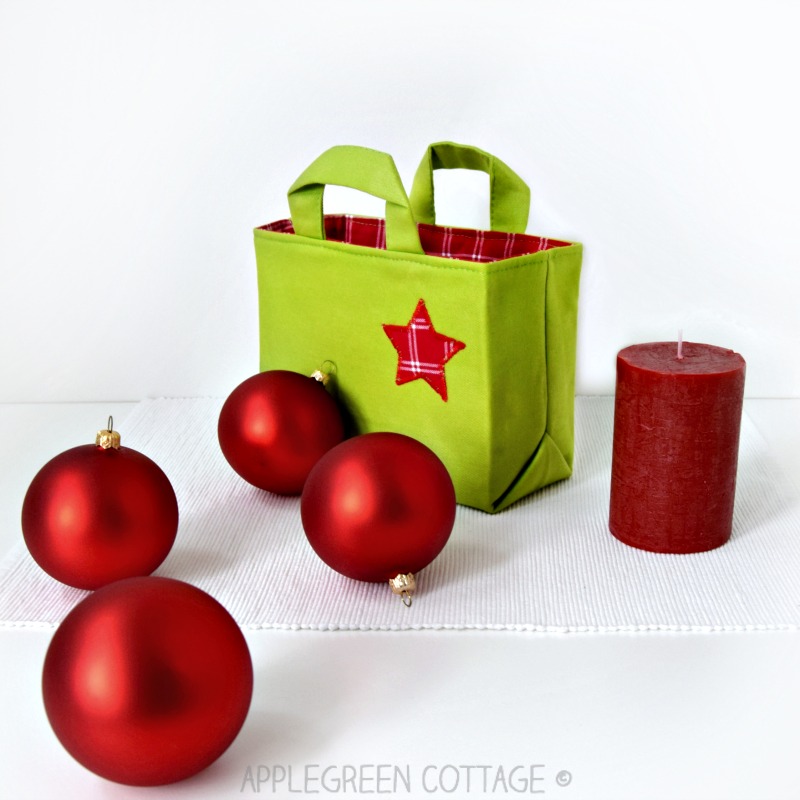 a super convenient gift bag with handles you can use for any occasion (Christmas, birthdays!)
6 variants:
3 different designs for all your gifts: tall, square or wide bag
each of these 3 designs comes in 2 sizes: small and large
Stability: Stands on its own.
Save money & go green: these gift bags are reusable
Convenient: folded flat, they take up very little space. Stock up on them and use them later!
Multi-purpose: perfect to personalize the Christmas, birthday, baby-shower, or even a wedding favors bag.
perfect Christmas home-decor: can double as an alternative to a classic Christmas stocking
Also, the boxed corners are made the EASY way! (you know how I love easy sewing hacks)
Gift Bag Sizes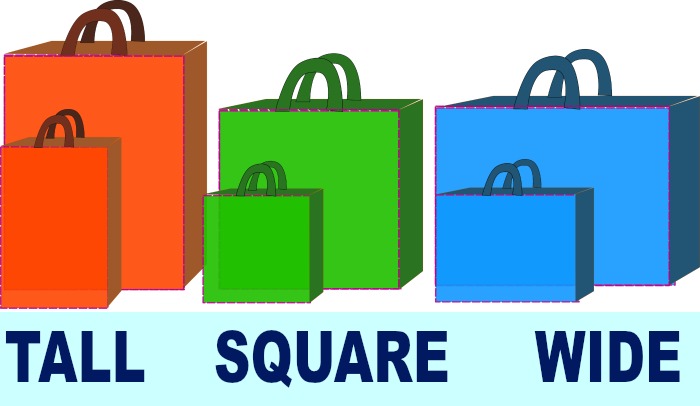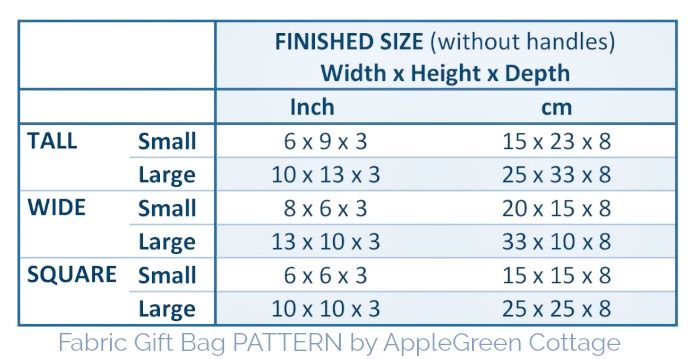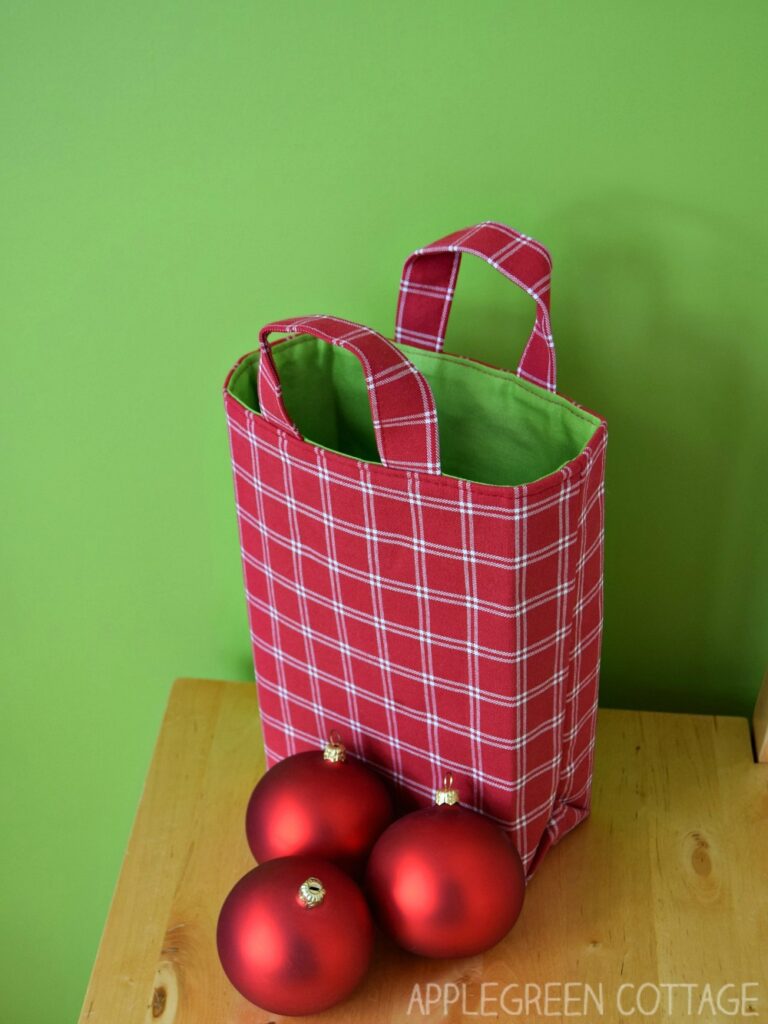 Gift Bag Sewing Pattern Features
The pattern comes in 3 different designs to fit any gift dimensions: tall, square or wide, and each of these 3 designs comes in 2 sizes: small and large.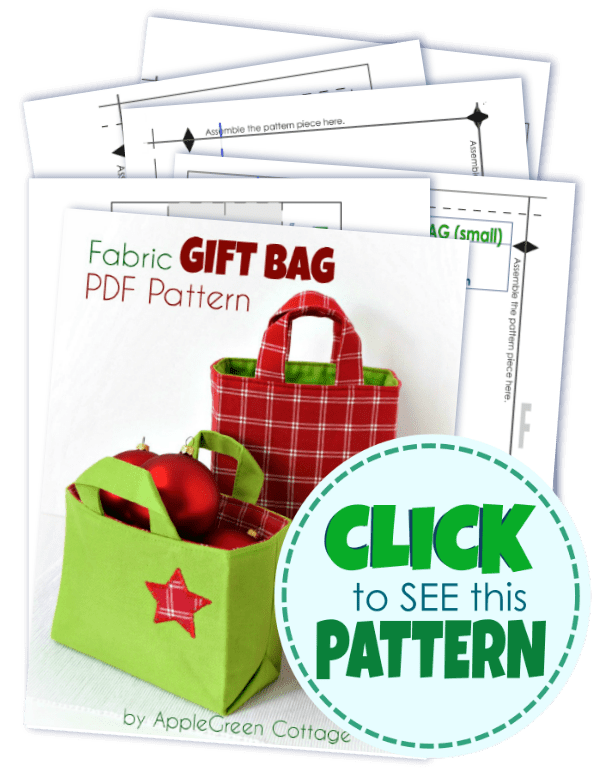 The pattern is available here in my pattern shop. It's a full-size printable PDF pattern with a step-by-step tutorial and lots of photos and detailed, easy-to-follow instructions.
And there's more about the pattern:
beginner-friendly (detailed, easy-to-follow instructions)
All measurements are given in inch and cm.
Supplies list and interfacing recommendations.
clear step-by-step photos, diagrams and tips to help you along the way
Printing and pattern-cutting instructions.
Printable both on letter size and A4
Oh, and one thing more: Sew-to-Sell. That's right, you're more than welcome to sell your finished bags you personally make from this pattern, on a hand-made scale.
Easy Sewing Pattern? Yes!
This is a beginner pattern, meaning that my instructions are written for a sewing beginner, and when I say the pattern and tutorial are 'easy-to-follow', I really mean it. There are photos for each step, and easy-to-follow steps every beginner can manage. Tips included. I want to make your project super easy and fun! And as usually, there's more:
You also learn:
how to make a sturdy handle on any bag (so handy!)
how to make a boxed corner without actually boxing it (the best sewing tip in this project!!)
and how to add fusible interfacing; with material recommendations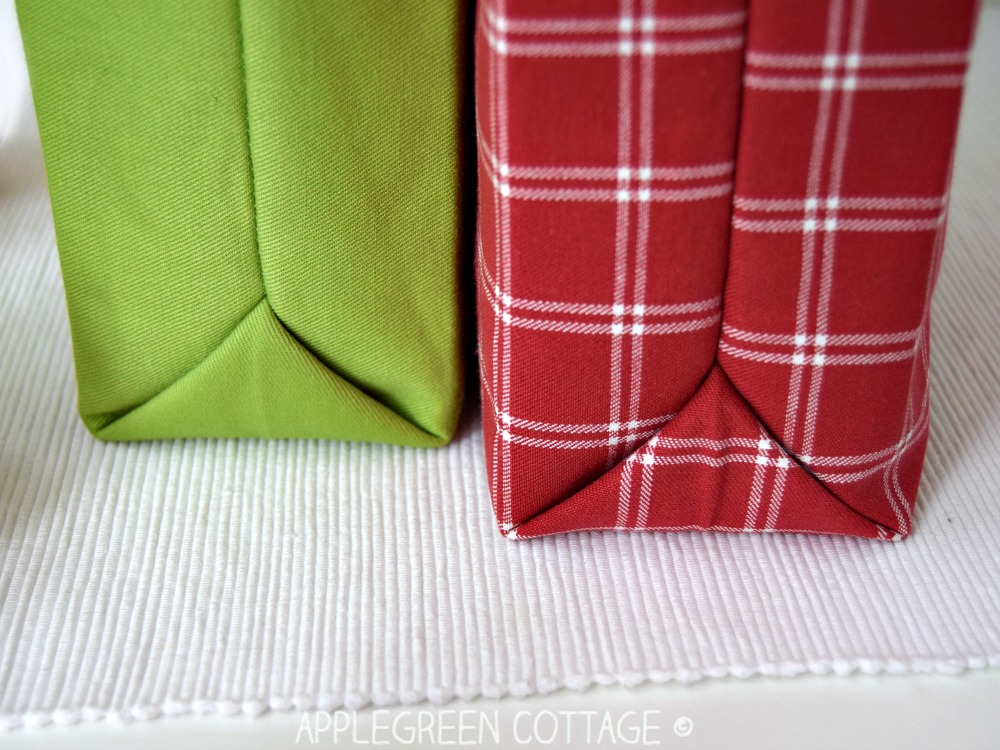 Learn how to make gift bags with only basic sewing skills, it's a quick and beginner-friendly project not requiring any advanced sewing skills. Straight stitch only, no corner boxing, nothing fancy - except for the LOOK of your new handmade gift bags!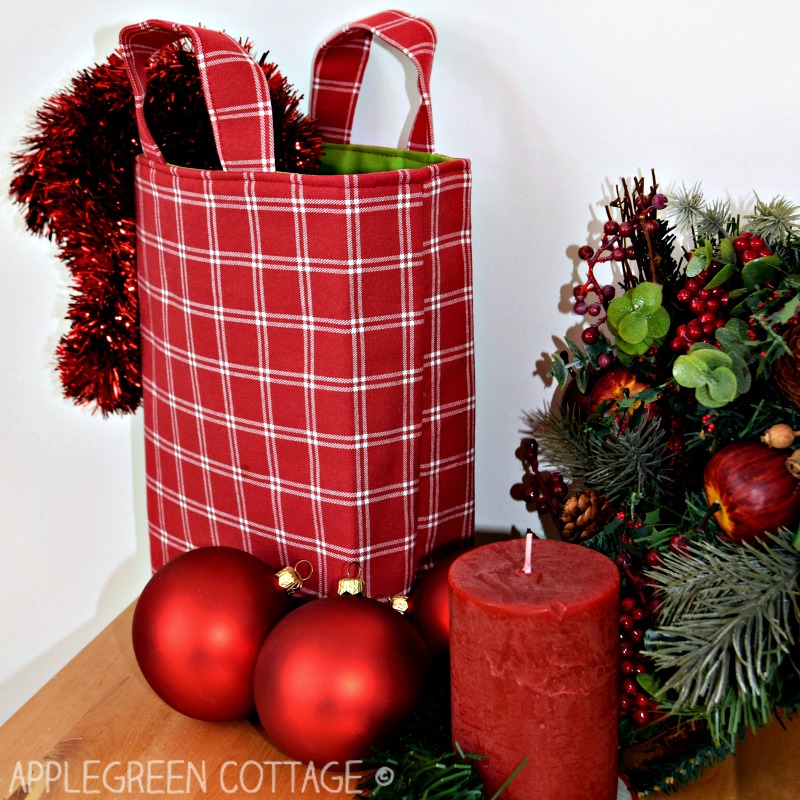 SUPPLIES Needed:
fabric in total: a fat quarter for the smallest bag, less than 1 yard for the largest bag
fusible fleece (half the fabric requirements)
coordinating sewing thread
sewing machine, iron, scissors, pins, ruler
With these reusable fabric gift bags, you'll never run out of options. Make it in canvas, quilting-weight cotton, home decor fabric or faux leather, mix and match materials as you feel like. Countless variations, cute and practical!
You can stock up on them, so you have them ready for Christmas time. Get the pattern, make tons of gift bags, in all sizes and formats, and you're all set for Christmas. And any and all birthdays, anniversaries, baby showers and the like. They can even be used as handmade wedding favor gift-wrap!
Play with sizes to see which one is the best for you. One of the 6 options will surely fit any of the gift sizes!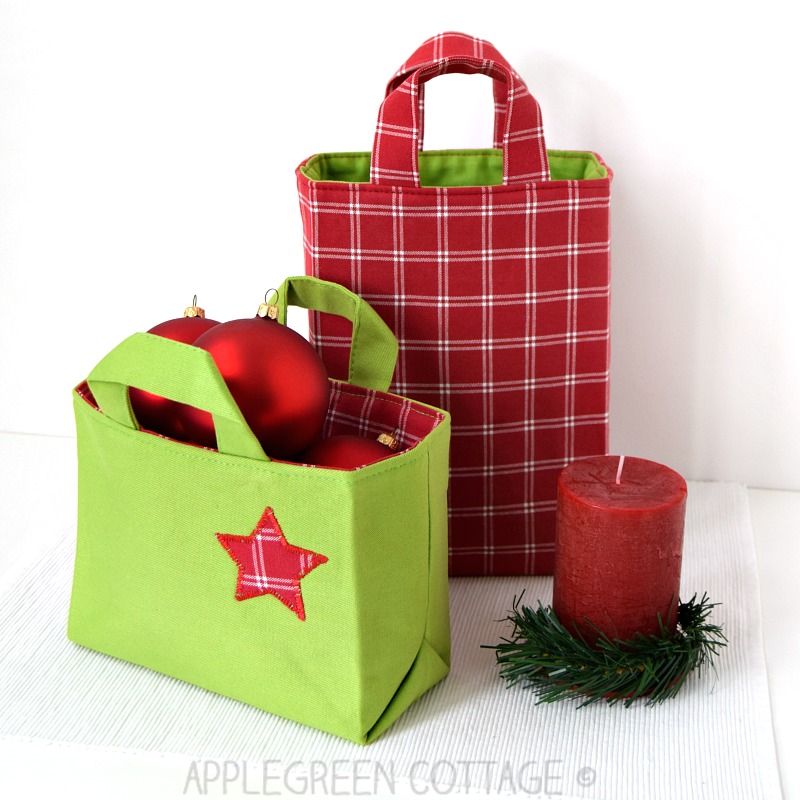 Add warmth to your Christmas gift-giving with your own handmade gift bags. Ditch the store-bought bags and go green! Make reusable, personalized, and made-to-fit Christmas gift bags, they can be reused each year. A perfect way to put some of your pretty fabric on display, don't you think?
If you like this pattern, check out the features of these:
Save For Later: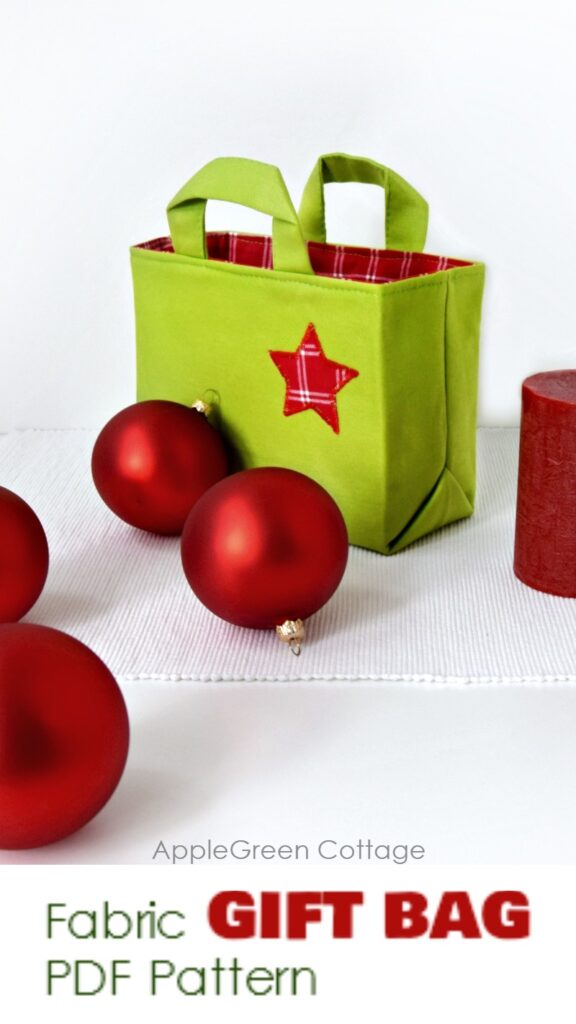 How To Get Your Pattern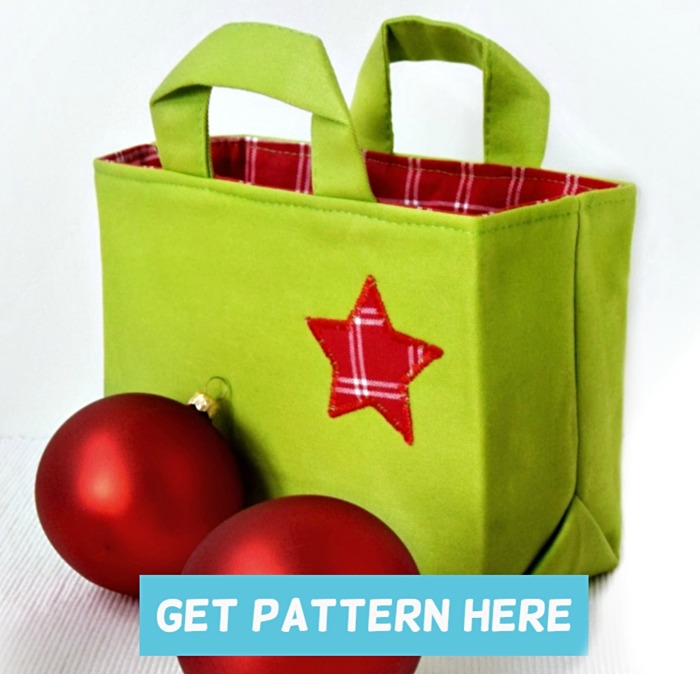 Click through to my pattern shop to get the pattern.