See how to make an infinity scarf using this beginner sewing tutorial, and add style to your wardrobe – the easy way! This diy infinity scarf is so quick to sew. And it's reversible!
It surely feels so good to have something around your neck on a chilly morning in the spring or fall, too. It's a perfect transition weather accessory. So toss on a soft, beautiful infinity scarf that is not just comfy but also easy to make. Do you want to see how to sew an infinity scarf? Get ready to make your ever favorite diy accessory for both spring and fall!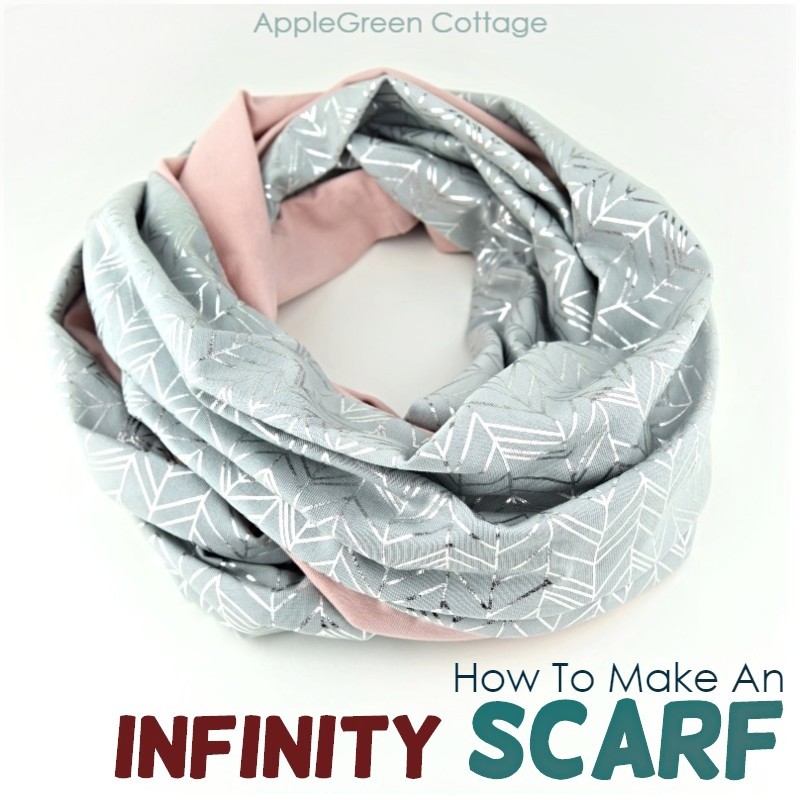 Do you want an ad-free, printable copy of this online tutorial? Find it here for just $3. You won't need to access the internet every time you want to make it. ------ Or get the BUNDLE with ALL the Printable Tutorials - current and future ones!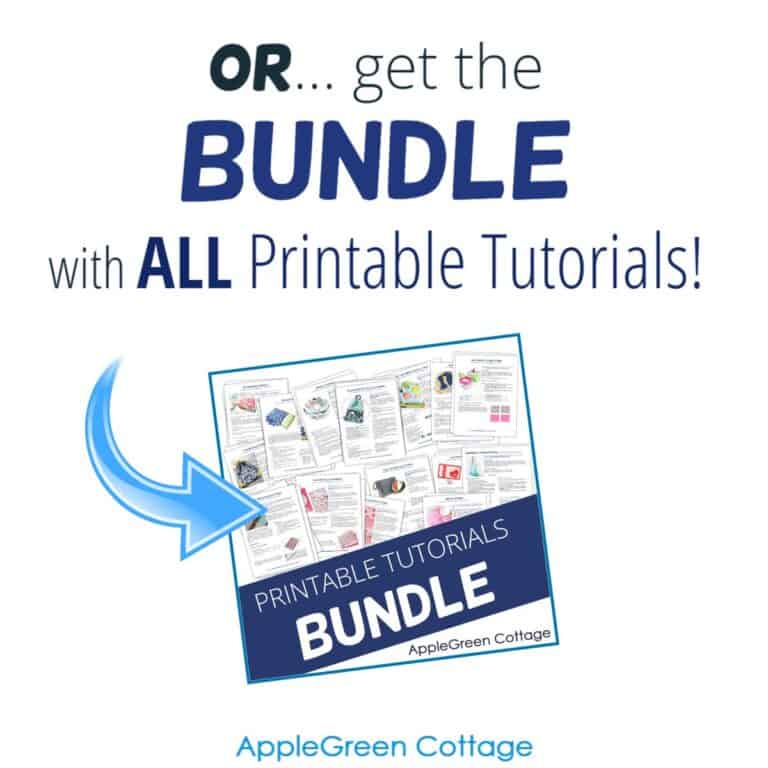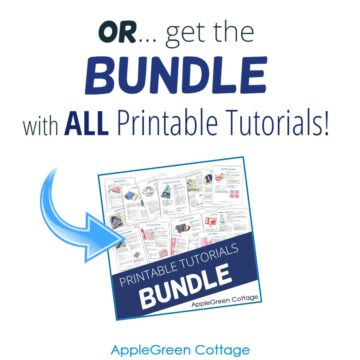 It's time to start thinking about transition weather where I live! Though I still walk around wrapped in my super cozy winter fleece neck warmer (free template here), it won't be so forever. I'm craving spring and wanted to sew something to wear in the spring. Infinity scarves are also a great item to make for fall: when the weather is getting cooler and leaves are changing color. Cozy for fall, perfect!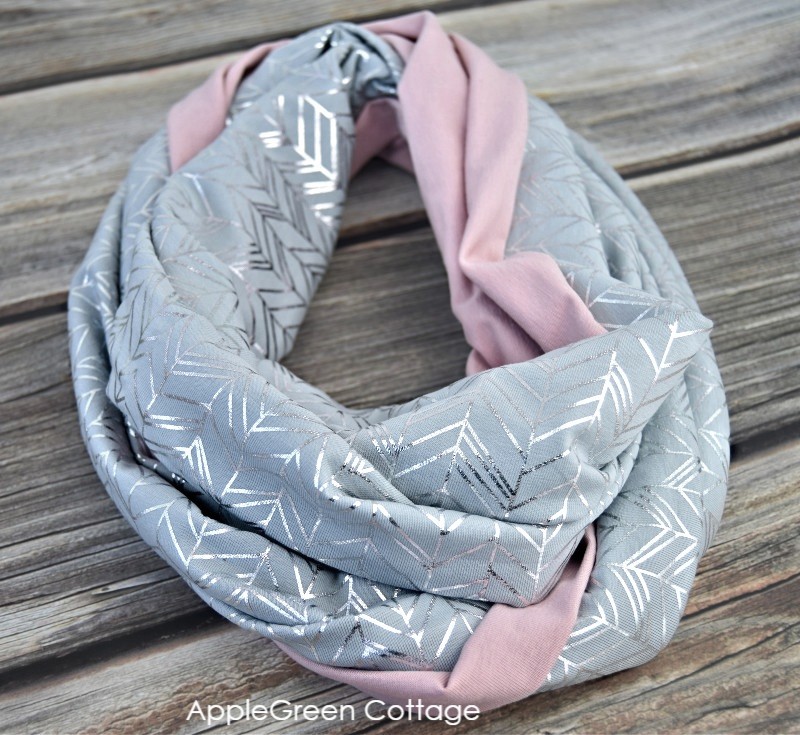 This post contains affiliate links. Thanks for your support. If you like sewing accessories, check out
I'm super excited about the start of the cozy season and wanted to celebrate by creating some soft scarves for layering.
These scarves are reversible and can be styled in different ways.
What fabric to use for an infinity scarf?
Knits or wovens - they both work well! In this tutorial, I used stretch jersey knit, 95% cotton and 5% spandex, 220g/m2. One side is a sparkle geometric print on grey, and the other side is soft rose. Got them both in my local fabric shop, but I am eyeing the gorgeous floral knits at Amazon here - check them out!
For a thicker version you can try double knits. For woven, double gauze is super cozy and so soft! It also works great with cotton, rayon has a great drape. For a warmer version, try out flannel! Avoid any stiff materials like canvas. Won't work with that. If you're new to sewing with knits, here's my guide on sewing with knit fabric.
You can never go wrong with a print on one side, and a solid on the other: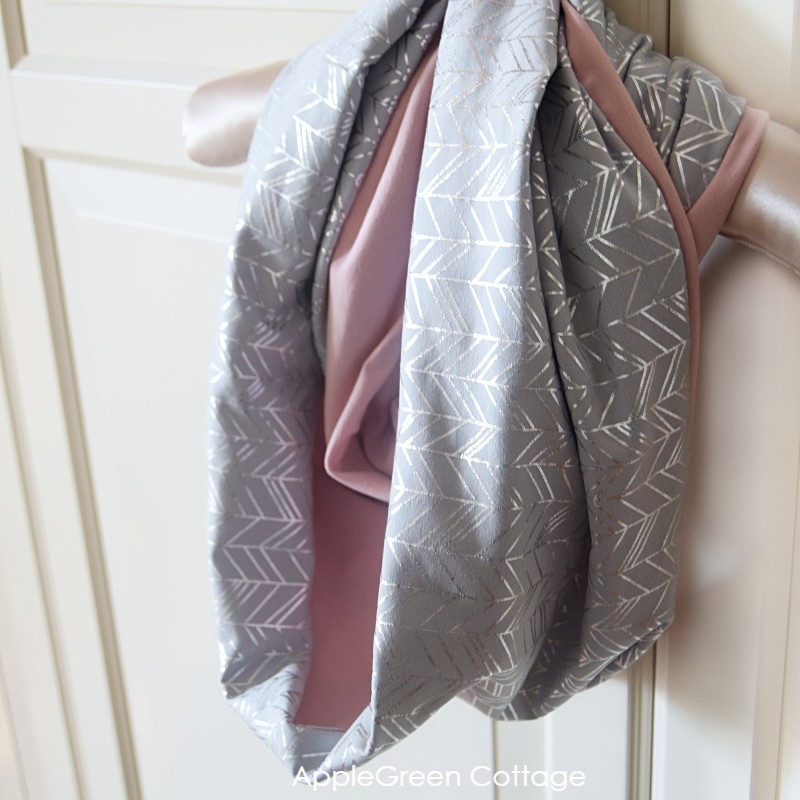 There are, of course, a lot of other options to sew infinity scarves: you can use flannel for a snuggly warm infinity scarf. However, when sewing with flannel, always make sure to prewash it - see here what you absolutely must know when you sew with flannel.
Oh, and just in case you're wondering about the difference between an infinity scarf and a regular scarf, an infinity scarf is a scarf whose ends are sewed together, so instead of being a rectangle, it's a circle.
How Much Fabric Do I Need To Make an Infinity Scarf?
To sew an infinity scarf like mine, you'll need two matching pieces of fabric measuring 12" by at least 55". The 55" will be the WOF, or width of fabric if you are new to sewing. Ideally, I use fabric with a WOF of 59" or wider for sewing an infinity scarf.
An infinity scarf pattern is usually just a really long rectangular piece sewn with short edges together, or - if you want a reversible infinity scarf - two rectangles sewn together, so you do not really need a paper pattern to sew. Rather just measurements.
How long should an infinity scarf be?
Around 60 inches is great for knit fabrics, especially if they are not bulky (like here), any width of fabric from 55" onwards will be fine. The knit I'm using comes in a width of 59", which gives me an infinity scarf of 58" in circumference. Let's see how to make it.
No time to sew now? Save it to Pinterest for later using this link or the image below - so you have it ready for later: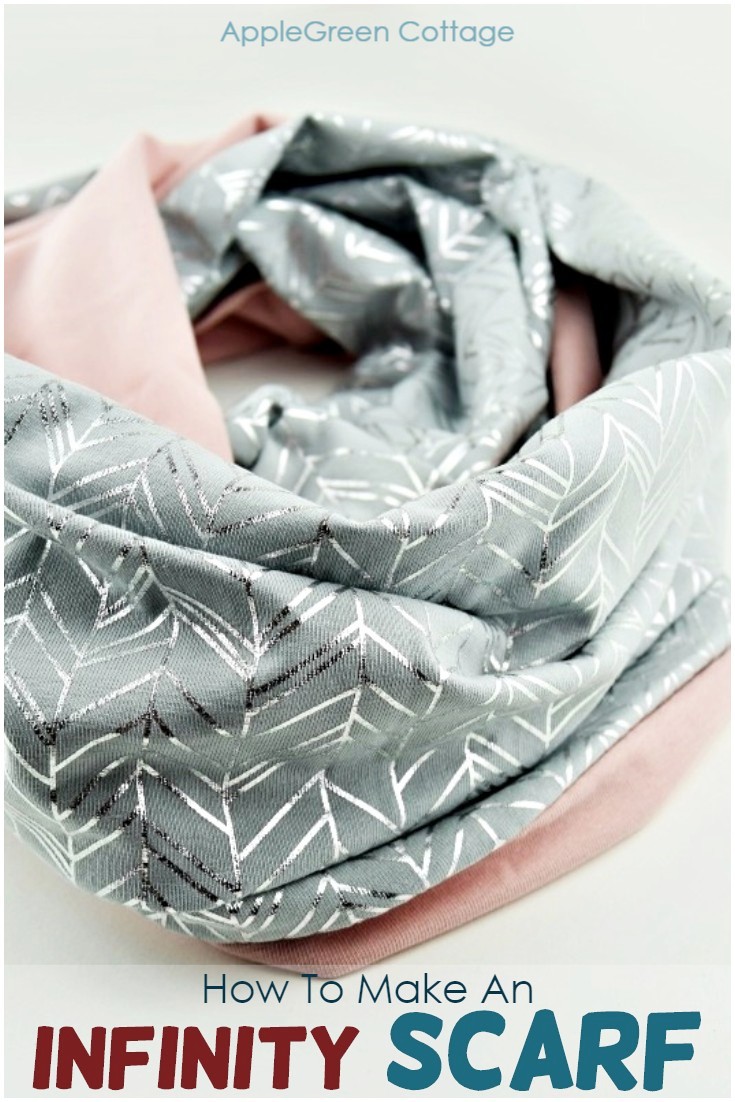 How To Make Infinity Scarves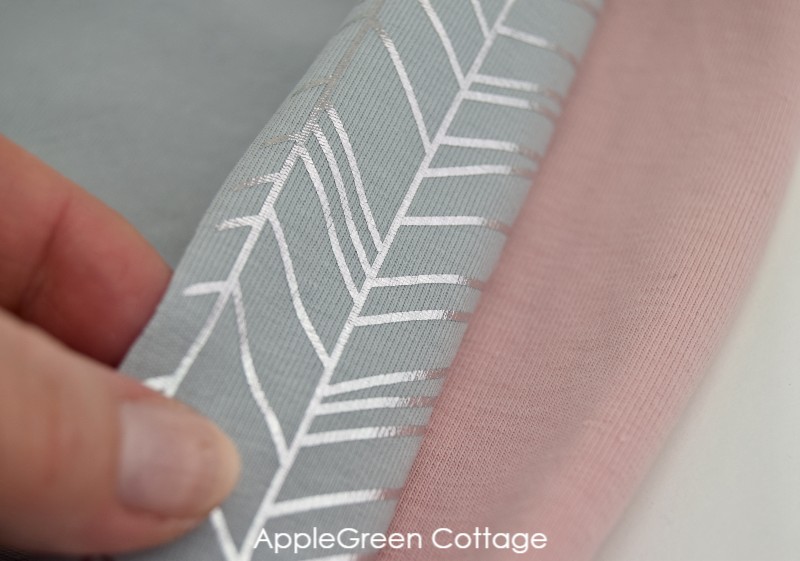 Supplies
two matching pieces of jersey with a width of fabric at least 55" - each 12" by WOF.
either serger or a regular home sewing machine and a ballpoint needle
matching thread
fabric scissors
pins or sewing clips
Steps:
Step 1 - Cut the Fabric For Infinity scarf
Cut each of the two fabric pieces at 12" along the lengthwise grain.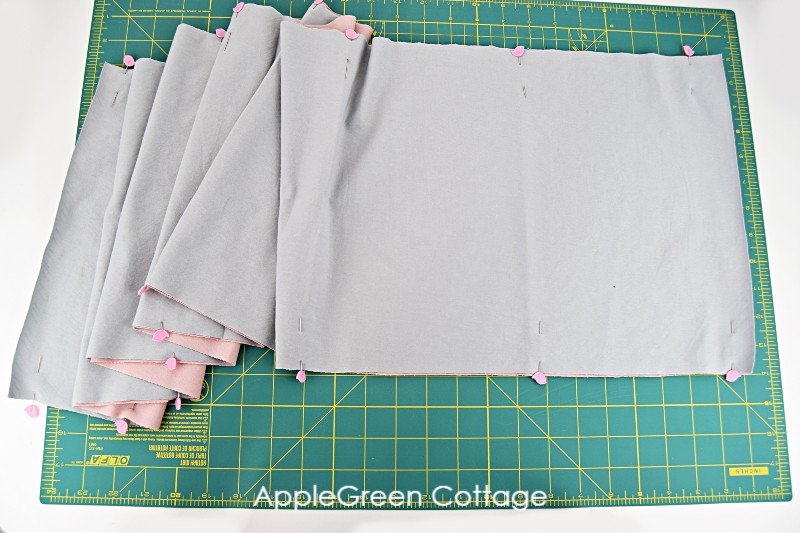 Step 2 - Sew along the long edges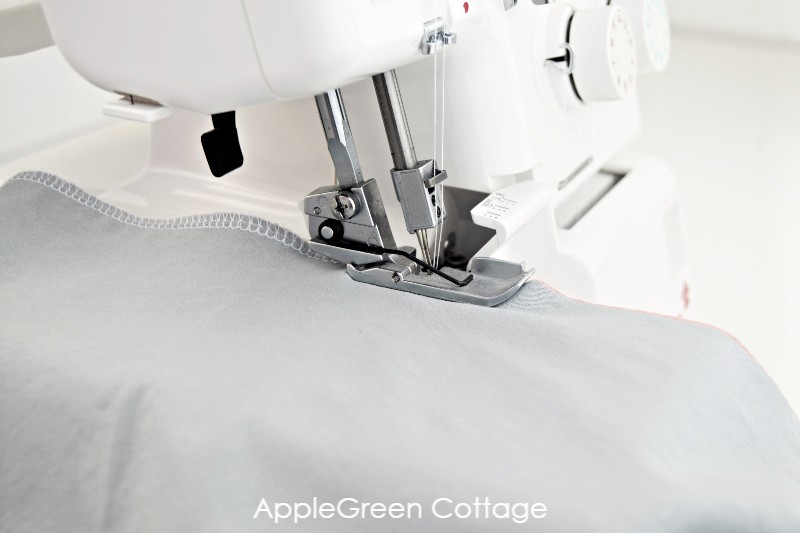 Place the pieces right-sides-together and stitch along both long edges, securing the seam at the beginning and end to prevent unraveling. If you need help in finding the right and the wrong side of the jersey, check out this Beginner's Guide to Sewing With Knits.
Have no serger? No problem. Just use a ballpoint needle on your home sewing machine, and select a stretch stitch. I was sewing all knits on my own regular sewing machine before I got my serger.
Step 3 - Fold the Long piece In Half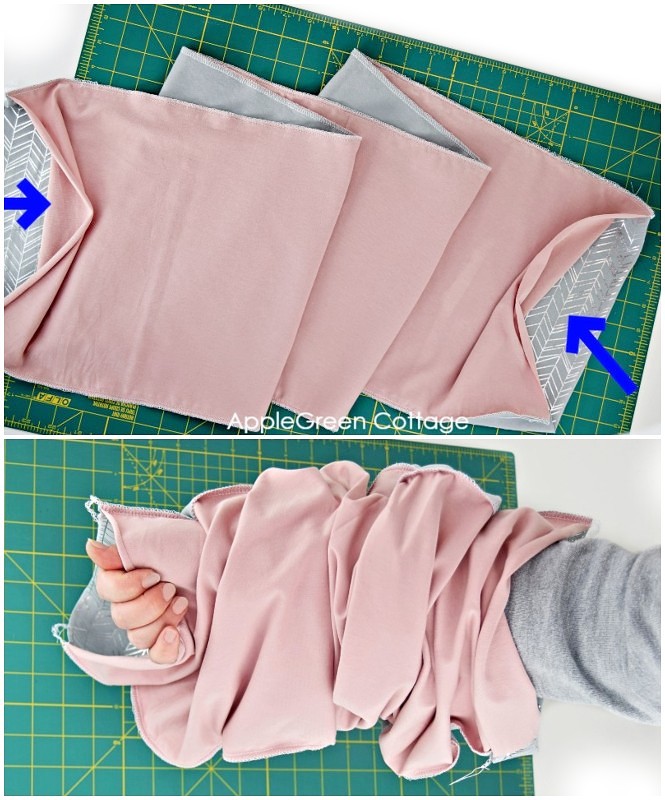 Turn the tube halfway: Reach with your hand through one end of the tube and grab the other end. Pull that end through so the two raw edges meet, and they are right sides together:
Step 4 - How To Join The Ends Of The Infinity Scarf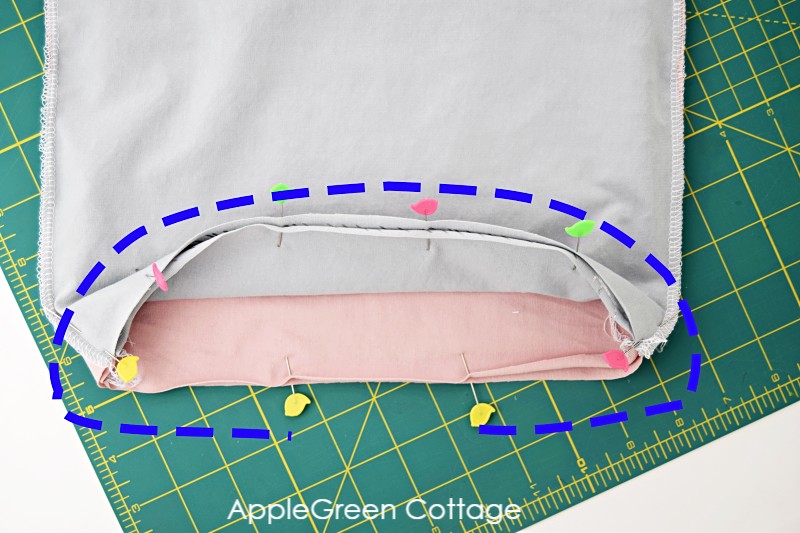 Align the short edges, pin and stitch around. Make sure to leave a turning hole of approximately 5 inches - meaning you won't sew a full circle around. Secure the seam to prevent unraveling.
Step 5 - Turn the Diy Infinity Scarf And Finish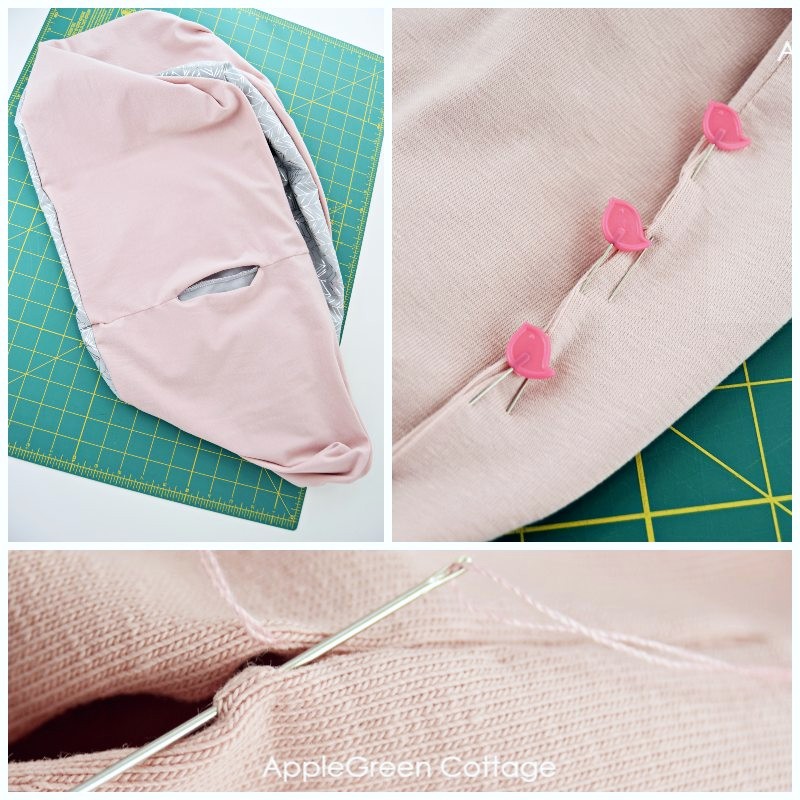 Turn the infinity scarf right-side out through the turning hole. Tuck the seam allowance on the turning hole, sew the opening closed, and wear!
How To Wear An Infinity Scarf?
Sometimes, readers ask me how to style an infinity scarf, and even more often, how to put on an infinity scarf. Super easy! You just put your infinity scarf on your neck, then twist the portion that is hanging down from the neck, and loop on your neck again.
And if you want to make your infinity scarf appear fuller, simply fluff and pull the fabric out. It always works!
How to Wear An Infinity Scarf As A Shawl?
And here's another version of how to put on an infinity scarf: you can wear it as a shawl:
First, place the infinity scarf on your shoulder by slipping your right arm through the scarf. The entire loop will hang from your right shoulder.
Now grab the other end of the loop and slip your left arm through.
Adjust the fabric so that it fits comfortably on your shoulders.
The portion of the scarf crossing your back should be flat and snug
The rest of the infinity scarf will be hanging behind your body, creating a loose wrap.
What is the average length of an infinity scarf?
If you're wondering how long an average, store-bought infinity scarf is, it's about 60 inches long.
I hope this tutorial inspires you to a cozy transition between cold and hot weather - in style! And get ready to wear your infinity scarves a lot next season, they are here to stay!
Make sure to save this tutorial for later, too: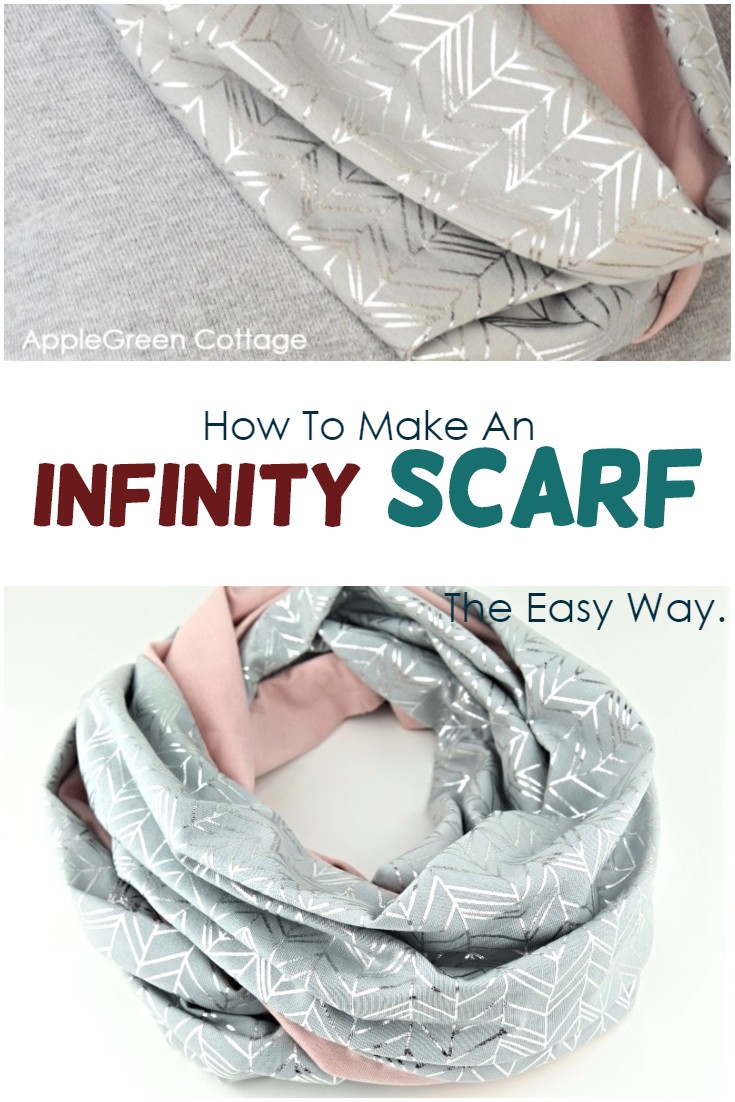 Want MORE FREE TUTORIALS And Patterns?
Get email updates and never miss out on new patterns, printables, and tutorials:
Or …check out this popular PDF pattern – the Kalina Mini Wallet in our shop. So practical!