See how to make hair bows using this easy and quick tutorial with hair bow sewing video included. These diy hair bows are super simple to sew and might well become your girl's favorite hair accessories!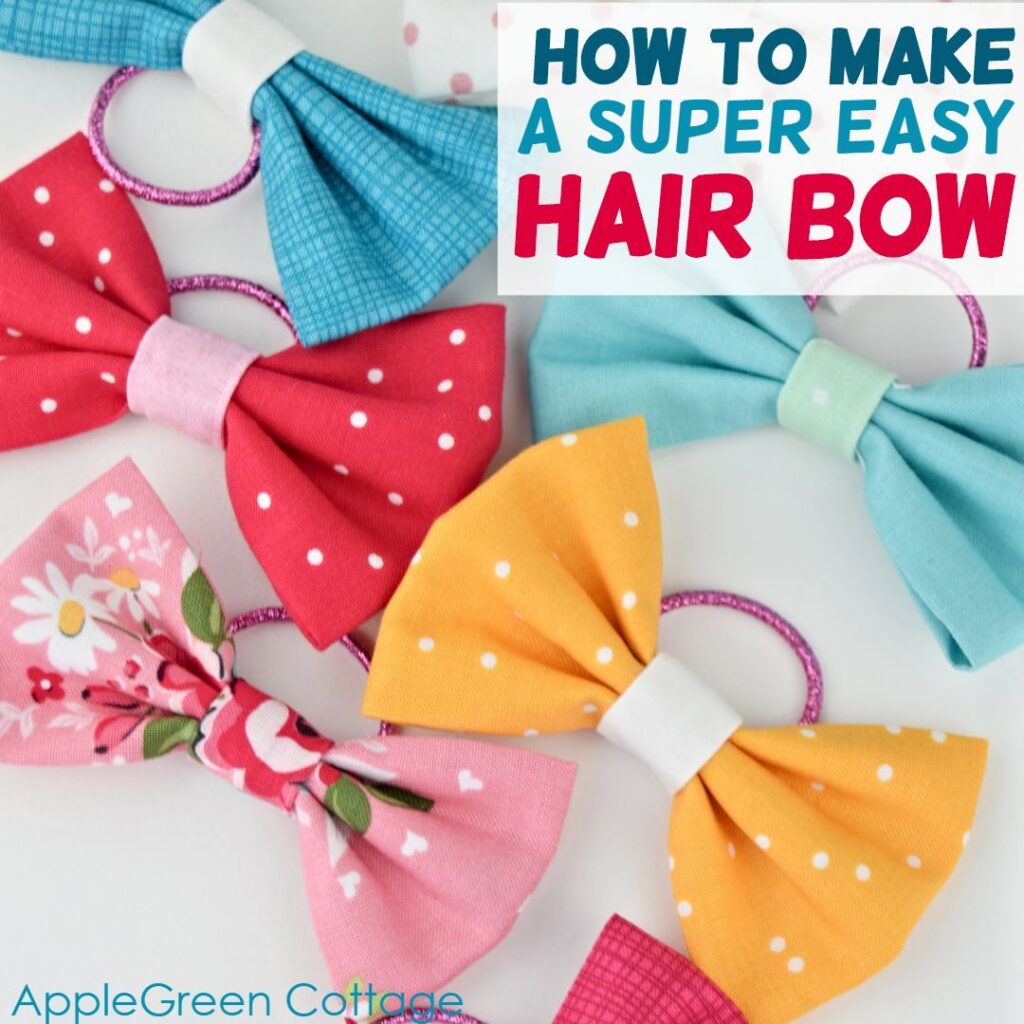 If you liked my cute hair scrunchies (tutorial here) and these felt bows that can also be turned into cute diy hair accessories, you'll absolutely love these too - scroll down and find out more (several sizes included)!
This post may contain affiliate links. Thanks for your support. If you like making bows, you'll love these free projects, too:
Back to hair bows: These diy hair bows are easy to make and are a perfect scrap busting project! While you might want to use your sewing machine if you'd like to make them as quickly as possible, these hair bows are a perfect hand-stitching project for kids, too.
This way of making hair bows is one of my favorites and it's so versatile! In addition to hair bows, you can make it as present toppers to decorate presents, or even make happy birthday cards! And party invitations!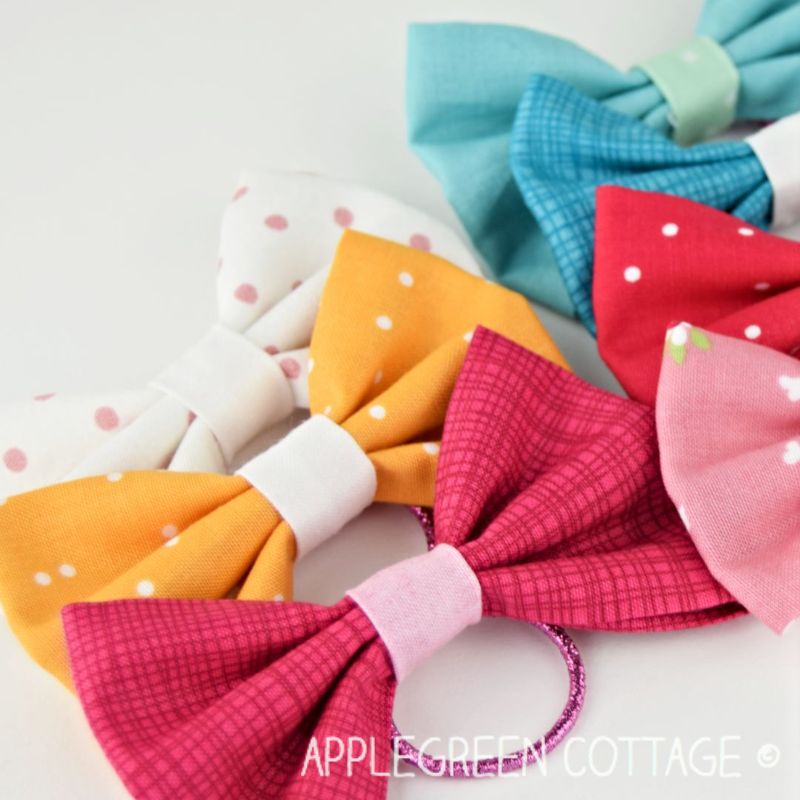 How To Make Hair Bows
They are so easy and cute you might make a lot more of them than you initially planned. Since my little girl doesn't like hair clips, she's recently decided she liked hair ties, but she'd keep them in her hair only if she liked them a lot. Perfect to use these easy bows with glitter elastic ties! You can also opt for hair clips with these bows.
I also added multiple sizing info below, so you have more options. Yey!
Hair Bow Making Video
And a surprise: a real video tutorial, folks! This time, I've made a *real* video that's not just a slideshow of photos with instructions! Took me more than a day to figure out how to do that, but I just knew you'll love me for that! So it's here. - Sit back, relax and enjoy:
Now, the tutorial in writing, too. Let's start:
Supplies to Make Hair Bows
matching thread and needle or sewing machine
heavy-duty thread, embroidery floss or yarn
safety pin for turning
elastic ties (or hair clips)
Note - In the tutorial, the seam allowances are marked for your convenience, but any other seam allowance will work, too.
Diy Hair Bow Tutorial
Cut two rectangles, 8" by 6" (20 x 15cm) for the main piece and 3" by 1 ¼" (7.5 x 3cm) for the center piece.

Turn right side out. You can attach a safety pin to one end and guide the safety pin through to the other side. Press with the seam centered.

Fold the ends of the pressed piece towards the back so the ends will have a slight overlap at the center. I usually overlap them by ⅜" max, that's up to one centimeter, to avoid unnecessary bulk.

Stitch over the overlap area to stabilize the bow. It will make it easier to finish your bow.
Next, grab the piece in the center, fold it accordion-style, then pinch it closed. (see the photo below) so you get a bow shape.

Use heavy-duty thread (or yarn) and wrap it a few times around the pleated center, then tie it off. don't cut the thread yet!

Optional, but helpful step: Take the elastic and tie a few knots using the leftover heavy-duty thread (or yarn), attaching it loosely to the bow. This will make it easier to proceed.

Next wrap the center piece around the center pleats and the elastic tie, and stitch the ends in place using whipping stitch. Alternatively, glue closed and attach to hair clip if you prefer a hair clip bow to elastic.

Done!
What Is the Best Diy Hair Bow Size?
In short, limitless! I've tested a few bow sizes and decided to use my favorite bow dimensions in this tutorial. I've taken photos of a few different sizes I've made, you decide on your favorite.

Nearly any rectangular or square size will work and everyone has their own preferences - this is part of what makes diy hair bows such an awesome crafting project!
And yes, every bow needs a baby bow! That's why I'm adding baby bow measurements so you can make hair bows for little girls too!
How To Make a Small Hair Bow
Every little girl loves an adorable bow in her hair.
Using the dimensions from this tutorial, your finished bow size will be approx 4" by 1 ½". Cut the fabric piece from step 1 in two, and you get two baby bows half the original size. Read on for sizing instructions.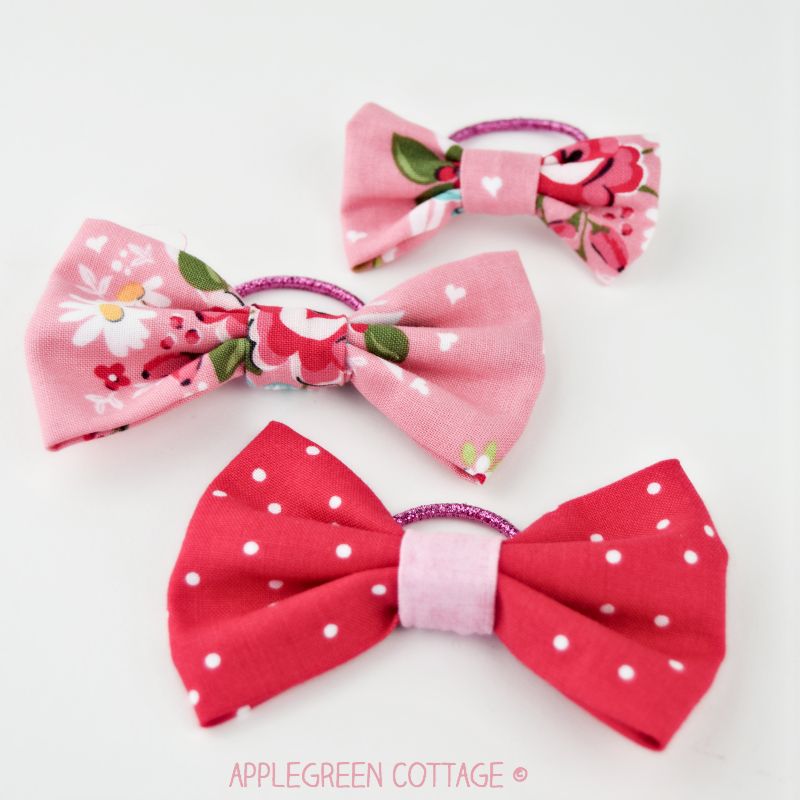 SIZES of bows in the above photo:
top bow: main piece cut in half - 4 x 6 inch - finished bow 2 ½ x 1 ½ inch
middle bow: main piece is a bit narrower - 8 x 5 inch - finished bow 4 x 1 ½ inch
bottom bow (best for me) main piece - 8 x 6 inch - finished bow 4 x 2 inch
Use bright colored prints and make as many as you want. I hope you enjoy making and wearing them- I'm looking for ways to make even cuter hair bows using these hexies (aren't they sweet!) 🙂 But that's a story for some other time.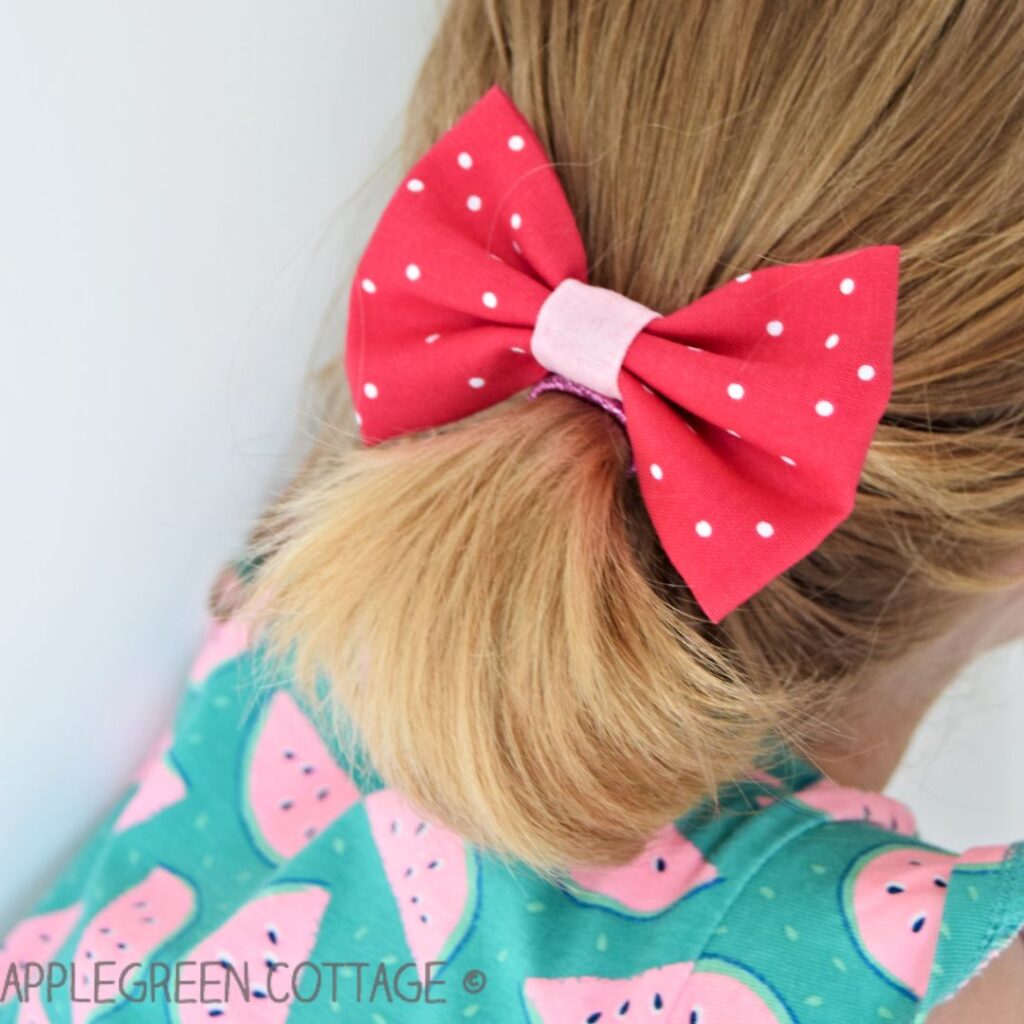 If you like this project then you may also like this felt bow tutorial I made a while ago - or this popular scrunchie tutorial (yes, they are back!).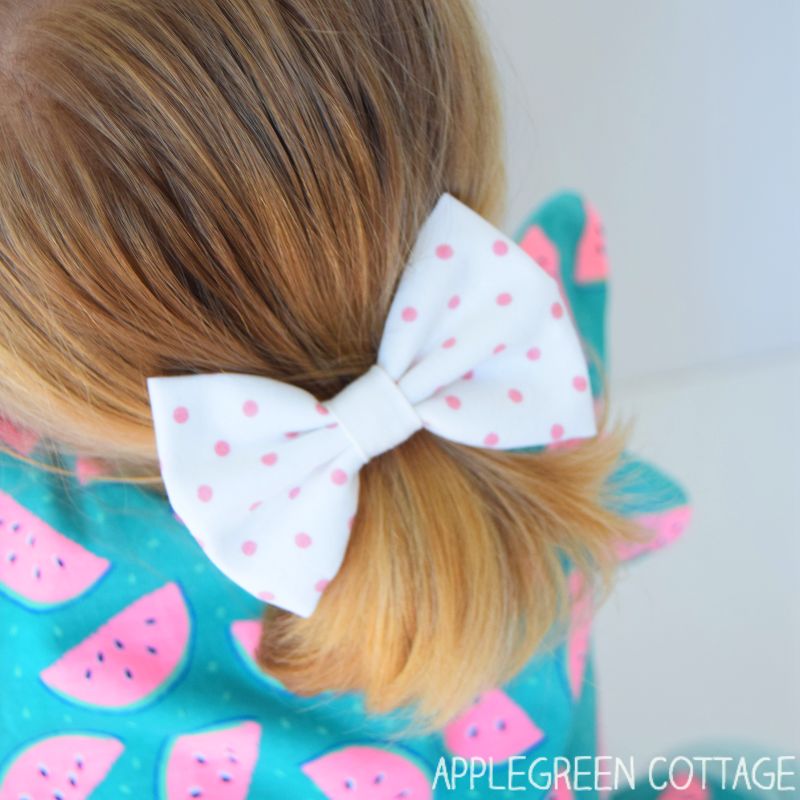 This tutorial is part of the Sew a Softie blog tour, initiated by Trixie at www.colouredbuttons.com. So much fun! Make sure to pop over to my friend Lisa at @cucicucicoo and Havalah at @sisterswhat to see the fun softie they made yesterday and don't forget to visit @barleyandbirch to see what tutorial Amanda has planned for us tomorrow.
Save For Later:
WANT MORE FREE TUTORIALS AND GOODIES?
Get email updates and never miss out on new patterns, printables and tutorials. If you sign up at THIS link, you'll also get the Fabric Hanging Basket Template for FREE, right now. A cute and easy-sew!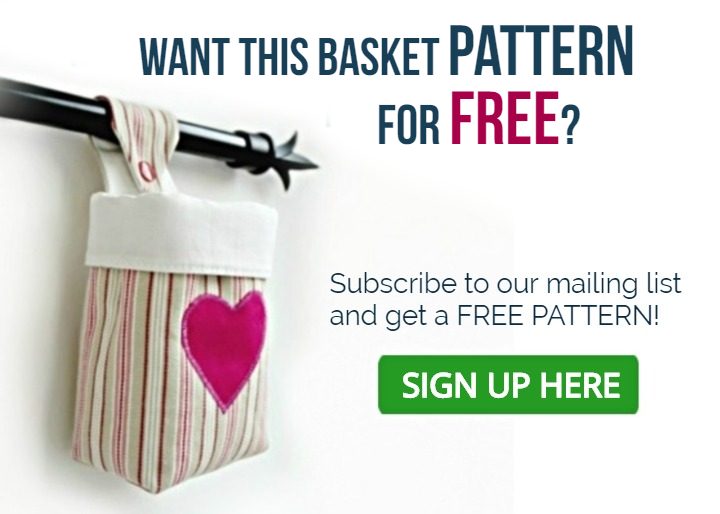 Or …check out this popular PDF pattern – the Enya Wallet Bag - crossbody, clutch or as a regular wallet, it has everything a big bag has!