See how to make diy makeup remover wipes and go green! Make a set, add a diy drawstring bag like this one and you've got a cool self-care gift for a girl. The best reusable makeup remover pads I know - and so easy to sew!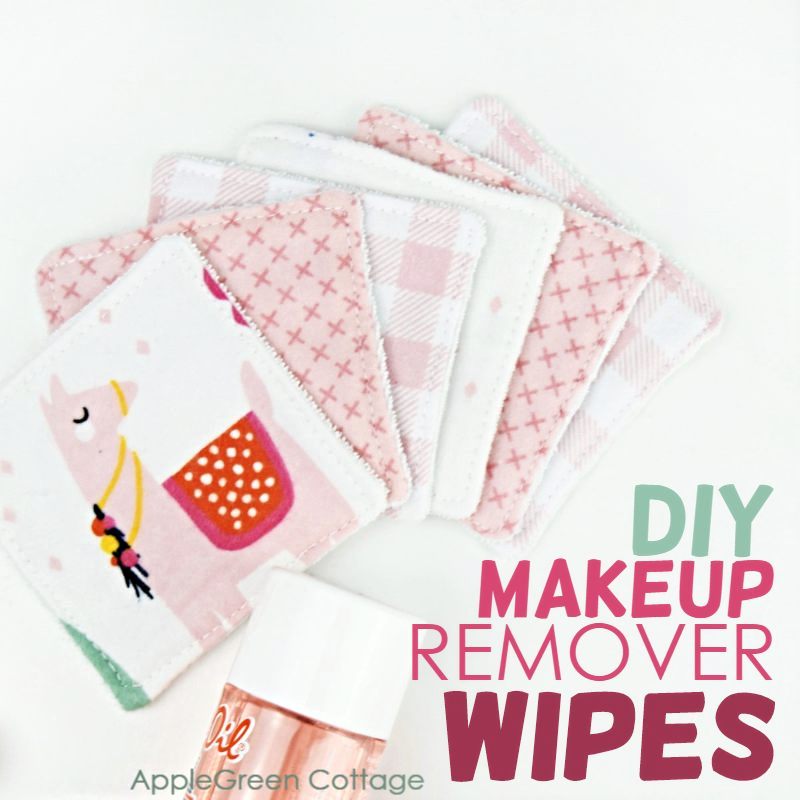 If you're here for reusable items to make, I'm sure you'd love your reusable coffee cup wrapped in this cute diy coffee cup sleeve. Green and beautiful, check it out too!
See how to make your own diy makeup remover wipes. It's a sustainable, eco-friendly and wallet-friendly solution for your skincare.
Easy To Make: While you can opt for diy makeup remover rounds to resemble the cotton pads, I find it so much quicker to sew a straight line, so I'm making my makeup remover squares. Goes faster, has zero waste (no leftovers LOL) and it's easier for beginners!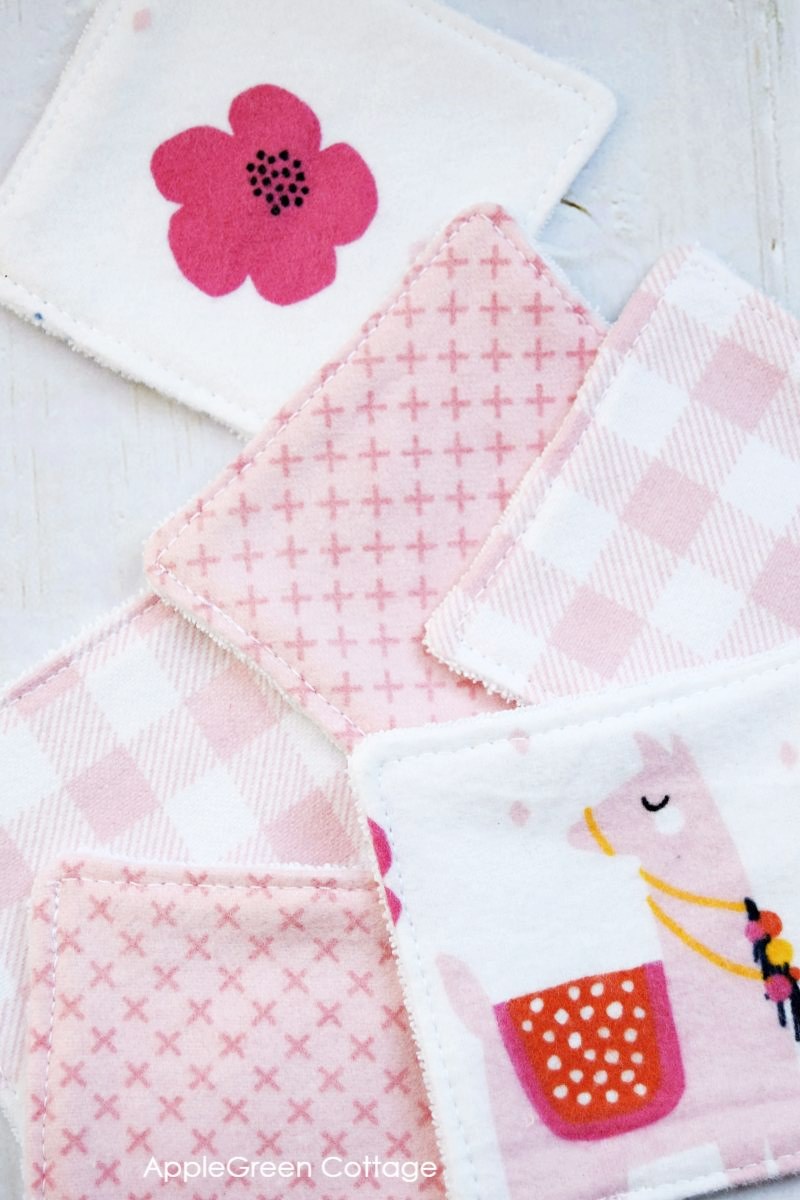 And these last LONGER! To make sure you'll be able to use them for a long time, so it's not just cut-and-go, these have 2 layers and they are sewn together so there aren't any raw edges visible. The seams are on the inside of the pads (rather than on top of the outside of the fabric), so there are no rough edges!
Finished Size: The pads are approximately 3" by 3".
What material to use for diy makeup removing wipes
I used flannel for one side and single-sided terry cloth for the other side. Works like a charm!
If you use flannel too, see here why you first need to prewash flannel here.
If you'd like to use some other material, go ahead and try - just make sure it's skin-friendly. Preferably use fabric that can be washed in a hot cycle, and you have a lot of options: cotton, bamboo, double-sided terry cloth, or other natural fibers.
How to wash Your reusAble Makeup Remover Pads?
Simple: toss them in a mesh bag and then into the washer. Alternatively, they can be easily hand-washed - rinse after use with soap and water. Then either tumble dry or air dry.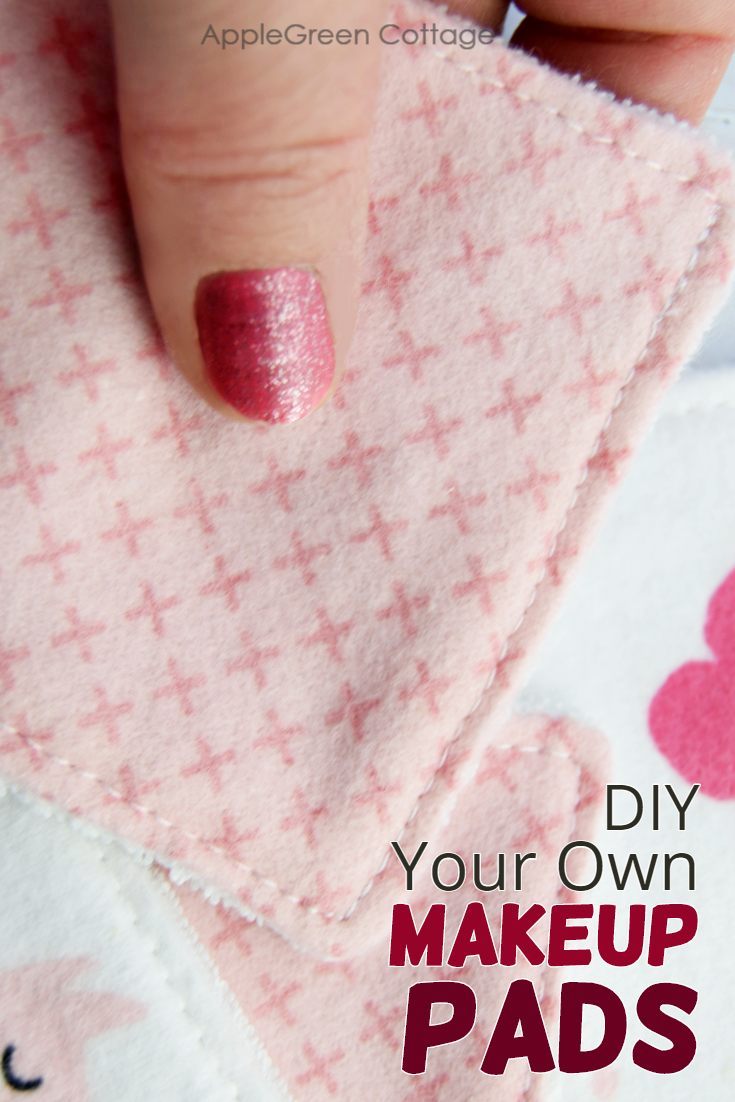 Oh, and you can diy your own mesh bag too - use this drawstring bag tutorial. Or make these popular diy storage baskets to store them on your bathroom shelf - the free pattern comes in two sizes, plus there's a video tutorial.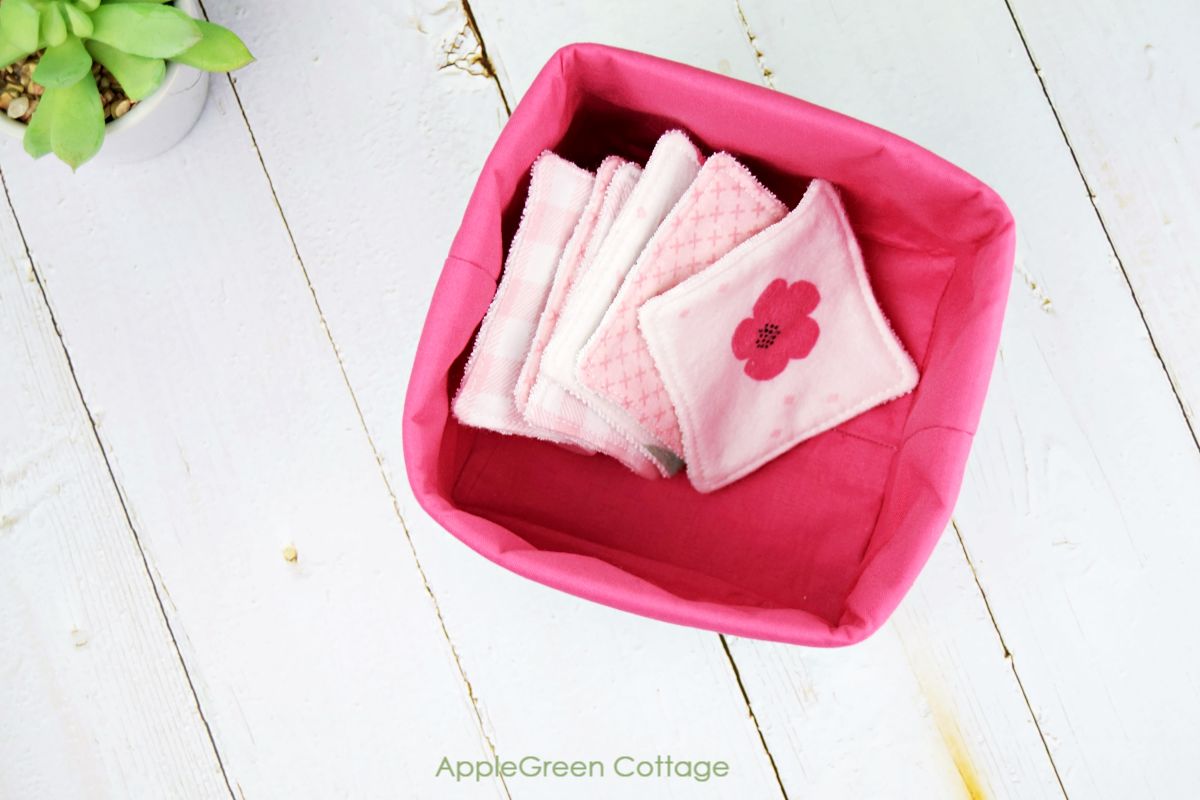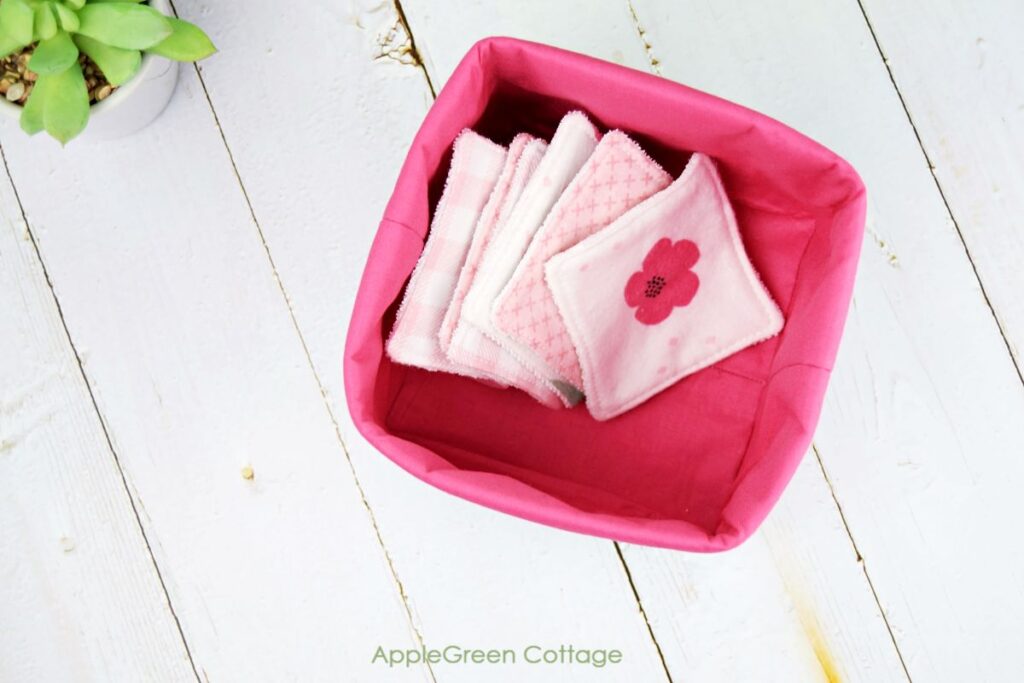 Even more good news: after a few washes, your reusable makeup pads will become even more absorbent!
What Makeup Remover To Use On Diy Makeup Wipes?
Simple, really. While you can opt for any store-bought, you don't need to. If you have your fav brand, you can continue to use that. There's also a gazillion of homemade makeup remover infusions available. But if you are after natural, easy and inexpensive, you can simply use coconut oil. Tried and tested!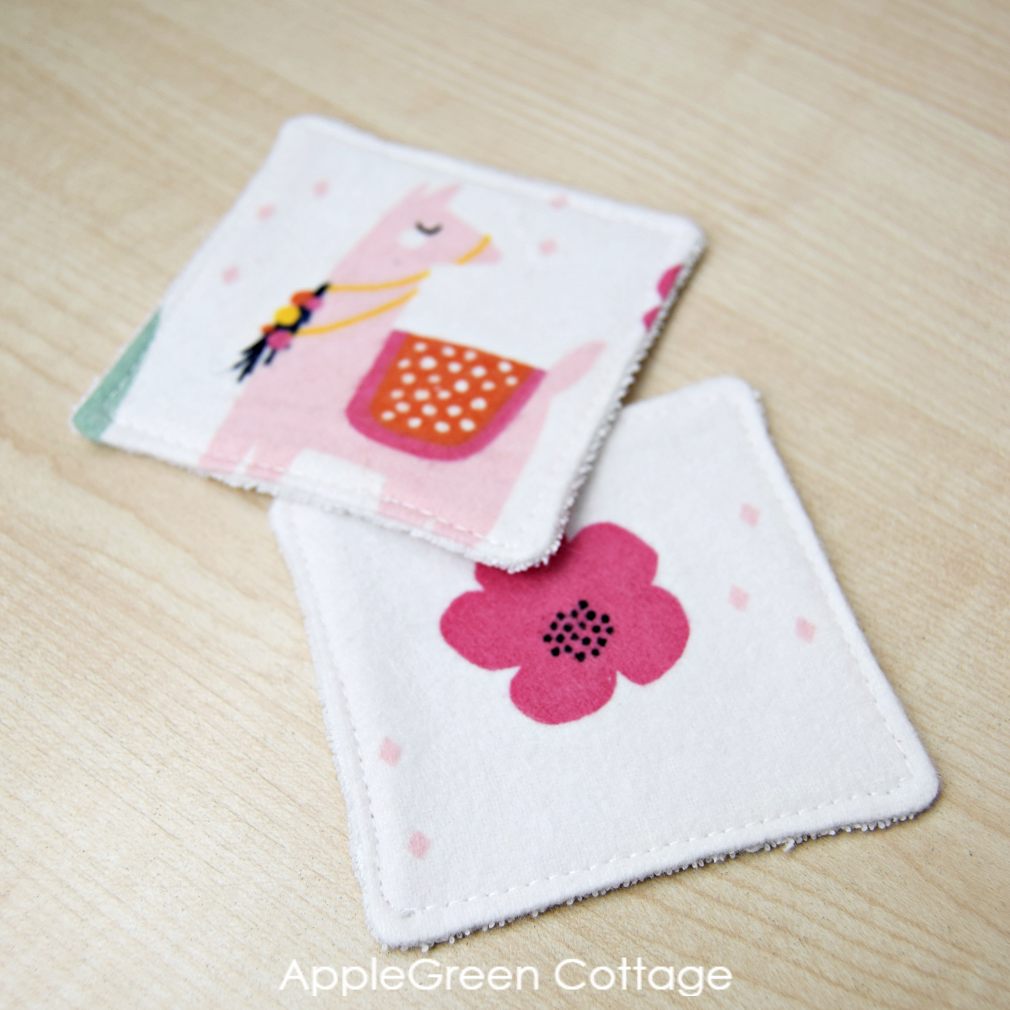 Now, let's see how to make a whole jar of these cute remover wipes!
SUPPLIES: For each diy makeup remover pad, you'll need
one 3 ½" square of flannel and
one same-size terry cloth square, I used single-side terry cloth but you can also simply cut up a used towel - the best upcycle ever!
How To Make diy Makeup Removing Wipes
Want a video or a photo step-by-step? Either way, I've got you covered! Video first:
Step 1 - Cut squares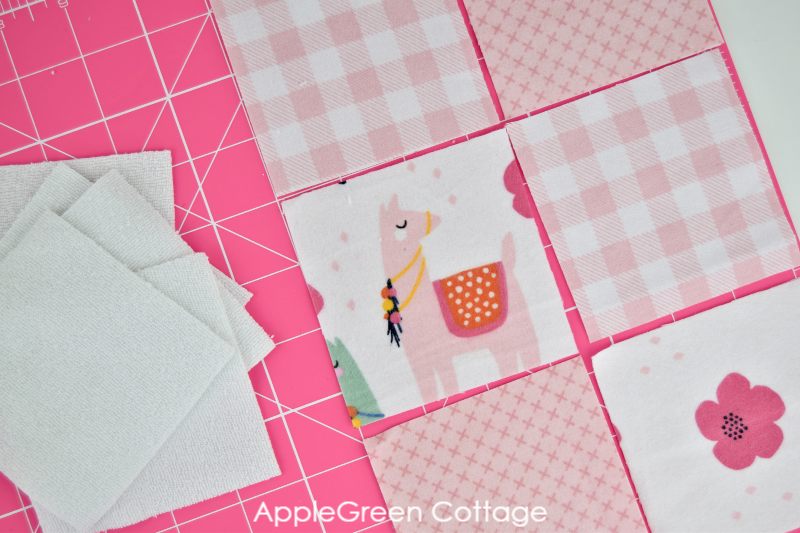 Cut rectangles of 3 ½" -you'll need two per wipe piece: one from flannel and the other from terry cloth.
Step 2 - Place the 2 Pieces Together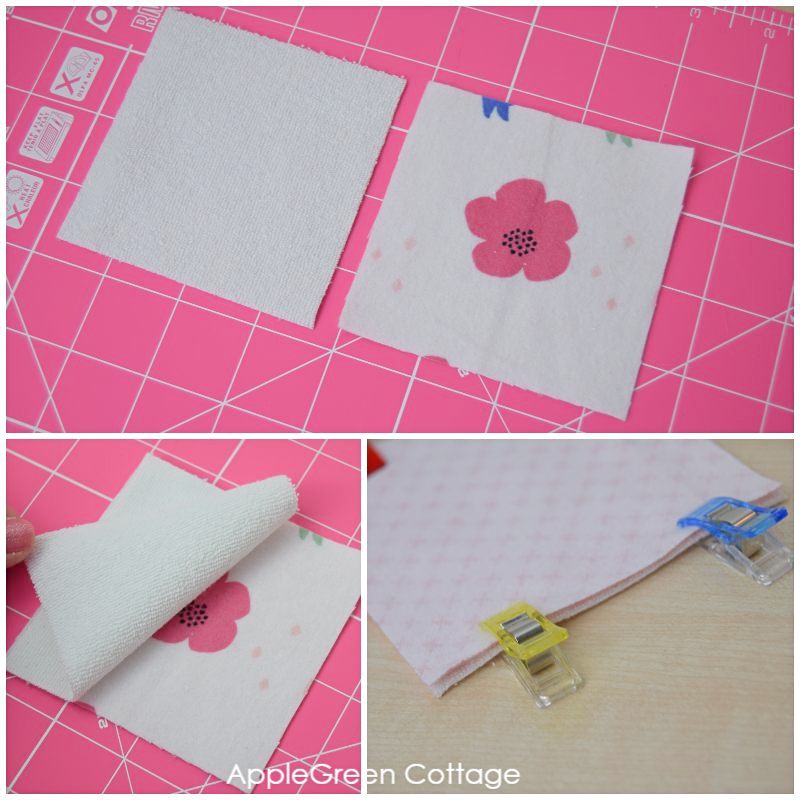 Place one flannel piece and one terry cloth piece on a flat surface, right sides together. (If your terry cloth is double sided, both sides will be 'right sides') Pin or use sewing clips to prevent the layers from shifting.
Step 3 - Sew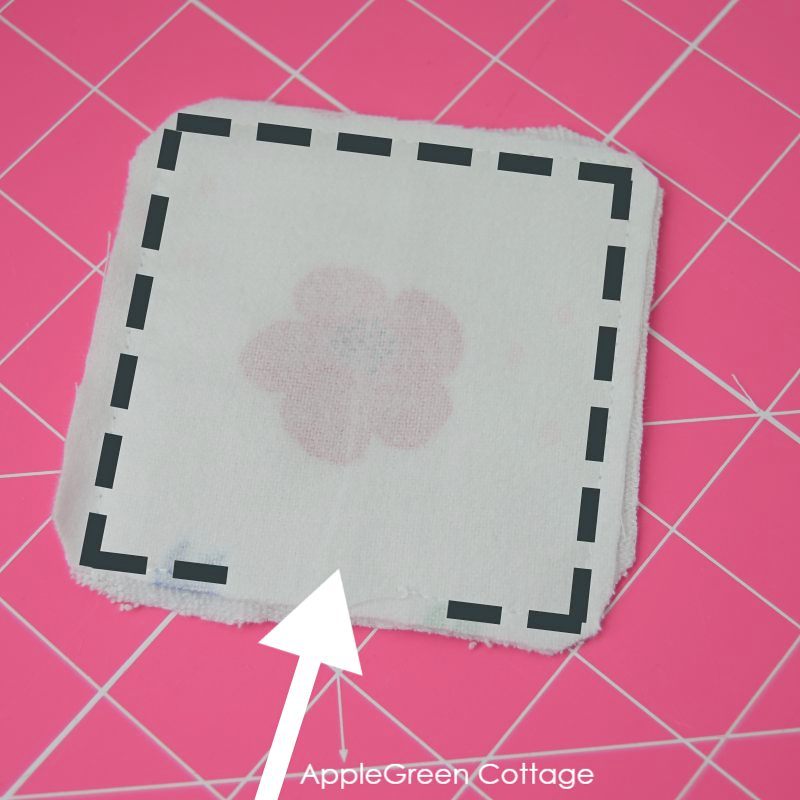 Using a ¼" seam allowance, Then stitch around the square and leave a 1 ½" gap for turning . Once sewn, clip the corners for a neater finish.
Step 4 - Turn Right Side Out And Press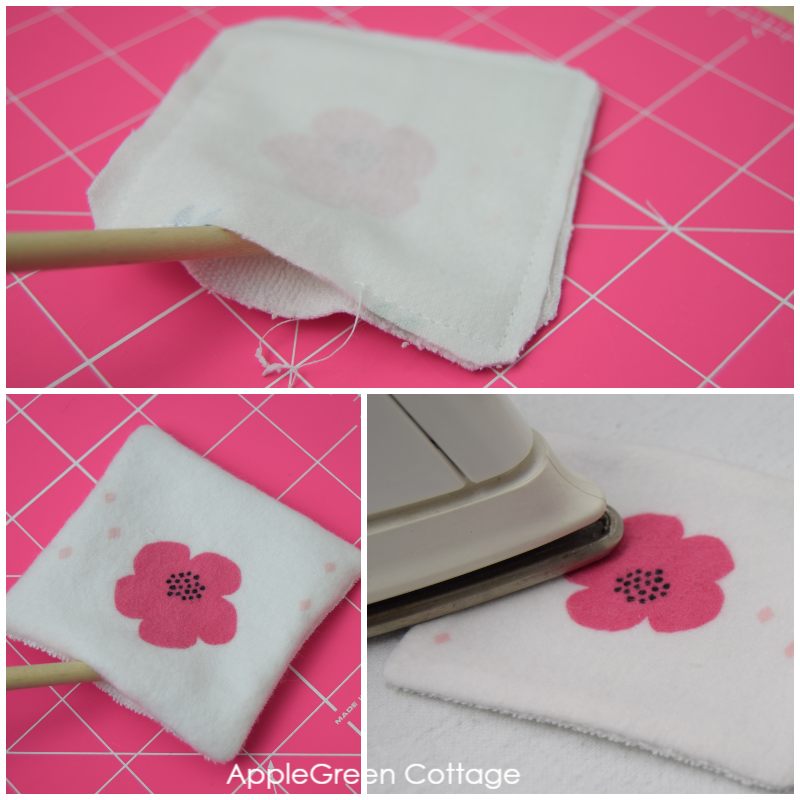 Turn right side out through the opening, use a point turner to get the corners out (gently!) Press well, making sure the seam allowance on the gap is tucked inside.
I keep my diy ironing board close by, to make pressing my small projects a breeze. I don't even need to get up to press, as it's a handy tabletop version.
Step 5 - Topstitch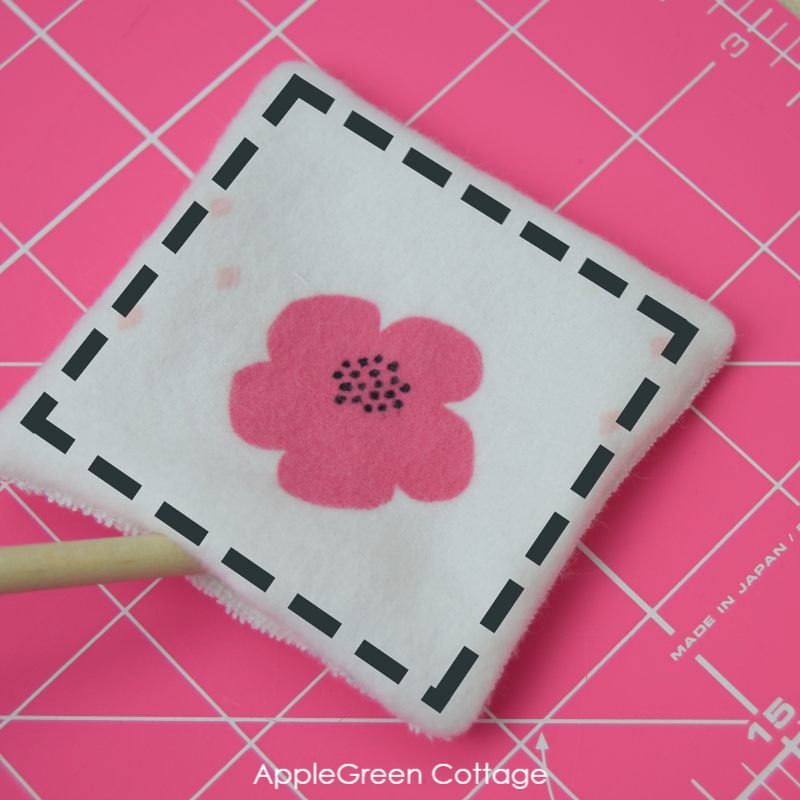 Topstitch around using a ¼" up to ⅜" seam allowance. This will also close the turning gap. Done! Now repeat as many times you want to. Make a set, and then an extra one for gifting to your BFF!
It can be overwhelming to try to go organic and replace your old habits with healthier, more eco-friendly ones. Taking baby steps with easy diy projects like these makeup remover pads are a great place to start!
Save this project to Pinterest for later - use THIS link or the image below: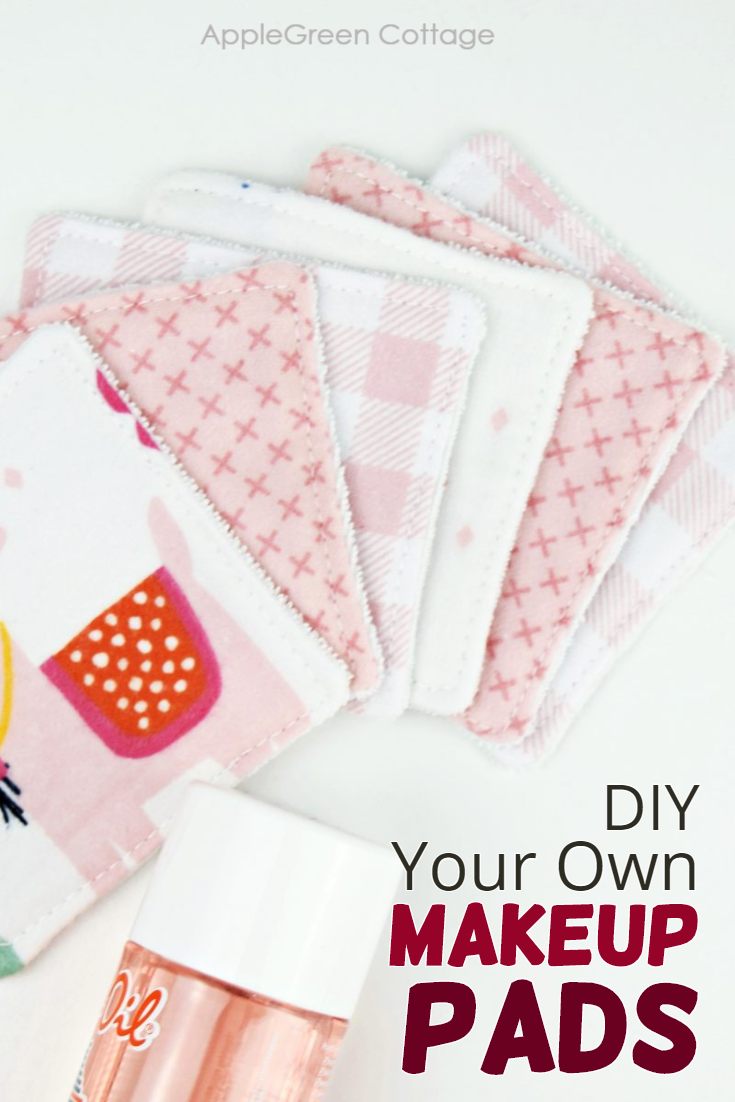 Reusable makeup wipes are good for the planet, and easy to make! Don't forget to show me what you have made, I can't wait to see all the variations you come up with!
WANT MORE FREE TUTORIALS AND GOODIES?
Get email updates and never miss out on new patterns, printables, and tutorials:
Or …check out the popular Aiden Cell Phone Purse in our shop. Guess what's on the back of this cool phone bag!