Here are more than 20 adorable, useful and free sewing projects for the home - and that for every room in your home! They include a free sewing pattern and nearly all are beginner-friendly.
Craft ideas like these make super handy DIY gifts for friends, for housewarming parties, and for your own home decoration. You can use these home sewing ideas to refresh all the rooms in your house.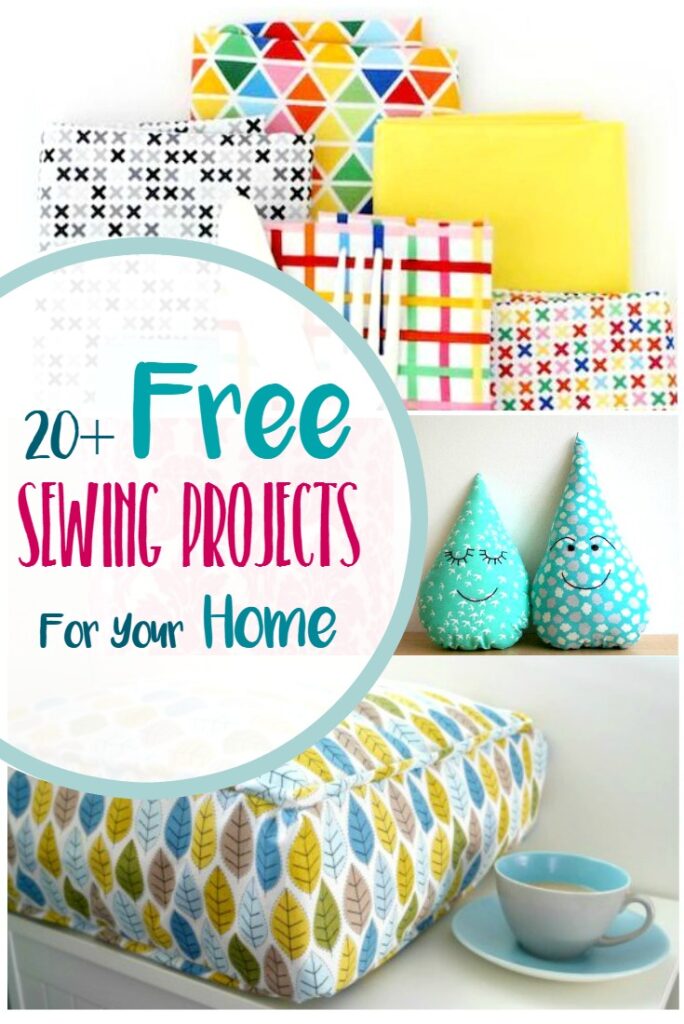 This post includes affiliate links. Thanks for your support. If you like easy sewing, visit more than 100 free sewing tutorials here at AppleGreen Cottage. (You know how much I love simple and easy sewing, right?)
20+ Sewing Projects For the Home
Here's some inspiration for everyone to create a home you love, no matter the budget. You're not gonna believe what amazing things you can make with these free patterns for sewing projects for the home - enjoy!
While I also have several mending posts, like this one on How to Patch Up a shade sail, I decided to make this list of just new sewing projects. Many of these projects are inexpensive scrap busters: napkins, cozies, mug rugs (this qayg mug rug tutorial is a must see!), potholders. They are great additions to your household - think your own floor mop pads, baskets, easy and inexpensive diy storage. Some of them are so cute I could simply not resist them - and trust me, you won't be able to, either!
Get ready for cute and handy, welcome spring into your home. Let's start with several of the most colorful projects:
Every home needs plenty of multitasking storage bins. Use my free pattern in 3 sizes to make a laundry hamper, a catchall for your hallway, or a few really handy cubes for open shelf storage in your craft room. (Which can be turned into a market tote in a second!)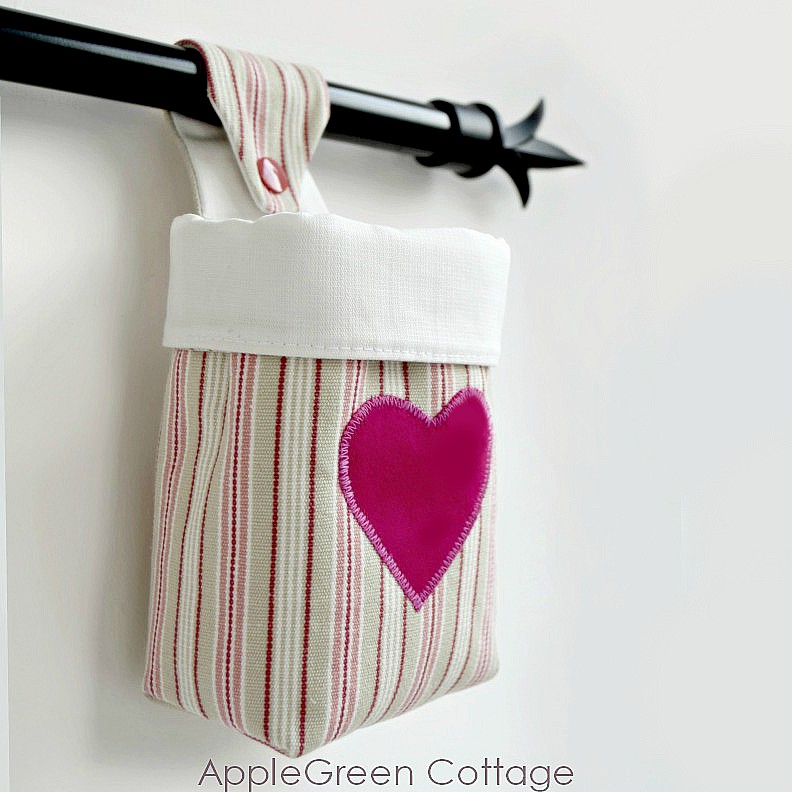 This little fabric hanging basket is a real treasure when it comes to storing small items. And since the hanging strap can open, you can hang it anywhere and remove easily. Free sewing pattern and tutorial HERE.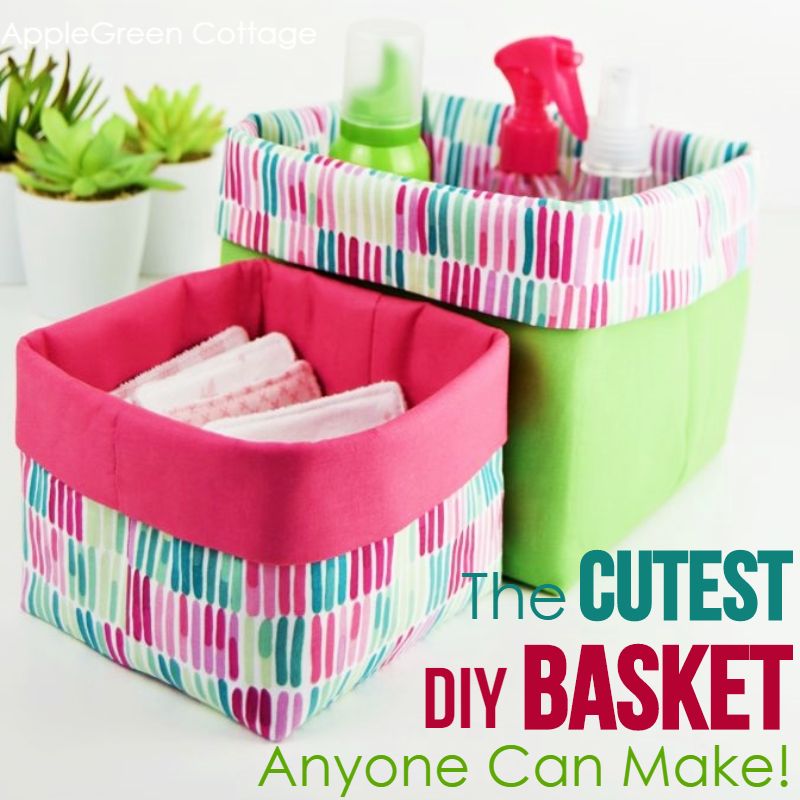 Make even more baskets sizes with this free pattern - add fresh vibes to your home using my free tutorial and sewing video - here: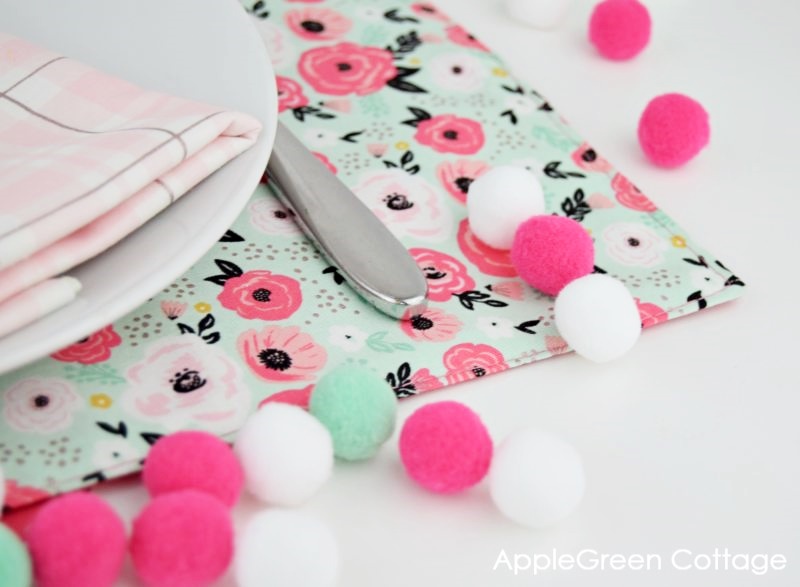 Decorate your dining table in style, on any occasion! Visit my tutorial here at ApleGreen Cottage.
If you like sewing for the dining table, you'll absolutely want to check out my favorite free table runner patterns.
SUPER SWEET POTHOLDERS - Two ways!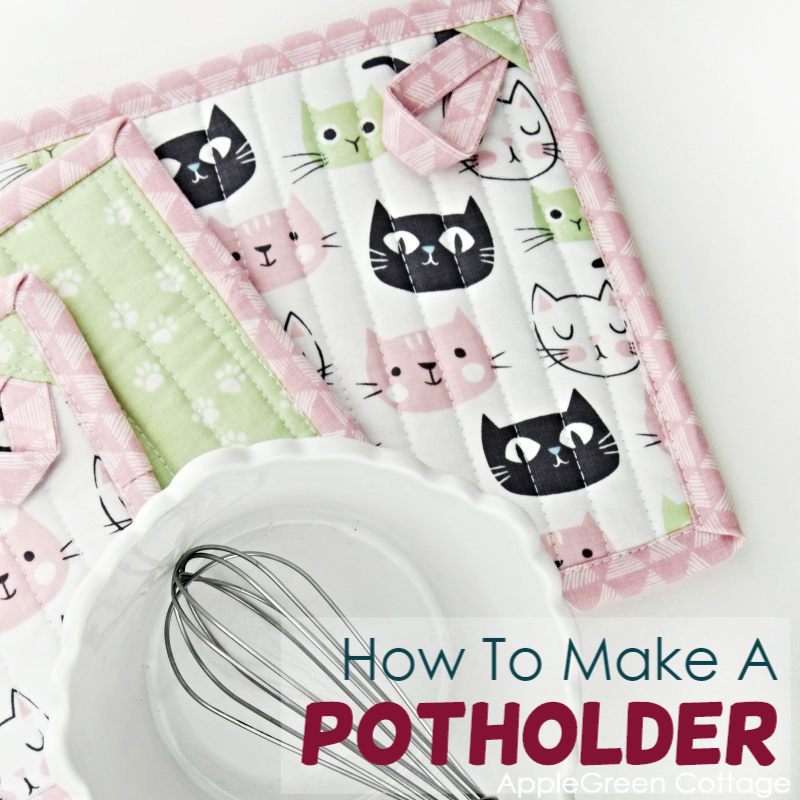 Your kitchen deserves this beautiful little add - easy and practical potholders you can keep or gift! This free tutorial comes in a mommy-and-me style, in two sizes. Check it out now!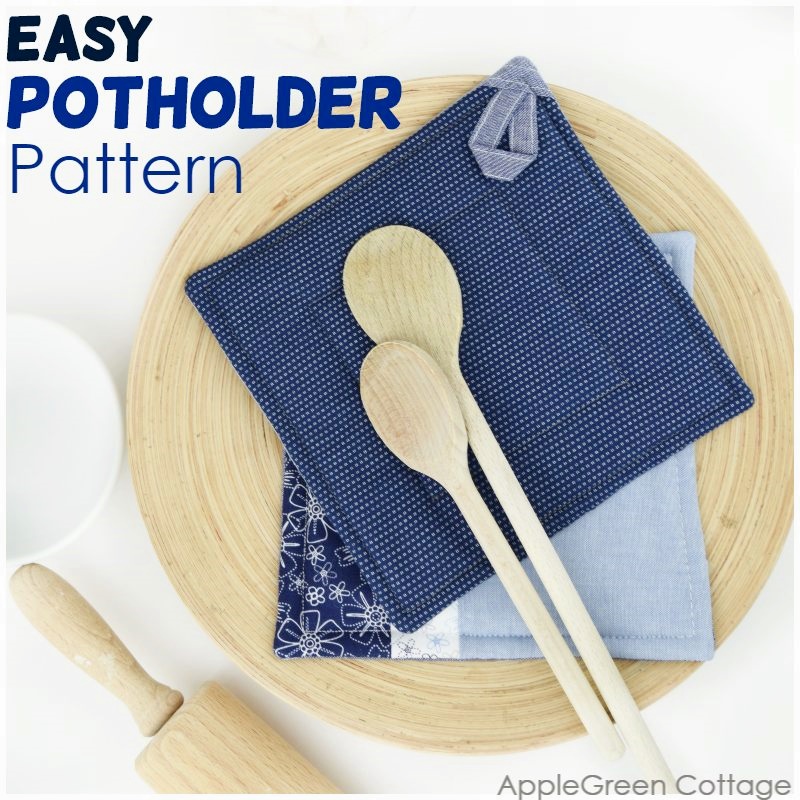 And the second type of potholders - potholders without binding and thus even quicker to sew. Get your free potholder template in 2 designs here at Applegreen Cottage.
Cute Diy Coffee Cup Sleeve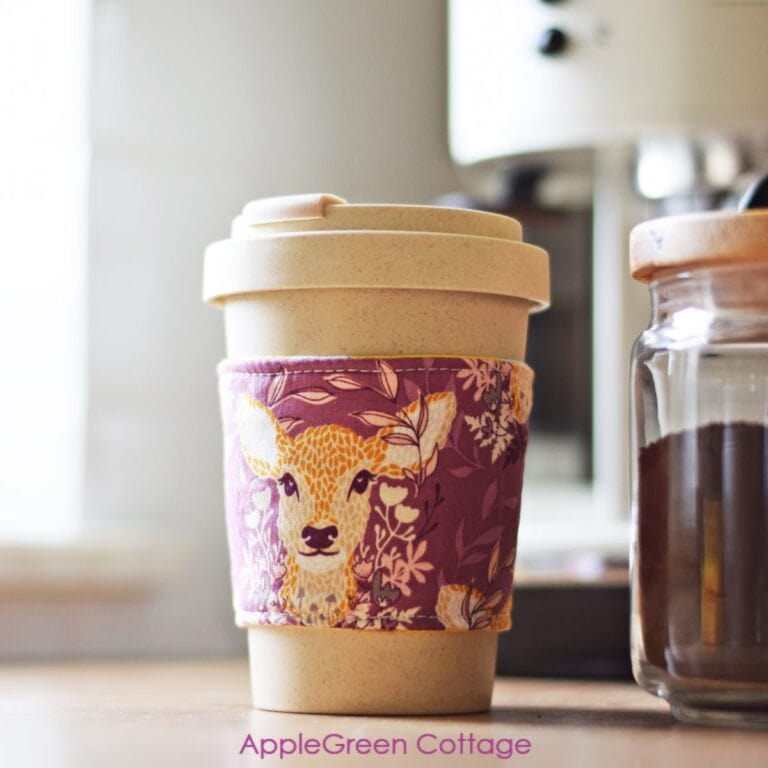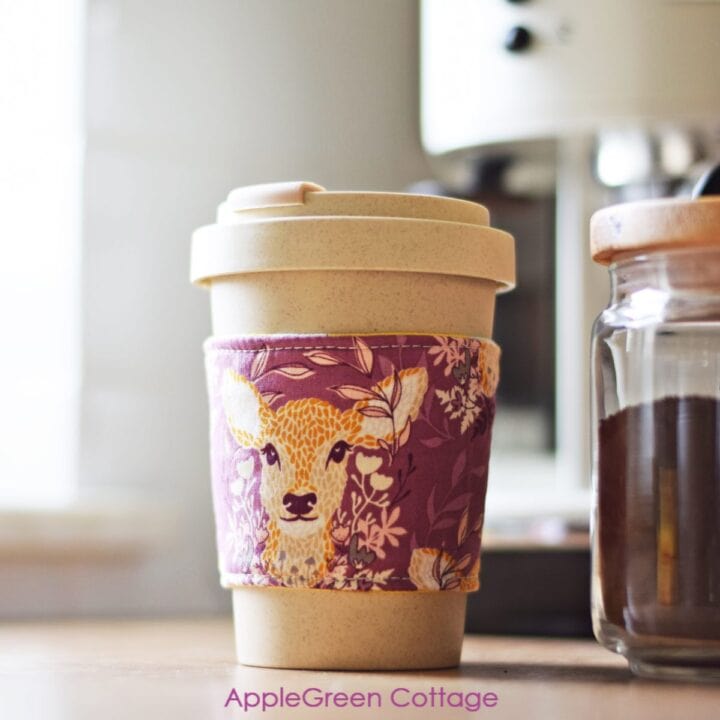 Always good to have a few coffee cozies at hand in your kitchen! Use this free coffee cozy pattern and make a beautiful diy coffee cup sleeve set!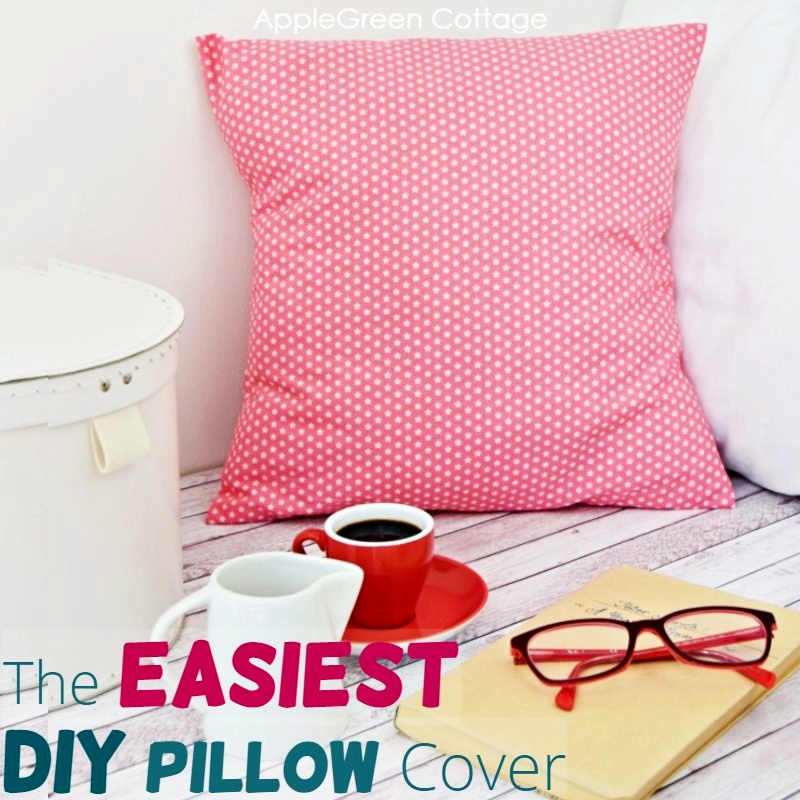 Make super quick pillow covers for an instant living room makeover - perfect springtime home sewing project! A scrap-friendly and fun project in 15 minutes - or less! And also check out this diy Christmas pillow cover, it always turns out beautiful.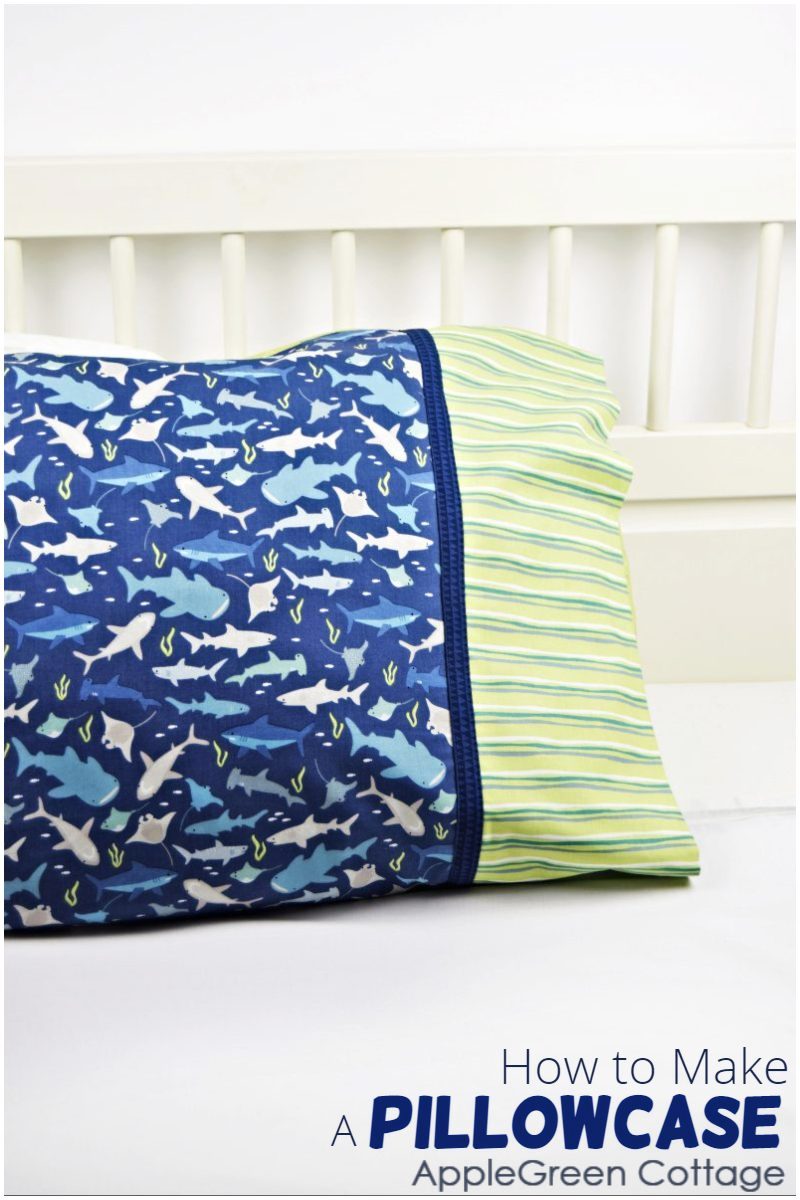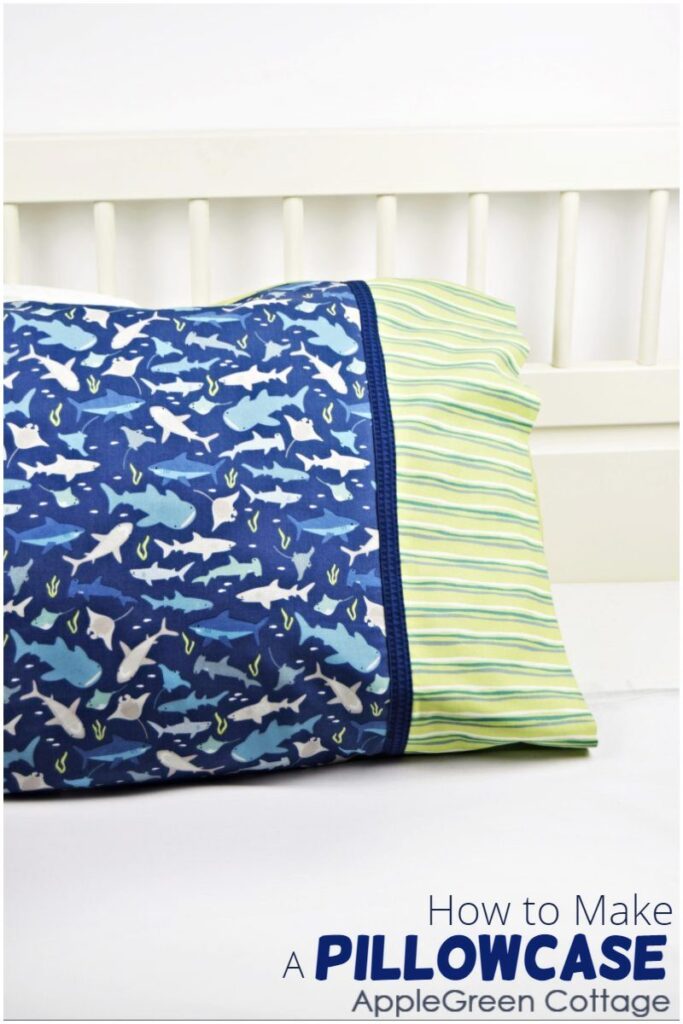 This diy envelope pillowcase is not just beautiful - it uses a smart sewing technique that turns your project into high-end home decor. Both easy and beautiful!
Sweet Diy Needle Book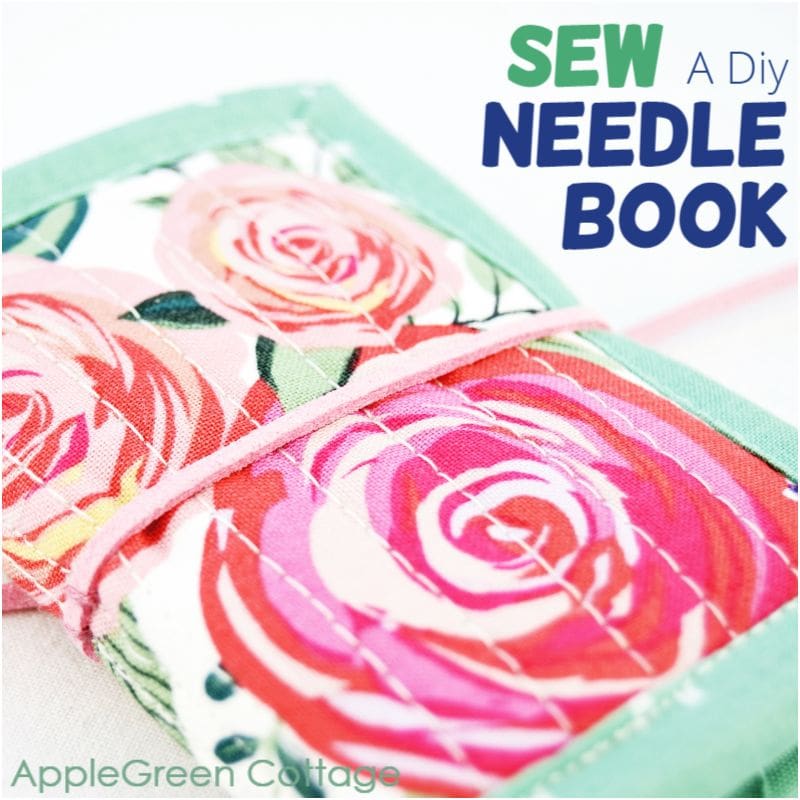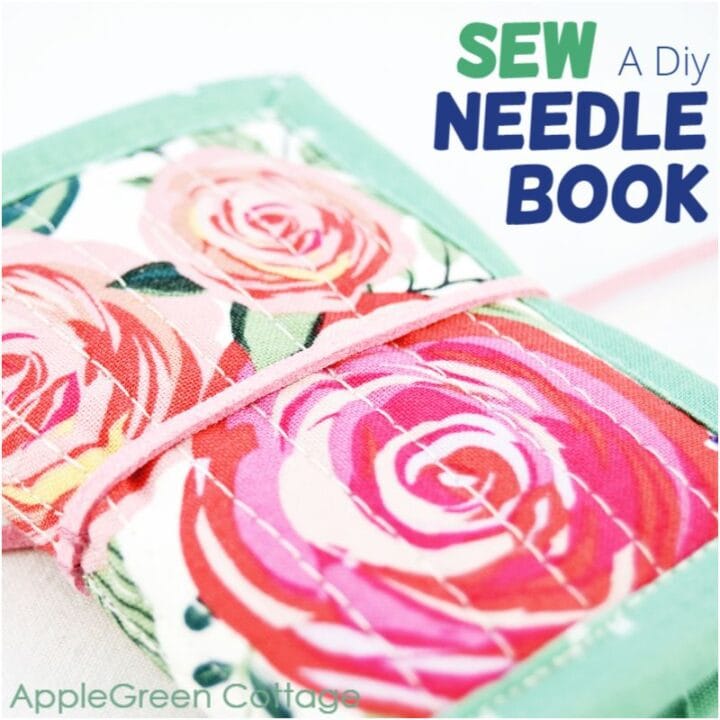 You'll never get tired of looking at this one! This small diy sewing case is easy and quick to make, and always good to have as an emergency sewing kit. Makes a great diy gift too! I'm in love with the gorgeous print, take a look.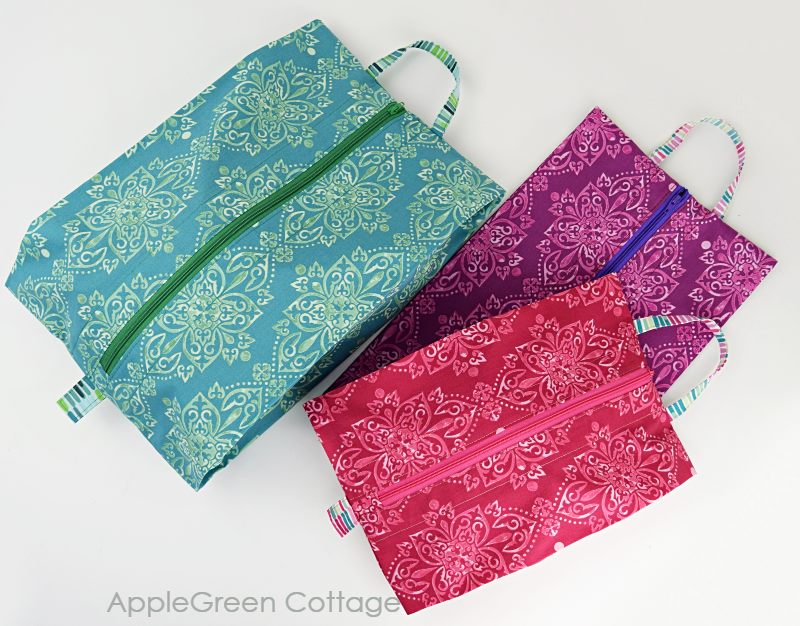 Get FREE storage bag pattern in 3 Sizes - HERE.
If you only have time to sew one item from this list, then choose this free storage pouch pattern! It's a brilliant solution to store anything and everything in your home: diy shoe storage, clothespin hanging storage, think hanging organizer for any type of small items. You can even use it to organize your craft room - think notion storage or project bags! Head over to the home storage bag tutorial and grab the pattern in 3 sizes for FREE!
Easy Diy Wall Organizer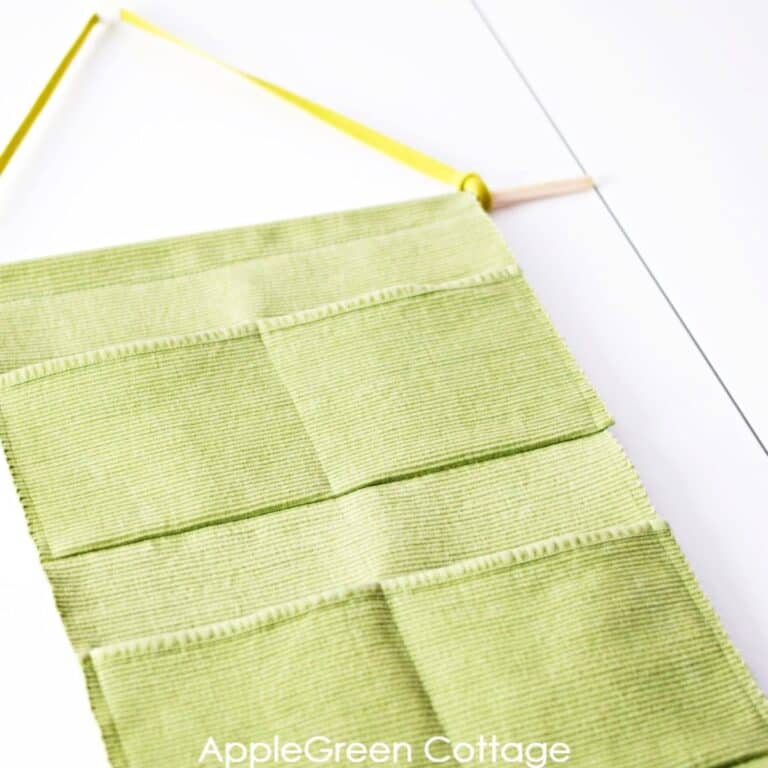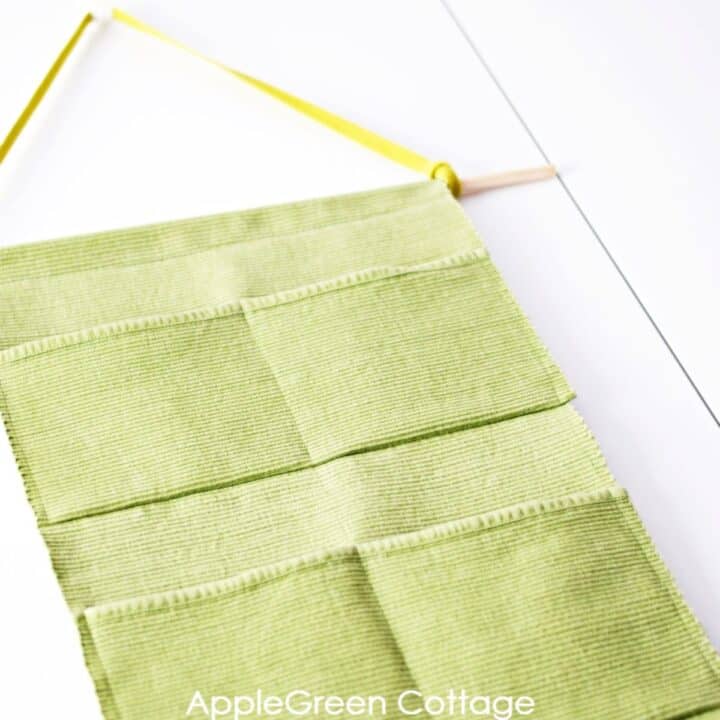 A great space saver! You'll never guess what I used to make this diy organizer to hang on the door or on the wall. And did you know you can make a cool diy wall organizer with just 4 seams!
Easy Sewing Curtains
Curtains are an easy sewing project that will give your home that cozy feel we all love.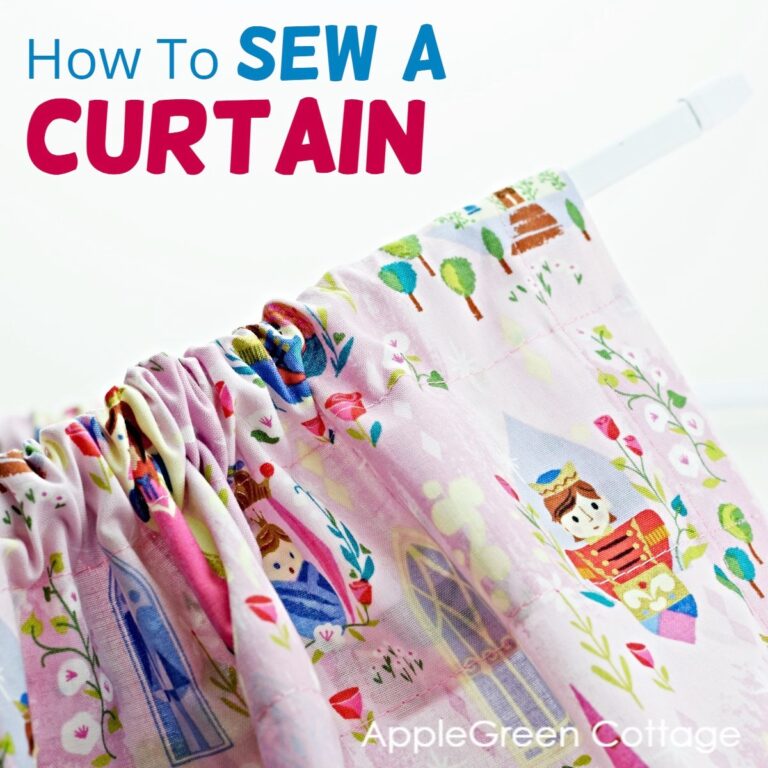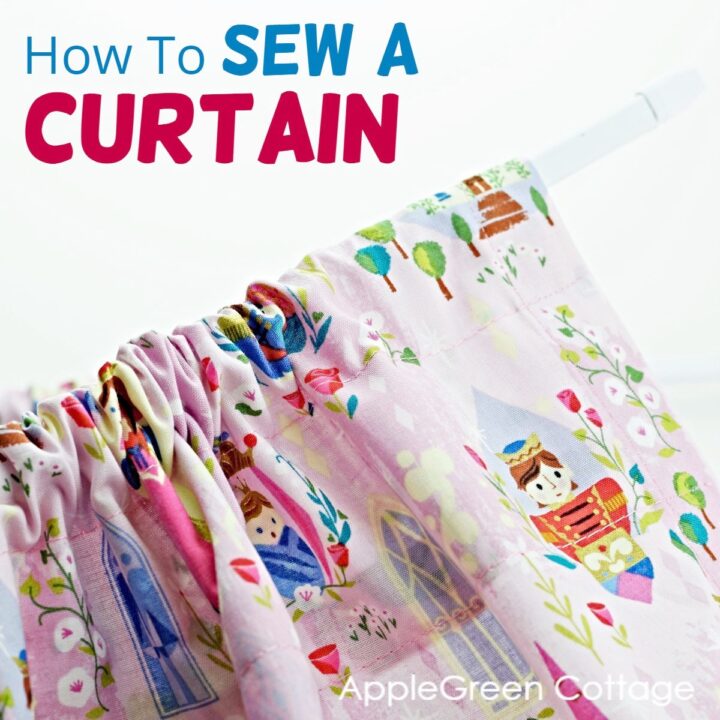 This is probably the easiest way to sew a curtain - plus a must-see hack to make the curtain pocket fit any curtain rod size!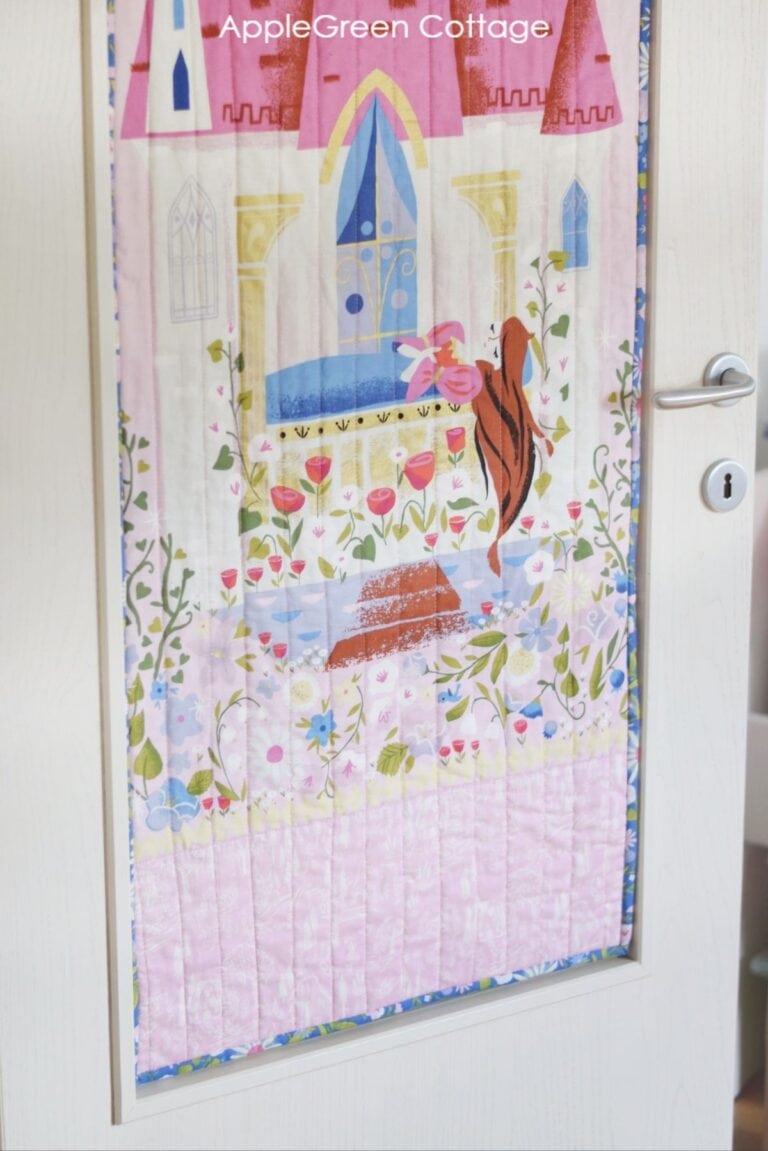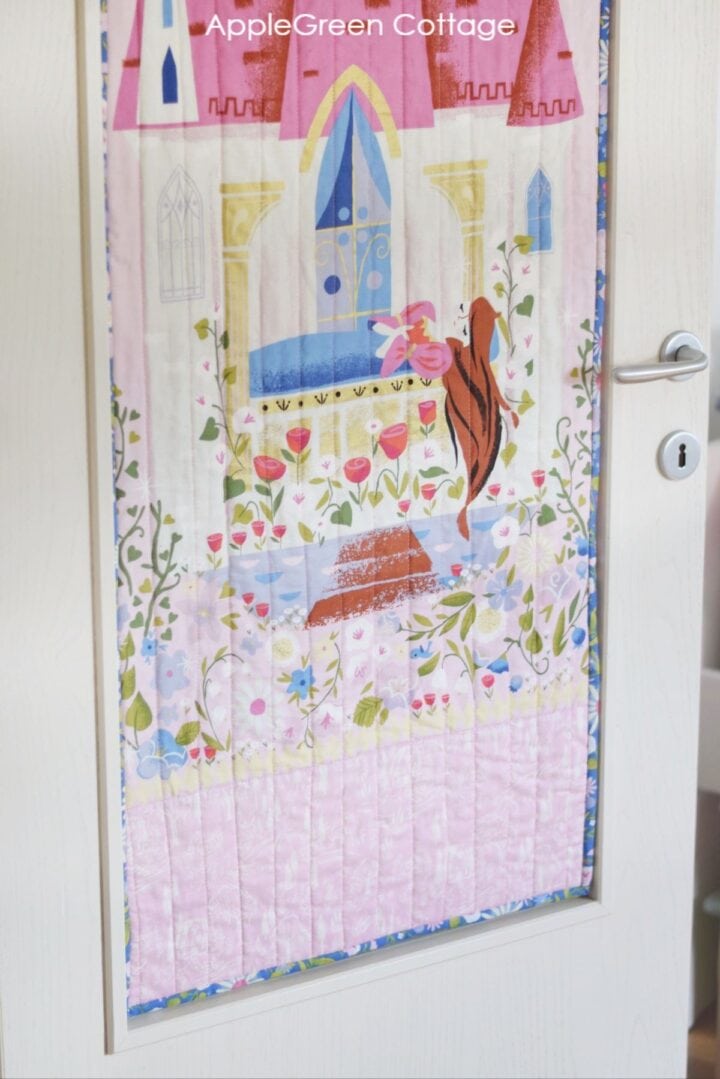 Or see how to sew an (easiest!) quilt to use as a beautiful door window cover that will not just provide shading but also noise reduction - and it's gorgeous!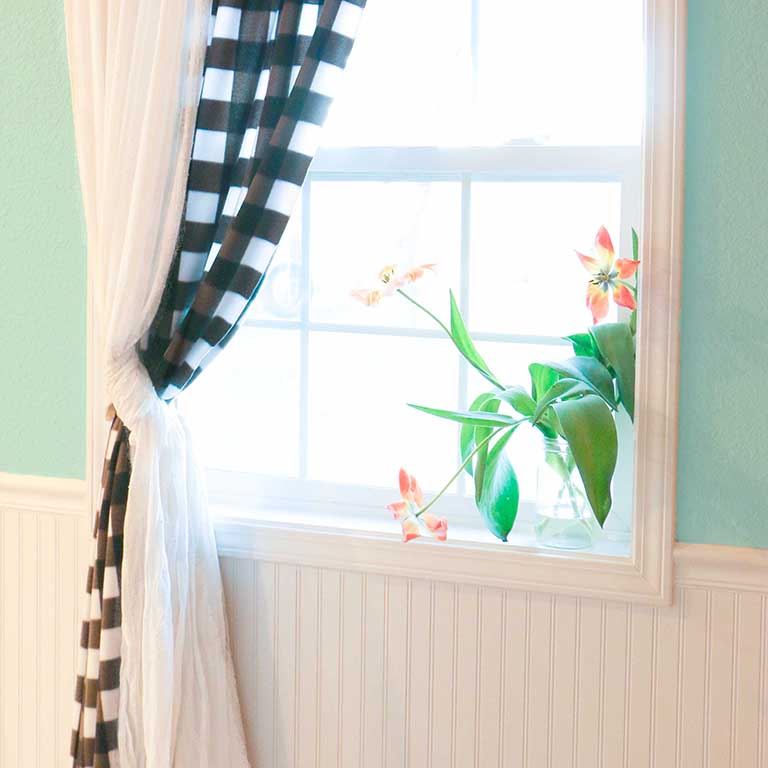 And this is one more curtain sewing project to give you more options if you want to sew a curtain with bar loops. You'll find this simple curtains tutorial at Phat Quarters.
So Handy Small Ironing Board - DIY!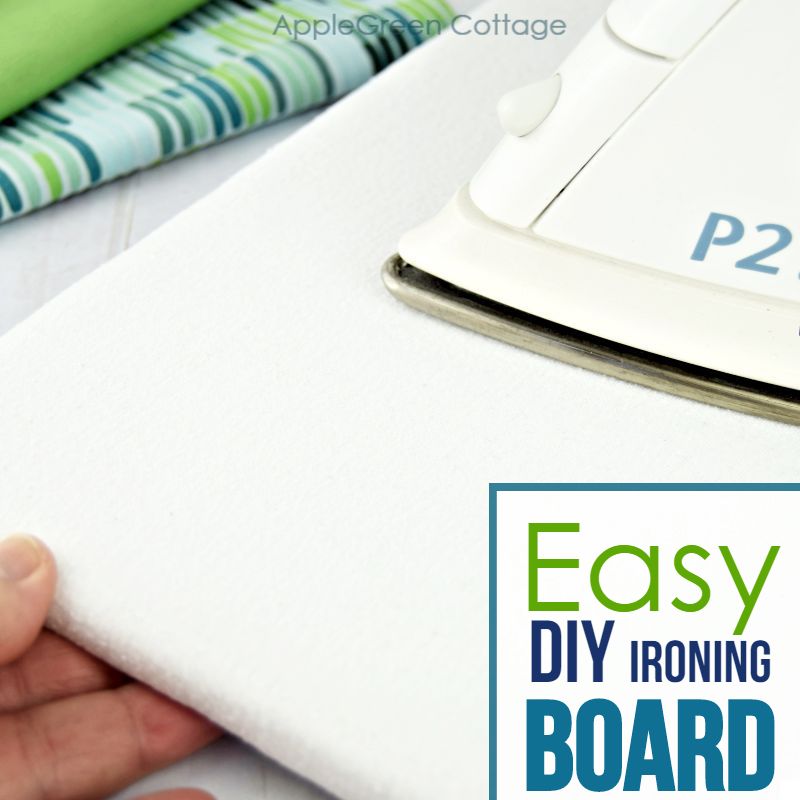 Need a portable tabletop ironing board to bring close to your sewing machine? Why not make your own! See how to make a small pressing board using this easy diy ironing board tutorial.
DIY Ironing Board Cover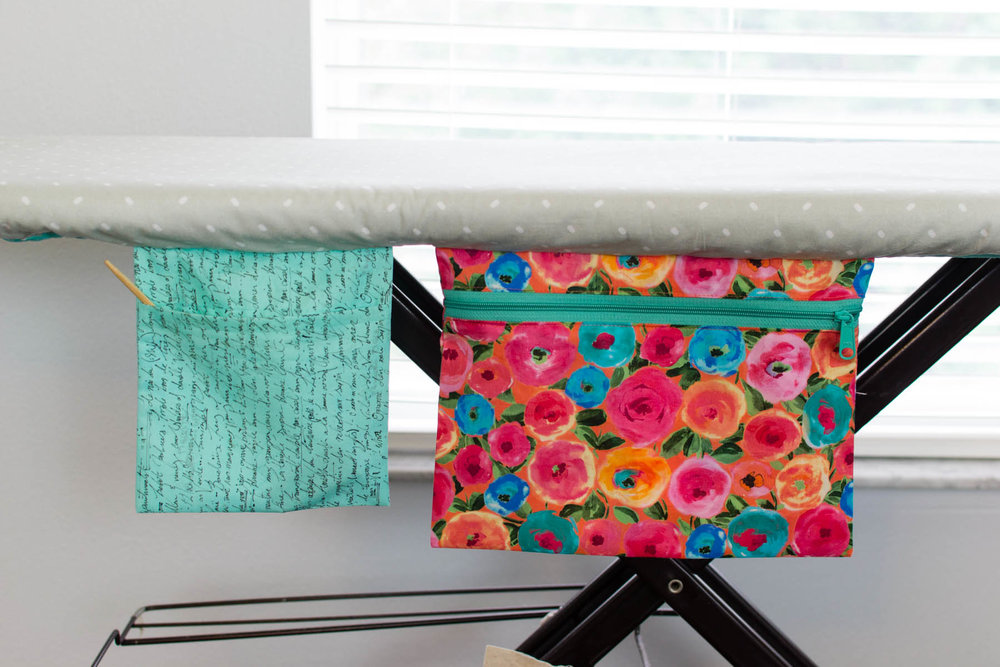 Also, there's probably time for a new ironing cover for your old ironing board. (And if you do it, make sure to use a super cute floral print for the pockets, like the one in the image. Love it!)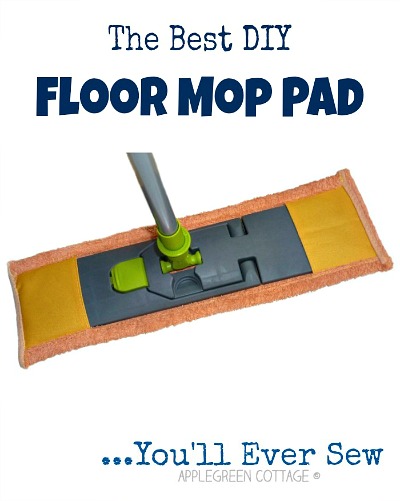 One of the most useful projects for the home I've ever tried out. Saves tons of money, and you only need scraps or old towels. Check it out here (tutorial)
Colorful Dinner Napkins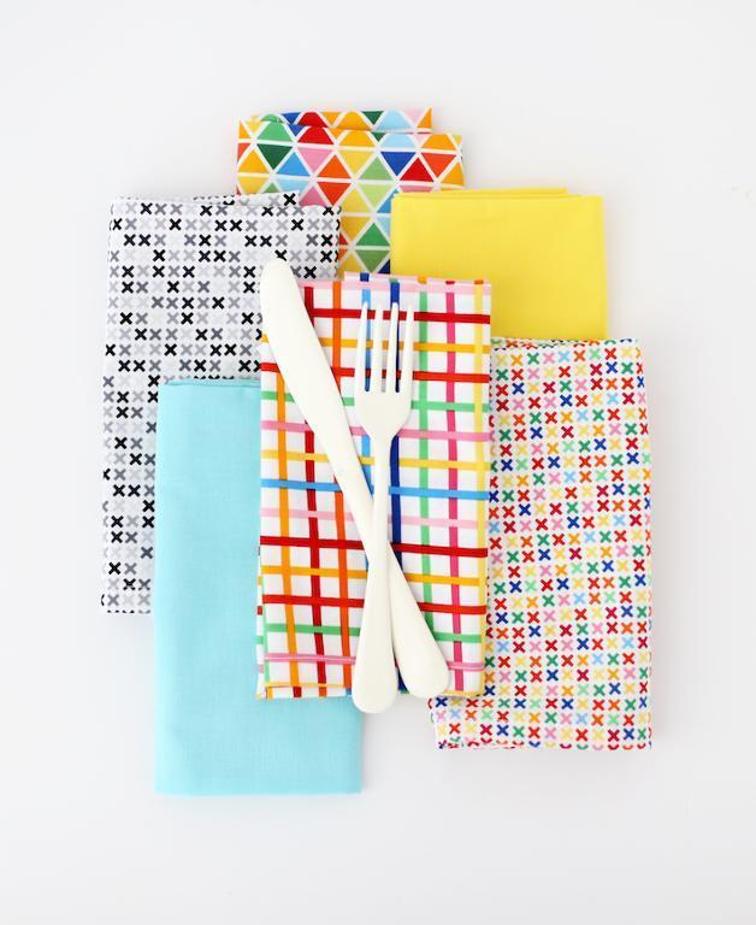 Use this free pattern and instructions to whip up a set of fun and festive mitered corner dinner napkins. Use your fat quarter fabric pieces! - OR choose an alternative (maybe even faster??) way to make them. See this: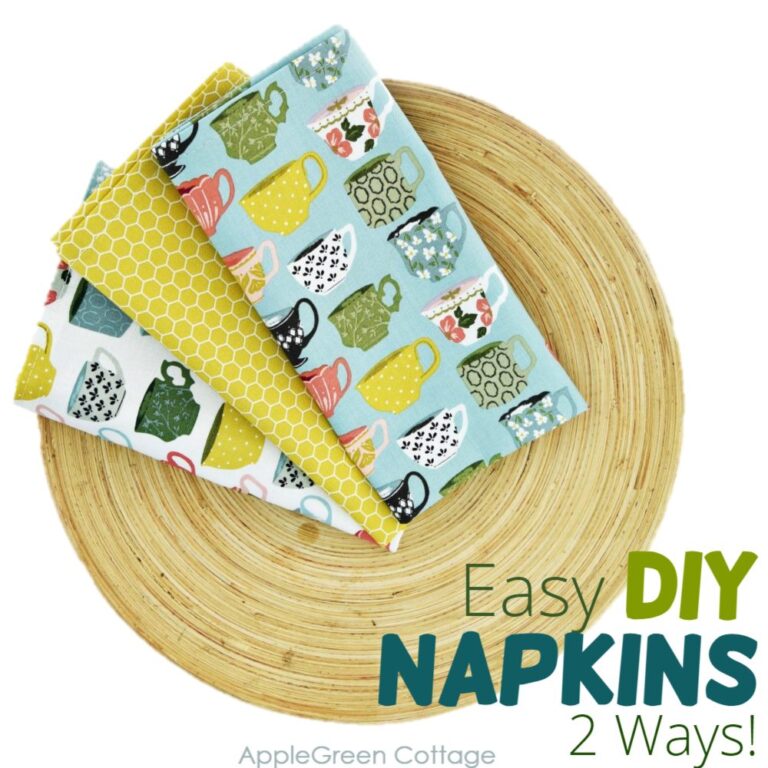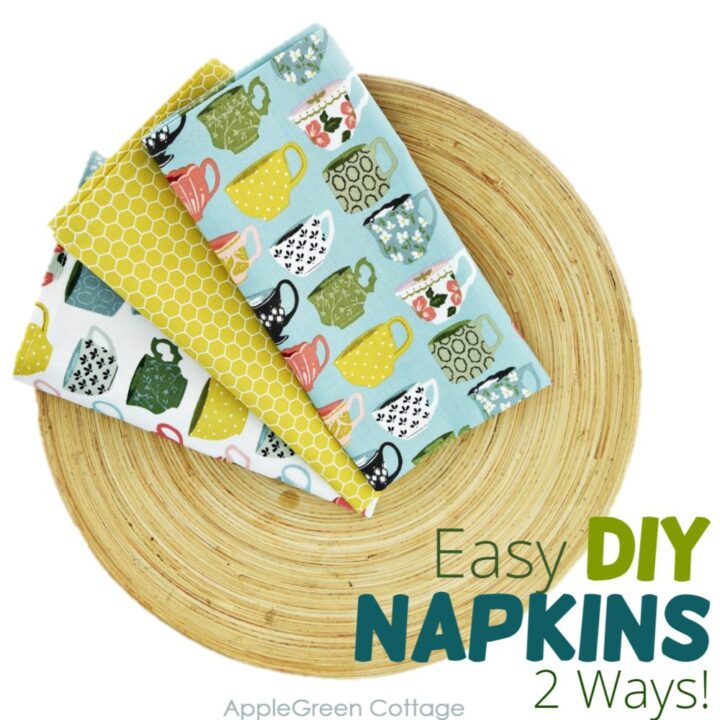 I compared two ways to make napkins - in case you want more options!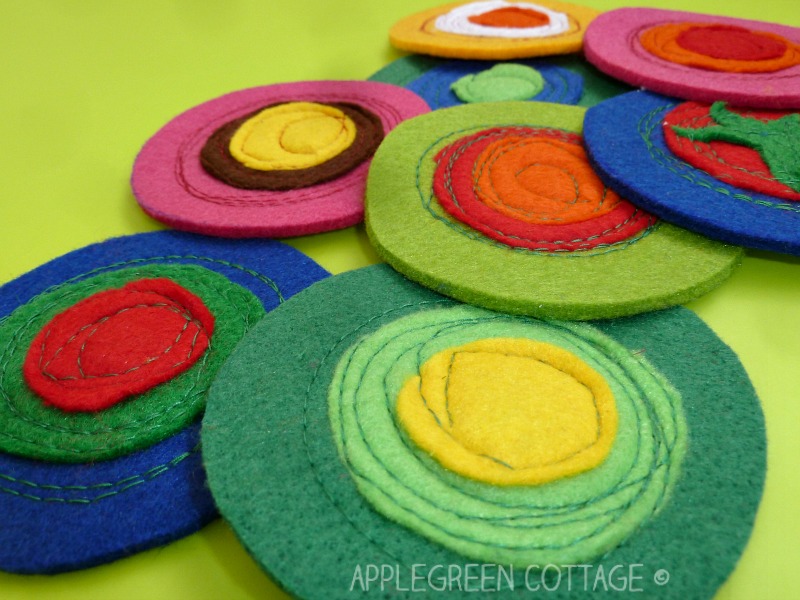 These easy felt coasters will be an eye-catcher at any party, and make a perfect last-minute homemade present!
Chair Cushion Tutorial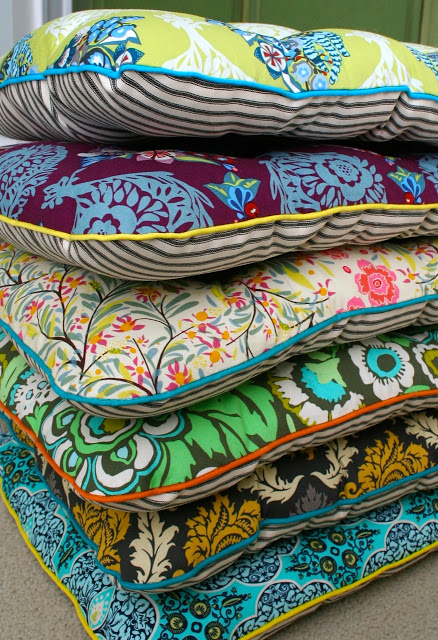 Make your dining room a more comfortable place using this clear, step-by-step tutorial to make your own chair cushions.
Mini Fabric Bin For Your Countertop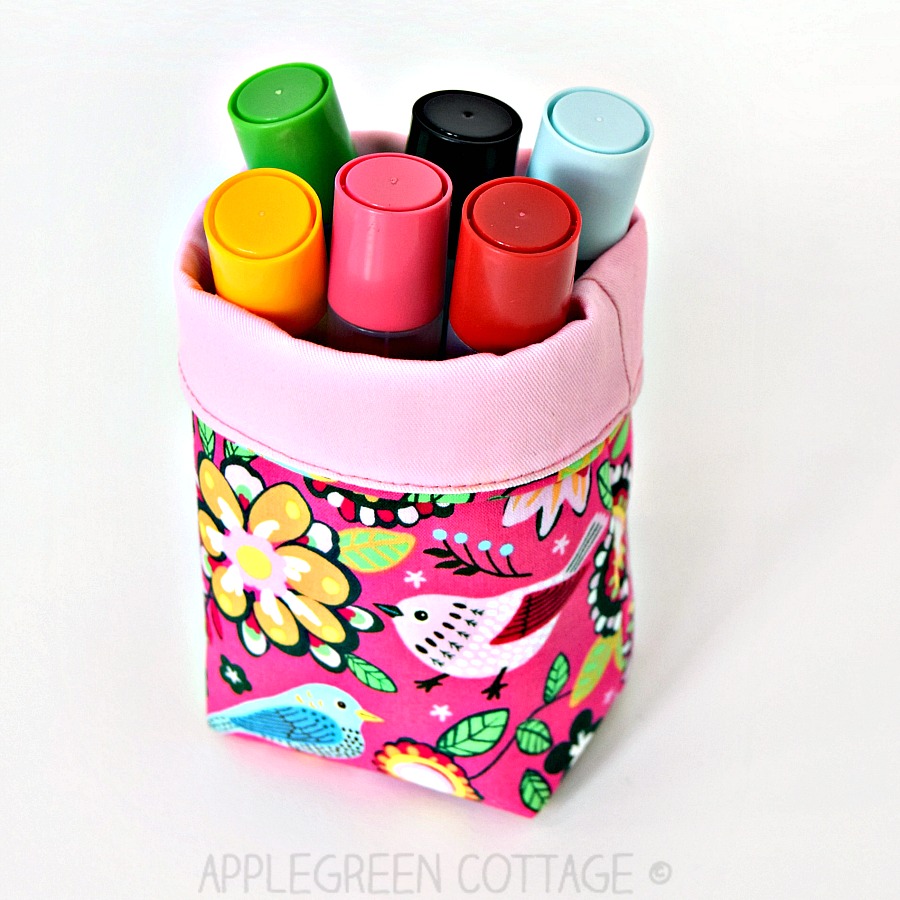 Organize your home in style using these mini fabric bins with a fold-over top! ​
A Door Draft Stopper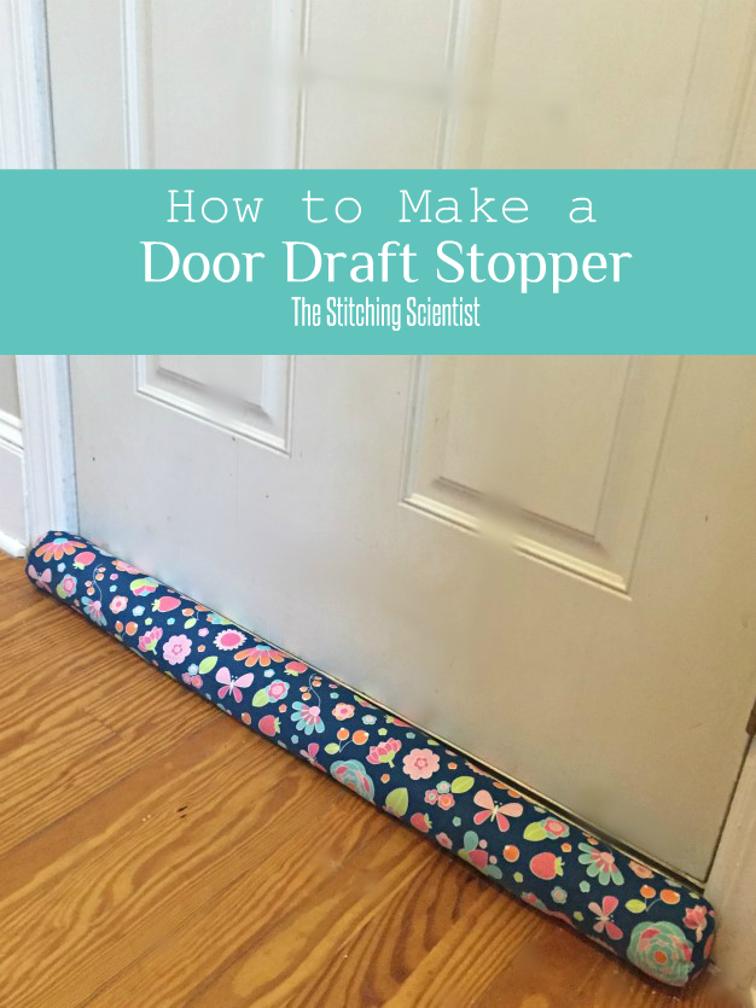 A Door Draft Stopper by the Stitching Scientist. A DIY draft stopper will keep your home insulated and pretty at the same time. Make one, you might save big on heating bill!
DIY Doorstop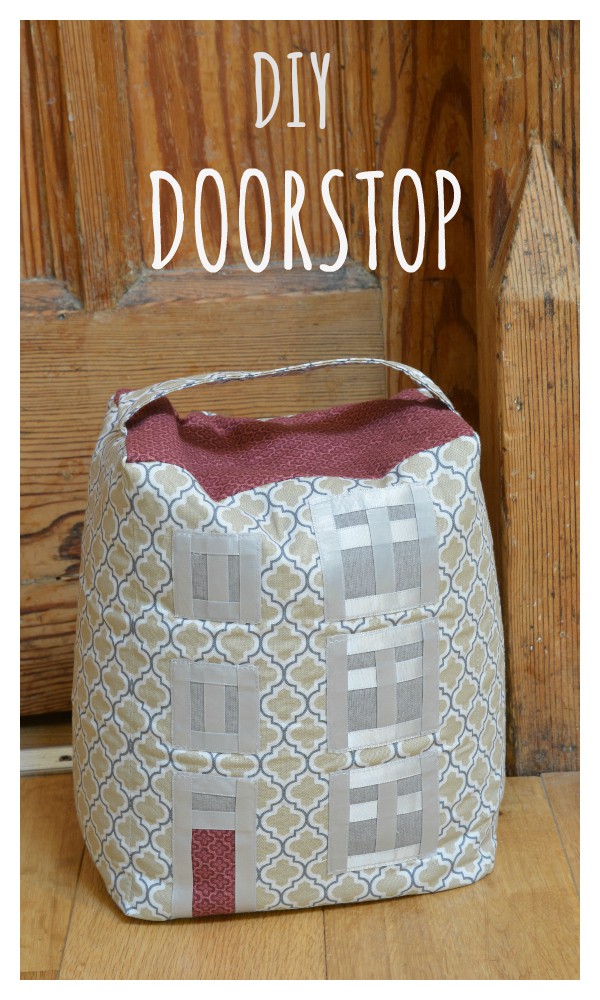 Or, if you don't have any draft issues in your home, DIY a nice fabric doorstop like Vicky did. Cute and practical!
Grocery Bag Holder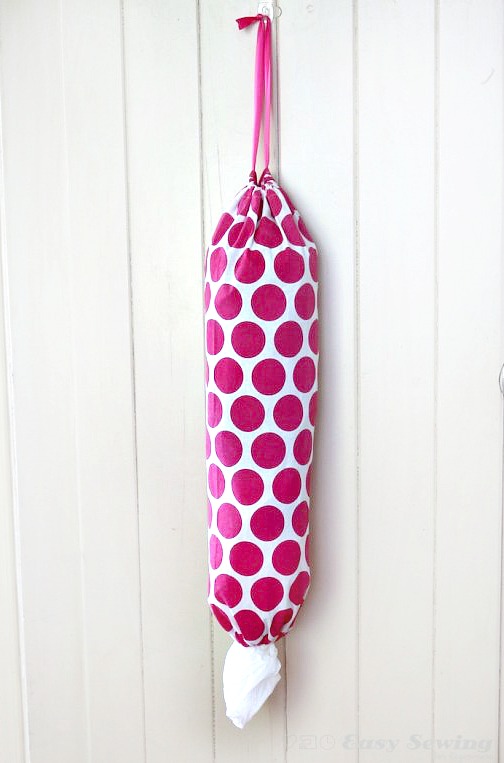 This grocery Bag Holder by Easy Sewing For Beginners is a quick and easy sew for your pantry area. Make it as colorful as possible!
Piped Box Cushion Tutorial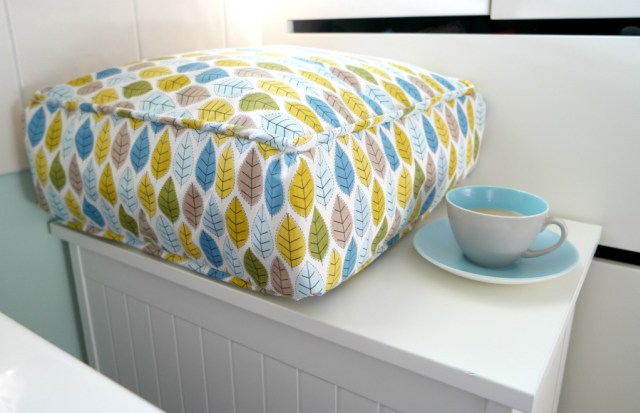 Piped Box Cushion Tutorial by Tea And A Sewing Machine. It's easy to make a box cushion and this tutorial shows you how! You'll also learn how to make the piping, and also how to turn an ordinary cushion into a box shaped cushion.
Raindrops Pillow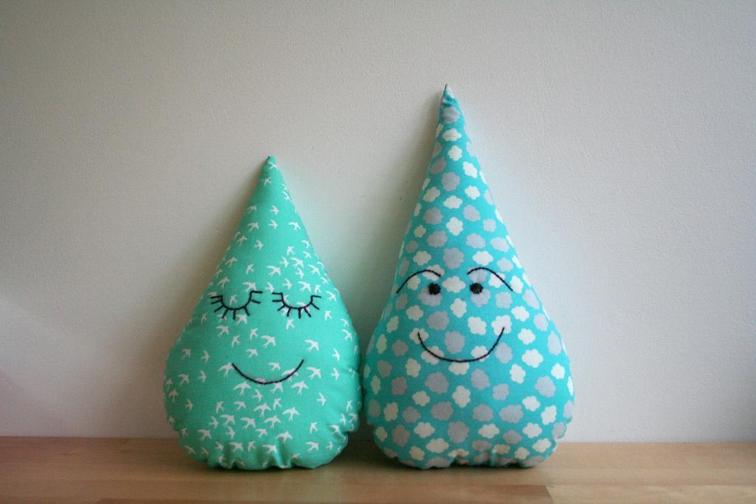 Raindrops Pillow Pattern by Abfabulies Designs. A great project for spring to freshen up your home!
Bedside Pockets Organizer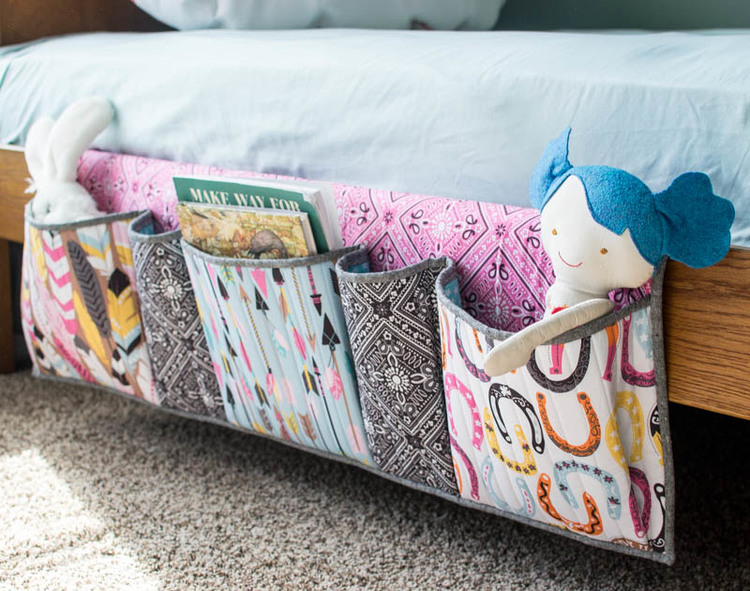 Bedside Pockets Organizer by SewCanShe. These bed pockets not only add functionality to any bed but also make storage much more fun! (And your child will never lose that favorite softie again!)
Bursting-Buds Table Runner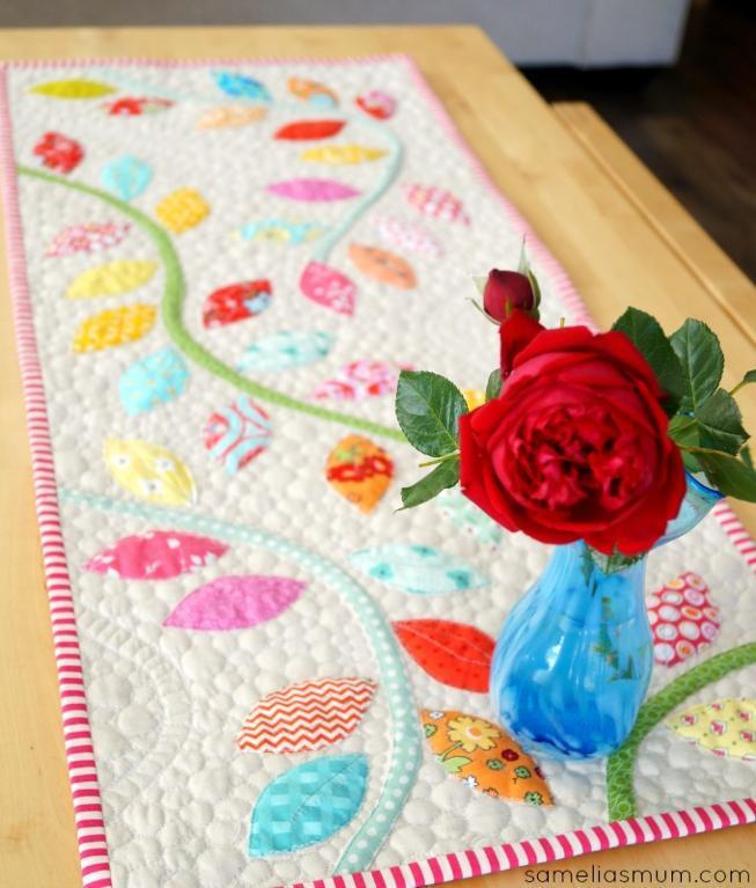 Lovely Spring-Like Table Runner by Sameliasmum. How cute is this spring table runner! A burst of color for your home.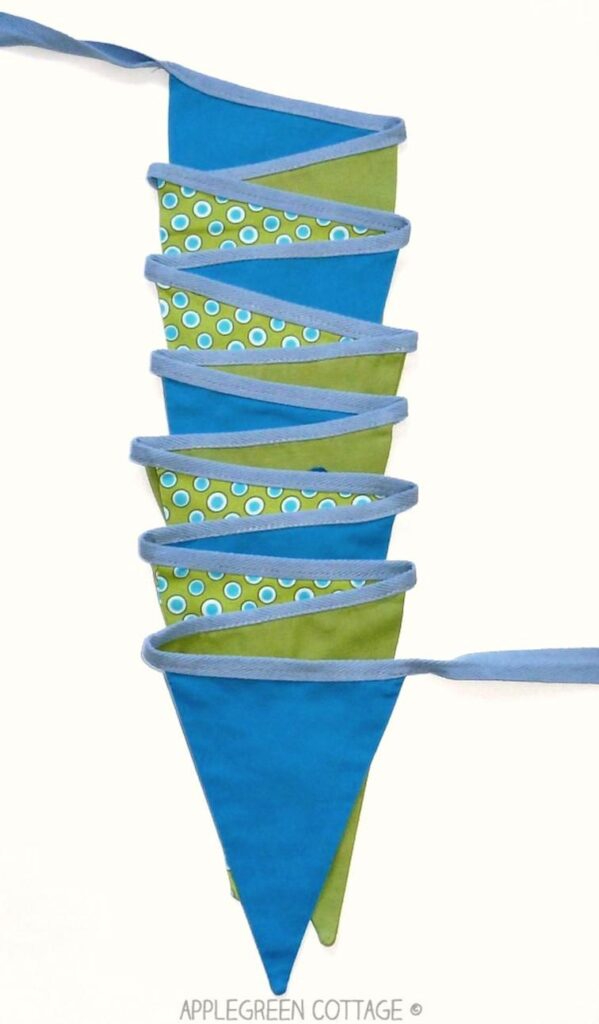 A fun and easy project to decorate your home - and brighten up a children's room!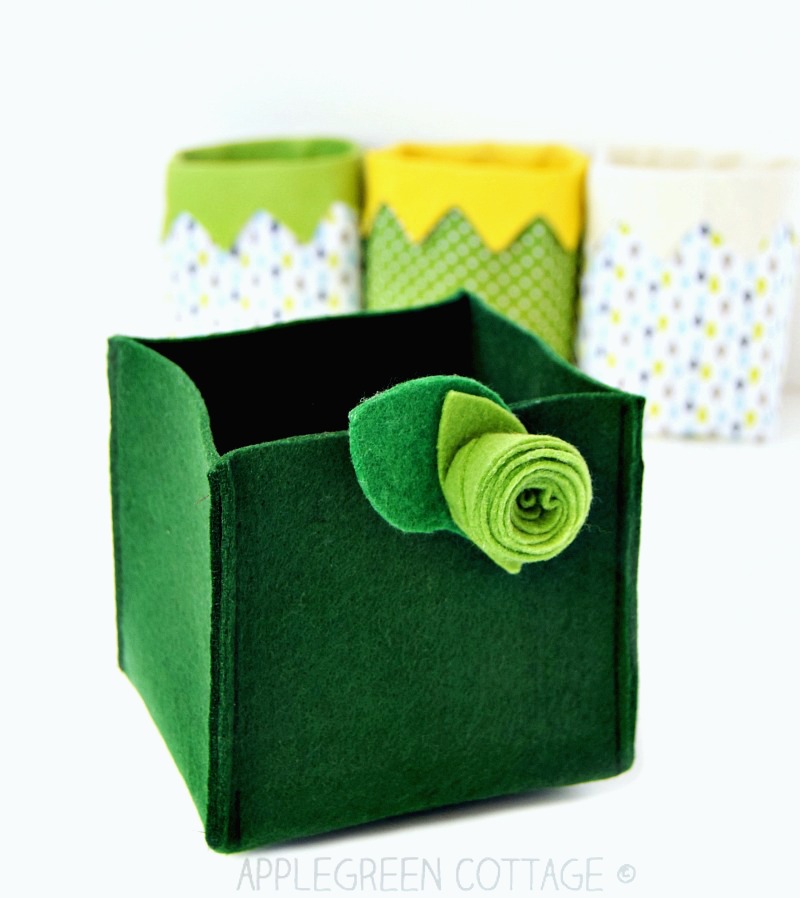 Use this super easy tutorial to sew a felt storage box. I keep this one for key storage in the doorway. A soft landing pod for keys (No scratches on the shelf surface!) No pattern needed, super QUICK! Feel free to check out the how-to - here.
I hope you've enjoyed these sewing projects for the home. Crafty home sewing ideas like these make super handy DIY gifts for friends, for housewarming parties, and for your own home decoration. These items are easy to make, functional, and might turn out to be the perfect way to spruce up your home and make it ready for spring.
Pin For Later: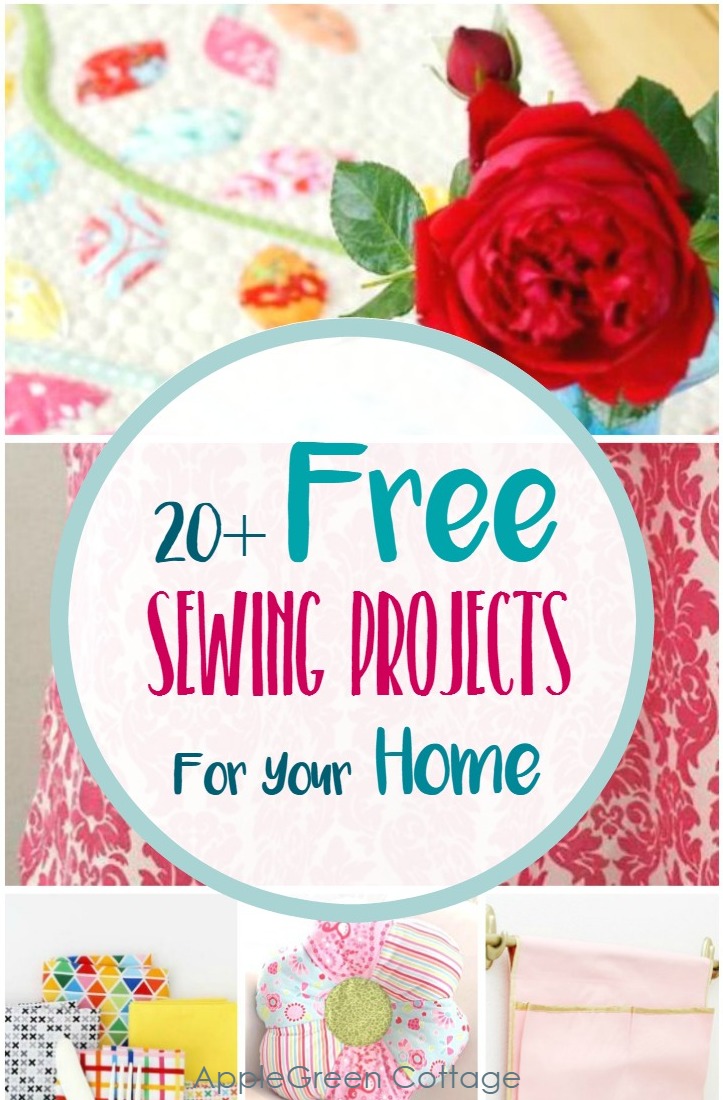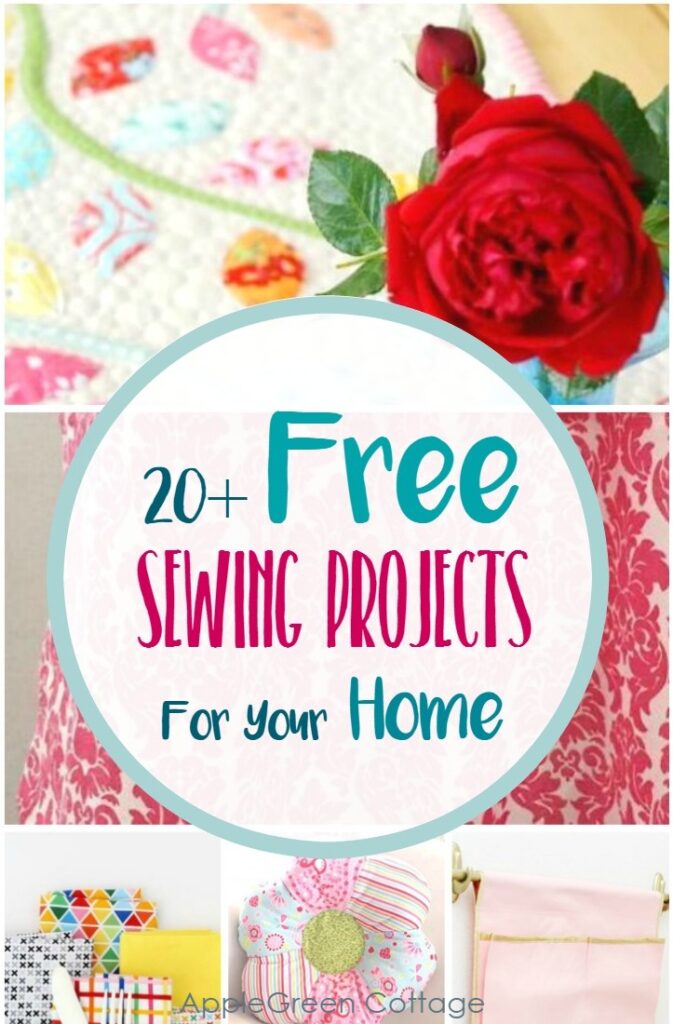 WANT MORE FREE TUTORIALS AND GOODIES?
Get email updates and never miss out on new patterns, printables, and tutorials:
Or check out this pretty ALLina project bag pattern in our shop - for all your storage needs: