The diy sleep mask pattern you'll find here might turn out to be the BEST ever diy gift for anyone who can benefit from a quick, energizing nap or a full night's sleep - and that's pretty much everyone!
Especially you. For those mornings you want to sleep in and the sun is bright. Go ahead, make one and test it. You'll thank me later 🙂
This is a beginner-friendly sleep mask. It's also super comfortable and soft, and I redesigned the curve for better light-blocking. Scroll down for the link to the sleep mask pattern, sew it up, and sleep late this weekend!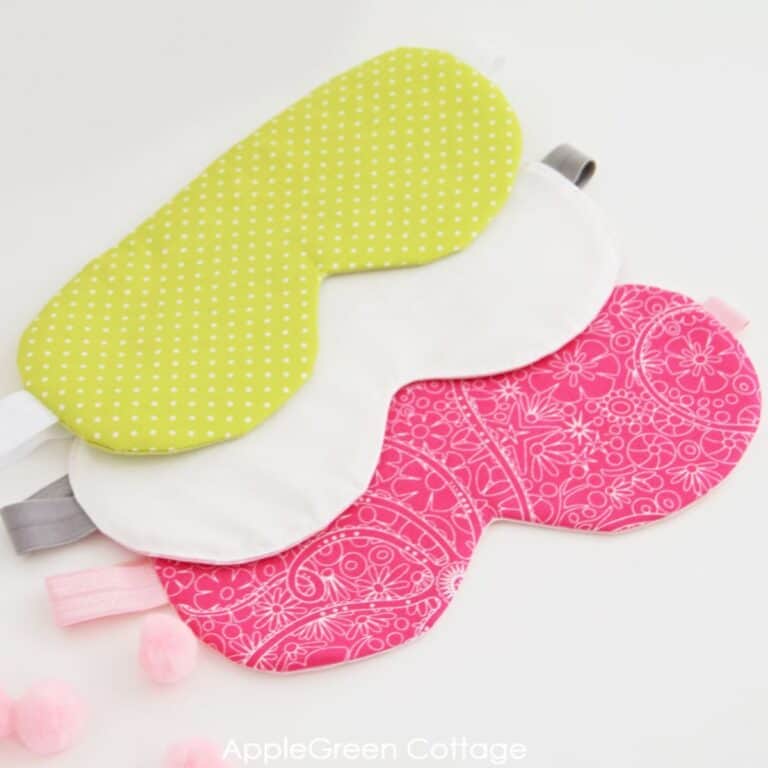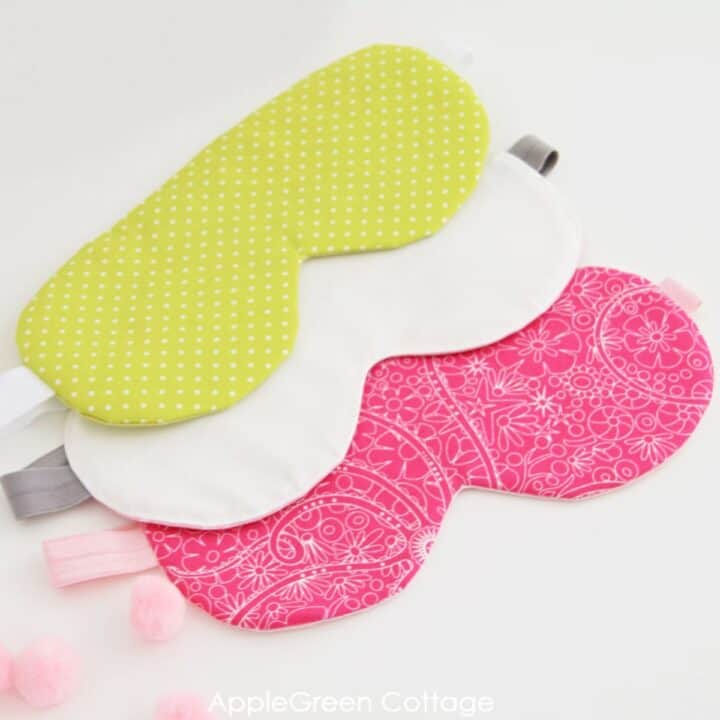 This post contains affiliate links. Thanks for your support. This tutorial is part of my free SewEASY Gifts series:
Diy Sleep Mask
I never thought a super easy sew like this one would make my sleep so much better! I made my first sleep mask when I was a student. Just after I'd realized there were no light-blocking curtains in my dorm room. And then I sewed a few more when kids were little and I, new mom, needed every precious minute of sleep I could get. Those sleep masks surely saved my sanity. And when traveling too, those quick, energizing naps were life-savers!
None of those would be possible without my cool 'light-blocking tool'.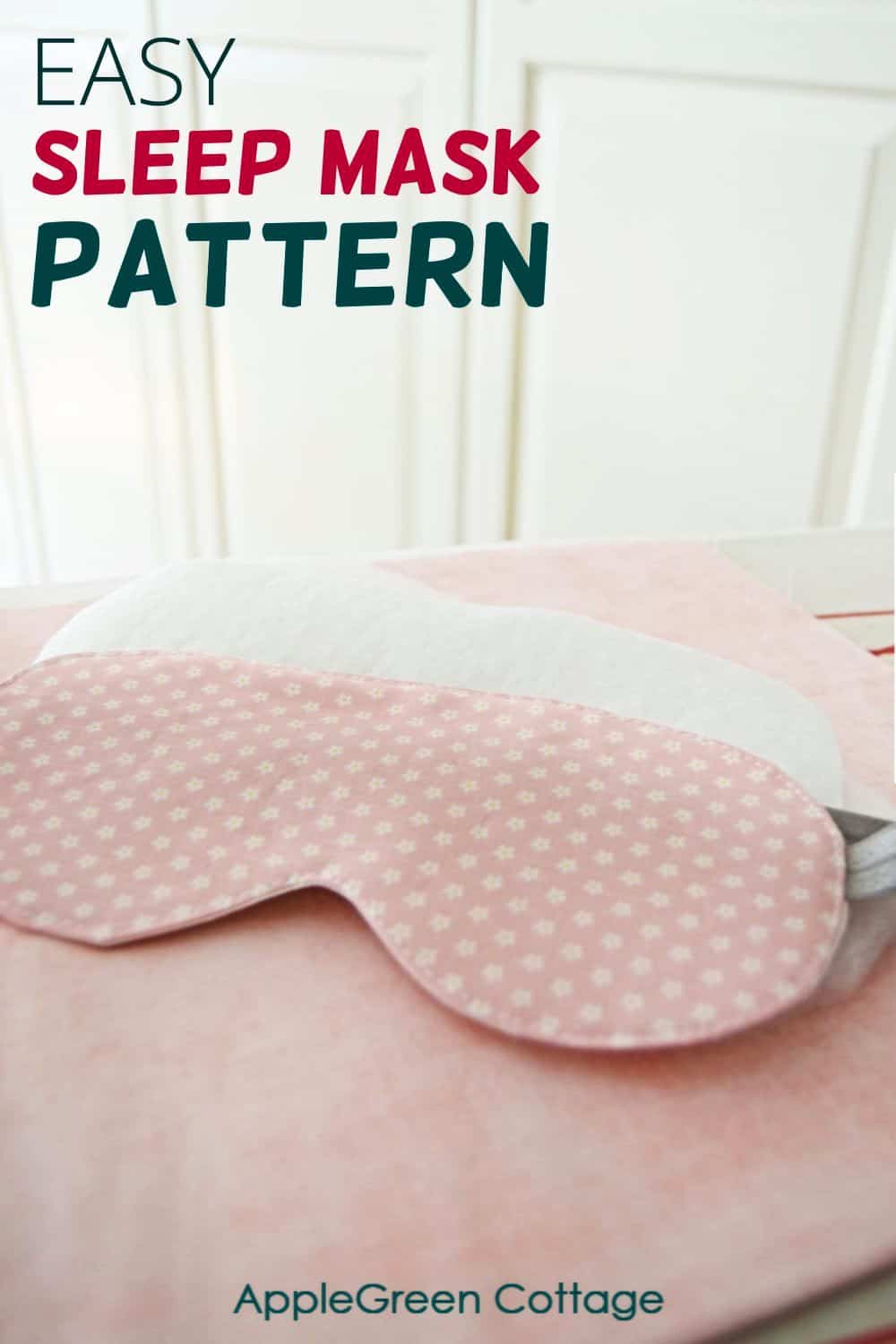 Make it easier to relax using this diy sleep mask! This is one of my free patterns for quick projects that can be finalized within less than an hour and is ideal for beginners. Two interfacing options and a lot of sewing tips are included.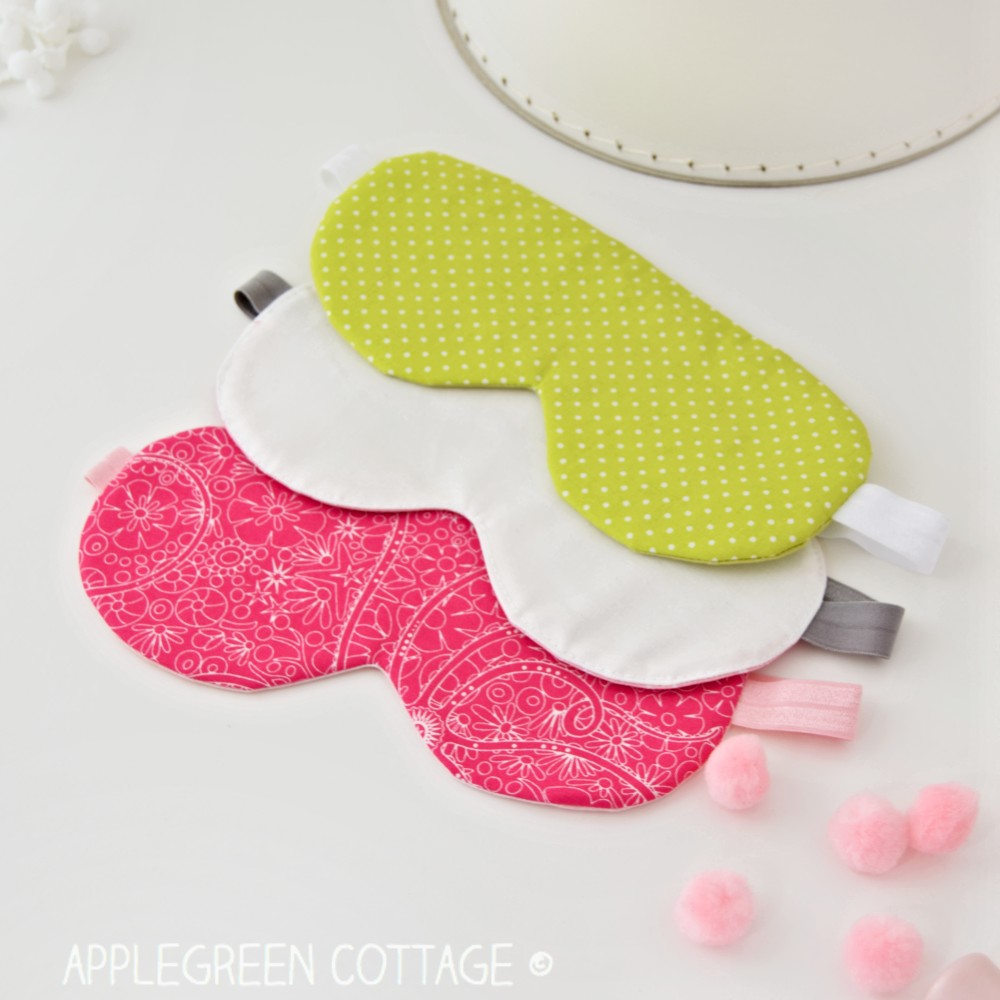 A sleep mask like this one, packaged in a cute diy little pouch like the free LILI pouch pattern here, or the Mia pattern (from my shop ) makes a great gift for a new mom, a college student, anyone who can benefit from a quick energizing nap - and that's pretty much everyone! Oh, and while at it, add one of these sweet scrunchies to the mix - use my new 4 free scrunchie patterns!
Sleep Mask Sewing Video
First, for those of you who like video, I've made a slide show to get the feeling of how easy it is to sew one:
If you want to hear a little story behind this diy sleep mask pattern, scroll down. But first, let me show you how to sew it.
Finished Size
This homemade sleep mask finishes at 8" in length, and 3 ½" in width (20cm x 9cm). Trust me, it's a good size, I've been testing it for years on me 🙂
Supplies:
two pieces of 10" x 4" (25cm x 11cm) scrap fabric
same size fusible fleece or batting*
16" (40 cm) of fold-over elastic (I used ⅝" width, that is 1.5cm)
sewing machine or needle, pins or sewing clips,
iron, scissors, or rotary cutter plus cutting mat (I use this one by Olfa)
the PDF Pattern file –  Scroll further down to get the template from my shop for free.
*Adding batting in place of fusible fleece will make your sleep mask even softer.
NOTE: This tutorial shows white batting as interlining. Adding a dark layer (black batting, available in most stores) is a good option to better block out the daylight.
Diy Sleep Mask Tutorial
Here's how to start sewing a sleep mask:
Step 1 - Print the Sleep Mask Pattern
I've created a template that you can download for free. To download the FREE sleep mask TEMPLATE, click the button below. You'll be taken to the shop - scroll to SLEEP MASK Pattern, it's $0!
Get the free pattern HERE. It's $0 in the shop, no code is needed. Optional, as an alternative:
OR do you want a printable copy of the WHOLE tutorial? Scroll to the bottom of this tutorial for more details!
Now print the free sleep mask template (see below) to a piece of cardboard or paper - twice! Why? On one of these two templates, cut off the seam allowance marking. This way, you'll end up with a separate piece for your interfacing/fusible fleece, and cutting will be super quick. Clever, right? 🙂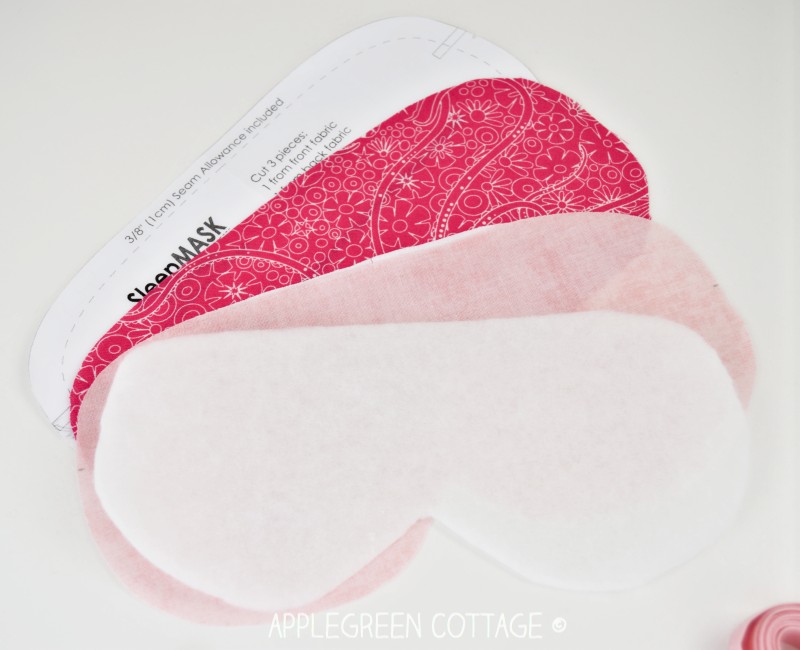 Step 2 - Cut Fabric And Interfacing
Then use the larger template to cut 2 pieces from fabric and the smaller template to cut the fusible fleece. As an alternative, you can use batting, but keep in mind that batting needs to be cut full size, as you'll need to sew it in: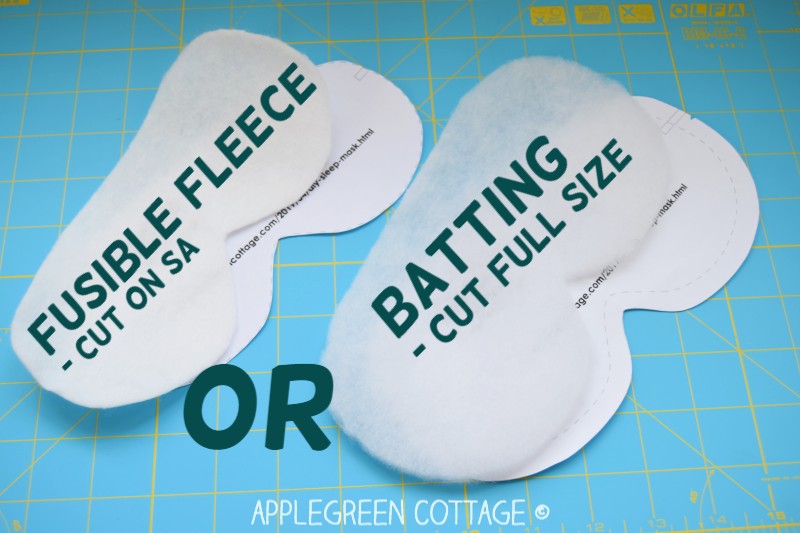 This tutorial is made with fusible fleece. Later on, I'll show you a few details if you want to sew it with batting (See the green sleep mask in the title image? Sewn with sew-in batting. So soft!)
Step 3 - Fuse Interfacing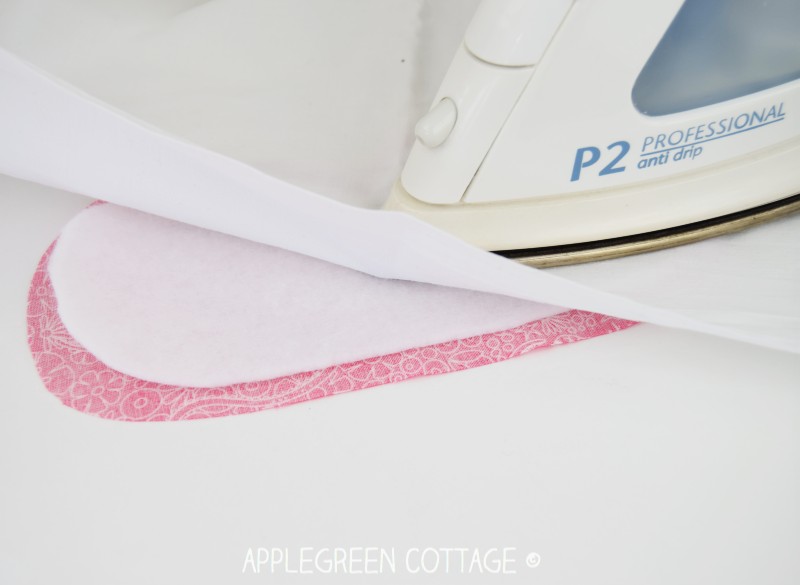 Next step: attach fusible fleece to the front fabric piece. Use this quick how-to if you're not used to working with fusibles:
Step 4 - Baste Elastic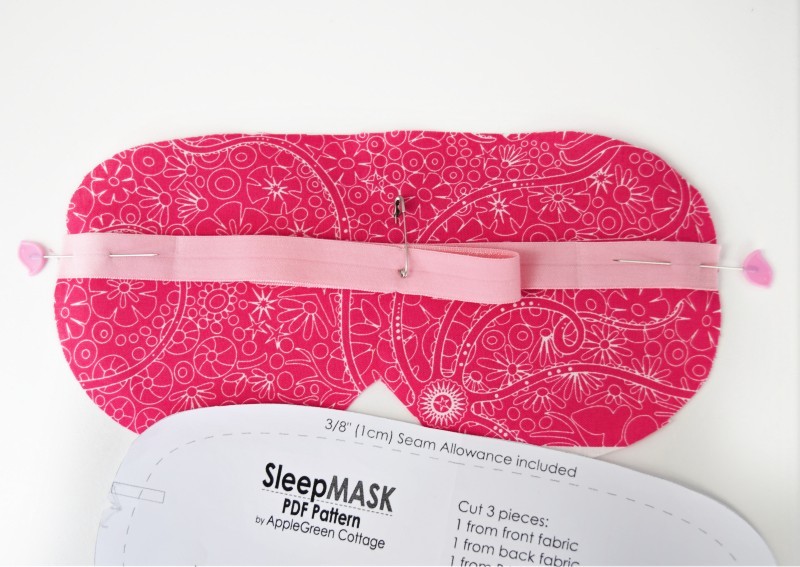 Pin the fold-over elastic to the right side of the front piece (the one with the fusible fleece on the back). The elastic ends will peek out on the sides, you can cut them off later. Also, make sure the elastic won't get in the way when sewing. Use a safety pin.
Step 5 - Layer the Fabric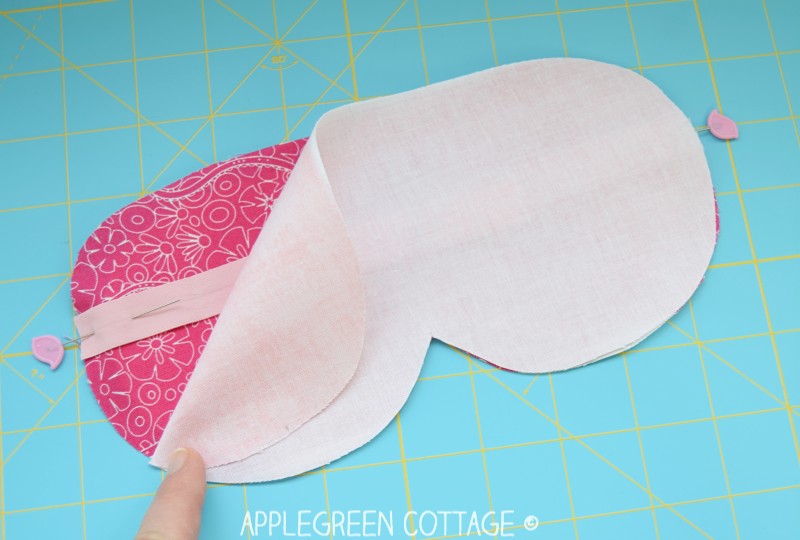 Now, place the lining right-side-down on the front piece, so the two pieces will be right-sides-together. The elastic will be sandwiched between them.
Step 6 - Sew the Layers Together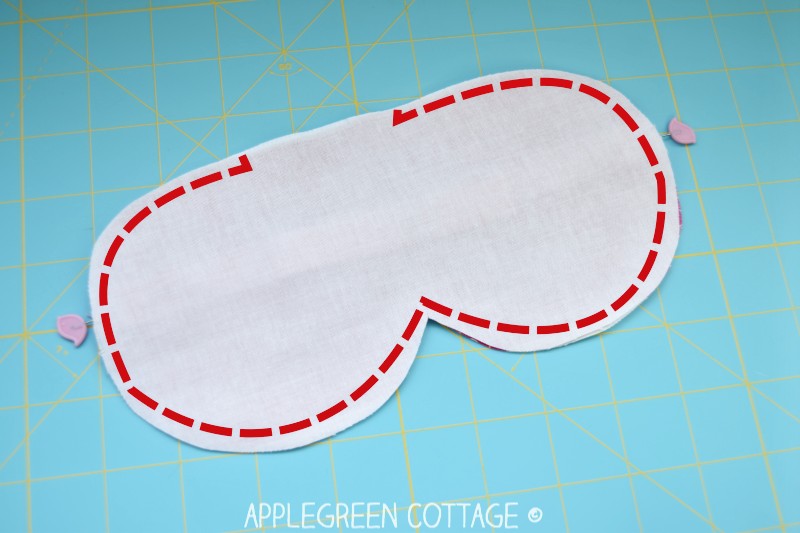 Stitch around, leaving a 3" (7.5 cm) gap at the top edge, for turning. Go slowly and use a short stitch length, it will make sewing curves easier.
Step 7 - Trim

Trim the seam allowance, using pinking shears, taking care not to snip into any stitches. Also carefully clip into the seam allowance in the 'nose' area, just a few threads away from the stitch. It will release the tension when turning that seam right-side out and prevent puckers.
Step 8 - Turn Right side Out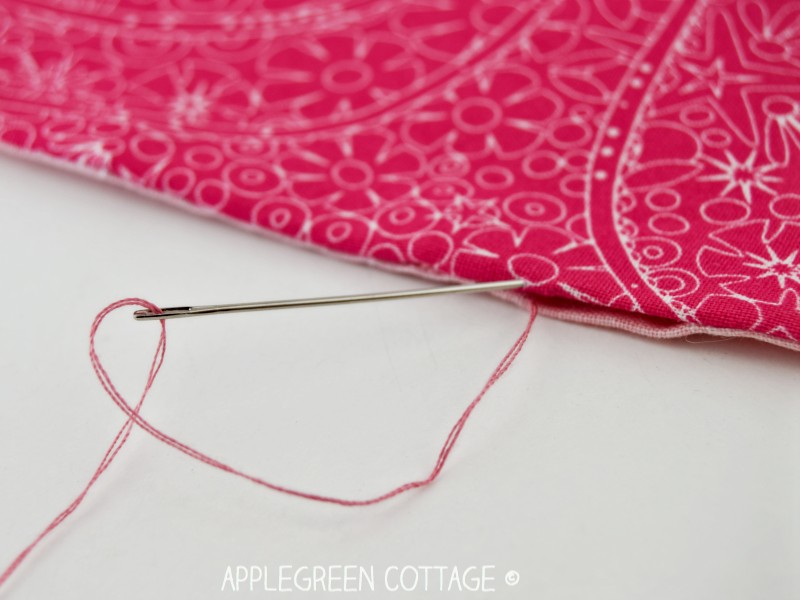 Turn right side out and press. Then close the turning hole. You can do this by topstitching all around the sleep mask, or by hand-stitching. Ladder stitch works great, as always - use this invisible stitch tutorial if you've never come across this stitch yet.
Finished! Now time to answer a few question I regularly get from you. I hope they will help you make your best diy sleep mask:
How do you make a kids sleep mask?
Same way as this tutorial shows you, just reduce the printing size to 90% and shorten the fold-over elastic by just a little if needed. Since kids' head sizes will vary a lot, it's best to model the length of the elastic needed against their head: simply place the paper template over their eyes and guide the elastic around the back of their head, not tugging, just loosely touching. Please remember that some of the elastic length will be 'lost' in the seam allowance.
How to make sure the elastic for a child sleep mask is short enough?
As noted, some of the elastic will be sewn into the seam allowance. Also, remember that the elastic ending up too short is way more common than getting it too long, so it's good to err on the side of caution when shortening it: shortening by an inch is plenty.
I personally prefer to make a sleep mask with an elastic tie too long, as it's so easy to shorten: as simple as tying a little knot.
How To reduce Bulk When Sewing?
BONUS TIP: A note on sewing with batting instead of fusible fleece: once you've sewn the layers together, trim the batting very close to the seam, like this: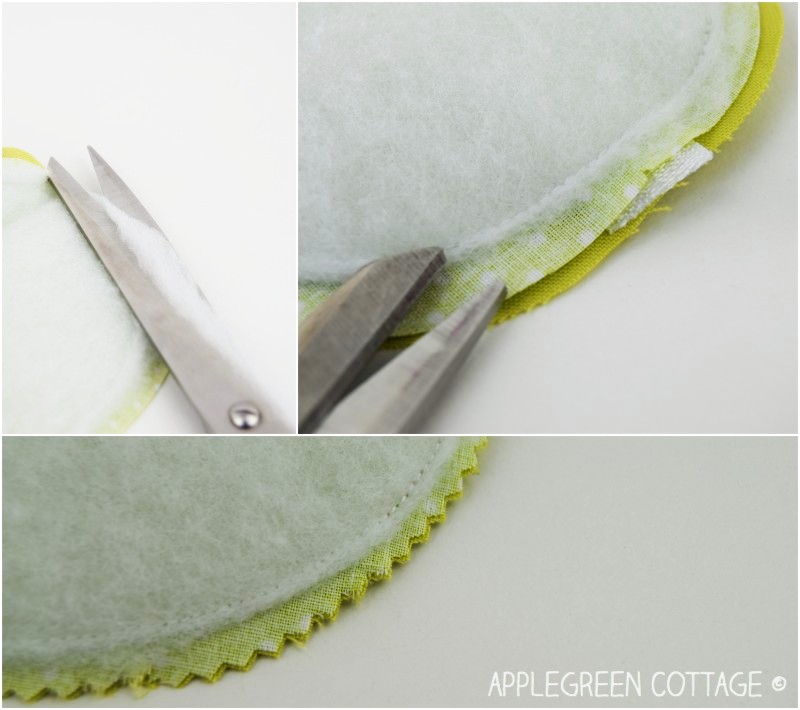 Then proceed as mentioned above: by trimming the fabric and then turning right-side-out. That's all. Batting makes the sleep mask soooo soft! I wanted to take a nap right away, but it will have to wait until I've taken all the photos I need for insta and FB 🙂
Want to keep it with you at all times? Tuck your new sleep mask into this cute and handy eyeglasses case to sew (hint: you can get the eyeglasses case pattern for free too!)
What is the best fabric for sleep eye mask?
While silk is a popular choice of material for sleep masks because it's so pleasant to the skin, it's not as easy to sew with if you are new to sewing. I usually sew sleep masks with poplin or quilting cotton on the front, and cotton at the back too - my favorites are cotton lawn, cotton voile, or poplin.
Having said that, I need to admit that I am pretty casual about washing - I prefer to be able to throw my sleep mask in the washer to washing it by hand. Who has the time! That's why you'll mostly see cotton in my projects - it's machine washable.
Also, one thing to remember, it's way easier to sew with cotton and materials that do not fray much, as opposed to a silk sleep mask, or one to be made with satin, and similar materials.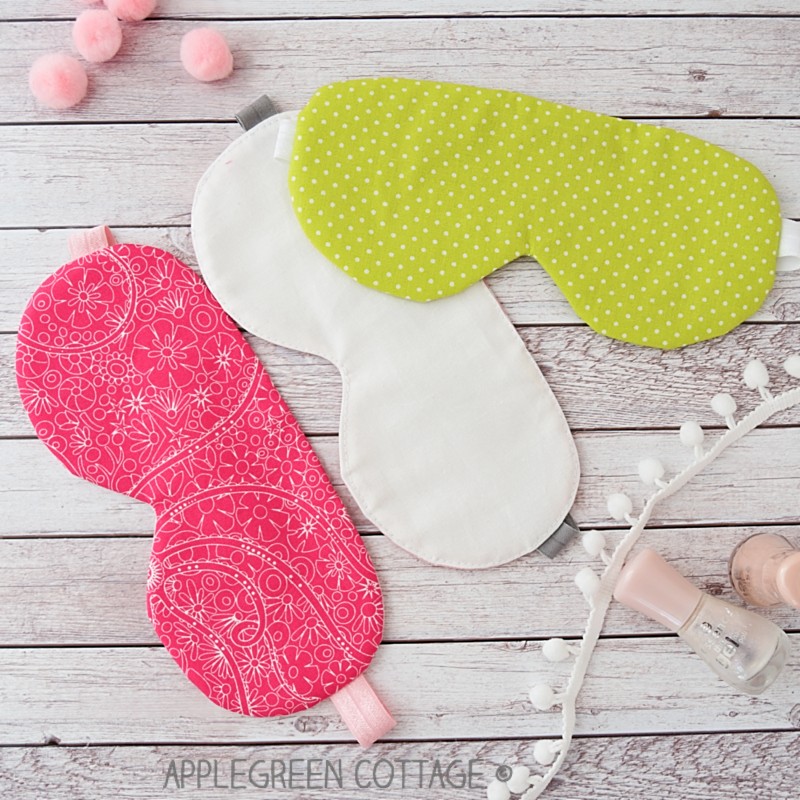 And as promised, here's a little bit of a story behind. It is such an easy project, but it took me so long to put the free pattern online! Want to hear when I got the idea to make a pattern for a sleep mask? Back in 2012 when I made a few for myself and for gifts. And here's a pic from that time: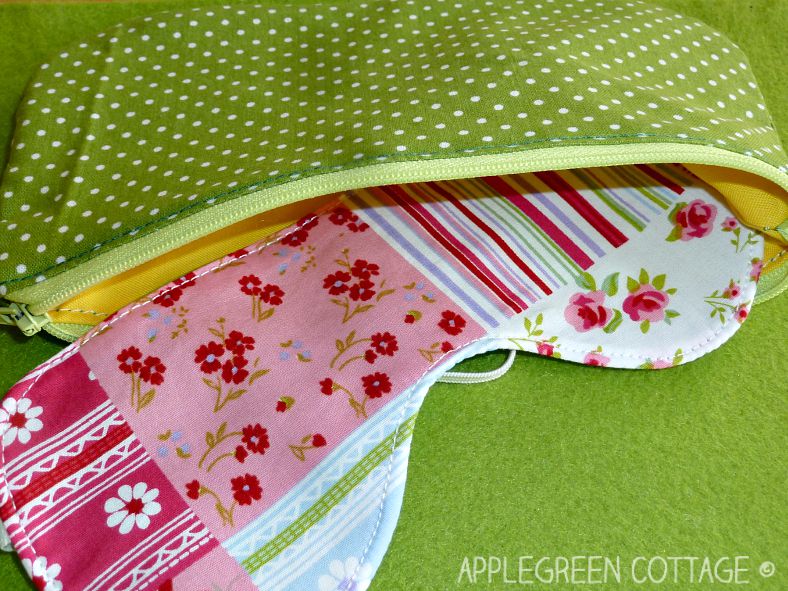 Finally, after years, I managed to make my draft digital, yey! Also, I changed my original template a little, for better coverage of the area between the nose and the eyes, letting less light in. I'm super happy with this last version you'll get. No wonder, the testing period has been years-long 🙂
Save this project for later so you remember where to get the free pattern and make falling asleep easier:
WANT A PRINTABLE COPY OF THE WHOLE TUTORIAL?