See how to sew a basket with a fold-over top you can use for just everything. Free pattern in 3 sizes and so cute!
These useful handmade storage baskets can be used in any room around the house; keep items together in a safe place, perfect for baby items, children's toys, make-up, bathroom organizer, bobbin thread, and so much more.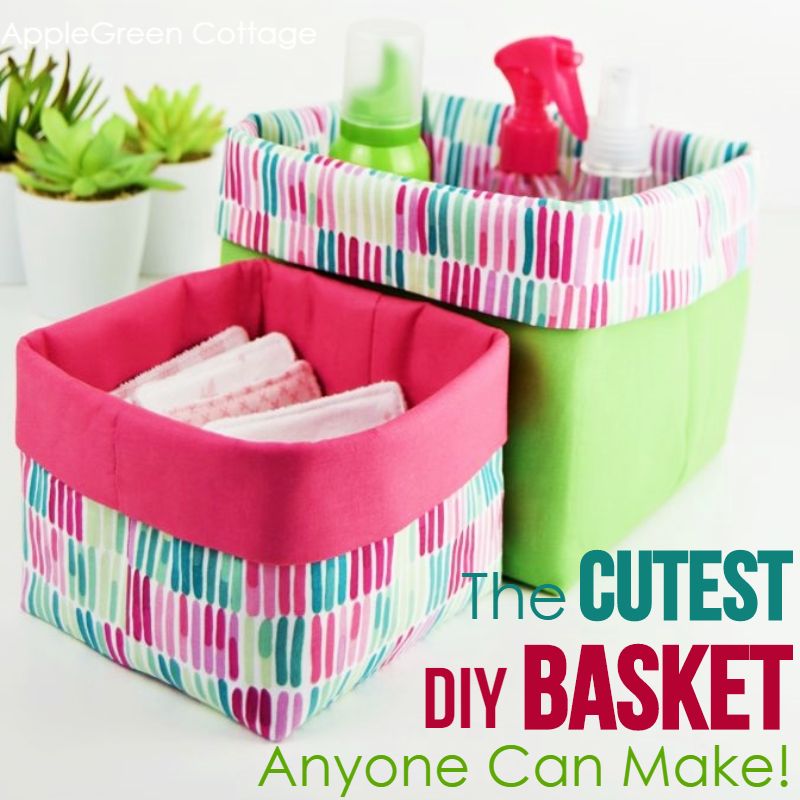 Do you want an ad-free, printable copy of this online tutorial? Find it here for just $3. You won't need to access the internet every time you want to make it. ------ Or get the BUNDLE with ALL the Printable Tutorials - current and future ones!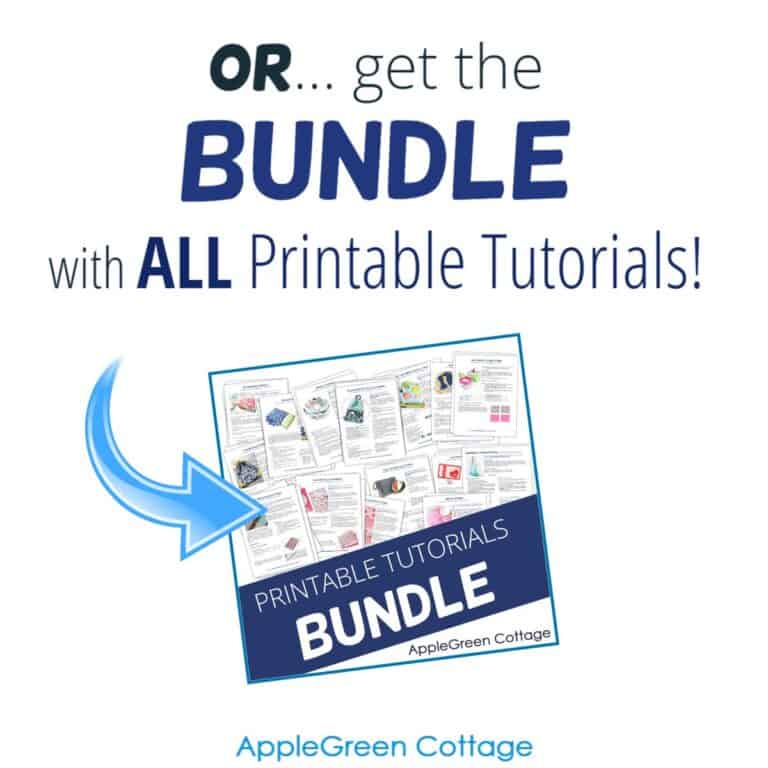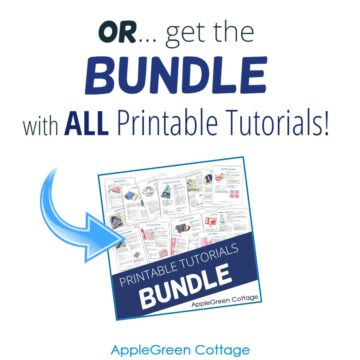 You can even sew a bunch of these beautiful fabric pumpkins and place them in a basket like this one, and you've got perfect fall decor! Scroll down to get measurements for 3 basket sizes.
Use this tutorial to sew a basket to turn an easy project into a super-duper-completely-easy one. Want to try it out? Let me show you how to make a stack of baskets so quick and easy you'll never want to do it any other way!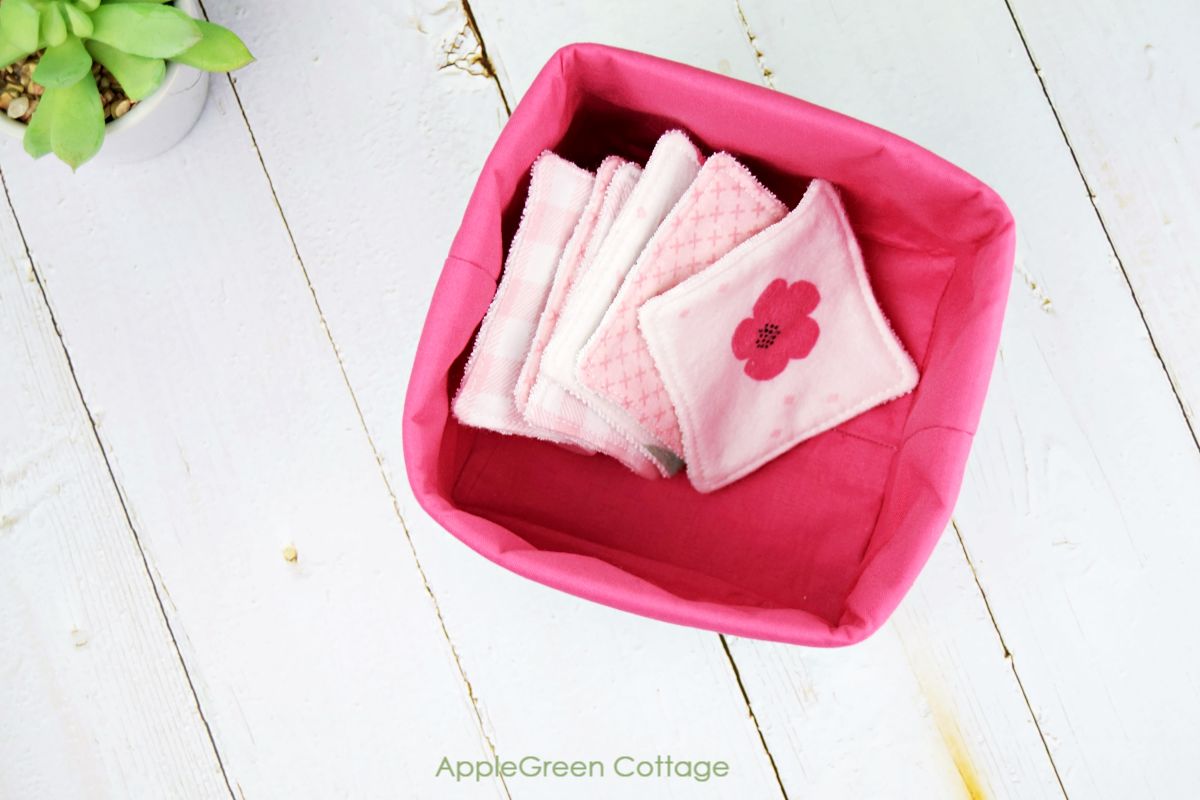 The smaller size can store your reusable face wash pads if you like. (See how to make fabric makeup remover pads here)
The way these easy baskets are made is using the same technique as this pretty tote project. (Actually, you can use it on any box-formed item you sew!) Also, they are part of the SewPretty HOME series - it's free: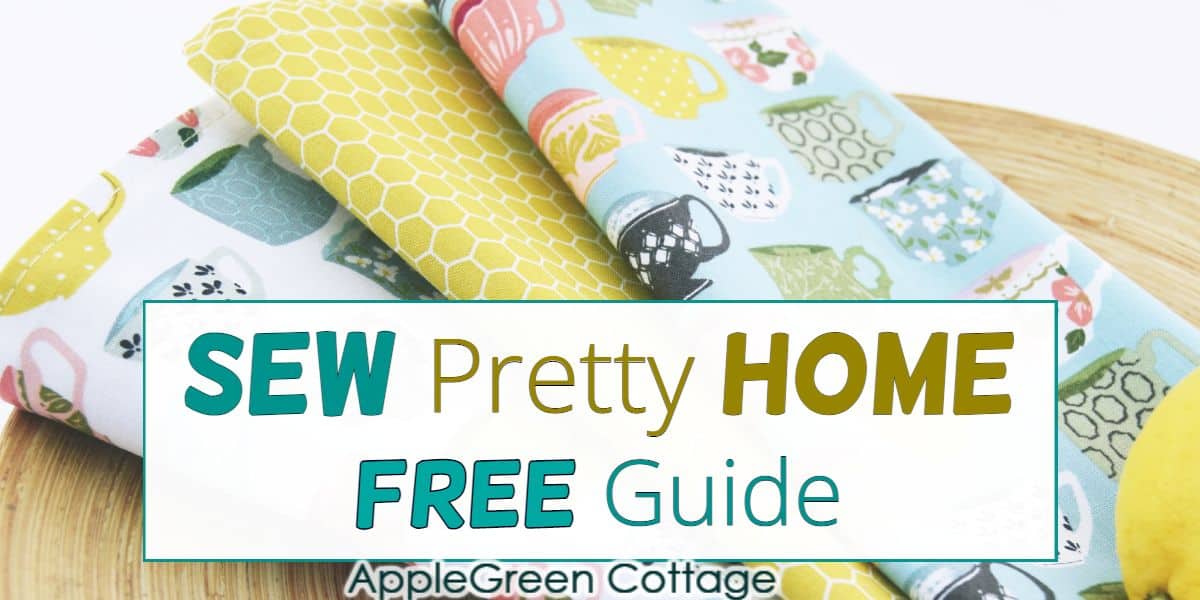 Join the FREE 7-part email course and make 6 beautiful items for your home! You'll love it!
Simple. Easy. Quick. A perfect beginner project. Promise. Want to think about it? Save it to Pinterest and come back later to sew a basket or two: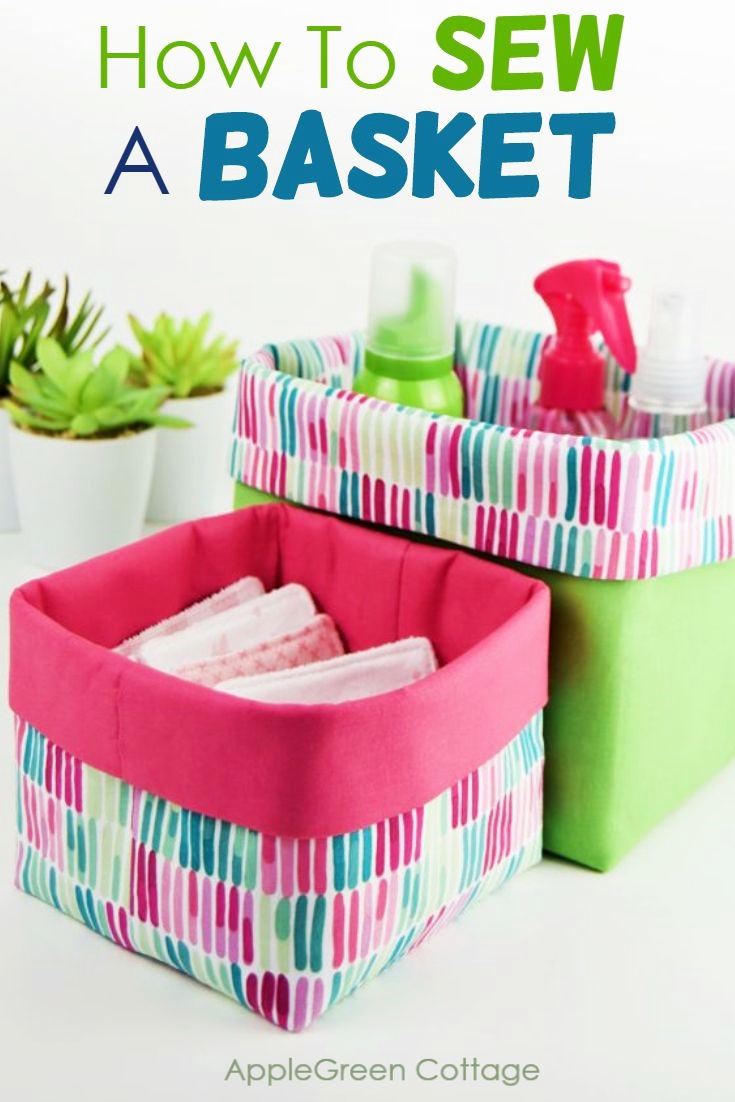 How to Sew A Basket Video
Let's get sewing. And I've even got a video for you. Just sit back and relax. Then scroll down for measurements - or see step by step photo tutorial too.
A few of my favorite features of these baskets: they are firm, their measurements can be easily adjusted to the size you need.
And - nesting! Make all sizes, they can be nested! You'll love to see the smaller or larger baskets to nest together!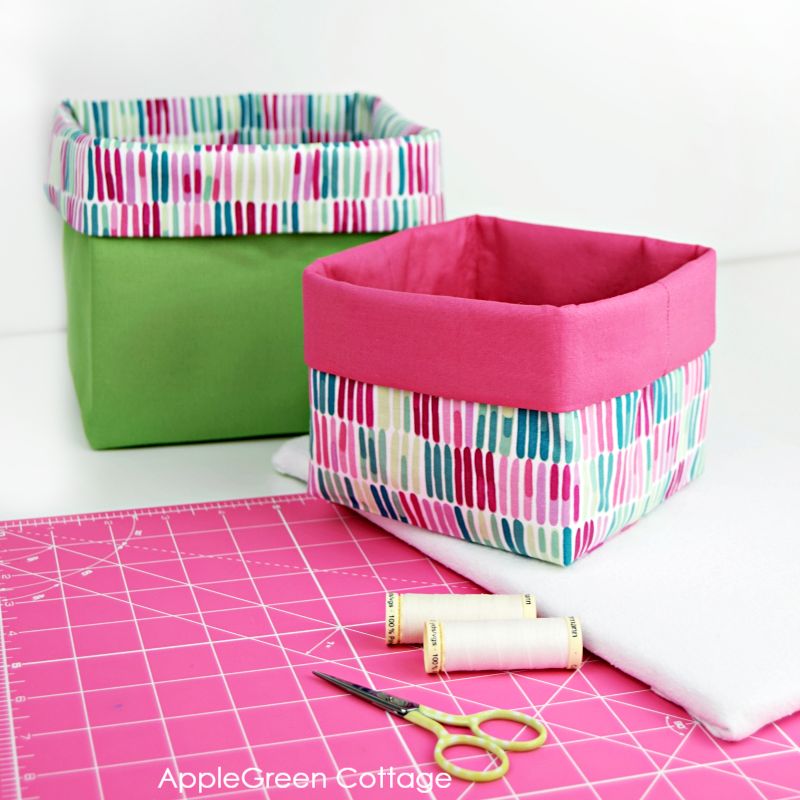 Cutting Instructions For Sewing A Basket
cut 2 pieces from Outer fabric in the desired size
cut 2 pieces from Lining fabric in the desired size
cut 2 pieces from Fusible fleece (smaller by an inch in length AND width)
cut 2 pieces from stiff FUSIBLE interfacing (smaller by an inch in length AND width)
What Size To Cut
There are 3 sizes. Let's mark them as sizes Small, Medium, Large
Finished Size
CUTTING DIMENSIONS for fabric
(interfacing in the brackets)
Small
5" by 5 ½"
11" by 9" (interfacing 10" by 8")
Medium
7" by 5 ½"
15" by 12" (interfacing 14" by 11")
Large
10 ½" by 12"
22" by 18" (interfacing 21" by 17")
To make the smallest version, you'll need 2 fat quarters of fabric (half yard). To make the largest one, you'll need 4 fat quarters or 1 yard. Now, let's sew!
How To Sew A Basket - Instructions
The seam allowance for this project is ½" inch (1.3cm).
Step 1 - Cut Fabric and Interfacing
Select your desired basket size and cut fabric, fusible fleece, and stiff fusible interfacing, using the chart above. Interfacing and fleece pieces will all be smaller by one inch to keep the seams clean. The seam allowance for this project is ½" inch (1.3cm).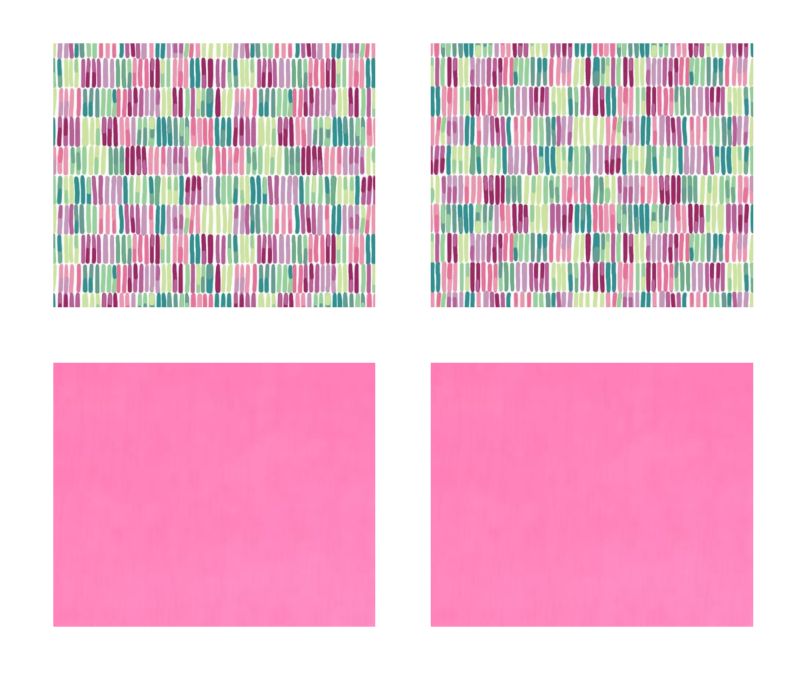 Step 2 - Cut Corners for Basket bottom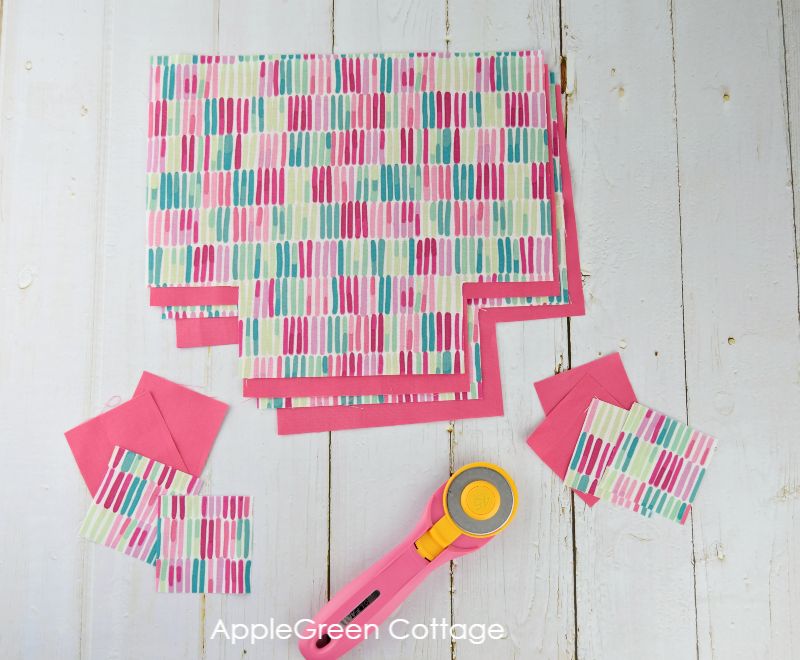 Cut 2 corners from the bottom of each of the 4 fabric pieces: place them horizontally and cut a square from each lower corner. See the chart below to find your dimensions.
Corner Cutting Chart:
| | |
| --- | --- |
| For Size: | Cut Square From Bottom Corners: |
| Small | 2 ½" by 2 ½" |
| Medium | 3 ½" by 3 ½" |
| Large | 5 ¼" by 5 ¼" |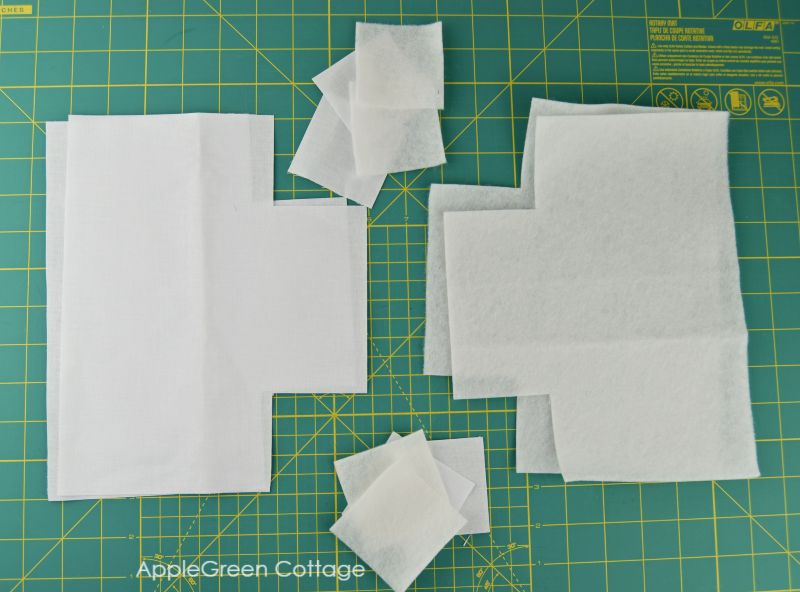 Do the same with your fusible interfacing and fusible fleece pieces - same corner dimensions, despite the fact that the interfacing+ fusible fleece pieces are all smaller by one inch.
Step 3 - Apply Fusible Fleece and Stiff Interfacing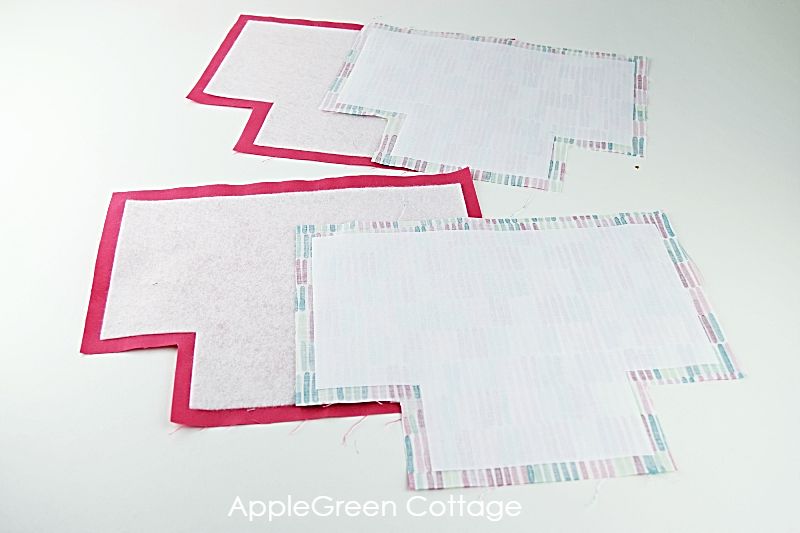 Press fusible fleece to the back of Lining pieces and fuse stiff interfacing to Outer pieces. In this tutorial, the prints here are my Outer and the solids are my Lining.
I keep my diy ironing board close by, to make pressing my small projects a breeze. I don't even need to get up to press, as it's a handy tabletop version.
Step 4 - Sewing Step A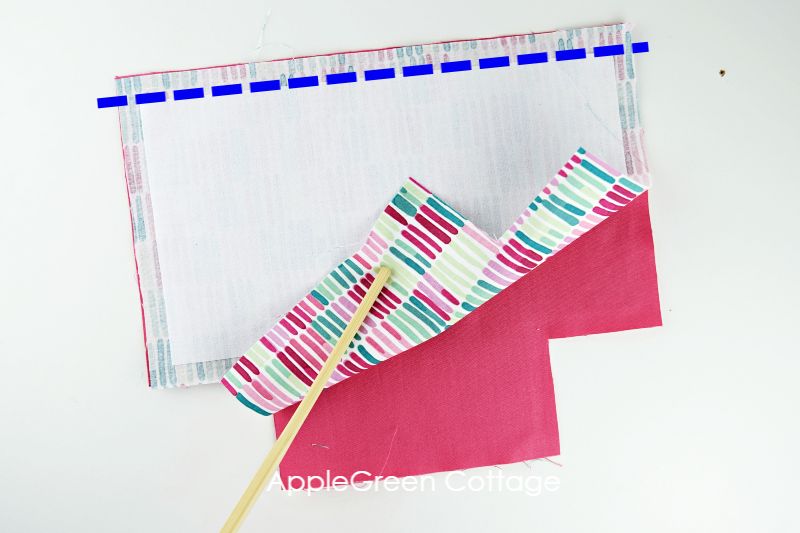 Using a ½" seam allowance, sew the top of Lining and Outer. You'll make two sets. Press the seam open (do not press directly over fusible fleece, it doesn't take direct heat well):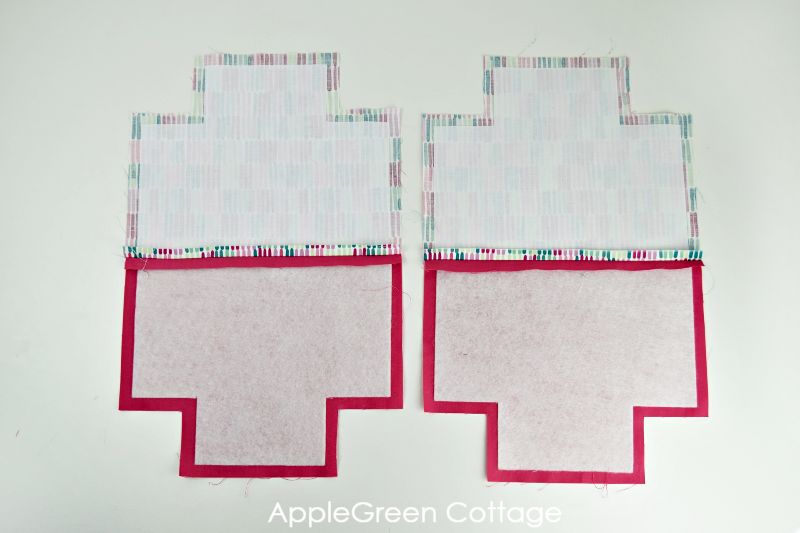 Step 5 - Assemble The Basket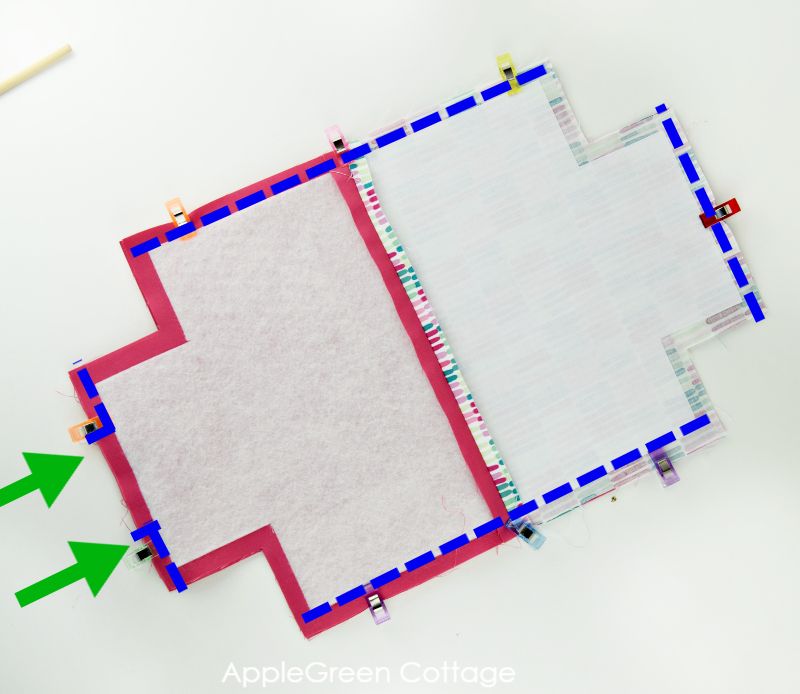 Place the pieces together, so the right sides of Lining pieces will face each other, and the right sides of Outer pieces will face each other too. Again using a ½" seam allowance, stitch the sides, the top and the bottom, leaving out the corer areas. Also leave a few inches unsewn in the bottom of Lining (notice the two green arrows)
Step 6 - Box the Corners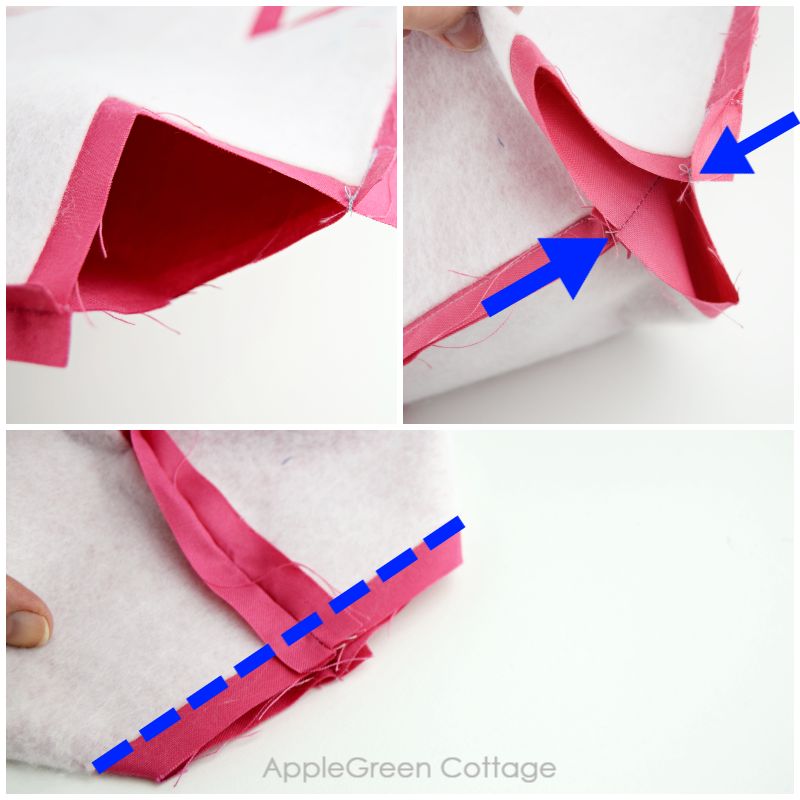 Now you'll need to box all four corners that are still open. Fold the corner flat matching up the two side seams. The side seams should lie directly one over the other (notice the two arrows). Then stitch over the (blue) line using the same ½" seam allowance. Backstitch at the beginning and end of the seam to reinforce it.
Step 7 - Turn Right Side Out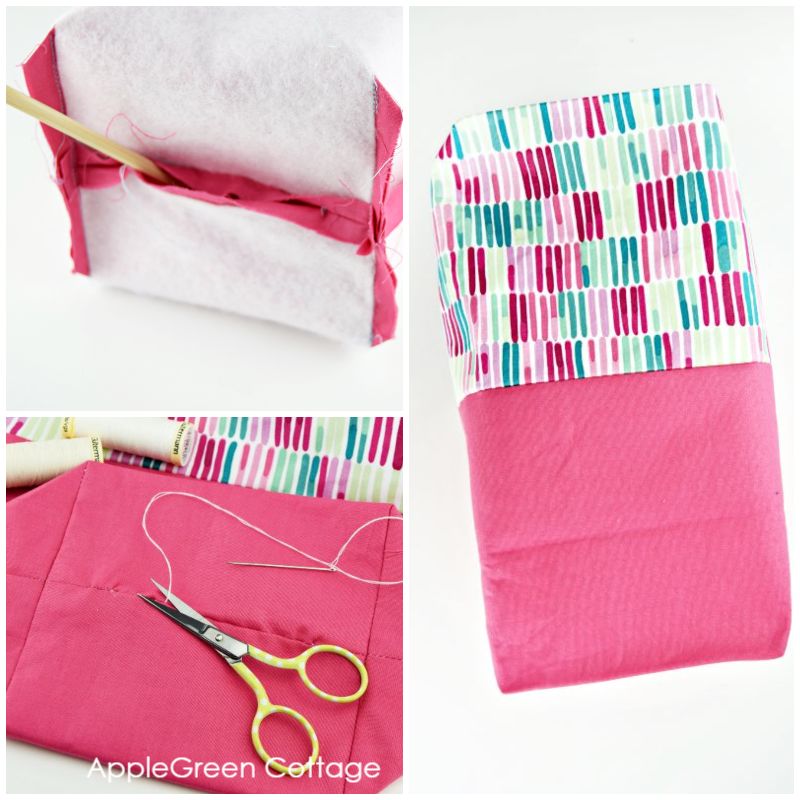 Once you've got all 4 corners boxed, turn the whole thing right side out through the opening you left in lining bottom. All that's left is stitch the opening closed and...
Step 8 - Press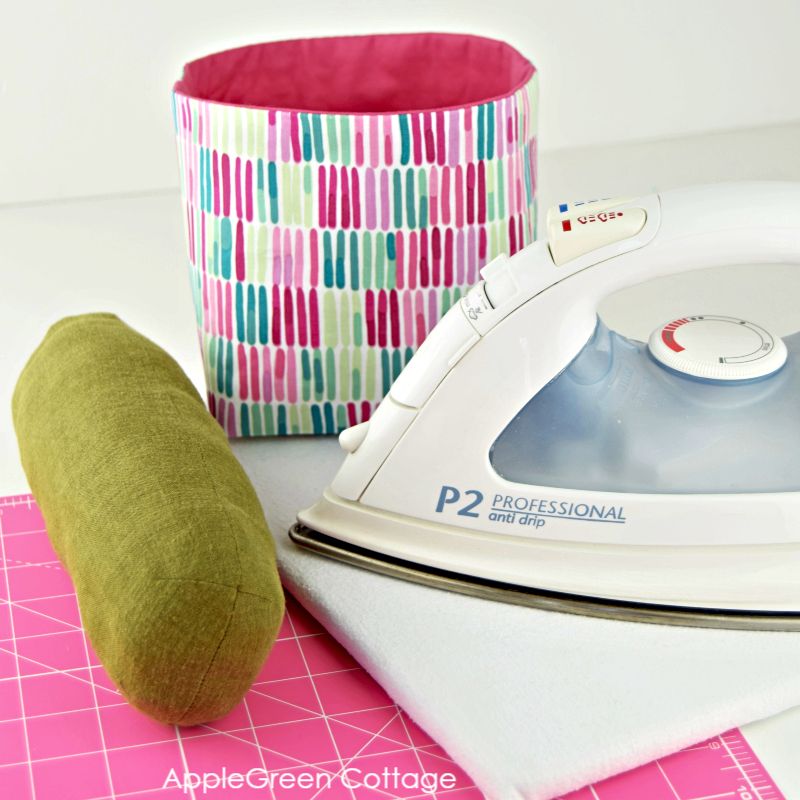 Press well to achieve that neat look. I love to use my DIY sleeve roll - it makes pressing bags and pouches a piece of cake, every single time! You can use my FREE TEMPLATE to make one for yourself.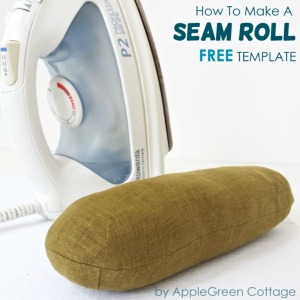 Bonus tips For sewing baskets
If you have no fusible fleece available, you can use batting, or in some cases even the inexpensive crafting felt. Only when you don't plan to have the basket washed, as crafting felt won't behave well when laundered.
When using non-fusible interfacing, you'll need to cut the interfacing the same size as fabric - and not smaller, as the instructions above suggest. I usually use a zigzag stitch to baste it to the fabric and only later, once the item has been sewn together, I'd trim some of it from the seam allowance to reduce bulk. I used batting to make the large basket: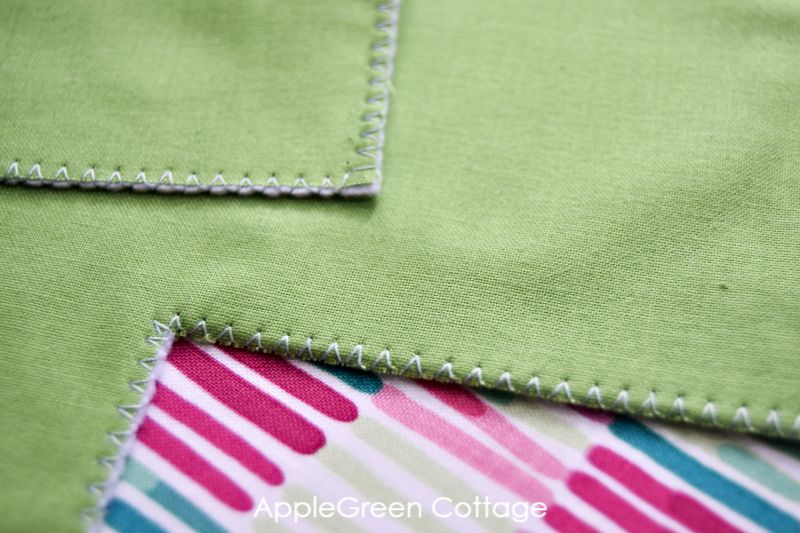 Remember: the stiffer the interfacing, the stronger the basket. You (almost) never want a slouchy basket!
Also, this interfacing guide for beginners will make your (interfacing-related) sewing life so much easier! And your baskets prettier: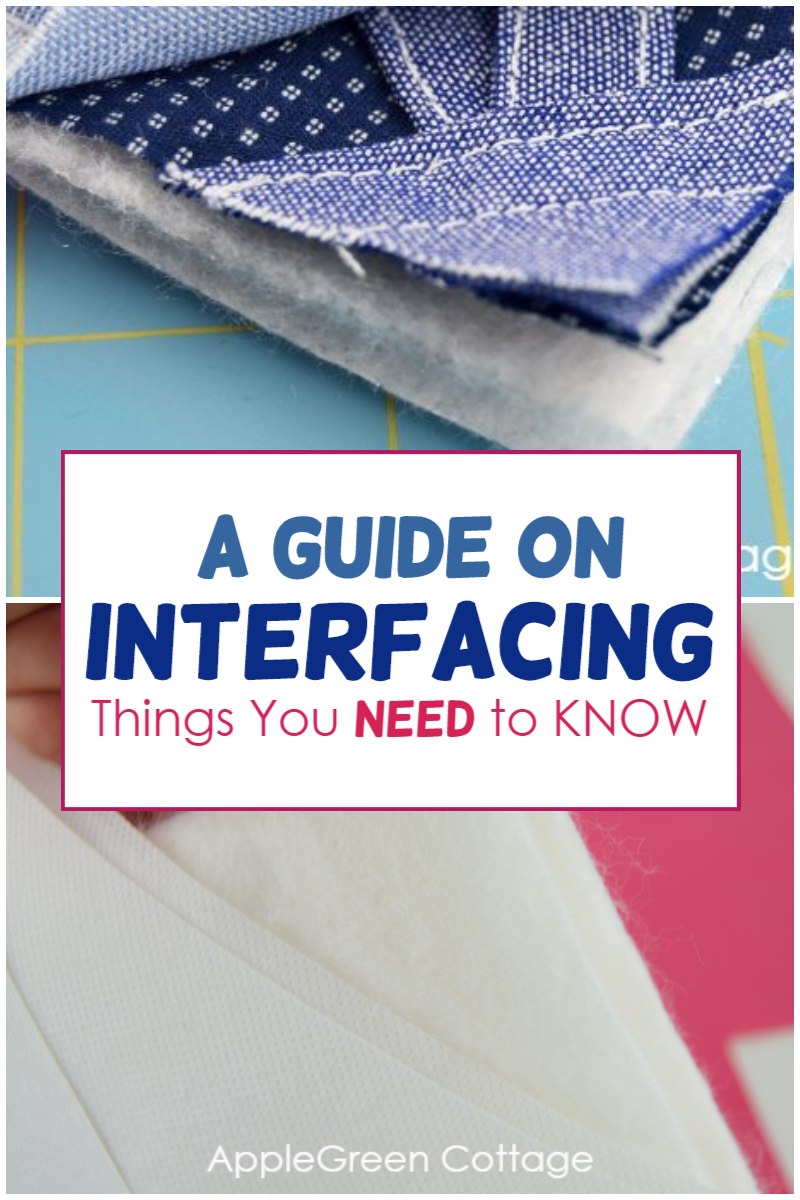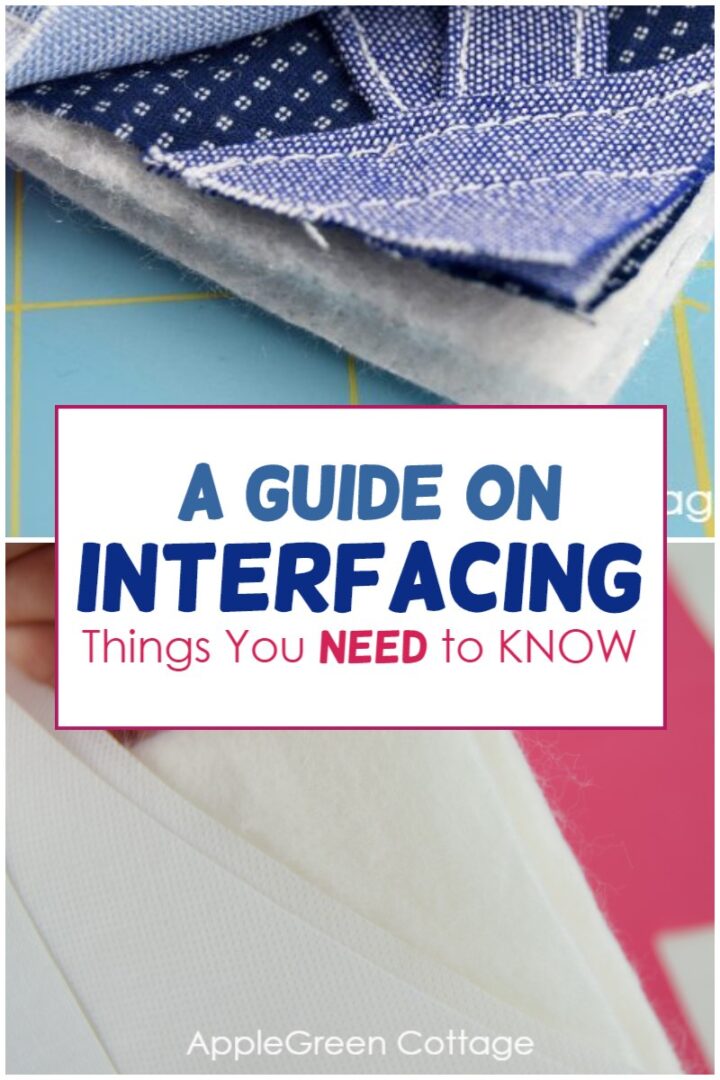 Also please note, washable interfacing or interlining, like using cotton batting will make it even better for something you wash often, say, a bread basket. The mid-sized basket would really make a pretty breadbasket for the holiday table, what do you think? (And now that I mention this, we will be making our own bread like this one soon again!)
If you like baskets and home storage, you'll love these two patterns from my pattern shop too: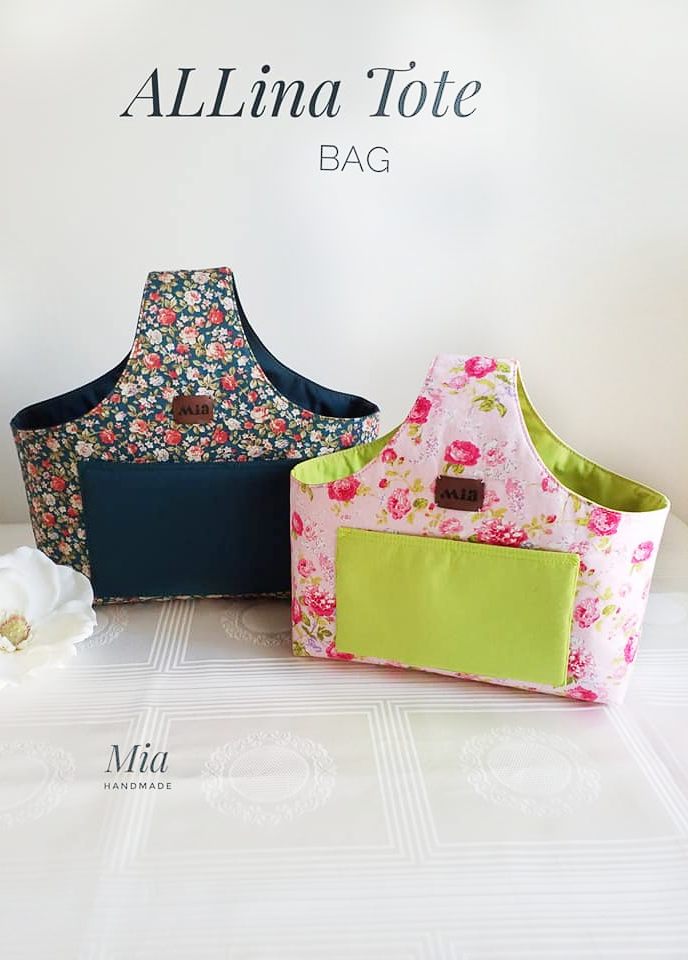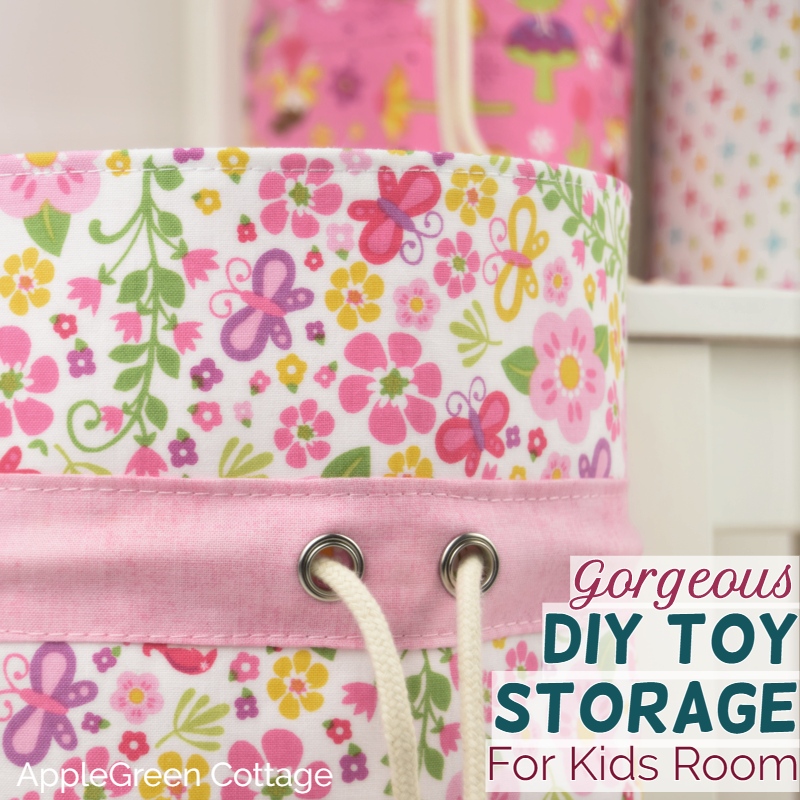 HOW DID YOU LIKE THIS BASKET tutorial?
If you enjoyed this tutorial, share it, like it or tell your friends about it. Or save it for later to Pinterest, so you've got it ready whenever you want to make a lovely basket: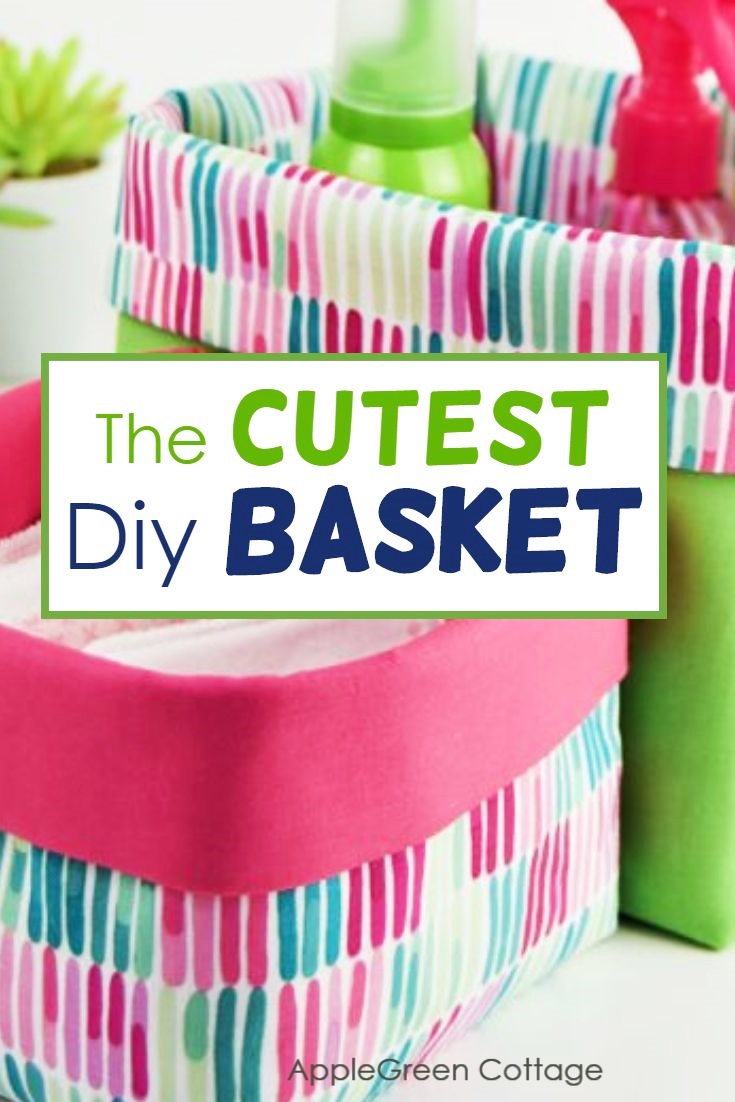 Want MORE FREE TUTORIALS And Patterns?
Get email updates and never miss out on new patterns, printables, and tutorials:
Or …check out this popular PDF pattern – the Kalina Mini Wallet in our shop. So practical!