Get the free holidays pattern bundle with diy Christmas ornament ideas and holiday home decor projects - and make all your holiday decor match!
Wondering what diy Christmas ornaments and home decor you could make this holiday season?
You're in luck: here's our holiday gift to you, a huge pattern bundle of more than 16 easy, printable holiday sewing projects and patterns to create your own version of cozy, handmade and enjoyable holidays. And it covers so many Christmas ornament ideas!
We are adding more projects to the bundle each season, join our mailing list so you don't miss out on any new ones!
UPDATE: MORE templates to be ADDED to the Homemade Holiday FREE Bundle!- Join our mailing list here, so you don't miss out on any new tutorials!
Christmas ornament ideas and Holiday Home Decor
In addition to all sorts of beautiful holiday ornaments you can create with this free bundle, there are holiday home decor projects too: a handy Christmas pillow, gift tags, gifts you can make for your loved ones, and keepsake ornaments that will keep the fondest family memories alive for years to come.
Download all the free templates from my FREE HOLIDAY Pattern Bundle - and use them all: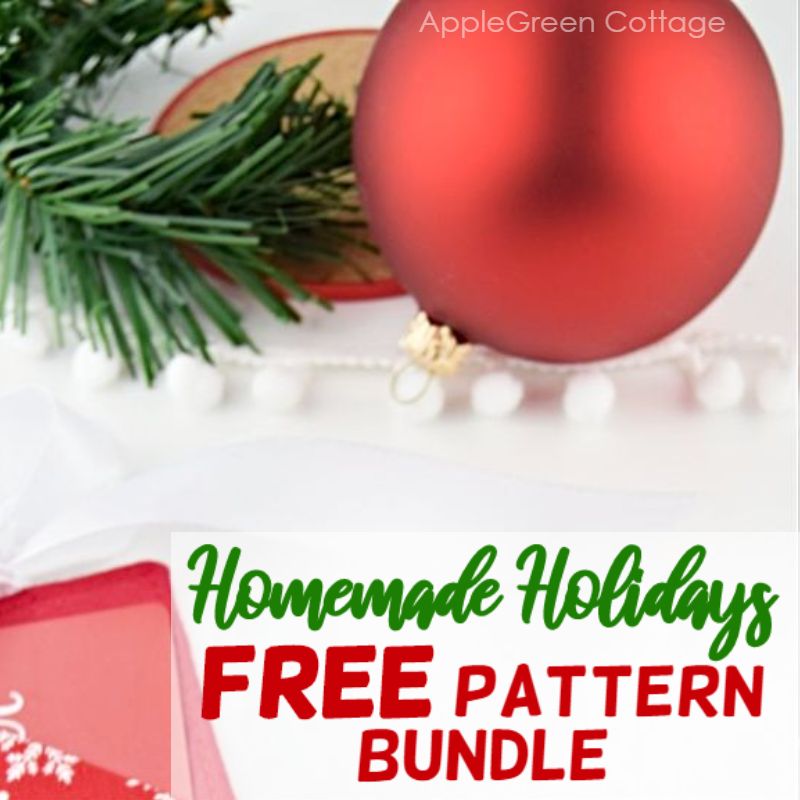 Visit the shop HERE and look for the HOLIDAY Pattern Bundle - you'll need to scroll down a bit till you get to the free product.
What Christmas ornament ideas and holiday home decor projects are included in the Pattern Bundle?
As Christmas is fast approaching, many are gearing up to make this season a very special one. This Bundle gives you tons of christmas ornament ideas so you can make beautiful holiday tree and home decor using fabric scraps. Enjoy!
To name just some of the most popular ones, a cute diy Christmas pillow sham with a flange, a Christmas gift card holder, an Origami Christmas ornament, Mitten ornament, Santa Hat Ornament, Christmas Tree Ornament (2 versions), Diy Bauble Christmas Ornaments, Diy Felt Ornament, Diy Candy Ornaments, Poinsettia Ornament, Ornament Hat 2 versions, Mini Christmas Garland - and that's not the end of the list yet!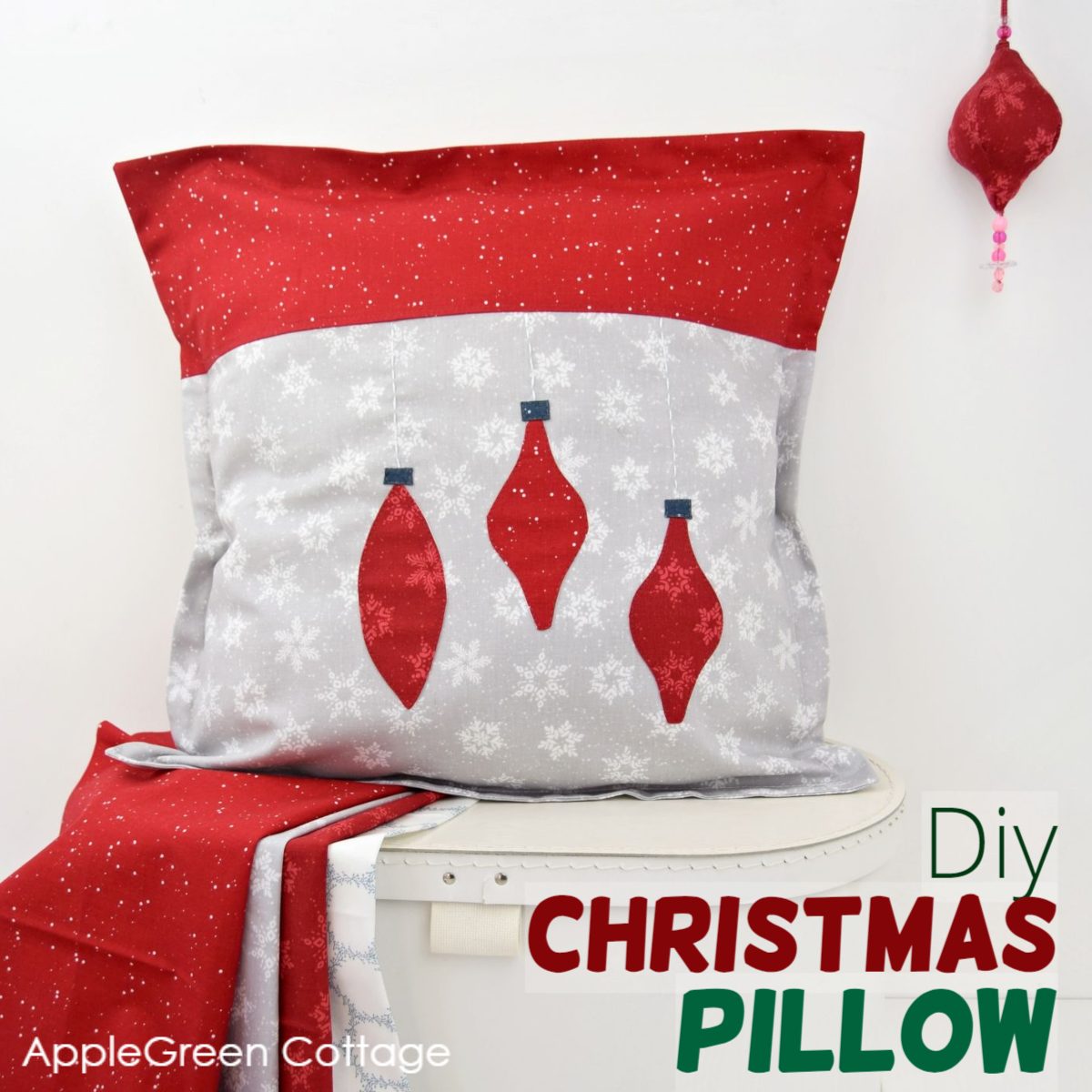 This bundle is a gift from me to all AppleGreen Cottage followers. You can use it to make your holidays and home feel handmade, cheerful, and pristine. And I'll be adding more projects this year too.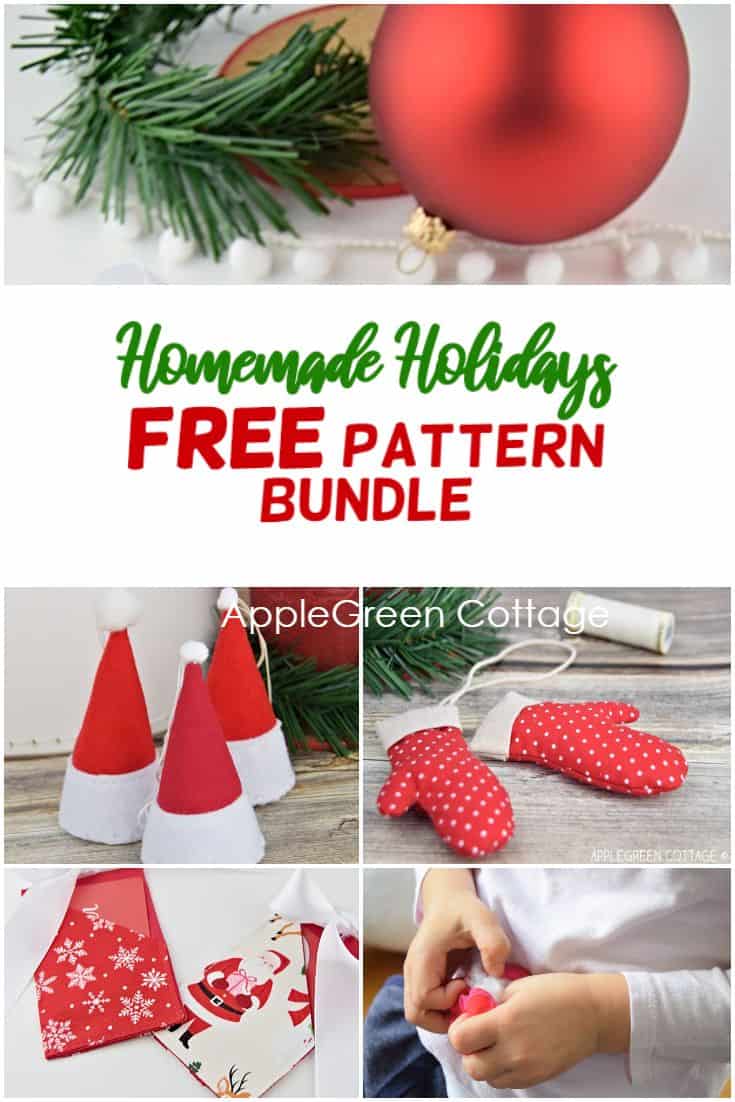 ALREADY OWN THE FREE HOLIDAY BUNDLE? To get the latest version (with the added templates) just visit the shop HERE and download again. It's free.
If you're here for even more holiday sewing ideas, also try these:
WANT MORE FREE TUTORIALS AND GOODIES?
Get email updates and never miss out on new patterns, printables, and tutorials:
Or …check out the gift bag pattern in 6 sizes in our shop - a super easy no-corner-boxing sewing project. Reusable gift bags for all your future gifts!