If you're like most sewists, you adore table runners. Beautiful projects you can manage in a fairly limited time - and showcase right on your dining table - all year long! I've collected my favorite table runner tutorials list, all free patterns for you to get inspired.
Whether you want to make one table runner for all seasons or to devote one to each of the four seasons - or any of the holidays, I've got you covered.
Here you'll find table runners for all seasons and for special occasions, too: spring, summer, fall and winter-themed ones, then holidays such as Easter, Halloween, pumpkin, 4th of July, St Patrick and more, just to name some of the most popular ones you might want to check out. And there's a special section for free Christmas table runner patterns I couldn't resist - check them out below!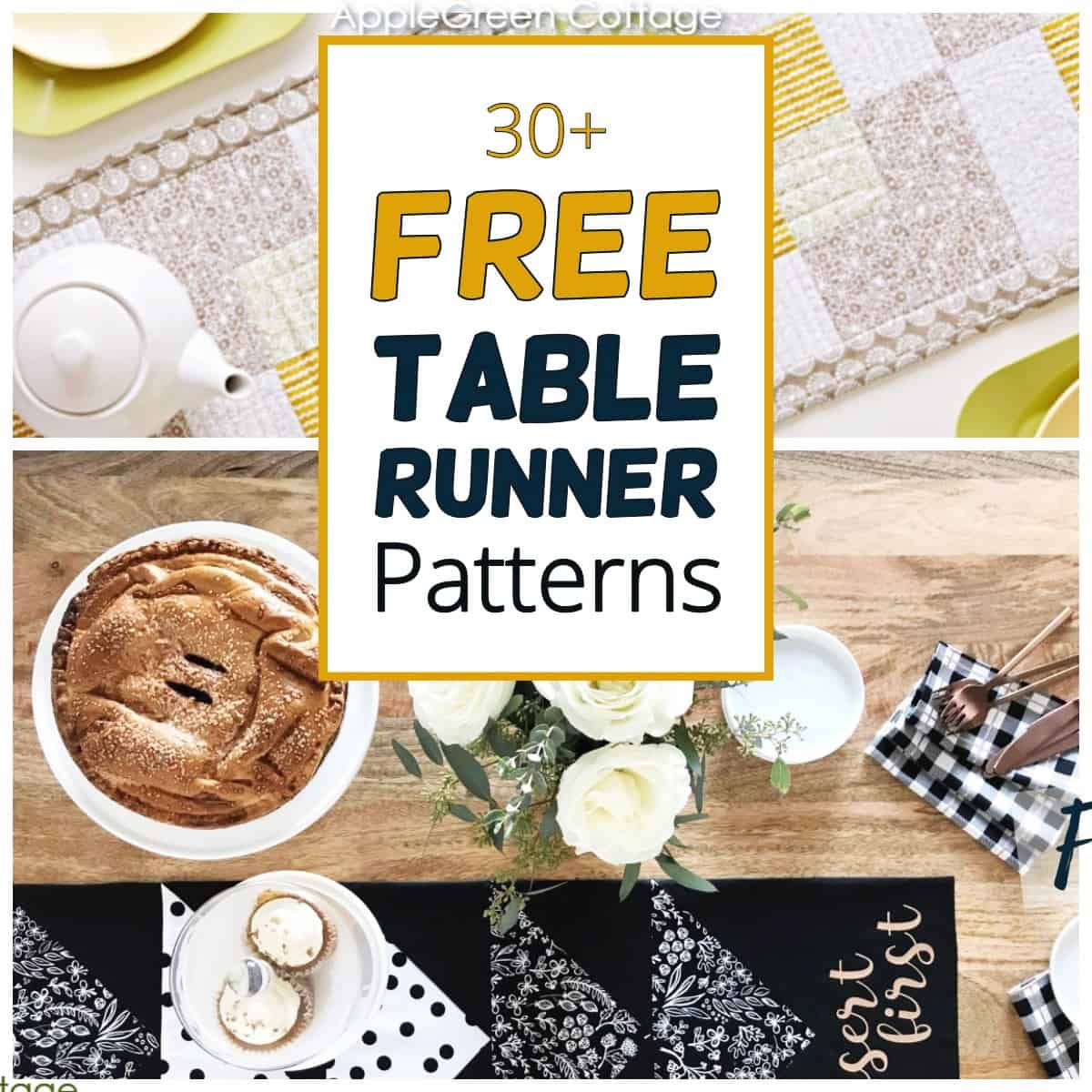 If you're here to sew for home, you'll love
As for the techniques and skills required to sew them, these patterns are so versatile: from plain and simple, reversible, color-blocked, to folded, fringed, appliqued, and quilted table runners. I even write about how you can help your strip-pieced runners get a more even stitching. (2 ways)
Choose your favorite diy table runner to sew! No time to sew now? Save to Pinterest to use later: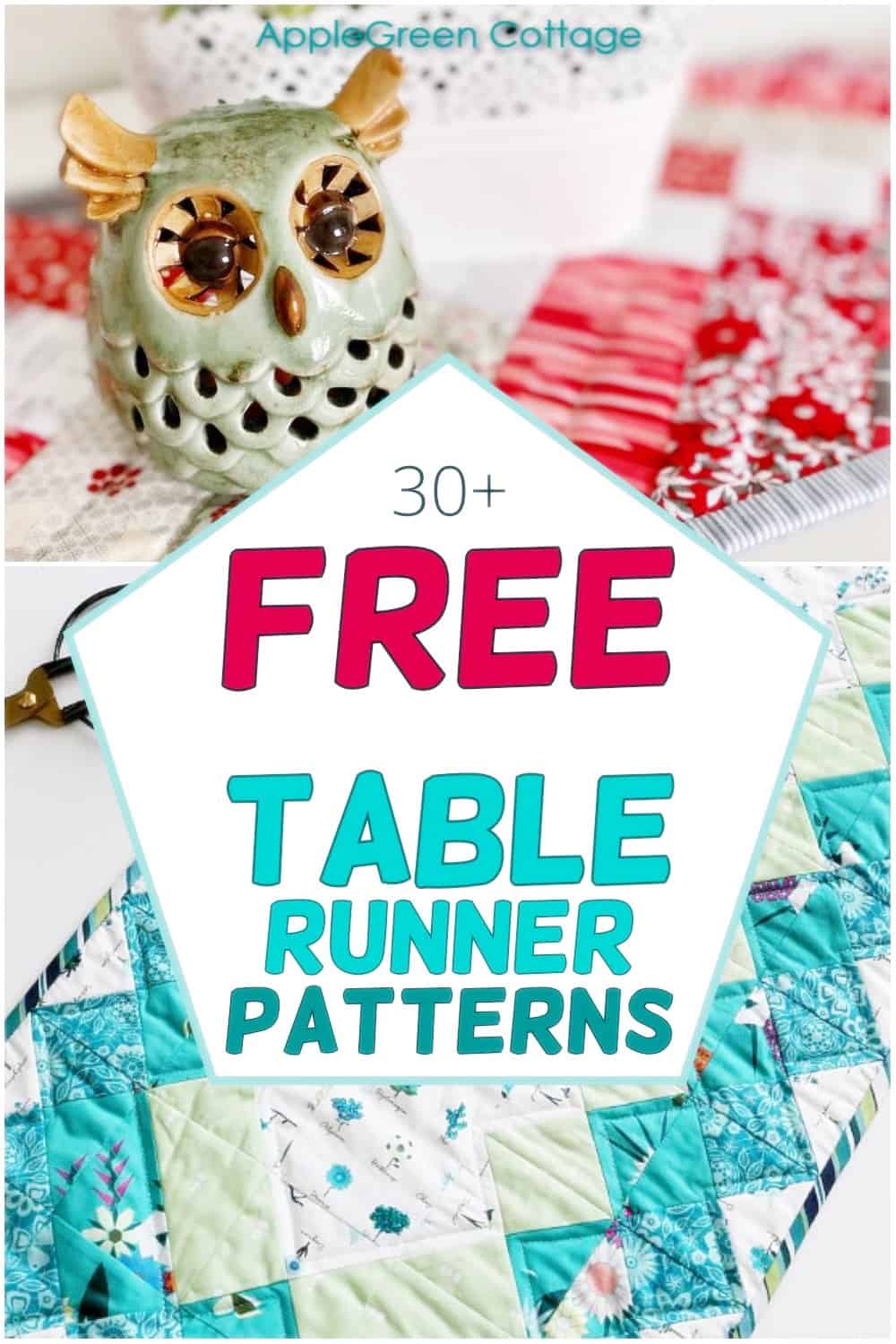 Now, let's start with all-seasons patterns, followed by spring and spring holidays, then summer, fall, and finally, holiday season:
Non seasonal Table runners - All Year Long!
First, let me show you a beginner-friendly, reversible table runner I made here at AppleGreen Cottage. So simple to make, but it made our dining room so pretty:
Beginner-friendly, Pretty, and Reversible Table Runner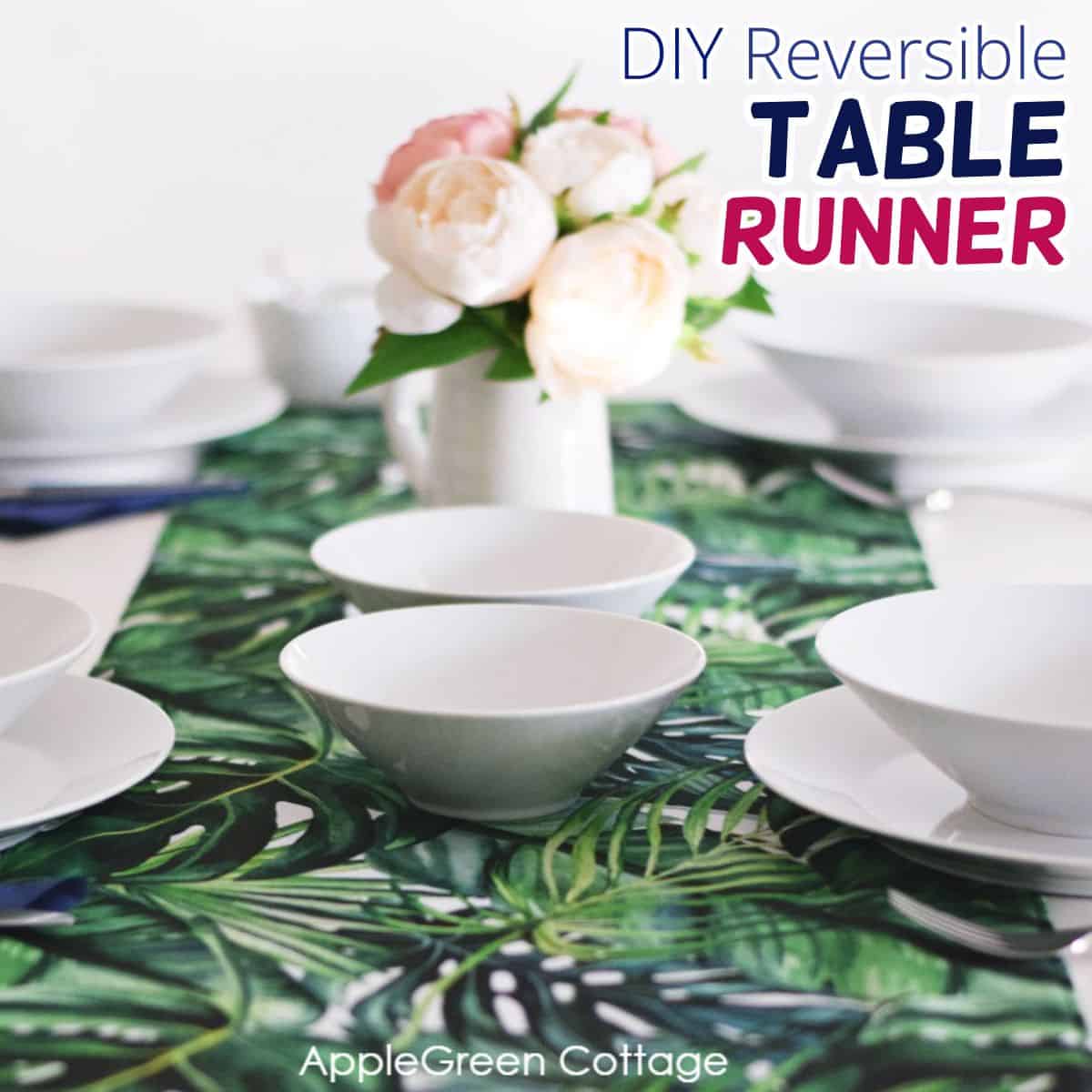 I chose a solid for the other side, click through to see how well they go with my other placemat set! (feeling so clever, haha!)
On the other hand, if you're looking to make your first quilted table runner, I've just published this one:
Easy Quilted Table Runner Pattern For Beginners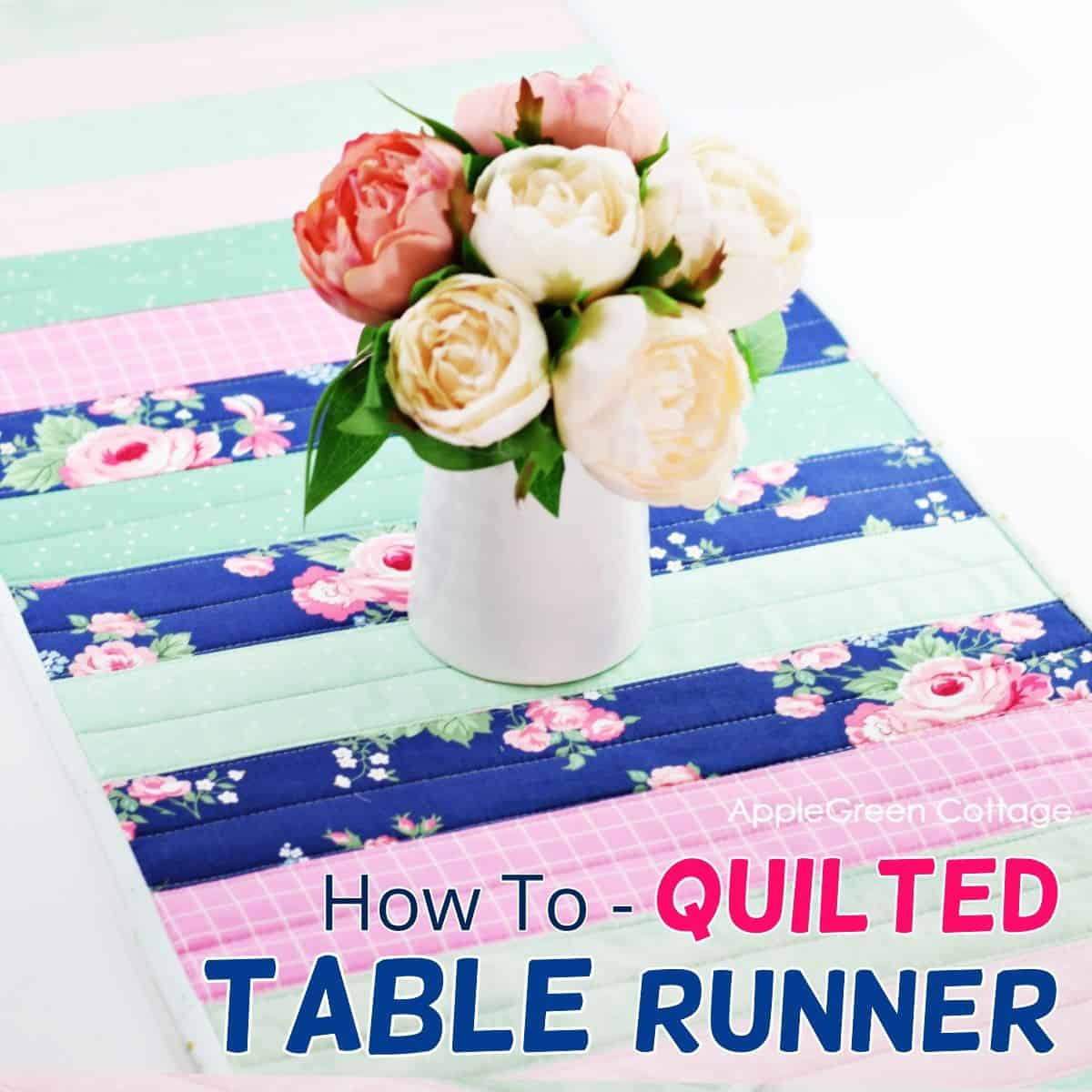 This easy quilted table runner pattern is perfect for beginners. See why!
If you like creating for home, also check out this SewPretty HOME series: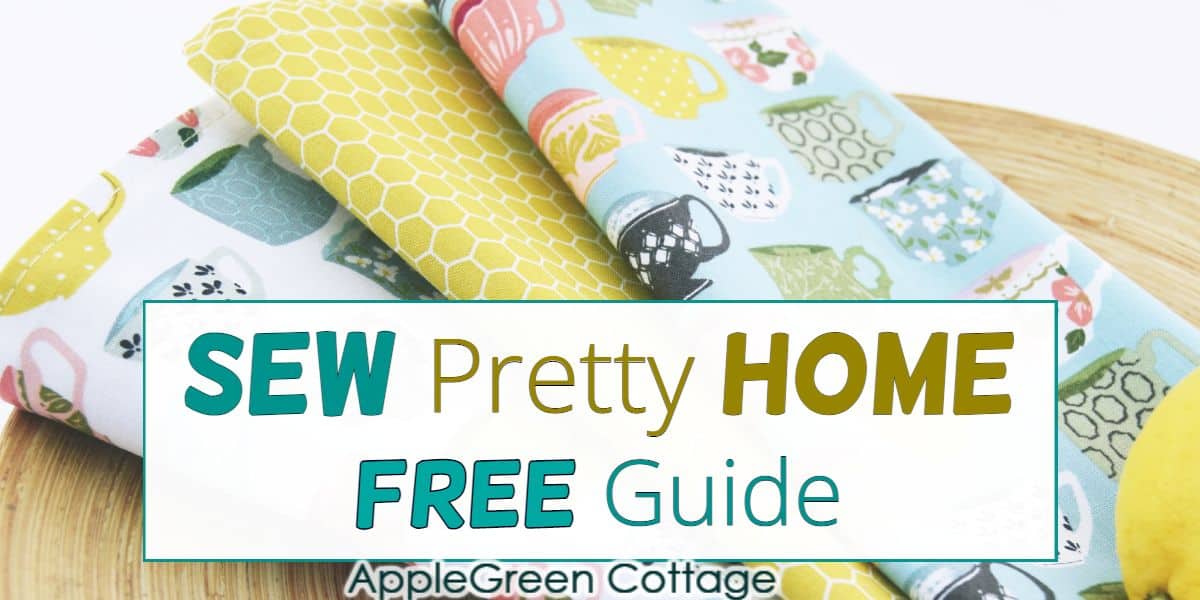 Join the FREE 7-part email course and make 6 beautiful items for your home! You'll love it!
Braided Table Runner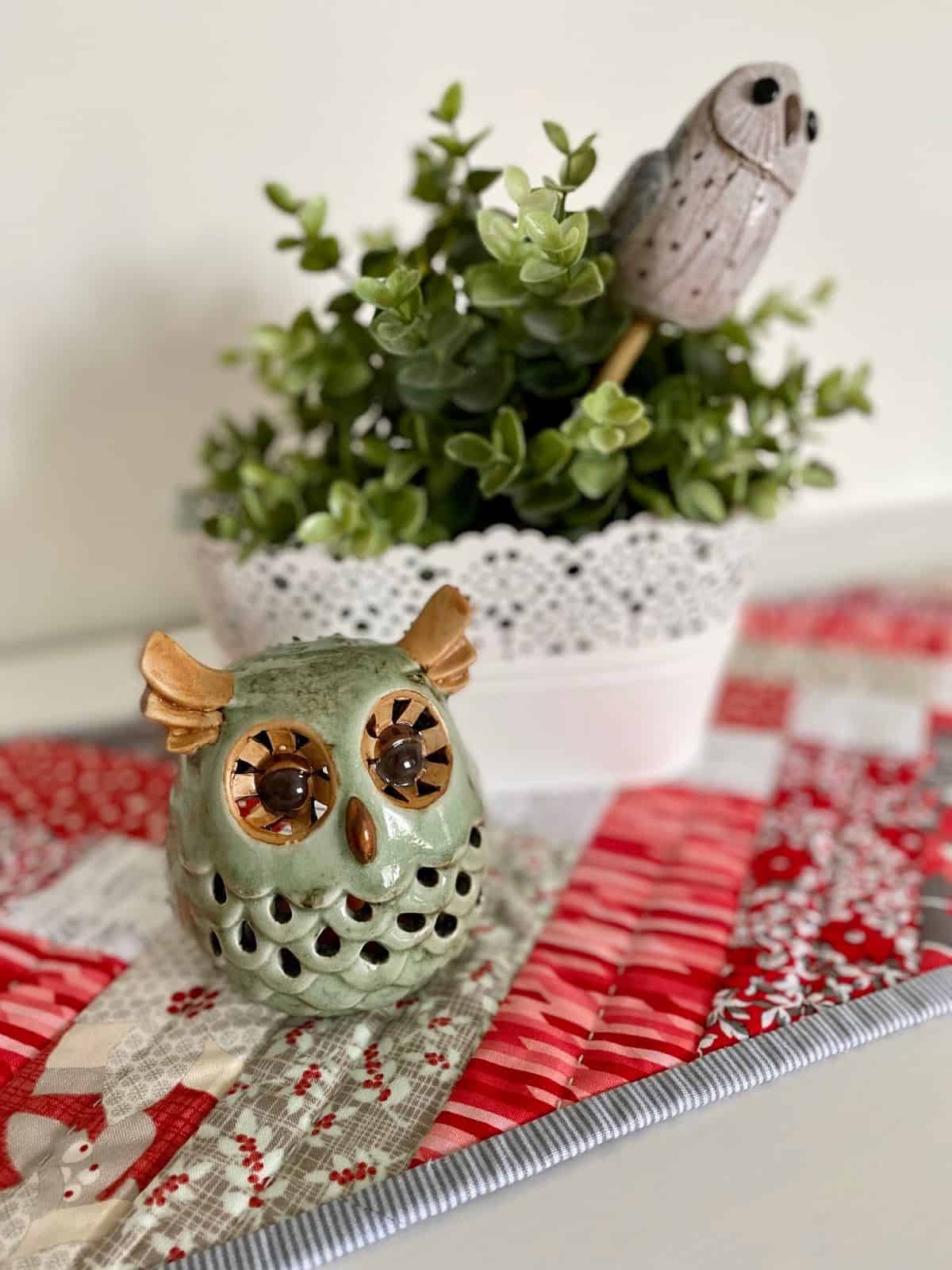 Make a gorgeous braided table runner using the new free table runner pattern by Sameliasmum. I love her aesthetics and it's definitely worth checking out more of her designs. (I've also included one of my other favorites from her below, the bursting buds pattern.)
Quick Table Runner For Beginners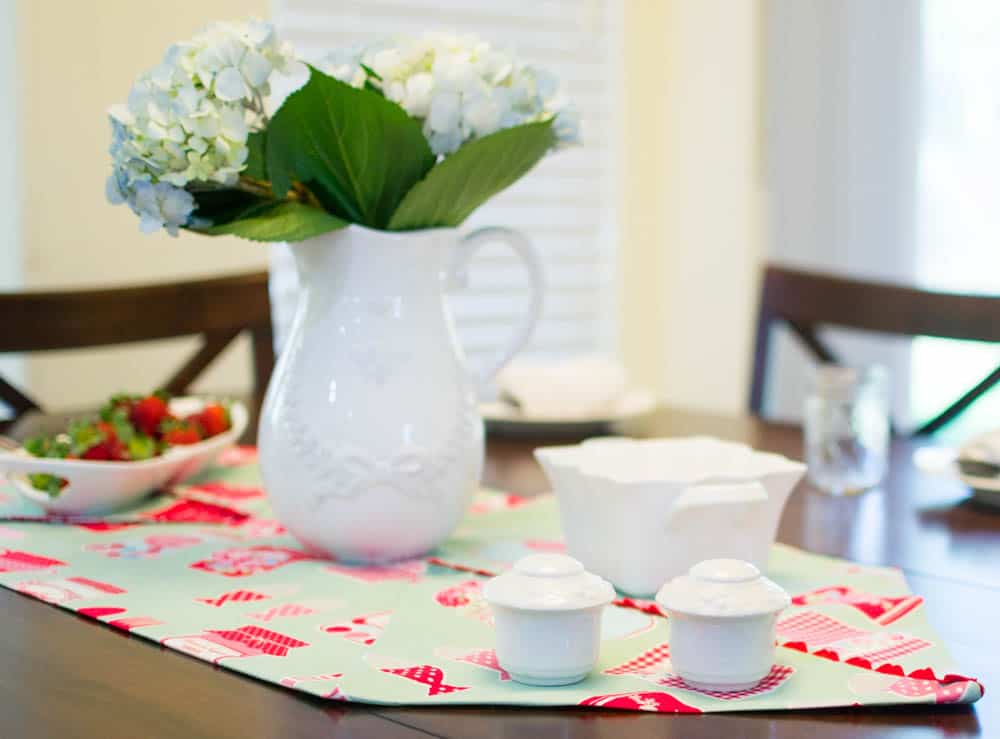 Smart! You know I love sewing workarounds and hacks that make a project easier - and this one might be one of the best ones in sewing table runners. Meet Caroline's super quick table runner - and if you don't have the two yards of rickrack in your stash, no worries. Can make it even without!
Appliqued Table Runner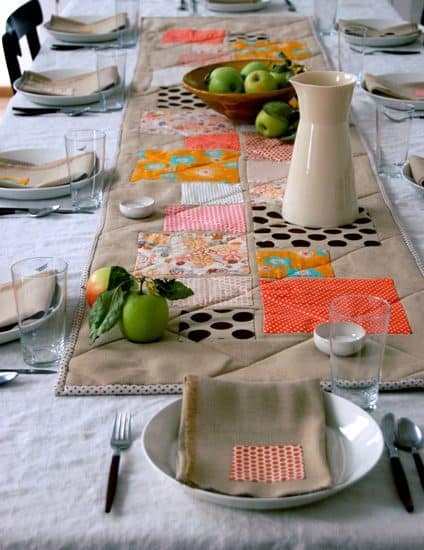 This appliqued table runner pattern by Purlsoho is so versatile! The one in the tutorial is a table runner she made for Thanksgiving but I believe it's general enough to use as all-seasons tabletop decor. Choose your favorite color scale and go with it!
Scallopped Table Runner Pattern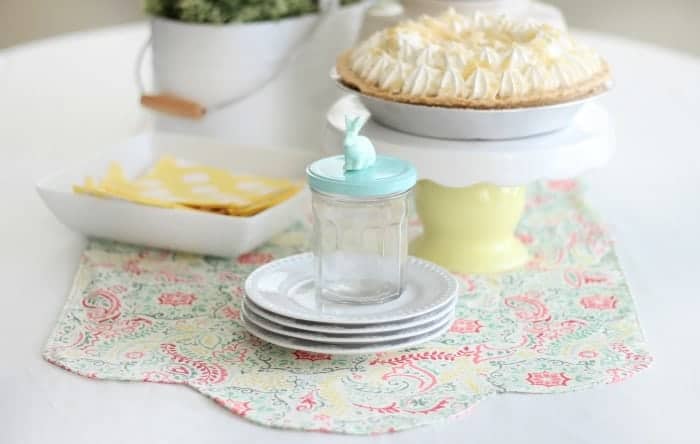 This cute scalloped table runner by Brandy at gluesticksblog.com is perfect to sew with florals. I'm thinking of some bold large market flower prints, how about you?
Vintage Houses Table Runner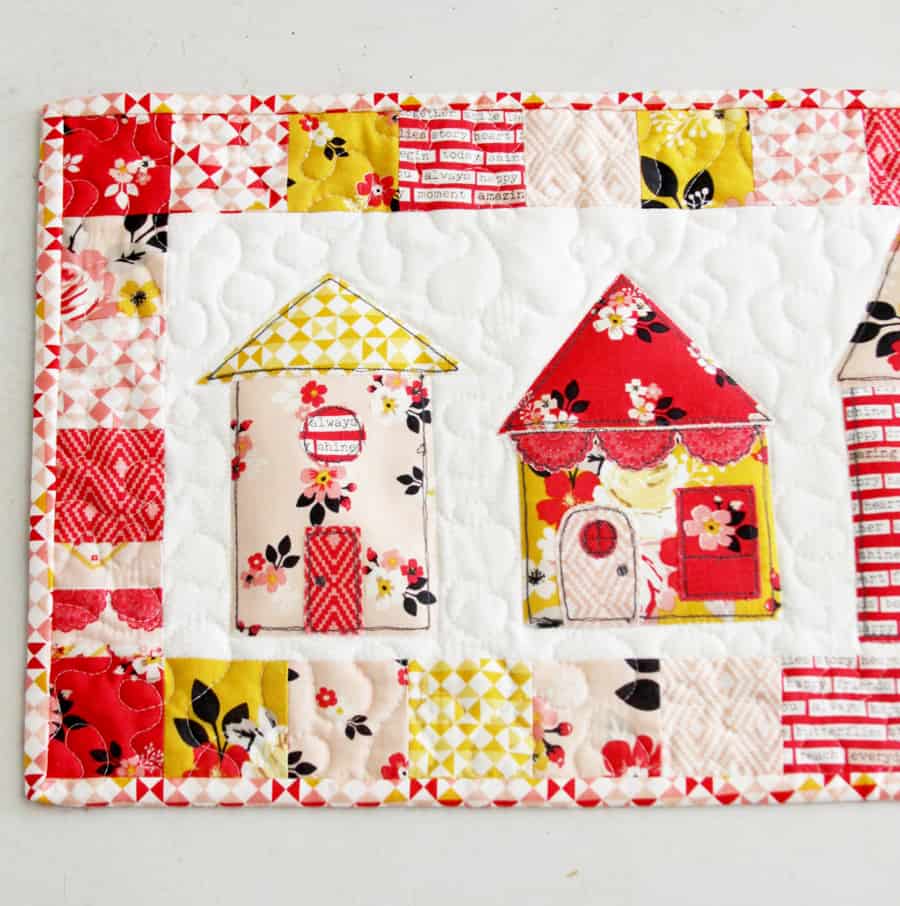 So sweet! this adorable, vintage-style table runner quilt was designed by Bev at FlamingoToes. I love her fabric lines (I made this Christmas countdown calendar with her collection!) as well as her quilt patterns. Bev was so generous to offer this 'vintage houses table runner quilt pattern' for free on her blog, find it at Flamingotoes.com. It would make a beautiful wall hanging too.
All Year Round Table Runner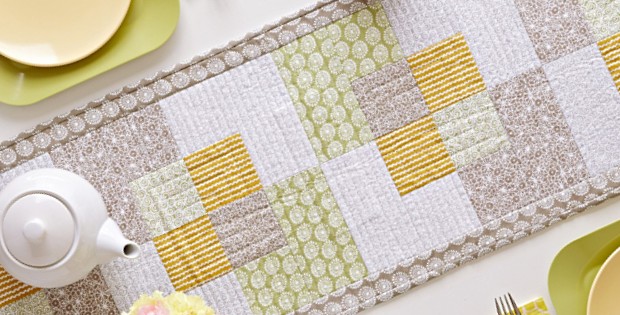 This adorable free table runner pattern with pieced squares and a calming color combination will suit any season and nearly any table setting. It was designed by Kate Colleran for Allpeoplequilt. I love the neutrals in this table runner design. Such a stunning classic look!
Spring-themed Table Runner Patterns
Of the seasonal table runner patterns, spring-themed ones are usually the brightest. No wonder, when winter is nearing an end we all get hungry for cheerful colors and playful prints that are perfect for Easter home decor too. A few from my spring favorites collection are here:
Ribbon Table Runner in Pastel Colors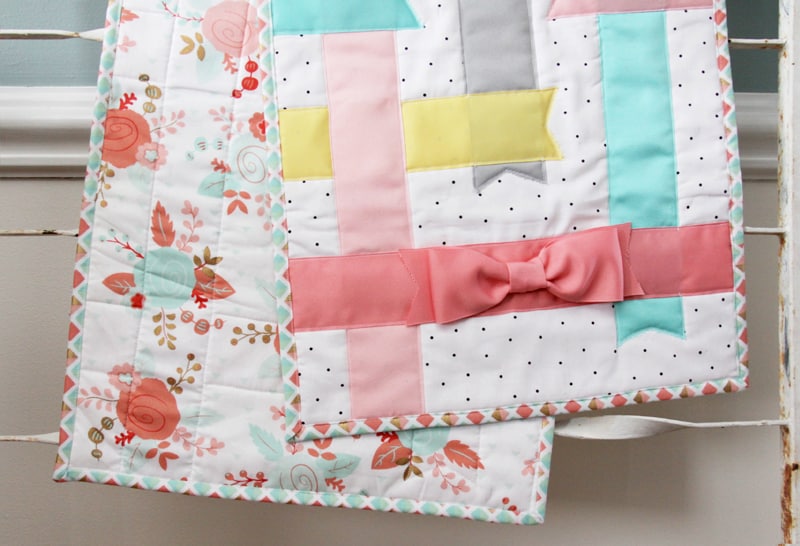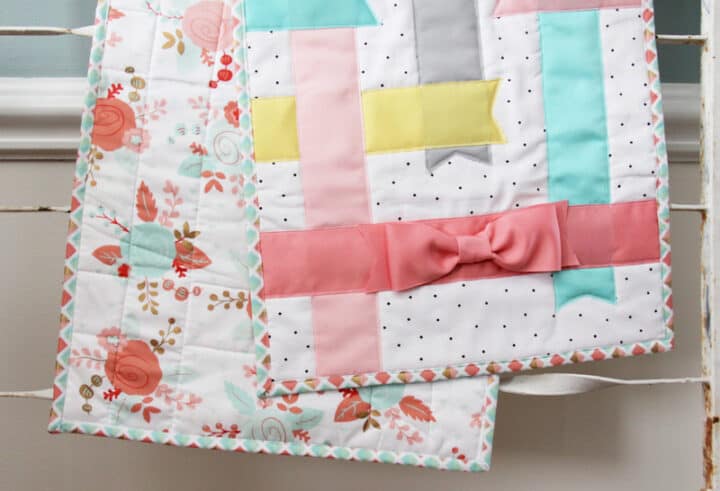 Ribbons and bows, so fun and pretty for spring! A genius idea too, to use ribbons in various colors as an applique to make this table runner so much easier to finish. Jump over to Flamingo Toes blog for the tutorial.
Spring-themed floral table runner pattern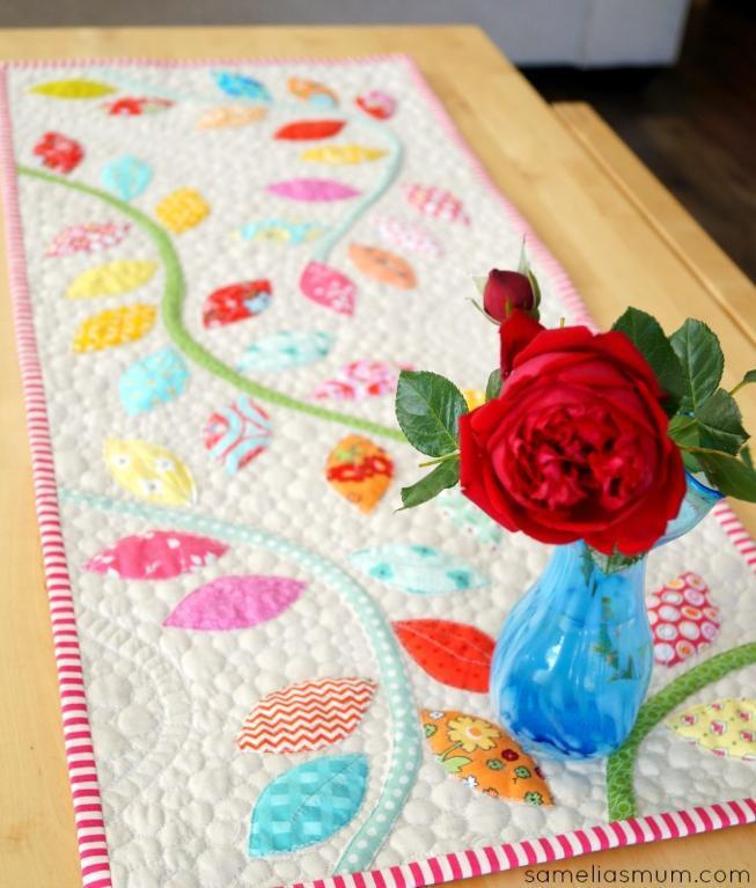 How cute is this spring table runner! A burst of color for your kitchen table, tutorial at Sameliasmum.
Bright Spring Striped Table Runner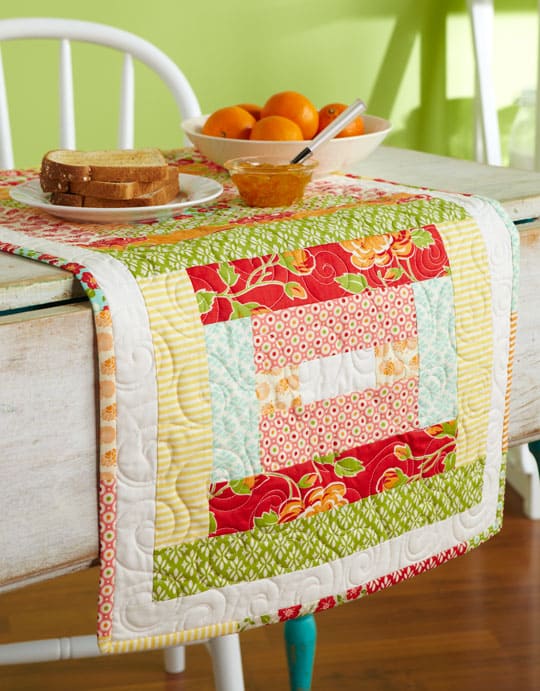 This beautiful striped spring-themed table runner tutorial at Allpeoplequilt.com shows you how to put 2-½" strips into rectangles and piece them into a beautiful spring table runner. Instantly brightens up your home!
Easter Table runner tutorial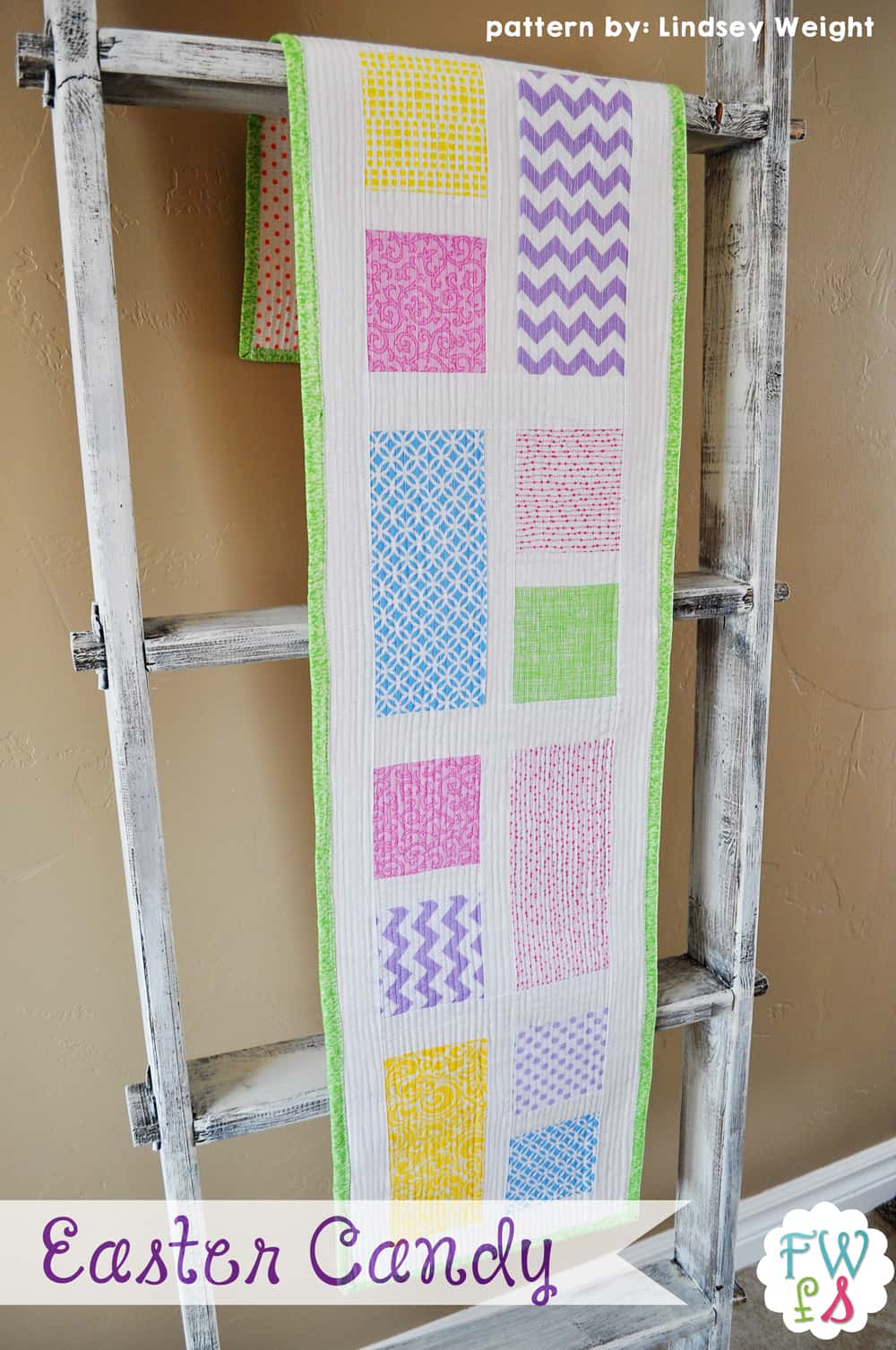 Sewing with scraps? You'll love this bright and easy table runner pattern by Lindsey at FortWorthFabricStudio. I love how you can use any color scheme to make this table runner pattern work in your home, with your home decor.
Spring Burlap Table Runner with Ruffles
As you may have noticed, the vast majority of table runners on the internet seem to be quilted table runner patterns. I took care to include quite a few other techniques so everyone has something that can choose from. This one is an upgrade of an existing plain burlap table runner, I found it a great solution for when you don't want to start from scratch. (And if you like ruffles!)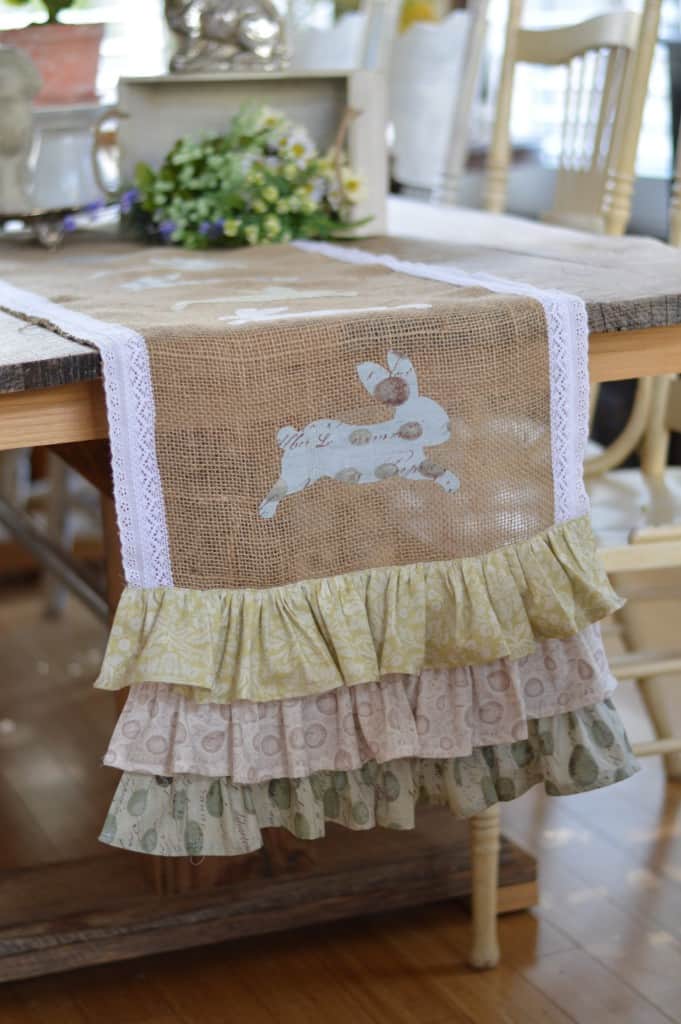 This burlap table runner makes it easy to decorate your table in farmhouse style. Amanda from Jedi Craft Girl used a ready-made burlap table runner and added some fun rabbit applique and ruffles. What better way to say spring is here!
Valentines Day Table Runner With Heart Applique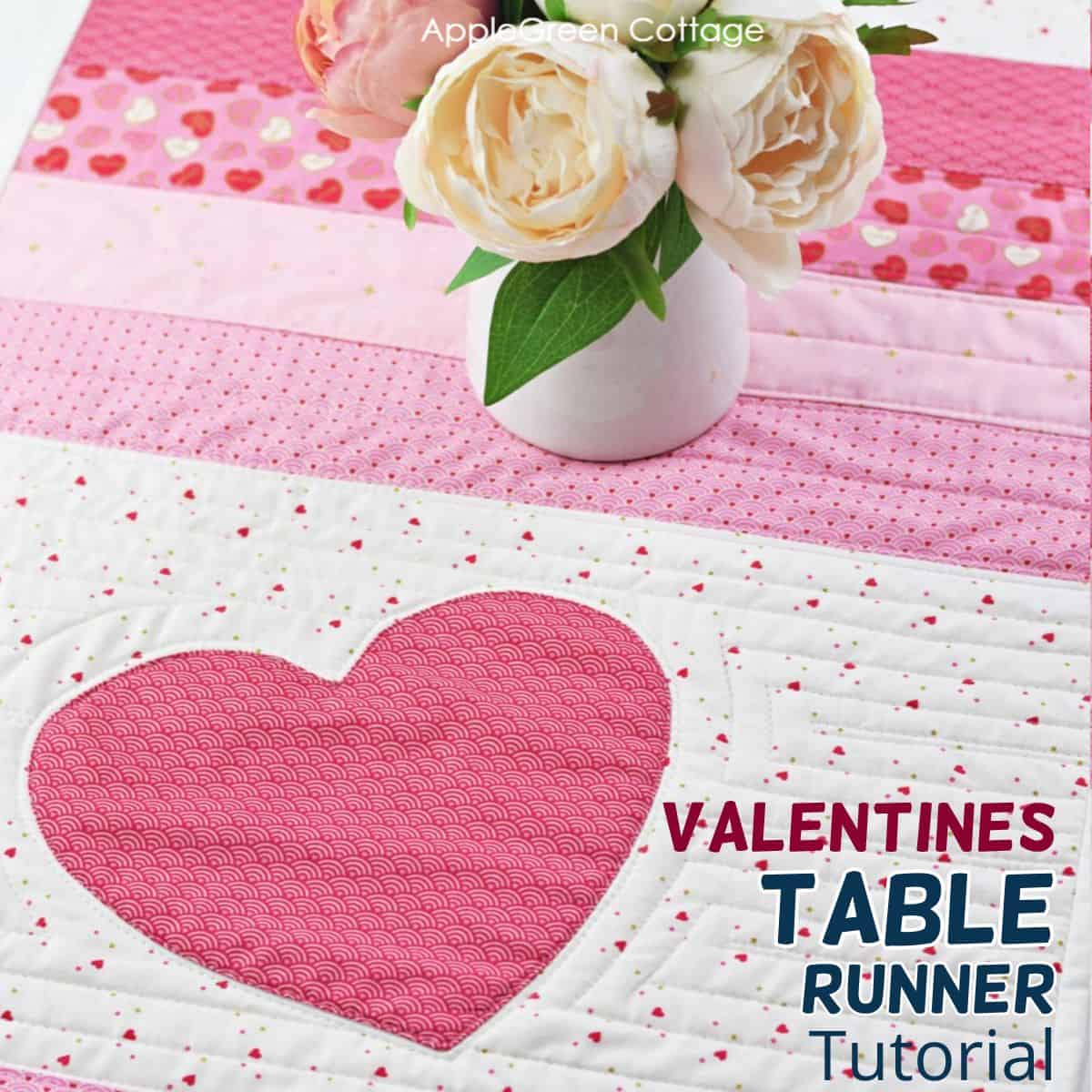 How about a new quilted table runner tutorial for Valentine's Day! A table runner like this one will definitely add color and visual interest to your table setting on Valentines day. And the heart applique adds an extra touch of romantic and sentimental feeling. Decorate your Valentine table in style!
Jelly-Roll Valentines Day Table Runner Pattern
And, here's another, a little bit more advanced Valentines Day table runner you can quilt using a jelly roll: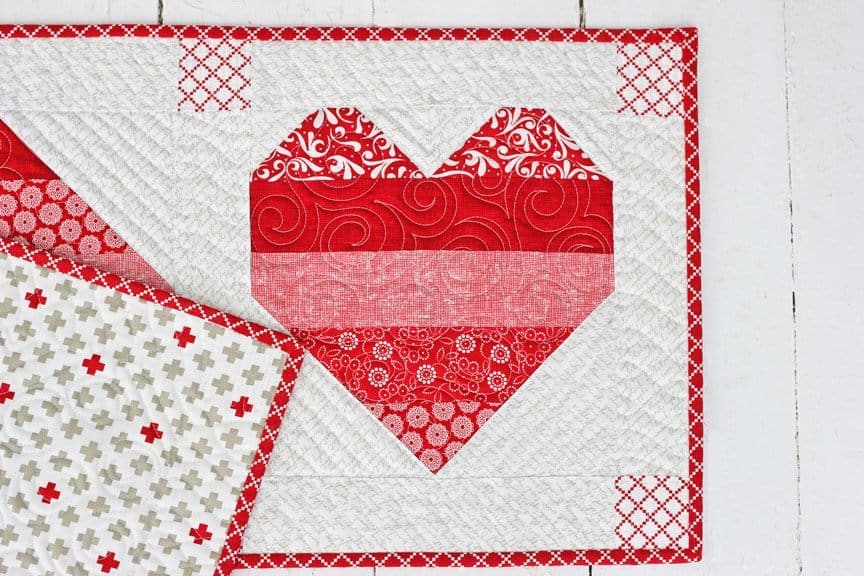 This Valentine Hearts Table Runner is jelly-roll friendly. Project sewn by Kristina Brinkerhoff, tutorial on Modafabrics.
Shamrock Table Runner Pattern For St Patricks Day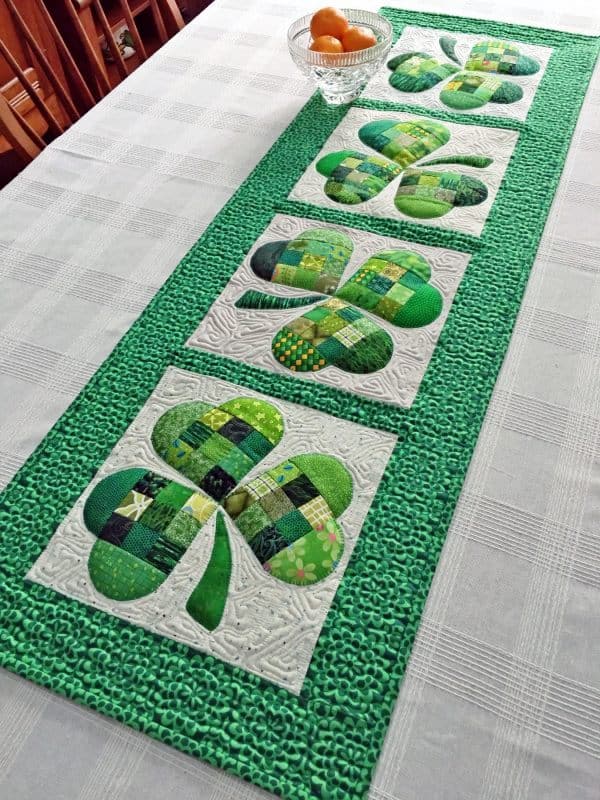 A beautiful, 15" by 49" free table runner pattern at the Bernina blog that features all your green and white scrap pieces, and can bring spring vibes to your home too! This intermediate project includes step-by-step instructions and photos for the entire project.
Table Runner Patterns For The Summer
I've noticed that table runners for the summer tend to be less specific, usually gathered around a maritime colorway theme, and can be perfectly adjusted to fit into any other seasonal color scheme. I'm showing a stunning free pattern from Sharon Holland that would fall into this category, and next on, a thematically typical for the summer - a watermelon tabletop - yay!
Beautiful Free Patchwork Table Runner Pattern - In A Summer Colorway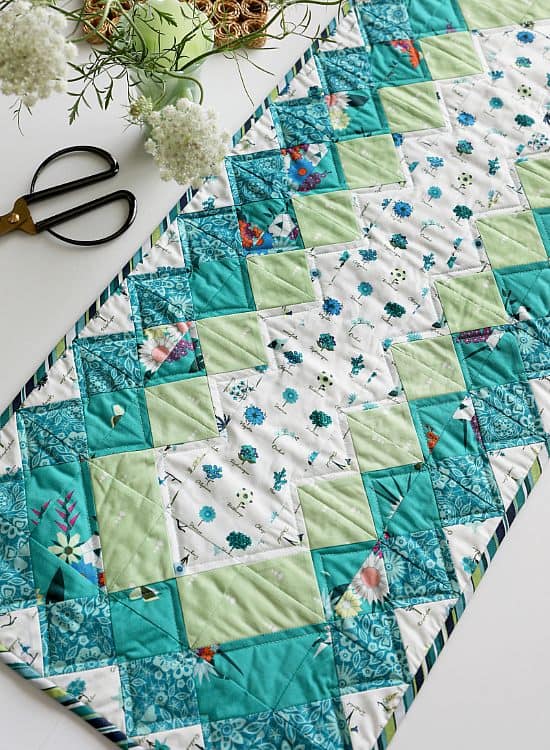 A stunning design by Sharon Holland, this pattern would turn out beautiful in any color combo. When you visit Sharonhollanddesigns.com you can get this pattern in a pdf form, which is so handy to just print and start sewing! The finished runner is 15" x 36".
Summer Watermelon Table Runner Pattern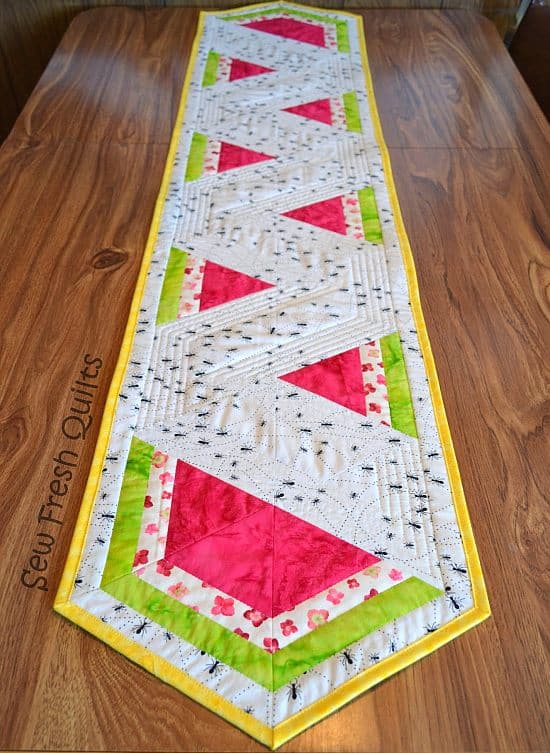 Sweet Watermelon Table Runner was designed by Lorna of Sew Fresh Quilts, a beautiful and playful summer-themed table runner tutorial. This table runner pattern was published as a free tutorial at SewCanShe quite a while back. I've just discovered it today and am thrilled!
Patriotic table runner tutorial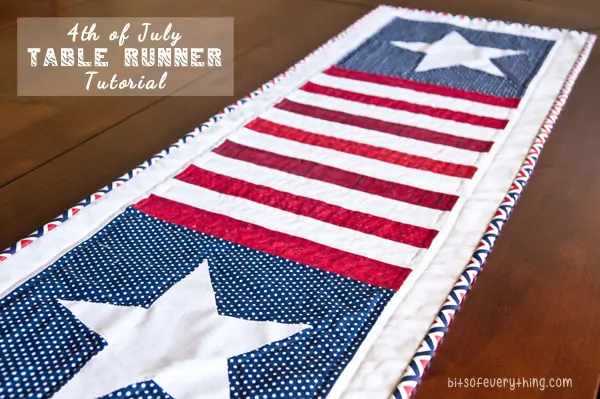 This festive patriotic table runner designed by Bits Of everything For OrSoShesays will be perfect for a special Fourth Of July barbecue event. It comes in a finished size of about 16″ x 46″, it does not require too much fabric - and it fits nearly every table.
Stars And Stripes Table Runner Pattern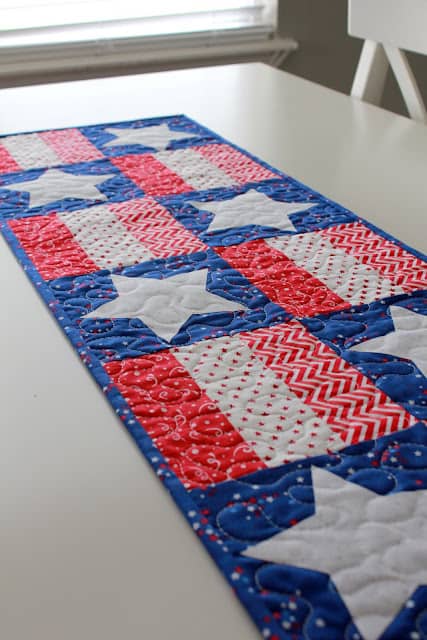 This free table runner pattern by andy at A Bright Corner shines in blue, red and white fabric, and makes a great memorial day tabletop decor. With strip-pieced stripes and raw-edge appliqued stars, this is an easy tabler runner pattern that Andy made completely free to use. So generous from her, and a beautiful design!
Fall Table Runner Patterns
The warm, saturated color palette in oranges, reds, and brown hues, such a treat for your fall dining table!
Fall-themed table runner patterns revolve around a bunch of fall season holidays and can start melting with the Christmas season (think reversible table-toppers, with pumpkin colors on one side and Christmas reds and greens on the other!)
What I love about fall runners is the color range - it's way more versatile than I usually realize. Think:
Orange plus red plus brown can give off a more traditional vibe. Skip the reds and the browns and add some gray - and you've got a modern fall color mixture, also super cool as a Halloween home decor. But let me give you a few examples - my favorites here:
Fall Pumpkin Table Runner Tutorial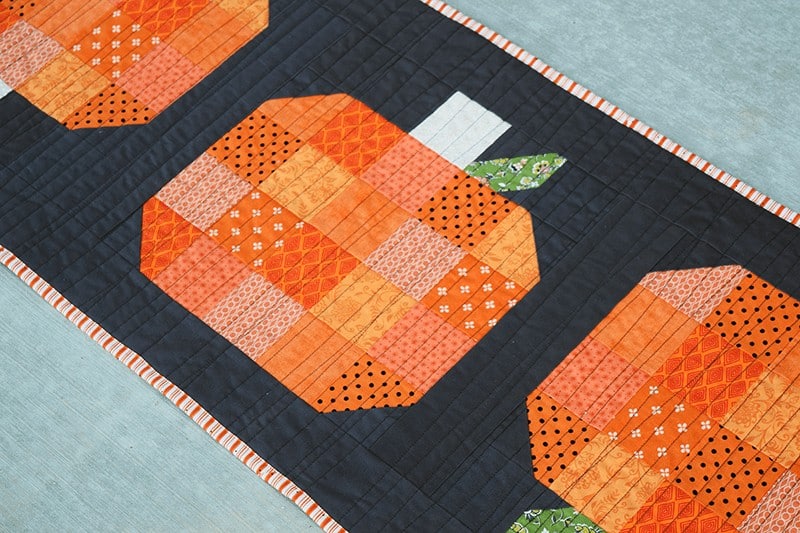 This fall-themed table runner free pattern by The Cloth Parcel finishes to about 17.5″ x 46.5″. One pumpkin block would also make an adorable placemat! Also, I'm in love with the striped binding, can you spot it - always so beautiful!
Wavy Line Quilted Table runner pattern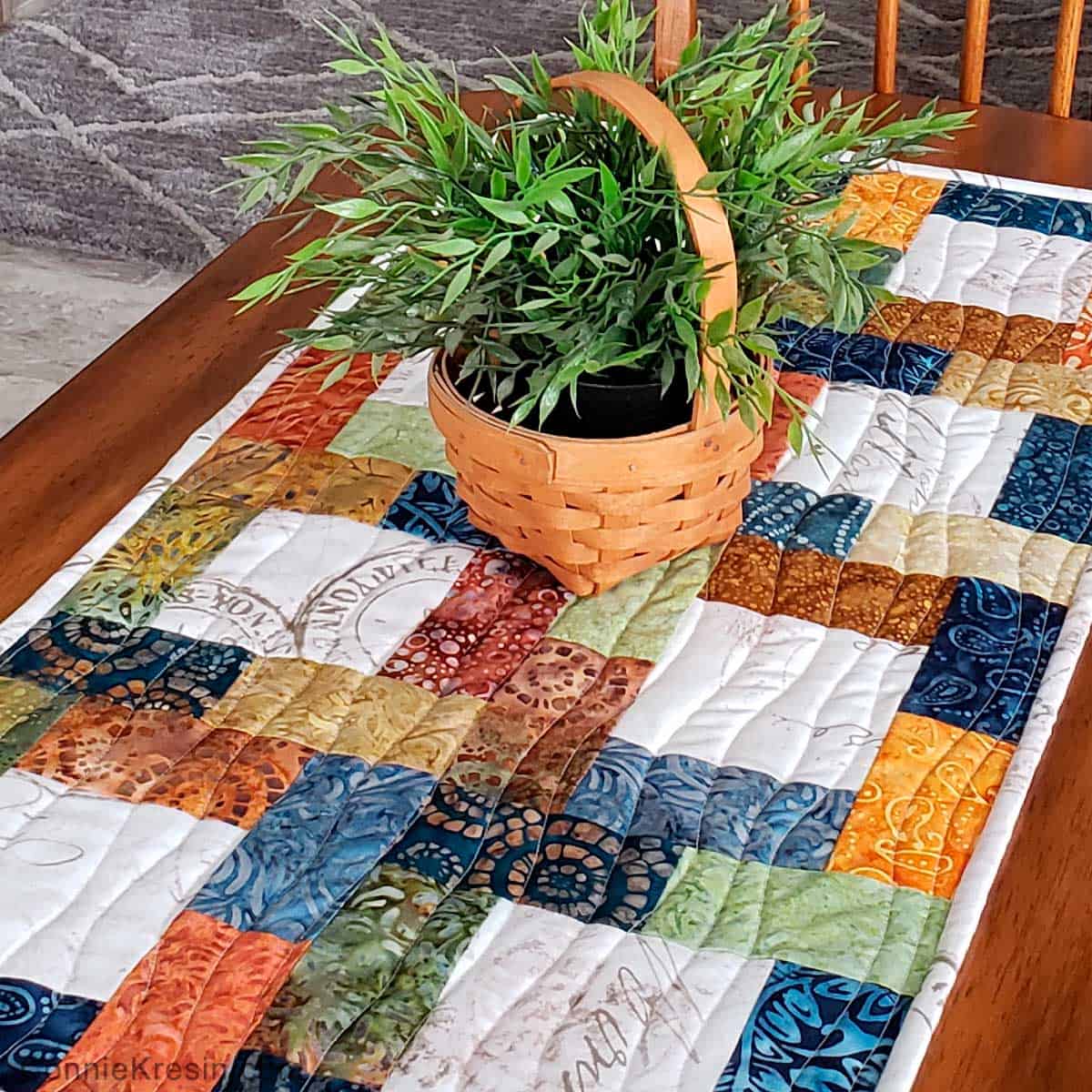 While the wavy line quilting would be a perfect match to a maritime theme for the summer, this table runner reminds me of a beautiful classic fall theme suitable for all year round. (Maybe I should have included this into the all-seasons quilted table runners?)
Measuring 16" by 32", this classic table runner by Connie Kresin looks stunning with wavy line quilting. Connie has been free motion quilting for years and we can all learn a lot from her tutorials. I plan to give this table runner tutorial a try with some of my solids from my stash, I bet it will look beautiful too.
Flying Geese Table Runner Design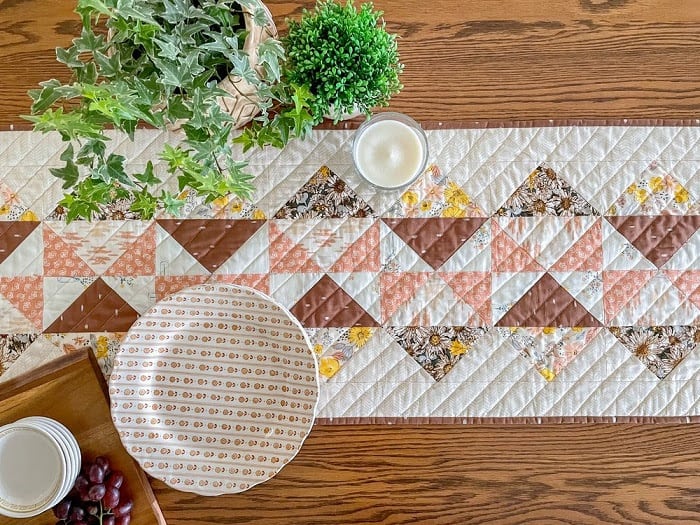 And another, stunning diy table runner from Sharon Holland that uses flying geese design is suitable for beginner quilters too. Finished size is 16 ½" x 72 ½" (42cm x 184cm), raw edges are finished with binding. Download the free pattern here (printable instructions included).
Reversible fall table runner tutorial
This is what I mentioned above - a simple, reversible jelly roll table runner tutorial you can use for the fall season - and you're ready for Halloween too: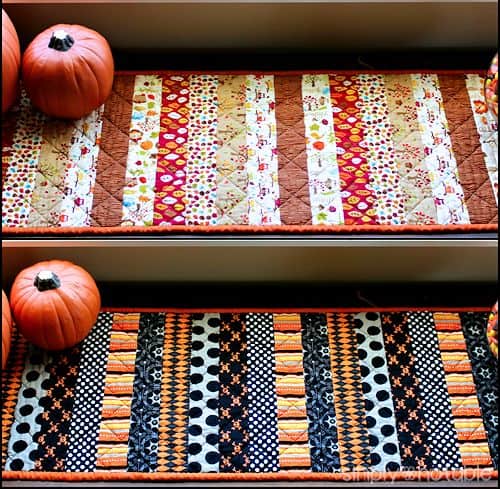 A strip-pieced jelly roll table runner is super convenient to showcase a bunch of pretty fall prints. Also, great practice for straight stitching. You'll find this reversible jelly roll table runner pattern at Simply Notable.
Not able to sew completely straight stitches? Neither am I. So I'll mention two alternatives I use (tweaks? hacks? name them as you like, LOL. They work perfectly for me!)
One: Use different widths of your stripes. Uneven lines? A feature, not a failure!
And a second way to deal with uneven stitching lines?
My other 'secret' to keep the seams as straight as possible when sewing together long strips of fabric is the quilting-as-you-go technique. (love it!) Perfect for me when sewing long stripes. It helps me reduce the wavy stitching lines, making them straighter. Let me show you a great quilt-as-you-go, using jelly-roll strips, by an amazing designer working with Art Gallery Fabrics:
Quilt-as-you-go-table runner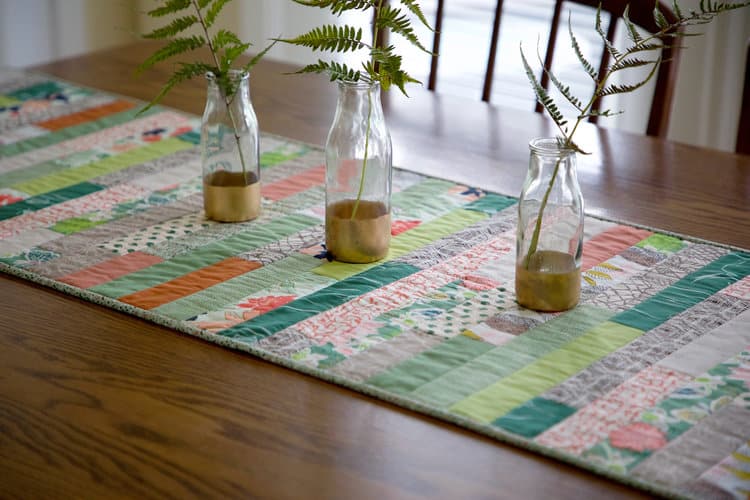 Qulit-as-you-go table runner by Sharon Holland - using the quilt-as-you-go technique. Easy and so satisfying! And so, so beautiful.
Modern Table Runner Patterns
On my sewing journey, I've bumped into a few stunning modern table runner patterns. Simple lines, solids, or blenders, I love how these modern quilts can tell a subtle story with just a few colors, or hues. I'll be adding them here as I revisit them, and hopefully make one or two for our home. This one is stunning:
Modern Flying Geese Table Runner Quilt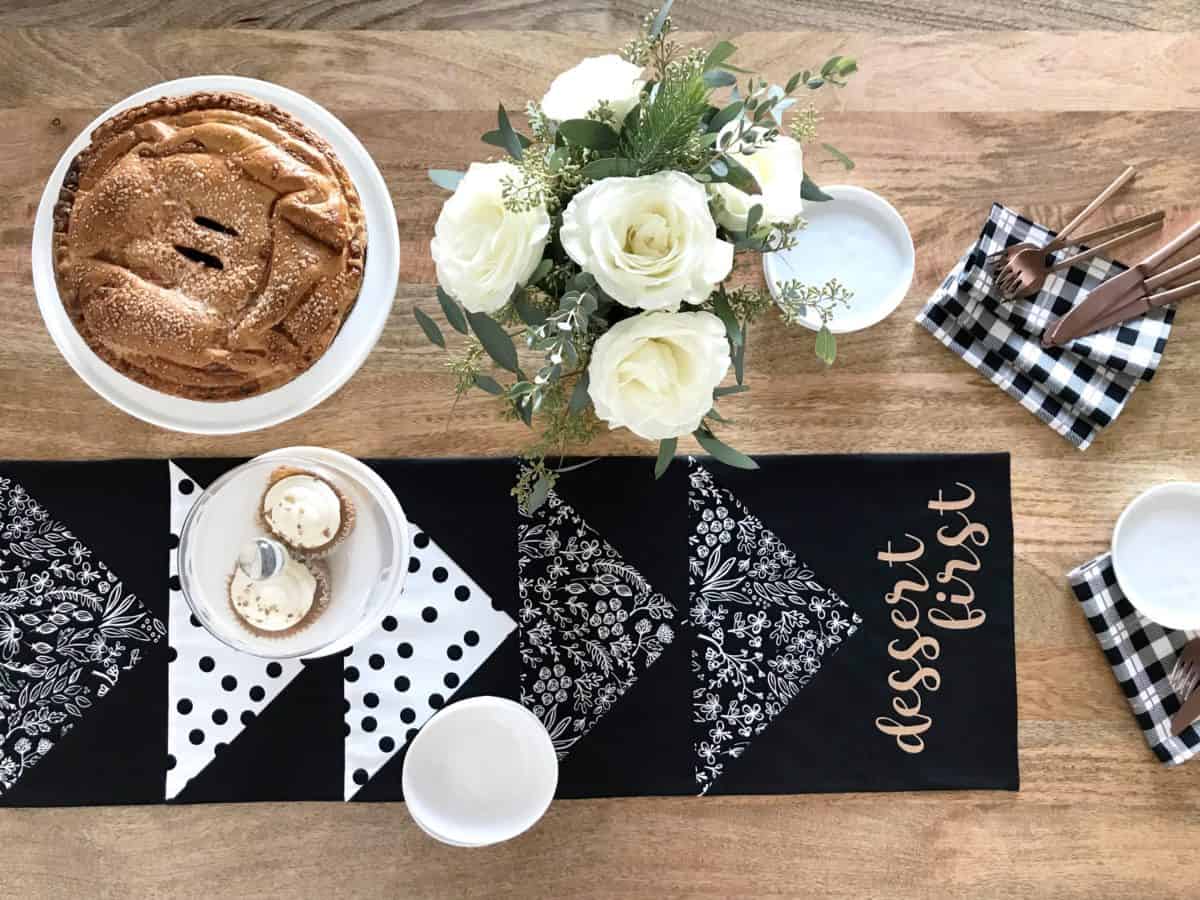 This modern table runner by Christopher The Tattooed Quilter is made with flying geese blocks. Large pieces and thus fairly quick to piece together. I love the color scheme and the fact that it's super adjustable - just add more blocks if you have a really long table.
Modern HST table runner quilt
If you like quilting, especially the half-square triangle block, this free table runner pattern is for you! Designed by Caroline at SewCanShe, she made all the steps super clear so if you're in for a first non-mini quilting project, this might be it!
Free Christmas Table Runner Patterns
As teh holiday season approaches, you're probably want to start planning some holiday decorating. And what better way to decorate than with cute table runners.
Here are some of the best free table runner patterns for Christmas - as promised before. With the exception of just two projects, all of these are quilted table runner patterns.
These Christmas table runner patterns have grown on me so much I've decided to set up a special place where I can keep them for inspiration - I want to make them all! Join me on the table runner making journey, get inspired, and, well, show me your makes when you manage!
Peppermint Table Runner Pattern - Free Table Runner Pattern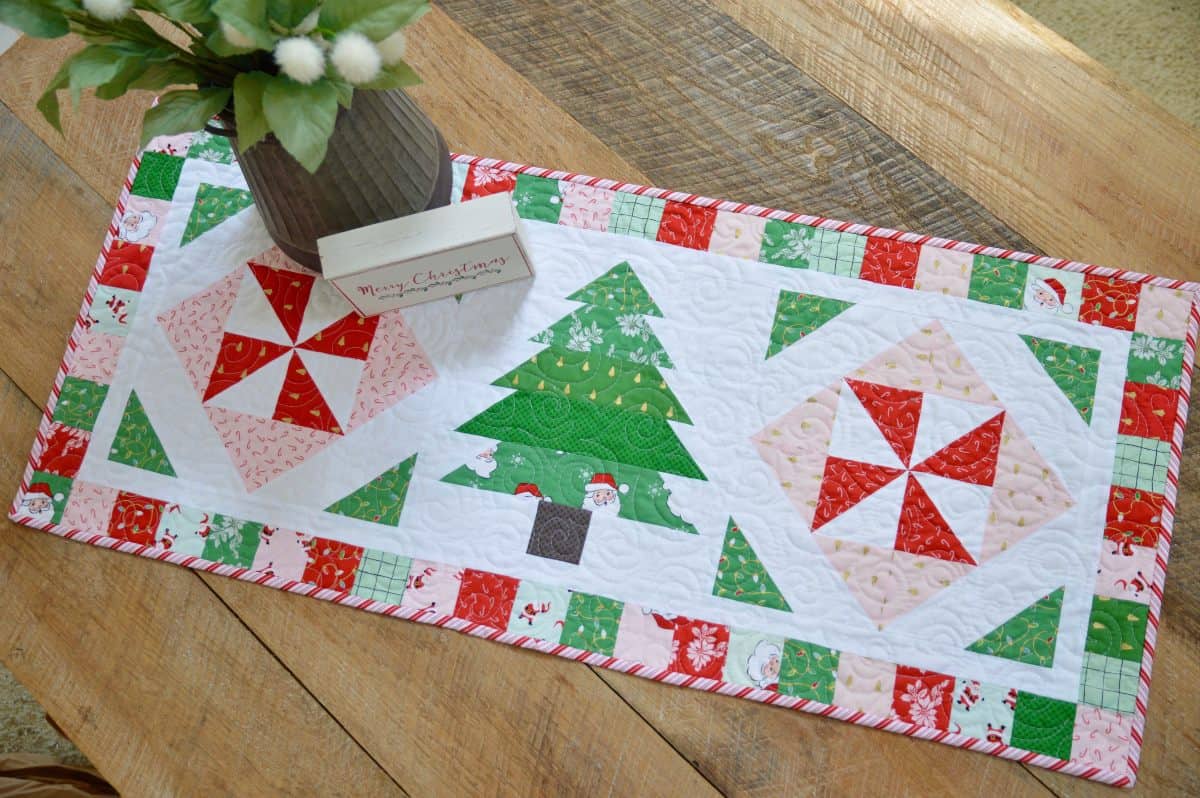 Amanda aka Jedi Craft Girl created a beautiful, holiday-themed diy table runner pattern that consists of several beautiful quilt blocks. You can use any combination of peppermint and tree blocks to customize the length of the table runner.
Holiday Themed Runner Tutorial by Emily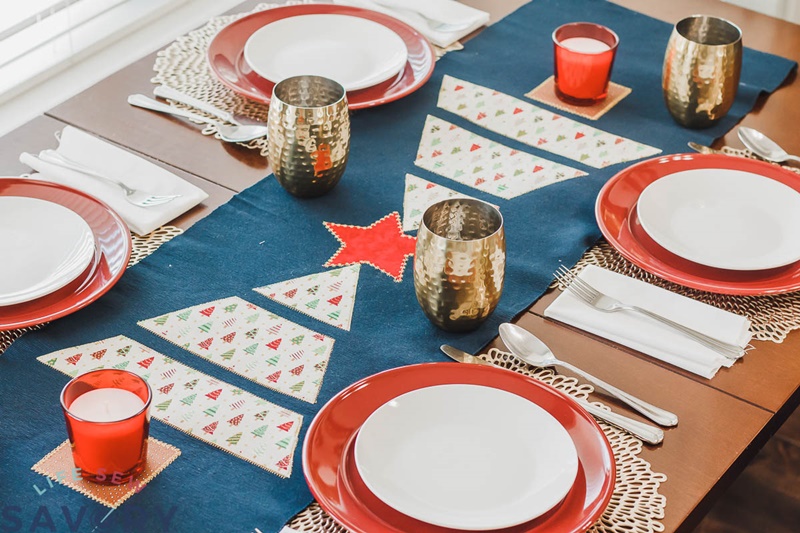 Table Runner Tutorial by Emily from Life Sew Savory
Diy Christmas Tree Table Runner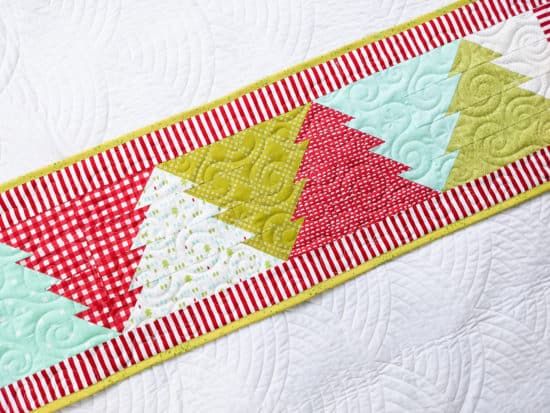 The only thing Kristina from Center Street Quilts likes more than a Christmas sewing project is a fast Christmas sewing project, and boy is she on point with this one!
When I first saw this beautiful, detailed holiday-themed table runner tutorial, I thought it was an advanced project, requiring at least a few years of quilting experience and advanced sewing skills. Nope. It's such a quick and easy home sewing project. One of the quilted table runner patterns you might want like to make first, of all the quilting projects here in this 'favorites' list. I love it!
Christmas gnome table runner free pattern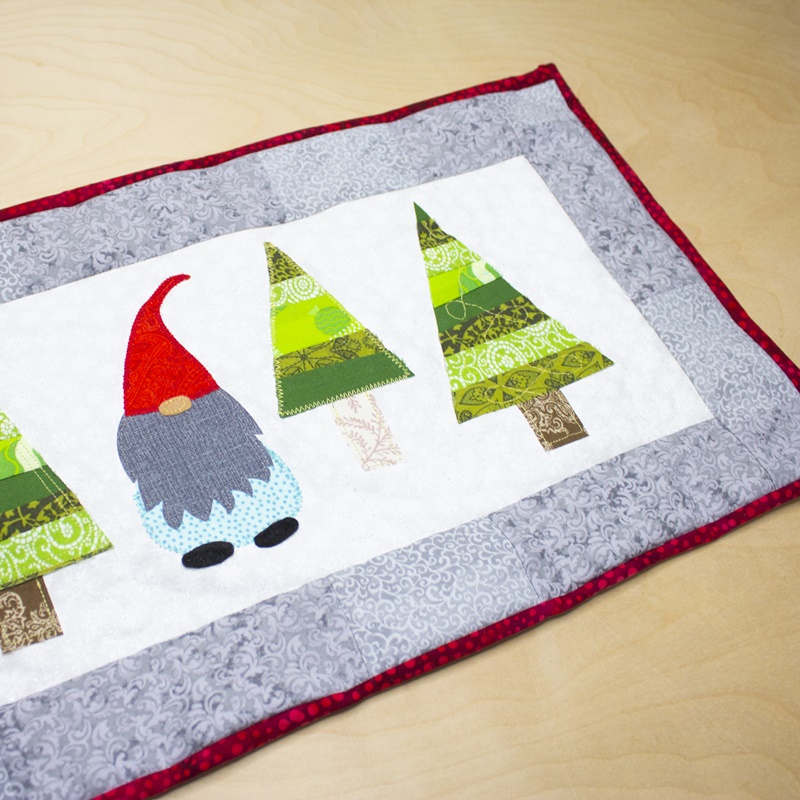 Sew a cute Christmas gnome table runner to add holiday cheer to your home!
Scrap-Friendly free holiday table runner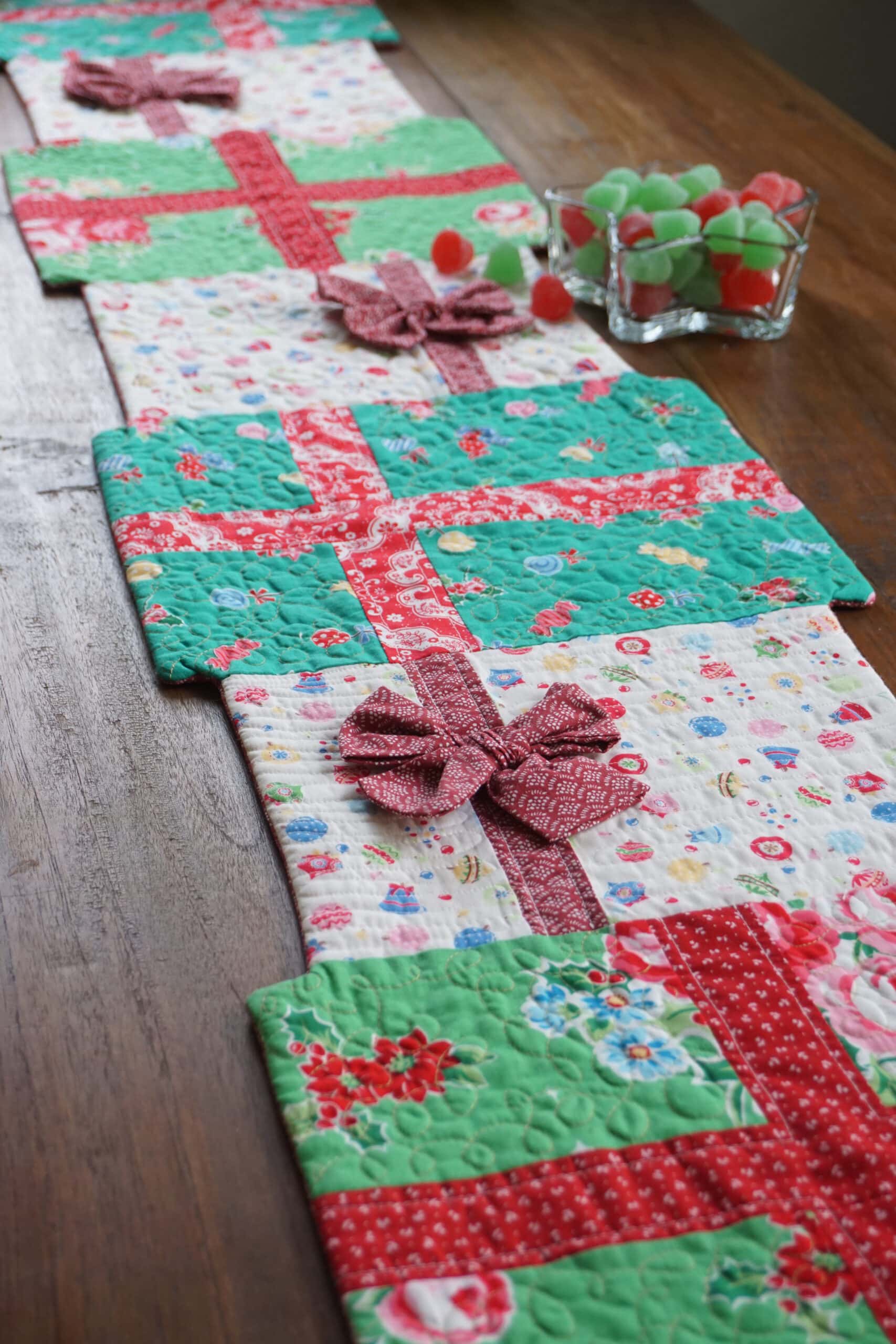 Stack a big chunk of gifts on the table, literally - but in fabric! Jera from Quilting in the Rain has created a lovely holiday table runner tutorial for everyone who's able to sew a straight (ish) seam. Use up all the scraps and make your holiday dining room table so pretty!
Now, three different free Christmas table runner patterns - but all in the same fabric and different designs, by topnotch fabric designers.
Farmhouse Christmas table runner sewing pattern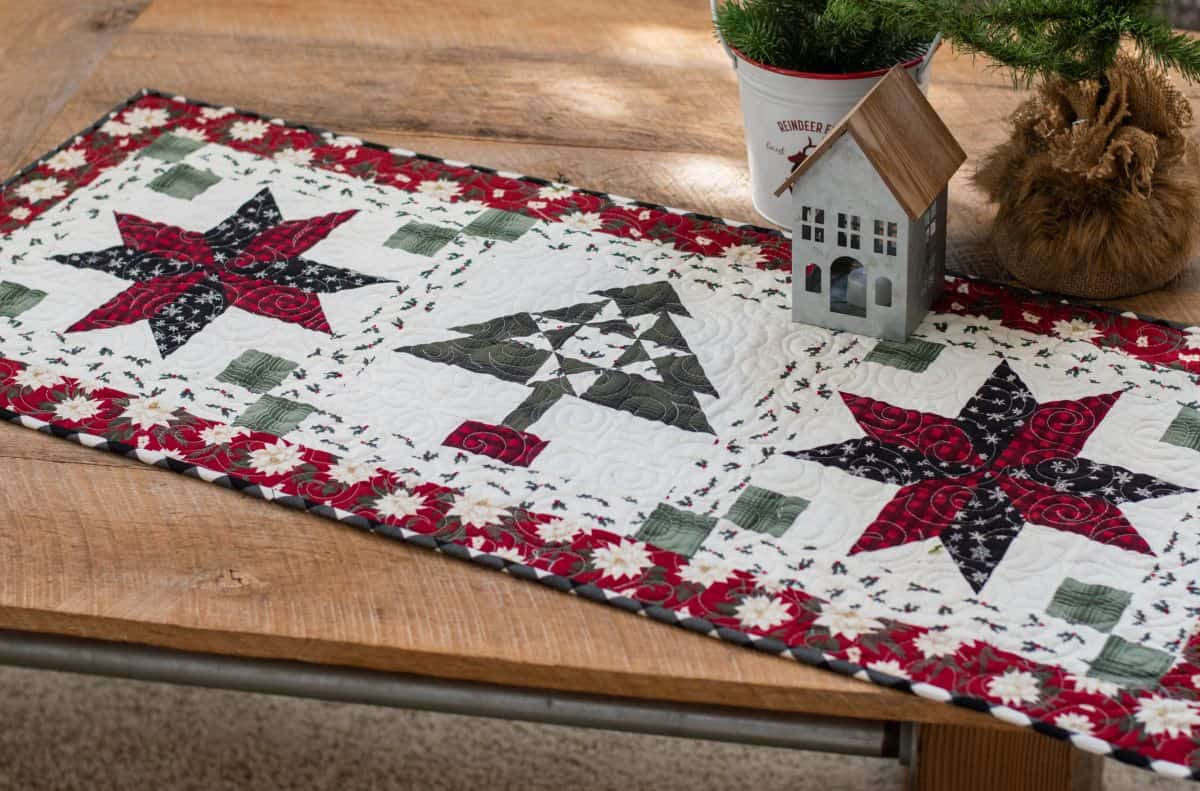 If you love quilting and decorating farmhouse style, you'll love the casual rustic feel and the neutral color palette of Amanda's Farmhouse Christmas table runner pattern. I know I do!
Christmas on The Farm Table Runner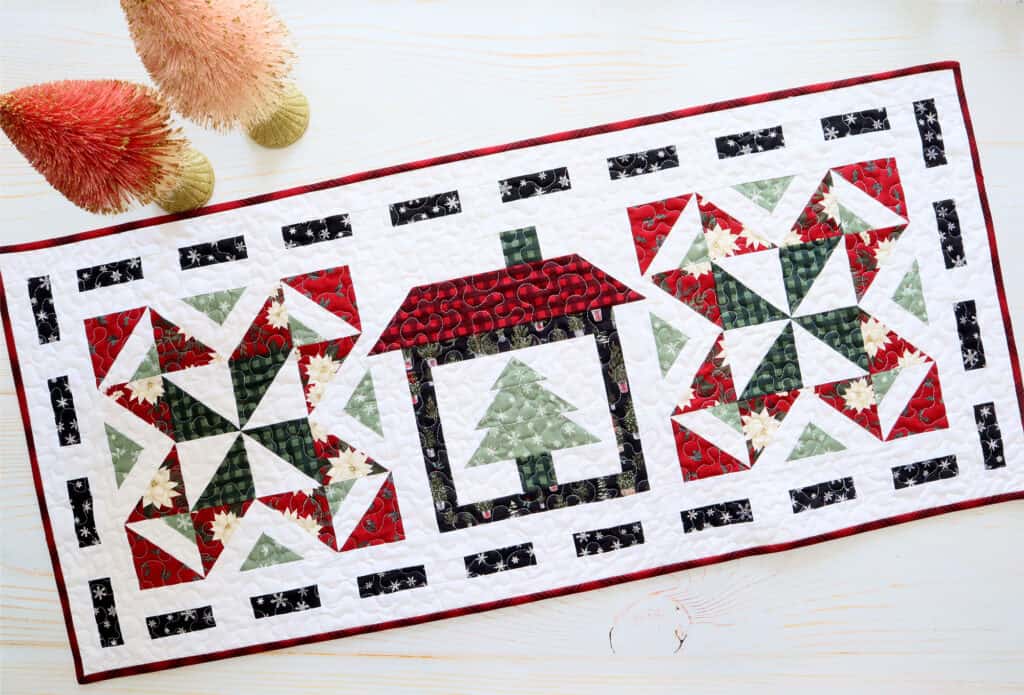 The second of the great pattern trio, free farmhouse style table runner pattern by Bev from Flamingo Toes.
Farmhouse Tree Farm Table Runner Pattern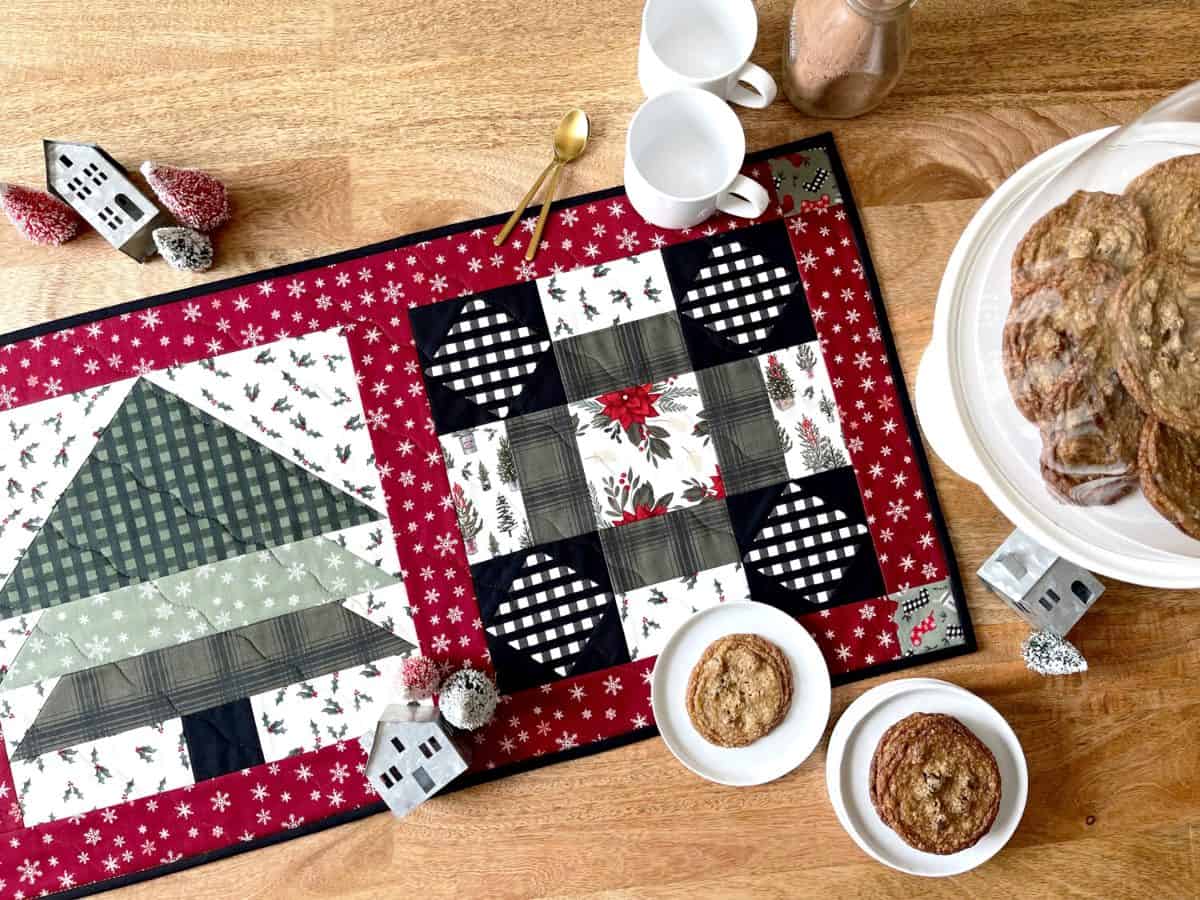 And the third one, by Christopher aka the Tattooed Quilter.
Christmas Ornament Table Runner Pattern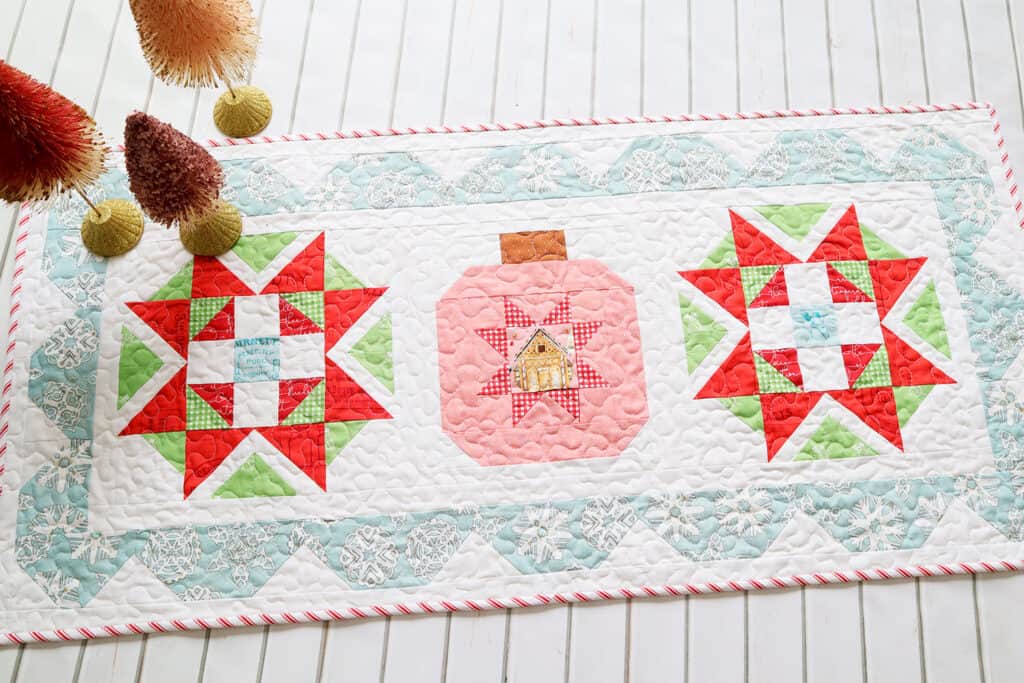 I couldn't resist adding this one. I love the bauble ornament in the center!
Table runners are a great way to jazz up a table's appearance. Make one for a holiday, use them to add flair to your everyday décor, or give them as gifts to your crafty friends.
These are my favorites - free table runner patterns for all seasons. Which one will you pick?
If you enjoyed the free table runner patterns, you might also like quilting, maybe try out this huge baby quilt patterns list. Or if you like quilting but not so much the binding part, take a look at this quilted mug rug tutorial - you'll love it!
Share the list, like it, or tell your friends about it. Or save the project to Pinterest using THIS link so you can use any of the patterns any time you feel like: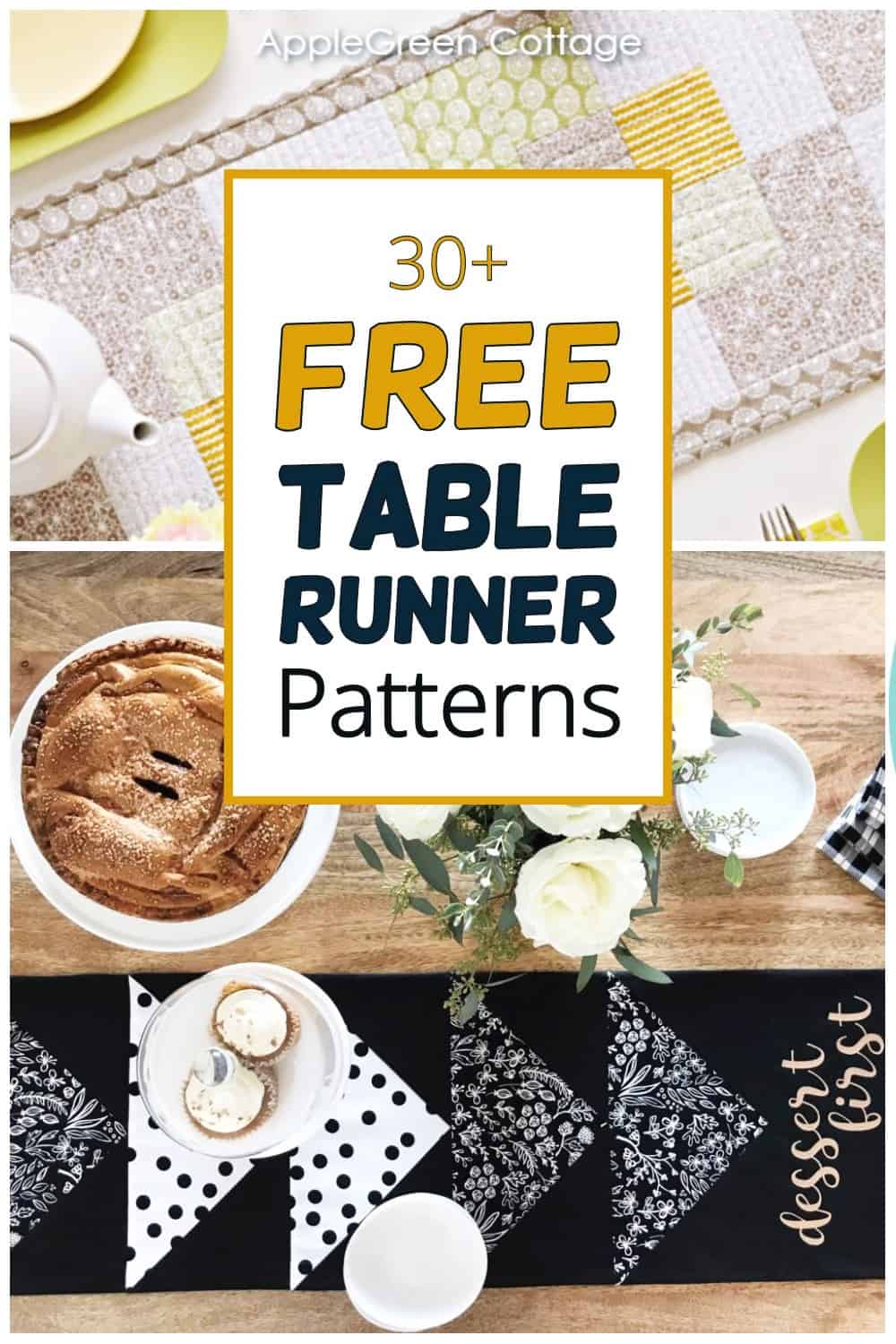 WANT MORE FREE TUTORIALS AND GOODIES?
Get email updates and never miss out on new patterns, printables, and tutorials:
Or check out this pretty ALLina project bag pattern in our shop - for all your storage needs: