See how to repair shade sail quickly and with diy patches. Patching up holes in shade sails does not need to be expensive!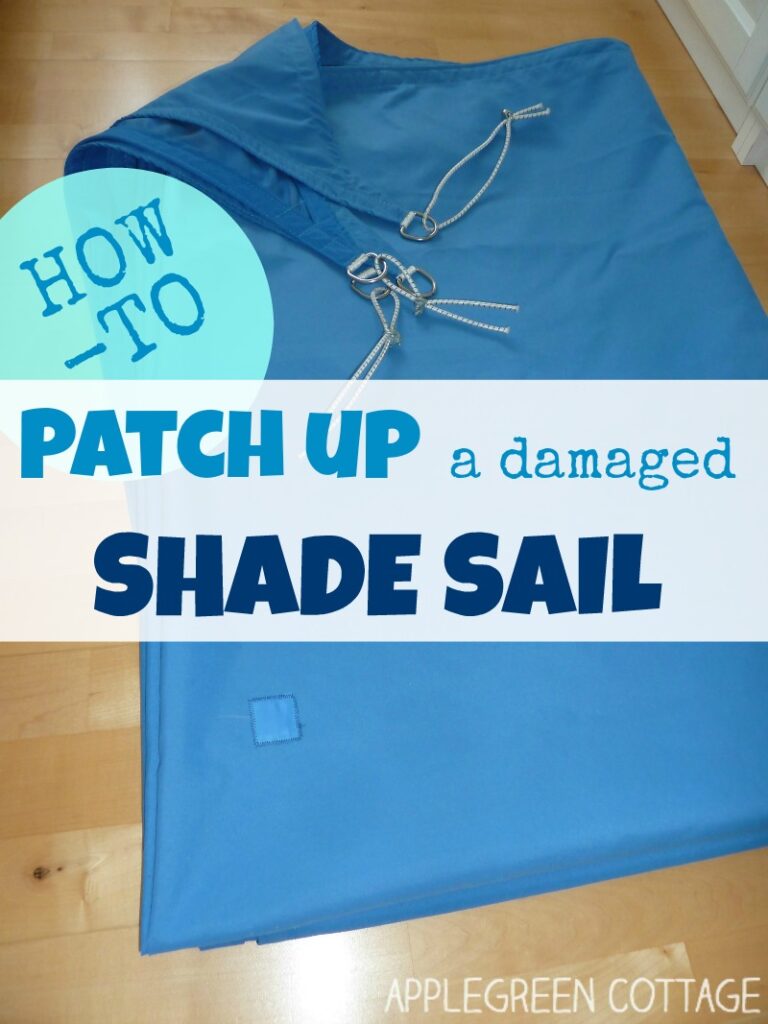 Summer heat is here. Do you remember storing that damaged shade sail last year? Now it's time to patch it up, so you will be able to enjoy the whole summer in a nice, pleasant shade. Here is an easy and free tutorial to help you with that.
Last year, we spent a week at our friends' place in a charming stone cottage with royal blue shutters on the windows. Blue sails in front of the cottage cast a pleasant shade over wooden chairs and a beautiful dark blue coffee table. One of the shade sails had recently been damaged by a metal hook and needed repair. I love diy challenges and wanted to see if I can patch up the damaged shade sail.
Since it might come in handy to somebody else, I'll show you the entire DIY process. Feel free to check out other projects here at AppleGreen Cottage too:
or try our new SewPretty HOME series - it's free for now: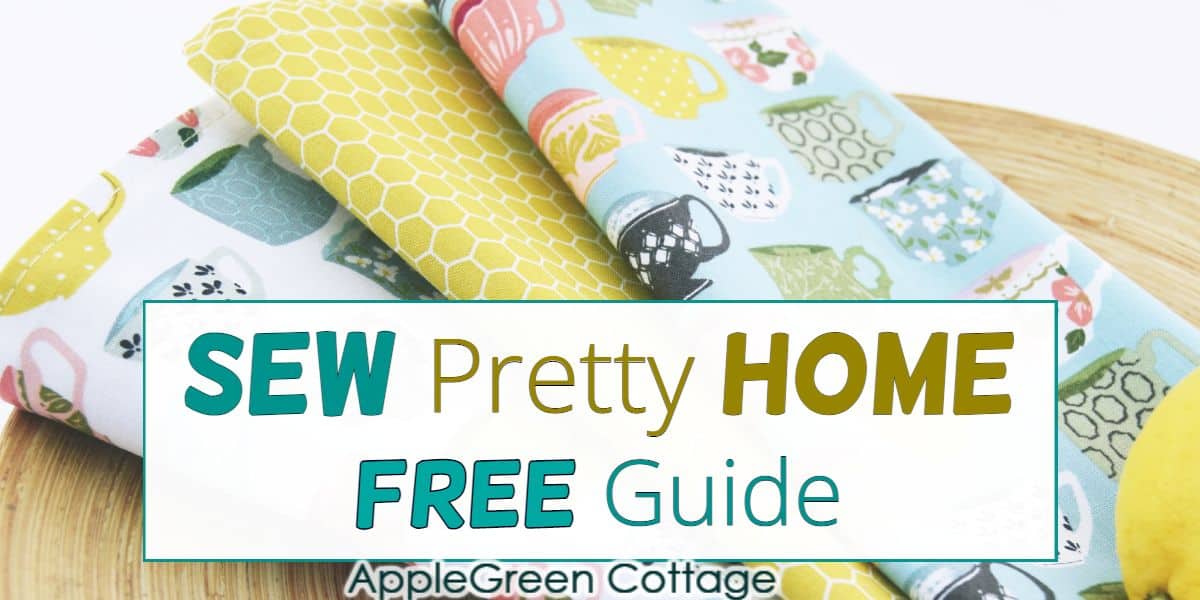 Join the FREE 7-part email course and make 6 beautiful items for your home! You'll love it!
HOW TO repair Shade Sail
Firstly, re materials: use the material closest to the shade sail that you can get. My shade sail was made of waterproof canvas, so I used a similar material, I was even lucky to get it in the same color.
How To Patch Up a Hole in a Shade Sail Tutorial
Part 1 - Cutting the shade sail patches
Using the above-mentioned material, cut out 2 square pieces, each of them four times bigger than the area needing repair. Fold them to get several layers, like this: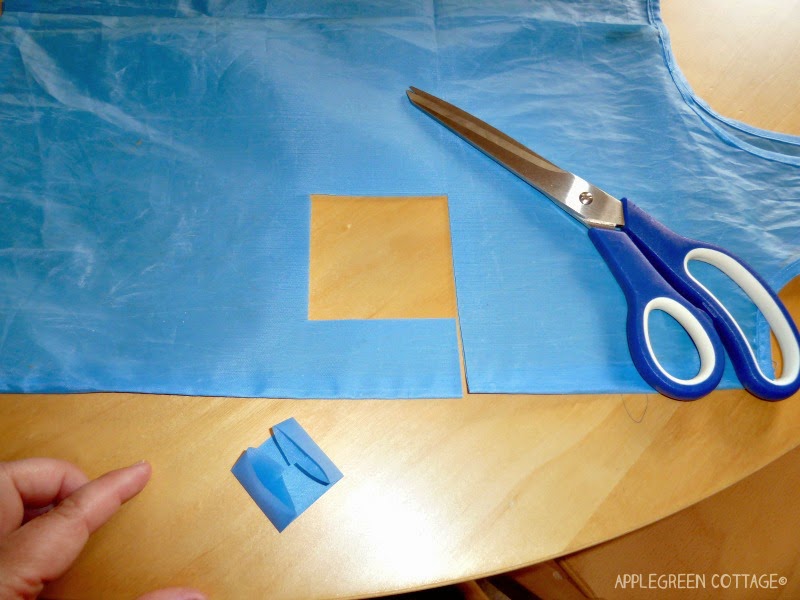 2) Put a piece of fusible interfacing onto the torn area, and one blue (folded) patch over that. If you've never worked with fusible interfacing, check out this quick how to add fusible interfacing.
To prevent any heat damage from ironing the shade sail, set the iron to low heat and cover the area with a moist cotton cloth - then just apply the tip of the iron to the patch area - just enough to fuse all layers together. See below.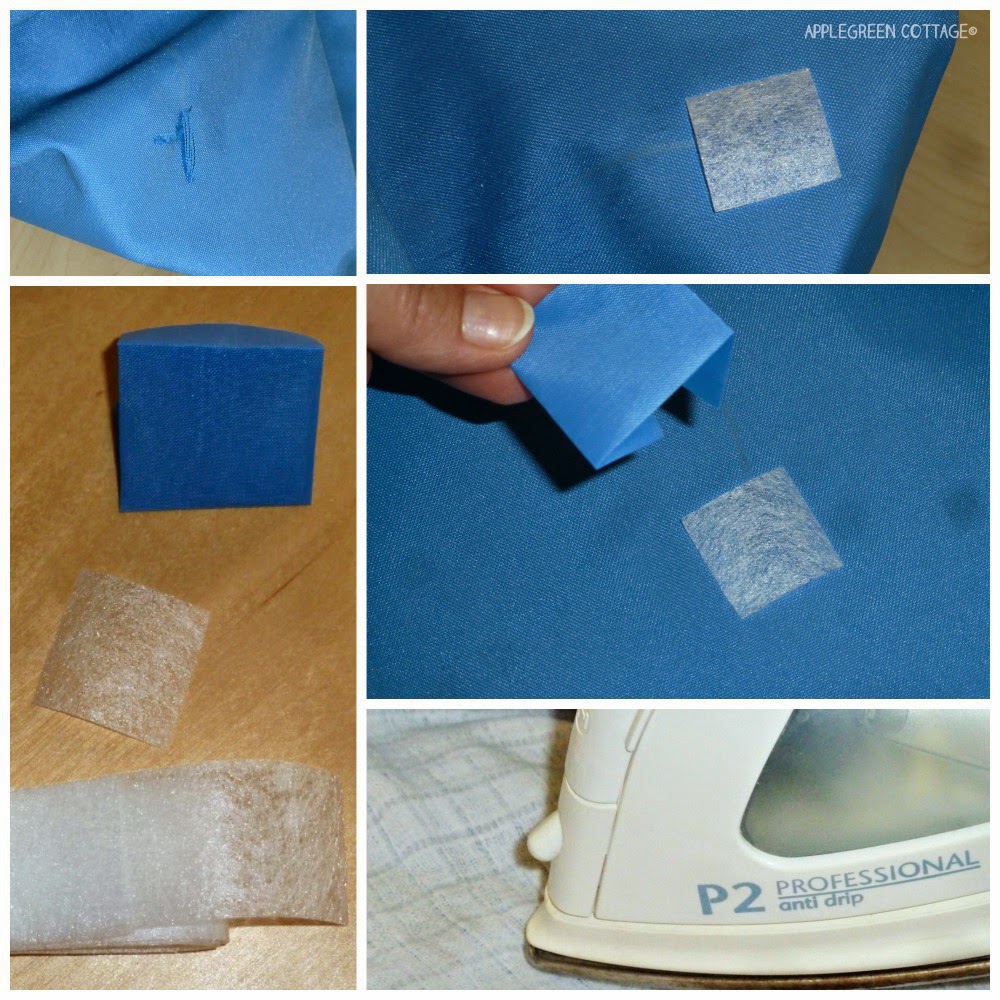 3) The same pieces of fusible interfacing and the blue patch are to be added to the other side, too. But before that, you'll need to find the exact location as it needs to exactly match the first patch. Of course, if you want to complicate just like I do - I wanted to sew all layers together with one single stitch line.
The easiest way to do so is to stick pins to the corners of the front patch and to mark the spots on the other side. You should then take the pins out.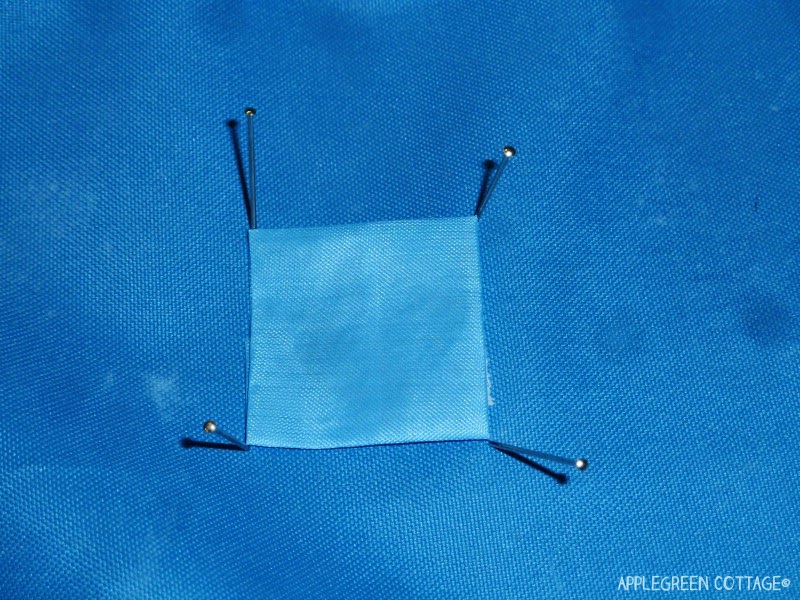 5) Apply fusible interfacing to the other side, too, and cover it by the blue patch. Again, when ironing, you need to use the tip of the iron and a cotton cloth to protect the sail.
Part 2 - Sewing Patches
6) Finally, sewing: use a midsized zigzag stitch. If you're new to sewing, these are the basic sewing stitches, zigzag is the most useful for all kinds of patching and mending.
For tidy corners, move the needle by using the handwheel at each end of the line.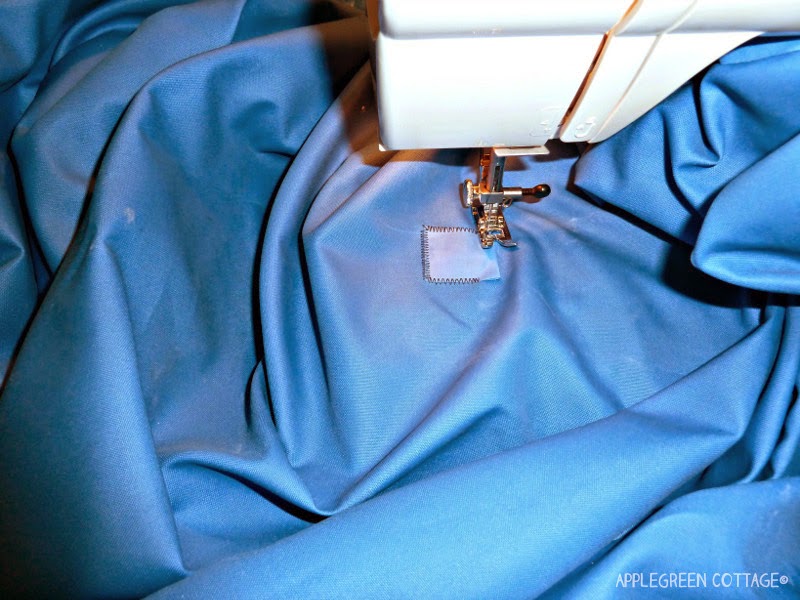 One thing here: I often don't care to match the color of the bobbin thread to the upper thread, but here you need to. It's a must.
7) Secure the first and the final stitch by pulling threads on one side and tying them together in a knot. (I advise against backstitching to avoid bulk).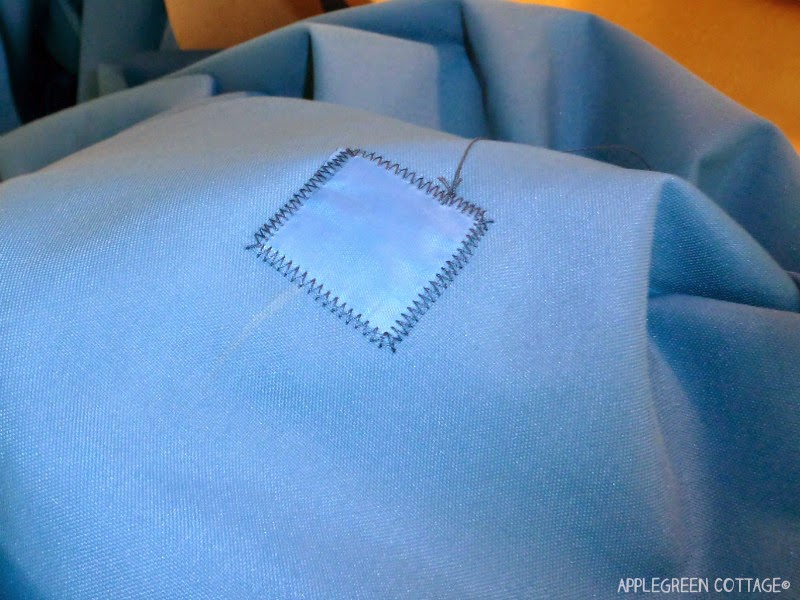 The needle I used is thin enough to prevent any water from running through even when raining. Time will show if I'm right.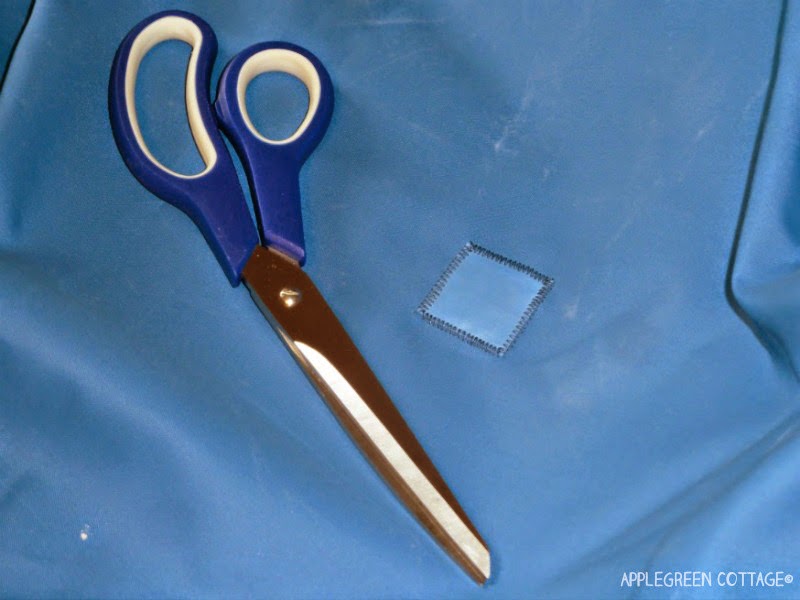 I hope you liked this step-by-step for how to repair shade sail. Now I'll keep my fingers crossed that the owners of the shade sail like the solution. If they don't, the patch is small enough to be covered by something more professional.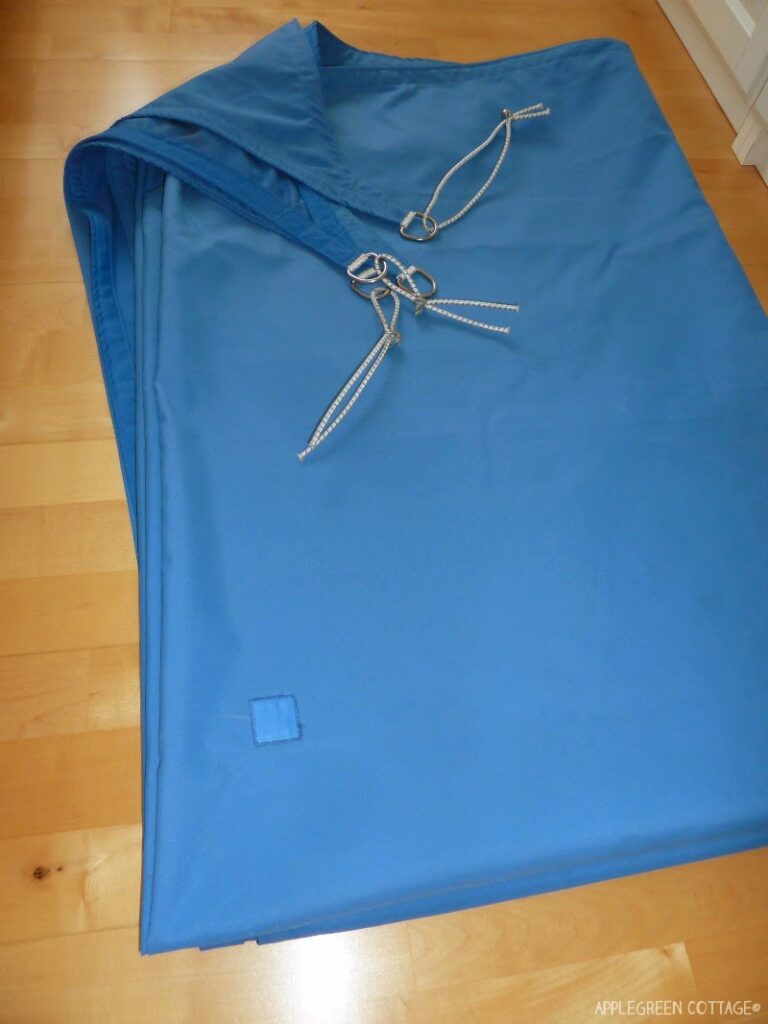 Sunny summer, who doesn't love it! But have you already thought through how to make summer shade for the kids' playspace? It can be easier than you thought: patch up that torn shade sail you forgot about last year – doesn't cost you anything and it's effective!
WANT MORE FREE TUTORIALS AND Patterns?
Get email updates and never miss out on new patterns, printables, and tutorials:
Or …check out the Aiden Cell Phone Purse in our shop. - Click through to see what's on the back of this cool phone bag!