Learn how to make a pillow cover the easy way. That's like 15 minutes of a sewing beginner's time, one single piece of fabric, no zipper, no buttons, nothing except 4 straight seams.
Change up your pillows and you've got an easy living room makeover. Maybe toss in a few of my round storage bins in matching colors (more here), and your home is perfect.
Check out how to sew the easiest diy pillow cover ever!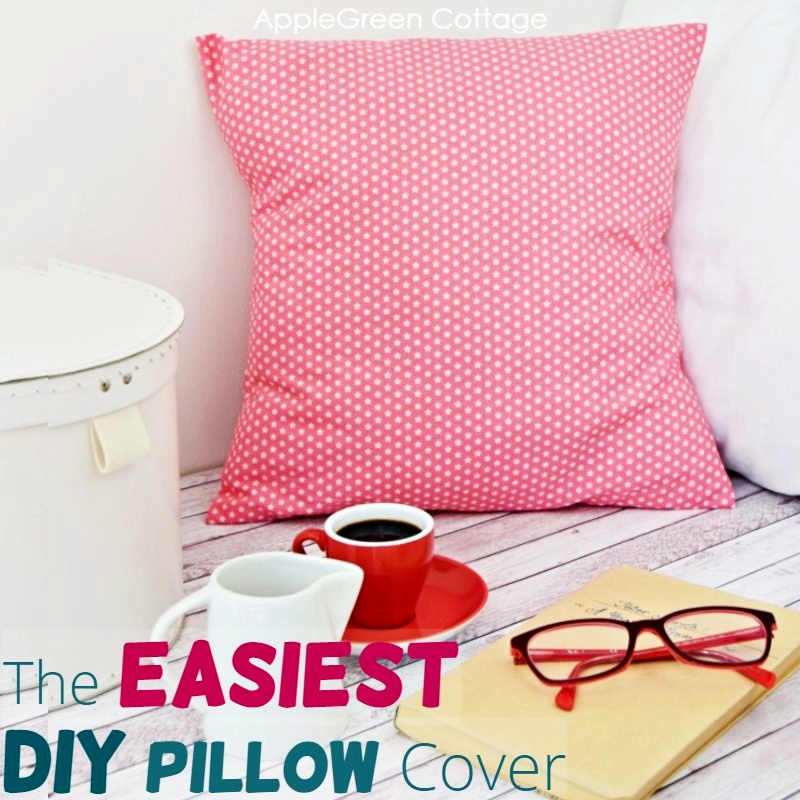 This post contains affiliate links. Thanks for your support. Looking for more things to sew for home? Check out these:
How to Make a Pillow cover
Back to the diy throw pillow covers - these just might be the easiest thing I've sewn in years! It's a super-easy sewing project that will probably not even require 15 minutes to complete.
Now, let's be clear about what I mean by super-easy: it's folding a single piece of fabric and sewing 4 straight lines. That's it.
Now, if you've never before sewn a thing, this is your chance to try out the simplest straight stitch and see how to make a standard pillow cover. Really!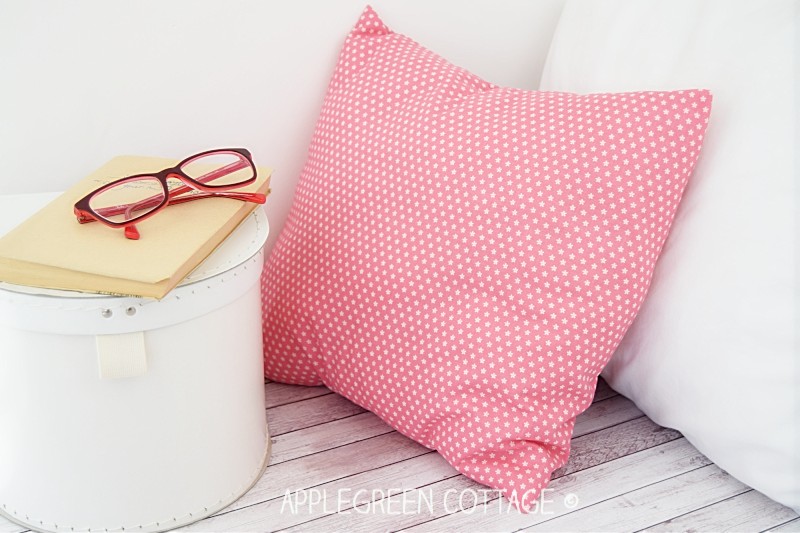 These diy pillow covers are super easy to use, and I always have a few spare ones at hand. At the time I had a preschooler and a crawling baby in the house, these pillow covers came incredibly handy.
Also called envelope pillow covers, they are changed on a whim. No buttons, no zippers. You just grab the pillow, pull the cover, and toss it into the washer. Repeat a day or an hour later when there are blueberries all over it because the baby somehow got her hands on a snack bowl full of fruit and dragged it around. At least I know now why she'd been so quiet for those 5 minutes. 🙂
Bottom line: simple to sew, simple to use.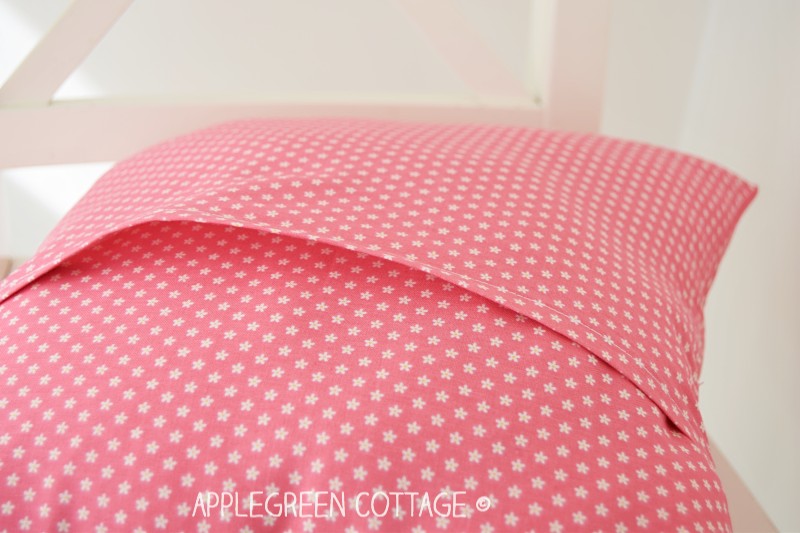 SUPPLIES:
½ yard of fabric in your favorite prints
a pillow form (mine is 16" by 16")
sewing machine or needle, pins or Wonder clips,
iron, scissors, or rotary cutter plus cutting mat (I use this one by Olfa)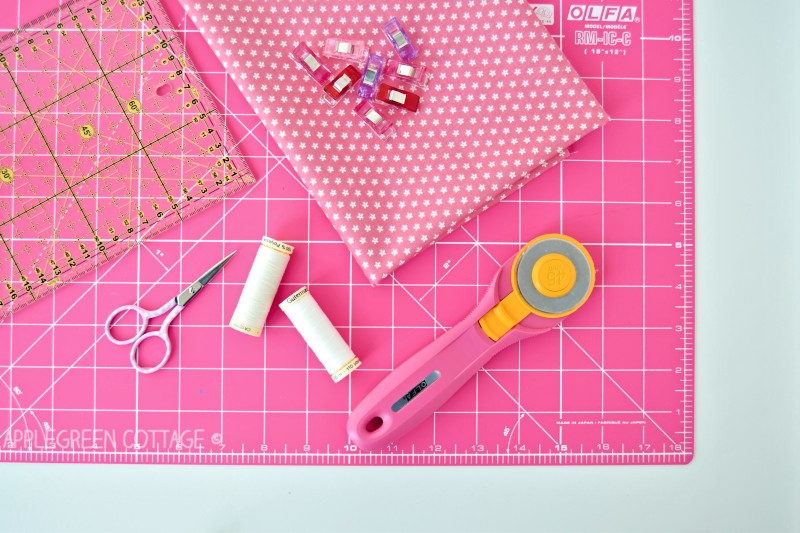 The cutting will go super quick if you use a rotary cutter. I used this Pink Splash Olfa (link) with my project.
Steps To Make A Pillow Cover
Let's see how to sew one. First, for those of you who like video, I've made a slide-show to get the feeling of how easy it is:
Oh, one thing more before we start: the overlap will be approximately 5". You can opt for a smaller overlap if you're short on fabric, but I like 5" because it will stabilize the pillow form so nicely. Now, let's start:
Cutting Instructions
1) Measure and cut the fabric. First, just to be sure about the measurements, measure your pillow form. Mine was 16" by 16". But I've got you covered for other dimensions, too: scroll down for measurements if you have a different size of the pillow form.
For a 16" by 16" pillow, cut a piece 17" by 39".
horizontal: 16" x2 (front and back side of pillow) plus 2" (hems) plus 5" (overlap)
vertical: 16" plus 1" (hem)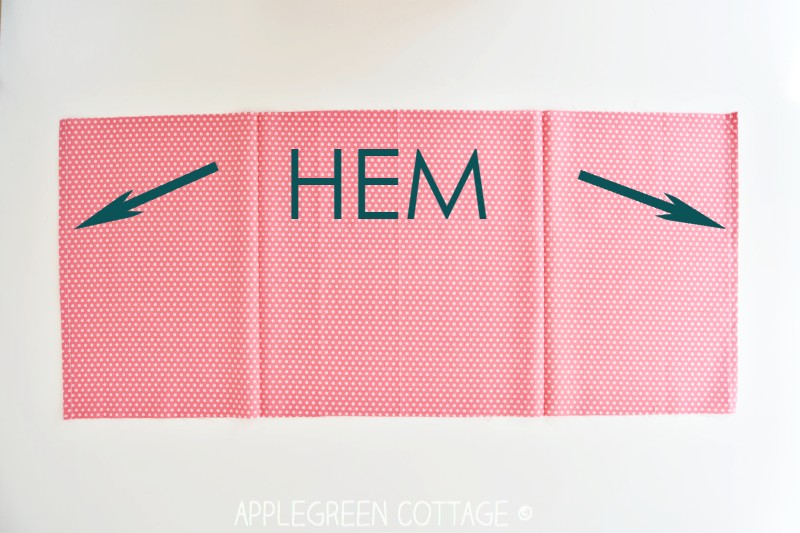 Hemming
4) Hem the two short edges. Turn under each of the two short edges of the fabric by the finished hem amount, that is 1" (2.5cm) and press. Then open the pressed seam allowance and tuck the raw edge underneath into that fold. Like this: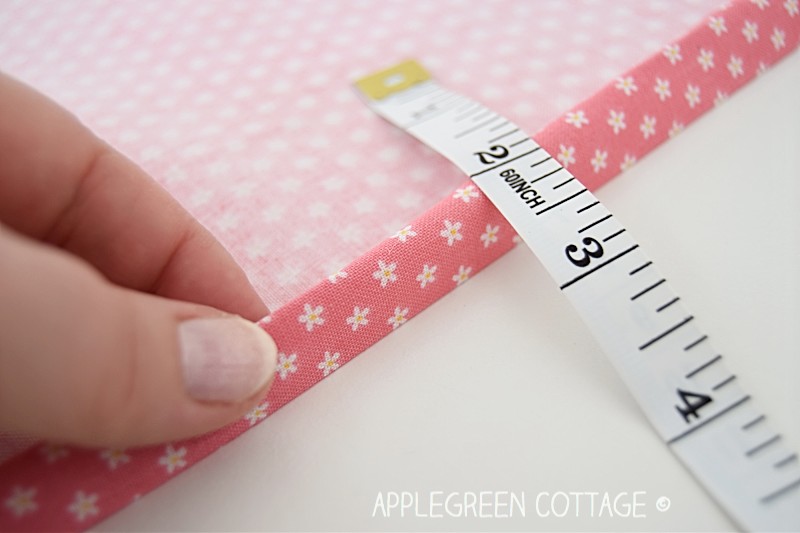 It's a lovely hack that makes it easier than going the standard way.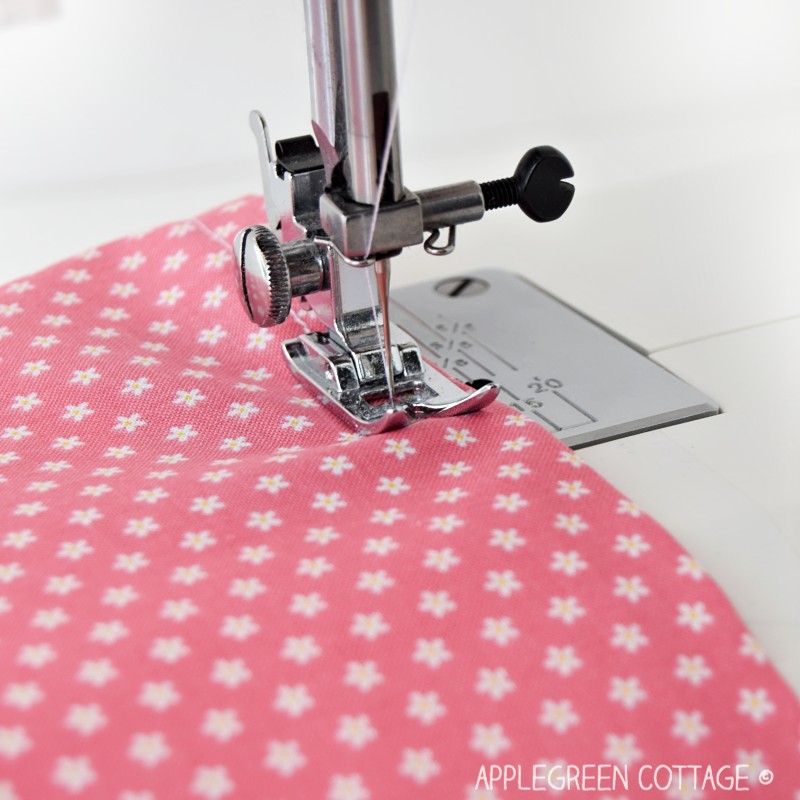 5) Press and topstitch using a ⅜" (1 cm) seam allowance to catch the fold underneath. Backstitch at the beginning and end of the seam to reinforce it.
Folding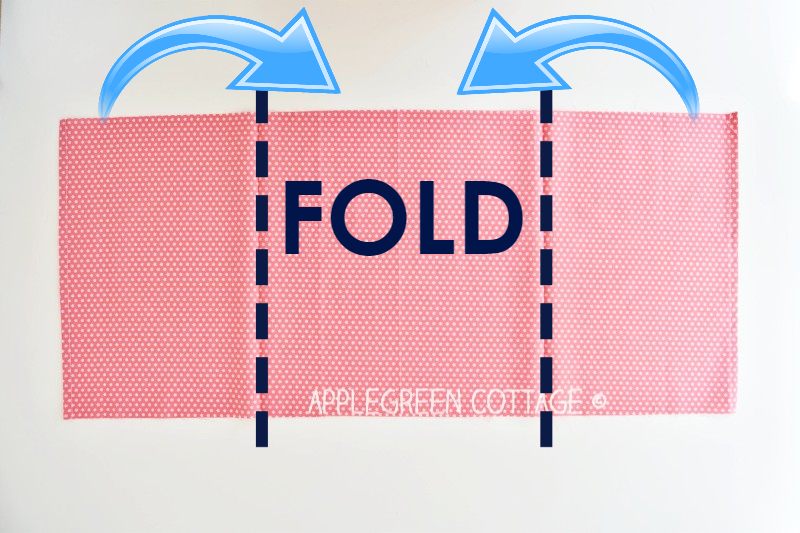 6) Once hemmed, lay the piece right side up. Fold both edges towards the center, so the edges will overlap by 5".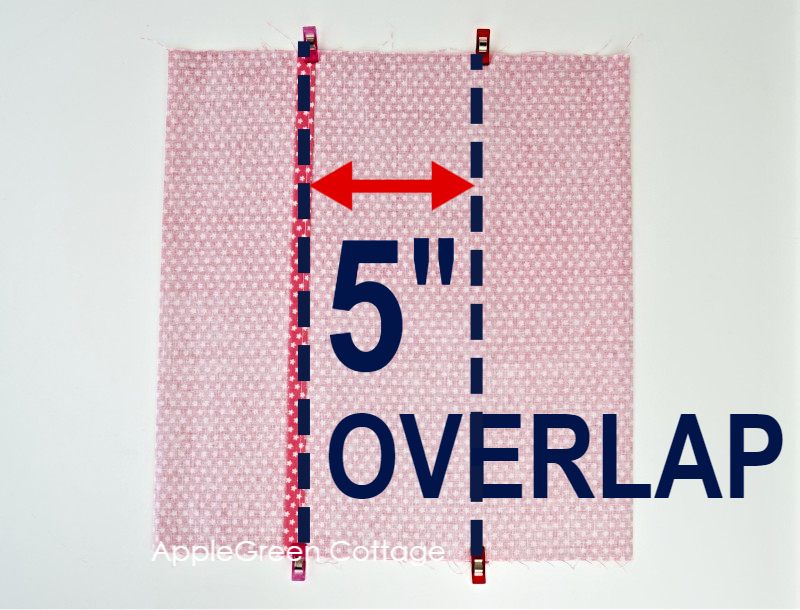 Please NOTE: for a pillow of 16", I needed need to fold the edges back by 10 ½". For other pillow dimensions, the 10 ½" fold does not apply. If you have a rectangle of other dimensions than mine, simply fold the edges to achieve a 5" overlap of the edges.
This means the total width of the folded piece now will equal the finished width of your diy throw pillow cover. Measure to doublecheck.
Sewing Step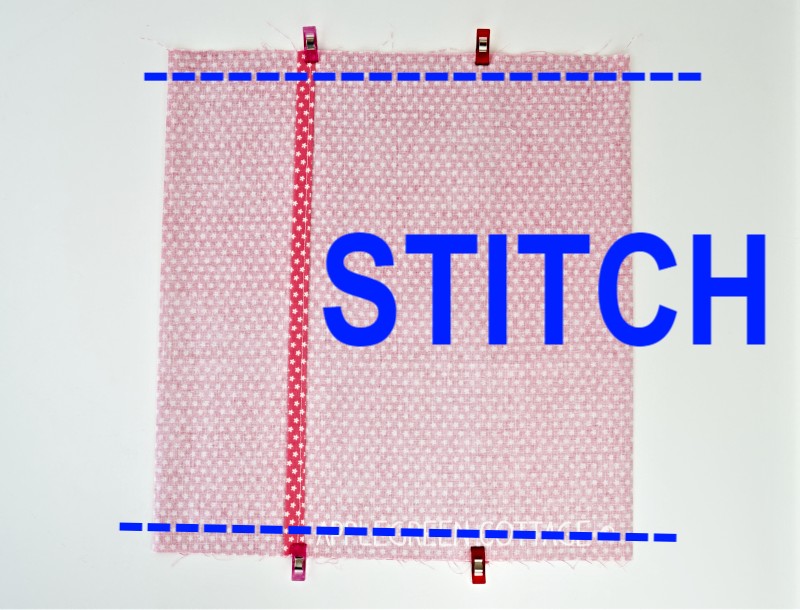 4) Stitch along the top and along the bottom edges, using a ½" seam allowance. I usually finish the raw edge using a zigzag or a serger hem for a nice finish, but nobody will notice if you don't.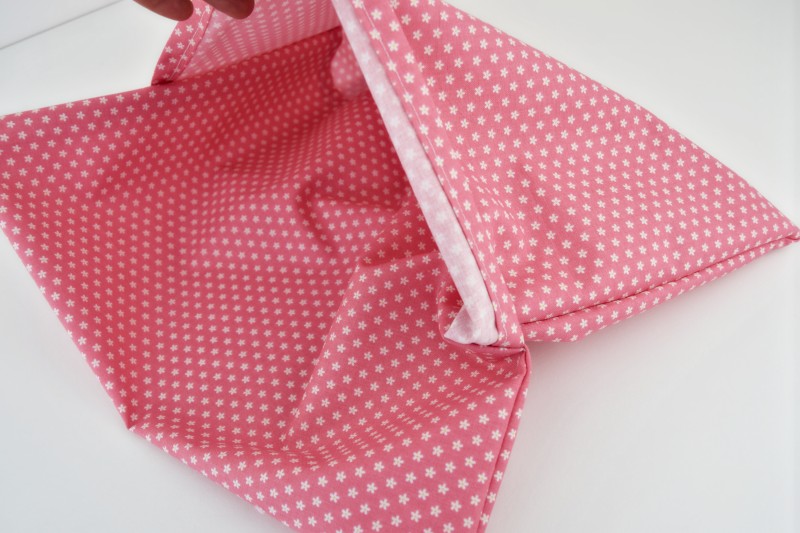 6) Turn right side out and press. Finished. Insert the pillow form and toss it on your sofa. Enjoy the super-easy new look!
Standard pillow Cover sizes:
Want a different size of a pillow cover? I've got you covered. This is the simple formula to use when deciding on the size of the fabric required for your diy pillow cover:
horizontal: PILLOW FORM DIMENSION x2 (front and back side of pillow) plus 2" (double hem) plus 5" (overlap)
vertical: PILLOW FORM DIMENSION plus 1" (hem)
This is the fabric required for different pillow sizes:
for a standard 18" by 18" pillow, cut: 19" x 43"
cut 20" x 45" for a standard 19" by 19" pillow
for a standard 20" by 20" pillow, cut: 21" x 47" etc.
Easy and quick!  While there are many ways to sew a pillowcase, this one I think is the fastest of all. I'm planning to show you another quick way to make them, especially the longer and larger ones, but this will just have to wait for some other time. Make sure to subscribe to our mailing list here so you don't miss it.
Save this project for later when you have a few spare minutes for sewing: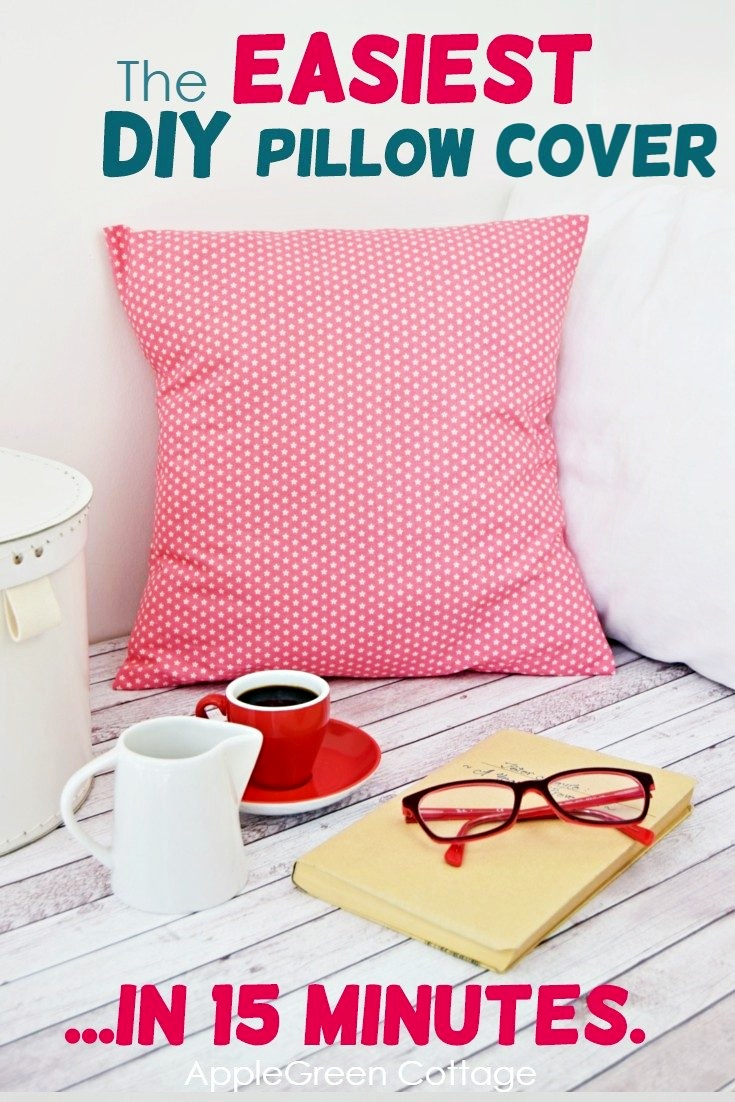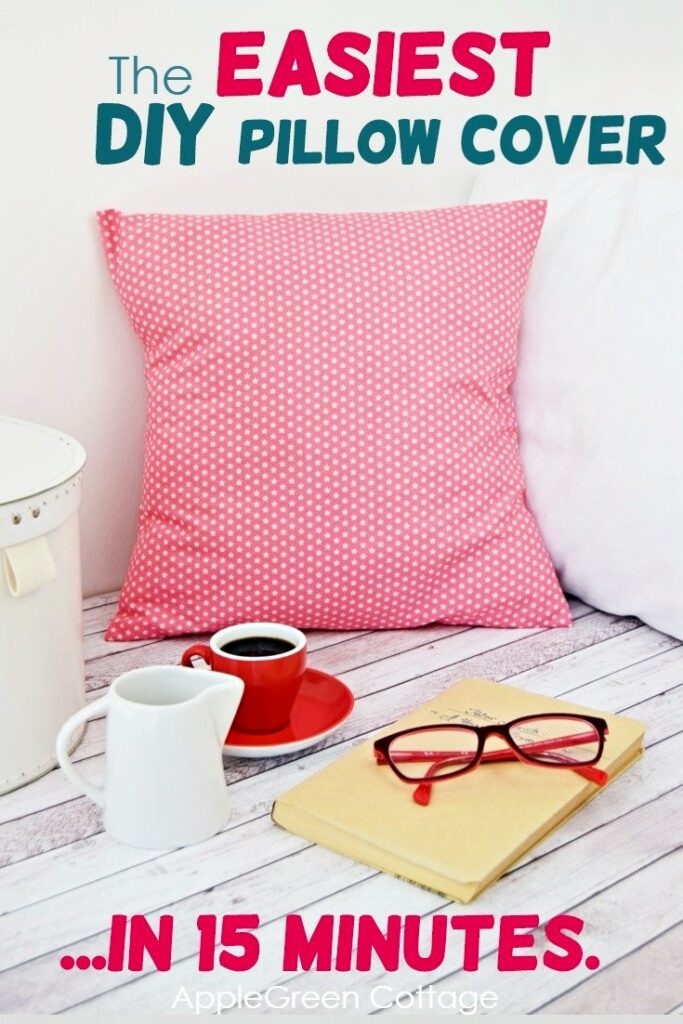 Enjoy! Damjana
WANT MORE FREE TUTORIALS AND GOODIES?
Get email updates and never miss out on new patterns, printables, and tutorials:
Or …check out this popular home storage pattern – the ROUND FABRIC BASKET - 3 sizes for all the rooms in your home!