Are you a coffee person? Use this free coffee cozy pattern and make a beautiful yet easy diy coffee cup sleeve to brighten up your day - one coffee cup at a time!
Now you can quickly make gifts for yourself and all your coffee-loving friends. Scroll down for the tutorial and the free printable coffee cozy template.
This reversible coffee cozy will protect your hands and keep your coffee warm. It folds up nicely to fit in your purse, pocket, or car so you will always have it with you. Also works well for cold drinks in the hot summer!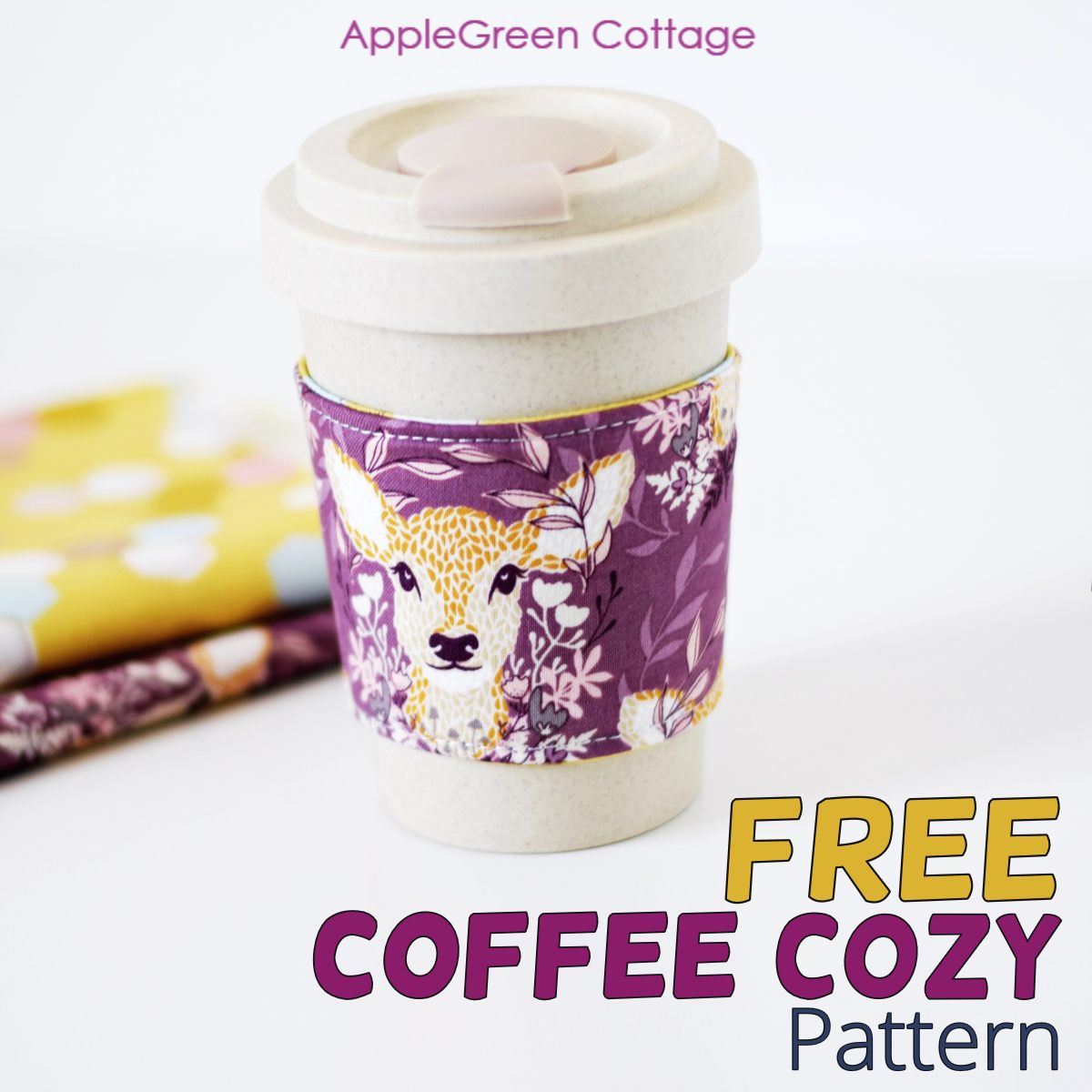 This post contains affiliate links. thanks for your support. And if you like sewing for the home, check out these too:
Free Coffee Cozy Pattern
How cute is this coffee cup cozy! It's reusable, reversible, and portable to carry in your purse, glove box, gym bag, or pocket. What's not to love about it!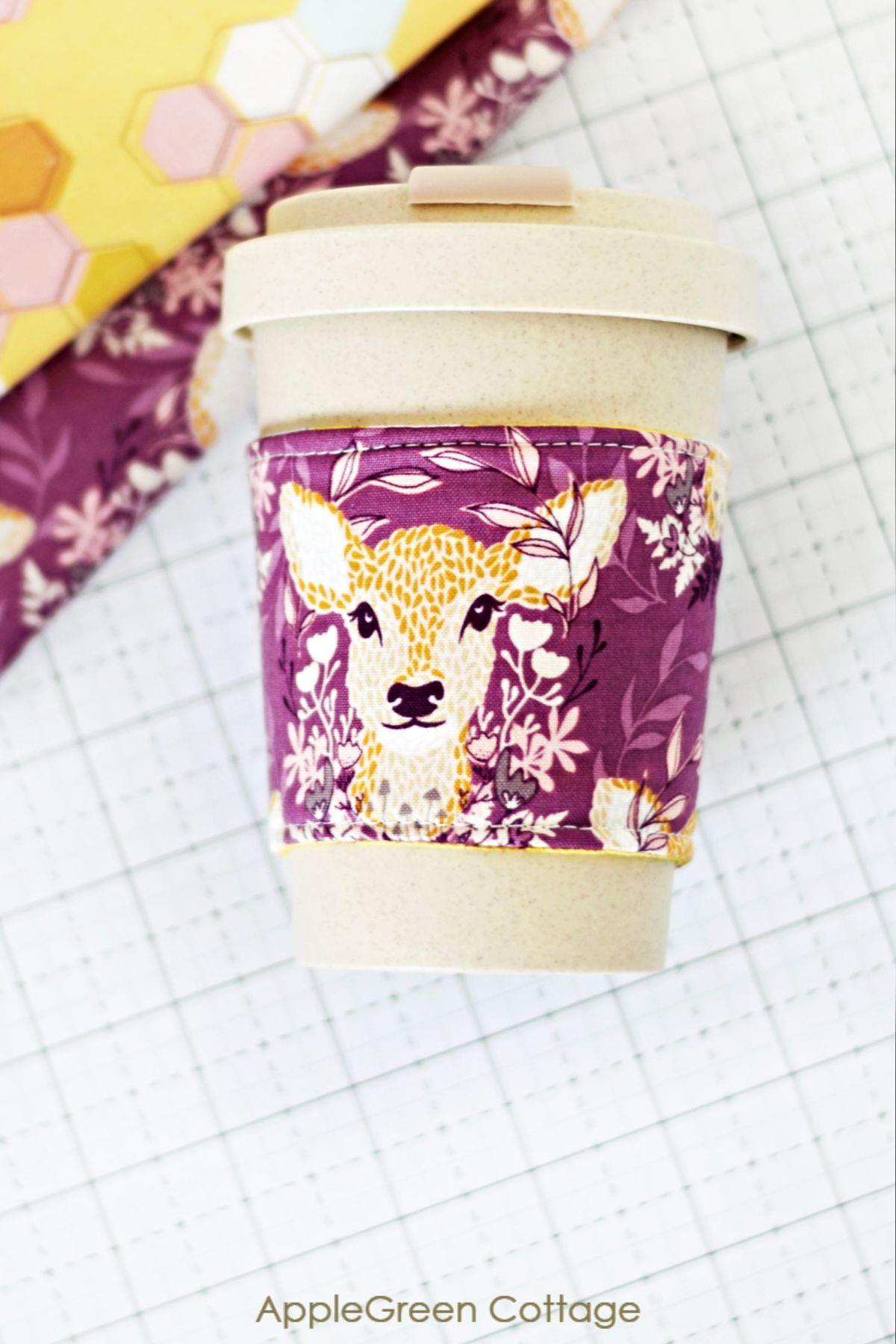 I made this coffee cup cozy for my new bamboo coffee cup. I used the gorgeous prints from the Harmony collection designed by Melissa Lee for Riley Blake Designs. The Harmony Oh Deer print in grape was just perfect for it, isn't it adorable! (It's available here - and HERE) And if you turn it over, this: sunshine!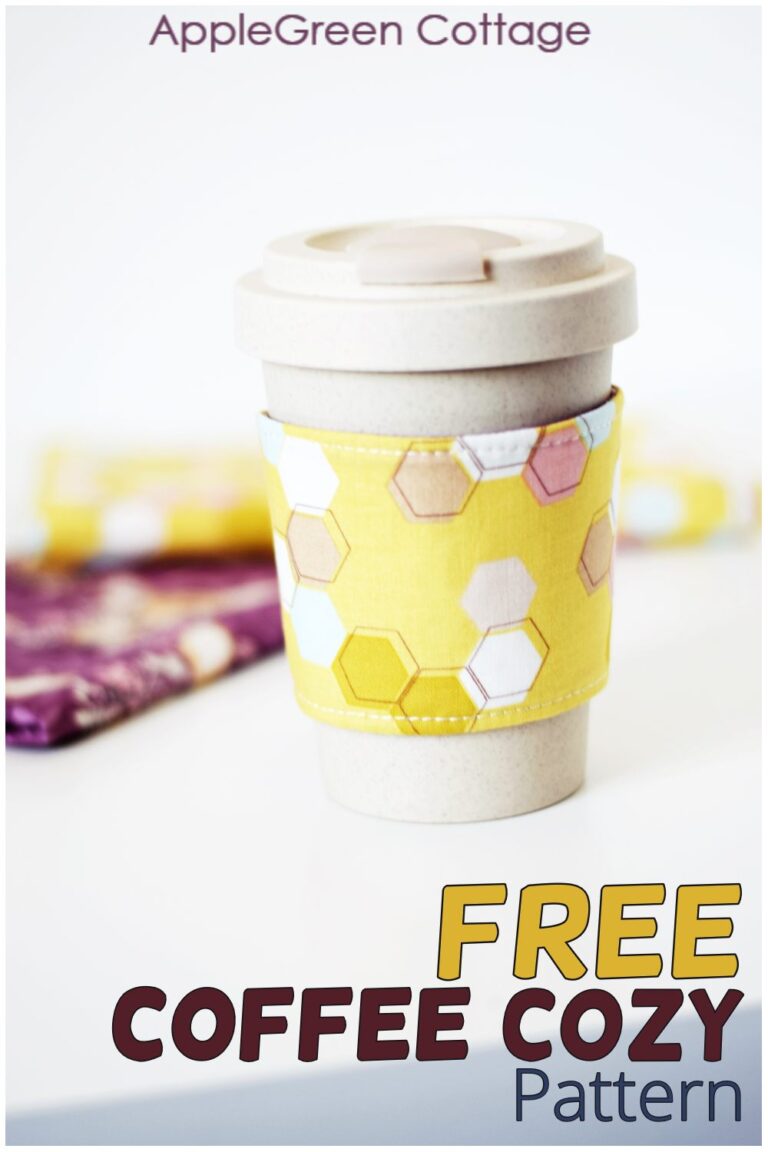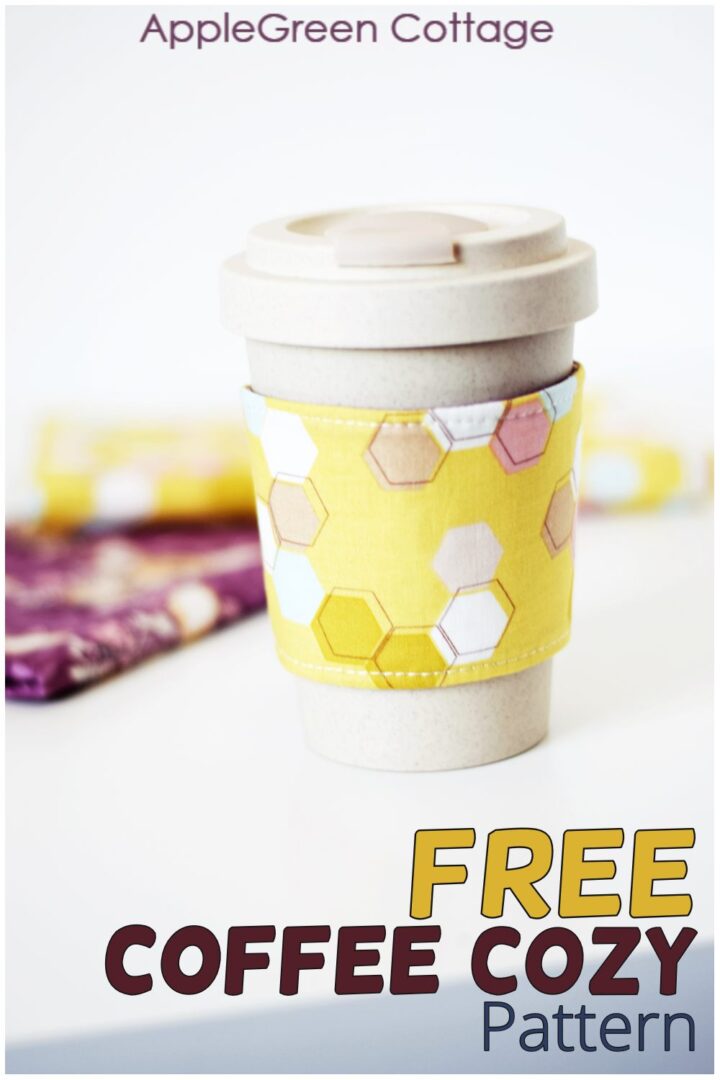 I lined it with specially insulated fleece, Insul-Bright. It reflects heat/cold back to the source. Iced drinks stay cold and hot drinks stay warm! You might know Insul-Bright from my other projects like these hot pads (free hotpad pattern!), or from these small diy potholders.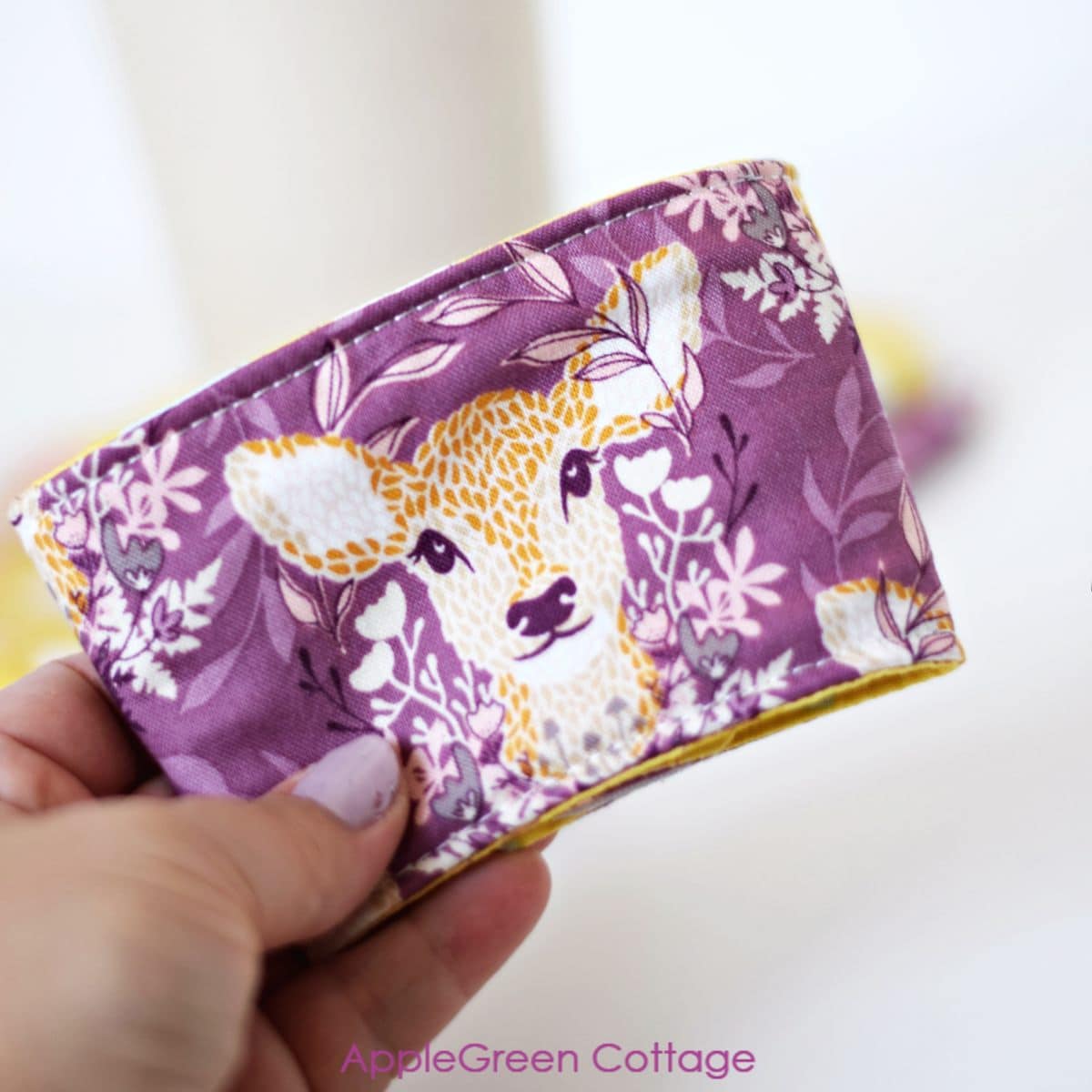 A reusable coffee sleeve is such a cute way to go green! And it's a perfect gift for teachers, coworkers, family, and friends. And this print would be so perfect for fussy cutting flaps on small purses, I need to make one.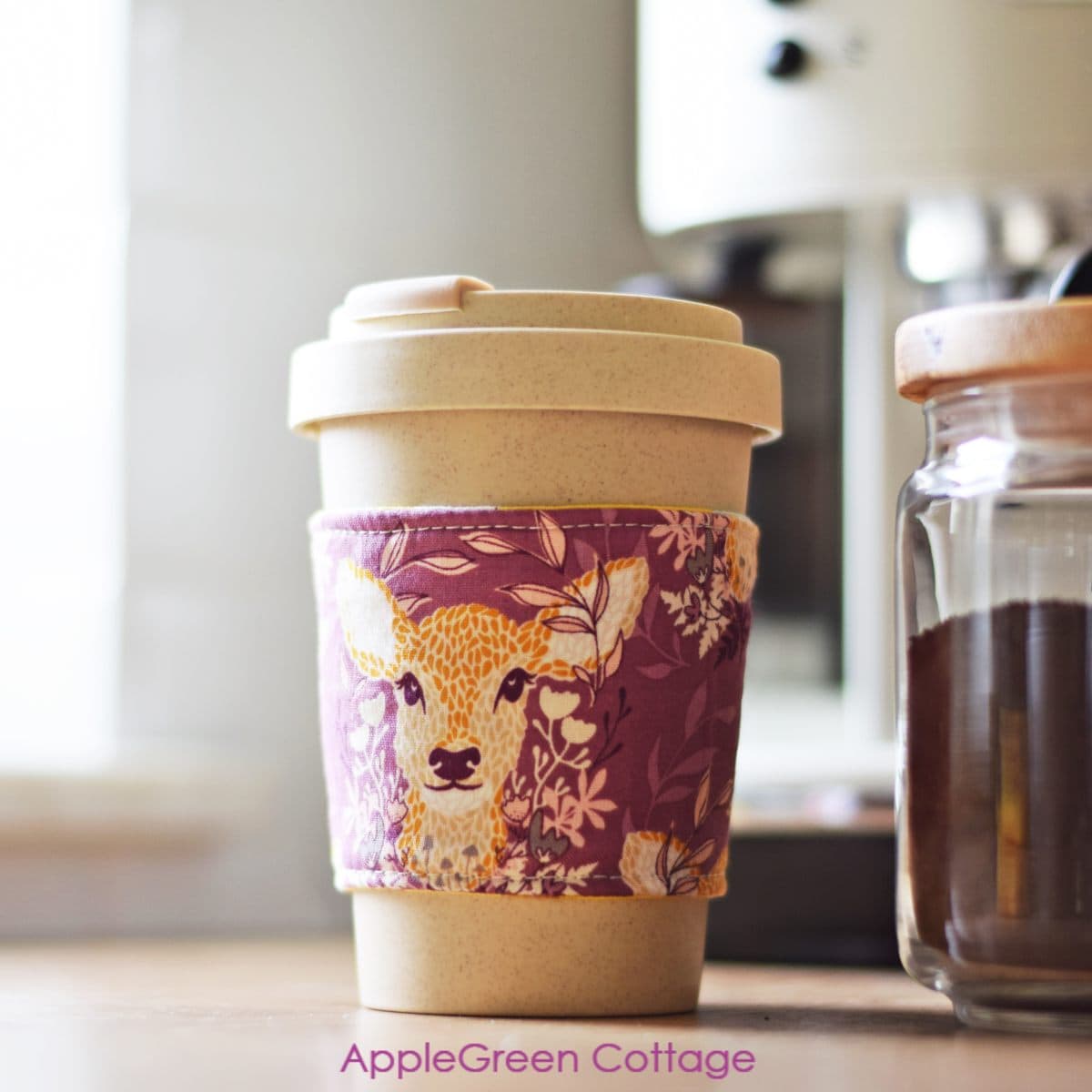 Supplies:
2 scraps of fabric, 14" by 4"
1 piece of Insul-Bright, same size
hook and loop tape (without adhesive at the back side): 2 ½" of each
the usual: sewing machine, thread, pins and sewing clips, rotary cutter and cutting mat or scissors, iron
Free coffee cozy pattern - see step 1 of the tutorial.
NOTE: Insul-Bright is not suitable for a microwave. If you plan to use your coffee cozy in a microwave please consider using cotton batting in place of Insul-Bright. Need more info on interfacing? Visit this post on interfacing.
The hook-and-loop tape should be without adhesive at the back side, as that glue can gum up your needle. With fabric it's usually better to use sew-in velcro than just tape it.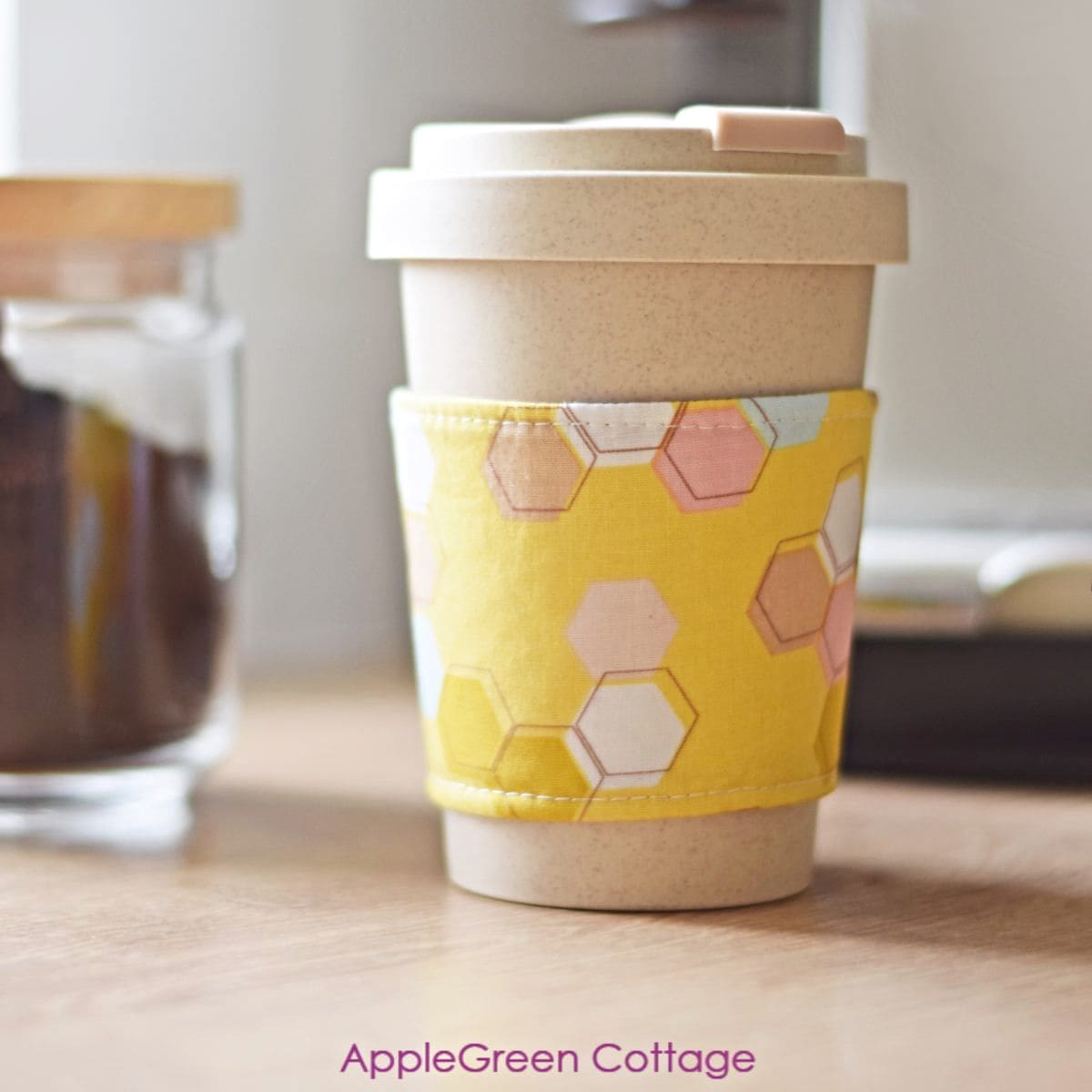 What size is this diy coffee cup cozy?
It's sized at 10 ½" (top circumference) and 2 ¾" tall. It fits a 10" circumference reusable cup, which is pretty much standard size (and fits Starbucks Grande and Venti).
If you are sewing these coffee koozies as gifts, it's so cool if you add a reusable cup. You've got a stylish gift set - instantly! If you want to, you can get reusable Starbuck cups from Amazon:
How to make a coffee cozy with the free coffee cozy pattern
Step 1 - Print The Free Coffee Cozy Template
I've created a simple coffee cozy pattern that you can download for free. To download the FREE coffee cozy TEMPLATE, click the button below:
OR do you want an ad-free, printable copy of the WHOLE tutorial? Scroll to the bottom of this tutorial for more details!
The printable coffee cozy template already includes a ⅜" (1 cm) seam allowance and is slightly on the bigger side, due to the velcro used as a closure. And so you can safely use a thick stabilizer like Insul-Bright, or some super-soft batting. After all, you deserve some pampering!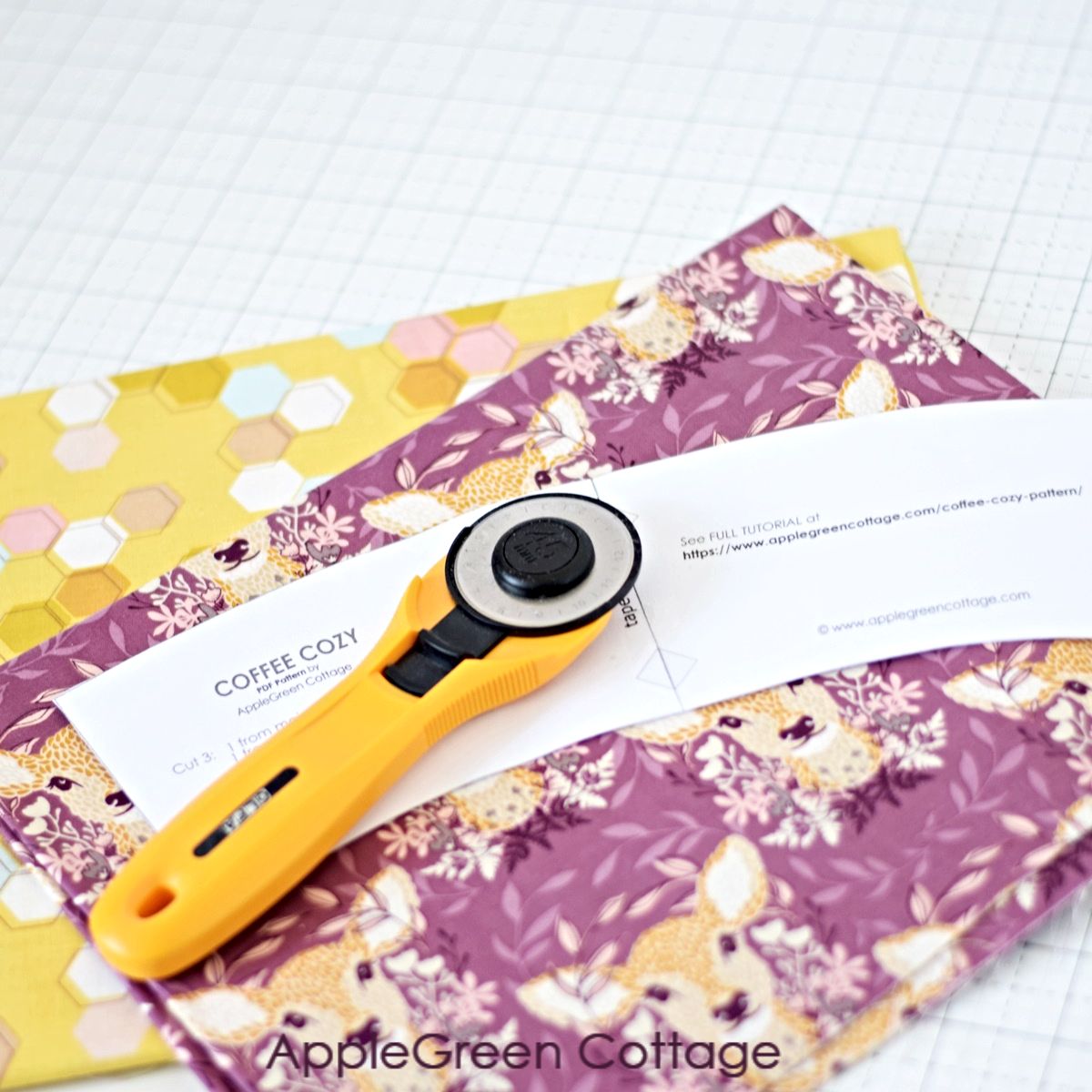 Step 2- Cut Fabric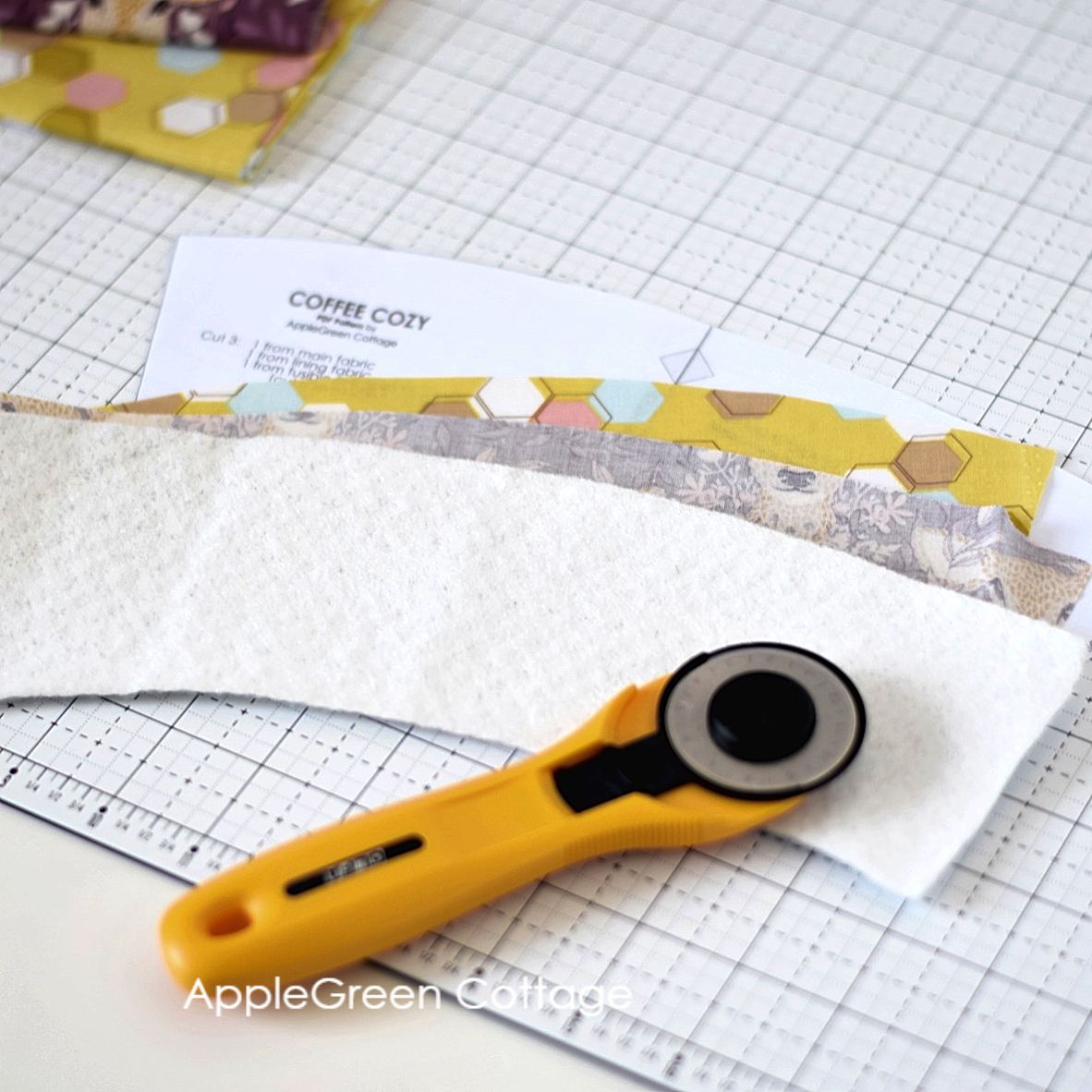 Use the free coffee cozy pattern to cut 2 pieces from fabric and one piece from Insul-Bright.
Step 3 - Add the Hook Tape to Lining
Sew the 'hook' tape piece onto one short end of the lining: make sure to place it vertically on one end, about half an inch away from the raw edges of the lining piece, like this.
NOTE: Why add the hook tape now? Because this way, you won't have any visible stitches of your velcro piece on your outer fabric. If you don't mind that, you can add your hook tape (to the lining) at the same time as the loop tape (to the outer).
Step 4 - Sew Together
Place the lining piece (1) right side up and cover it with the outer fabric piece (2). The right sides of the fabric pieces need to be together. On top, add the Insul-Bright layer (3).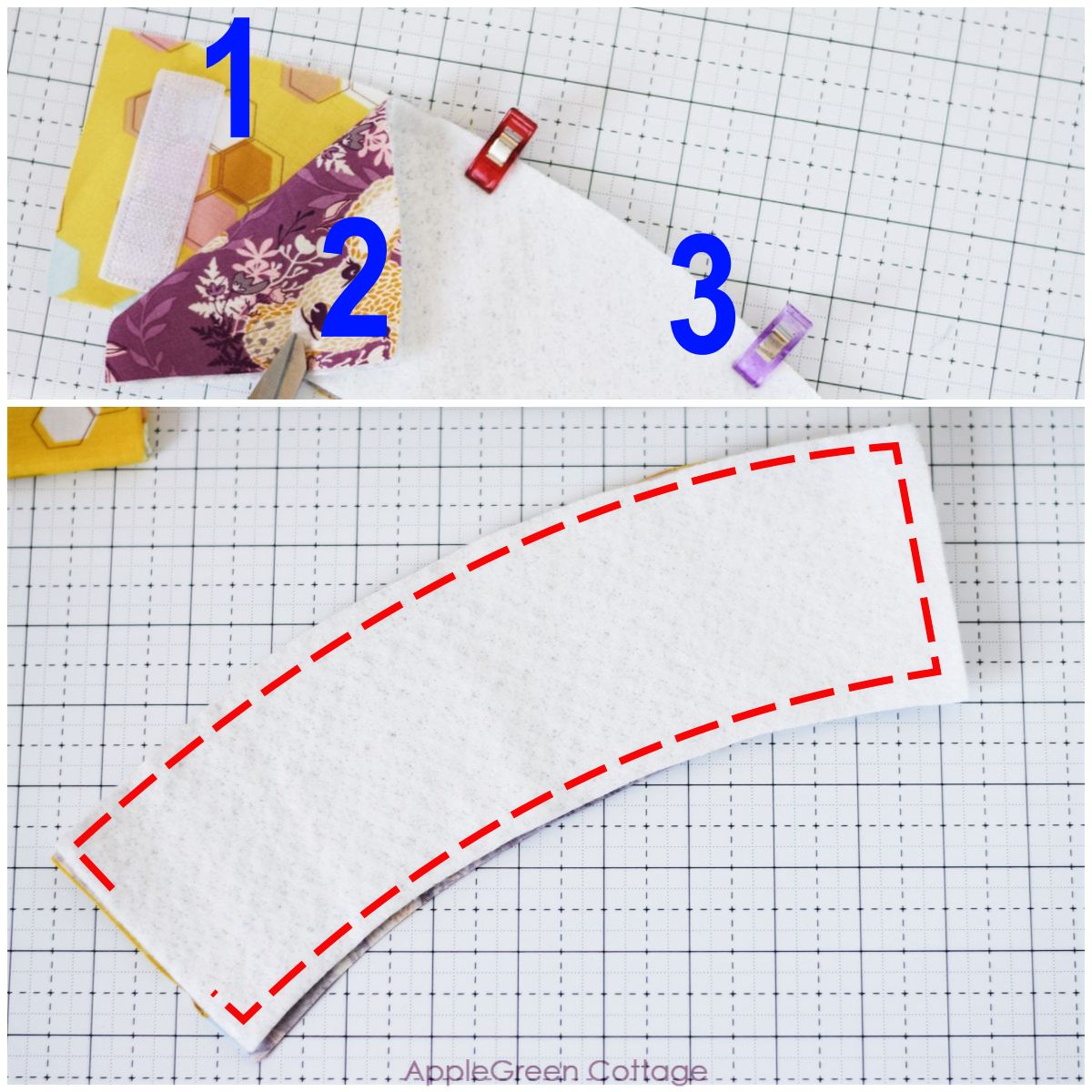 Sew around using a ⅜" (1 cm) seam allowance, leaving a 3" gap on one short side. Backstitch at start and end of stitching.
Step 5 - Trim SA and Turn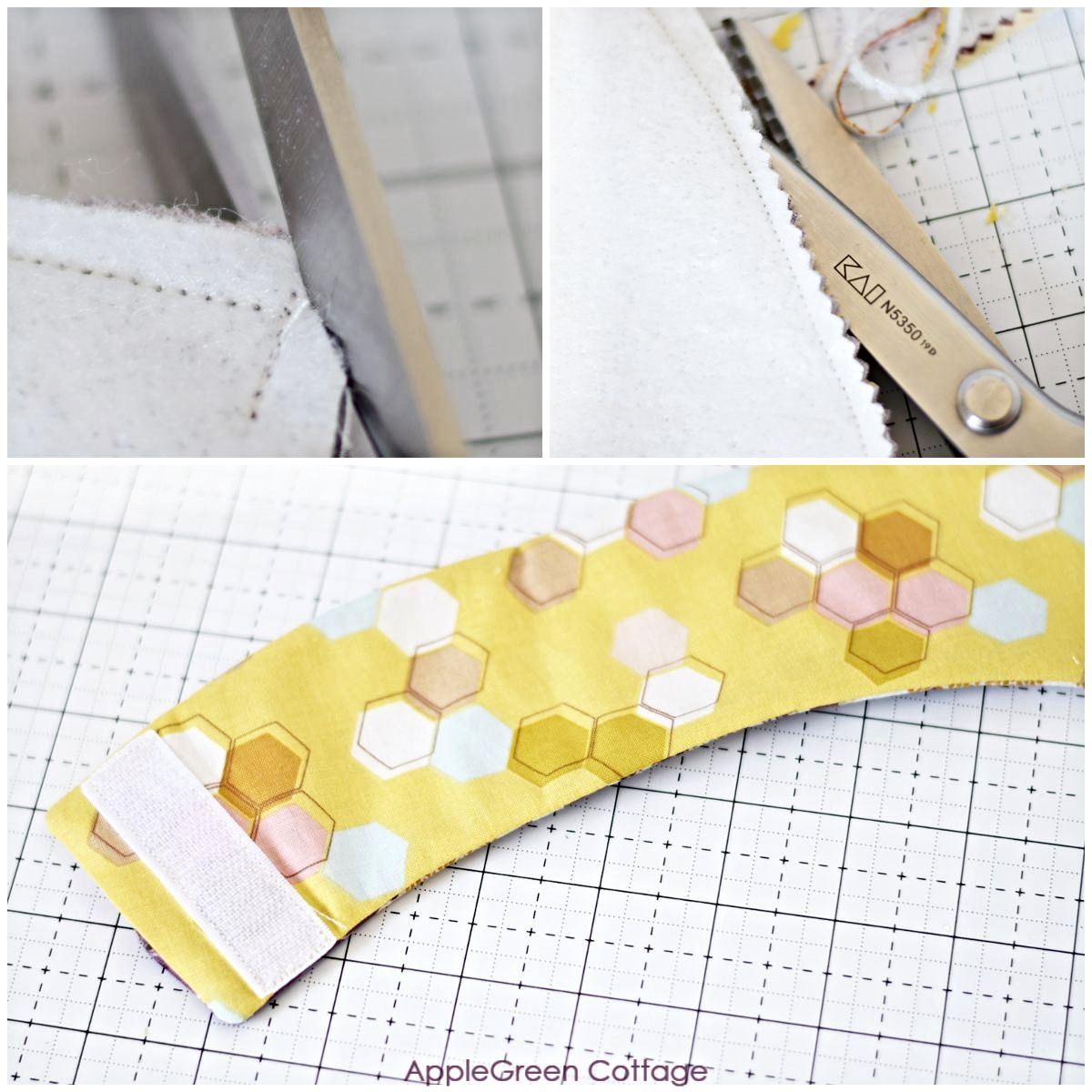 Trim corners and the edges. Do not trim the seam allowance on the unsewn part. Turn, tuck the extra fabric at the gap inside and press on both sides.
Step 6 - Add the Loop Tape
Attach the loop tape vertically on your outer fabric, opposite from the hook tape you added to the lining before: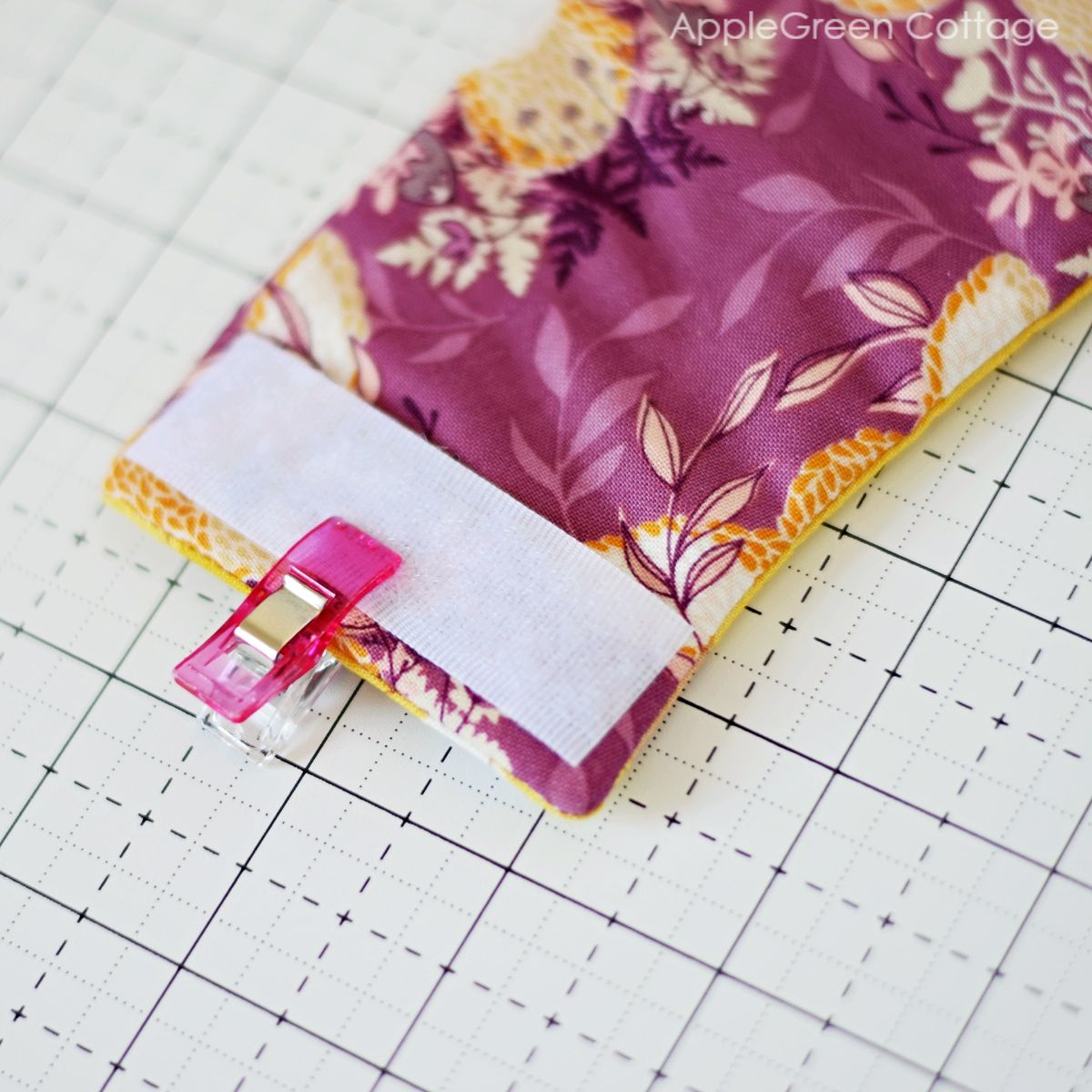 If you usually drink coffee at home, you're likely to use the same size cup. If your cup is not exactly the standard size, model your coffee cozy against that cup and mark the spot where you need to add your velcro tape (the loop tape). Then attach the loop tape as shown above.
Is your cup a bit narrower than the Starbucks Grande cup (actually standard size), or my reusable bamboo coffee cup? No worries: the bit of extra length will not be seen. It will make your coffee cozy a bit softer, even better!
Step 7 - Topstitch
Topstitch around the entire coffee cozy at ¼ inch from the edge, also closing the turning gap. Admire your brand new coffee cozy!
Make sure to save this blog tutorial to Pinterest using this link or the image below, so you can use it later: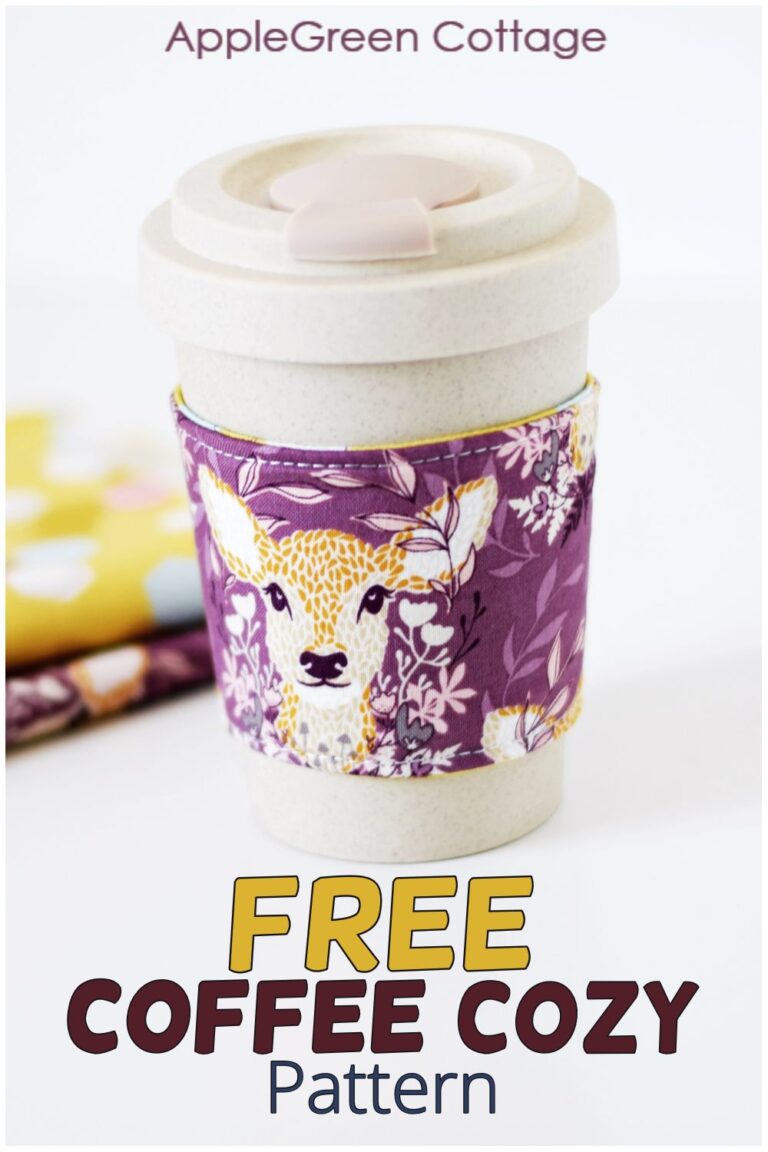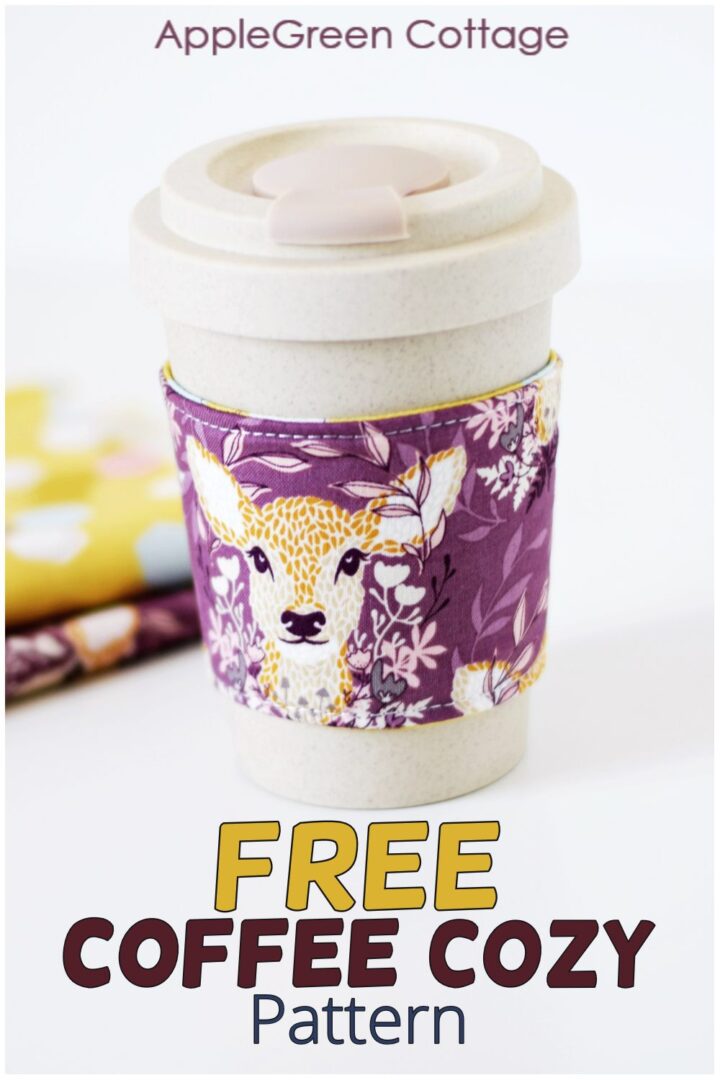 Want A Printable Copy of the WHOLE Tutorial?
Do you want an ad-free, printable copy of this online tutorial? Find it here for just $3. You won't need to access the internet every time you want to make it. ------ Or get the BUNDLE with ALL the Printable Tutorials - current and future ones!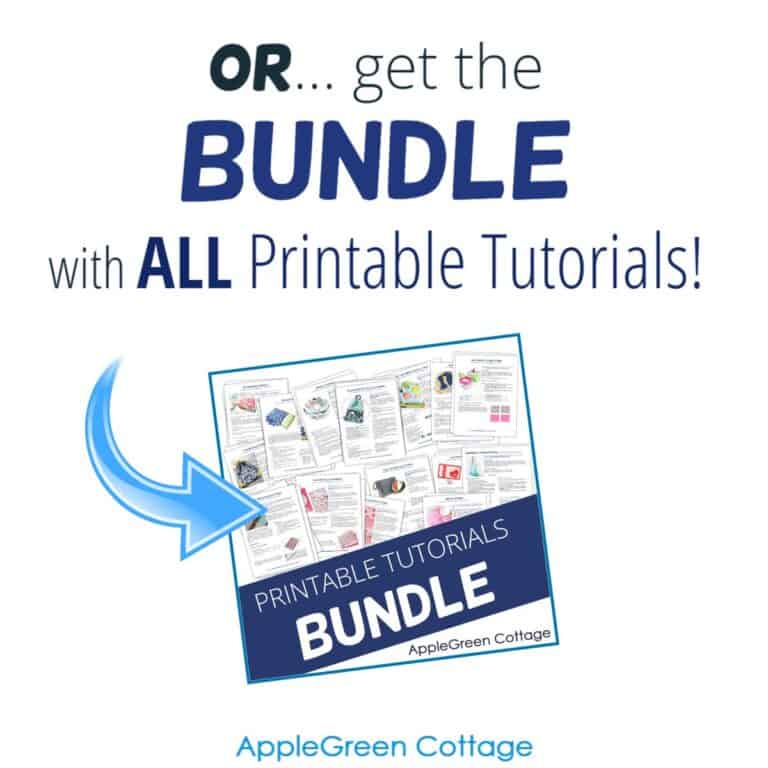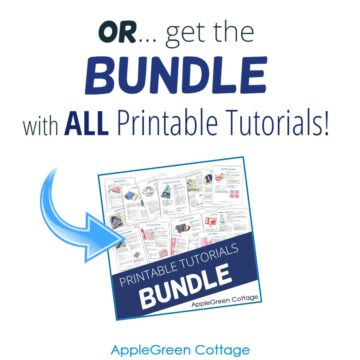 WANT MORE FREE TUTORIALS AND PATTERNS?
Get email updates and never miss out on new patterns, printables, and tutorials:
Or …check out the NELTO Slim Crossbody Bag pattern in the shop. You might be surprised when you see how it's designed! Check it out here: