Sew a cute pencil holder using this free sewing pattern in 3 sizes and the easy sewing tutorial. It has so many uses!
It's very practical to keep your stationery – or sewing tools and supplies close at hand. And if you've been craving some order on your sewing table, now's just the perfect time to achieve it - with this easy and fun project. Scroll down to see how to sew one!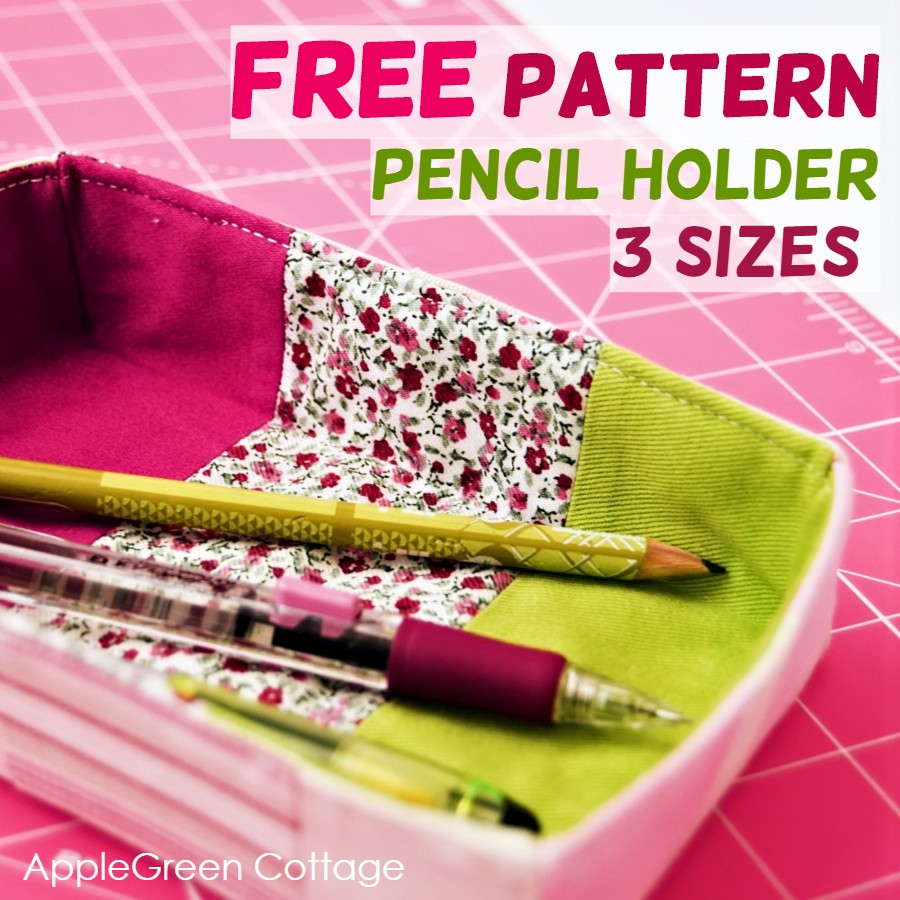 If you like sewing storage items, check out these too: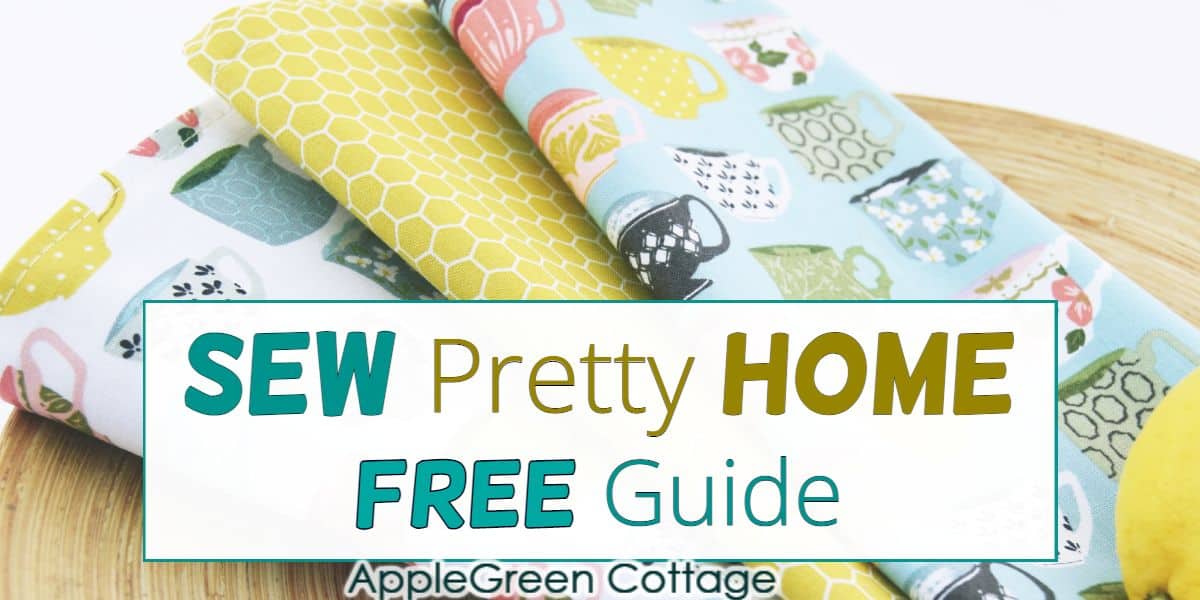 Join the FREE 7-part email course and make 6 beautiful items for your home! You'll love it!
I love how many uses this pretty little thing has: you can use the pencil holder for anything you like. This fabric pencil holder pattern can double as a drawer tray, an organizer on your desk or counter.
Also, it works amazing as a key-catcher in your entry hall. It makes a great tray for tools you need close by during a small crafty project.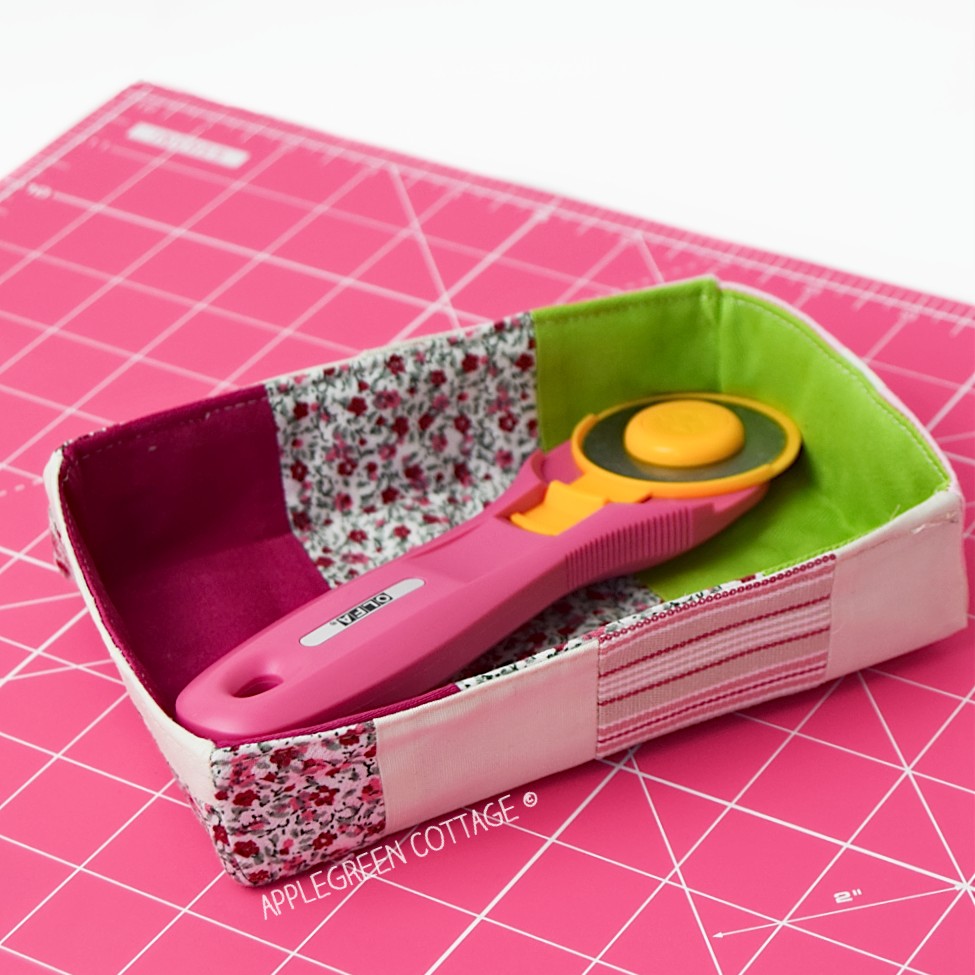 The Story Behind the Pattern
Often, I'd work at my computer for hours, and only later take some time off and sew something. Those are usually quick and easy-sew projects I never plan to go for, and I love these moments. I feel like I'm getting myself a treat, just letting my imagination guide my fabric selection, the stitches, the sizing of projects, and the color combinations.
Last time, I noticed my work desk was so messy! Well, it usually is, but on that day I had tons of pencils out, as I was planning my sewing projects and tutorials. And my planning never happens on a computer, but rather on scrap pieces of paper and with coloring pencils scattered all around. (I sometimes even borrow my kids' color paper, and their crayons, hihi!)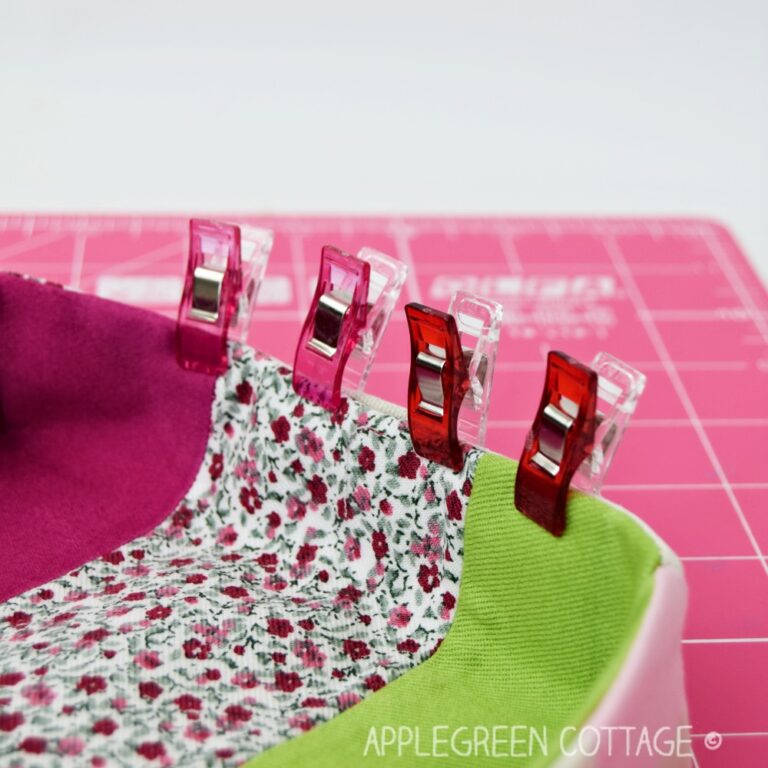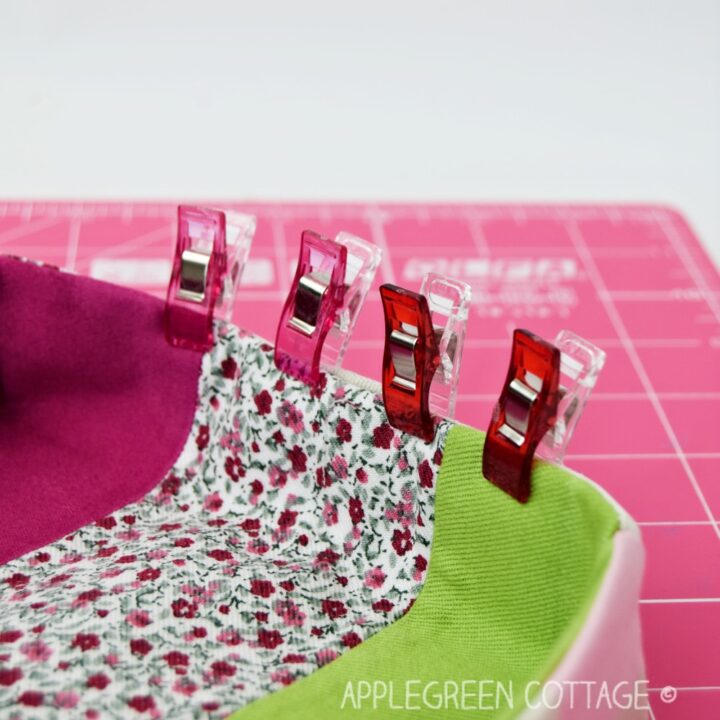 Well, long story short, I couldn't help noticing I had no place to quickly throw pencils in and yet keep them accessible for my ongoing project work. I've got tons of pencil cases, and I love them. But they need to be opened and closed, and put away, but I was not looking for those. So this happened:
My next sewing session involved a few rectangles and scrap fabric.
Patchwork. Since I had not planned to take pictures of these, you'll notice the lines are not all straight. I was having so much fun! (And no measuring!)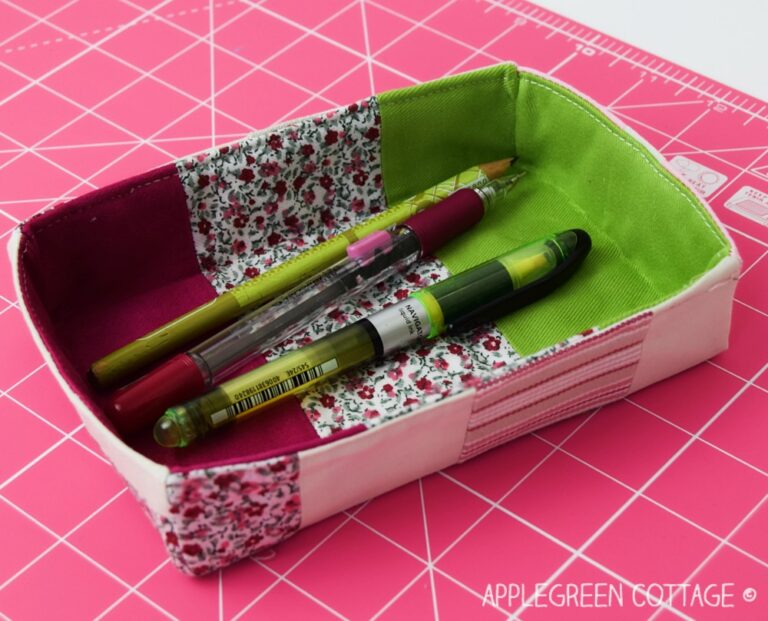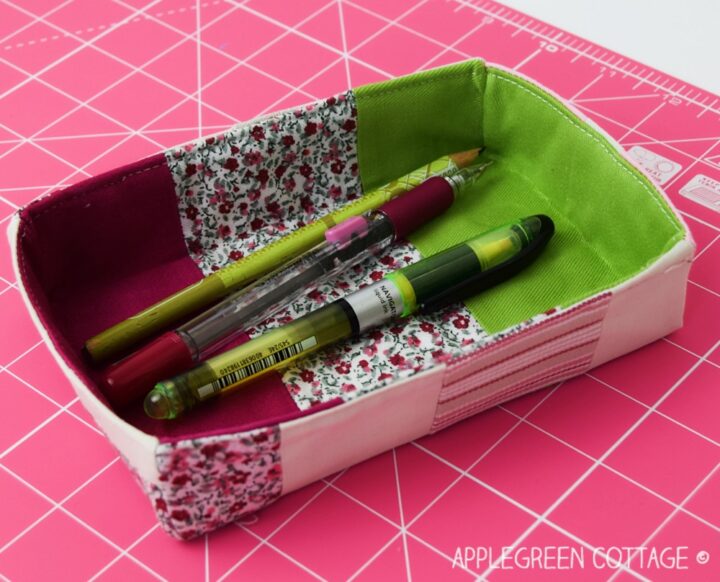 But then I thought that this was a project many of my readers would simply LOVE! Grabbing my camera and off it went: here's another tutorial for you to use, and make tons of easy pencil holders for you. Or for your kids, or as an easy back-to-school gift. Make a lot of them and you've got a colorful diy drawer organizing system!
Diy Pencil Holder Video
First, for those of you who like video, I've made a slide-show to get the feeling of how easy it is to sew one:
Finished Size:
LARGE: 8 ¼" length, 5" width, 1 ½" height (21cm x 13cm x 4cm)
MEDIUM: 6 ¼" length, 4" width, 1 ½" height (16cm x 10cm x 4cm)
SMALL: 4" length, 3 ¾" width, 1 ½" height (10 cm x 9.5cm x 4cm)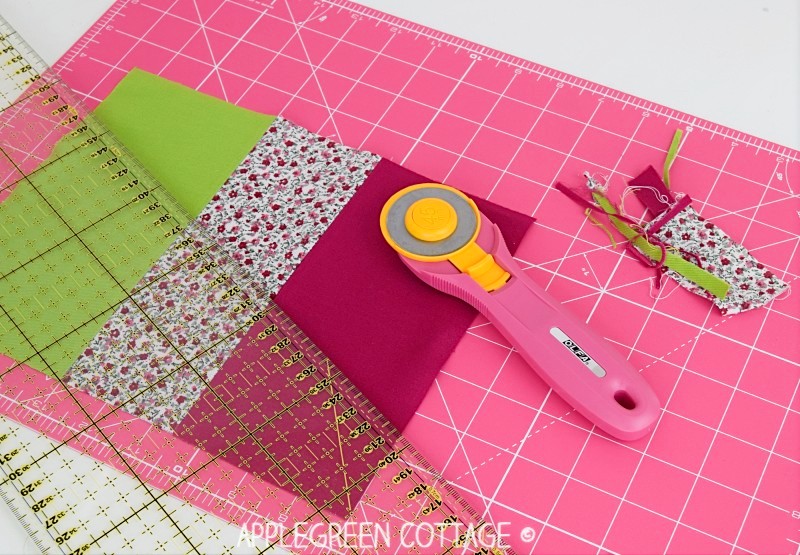 Supplies
two fabric pieces in your favorite prints: in total, you'll need less than a fat quarter for the largest size
high-loft fusible fleece: 8" x 11 ½" (21cm x 29cm) or less for smaller sizes
sewing machine or needle, pins or Wonder clips,
iron, scissors, or rotary cutter plus cutting mat (I use this one by Olfa)
the PDF Pattern file
How To Make the Fabric Pencil Tray More Stable?
You can use alternatives like are a layer of SF101 plus Decovil Light or even foam. Also, feel free to visit this interfacing guide for beginners - it will make your (interfacing-related) sewing life so much easier!
Diy Pencil Holder Tutorial
Step 1 - Get The Template and Cut The Fabric
Get the template here when you join the mailing list:
CURRENT SUBSCRIBERS: simply enter your email in the signup form above to re-download it. (You won't be signed up twice.)
Save to your computer, open in Adobe Acrobat Reader, and print the free PDF template to a piece of cardboard or paper.
Decide on the size - small, medium, or large. Then use the template to cut these pieces of fabric:
1 piece from

outer

fabric (light, cream here)
1 piece from lining fabric - this is the one that will be visible, actually!
1 piece from fusible fleece - cut it on the seam allowance to reduce bulk when sewing.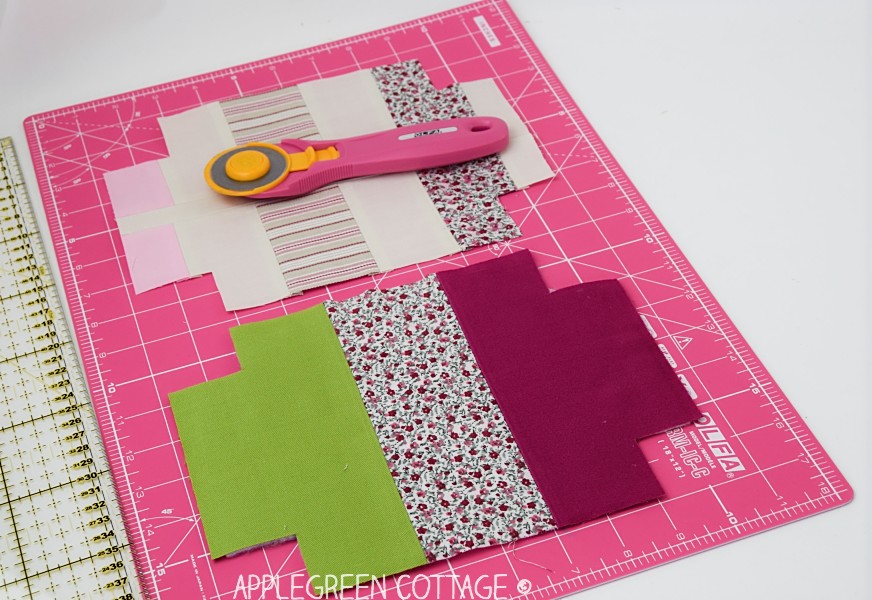 I used two of my random patchwork pieces I occasionally make when I'm in the mood for sewing but have no particular project in mind (utilizing scrap pieces is so easy this way!)
Step 2 - Add Fusible Fleece
Next step: attach fusible fleece to the LINING piece. (Actually, the one that will be in contact with the pencils when finalized) Use this quick how-to if you're not used to working with fusible: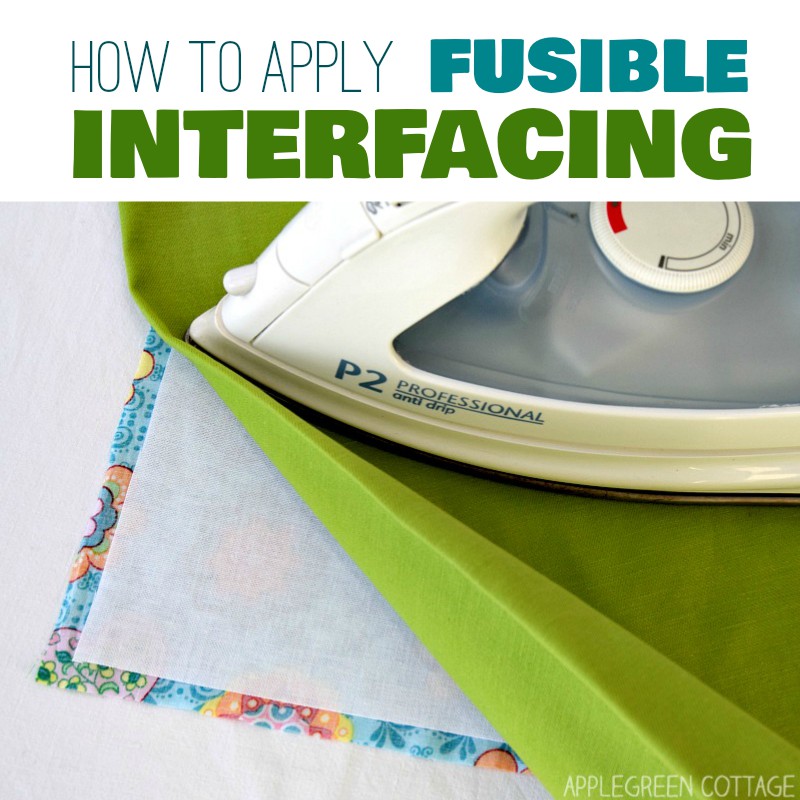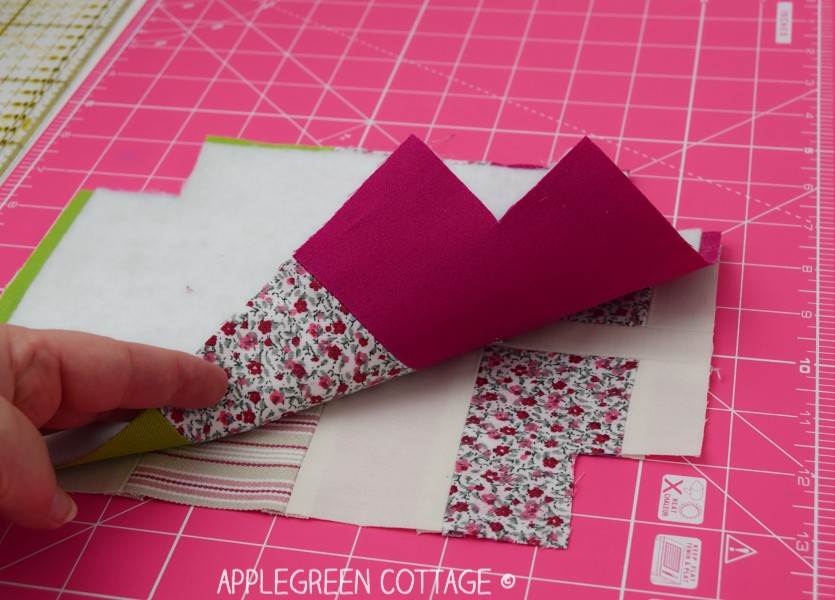 Step 3 - Sew Around
Moving on, place the two pieces right sides together.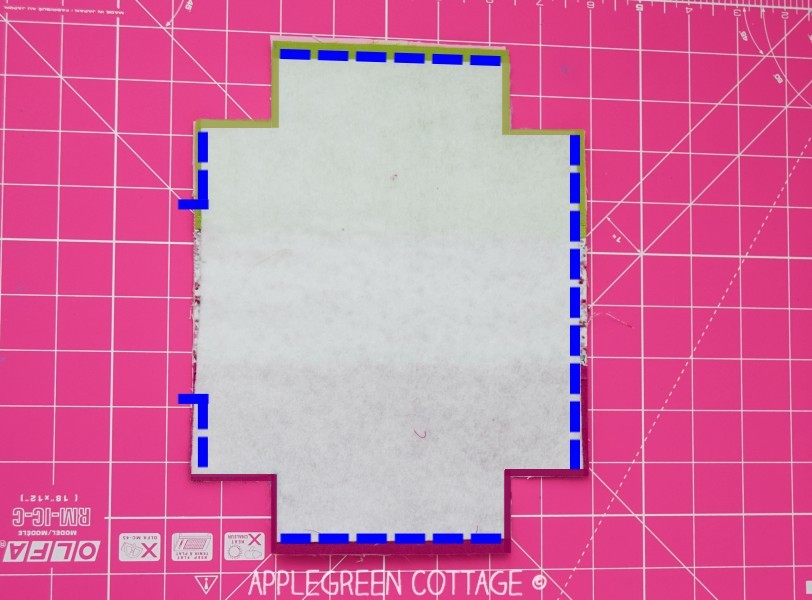 Stich around as indicated in the image above. Meaning you'll leave out the corners AND a few inches on one of the longer sides, for turning (here on the left, see?)
Step 4 - Box the Corners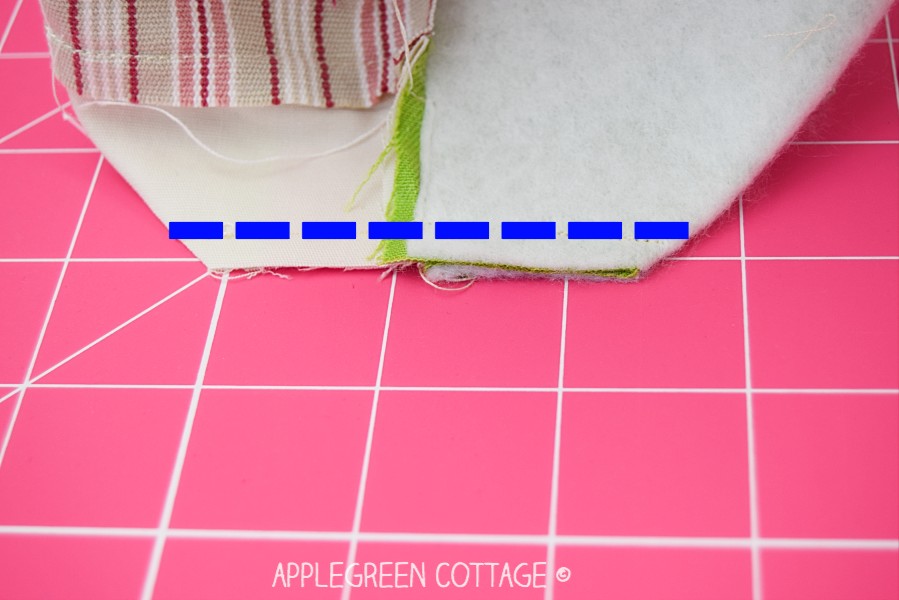 Then, you'll need to box all four corners that are still open.
Fold the corner flat matching up the two side seams. The side seams should lie directly one over the other.
Then stitch over the (blue) line. Backstitch at the beginning and end of the seam to reinforce it.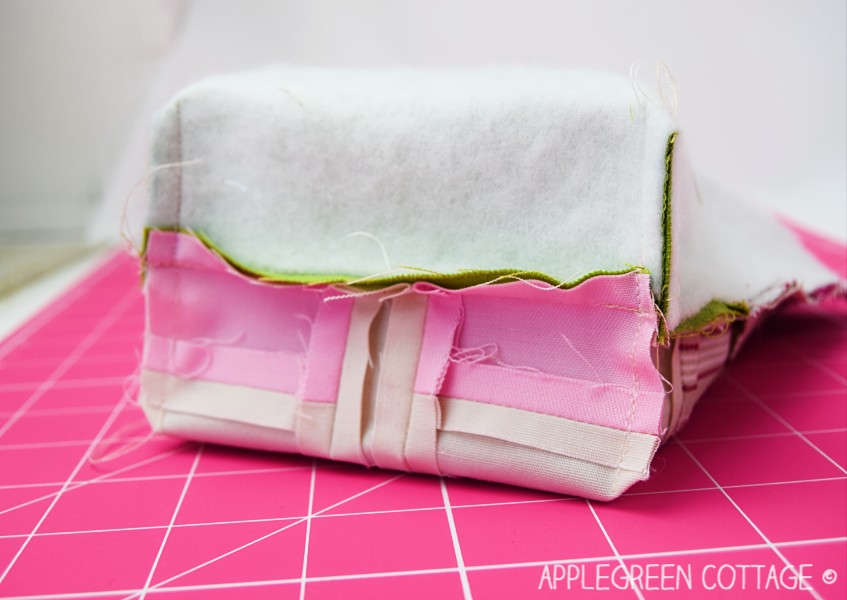 Repeat on all four corners.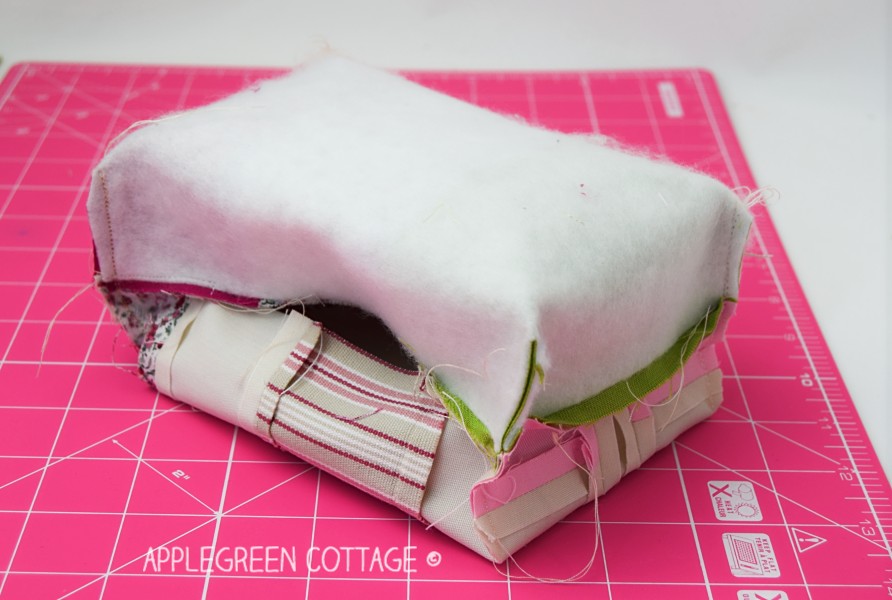 DETAIL: This is the opening left for turning. Yours won't look this messy if you use a single fabric piece instead of patchwork 🙂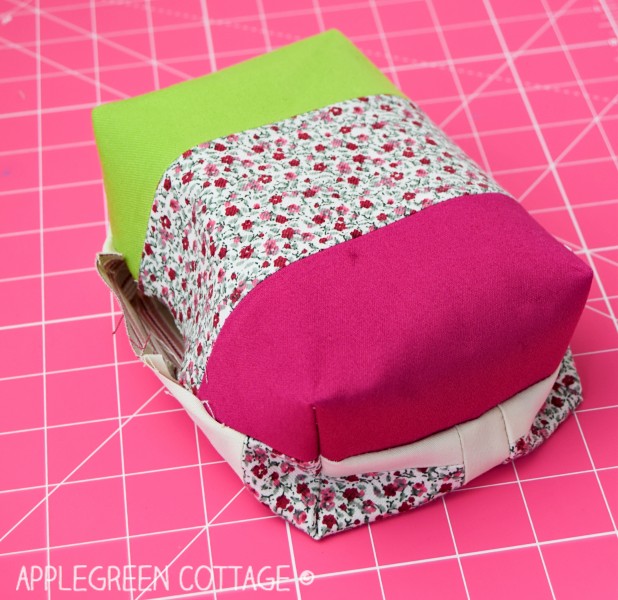 Step 5 - Turn and Topstich
Turn right side out.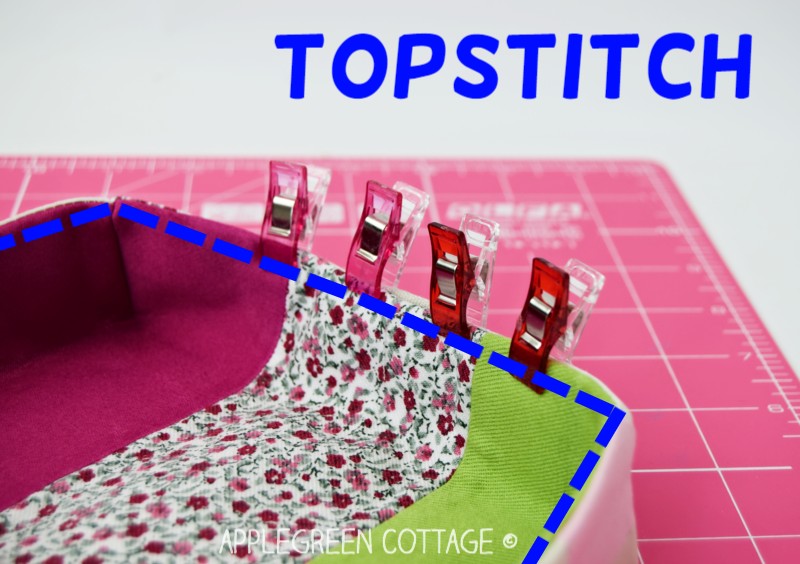 Push the 'outer' layer down to touch lining (wst), so you get a tray form. Press, especially at the opening - turn under the seam allowance, and pin or use sewing clips to keep it in place.
Then topstitch around the top edge.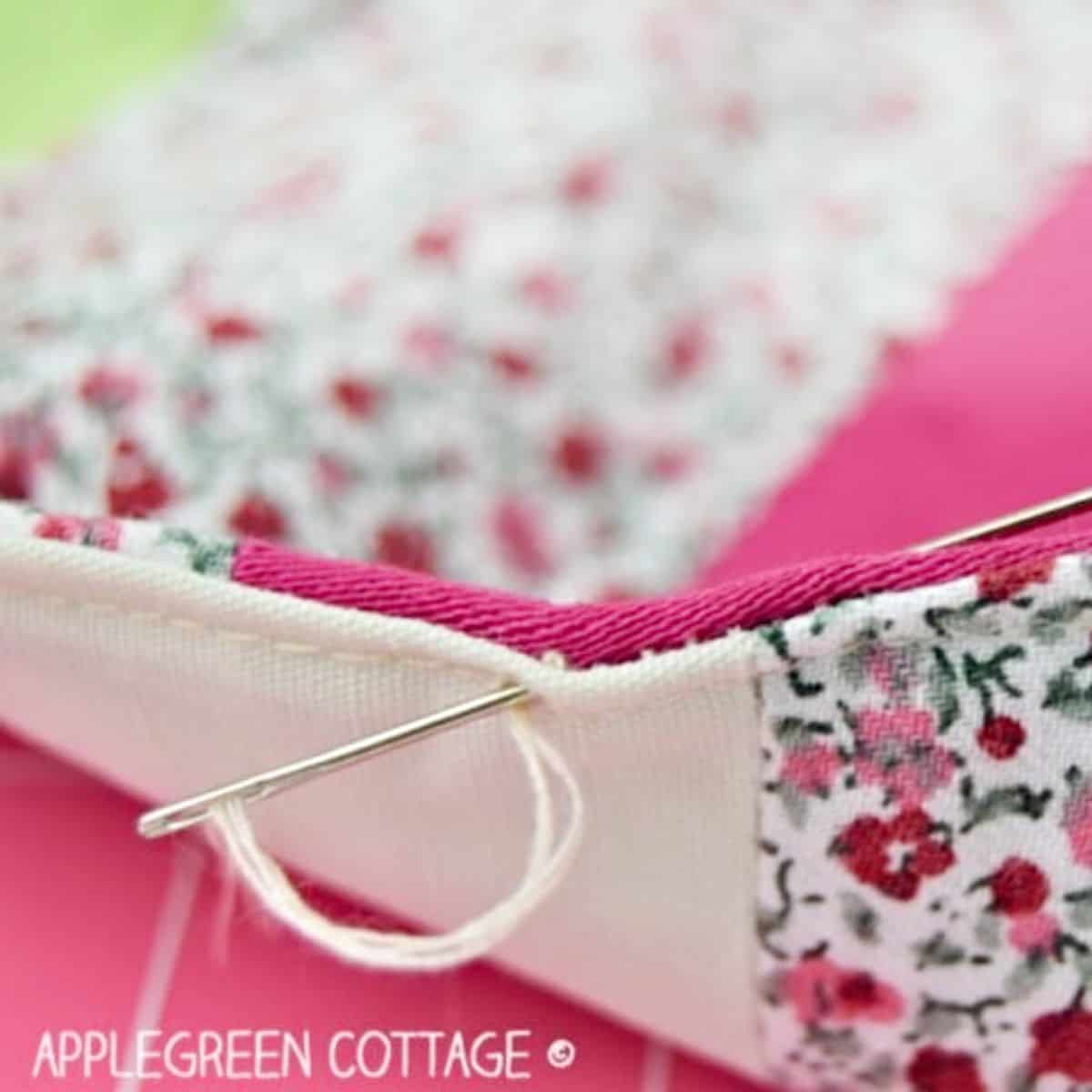 When topstitching, you'll end up with a few thread ends that are best hidden if buried. See how to bury thread ends and make your topstitching look neat and polished:
The pencil holder is finished! I hope you've enjoyed the process. If you want to, check out more ideas to sew, this post is part of my Diy Storage Series - 17 Amazing Diy Storage IDEAS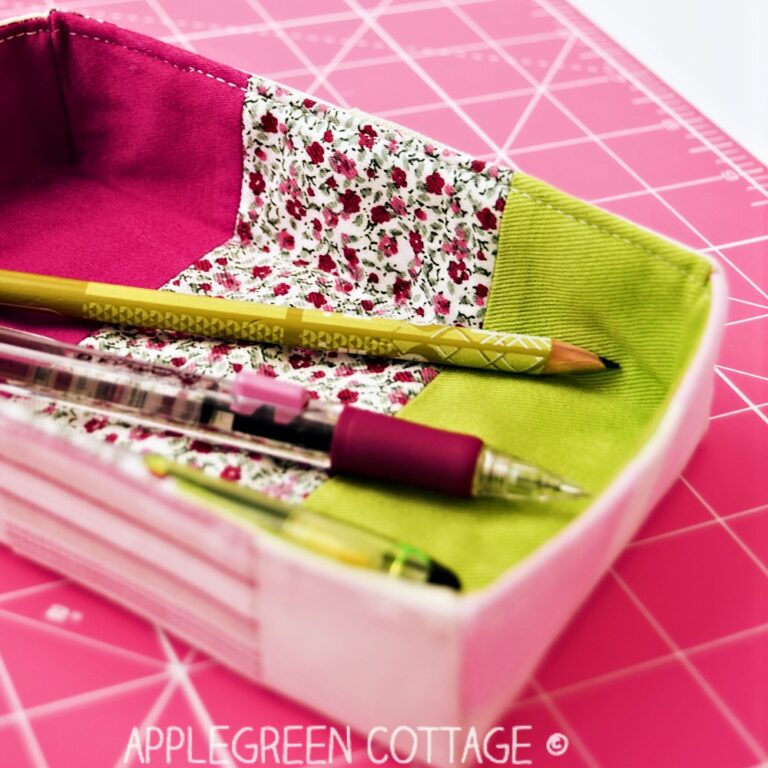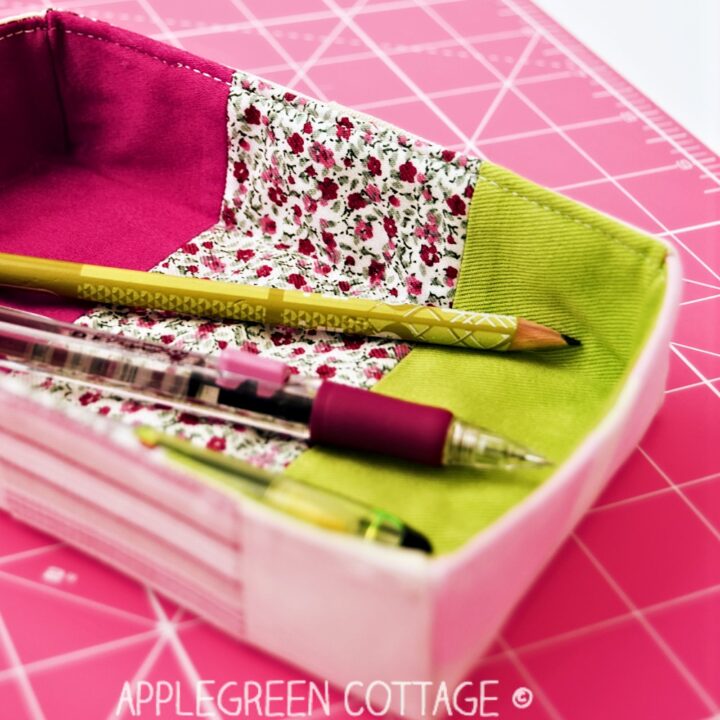 Save this project for later so you remember where to get the free pattern: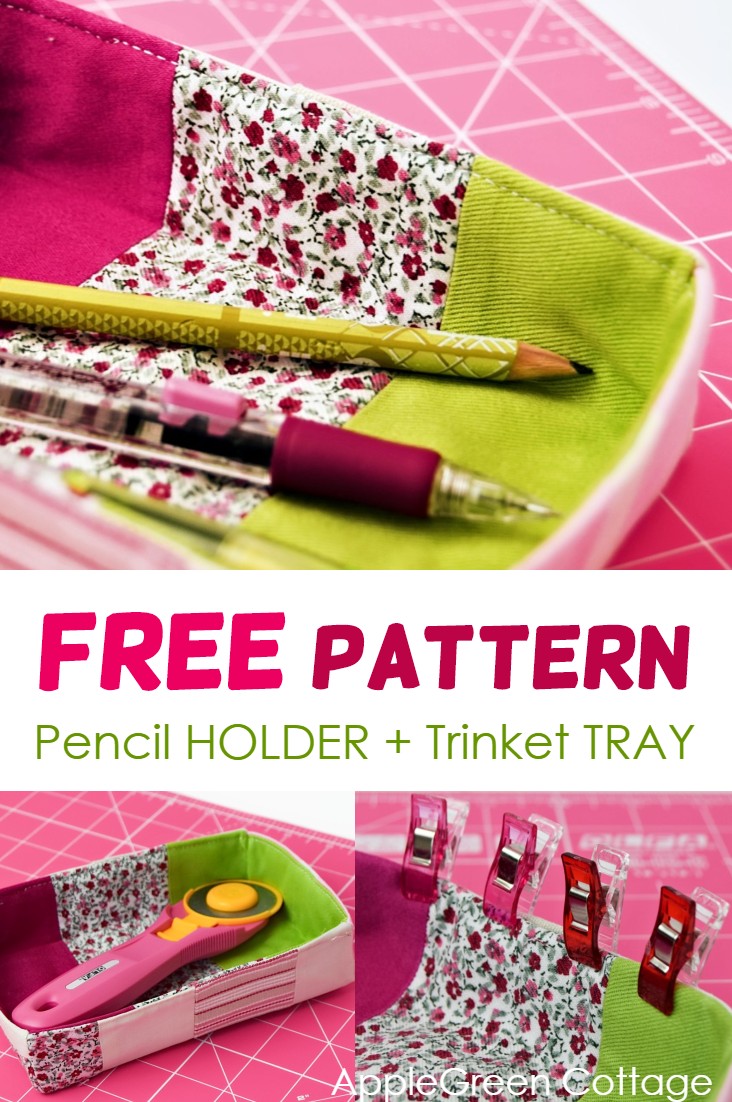 Enjoy! If you like sewing for home, check out these too:
Where can I get this Pencil Holder Pattern?
Join our mailing list here and get the pattern emailed to you:
Or …check out this popular PDF pattern – the Kalina Mini Wallet in our shop. So practical!