Use this free potholder pattern and make a beautiful yet easy diy pot holder for your kitchen - the clever way. Scroll down for the free pdf potholder template for two designs.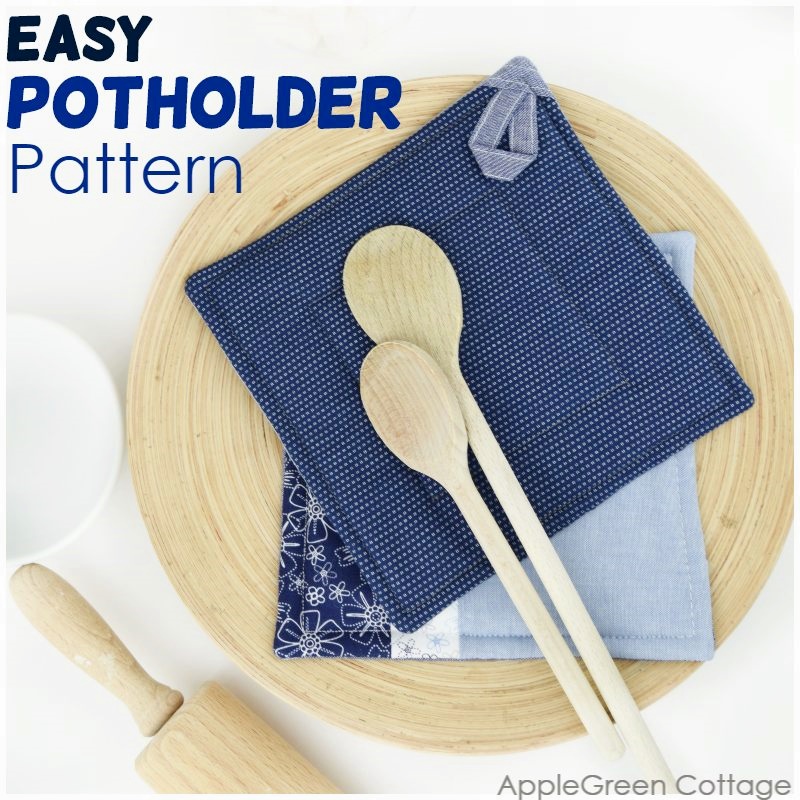 This potholder pattern and tutorial are super easy to work with. Want to have it plain, or with a little bit of strip piecing? Scroll down for any of the two options to make your own beautiful potholder - the easy way.
And if you like sewing for home, check out these too: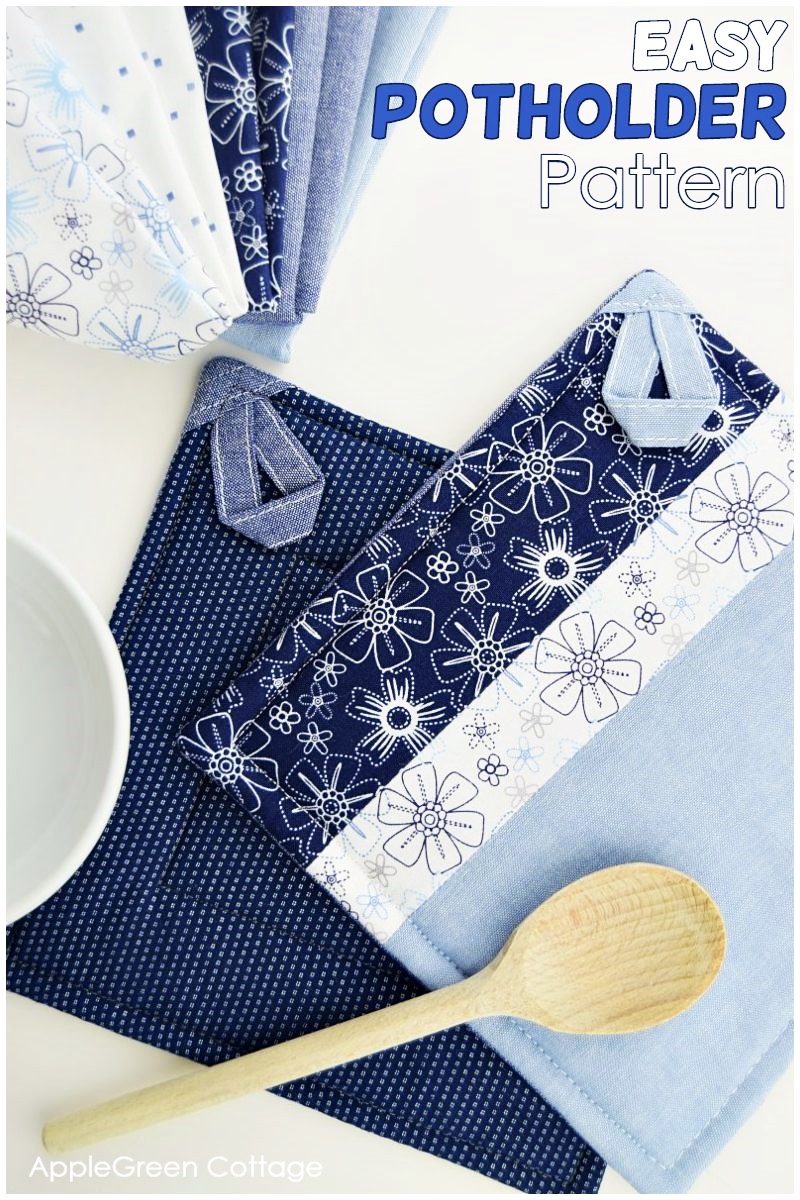 Nearly all pot holders I've had, or seen, or made, have binding on all edges. Including this potholder tutorial I showed you last time. All doable, and nothing to be scared of. But today I'm showing you one that is even easier, and quicker to make - an easy potholder without binding.
That's a neat one, and especially handy if you are short of time to make binding, let alone to sew it on.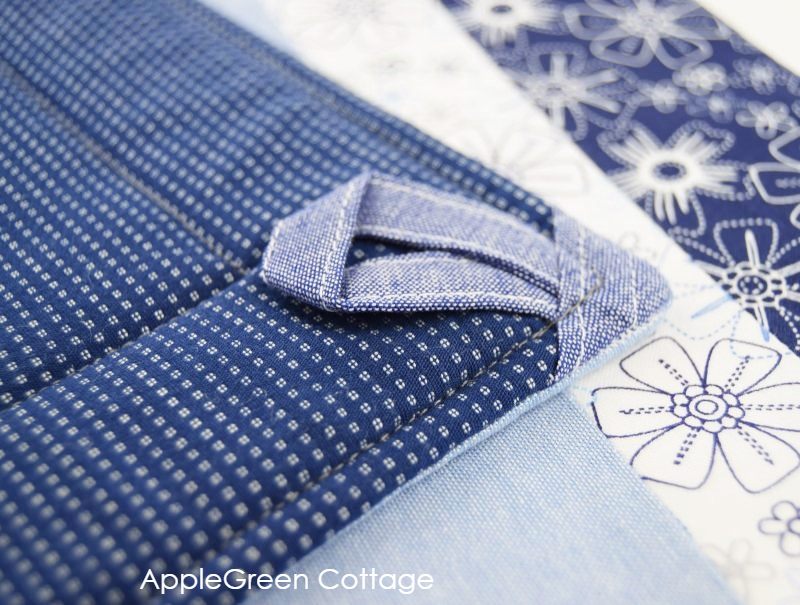 I also added a loop. A hanging loop will make your potholder so practical to store somewhere close at hand. Maybe it's just me, but I don't like to pull my potholders from my drawers when I need them. I hang them just above the kitchen stove so they are always ready for the job - and close at hand. The potholder size is 8" square.
Now, let's see how to make a few fantastic potholders. Without binding. Easy, quick. And good-looking too!
FREE Potholder Pattern
There are two potholder options in this free potholder pattern file: version A - a simple square, and version B - the strip-pieced potholder version. Of course, there's so many other options, so you can get creative with your own options too!
Want your free printable template? Scroll down to click and download it to your computer - and start cutting and sewing right away.
And if you don't want a printable template, you can just follow these cutting instructions:
Cutting Instructions For your Diy Potholder
You'll need less than a fat eighth of fabric for the project. Unless you want to make a dozen of potholders at once. In this case, get your scrap bin ready!
CUT FROM FABRIC:
two 8″ squares in contrasting fabric (back, front) – or see below for a strip-pieced version to use scraps
5″ by 2″ in main fabric for hanging loop
1 ½″ square to cover the hanging loop
CUT FROM INTERFACING (INSUL-BRIGHT):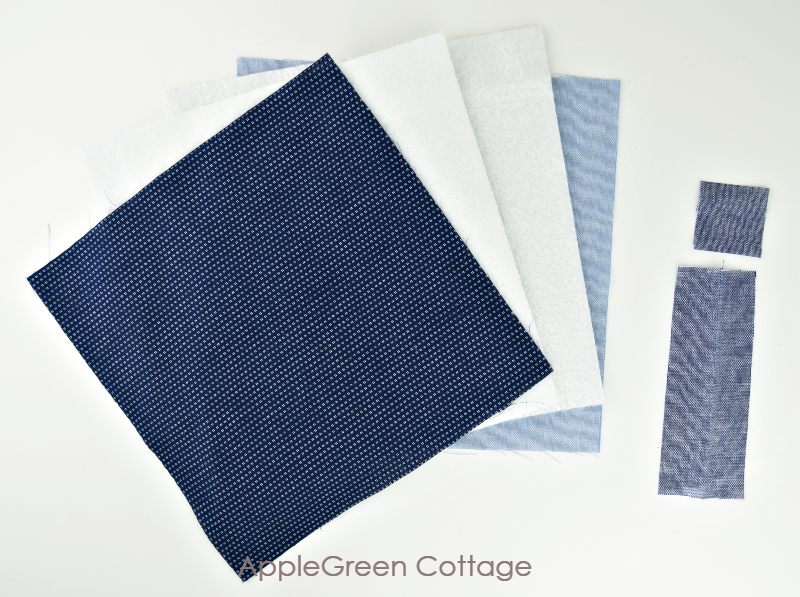 Instead of Insul-Bright, feel free to use cotton batting. If this is your first sewing project and don't feel comfortable sewing multiple thick layers, first try using just one single layer of batting instead of two. Once you've sewn your first potholder, adjust the number of layers as you feel comfortable with.
However, one thing to observe: do NOT use any polyester-based batting for potholders. And no acryllic felt. Those don't withstand heat well, and will not block heat effectively. Need more info on interfacing? Visit this post on interfacing.
OPTION – DO YOU WANT A Strip-Pieced POTHOLDER?
If you love patchwork, potholders are the perfect project to go for! There are basically no limits for patchwork on a potholder, and you can do any quilt block your heart desires. However, since we are here for an easy potholder, let's just see how to piece a few strips together - easy, quick, and so beautiful!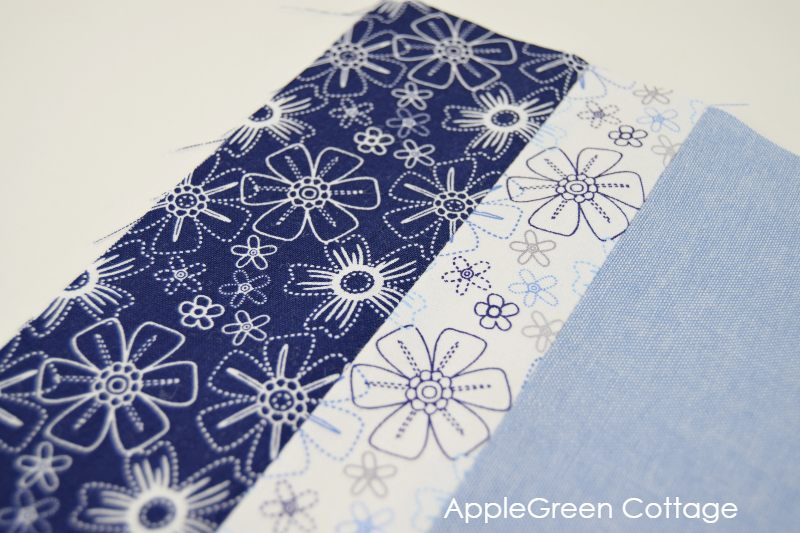 The photo above shows how I strip-pieced one of the potholders in this tutorial, using the beautiful florals from Christopher Thompson's Blue Stitch collection. Notice the fussy cutting? Love it!
So, back to strip-piecing: it's easy. First, you'll need to cut three pieces of fabric as laid out in the free potholder pattern (scroll down to get the free potholder template) - or just use the image below. Then stitch the pieces together using a ¼″ seam allowance (0.7cm), like this: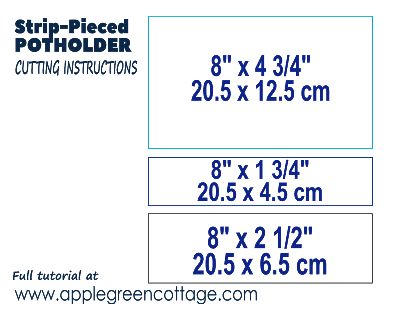 Scroll to the end of this tutorial for a free printable template for your potholder pattern - no measuring needed!
Easy Potholder Tutorial
So, have you got the pieces cut? Let's start sewing!
Step 1 - Make The Loop
Let's start by creating a hanging tab on your soon-to-become pot holder.
How To Make Potholder Loops?
There are many options to add a loop to your diy potholder - instead of making your own hanging loop, you can simply use a ready-made ribbon. One thing to observe: it should be made of material that can withstand as much heat as the rest of your (cotton) potholder. Cotton twill tape works great.
My go-to solution is making my own loop. It adds a cool detail in a totally matching color. This is how I make the loop, it's quick and easy: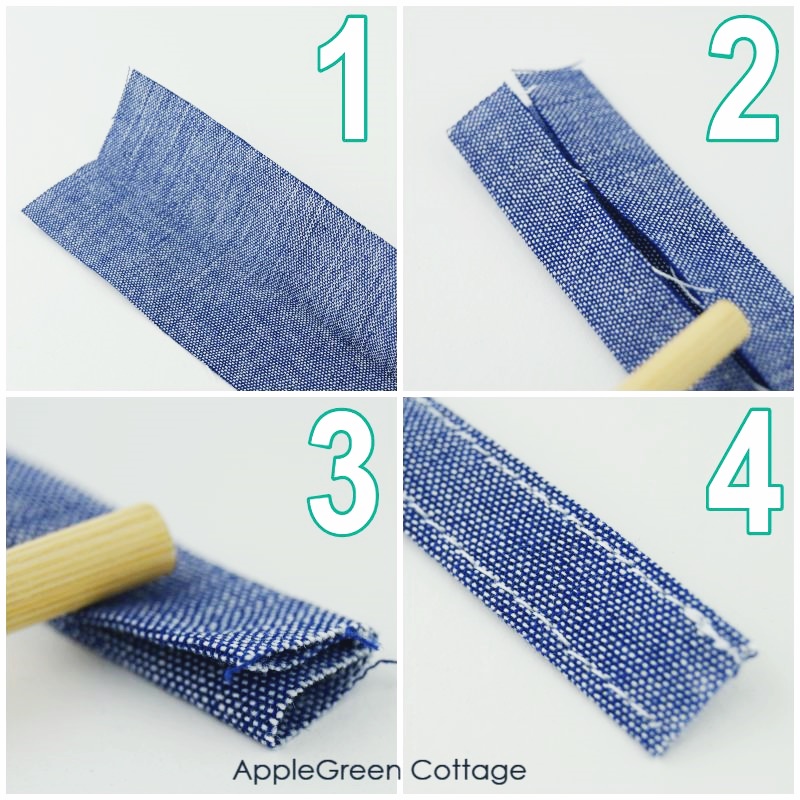 use the 5 by 2 inch piece, fold it in half with wrong sides together, press. Open and
fold the two long raw edges towards the center, then
re-fold along the center fold. Press.
Edgestitch along both long edges.
Step 2 -Attach the loop
Fold your new loop in half. You'll sew it to the top right corner on the front of your potholder. I felt kinda clever putting the loop into the corner, so it's out of the way when I don't need it. Like this: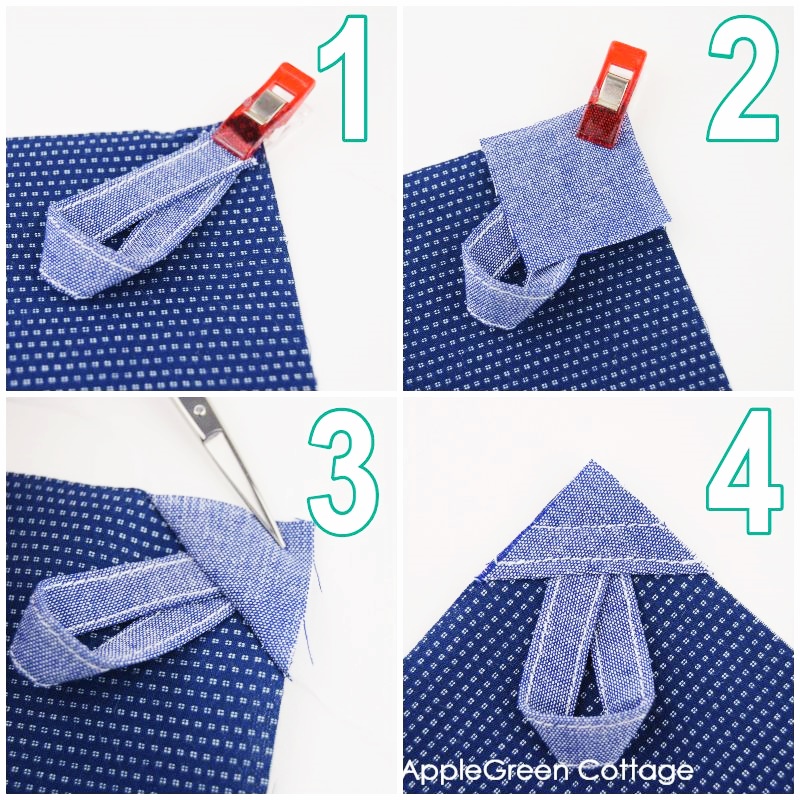 Fold the loop in half and lay it into a corner of the front fabric piece (on the right side of the fabric), with the raw ends directed towards the corner, but not quite touching it. See photo (1) above.
Baste and cover with the 1 ½″ square – the square should be wrong side up and aligned with the corner of the main front piece. Which means the right sides of fabric are touching. Pin and sew across the diagonal, catching the hanging loop into the seam.
Then fold the sewn square back along the sewn line and press. You get a triangle.
Topstitch close to the origibnal diagonal seam to secure the loop, also feel free to sew additional stiching lines along the edge. Loop done.
BONUS TIP: You can do a larger square (up to 2") but in this case you'll also need a longer loop (up to 7"). Bear in mind if adjusting the sizing.
STEP 3 – ASSEMBLE PIECES
This is where you place the layers so you won't need to bind the edges and miter the corners 🙂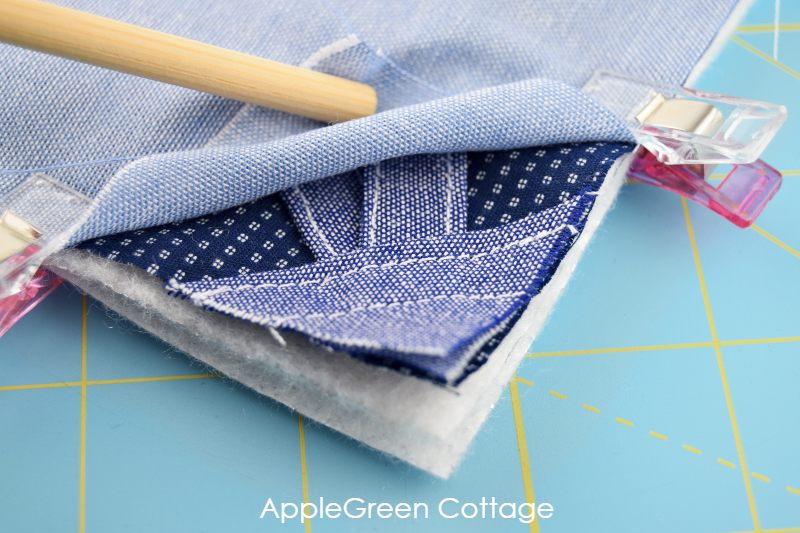 So, lay down the two pieces of Insul-Bright, place the front piece face-up on these (with the loop facing up too) and lay the back fabric on top of the stack - this one should be with right side DOWN.
Step 4 - Sewing The Potholder Layers Together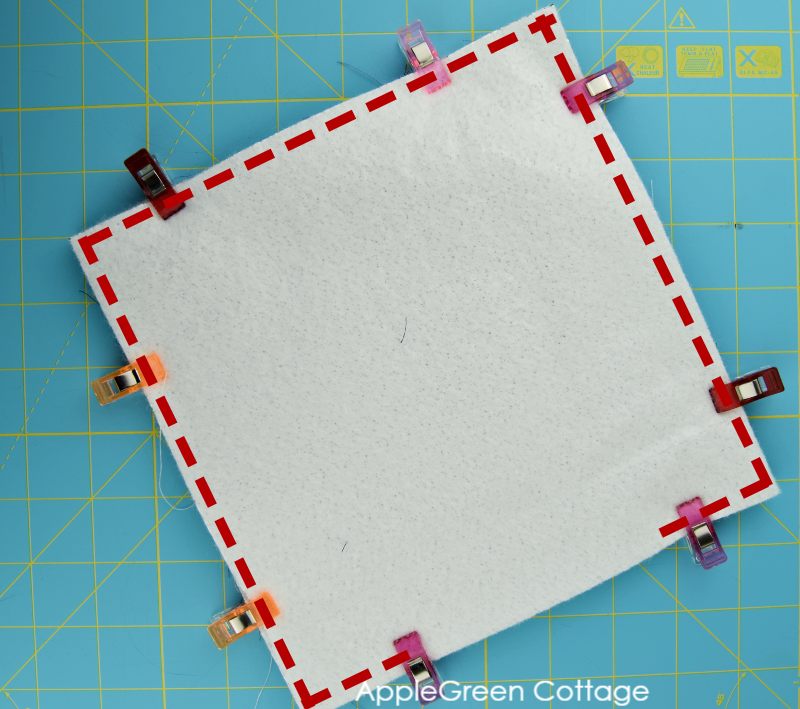 Double-check: are the right sides of the two fabric pieces together? Good. Now pin and sew around, leaving a few inches on one side open for turning.
Step 5 - Clip the corners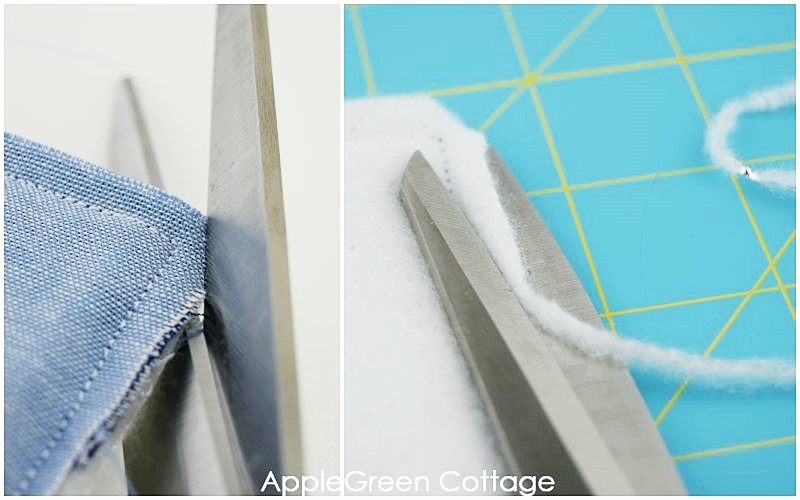 Clip corners and trim the batting in the seam allowance, taking care not to snip into stitches. This will reduce the bulk and you'll end up with neat corners.
See here how to trim corners on all your sewing projects.
Step 6 - turn Right side out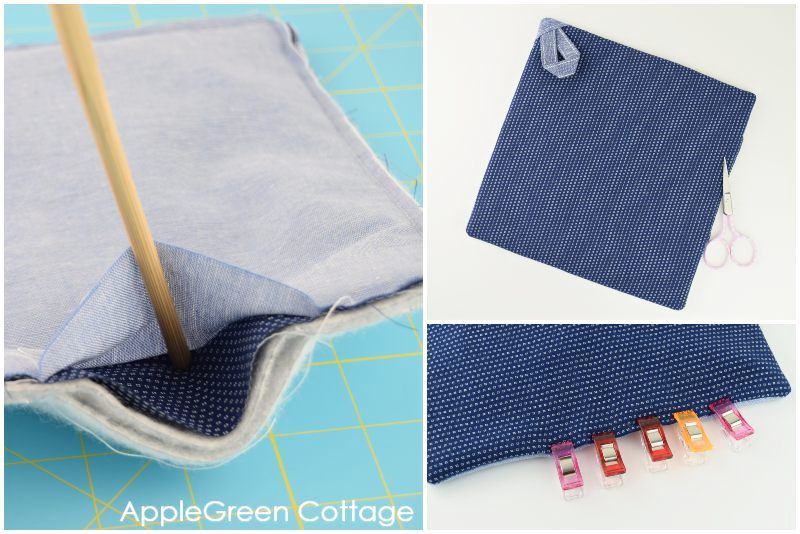 Turn your diy potholder right side out and stitch the opening close. The nicest way to do is using a ladder stitch.
Step 7 Topstitch And/Or Quilt Your Diy Potholder
This is an optional step, but recommended! If you topstitch along the edges, the stitches will hold the layers together so layers don't shift after laundering - and they'll look so neat. My potholders get washed often - I'm a messy cook, haha!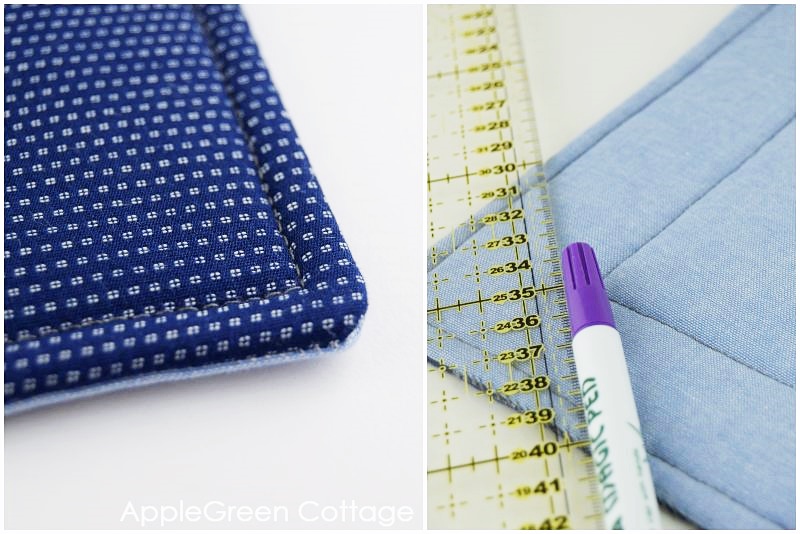 These potholders make beautiful housewarming gifts. Consider adding a few kitchen utensils and make this practical storage tote - it makes a great kitchen caddy!
So Where is the Free Potholder Pattern?
Get the free template by clicking on the button below, no password required:
Click on the 'Click Here' button to save your free template to your computer. Open in Adobe Reader and print.
Make sure to save the download to your computer, and this blog tutorial to Pinterest using this link or the image below, so you can use it later: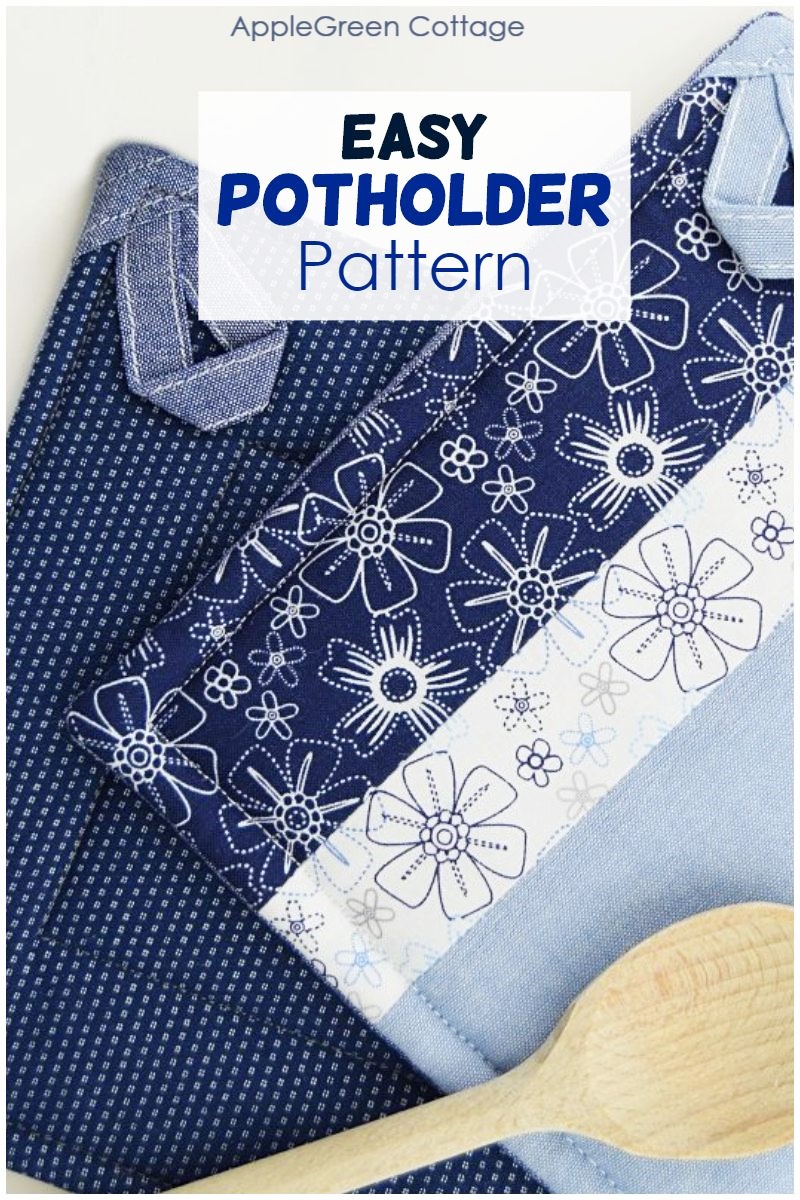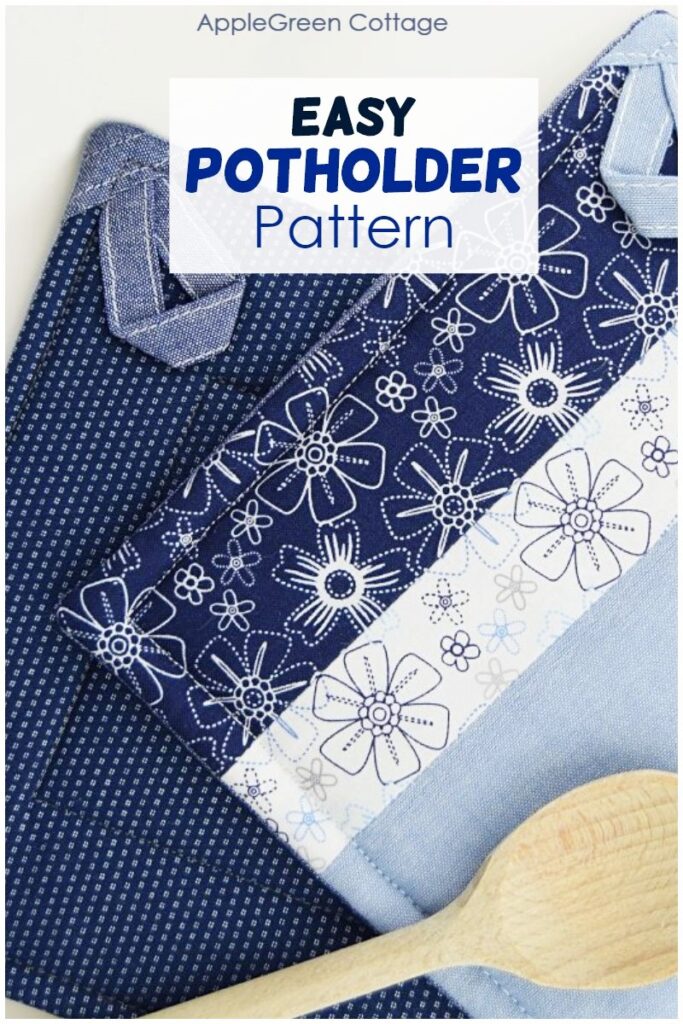 As always, I'd love to see if you've made a potholder using this tutorial. Please post a picture to Instagram and tag me @applegreencottage or #applegreencottage – so I can take a look!
WANT MORE FREE TUTORIALS AND PATTERNS?
Get email updates and never miss out on new patterns, printables and tutorials. If you sign up at THIS link, you'll also get the Fabric Hanging Basket Template for FREE, right now. A cute and easy-sew!
Or …check out the NEA Small Crossbody Bag pattern in my shop. This bag skyrocketed to the top of my best-sellers in less than a week after it was released, check out all the gorgeous versions from pattern testing here: