Today I'll show you how to sew an easy diy storage bin using my free small bin pattern with a fold-over top. So easy to organize your home in style, and they make an excellent handmade present. Scroll down to get your free template.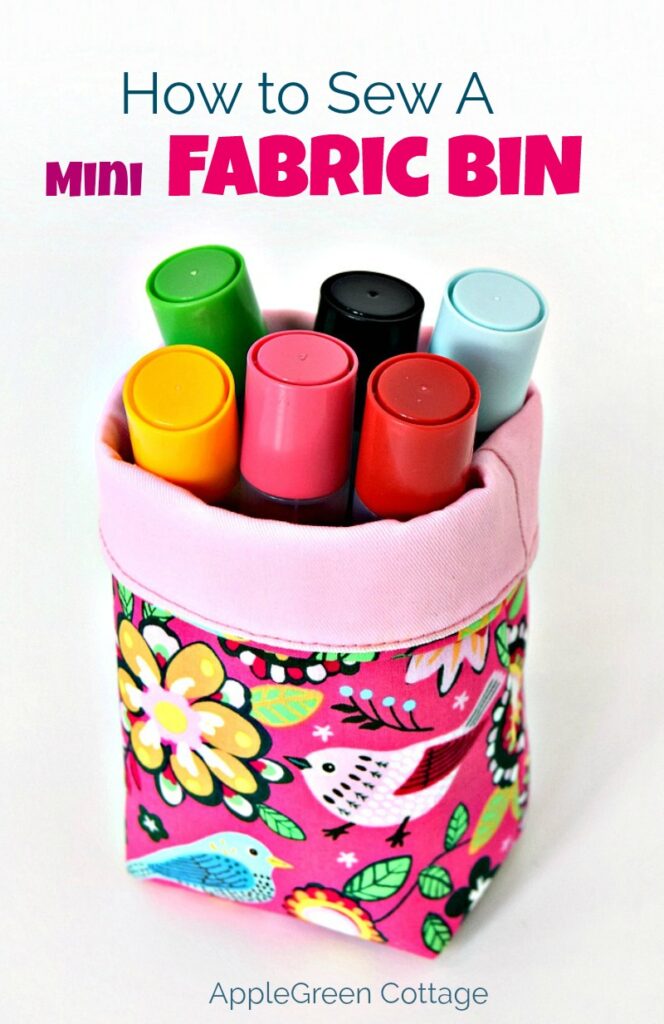 This post includes affiliate links. Thanks for your support. First off, you might not know it, but I've got tons of FREE PATTERNS on this site, including these you might want to check out:
Or try our new, popular SewPretty HOME series: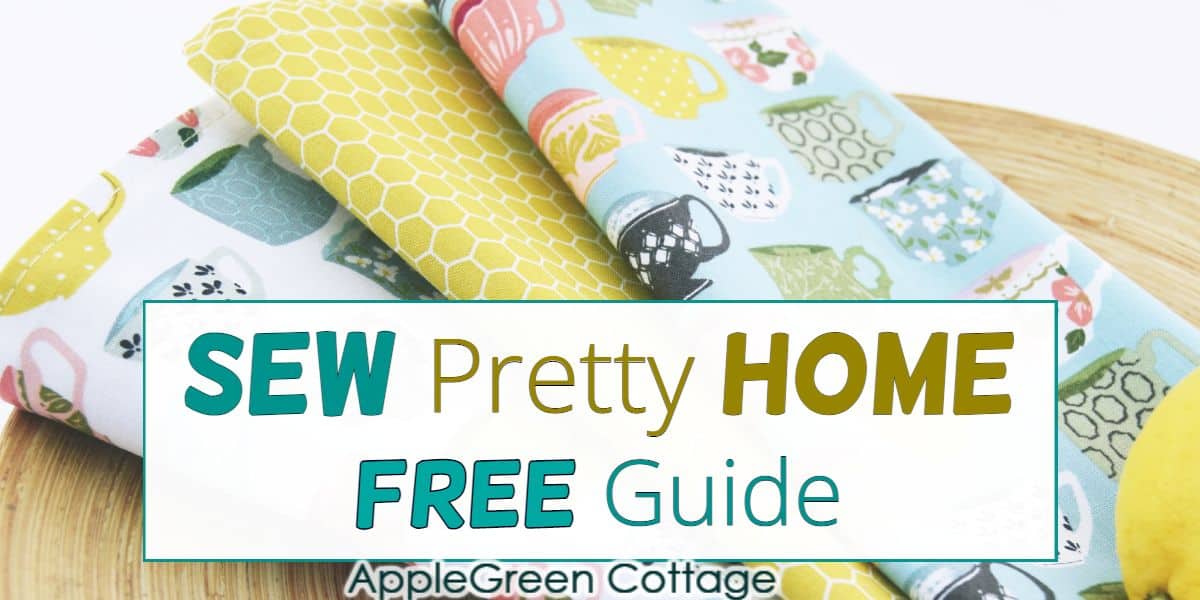 Join the FREE 7-part email course and make 6 beautiful items for your home! You'll love it!
Diy Storage Bin Pattern
Back to the diy storage bin - these handy little diy fabric bins will keep just any spot in your home look cute and fresh: your work desk/counter tidy, store coupons neatly tucked in, or tiny toiletries neatly lined up on your bathroom shelves, your sewing notions - all easy to find!
This diy storage bin is lined and reinforced by fusible interfacing to give it some body to keep its shape. It's a great scrap buster and has an easily adjustable height.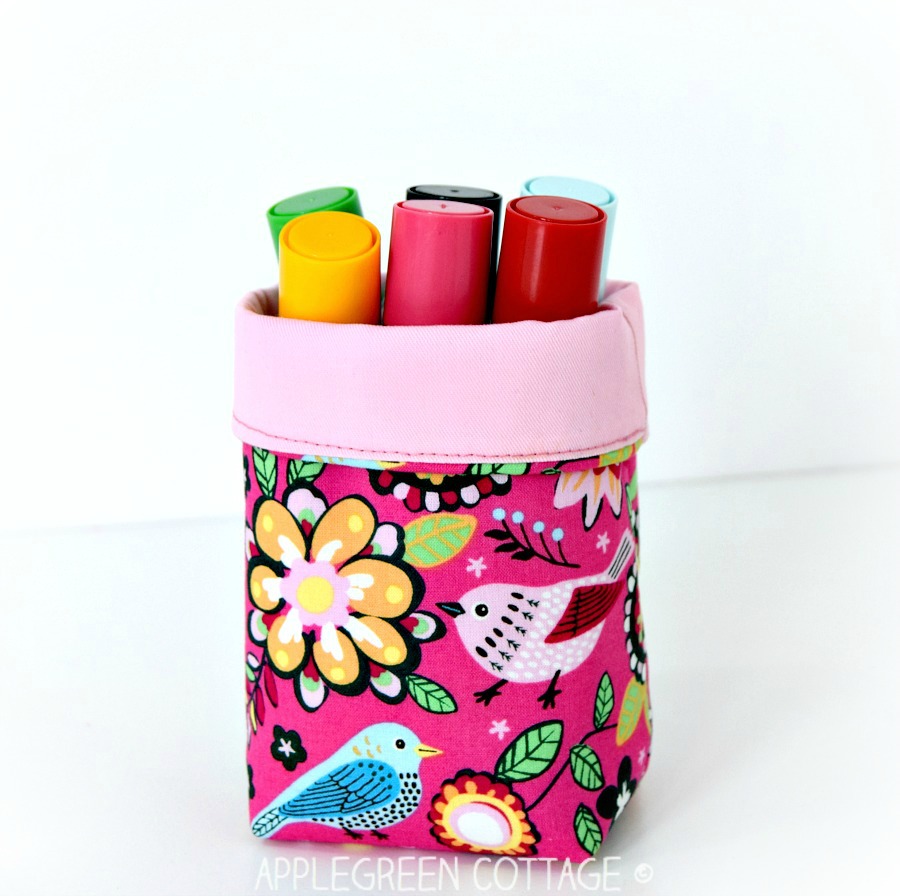 SUPPLIES to Sew the Diy Storage bin:
2 pieces of 12x8 inch midweight cotton
12 x 8 inches of lightweight fusible fleece
coordinating sewing thread
sewing machine, iron, scissors, pins, ruler
Diy Storage bin TEMPLATE
This is the template for the small fabric bin that should help you along the way. Feel free to pin, save or bookmark this tutorial, so you'll be able to use it later, too.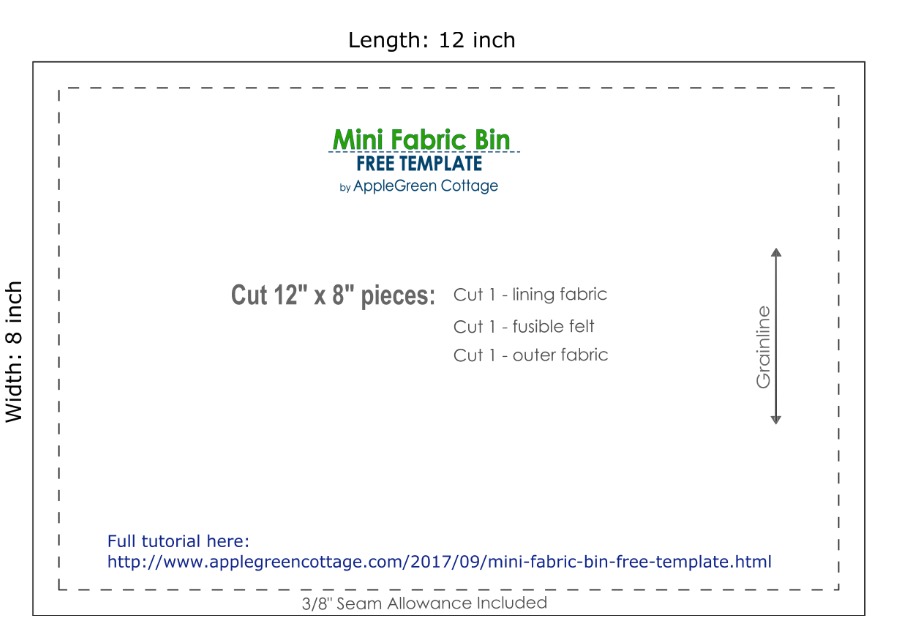 A ⅜" seam allowance is included in the template.
FINISHED SIZE of the Diy storage bin
apprx. 3.5″ wide, 3″ deep, 6″ tall (top unfolded)// 4″ tall (top folded down)
This little bin is easily adjustable even when finished: you can adjust the height any time by folding the top over. (So it WILL fit into that messy kitchen drawer, too 😉
Sewing Steps For Your Storage Bin
Use the free storage bin template to cut 3 rectangle pieces of fabric:
1 piece from the outer fabric
1 from lining fabric, and
1 piece out of fusible fleece.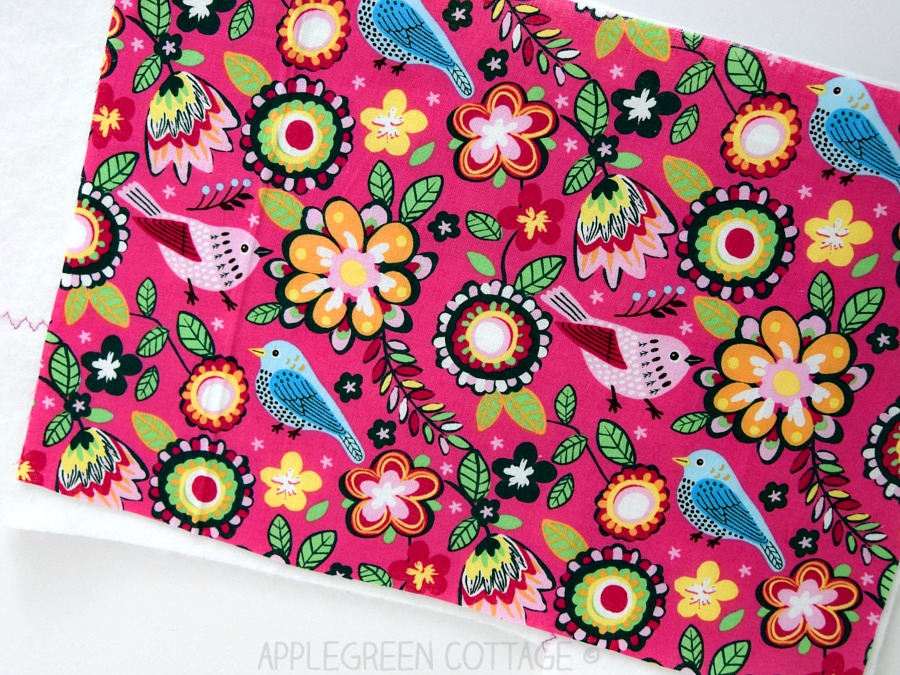 2) Apply interfacing/stabilizer to the WRONG side of the outer fabric, using an iron.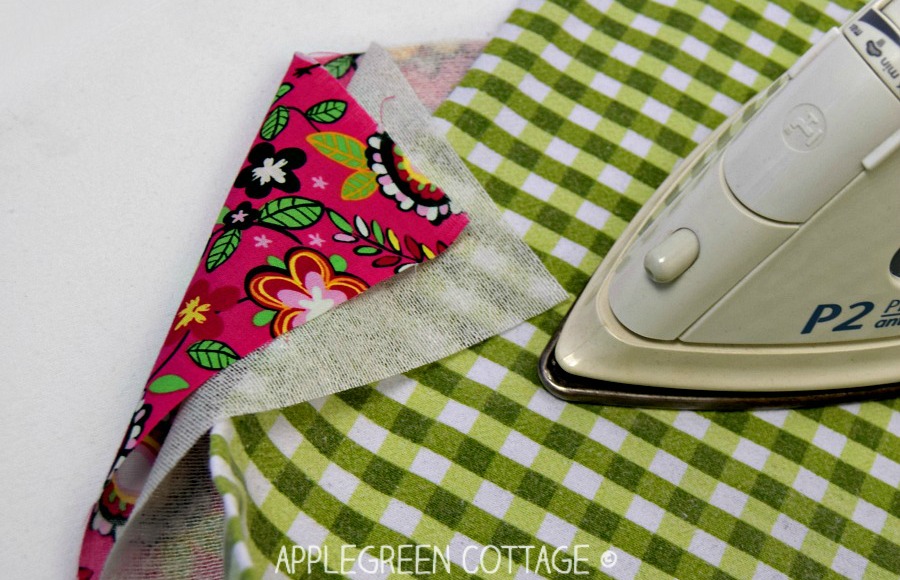 1. Place your outer fabric FACE DOWN on an ironing board.
2. Place the stabilizer on the fabric, the coating must face down. (this image shows another type of stabilizer, not fusible fleece - sorry!)
3. Cover with a damp cloth to prevent getting interfacing onto the iron
4. Apply iron carefully. Press, up, press, up. Don't glide, to avoid shifting any of the layers!
3) Place the lining and outer fabric right-sides together. Pin in place. Then stitch using a ⅜ sewing allowance (= 1cm) along the top line: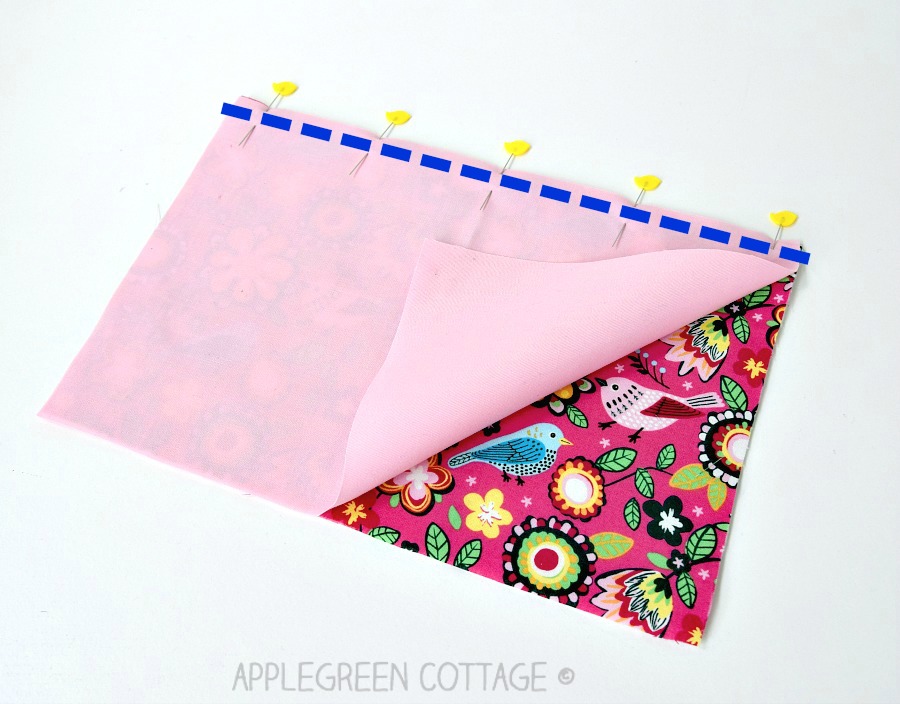 4) Trim the seam allowance close to the seam, to reduce bulk.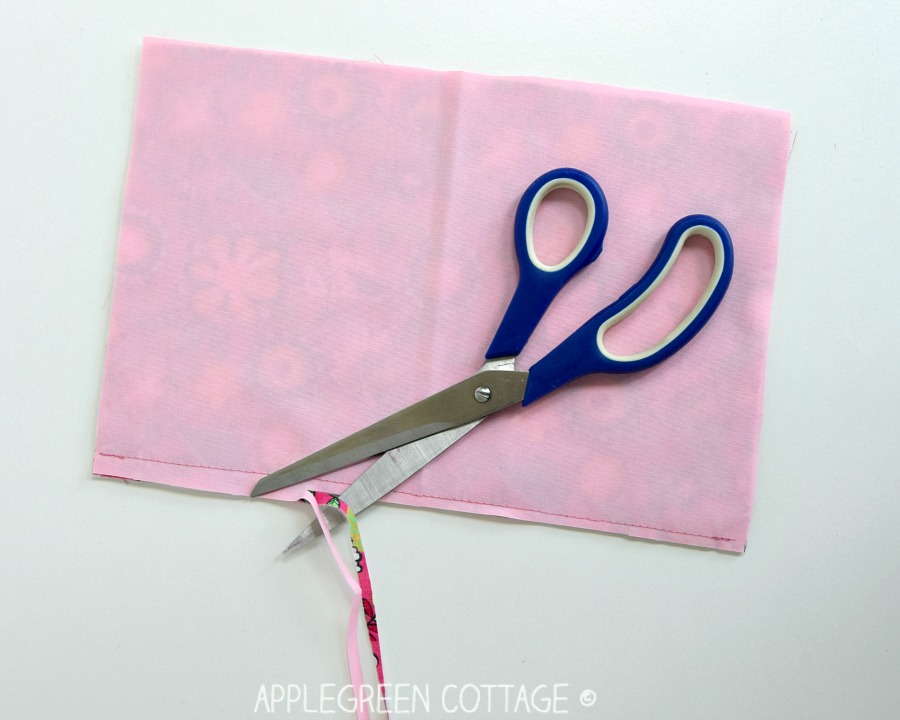 5) Spread the sewn piece face-up on the sewing table. Then fold it once again, right sides together, but this time putting both outer fabric fold onto itself and lining folding onto itself, like this: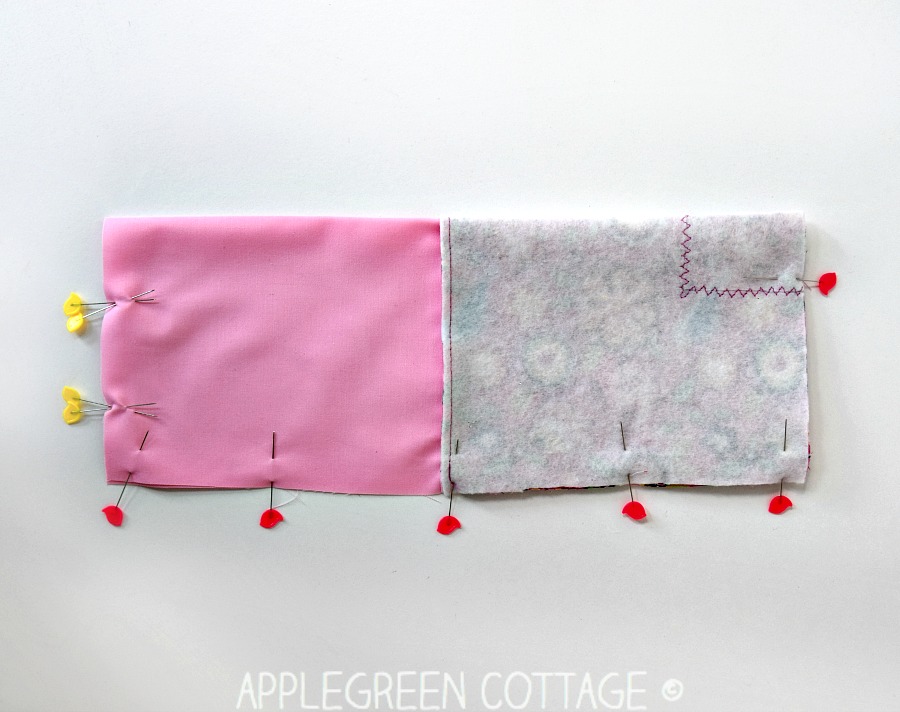 6) Pin in place to avoid shifting. Make sure to mark the spot where you'll leave an opening for turning (here: yellow pins!)
If you're curious why the patch and the zig-zag stitches are shown on the stabilizer, check out one of my other tutorials!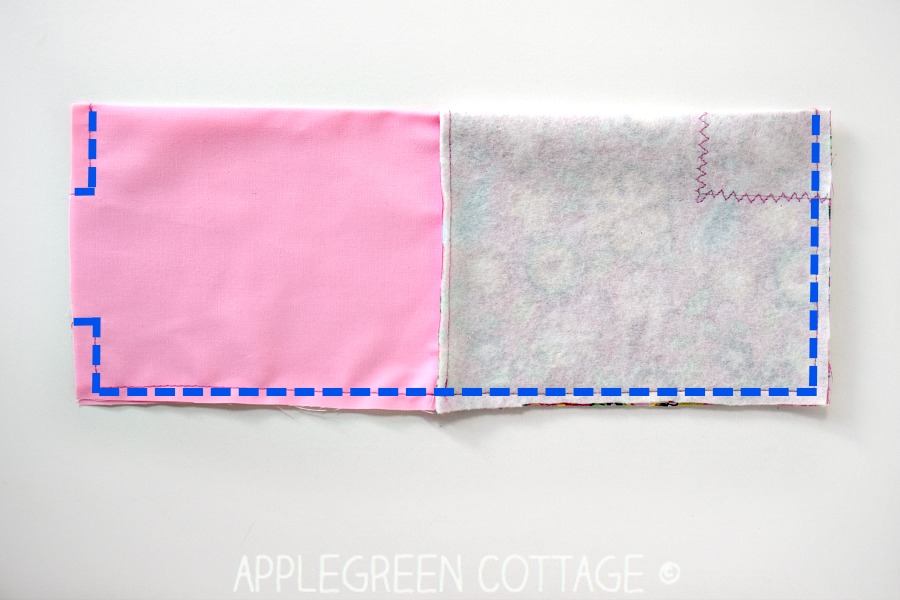 7) Sew around using a straight stitch and a ⅜ (1cm) seam allowance. Start at the outer fabric, and go around.  Leave a 1.5-inch (or a bit wider) opening in the bottom of the lining.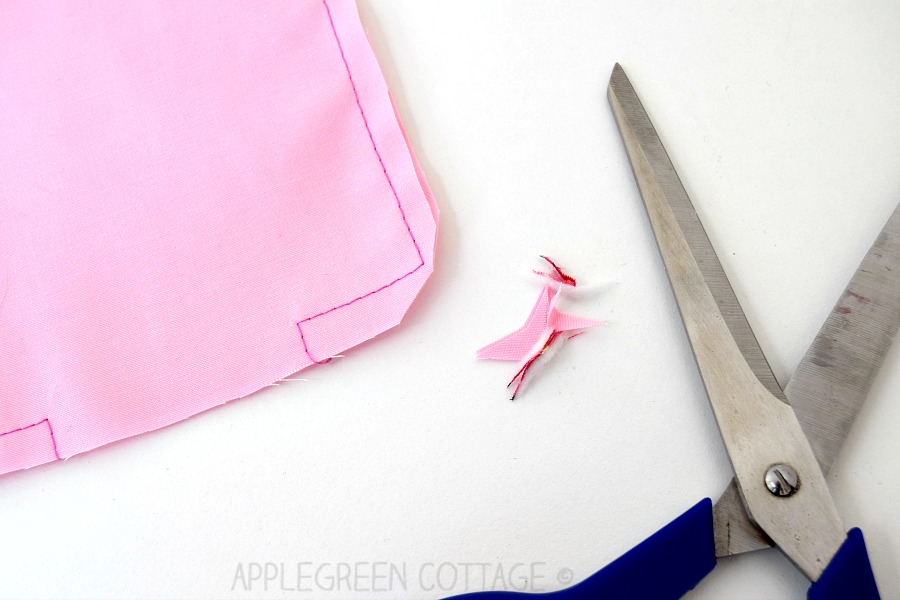 8) Clip the corners to reduce bulk.
More on corner clipping here, with a few great beginner sewing tips. You'll never go back to the simple diagonal corner-cutting once you learn this little thingy: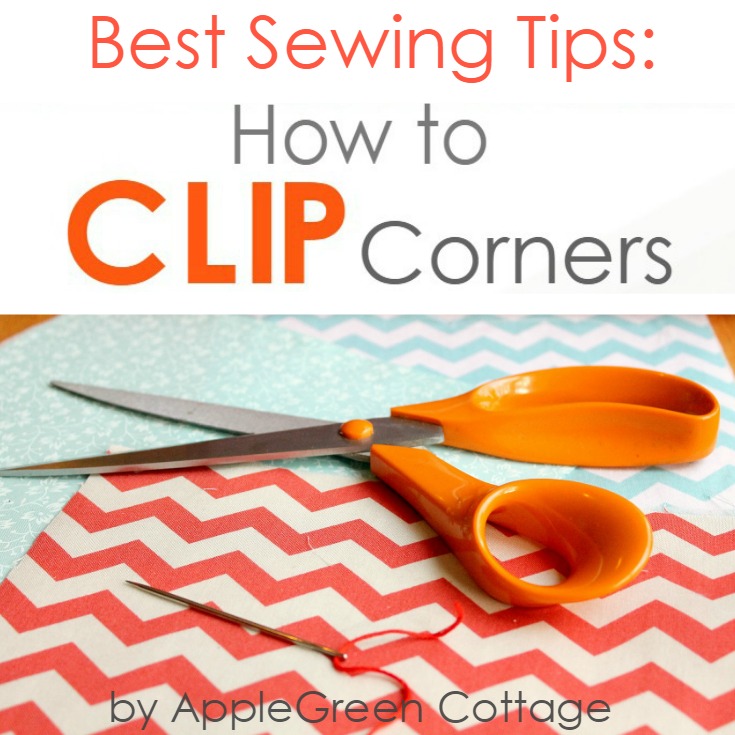 BOXING THE CORNERS
10) Make 4 BOXED CORNERS: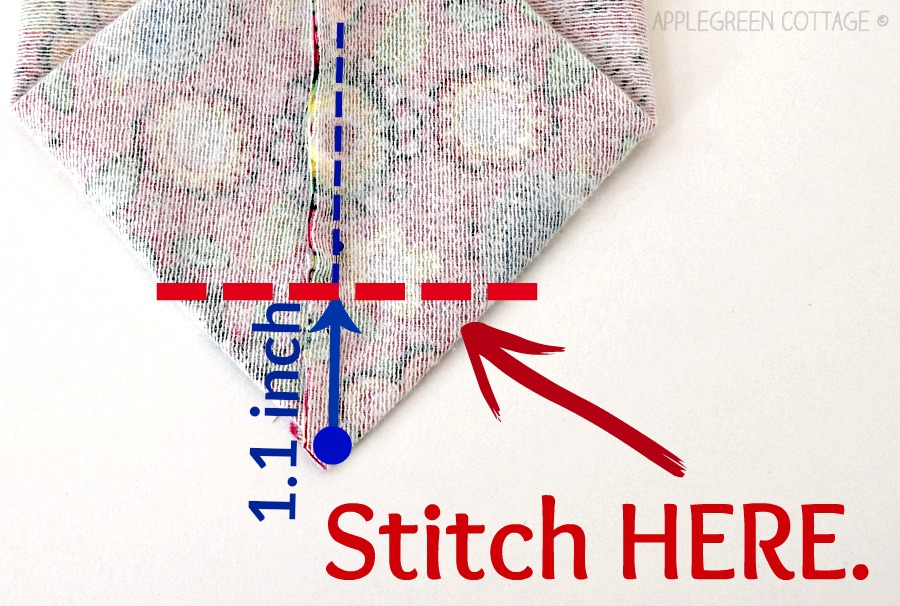 1. Fold the corner flat matching up the center bottom seam with the center side seam. (The side seam should lie directly over the bottom seam!)
2. Place a pin in the matched seam to hold them together.
3. Measure 1.1 inch up from the tip of the corner and mark (see a blue dot and blue arrow in the photo). Draw a horizontal line there (see the red dashed line in the photo)
4. Then stitch over the (red) line. Backstitch at the beginning and end of the seam to reinforce it.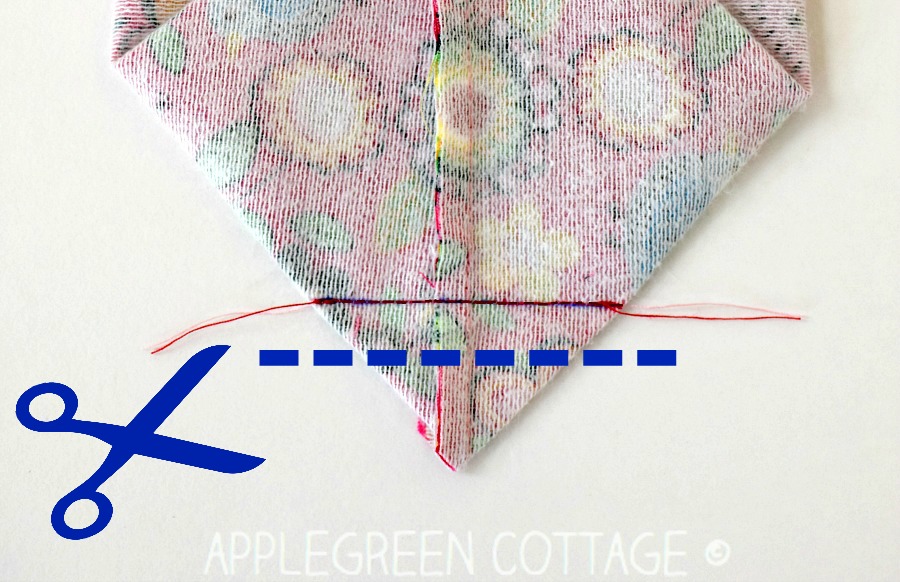 11) Repeat on all 4 corners. When finished, you can snip off the excess fabric to reduce bulk.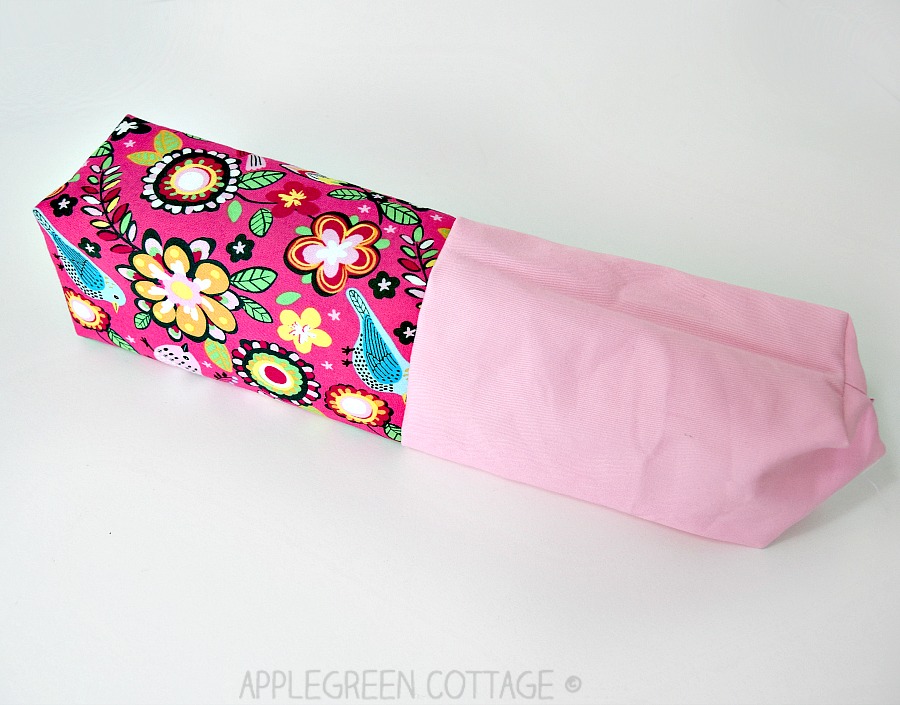 12) Turn the mini bin right side out.
To push out the corners, use a point-turning tool or something similar, like a chopstick, a knitting needle, or simply a pencil. Don't use anything sharp since it could make holes in your fabric.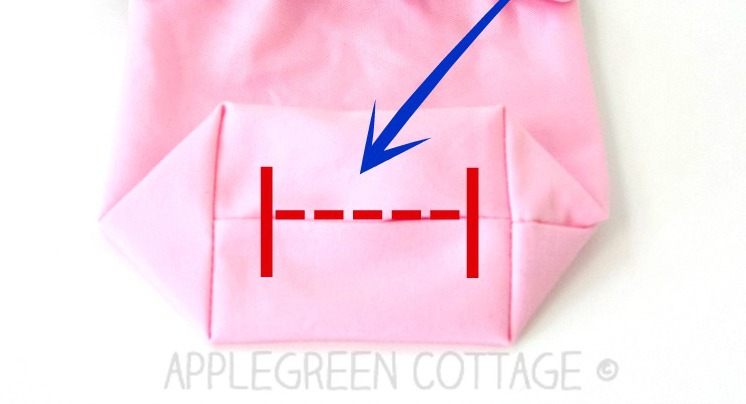 13) Handstitch or machine-stitch the opening closed.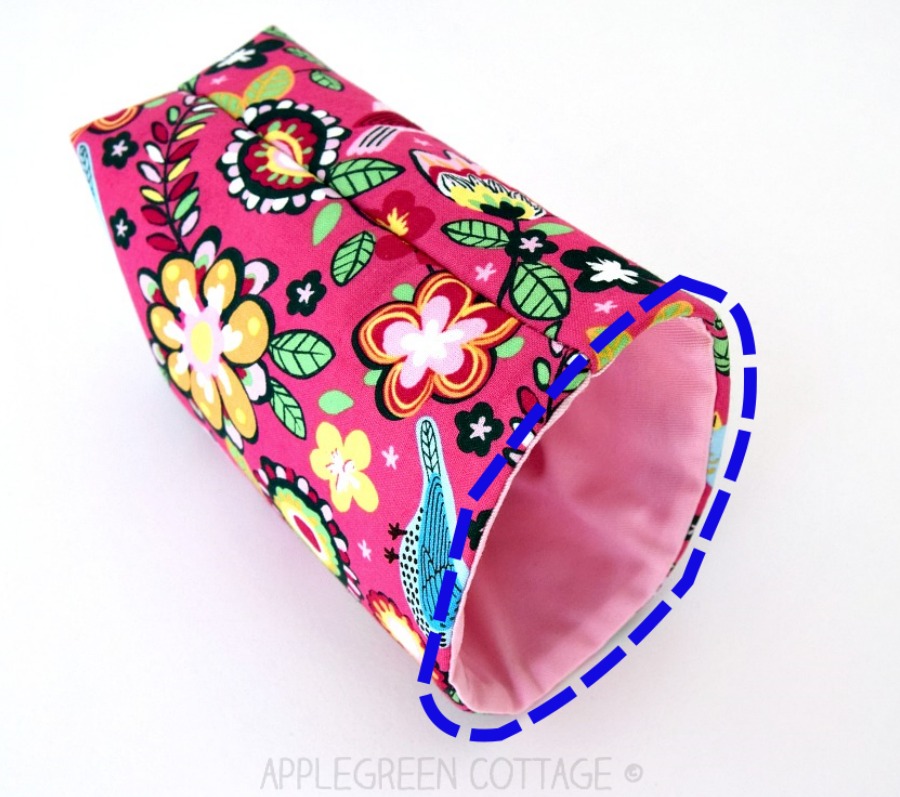 14) Tuck the lining into the bin and topstitch around the top.
15) If you want to hide the thread ends really neatly, check out this easy sewing tip. My readers love it!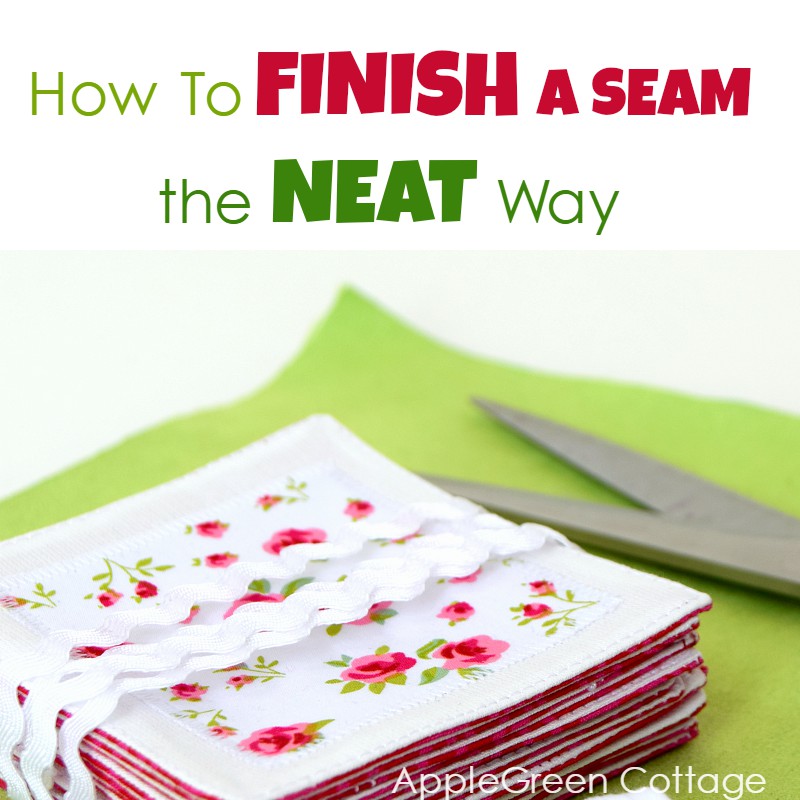 16)Press well - it makes the finished item look so much cuter! And here's your finished fabric bin. Fill it with a bunch of crayons, sharpies, or anything else you can think of. This bin is now home to our Ikea stamping pens.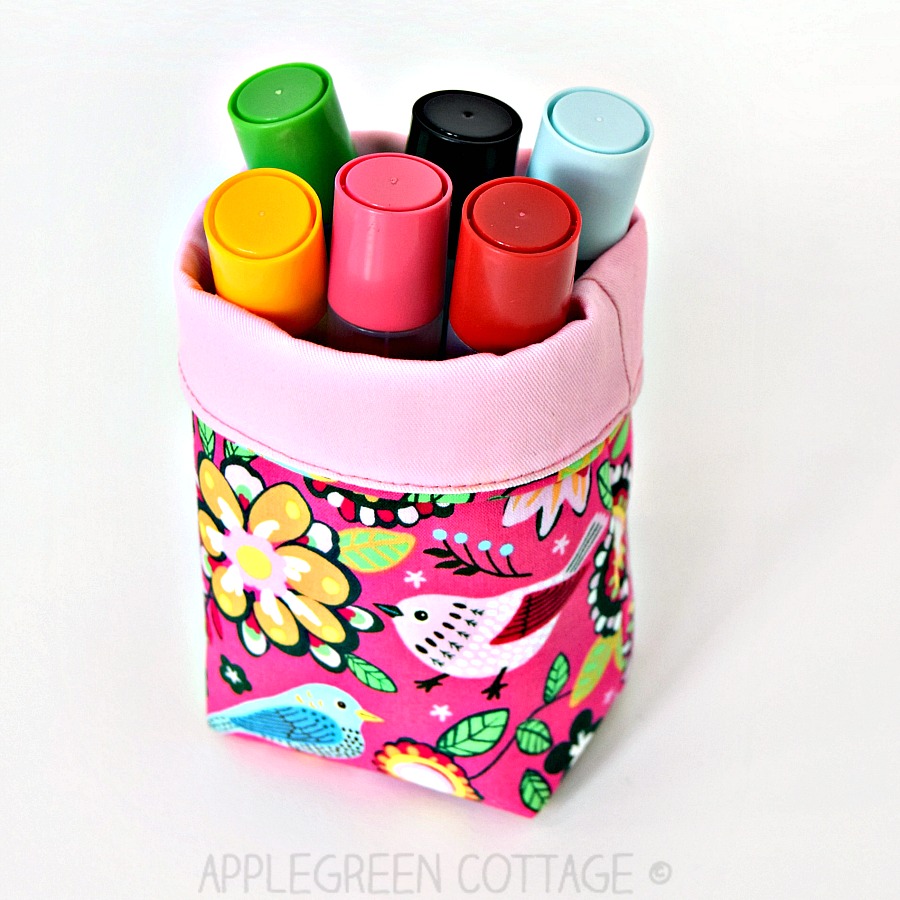 Done! You've made a beautiful, unique mini bin! You can fold the top over or leave it up. Either way, adorable! I hope you'll enjoy the free template and tutorial.
WANT MORE FREE TUTORIALS AND GOODIES?
Get email updates and never miss out on new patterns, printables, and tutorials:
Or check out this pretty ALLina project bag pattern in our shop - for all your storage needs: