See how to sew a bowl cozy with our free printable microwave bowl cozy pattern - in 3 sizes.
A diy bowl cozy like this one is great for protecting your hands from hot bowls. Practical, easy to make, and reversible!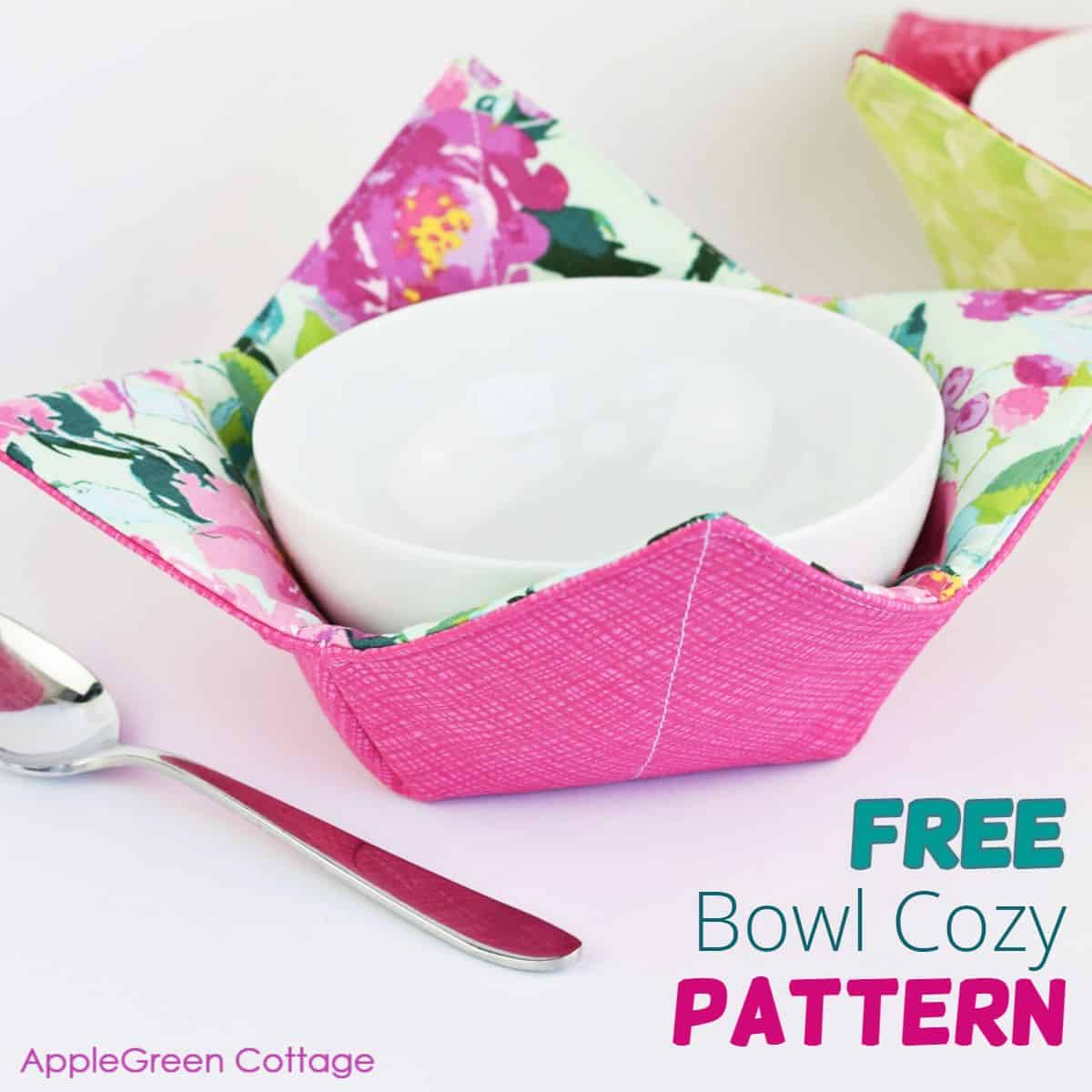 Do you want an ad-free, printable copy of this online tutorial? Find it here for just $3. You won't need to access the internet every time you want to make it. ------ Or get the BUNDLE with ALL the Printable Tutorials - current and future ones!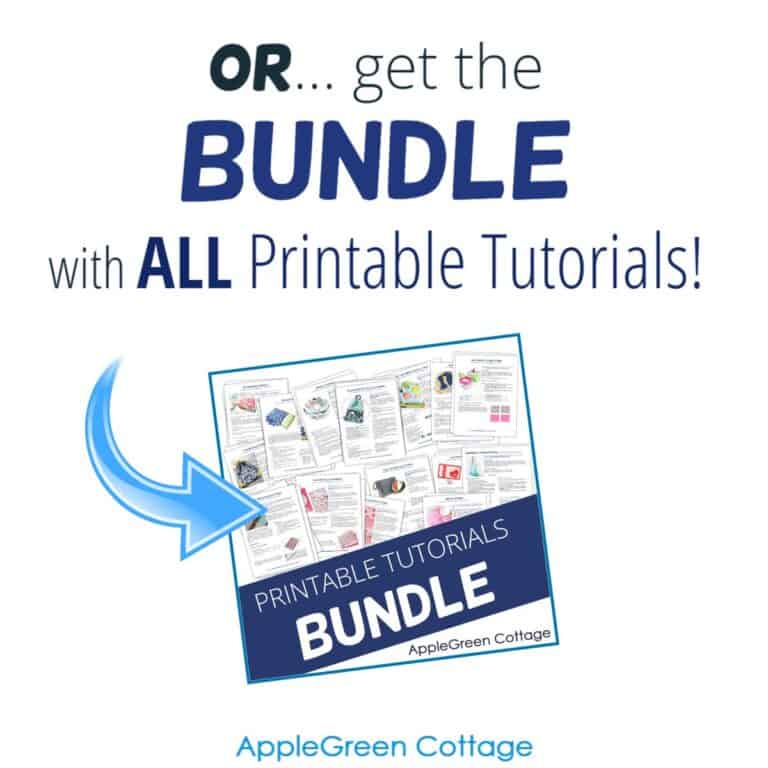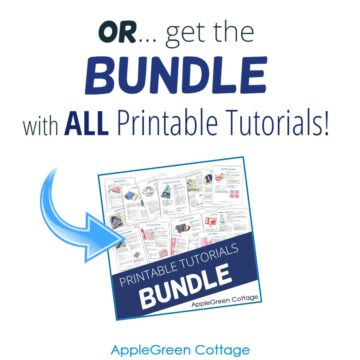 This practical fabric bowl cozy pattern has a flat stable base, and nicely nests your bowl so you can enjoy a tasty, hot bowl of soup while snuggling on a couch.
It also keeps it nicely warm so I can take my time savoring lunch at my work desk - while typing this post, for example 🙂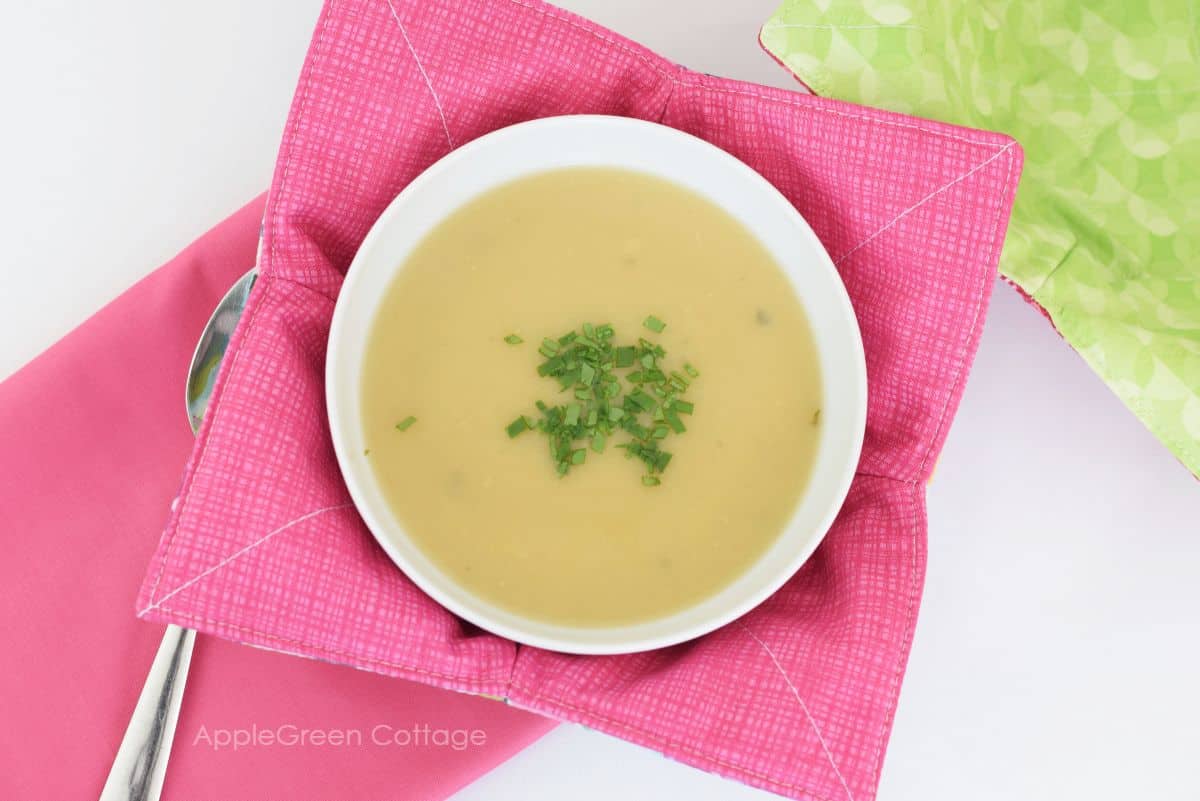 These diy bowl cozies are great for anyone who loves spending time in the kitchen, and they can also be used as cute home decor. And did I mention that they are reversible, so you can easily switch up the look by turning them inside out - ta-daa, a different print, and color, instantly!
What are the measurements for a bowl cozy?
I want you to be able to use your bowl cozies everywhere - so I created the bowl cozy sewing pattern in 3 sizes:
| | Finished Size | Perfect for |
| --- | --- | --- |
| Small | 5" | use as an ice cream bowl cozy |
| Medium | 6" standard size | use as a soup bowl cozy |
| Large | 8" | large bowl cozy or side-dish serving bowl cozy |
| | | |
If you don't know which size to use, start with the standard 6" size. Got a Layer Cake fabric bundle? Use the 10" squares of fabric with the small size pattern for bowl cozy and see how it goes! Dessert bowl cozy size, great as gifts!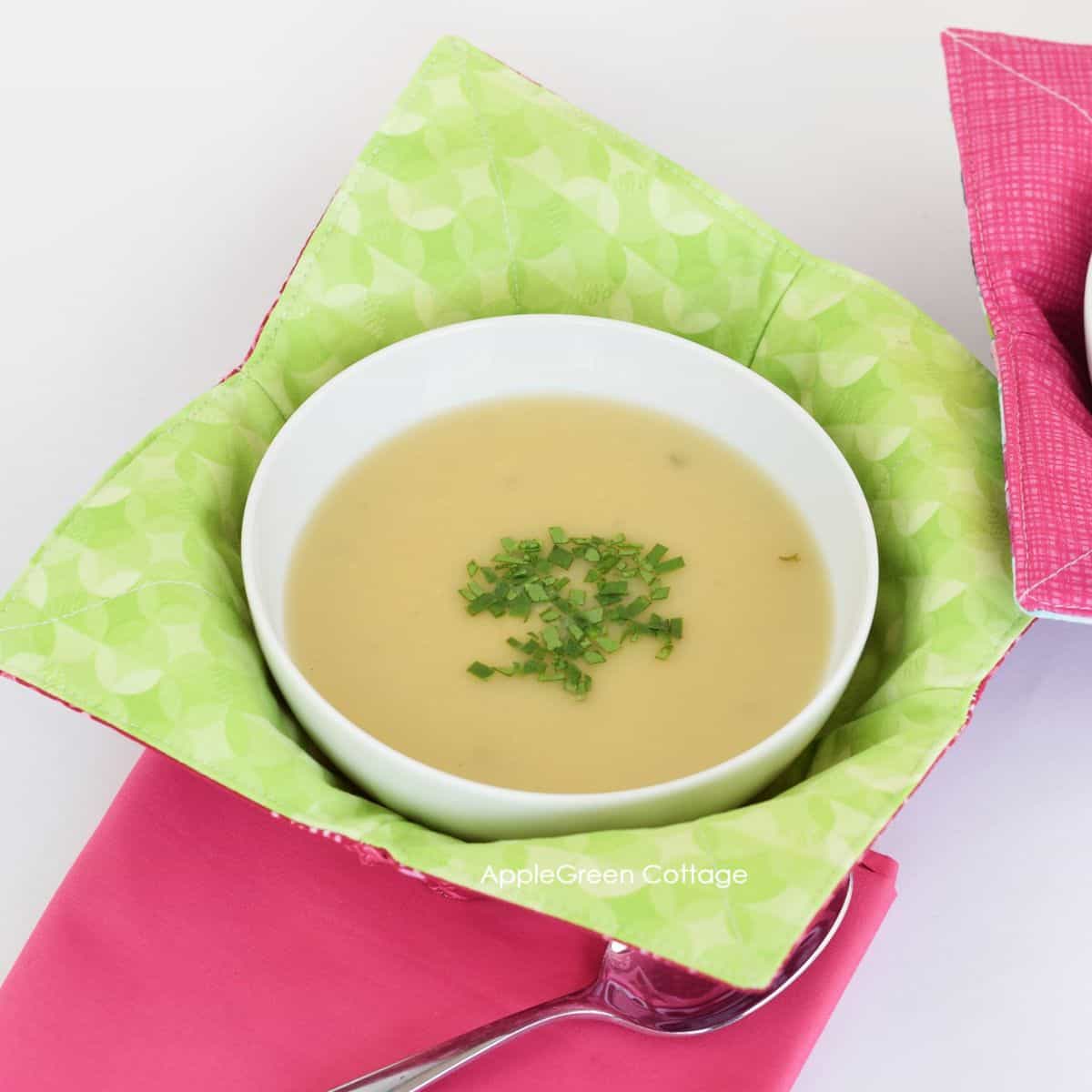 What kind of batting do you use for bowl cozy?
100% cotton batting + 100% cotton fabric + 100% cotton thread. Always.
Do not use insulated batting like Insul Bright, as it contains metal and is not appropriate for a microwave. You must use all 100% cotton. Do not use polyester batting, or cotton-poly blends, as these could melt or catch fire in the microwave, or get damaged.
Bowl Cozy Sewing Video
Here's a super quick video slideshow of sewing homemade bowl cozies, so you get a quick picture of what to expect. (pause your adblocker if you can't see the video)
And scroll down for the photo tutorial with step-by-step images!
Supplies
a fat quarter of cotton fabric (45 x 55 cm)
same yardage of 100% cotton batting (Pellon's Wrap-N-Zap) - 2 squares of batting
cotton thread
optional: air erasable fabric marker or tailor's chalk
a ruler, a rotary cutter, and a cutting mat - or scissors
pins or sewing clips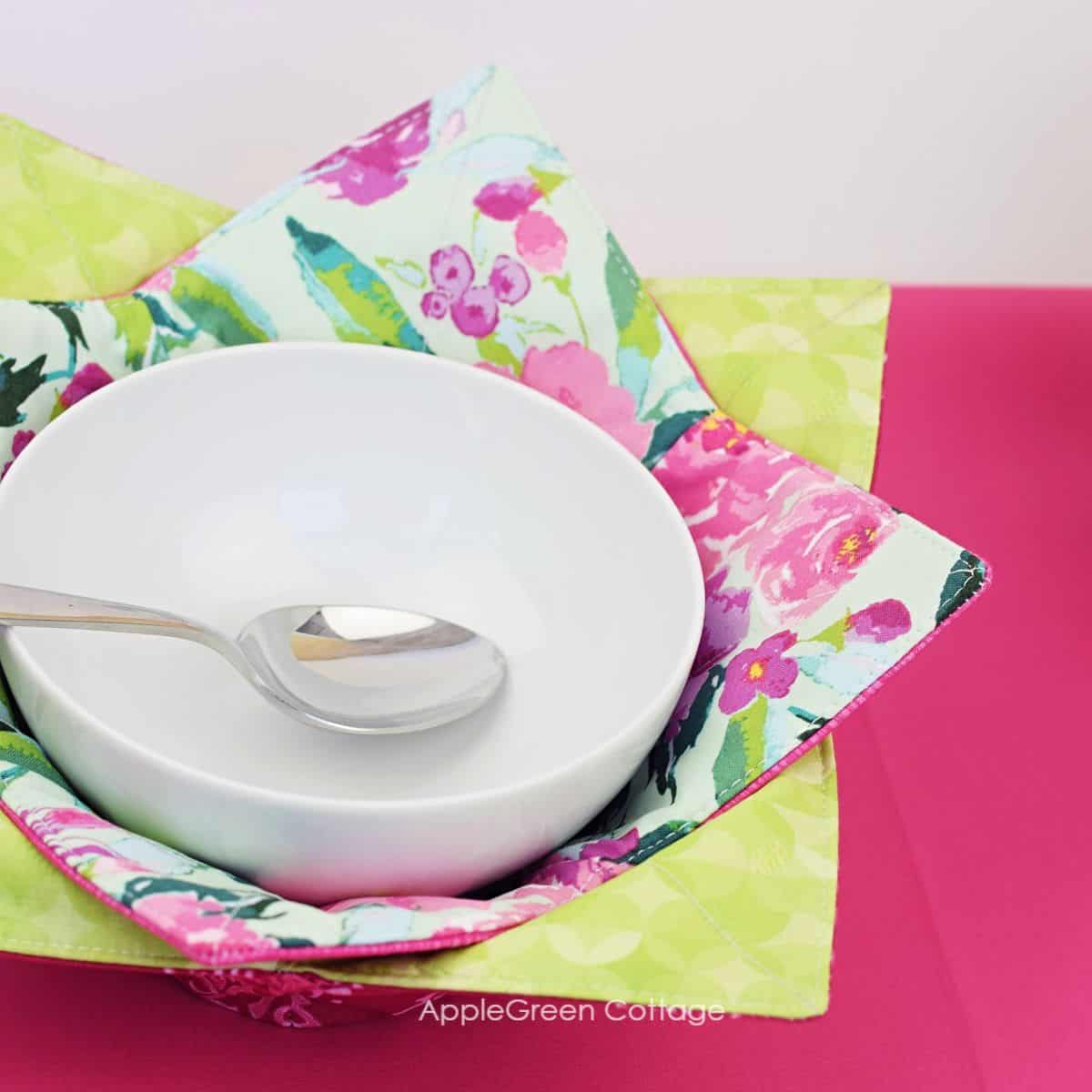 TIP: use a walking foot on your sewing machine, which moves all fabric layers at the same speed. This will prevent puckers and make sewing easier.
Oh, and before I forget, also check out our new SewPretty HOME email series: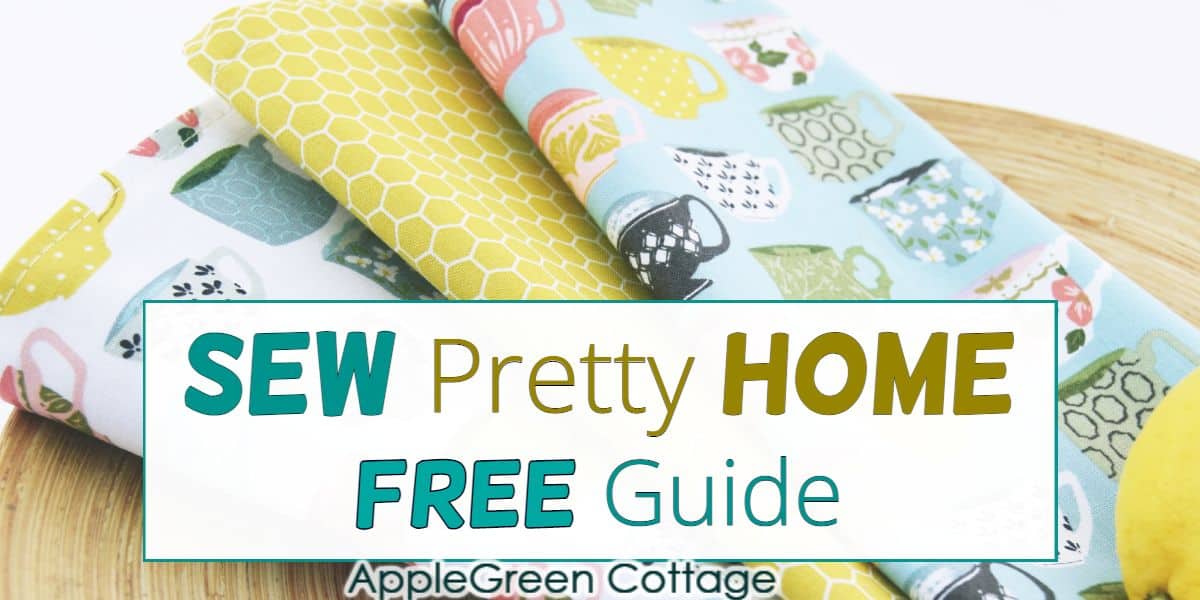 Join the FREE 7-part email course and make 6 beautiful items for your home! You'll love it!
Is this bowl cozy pattern easy to sew?
Yes! You only need to sew a few straight(ish) lines, and it's no biggie if the stitching is not perfect! (Oh you can even skip topstitching!) So if you're new to sewing, don't worry. The instructions are easy to follow and beginner-friendly. This tutorial will guide you through making a soup bowl cozy in, like, half an hour. It's a fun project, but also practical as it protects your hands and tables from hot bowls. And it looks so cute!
Microwave Bowl Cozy Tutorial
Step 1 - Get the Free Bowl Cozy Pattern
Join our mailing list and get the bowl cozy template emailed to you:
OR do you want a printable copy of the WHOLE tutorial? Scroll to the bottom of this tutorial for more details!
Step 2 - Cut fabric
Once you've decided on the size, use the template to cut
1 main fabric piece
1 lining fabric piece, and
two cotton batting pieces.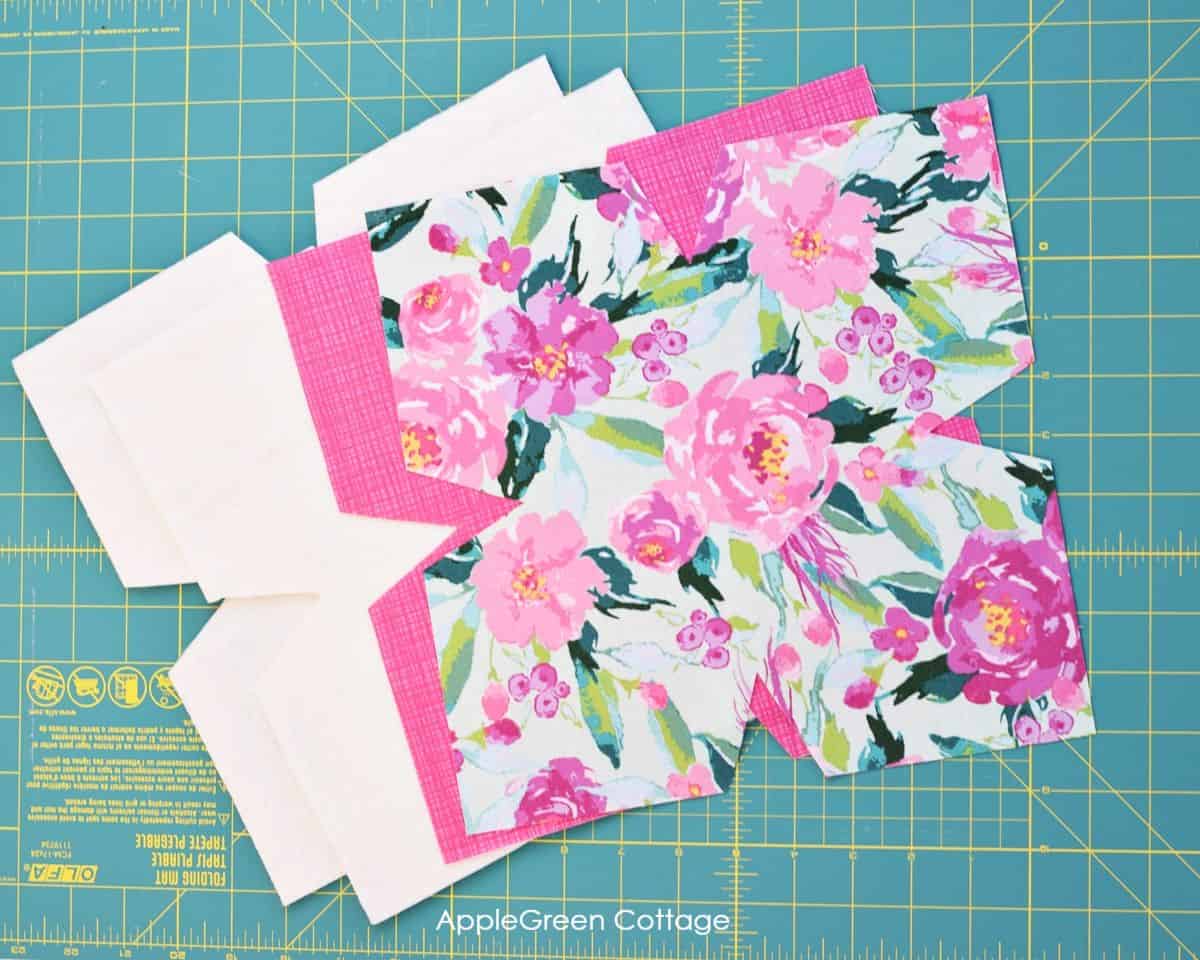 Step 3 - Attach Batting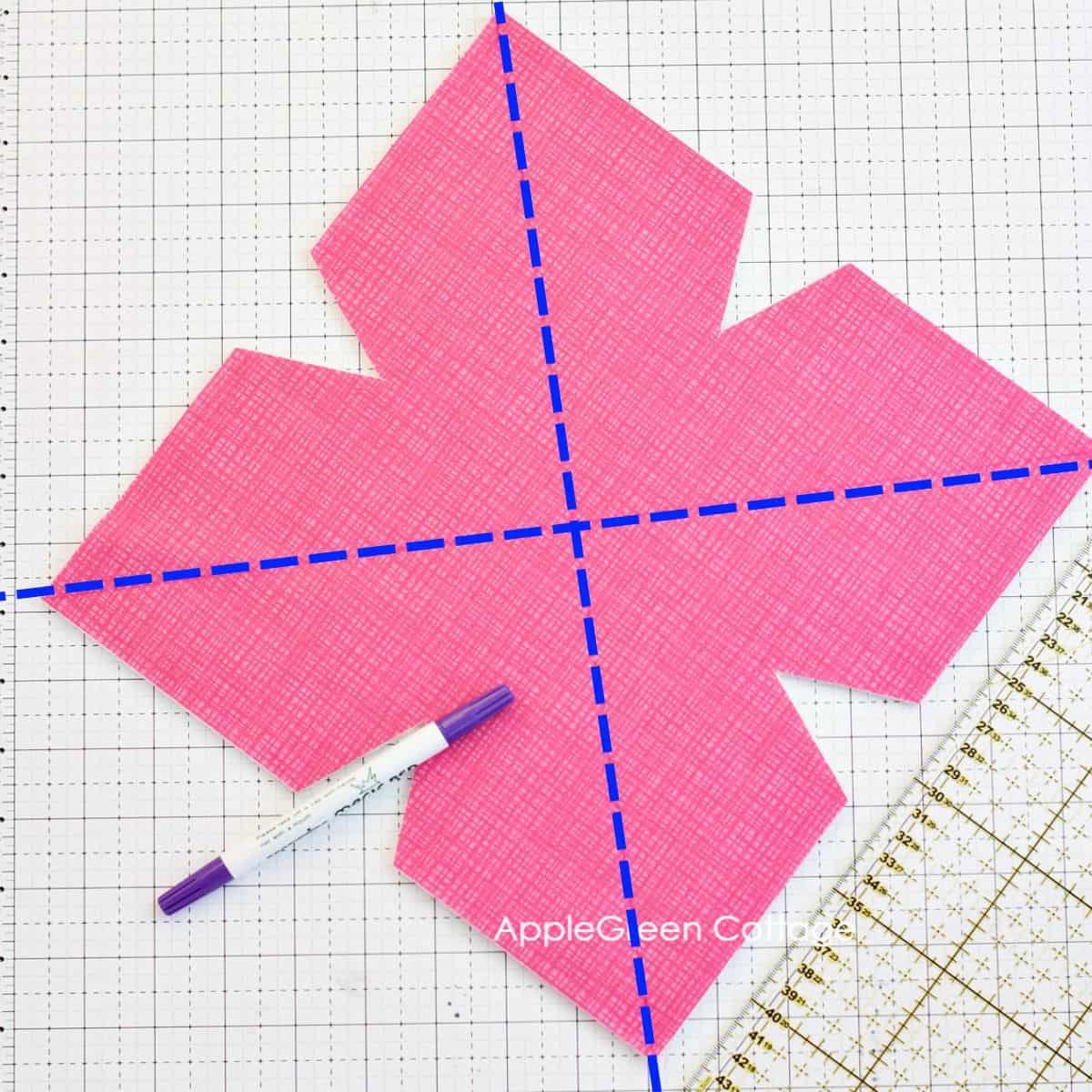 Place one batting piece on a flat surface and one cotton fabric piece over it, with the right side up. Use an air-erasable pen or tailor chalk to draw two diagonal lines.
Now stitch: use the diagonal lines as a stitching guide to quilt the pieces of fabric together.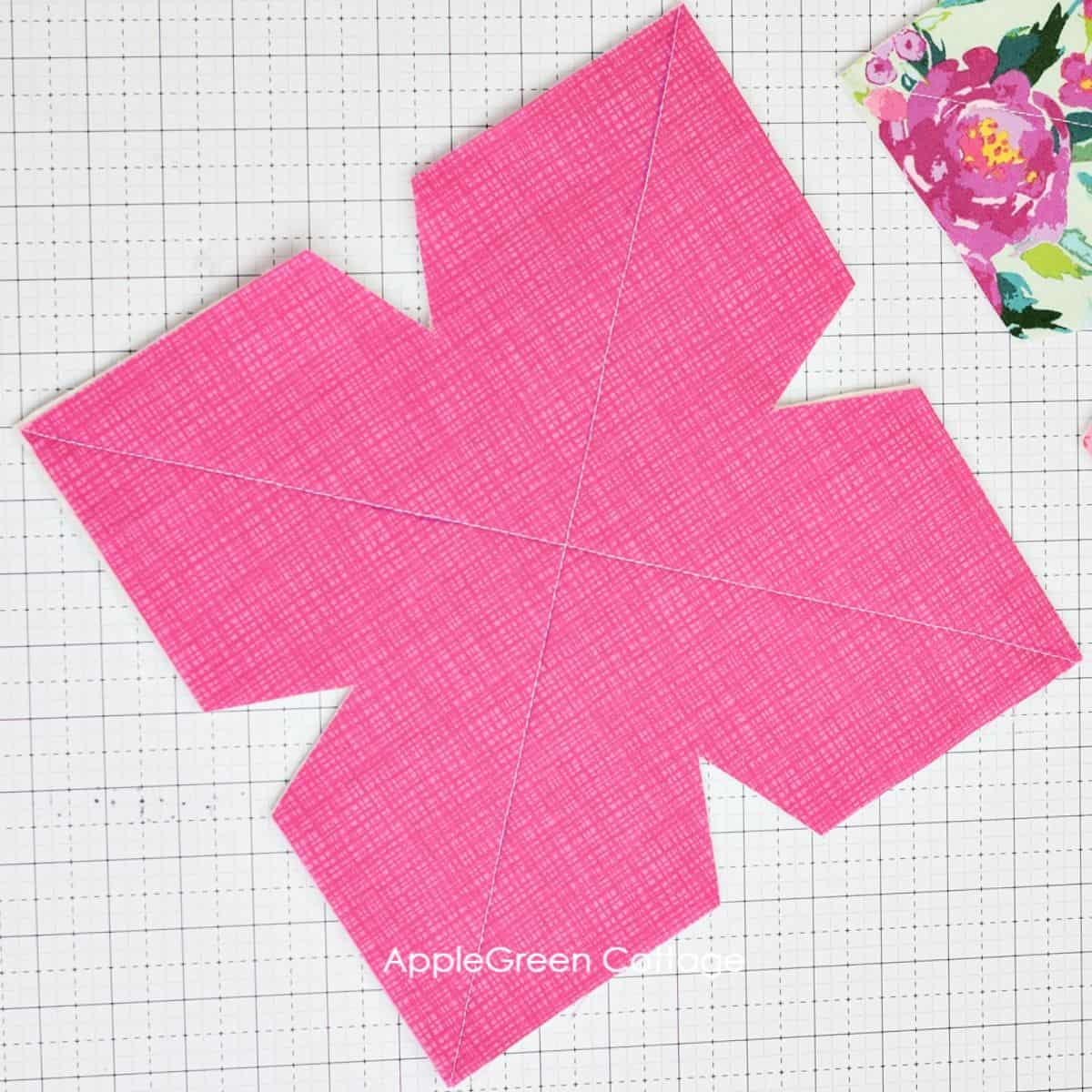 Repeat on the other batting and fabric piece.
Step 4 - Create the Bowl Form
Now we'll create the 3-dimensional form.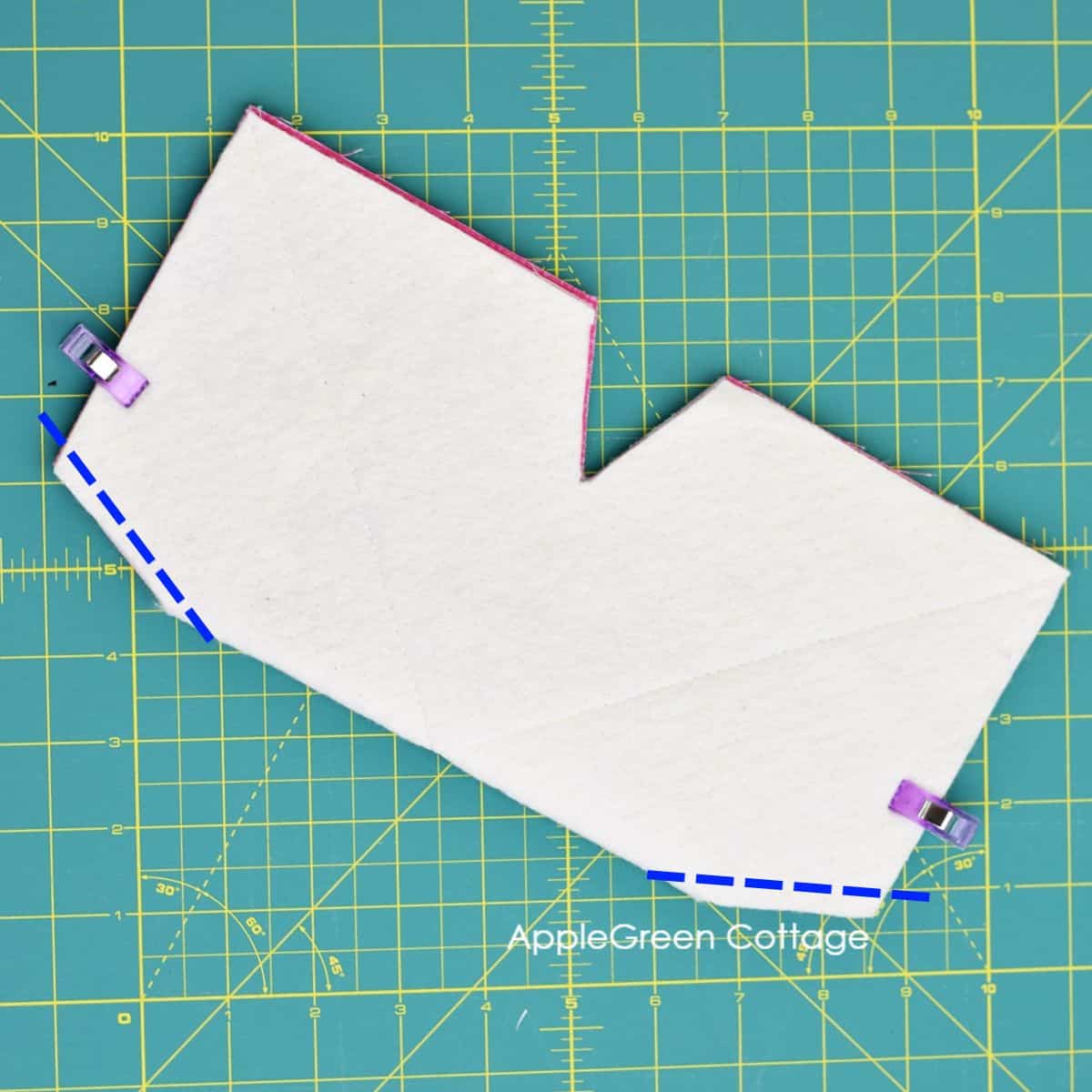 Fold one piece of fabric in half along the v-shaped openings - the right sides of the fabric need to be together. Stitch using a ¼" (6 mm) seam allowance. Then refold and stitch along the other two v-shaped openings: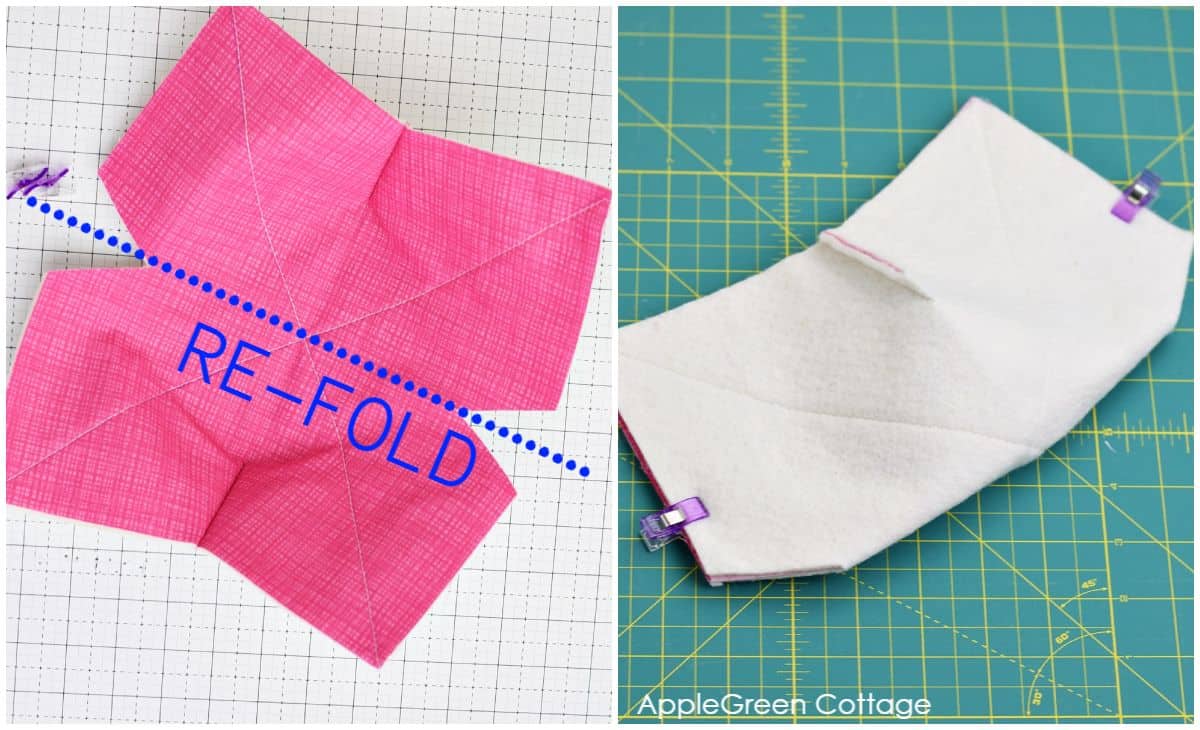 Repeat with all v-shaped openings on the other piece, too.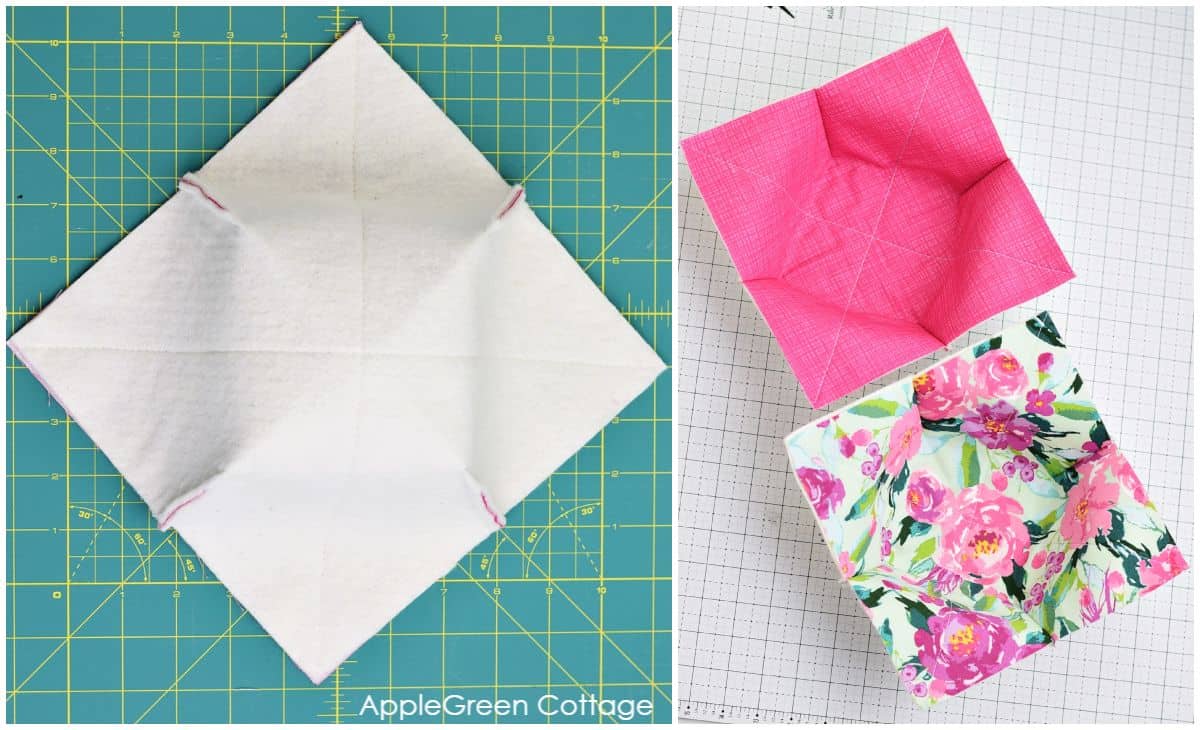 Spot the 3-dimensional 'bowl' form, finally!
Step 5 - Stitch the Bowl Cozy Pieces Together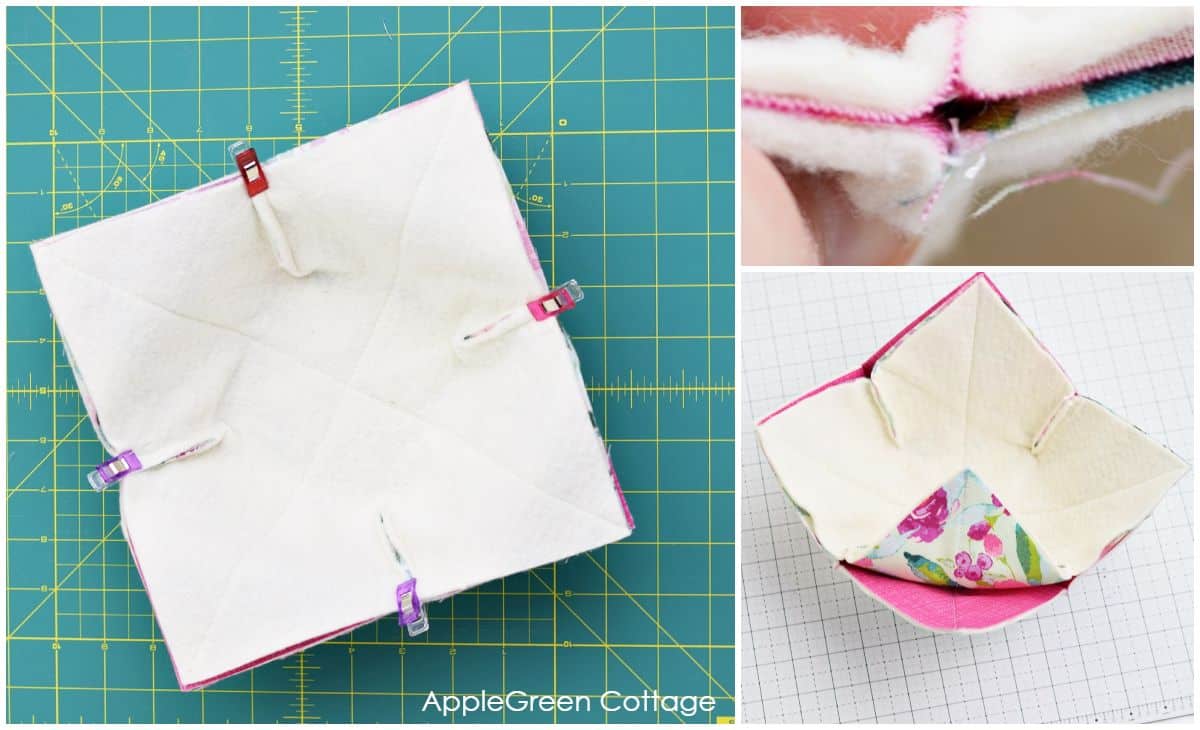 Place the two 'pieces' together, so the fabric sides are facing.
Carefully match the seams on all four sides, and pin or use sewing clips to hold in place.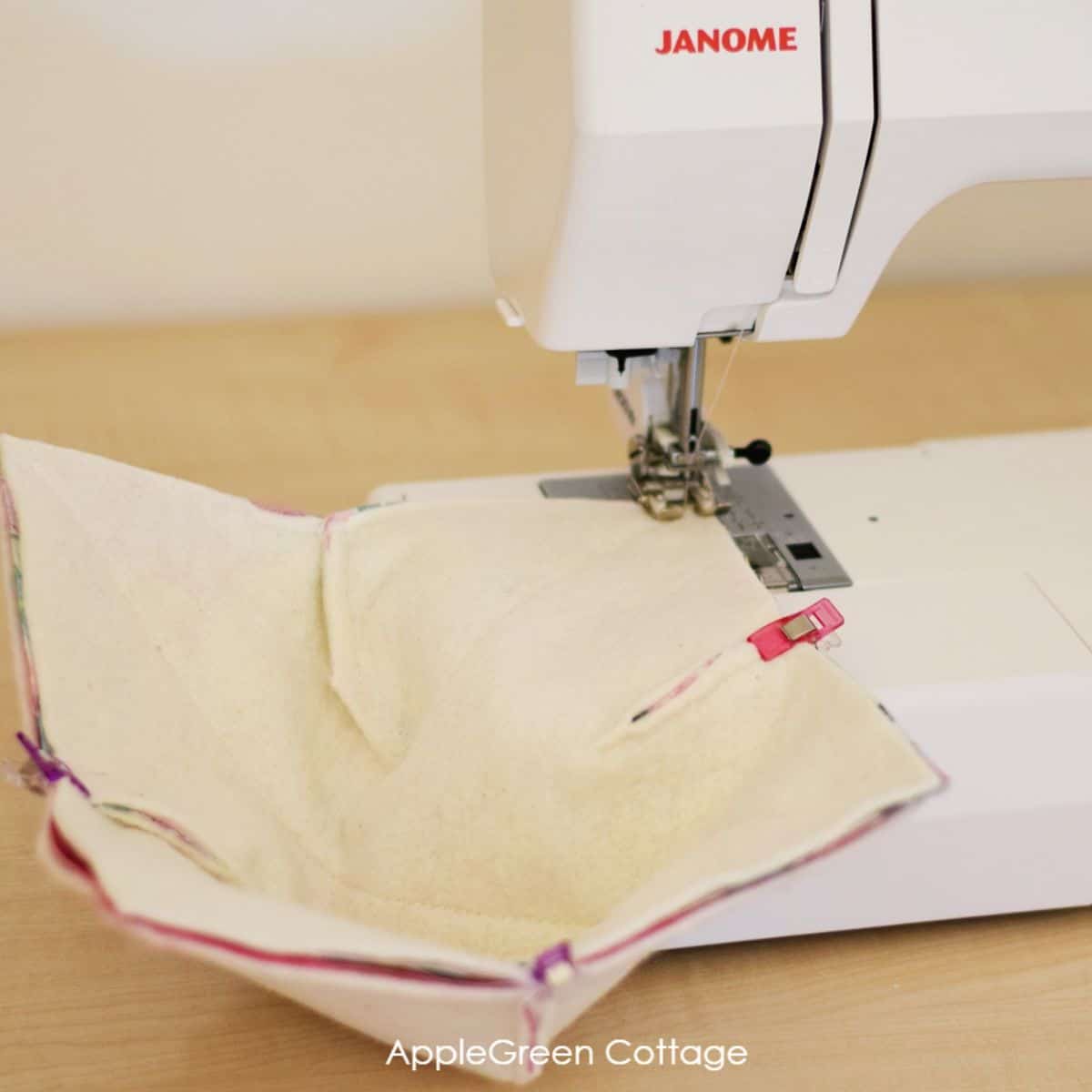 Sew around using a ¼" seam allowance (6 mm) - make sure to leave a 2 or 3" opening for turning.
Step 6 - Turn right side out
Trim down the corners for a neat finish and then turn right side out: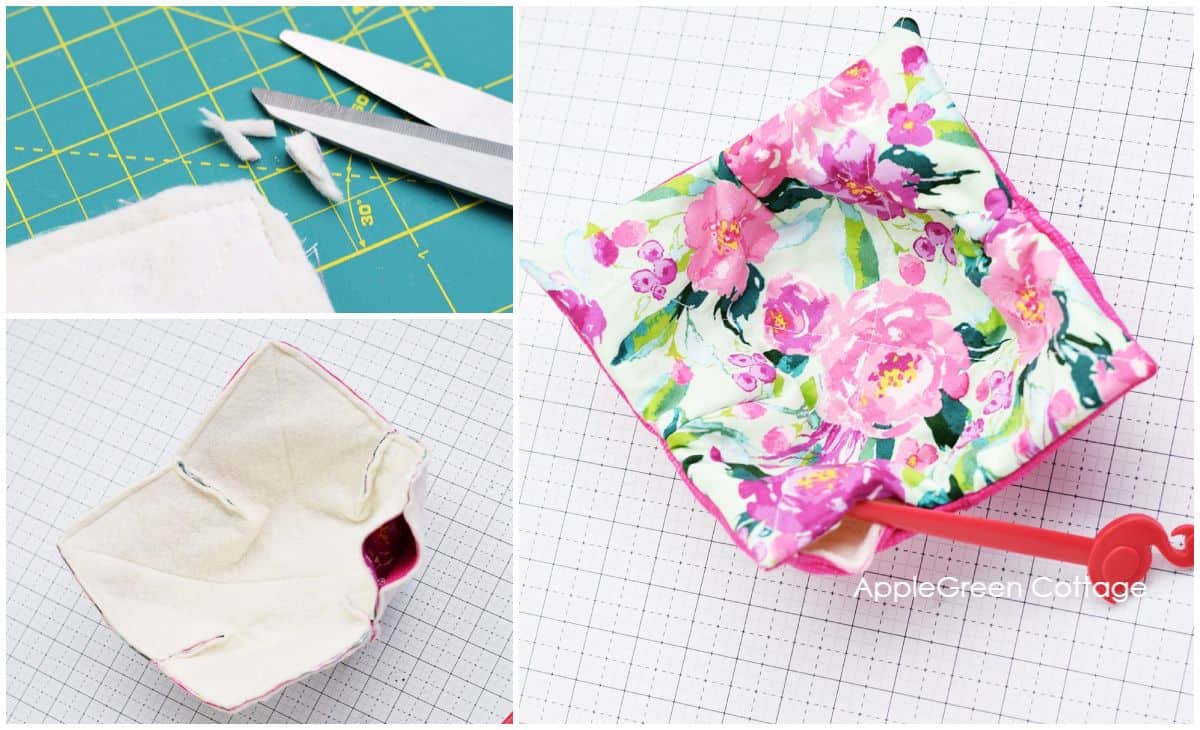 Step 7 - Close the gap and press
Press the raw edges on the turning gap towards the inside of the bowl cozy, and pin to hold in place: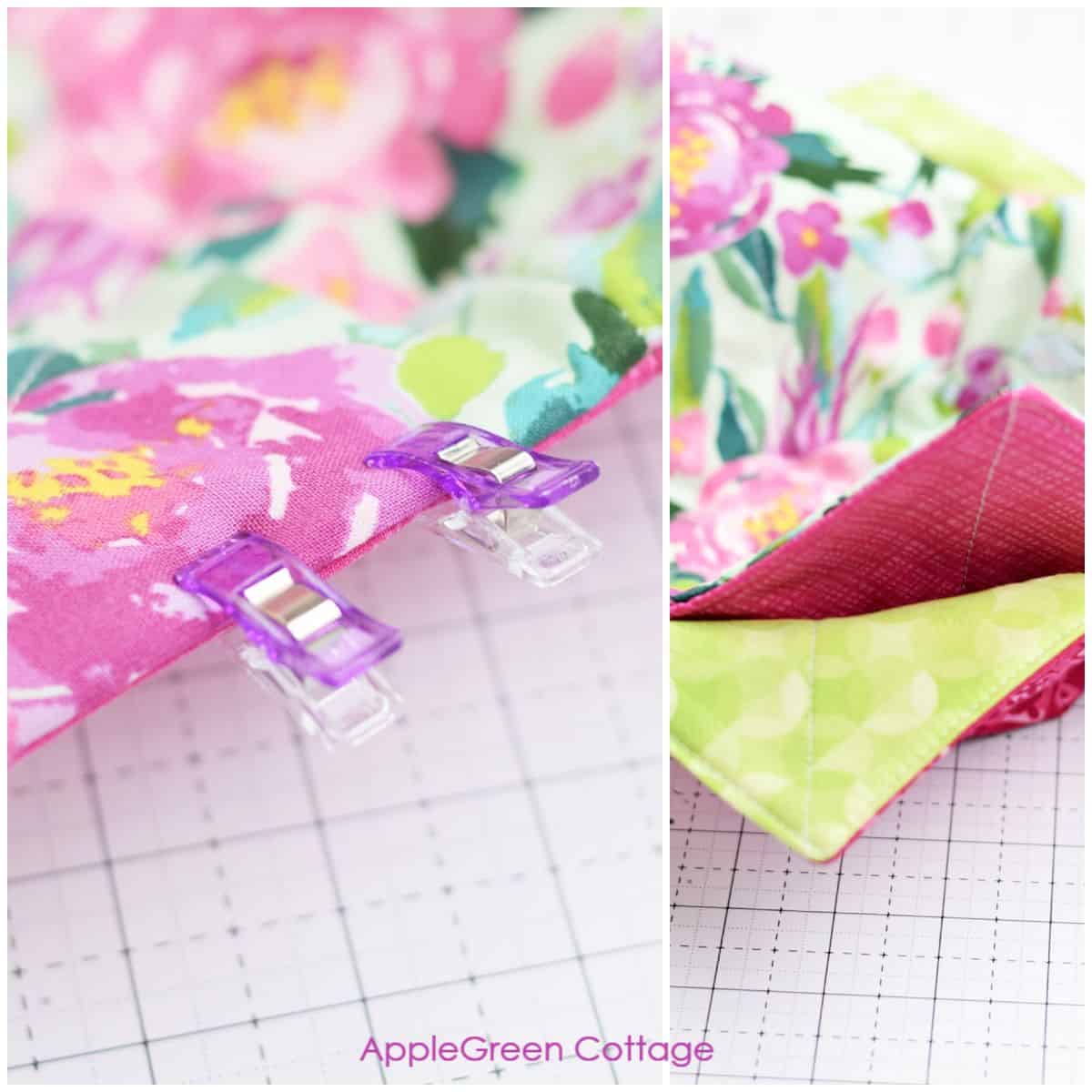 Now the last thing to do is topstitch around the edge for a clean and professional finish. Alternatively, if you don't want to topstitch around, you can also hand-stitch the gap together using this simple invisible stitch.
Finished, yay! You've just completed your own microwaveable bowl cozy, now to enjoy soup on a cold day - or a bowl of ice cream on a hot summer afternoon! wouldn't this one make a great homemade Mother's day present?
Don't want to forget about this free template? Save this project for later! Click here to save this project on Pinterest: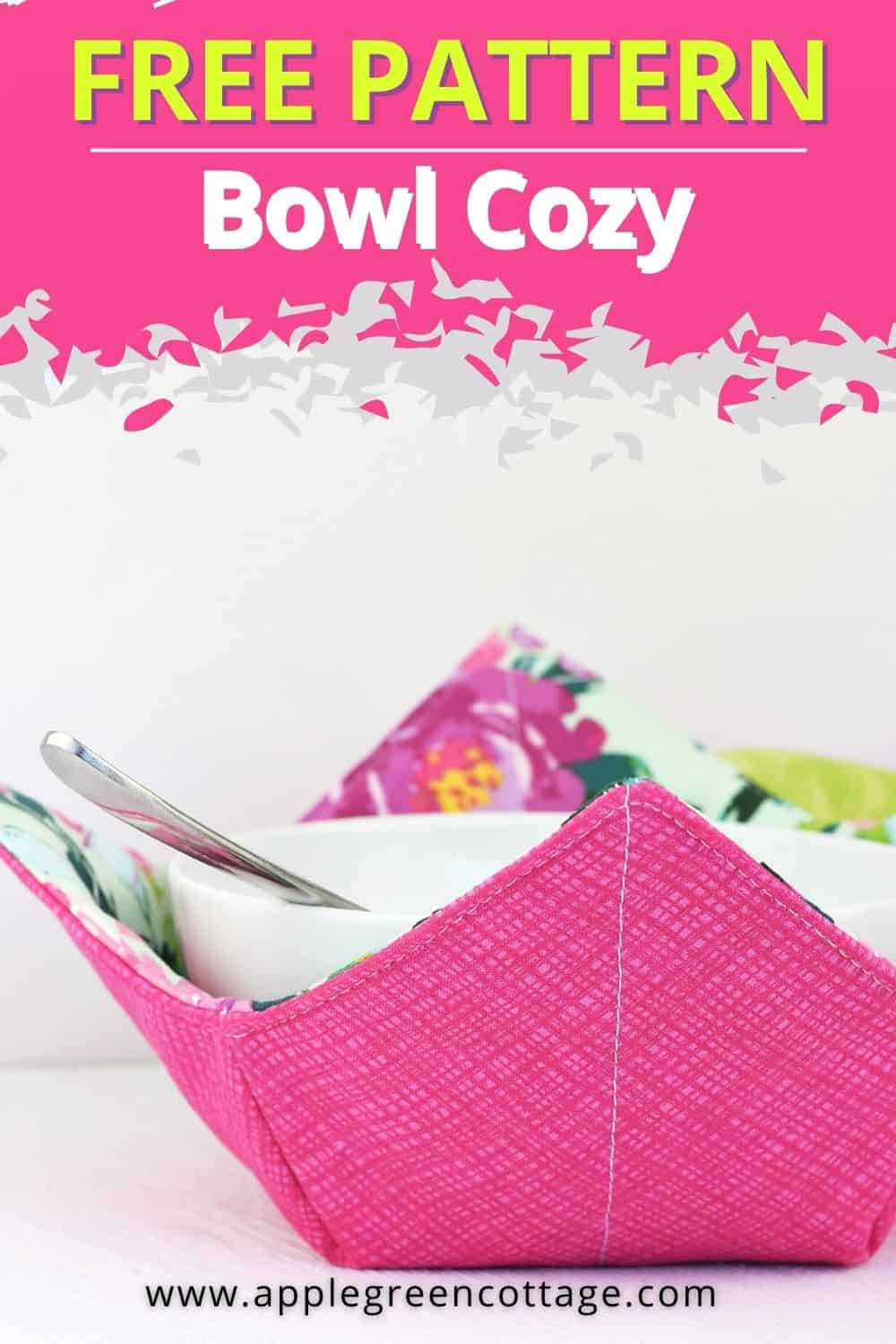 Tips on sewing bowl cozies
Let's make your bowl cozy sewing project even easier - a few tips and answers to our readers' questions:
Do bowl cozies need 2 layers of batting?
It depends. Are you a new sewist? Start with one layer only, this means that you only attach the batting to the back of one piece of your fabric. This will make your first sewing project easier to start with. Do you want a thicker holder for your bowl, one that 'nests' your bowl better? Use two layers.
What is the best size for a bowl cozy?
This largely depends on the size of the bowl that you want to use it with. Ideally, you would want to create a cozy that is slightly larger than the bowl so that it can fit snugly and securely. Our free, medium-size bowl cozy pattern will fit most standard 6" bowls.
What material is best for bowl cozies?
Cotton, and cotton again. I love using quilting cotton as there are unlimited options to personalize the colors and adjust them to your other kitchen decor. Also, it's ok for the microwave, which is even more important.
Batting, as explained above - only use 100% cotton. Pellon's Wrap-N-Zap is a microwave-safe product, made of 100% natural cotton batting.
How do I use a bowl cozy?
It's easy to heat your soup in a soup cozy in the microwave. Simply put your bowl in the cozy, heat it in the microwave at 50% power for 30 seconds, and then take it out and stir your soup. If you want your dish to be warmer, microwave it for 10 seconds at a time until it reaches the temperature you want.
How to wash fabric bowl cozies?
They can be hand washed or washed in a gentle cycle, with like colors, in the washing machine. Press to help it regain its shape, and if you like it crisp and looking nice. However, pressing is not absolutely necessary for its function (trust me 🙂
Also, there are also rounded corner bow cozies out there. I honestly find the straight edge corner pattern faster to sew, and the 'corner handles' easier to grip while in use. Purely personal preference though.
Conclusion
Soup bowl cozies are cute, practical, and easy to make. And, they will protect your hands and furniture from hot soup. They are a great project for beginning sewers and make great gifts - especially in sets with diy potholders, or easy coasters, and placemats!
Plus, they're reusable and eco-friendly, which makes them a great alternative to wasteful and single-use paper towels.
I hope you liked this tutorial on how to make bowl cozies, as well as the tips to help you create your own. Now it's your turn to start making bowl cozies. Go grab your sewing machine and get started!
HOW DO I GET THE FREE PATTERN?
Get it for free when you join our free mailing list:
Want a printable copy of the whole tutorial?
Do you want an ad-free, printable copy of this online tutorial? Find it here for just $3. You won't need to access the internet every time you want to make it. ------ Or get the BUNDLE with ALL the Printable Tutorials - current and future ones!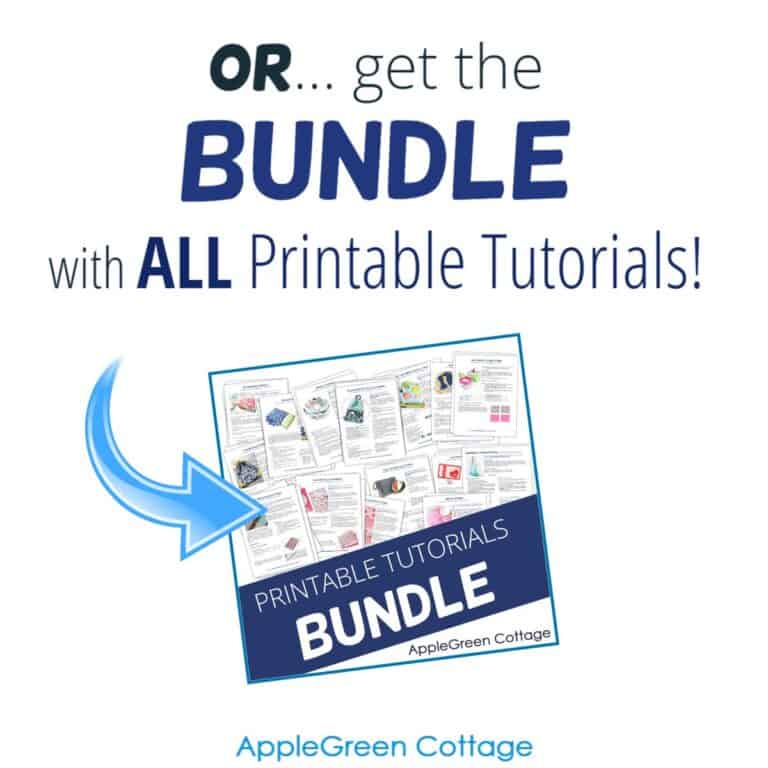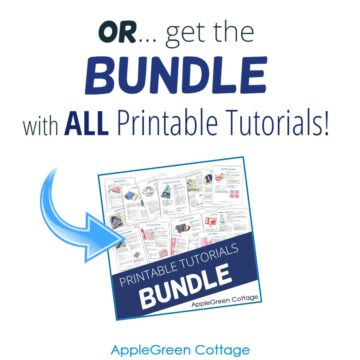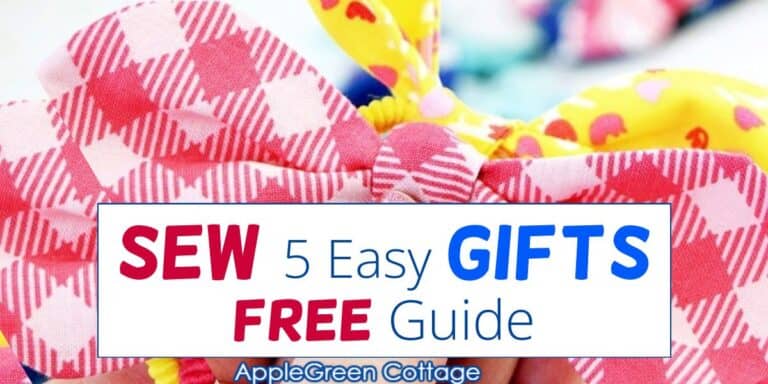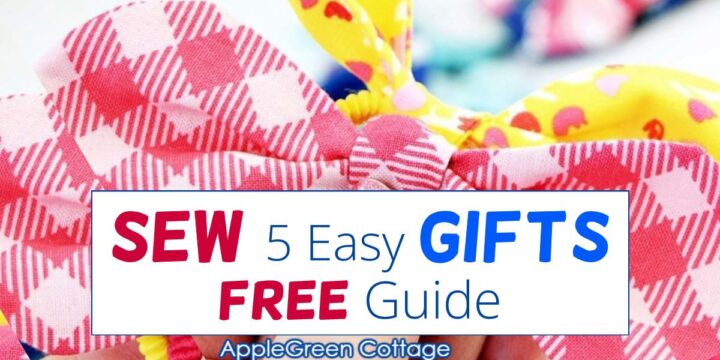 Join the FREE 6-part email guide and make super easy diy GIFTS - each in 30 minutes or less! You'll love it!
Or …check out the popular Aiden Cell Phone Purse in our shop. Guess what's on the back of this cool phone bag!