See how to make a pillowcase with French seams using this easy envelope pillowcase sewing tutorial. It's both easy and pretty. And see how I tweaked the sewing process to make it easier to sew! (Nope, no burrito style!)
I am showing you how to sew a pillowcase with a DIFFERENT way of sewing it than you might have seen so far. I wanted my pillowcase to look like the prettiest high-end pillowcases: several colors, plus no exposed seams whatsoever. And I wanted it to be easy to sew. See how!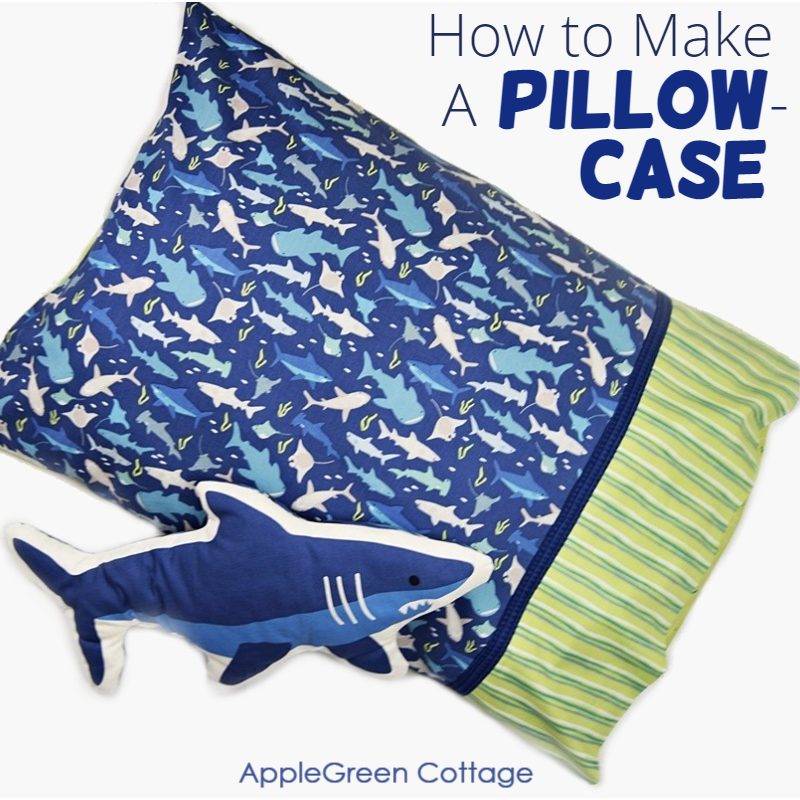 Do you want an ad-free, printable copy of this online tutorial? Find it here for just $3. You won't need to access the internet every time you want to make it. ------ Or get the BUNDLE with ALL the Printable Tutorials - current and future ones!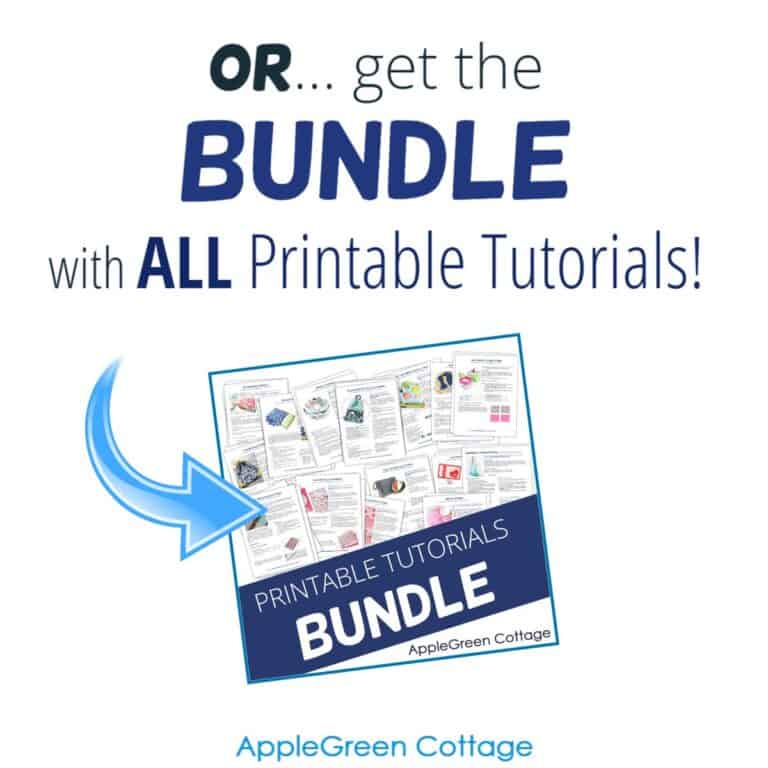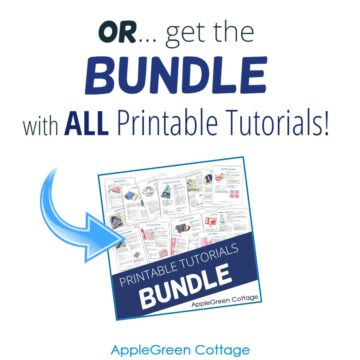 How To Make A Pillowcase
Making a pillowcase can be your perfect first sewing project! And if you also want to avoid having to turn a narrow tube inside out like in the (otherwise really clever!) burrito method, this is the place to look. Meet my best envelope pillow cover pattern for your bed, adjustable to any size.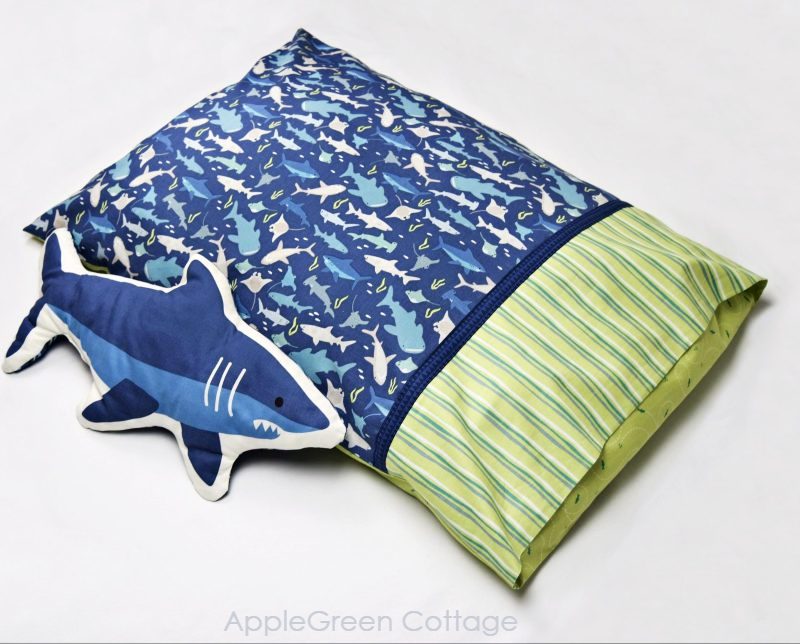 Looking for more things to sew for home? This tutorial will soon become part of the SewPretty HOME series: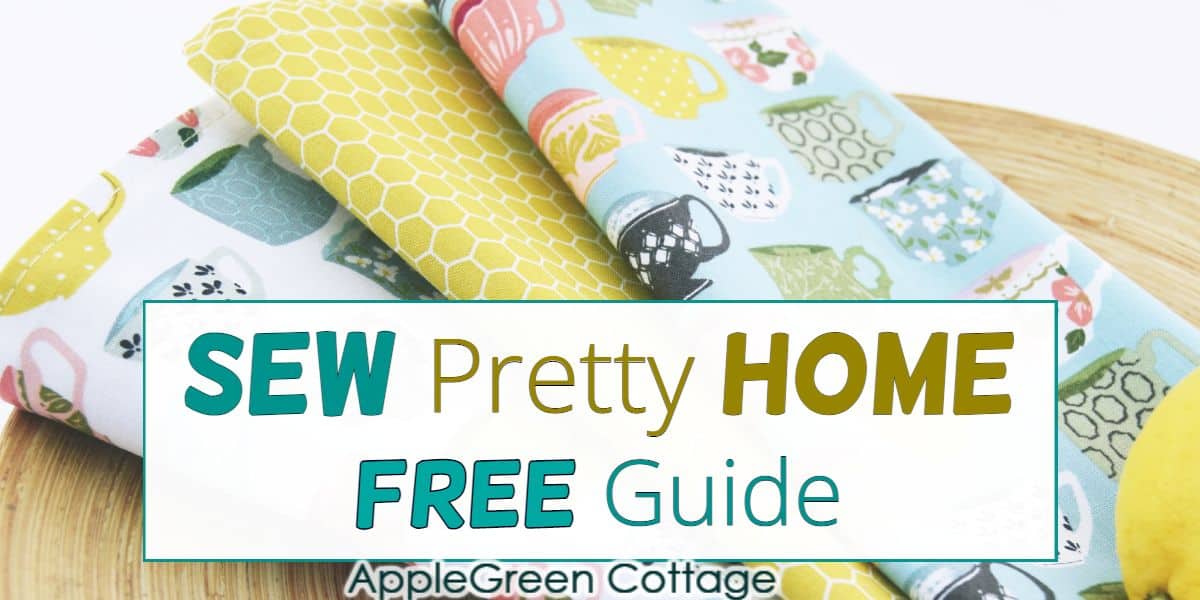 Join the FREE 7-part email course and make 6 beautiful items for your home! You'll love it!
A NEW Clever Way To Sew A Pillowcase
While I absolutely want all my pillow inserts to stay hidden inside the pillowcase (never peeking out), I was also looking for an easy idea to avoid any raw edges, either on the outside or inside. And then I figured how to do just that, while piecing several different prints together. And that's where I'd call this project an absolute success!
So this is what you get here in this pillowcase sewing tutorial:
pieced - but NO exposed seams anywhere, plus
similar effect as with the burrito sewing method - but NO tube turning required
still easy to sew
And with a European closure so the insert does not slip out (envelope style pillowcase!)
Are you with me? First, save this project to Pinterest so you can access it any time: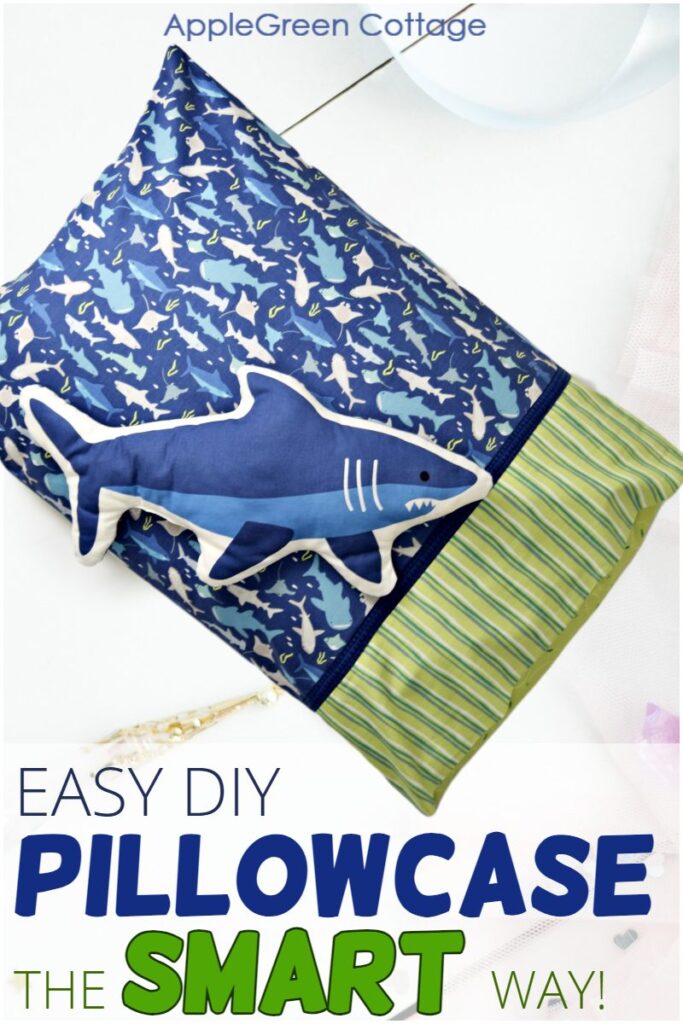 Now, let's start! Let me give you a few pieces of info you'll need for sewing pillowcases:
Size of a Pillow Insert
These are the inserts you'll sew your pillowcase for:
standard size pillow insert is 20" by 26" (51 cm by 66 cm)
queen size pillow insert is 20" by 30" (51 cm by 76 cm)
kingsize pillow insert is 20" by 36" (51 cm by 92 cm)
Finished Size of a Pillowcase (in this tutorials)
Now the pillowcase should be a bit larger than the pillow to account for loft differences - like an inch or so:
standard size pillow case is 21" by 27" (approx 54 cm by 69 cm)
queen size pillow case is 21" by 31" (approx 54 cm by 79 cm)
kingsize pillow case is 21" by 37" (approx 54 cm by 94 cm)
Fabric Cutting Instructions
For each pillowcase, you'll cut four pieces:
| | Standard size | Queen Size | King Size |
| --- | --- | --- | --- |
| Border |  | 15" x 23" |  |
| Accent trim |  | 2-½" x 23" |  |
| Main Front | 21-½" x 23" | 25-½" x 23" | 31-½" x 23" |
| Back | 35" x 23" | 39" x 23" | 45" x 23" |
Pillowcase pieces to cut (width x height)
Border and accent trim are the same for all sizes. Feel free to adjust the size an inch smaller if you want a snug fit. Just make sure it's not too small.
How Many Different Fabric Prints To Use For This Diy Pillowcase?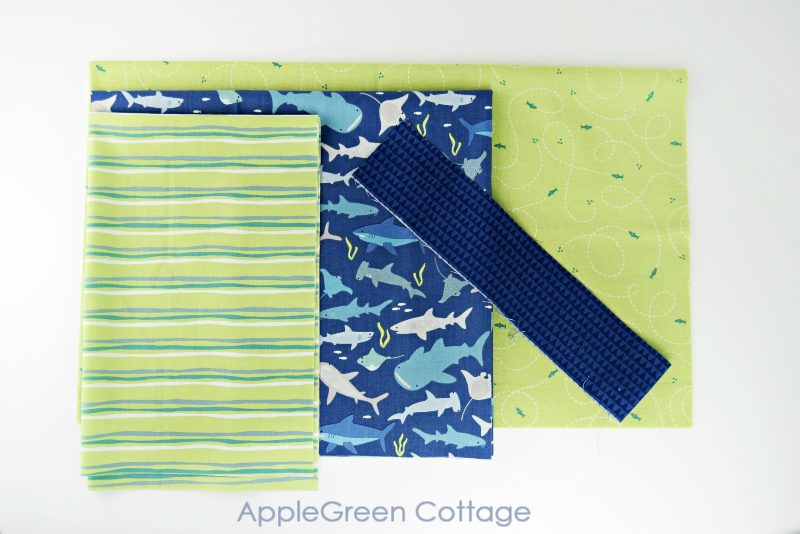 While you can just use one print, it's much more fun if you use several! I used four prints from the new Riptide collection by @citrusandmintdesigns for Riley Blake Designs. Love at first sight, these blues and lime green accents, and all the cool sharks - along with all the seaside vibes we had to forego last summer. And there's even a Riptide panel! The sharks on the panel are simple sewing projects you can do with your kids. Shark pillow, anyone? Absolutely!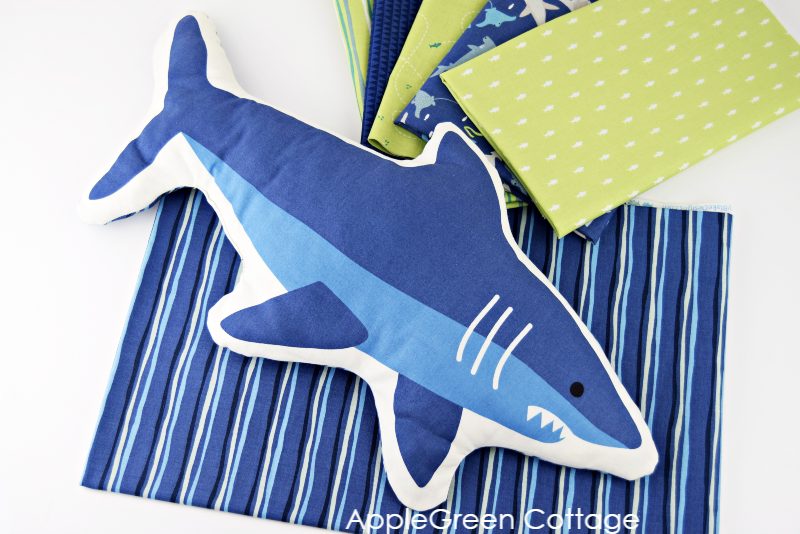 I couldn't help but use the this panel to make a shark pillow for kids to play with. Such an easy extra! Just cut out the two mirrored huge sharks, stitch the two pieces together, stuff, and - done. Ta-daa! Liked by preschoolers and nearly-teens alike!
Making A Pillowcase Tutorial
The seam allowance used in this tutorial is ½" or 1.2 cm.
Step 1 - Cut fabric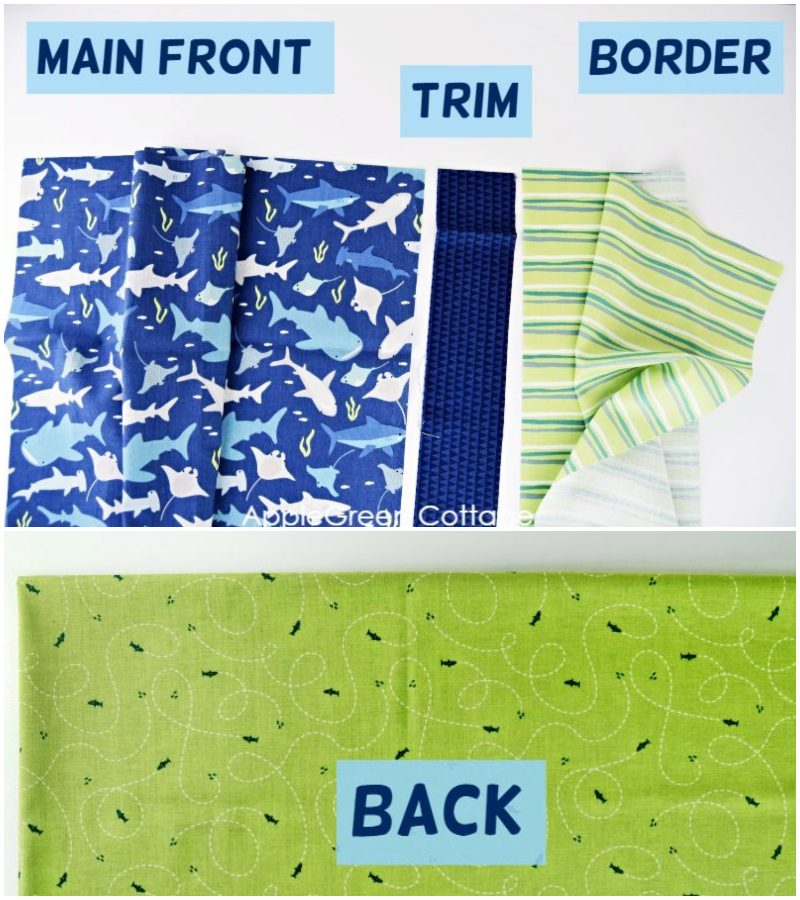 Use the cutting instructions above to cut 4 pieces: border, trim, front main, and back.
Step 2 - Press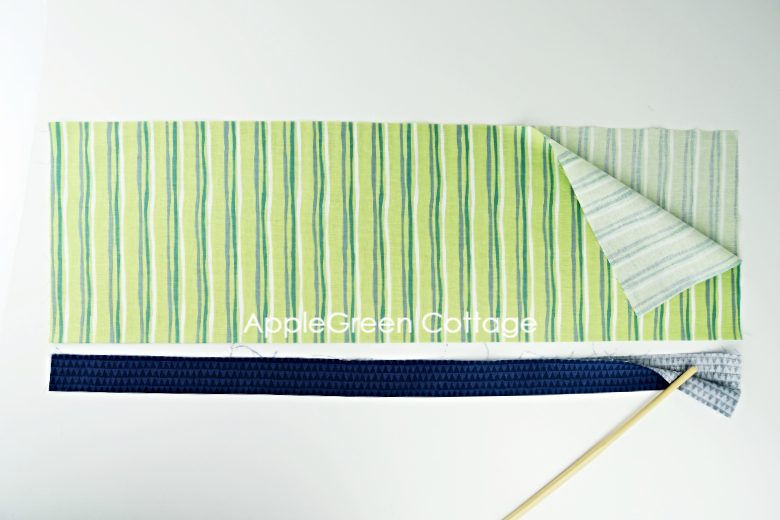 Press trim and border in half lengthwise, wrong sides together.
Step 3 - Layer the Fabric
Assemble the front pieces: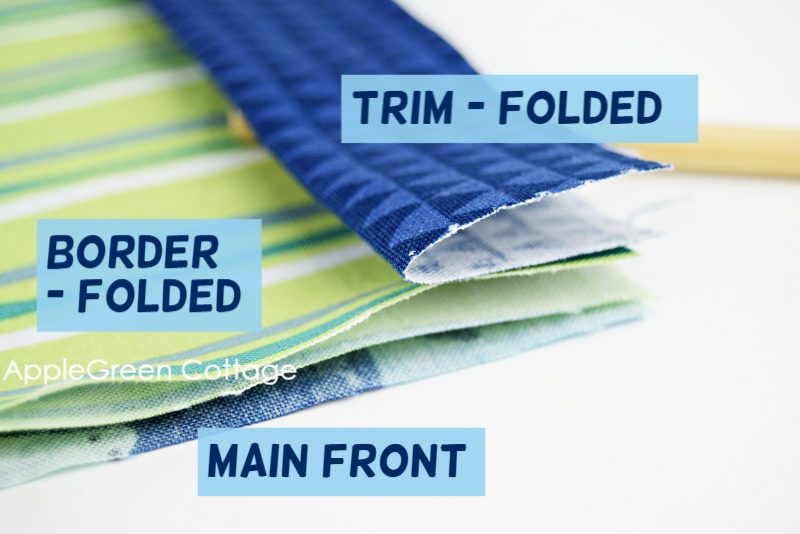 lay the main fabric right side facing down (yes, DOWN)
place the folded border on it, with the raw edges aligned
place the folded accent trim on top, with the raw edges aligned
Step 4 - Sewing the Pillowcase Front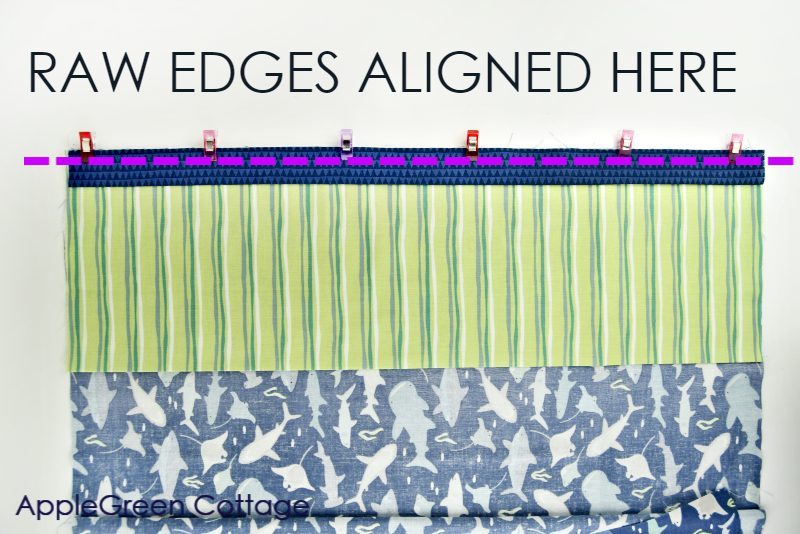 Sew through all layers with a ½" (1.2 cm) seam allowance, backstitching at the beginning and end to secure stitches.
Step 5 - Sew Trim In Place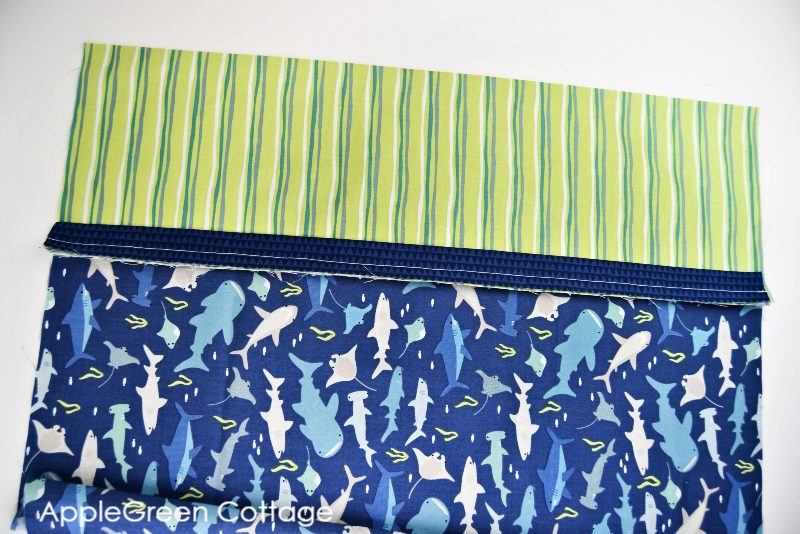 Unfold the piece, then flip the trim to cover the raw edges: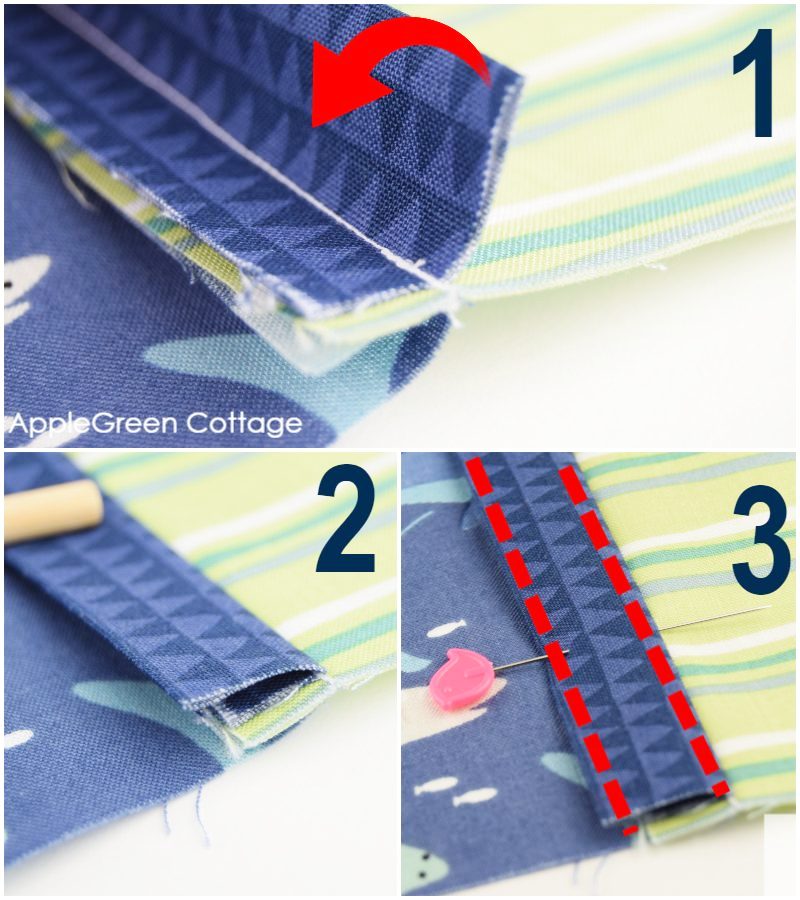 This is the clever part: notice the trim (see image 1)? Press, then flip the Accent Trim to cover the raw edges on the front side (see image 2). Press and sew in place making two seams, each very close to the Trim edge (see image 3). This will hide all the raw edges.
Here's a larger image of the flipped trim, just before I sewed it in place: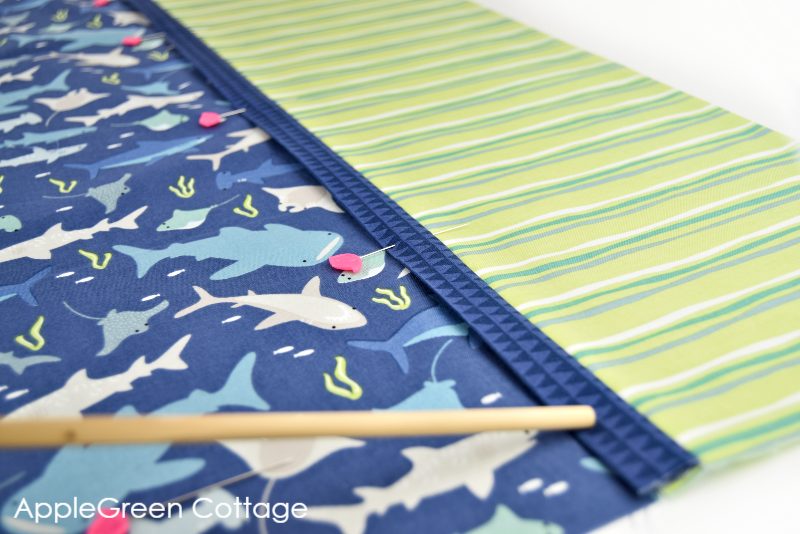 Step 6 - Hem The Back Piece
Place the back piece with the right side facing down (and with the print direction upside down if your print is directional). You'll do a double hem on the right side of the piece only, leaving the rest of the back piece unhemmed. This is how: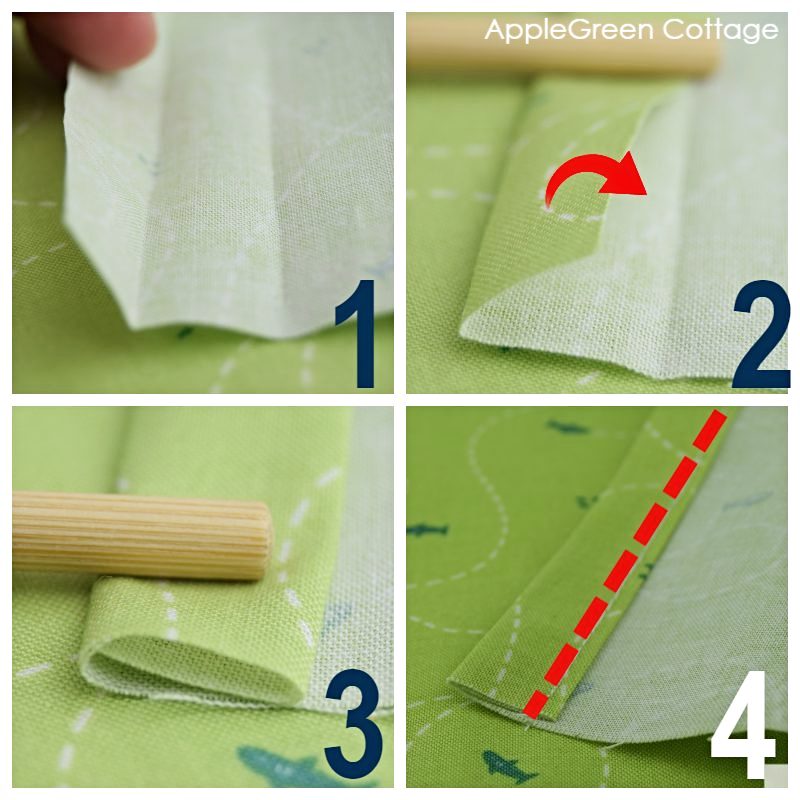 You can do a double hem two ways. The first one is by folding the first ½" (1.2cm) under, and then again ½" (1.2cm)and stitching the hem at ⅜" (1cm) away from the edge, encasing the raw edge.
Or, check out an even easier way to sew a double hem.
Step 7: Fold The Flap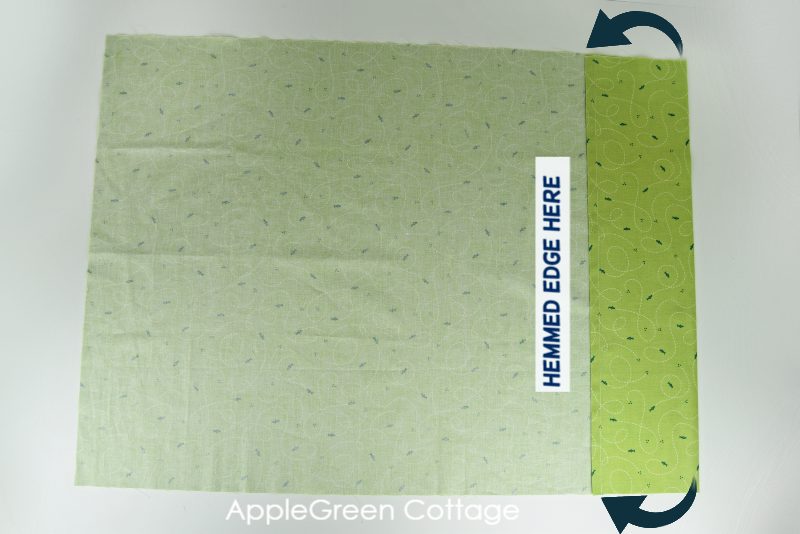 We need to make an envelope casing for the pillow: with the finished edge on your right and the right side facing down, grab the edge and fold 6" of onto itself.
Step 8 - Assemble The Front And The Back
Place the back piece with the right side facing down, finished edge on your right. Then lay the front piece on it with the right side facing up and the border on your right too. Align the raw edges on your left: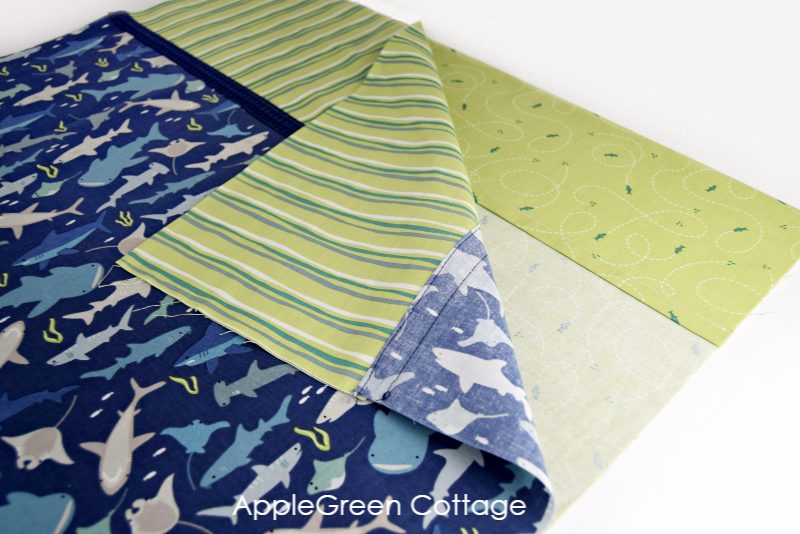 You'll have noticed that the wrong sides of the pieces are facing, and that's ok. We are about to see how to sew a french seam pillowcase - the French seam will make all edges neatly finished. No raw edges!
Step 9 - How To Make A Pillowcase With A French Seam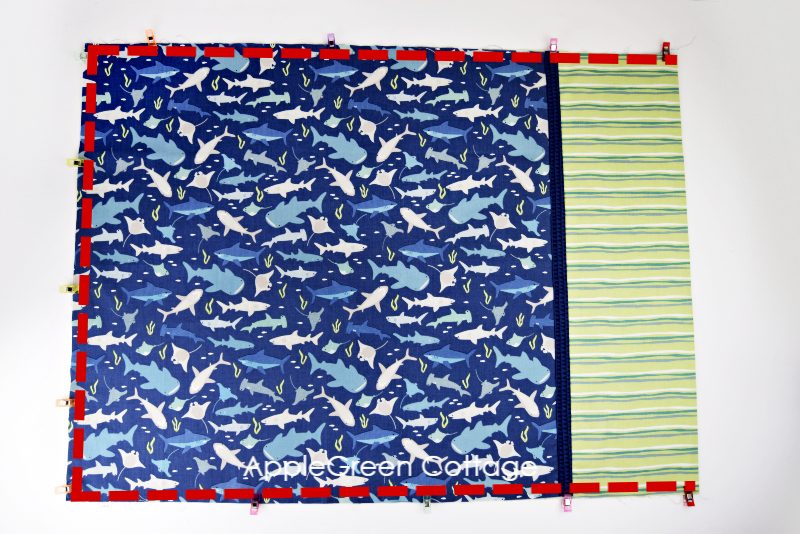 Pin or secure with sewing clips and stitch along the bottom, left side and top using a ½" (1.2cm) seam allowance.
Then trim the seam allowance on all 3 sides down to ¼" (6mm) and clip the corners (here's a good tip on how to clip corners)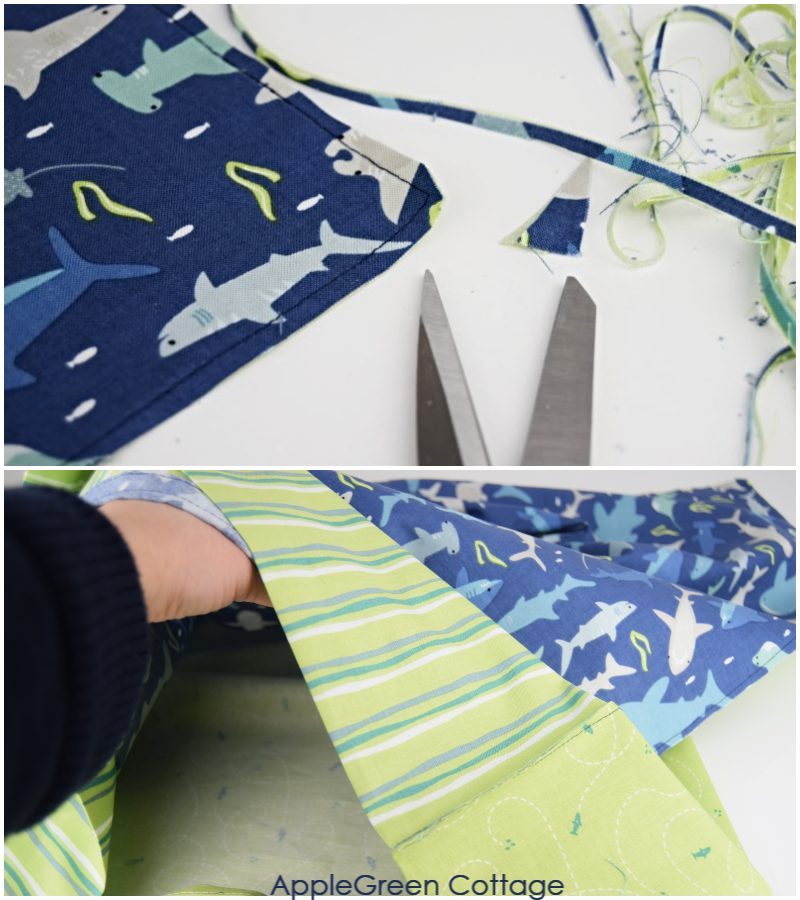 Then, turn the pillowcase wrong side out, press, and sew using again a ½" (1.2cm) seam allowance, encasing all raw edges. Nice and neat!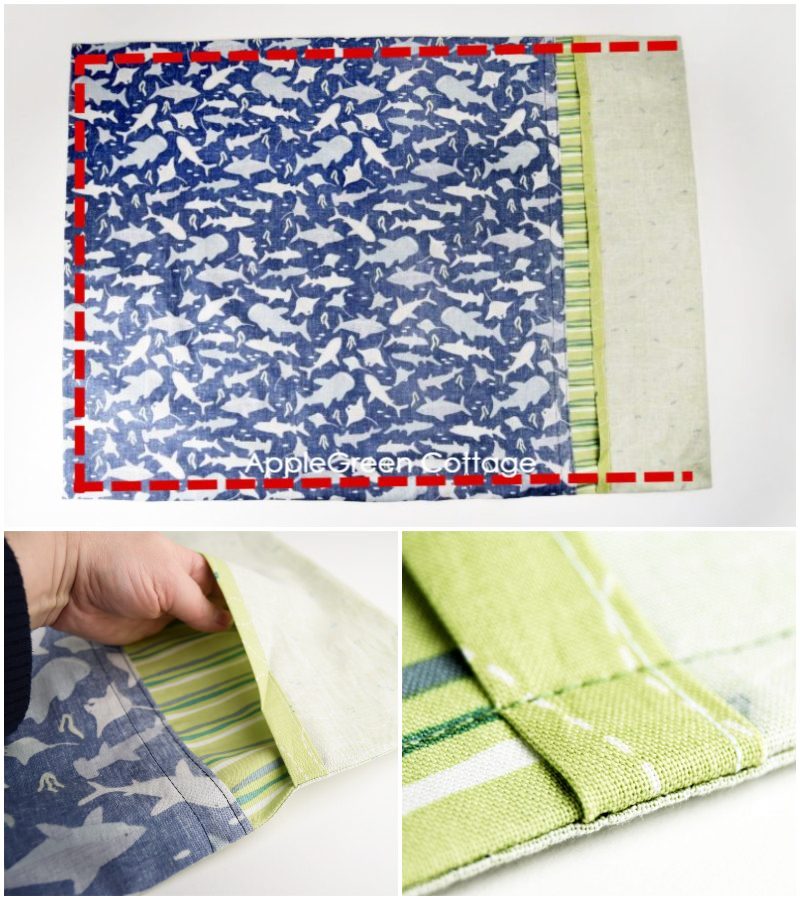 Also, here are the exact steps for french seams in a video form too:
Step 10 - Turn And Press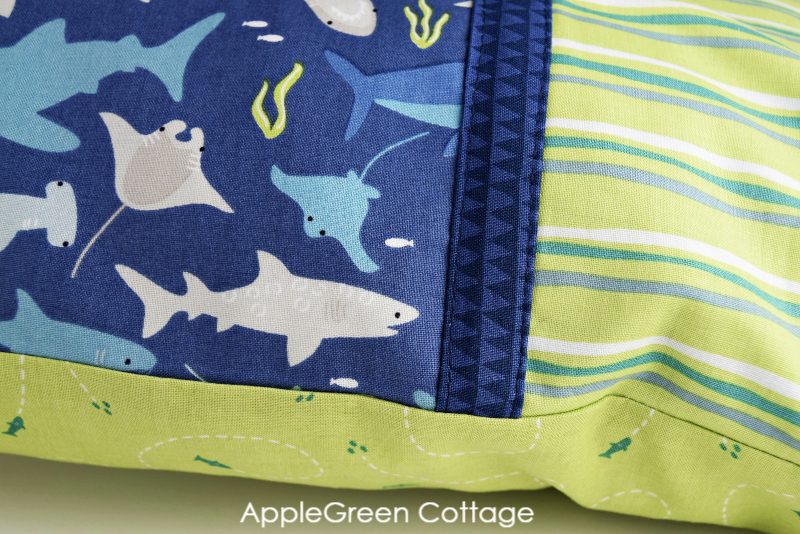 Flip the pillowcase right side out, give it a final press and it's ready to use.
And just in case you're wondering, I'm also adding this bit of info:
HOW BIG IS A STANDARD PILLOWCASE?
A standard size pillowcase measures 20 inches by 26 inches (51 cm by 66 cm).
WHAT IS A EUROPEAN CLOSURE PILLOWCASE?
Simple. You will recognize it under the name envelope pillowcase. Most pillowcases in the US are exposed at the end, so nothing holds the pillow insert from peeking out. On the other hand, (our) European pillowcases always cover the end of the pillow. It only means adding a simple, yet effective fold when sewing a pillowcase. All I added was an approximately 8-inch flap wrap into the case. It holds the pillow in place and neatly covers the end. From now on, I bet you'll want all your pillowcases like these!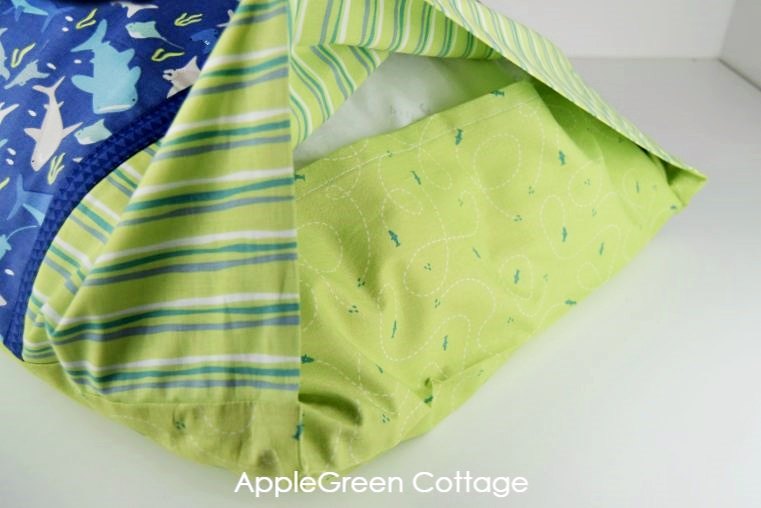 The Story Behind This Pillowcase Sewing Tutorial
Actually, know why I even started to sew these pillowcases? Kids. With the latest obsession of my kids with sea creatures, they have been asking for more fish ever since they got their first small fish tank. And after the last two (online) trips to the pet shop and a few more species added to our fish family, I decided it was time to continue nurturing their love for sea creatures elsewhere. So I got us a few cool shark-themed cotton prints! (Yeah, I could turn just every hobby into an excuse for me getting more fabric, haha!)
Looking around their rooms and seeing a lot of pink and floral bins in my daughter's room, and dinosaur stuff in my son's room, I noticed their neutral bedding could use some improvements. So, ta-daa! Now I'm guessing I need to make a few more for our bedroom too. Let me go shopping for some geometric prints.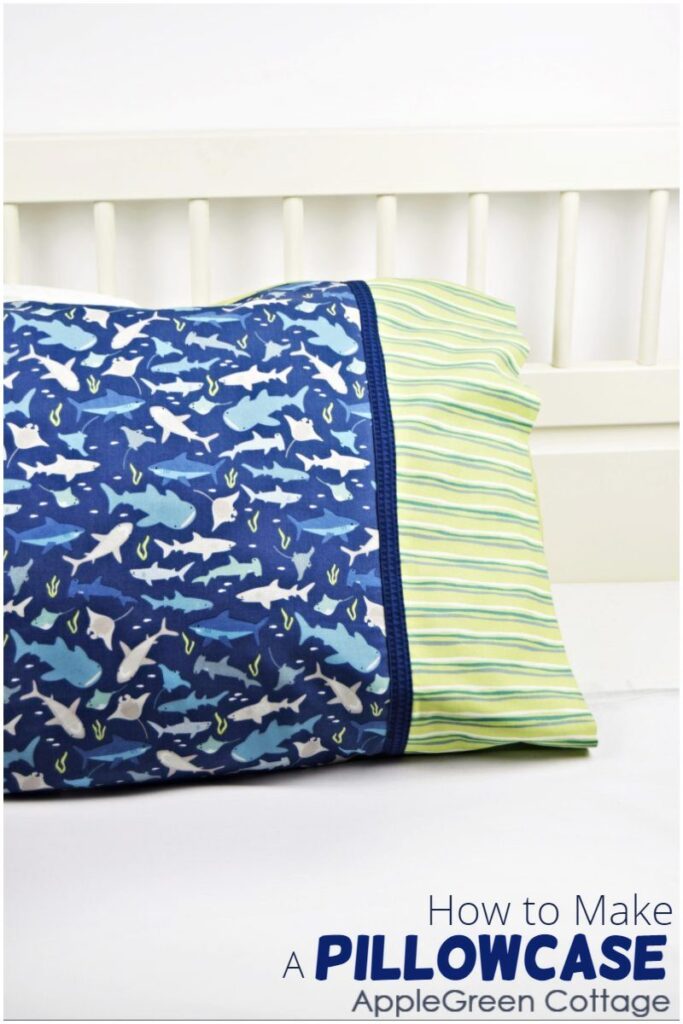 If you enjoyed this tutorial, share it, like it, or tell your friends about it. Or save it for later, so you've got it ready whenever you want to make a lovely pillowcase – in your choice of colors!
You can also check out this diy throw pillow cover- Easiest Ever! Or make your dining room look beautiful with this diy table runner.
WANT MORE FREE TUTORIALS AND GOODIES?
Get email updates and never miss out on new patterns, printables, and tutorials:
Or check out this pretty ALLina project bag pattern in our shop - for all your storage needs: