Check out the best diy teacher gifts you can make yourself - and ones teachers will really love! See what to make as diy teacher appreciation gift - here's a list of my favorite gifts for teachers they will actually use!
If you're asking yourself what teachers really want for gifts, you're in the right place. Here's a list of best ideas for teacher gifts that will be loved and appreciated by anyone in your life who teaches kids.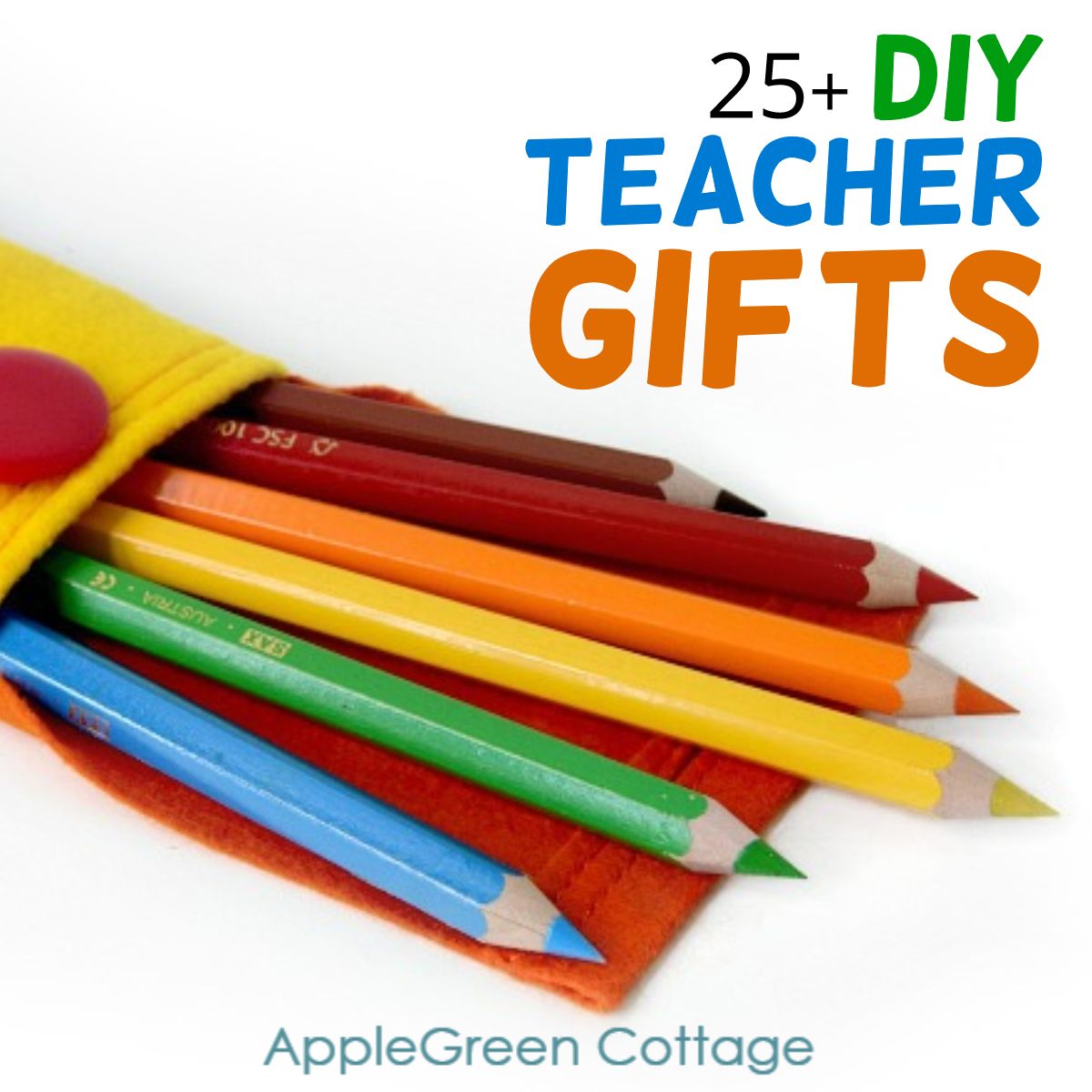 Teachers will absolutely love these diy gifts. Whether you're looking for cute, easy or unique teacher gifts, we've got you covered with these DIY teacher gift ideas.
What to get teachers as gifts?
We've got dozens of ideas you can use to create the perfect gift. Let's start with a few fast, easy & very affordable projects:
Make a Trendy Diy Corner Bookmark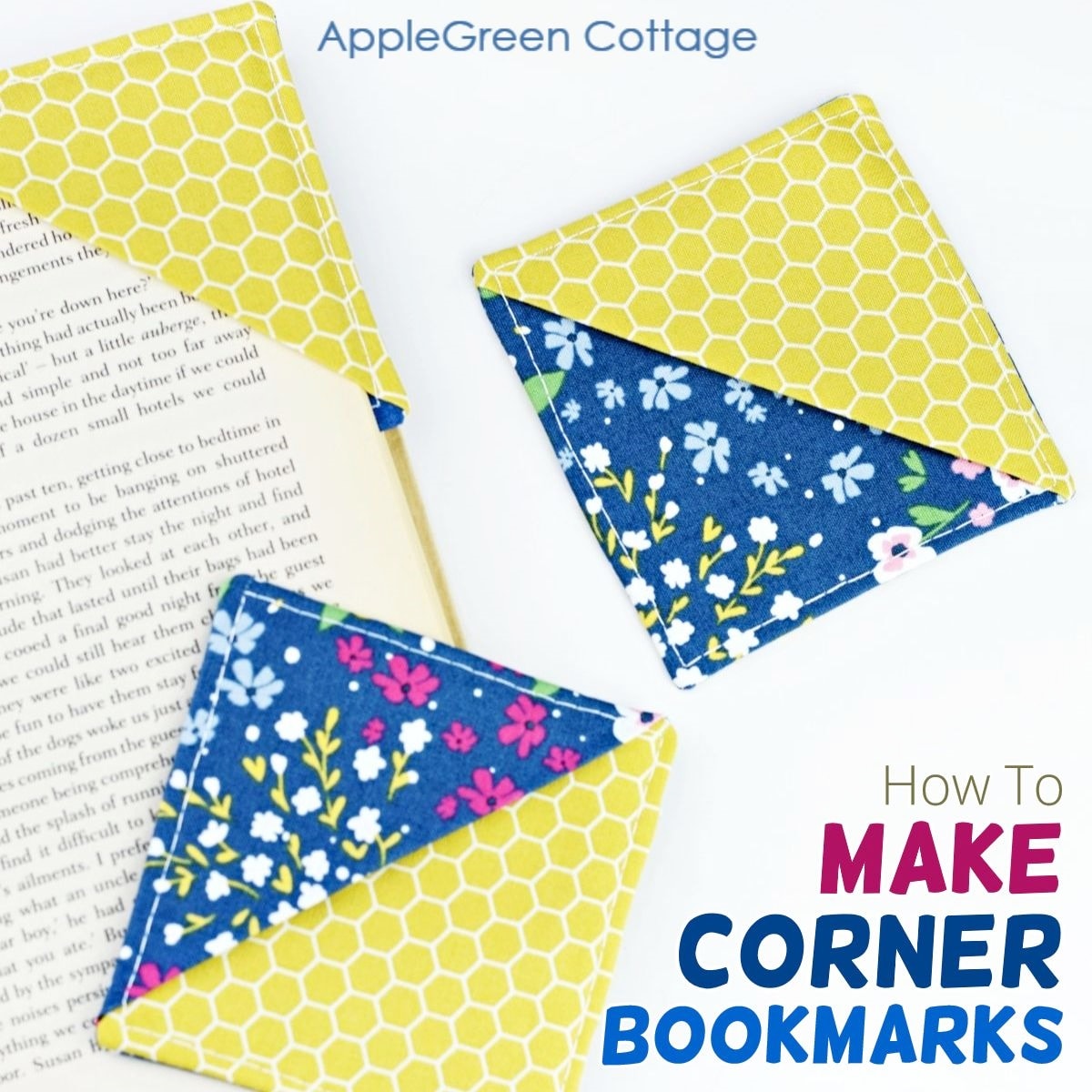 Is your teacher a book-lover? In my experience, nearly all teachers are! Make an adorable appliqued bookmark or this trendy diy corner bookmark. With a book in their favorite genre, it will make a great teacher appreciation gift set.
A few free printables for your kid to color and attach to them makes it a great idea for the teacher appreciation week!
Also, check out this free SewEASY Gifts series for even more fun accessories:
This is my 15-minute, easy faux leather pencil case with elastic. It's so easy to sew!
Want to sew it even quicker? Opt for this type of diy pencil case:
My QUICKEST Diy Pencil Case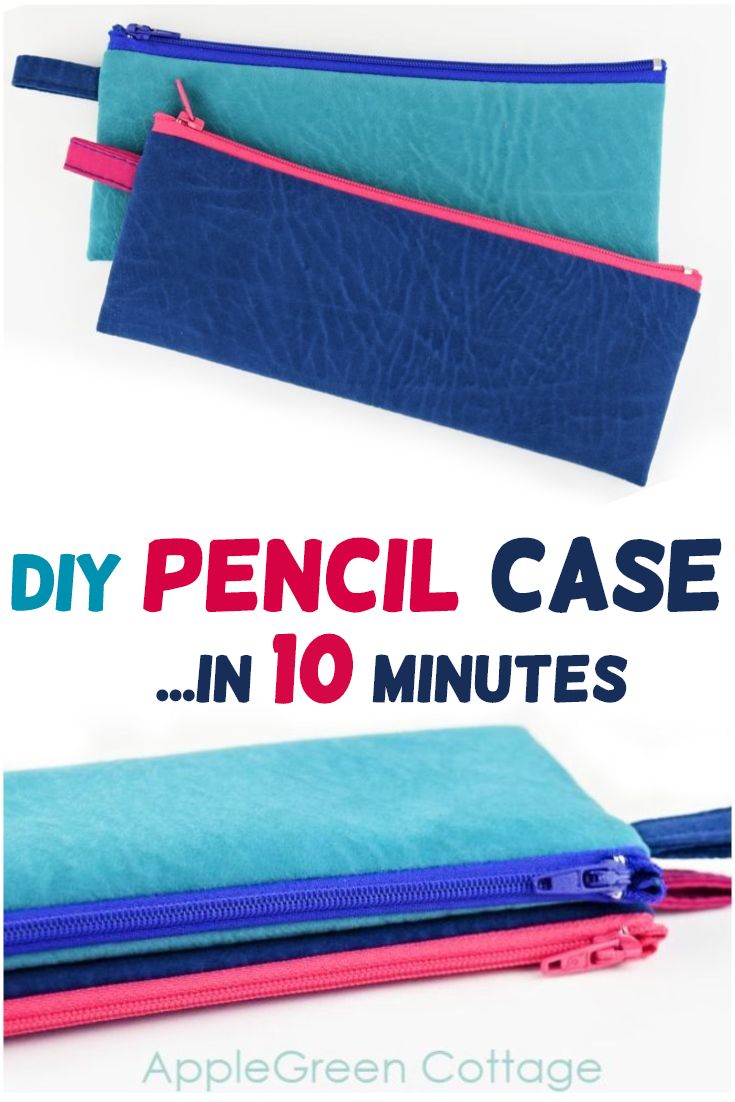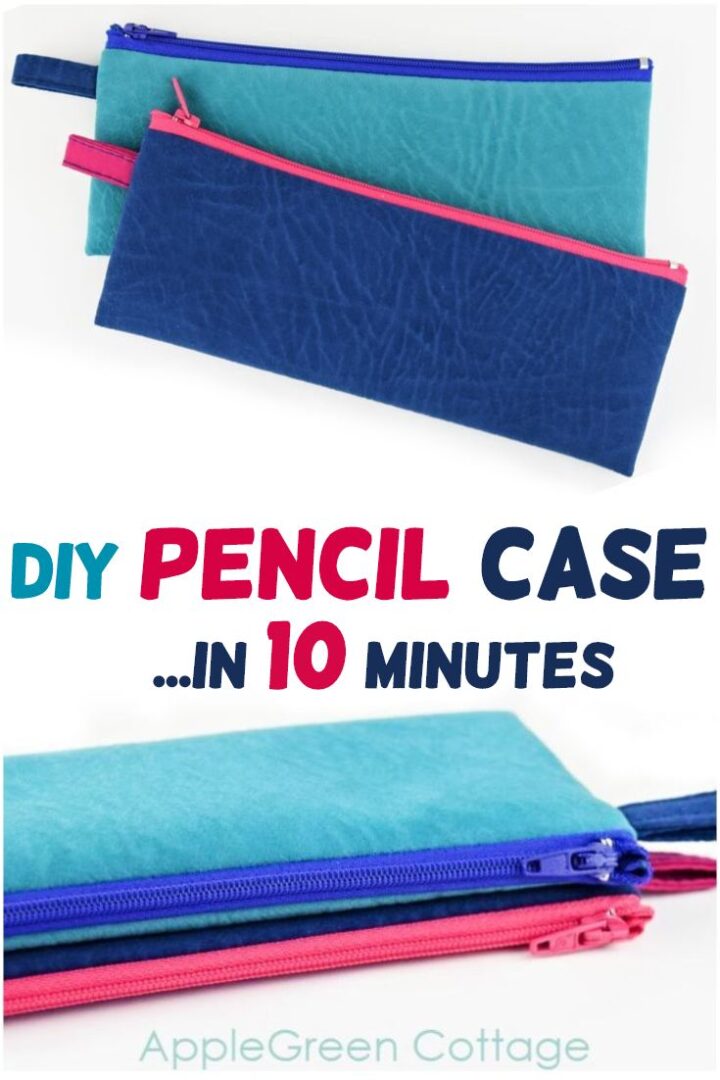 You won't believe how easy these pencil cases are to make! If you need a last-minute gift, this might be the one!
A Super Fancy Diy Boxy Pencil Case
Want a sturdy and stable pencil pouch that will hold a lot of school supplies? Use my free pattern and make one: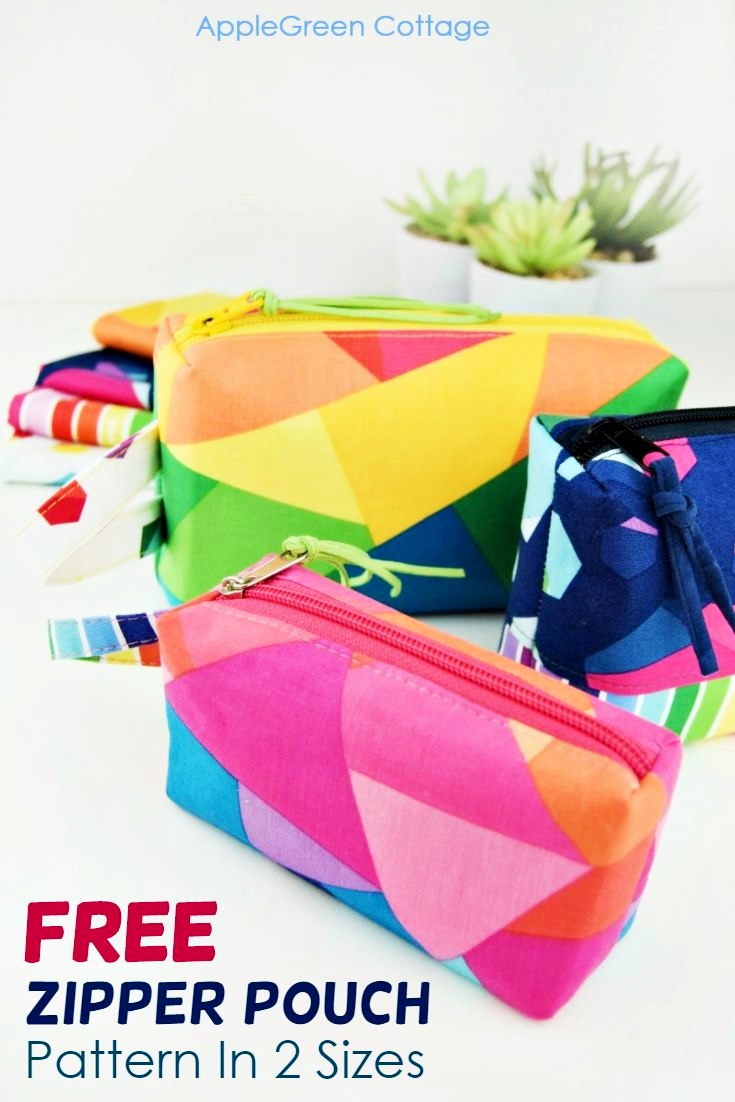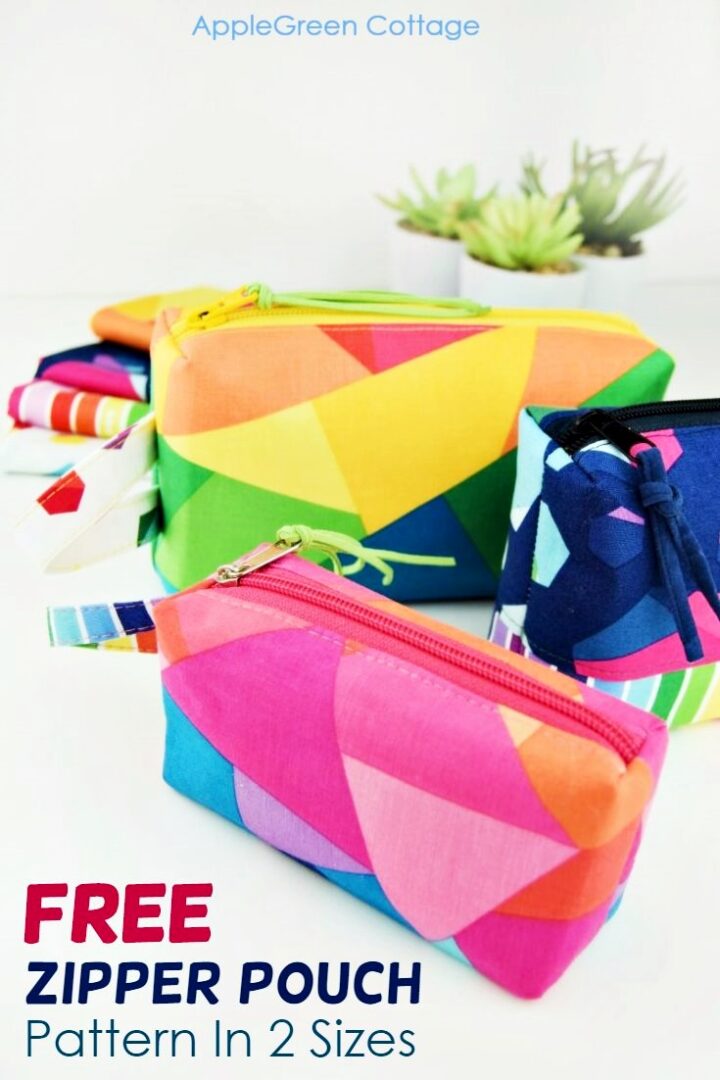 If you have sewn pouches before and have some experience in sewing, these diy pencil boxes are gorgeous! Multi-purpose, makeup pouch, travel pouch, a crayon holder, even handy storage for small crafting supplies - you name it!
Gift a Diy Tote Bag
A sturdy, personalized tote bag, one with room for carrying everything home at the end of the day…and back into school the next morning.
These are two of my most popular free tote patterns you can use to make large or small totes: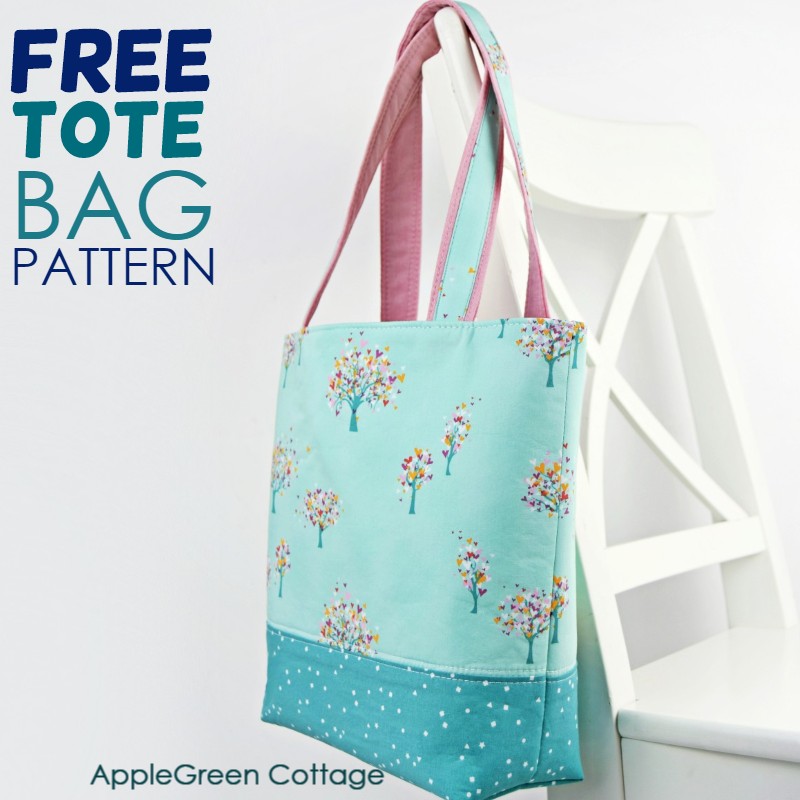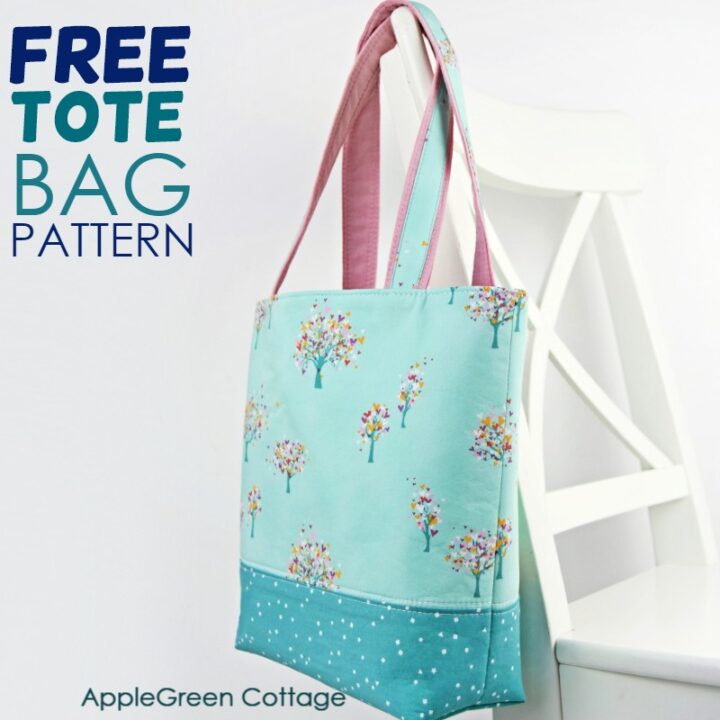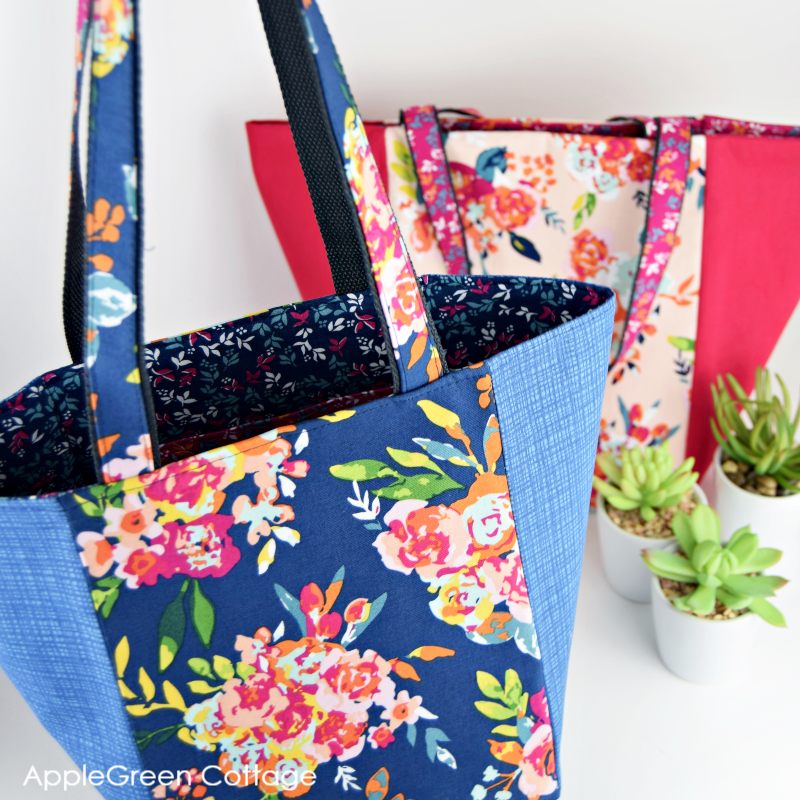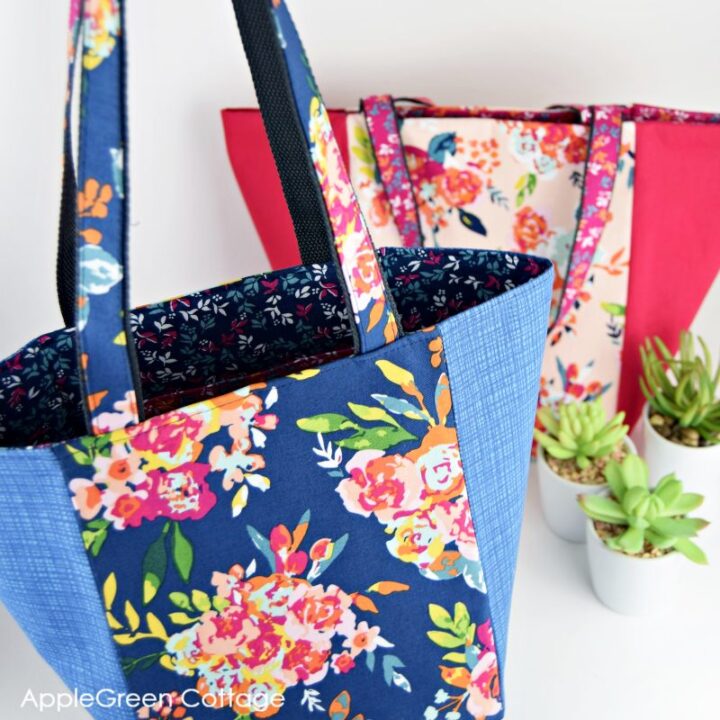 Diy Craft Supplies Caddy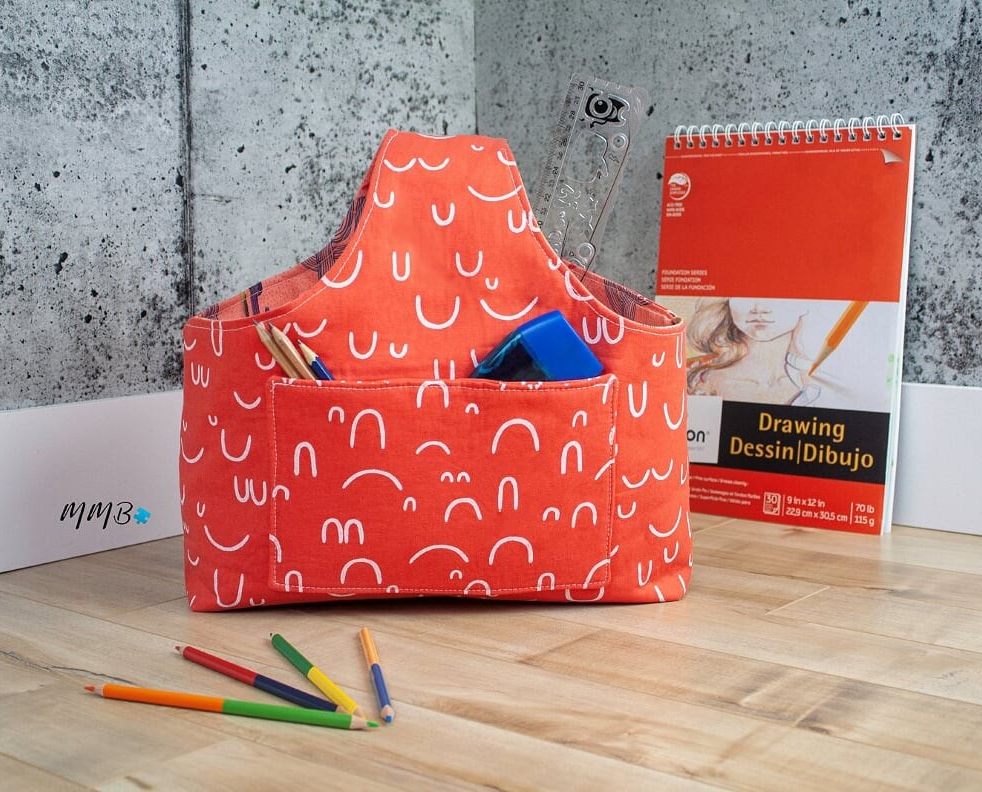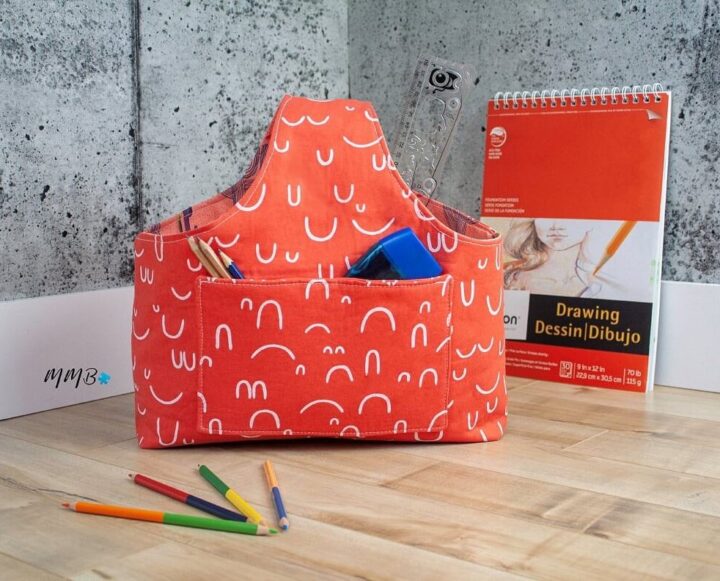 What a creative idea to use this project tote pattern design as a mobile craft caddy! Fill it with tons of useful crafting supplies (make sure to find out what the teacher wants first!) and you're set!
Always a Handy Gift: Beautiful + Simple Keychain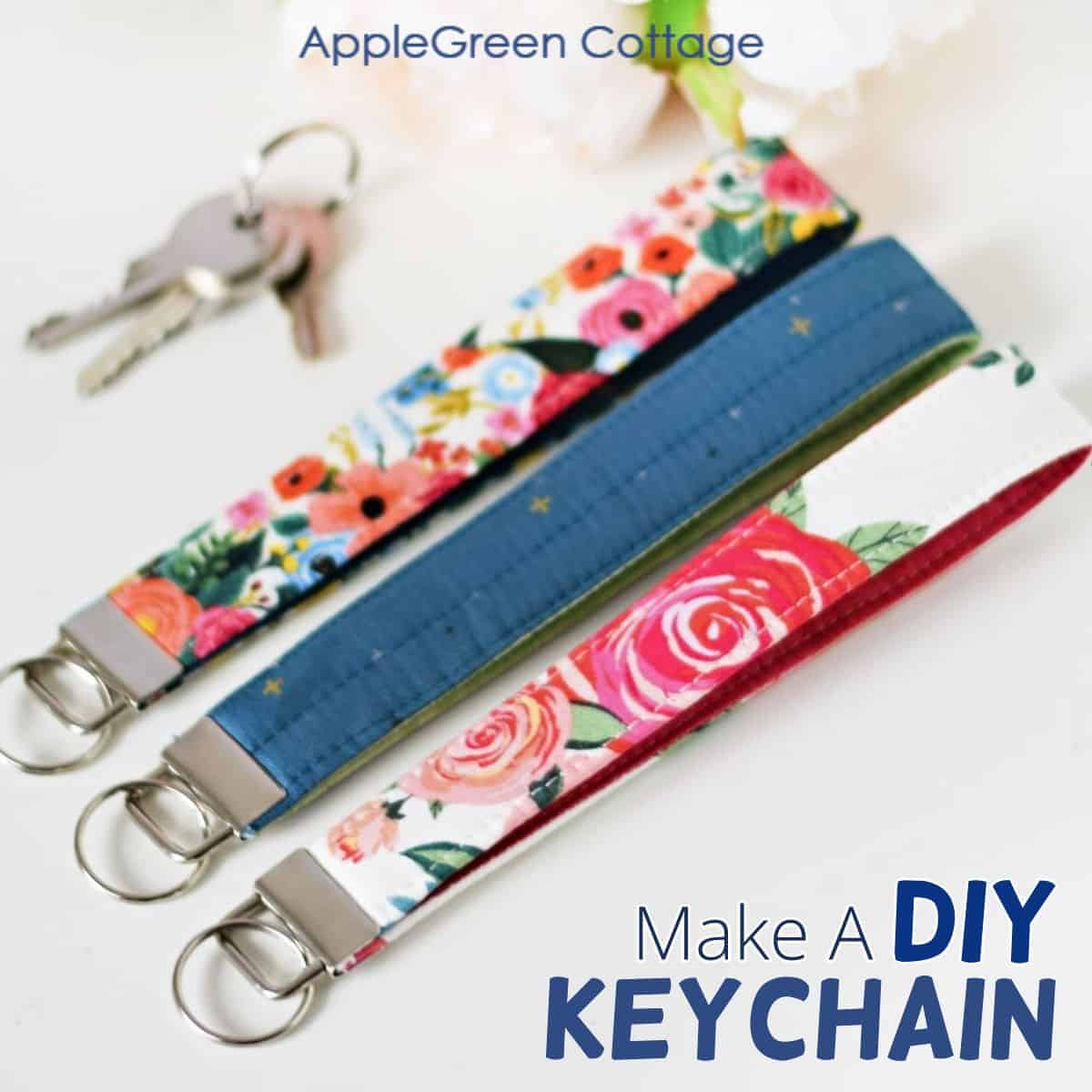 This easy diy fabric keychain makes a great gift! Key fobs and diy keychains make great gifts for friends, family, and teachers. Also, they are a great way to use up your fabric scraps.
A gift card - Yes, but personalized!
What about gift cards? These are a great way to say thank you. The only downside is that gift cards might appear impersonal. The solution: wrap it into a cute diy gift card holder!
In minutes, you can make a cute diy gift card holder that will turn any plain gift card into a special handmade gift.
Use any of these two free gift card holder templates: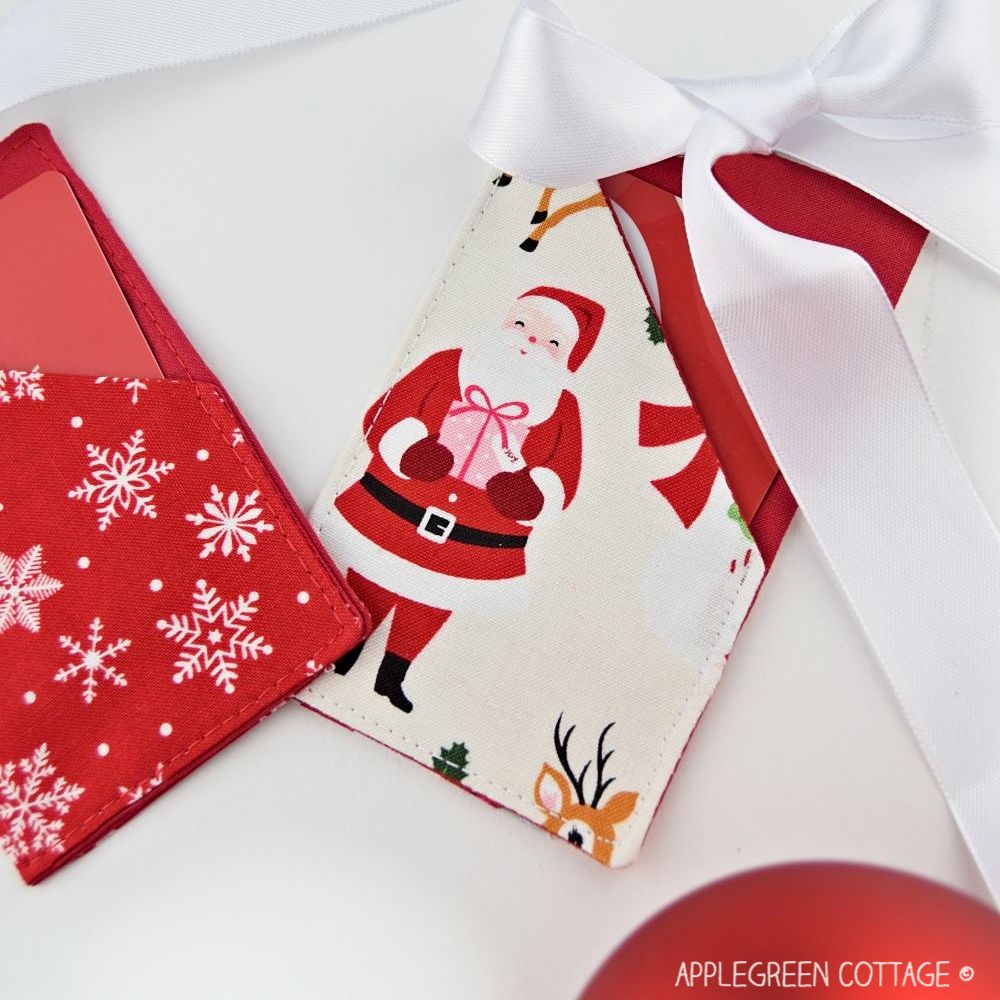 Adding a handmade gift card holder will turn it into a personalized gift, while still allowing the teacher to pick what they like best. A win-win!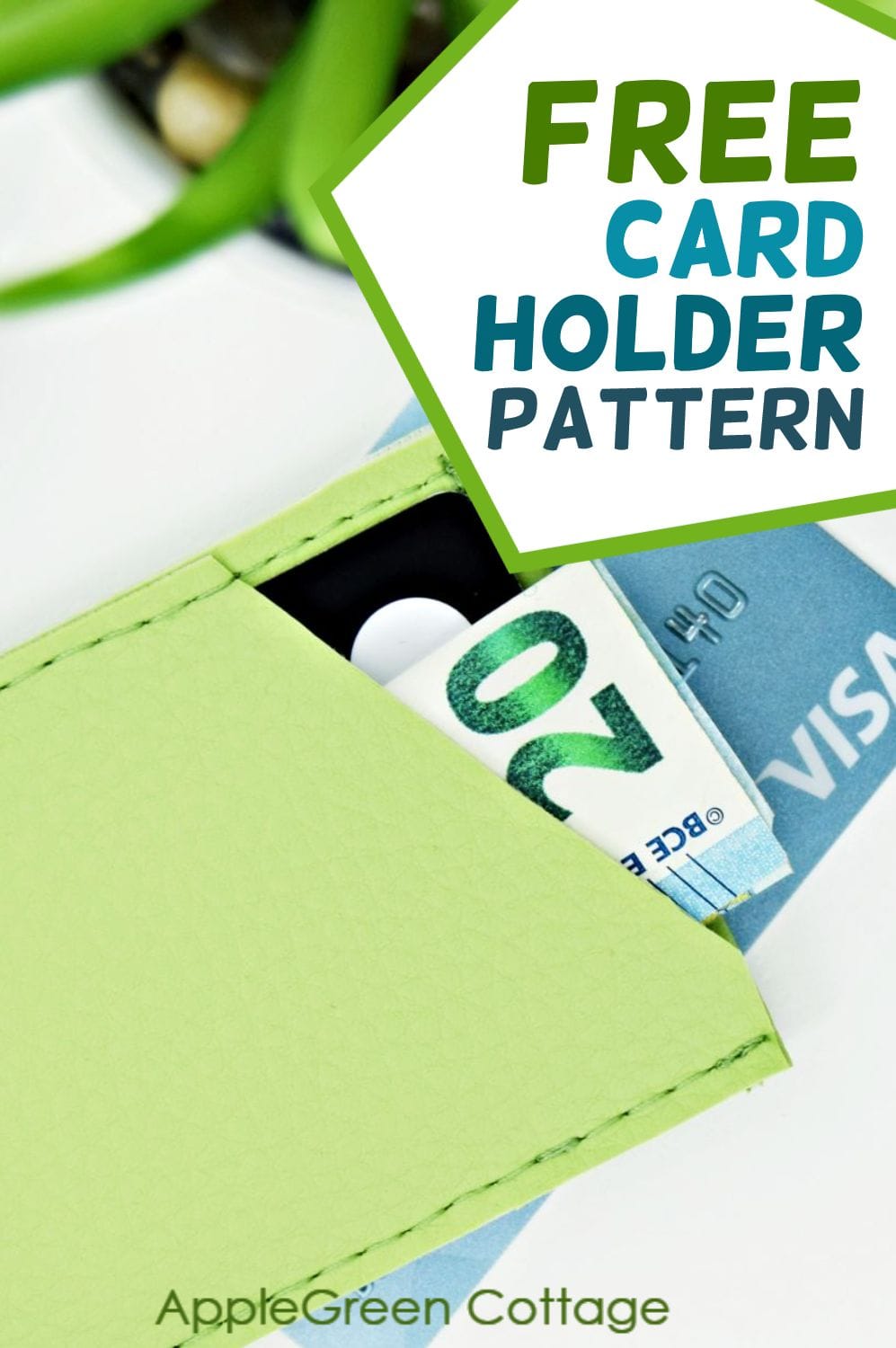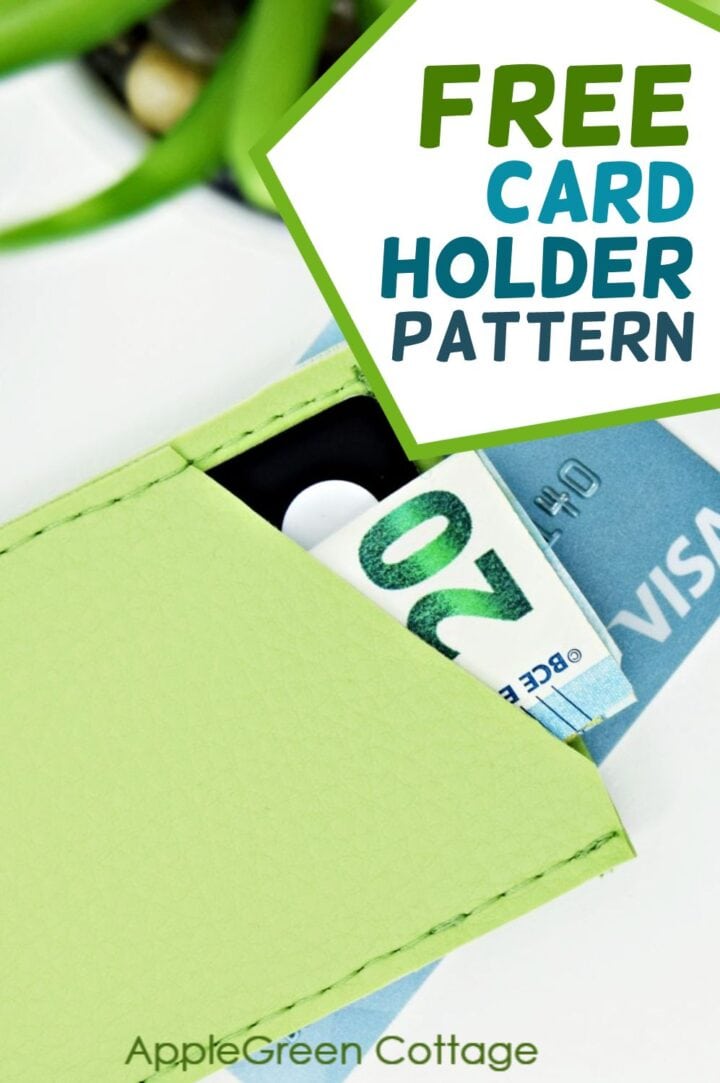 Just make sure to choose a card from a shop where you know they will be sure to use. Local gifts are always welcome!
A recent study by the National Center of Education Statistics found that 94% of teachers spend their own money on their classroom. Teachers spend their own money every single day on our kids. Why not give some of that back in the form of a gift card?
School Supplies Gift Basket
School supplies are always a great thought - think personalized pencils, pencil sharpener, pen, or - notebooks. Just make sure those will be personalized! See how to make a notebook - a bunch of unique notebooks, in just minutes and from materials you already have at home.
Teacher Gift Basket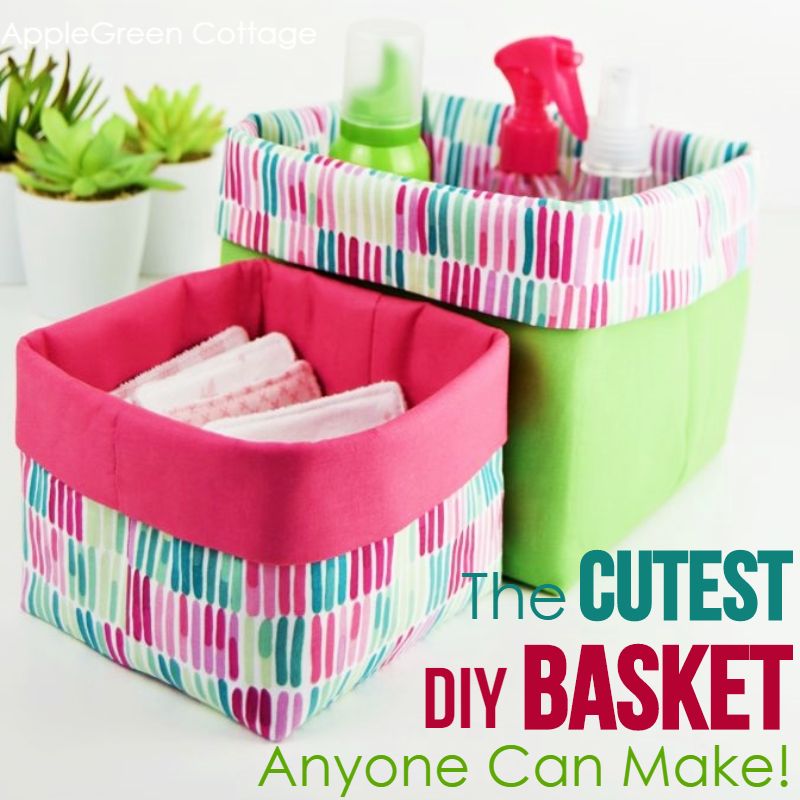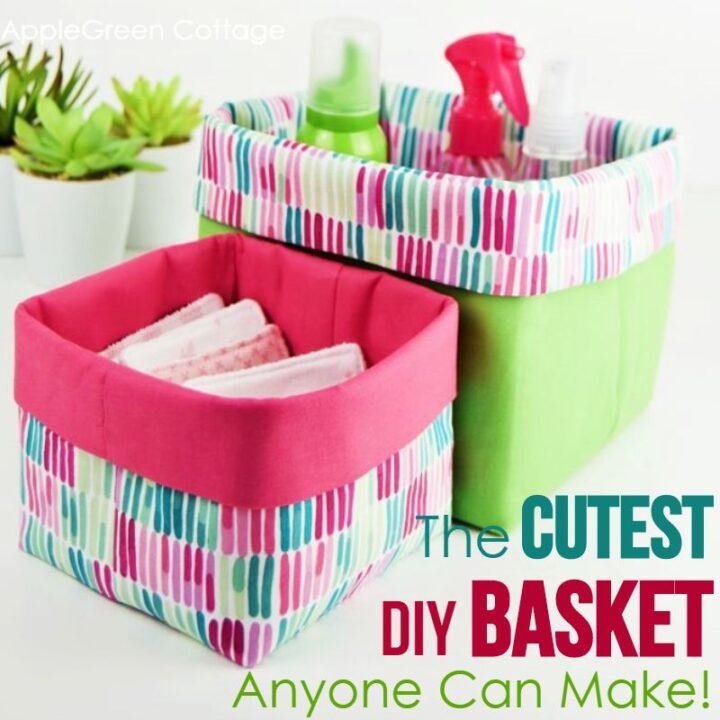 You can never go wrong with a teacher gift basket, which can be made up of just useful, nice things to have. Use AppleGreen Cottage free fabric basket pattern - and every diy teacher gift basket will turn into a personalized one in an instant, even if you don't know much about your child's teacher.
Or do you want to give something small? Make this:
Diy Small Trinket Basket for the teacher's desk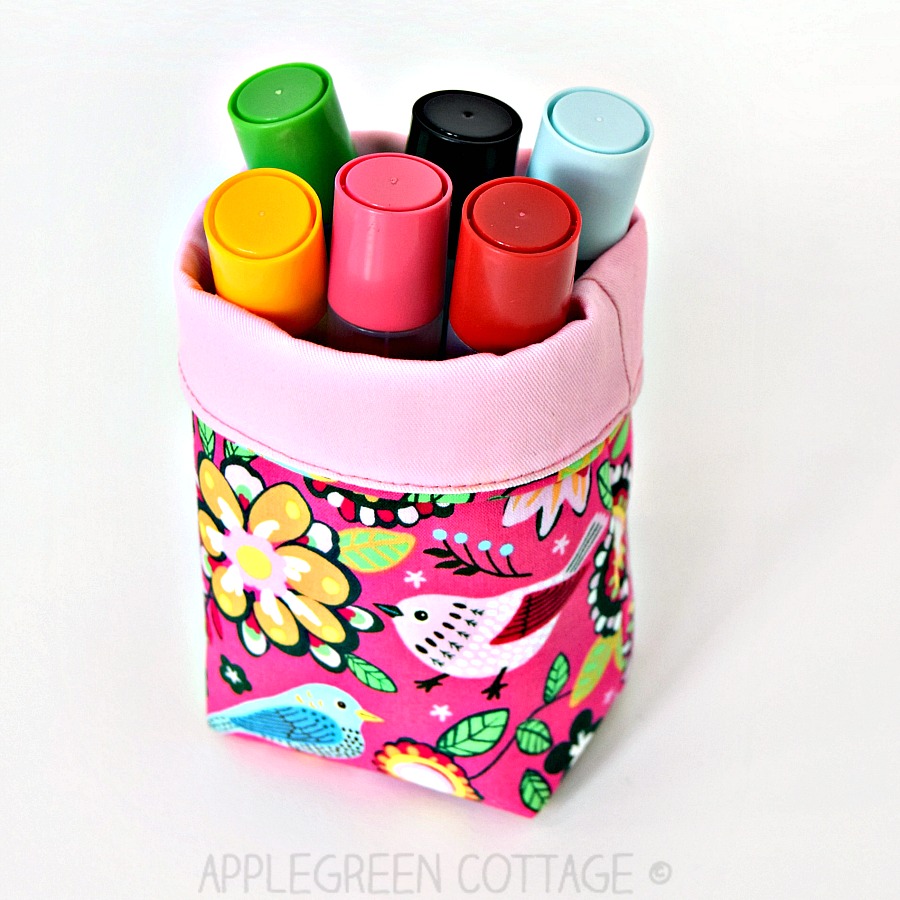 Small cute storage basket and a little gift inside. This mini bin is a great pencil holder or a trinket storage box for your desk or kitchen counter!
Diy Notebook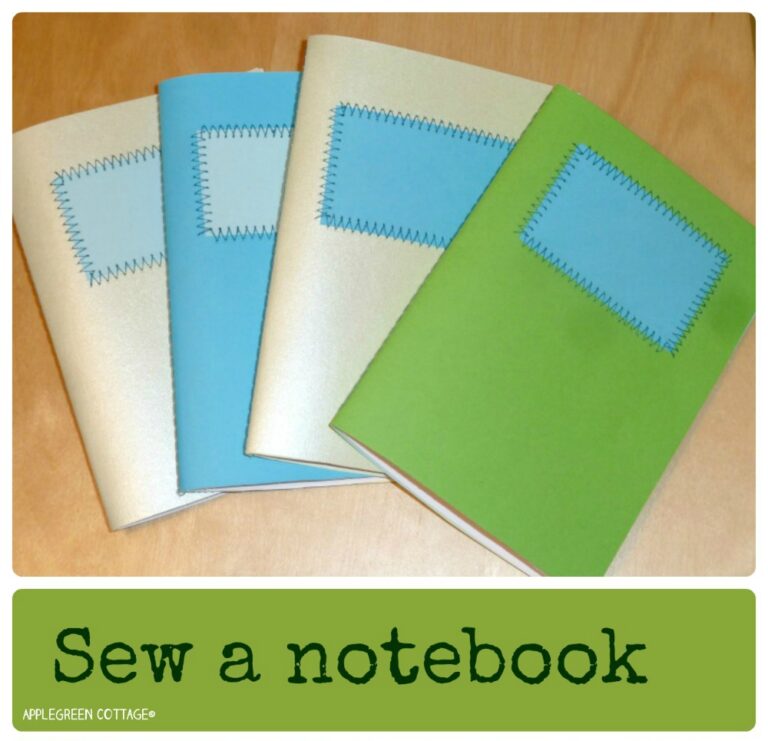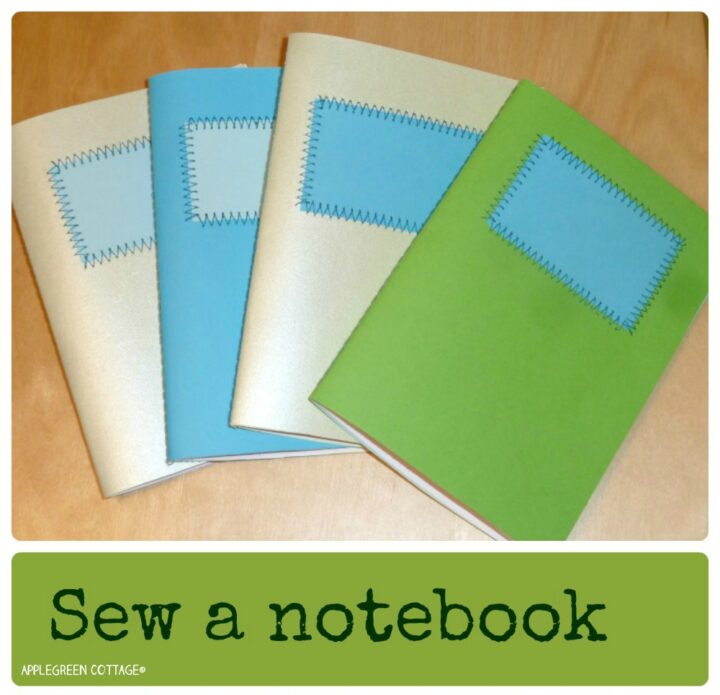 And did I mention you can make a few cute diy notebooks to gift along?
Diy Felt Pencil Pouch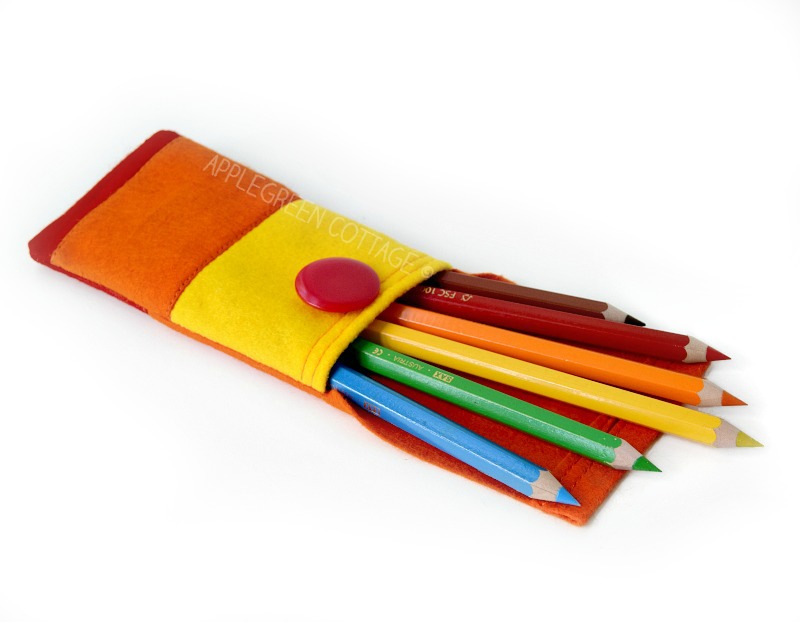 Are your kids crafty, and want to make a pencil pouch for their favorite teacher themselves? This felt pencil pouch tutorial has a button closure and is super simple to sew - color-blocked or plain. Happiness guaranteed!
Free Zipper Pouch pattern in 4 sizes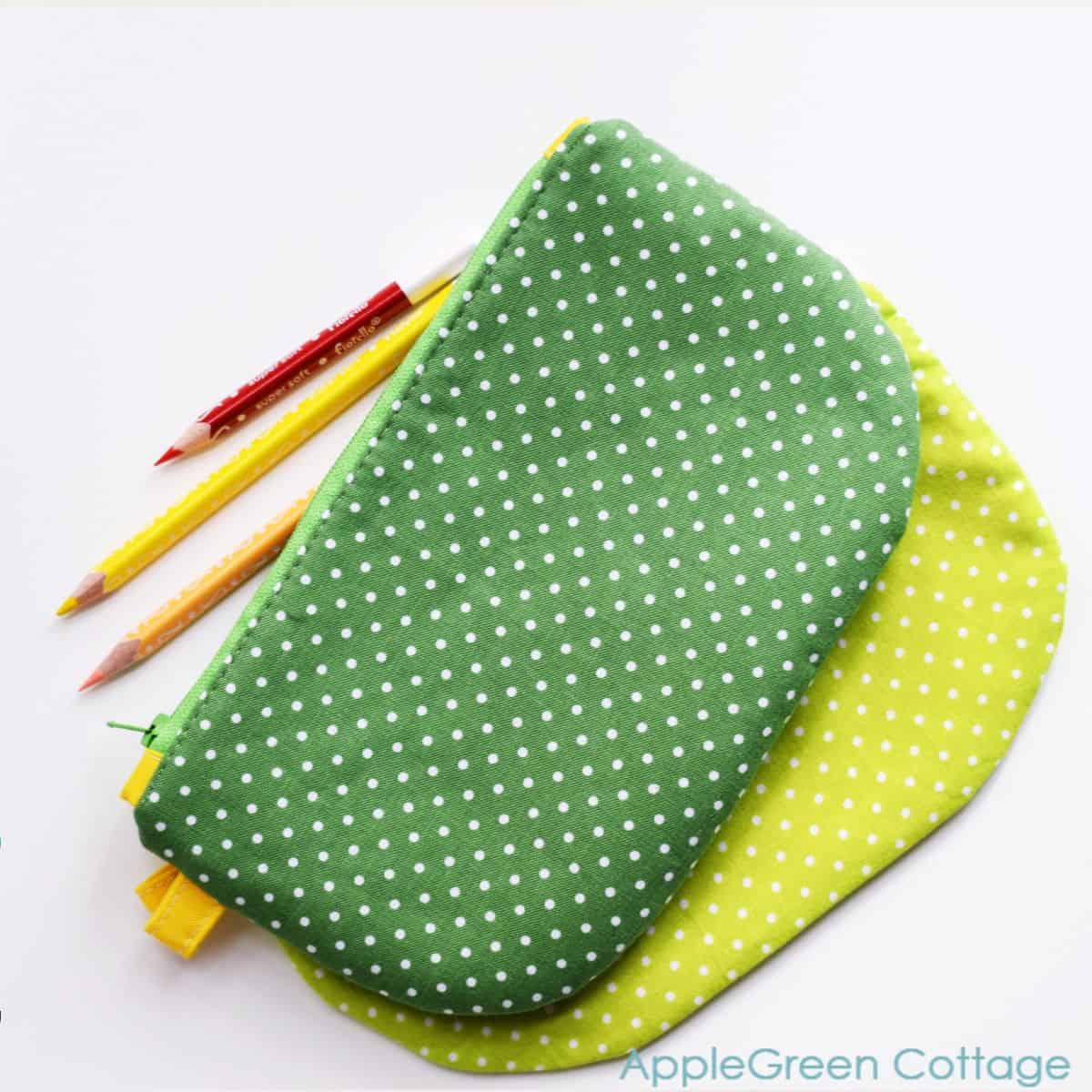 A sweet rounded zipper pouch, filled with pencils, crayons, or my favorite - chocs! Always a hit, check out the improved tutorial and grab all the 4 free zipper pouch pattern sizes - for all the things a teacher needs!
See my other list for even more free pencil pouch patterns.
Diy Tray For Teacher's Desk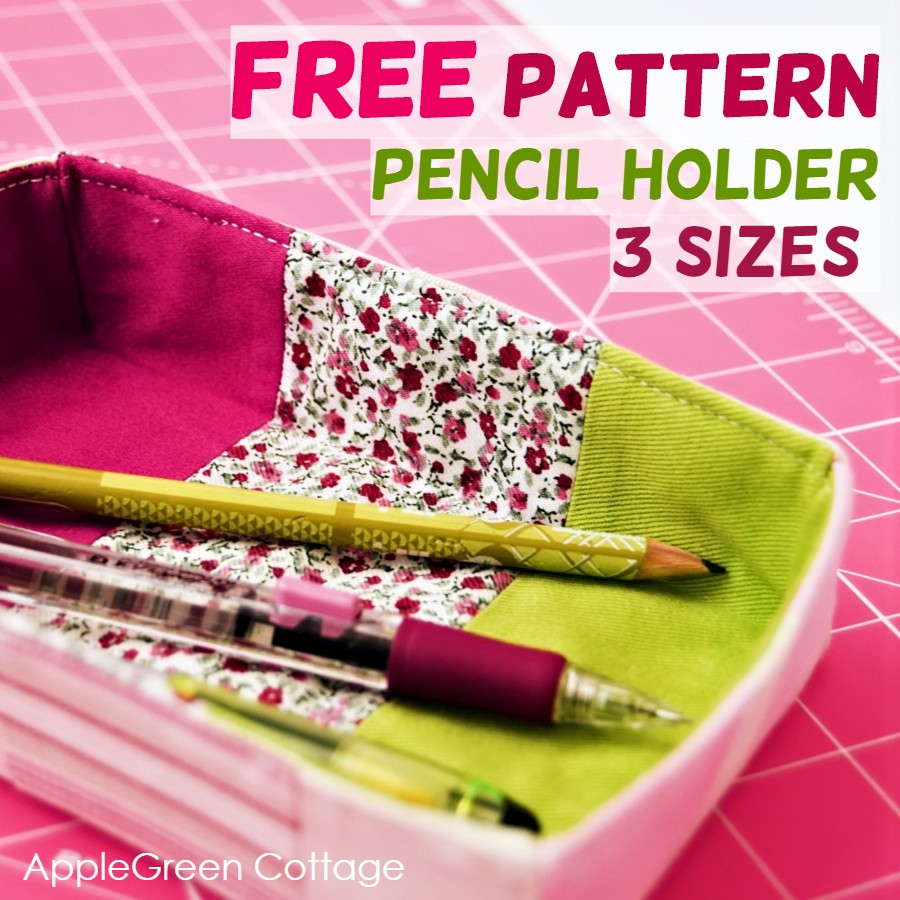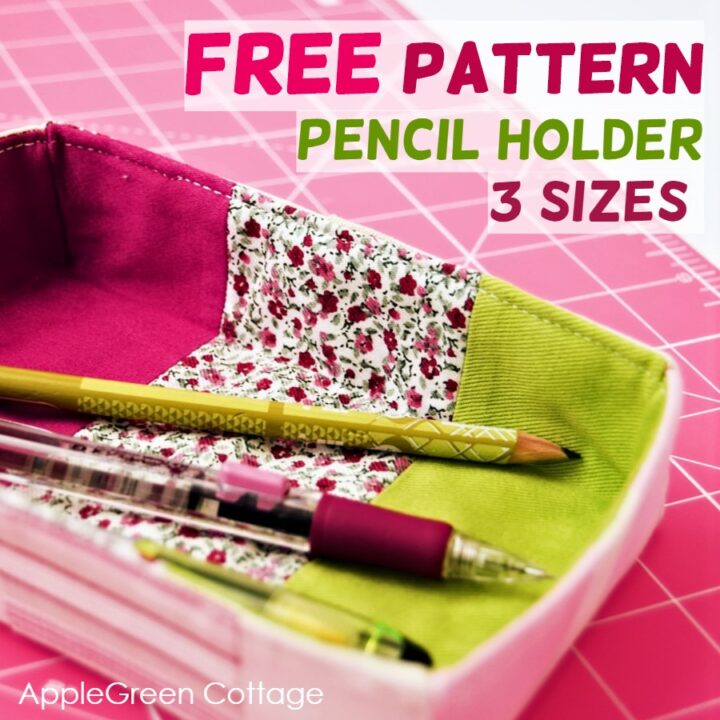 What a useful bit - it will keep your teacher's desk neatly organized! Useful in a classroom, or at home - use this free pencil tray pattern in 3 sizes and make a nice gift.
Diy Accessories As Teacher Appreciation Gifts
This part is not for all teachers but can make the best diy teacher gift if gifted selectively. First, check with the teacher if he or she loves diy scarves, or wears headbands - or scrunchies? They will appreciate a handmade accessory from a student, especially if you can sew one in your teacher's favorite color. A few accessories to sew as diy gifts for teachers:
Free Infinity Scarf Pattern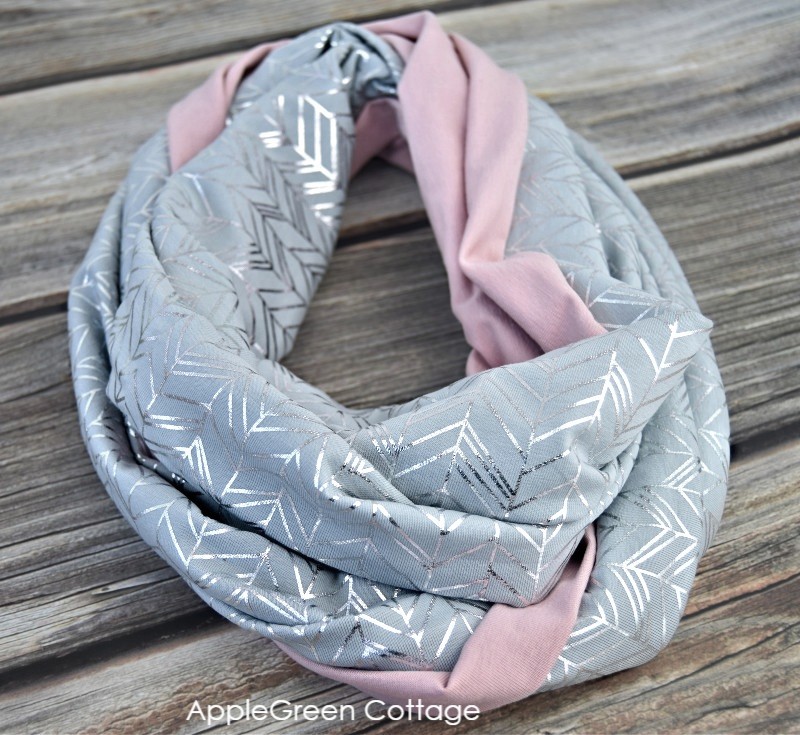 This cozy infinity scarf is so soft! See how to make an infinity scarf here at AppleGreen cottage.
Make a Set of Super CUTE Scrunchies!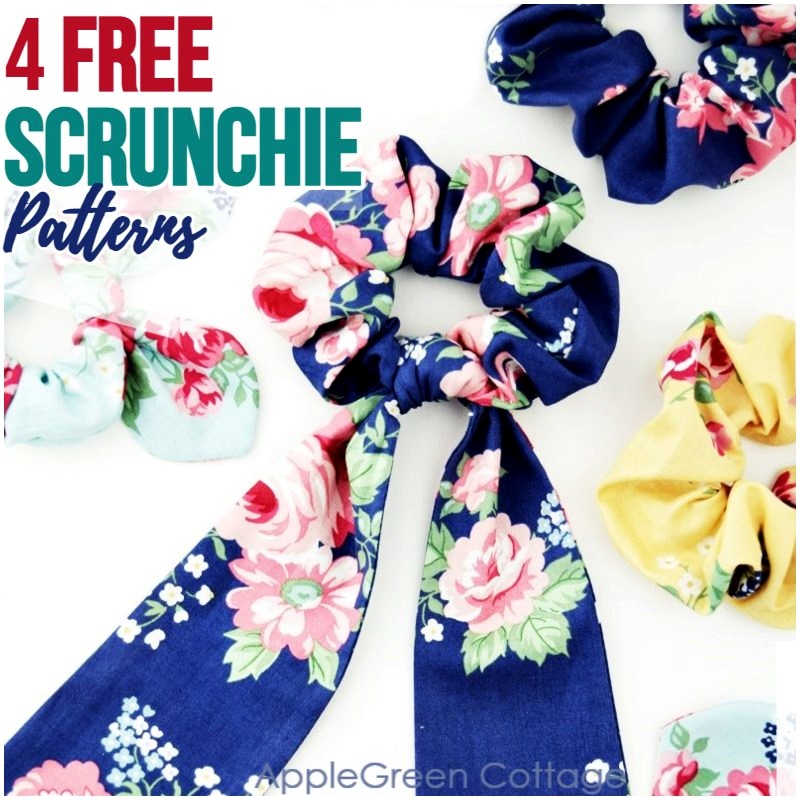 Get the free scrunchie patterns now and make all of them in one sitting! These might be your go-to easy sewing gifts for teachers, especially when you need to make them in bulk! these are suitable either for kids to sew or as a first sewing project for an adult too.
More easy accessories you can sew for a teacher:
Neck Warmer Free Pattern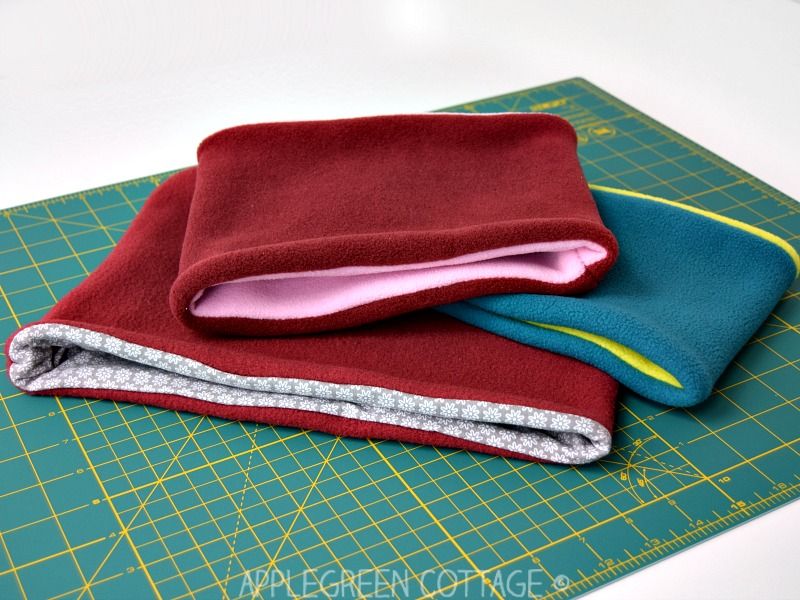 This free neck warmer pattern is super popular, and that with good reason: easy, quick, soft. Use the free 3-sizes pattern and sew a diy gift for your teacher, and one for you too! (Just the best winter accessories, if you ask me!)
Diy Heating Pad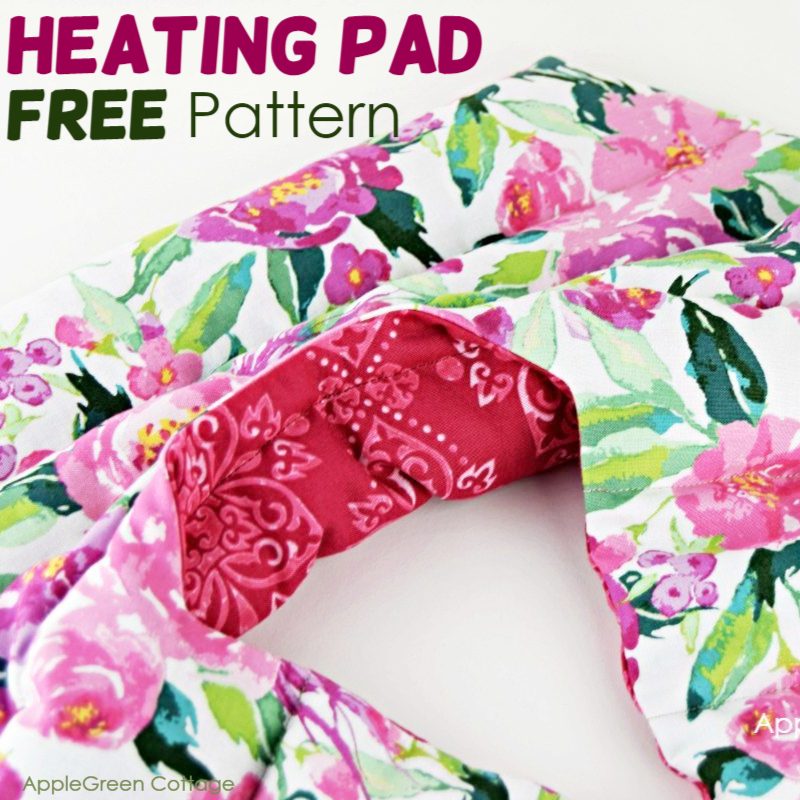 Make this weighted diy rice heating pad for the back and shoulders as a relaxing treat after a long day of work.
Diy Hand Warmers for a new year's teacher gift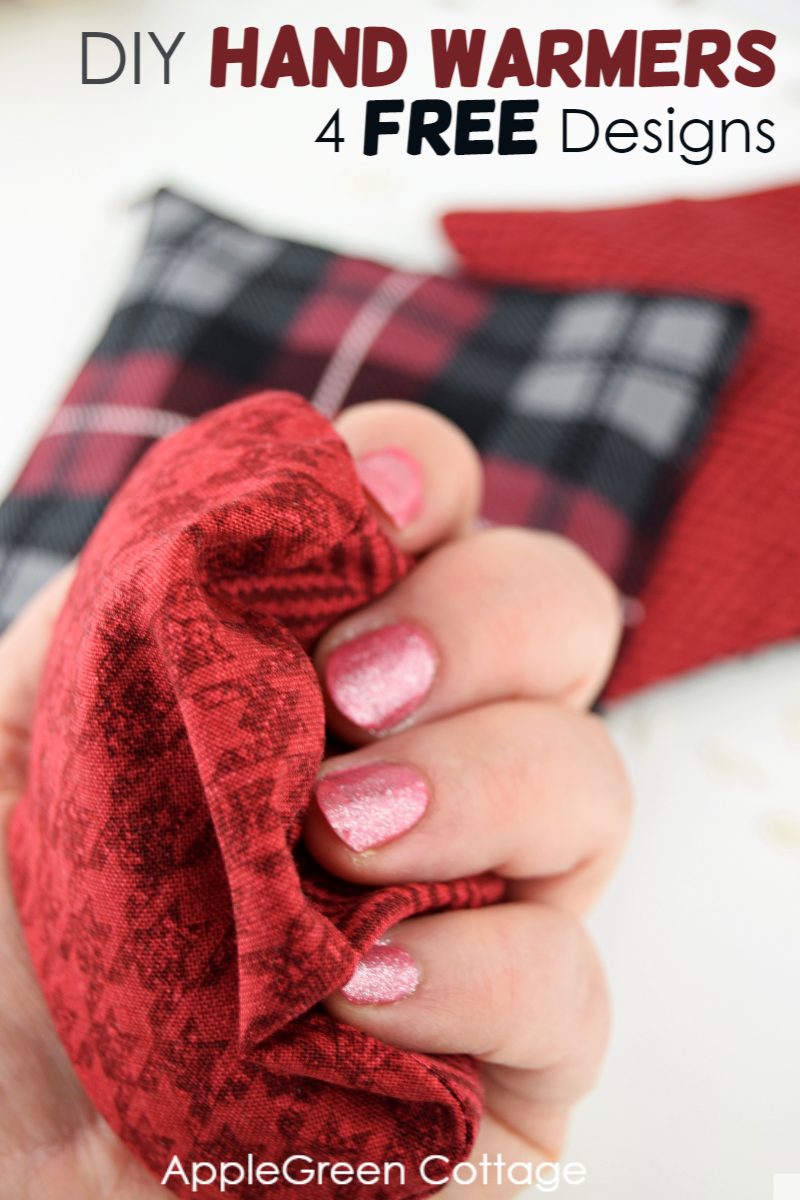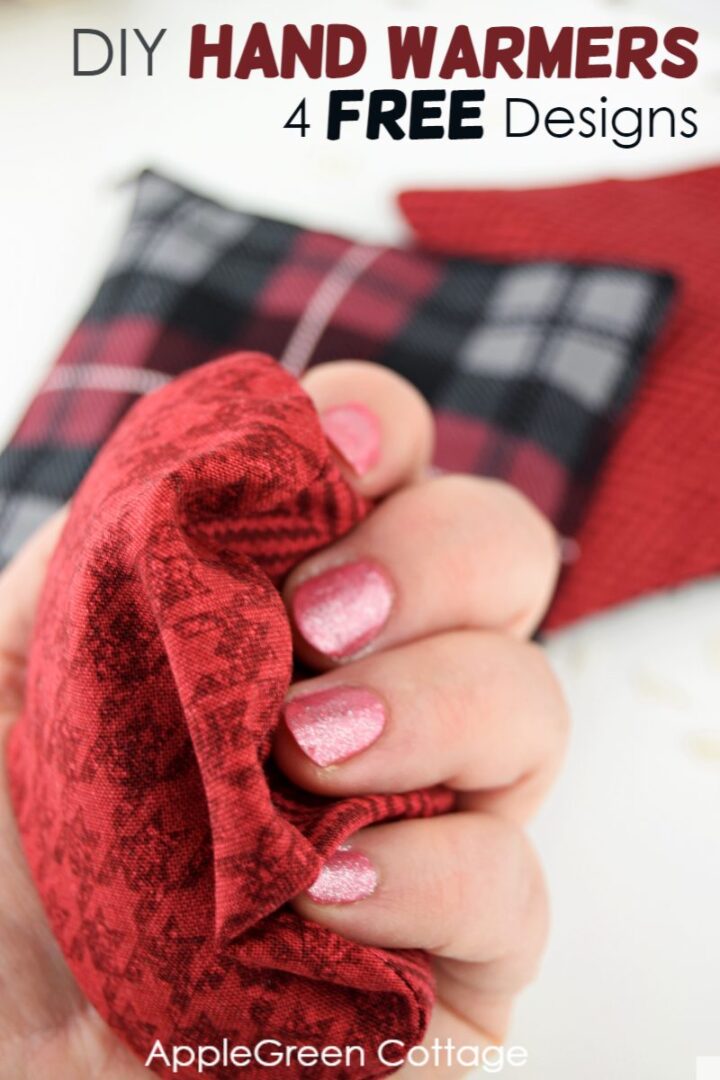 Gift a pair of diy hand warmers using a free hand warmer pattern with 4 printable designs. Microwavable, reusable, and easy to make.
Large Messenger Bag
Does your teacher carry a lot of stuff to and from work? Nearly every teacher does, and this free messenger bag pattern can pack a punch: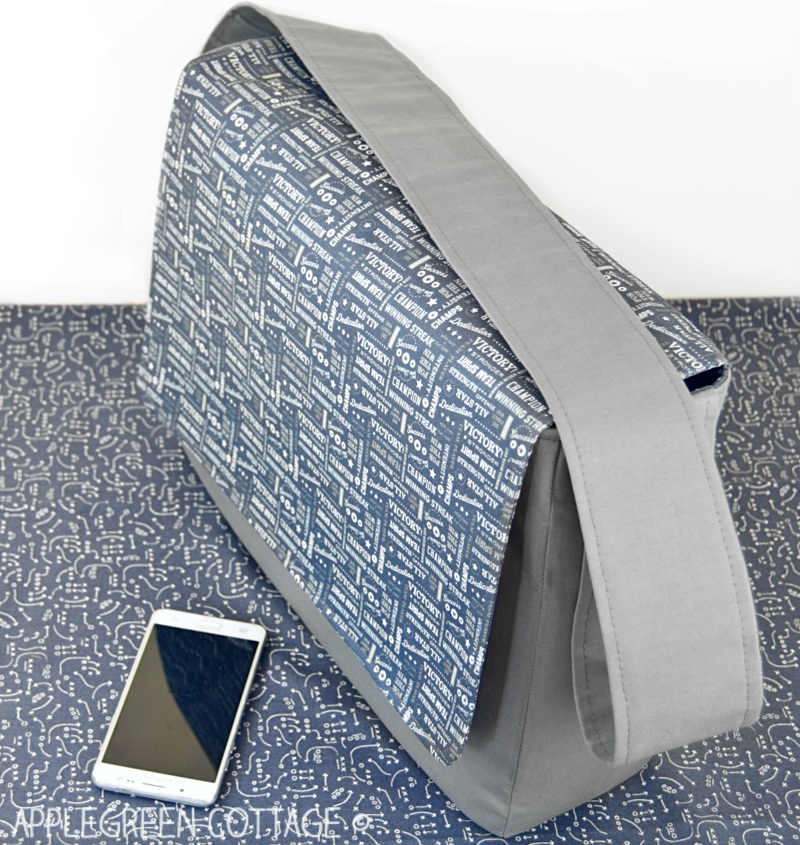 It wouldn't be fair if I didn't include a gift idea that might be good to sew for a male teacher (the next two ideas below are usually loved by female teachers). But actually, this bag is unisex. This messenger bag is large and practical, and it comes with generous internal pockets. A perfect diy teacher gift if you have more than just half an hour to sew!
Sew A Trendy Makeup Bag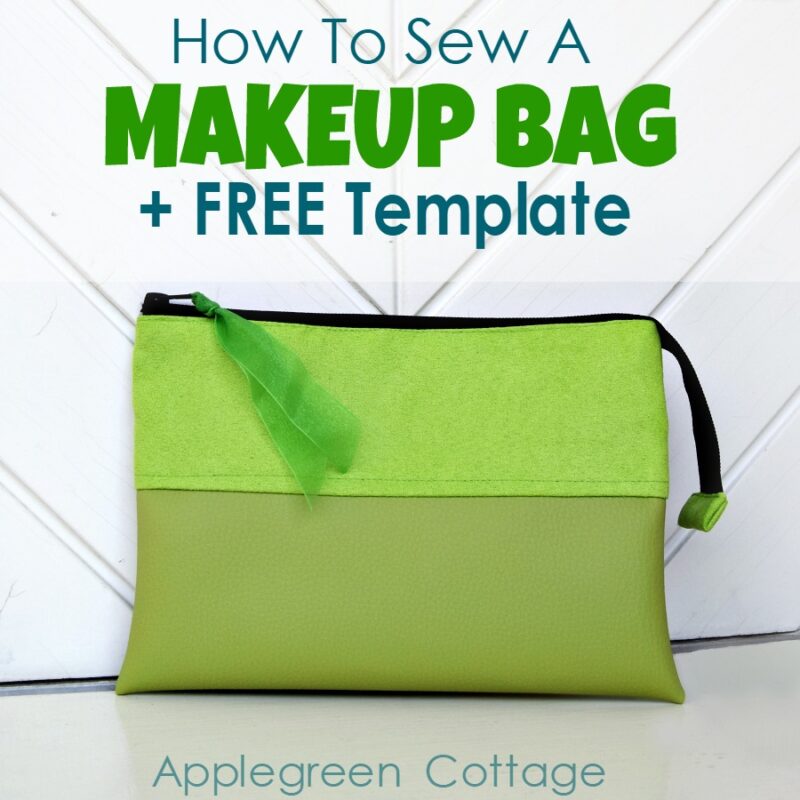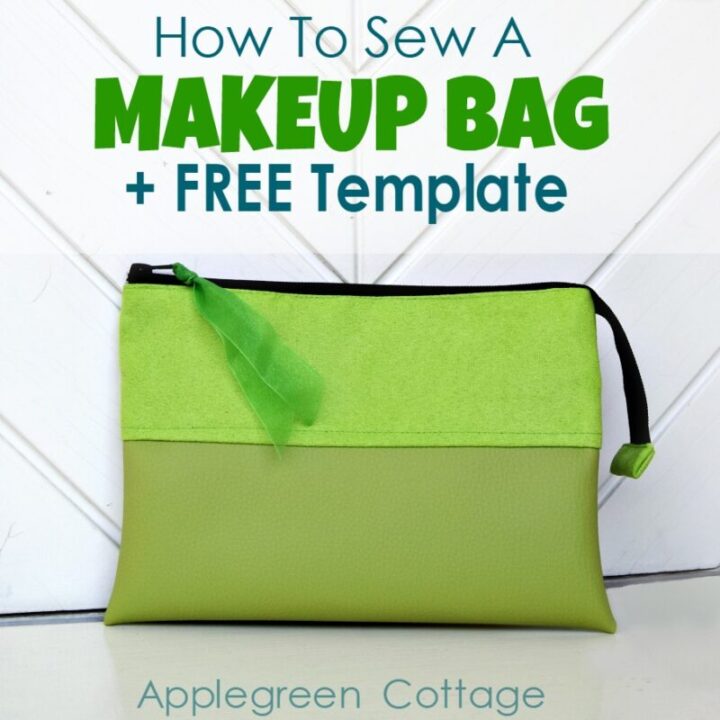 A makeup bag or pouch is something that can get tons of use in a teacher's everyday life. Plus, a diy makeup pouch like this one looks good!
A Diy Drawstring Organizer Pouch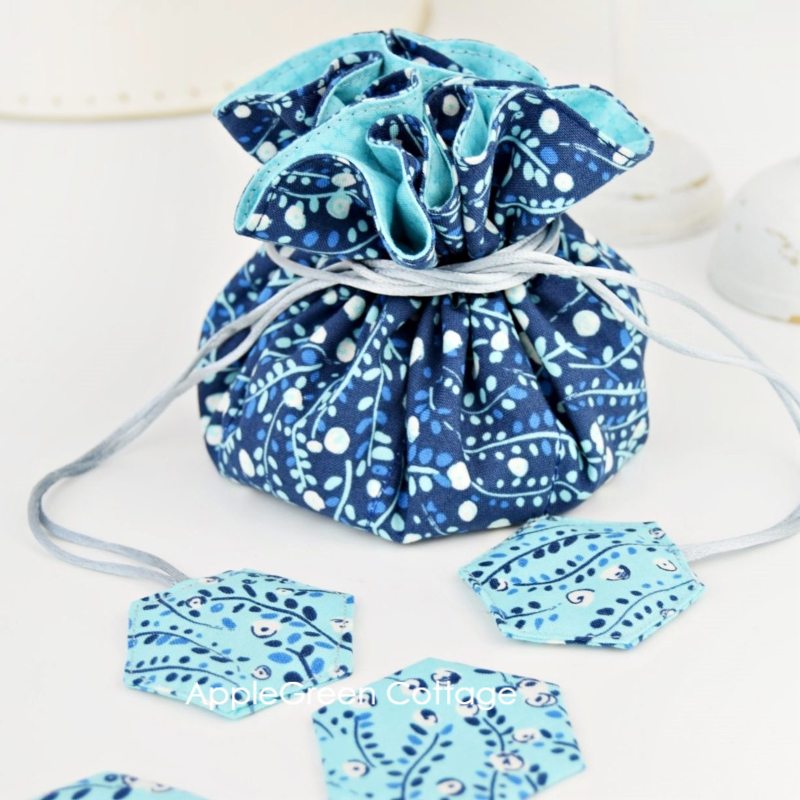 If your giftee loves jewelry, this cute diy jewelry holder could be a perfect gift for a teacher too. Let your kids make a cute piece of jewelry - and it's a perfect gift, both a personal item made by kids, and they can use the handy drawstring organizer for years to come!
Hop over to the tutorial and get the pattern for this cute jewelry holder - you can get it for free!
A BONUS IDEA: It can be a gift in itself, or you can add a little something inside. If you have kids, they can make little clay bracelets - these diy clay bracelets are super easy to make, and pretty popular diy teacher appreciation gifts among kids right now!
More diy teacher appreciation gifts ideas:
There are so many options for great teacher gifts you can make - I'll make sure to link teacher gift ideas here when I post more tutorials. Just a few I have in my drafts but haven't yet finalized to publish:
A Book With a Cute Diy Book Cover - Everyone loves a good book. Make your gift unique by adding a beautiful fabric book cover you can easily sew with a few straight (ish) seams. Really simple!
Make a lanyard for their ID card. They've probably worn out theirs already a long time ago, and adding a personal touch to a utility item like an ID card makes a day just a little brighter.
And you can always attach a printable gift tag for special teachers, and let kids hand out the diy gift to their awesome teacher on the teacher appreciation day - or on any other day, actually!
What gifts do teachers actually want?
In short, practical, yet unique. While getting a plain pencil might fall flat, your teacher will definitely feel appreciated if they get a unique gift made by yourself. Think practical diy teacher gifts such as pen cases, totes and items that are always good to have (lanyard, keyholder, even in some cases, supplies?) If you can make these turn out fun and unique, you have a winner!
Also, teachers appreciate little things they can use - like, a diy coffee sleeve with an accompanying Starbucks gift card for someone who loves coffee? I'd love it!
On some occasions, depending on the teacher, they will appreciate some handmade accessories. These would fall into a different, more like pampering diy teacher gifts category - I've listed those too!
If you enjoyed this list of cool diy teacher gift ideas, share it, like it or tell your friends about it. Or save the project to Pinterest so you can use them any time you need to: