This zipper pouch tutorial will make a wonderful beginner sewing project, especially if you are new to sewing zippers. It comes with a free pdf zipper pouch pattern in 4 sizes. And just think of all the color combinations you can choose! Scroll down to get your free zipper pouch pattern.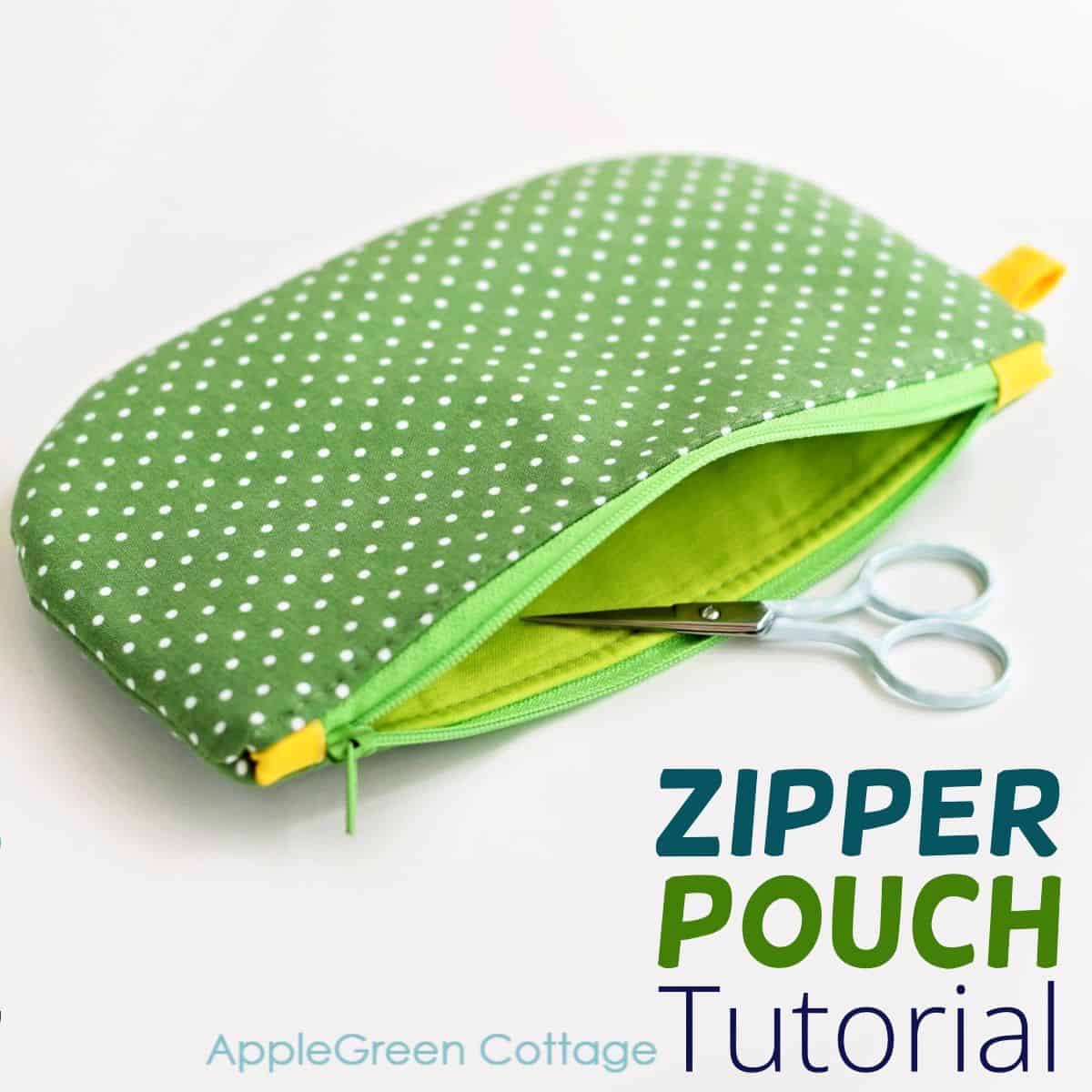 This post contains affiliate links. Thanks for your support. If you like making pouches and bags, you'll love these free projects, too:
PDF Zipper Pouch Pattern In 4 Sizes
You can't have enough zippered pouches. They are my favorite items to sew, and they make perfect holiday gifts. Follow this easy, step-by-step zipper pouch tutorial and sew one of these beauties yourself!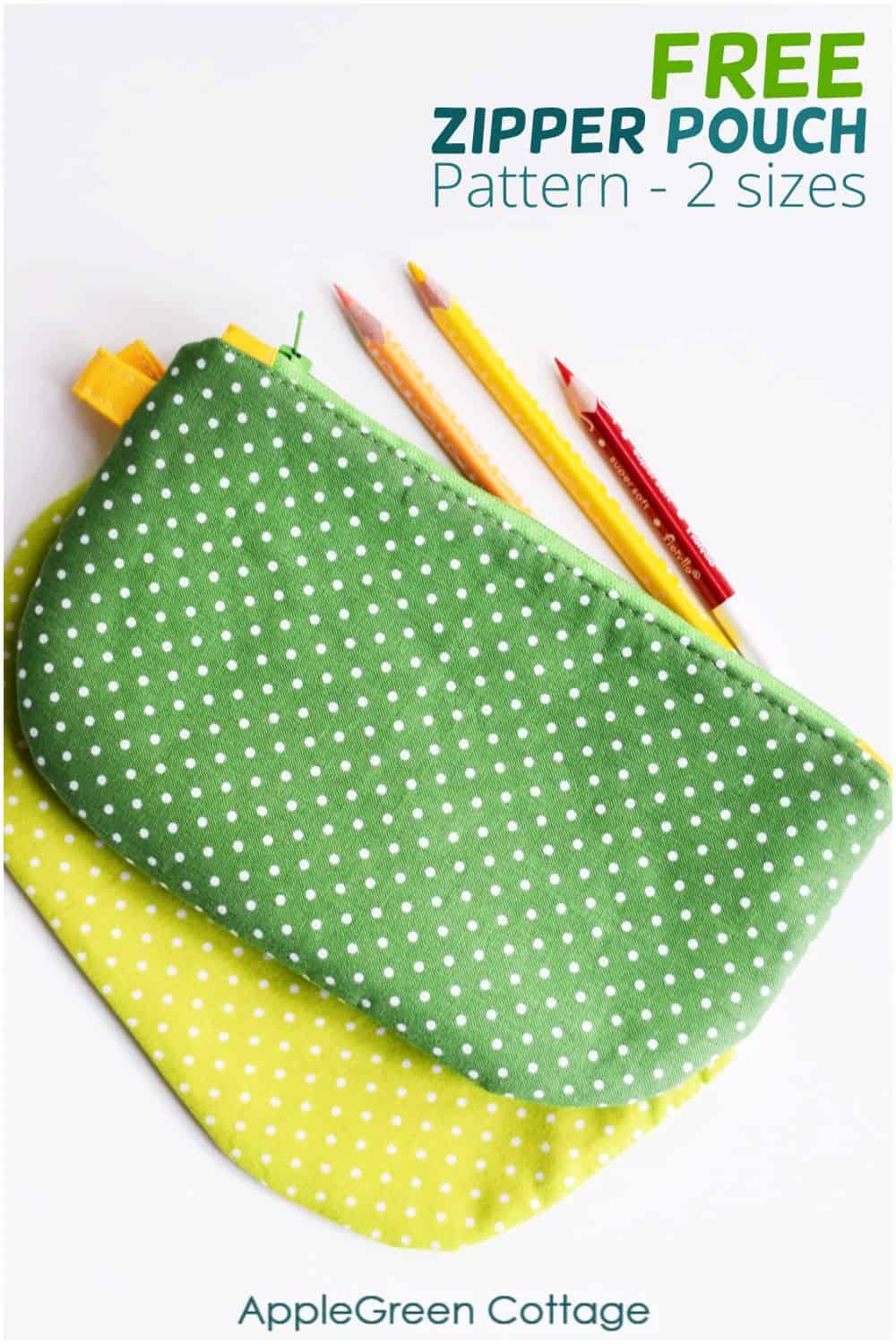 What I love about these zippered pouches is that they are so versatile. This lovely design in four sizes can be used for storing anything, from pencils to makeup, little trinkets, or yummy treats.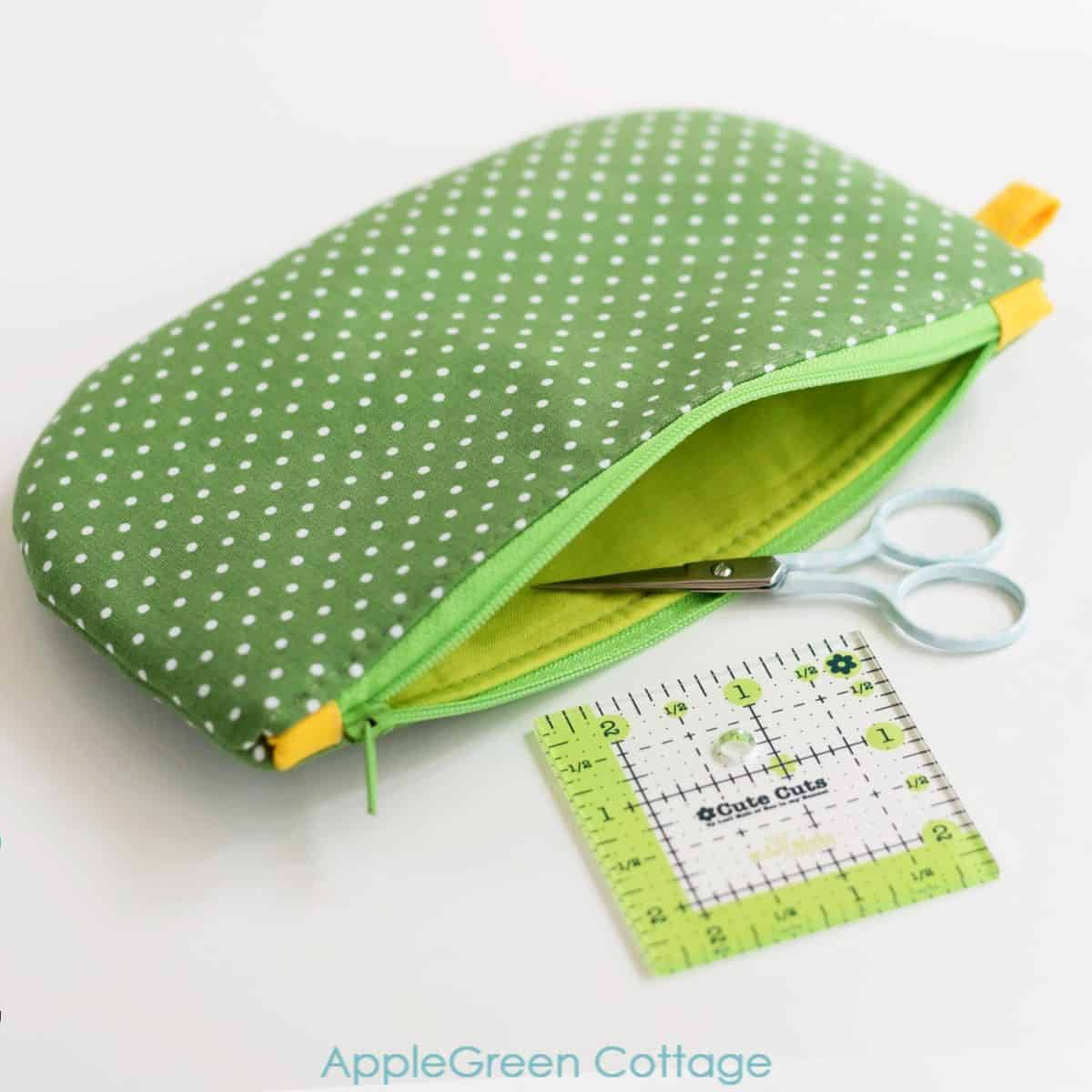 The little lined pouch I sewed last time is easy to make, so I thought you'd like to try one too: here's your chance to tailor one totally to your likes - grab your favorite fabrics and make one! You can choose the size, the color, anything! But just in case you don't want to second-guess your dimension choices, I'm also giving you a free template to use. Four, actually.
4 Finished Sizes
ORIGINAL small: 8" wide, 4 ½" tall (20cm x 11cm)
ORIGINAL wide: 9" wide, 4 ½" tall (22.5cm x 11cm)
TALL: 8" wide, 6 ½" tall (20cm x 11cm), and
TALL wide: 9" wide, 6 ½" tall (22.5cm x 16cm)
It's good to have options, right? I'll show you other sizes soon, but as I'm working with a new (cuteee!!) fabric collection that hasn't hit the stores yet I'll have to wait a little bit till the showcase. Cant' wait!!!! - edit: here's the lovely quilted zipper pouch pattern
Supplies
Before you start following the zipper pouch tutorial, gather these supplies:
a nylon coil zipper - no shorter than the width of the fabric pieces (i.e. 9"/23 cm or 10"/25 cm zipper length)
in total, a fat eighth for the smallest size, and a fat quarter for the largest 'tall' size - use fabric scraps!
two 2" (5cm) squares for the zipper
one little rectangle 1 ½ by 2" (4x5cm) for an optional side tab
fusible fleece, light-to-midweight interfacing
thread, pins or sewing clips, sewing machine
iron, scissors, or rotary cutter plus cutting mat (I use this one by Olfa)
PDF Zipper Pouch Pattern
The seam allowance for this project is ⅜" inch (1cm).
There are 4 sizes, today we are making what is called the ORIGINAL small size - the smallest of all 4 options.
Step 1 - Get the FREE Pattern
Get the template from the shop here - it's absolutely FREE! Print and start cutting and sewing right now.
I've created a template that you can download for free. To download the FREE ROUND-Bottom Pouch TEMPLATE, click the button below. You'll be taken to the shop - scroll to ROUND BOTTOM Zipper Pouch Pattern, it's $0!
Get the free pattern HERE. It's $0 in the shop, no code is needed. Optional, as an alternative:
OR do you want a printable copy of the WHOLE tutorial? Scroll to the bottom of this tutorial for more details!
Step 2 - Cut Fabric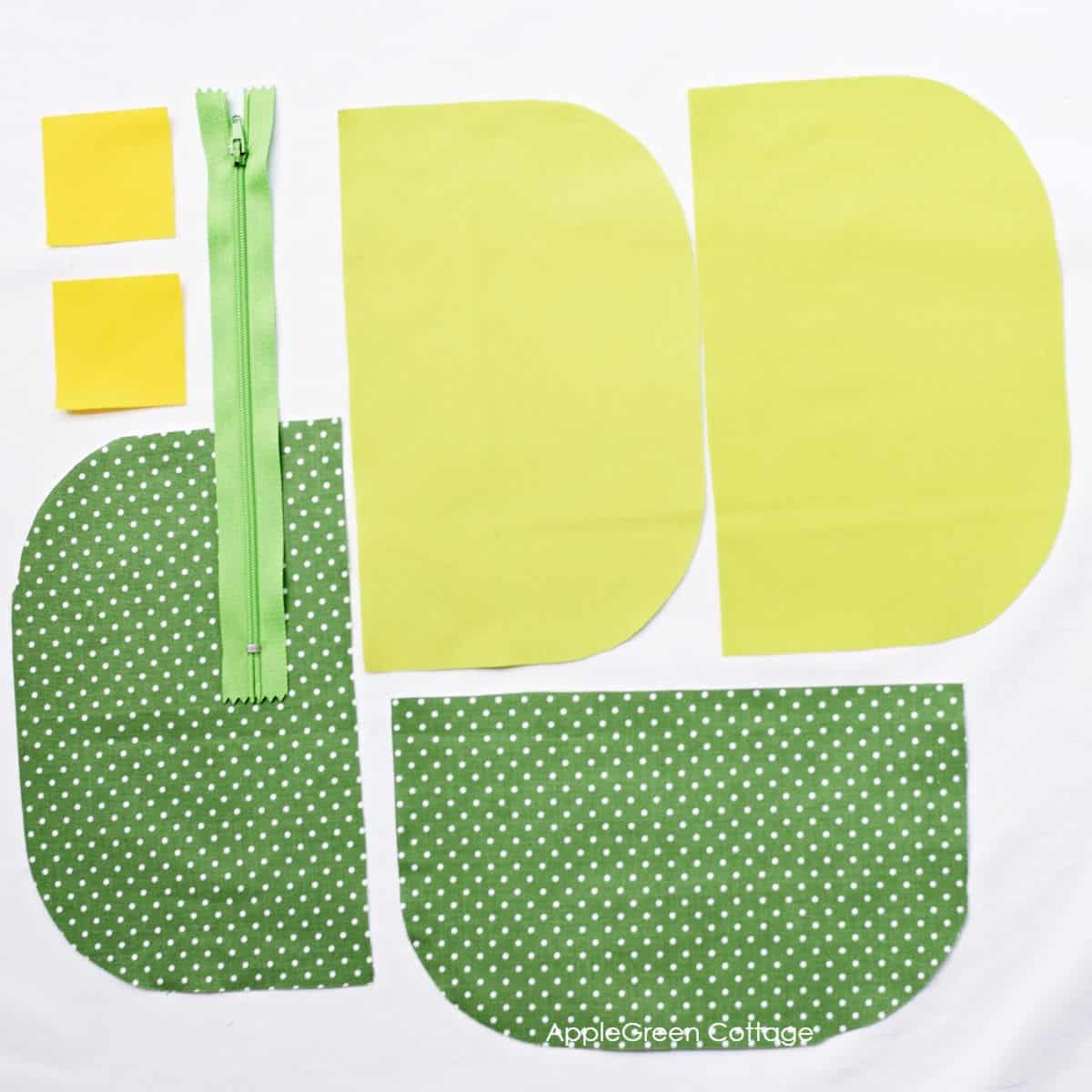 Use the free template to cut
4 pieces of fabric: 2 for the Outer, 2 for Lining
two 2" (5 cm) squares for the zipper
one little rectangle 1 ½ by 2" (4x5 cm) for an optional side tab (not pictured)
Also, cut 2 pieces from fusible fleece for Outer (cut them slightly smaller to reduce bulk) and 2 pieces from light-to-midweight interfacing for Lining.
Step 3 - Fuse Interfacing And Fusible Fleece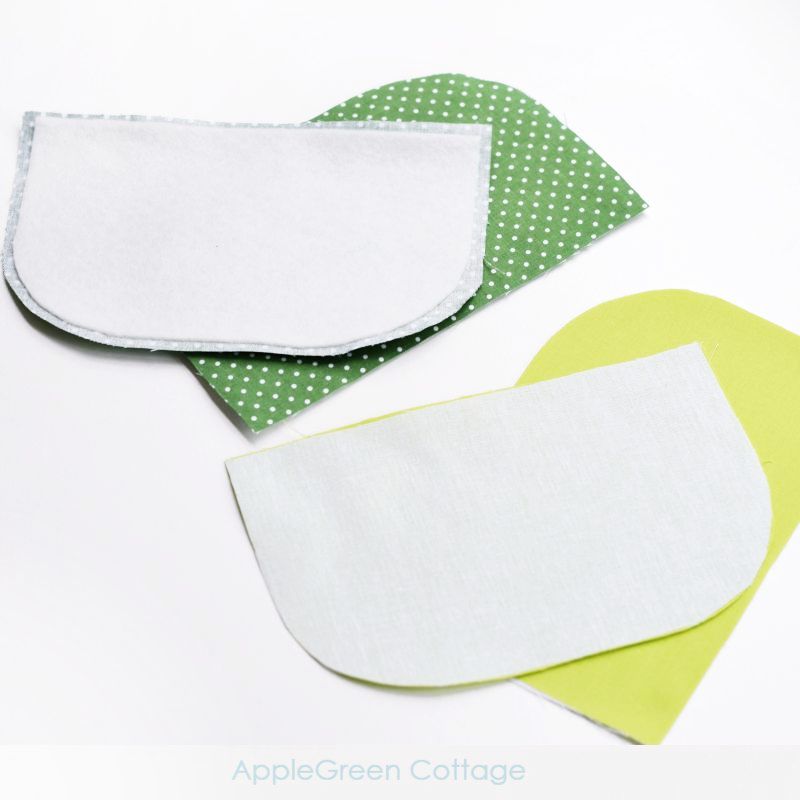 Iron fusible fleece to the back of the two Outer pieces, and thinner interfacing to the Lining pieces. See this interfacing tutorial if you've never worked with fusible fleece or interfacing yet.
TIP: if you're a fan of quilting, you can even quilt the outer layers of the pouch, here's a popular quilted pouch tutorial you can use - all with these same free pouch templates.
Step 4 - Prepare Zipper And Add Zipper Tabs
Zipper tabs will make your zipper look neat, prevent pinched zipper ends, and make your sewing easier. First, shorten your zipper to 7 ½" (19 cm) length by snipping off the metal stoppers on each side.
NOTE: if making the 'wide' sized pouch, cut the zipper tape to 8 ½" (21.5 cm)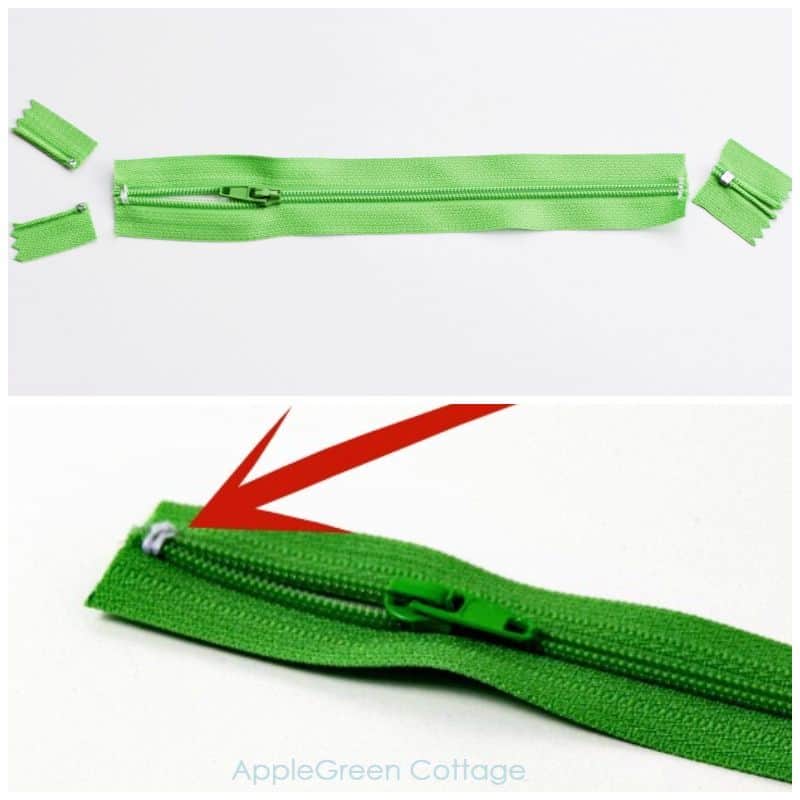 Make a few stitches on each side of the zipper where you snipped off the excess zipper to create temporary zipper stops. (⅛" or 3 mm away from the end)
Now create zipper tabs: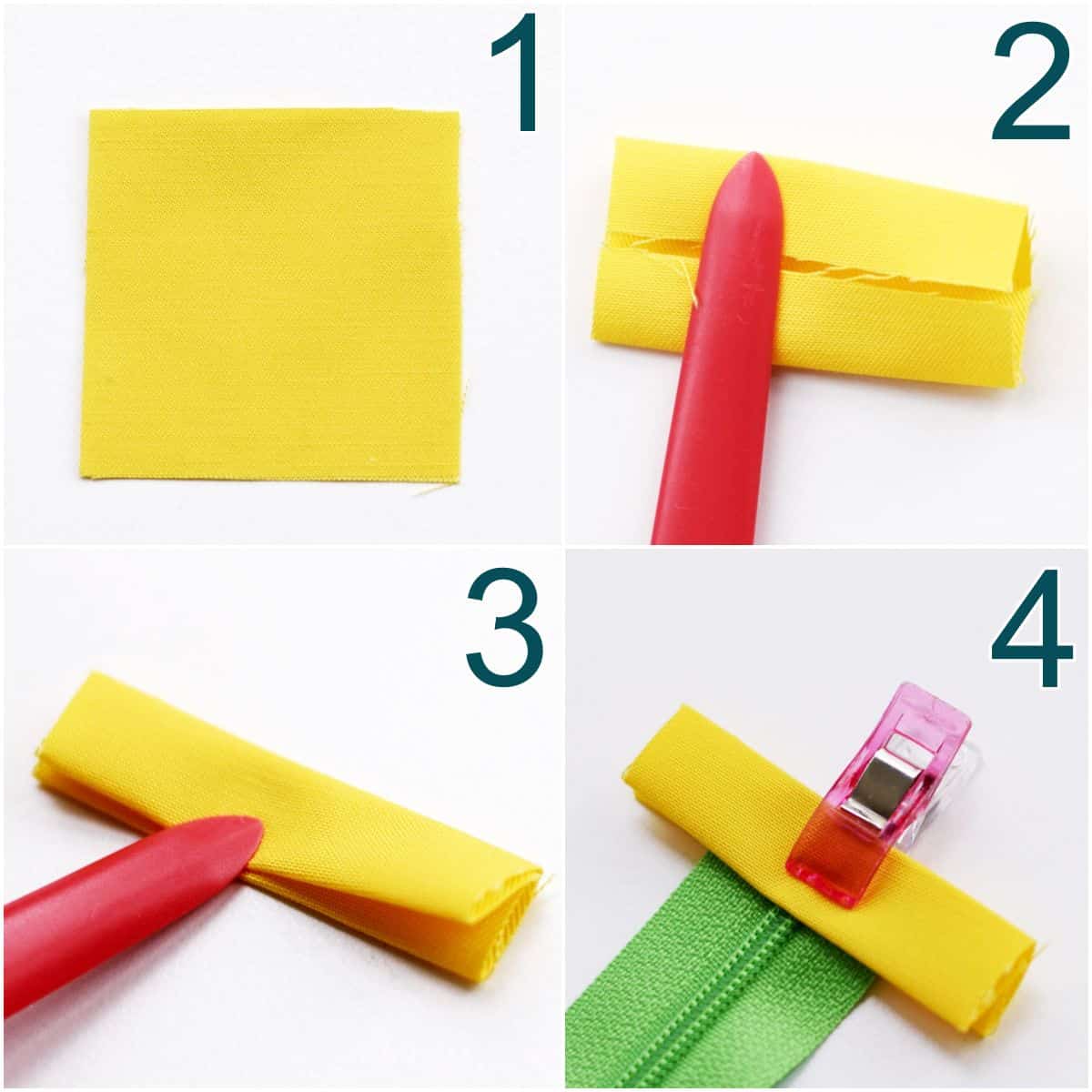 Place your 2" x 2" (5 x 5 cm) piece wrong-side-up.
Fold one edge to the center crease and do the same with the opposite edge.
Fold again and press.
Slide on one zipper end.
Topstitch over the tab close to the exposed part of the zipper, catching both the upper layer of the tab as well as the bottom layer: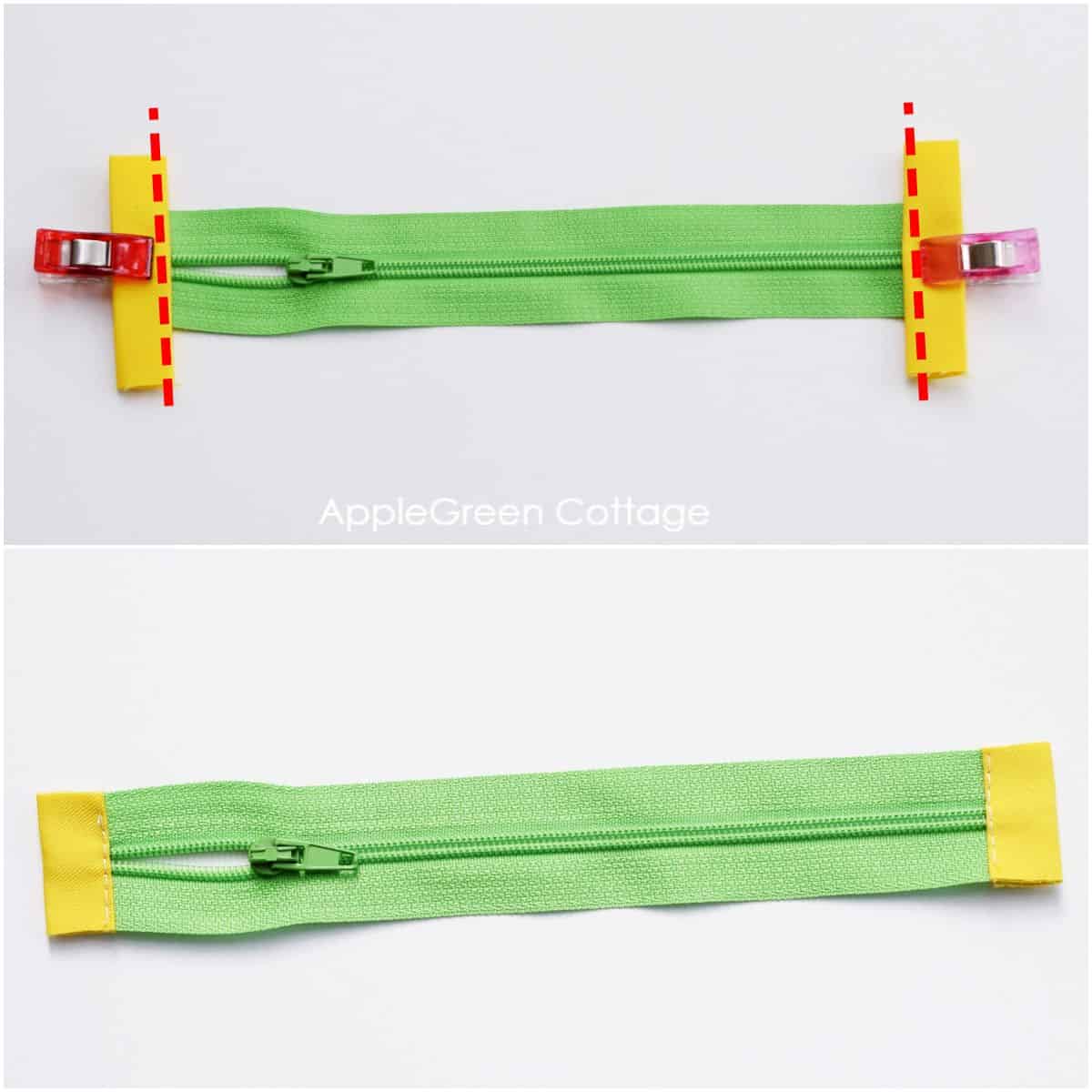 Repeat with the other tab and the other zipper end. Once sewn, snip off the excess tab material, so you get a nice and even looking zipper.
Step 5 - Attach the Zipper
Lay down the Outer piece (face-up), then the zipper (face-down, with the closed zipper pull on your left) and finally the Lining piece (face-down!) as seen in the photo below: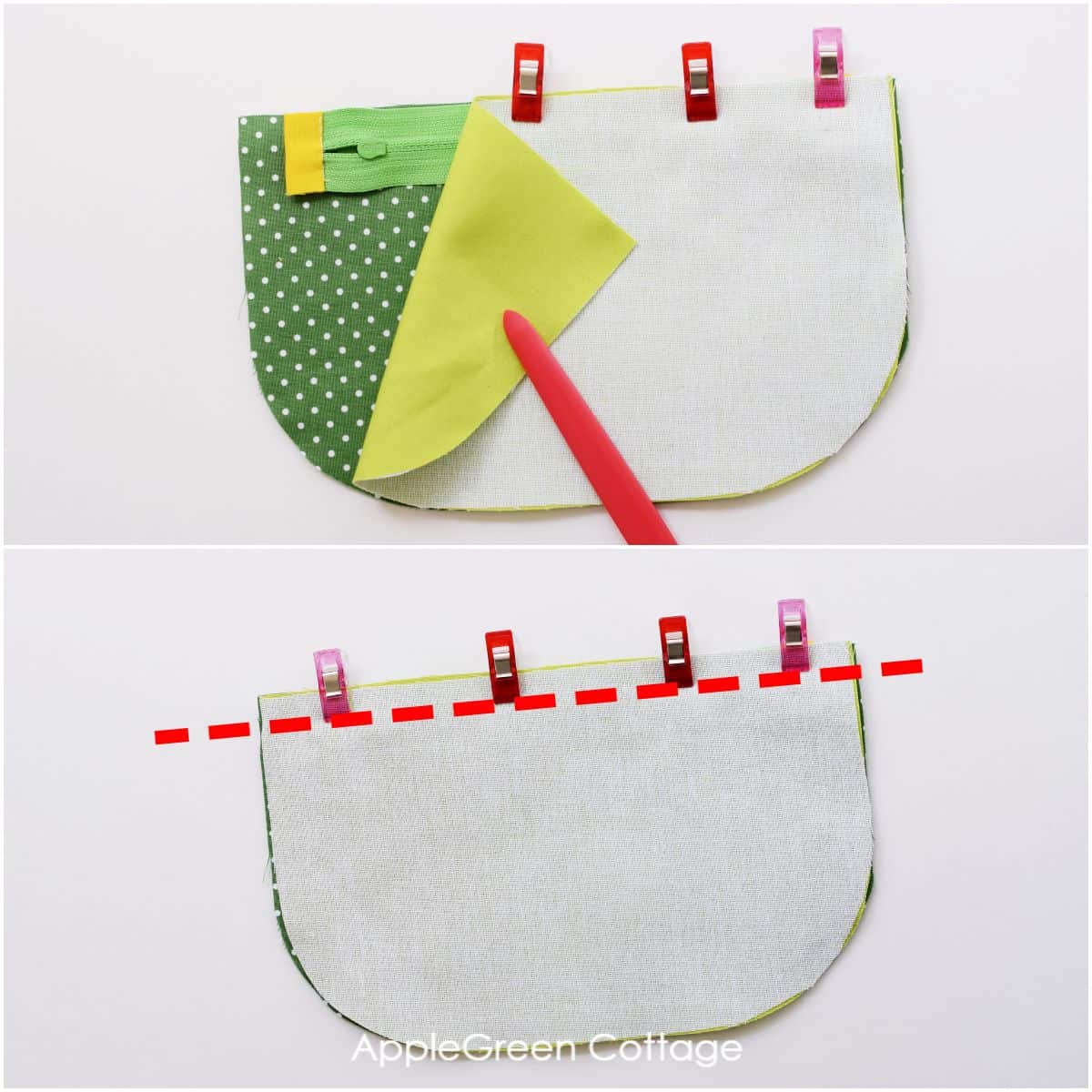 Sew through all three layers. Use the zipper foot if you like, I didn't.
BONUS HINT, if you are using regular foot: when sewing, you'll get to the zipper pull sooner or later. When you do, stop sewing and lift up the foot, keeping the needle down. Slide the zipper pull to an already sewn area. Return foot down into the sewing position and finish the seam.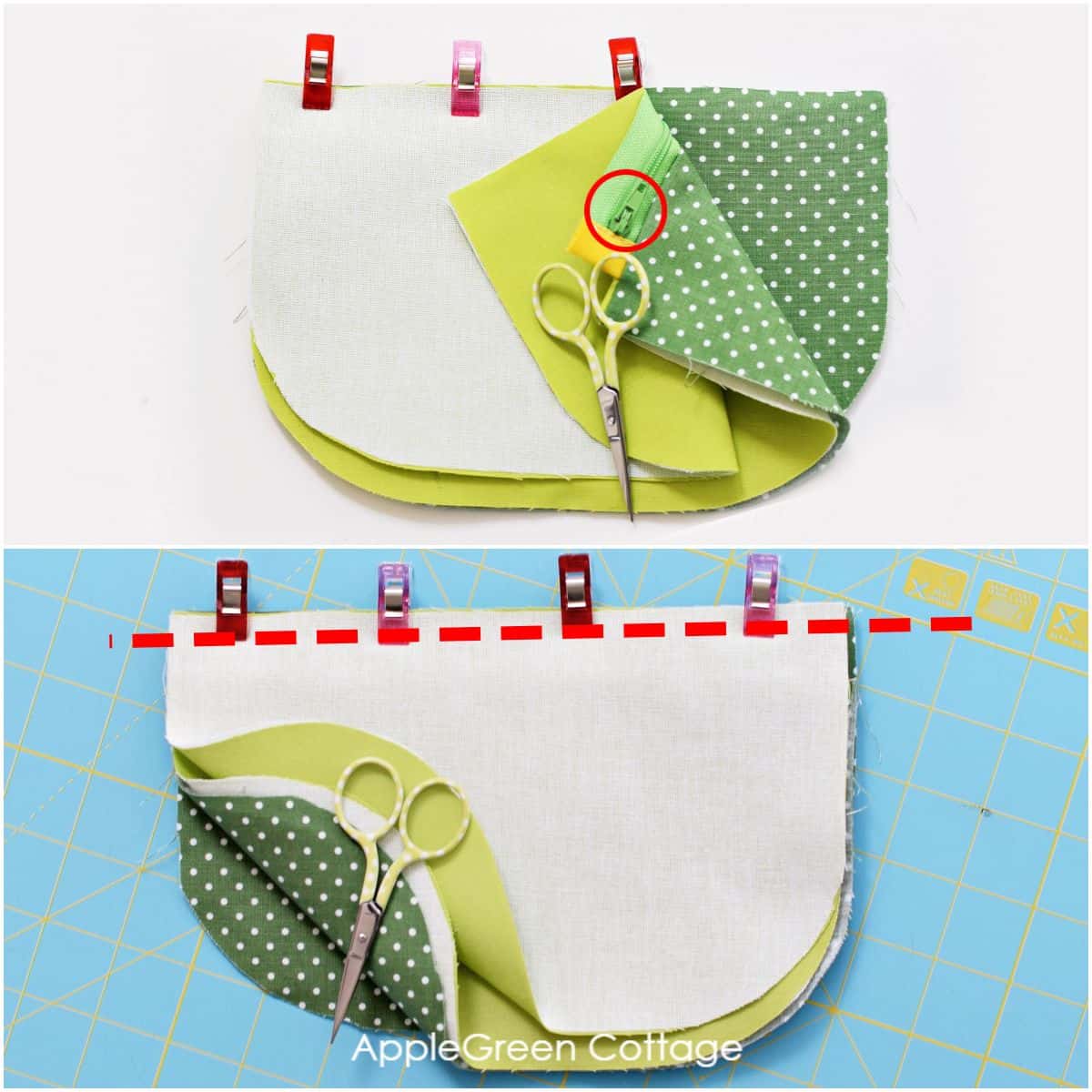 Now let's attach the other zipper edge: place the other Outer piece on your table with the right side up. Cover it with the sewn piece with Outer facing down, align with the zipper tape edge. Then place the Lining piece facing down, aligned as well. Sew through all three layers.
Double-check to see if the two Outer pieces are facing right sides together. Are they? Good, go on! Now sew the stack together, just like you did the first time (sewing through all 3 layers).
Step 6- Topstitch Along the Zipper
Next, we'll topstitch the fabric along the zipper to prevent getting it caught by zipper teeth. Some say this is optional, but I ALWAYS do that. It makes the pouch so much prettier! This is how: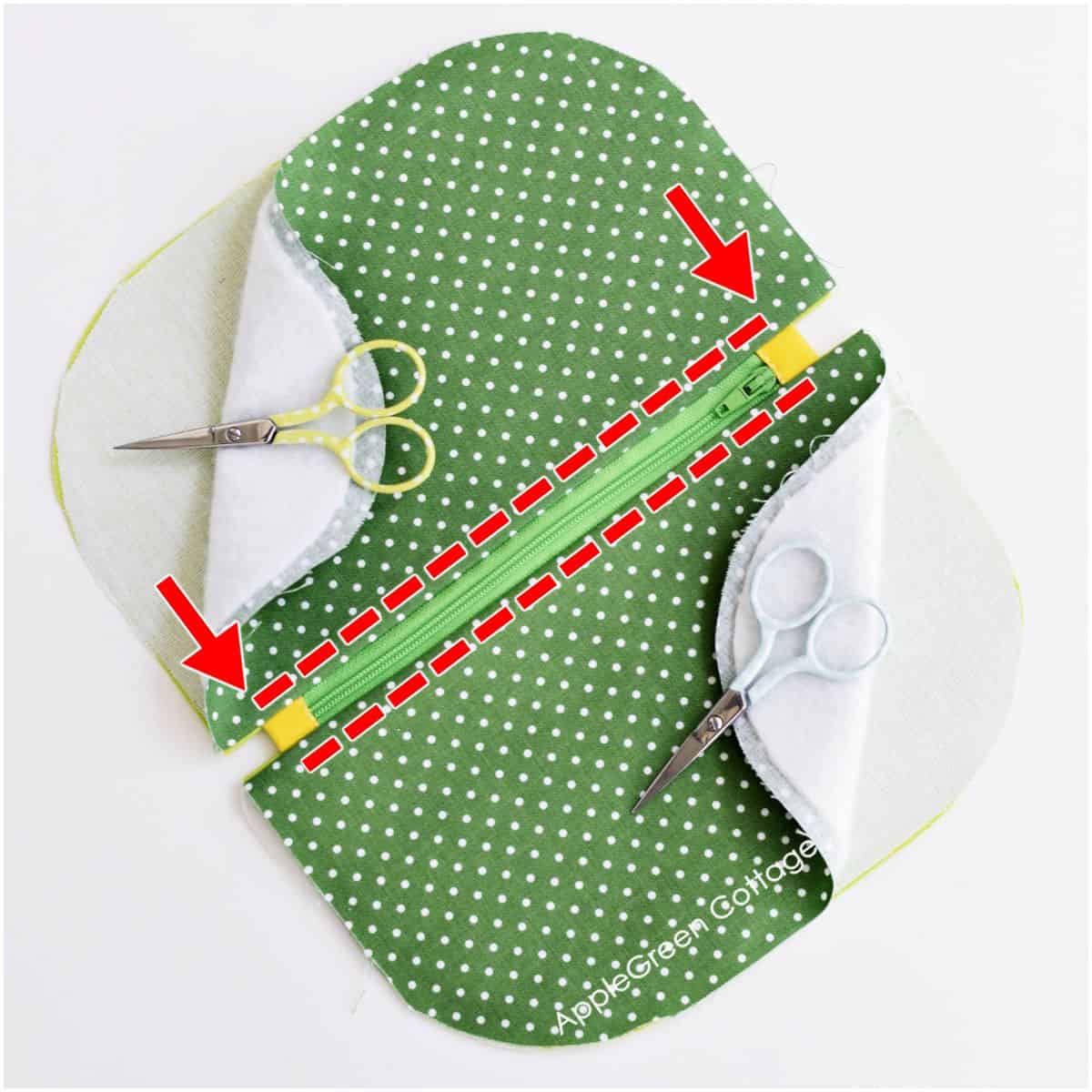 Press all the fabric away from the zipper and topstitch along the zipper at ⅛" (3 mm) away on both sides. Make sure to start and stop at the zipper tab - do not topstitch all the way from one end of Outer fabric to the other.
NOTE: see the photo above for the start and stop points.
Step 7 - Add the Optional Side Tab
Make and insert a side pull if you like. Here are the folding steps for the pull: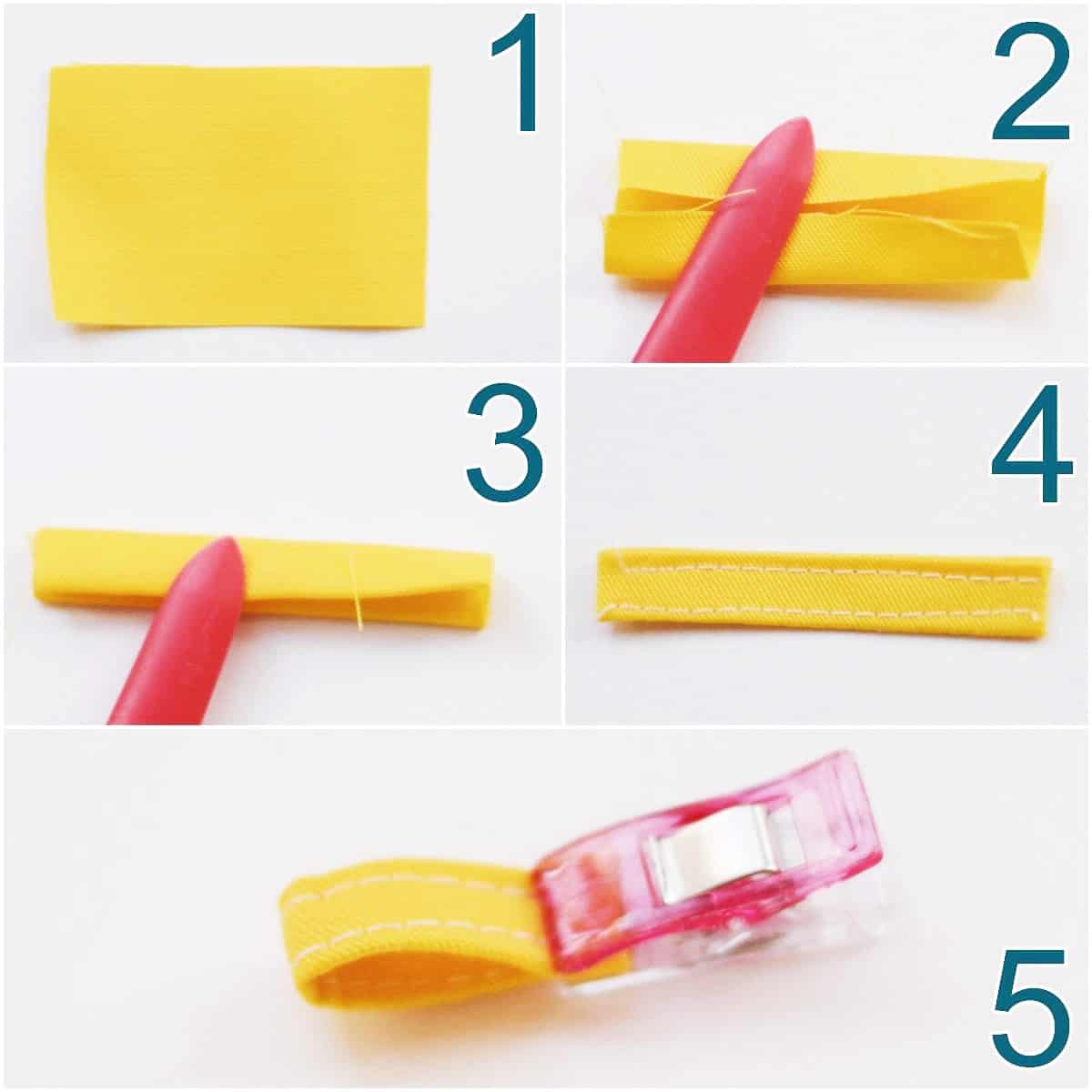 Fold the piece lengthwise in half, press, and unfold.
Then fold the upper edge to the center crease and do the same with the lower edge.
Fold again along the original center and press,
Topstitch along the long edges.
Fold in half to make a loop, then attach on just the Outer fabric piece as seen below: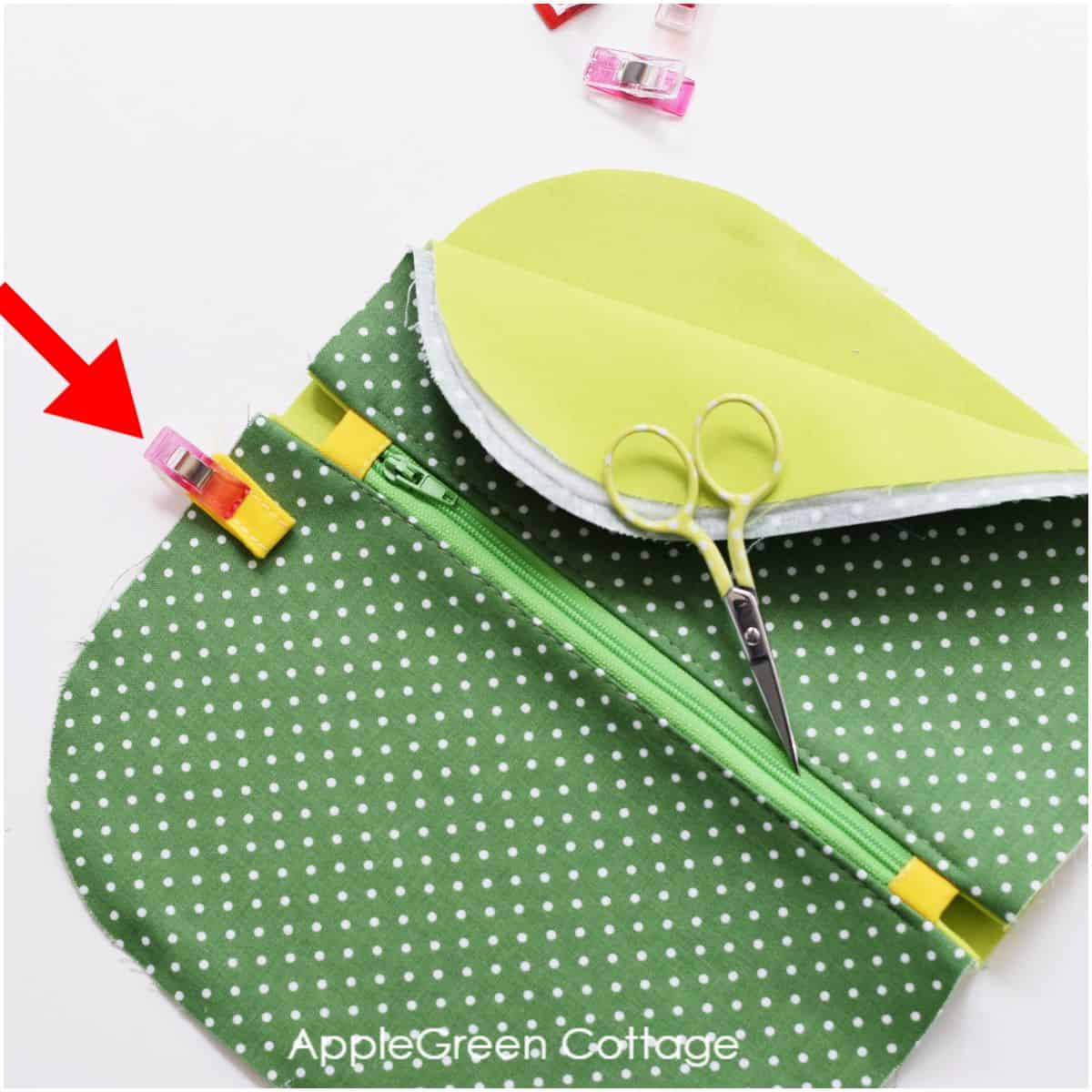 With the loop facing inwards, attach the SIDE TAB to the left side of the pouch – OUTER LAYER ONLY – shift it down by ½" or 1.3 cm from the bottom edge of the zipper.
BONUS HINT #3: here and there, I make these pulls in bulk from scrap fabric. They are handy for many projects, and having them on hand will make the sewing process faster. They can be used on towels (adding them for easy hanging, you can even make color-coded towel loops!), loops on homemade baby toys or even on beanie hats like this one, but with knits.
And if you do make a pull, why not add an easy-to-make wristlet strap? Go to the wristlet strap tutorial HERE. Beginner friendly, easy and quick (with a professional look!)
Step 8 - Open the Zipper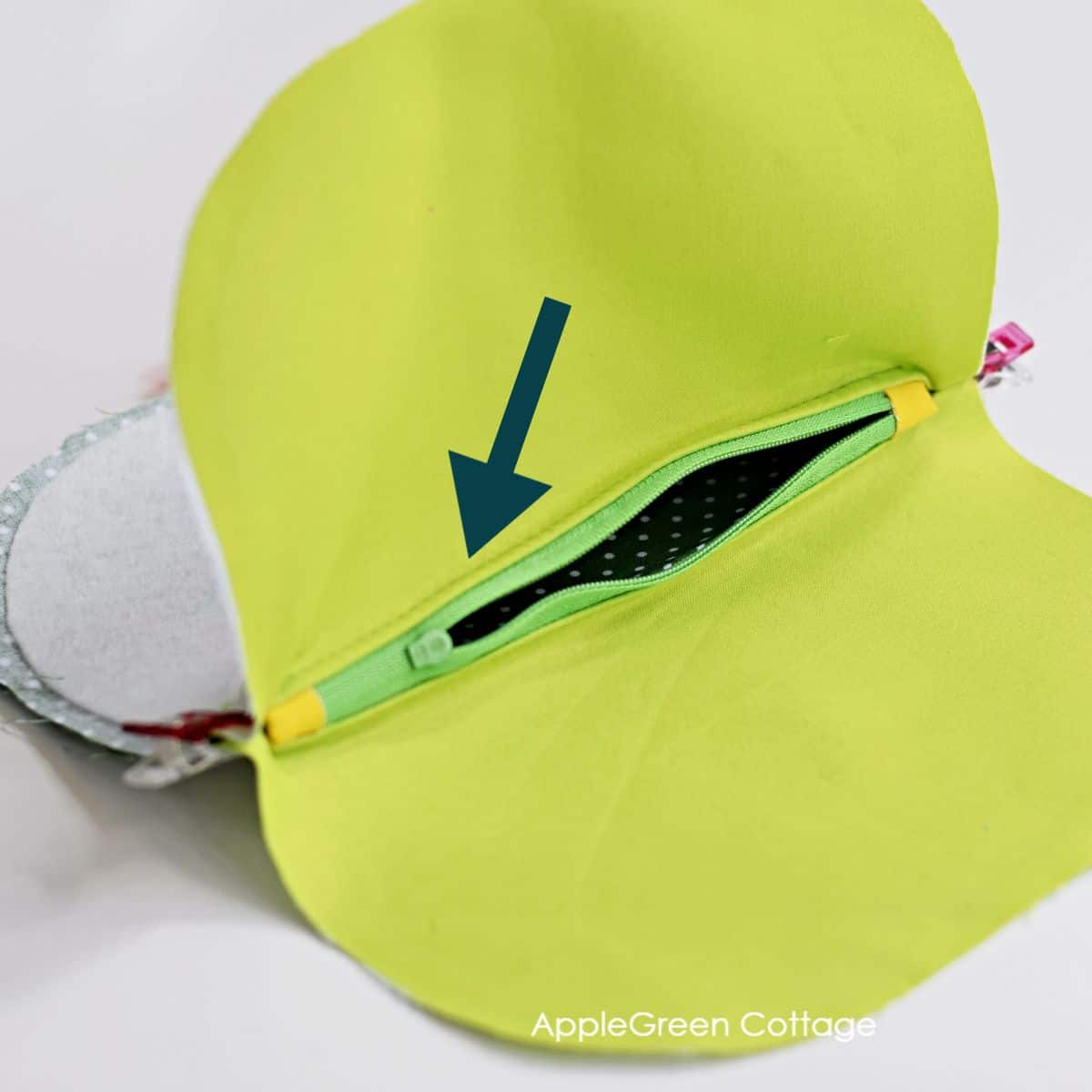 Now unzip the zipper at least half of the way.
Step 9 - Sew The Sides And The Bottom Of The Zipper Pouch
Pull the Outer fabric pieces together, right sides facing. Pull the Lining pieces together, right sides facing, too. Make sure to align the edges, especially at the spots where Lining and Outer meet: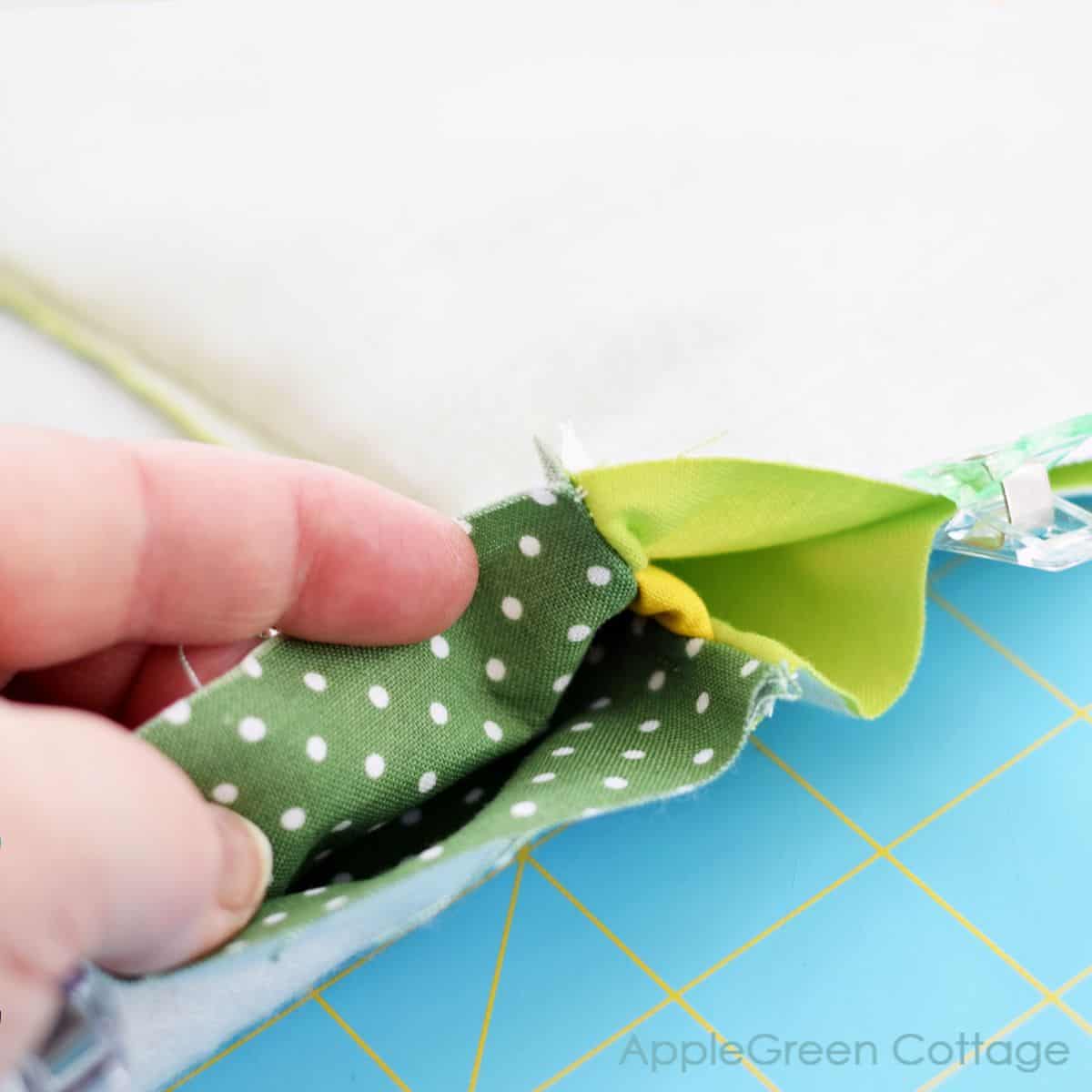 HELPFUL TIP: To make the zip ends lay relatively flat, well I usually pinch and push them between the lining, and smash a clip over them until I start sewing. Not totally flat, but at least they don't move around 🙂
Now stitch around, starting at the lining bottom. Go around and stop at the lining bottom again, leaving a few inches open for turning.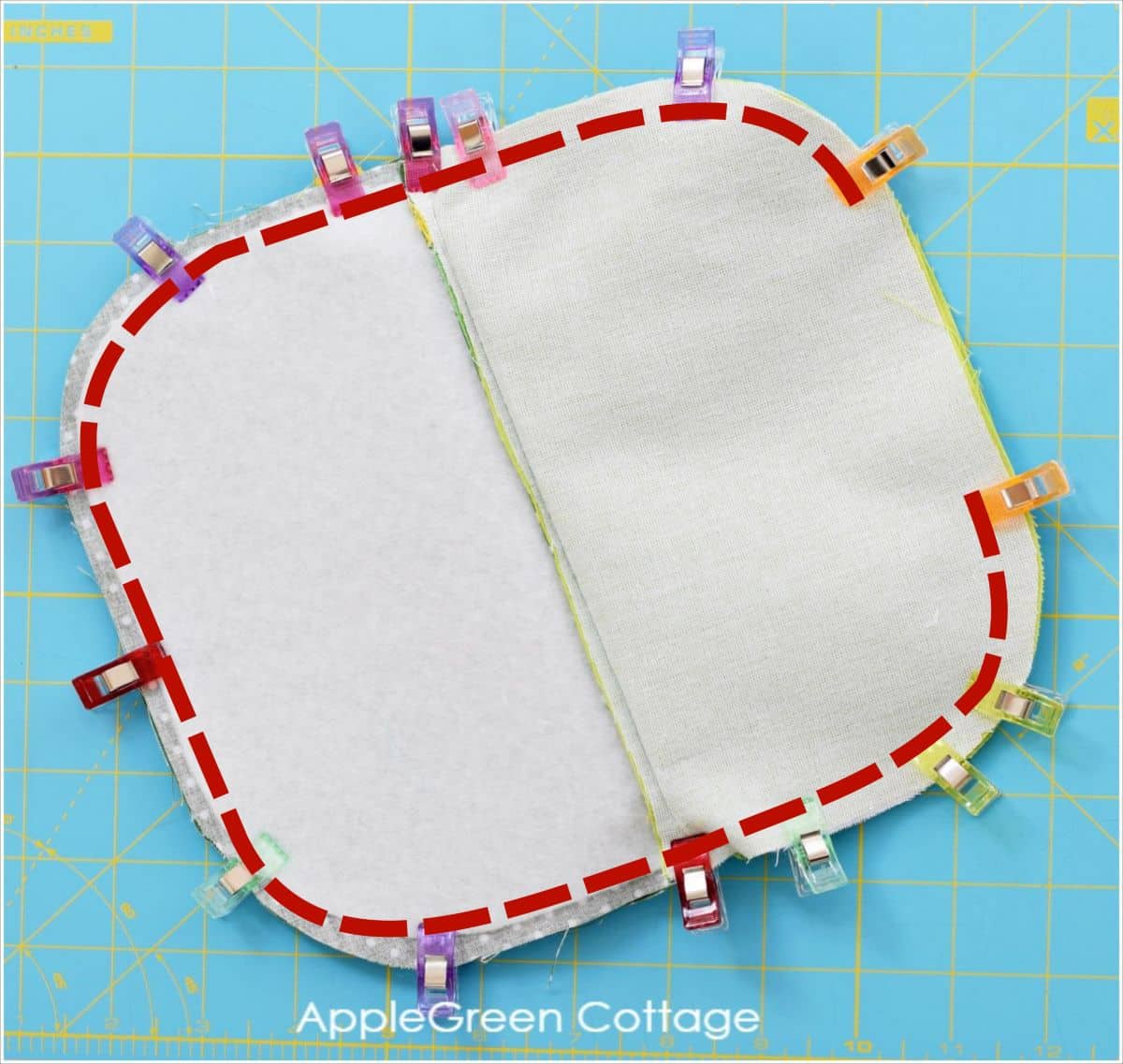 Trim the seam allowance to avoid a bulky finish - take care not to snip into any stitches: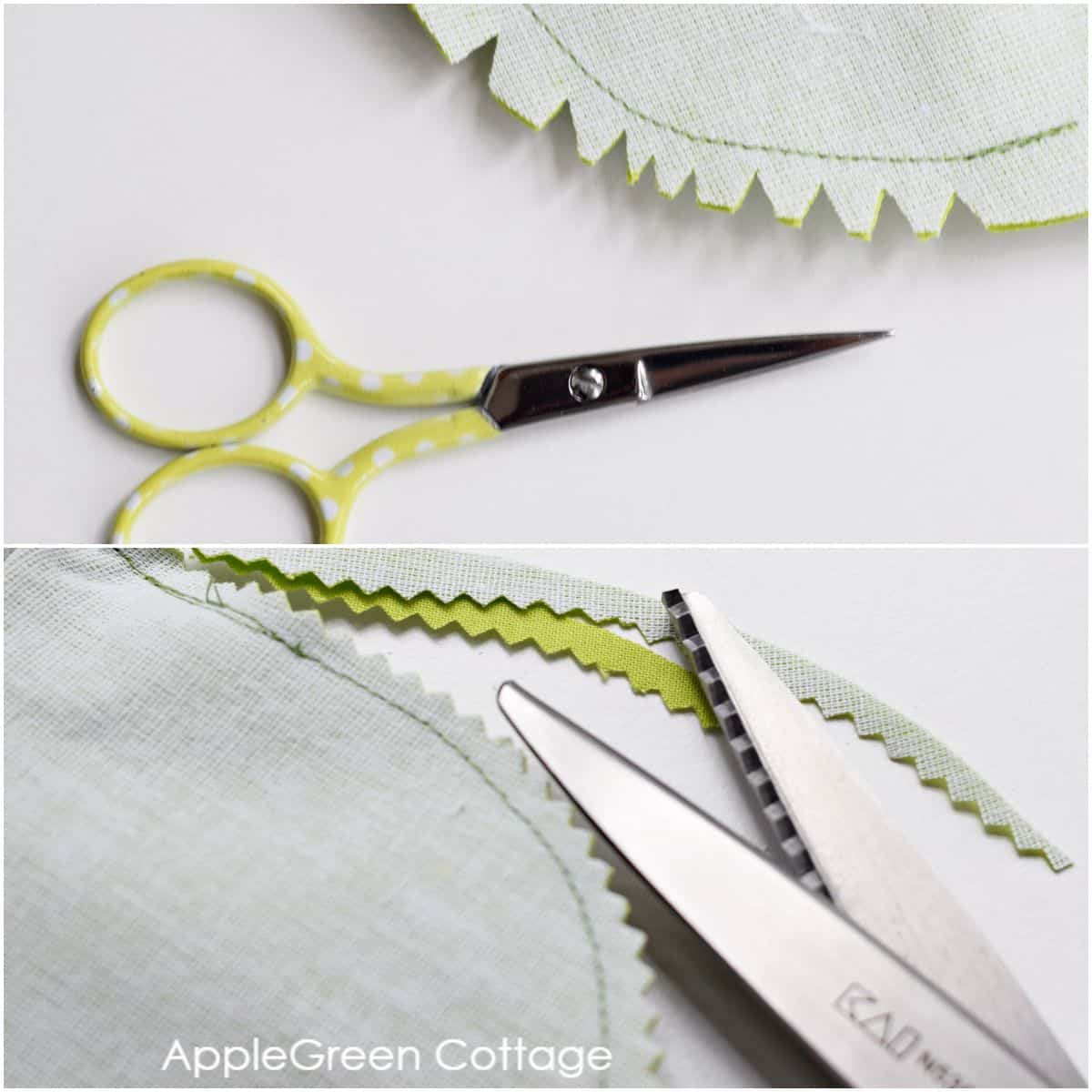 Step 10 - Turn And Stitch The Opening Closed
Now, turn the pouch right side out and press: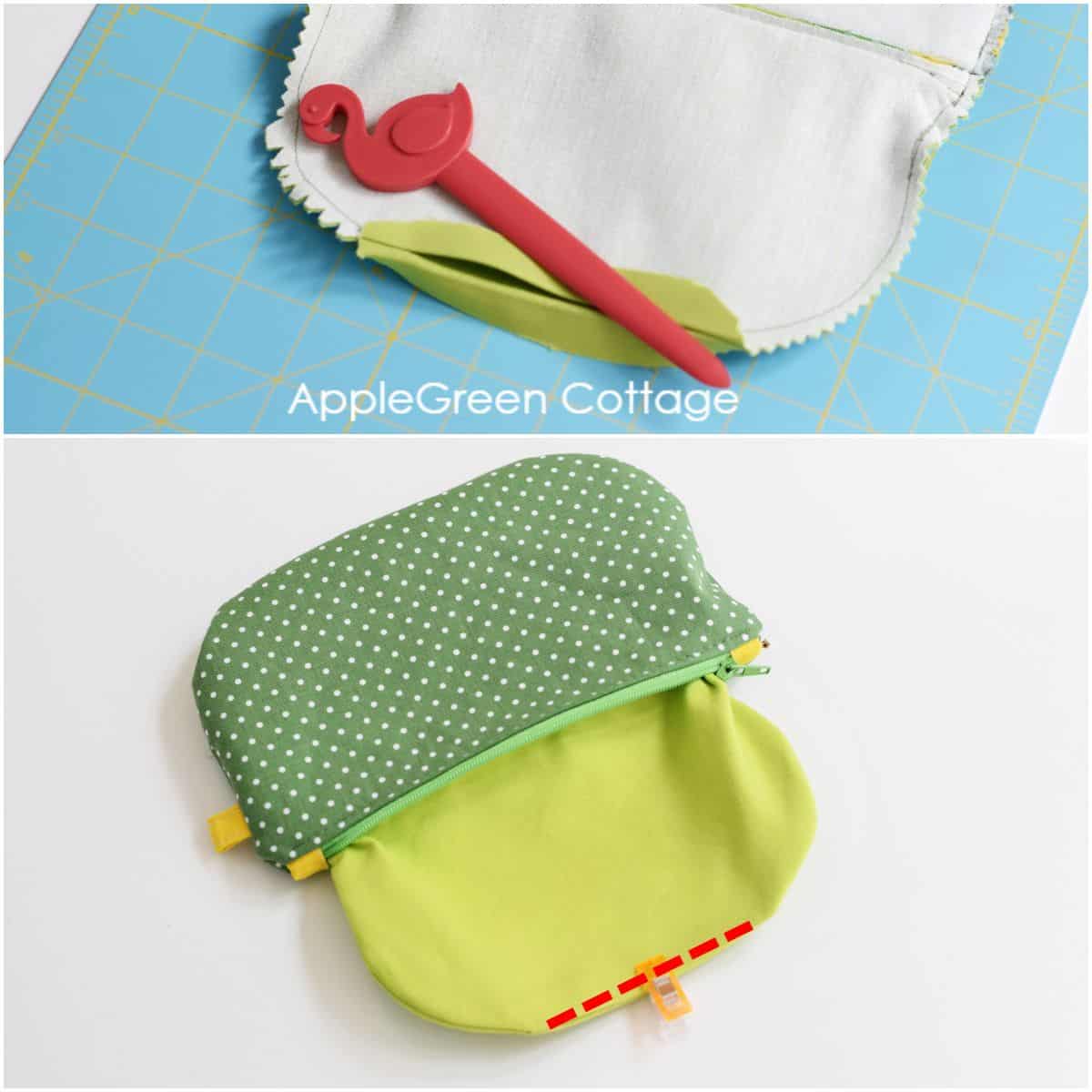 Last thing to be done: hand-stitch or machine-stitch the opening closed. If you close the hole by hand-stitching, use this invisible stitch tutorial.
Voilà! Here it is, your brand new zipper pouch! Save to Pinterest so you have your zipper pouch tutorial ready: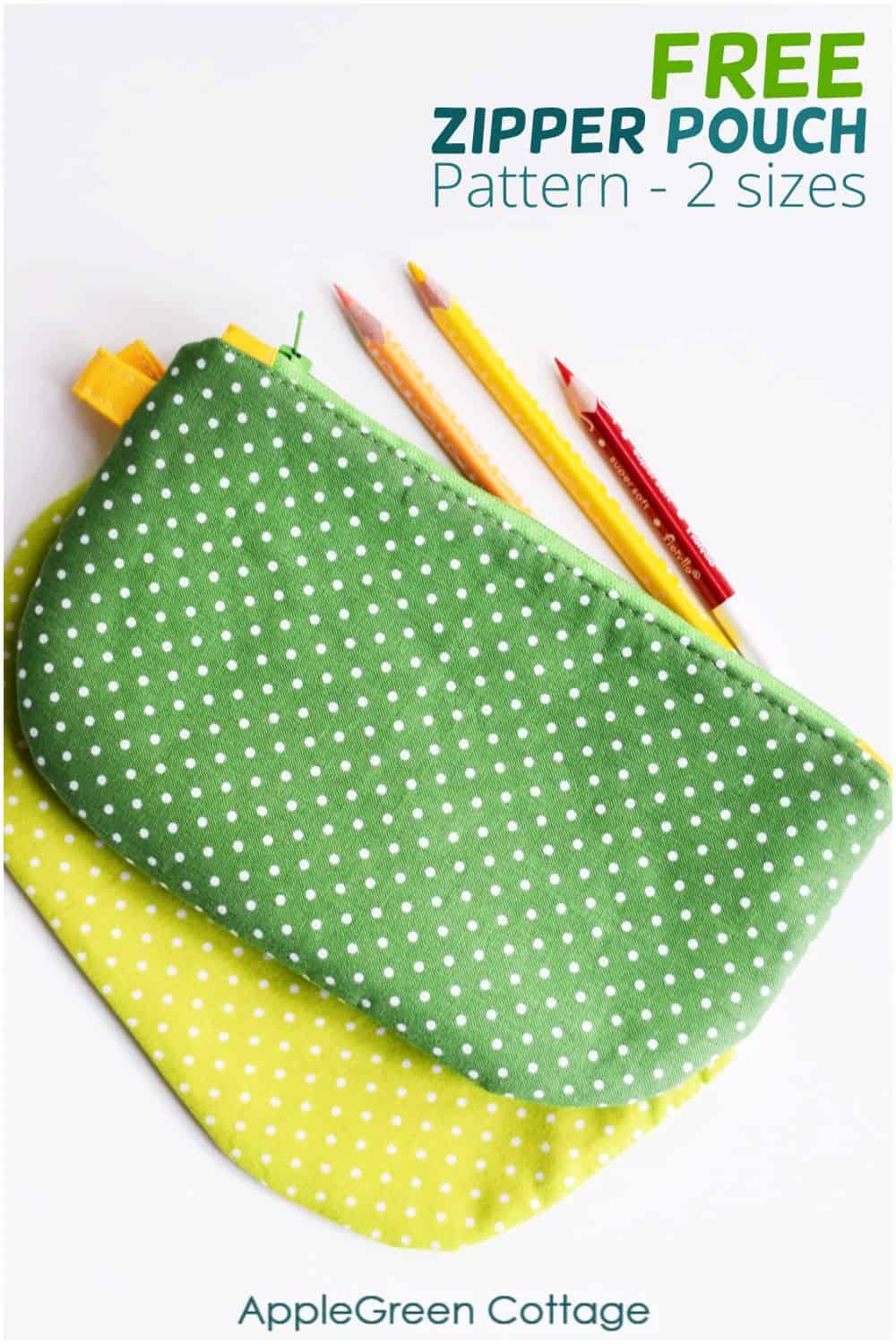 Now when you've finished your first cute zipper pouch, you can sew a few more at any time! They make a great gift, that's for sure. Also, a perfect match to a homemade sleep mask like this one.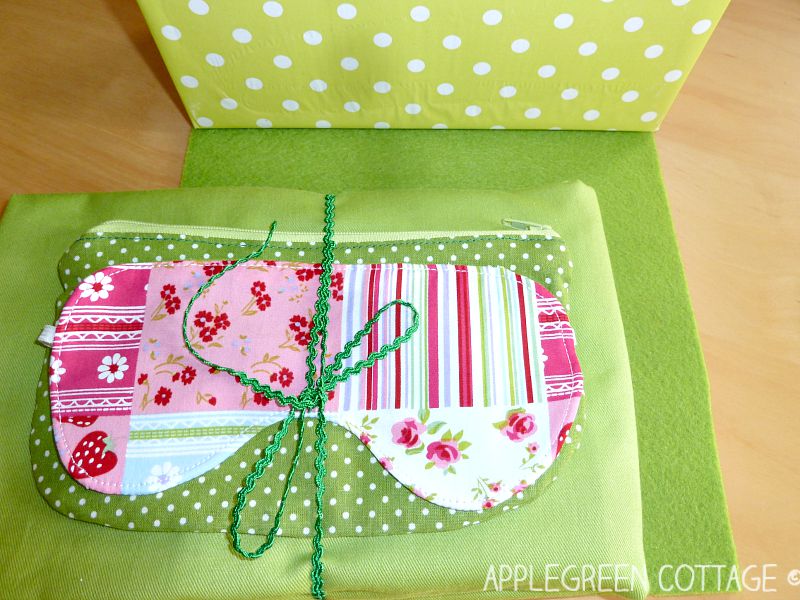 Do you recognize the pouch in the photo? It's the ORIGINAL small-size pouch, the one I made available at AppleGreen Cottage in 2015 with my first polka dot zipper pouch tutorial. If you've been following this blog like, forever, you'll recognize this image: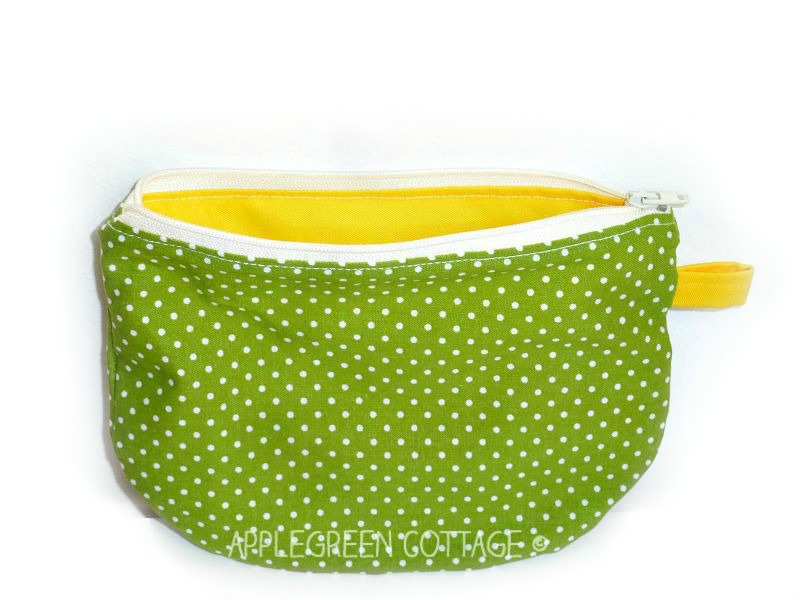 Yeah. Not really proud of those pinched zipper ends and non-ironed fabric. Today's version with the tabbed zip ends is much better I think.
In 2015 I finally drafted a first template after sewing a lot of zipper pouches like the one in the photo. I used what I believe to be the most versatile size. Initially, it was a simple non-printable image published here at AppleGreen Cottage blog, then a one-sized pdf zipper pouch template, for years. And today, tadaa! I hope you liked this zipper pouch tutorial.
How To Extend The Length of this Zipper Pouch Pattern
Need an even wider pouch for extra-long pencils? No problem: just measure the longest colored pencils against the template and you'll see if you need to add an inch to the template. Feel free to adjust the pattern as you see fit. Just make sure the zipper is at least the same length as the fabric pieces.
WANT A PRINTABLE COPY OF THE WHOLE TUTORIAL?
Do you want an ad-free, printable copy of this online tutorial? Find it here for just $3. You won't need to access the internet every time you want to make it. ------ Or get the BUNDLE with ALL the Printable Tutorials - current and future ones!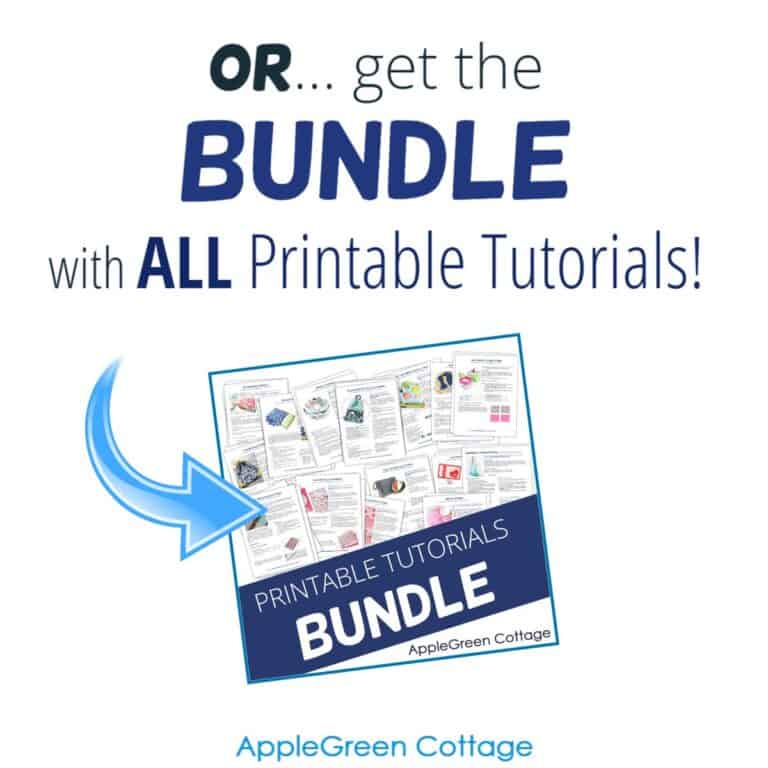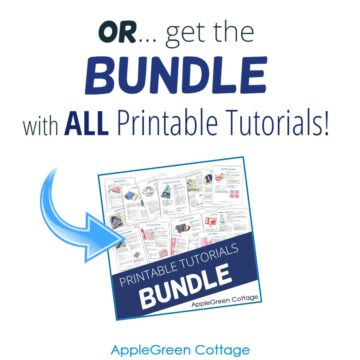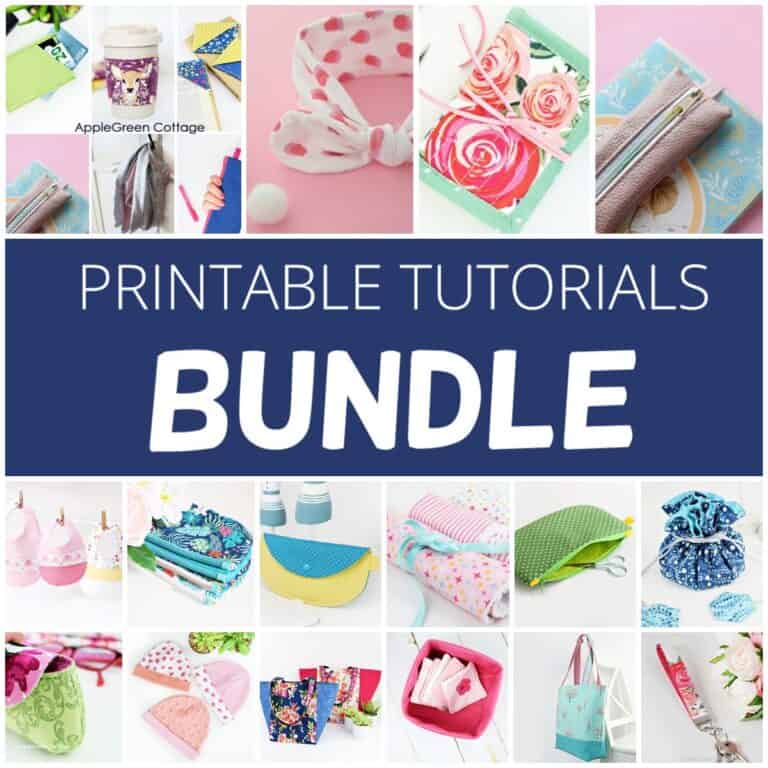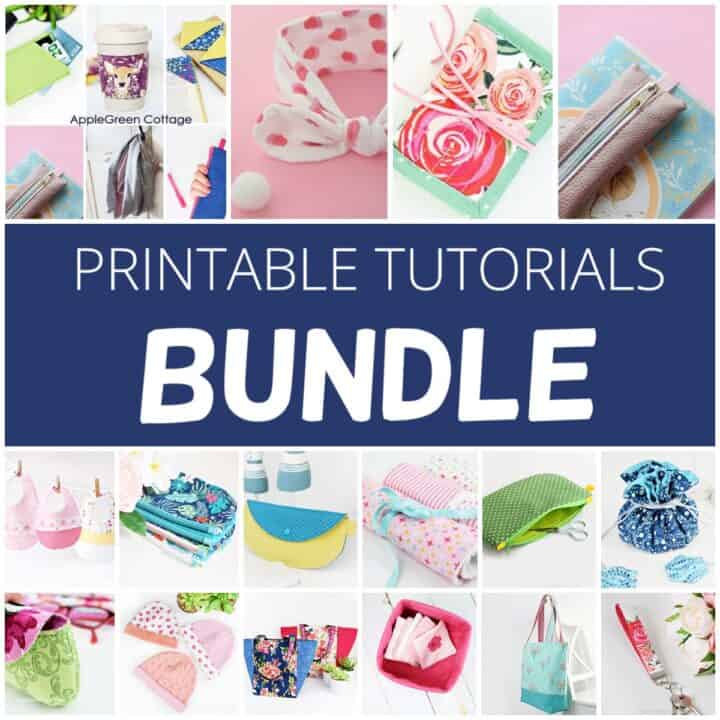 60 PDF tutorials now, and growing!
WANT MORE FREE TUTORIALS AND PATTERNS?
Get email updates and never miss out on new patterns, printables, and tutorials: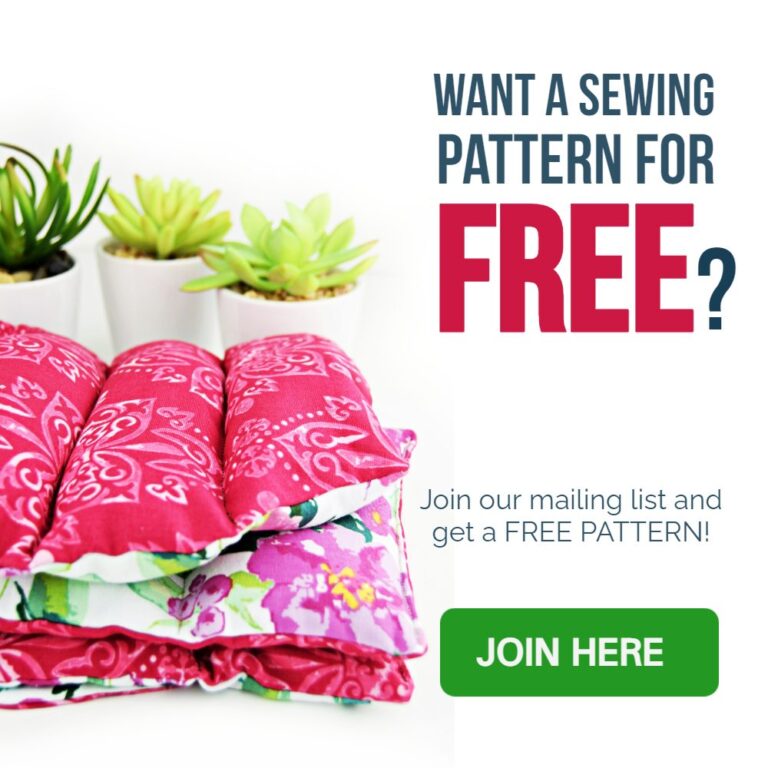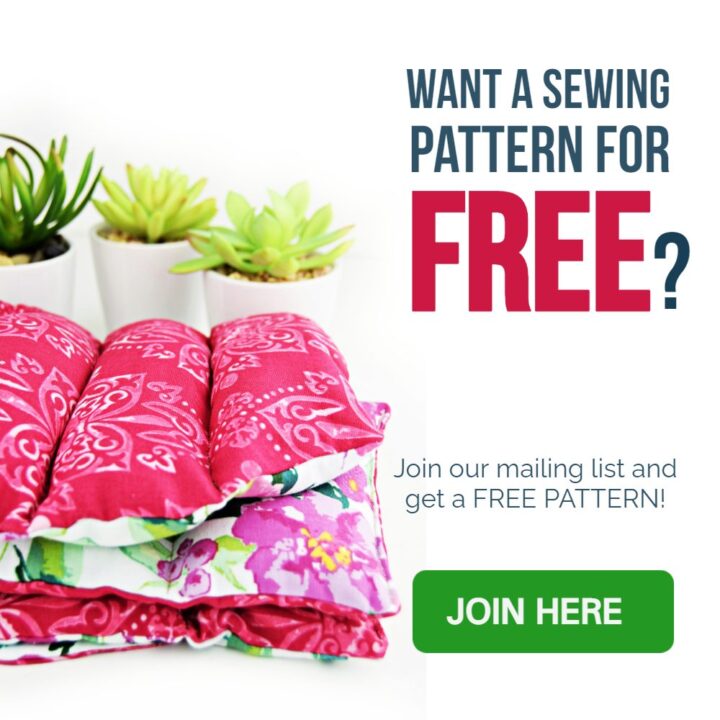 Or …check out the Mia Clutch pattern in our shop. One of my quickest and easiest pouch patterns, and it has a nice little folding hack you'll love!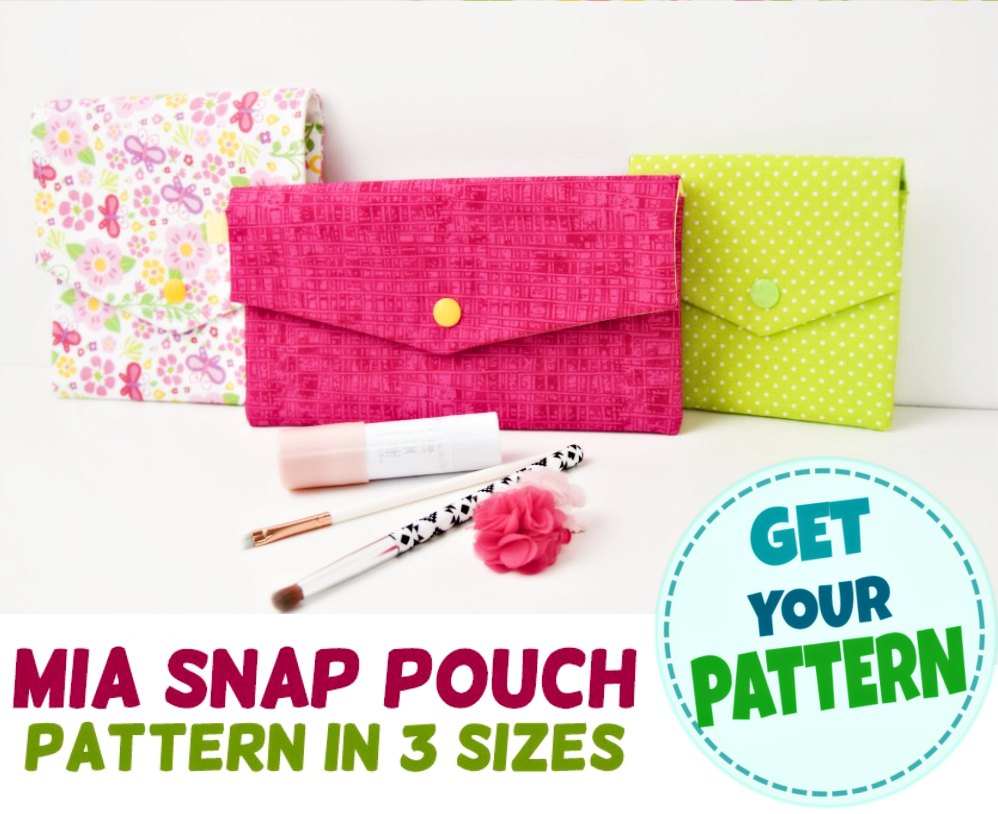 Beginner-friendly, no zippers at all.