So you only have a few small felt scraps left and you'd like to sew something easy and quick? Then you are ready for a DIY felt pencil case! Make a simple patchwork and use it to make a colorful back-to-school felt pencil case. So much fun! Here's an easy sewing tutorial for beginner sewing enthusiasts that will go just perfectly with the super simple sewn notebook tutorial from a while ago.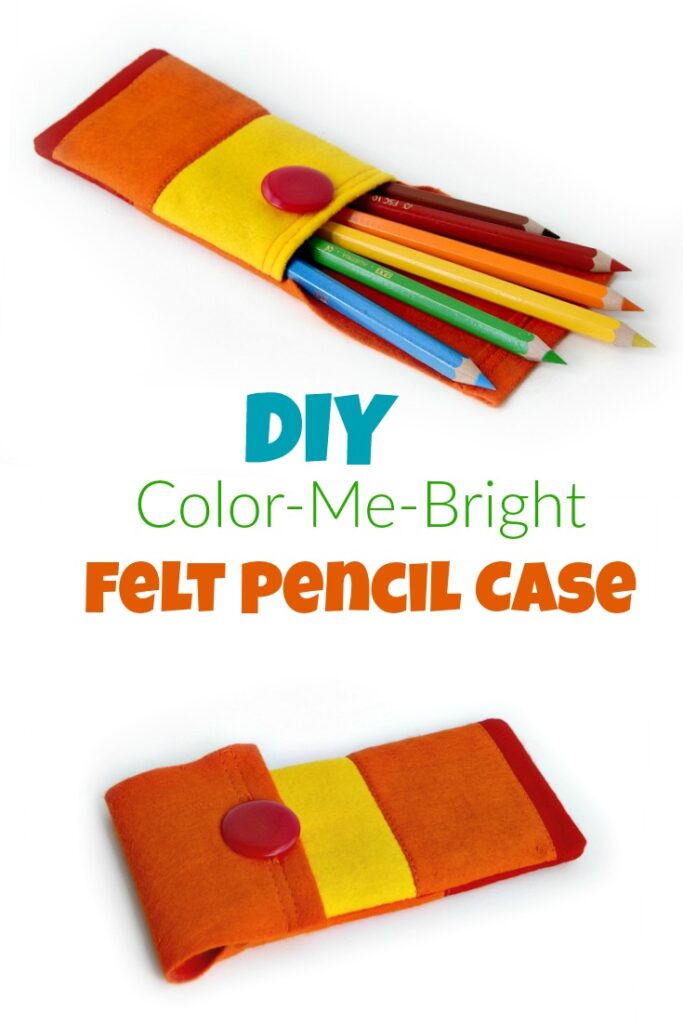 This post may contain affiliate links. Thanks for your support!
I loved every minute of making it and I think you will too. It will surely add a touch of sunshine to the new school year!
Felt Pencil Case
This DIY felt pencil case is one of the few pieces that allows you to complete the project even after you've searched through the stash and realized that you've run out of nearly all felt. Also a great scrap buster! It's easy to make and it looks cute – with just like half-an-hour of your time and a few small pieces of felt. Let's have a closer look and see how to start.
You'll need: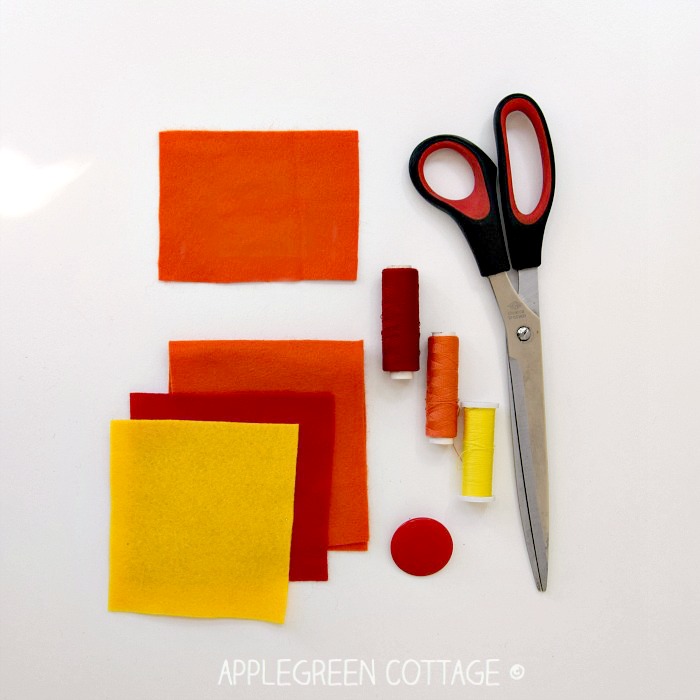 a few small pieces of leftover felt from previous projects
sewing machine or a needle
scissors
a button
sewing thread
Felt Pencil Pouch Tutorial
MAKE A FELT STRIPE
1) Sew several pieces of felt scraps together to form a long narrow rectangle, actually a stripe. Your choice of colors and forms – creativity at its best!
Dimensions of the rectangle required for the felt pencil case: 4inch by 18 inch (for standard size of pencils) For example, I used these pieces of felt:
2) Sew the pieces together. Topstitching is optional, but makes the finished pencil case look better.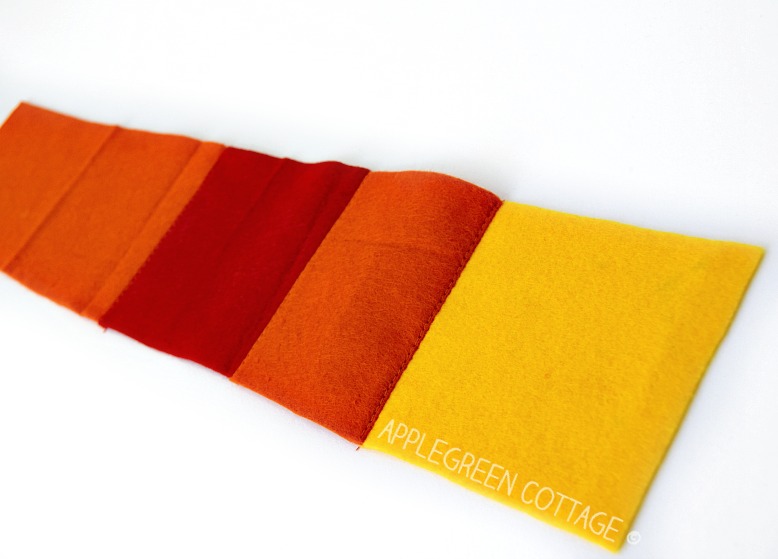 If you want the pencil case to match any non-standard size of pencils, measure the piece against the pencils before you cut the length. Adjusting the size will in no way affect the making process I'm about to show you below, so don't shy away from tailoring the dimensions to your needs!
1) You'll hem one narrow end of the stripe (here, the yellow part). I used a 1/2 inch seam allowance and made two straight stitches to make a firm hem. (Don't use a twin needle! More on that later.)
2) Fold the rectangle up approximately 6 inches (or measure against the pencils if yours are not a standard size). The tips of the color pencils will peek out from the case when open, like in the photo above. Talk easy-to-find!
3) To make a flap for the felt pencil case, you'll fold it twice. The photo is kind of self-explanatory. Just make sure the pencil case flap makes an overlap of at least an inch (but preferrably two). If not, you won't be able to use the button for closing the pencil case.
4) Now, when hemming the flap end, I want you to sew two straight stitches 4 to 6 mm apart – see the photo. You'll soon see why!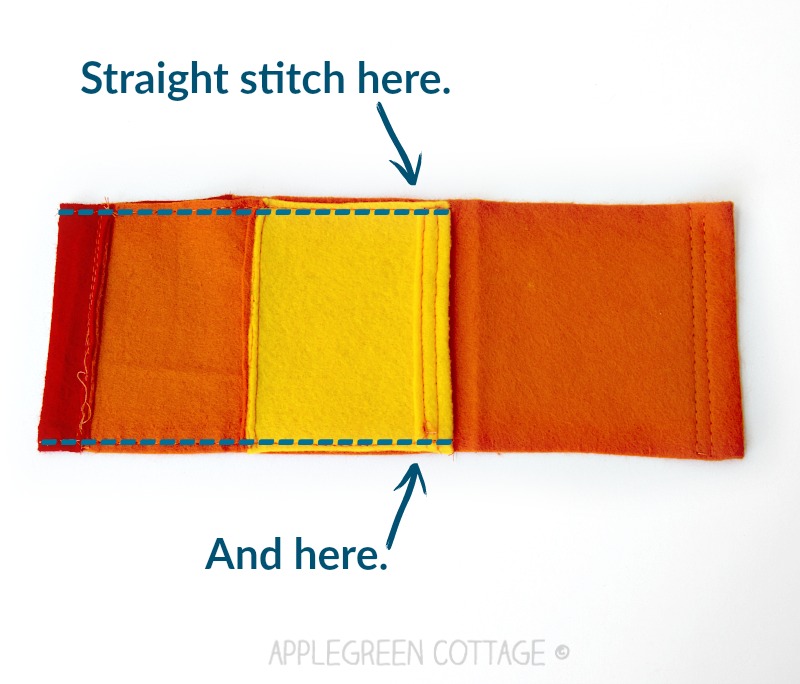 5)Then turn the felt patchwork right-sides-together and sew together the two sides of the pencil case. Straight stitch, easy peasy!
Now, BUTTON HOLE! – we'll go the easy way 😉 Here's the reason why you had to topstitch twice when hemming the flap of the pouch: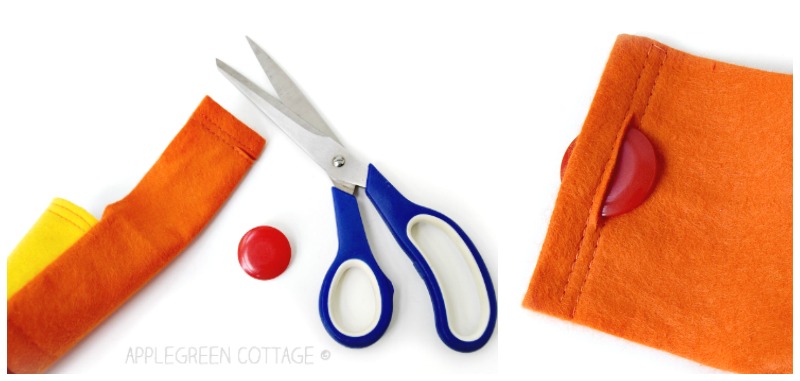 6) Simply fold the flap in half (lengthwise) and cut into the space between the straight sttiches. Mind the size of the button you'll use for the pencil case. You've just cut a button hole.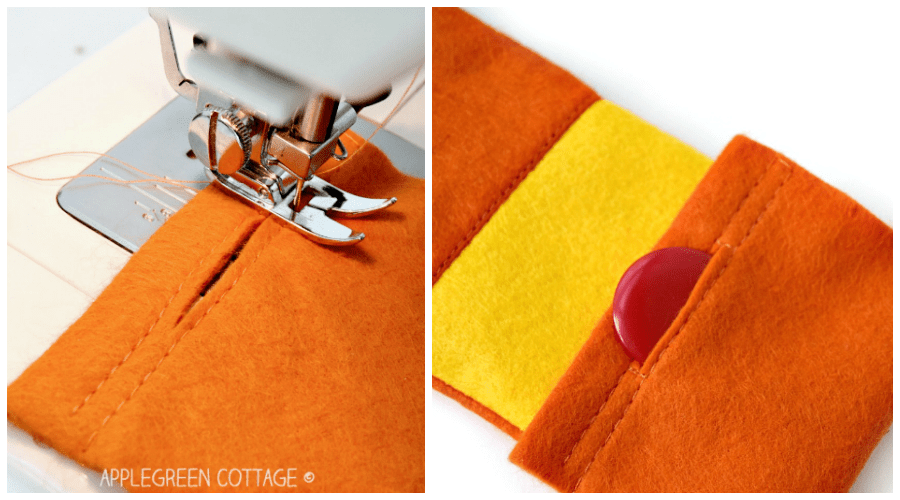 7) To keep the button hole from stretching, all you need to do is secure both ends of the button hole: Use short straight stitches on a sewing machine or simply make a few handstitches. (The latter will usually take even less of your time than machine stitching.)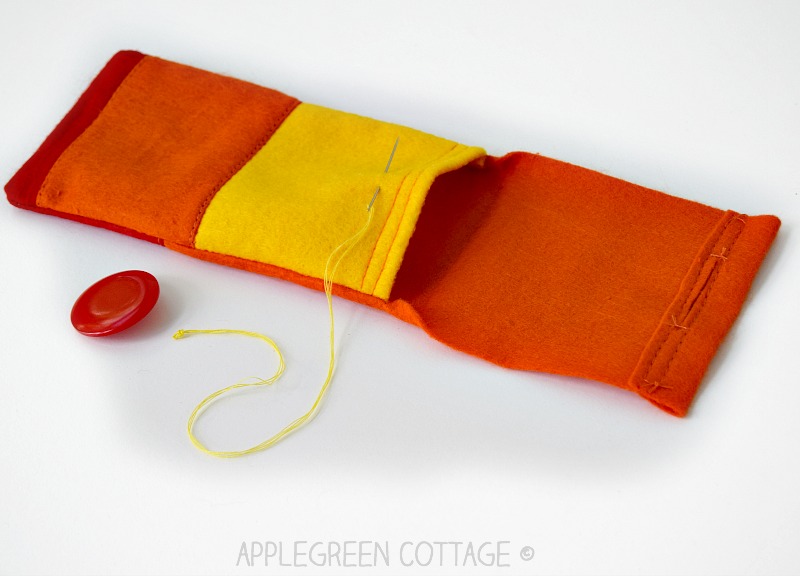 8) One last thing to do: Stitch a button onto the case to close the flap. Since this is the last thing you do, it will be totally easy to test where the best place for the button is. No measuring, just close the pencil case flap and see where you need it. Bamm! You've nailed it!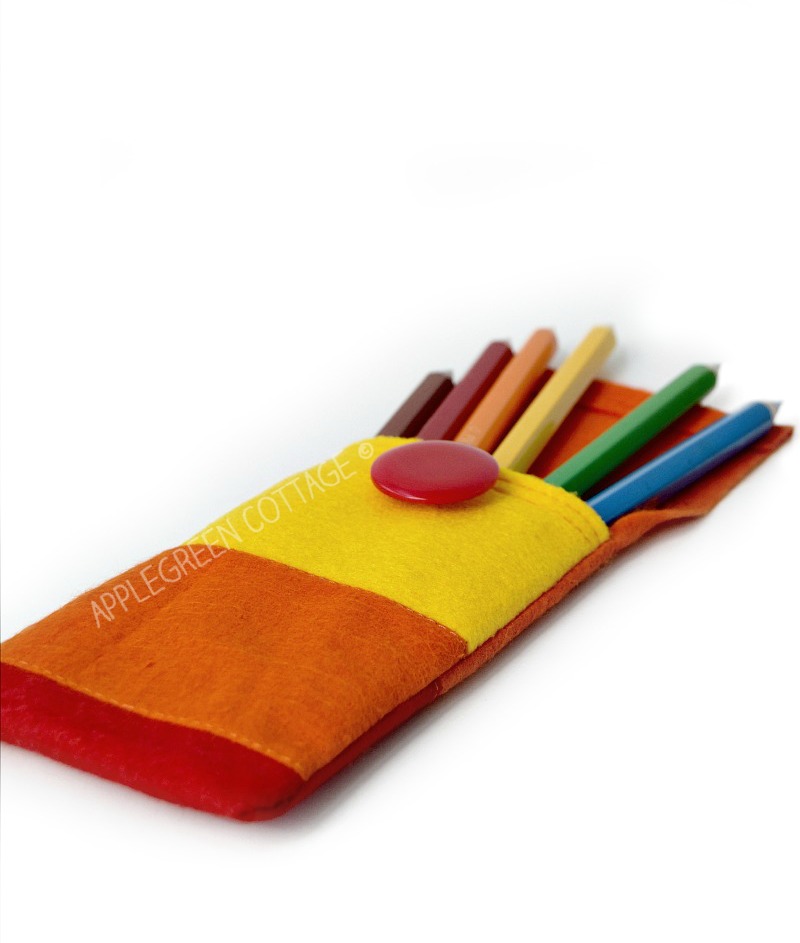 You've just made your own, unique back-to-school felt pencil case. Easy, quick and fun, in these cheerful colors! Now it's yours to decide whether to keep it to yourself or to give it as present. But you can always keep this one and make a few new ones to give away 😉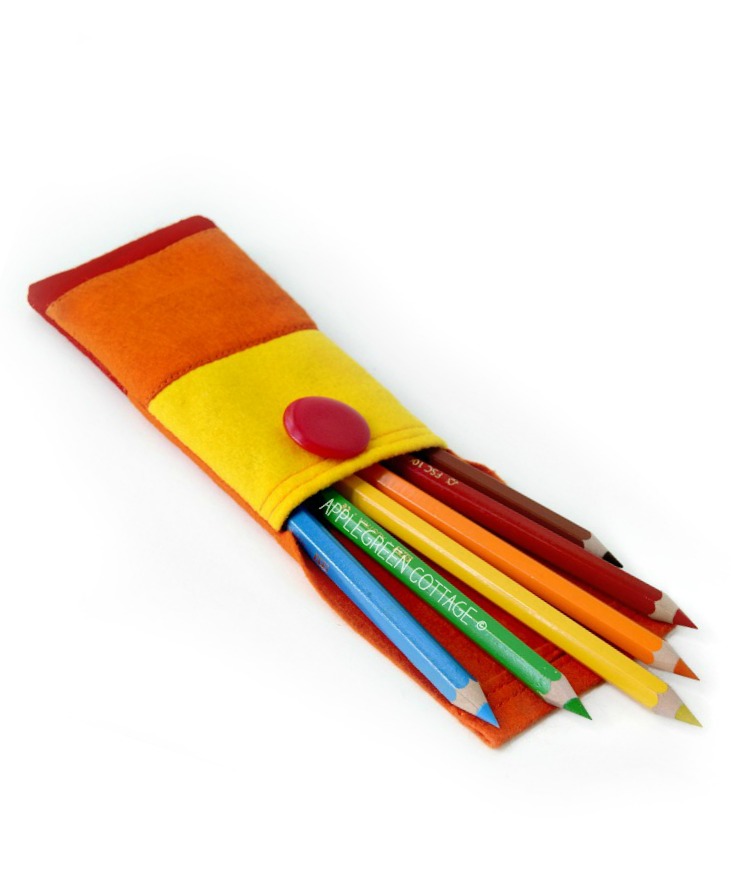 The best thing is, this project is not limited to pencils. You can sew a case like this one to hold any other item, like a 
calculator
, or a 
notebook 
(you know, those tiny cute notebooks – kids love to get one as a back-to-school present). It would also make a great 
sunglasses 
case!
Want more? How about a homemade journal for all your new-year resolutions? So simple! Check out the easy tutorial here: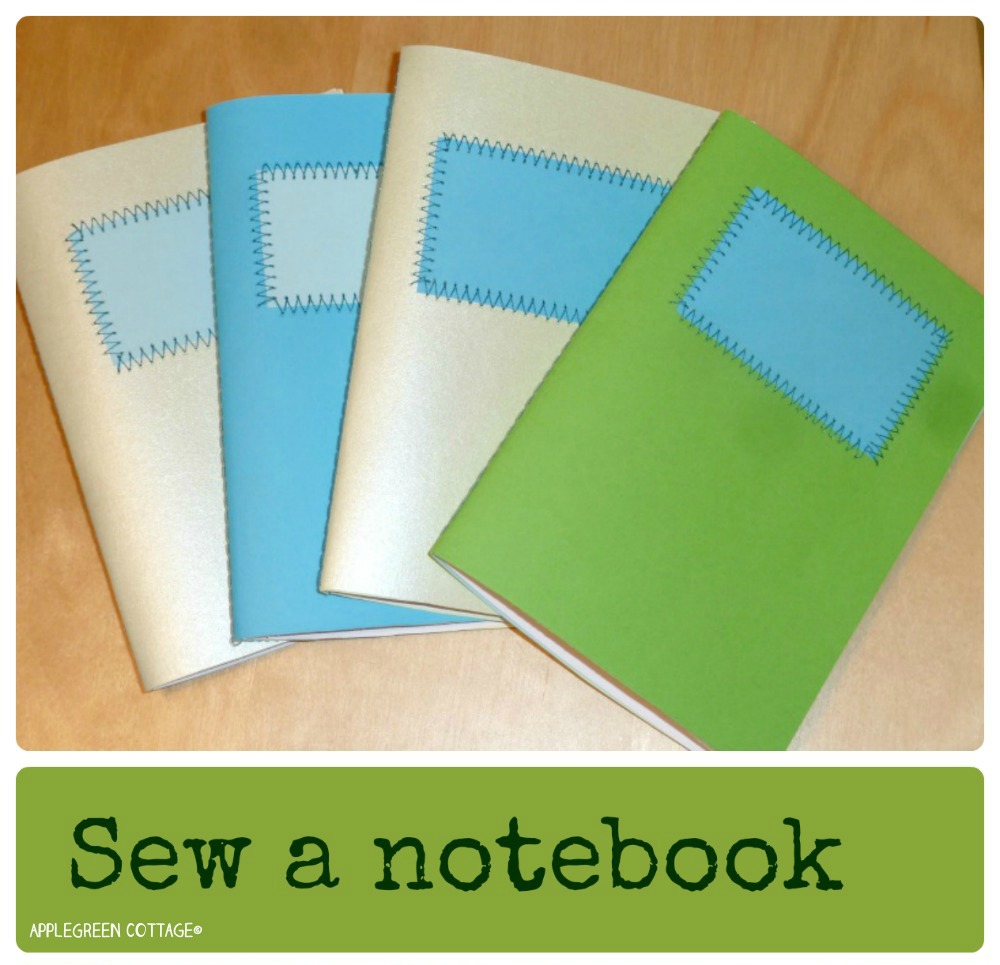 Stay tuned, more good stuff is coming your way this year. 
Happy crafting!
WANT MORE FREE TUTORIALS AND GOODIES?
Get email updates and never miss out on new patterns, printables and tutorials. If you sign up at THIS link, you'll also get the Fabric Hanging Basket Template for FREE, right now. A cute and easy-sew!
Or …check out this popular PDF pattern – the Aiden Cell Phone Purse – Click through to see what's on the back of this cool phone bag!