See how to make your own scrunchie using this free scrunchie pattern in 4 designs - make a diy scrunchie with bow, a mini knot bow scrunchie, a scarf scrunchie, or one with super fun bunny ears. Scroll down for the free printable patterns!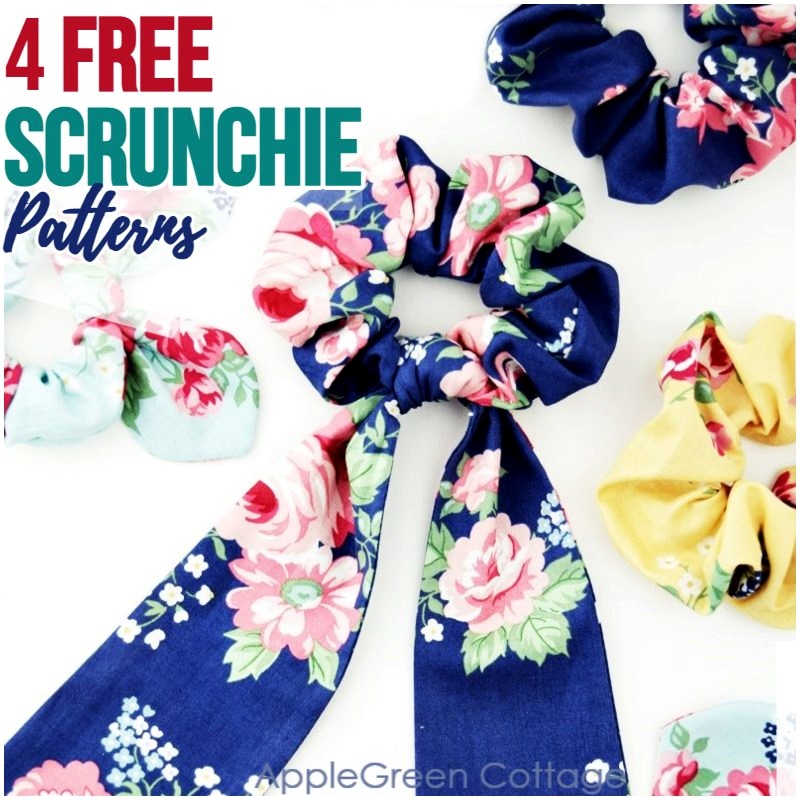 This post may contain affiliate links at no cost to you. Thank you for your support. If you're here for easy projects, feel free to check out my
Want fun? Grab my free scrunchie pattern - actually four! - for a diy bow scrunchie, a mini knot scrunchie, a diy scarf scrunchie, and - have you ever heard of a bunny ear scrunchie? It's part of the free scrunchie pattern too - scroll further down to get ALL the scrunchie patterns from my shop for free.
But first, save this tutorial to Pinterest using this link or the below image - so you have it ready 24/7: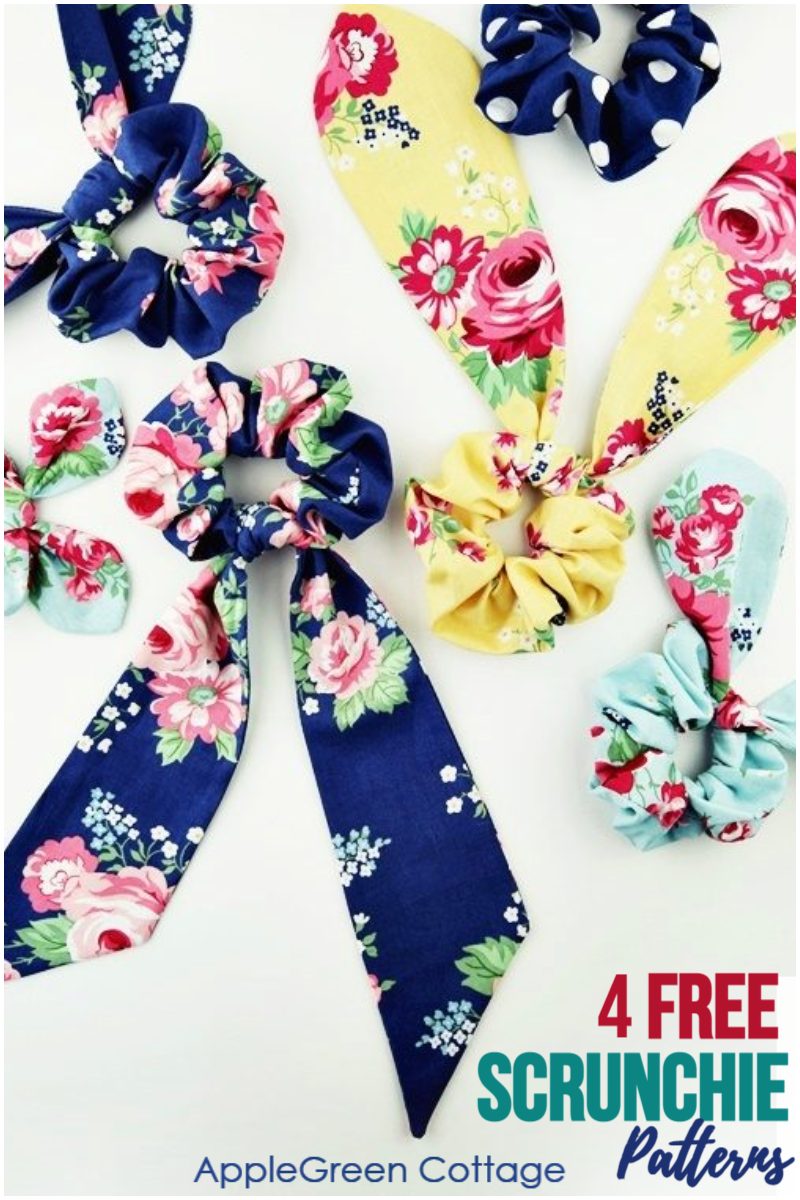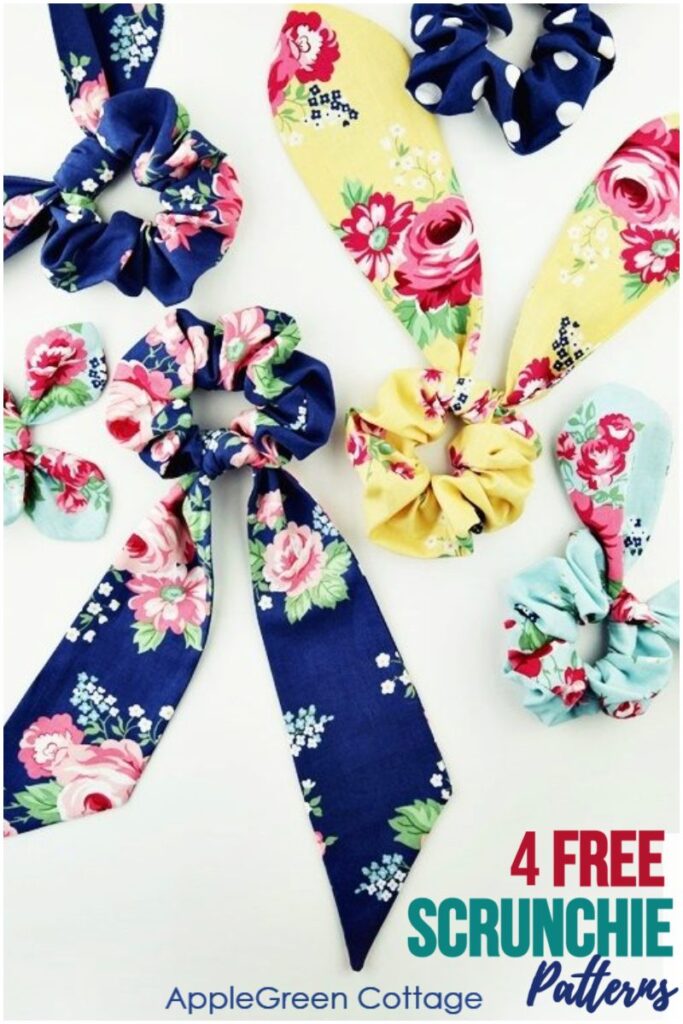 How To Make A Better Scrunchie - 4 Ways!
Some time ago, I showed you how to make a diy scrunchie in two sizes. Total success! Just recently, I added 4 more sizes for basic scrunchie, check them out here. And now I'm showing you how to spruce up a basic scrunchie: see how to make a diy scrunchie with bows, or knots, or tails, or even diy bunny ears! Having options to choose from is always good!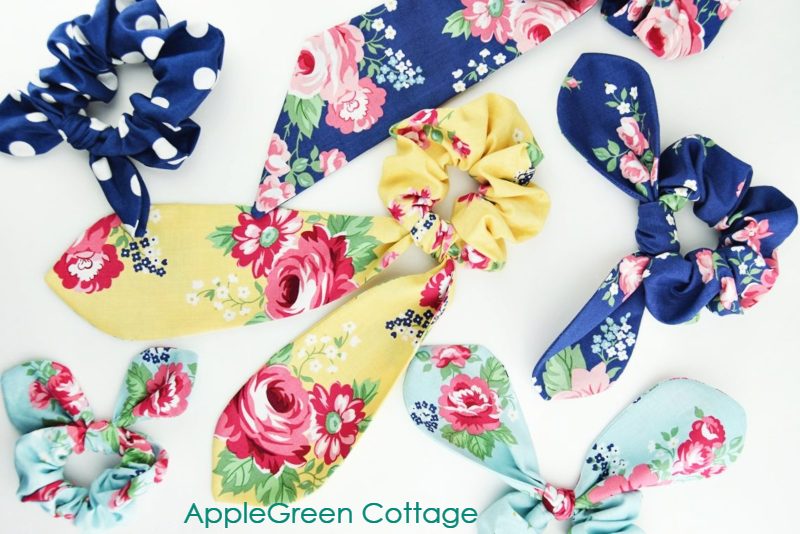 Follow the steps below and see how to make a scrunchie with bows, or knots, or tails.
But first...
What fabric To use to sew this scrunchie pattern?
I used quilting cotton from the gorgeous Notting Hill collection, designed by Amy Smart aka the Diary Of A Quilter, for Riley Blake Designs. Here's some eye candy for you from my new stash: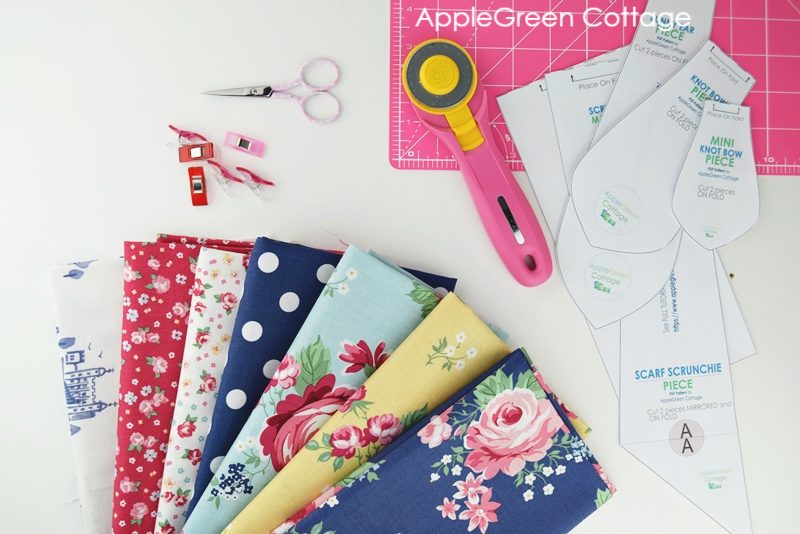 It's gorgeous! You can buy the fabric collection here.
Having said this, a scrunchie will work with nearly any fabric, rayon, silk, velvet, plush, satin, chiffon - as I said, nearly whatever comes to your mind. Ha, I've even bumped into a few scrunchies made with mesh, just a few days ago. Use the pretty stuff, you deserve it!
I'll show you how to make these scrunchie variations:
1 - Diy Bow Scrunchie Pattern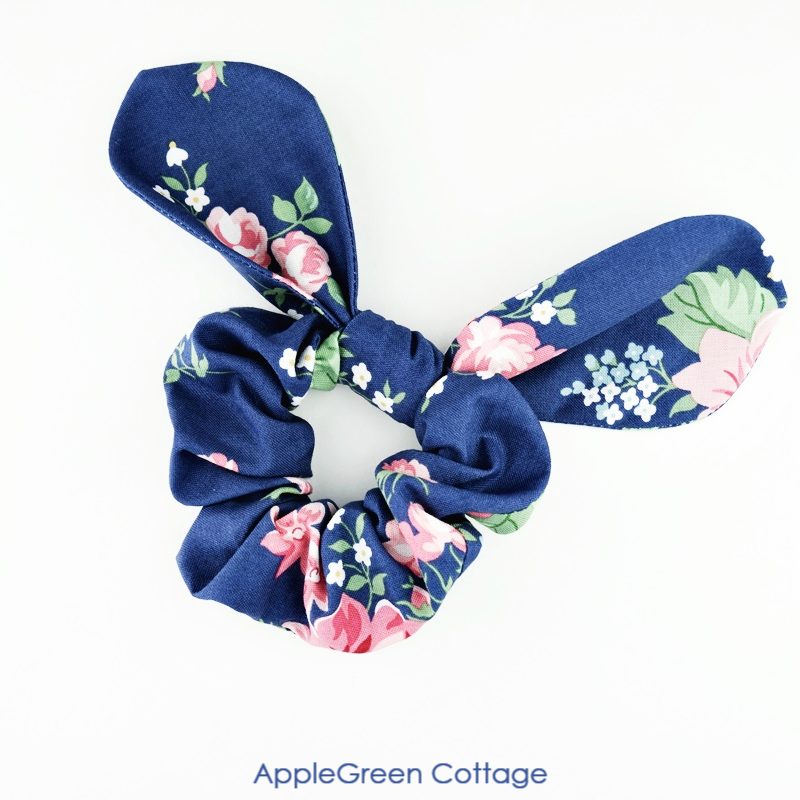 This diy bow scrunchie pattern makes the cutest knot bow scrunchie! (But if you prefer a classic bow scrunchie, I might have a surprise for you later on.)
2 - Mini Knot Bow Scrunchie Pattern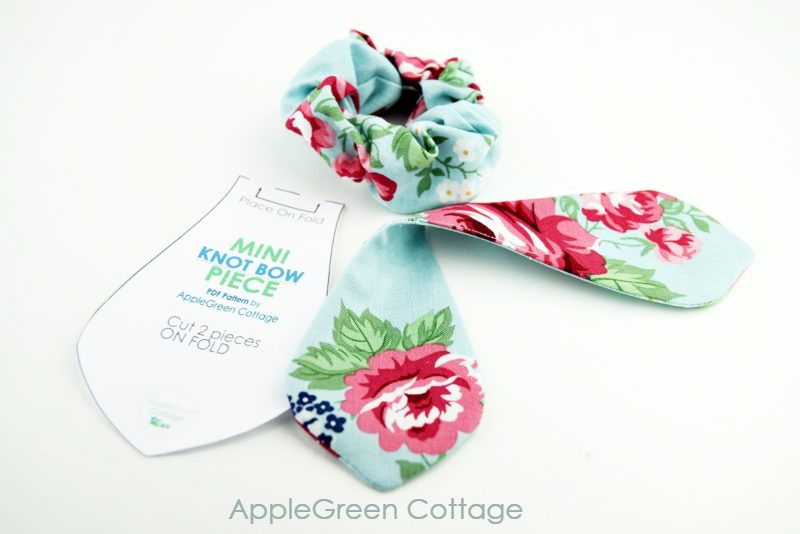 What a sweet mini-me accessory for the sweetest little girl in your life!! For this one, combine the small basic scrunchie piece with this Mini Knot Bow piece - both included in the free pattern!
Oh, and you can use teh same template to make these easy hair ties too!
3 - Bunny Ear Scrunchie Pattern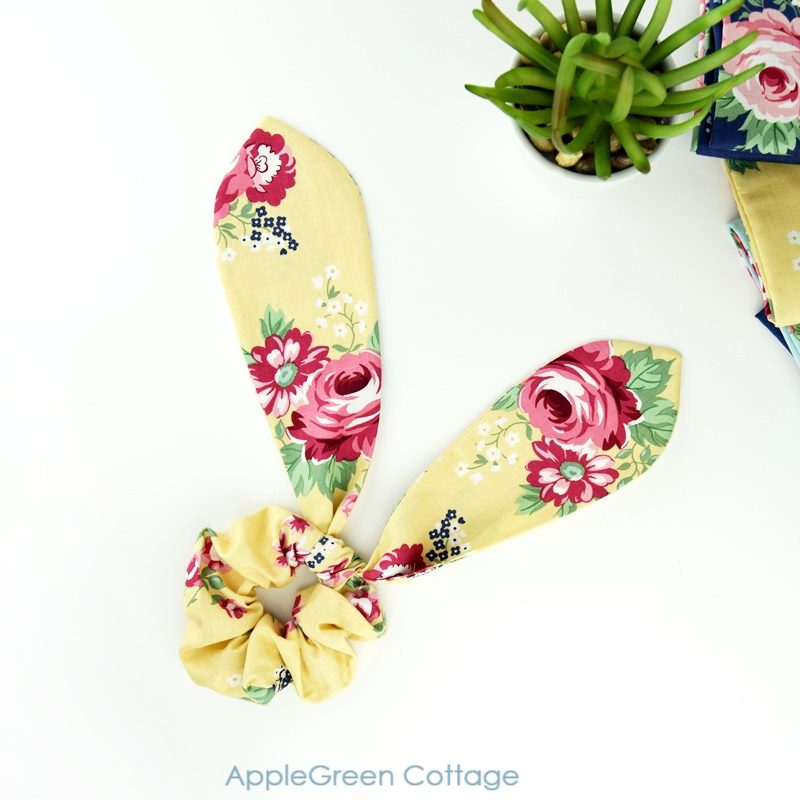 What a fun idea to make this spring! To create a diy bunny ear scrunchie, use the bunny ear scrunchie pattern piece (i.e. the one marked as 'Bunny Ear Piece').
4 - Diy Scarf Scrunchie Pattern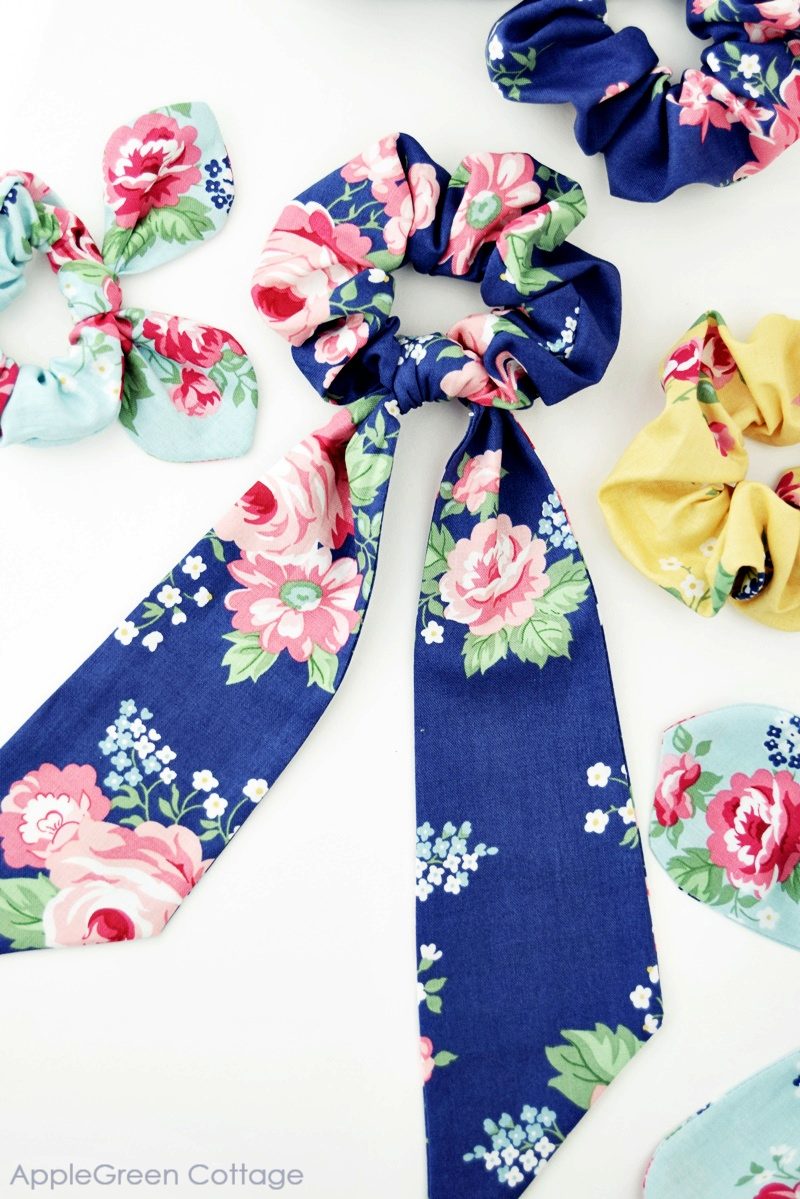 This one is perfect if you want a scrunchie with a tail, it makes your long hair even more beautiful. And a perfect match with a beautiful dress (these dress patterns are free!) Fashion queens, this one is yours to have!
Supplies to make a Diy Bow Scrunchie, A Diy Bunny Ear Scrunchie - and all the otherS!
This is what you need to sew this scrunchie pattern:
¼ yard/meter of fabric per scrunchie (some will be left, depending on the design selected)
a 7" or 5" strip of ⅜″ (1 cm) wide elastic (adult/kid size)
a simple chopstick for turning
matching thread, a safety pin, or an elastic threader
sewing machine or needle, pins or sewing clips
scissors or rotary cutter plus cutting mat (I use this one by Olfa)
printable PDF scrunchie pattern – scroll to the end of this tutorial for the link.
Fabric Cutting Instructions
Use the free templates (link to the FREE listing in my shop is at the bottom of this tutorial)
(1) main piece for an adult sized scrunchie: 4" x 18" OR
(1) main piece for a kid-sized scrunchie: 3" x 13"
Use the template to cut two pieces of ONE of these additions to the basic scrunchie, either:
(2) knot bow pieces (7" x 13" fabric needed), or
two (2) mini knot bow pieces (5" x 8" fabric needed), or
(2) scarf scrunchie pieces (7" x 25" fabric needed), or
(2) bunny ear pieces (7" x 20" fabric needed)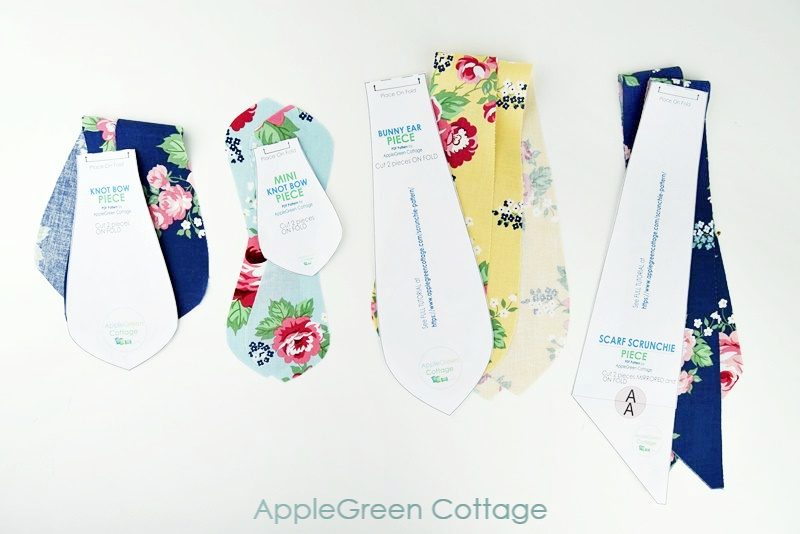 How to make your own scrunchie With 4 free scrunchie patterns
Frist, we'll make the main piece and then the bow/knot/bunny ears/scarf.
Step 1 - Cut the main scrunchie Pattern piece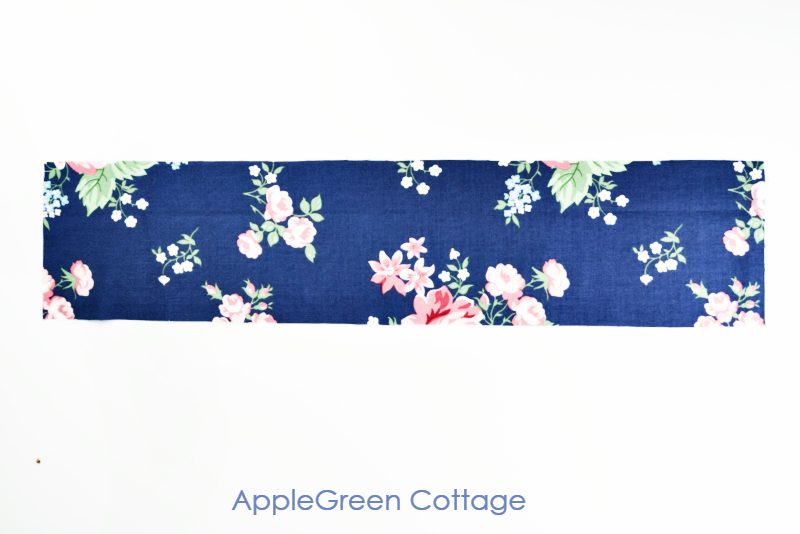 Cut your main scrunchie piece (adult or kid-sized), and a piece of ⅜″ (1cm) wide elastic. 7" for adult, 5" for kid size.
STEP 2 – Hem ONE SHORT EDGE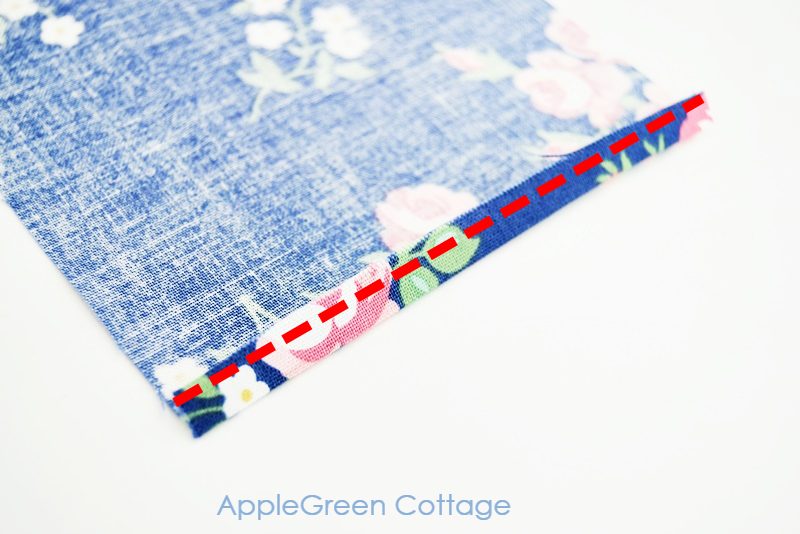 Turn under one narrow end of the fabric piece by ¼″ (0.7 cm) and topstitch so you create a finished edge.
STEP 3 – SEW A TUBE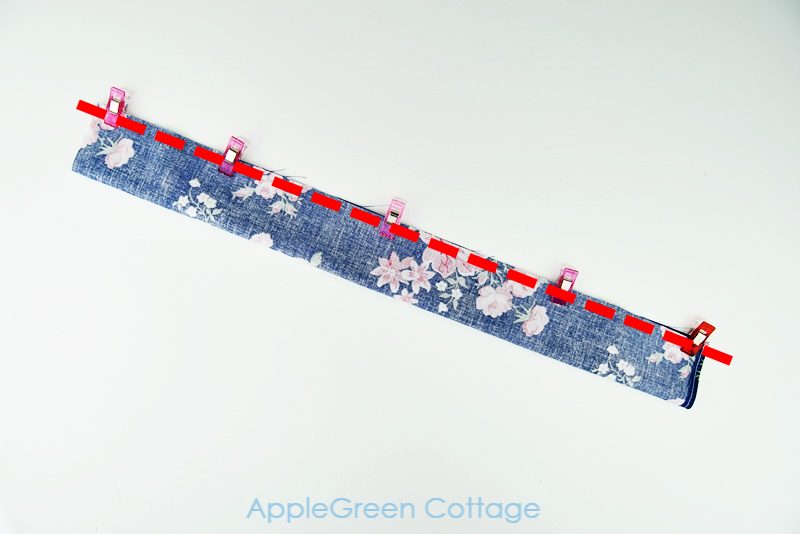 Fold the fabric lengthwise, right sides together and stitch along the long side using a ¼ up to ⅜″ seam allowance.
STEP 4 – Turn Right Side Out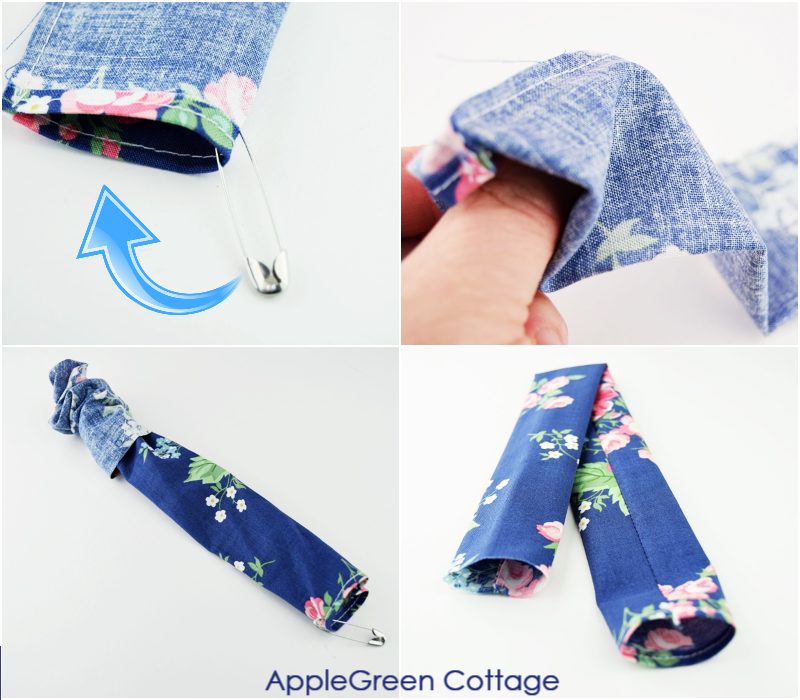 Now, turn the fabric tube right side out using a safety pin - attach it to one end and guide the safety pin through - just like you do it when threading elastic through a casing.
STEP 5 – Add Elastic and Close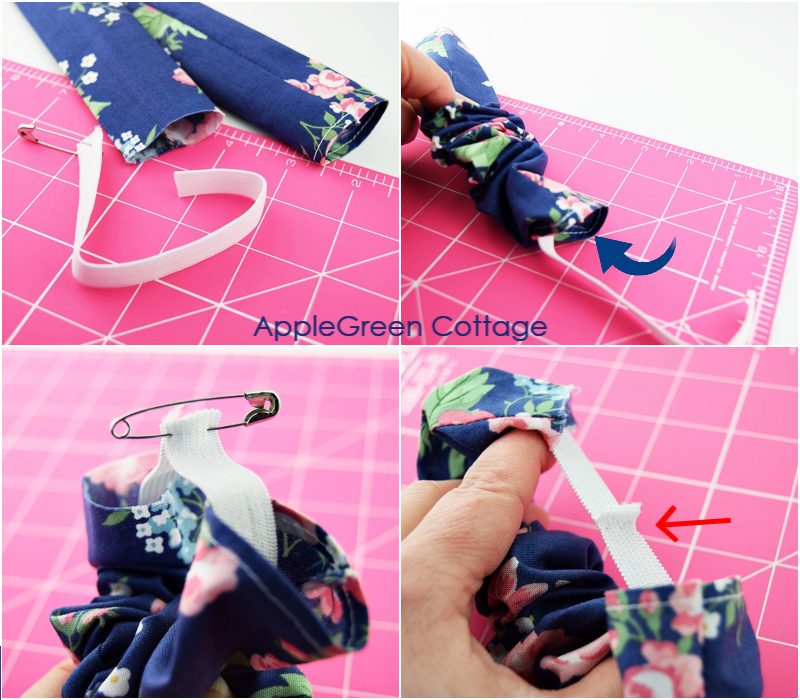 Thread the elastic into the casing, using a safety pin or an elastic threader. Stitch the ends of the elastic together with a small overlap (or just tie off a knot!) and then...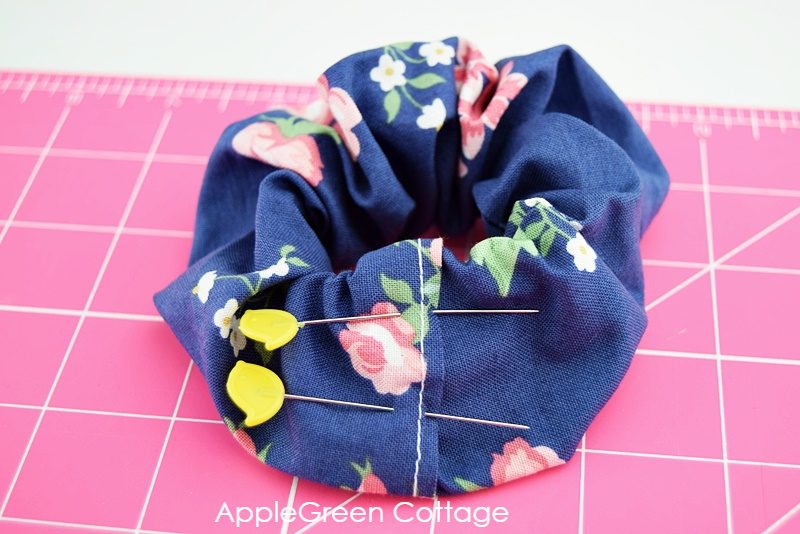 ...close the opening by joining the two ends of the fabric tube by stitching through.
Step 6 - Add Embellishment - Tail/Bow/knot Bow...
Decide which of these you want and cut two pieces from: knot bow / mini knot bow / scarf /bunny ears. Cut two pieces from your fabric.
Here's the knot bow piece for the scrunchie: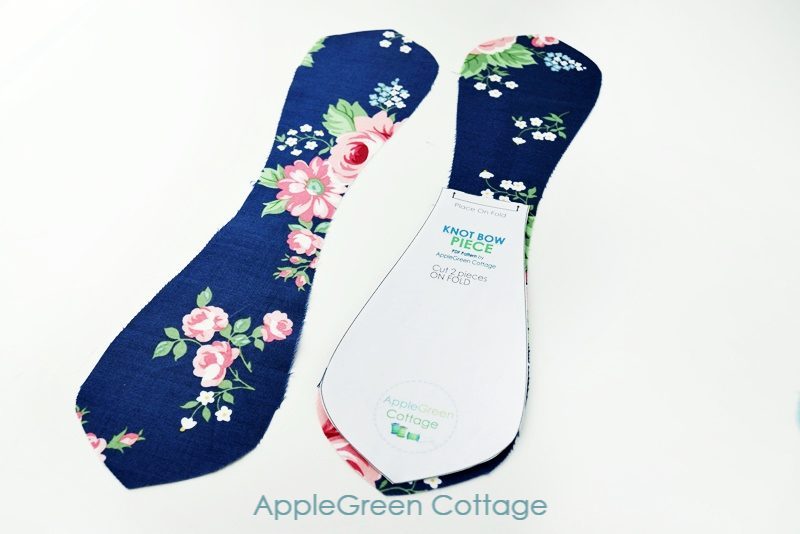 NOTE: when making the scarf scrunchie, cut the two scarf pieces MIRRORED.
Step 7 - Sew Pieces Together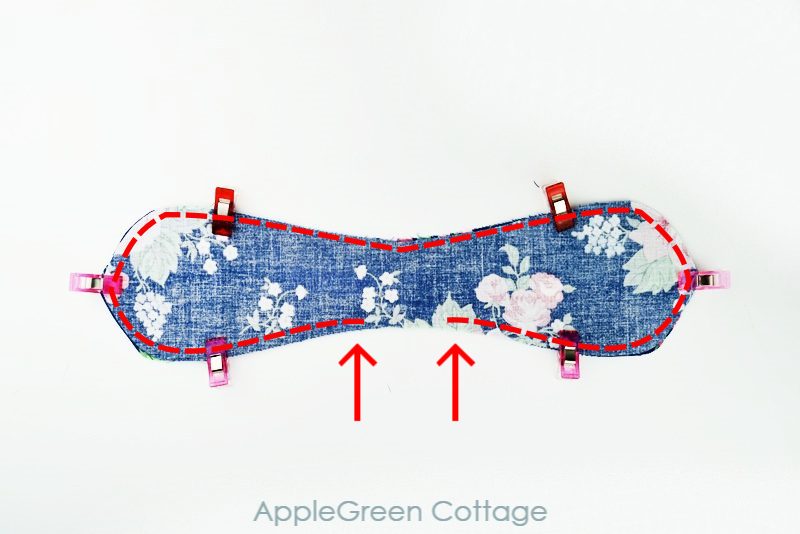 Place the two pieces with the right sides together and sew around, leaving 2" unsewn somewhere in the middle of the piece:
Step 8 - Trim and Turn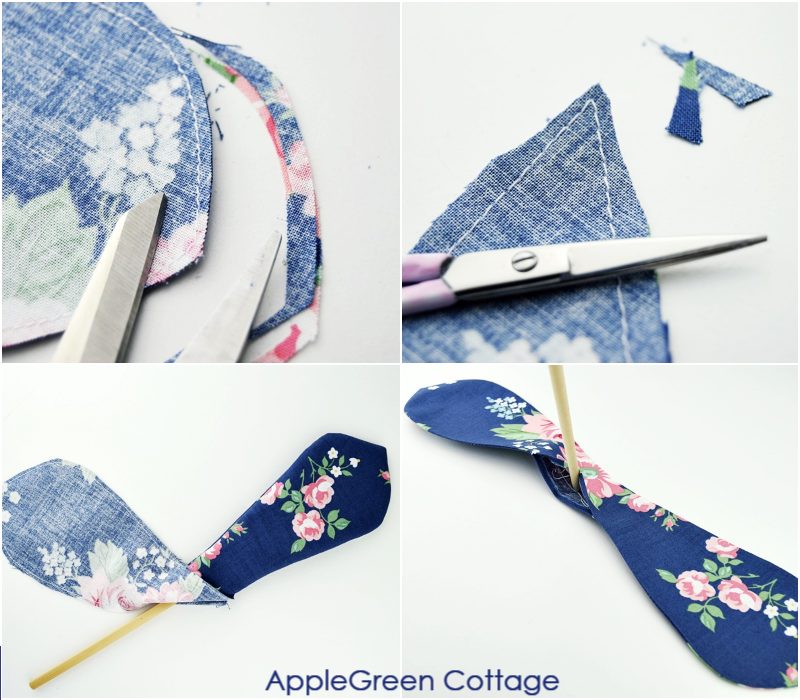 Trim the seam allowance, not cutting into the seam. This will reduce the bulk. Then turn the piece right side out, press, and...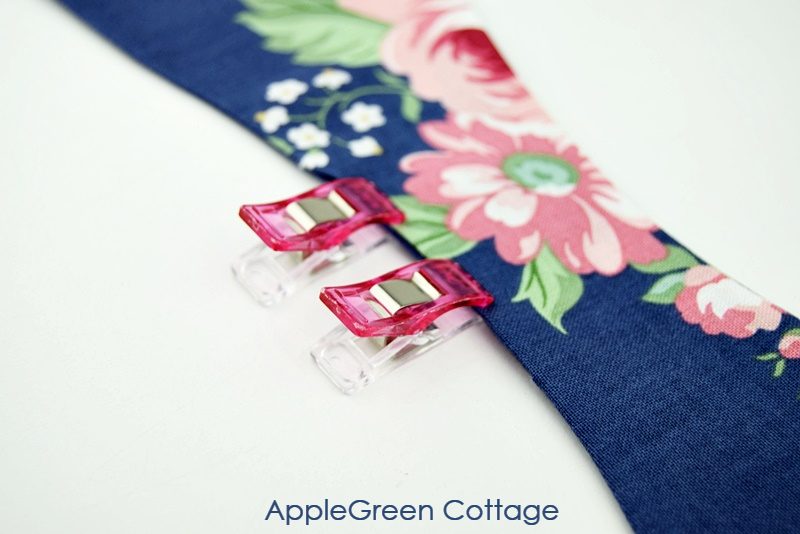 Stitch the opening closed.
Step 9 - Tie OFF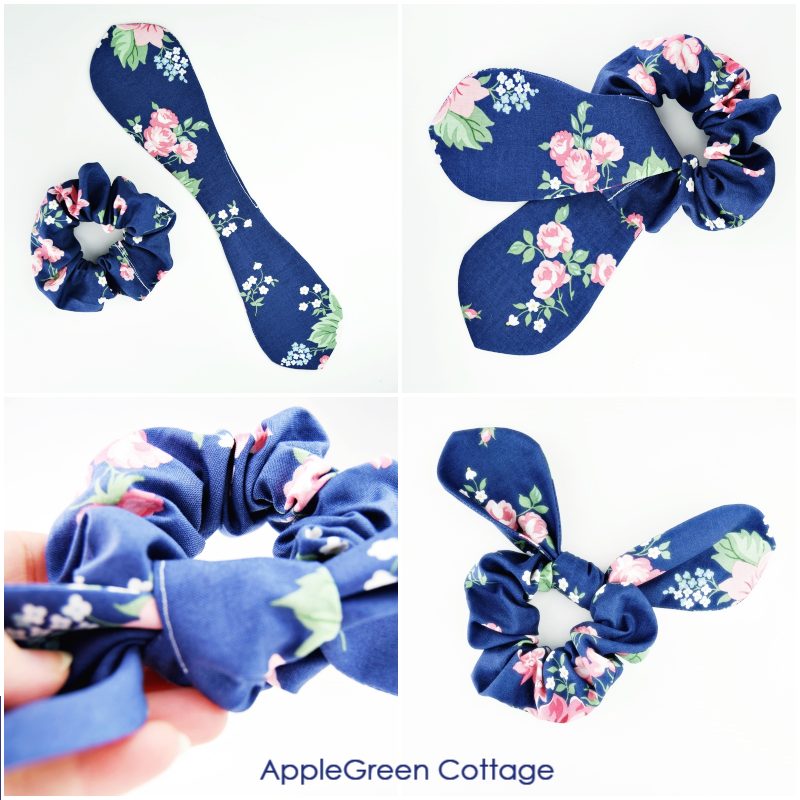 Tie the extra piece onto the main scrunchie piece, making a simple knot. Done!
And even one more option: Classic Bow Scrunchie
I want you to have all the possible options to make your own perfect scrunchie for yourself, so I'm adding one more option. I just know that if you haven't found yours above, this one is very likely your go-to scrunchie version.
Because you don't even need a template for this one. Whaat!?
It only takes sewing an extra-long tube of fabric, and a straight stitch. So easy and what you get is a beautiful classic look! Like above with all the other scrunchies, first, make the main piece. Then it's time for the classic bow part. It's so easy! Because you'll only sew a strip of fabric:
cut one long narrow piece of 30" by 3".
Fold it right sides together lengthwise and sew from each narrow end towards the middle of the strip. Leave a 3" gap in the middle for turning.
Turn right side out using a chopstick or point turner (first one, then the other side)
Press and stitch the opening closed.
Tie a knot around the scrunchie, then a bow. Done!
If you'd like me to do a photo step-by-step tutorial on this one too, let me know, I looooove sewing scrunchies of all kinds! I know, so many scrunchie styles to choose from - it's amazing what a little fabric can do!
But first, make sure to do 2 things: first, download your FREE copy of the scrunchies pattern from my shop here. Two: save this tutorial to Pinterest so you can use it when you need it: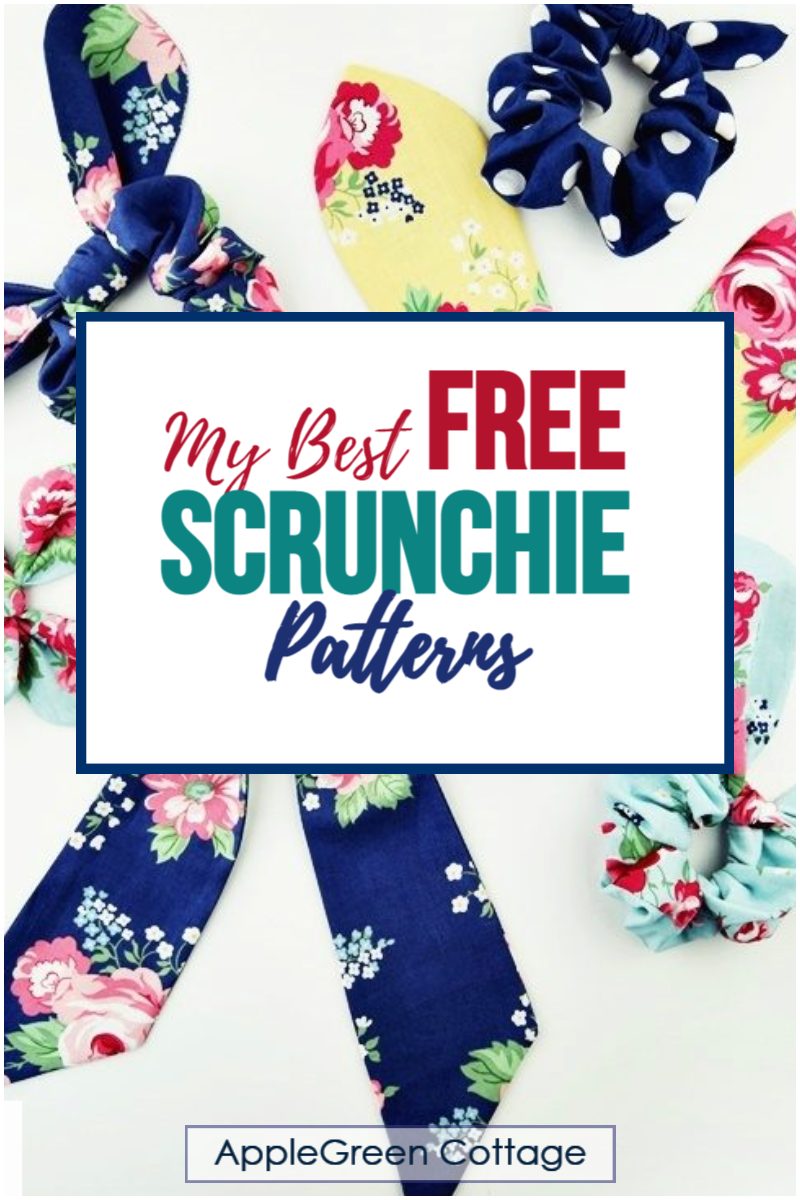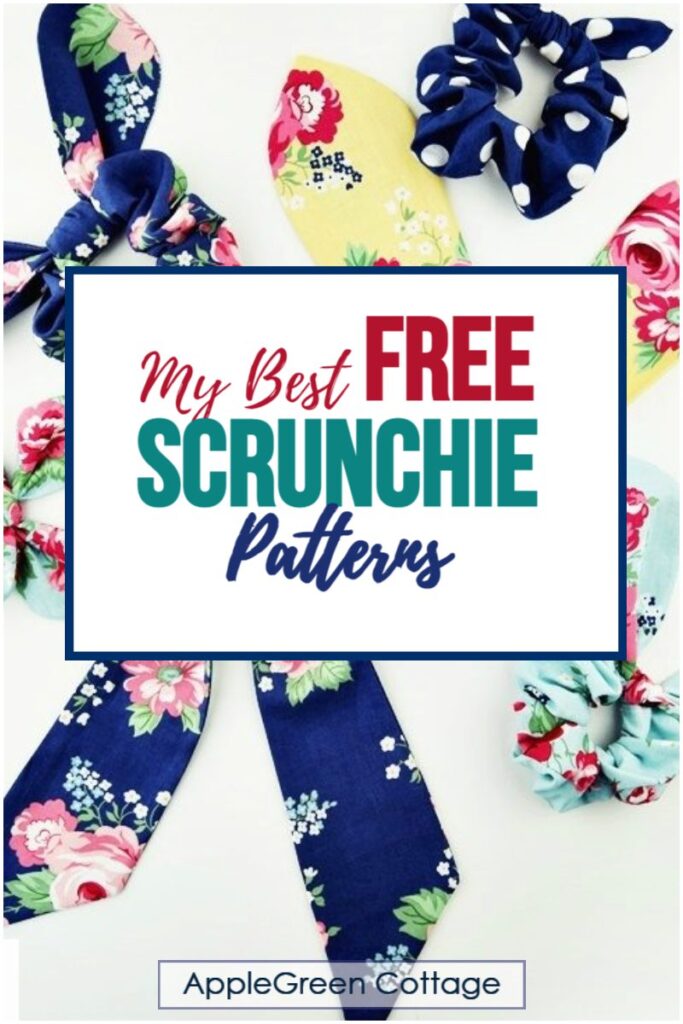 HOW DO I GET THE FREE Scrunchie PATTERNs?
Get mine from the shop here – all 4 printable designs, absolutely FREE! Print and start cutting and sewing right now!
Get the free scrunchie pattern in the SHOP at THIS LINK (click on SCRUNCHIES pattern)
As always, I'd love to see if you've made a scrunchie using this tutorial. Please post a picture to Instagram and tag me @applegreencottage or #applegreencottage – so I can take a look!
WANT MORE FREE TUTORIALS AND PATTERNS?
Get email updates and never miss out on new patterns, printables, and tutorials:
Or …check out the NEA Small Crossbody Bag pattern in our shop. This bag skyrocketed to the top of our best-sellers in less than a week after it was released: