Ouch. My 'good' sunglasses got a scratch last time when I tossed them into my Teya bag. I was in a hurry and did not notice the keys were in the same pocket. Darn.
Good news, this finally convinced me to make a glasses pouch for myself.
See how to sew an eyeglasses case using my free glasses case pattern - now in the summer, you can use it as a pouch for sunglasses, it's large enough! It also doubles as something else - which I only noticed later. Scroll down to find out what it was - and get your free eyeglasses case pattern!
This post may contain affiliate links. Thanks for your support!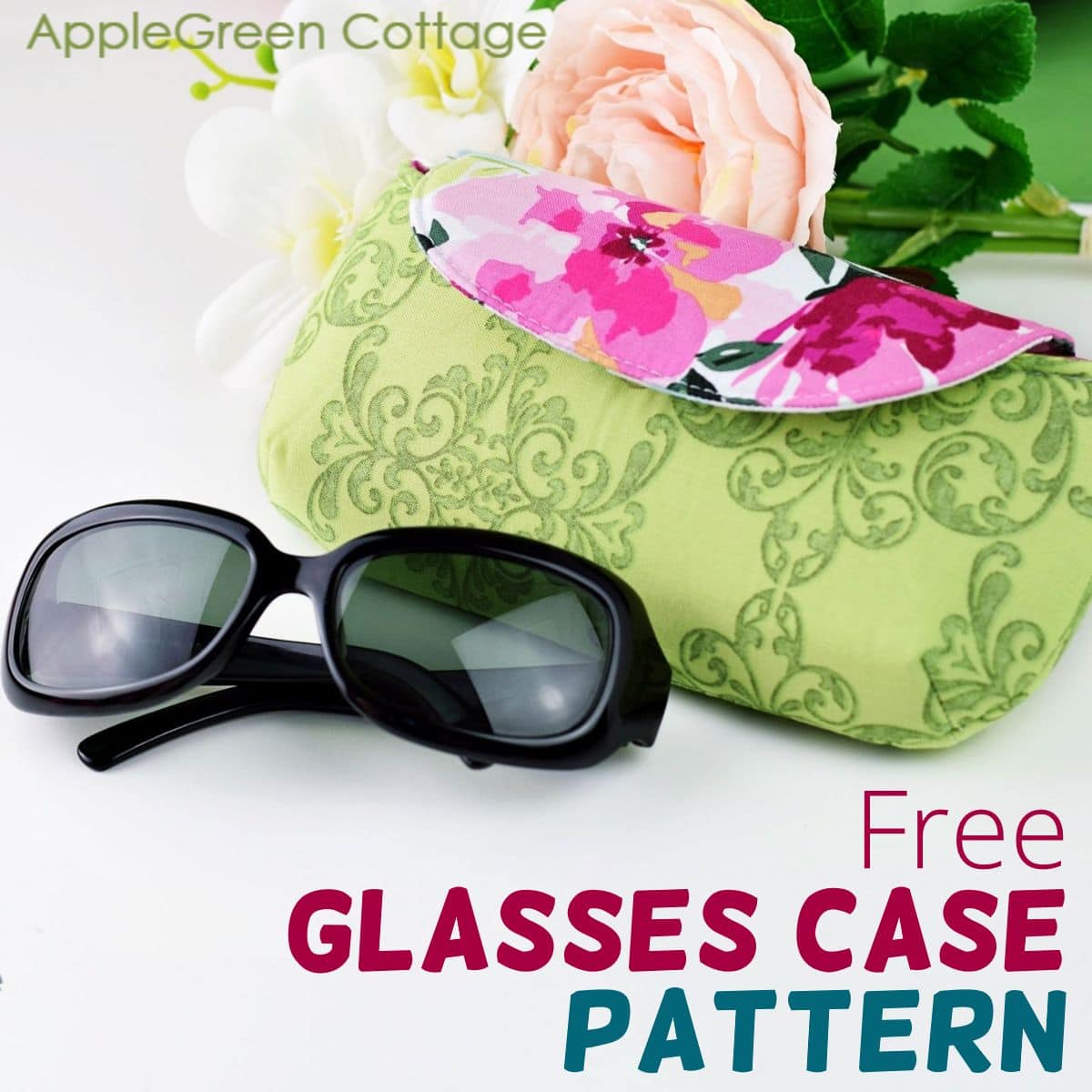 I wanted my eyeglasses pouch to be generously sized, so it will fit any size eyeglasses and especially, will be large enough for ANY size sunglasses. And I wanted it to have a decently stable outer layer for protection. And I wanted it not flat. Also, it had to be pretty! What do you say, have I succeeded?
OR do you want a printable copy of the WHOLE tutorial? Scroll to the bottom of this tutorial for more details!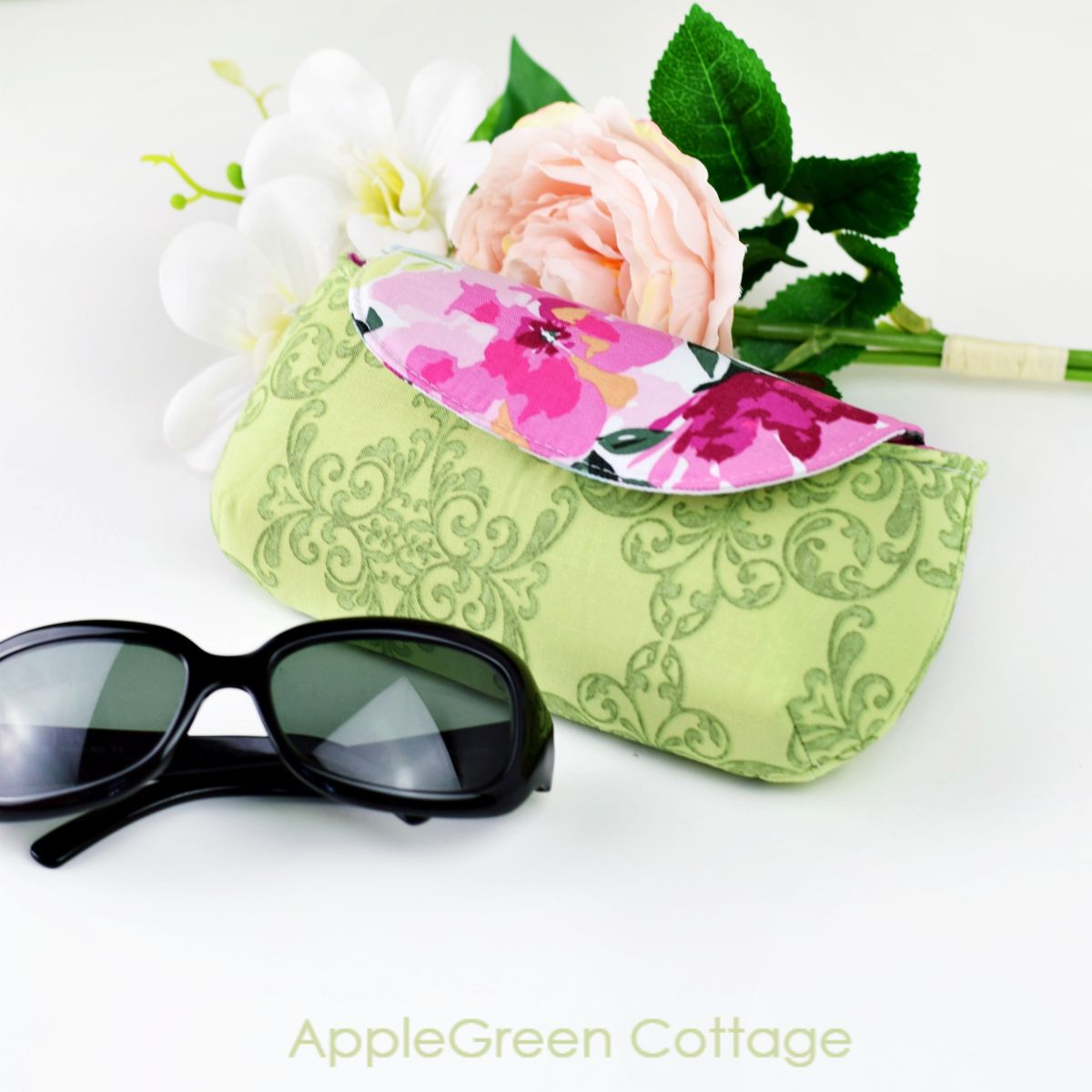 Yep. I designed a generously sized pouch for sunglasses with a wide opening (I call it easy-out pocket).
Features of this free eyeglasses case pattern:
generously sized (a great diy sunglasses pouch for your large sunglasses!)
soft yet stable and thick enough to protect my glasses from scratches
a wide opening, I call it 'easy-out pocket'
a loosely rounded flap that closes with a magnetic snap (I will guide you if you haven't installed a magnetic snap yet. Easy, I pinky promise!)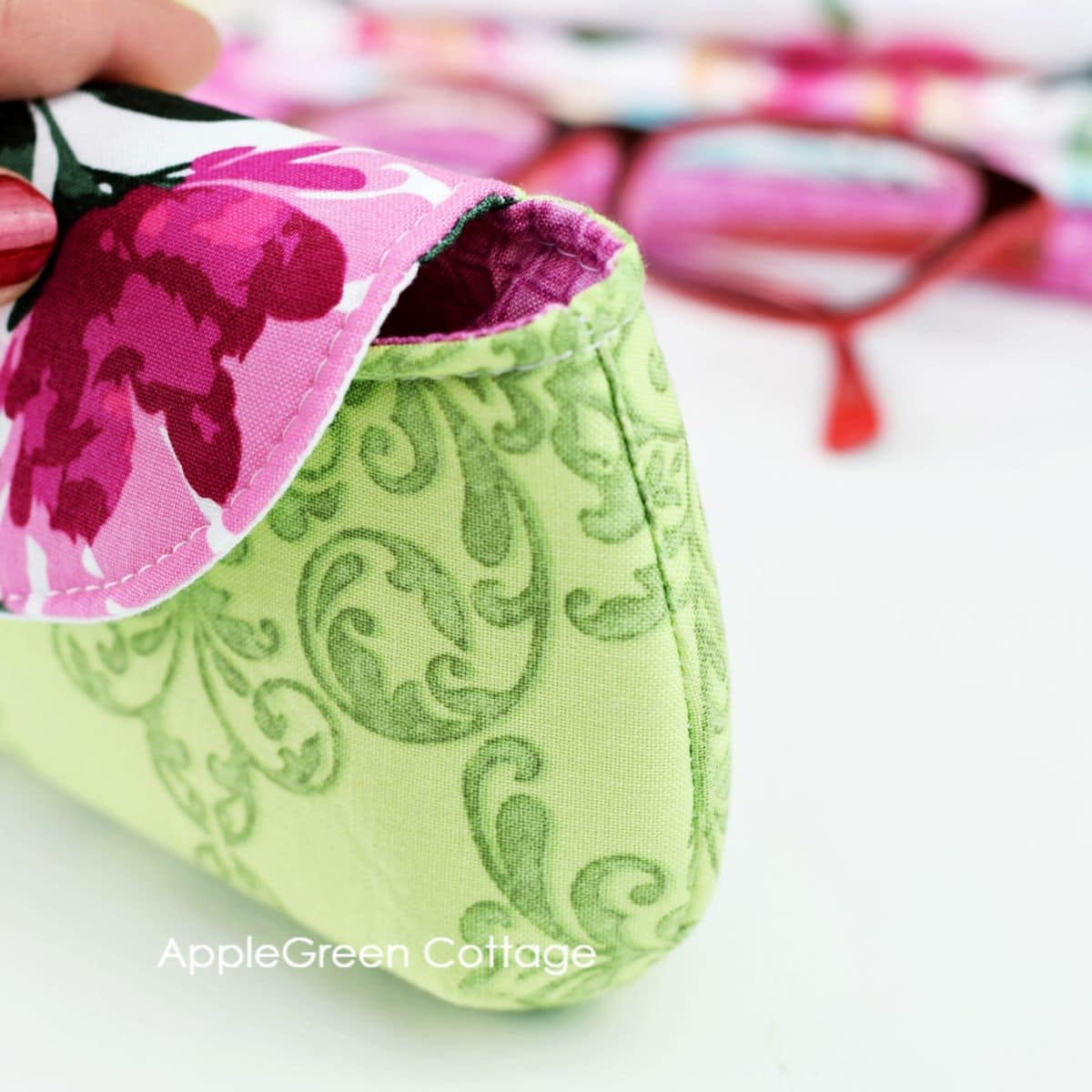 And one thing more. It wasn't planned, but boy does it make even better: friends, I've just noticed my phone fits in here, so you can easily use this pattern for eyeglass case to make a cute cell phone wallet too!
You absolutely NEED to sew one! Scroll down for the link to the pattern for the eyeglass case - and see how to get it for free.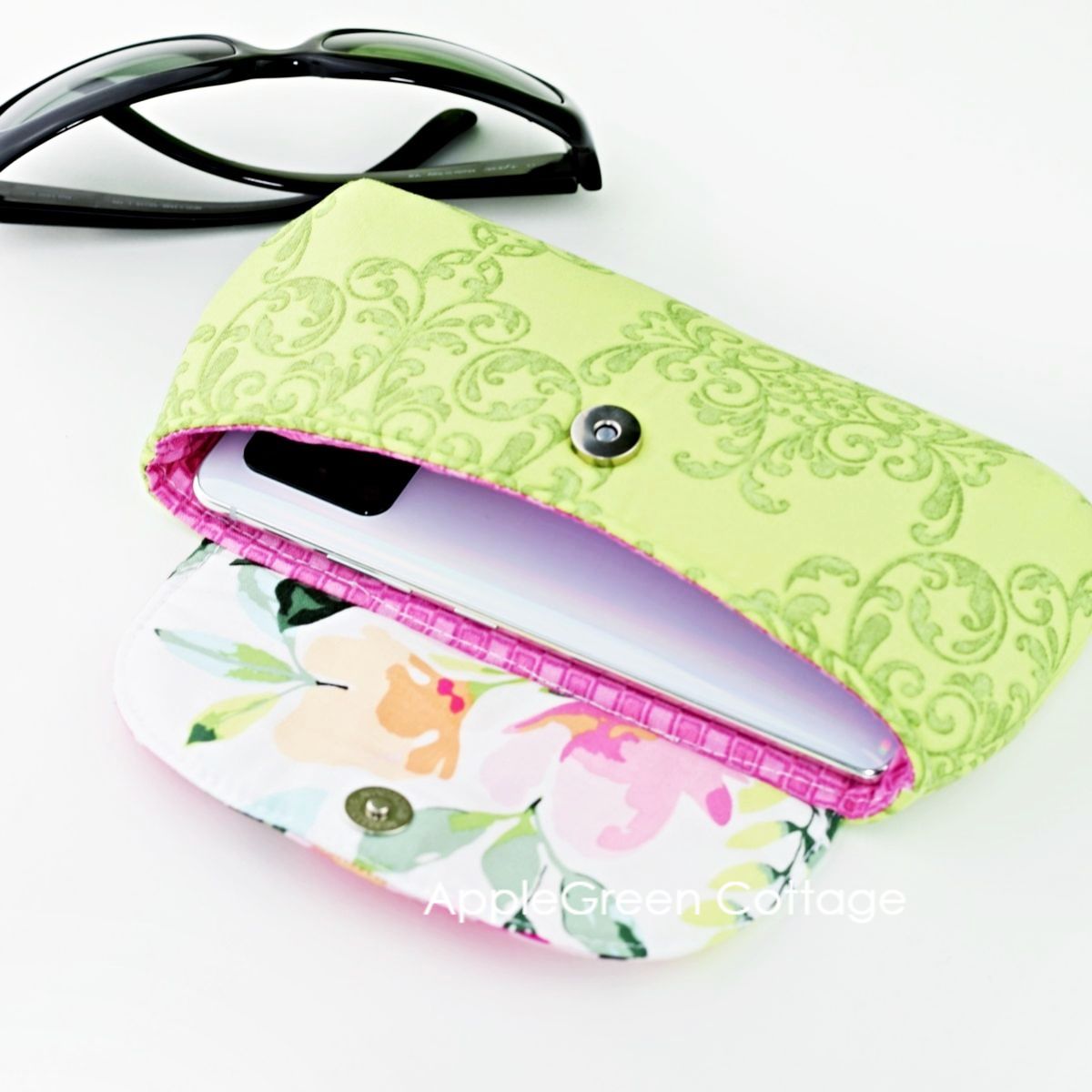 See? You'll love it! If you like sewing small bags and pouches, make sure to check out these too: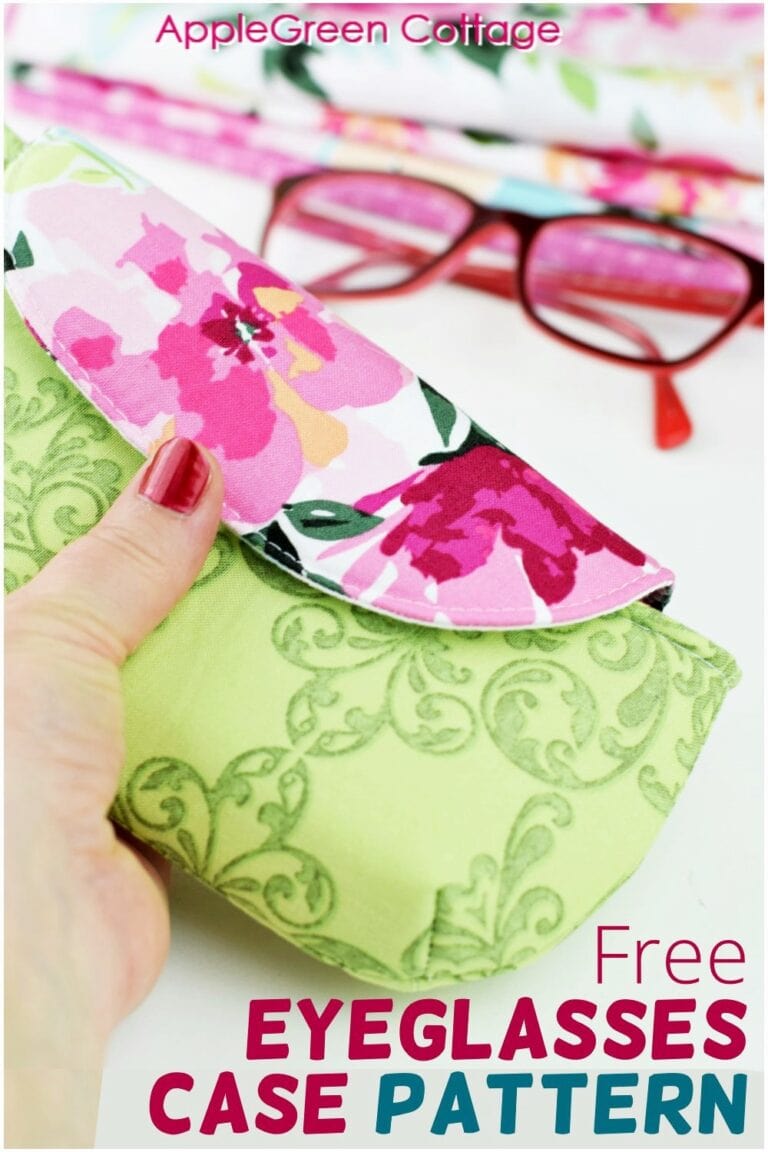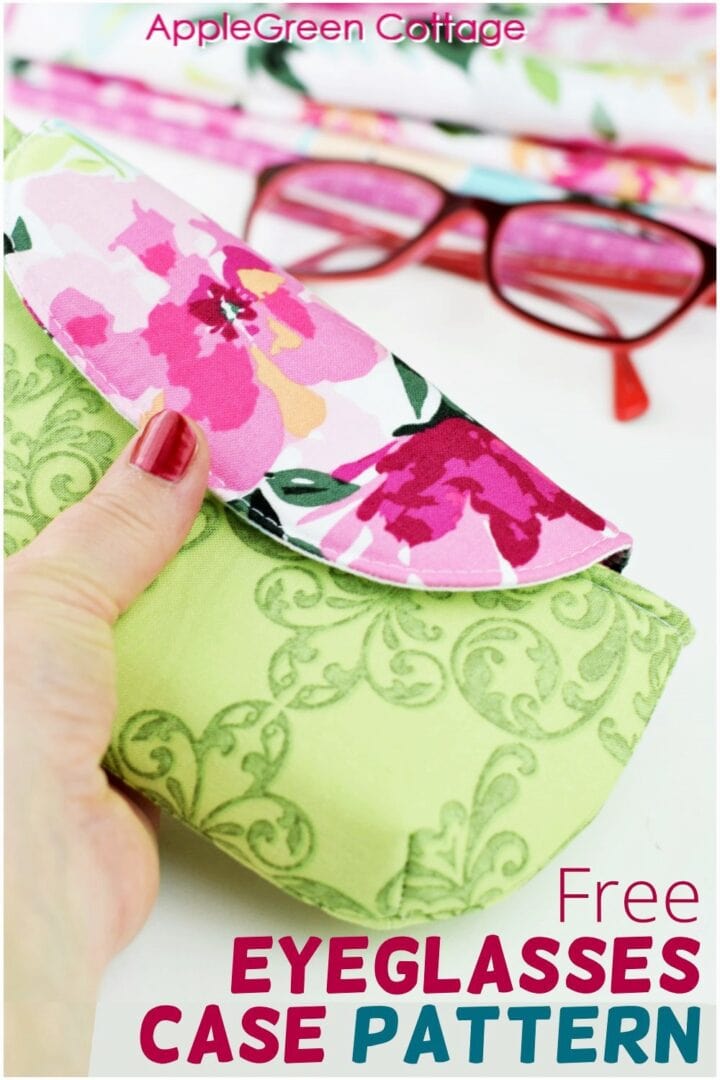 How Much Fabric Do I Need For This Eyeglasses Case?
You need less than one fat quarter of fabric altogether - use matching or contrasting fabric scraps! I used three different prints from the Lucy June collection designed by Lila Tueller for Riley Blake Designs (it's gorgeous!) and added one single piece of hardware - a magnetic snap. Super happy about how it turned out!
Supplies
Less than a fat quarter of fabric (less than 50 x 55 cm) - I used 3 different prints from the Lucy June collection
fusible foam as a stabilizer*
one small magnetic snap (15 mm diameter) and two 1" squares of thick material for stability (e.g. fusible fleece)
sewing machine, needle, thread, pins or sewing clips,
iron, scissors, or rotary cutter plus cutting mat
the glasses pattern - get it when you join our mailing list.
* Don't want to use fusible foam? You can use alternatives like are a layer of SF101 plus Decovil Light or high-loft fusible fleece - make sure to visit this interfacing guide for beginners - it will make your (interfacing-related) sewing life so much easier! And your bags and pouches prettier.
Finished Size of This Diy Glasses Case
What I also love about this diy glasses case is the size. So handy - it's something that will store not just the regular glasses but also your big sunglasses, or even a smartphone! Throw it into your purse and carry anywhere with you!
Finished size: closed 8 ½" x 4" x 1 ½" (22 x 10 x 4 cm)
How to Sew a Sunglass or Eyeglass Case
A ¼" seam allowance is included.
Step 1 - Download and Print Your Pattern
Join our mailing list and get the pattern emailed to you:
Print your eyeglasses case pattern and cut the 3 pattern pieces.
OR do you want a printable copy of the WHOLE tutorial? Scroll to the bottom of this tutorial for more details!
Step 2 - Cut Your Fabric
Cutting Directions
Using the printed pattern, cut these pieces from fabric (just mark the darts, don't cut out the darts):
2 BACK PIECES on the fold, one from Outer and one from Lining fabric
two FRONT PIECES on the fold, one from Outer and one from Lining fabric
2 FLAP pieces on the fold, from Accent fabric (Flap Front and Flap Back)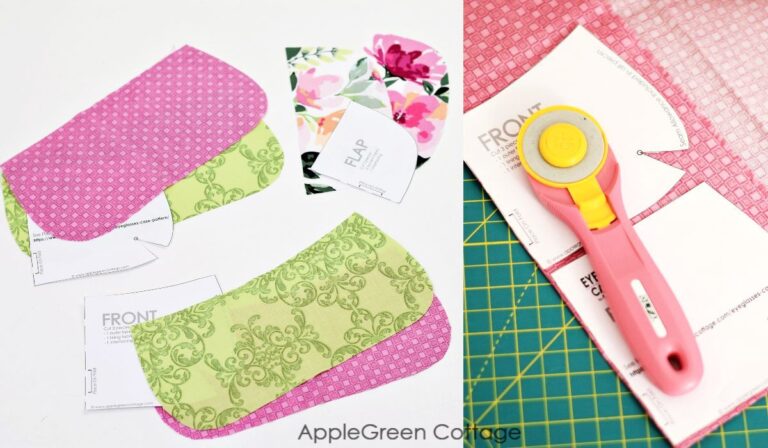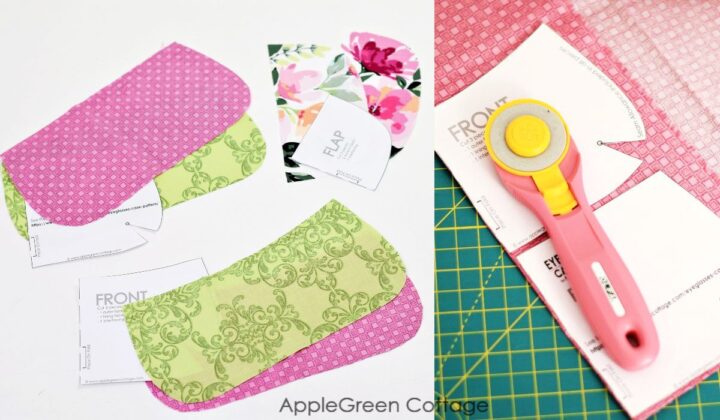 Don't cut out the darts, just mark them: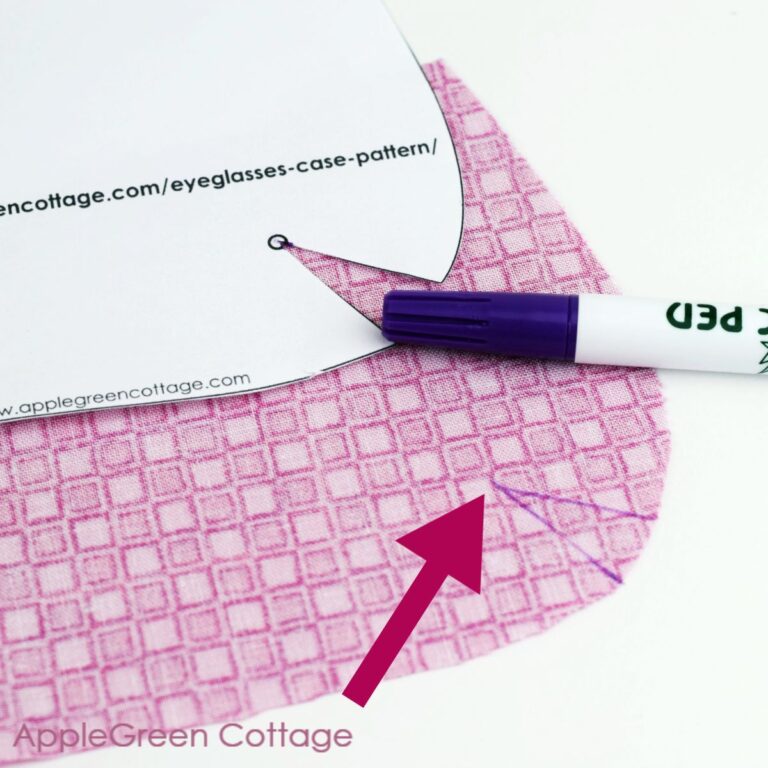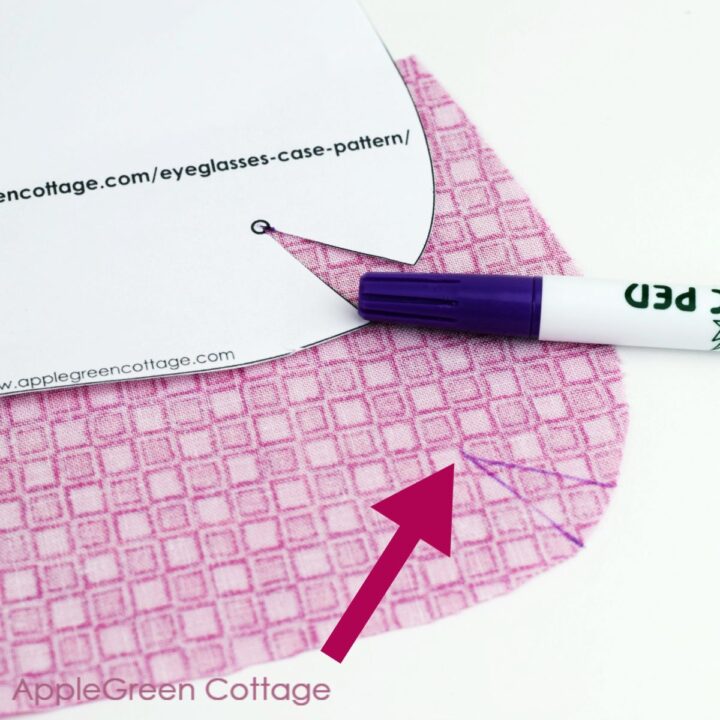 Cut 3 pieces from fusible foam: 1 BACK, 1 FRONT, 1 FLAP piece. When cutting fusible foam, mark and cut out the darts too: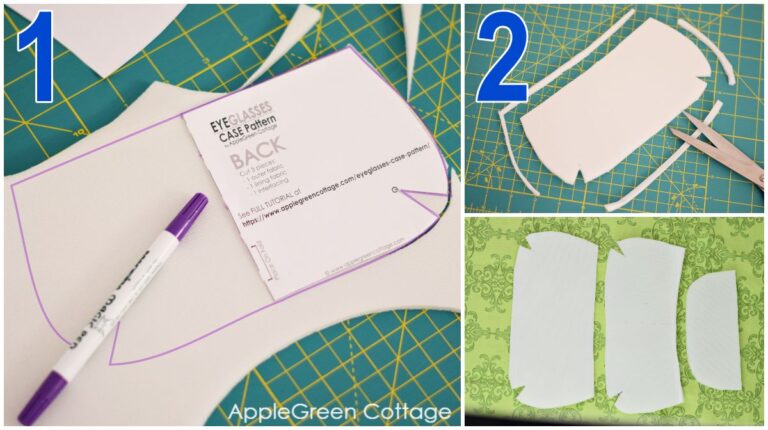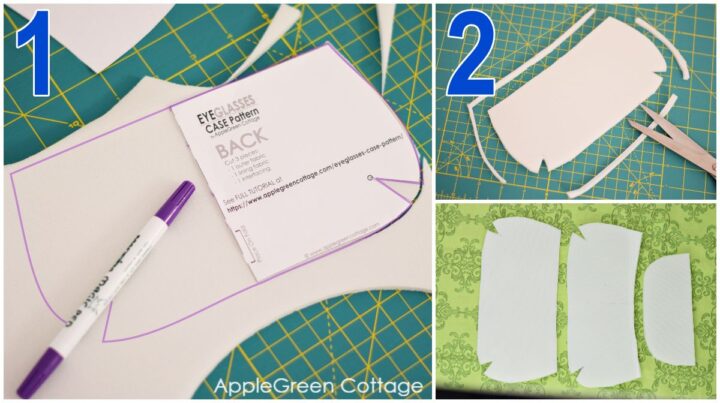 To make it easier, I first trace the pattern piece on the foam, then flip it and trace the other half - see image #1 above. Cut out using scissors. Cut out the darts too.
If you'll use fusible foam it's good to trim a quarter of an inch around the piece to reduce bulk in the seam allowance. (image #2 above) Don't trim the piece if you use a non-fusible stabilizer.
Step 3 - Fuse Stabilizer To Fabric
Following the manufacturer's directions, fuse the foam to the backsides of the Flap Front piece and the 2 outer fabric pieces (not lining pieces).
Step 4 - Install the Magnetic Snap
Now's the perfect time to add that magnetic snap. If you're new to magnetic snaps, you'll be delighted when you see how easy these are! See my easy tutorial for how to add magnetic snaps.
Magnetic Snap Placement
You'll attach the male piece to the right side of the FLAP BACK piece (not the Flap Front piece!) and the female piece to the Outer Front piece. See the next image for snap placement: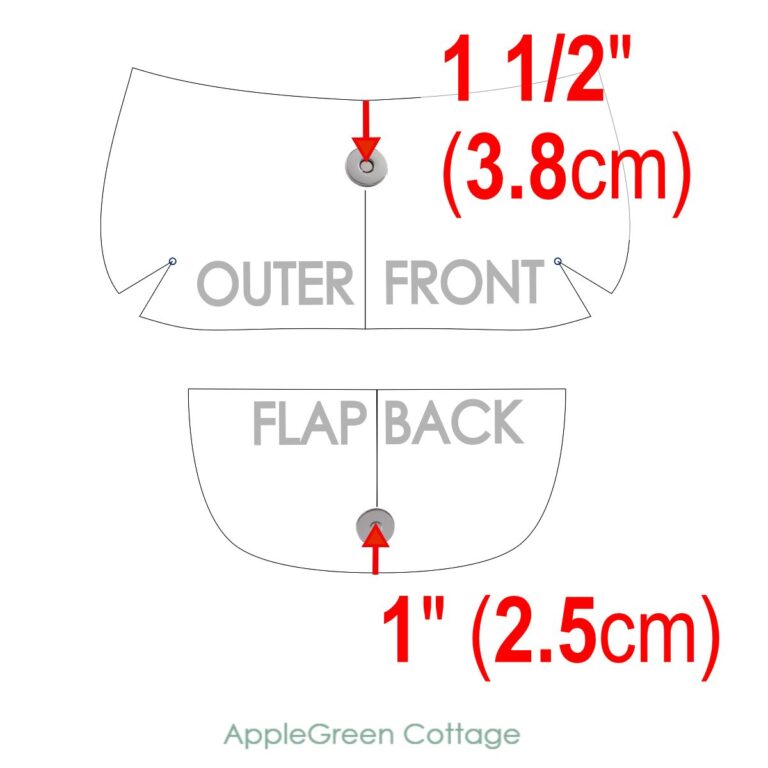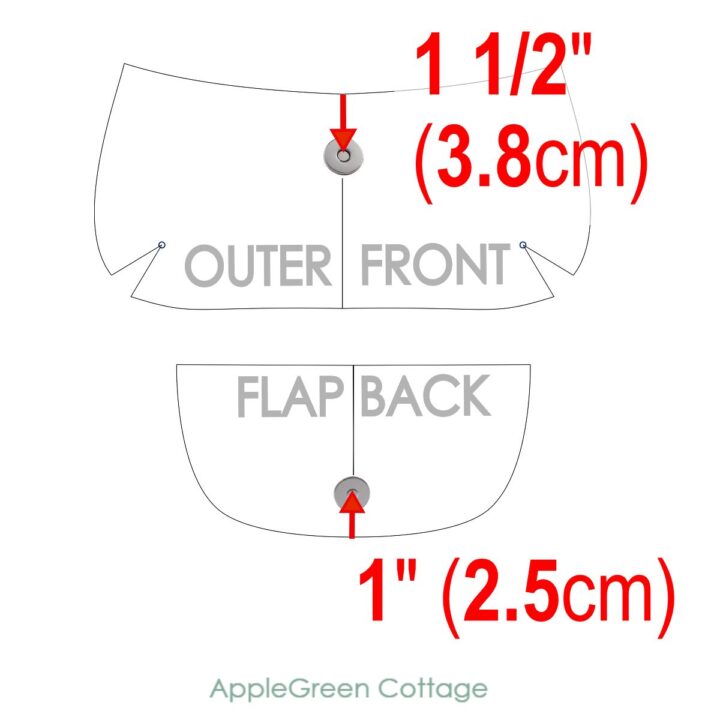 If you're familiar with the snap installation, here are just quick directions for magnetic snaps:
On the Flap Back piece, measure 1" from the curved bottom edge, add one or two squares of fusible fleece to the spot to reinforce, then mark the prong placement. Make two tiny slits by cutting through all the layers. Insert the prongs from the right side of the fabric, slide over the washer from the back and open the prongs.
On the Outer front piece, measure 1 ½" from the TOP curved edge and do everything else as you did on the Flap. You don't need to reinforce using fusible fleece, as this piece's already backed by foam.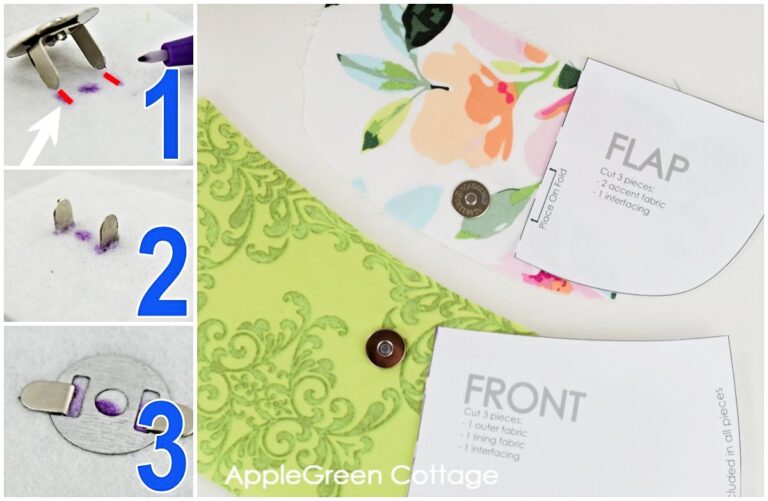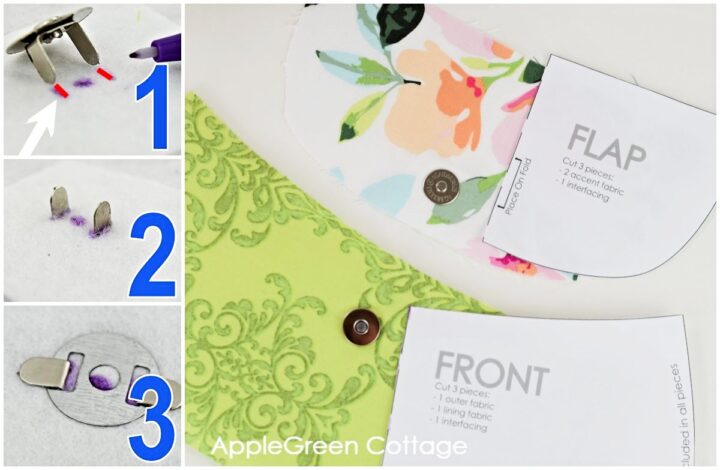 These are the pieces from the eyeglasses case pattern you have now: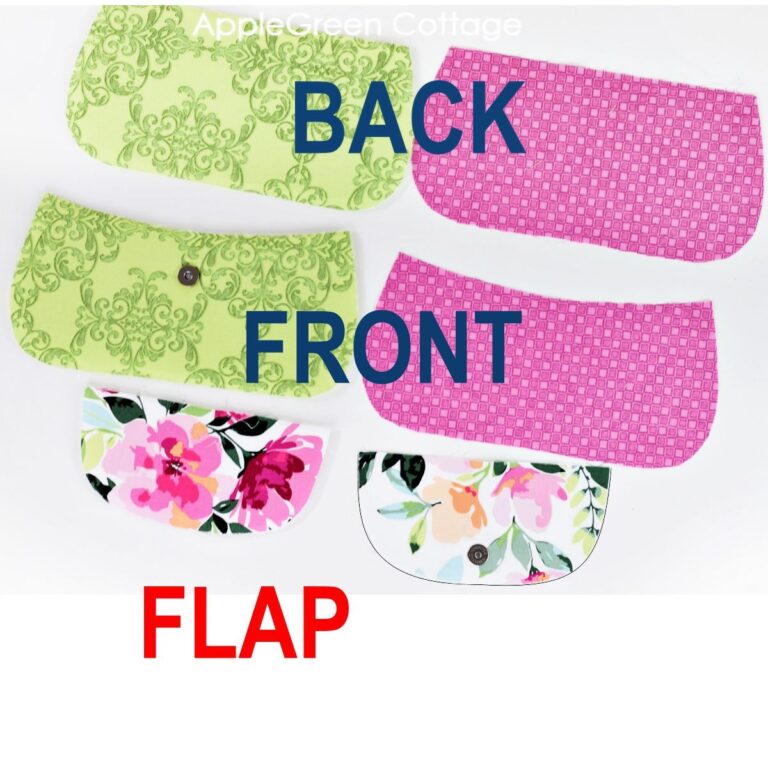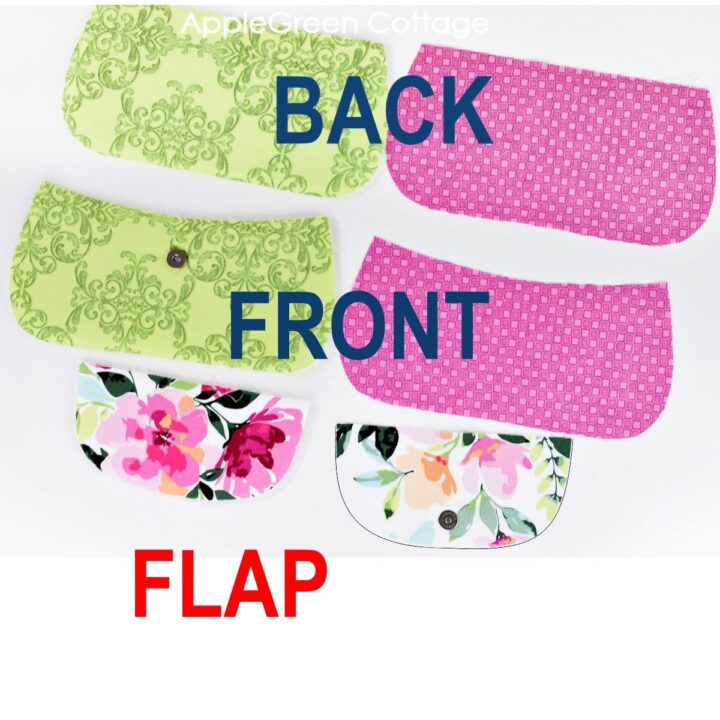 Step 5 - Create the Flap
Get the two flap pieces, the Flap Front piece and the Flap Back piece. The Flap Back piece has a magnetic snap installed. Place the two flap pieces right-sides-together: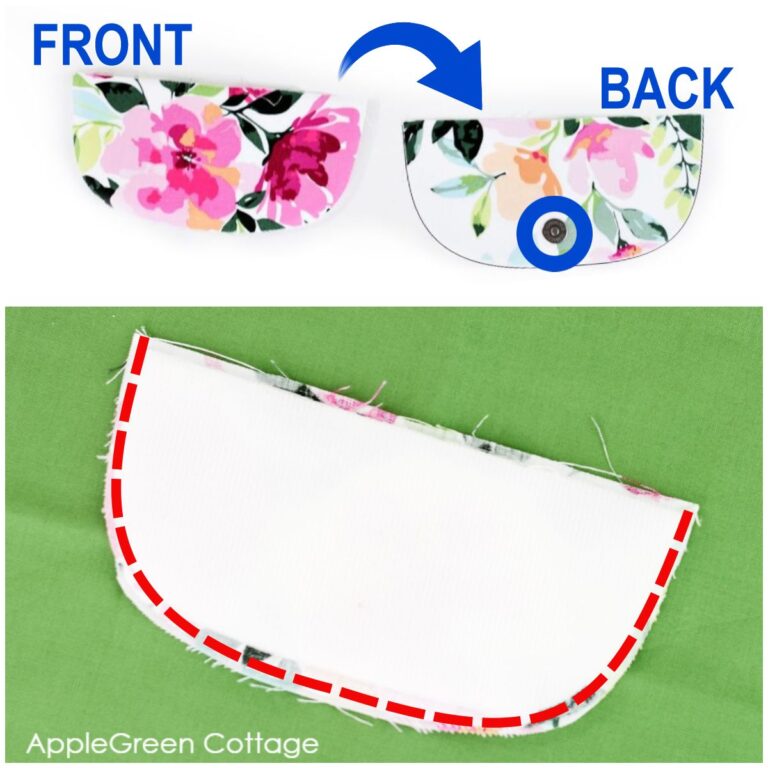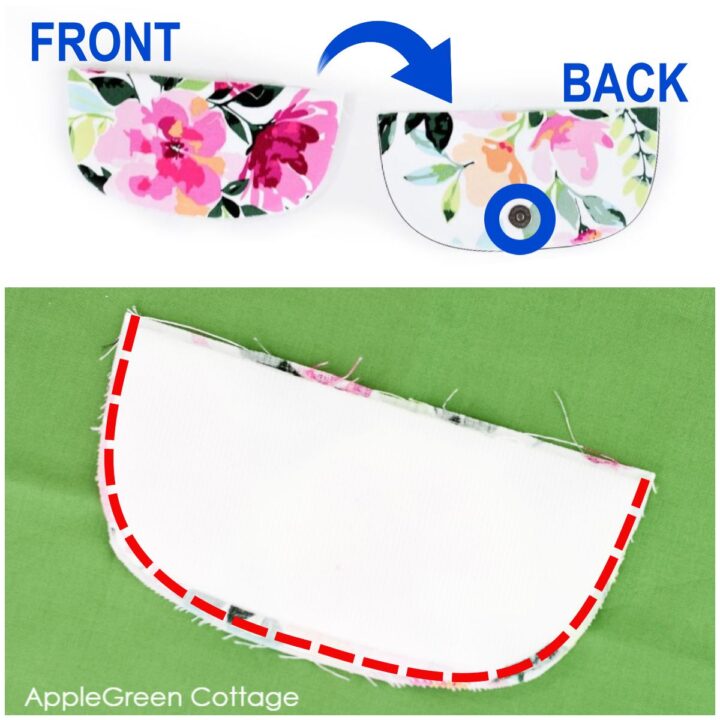 Sew them together using a ¼" seam allowance, leaving the straight edge open.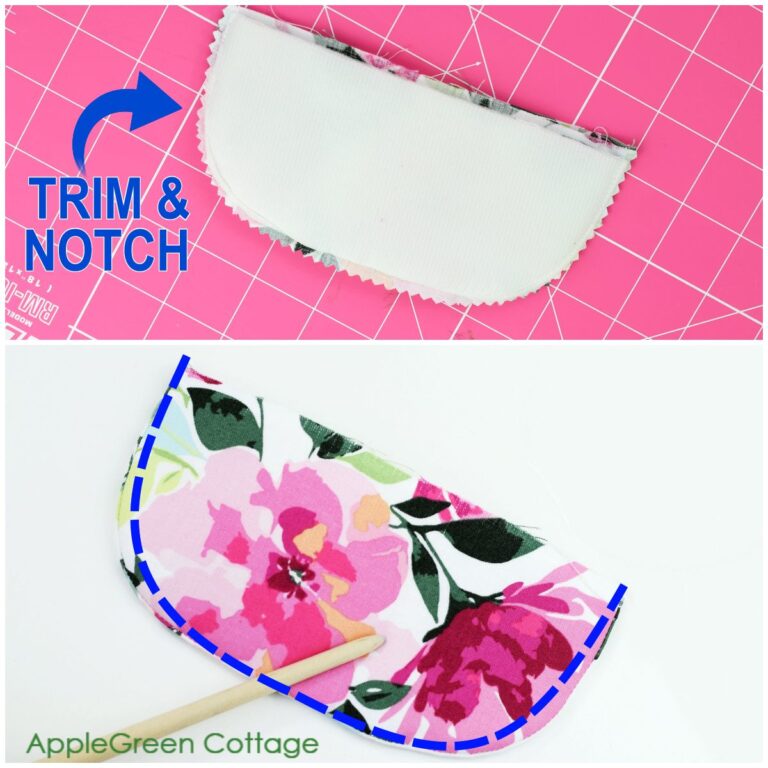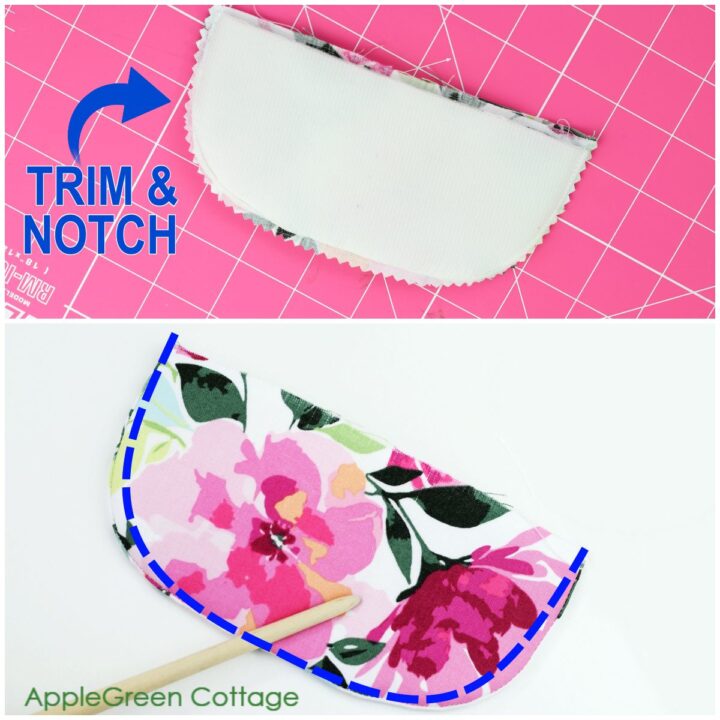 Trim and notch the rounded edge for easier turning, being careful to not snip into the stitching lines. NOTE: do not trim the (unfinished) straight edge.
Turn right-side-out and press. Use a point-turner tool (or another non-sharp object like a chopstick) to push out the rounded edge. You can topstitch at ¼" (0.7cm) on the rounded edge only - feel free to use a zipper foot if you have too little space around the magnetic snap. Flap done.
Step 6 - Sew Darts On Outer Pieces And Lining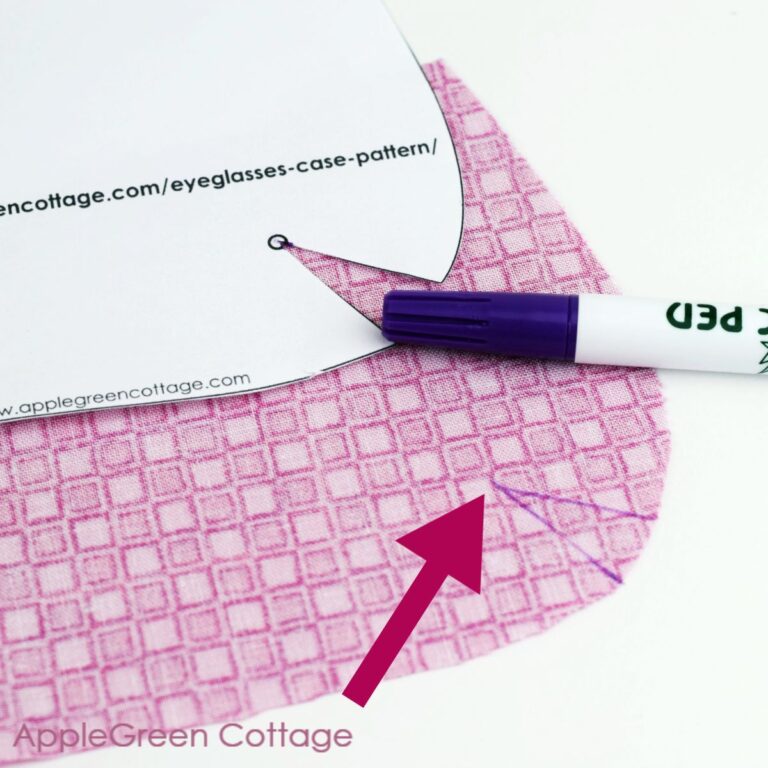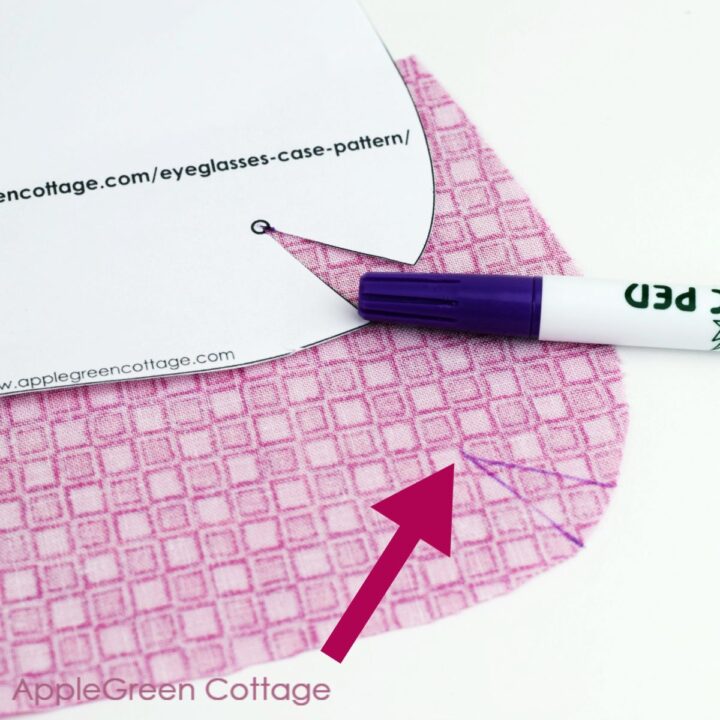 When cutting out the pieces, you also traced the darts on the wrong side of the front and back pieces (4 pieces altogether). Now we'll sew them.
New to sewing darts? I've got you covered! Check out this how to sew a dart:
Here's a summary if you have already done darts before: Fold the dart and match up the two lines of the dart, then sew along one of the lines you traced onto the fabric, starting at the dart leg (widest part of the dart) and using a shorter stitch length. Once you reach the dart point, sew off the edge of the fabric and leave a long tail. Do not backstitch to avoid puckering.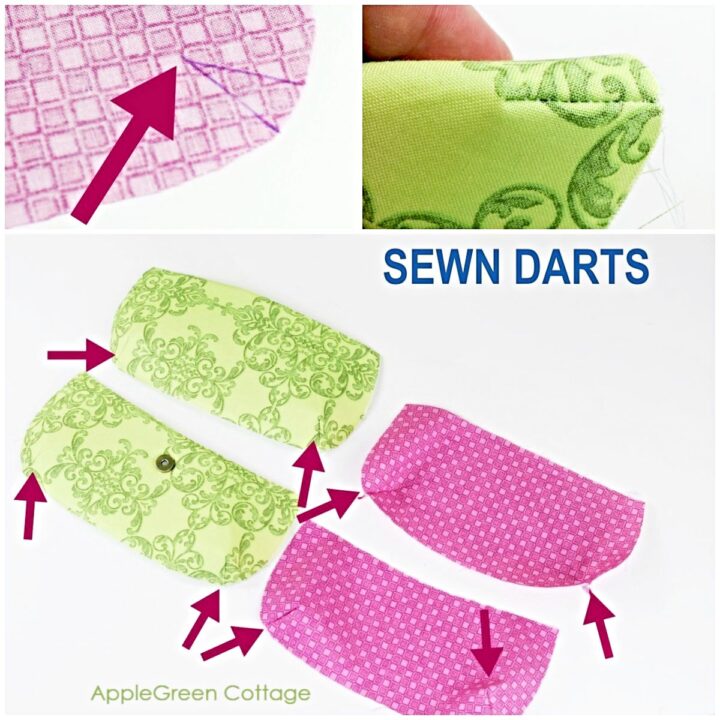 FREEBIE ALERT: to help you with pressing darts, use a ham or a seam roll. Feel free to use my free seam roll pattern to make one.
Step 7 - Assemble The Back Pieces
You'll need two of the eyeglasses case pieces with a straight top edge - the BACK pieces, one in outer fabric (here green) and one in lining fabric (here pink).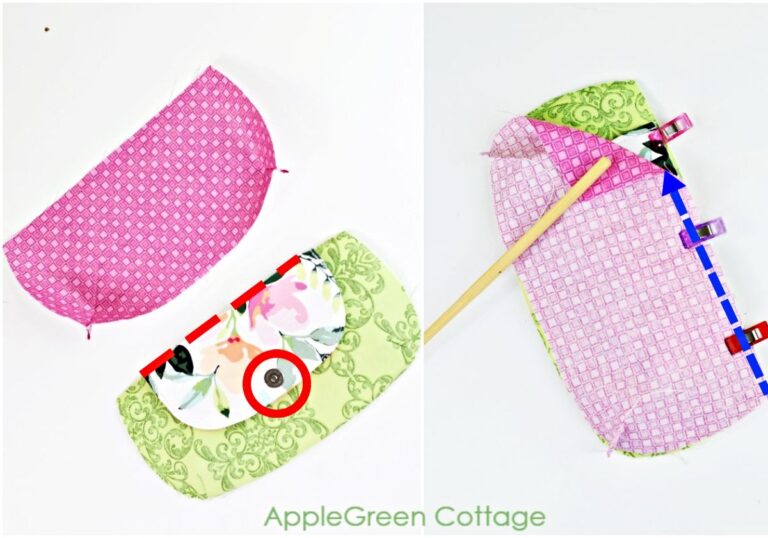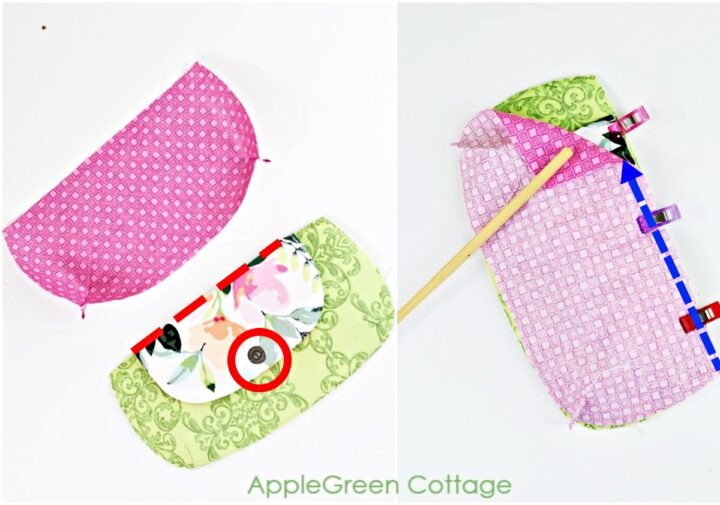 Bring the BACK pieces together:
Place the Back Outer piece right-side-up
Place the Flap on top of it, the outer side facing down (i.e. magnetic snap facing UP, visible.)
Baste the raw flap edge to the raw edge of the Back Outer.
Place the Back Lining piece on top of it, with right side facing DOWN.
Using a ¼" (0.7 cm) seam allowance, stitch the pieces together along the straight top edge. when you open the pieces, the flap will end up nicely tucked in between the outer and lining.
Step 8 - Assemble The Front Pieces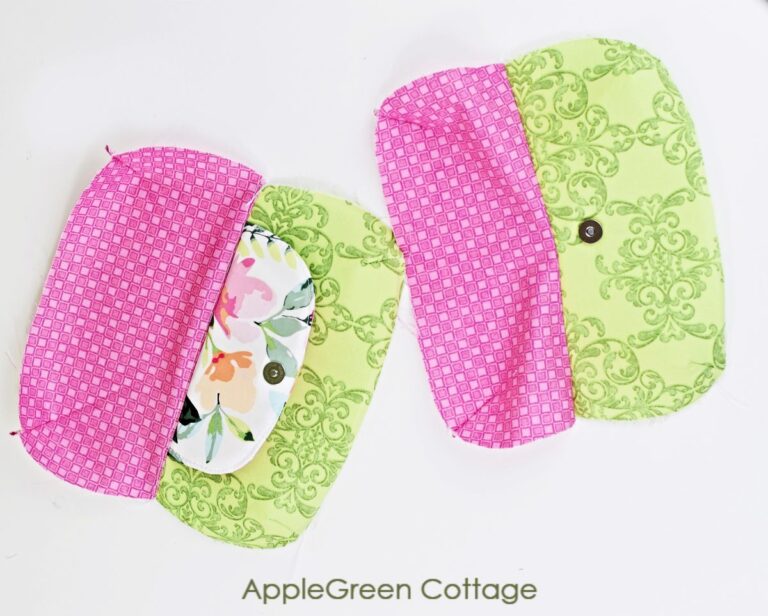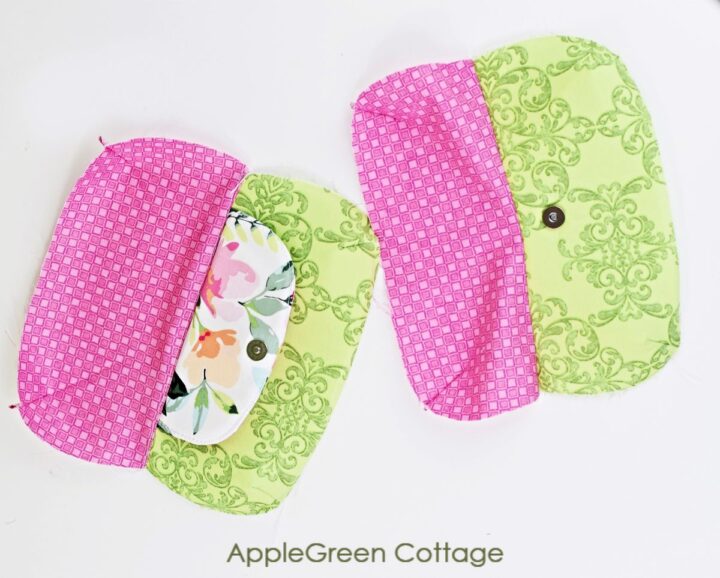 Bring the FRONT pieces together by placing the front pieces with right sides together and sewing along the top (slightly curved) edge. Like before, use a ¼" seam allowance.
Once sewn, I usually use pinking shears to notch the curved seam allowance for a neater edge. This is what you have now:
Step 9 - Join The Back And The Front Of The Diy Glasses Case
Now take the two compound pieces and place them right sides together. Make sure to align the seams perfectly, especially the ones where the lining fabric and the main fabric meet, and on darts.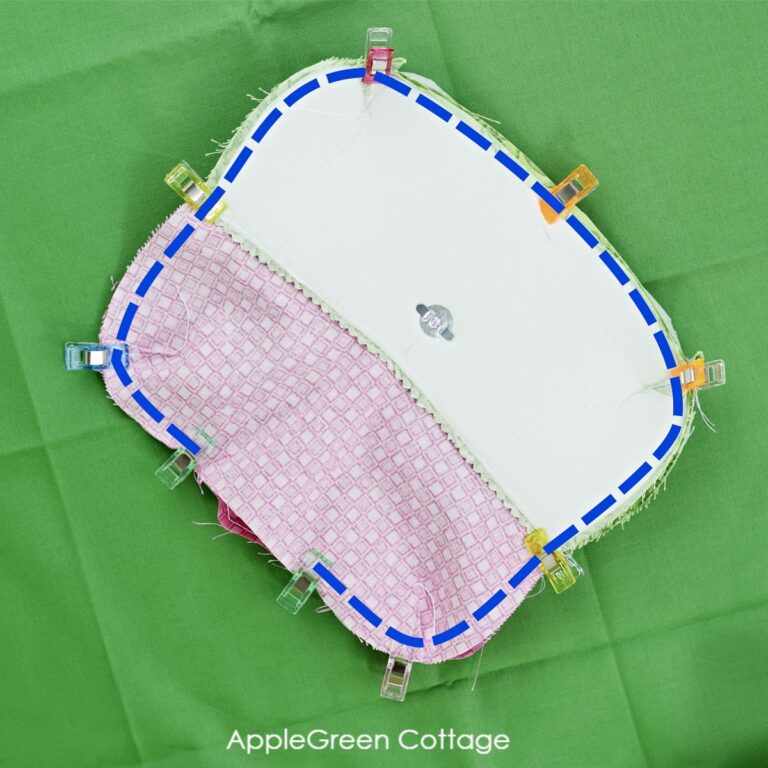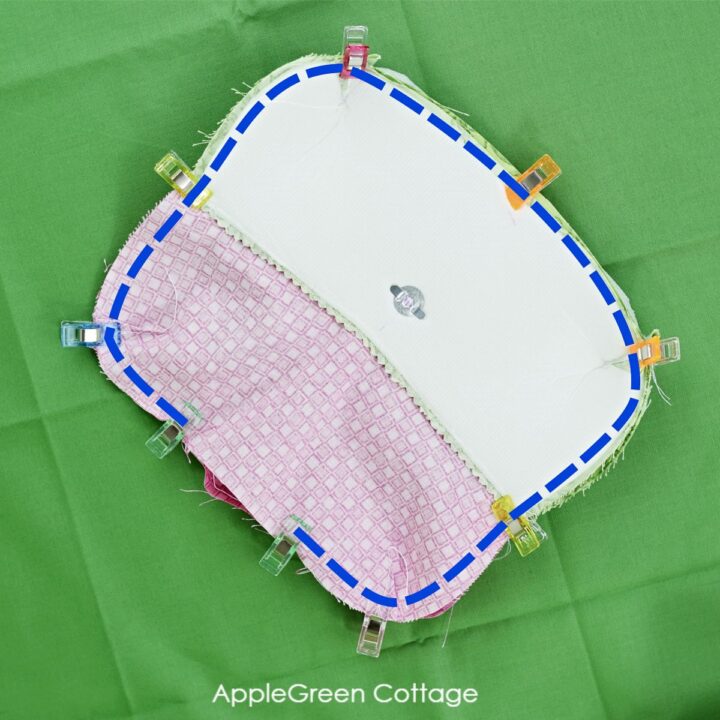 Pin in place or use sewing clips to prevent shifting, then sew around using a ¼" seam allowance, leaving a hole in the lining for turning. Also, it's good to taper the lining by a quarter of an inch. I'll explain it in a bit:
IMPORTANT - SEAM TAPERING ON LINING:
to assure a good fit of lining, use a larger seam allowance when sewing lining. The seam allowance should gradually increase from the usual ¼" where the lining meets the outer fabric to ½" at the sides and bottom.
Step 10 - Turn And Topstitch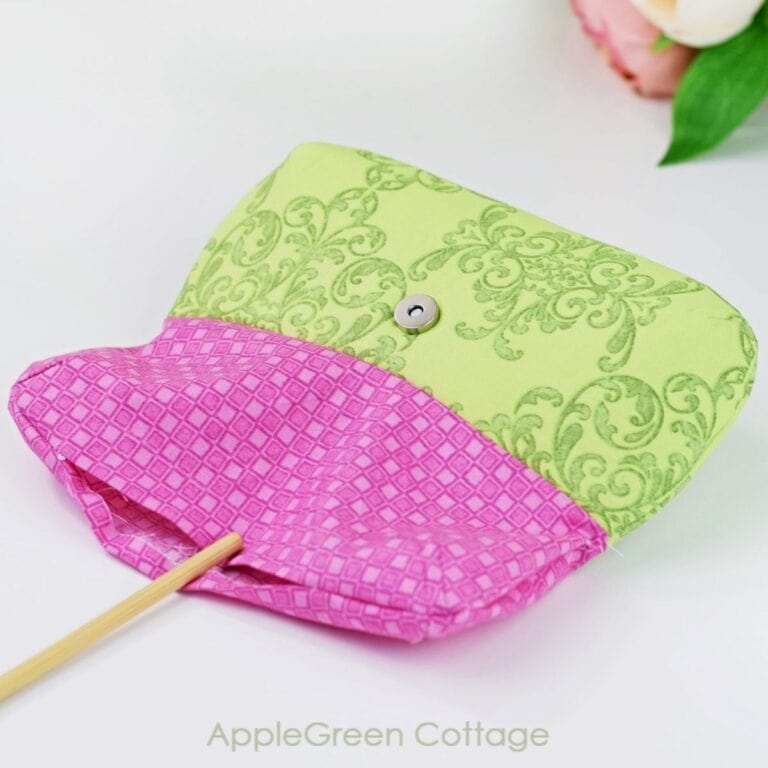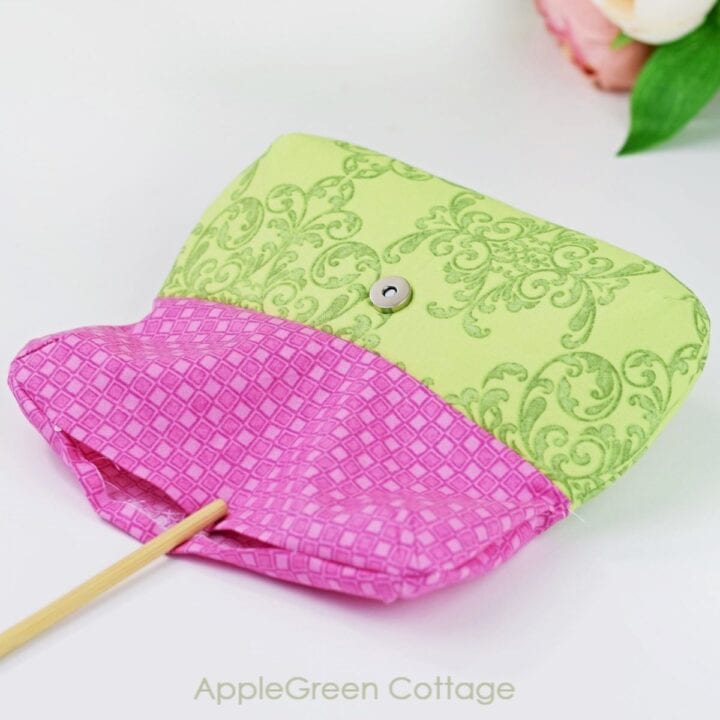 Notch and trim the fabric on the seam allowance for easier turning, then turn right side out. Press and close the opening in the lining.
Push the lining into the eyeglasses case. Press and steam the top edge well, making sure the lining is not peeking out. This will ensure a clean finish. Topstitch around the glasses case opening - a free arm will make it so much easier! (It's one of the few features I really really need on a sewing machine - check out here what else I consider must-have features of a sewing machine.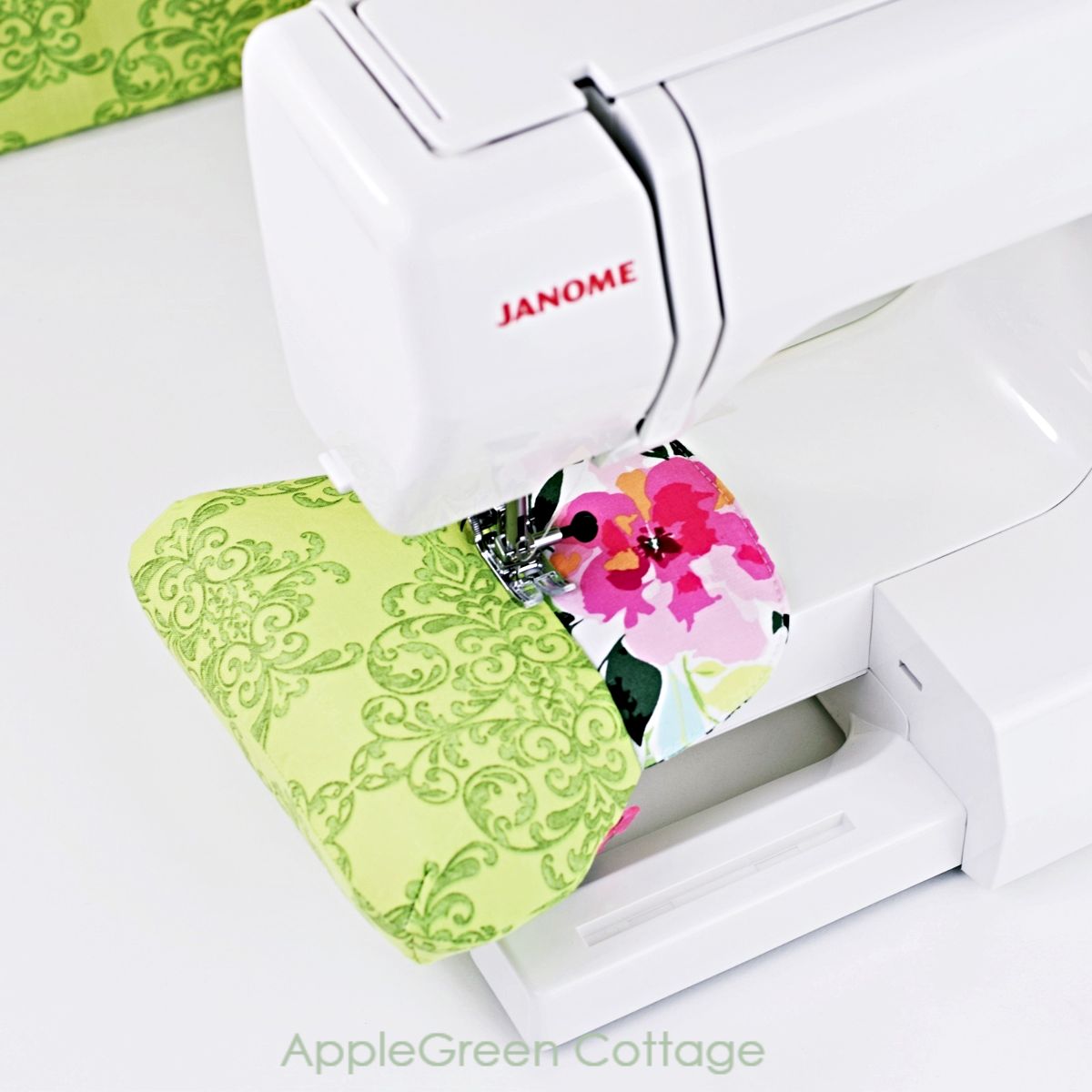 Now you've got your own beautiful eyeglasses pouch. I hope you've enjoyed the process. If you want to, check out more stuff I've got to sew, on the Free tutorials page here.
I might have gotten an idea to make an additional glasses pouch, one that will be even quicker to make. If you'd like one with an opening on the narrow edge, let me know, I've got more pretty fabric to show off, and tons of ideas for us to create together!
If you like this eyeglasses case pattern and tutorial, let me know. And save this post for later, so you've got it ready whenever you want to make a lovely eyeglasses case or two: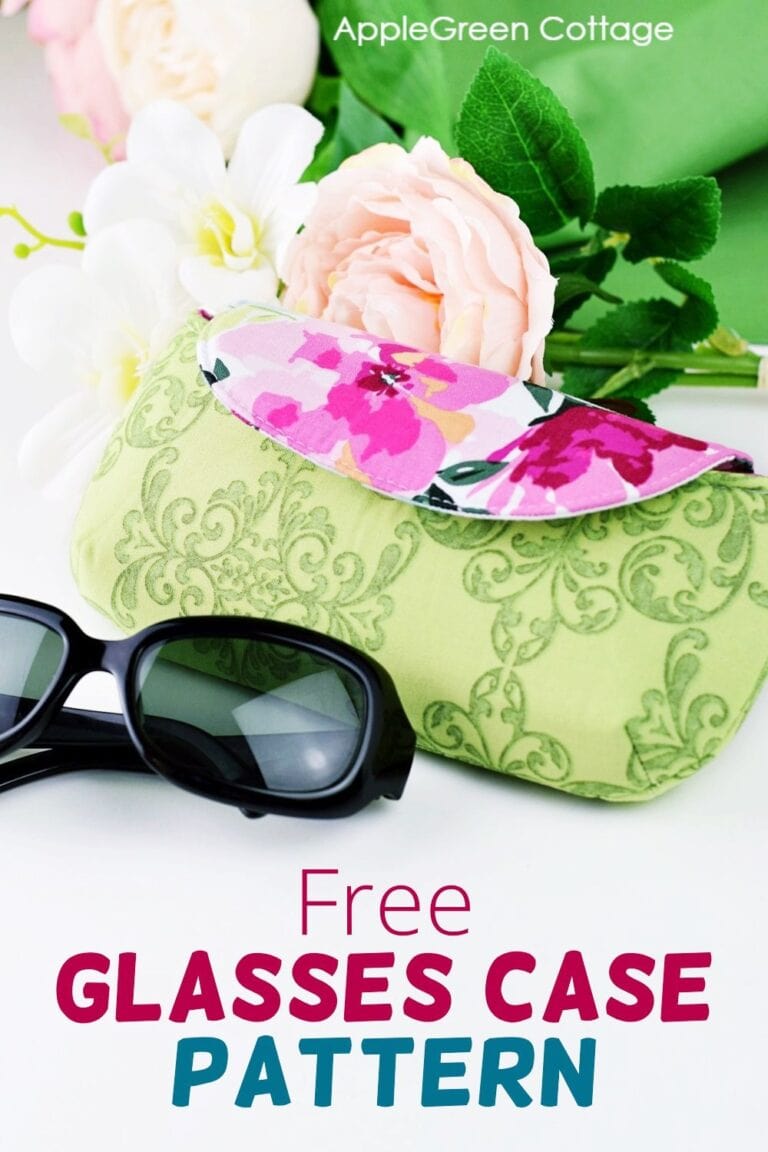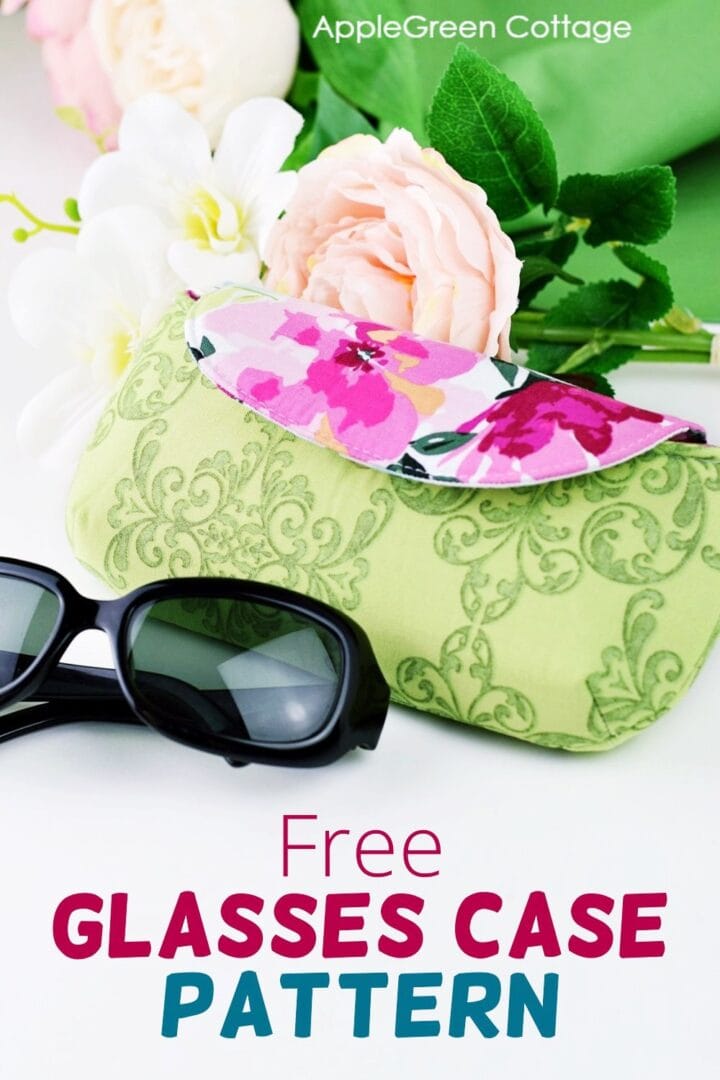 Where Is the Eyeglasses Case Pattern?
Get it for free when you join our free mailing list:
WANT A PRINTABLE COPY OF THE WHOLE TUTORIAL?
Do you want an ad-free, printable copy of this online tutorial? Find it here for just $3. You won't need to access the internet every time you want to make it. ------ Or get the BUNDLE with ALL the Printable Tutorials - current and future ones!