Sew a large diy heating pad that will cover both your shoulders and upper back, is comfortable, keeps warmth for a long time, and doesn't keep slipping off. Scroll down to see how you can get this diy heat pack pattern for free.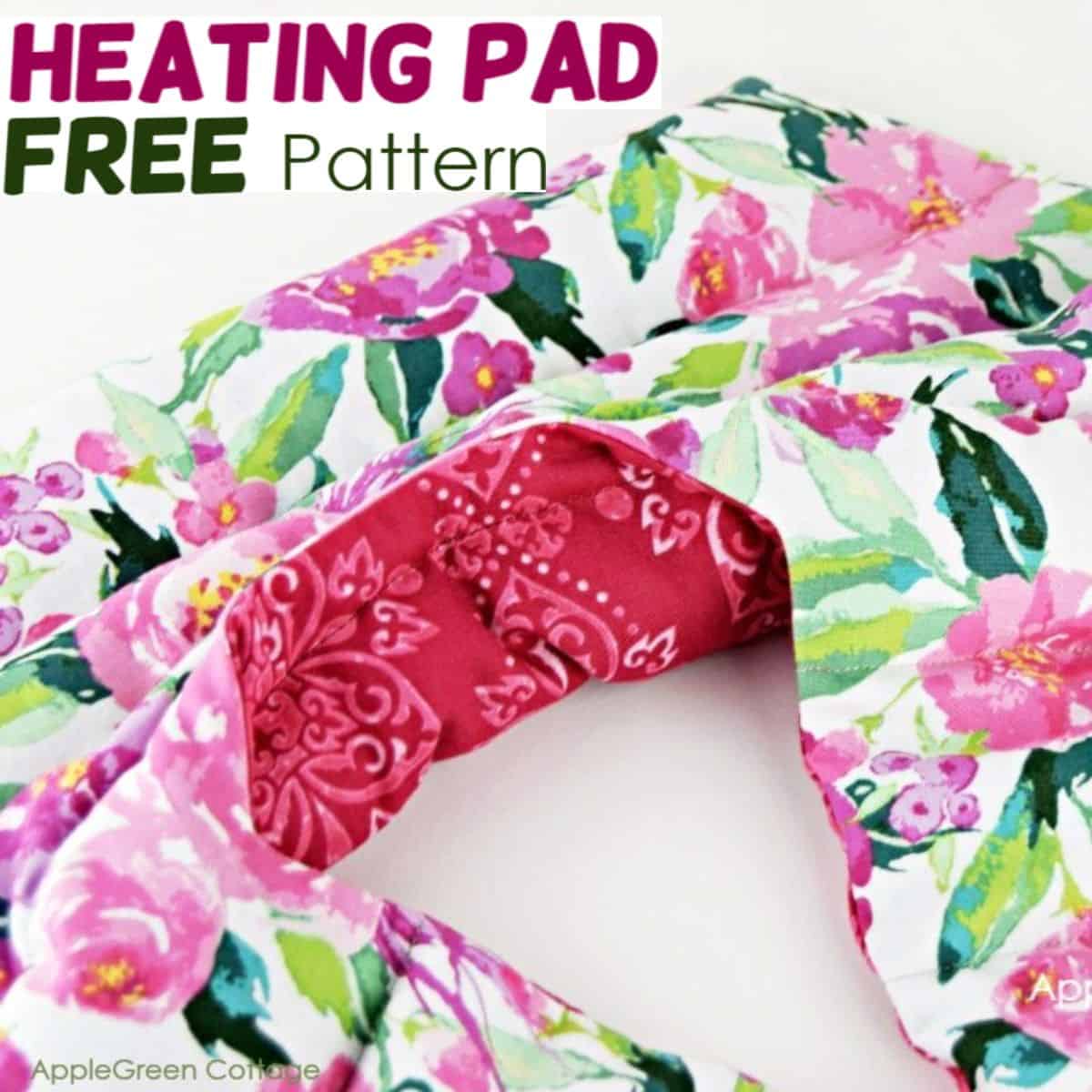 Check out more handy diy tutorials here:
Diy Heating Pad Pattern
Ever get a sore back? Or shoulders? I love this cozy, warm hot pack. It doesn't keep falling off, it holds up warmth for a long time as it's large. And it covers the entire sore area on my back - and my shoulders. All the store-bought pads were too small, and the towel I folded and heated, that one kept falling off. So I decided to make my own diy microwave heat pad. A large one, and with sleeves - take a look!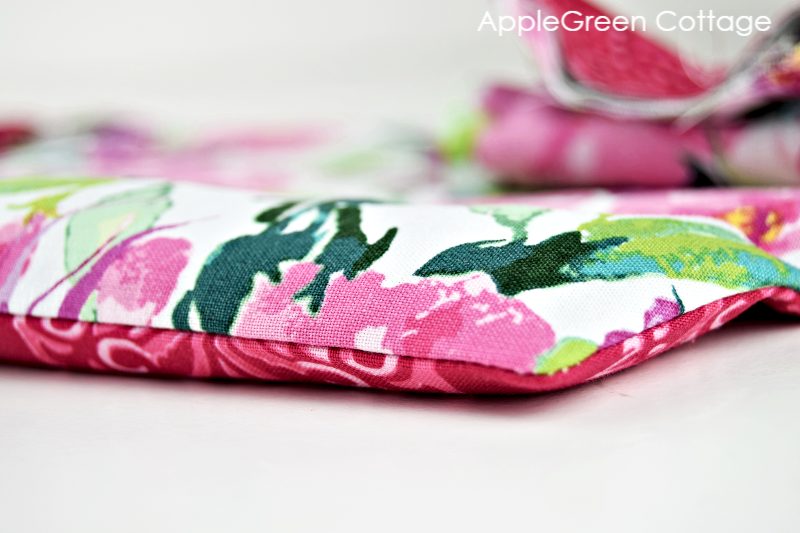 Relax with a weighted diy rice heating pad for the back and shoulders that you can sew with this heating pad pattern. Scroll down to the end of this tutorial to see how to get it for free.
But first, save this tutorial to Pinterest using THIS link or the image below, so you have it when you need it: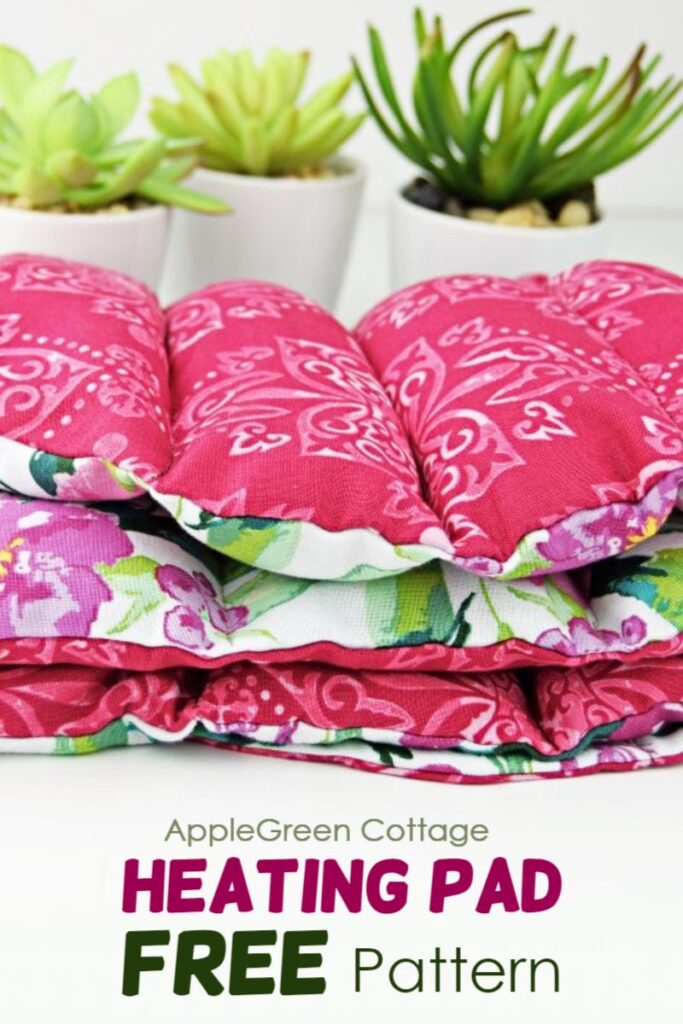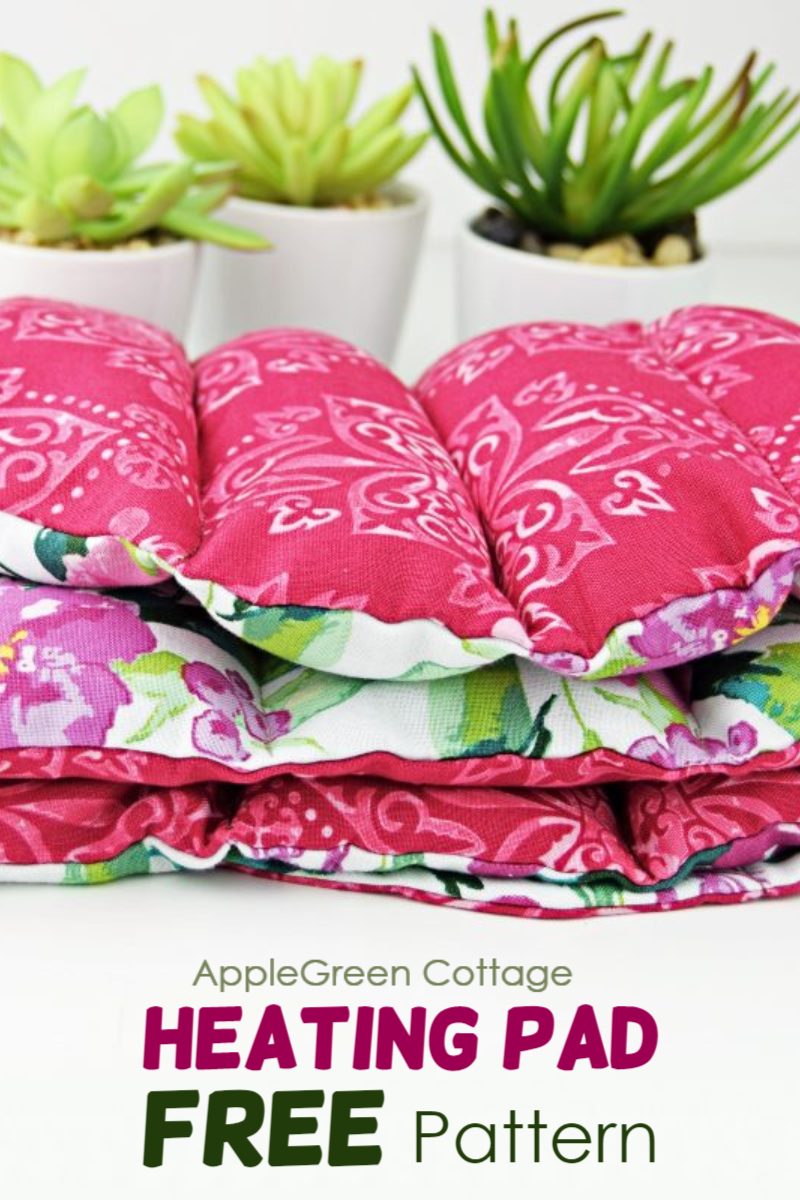 These large diy heating packs are perfect for soothing sore muscles, relieving back or shoulder pain, or just a relaxing treat after a long day. It sits nicely upon your upper back and shoulders, providing you with maximum coverage.
And I like to think I'm always able to make another one. So I stored my template online, and this is how you can use it too. As usually, I was taking photos all along the way, so you can make one for yourself too. (Scroll down to see how to get the pattern for free.)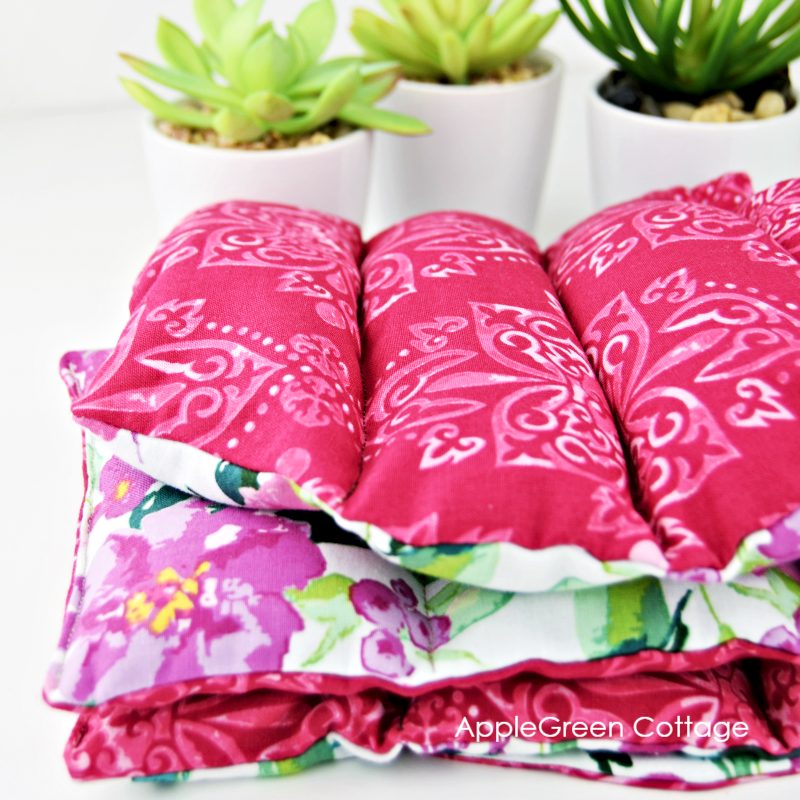 You can microwave it to use as diy microwaveable heating pads, or put them into freezer and they make awesome diy cold packs too. You can store it somewhere close by, like in this practical storage bag that will prettify any living room while providing a great hiding place for your homemade microwave rice heating pad 🙂 - do you know my Allina pattern?
The Size of the large Diy Heat Pack
The finished size of the heating pad will be approximately 17" wide, 19" tall (43cm x 48cm). The narrow stripes have a length of 10" (25cm), making sure the pack won't keep sliding off.
Supplies to sew a diy Heating Pad With Rice
cotton fabric (prewash!): 4 fat quarters or
half a yard of cotton for the inner layer (can be muslin) plus half a yard of cotton for the outer layer
dry, uncooked rice 6 cups (1.5 kg) + 2 cups of dried lavender*
A funnel
sewing machine, needle, thread, pins or sewing clips,
scissors or rotary cutter plus cutting mat
printable heating pad pattern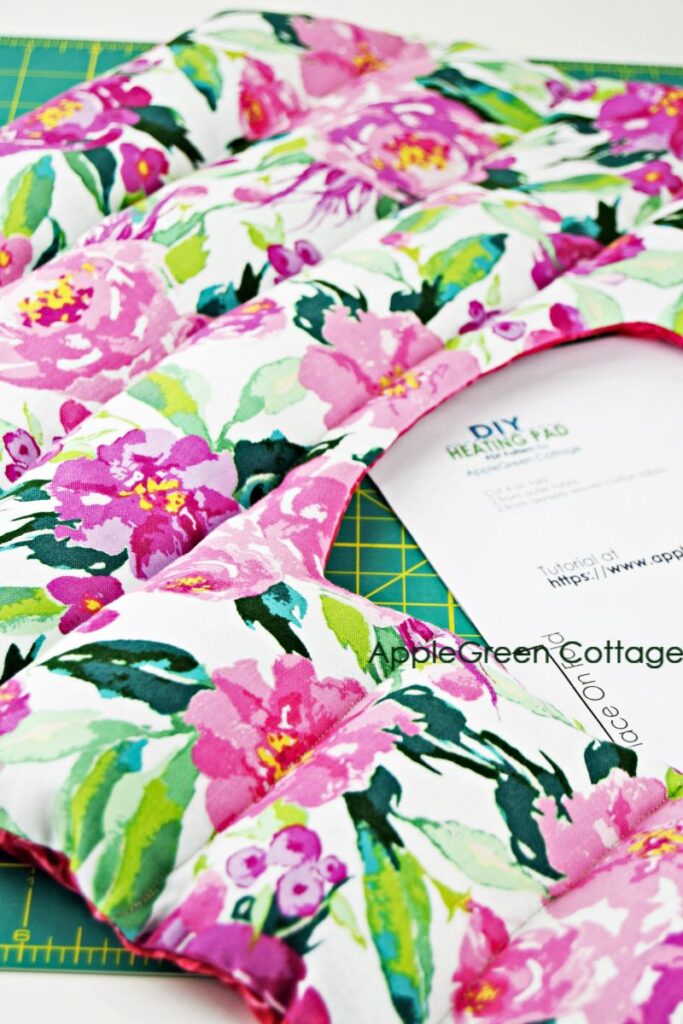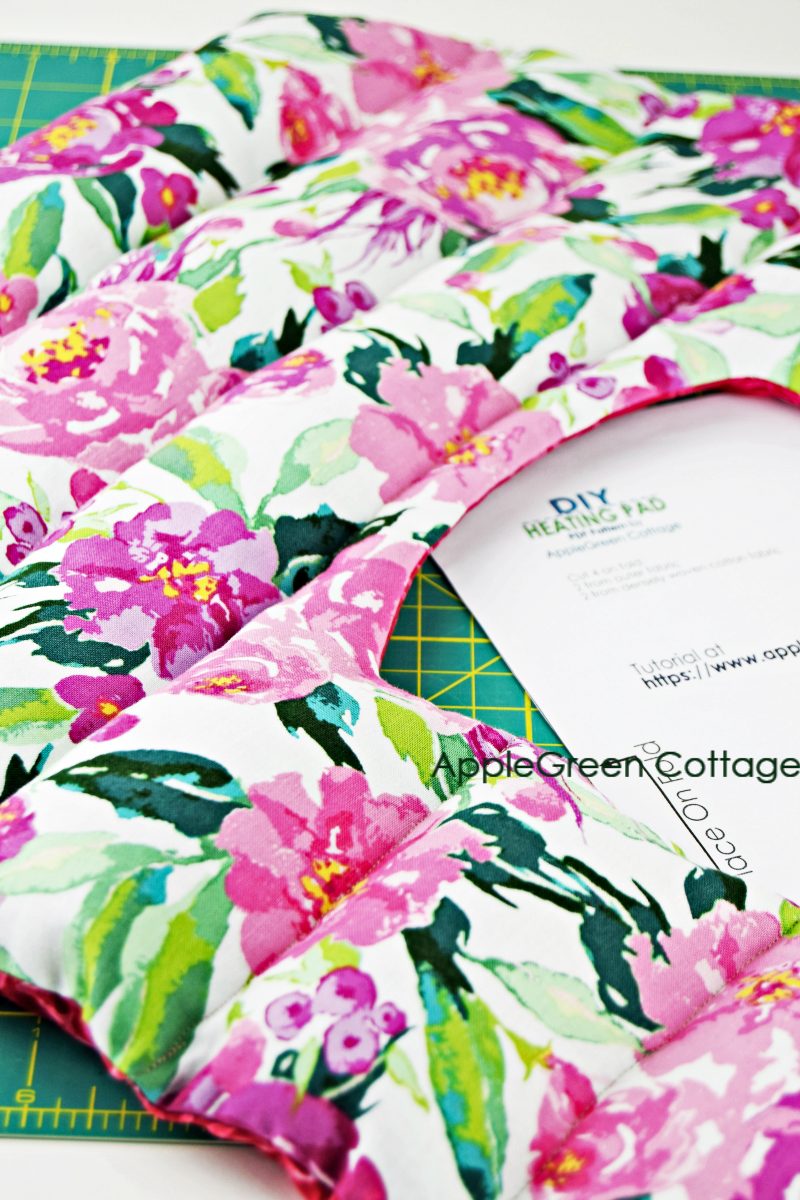 Weight of this Diy Heat Pad
*I initially added 8 cups of rice and it felt too heavy for me. This is why I suggest using up to 6 cups of rice and adding 2 cups of dried lavender or any other lightweight dry filler that can be microwaved. Increasing the number of compartments will also reduce the required amount of fill. (See Step 5) The finished diy heat pack won't be packed full. And shouldn't - read the note below.
When you add 6 cups of rice plus 2 cups of lavender, the total weight including fabric should be around 3.5 lb (1.75 kg) Cherry pits are lighter than rice, see the bottom of this post for more about other filling options for the heat pad.
Now, off to the tutorial, to see how to make a microwavable heating pad.
How To sew a diy Heat pad for back and Shoulders - Steps
Note that you'll have to prewash your fabric because this pattern does not have a removable cover. You won't be able to wash it once sewn.
Step 1 - Print the pattern and Cut the Fabric
You can join our mailing list and get the pattern emailed to you:
This heating pad will be sewn with 2 layers of cotton since it's large and I wanted to prevent any rice from finding a way out.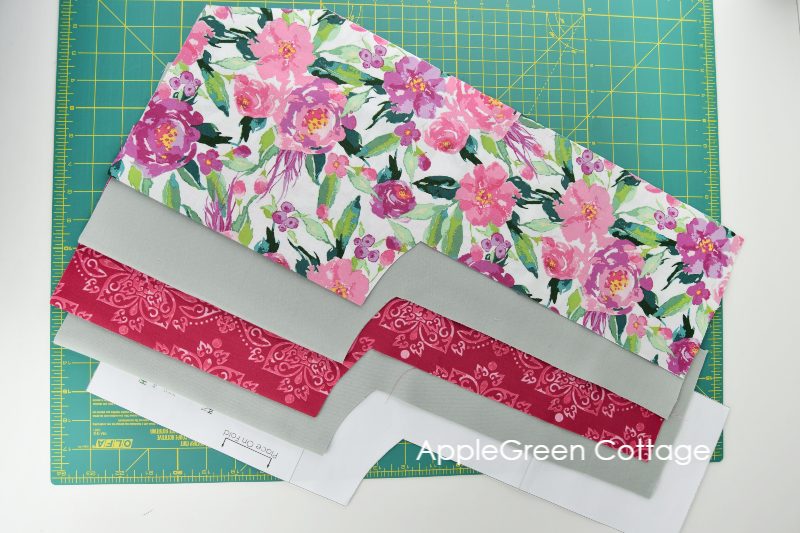 Using the pattern, cut 4 pieces:
2 from whatever cotton you have (won't be visible, can be muslin)
2 from outer fabric (can be quilting cotton, can be 2 different ones, I used the beautiful Hampton Garden collection by Lila Tueller) I figured my eyes deserve some pampering too 🙂
Step 2 - Stack The 4 Pieces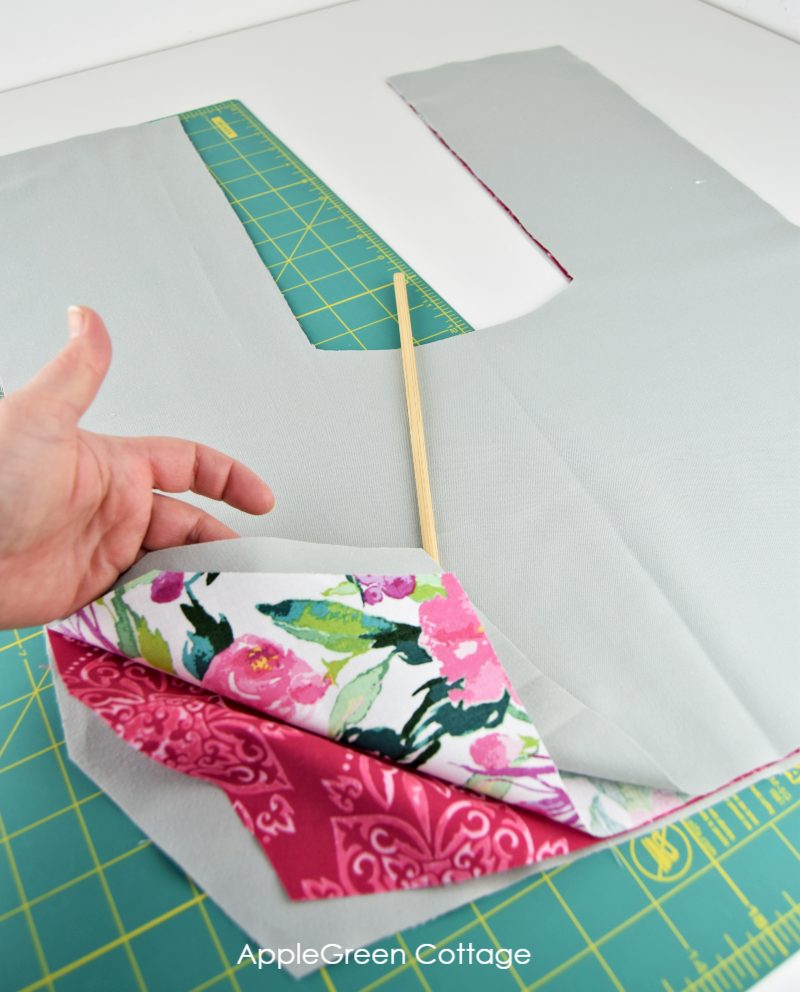 Place the pieces on a flat surface in this order:
inner layer
outer fabric right side facing up
outer fabric facing right side down
inner layer
Pin or attach sewing clips. It doesn't really matter which side the inner layers are facing, they won't be visible.
Step 3 - Sewing Step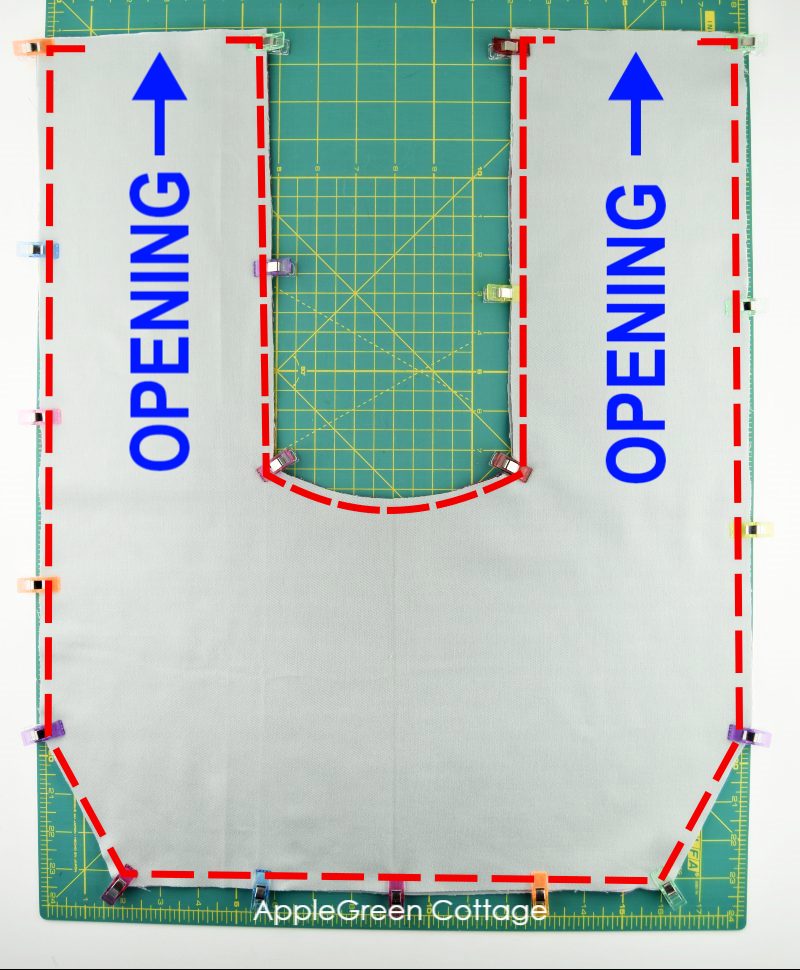 Stitch around with a ⅜" (1 cm) seam allowance, leaving 4 inches (10 cm) openings on each short end. Use a strong seam: either stitch twice or use a triple seam.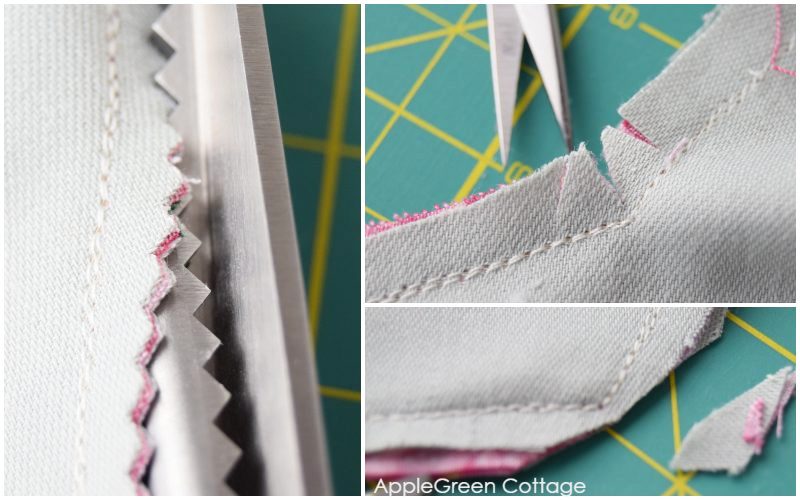 Trim the seam allowance, clip the curves, and notch the corners in the seam allowance, for easier turning.
Step 4 - Turn right side out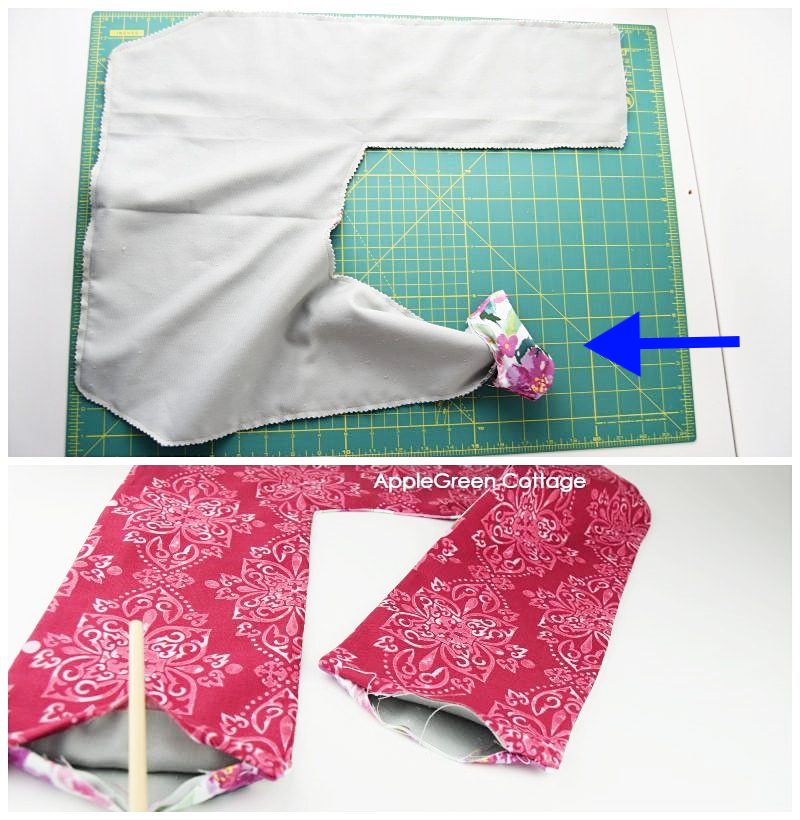 Turn right sides out by pushing all the fabric through ONE opening only. (Don't try to turn one side through one hole, and the other side through the other hole. It won't work.) Push the tips out using a point turner tool or another non-sharp object like a knitting needle. Don't use anything sharp since it might make holes in your fabric. Also, now's the time to press.
Step 5 - Fill and Sew the 'wide', bottom area
In short, here you'll start filling the mixture into the pouch, making compartments along the way.
Since this heat pack is large, you need to divide it into several compartments to keep the filling in place. You'll sew them one by one, each time adding just a portion of rice using a funnel, and then 'sealing' it using your sewing machine.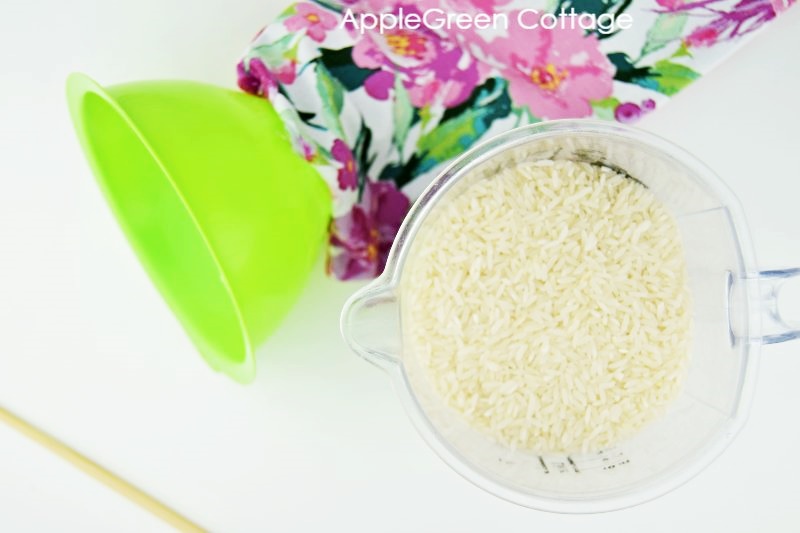 Start by pouring approximately ¾ cup of the filling through one of the openings at the top.
Then make sure the mixture is spread evenly across the bottom (pull up and shake a little.) Move the rice away and sew your first 'compartment' seam.
How wide apart do the stitching lines need to be?
I sewed cca 3 inches (7 cm) apart, using my seam guide at the beginning and eyeballing the distance later, but I suggest you make your seams closer to 2-inch intervals. The more compartments you make, the more even the distribution of rice. Don't go narrower than 2 inch (5 cm).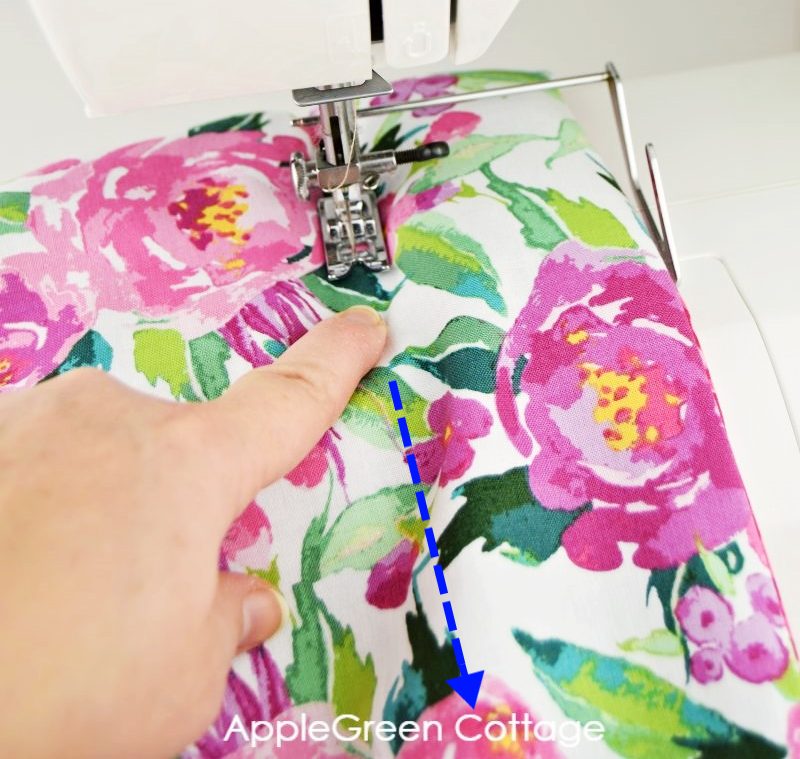 I planned to use my seam guide but then later just eyeballed a 2 to 3-inch (5-7 cm) distance between the seams. You can, of course, draw lines using a chalk marker, but small differences won't affect the functionality.
This is an optional divider-pocket distribution. I made fewer compartments, but this would be optimal: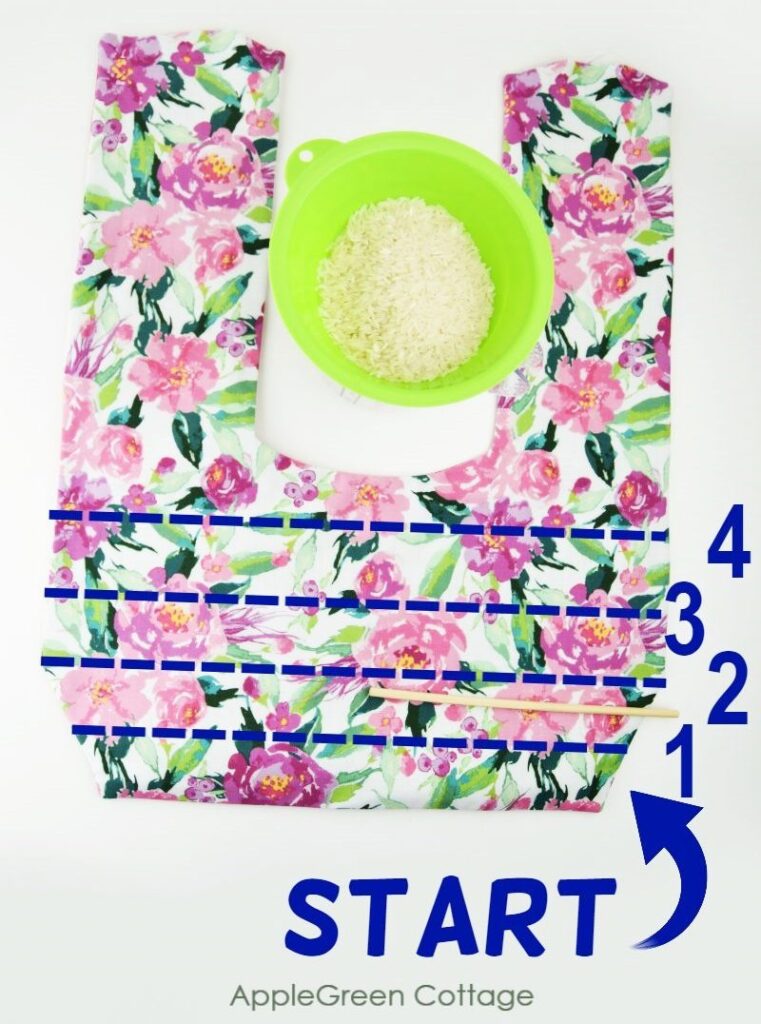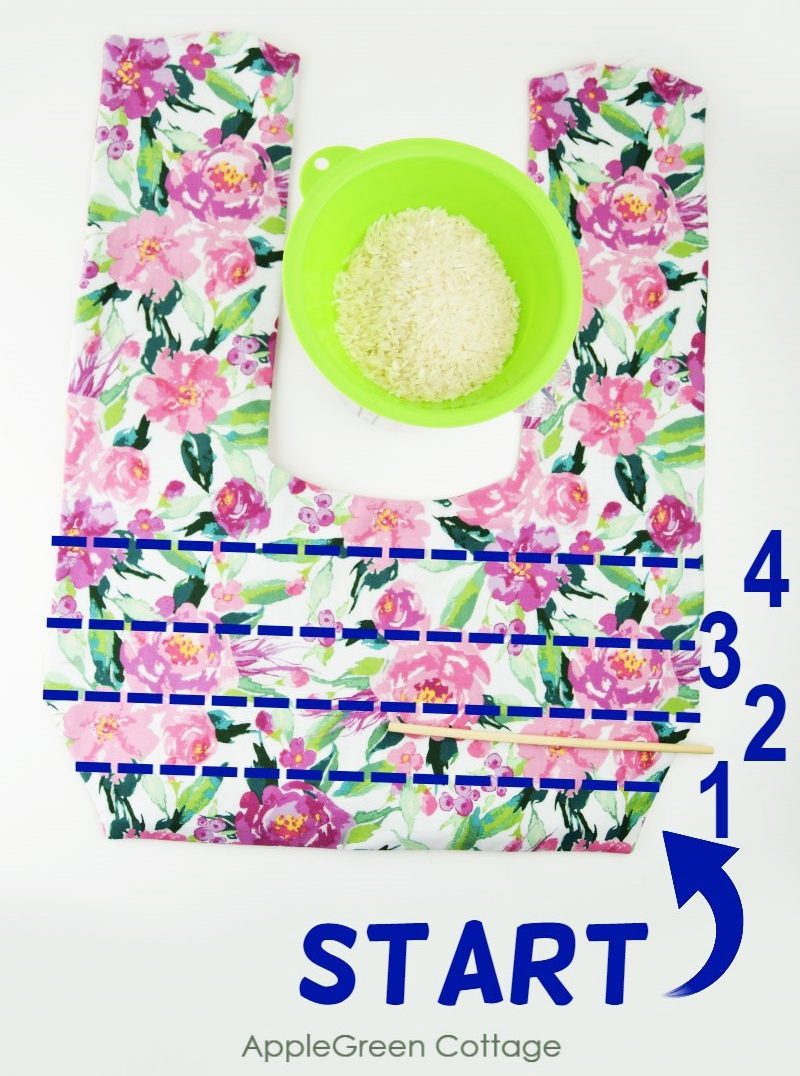 Tips: Prevent getting rice under your sewing foot
When sewing, take care to move all rice and lavender bits out of the way, to prevent breaking the needle. Feel free to use pins to move the rice away before sewing, like here: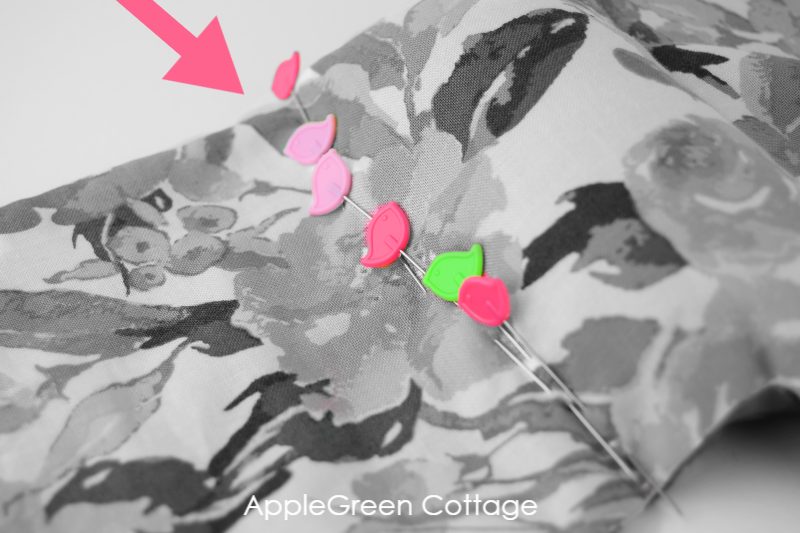 Continue sewing, each time adding another ¾ cup of rice then stitch the area closed - repeat for all the 'wide' pockets. You can use a bit less rice for the top one (fifth one counted from the bottom). The pockets won't appear full, and also, shouldn't.
STEP 6 - FILL AND SEW THE NARROW SLEEVES of The Diy Rice Heating Pad
Slowly work your way towards the top of the heating pad on one side only, till you get to the top on one side. In the narrow sleeve area, you'll only add half a cup of mixture per compartment.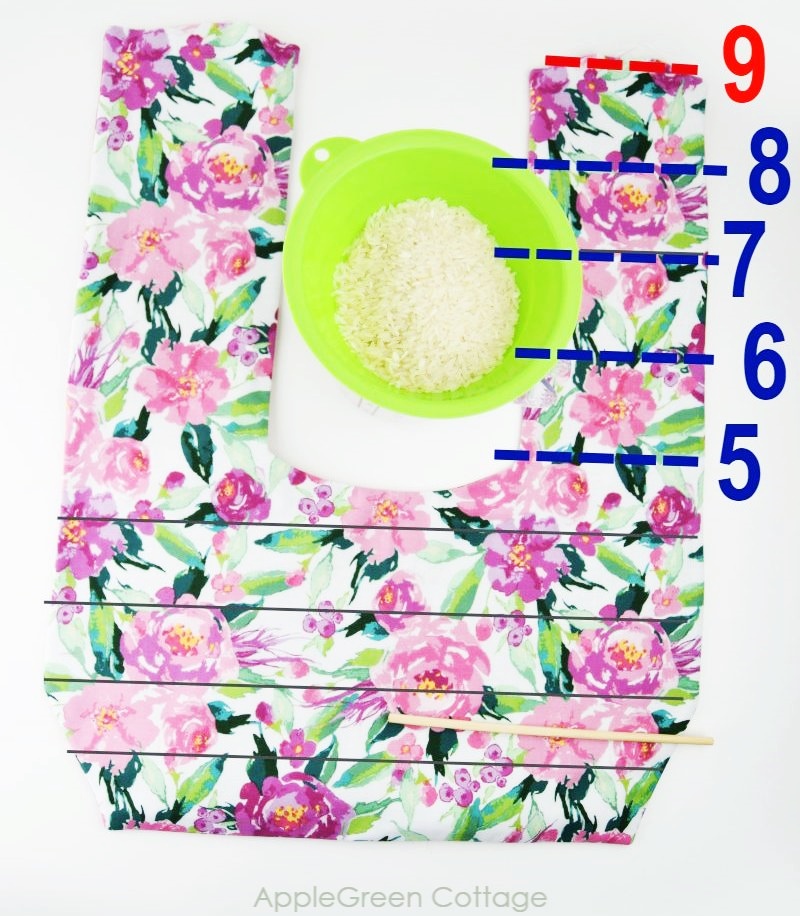 Step 6 - Top Seam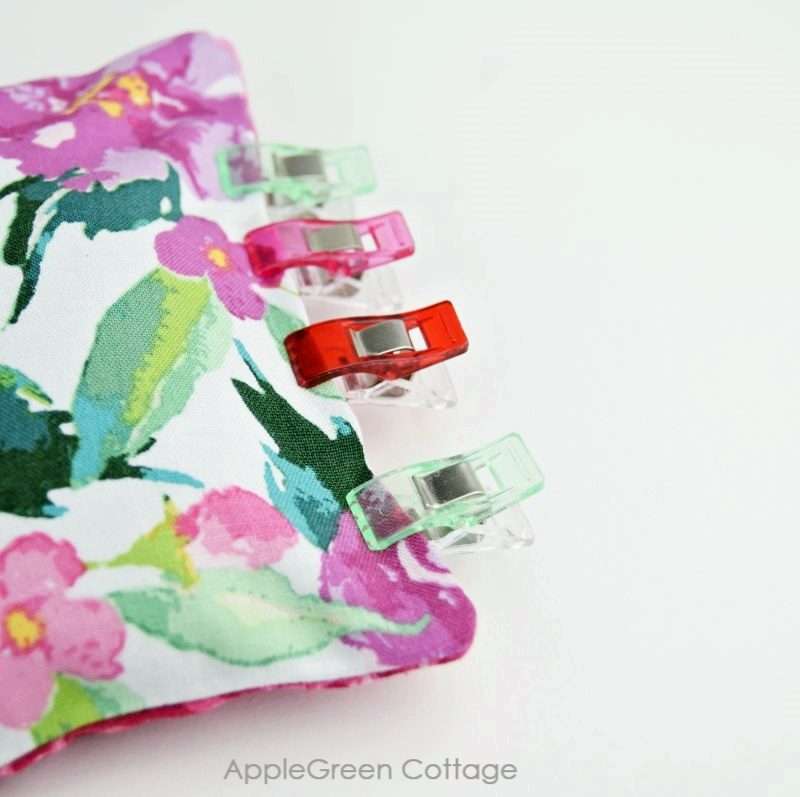 When you get to the top, stitch the top opening by top-stitching twice close to the edge: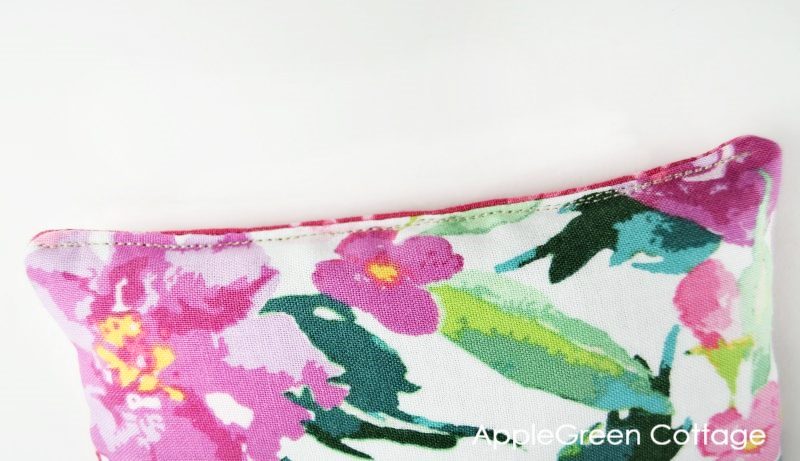 Repeat with the other narrow sleeve and you're done.
ADDITIONAL TIPS
How To Use the Homemade Rice Heating Pads
To use warm, place on a clean, dry plate and microwave for 1 minute. Depending on your microwave wattage, then again for another minute or two if needed. I never use more than one-minute increments, usually, 2 minutes are enough. I never heat more than 3 times a minute (total 3 minutes) - you don't want the smell of burnt rice.
Also, a reader has just shared a clever idea with me. It's about preventing the rice from burning: you can place a coffee mug half full of water together with the heating pad in the microwave. Rice won't burn and the steam penetrates the pack, giving you moist heat which is always better than dry heat. Thank you, Barbara!
What filling can you put in a homemade heating pad?
See, a homemade heating pad with rice is not the only option: you can make your own diy microwave heating pad with a number of different organic fillings. Options include:
clay beads
flax seeds
cherry pits
walnut shells
whole corn
wheat, and more.
You can even add a few drops of your favorite essential oil to your filling, I'd choose lavender essential oil. These pillows are a nice gift idea for your loved ones and of course for yourself.
How Much filling for this Large diy rice heating pad?
PLS NOTE: This rice heating pad is not meant to be super full, as it would make it, firstly, too heavy, and secondly, too difficult to sew. The compartments will only be filled between ½ and ¾, and this makes it comfortable. It will also enable it to fold properly and fit easily into the microwave.
Fill this large diy heating pad with no more than 6 cups of rice due to weight, and some light filler like lavender. I initially added 8 cups (1.8 kg) of rice and it felt too heavy for me (though yes you can buy similar back heat pads in shops with a weight exceeding 4 lb as well). This is why I recommend mixing rice with a few cups of lavender - your diy microwave heat pad will be fuller - yet not too heavy. Lavender is lightweight and with its beautiful scent, it brings this project up a notch. Scented heat pad, sewn with a beautiful print, the best combo!
If you enjoyed this tutorial, share it, like it, or tell your friends about it. Or save the project to Pinterest so you can use the tutorial any time you feel like: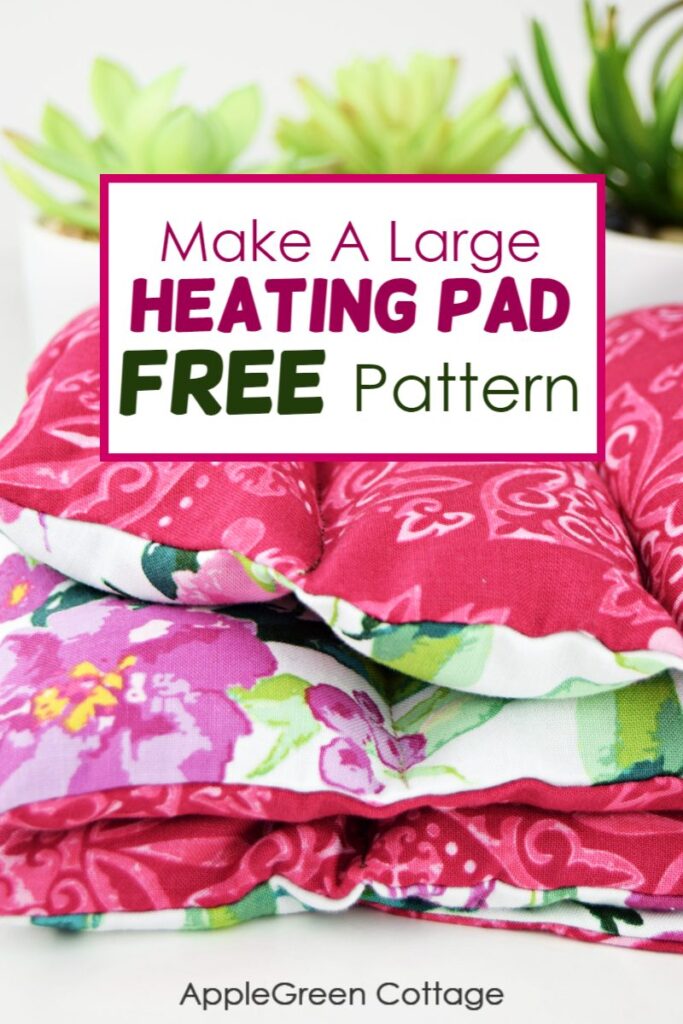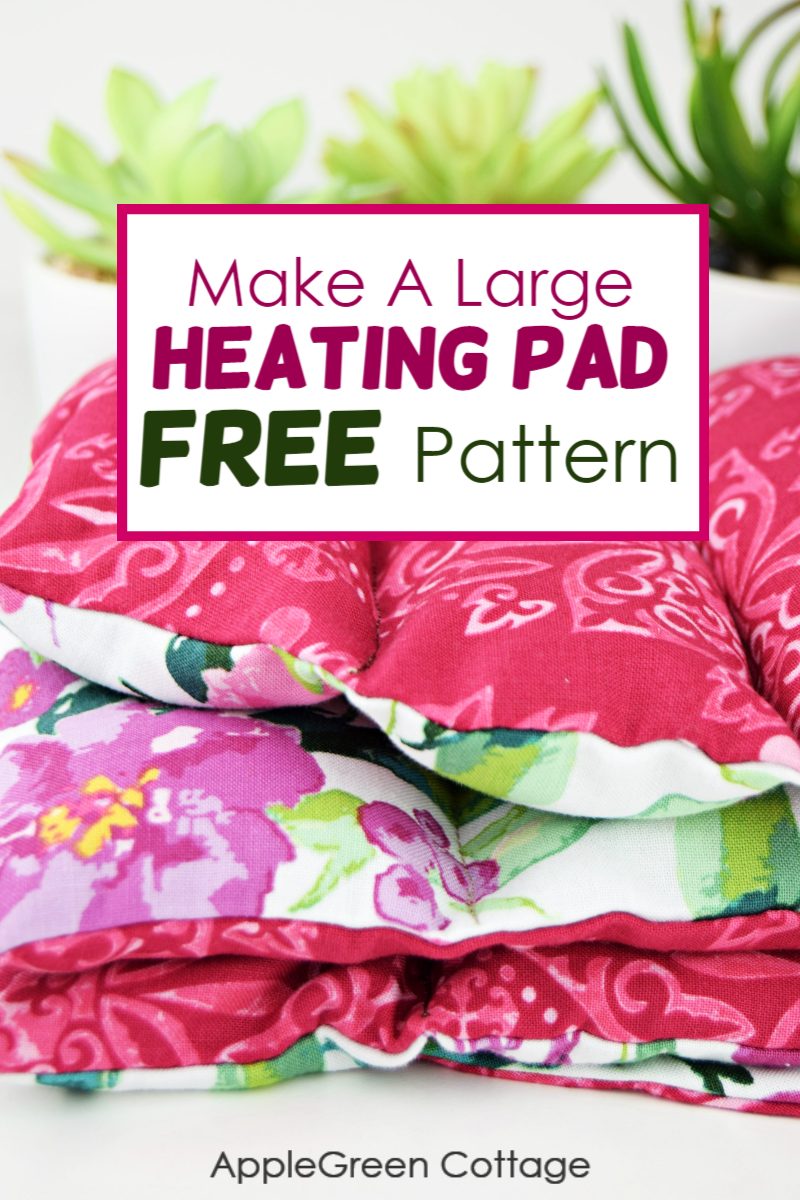 HOW DO I GET THE heat paCK PATTERN FOR FREE?
Join our mailing list and get the pattern emailed to you:
Or …check out the NEA Small Crossbody Bag pattern in our shop. This bag skyrocketed to the top of our best-sellers in less than a week after it was released: