Super practical and cute! Sew an easy diy jewelry organizer using my latest pattern that's free for all newsletter subscribers. No more searching for your earrings and a matching necklace - and no more tangled mess!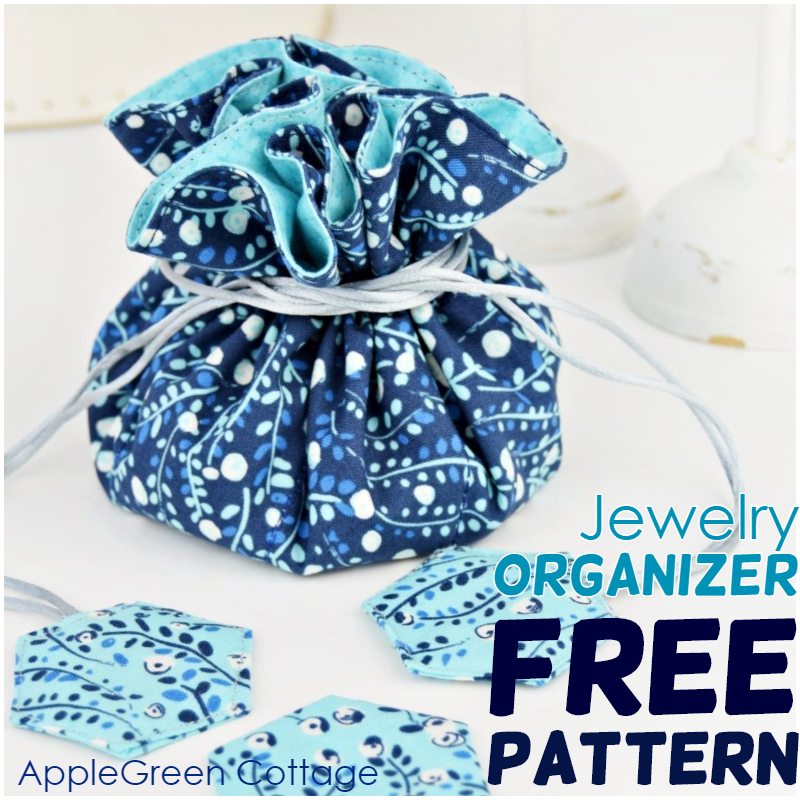 This post may contain affiliate links. thanks for your support. If you like diy organizing, you'll love these free patterns, too:
Diy Jewelry organizer
I have a confession to make: I hardly ever take my jewelry with me on vacation. Why? Because I always get a tangled mess trying to keep them in my old cosmetic pouch. While I have a pretty much well-working solution for necklace storage in my home (THIS super simple necklace hanger - works perfectly!), I honestly needed a sound travel-proof jewelry storage solution.
Now I'm showing off what I made, and showing you how to make a diy jewelry organizer. You know, just in case you need one. Or know someone who'd need one.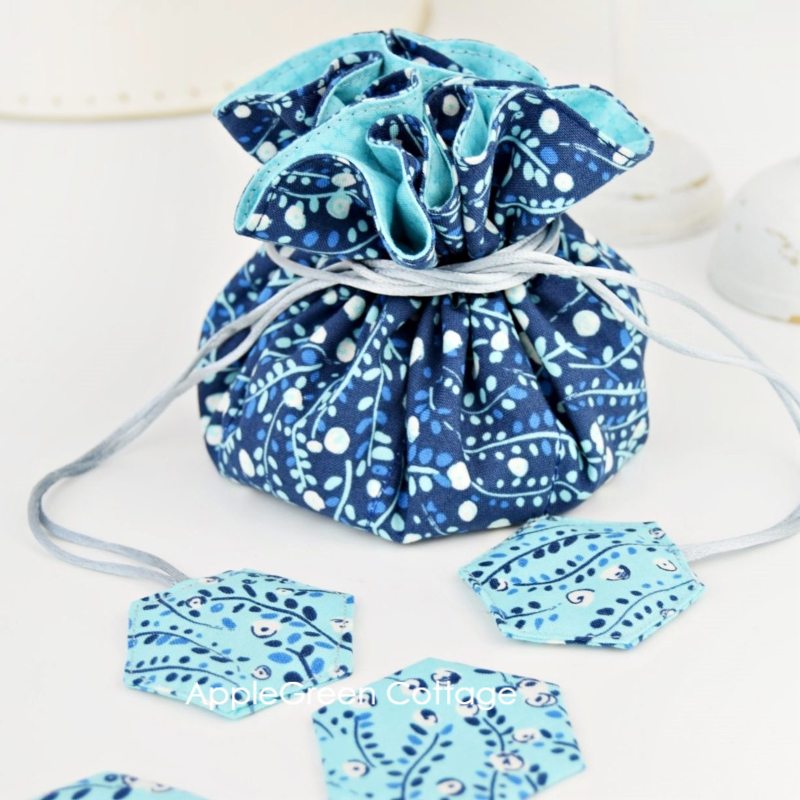 Now back to sewing your diy jewelry organizer. It makes a perfect jewelry storage pouch for travel. The pattern is available in the SHOP - but wait! All my newsletter subscribers can get it for free with 100%-off code! (new subscribers can join here, existing subscribers: see my latest newsletter) Read on to find out more.
CURRENT SUBSCRIBERS: Your 100% DISCOUNT CODE is in my latest newsletter - visit the SHOP (here), add to cart and apply it in 'View Cart' before checkout.
How To make a Jewelry Organizer
You only need two fat quarters of fabric, and 2 yards of cord. I used these colorful prints from the Sweet Honey Kisses collection I got from Riley Blake Designs (thank you!) and added matching aqua fabric from their Kisses and Confetti Cotton collections. Super happy about how it turned out!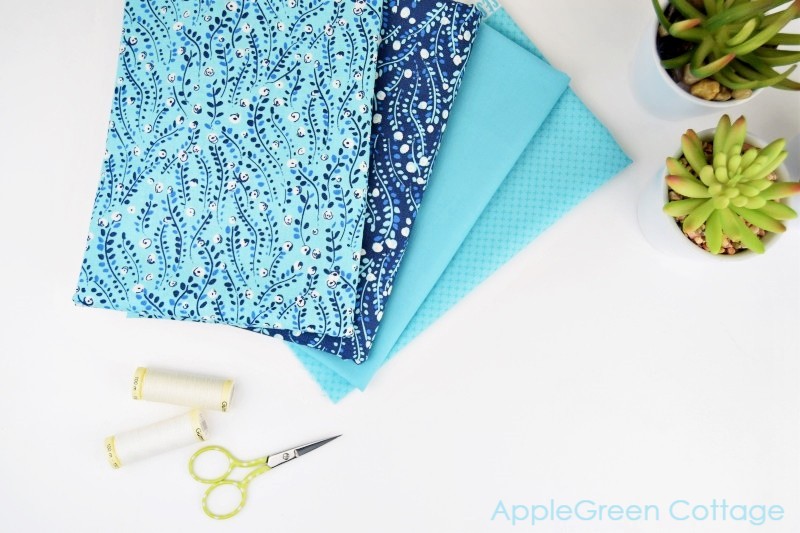 Features
a padded center storage area to stash larger pieces of jewelry, such as watches and bracelets,
eight inner pockets provide convenient storage for rings and smaller items
the satin cord cinches the top closed and prevents tangling
cuteness factor plus easier closure: hexie pulls!
Finished Size of the jewelry Holder
What I also love about this diy jewelry holder is the size. So handy - it's something like a 5" ball, you can safely throw it into your purse and carry anywhere with you!
Finished size: closed 5" x 5" x 6" (13 x 13 x 15 cm), open flat: 12" (30cm)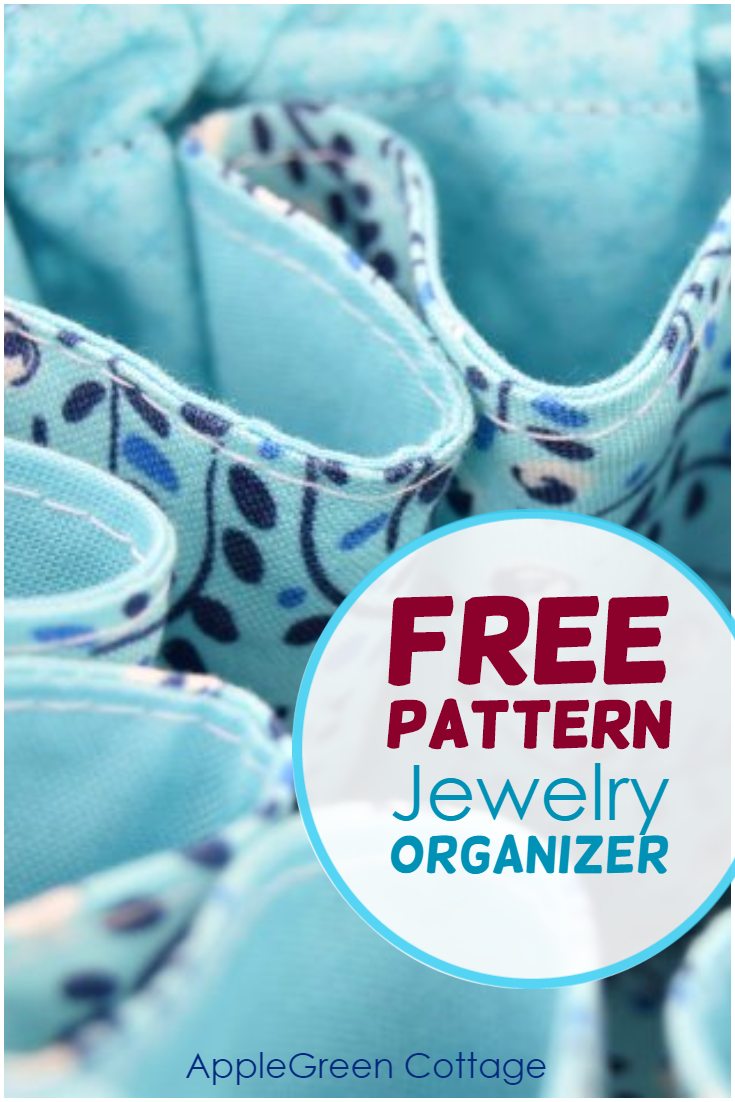 But first, I'd like to mention that this pattern has been tested by my trusted pattern testers, so make sure to check out their beautiful jewelry organizers too - their photos are in the shop.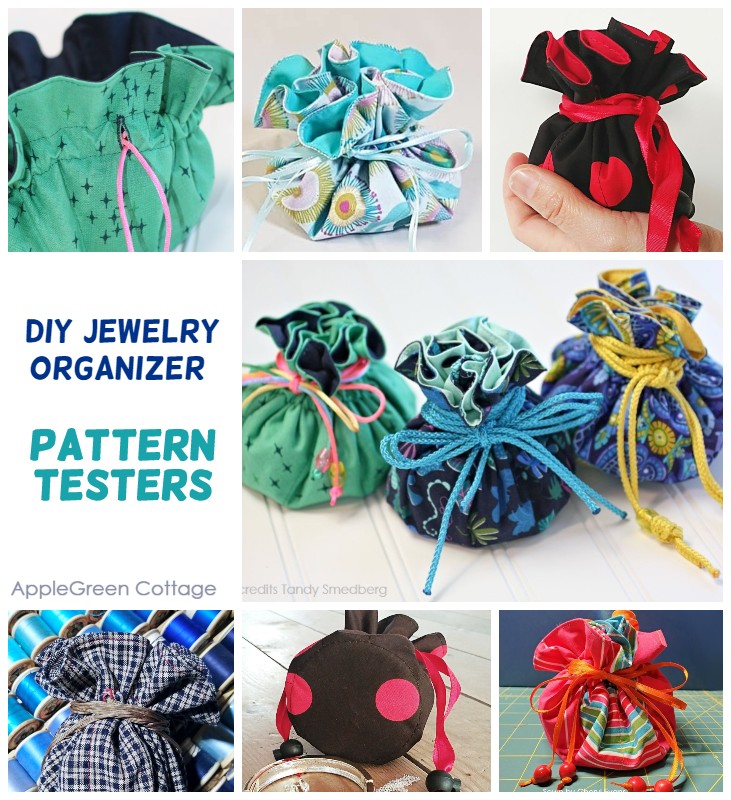 Now, let me give you a full supplies list so you've got everything ready to start:
Supplies
two fat quarters of quilting fabric (I used prints from the Sweet Honey Kisses collection)
a 3" scrap piece of fusible fleece
2.2 yards or 2 meters of ⅛"-width (3mm) satin cording
sewing machine or needle, pins or sewing clips,
iron, scissors, or rotary cutter plus cutting mat (I use this one by Olfa)
the free template that's available to all my newsletter subscribers with an exclusive password you get once you've confirmed your subscription (new subscribers: JOIN here, existing subscribers: enter SHOP here and use 100%off coupon from my latest newsletter)
CURRENT SUBSCRIBERS: Your 100% DISCOUNT CODE is in my latest newsletter - visit the SHOP (here), add to cart and apply it in 'View Cart' before checkout.
DIY JEWELRY ORGANIZER sewing steps
step 1 - print the pattern and Cut The Fabric
See above how to get the pattern, print it out at no scaling (=100% size) and tape the paper pieces where necessary. Then cut out the fabric pieces:
2 large circles (Pattern Piece #1)
2 smaller circles (Pattern Piece #2)
1 piece of fusible fleece (Pattern Piece #3)
4 squares the size of 3" (7.5 cm) for hexies (optional, no pattern piece)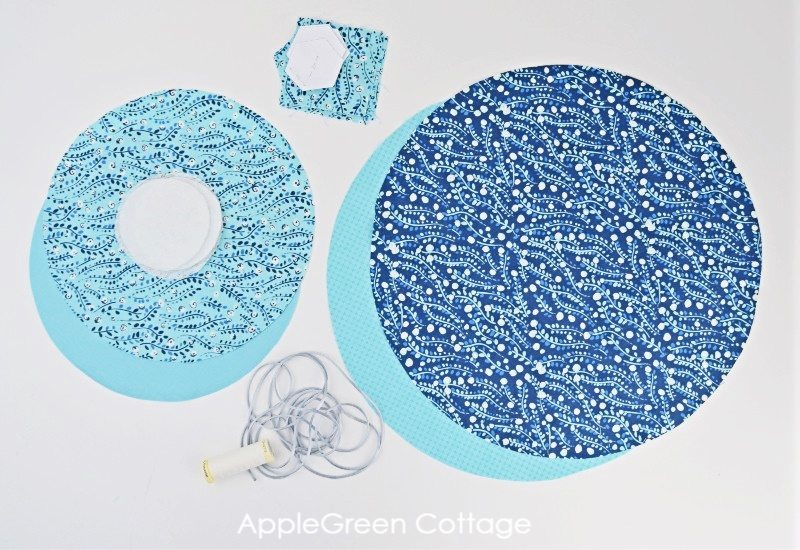 Step 2 - Make 2 buttonholes
Once you've cut out the 2 large circle pieces (from pattern piece #1), grab the one that's planned to become the outer and make 2 buttonholes on opposite sides of the circle, each the size of half an inch, and placed between 1 ¾" and 2 ¼" (4.5 and 5.7cm) away from the outer edge. See image below: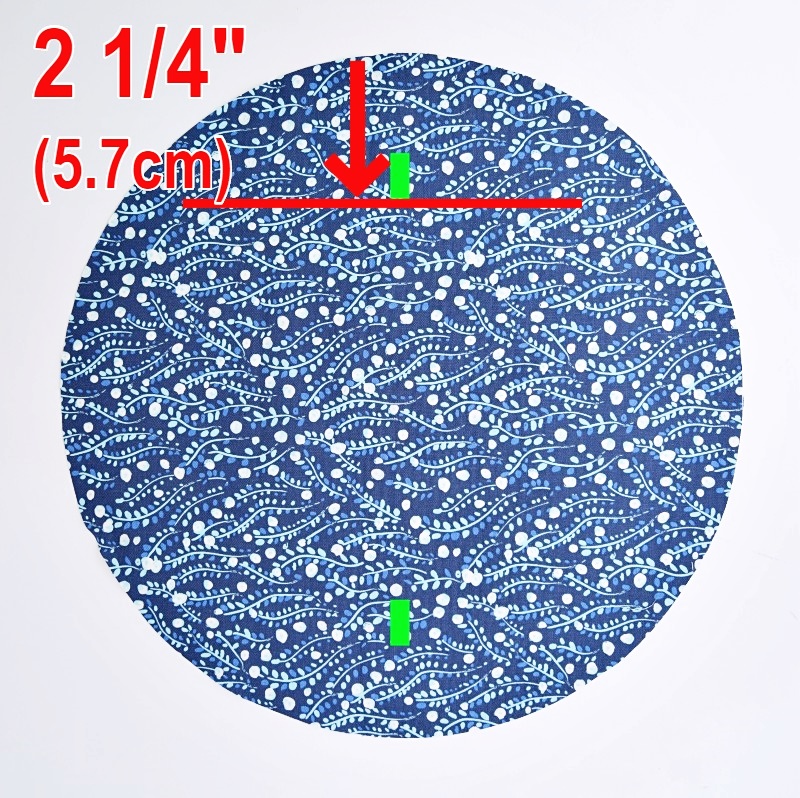 Use a buttonhole foot if you have one, it makes it so easy to sew buttonholes! Also, a useful tip: when you've finished sewing the buttonhole and you're ready to cut the slit using your seam ripper, place a pin to the spot where the slit should end - this way, you won't cut too far! See photo below: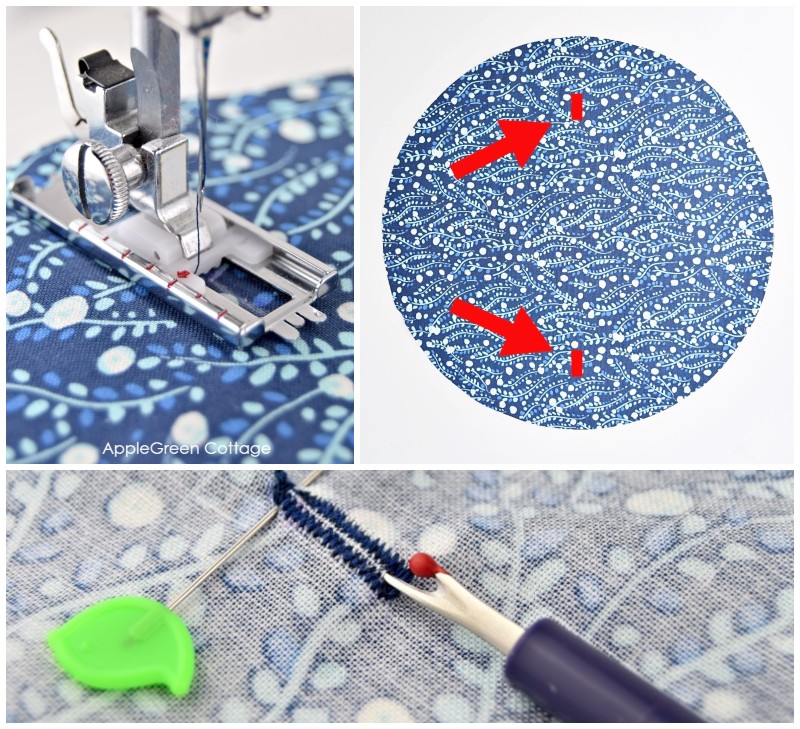 BONUS TIP: Alternative To Buttonholes
If you aren't a fan of sewing buttonholes you'll love what Ulrike (find her on Etsy here) suggested when pattern testing: use 2 grommets instead - here's how to add grommets the easy way. Eyelets are an option too.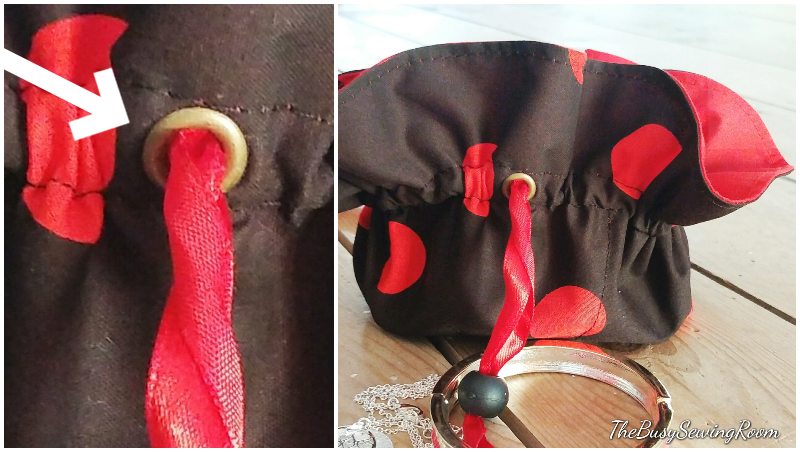 Please note:
before starting, fuse a 1" square piece of strong interfacing on the back side of the fabric where a grommet or an eyelet will be installed
grommet's or eyelet's outer diameter must be a bit smaller than ½", or it won't fit into the channel.
Caution when sewing: make sure the needle never runs into the grommet/eyelet, or it will break!
Step 3 - sew the large piece
We're still with pattern piece #1 - Now it's time to stitch the two large circles together: Place the two large circle pieces RST and stitch around using a ¼" (7mm) seam allowance and make sure to leave a 2" (5cm) gap for turning. The arrows in the photo below show where the two buttonholes are placed. (SAME POSITION FOR EYELETS, NOT PICTURED)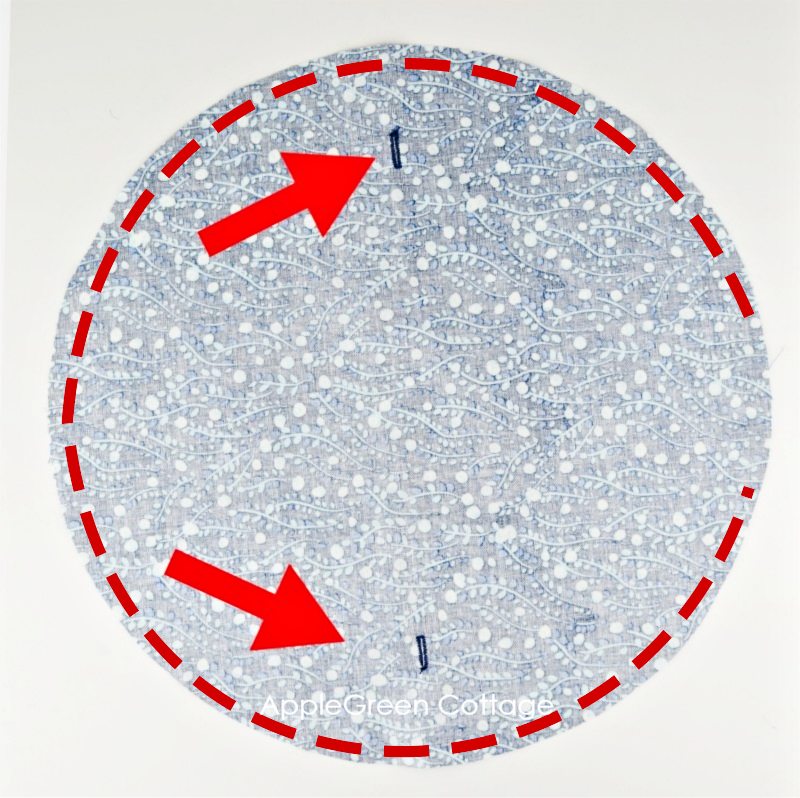 Step 4 - Turn Right side out
Use pinking shears to trim the edges or make small notches all around the circle for easier turning. (I really, really love using pinking shears here, it goes so much faster!) Do not trim on the gap for turning.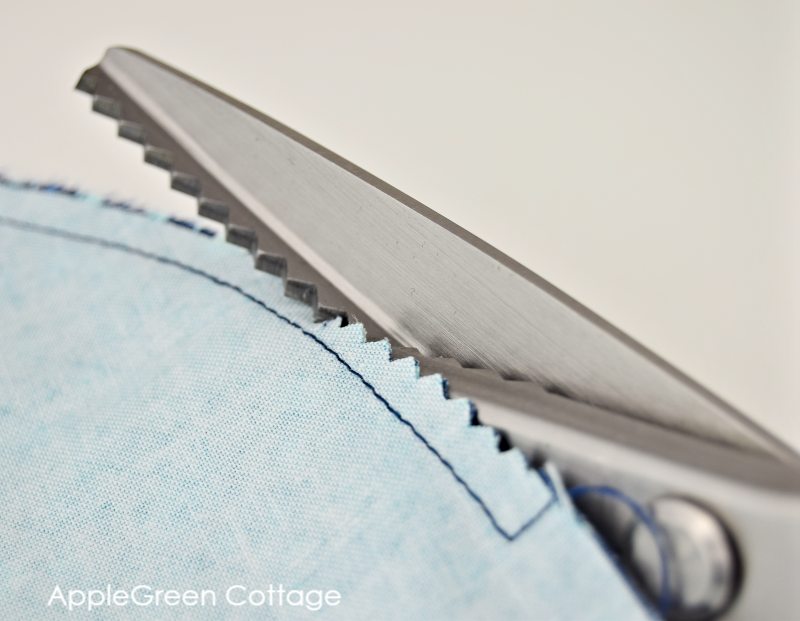 Step 5 - Edgestitch around
Once turned right-side-out, press and then edgestitch all the way around. The seam will also close the gap for turning.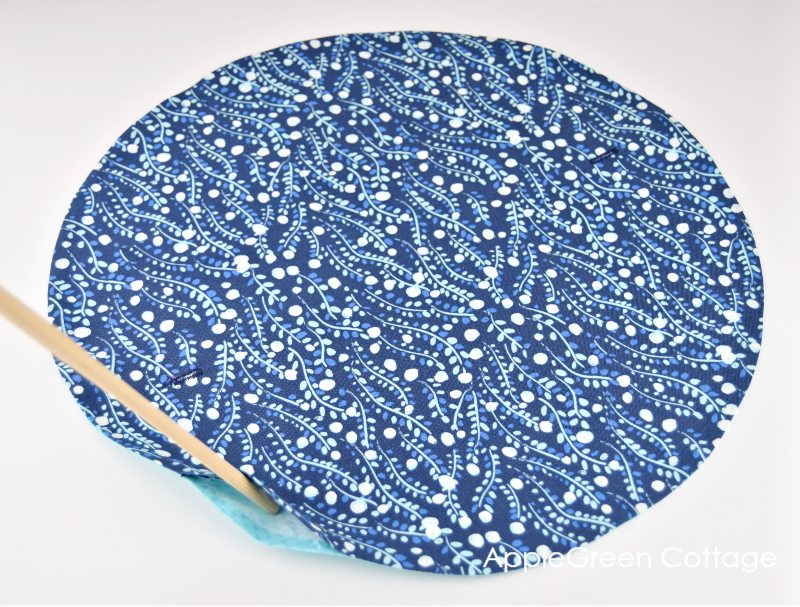 Step 6 - MakE Pockets
Start working on pattern piece #2, the Pocket. First, apply the small 3-inch circle of fusible fleece (#3) to the backside of what you want to become the pocket lining (not visible!).
Step 7 - Stitch The Pocket Circles
Place the two pocket pieces RST and stitch around using a ¼" (7mm) seam allowance and make sure to leave a 2" (5cm) gap for turning.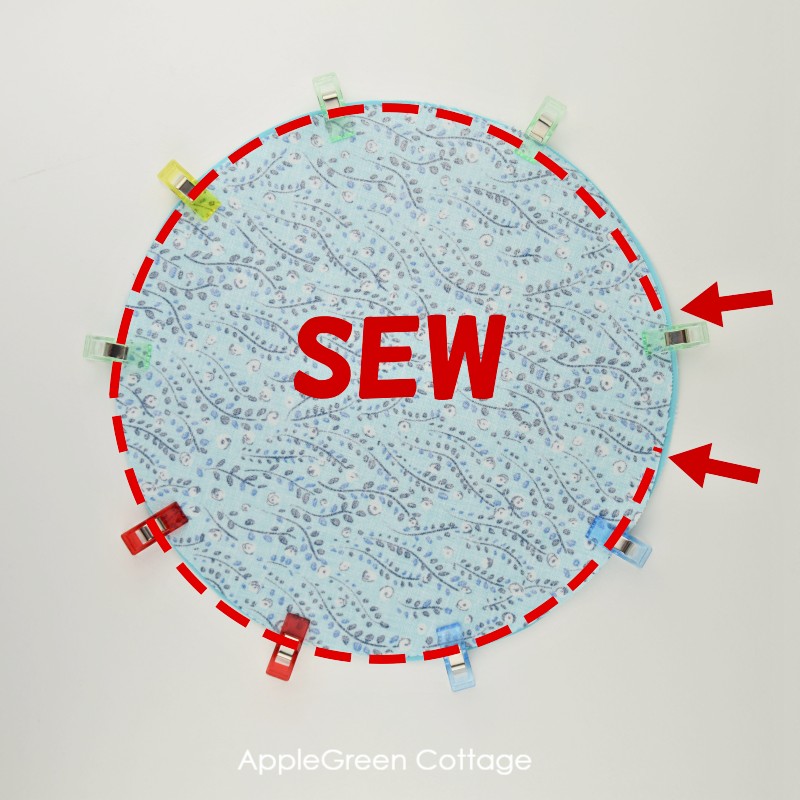 Step 8 - Turn right Side out
Press to set the seam and trim the edge using pinking shears (do not trim on the gap for turning), turn right-side-out, press and edgestitch, just like you did with the larger circles.
TIP: Pressing makes the edge stitching so much easier!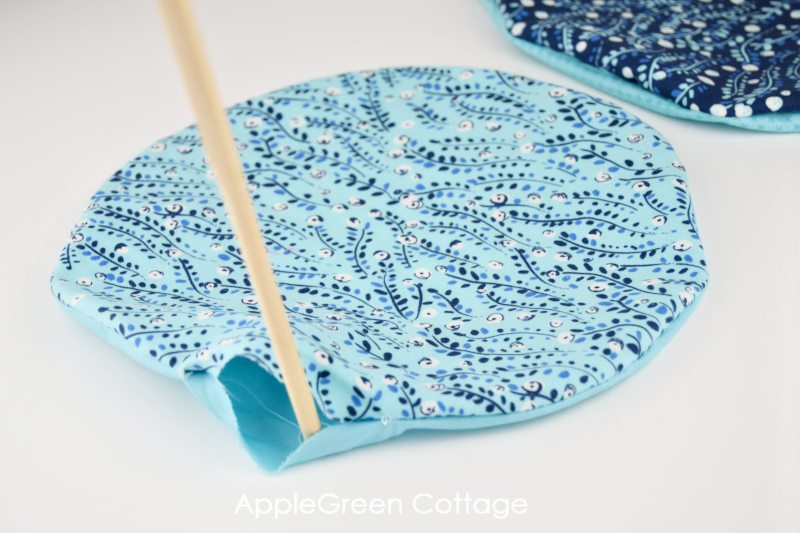 Step 9 - Trace And Sew Slip Pockets
Use pattern pieces #3 and #2 to trace the central 3" circle and the dividers onto the sewn pocket piece (#2).
Center the pocket circle on the large (shell) circle, like this: large circle (#1) with LINING facing UP and the pocket circle (#2) with the LINING facing DOWN. (In other words, the inside of the larger circle and the inside of the smaller circle should be touching.)
Topstitch through ALL the layers - both the small center circle and all straight pocket dividers, as marked by the blue lines in the photo below: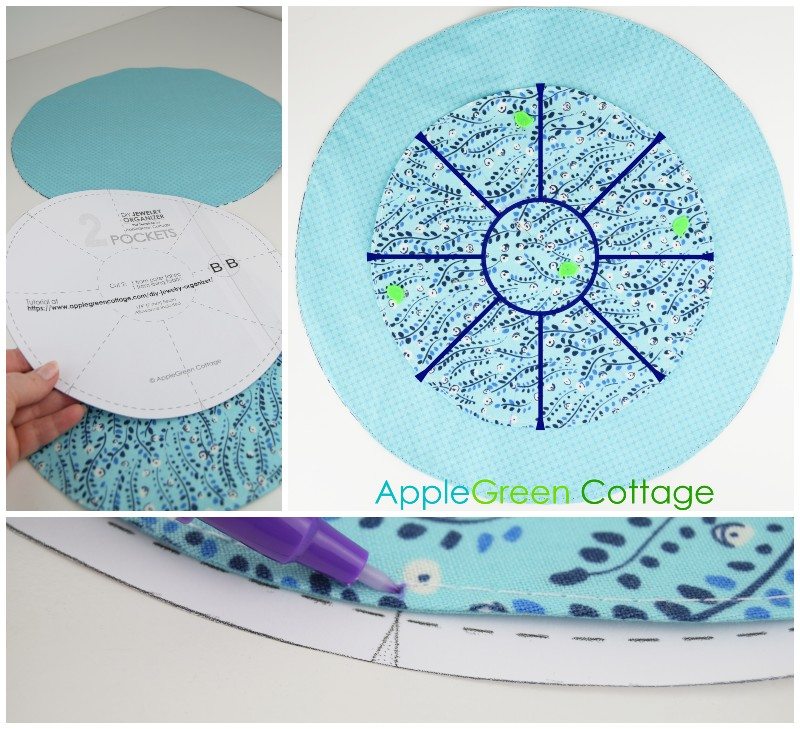 Step 10 - Make A Casing For the Cording
Remember the two buttonholes you made when starting the project? These are on the outer side of the large circle. Now, we'll make the casing - two circular seams that will align with the buttonholes - see the two red circles in the below photo.
The buttonholes will end up between the two seams, and these seams will just barely touch the edges of the buttonholes.
The INNER LINE of stitching will be super close to the edge of the smaller circle - just make sure not to stitch over it. If you love measuring, it should be exactly 2" (5.1cm) away from the finished edge of the large circle. This is the place where the buttonhole edge is.
The OUTER LINE of stitching should be ½" (1.3cm) away from the inner line. Measuring from the outer edge, it's 1 ½" (3.8cm) from the large circle's outer edge.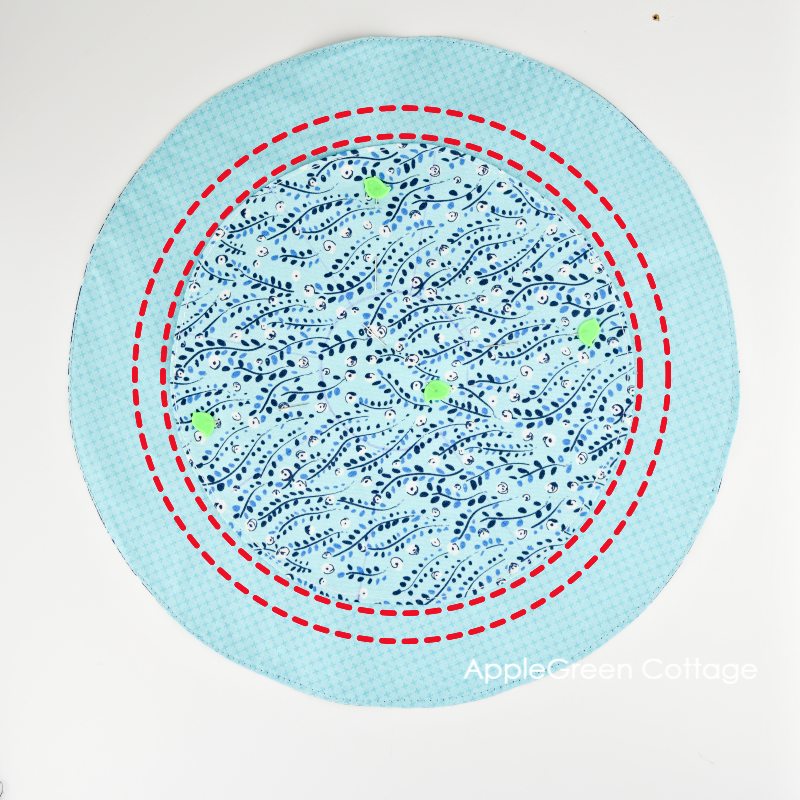 IMPORTANT: the two seams should be ½" (1.3cm) apart, as the drawstring casing needs to be exactly this width. Here's a detailed view of the two casing lines on the inner side of the jewelry pouch: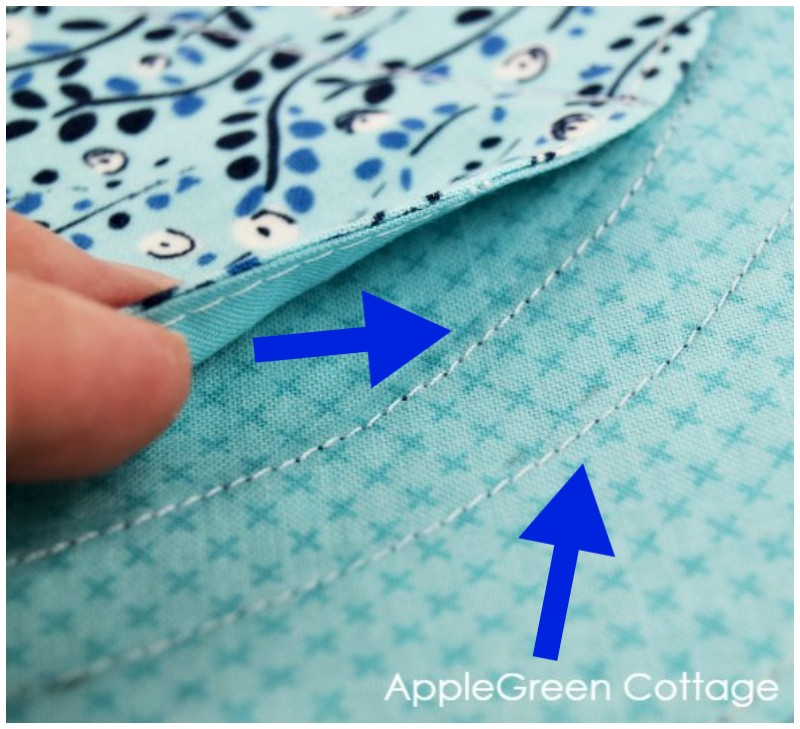 ...and on the outside. The two stitching lines 'encase' the buttonholes, and voila! the drawstring casing is finalized.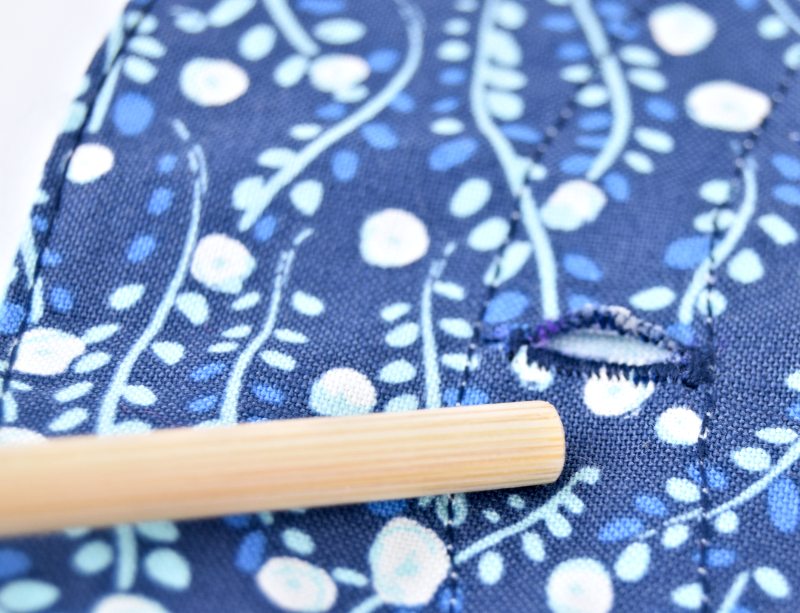 Step 11 - insert the cording
Now we'll need to insert the two 40" (1m) satin cords into the casing. Here's how:
Attach your first cord to a safety pin and guide it through one buttonhole opening all the way around. Yep, you've read that right, both cord tails will peek out from the SAME buttonhole.
Guide the other cord through the other buttonhole, all the way around. See below: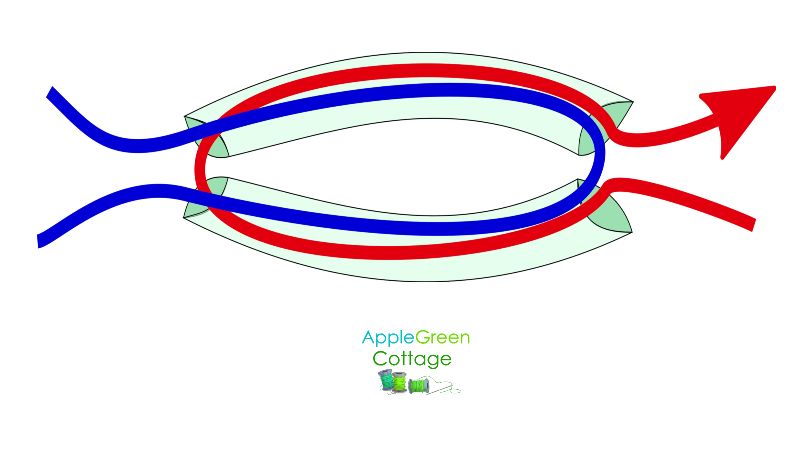 Step 12 - Add Drawstring Pulls
Tie off a knot on each end of the drawstring. You've finished your diy jewelry organizer - unless you want your drawstring pulls to be extra cute. I added two cute hexie pulls to make the drawstring pouch even easier to use. Perfect!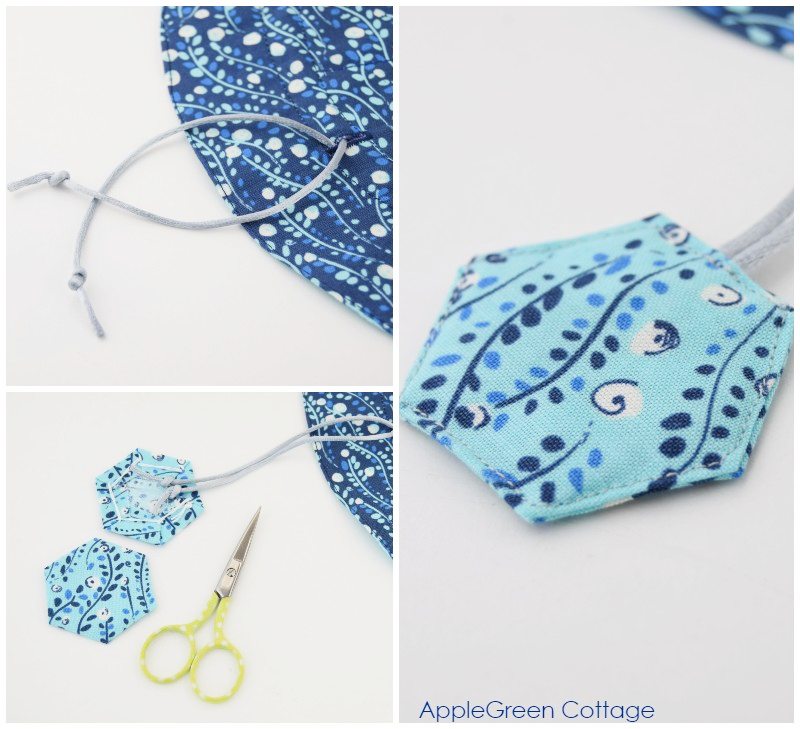 Here is how to baste the hexies, my latest tutorial.
If you want a detailed step-by-step on how to insert these pretty hexie pulls, I've got you covered, too:
And, finished! You've just made a beautiful diy jewelry organizer. Congrats!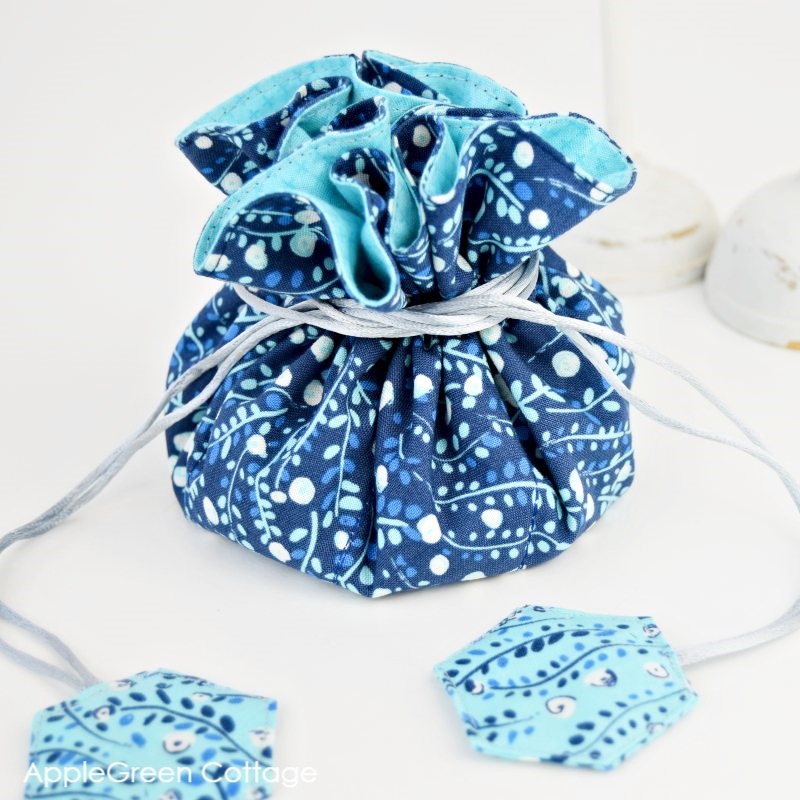 Oh, and I have not yet shown how the inside looks like when you pull on those drawstrings! Beautiful tiny pockets just popping out of from a previously flat piece of fabric: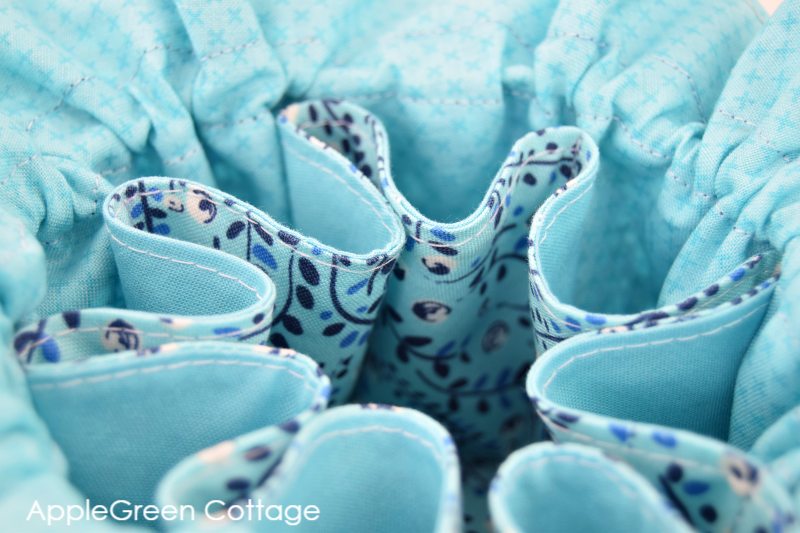 or when in action, full of my necklaces, bracelets and rings: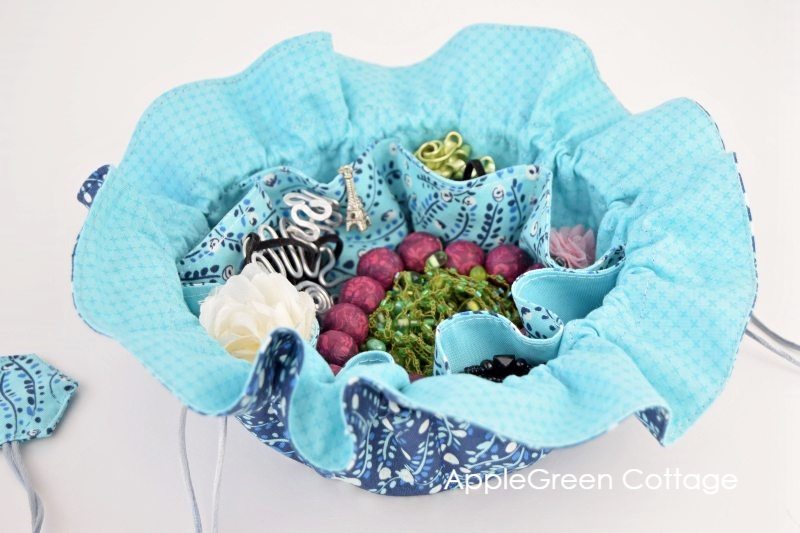 Make sure to check out the photos in the shop, there are more beautiful jewelry organizers sewn by pattern testers!
How Do I Get the Diy Jewelry Organizer pattern for FREE?
The sewing pattern is available FOR FREE with the 100% OFF exclusive code for all subscribers to AppleGreen Cottage newsletter - you get the 100% discount code when you sign up at this link.
CURRENT SUBSCRIBERS: Your 100% DISCOUNT CODE is in my latest newsletter - visit the SHOP (here) add to cart and apply it in 'View Cart' before checkout.
Safely store all your jewelry in separate pockets while traveling to prevent tangling in this adorable pouch! Perfect for carrying cosmetics too, and add a stylish touch to your overnight travel routine.
Save this project on Pinterest for later: