Use this neck warmer pattern to sew a super cozy diy neck warmer - easy and quick!
This beginner sewing tutorial will teach you how to make a warm and cozy reversible fleece neck warmer. It's an easy, super quick sewing project, and a great solution for those who don't like wearing (uncomfortable and bulky) traditional scarves.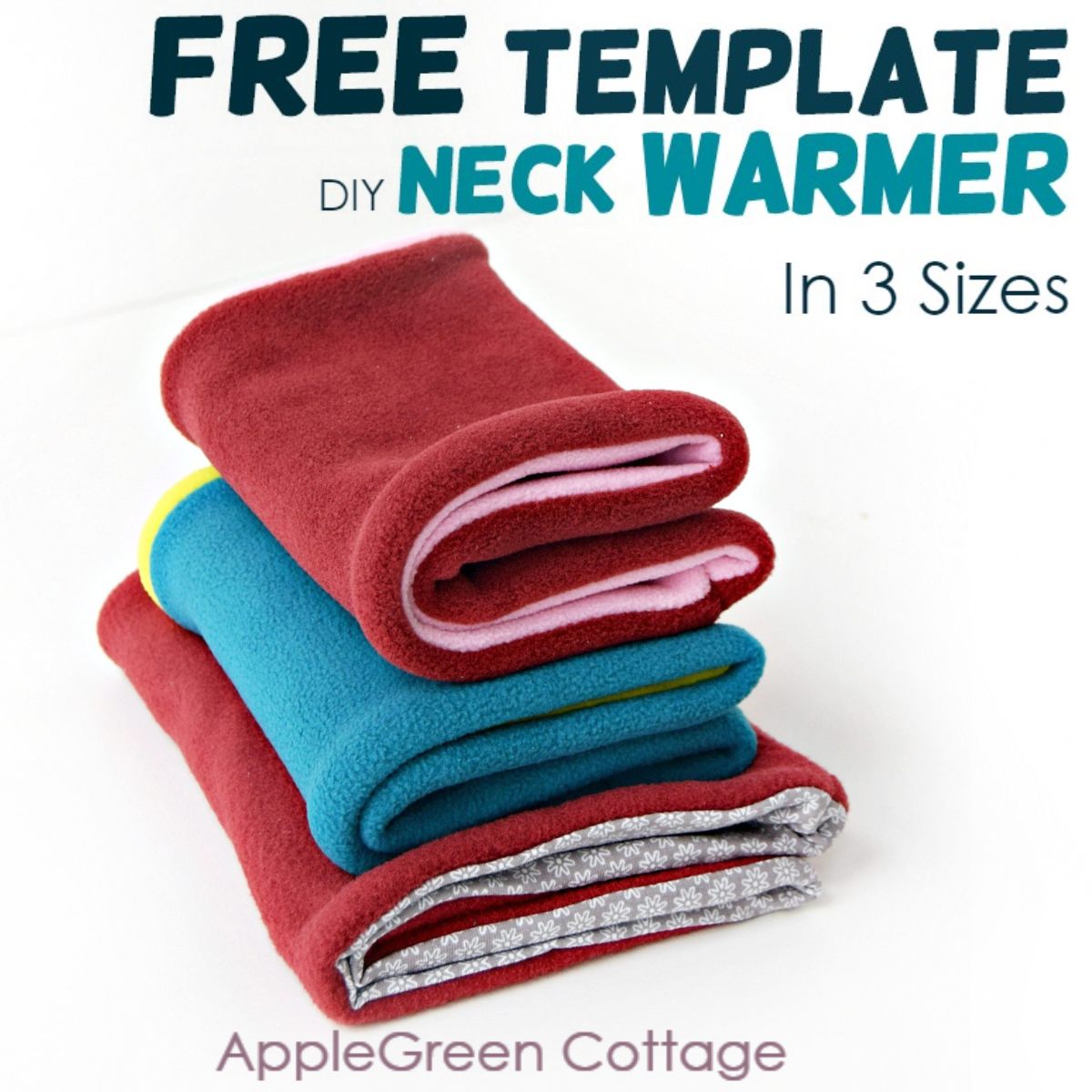 This post contains affiliate links. Thanks for your support. Want more cozy sewing ideas? Check out these too:
Or jump right into my new, free Sew EASY Gifts series - it's good for all year long: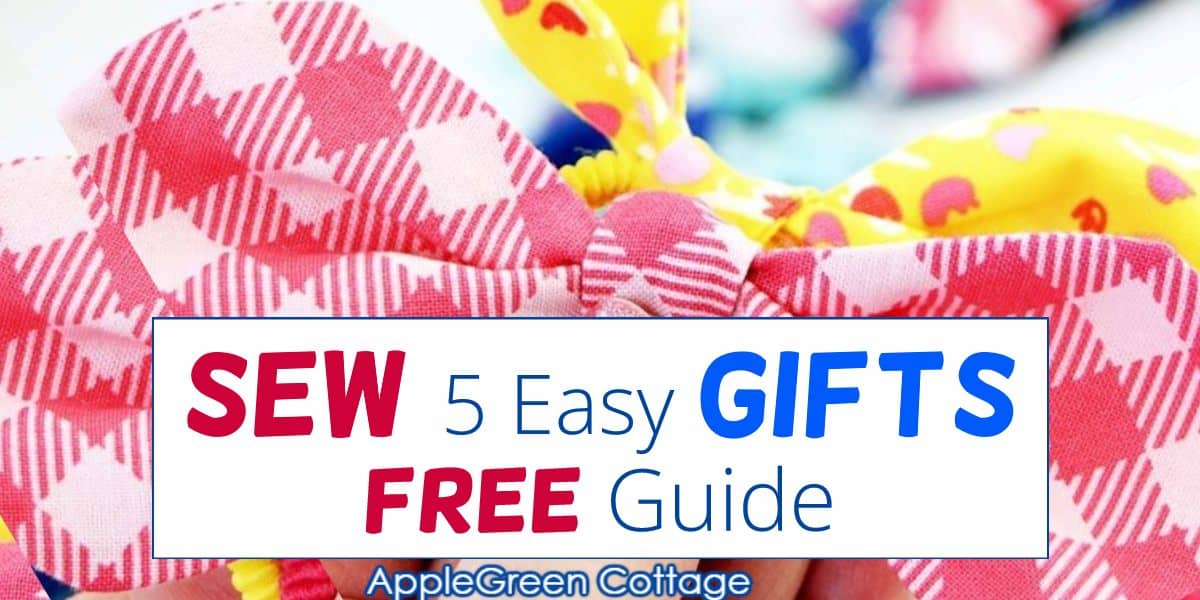 Join the FREE 6-part email guide and make super easy diy GIFTS - each in 30 minutes or less! FREE - no-commitment email course, easy and quick. You'll love it!
Neck Warmer Pattern
If you have never yet made a cozy cowl scarf yet, it's high time to use this easy neck warmer pattern. Cowl scarves - they go by the popular name neck warmers - are one of those perfect easy projects for beginners!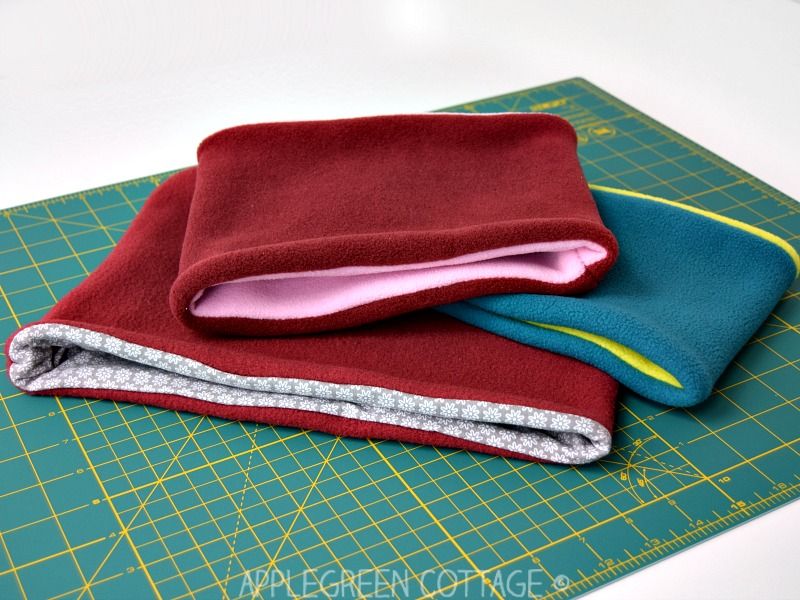 Today, I'm showing you how to make a double-layered reversible neck warmer in two colors. It's one of 2 popular fleece scarf tutorials on this site (the other one is here). It will keep you and your kids super cosy and warm all winter long.
Warmer weather and you don't need a fleece scarf? I've got you covered! Make this easy infinity scarf from jersey instead!
Also, feel free to save this cowl scarf tutorial to Pinterest for later use if you can't sew now - use THIS link or the image below: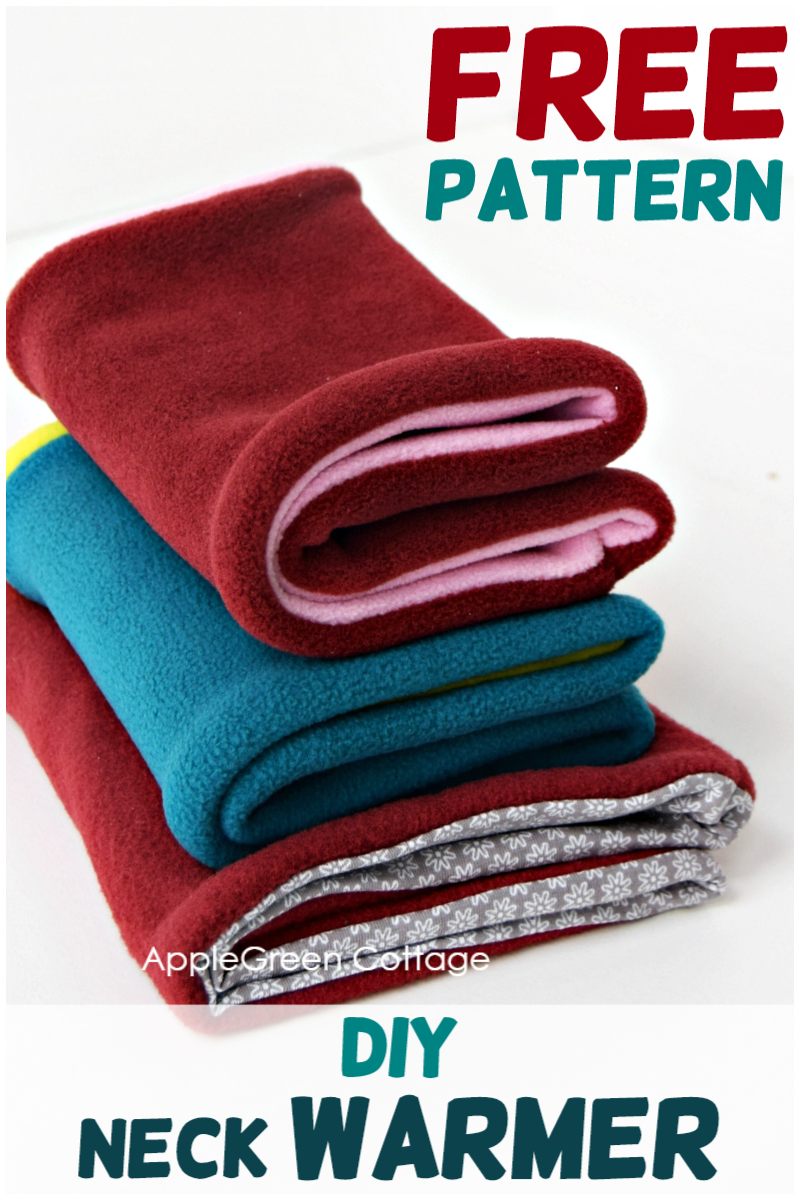 Does you child refuse to wear a scarf because it adds too much bulk around the neck? This diy neck warmer is a great solution for those who don't like wearing (uncomfortable) traditional scarves.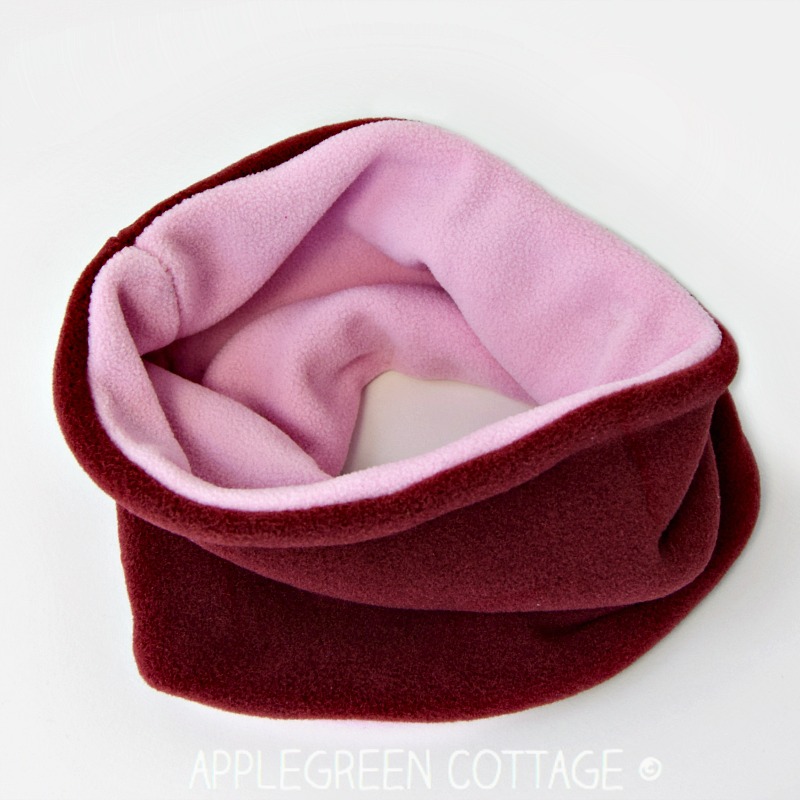 Keep the winter chills away with this warm and cozy cowl scarf pattern.
Supplies To Sew the fleece neck Warmer:
2 pieces of fleece, the largest size requirement is 25" x 9" per piece (64cm x 23cm)
matching thread
the PDF Pattern file - that's available to all my newsletter subscribers with an exclusive 100% OFF code for free. You get once you've confirmed your subscription (new subscribers: join here, existing subscribers: enter SHOP here and use 100%off coupon from my latest newsletter)
Join Free Newsletter to Get Your Free Sewing Template HERE: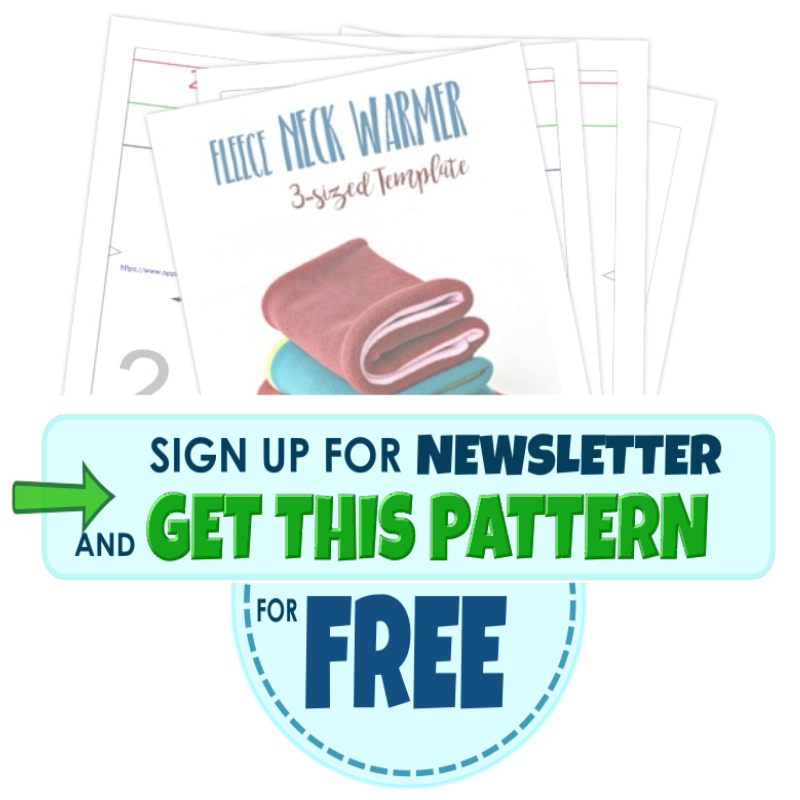 CURRENT SUBSCRIBERS: Your 100% DISCOUNT CODE is in my latest newsletter – visit the SHOP (here - scroll down to neck warmer pattern) and apply it in 'View Cart' before checkout.
It is one of the easiest sewing projects I've so far posted about. Have some fleece leftovers from a previous sewing project? Good! Grab two pieces and let's go!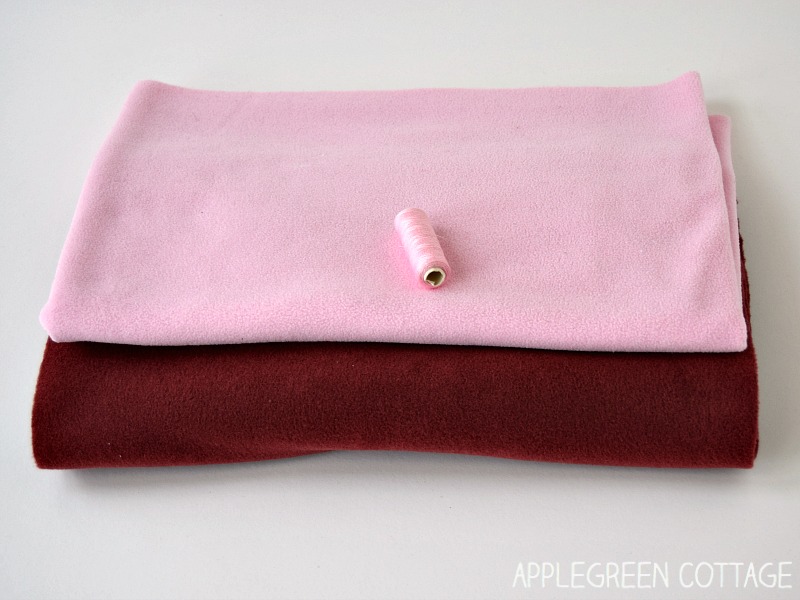 Bonus tip: you can use flannel for one layer out of the two. This will give you a thinner cowl scarf, and still a soft one. If using flannel, make sure to prewash it. See here why prewash flannel - always.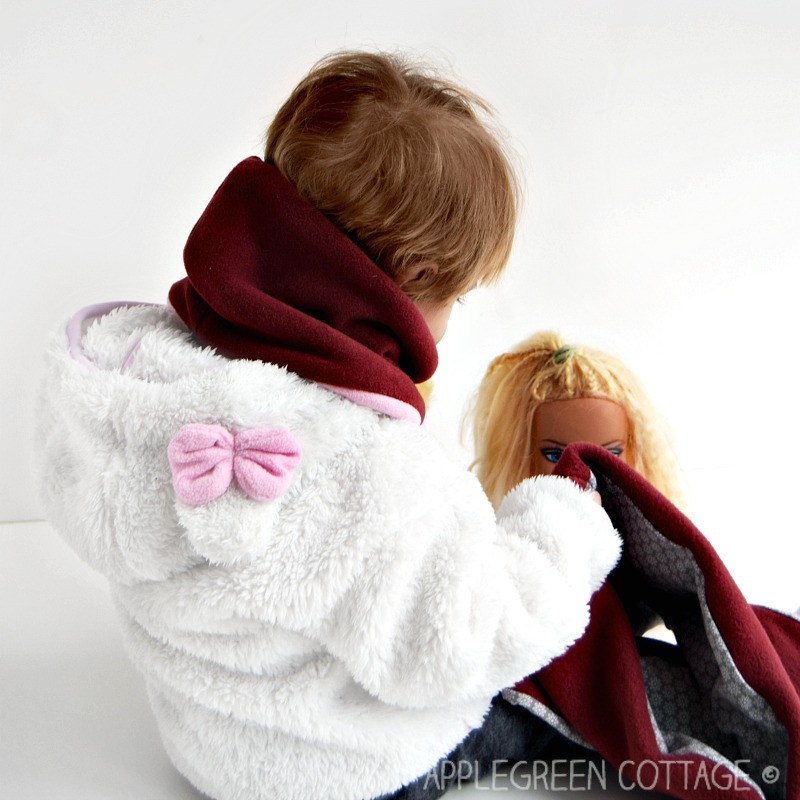 This fleece neck warmer is all about simple rectangles. To make it easier on you and to prevent the guessing game, I've tested a few sizes and chose what worked best for me and my children.
What is the finished Size of the Diy Neck Warmer?
Choose one of these three sizes:
TODDLER (1T - 3T): 21" x 7" (53cm x 18cm) = FINISHED size DIAMETER 10" (25cm)
CHILD (4 yrs-10 yrs) 23" x 8" (59cm x 20cm) = FINISHED size DIAMETER 11" (28cm)
TEEN + ADULT: 25" x 9" (64cm x 23cm) = FINISHED size DIAMETER 12" (31cm)
Reversible Fleece Neck Warmer - Sewing Steps
You'll get an image for every little step. Follow me!
Step 1 - Cut 2 pieces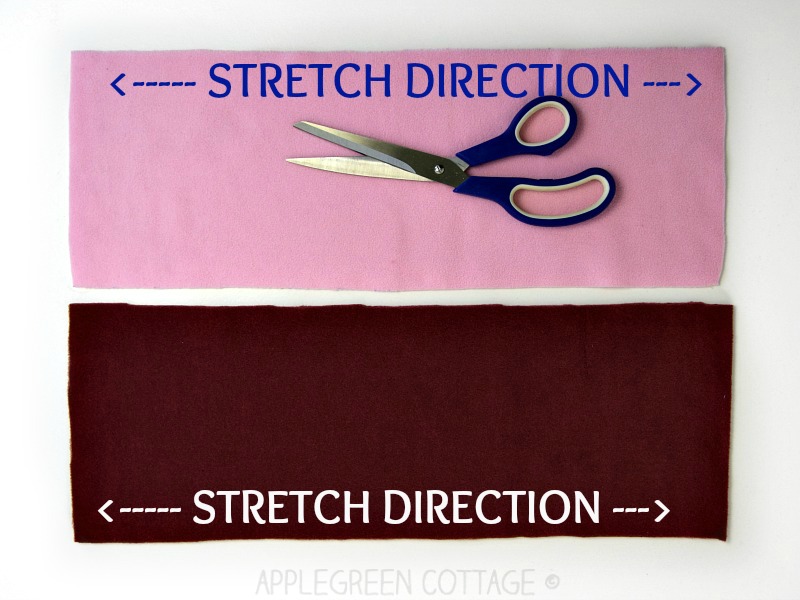 1) Once you've decided on the required size, grab your scissors and the ruler. Cut 2 pieces of the selected size. You don't need to add any seam allowance, it's already included.
Stretch direction is important here! Take care to cut the pieces so the material stretches most in the direction marked on the above image.
Sew The Long edges of the Neck Warmer Together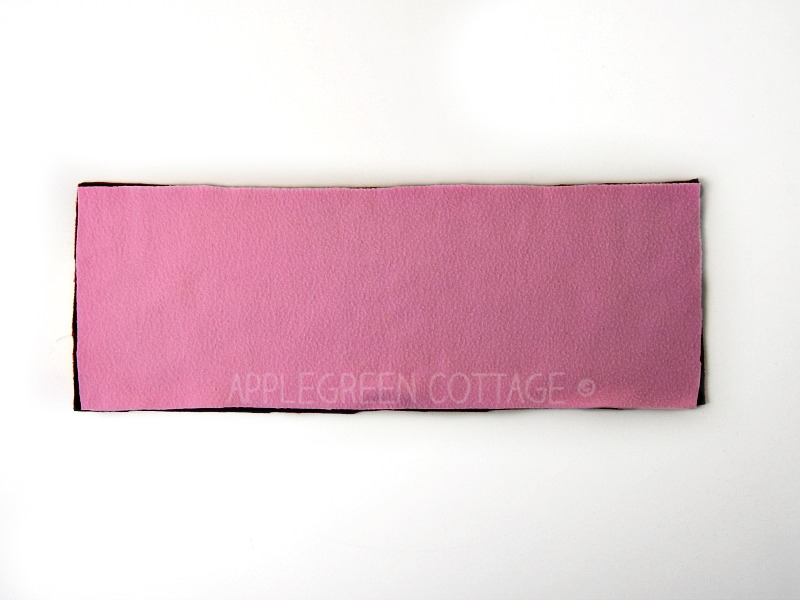 2) Place the pieces right sides together and align them.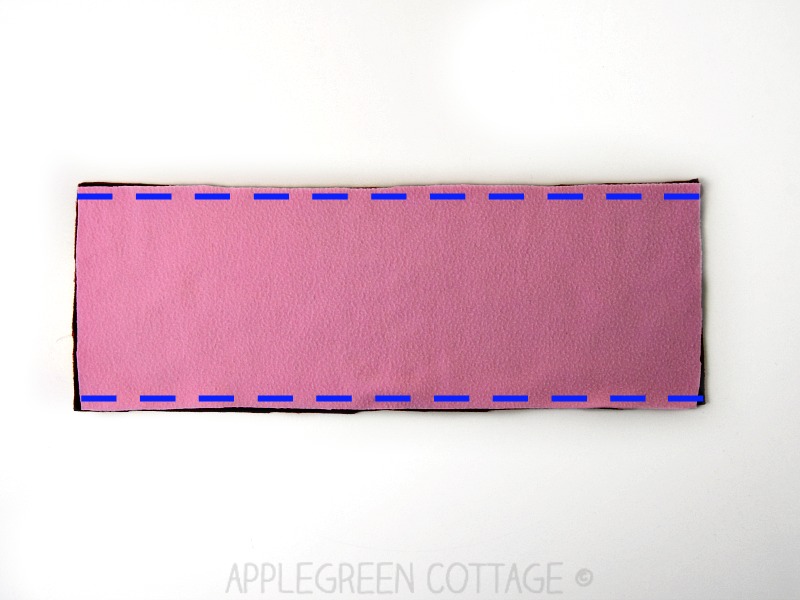 3) Then stitch along the long sides using a ⅜ seam allowance and a stretchy stitch (a simple zigzag will be just perfect!)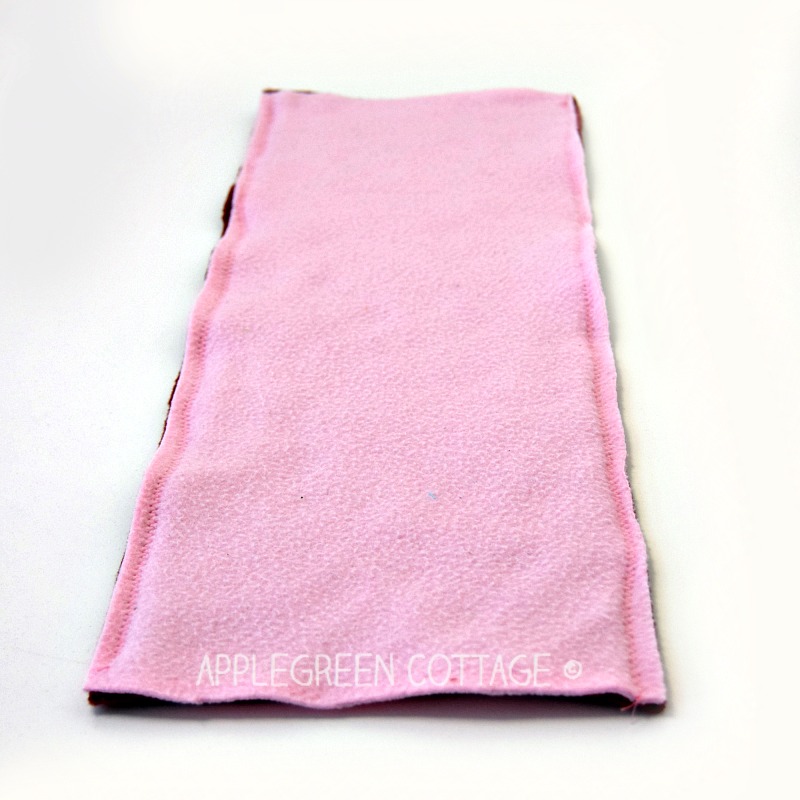 4) This is how your fleece neck warmer looks like - a long tube. Trim the seam allowances if required.
Sew the Tube On Short Edges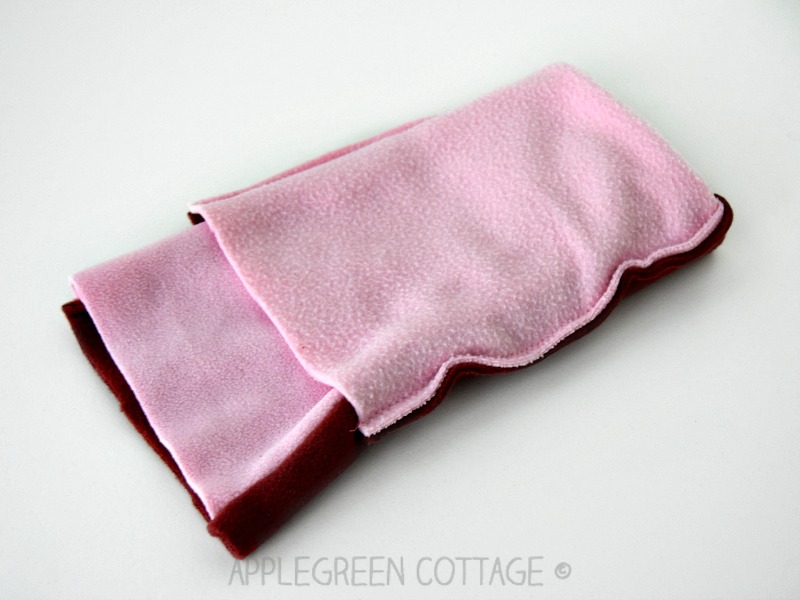 5) Pull one end of the tube into another one, keeping the right sides together, like this: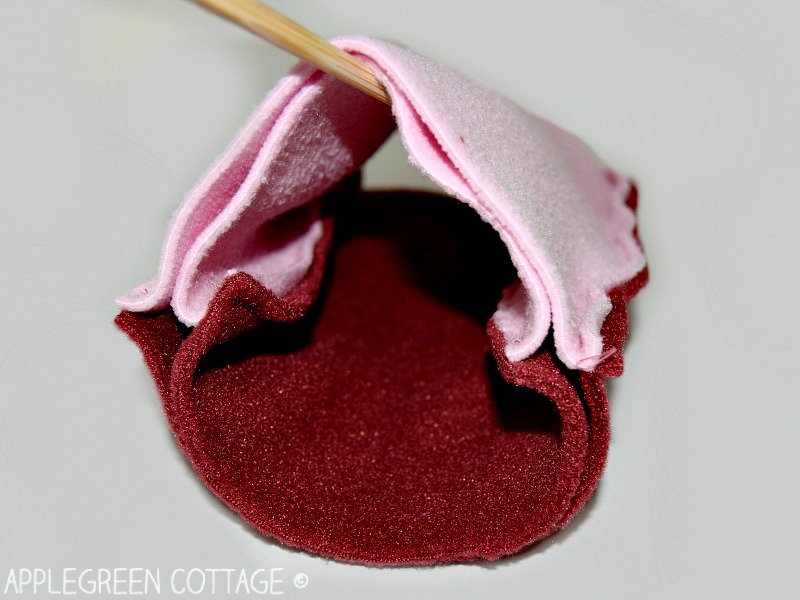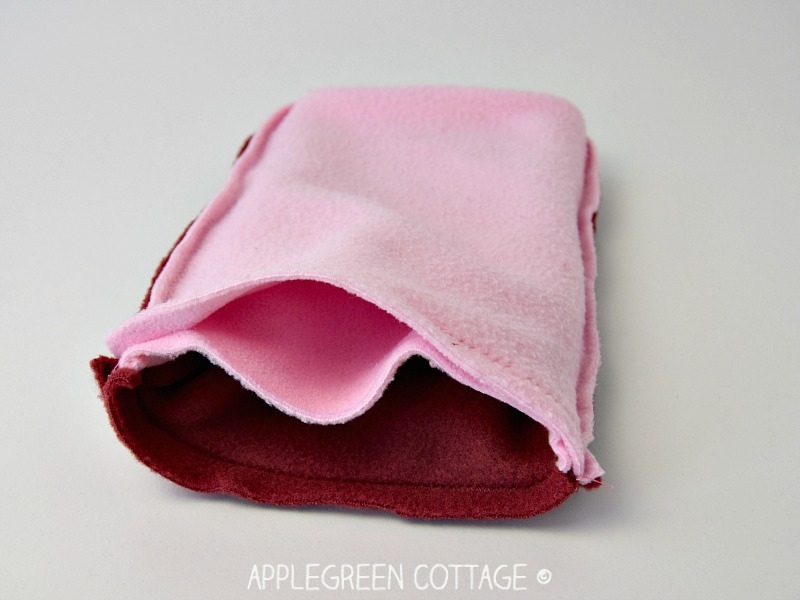 6) Sew around the short end, leaving an opening for turning.
Turn Right Side Out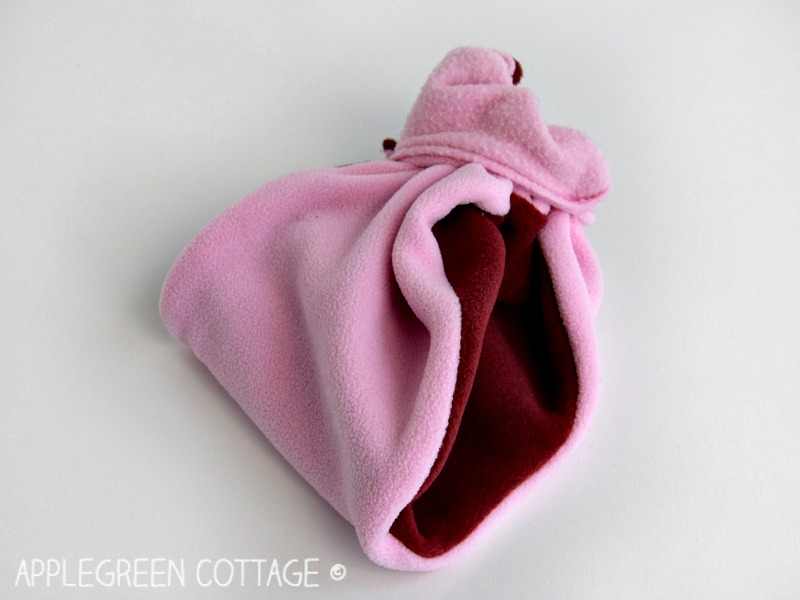 7) Turn right side out through the opening.
Close the opening on your New diy neck warmer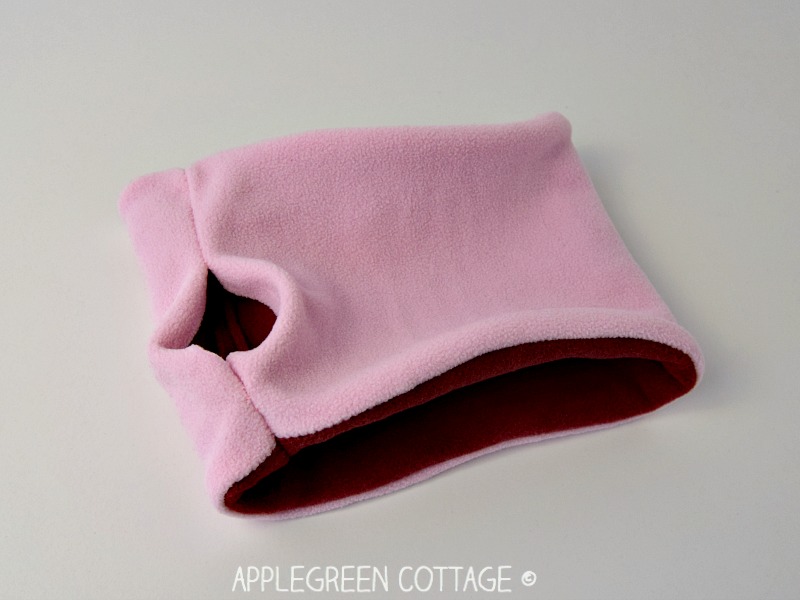 8) The only thing that remains to make this fleece neck warmer is closing the opening. I usually hand-stitch it shut, because it's easier than trying to catch the fleece layers on a machine. (And if you use this ladder stitch tutorial when hand-stitching, stitches don't show at all.)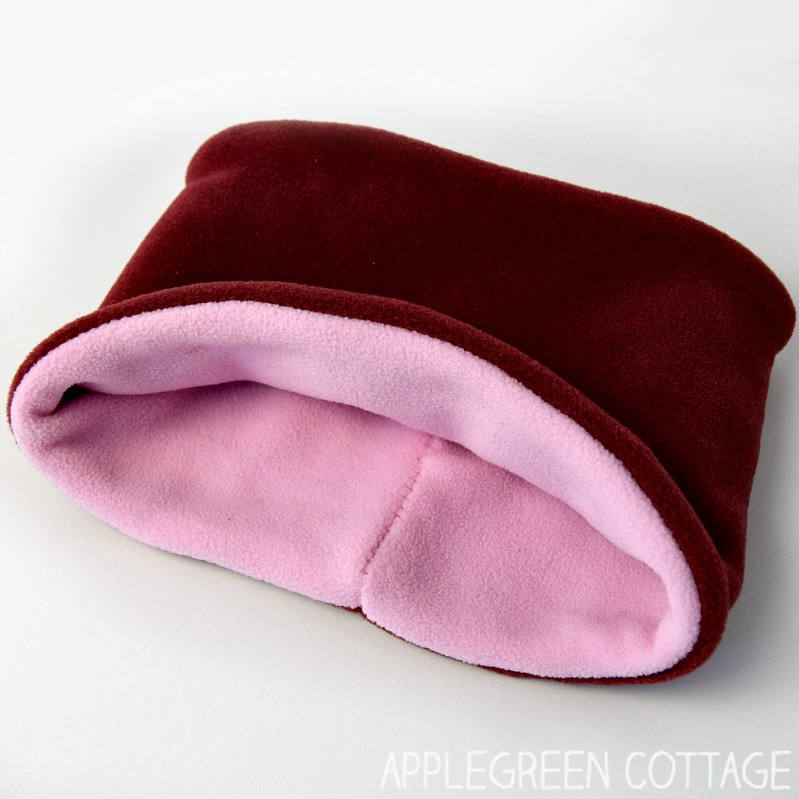 9) Finished - your own fleece neck warmer. Yey!
Alternatives to a fleece neck warmer
You can mix and match materials - try to find your own favorite! Later on, I also made one additional neck warmer using one piece of fleece and one piece of soft jersey. Actually, I still prefer the double fleece version. Soo soft! But when it's not so cold outside, I love to have a jersey side as an option, because it does not make me sweat.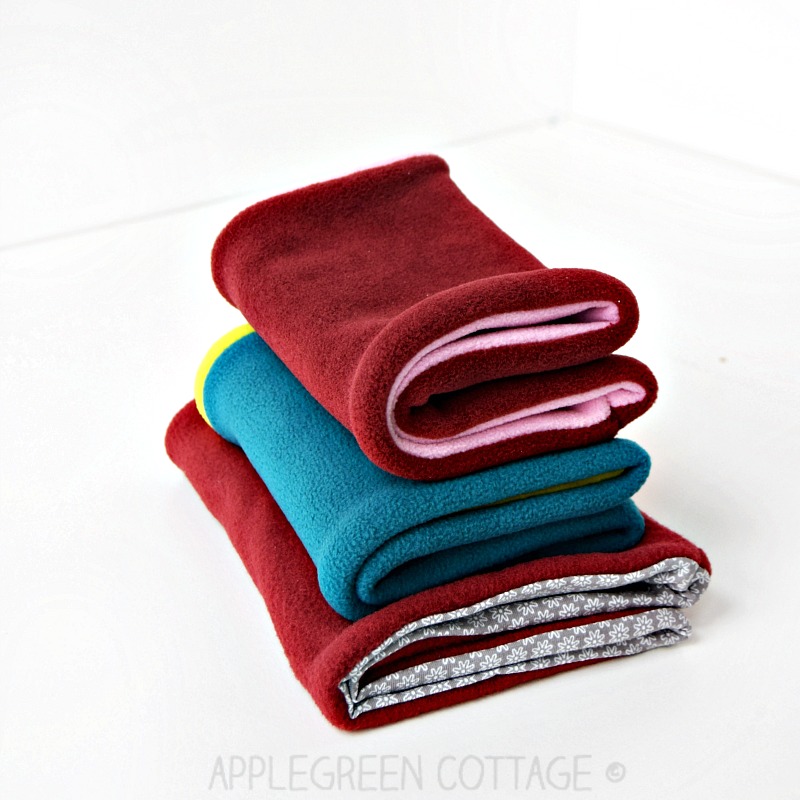 What is the best size for a neck warmer?
As you see in the photo, the smallest one is the toddler size, the blue-and-yellow one is mid size (4yrs to 10 yrs), and the largest one is for me. I quickly modeled it against my partner's chin, and can confirm that this size will work for any adult.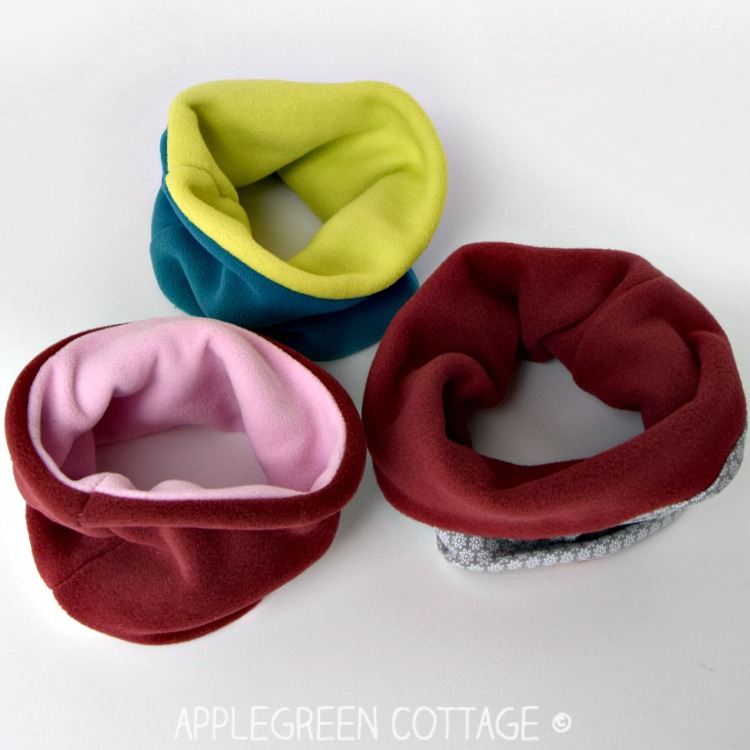 It will keep you and your kids warm all winter long! Since winter is (hopefully) coming to an end soon, I was thinking whether I should just fast forward to Christmas sewing? It's so easy I just might.
Have you seen the new baby scarf tutorial that's getting very popular? This free tutorial has a little something added - and it makes it a DIY scarf that will never fall off! Check out here how and why: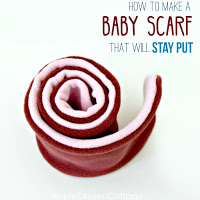 You might also want to sign up for my newsletter to get access to ALL my free patterns on this site. You will never run out of easy sewing projects!
Make sure to save this neck warmer tutorial so you can find it later: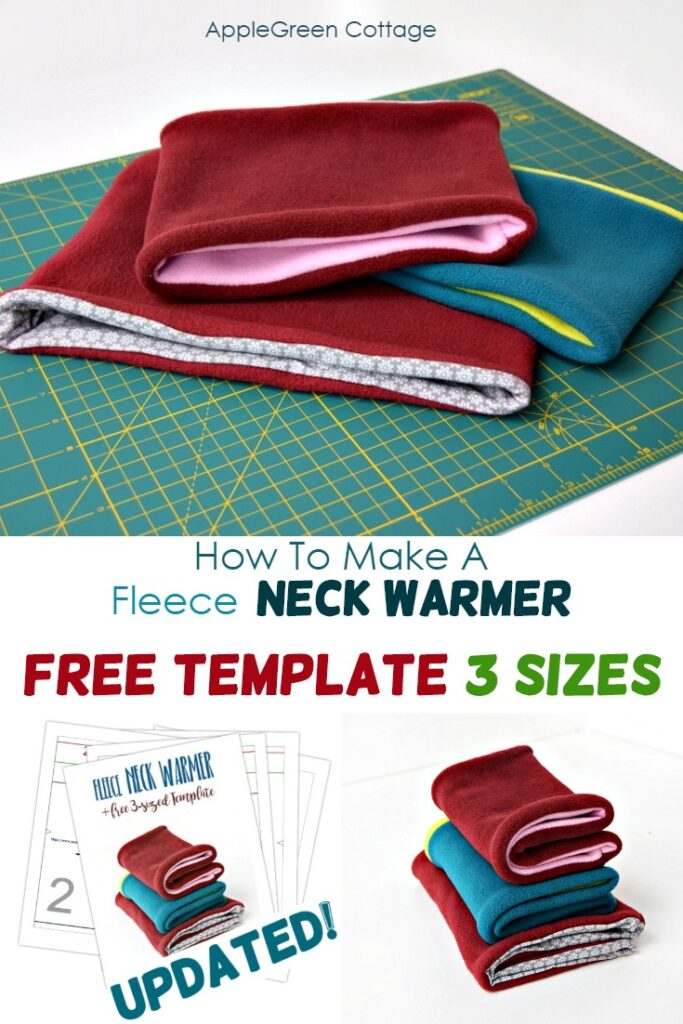 Damjana
WANT MORE FREE TUTORIALS AND GOODIES?
Get email updates and never miss out on new patterns, printables and tutorials. If you sign up at THIS link, you'll also get the Fabric Hanging Basket Template for FREE, right now. A cute and easy-sew!
Or …check out this popular PDF pattern – the Aiden Cell Phone Purse - Click through to see what's on the back of this cool phone bag!