How about making a super easy, faux leather pencil pouch - in minutes! This easy pen case with elastic will become your go-to diy pouch. Keep your pen always where you need it. No more searching through your drawers or pockets for a pen when you need it most!
This elastic pencil pouch tutorial is - and I mean it - instant gratification!
You can sew one within minutes. Seriously!
How do I know that?
Because when I made the first one, my daughter wanted one for her too, and she stood there for the whole 10 minutes I was cutting and sewing. And walked away with her brand new, 10-minute pen case!!
(A pink one. Of course.)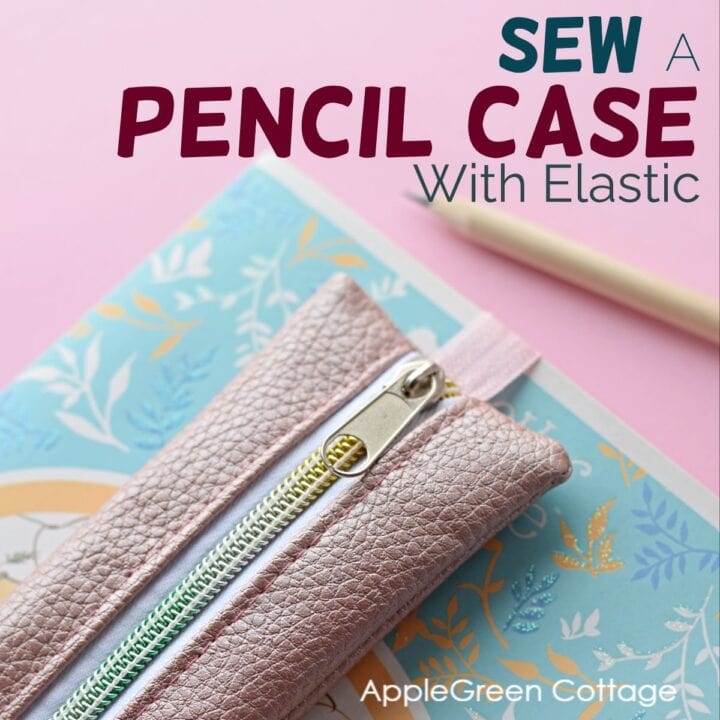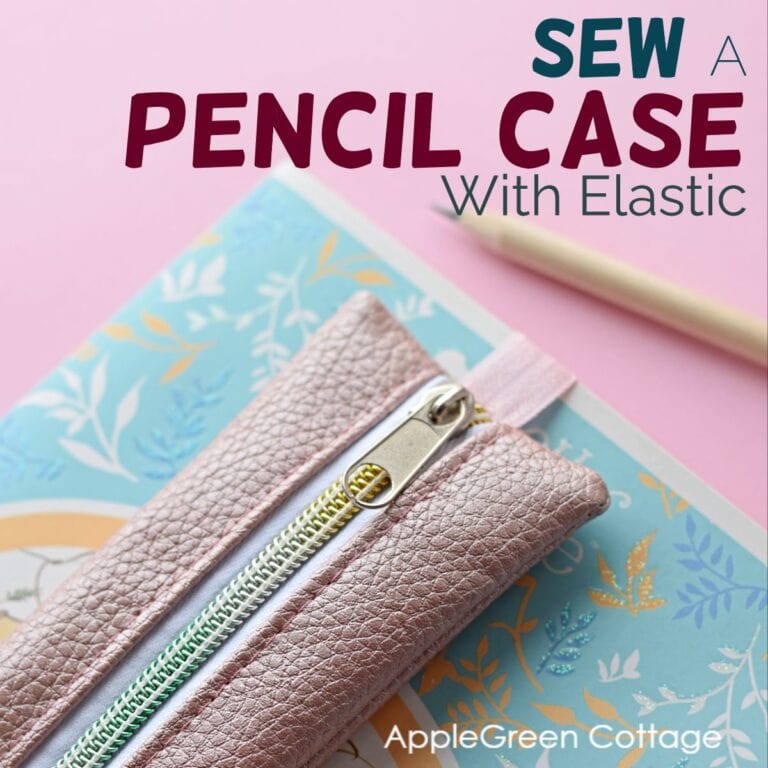 Call it a planner pouch, a diy slim pen case, or a journal pen holder - your choice. As long as it gets your creativity going, and your life better organized.
This post contains affiliate links. Thanks for your support. If you like this elastic band pencil case tutorial, check out these other posts too: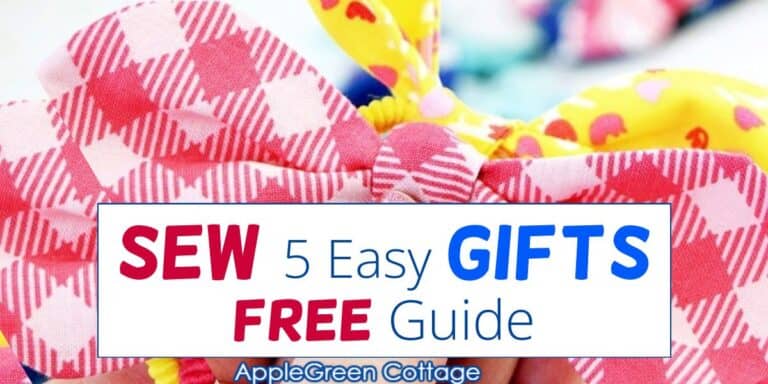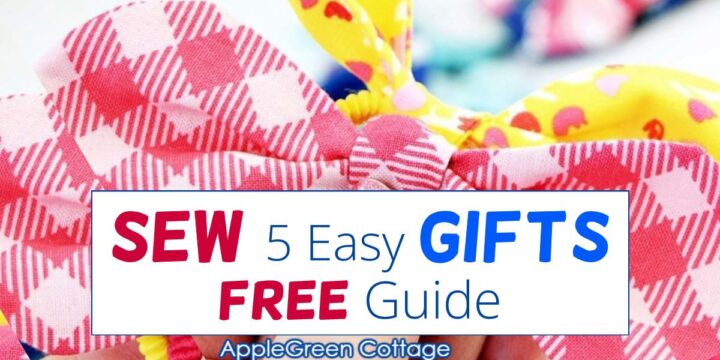 Join the FREE 6-part email guide and make super easy diy GIFTS - each in 30 minutes or less! You'll love it!
Easy Pen Case With Elastic Band. Features!
This is how it looks like - I snapped a quick video for you to see:
This easy pencil case with elastic band has - well, an elastic! So you can keep your pencils or markers close to your notebook. If you're a journal writer, here are all your writing utensils.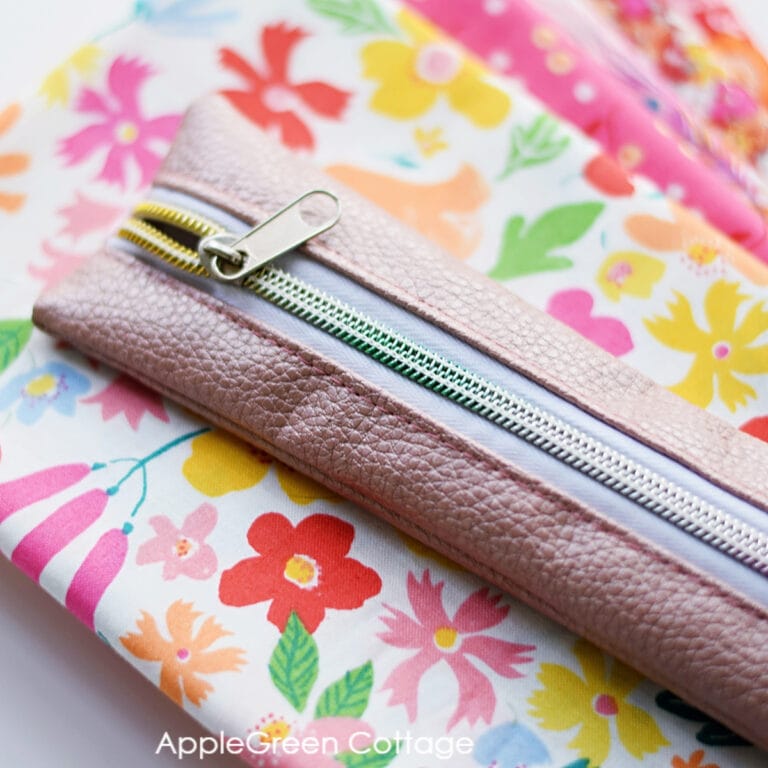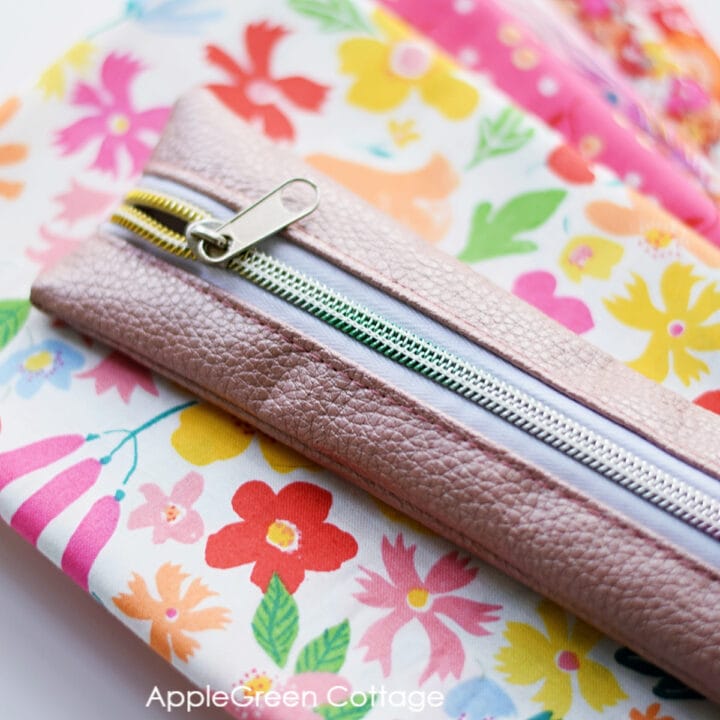 And you can use the elastic as a bookmark, how cool is that!
Give it a try - this faux leather pencil pouch is perfect for journals, notebooks, planners too. Make a few and gift them with a hard-cover notebook. This can be your way to a more organized journal writing, budget keeping, or simply easy to toss into the bag and keep at hand each time you need to jot down a few notes.
The size of the diy elastic band pencil case
You probably want to know the size of this diy pencil pouch with elastic band: 2 ½" by 8 ½" (6.5 x 22 cm)
The one I'm showing you how to sew is a slim pen pouch, I wanted it to be able to hold a pencil and a pen, but it will easily house a small set of coloring pencils too.
It's easy to scale or change the size, just cut the pieces a bit wider/longer/shorter. Just make sure to make the same adjustment to your zipper and double-fold elastic too.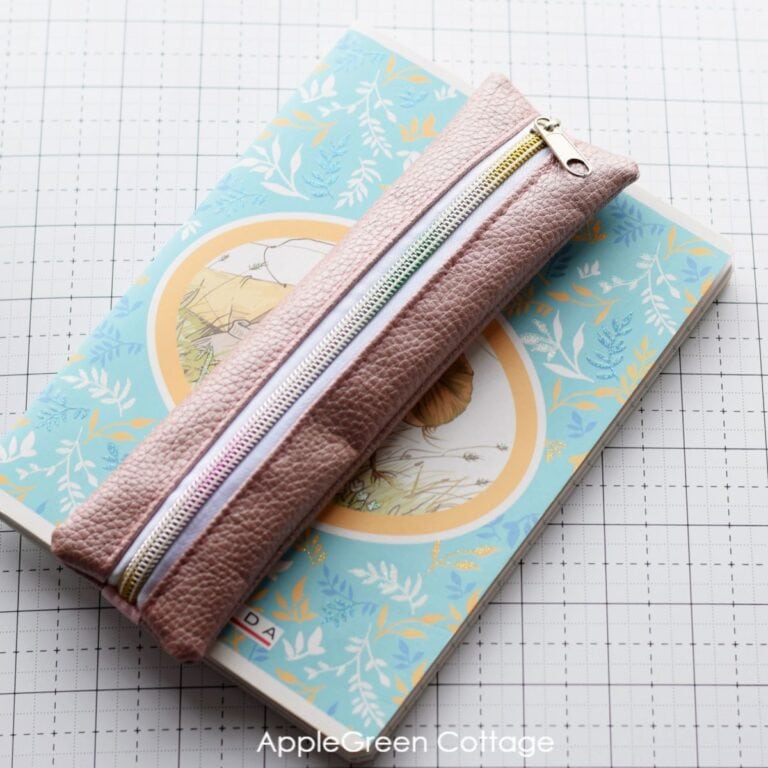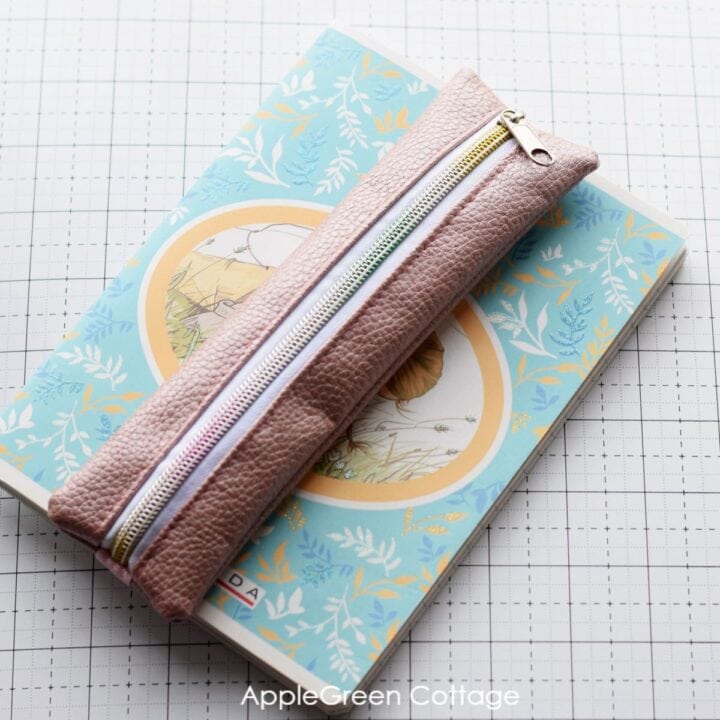 Gift Giving Idea
I love making a matching pencil case when sewing a diy backpack (ideas? this one!) A great gift set for teenagers too!
How To Make a Pencil Case with elastic band
This is an unlined zipper pouch. It should take you less than 10 minutes once you've selected your fabric. Let's do it! Let's get our sewing machines ready for a few stitching lines.
Supplies to make the pen case with elastic
This is what you'll need:
a 7" by 9" (18 x 23cm) piece of medium to heavy-weight material (preferably non-fraying), I used faux leather
9" (23cm) nylon-coil zipper #5 (or zipper tape by-the-yard #5 plus a zipper slider #5)
9" of fold-over elastic
matching thread, sewing machine, scissors and sewing clips
MATERIAL RECOMMENDATIONS
I used faux leather. You can use
anything that's heavier than quilting cotton.
Ideal case, also something that won't fray if the edges are left unfinished. (non-fraying upholstery fabric or faux leather)
if it frays, say, if you use denim or home-decor fabric, you'll need to zigzag around the 3 pieces first.
Diy Pen Pouch With Elastic - Sewing Steps
You won't need a pencil case pattern, just these cutting instructions:
Step 1 - Cut 3 Rectangles
Cut three rectangles:
for the front: (2 pieces) 1 ½" by 9" (4 x 23 cm). - I'll call them pieces #1 and #2
for the back: (1 piece) 3" by 9" (7.5 x 23 cm) - I'll call this one piece #3
NOTE: If you use zippers by the yard, cut the required 9" (23 cm) length, then attach the zipper slider (how to add slider to zippers) and tack the ends to keep it in place.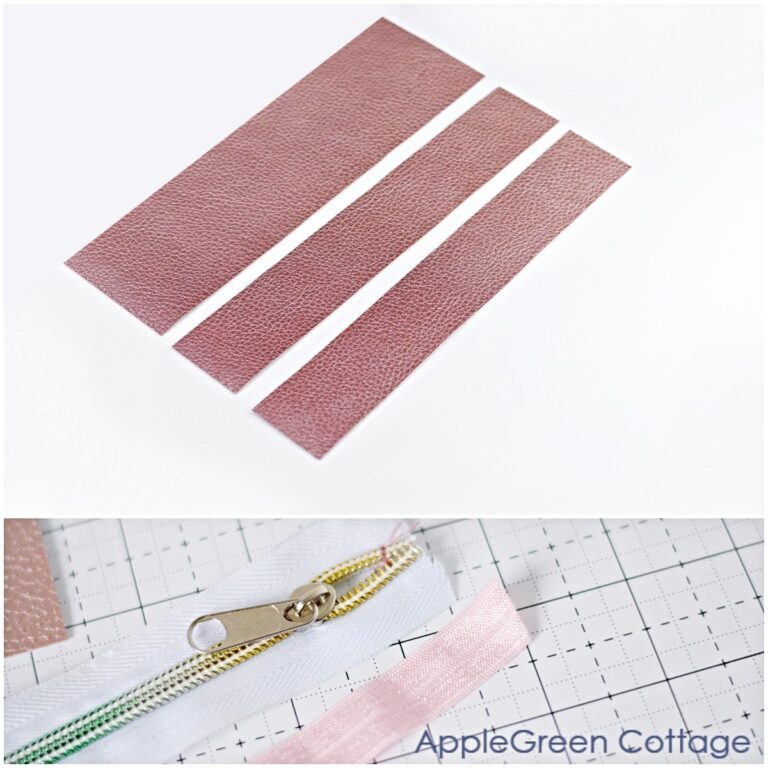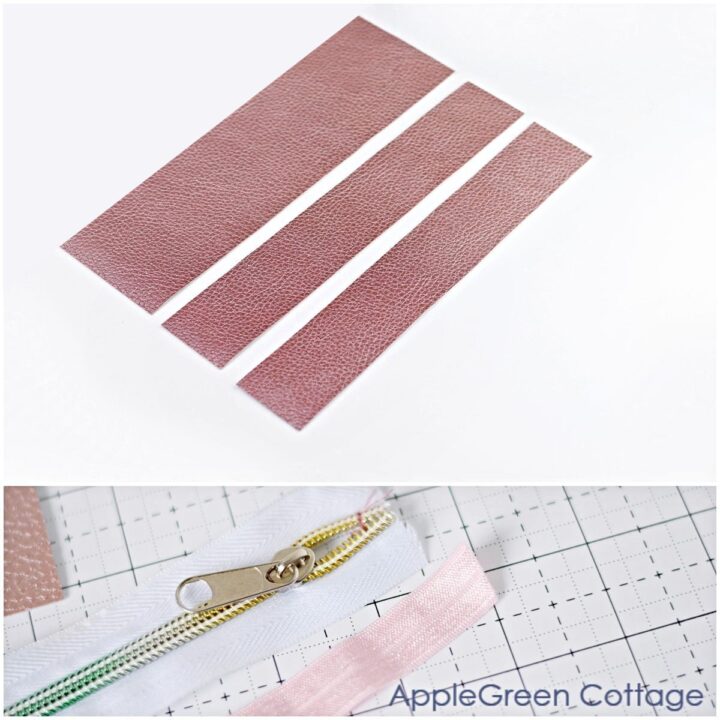 Step 2 - Add Zipper To Piece #1
Let's start sewing: place the zipper right-side-up and one of your front pieces right-side-down, aligned along the top long edge. Attach sewing clips to hold in place and stitch, using the ¼" seam allowance.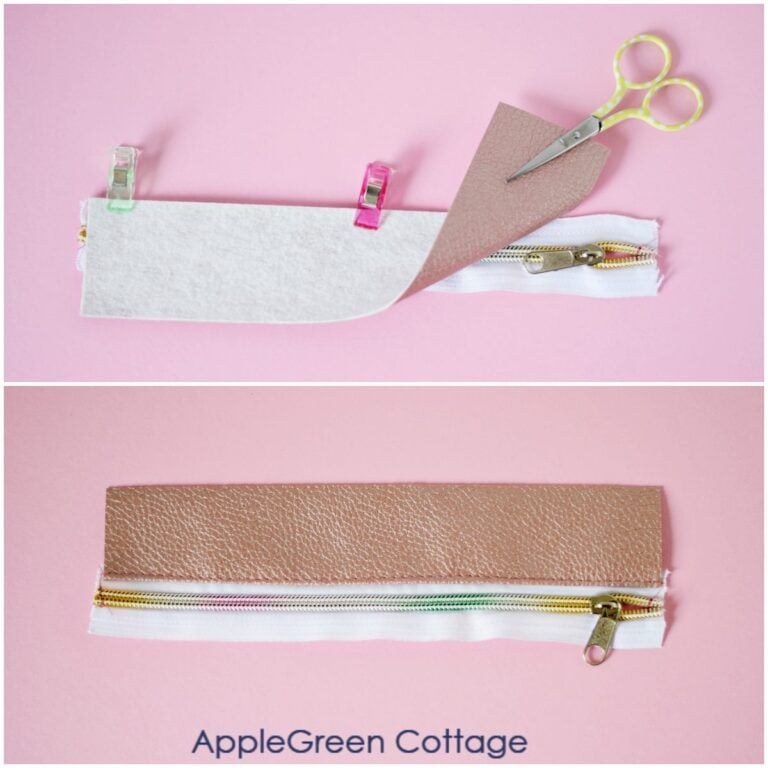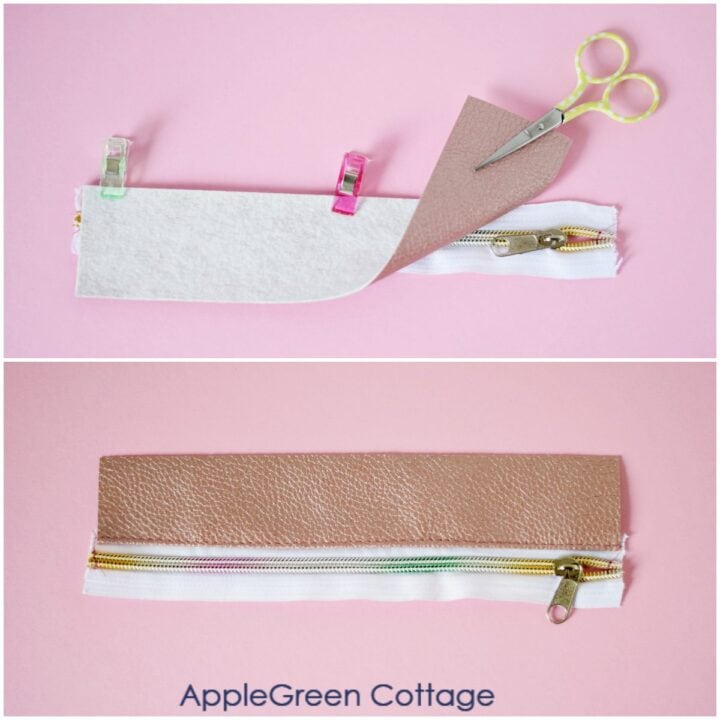 Flip the sewn faux leather piece right-side-up, finger-press, and topstitch along the zipper to finish the seam.
Step 3 - Attach Zipper To Piece #2
Next, do the same with the other front piece of faux leather, on the other side of the zipper tape. Place the zipper and faux leather piece with right sides together. The zipper tape and the long edge should be aligned.
Clip and sew, using the same seam allowance as before.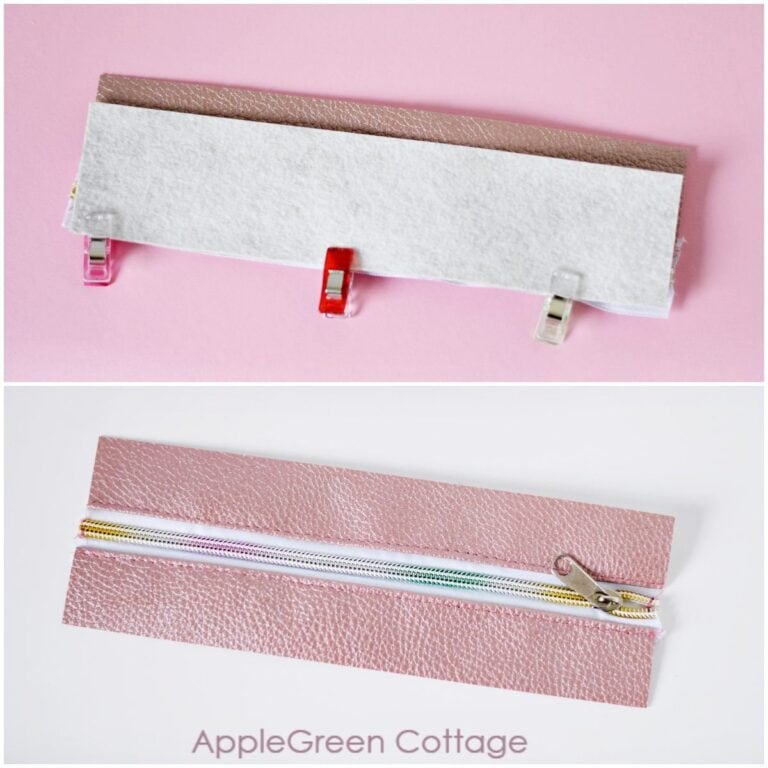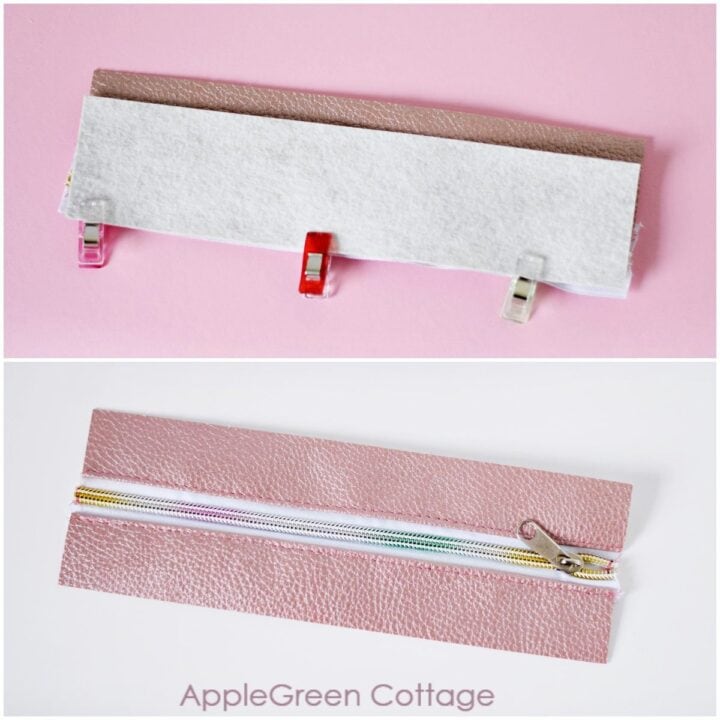 And again, flip the sewn faux leather piece right-side-up, finger-press, and topstitch along the zipper to finish the seam.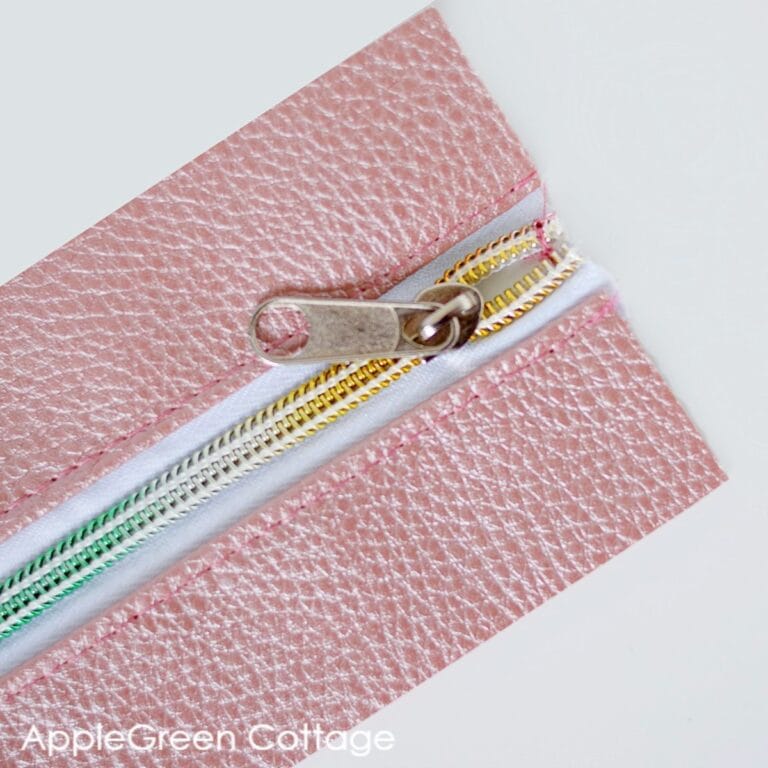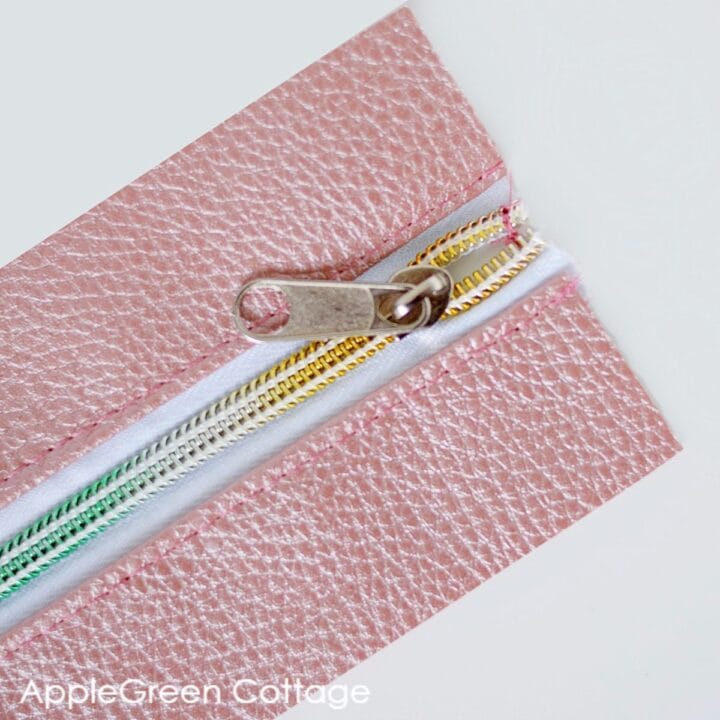 Bonus tip: If you end up using a different seam allowance, no problem - you'll simply cut off any excess faux leather later (but not just yet!)
Step 4 - Open the Zipper And Attach Elastic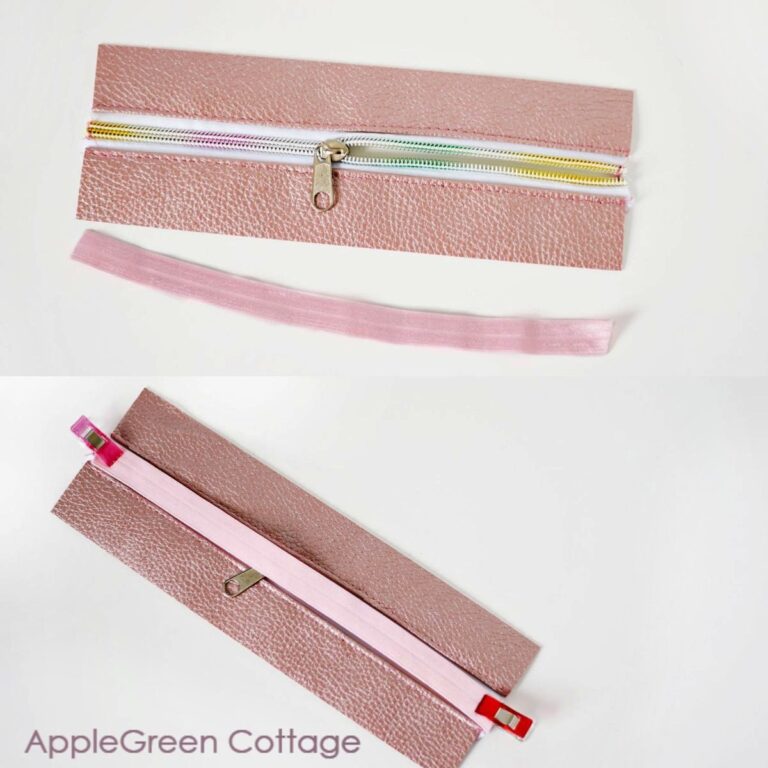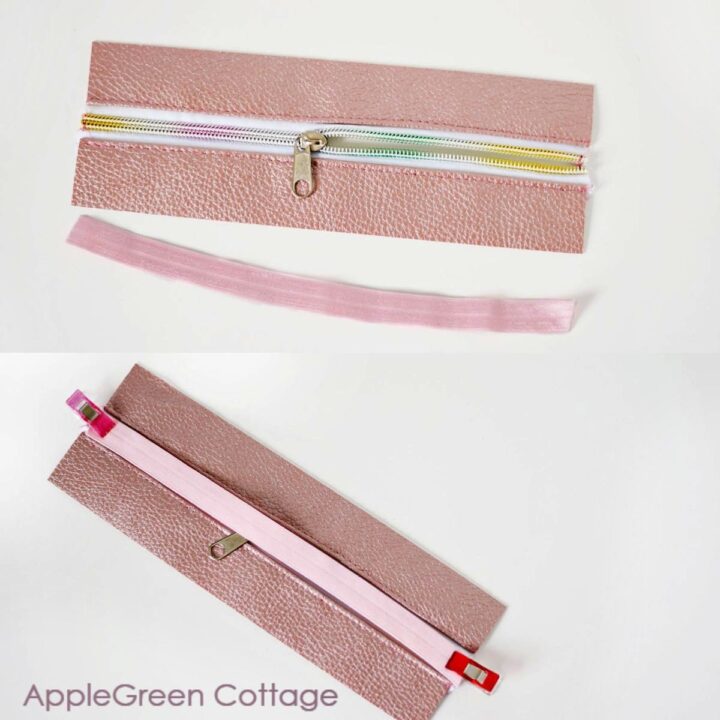 Important: Open the zipper halfway.
Then grab your 9" fold-over elastic and clip each end to the zipper end, as seen in the photo above. The elastic will cover the right side of the zipper. You can baste the elastic ends in place to prevent sliding.
BONUS TIP: If your elastic has a right and wrong side, make sure the right side faces zipper teeth.
Step 5 - Doublecheck - is the zipper open?
Trust me. Never leave the zipper closed here.
Step 6 - Sew it all together
Now, it's time to finish the elastic pen pouch:
place the semi-finished zipper front panel with the right side up
and cover it with the back piece (facing down).
The right sides need to face each other. If a piece is a bit too wide, you can safely cut off any excess.
Stitch around.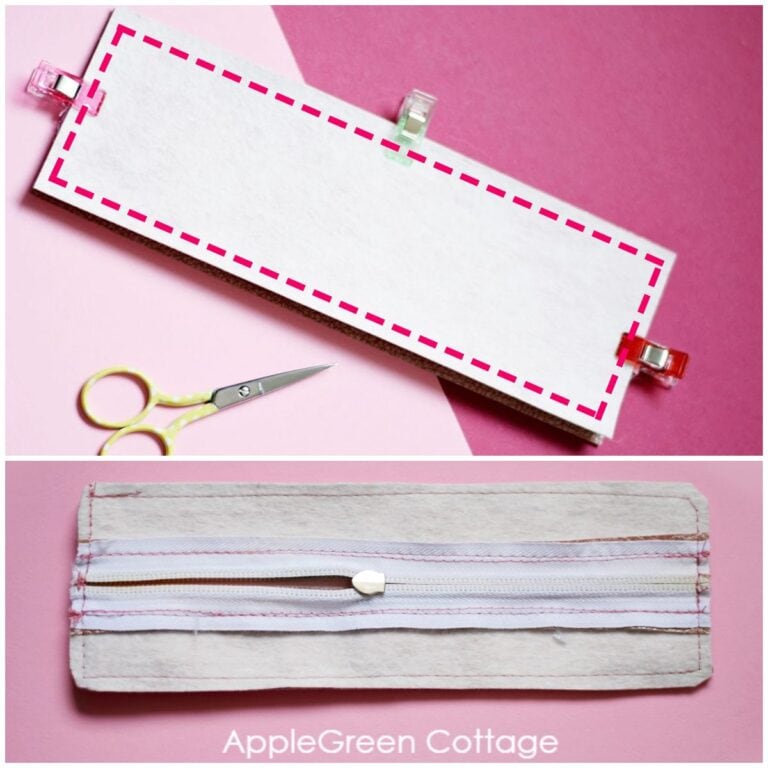 Snip off the corners and trim off any excess seam allowance. Make sure to make clean cuts, as the raw edges will remain visible on the inside.
Step 7 - Turn and use - or gift!
Turn right-side-out through the half-open zipper. To push the corners out, you can use a knitting needle or a chopstick. Done!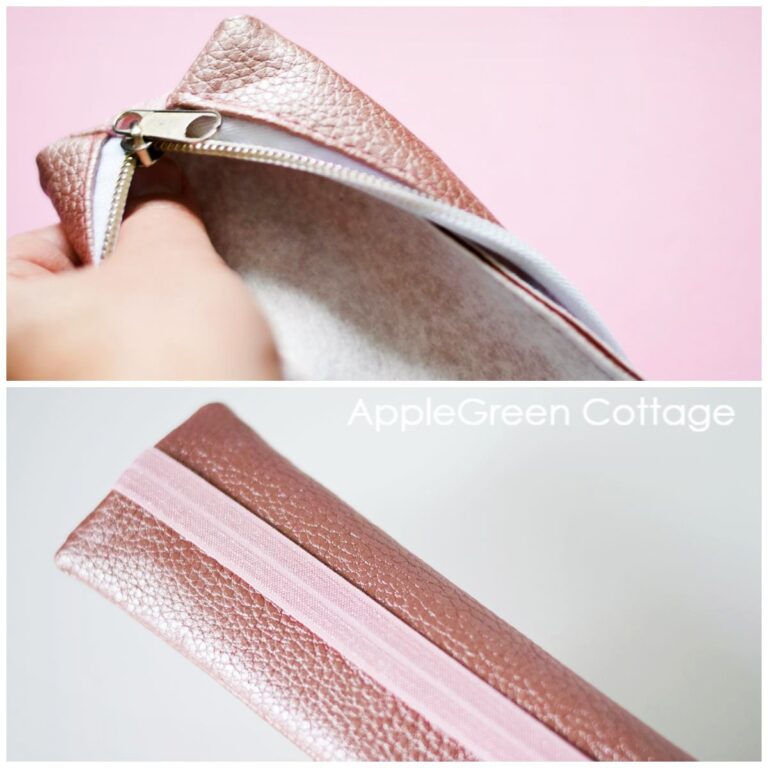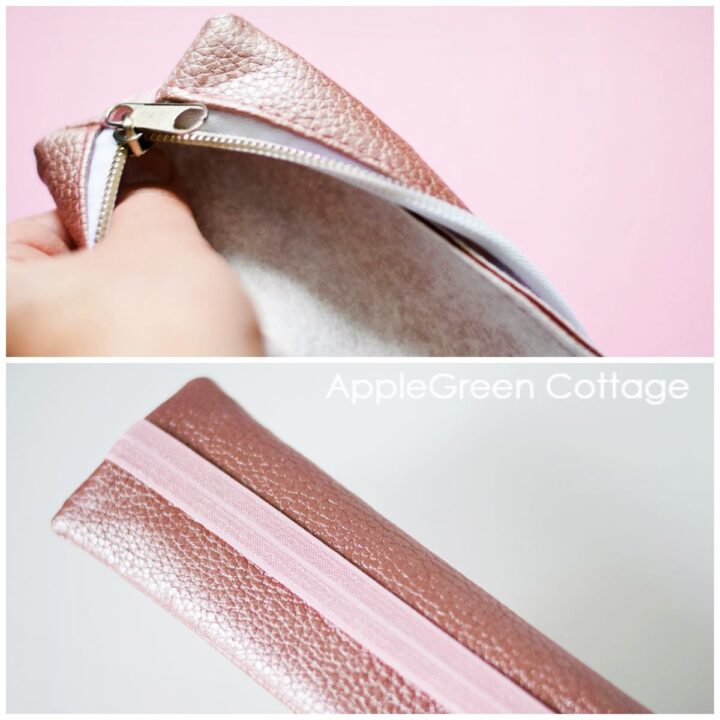 You'll notice that the edges never get to be really (visibly) exposed when using the pen case. The elastic fixes the ends in place, so when you open the pouch to take out/put away the pen, you're not seeing much of the inside, at all. I LIKE that! (insert a happy grin from me)
Oh, one more thing if you haven't noticed: the fold-over elastic is meant to be on the back. Use it to attach your pen case to a journal, a notebook, or a book.
Now, that was easy, wasn't it! You've made a cute slim pencil pouch, and now you can sew up a few more as back-to-school gifts, or teacher appreciation gifts. Or, if you're like me and fall in love with every little zipper pouch you spot, make tons of them so you get to keep at least a few to yourself!
This is a great scrap buster project. These slim and stylish diy pencil cases can be used for everything! It will fit a few pens, felt-tip pens, pencils or crayons. Or mini toys. Which reminds me of this lip balm holder pattern, it's free. Just in case you'd want to add a chapstick holder to your collection.
Save this project for later: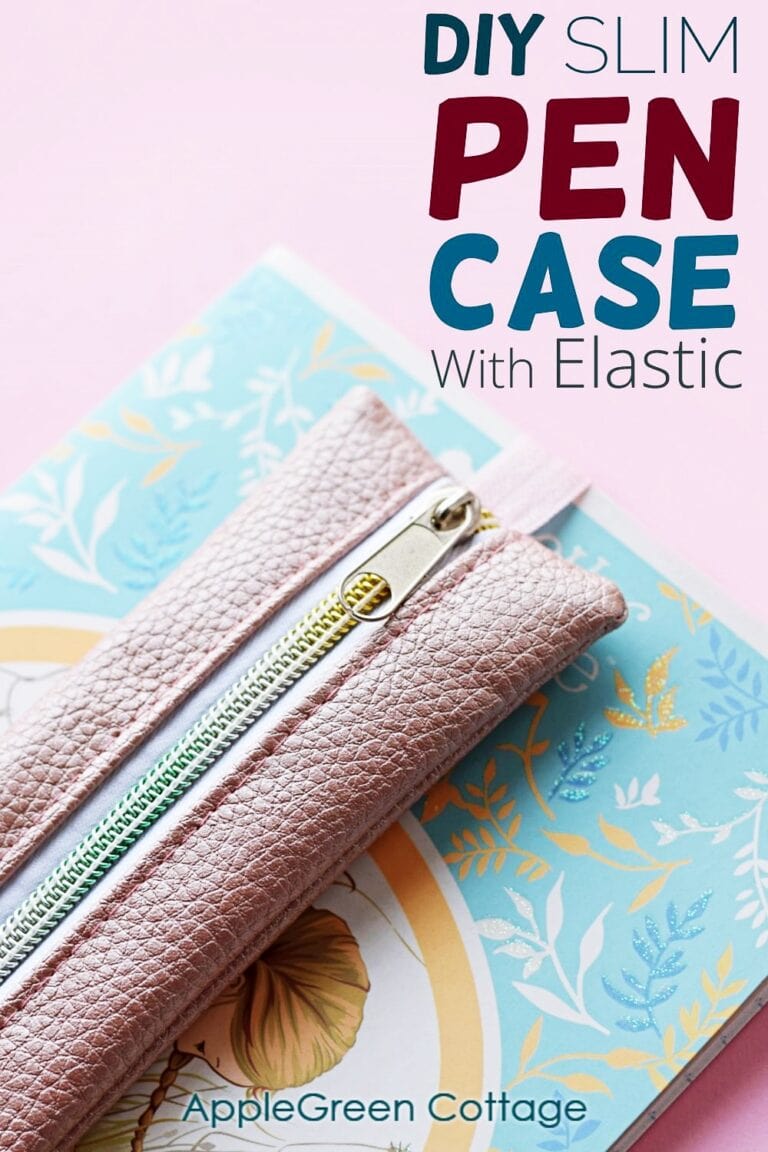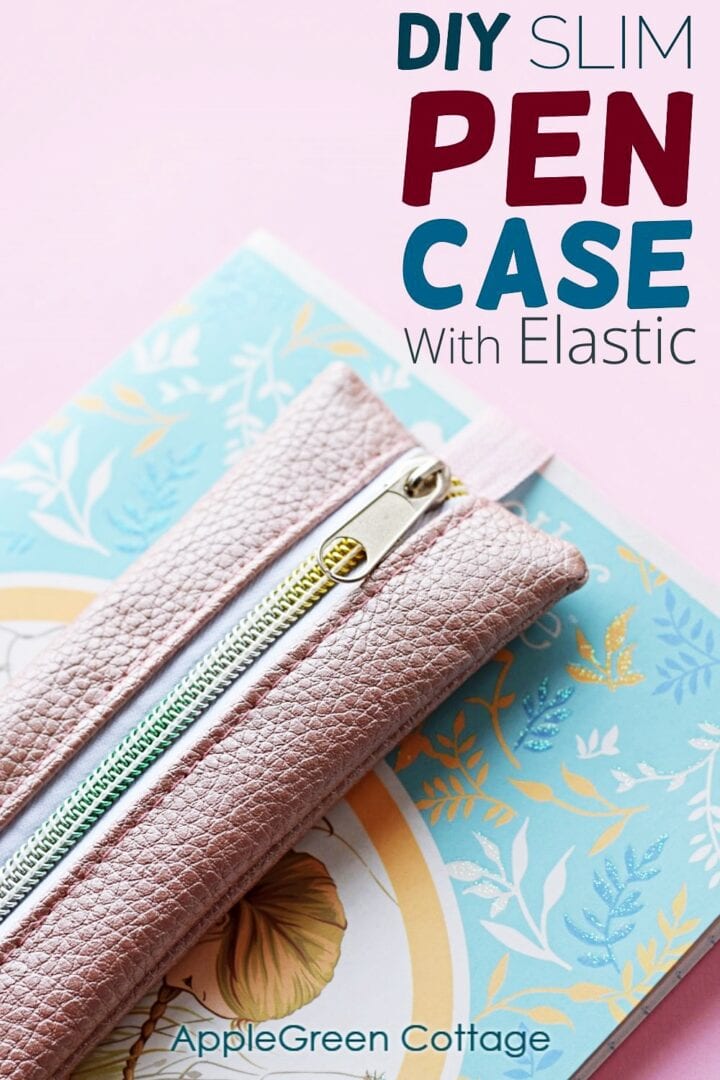 If you liked it, check out these posts - they will make your back-to-school sewing fun and easy:
Now, feel free to leave me a comment and let me know if you liked this diy pen case with elastic. Make one and fill it with a few cute sharpies or pencils, and you've got a great diy back-to-school gift!
WANT MORE FREE TUTORIALS AND PATTERNS?
Get email updates and never miss out on new patterns, printables, and tutorials:
Or …check out the NEA Small Crossbody Bag pattern in our shop. This bag skyrocketed to the top of our best-sellers in less than a week after it was released: