Love holiday decorating? Here are some of the best easy diy Christmas decorations you can make in less than an hour - take a look to get tons of holiday decorations ideas!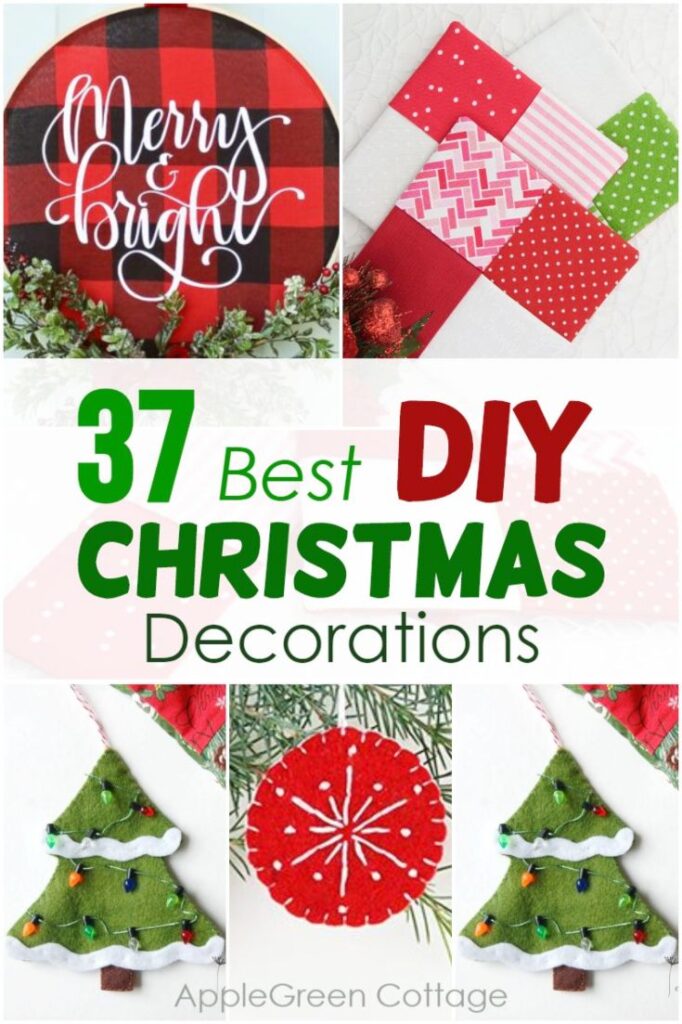 In the mood for a lot of Christmas crafting? Good! Here are 37 of the best diy Christmas decorations tutorials on the web for you - and they are all free! ❤️
If you are looking for DIY GIFT IDEAS, you'll also love these FREE patterns:
Easy Diy Christmas Decorations
Now back to today's 37 super cute and easy diy Christmas decorations to use in your holiday decorating: these are fun and easy ideas, large and small projects, with so many different materials to use. You'll love them!
Some are easy sewing projects and for some are no-sew fabric projects. And I couldn't help but include some of other beautiful diy projects not involving any fabric at all (or maybe just a bit of that beautiful ribbon you've been stashing for ages). For those you neither need any fabric nor thread. Scroll down to see them all!
Make your home feel warm and festive this holiday season. I've grouped all these holiday decorations ideas into three sections to make it even easier for you to choose your favorites:
Easy Diy Christmas Decorations to sew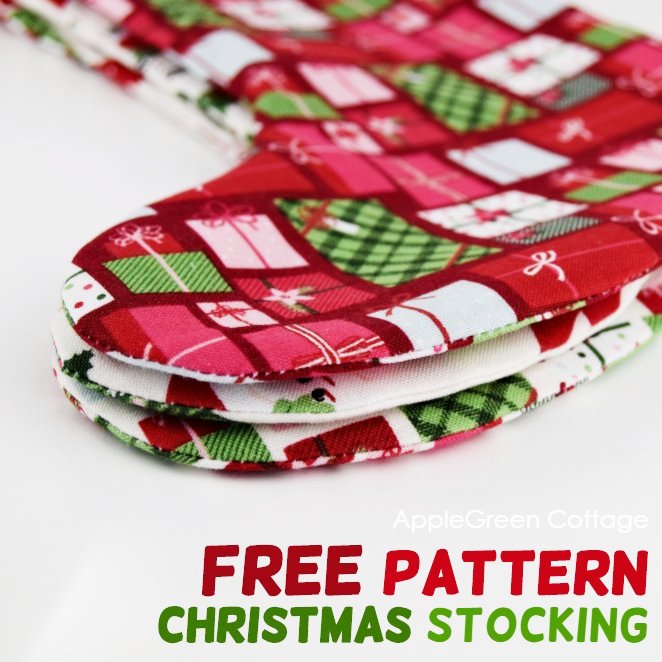 Sew a perfect set of diy Christmas stockings for the whole family that can be reused every year. They are super easy to make, gorgeous and reversible, so you'll be able to match them to your Christmas decor for years to come! Check it out HERE, or use this modern quilted Christmas stocking idea - large, quilted, beautiful - and you can use scrap fabric: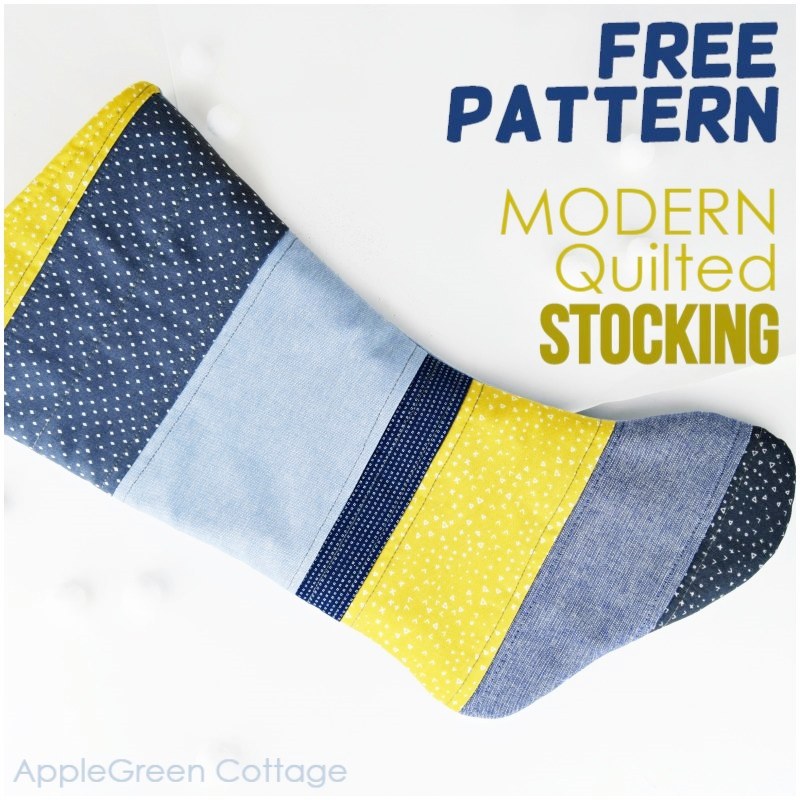 Easy Diy Gift Card Holder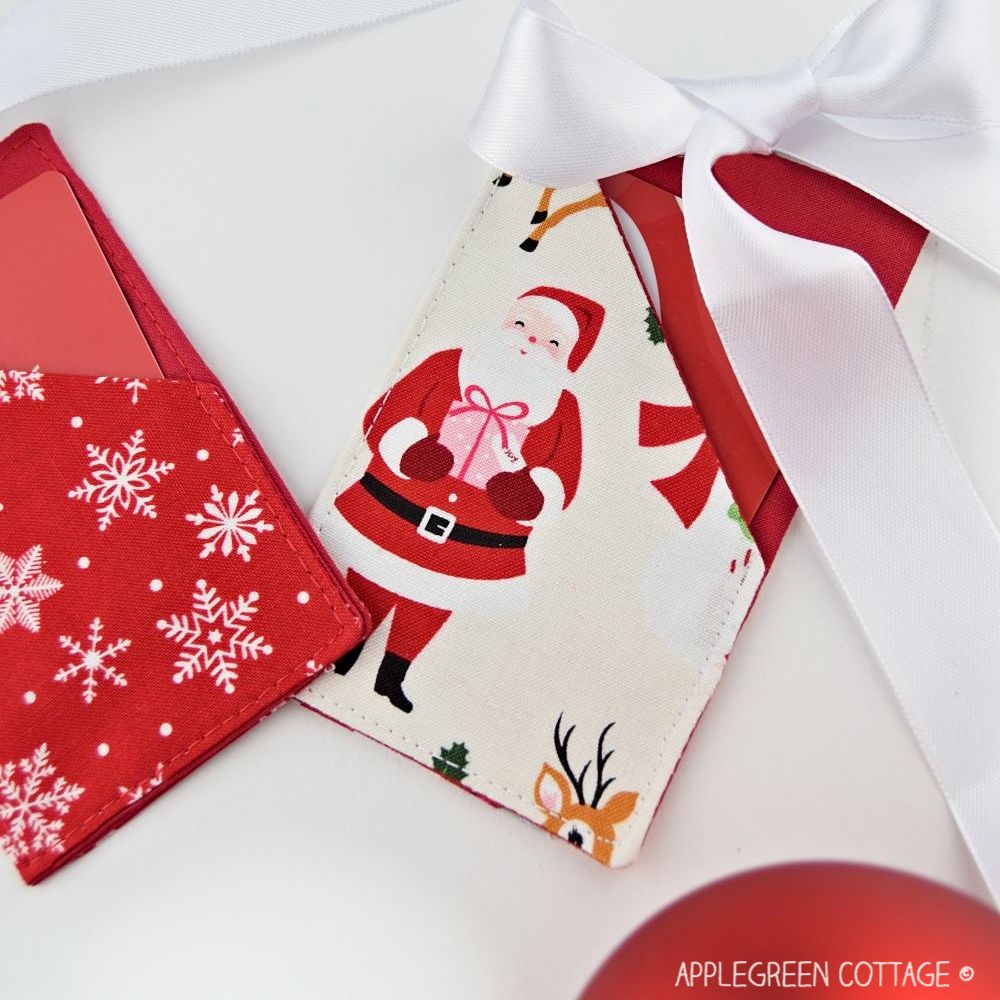 This easy gift card holder - just in case you want to give your loved one a choice to choose their own gift, this doesn't mean it can't be wrapped in a handmade fashion! Free template here at AppleGreen Cottage.
Diy Christmas Pillow With Applique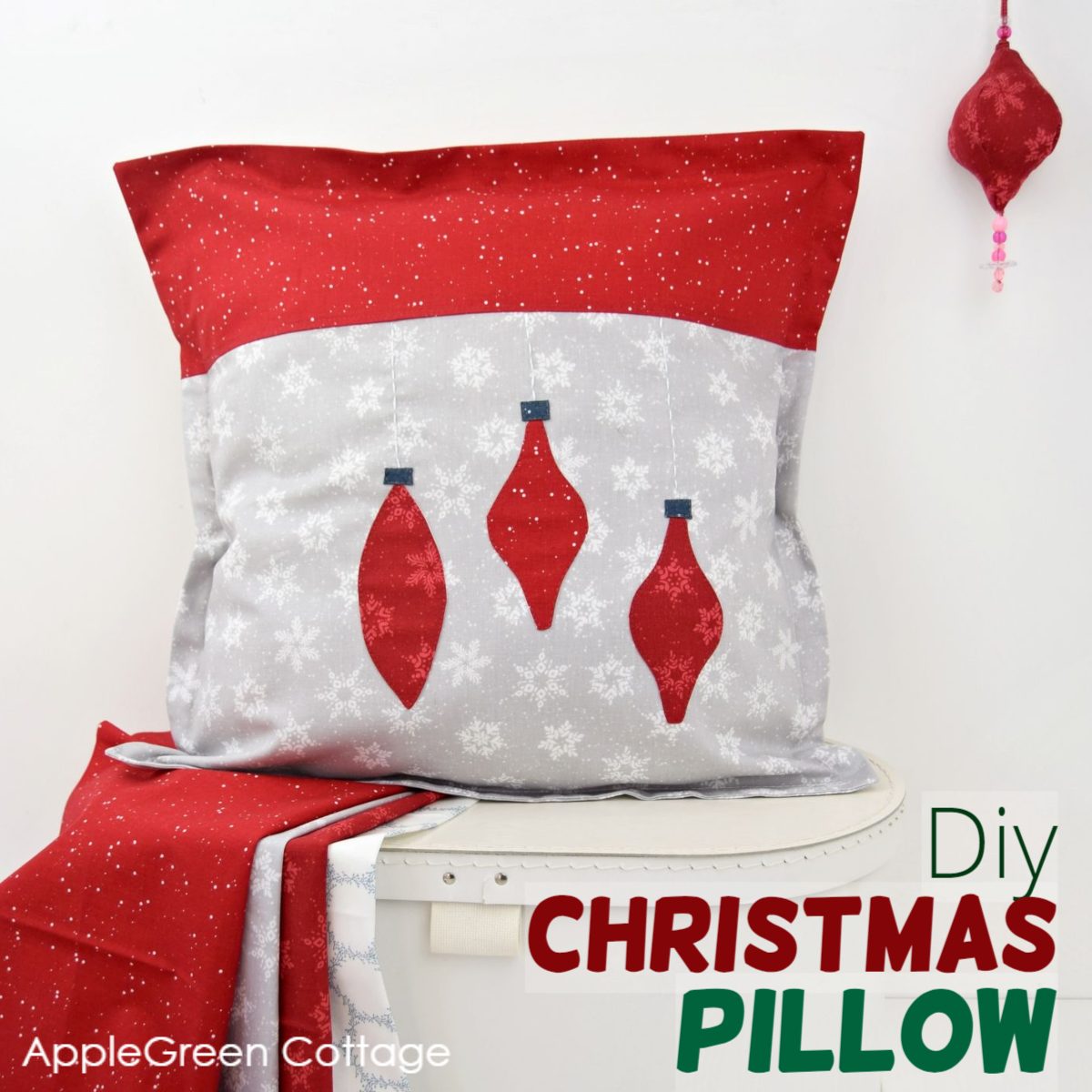 This classic Christmas pillow in beautiful reds and silver-grey looks so classy. Nobody will guess how easy it was to make! Christmas pillow tutorial here at AppleGreen Cottage.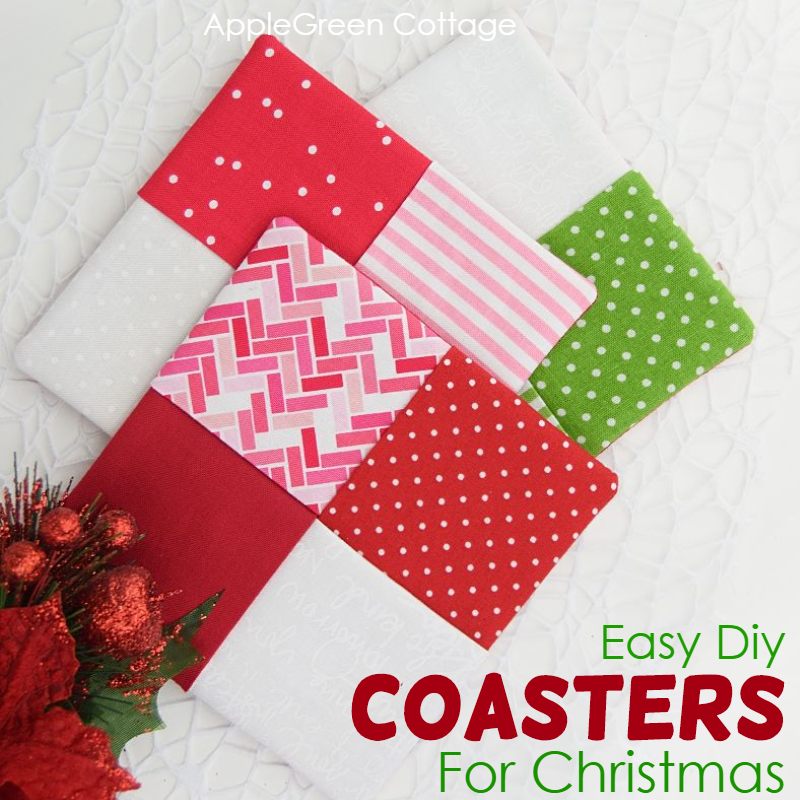 These diy Christmas coasters are the latest thing I've sewn. They are ridiculously quick and easy to sew and make perfect little diy holiday gifts - You won't believe how easy they are to diy!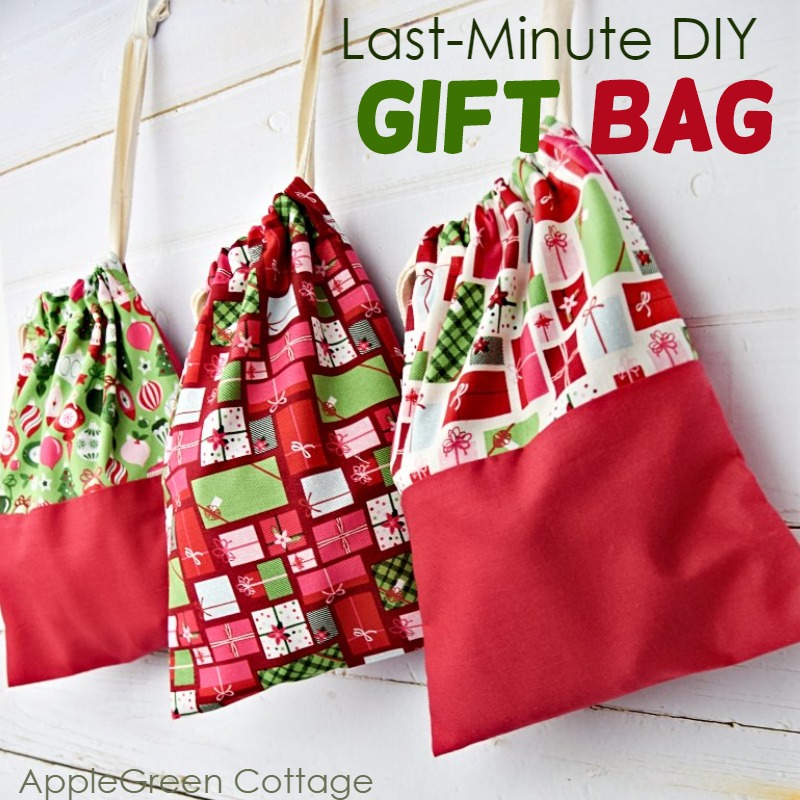 Make a diy gift bag using this easy tutorial and get ready for holiday gift-giving - in minutes! Also, check out the bonus tips in the tutorial - and no two of your gift bags will be alike!
Quick-Make Diy Christmas Advent Calendar - From a panel!!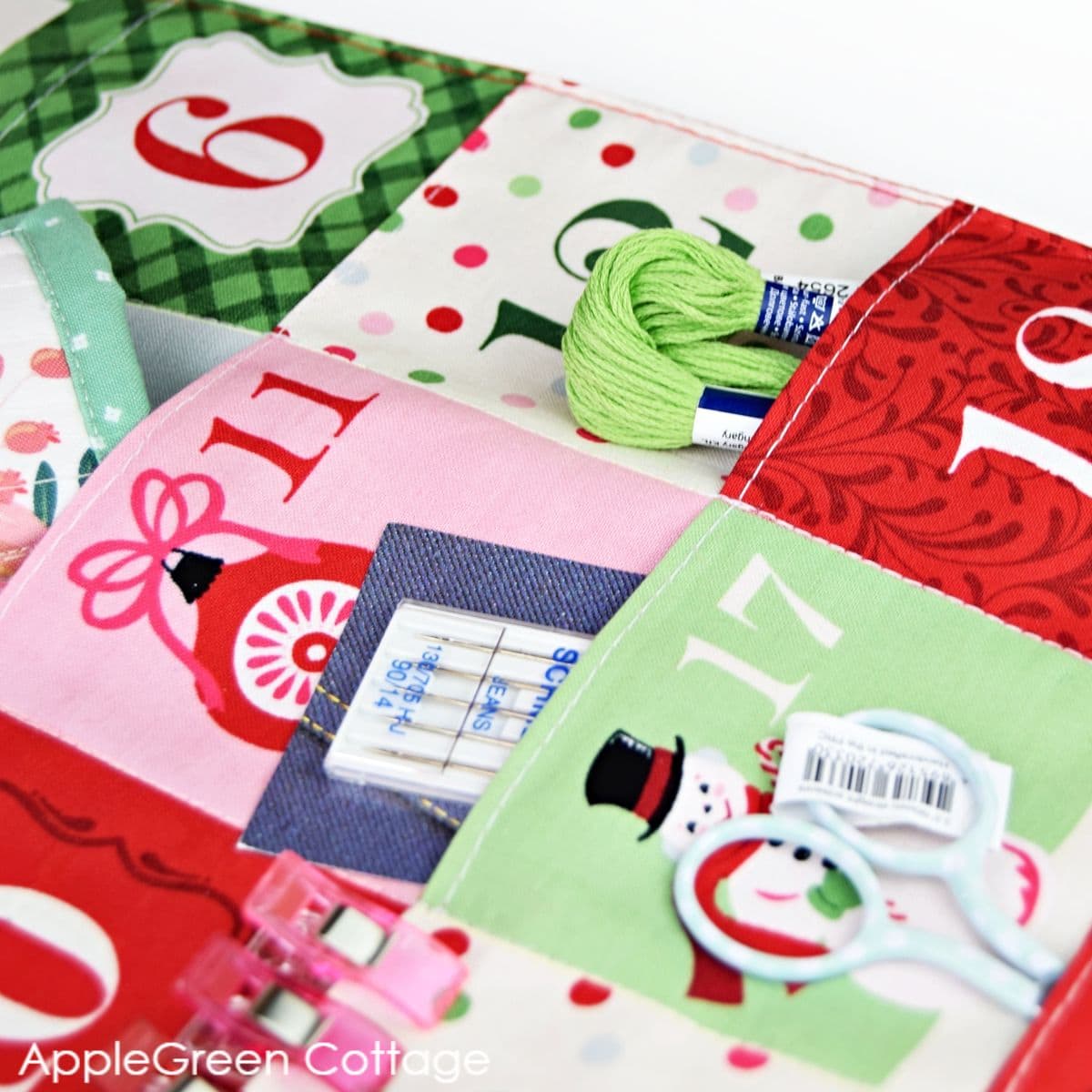 This diy Advent calendar is such a quick make! This one is perfect for when you're running out of time to sew one! (But don's repeat my mistake - it's in the post!)
Gorgeous Pieced Advent Calendar to Sew
I've made one from yardage too, and I think it's gorgeous!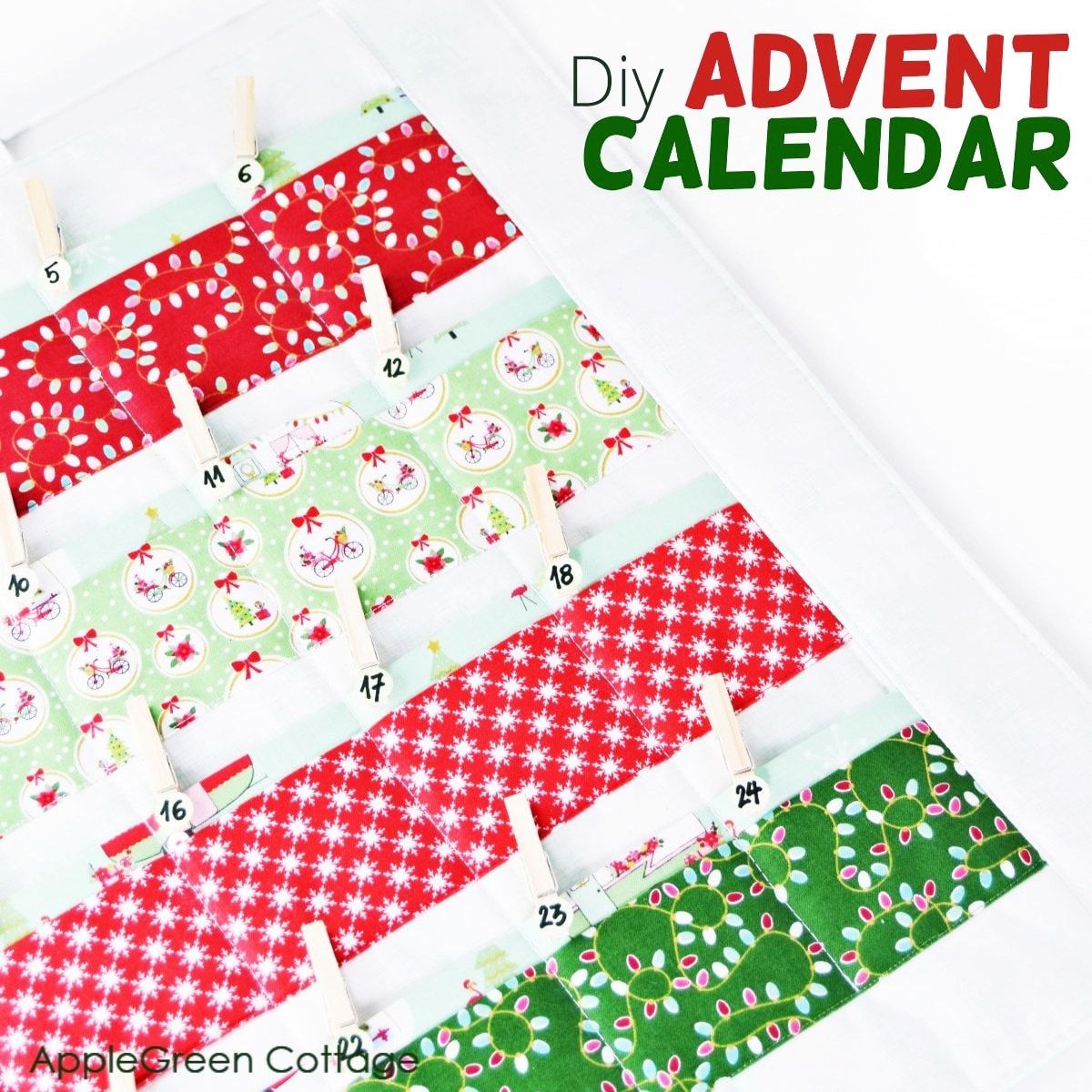 See full step-by-step advent calendar tutorial.
Fab Looking Tassel Ornaments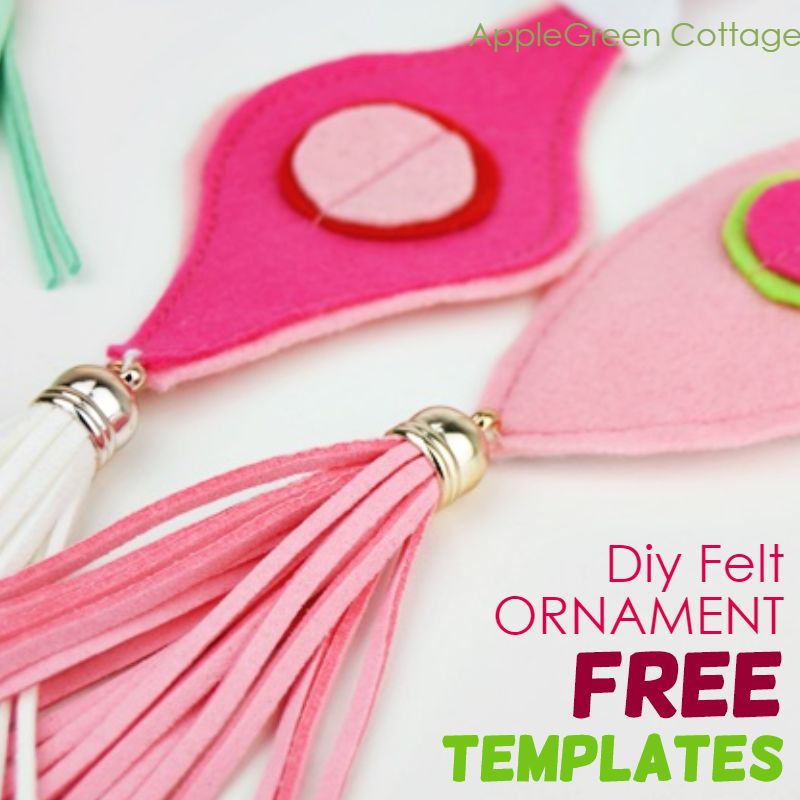 FAB LOOKING Ornaments - Just by layering!! the tutorial comes with a free template. Feel free to make a lot of them and use as present toppers!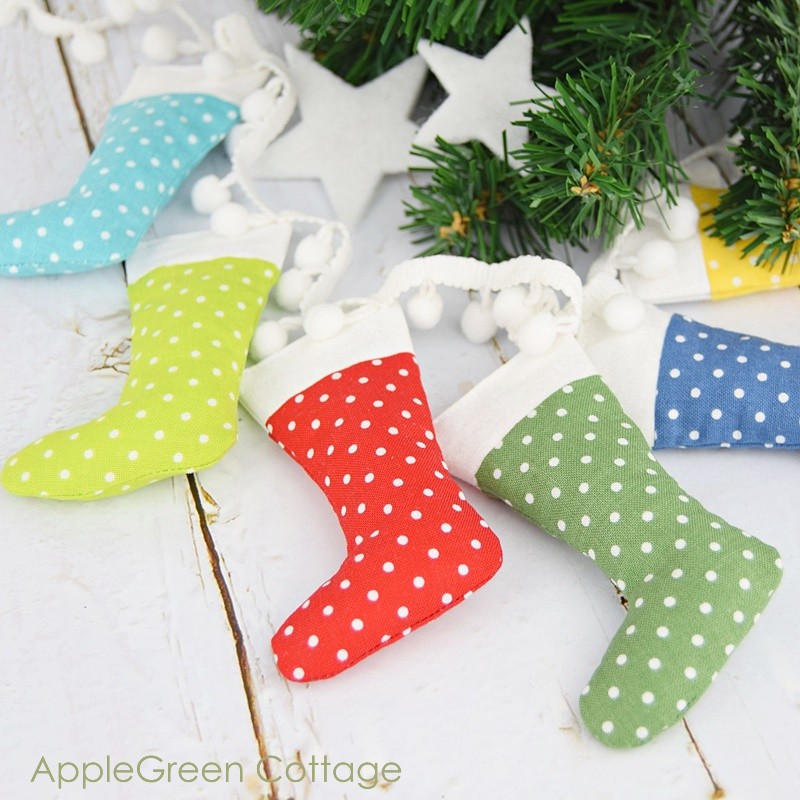 Use this free pattern for mini Christmas stocking ornaments in three sizes I made here at AppleGreen Cottage - and turn these into the cutest diy Christmas garlands!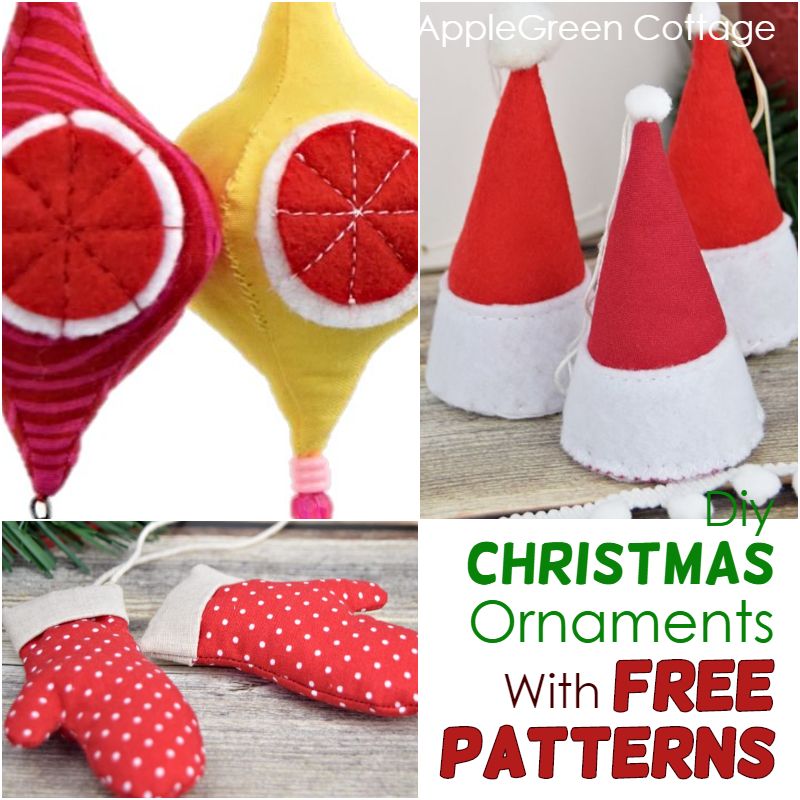 To name just a few from the free templates on AppleGreen Cottage:
And that's not even the end of the list yet! I created a whole FREE HOLIDAY PATTERN Bundle with more than 15 free holiday sewing ornament patterns. Take a look and pick out whatever you feel like - one or all of them. So many cute things to sew!
HUGE Holiday Sewing Pattern BUNDLE - FREE!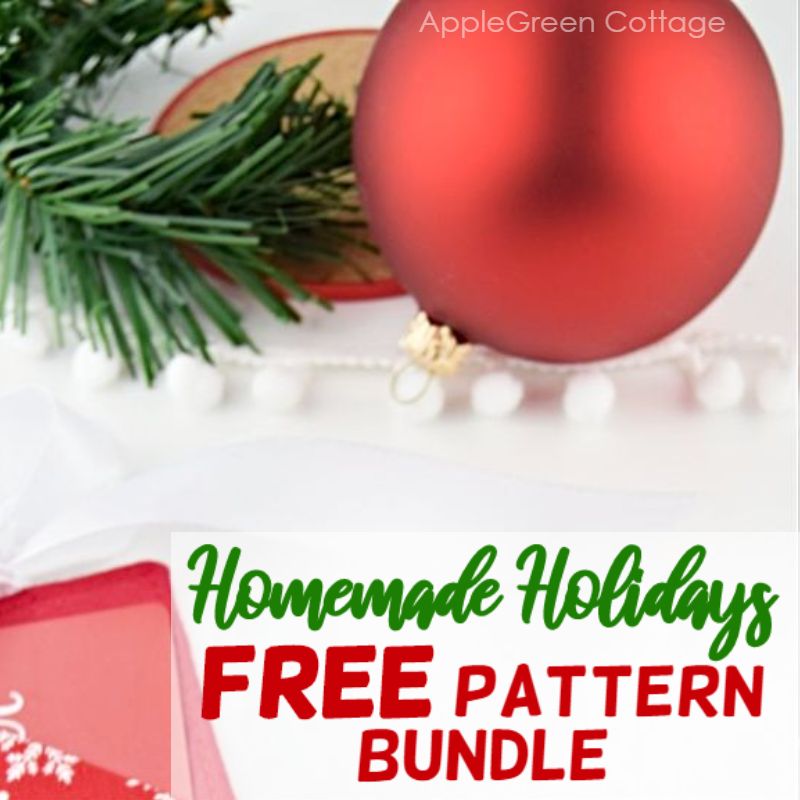 UPDATE: MORE templates to be ADDED to the Homemade Holiday FREE Bundle!- Join our mailing list here, so you don't miss out on any new tutorials!
If you are looking for more holiday projects, here are a few you'll love:
and there's more!
DIY GIFT TAGS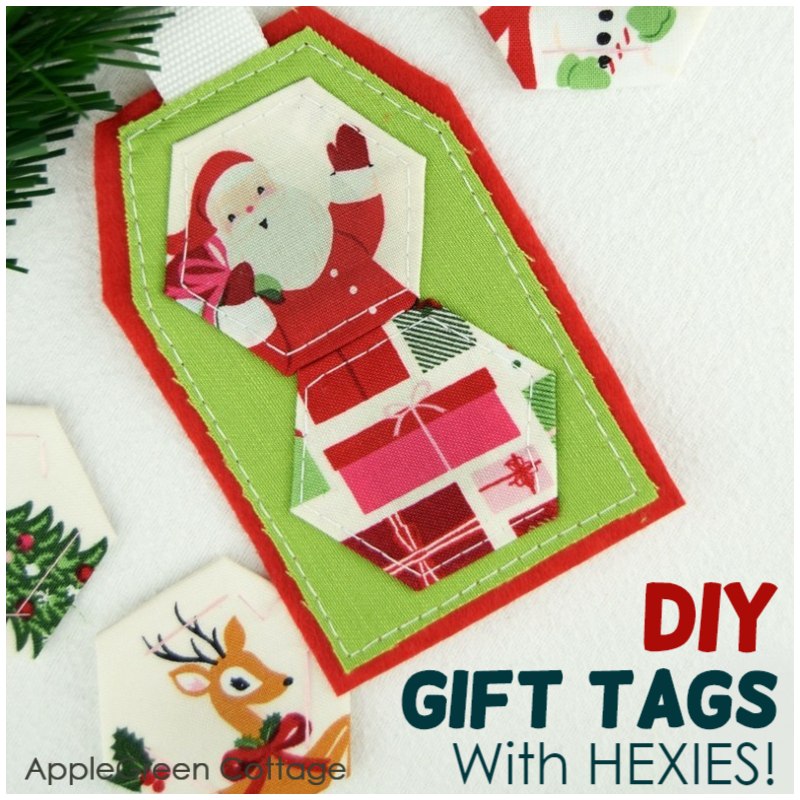 Make sure to add gift tags to your holiday gifts - what an adorable handmade touch!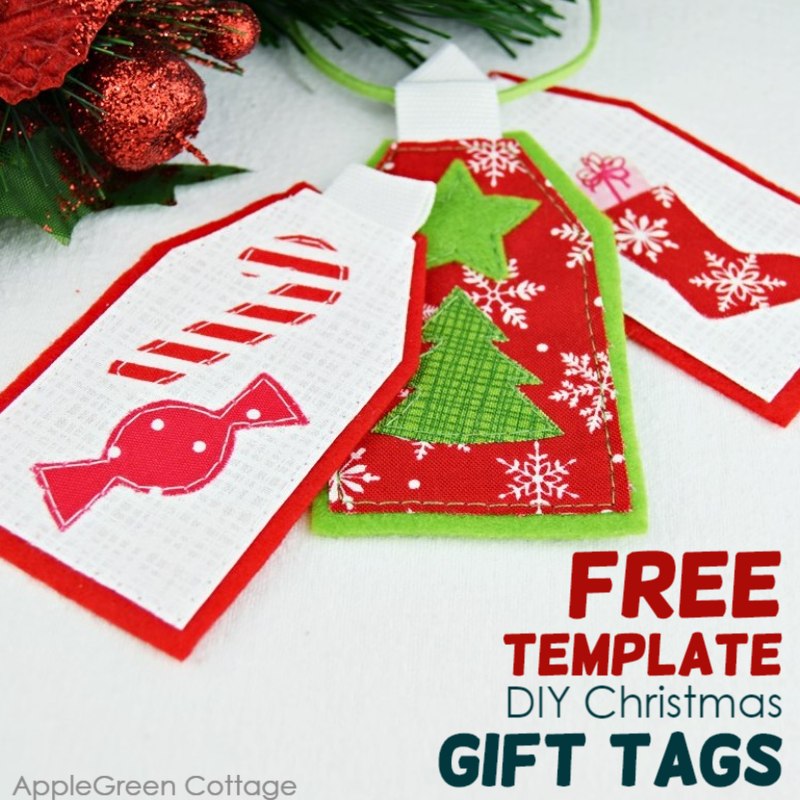 You can use the gift tags as tree decorations too, and they are reusable! If you're looking for even more tree decorations, here are a few more Christmas decorations to make your holiday home feel handmade and pretty, all season long:
Snowflake Embroidered Felt Ornaments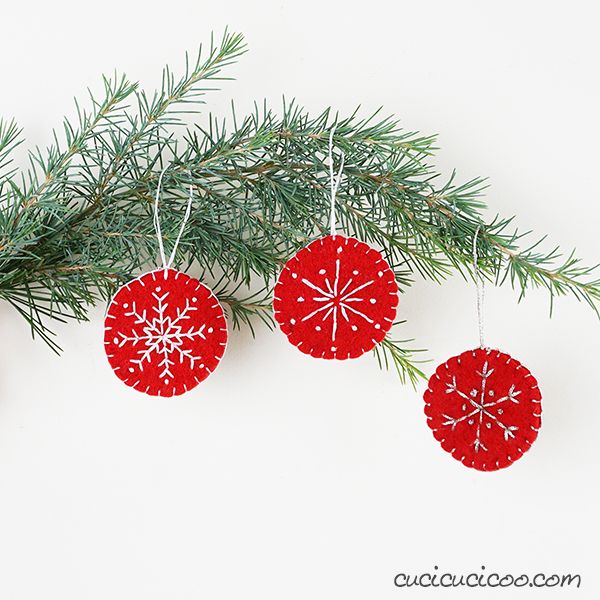 These look gorgeous! Get the free template and how-to at Cucicuciccoo.
Fabric Ribbon Candy Ornaments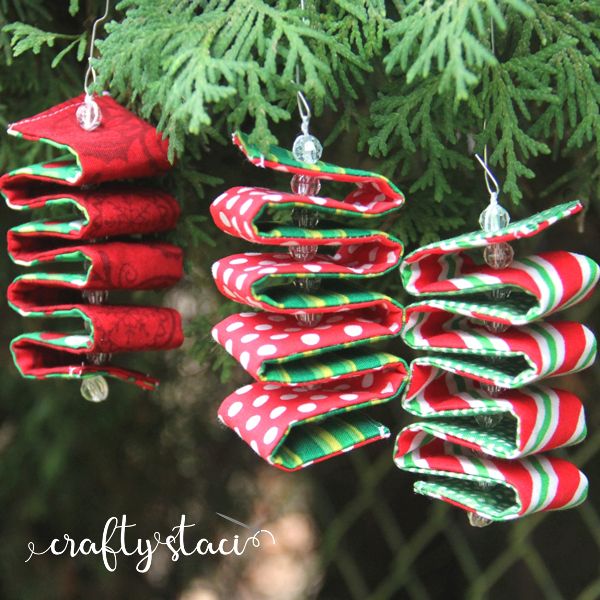 Staci at Crafty Staci created these sweet ribbon candy ornaments - zero calories!
Diy Felt Christmas Tree With Lights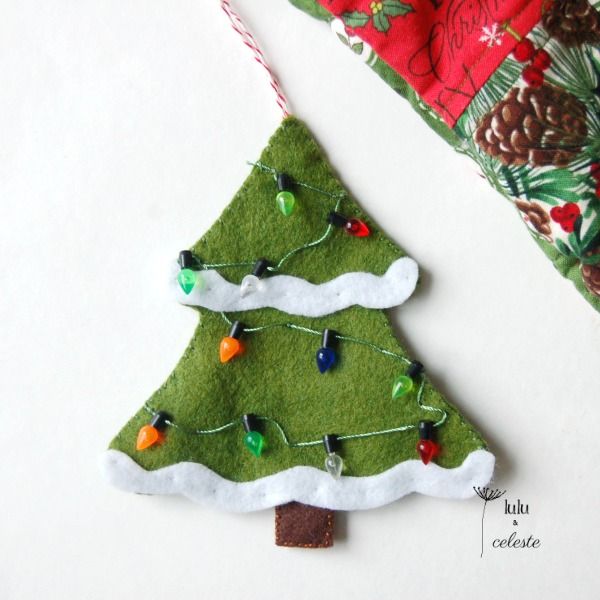 Ula from Lulu & Celeste has created the cutest little felt trees with miniature lights. Why didn't I think of that!
Easy Christmas Tree Ornaments With Rick Rack Trim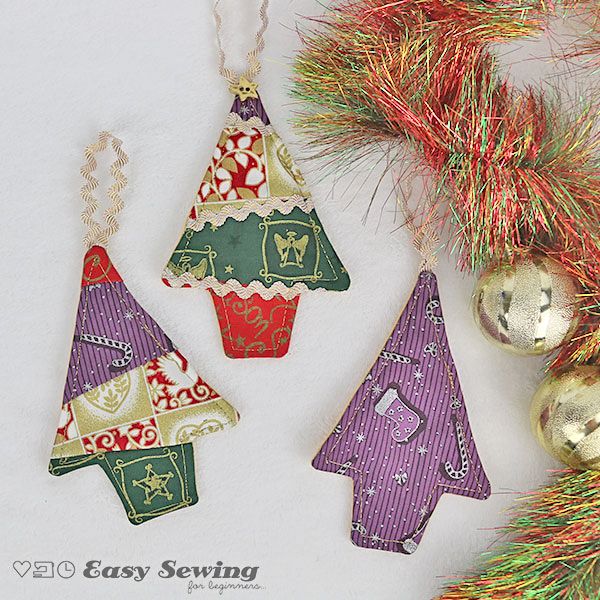 These tree ornaments and rick rack trim look so cozy and inviting! Visit Domenica at Easy Sewing For Beginners for the tutorial.
Mini Gift Bags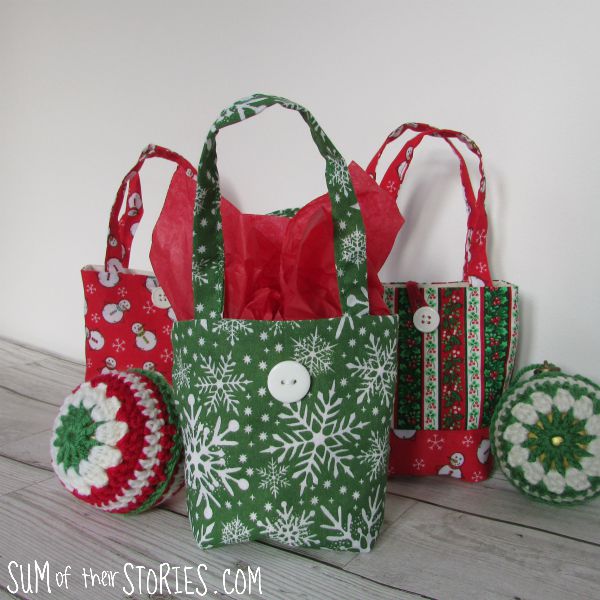 Make lovely small-sized gift bags like these by Julie at Sum of Their Stories. The button adds such a cute accent! Visit her tutorial here.
Embroidery Hoop Christmas Decorations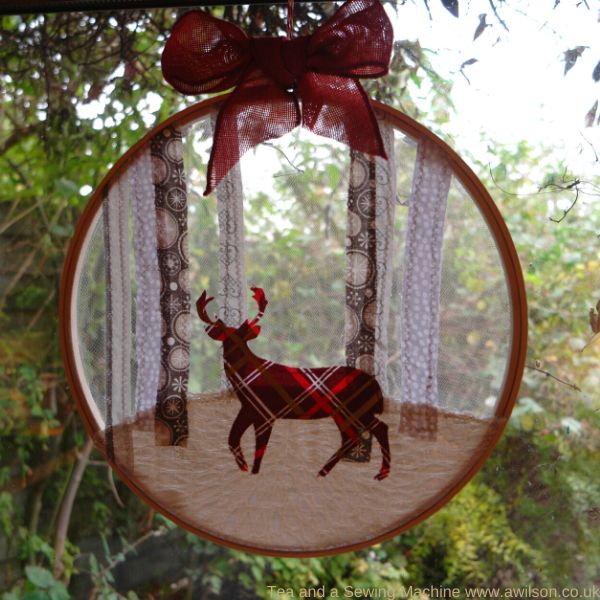 Anna has made these adorable see-through embroidery hoop ornaments. Visit her blog at Tea And The Sewing Machine for tutorial.
Diy Christmas Pudding Decorations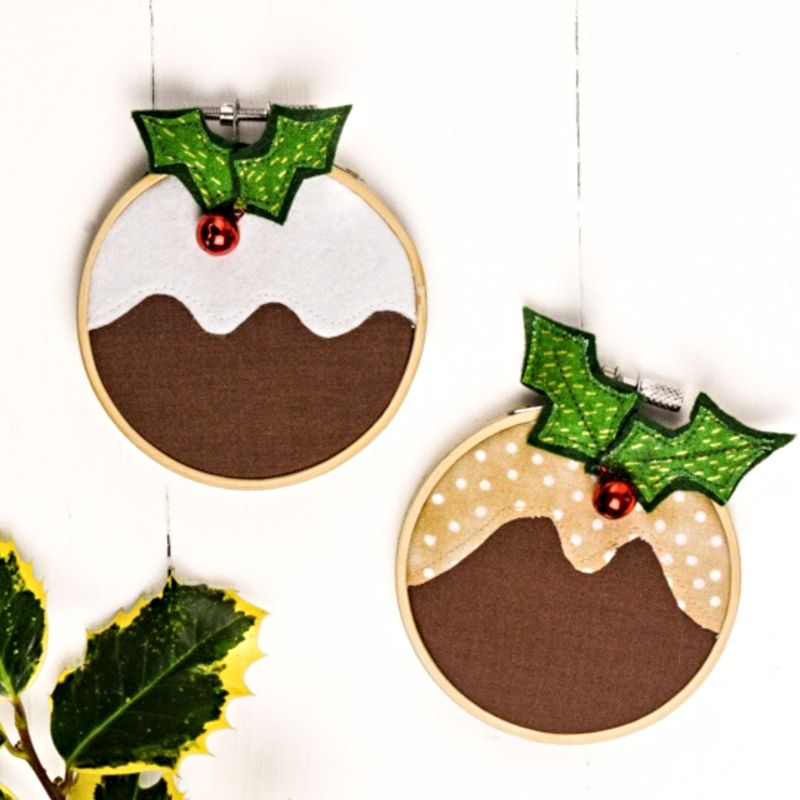 These yummy felt Christmas pudding decorations look like so much fun to make! Check out the tutorial at Vicky Myers Creations.
Diy Fabric House Ornaments (Free Pattern)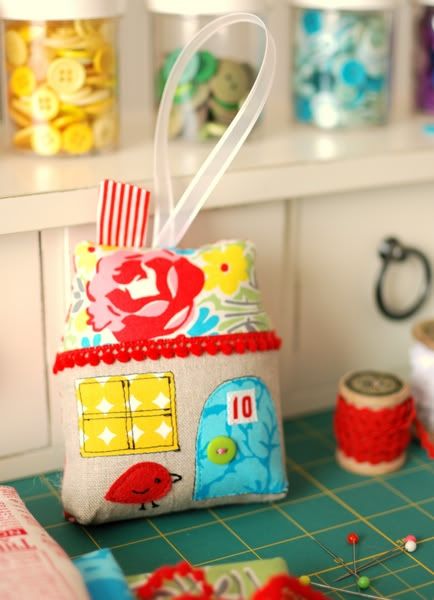 This beautiful diy fabric house ornament comes from Retro Mama. Visit her blog, download the free template and make tons of adorable little diy houses for your Christmas home decor!
Now let's move on to the no-sew and some no-fabric versions!
No-Sew Fabric Christmas Decorations
Here is a shortlist of those Christmas sewing projects that will require no sewing at all - I am only listing my favorite ones here. Super handy for a quick diy home makeover this season!
A Classic: Easy Poinsettia Ornament (Sew AND No-Sew Version!)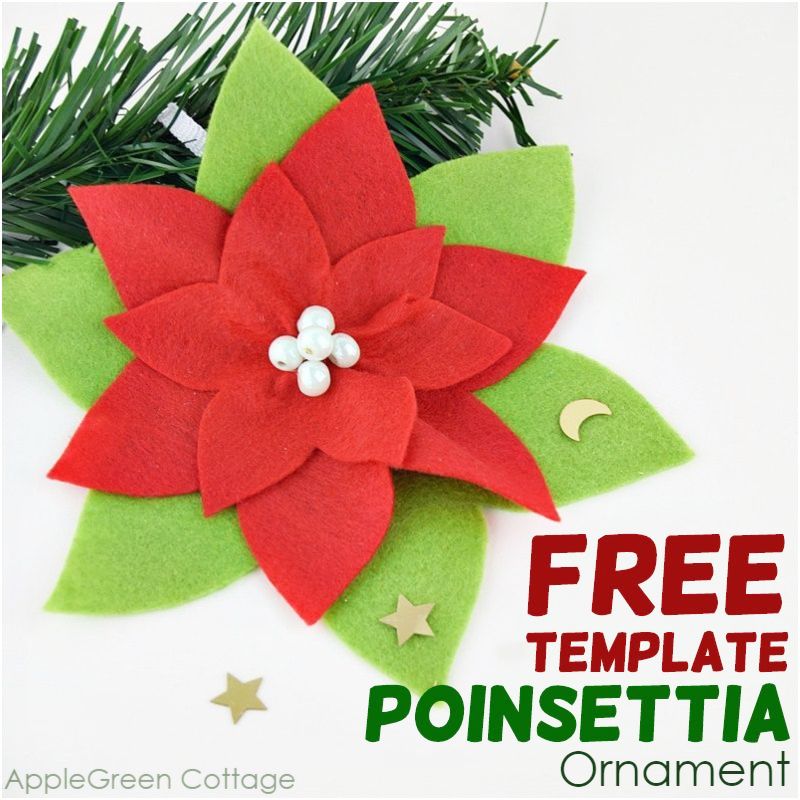 This beautiful classic diy Christmas decoration only requires a few stitches (or none at all if you do a no-sew poinsettia!) The free template comes together with 13 other free templates to help you make your own diy holiday decorations. Download them all! - Poinsettia Tutorial HERE.
No Sew Christmas Trees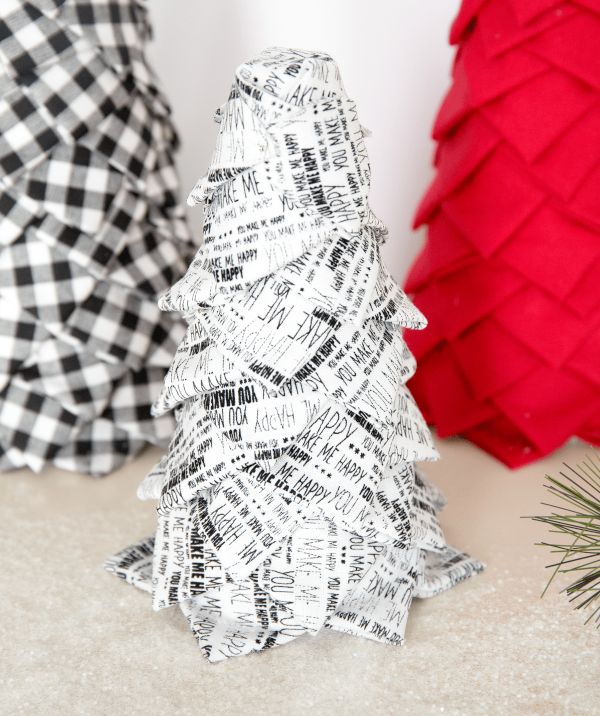 These no-sew Christmas trees will be great for getting your scrap bins down! Tutorial by Simple Simon & Co.
Diy No-Sew Folded Star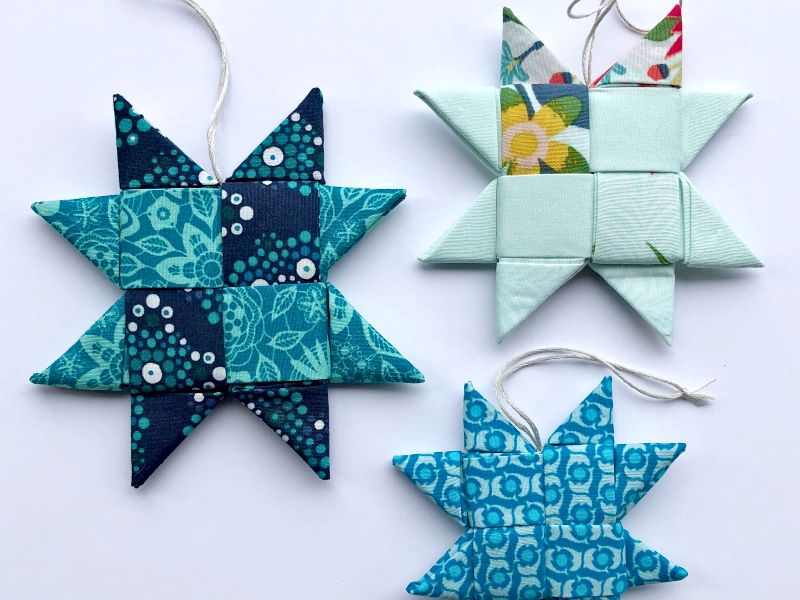 These beautiful Scandinavian-style diy Christmas decorations were made by Mathew at Mister Domestic. The tutorial comes with a great video and it's super easy to follow.
No-Sew Christmas Quilted Ball Ornaments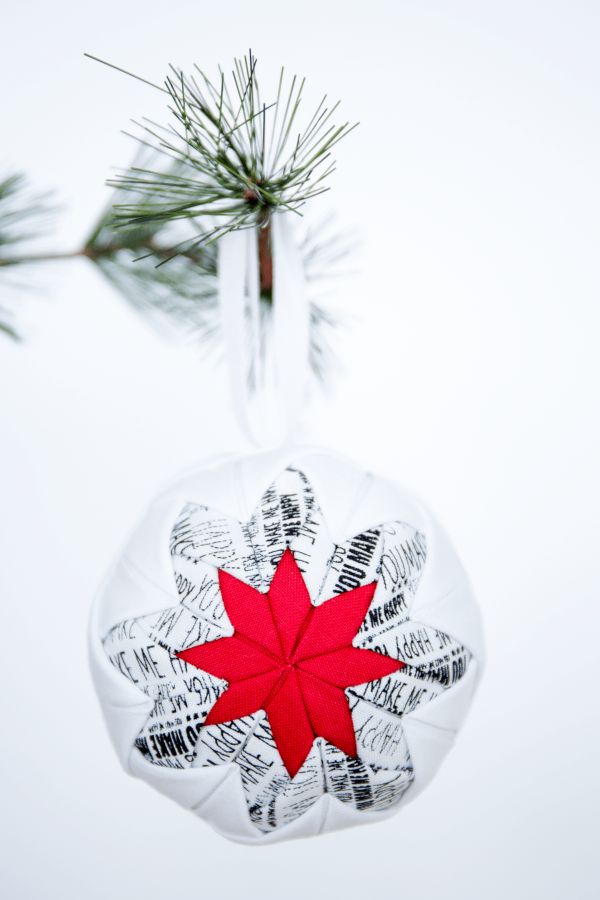 One more no-sew tutorial from Simple Simon & Co, I just couldn't resist it: such a clever diy to put on your Christmas tree or make a garland to hang over the mantle! Find the no-sew quilted diy ornament tutorial here.
Diy Christmas Table Decoration With Pinecones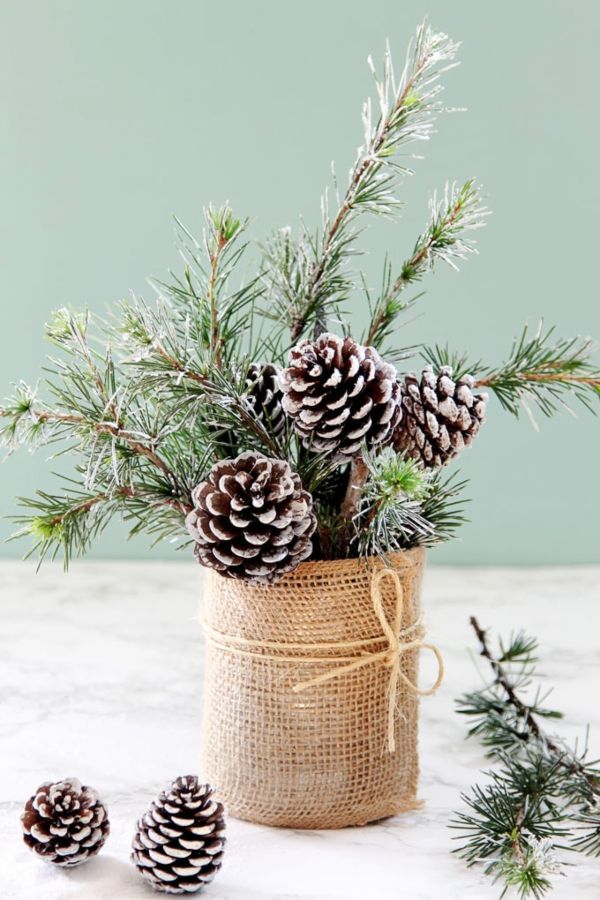 I love this one for simplicity. You only need a square piece of burlap or fabric to cover up the tin. Made from a recycled tin can and some freshly cut branches, this snowy tree winter and Christmas DIY table decoration is almost free and only takes 10 minutes to make!
Diy Christmas Buffalo Check Hoop Wreath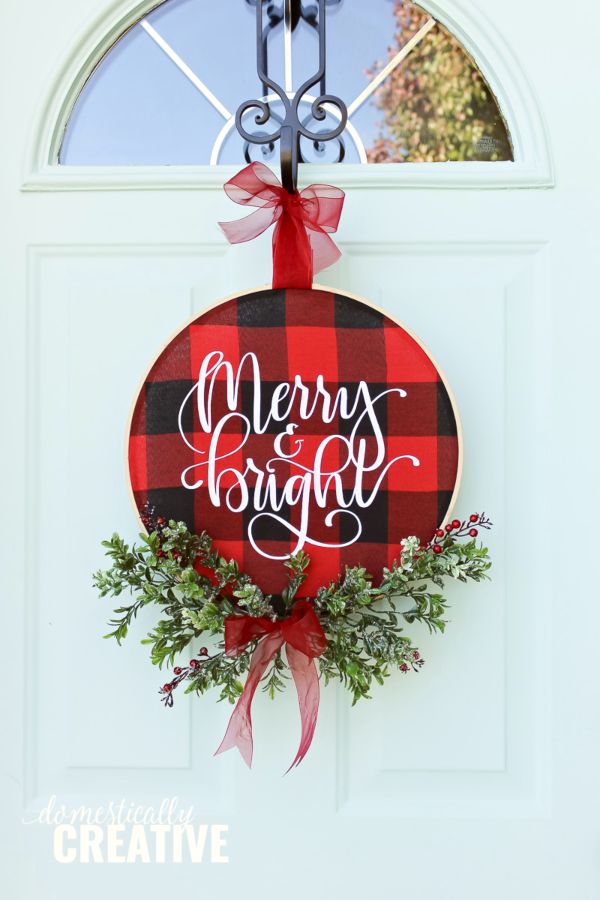 Strong impact in just a little time: brighten up your front door for the holidays with this easy to make DIY Christmas Buffalo Check Hoop Wreath - visit the tutorial here at Domestically Creative.
No-Sew Christmas Tree Skirt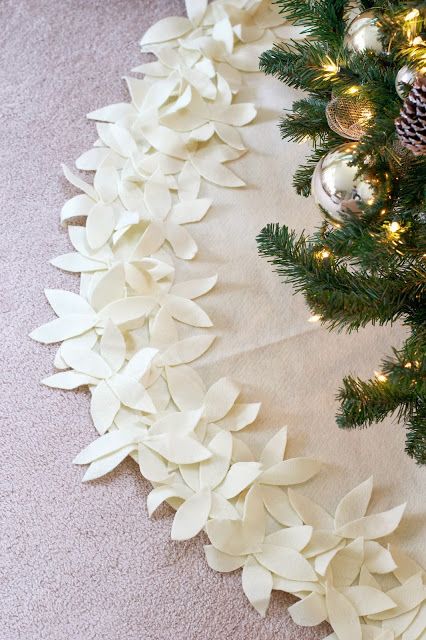 In case you haven't got one yet, this might be the dreamiest no-sew tree skirt. If you want a tree skirt for a white Christmas theme but are not willing to spend a fortune on buying one, check out this tutorial and make one - without sewing a single stitch!
Scrap Fabric Tree Decoration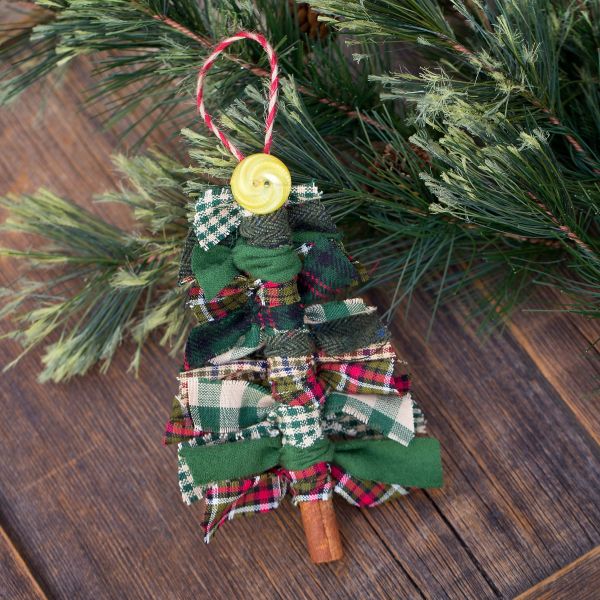 Super easy - and you get to showcase your favorite prints if you choose so! Gift them or keep them for your tree! Tutorial at Fireflies And Mud Pies.
Other Diy Christmas Decorations - No-Fabric
Last but not least, here' is a selection of popular diy Christmas decorations that do not involve fabric, but are so simple and plain adorable I simply must give them a try this season! Paper, clay, wood, glass jars, eucalyptus - you name it!
Diy Air Dry Clay Gift Toppers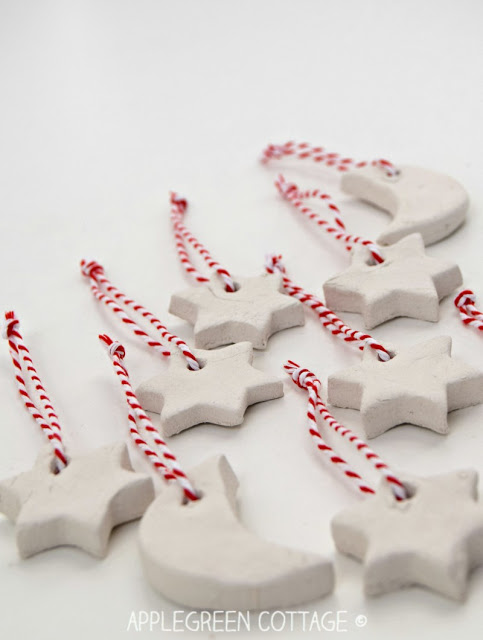 Shameless plug: these are mine! Timeless, classic, and SOOOOO easy to make - and you can literally (and effortlessly) make a hundred in less than half an hour if you want to - ask me how I know! They make beautiful holiday gift toppers - check out the easy air dry clay tutorial here at AppleGreen Cottage.
Diy Paperball Decorations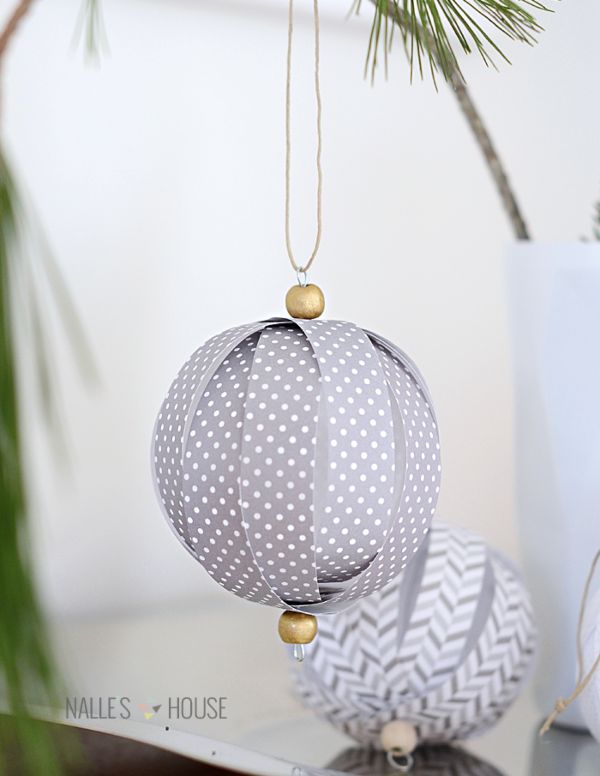 Do you love simple yet modern handmade Christmas decor? These beautiful paper ball ornaments are way quicker to make than you'd think! Visit the tutorial at ByStephanieLynn.com
Rustic Twig Diy Decorations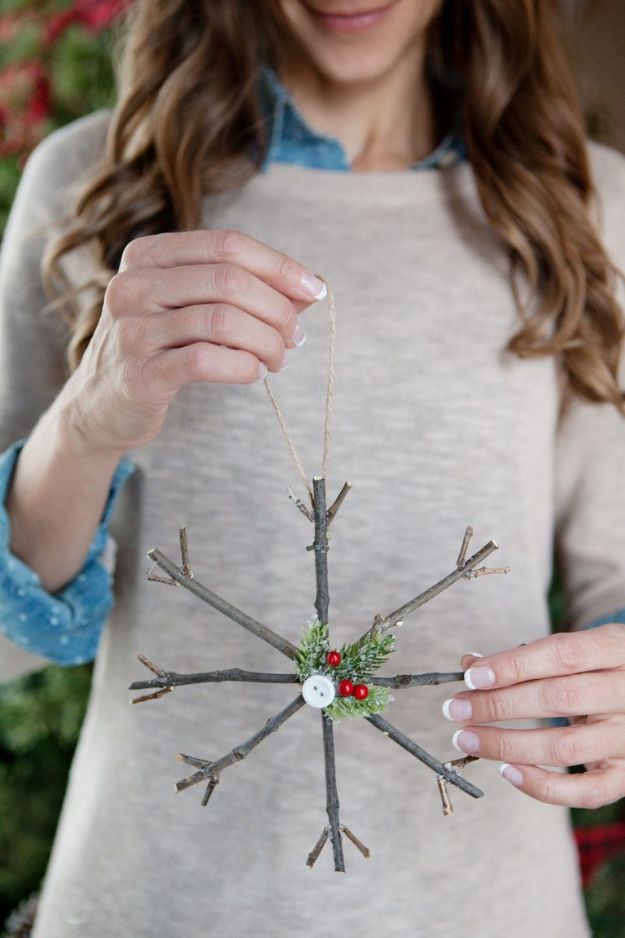 These rustic twig diy Christmas decorations are super sweet, easy to make out of the stuff laying around the house and a perfect diy Christmas decorating project to do with kids - we're making these! Tutorial at Simple As That, here.
Diy Snow Globe Jar Decorations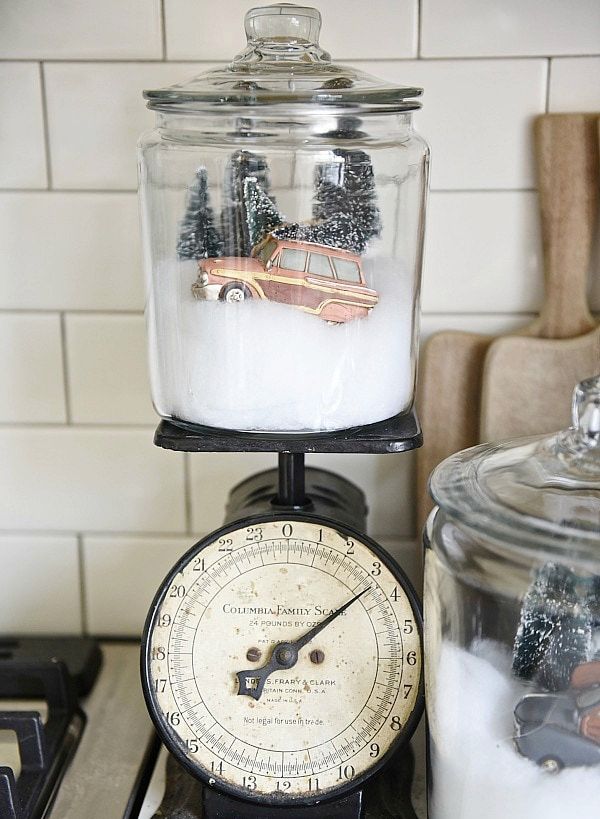 These DIY snow globe jars look so fancy and expensive, but are so simple to make! Visit Liz Marie Blog for the easy how-to.
Diy Christmas Wreath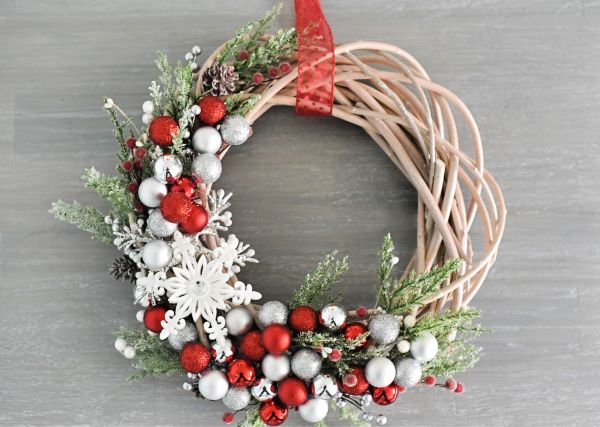 If I had to choose my favorite Christmas wreath right now, I'd probably go with this one by Amber. Looks so cute and not overdone! - tutorial at Crazy Little Projects.
Modern Diy Holiday Eucalyptus Garland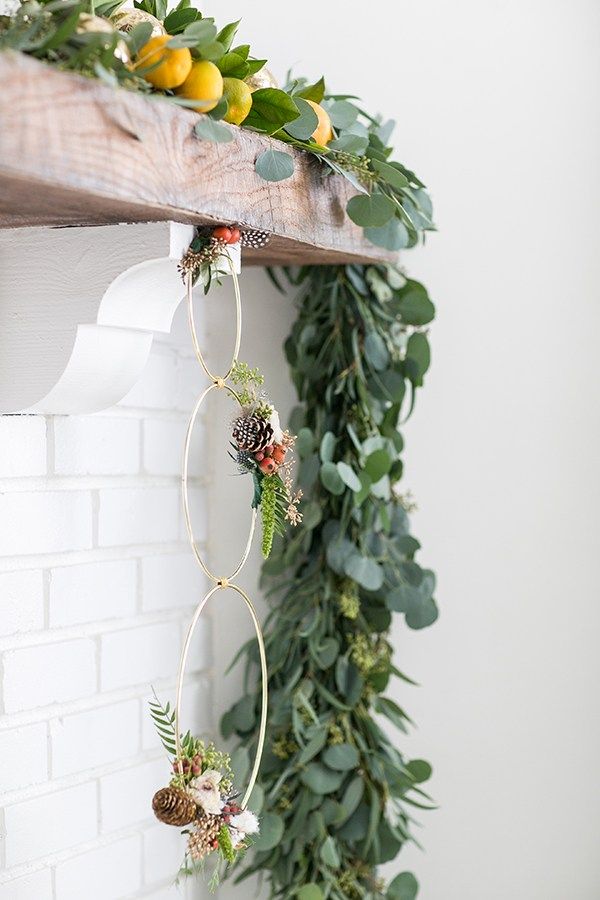 Or you can make this modern diy eucalyptus garland using the tutorial at Sugar And Charm. It's an evergreen decoration you can use any time of the year!
Embroidery Hoop Christmas Decoration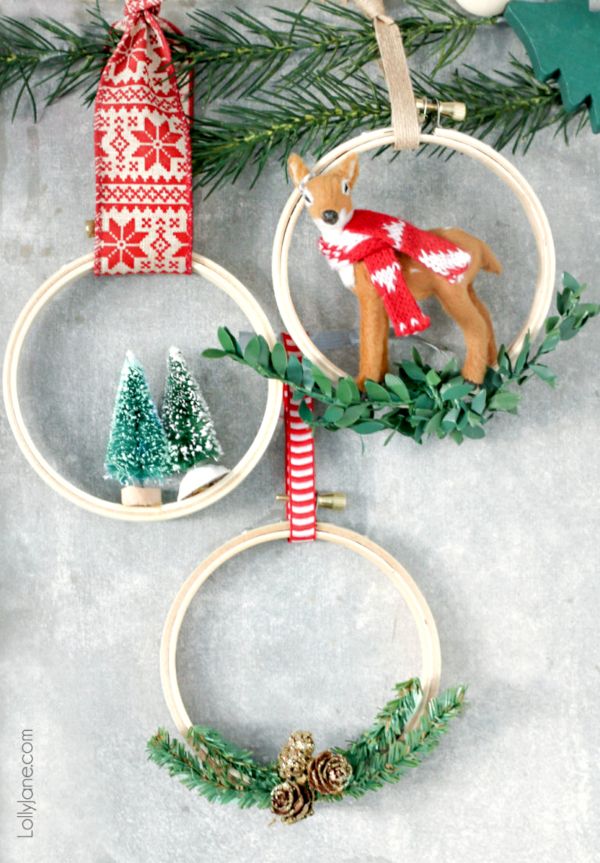 And last but not least, THIS super sweet diy embroidery hoop decoration could either be used in place of a Christmas wreath on your front door, a Christmas tree ornament, or it can simply be hung on a wall in the living room. Tutorial by Lolly Jayne - yey to holiday decorating!
I hope you've enjoyed all these projects showing how to make Christmas decorations. I will be adding to this huge list as I discover new and new ways to make my own Christmas as much homemade and cozy with diy decorations as possible, so make sure to visit soon again! Wishing you an amazing homemade holiday season!
Make sure to save this collection for some holiday inspo: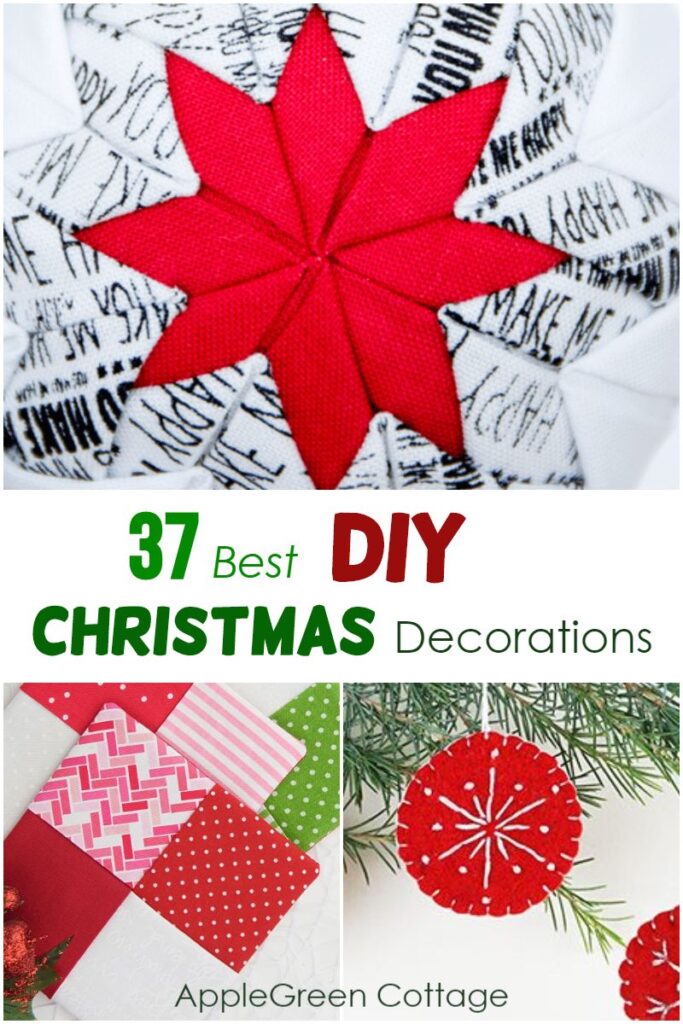 WANT MORE FREE TUTORIALS AND GOODIES?
Get email updates and never miss out on new patterns, printables, and tutorials:
Or …check out the gift bag pattern in 6 sizes in our shop - a super easy no-corner-boxing sewing project. Reusable gift bags for all your future gifts!