Make a diy gift bag using this easy tutorial and get ready for holiday gift-giving - in minutes! Also, check out the bonus tips below - and no two of your Christmas gift bags will be alike!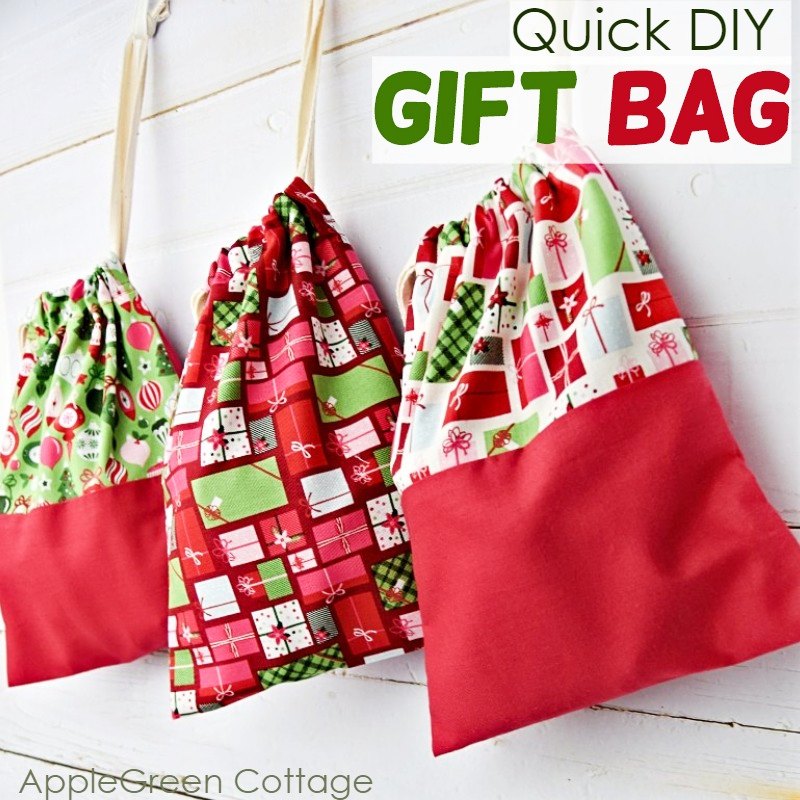 This post may contain affiliate links. Thanks for your support. Check out THESE tutorials for easy bags:
It feels so good to have holiday gifts ready early! (Check out my favorite things to sew for Christmas HERE) Not that I manage to do that very often, but this year it looks like I won't need to resort to last-minute sewing 🙂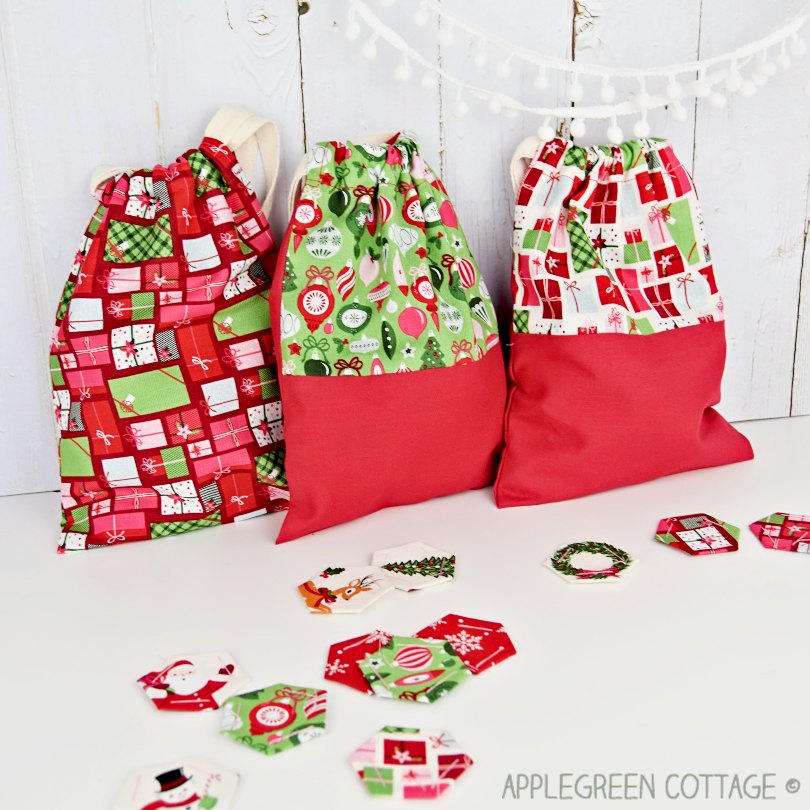 This year I've even made a few additional diy gift bags to have ready - you know, just in case. Since these are really, really quick to sew, I thought you might want to sew them yourself. Just in case you'd need a few last-minute gifts to wrap.
Let's get ready for holiday gift-giving!If you like this post, check out these too: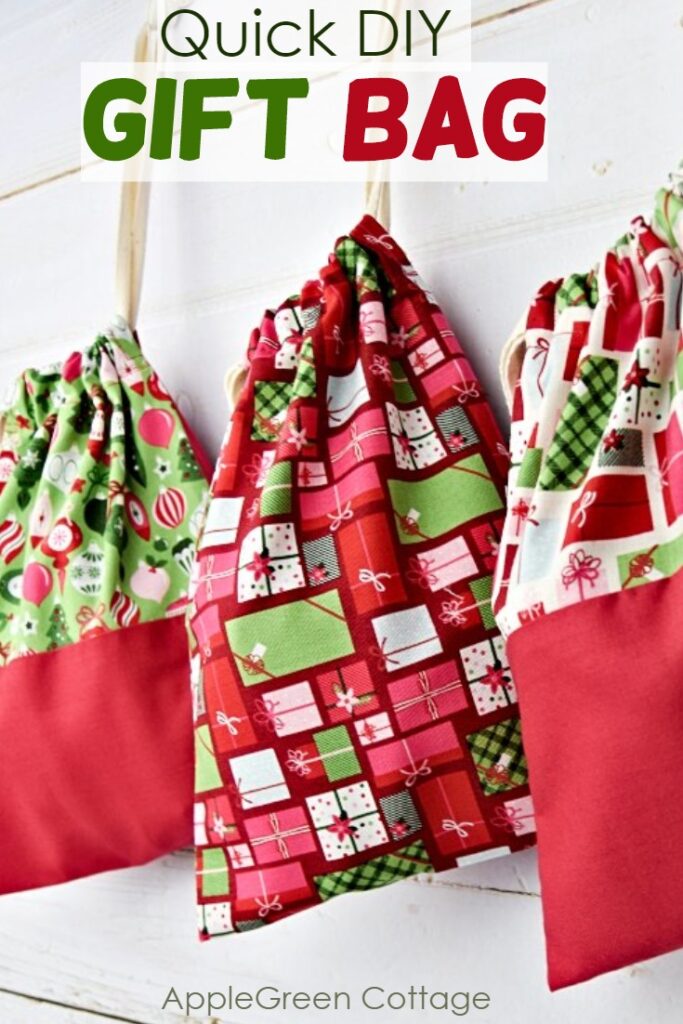 Now, on to the diy gift bag: the finished size is 9" tall and 7" wide (that would be 23 x 21 cm). They are just perfect for little Christmas gifts, or you can use them instead of Christmas stockings.
On a side note, just in case you want to make a Christmas stocking, join the mailing list to get it for free:
Diy Gift Bag For Christmas
Supplies:
one piece of fabric 22" by 8" (see bonus tips below for a variation!)
twine, ribbon or cord (40 inches / 1 metre per bag)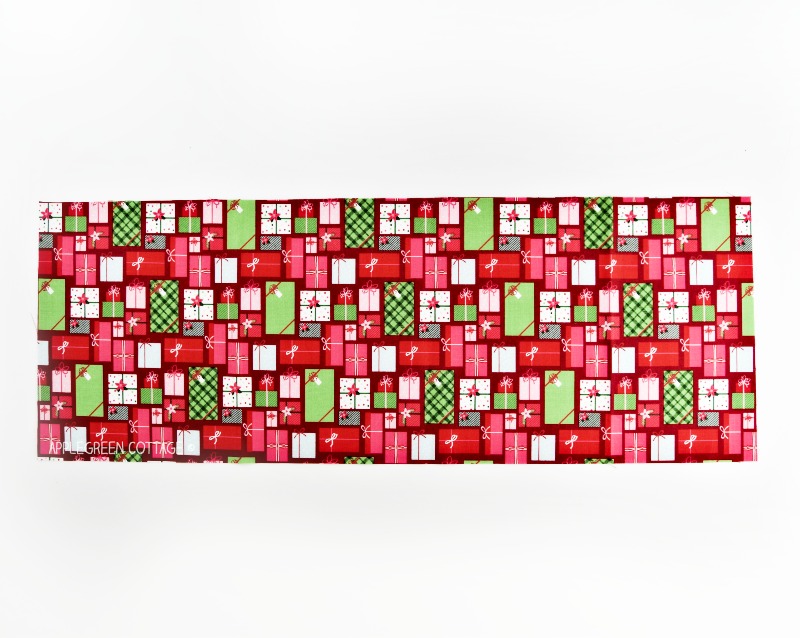 Instead of a single piece of fabric, you can also use scraps. Stitch pieces together until you get the desired size. Or use the bonus tips at the end. This diy gift bag is a great scrap buster, and fat-quarter friendly.
Sewing Steps:
Grab the fabric piece and serge the two long edges, or simply use a zigzag stitch on your home sewing machine. That is, if you have enough time. The photo below shows both options: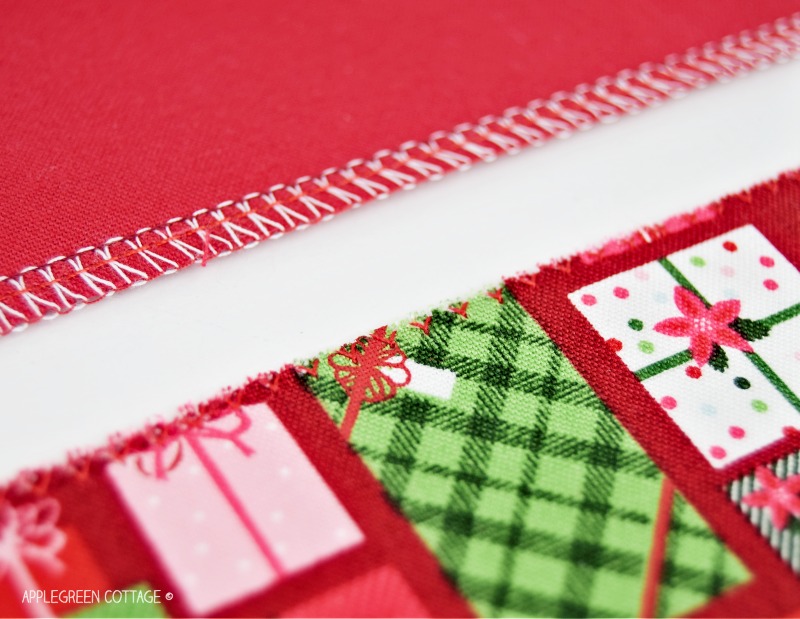 Then turn under the other, short two edges by anything from a quarter of an inch (7mm) up to ⅜" (1 cm). Press and stitch. Then fold the fabric in half right-sides-together: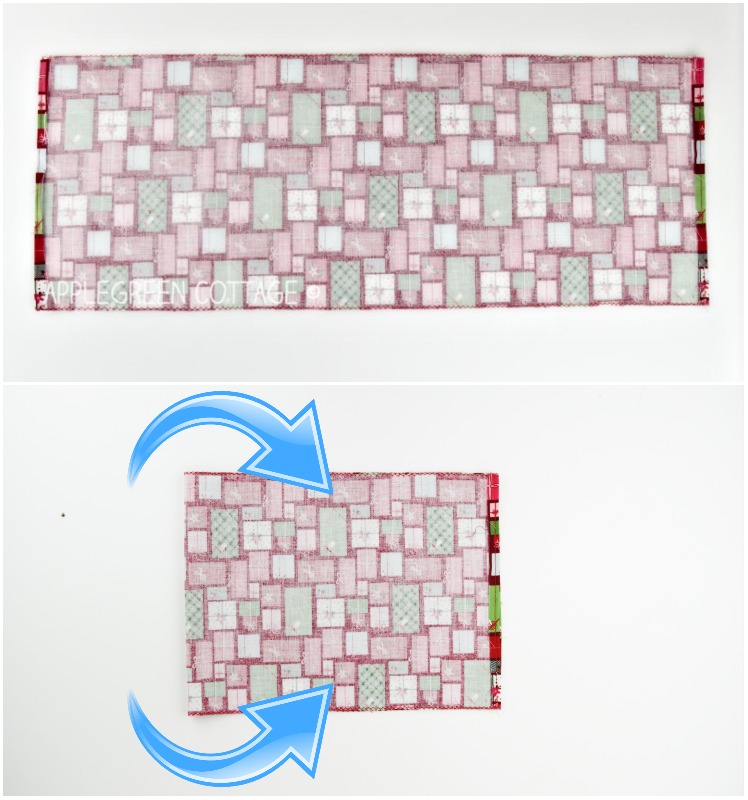 Starting at the fold, stitch on both sides using a ⅜" (1 cm) seam allowance - but don't go all the way up - stop sewing 2" (5 cm) before you reach the top: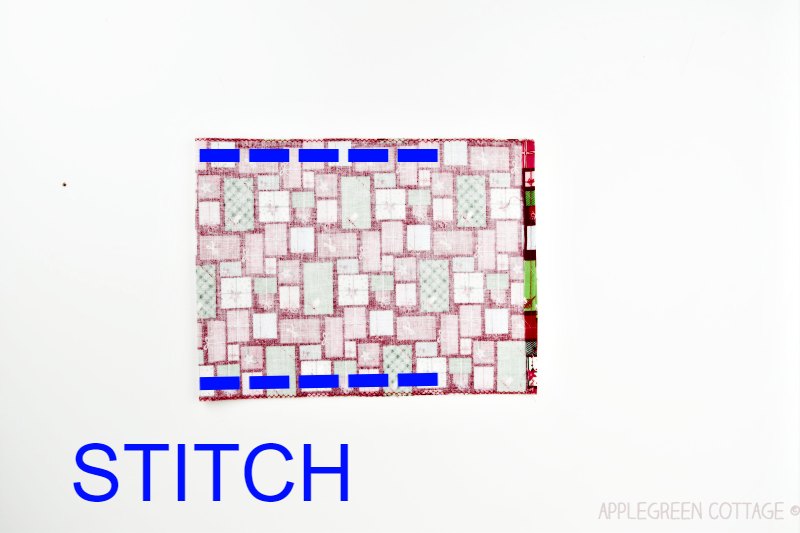 Design The top part of the diy gift bag
Press the seams open, making sure to turn under and press the top unsewn portion the same way as if the seam were there.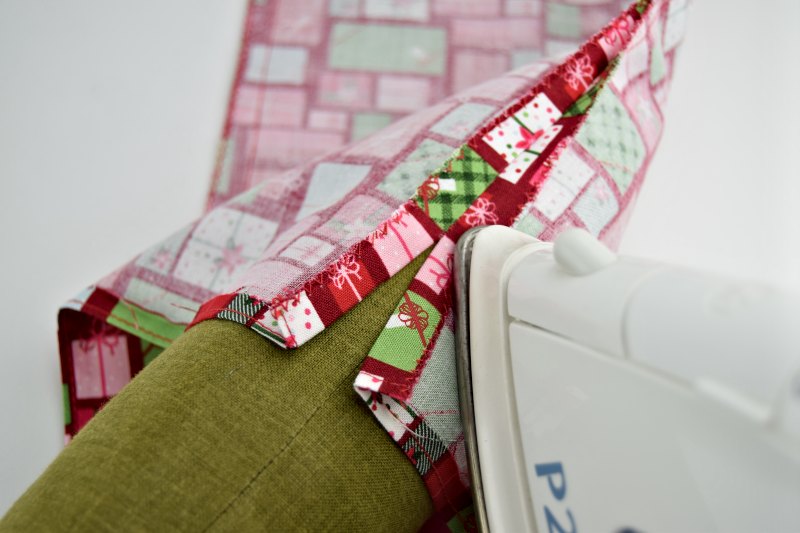 Stitch around the opening on each side at the top side - this is the place where the side seam is open: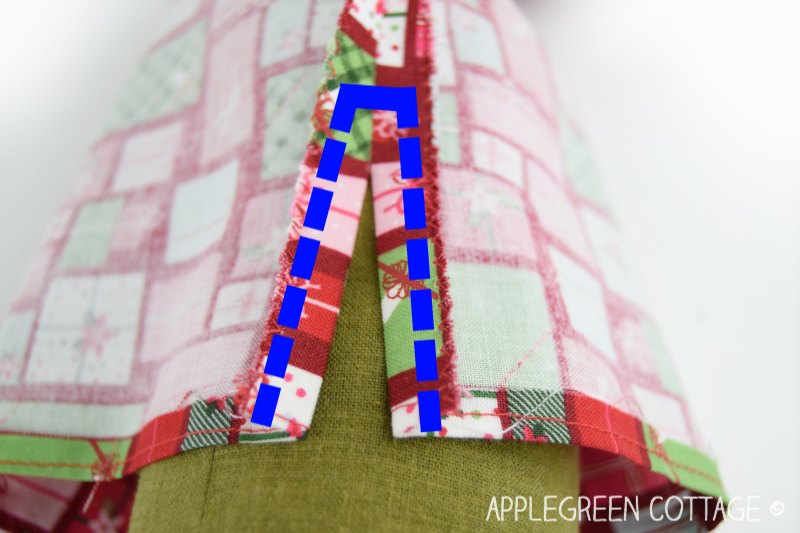 Fold the top edge down by 1" (2.5 cm) towards the wrong side of the fabric and topstitch around using a small seam allowance - ¼" inch (7mm) or so: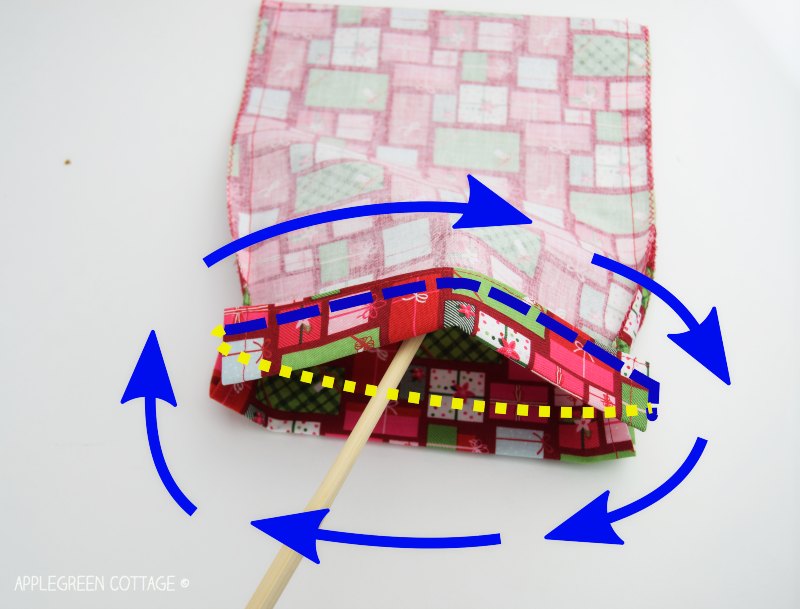 Thread the casing
Thread the casing: You'll use two pieces of 20" (50 cm) ribbon length. Using a safety pin, bodkin or elastic threader, guide the first piece through the entire drawstring casing. Both ends of the cord will come out of the same opening. Repeat with the second piece of ribbon and start-end at the other opening in the casing.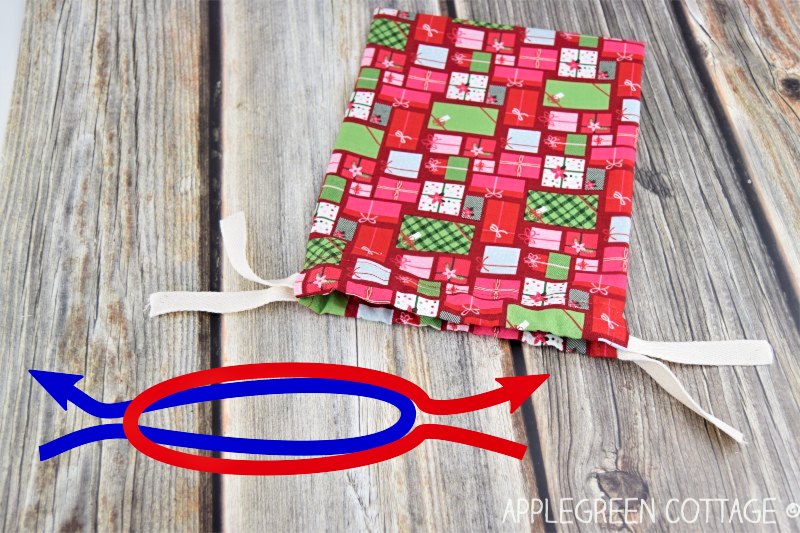 Finish Thread Ends on the Diy Gift bag
Knot the ends of the drawstring or tie them together. See bonus tip below for a different drawstring pull solution - super cute!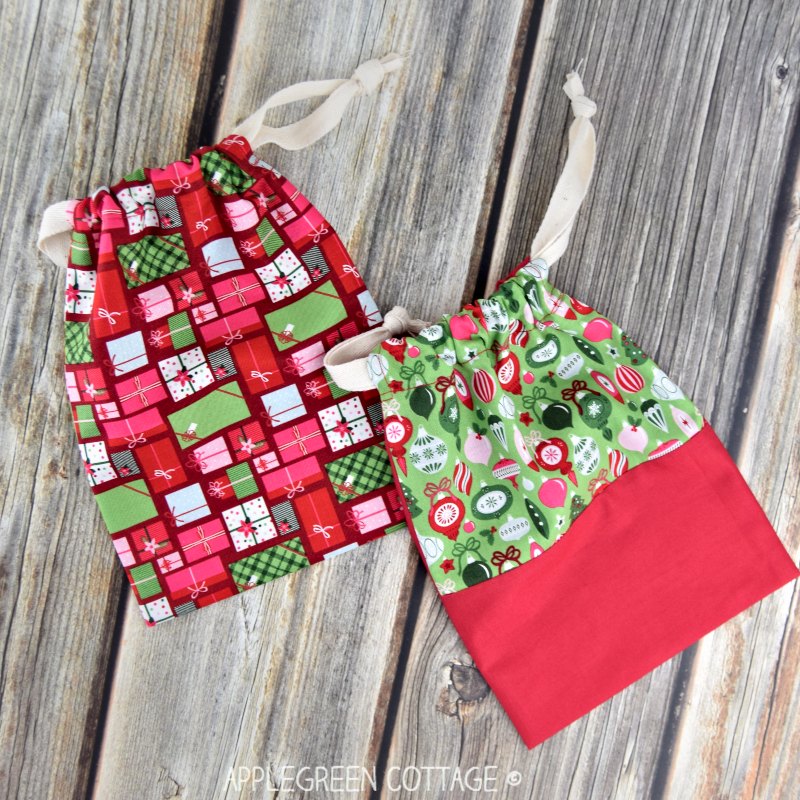 Done. Make one more! If you have enough time or love experimenting, check out my bonus tips below!
Bonus Tips For Diy Gift Bags
Use two fabric pieces
This will take a few extra minutes to cut twice plus an additional stitch, but it's so worth it! I've made two of my diy gift bags this way.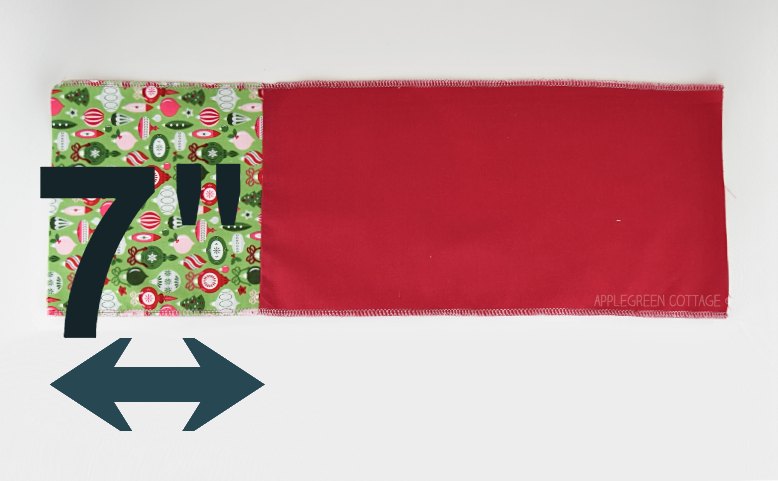 Grab a 7" by 8" piece of printed cotton and a longer one in solid fabric approximately 16" by 8", stitch them together into a single 22" by 8" strip. Proceed with the project at Step 1 of the tutorial above.
2. Make super cute drawstring pulls!
Instead of just knotting the two ends on a drawstring together, you can make cute pulls for your Christmas gift bag. I only have a sneak peek here but I promise to post a simple how-to do these. So easy and practical for a bag you can reuse a number of times!
Edit: Here is how to make hexies, my latest tutorial. And here's how to add these to any bag - How To ADD pretty drawstring stoppers.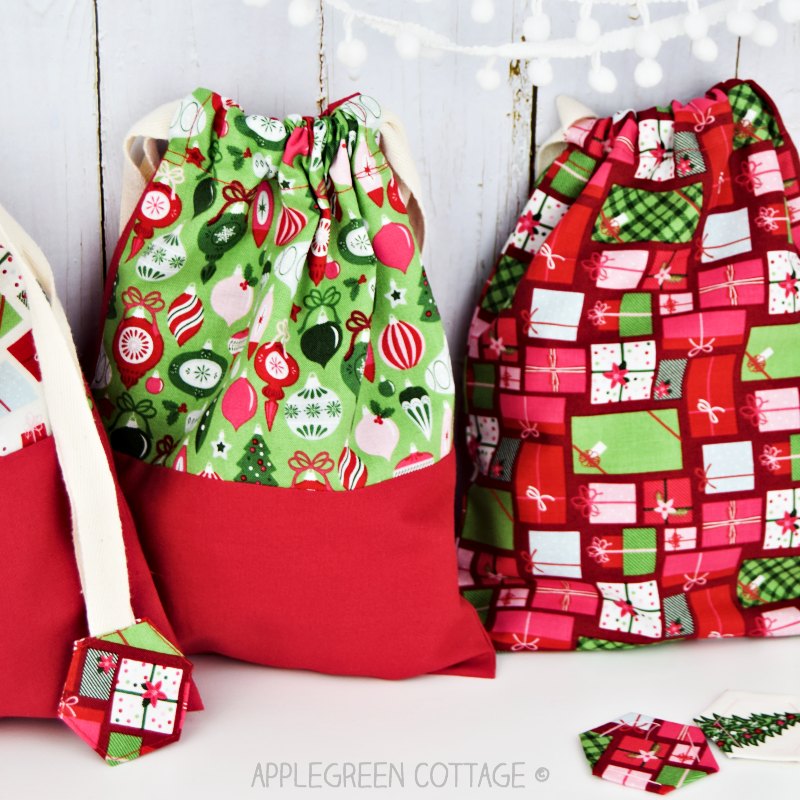 Sign up for the newsletter HERE so you don't miss out on any future tutorials. I've got tons of plans for tutorials with these hexies. Yey! Get ready for gift-giving!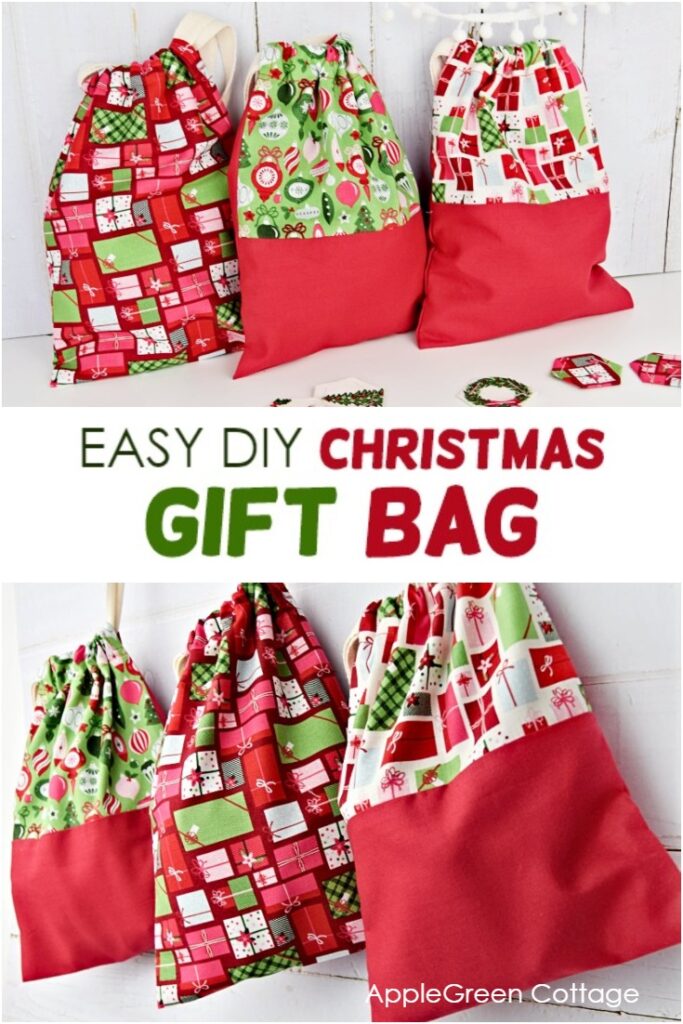 Hoping you've enjoyed my Christmas gift bag tutorial. If you want to, check out more stuff I've got to sew, on the Free tutorials page here.
Make sure to save this tutorial for later: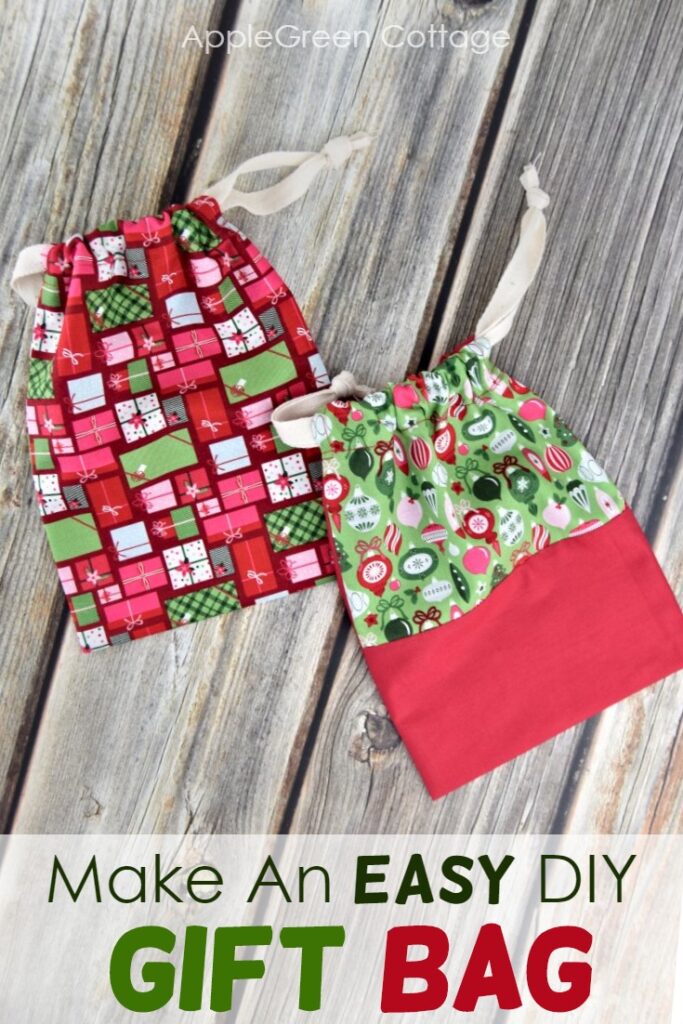 WANT MORE FREE TUTORIALS AND GOODIES?
Get email updates and never miss out on new patterns, printables, and tutorials:
Or …check out the popular Aiden Cell Phone Purse in our shop. Guess what's on the back of this cool phone bag!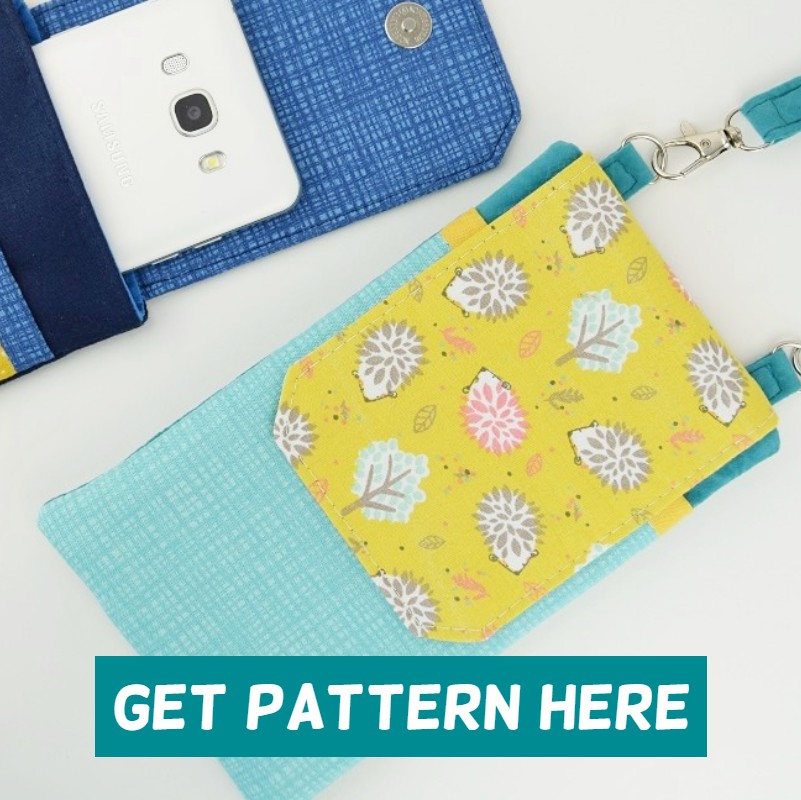 This mini bag makes a perfect little diy holiday gift you can make for all your loved ones: