Here are more than 40 Christmas tree skirt pattern ideas for you! If you are looking to sew a new Christmas tree skirt, here is a great list of popular free Christmas tree skirt patterns and ideas for Christmas tree skirts for you to try out! For every skill level, from beginners to advanced. Quilted, with pompoms, tree skirts with ruffles, pleated tree skirts - you name it. They have free patterns and tutorials, so you can start sewing right now!
Add a handmade touch to your Christmas tree this year and make the holiday season special!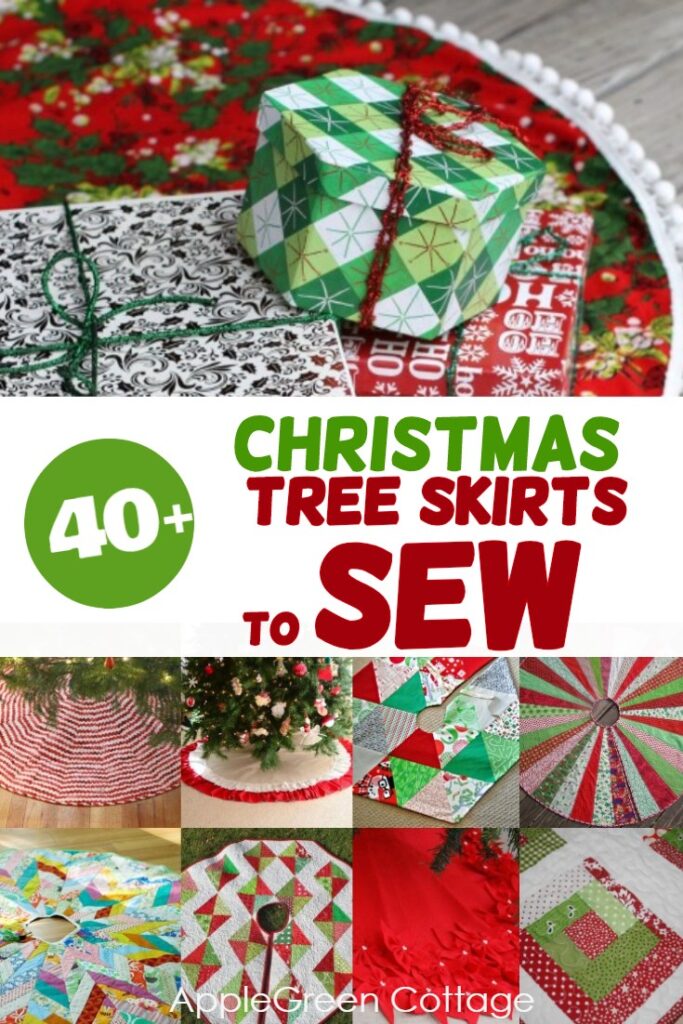 This post may contain affiliate links. Thanks for your support! First off, there are tons of Christmas sewing projects on this blog. Feel free to check them all out, including these ideas:
Now back to our Christmas tree skirt sewing. I've compiled a long list of ideas for tree skirts - all with free patterns here. And it might surprise you that I did not include the pattern I used for my own Christmas tree skirt. Why? You won't find it on the list because it is not free, but it turned out gorgeous! If you want to check it out, I wrote about it here (if you want sneak peeks!). We've been using it for years! 
40+ Christmas Tree Skirt Pattern Ideas
And here are more than 40 free patterns and tutorials to choose from, from beginner-friendly to advanced projects. You'll never again need to search the internet for how to make a christmas tree skirt! I love tree skirts as they will encircle the tree base and hide the stand while adding that perfect holiday feel - choose your favorite!
1) Easy PomPom Tree Skirt Tutorial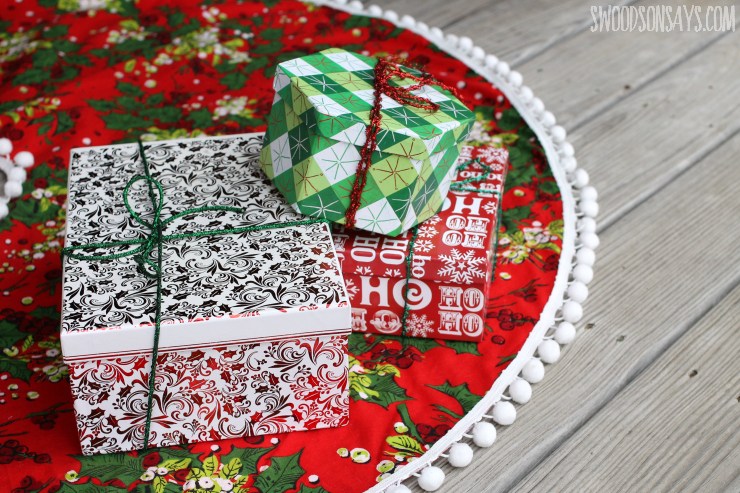 Made by Stephanie at Swoodson Says. She mentions the project was so easy it might even take you longer to pick your fabric than to finish this fun Christmas sewing project. Definitely worth a try!
2) Adorable Ruffled Christmas tree skirt pattern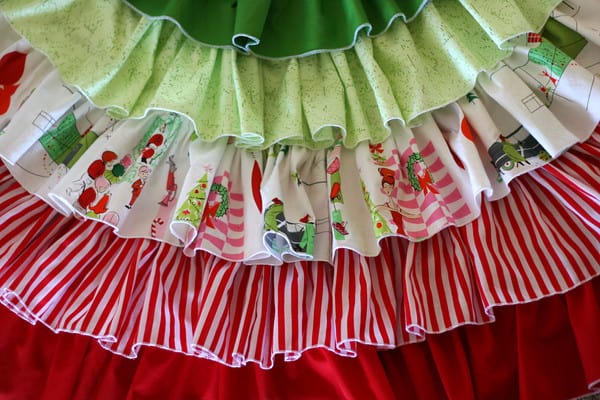 This ruffled tree skirt by Pretty Prudent is just adorable!
3) Quilted Christmas Tree Skirt Pattern - Log Cabin Tree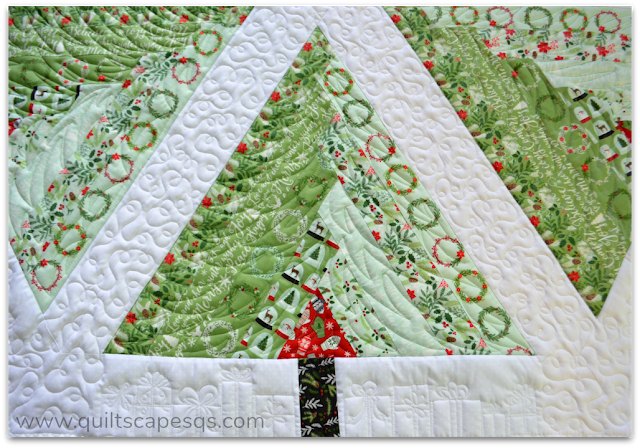 Adorable detail from the log cabin tree - check out this quilted tree skirt tutorial at Quilt Scapes.
4) Square Quilted Tree Skirt Tutorial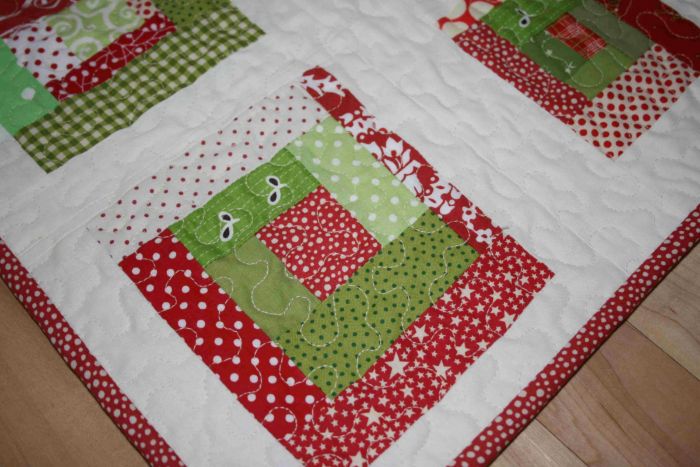 One of the prettiest quilted tree skirt patterns for intermediate skill level. I love how it combines the traditional red-green and white combination of cute tiny prints. You'll find this tree skirt tutorial at Crazy Mom Quilts.
5) Traditional Plaid Tree Skirt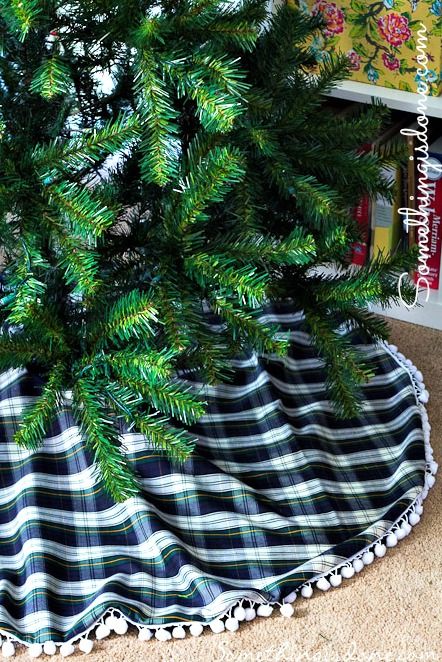 Popoms are such a fun addition! Tutorial here at Something Is Done.
6) Classy Pleated Christmas tree skirt pattern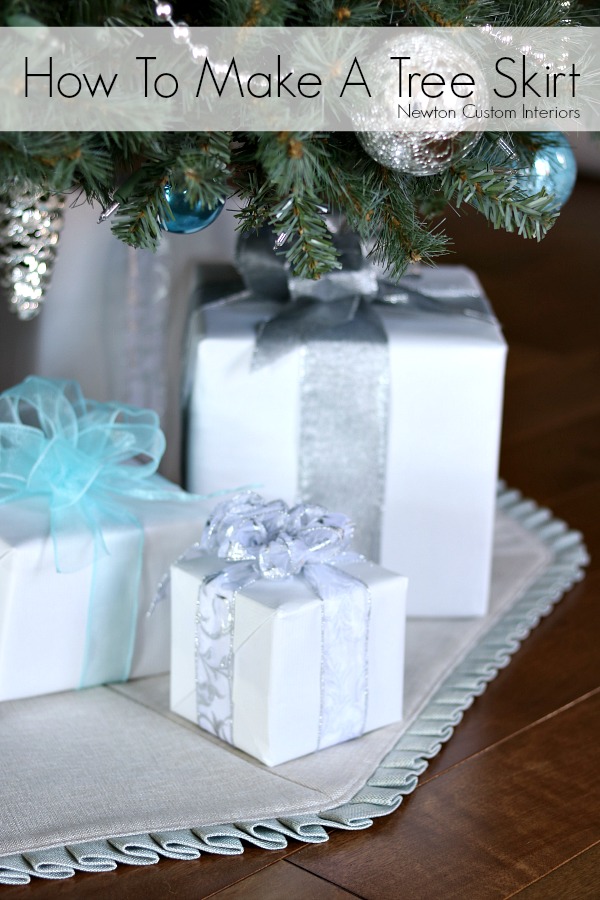 Fabric choice can make such a difference! Tutorial for this adorable tree skirt is available at Newton Custom Interiors.
7) Naturally Dyed Christmas Tree Skirt Tutorial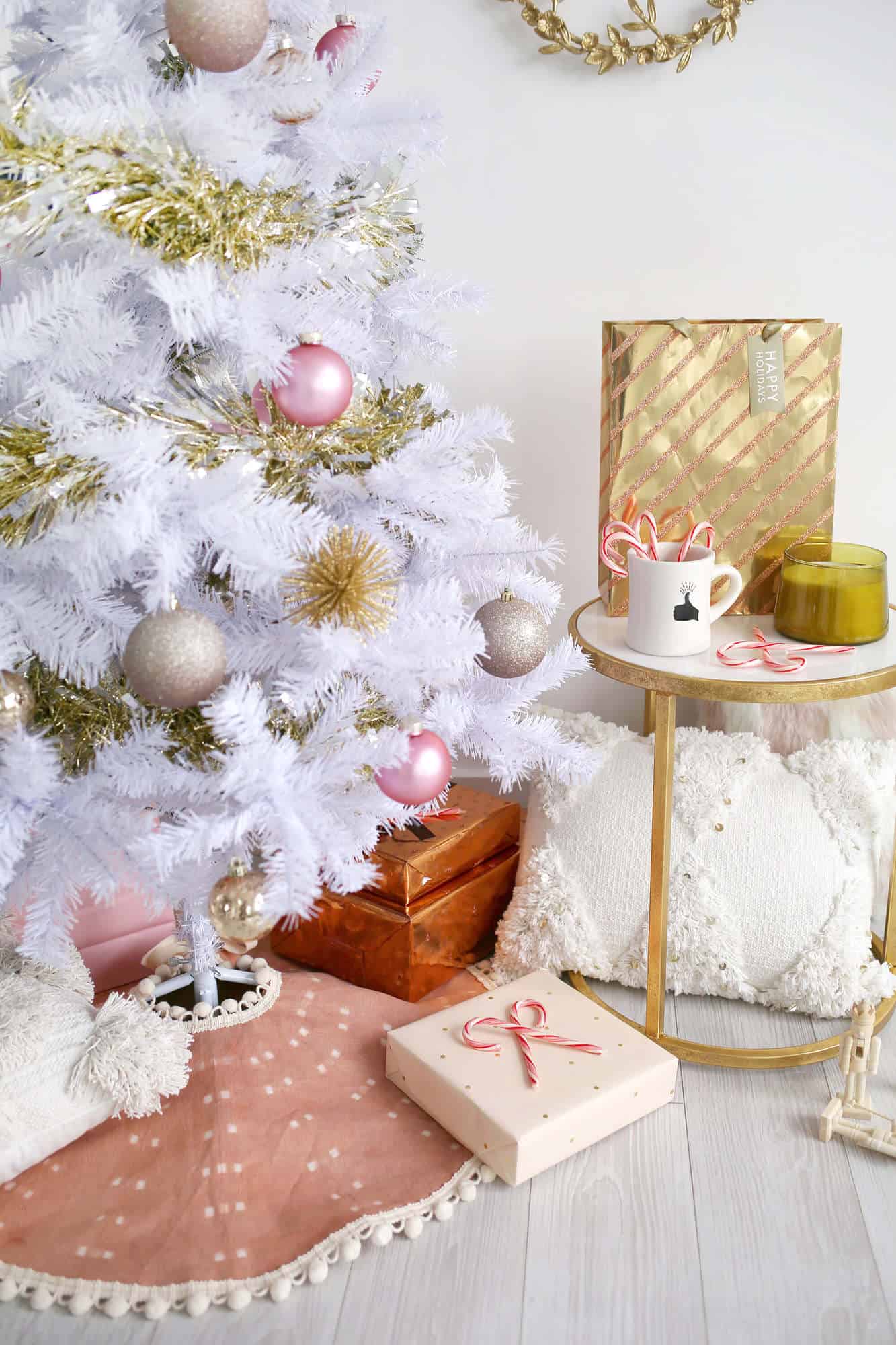 I'd never think of this, but did you know you can sew your own tree skirt from naturally dyed fabric! Check out the tutorial at A Beautiful Mess.
8) Stenciled Christmas Tree Skirt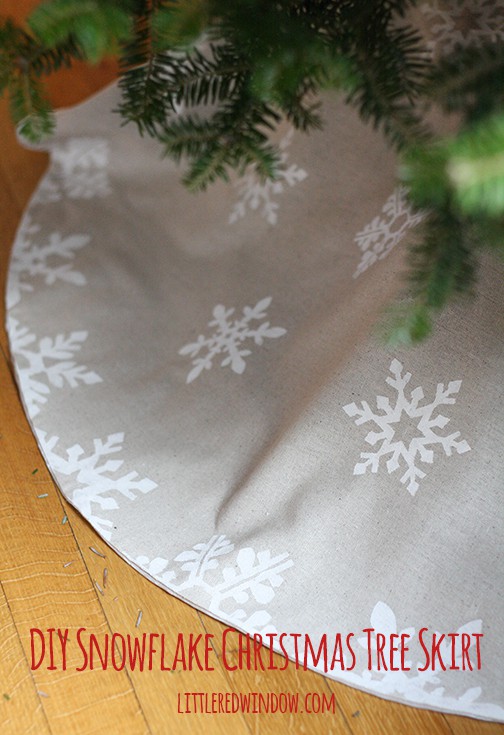 A cute stenciled sewing project by Little Red Window.
9) Easy Quilted Christmas Tree Skirt To Sew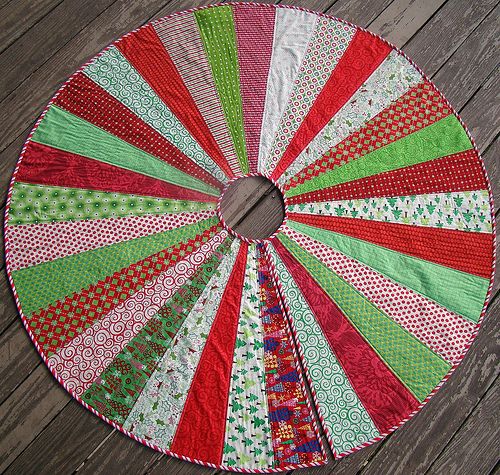 What a lovely playful tree skirt! Tutorial by Sew Crafty Jess here.
10) Easy Buffalo Plaid Christmas Tree Skirt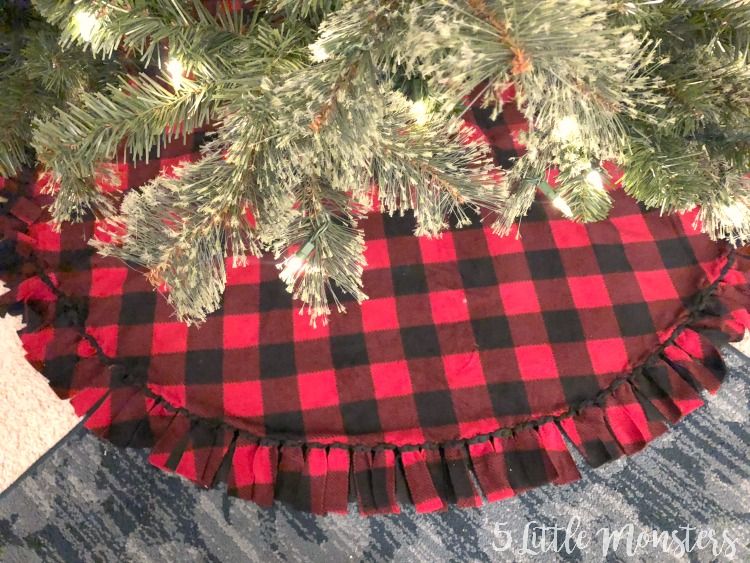 This tutorial is new, quick, and very little sewing is involved! Head over to 5 Little Monsters to check it out.
11) Quilted Tree Skirt Tutorial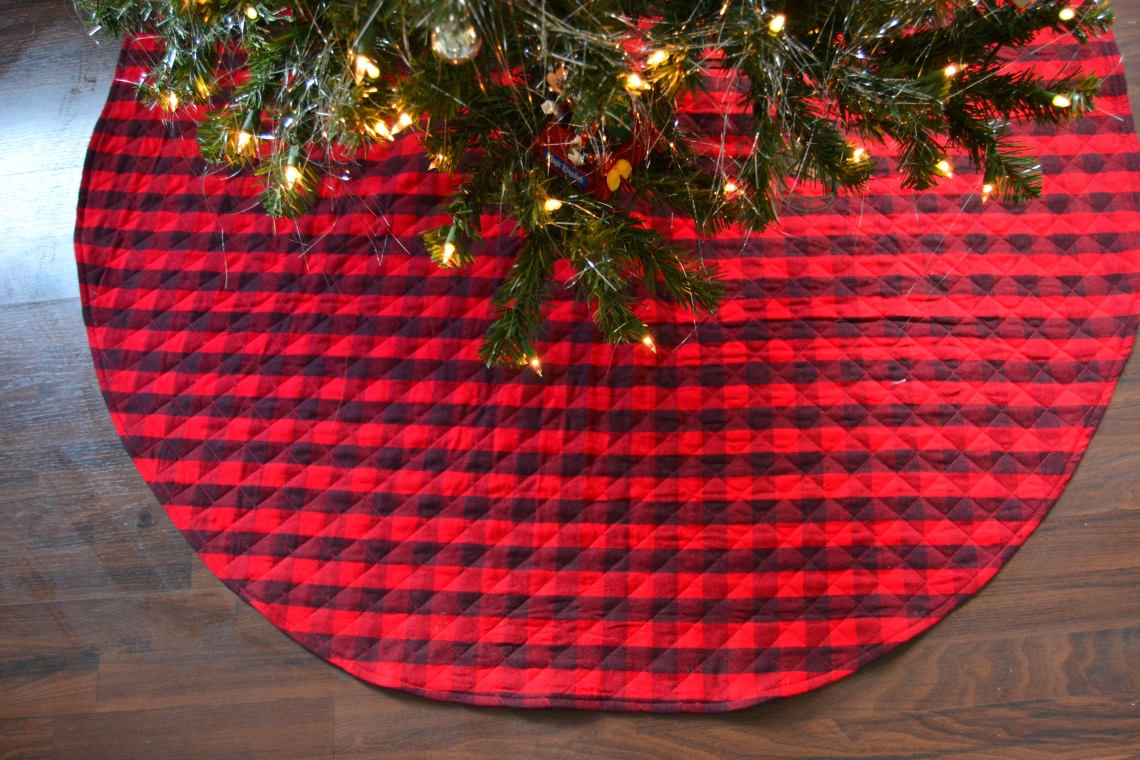 Do you love plaid and would like to give it some structured feel for your Christmas tree? You'll love this free tutorial for a super easy quilted tree skirt. Check it out here.
12) Red-White Chevron Tree Skirt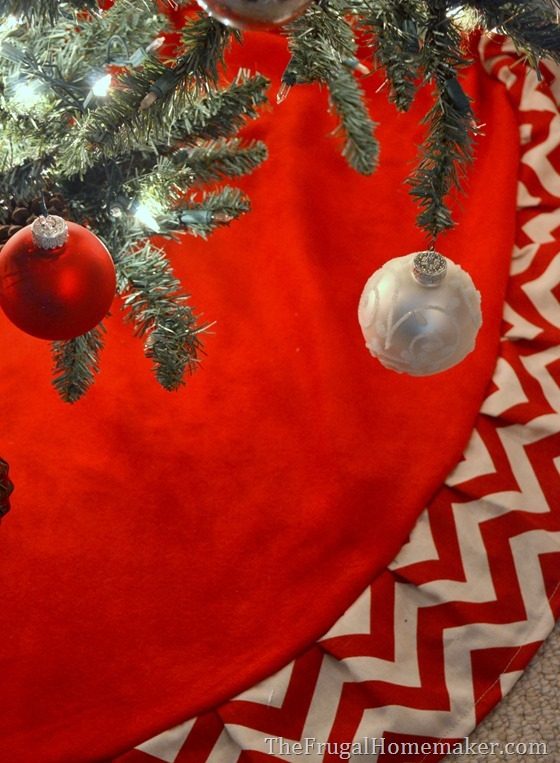 White and Red Chevron tree skirt, tutorial by The Frugal Homemaker
13) Faux Fur Tree Skirt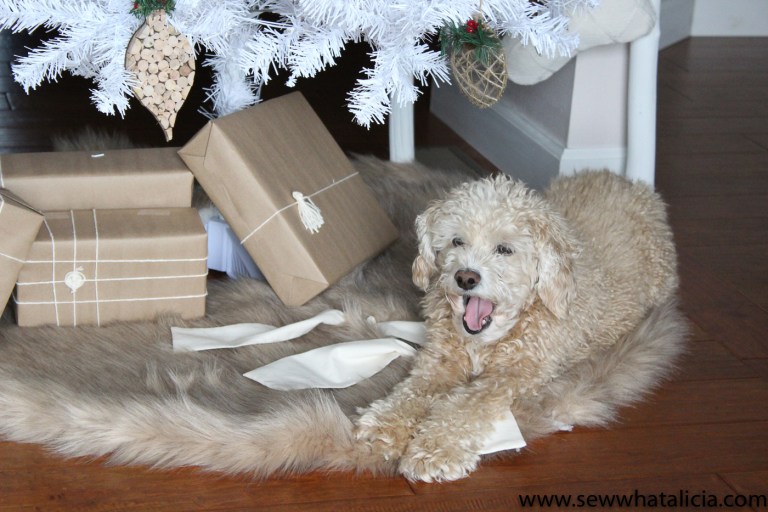 Faux Fur Tree Skirt tutorial by Sew What Alicia.
14) Grey, Red And White Tree Skirt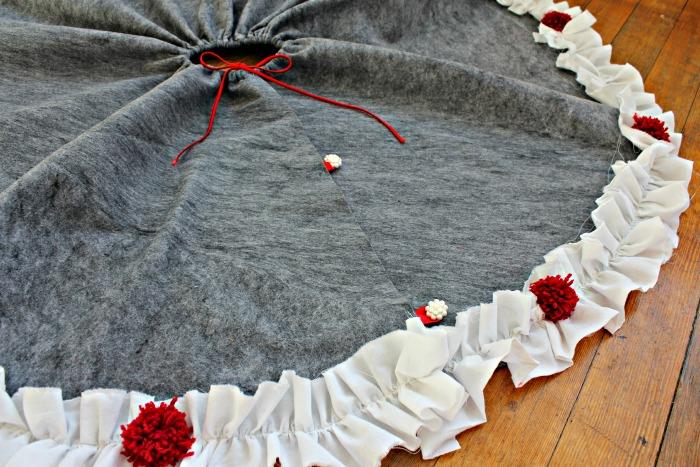 Make this festive tree skirt with some felt, some ruffles, and some poms! Perfect! You can customize it to your color scheme. Tutorial by View From the Fridge (edit: currently, link to the tutorial is not active, sorry. I'll check again soon.)
15) A Smart Applique-Hack Tree Skirt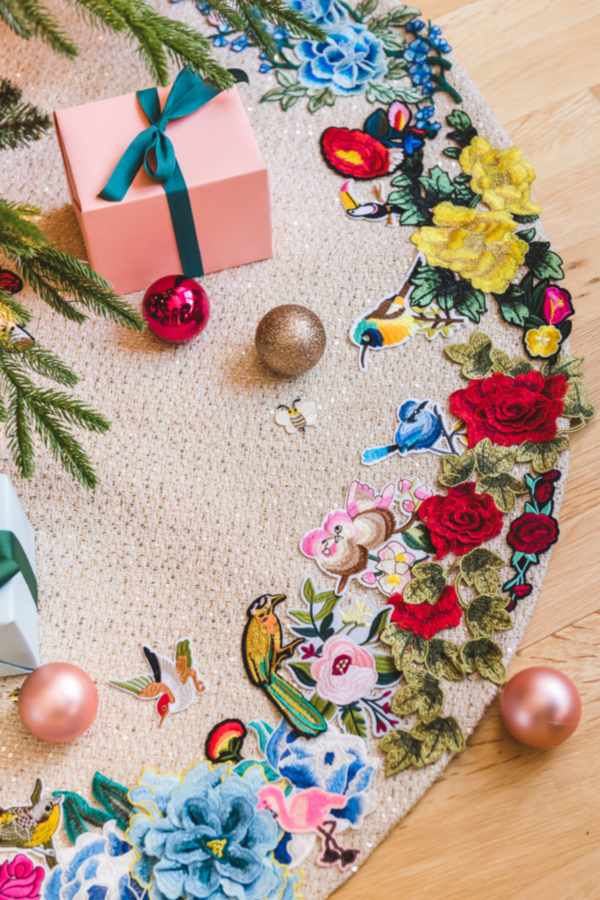 Embroidered Layered Patches by The House That Lars Built make a stunning tree skirt that's just as fabulous as the actual tree!
16) Buffalo Plaid And Applique Tree Skirt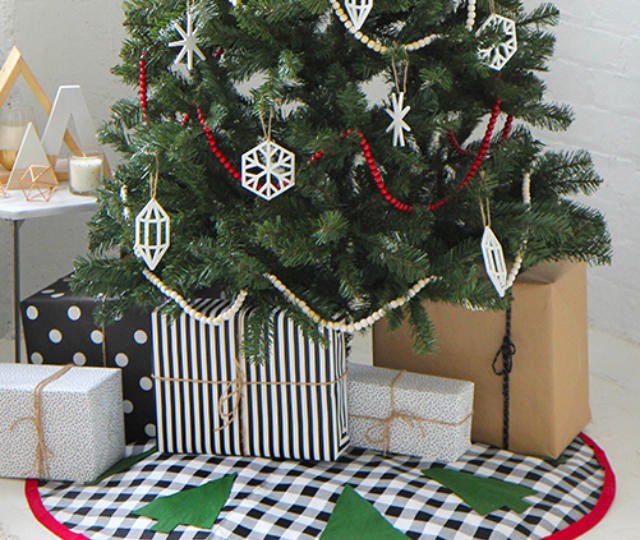 The black and white buffalo plaid with green felt applique - find the tutorial here (edit: currently, the link is not working. I'll be checking back soon.)
17) Fair Isle Christmas Tree Skirt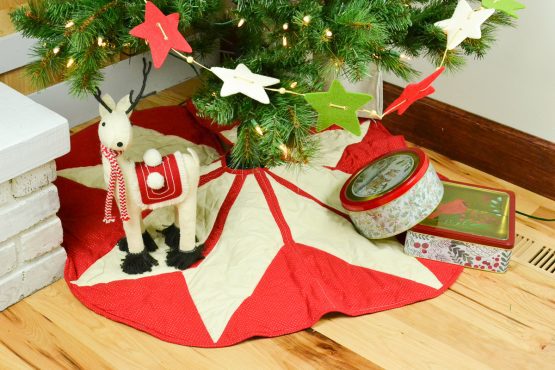 Heather has sewn this cute double-color tree skirt - check out her tutorial at Heather Handmade.
18) Repurposed Tablecloth Tree Skirt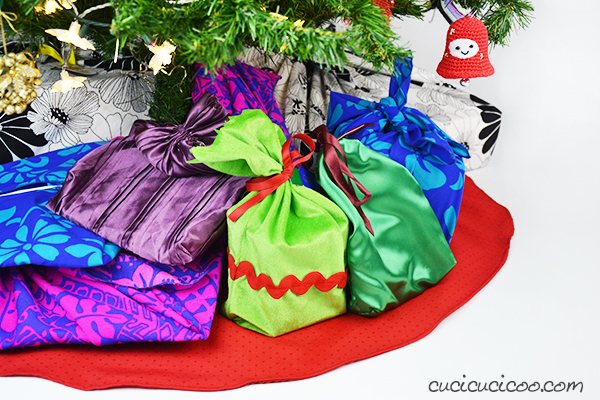 Do you plan to add a lot of color to your Christmas decor? (I do that!) Make a solid color tree skirt! I love Lisa's upcycled version - and check out here what to do if your tree base is too small and keeps falling over. (smart!)
19) A Lovely Star-Shaped Tree Skirt
The pattern is provided by Gathered.how and is free. I love the star design paired with that gorgeous patchwork that makes this holiday tree skirt a real heirloom piece. It measuers 60 inches in diameter but it can be sized up or down.
20) Hexie Christmas Tree Skirt Pattern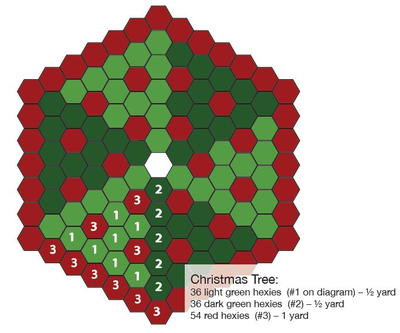 This hexie tree skirt pattern is free at Favequilts, here.
21) Hexagon Tree Skirt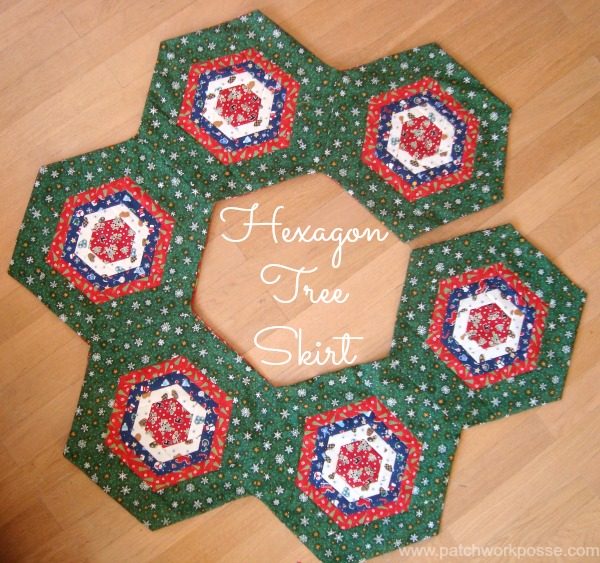 Do you notice this hexagon tree skirt resembles the shape of a snowflake? Get the tutorial at So Sew Easy.
22) A Fat-Quarter Friendly Dresden Plate Tree Skirt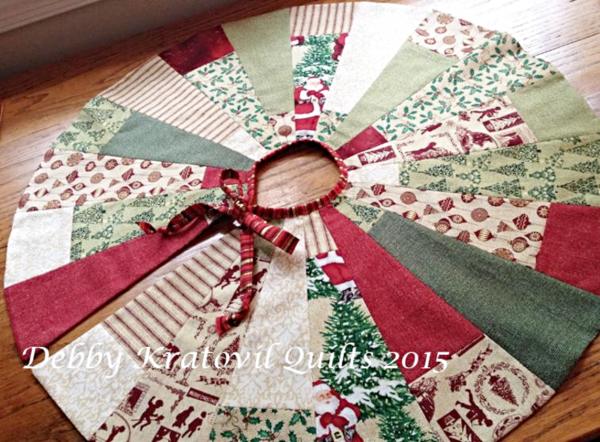 A fat-quarter friendly tree skirt tutorial with a free template, by Debby Kratovil Quilts
NOTE: I've just realized this tutorial had a printable template, now it's no longer there but it was basically an 18 degree wedge dresden plate ruler. If you have one, just enlarge and use, it's even faster than printing out a template. Hope this helps.
23) Felt Flower Tree Skirt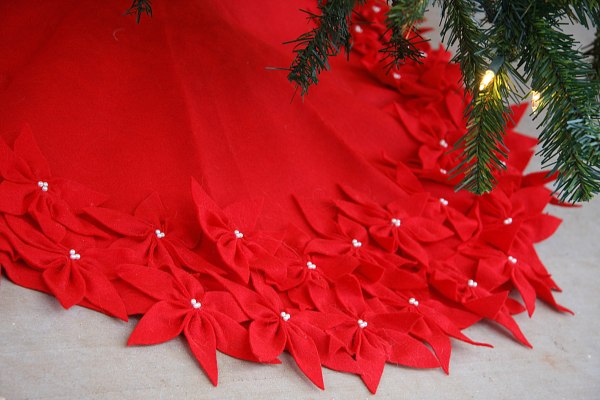 A gorgeous tree skirt! Easy sewing project, too: no hemming needed, a smart flower template added. Check out this tutorial here at Sugar Bee Crafts.
24) Striped Christmas Tree Skirt Tutorial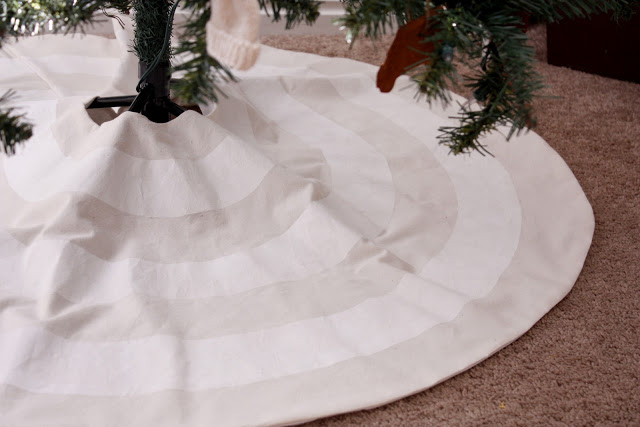 I like the fresh and contemporary design of this striped tree skirt. Check out the tutorial at Delia Creates.
25) Ruffled Tree Skirt Tutorial by Kara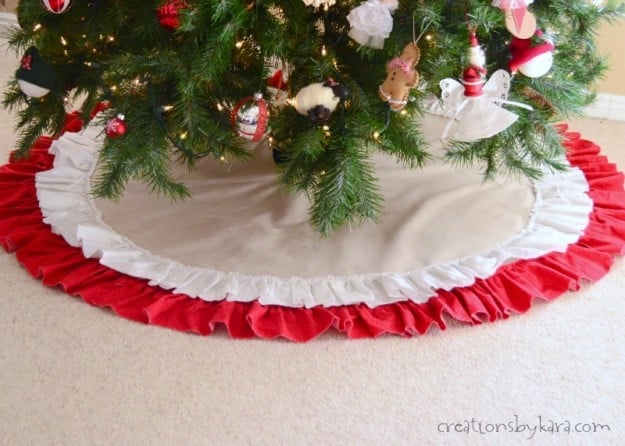 Kara at Creations by Kara shares a quick-sew ruffled tree skirt tutorial here. Lovely!
26) Pleated Christmas Tree Skirt Pattern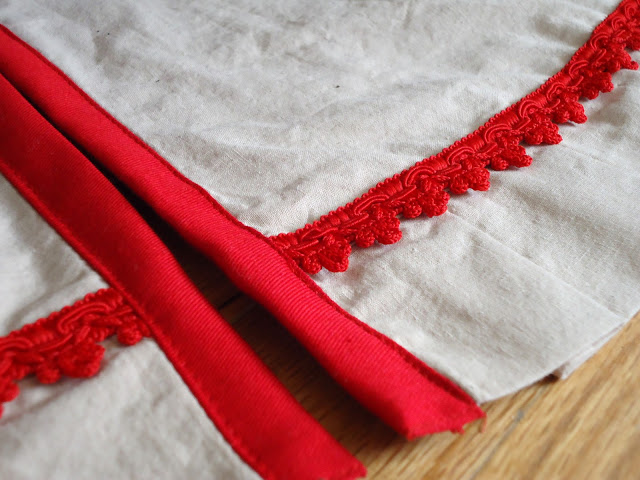 This adorable red trim gives just the right amount of accent to make the tree skirt timeless! While the tutorial at The Petite Sewist at https://www.thepetitesewist.com/2012/12/pleated-christmas-tree-skirt-tutoria.html is no longer live, (But I'll keep checking back!) I found this other pleated tree skirt tutorial that can be used to make a pleated tree skirt - here. Classic, and you can add red accents too!
27) Carpenter Star Quilted Tree Skirt pattern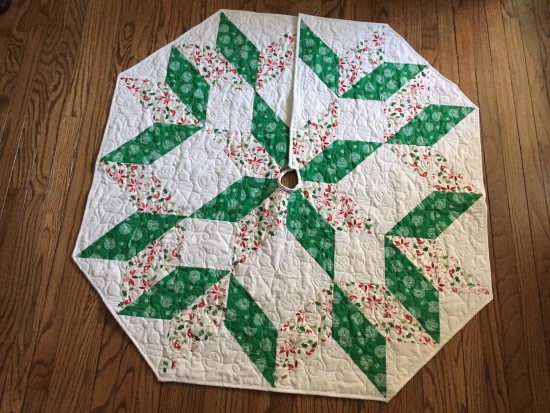 Learn how to sew a quilted tree skirt - this carpenter star tree skirt is a free pattern, it comes together quickly and looks amazing! Tutorial here.
28) Unconventional Scandinavian Style Christmas Tree Skirt pattern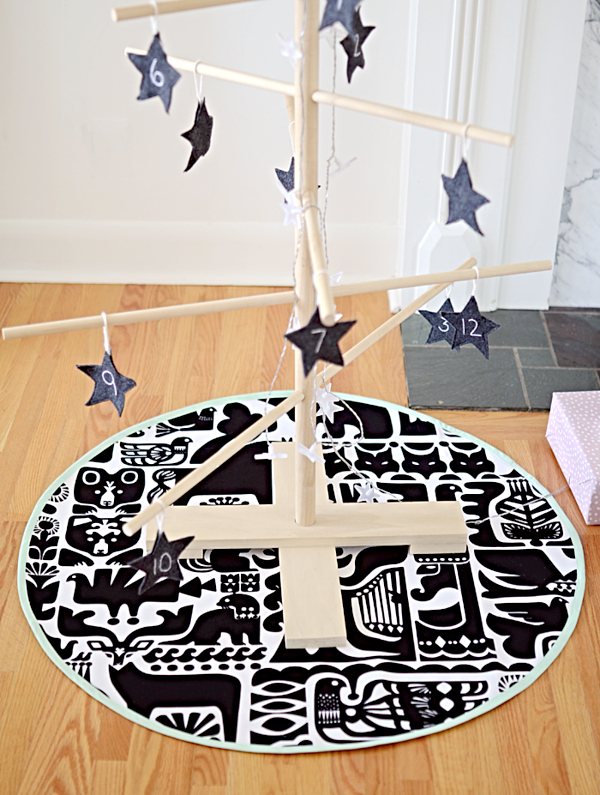 Perfect if you're not into the traditional reds and greens for Christmas - tutorial here at Nalle's House! (Also, this Marimekko print is gorgeous!)
29) Pretty Patchwork Tree Skirt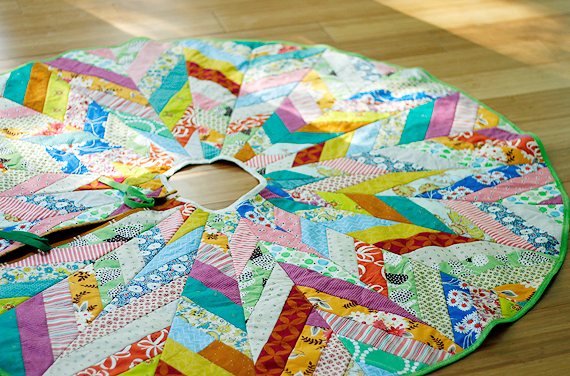 Pretty Patchwork tree skirt - get the tutorial at Stitched in Color.
30) Granny Square Quilted Tree Skirt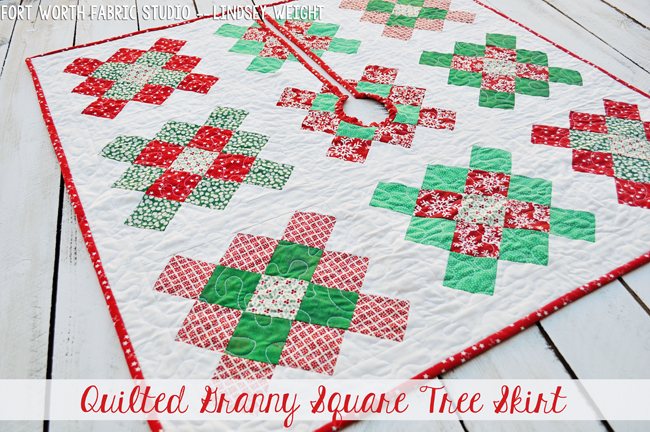 Love the design! Get the free pattern at Fort Worth Fabric Studio
31) Diamond Block Pieced Tree Skirt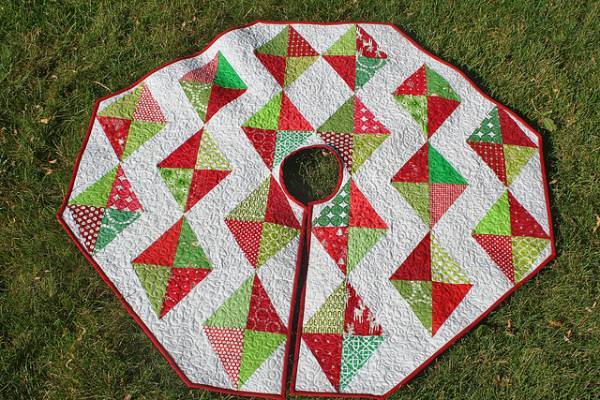 A beautiful quilted tree skirt tutorial - head over to Freshly Pieced.
32) Peppermint Christmas Tree Skirt tutorial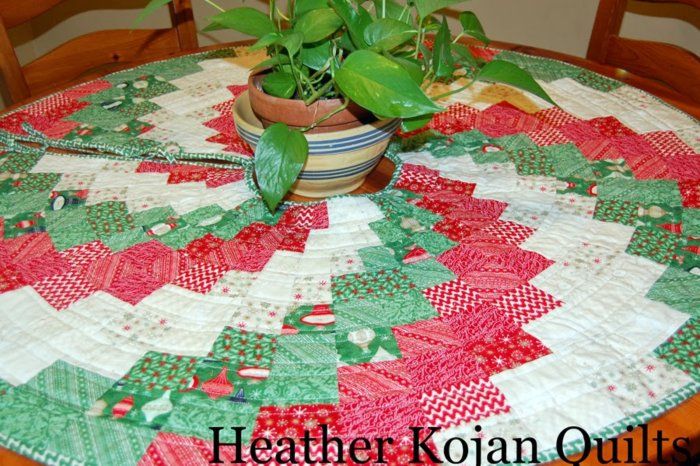 This tree skirt tutorial was made by Heather Kojan for Moda Bakeshop - find it here (A shoutout to Diane D. - thank you for finding the new link to this project!)
33) Hexagon Tree Skirt tutorial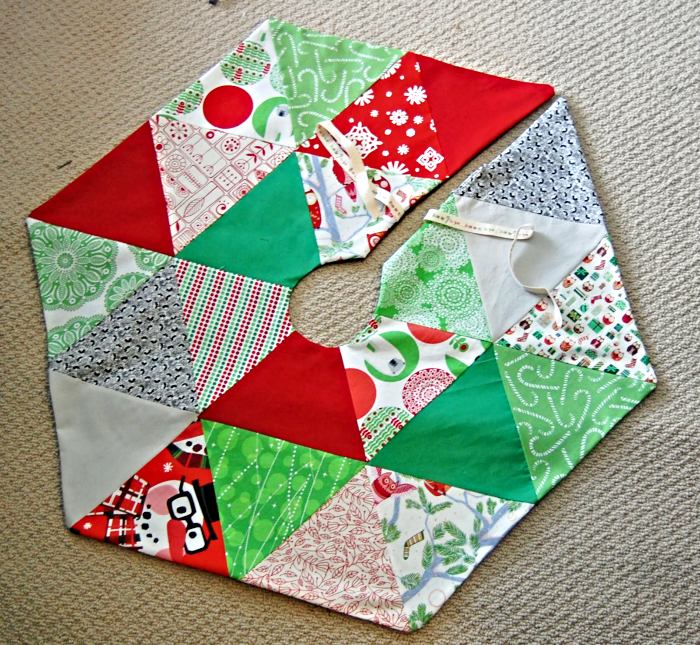 Hexagon Tree Skirt tutorial by Jacey Craft, tutorial available here.
34) Ornament-Trimmed Tree Skirt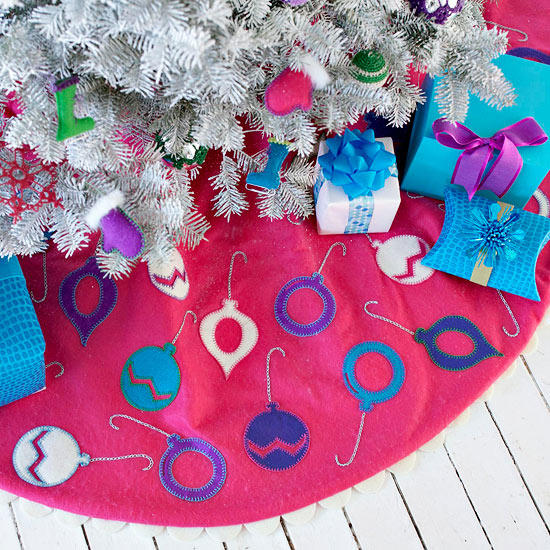 Love pink and non-traditional Christmas decor? You'll love this tutorial and free templates by Better Homes and Garden (here). Or you can also use my own free vintage bauble templates to cut and stitch.
35) Blue Scalloped Tree Skirt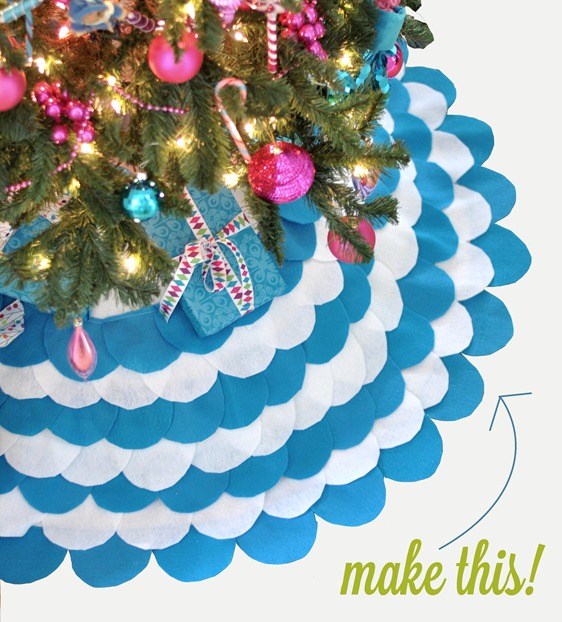 Blue and white scallops. For an easy sewing tutorial of this playful tree skirt version head over to Centsational Style.
36) Patchwork Tree Skirt Tutorial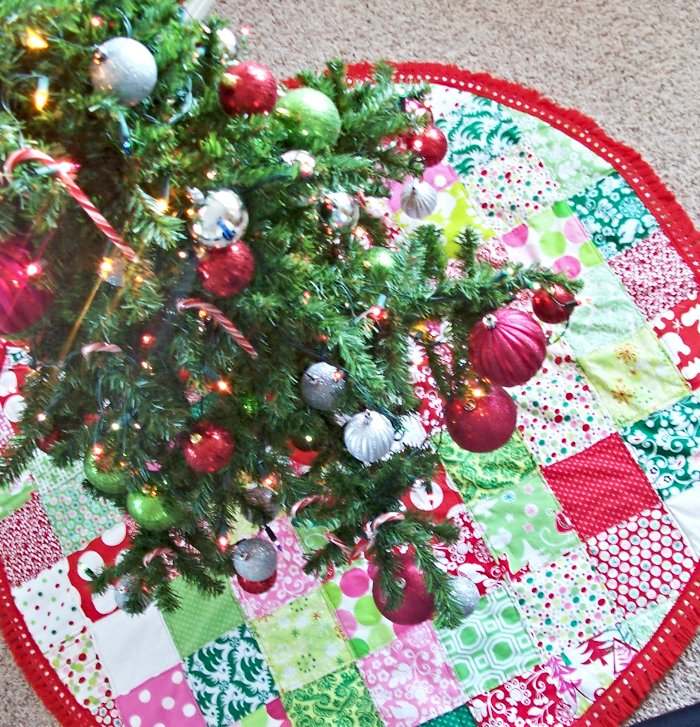 A simple patchwork and vintage style go a long way. For tutorial, visit Brown Paper Packages blog.
37) Easy Ruched Tree Skirt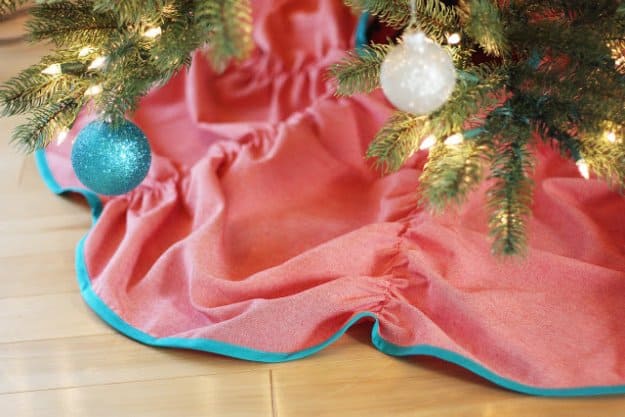 Easy Ruched tree skirt by Sew Much Ado.
38) Feathers And Striped Fabric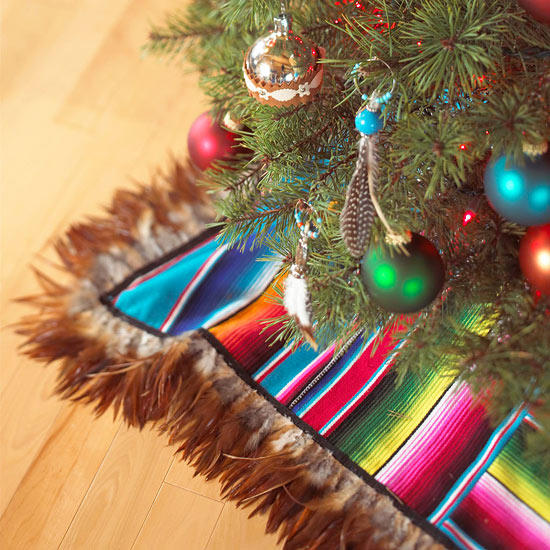 A little different: striped blanket with feather trim. Tutorial at Better Homes And Gardens.
39) Leaves And Pom Berries Tree Skirt Pattern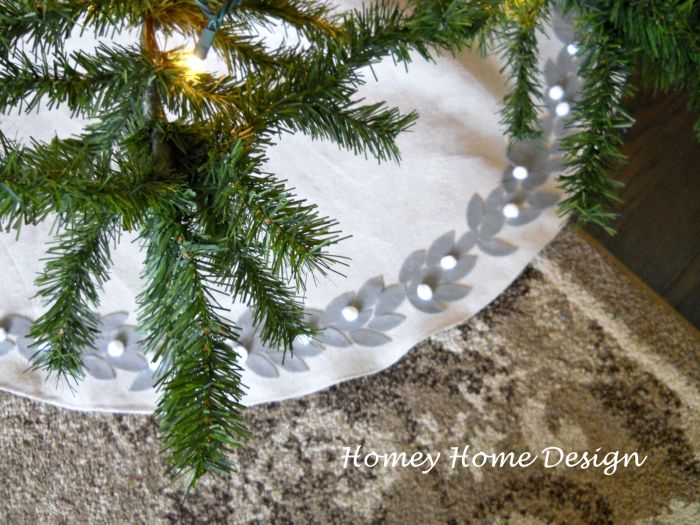 Easier than it looks like - get the tutorial here at Homey Home Design.
40) North Pole Tree Skirt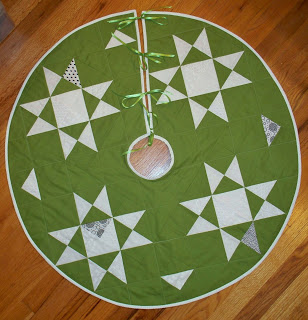 North Pole Tree Skirt tutorial from Esch House Quilts
41) Candy Stripe Tree Skirt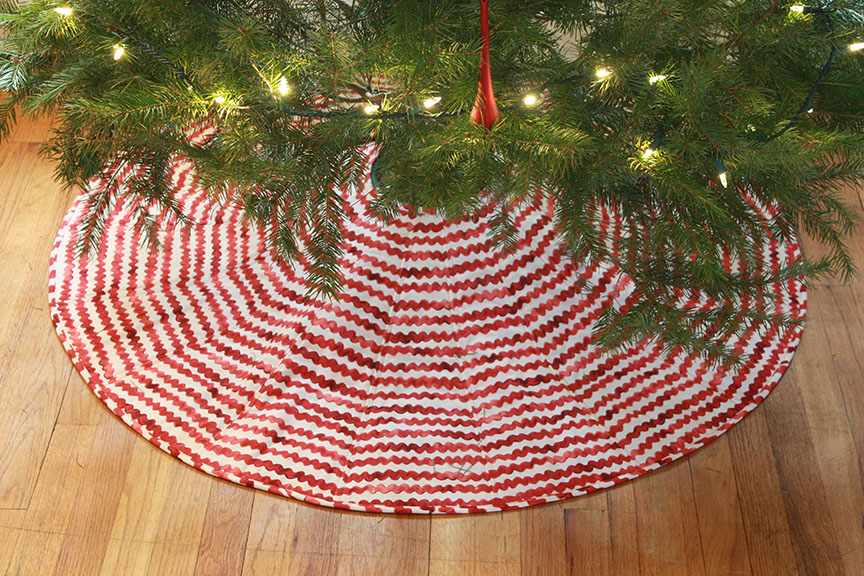 Check out the tutorial here at Gotham Quilts - it includes a free template to make this cute candy stripe tree skirt. (Edit: unfortunately, the original link is gone, leaving the credits and photo for your inspiration.)
42) Mini Tree Skirt Pattern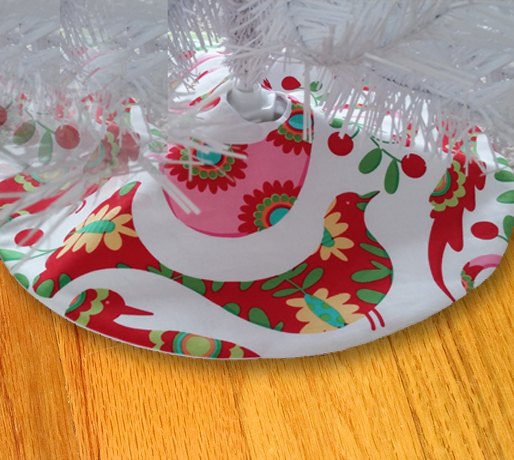 Head over to Bernina's blog We All Sew to get the free template and tutorial for this cute mini tree skirt.
So, this is the end of my most thorough and comprehensive list I've ever made for Christmas. I'm sure you've found your favorite tree skirt to sew by now!
Save for Later: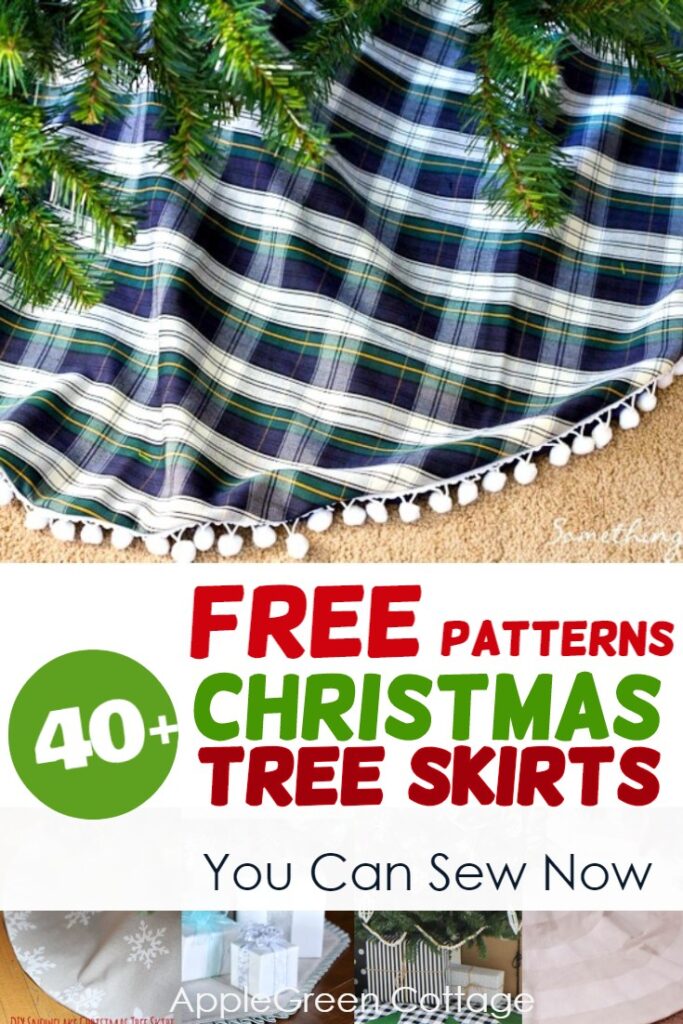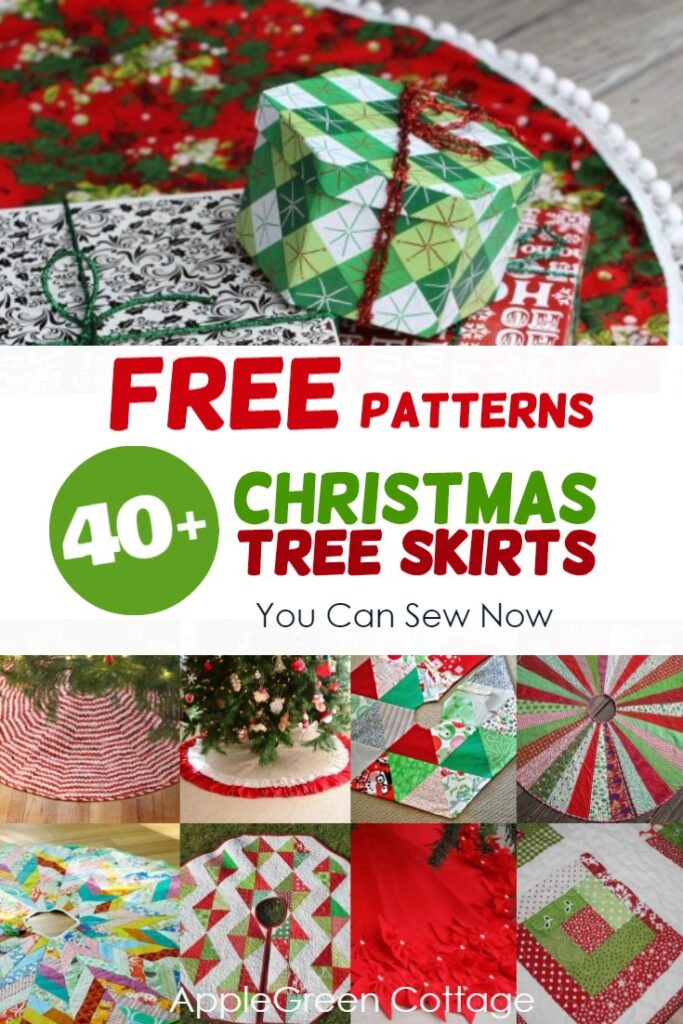 And the Tree Skirt I Made For Our Christmas Tree?
NOT INCLUDED in the roundup.
If you're still reading (ooooh, then you are part of my fav readers group!) and curious which tree skirt I made (And I'm loving it!), it's this Quilted Tree Skirt I've sewn up using Caroline's Mini E-Course.
It is not free and that's why I did not include it in the list above. But it's my all-time favorite for making a tree skirt - and for a first-time quilting project!  
Edited: I'm adding a few pieces of useful information to determine the size of your ideal Christmas tree skirt since quite a few readers requested more info about it. So,
What is the standard size for a Christmas tree skirt?
Christmas tree skirts come in a number of sizes that depend on the size - height and width of your Christmas tree. Some stores will offer tree skirts 48", 52", 56", and even 72" in diameter, and these will suit a wide range of sizes and styles of tree skirts. Smaller tree skirts are used with tabletop Christmas trees.
The most common size for a Christmas tree skirt, however, is somewhere at 50" - 55" in diameter, as this size is suitable for most 6'-8' tall Christmas trees (average size).
How big should your Christmas tree skirt be?
As a rule of thumb, your Christmas tree skirt should be just a few inches wider than your Christmas tree at its widest point. The easiest way to find out your best tree skirt size is by measuring the width of your longest, widest branches. With your tree skirt extending a few inches beyond the widest branches, it will remain visible even with a few gift boxes stacked around. And by all means, do take into account the part you want to have visible at all times - the beautiful handmade tree skirt you're about to sew deserves to be seen and noticed!
And two quick fixes for your current tree skirt:
Is your tree skirt too large? Tuck any excess fabric under the tree skirt itself. Does your tree skirt appear too small? Try sewing some extra wide trim around the perimeter of your tree skirt. Ruffles are ideal here!
Happy holidays! Damjana
WANT MORE FREE TUTORIALS AND GOODIES?
Get email updates and never miss out on new patterns, printables, and tutorials:
Or check out this pretty ALLina project bag pattern in our shop - for all your storage needs: