Make this Santa hat ornament using the free pattern in 3 sizes and beginner-friendly tutorial with video. Two options included (felt and fabric). Part of the Homemade Christmas free pattern bundle, I also posted tutorials for this gift card holder, this origami ornament and this cute mitten - download them all!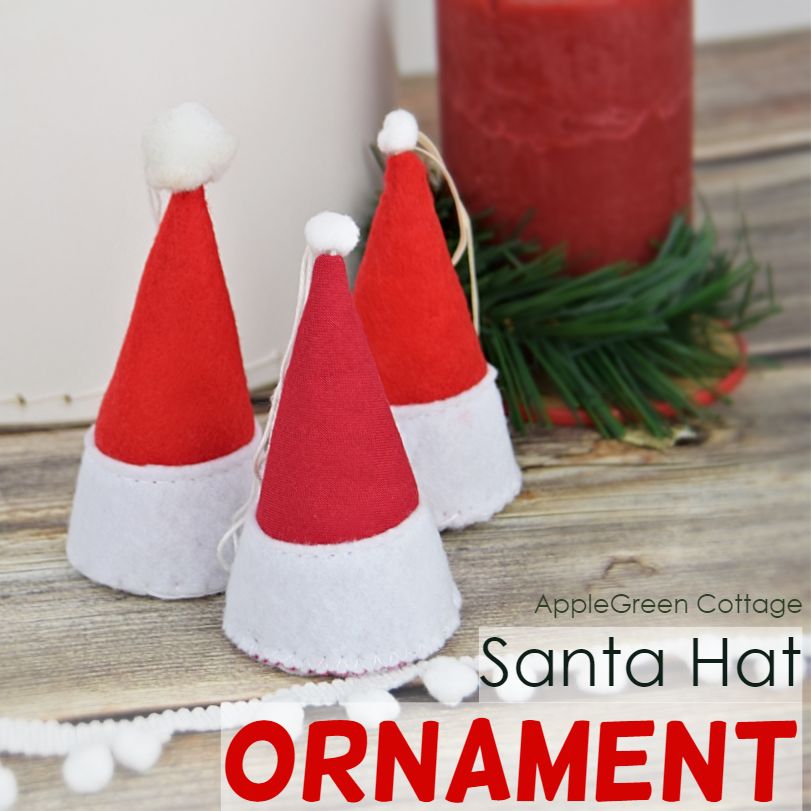 This post contains affiliate links. Thanks for your support.
We always make a few new handmade ornaments with kids, each year, and it makes our holiday tree decoration process special. This ornament is perfect for sewing with your kids or grandkids. This diy Santa hat ornament is a classic among holiday ornaments, and perfect to start - or continue - your holiday sewing tradition. It's part of my free Homemade Holiday sewing pattern series.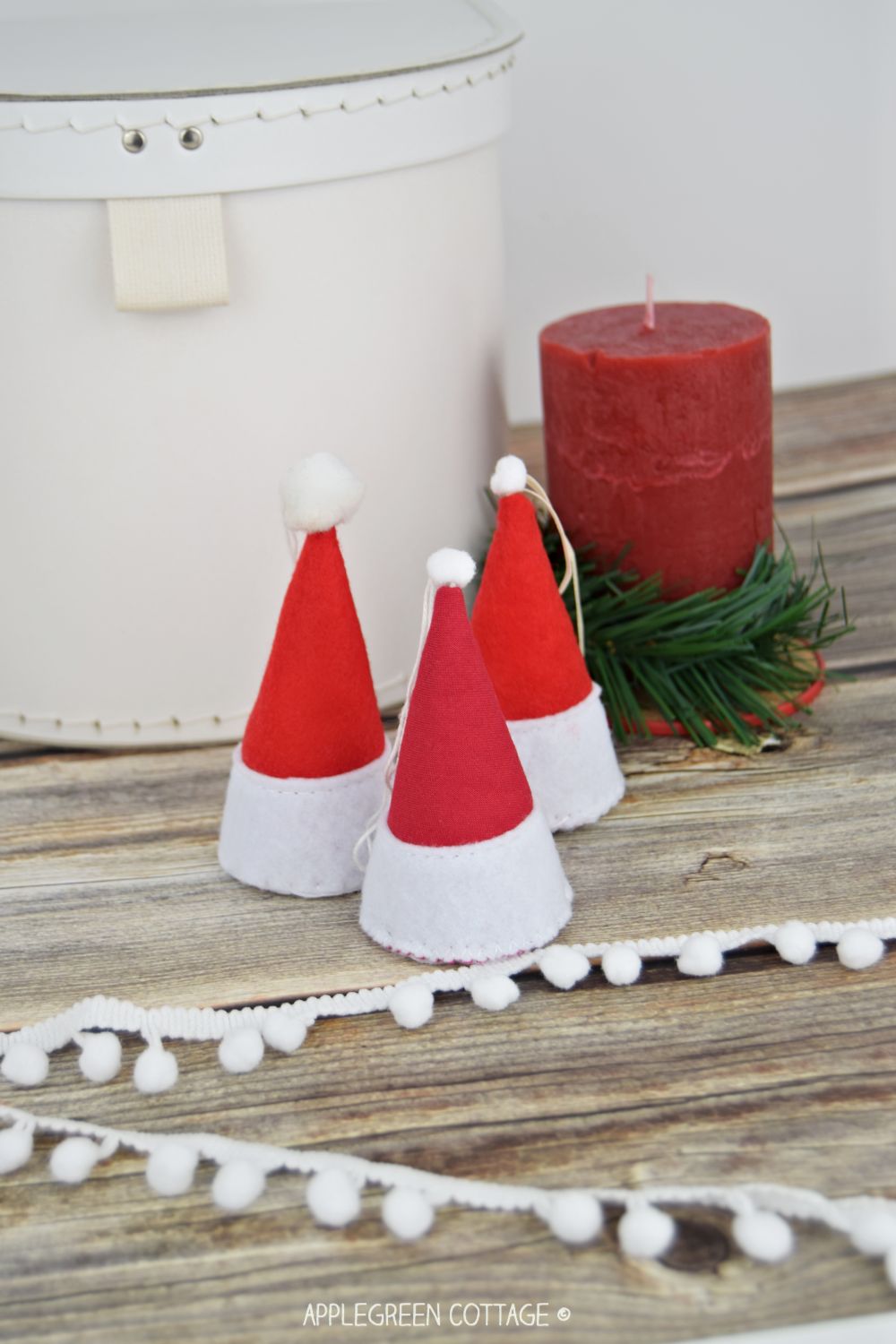 I've been on a crafting kick lately, and I'm posting an entire series of Homemade Holiday decorations before December. How cool's that! So far, I've already published tutorials for this gift card holder, this origami ornament and this cute mitten - download them all!
Sign up for my newsletter HERE to get ALL the future tutorials from the Handmade Holidays series to your inbox.
UPDATE: MORE templates to be ADDED to the Homemade Holiday FREE Pattern Bundle!- Join our mailing list here, so you don't miss out on any new tutorials!
Santa Hat Ornament - Tutorial
First, check out this quick slideshow to get an overview of the project:
Next come the supplies and you can also scroll down for a photo tutorial with step-by-step instructions. I've got you covered!.
Supplies:
red and white felt
alternative: you can use quilting-cotton weight fabric instead, but you'll have to fuse some fusible fleece to it for stability
a small pompom
7" - 10" embroidery thread or twine for hanging
matching thread, sewing machine, scissors, needle, (iron)
Free template - download and print pages 6 and 7 from my new Homemade Christmas Patterns Bundle - it's FREE for all and contains more than 10 free Christmas sewing patterns. All made for you! Here:
Steps
Santa Hat Ornament - Step 1
Print out pages 6 and 7 in the PDF file of the Homemade Holidays Pattern Bundle. Decide on the size, I made them all in the smallest size, the finished hat is approximately 3 ½ inch tall, perfect for me!
Santa Hat Ornament - Step 2
Then cut one out of each 3 pattern pieces from felt - all in the same size: small, medium or large. Also, get some twine or embroidery thread ready and a small white pompom.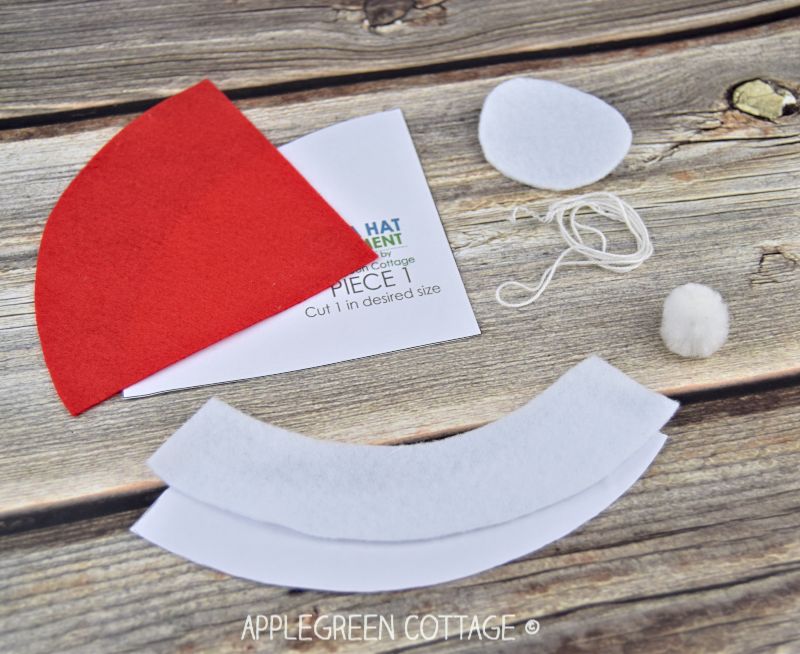 Santa Hat Ornament - Step 3
Place the white felt strip on the red main piece and align. Then stitch at one (inner) rounded edge only if you have both pieces cut from felt - it's enough. If you've opted for an alternative (fabric), see the next step too.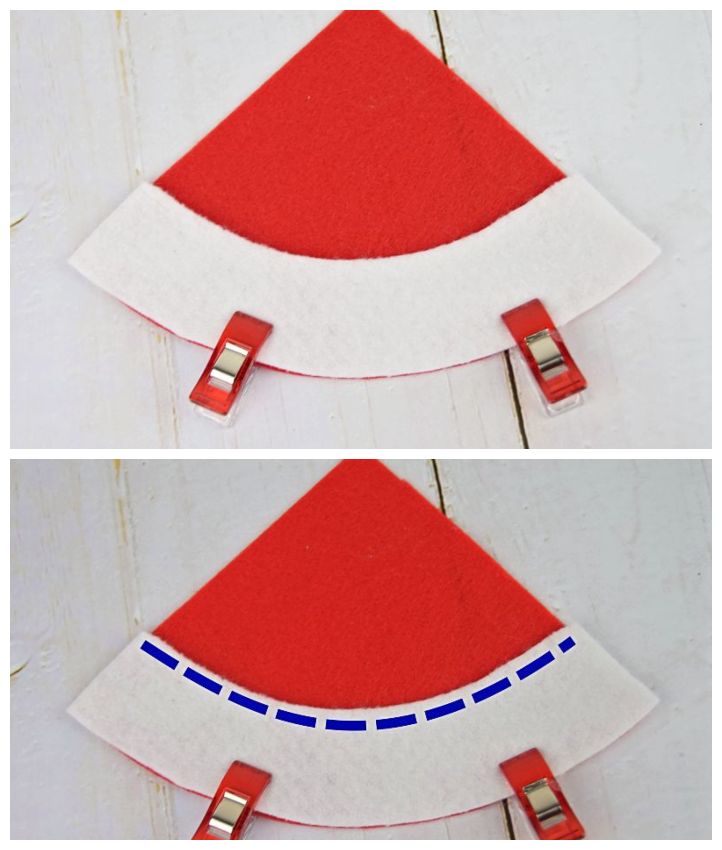 Santa Hat Ornament - Alternative (if using FABRIC)
Fuse some interfacing (I chose fusible fleece) to the red fabric piece for stability. Then align the white piece on the red piece and stitch along BOTH long curvy edges. I used zigzag as it makes it easier to catch the layers.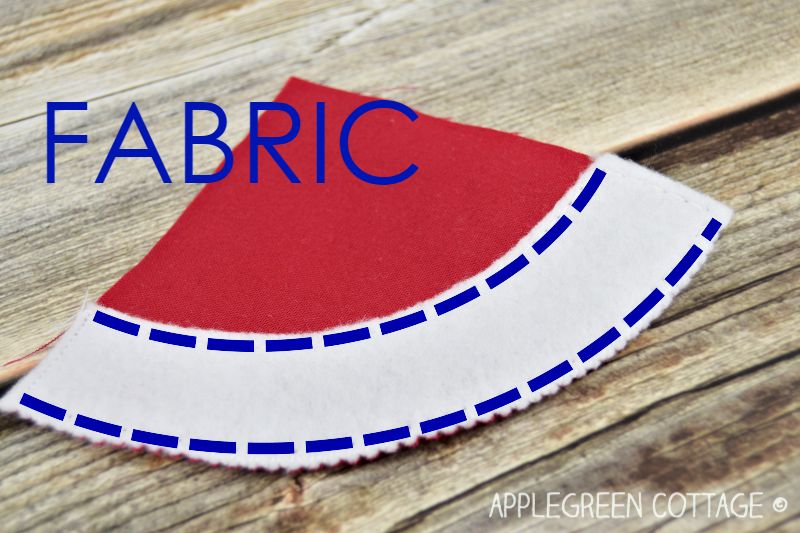 Santa Hat Ornament - Step 4
Now fold right sides together in half and stitch along the straight edge.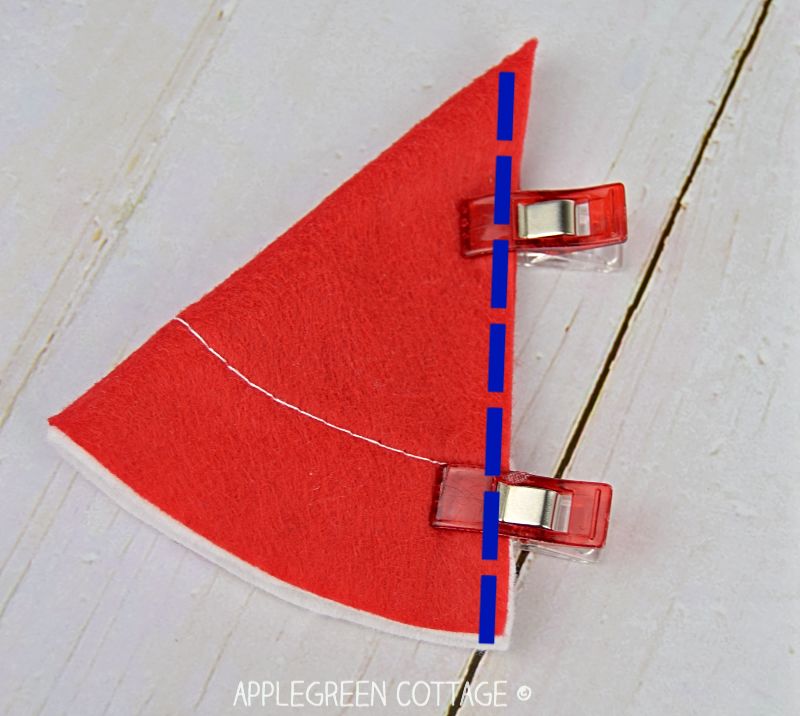 Santa Hat Ornament - Step 5
Turn right side out and use thin twine or embroidery thread to stitch a small pompom to the top - and make a loop for hanging.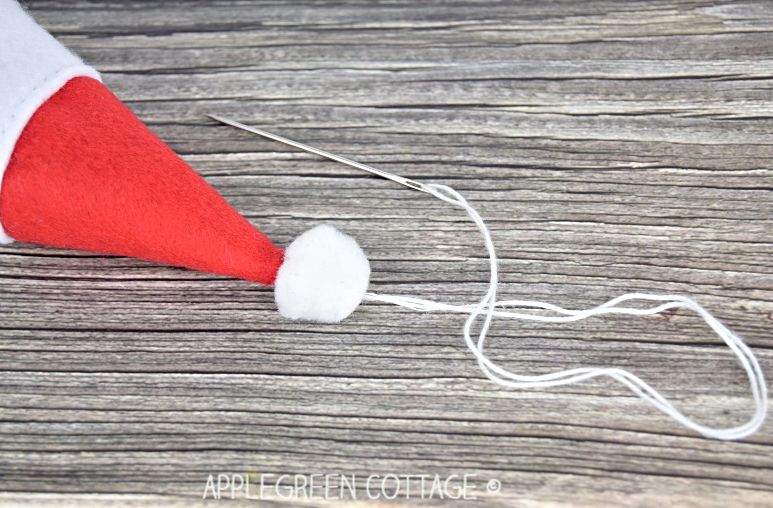 Santa Hat Ornament - Step 7
Time to stuff the hat and close the bottom part. This step is optional, but it helps with the durability of the ornament (especially with small kids in the house!) Add polyfill and hand-stitch the circle to close. I did a simple whip stitch, a blanket stitch works beautifully too.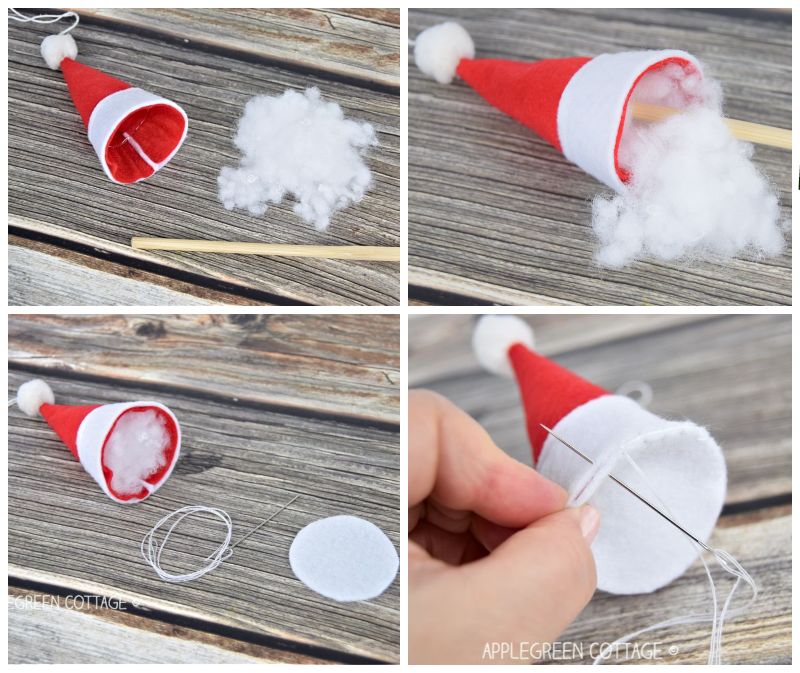 Done!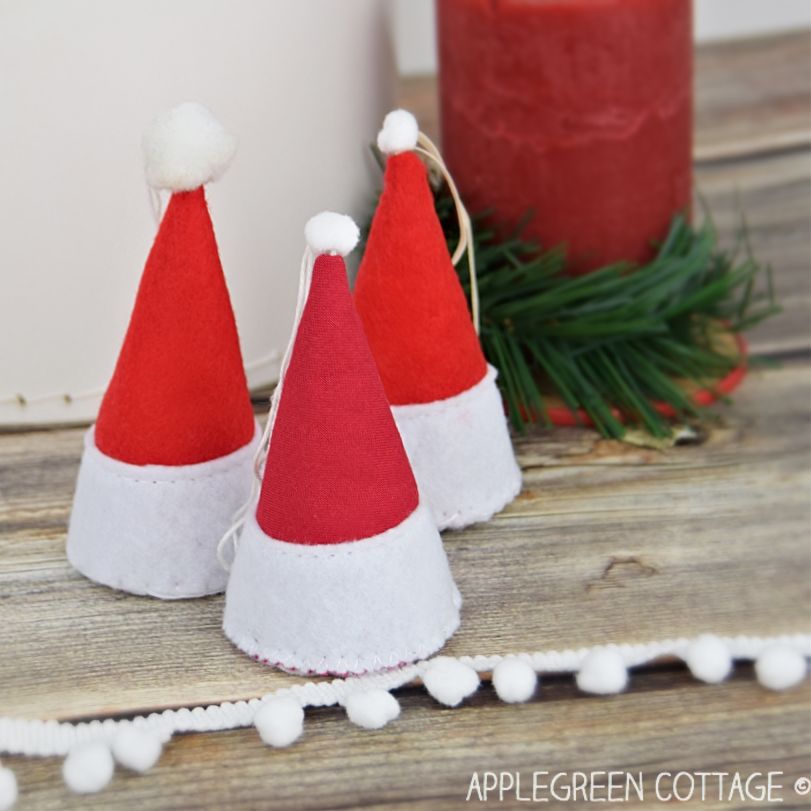 Get ready for holiday home decorating! Need to make them larger? No problem, the free templates come in 3 sizes!
If you're looking for more holiday patterns, these are super popular right now:
Want More free tutorials And patterns?
Get this subscriber-exclusive pattern emailed for FREE when you join our mailing list:
CURRENT SUBSCRIBERS: simply enter your email in the signup form above to re-download it. (You won't be signed up twice.)
Or …check out the gift bag pattern in 6 sizes in our shop - a super easy no-corner-boxing sewing project. Reusable gift bags for all your future gifts!